Herbal Essences is a popular product that is typically available in drugstores, grocery stores, and some specialty beauty stores. Herbal Essences has a wide range of hair care products, but despite their name and what the product packaging suggests, Herbal Essences may not be the best product to use on your hair.
Our product guide breaks down everything you should know about Herbal Essences before using this product, including some important ingredients that you might need to be wary of.
What Is Herbal Essences?
Herbal Essences is a hair care product line owned by Procter & Gamble, a large American corporation specializing in various consumer goods. The brand was initially founded in 1971 with the shampoo 'Clairol Herbal Essences Shampoo,' and it has since expanded to contain around 29 different collections of shampoos and hair care products that are supposedly designed to have different effects on the hair.
In recent years, Herbal Essences has revamped its branding and started participating in sustainability programs that work to protect the environment and encourage the growth of native plants.
Herbal Essences and Greenwashing
Throughout recent re-branding, Herbal Essences has come under fire for attempts at 'greenwashing,' a technique in which companies package their products and use certain words to make the product seem more eco-friendly, sustainable, and organic than it actually is.
Reporters and other online accountability outlets have noted that the green and blue color of the Herbal Essences products, certain choices of words such as 'bio-renew,' packaging with plants and leaves as part of the design, and other subtle word choices all give the product a sense of being much better for the planet than it actually is.
While Herbal Essences is participating in a few sustainability programs and has reevaluated the ingredients of some of its products, it still may not be as organic and eco-friendly as you might think. It's important for consumers to be aware of this and make their own decisions about Herbal Essences products by reading ingredients and looking at the environmental impact of these products before purchasing.
The Herbal Essences Lawsuit
A class-action lawsuit was filed against Procter & Gamble in 2018 for false advertising. The lawsuit pertains to the Herbal Essences Wild Naturals haircare line, and it alleges that the uses of the word 'naturally' and the 'Wild Naturals' branding is a misrepresentation of the product that actually contains synthetic ingredients, many of which may be considered harmful. Procter & Gamble argued that consumers couldn't be misled by this wording about the true nature of the product, but a judge in the New York court where the lawsuit was filed disagreed and upheld the claims of the lawsuit, moving the case onto the next steps in the litigation.
Other lawsuits against Procter & Gamble and the Herbal Essences haircare line have claimed that the company knowingly used the harmful chemical benzene in its products without disclosure. Information about that lawsuit can be found here, and more information about the misrepresentation of products lawsuit can be found here.
Important Ingredients To Know About in Herbal Essences
The following ingredients may be present in Herbal Essences products. These ingredients can be considered harmful with consistent usage, which is why it's important for consumers to know about them, look for their presence in certain products, and evaluate the risk they are taking with certain items of the Herbal Essences haircare line.
DMDM Hydantoin
DMDM hydantoin is a chemical that is used in many skincare and haircare products to slow spoilage and increase the shelf life of products. This chemical has been approved for use in such products in small doses, and generally, infrequent usage of products with this chemical is fine for most people.
However, DMDM hydantoin may cause allergic reactions in certain individuals, and it is known as a formaldehyde donor, which means it releases small amounts of formaldehyde into the products where it is present. Some individuals may want to avoid products with this chemical simply to be on the safe side.
Dimethicone
Dimethicone is a type of silicone and it forms a barrier when used in skincare and haircare products. It's typically used to increase moisture, improve texture, and create a matte finish with certain skincare items, but it may also create a film on hair. Silicones are especially important for many individuals with curly hair to avoid, as build-ups of silicone on the hair shaft may ruin the appearance of natural curls.
Methylisothiazolinone
Methylisothiazolinone is a common preservative found in many haircare and skincare products. The preservative has been linked to concerns about neurotoxins, and it is a common allergen, causing issues such as skin irritation and lung problems.
Benzene Chemicals
Some Herbal Essences products contain benzene chemicals, the same chemicals that are cited in a lawsuit against Procter & Gamble. Benzene chemicals are carcinogenic, and they are known for increasing an individual's risk of developing leukemia or other blood disorders. Recalls have been issued for products containing benzene chemicals, and these chemicals are no longer allowed to be used in skincare and haircare products, but small trace amounts may still be found in certain products. Brands and product lines that have a history of problems with benzene chemicals may want to be avoided.
Surfactants
Surfactants are compounds that act as cleaning agents, and they are commonly used in haircare and skincare products to give a clean feeling and a lather. Not all surfactants are bad for you and your hair, but surfactants that contain sulfates such as sodium lauryl sulfate are more harsh and might trigger skin reactions, allergy issues, scalp irritation, and ruin the appearance of hair over time.
FAQs About Herbal Essences Hair Products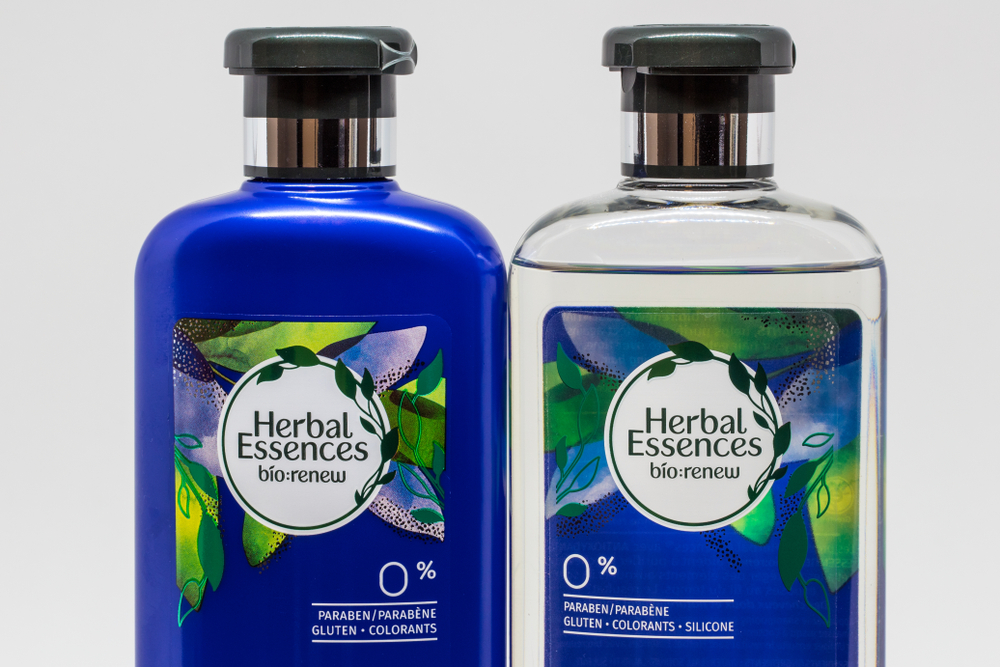 The following frequently asked questions are commonly thought of when it comes to Herbal Essences. Review our answers below to understand more about if Herbal Essences is good for hair and a safe product to use.
Is Herbal Essences Good for Curly Hair?
Curly hair, such as waves and natural curls, might not benefit from products such as Herbal Essences. These products tend to be harsher on hair, and they may leave behind a residue on hair due to ingredients such as silicones. The appearance of curls is often ruined by silicones and other residue-creating ingredients. Herbal Essences might be ok to use infrequently, but it's likely not the best choice for a curly hair routine.
Is Herbal Essences Good for Straight Hair?
Herbal Essences might be ok to use on straight hair or hair that tends to be more oily. The products in this brand generally have harsher cleaning ingredients, and they likely won't ruin the appearance of straight hair, as straight hair doesn't have curls that can be weighed down. When used every so often (as in, not on a daily basis), Herbal Essences might be acceptable for use on straight hair.
Is Herbal Essences Good for Color-Treated Hair?
Herbal Essences does have a product line of shampoos, conditioners, and other haircare items that might be good for color-treated hair. These items are formulated to be more gentle on color-treated hair, and they will generally have ingredients that won't ruin the look of your colored hair. Make sure to perform a test patch on a small section of your hair to ensure that the shampoo, conditioner, or other product you are using works well for your hair.
Can Herbal Essences Be Safe To Use?
Herbal Essences may be safe to use in small doses if the product agrees with your hair – everyone is different, and everyone's hair has different needs. If Herbal Essences works for your hair type and you don't mind that some of the ingredients in Herbal Essences might be less than natural, then you shouldn't hesitate to use the products from this brand.
So if you want a line of hair care products that is more natural or is more specially formulated to specific hair needs, such as curly hair and color-treated hair, you may want to avoid using Herbal Essences.
Is Herbal Essences Cruelty-Free?
Herbal Essences didn't use to be cruelty-free, but in recent years, the brand has dedicated itself to becoming more sustainable, cruelty-free, and environmentally friendly. As of 2023, Herbal Essences is cruelty-free, and the company does not test its products on animals. More information about Herbal Essences's cruelty-free standards can be found via Ethical Elephant.
How Can I Check the Safety of Certain Products?
If you are worried about the safety of certain haircare products besides Herbal Essences, or if you have more questions about the ingredients in certain products, you can use the Environmental Working Group's (EWG) website. This organization is dedicated to keeping tabs on certain ingredients and providing consumers with the information they need to make informed decisions about which haircare and skincare products to purchase.
Finding the Best Products For Your Needs
Herbal Essences is a popular brand of haircare products, and while the haircare lines of Herbal Essences work for some, others may have issues with the ingredients that Herbal Essences uses in some of its products and its history of lawsuits citing harmful chemicals and misrepresentation of products. That being said, if you've found that Herbal Essences is good for your hair and you aren't worried about the ingredients in these products, don't hesitate to keep using them as part of your haircare routine.