Coachella happens to be the most-awaited and talked-about event of the spring season. While tickets can go on sale a whole year ahead of the festival itself, as the event approaches, you will want to start giving thought to your Coachella outfit.
The excitement of catching your favorite artists, including Beyonce, Ariana Grande, and Calvin Harris, can be almost impossible to channelize! Ask us, and we would say that the absolute best way of doing that is to express that excitement in your outfit. We are talking about wild, carefree, unabashed clothes that help you encompass all that the festival entails!
Festival-goers have never let anything stop them before – right from simple bikini tops with denim shorts to maxi dresses, mini skirts, and overcoats. The whole idea is to stand out while being comfortable in your skin. Here is a comprehensive list of Coachella outfits that you can experiment with to make the most of the festival vibes while looking your absolute best.
50 Coachella Outfits Perfect For Any Festival
Coachella is the best place to show off your most creative outfits with nothing to hold you back. If you are looking for inspiration on what you can sport, this list has you covered.
1. Black Corset With Embellished Overcoat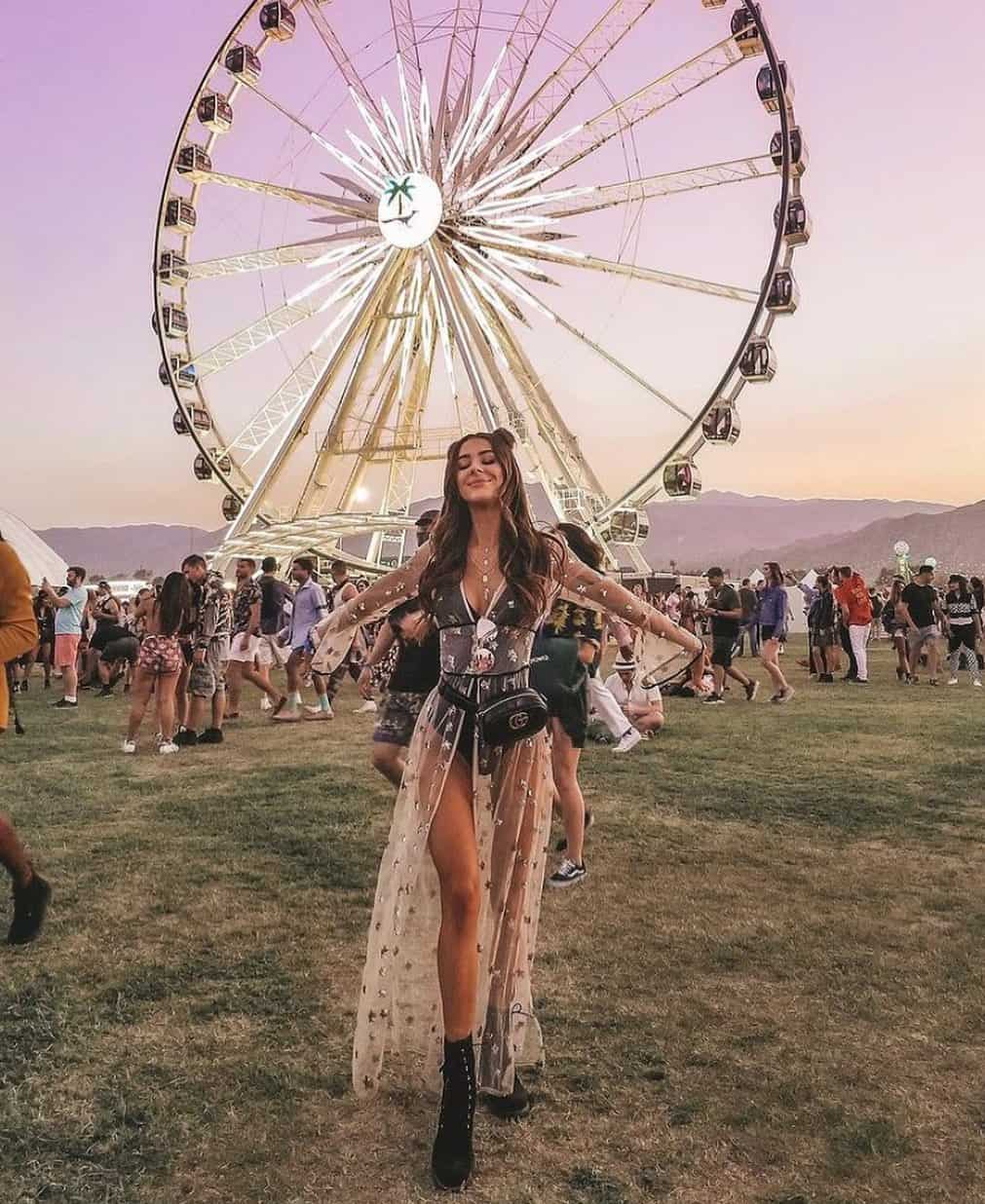 Image Source
With a flowy elegance and feminine, figure-hugging cut, this sexy Coachella outfit screams fairy vibes with its wide sleeves and delicate translucent fabric adorned with golden flakes. A black corset cinches the waist to perfection in a robe-like style. The dress has a long, thigh-length slit that allows your toned legs to peek through. The outfit goes well with just the right amount of matching accessories, including a silver necklace and black ankle boots to complement the corset.
2. Rainbow Patterned Bikini Top With Bubblegum Pink Tutu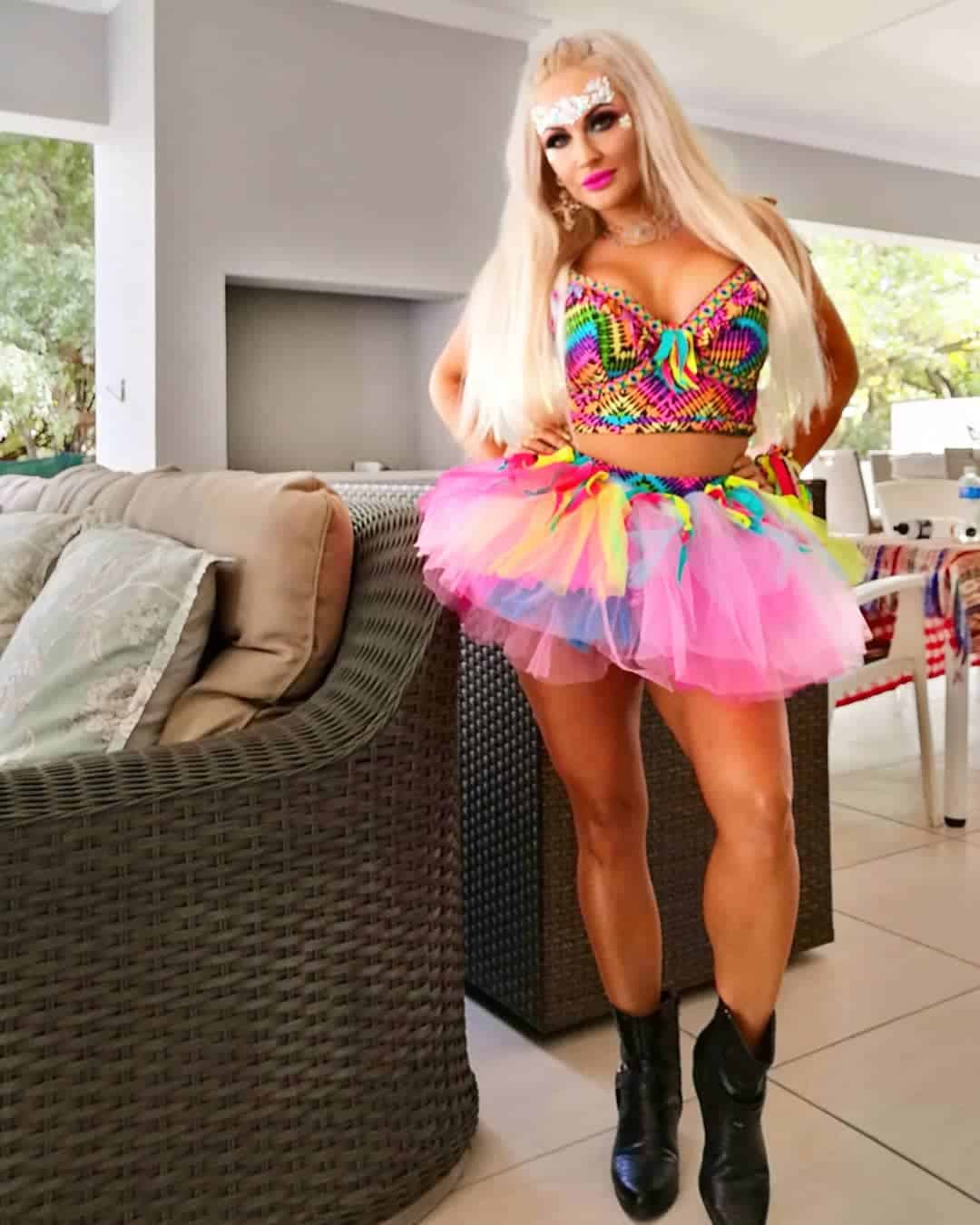 Image Source
Going wild with colors for Coachella can never be a wrong move! This walking rainbow look strikes the perfect balance between festival fun and bold sexiness with the vibrant, patterned bikini top and bubblegum pink tutu. Accentuating the right curves and showing off beautifully toned legs, the multi-colored look does not make use of many accessories except for chunky face glitter decorating the forehead and cheek in fashionable streaks.
3. Tie-Dye Bikini Top With Denim Miniskirt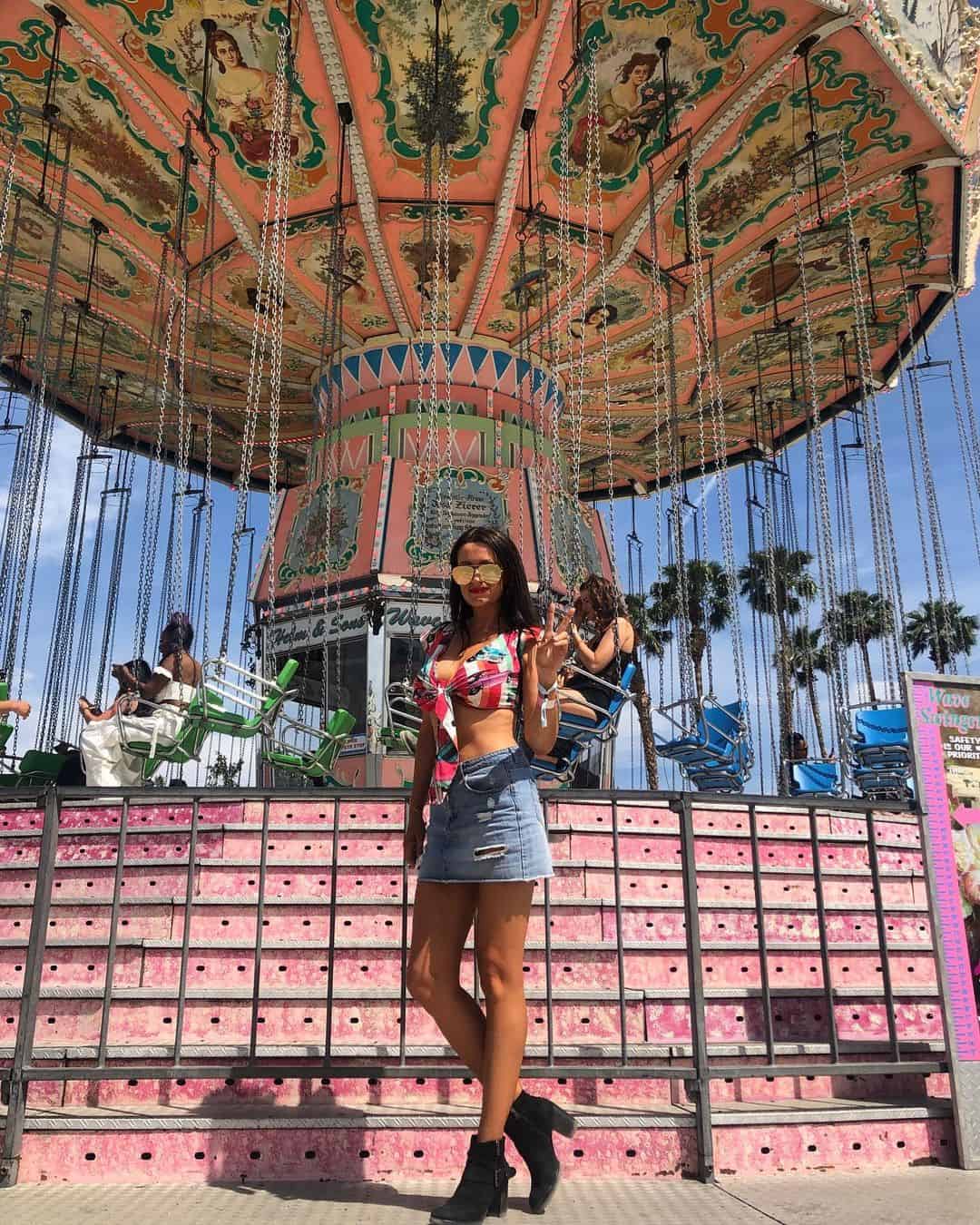 Image Source
Giving off easy-going summer vibes, this is a casual but stylish outfit for those festival-goers who may not want to experiment with their festival fashion but still want to make an impression. The tie-dye patterned bikini-top is balanced perfectly by the mini skirt. A pair of heeled black boots and golden shades create a warm, carnival feel.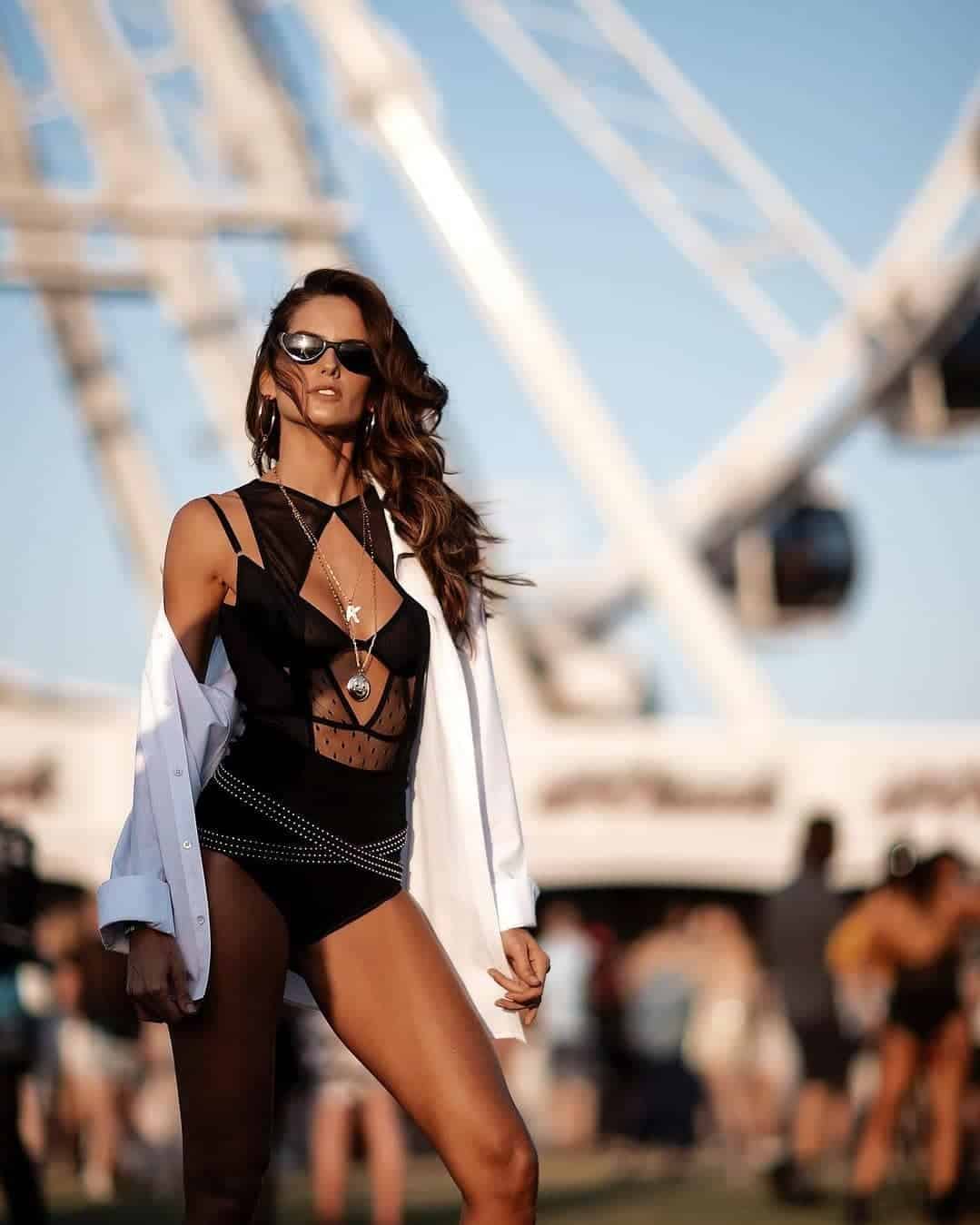 Image Source
With a femme fatale vibe that is sure to steal hearts, this glam and graceful look brings bold maturity together with a fun-loving charm. The swimsuit-cut, black outfit has a transparent midriff and halter-neck that highlights every curve, right from the neck to the legs. A white button-down adds contrast to the look, while black shades and shiny ankle boots offset the silver accents and accessories.
5. Sparkly Bikini Top With Tassel Skirt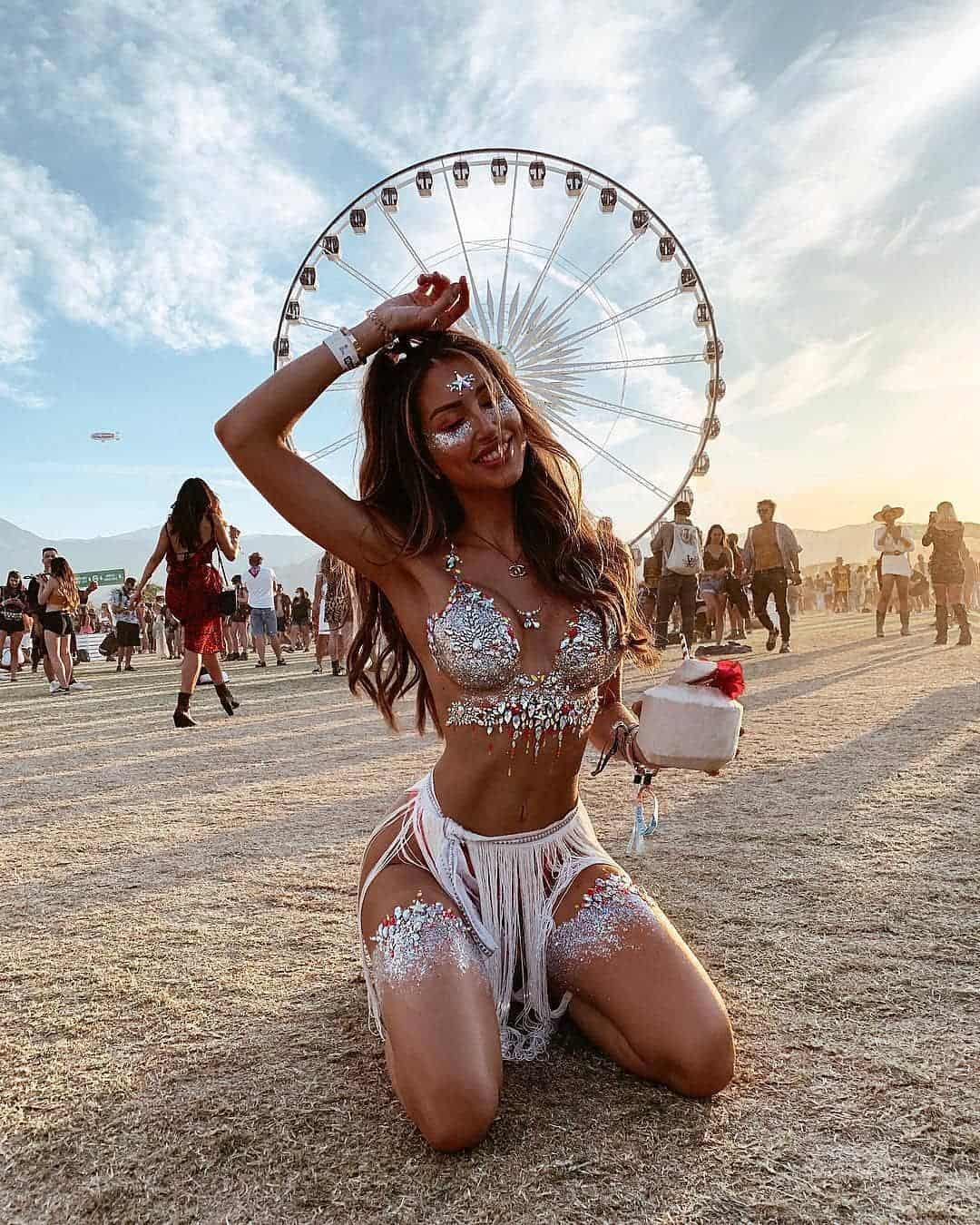 Image Source
Sparkle like a star with this silvery-white outfit giving off sensual, belly dancer vibes. The bedazzled bikini top pairs to perfection with a wrap-around of cloth tassels accentuated by chunky silver glitter splashed with eye-catching red jewels around the midriff and thighs. The outfit is pulled together with face glitter as sandy brown hair flows free in tousled, beachy curls.
6. All-Black Ensemble With Fringed Skirt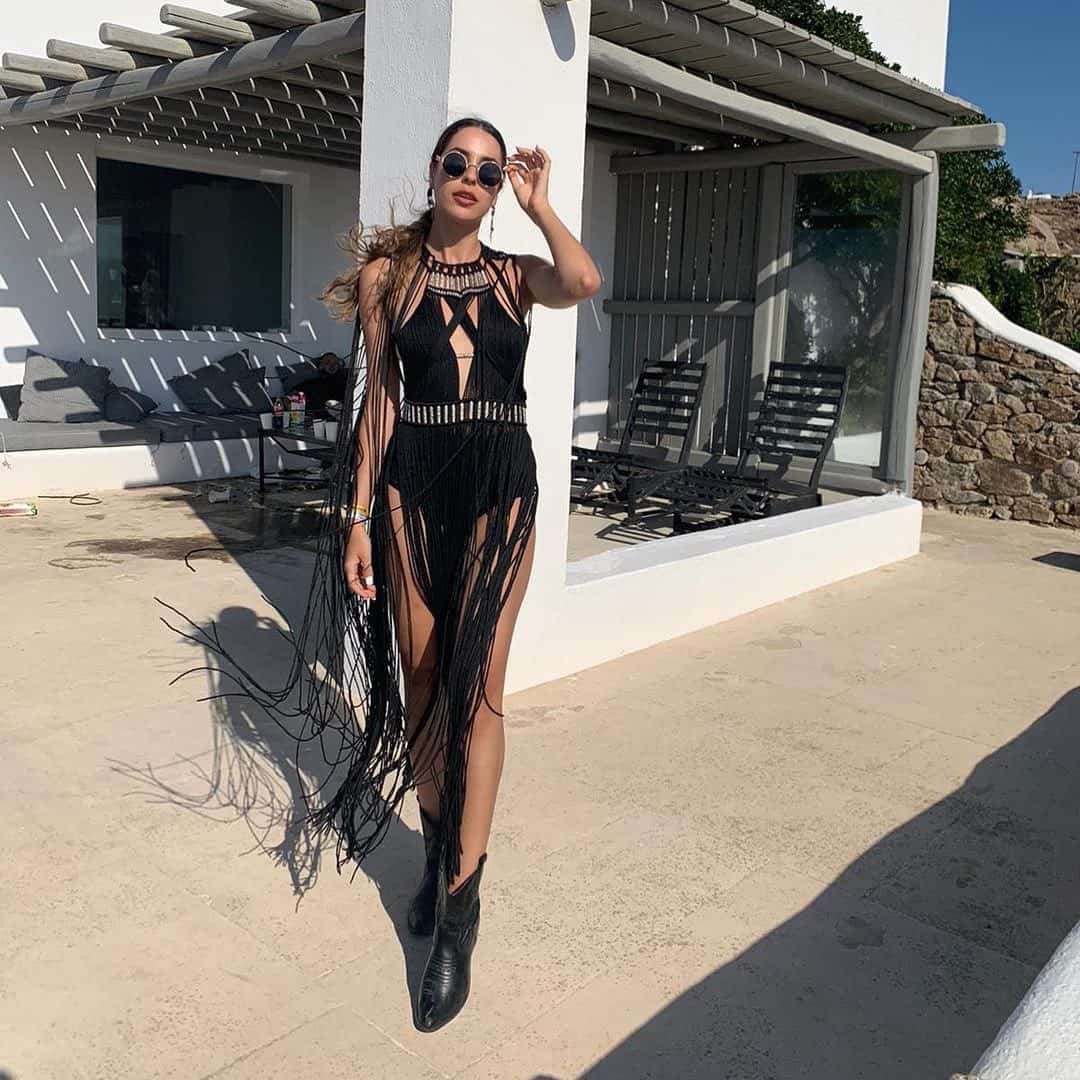 Image Source
This all-black ensemble is ideal for a beach festival, making for a modest, graceful, and powerfully sensual look. The patterned neckline and waist add a twist of summer to the sleeveless, halter-neck style that gives way to a plunging V-neck. The bottom part of the dress flows in the wind with extensive fringes adding a grungy, edgy vibe to the look, finished off with black shades and black heeled boots.
7. Lace Tube Top With Denim Shorts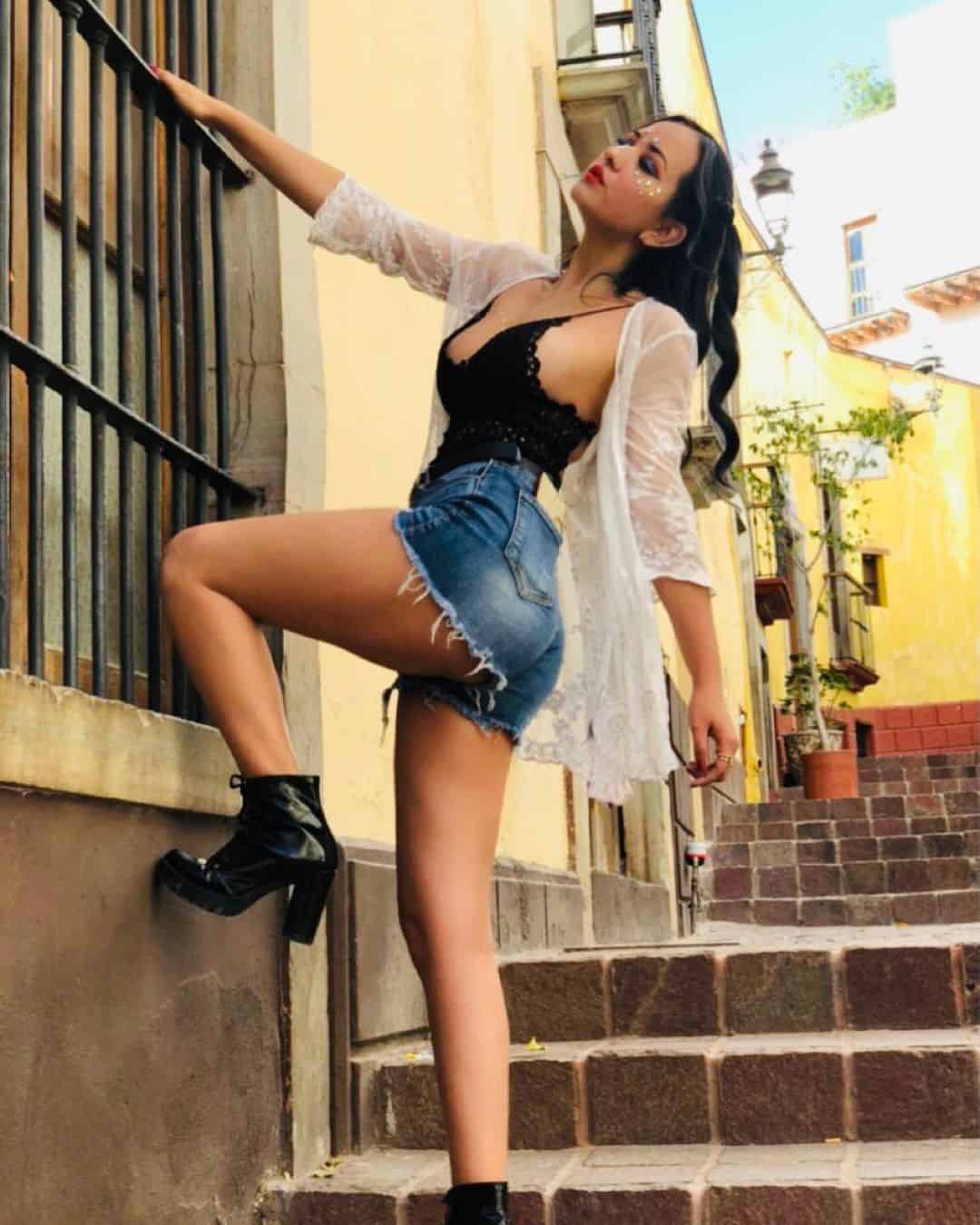 Image Source
Summer vacation simplicity doubles as an attractive festival look with a casual but classy outfit. The black lace tube top pairs well with simple frayed denim shorts, making for a sultry and charming look. A long, white with a translucent lace-finish is added over the top to add a tinge of mature modesty to the style as black, heeled boots and face gems in intricate patterns combined with a dark eye look bring in the festival vibes.
8. Paint Print Midi Dress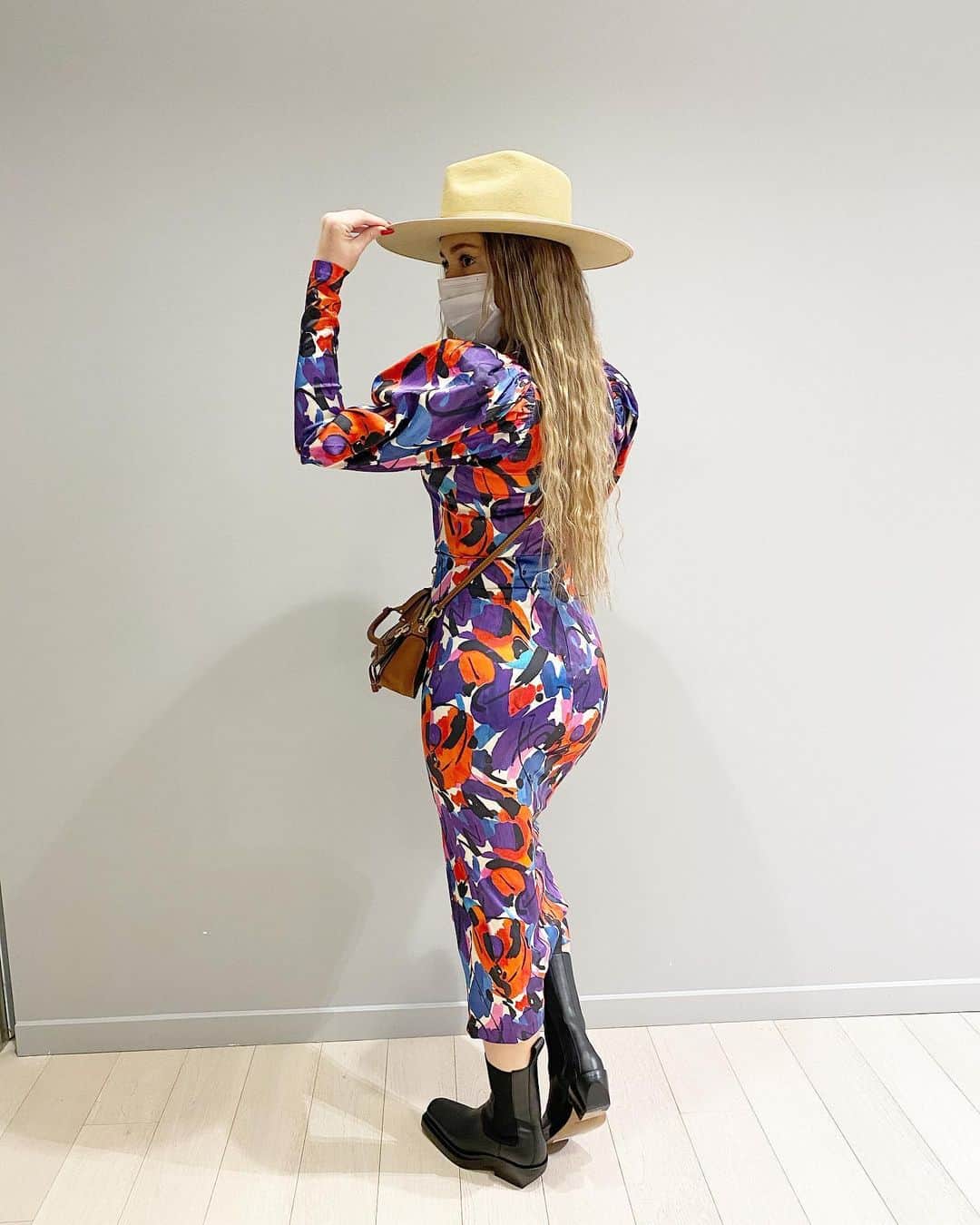 Image Source
Classy and colorful, this long-sleeved paint print midi dress is for those Coachella goers with a penchant for modest but eye-catching outfits. The vibrant dress looks demure and simple but boasts incredible personality by accentuating the waist with a cinch. The look is given a charming country vibe with a brown leather mini Macie bag, black mid-calf boots, and an ivory wool rancher hat over effortlessly crimped hair.
9. Orange Crop Top With Long Flare Pants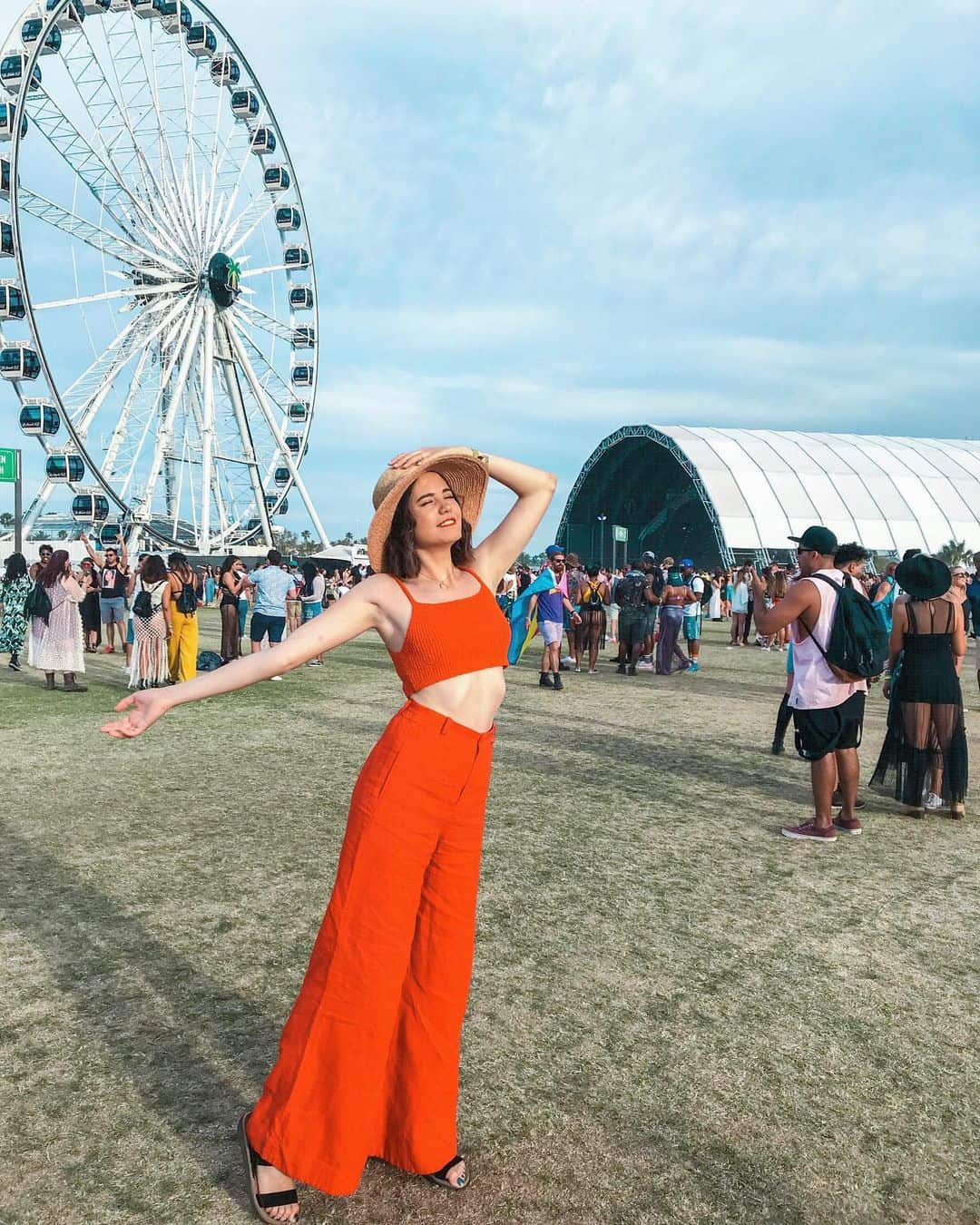 Image Source
You can never go wrong with orange, as this understated yet stunning ensemble proves. The two-piece consists of a short, sleeveless crop top and long flare pants, both in a solid and bright orange color giving off a rich and sophisticated vibe. Black platforms and a simple wicker hat with no other accessories finish off the simple yet attractive look.
10. Black Undershirt With Baggy Shirt Dress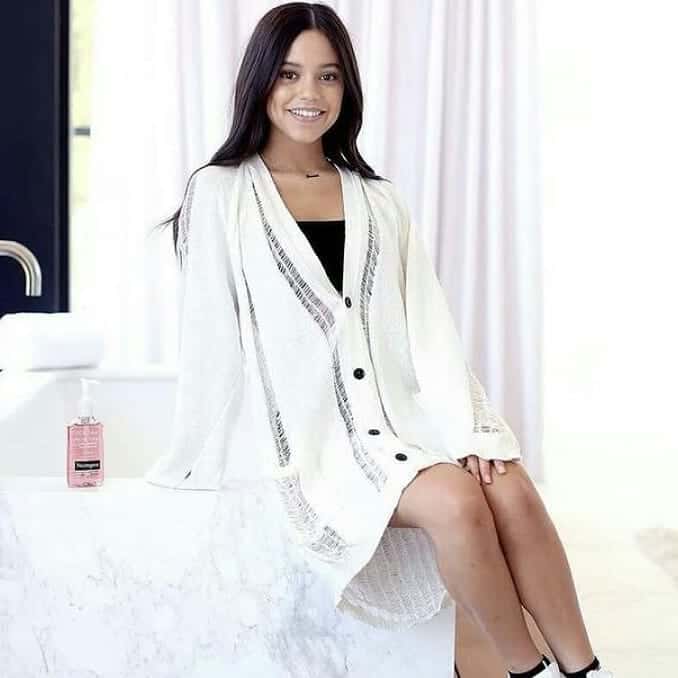 Image Source
Pairing a black undershirt with a baggy, long shirt that doubles as a casual, thigh-length dress makes this look as good for a day out with friends as it is as a summer festival look. The simple black of the undershirt allows the graceful maturity of the button-down dress to shine through. The look needs no jewelry using only a thin necklace for accessories, beautifully encompassing a warm and comfortable vibe.
11. Floral Crop Top With Wrap-Around Skirt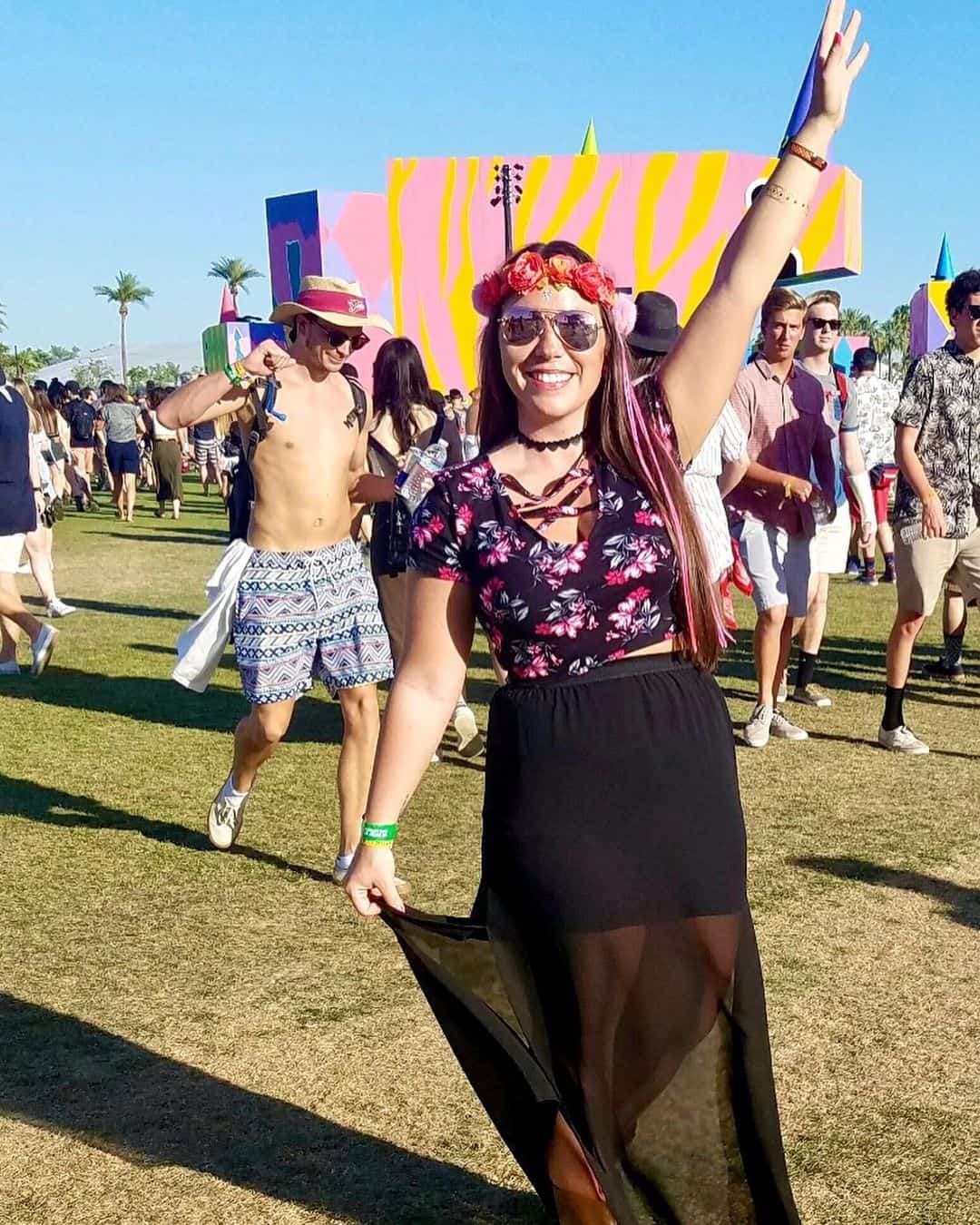 Image Source
This summery, floral Coachella outfit encompasses a chic style that is graceful and subtle at the same time. A simple floral crop top with the long, flowing wrap-around skirt that lays over a shorter black knee-length skirt exudes a monochrome vibe. The vibrant print combined with a pretty flower crown with swaying ribbons and peachy roses adds a pop of youthful charm, offset by the edgy vibes of a black, mini-heart-laden choker.
12. Skin-Toned Bikini Top With Woolen Weave Skirt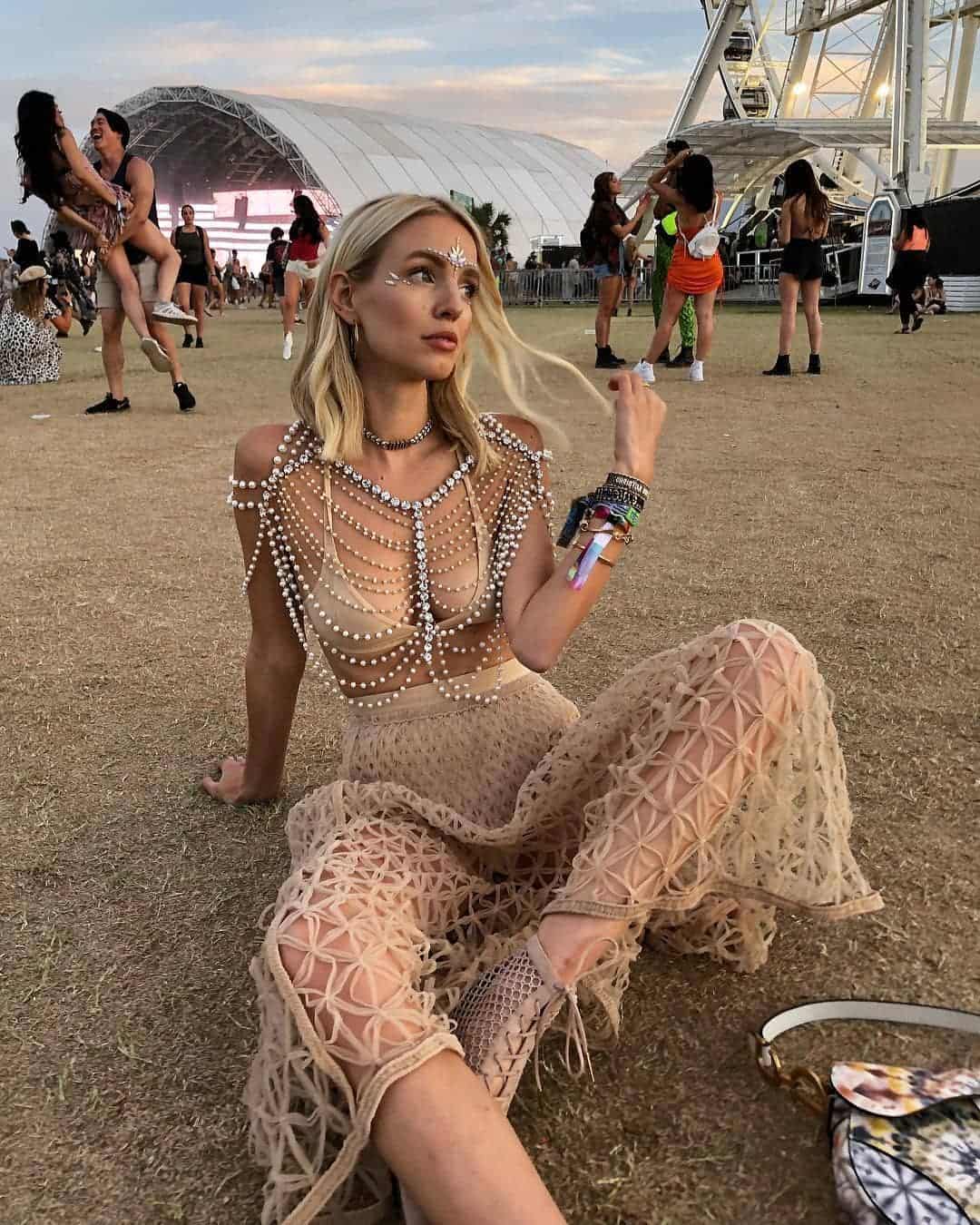 Image Source
Go all out with a tribal-tinged festival look which perfectly combines cute charm with sexy sultriness. The entirely skin-toned outfit is heavy on weaved, see-through patterns that add to its bohemian vibe. A simple peachy bikini top pairs beautifully with a unique woolen weave skirt with netted ankle boots. The intricately strung beads resting over the bikini top and silver face jewelry framing the eyes and eyebrows complete the look.
13. Knitted Crop Top With Chunky Accessories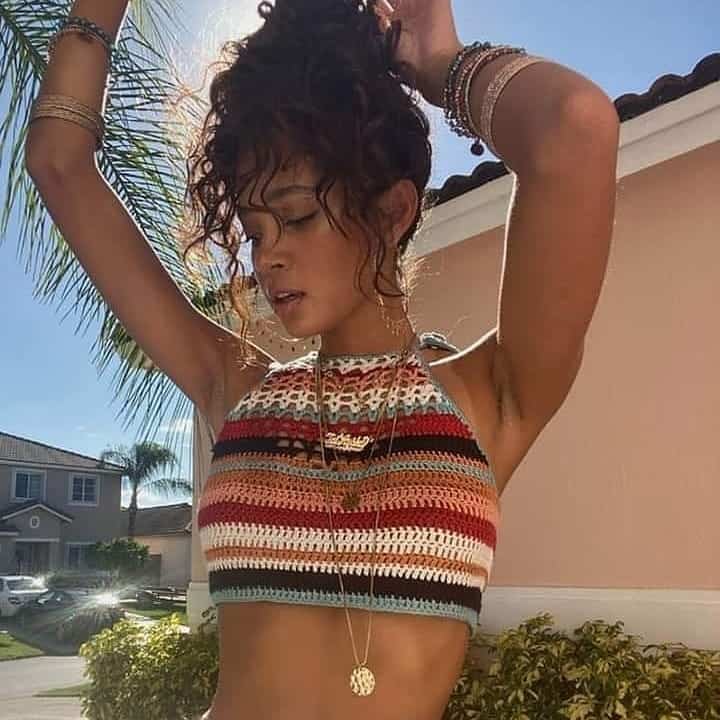 Image Source
A colorful knitted top is a fail-safe choice for any Coachella look. The bright semi-crop length top is simple yet sexy with a versatile style, pairing well with any bottoms right from shorts and mini skirts to flare and yoga pants. Knitted in varying patterns from tight to open weave at the collar, the adjustable leather ties and subtly revealing back view add a sultry, summer vibe to the look, elevated by accessories like chunky bangles and a slim gold chain.
14. Diamond Encrusted Crop Top and Skirt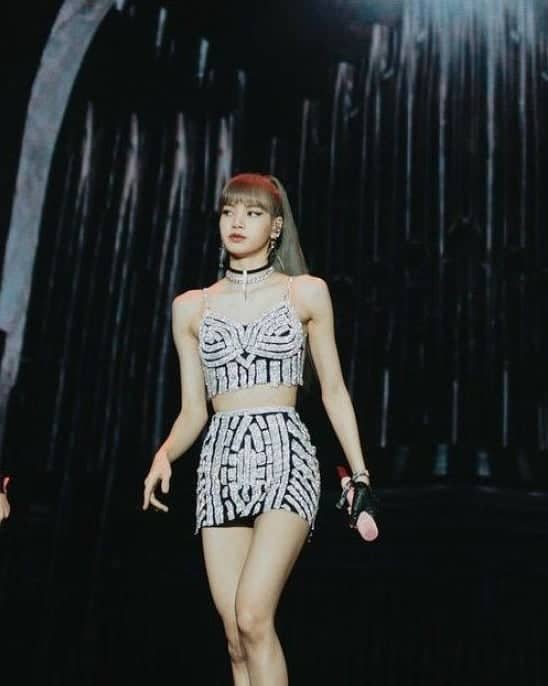 Image Source
Shine like the diamond you are in this high-fashion look. The all-black ensemble pairs a halter-neck crop top with a matching mini-skirt for a sexy, sultry look. The extensive and intricate diamond-encrusted patterns running across the top and skirt add shimmer to the outfit, balanced by tinges of grunge fashion such as a leather-chain choker and shiny, black ankle boots that complement the overall glow of the look with its dark tones.
15. Mini Dress With Fringed Overcoat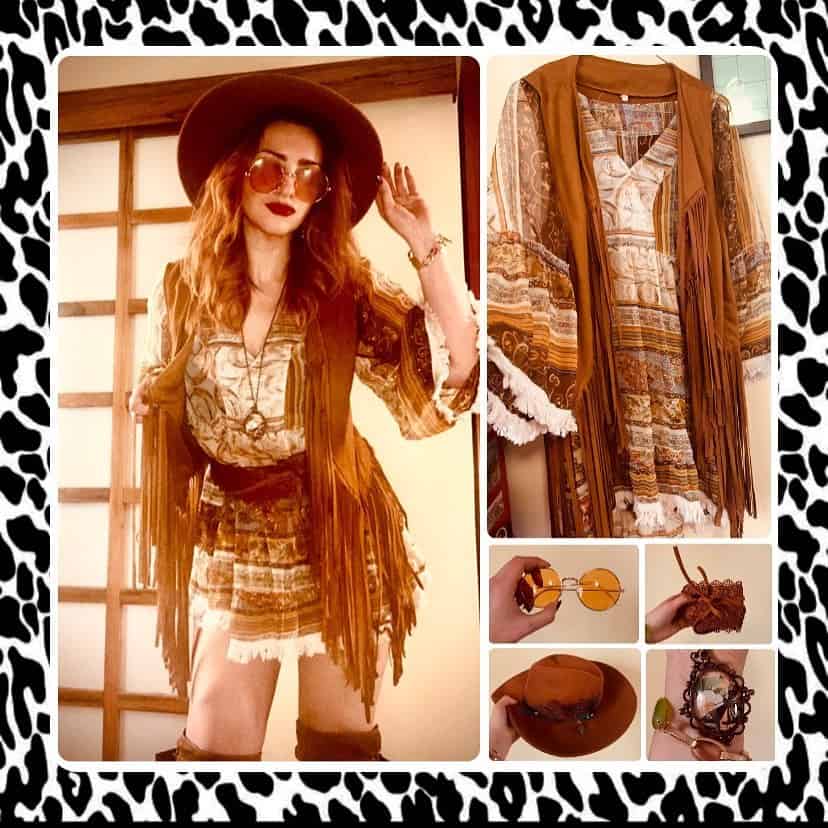 Image Source
Travel back in time with this vintage, 70s-inspired look that oozes summer vibes with a bohemian style short dress in muted golden and earthy brown tones. A brown belt over the fringed overcoat streamlines the baggy fit of the outfit. With a warm-toned theme in every detail, from golden shades to corduroy boots and accessories, the look is topped off by a cowgirl hat for a powerful combination of timeless elegance and charm.
16. White Knitted Hollow Out Top With White Shorts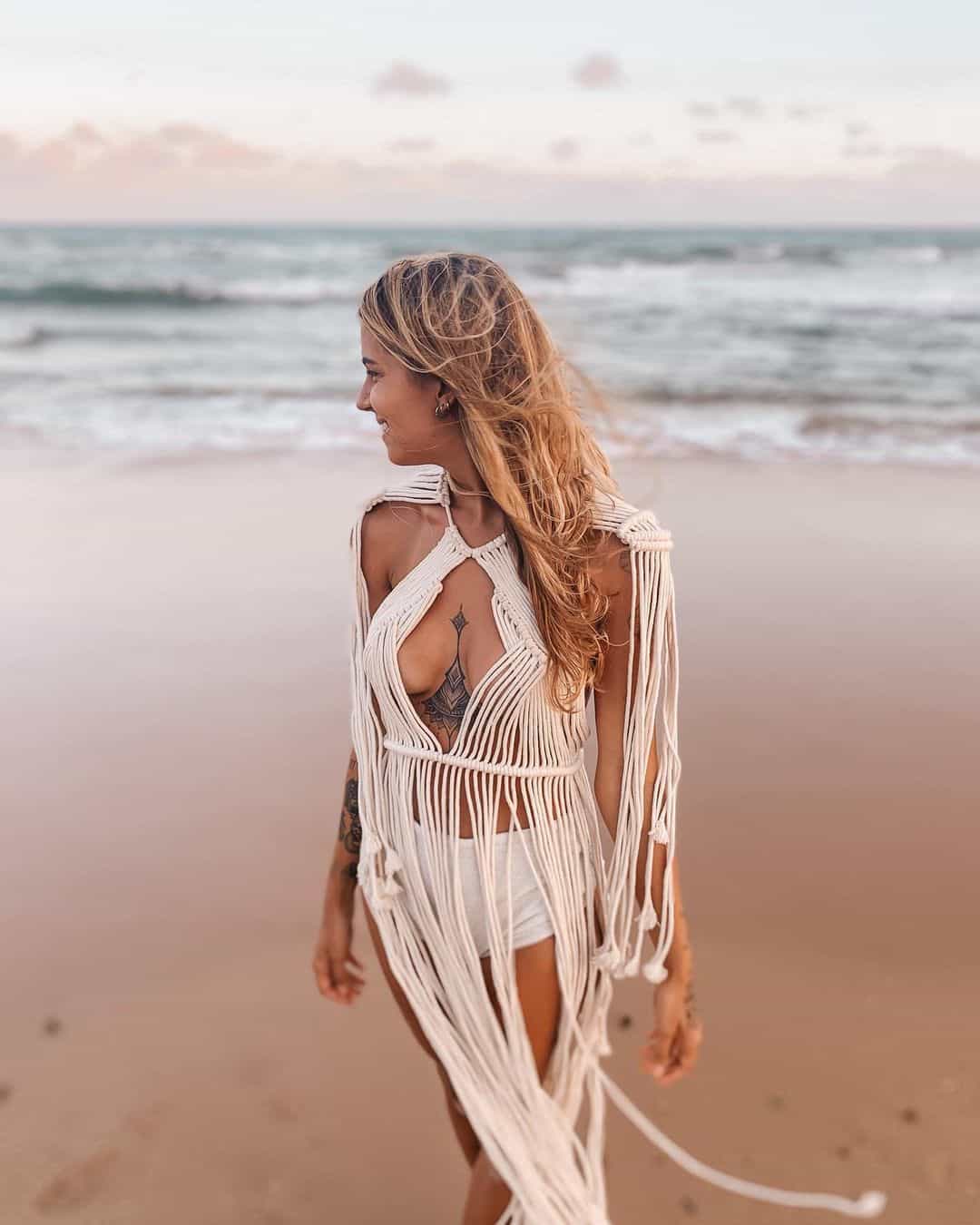 Image Source
With elegant but casual vacation vibes, this all-white outfit with its knitted fringes looks cozy and classy at the same time. The halter neck of the knitted overcoat gives way to a sultry, plunging neckline. A thick knit transforms the sleeves into long fringes draped over the arms, perfectly fitting the summer sunshine with its open, flowing weave that sways over the thighs, ending in pom-pom tassels. A pair of white shorts complete the look all too perfectly, making you instantly Coachella-ready.
17. Lacy Black Corset Top With Palazzo Pants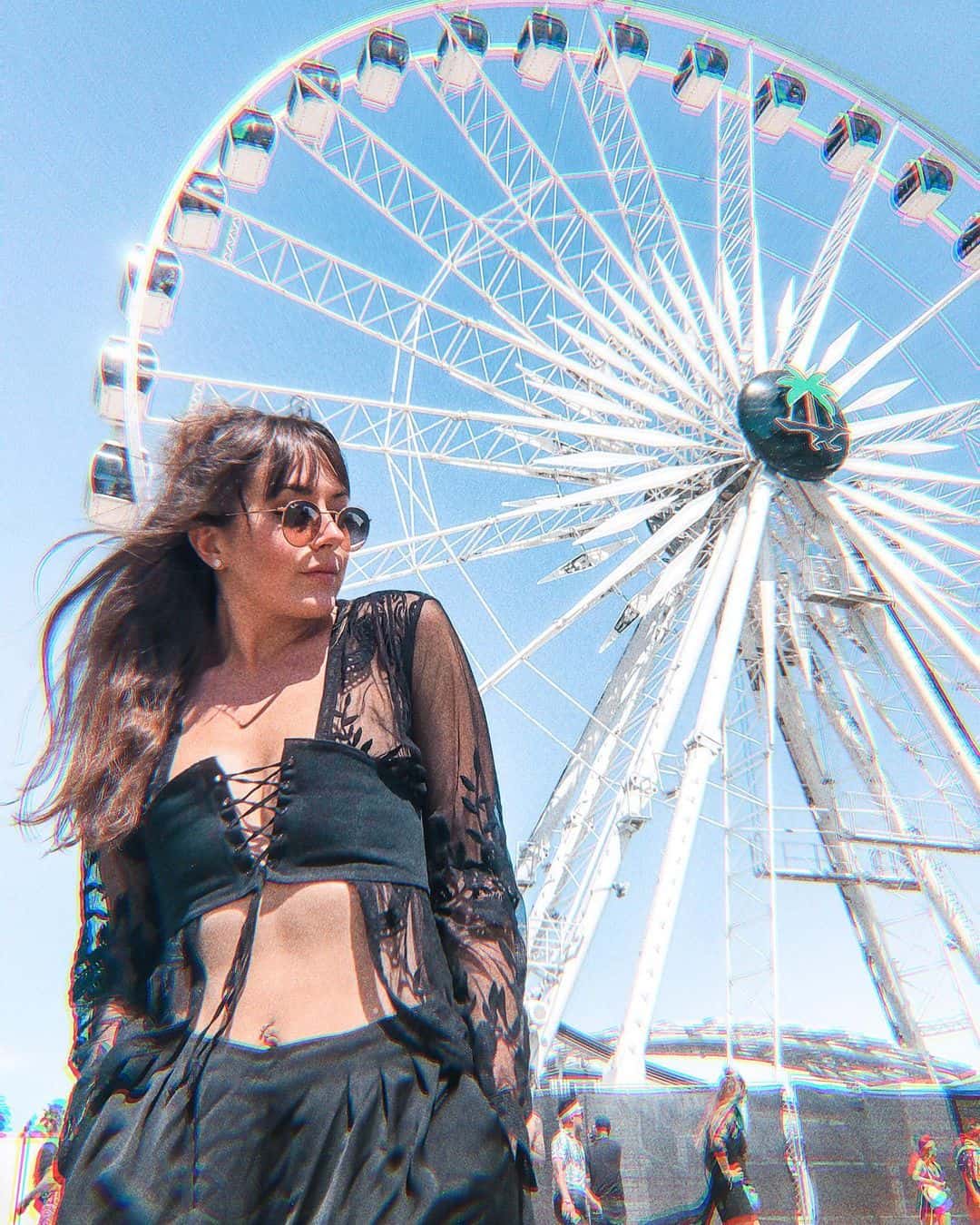 Image Source
Giving off a sexy Victorias Secret vibe, this lacy, black ensemble brings together a wild party mood and a classy, mature look. The short, black corset top has a slight vintage influence and is laced together at the chest, while flowy sleeves soften the look by gracefully flaring out over the arms. Silky, black palazzo pants add an easy-going charm to the overall elegance and femininity of the outfit.
18. Turquoise and Black Inkblot Dress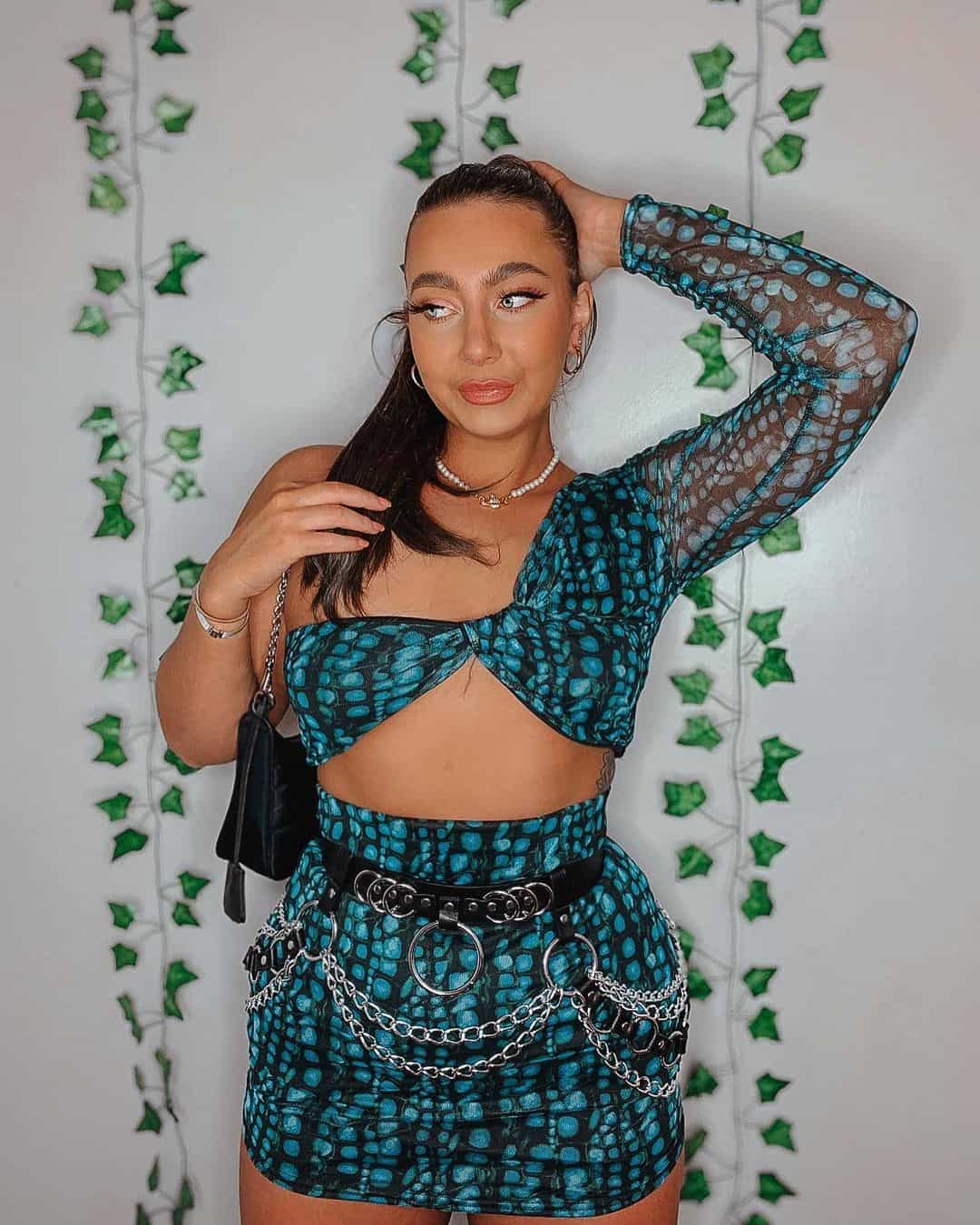 Image Source
This black outfit with turquoise inflections is a stylish yet casual option, making it perfect for any occasion. With inkblot patterns blending the two shades, the short bikini-style top shows off the midriff seamlessly. Asymmetrical sleeves, sleeveless on one side and full-sleeved on the other, add a bit of fun to the look, pulled together by a black belt with silver loops and chains balanced out by an elegant pearl necklace.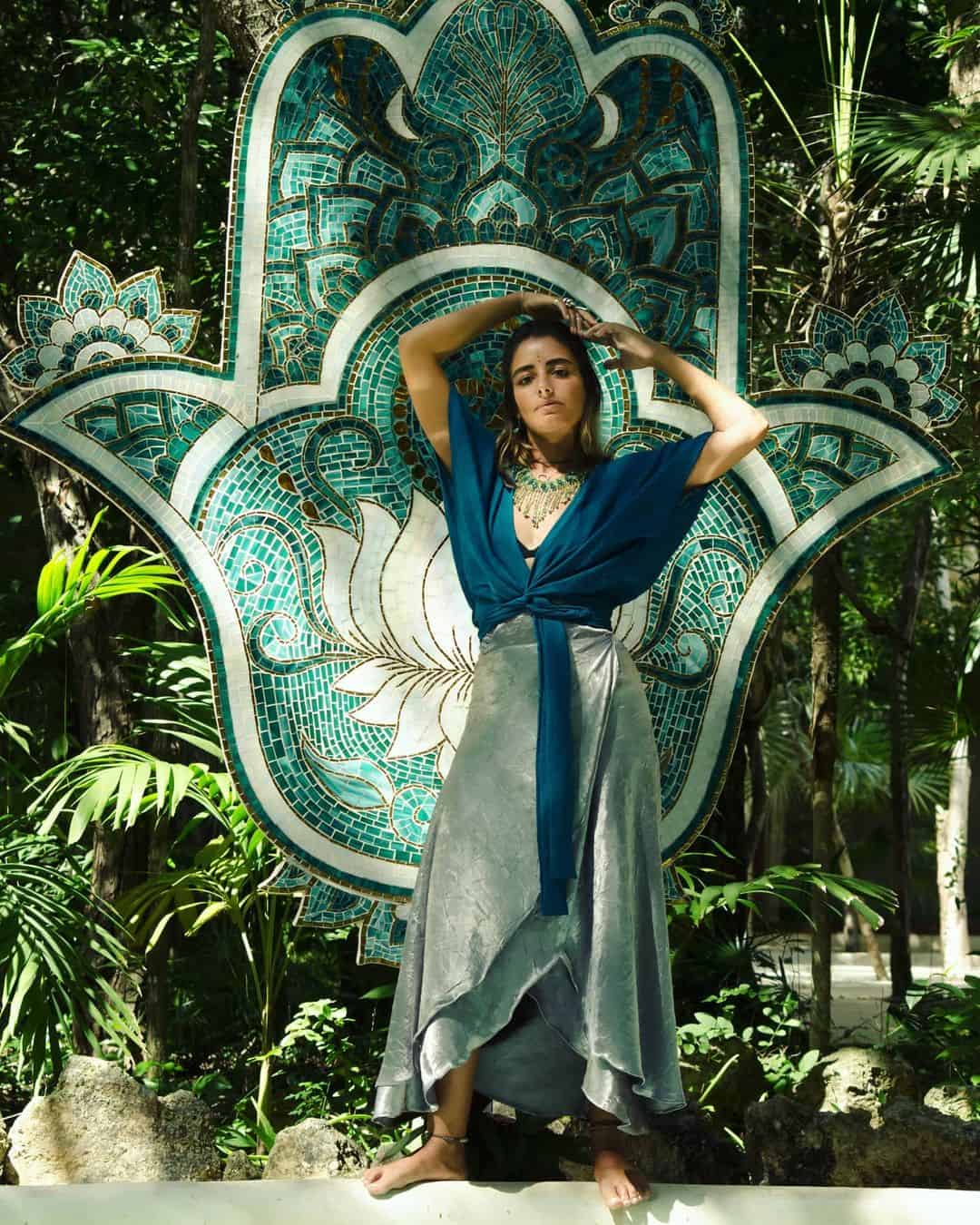 Image Source
This look exudes gentle vibes with a Bohemian touch brought about by shades of blue, working together in harmony. The loose navy blue crop top with baggy sleeves is tied casually at the waist, complemented by the elegant flow of the shimmery greyish blue wrap-around skirt. The gentle grace of the look is made more stylish and charming with the addition of an eye-catching tribal-inspired aqua blue necklace.
20. Wiry Bikini Top With Holo-Tinged White Jacket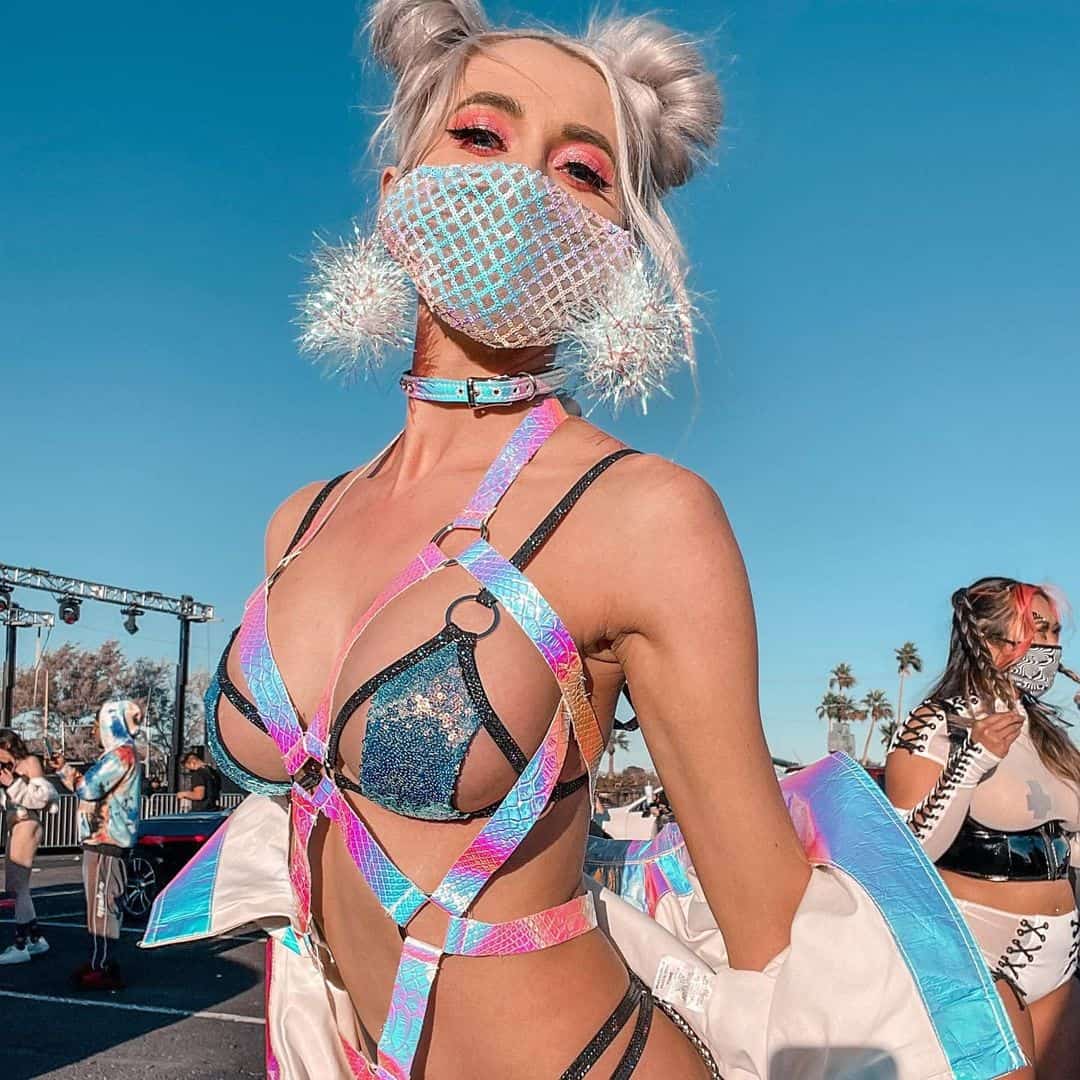 Image Source
Nothing says festival like the blinding shimmers and sparkles of holo, as this sexy bikini look proves. The wiry bikini top with glittery mermaid blue material comes with criss-cross holo tape bound across the body in rainbow colors, while a tight, leather choker pulls the look together. The outfit is made party-ready by a holo-tinged white jacket and a sparkly silver mask with party pom-poms.
21. Black Bodysuit With Long Fringes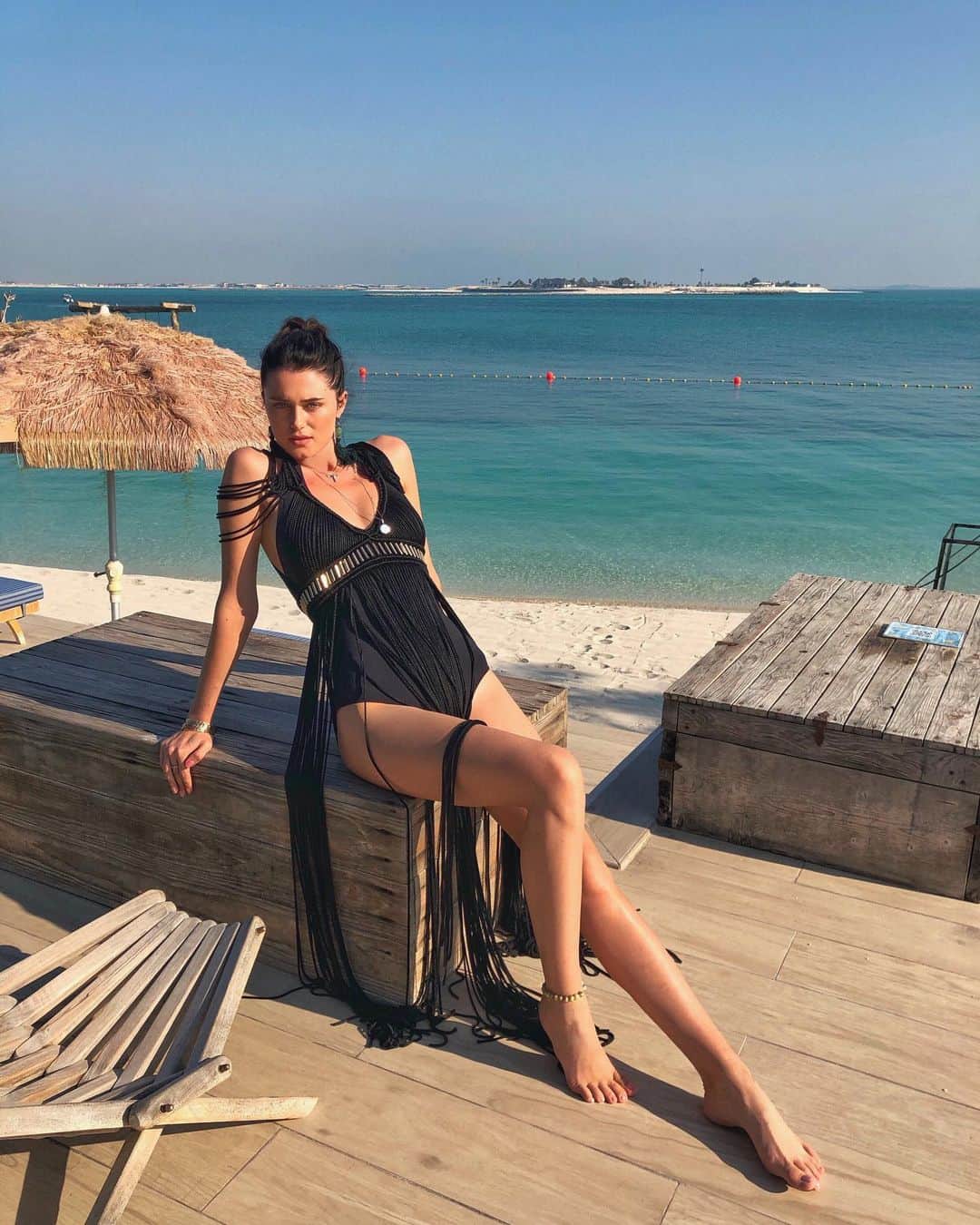 Image Source
This black bodysuit dress encompasses the beach holiday theme with its graceful, casual style. Simple yet pretty, the one-piece swimsuit is given a unique twist with flowing, long fringes which fall freely down and around the legs in a wind-swept manner. A sparkly strip stitched high around the waist elevates the careless flair of the fringed outfit. A simple silver locket, an anklet, and bangles complete the look.
22. Floral Printed Midi Dress With Peach Bandana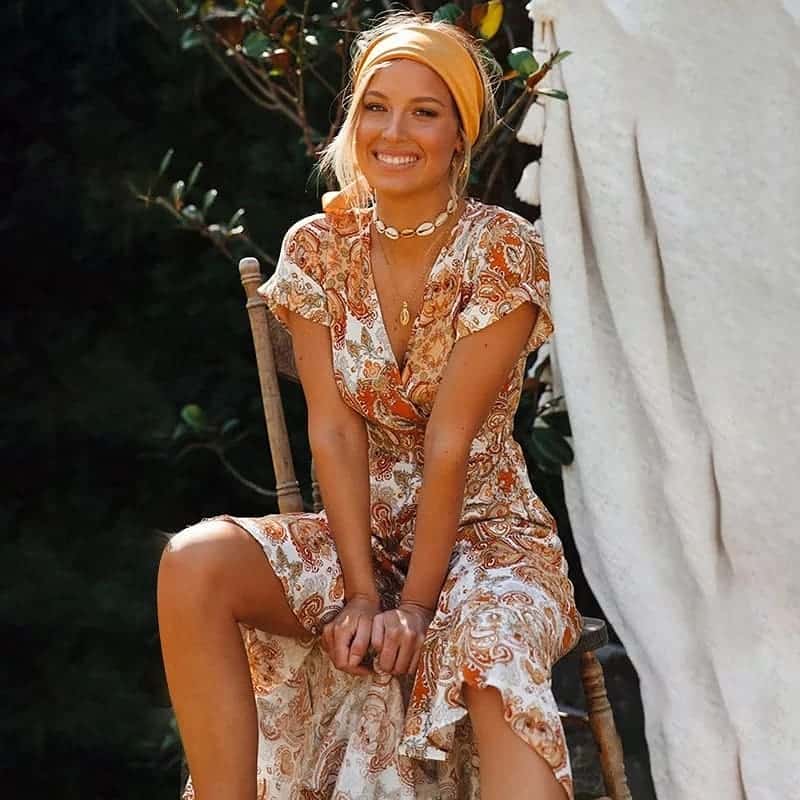 Image Source
If happiness were an outfit, it would be this flower-patterned dress! The boho-chic dress sits between spring and summer wear, marrying eye-catching vibrance with elegant style. Littered with flower shapes in orange, red, and peach shades, the dress is ideal for Coachella. The short spring dress appears warm yet breezy, showing off toned arms and legs with its snug and curvy cut. The addition of summery accessories like a bright, peachy bandana and a shell necklace injects the lady-like grace with some youthful charm.
23. Bedazzled Ibiza Night Themed Outfit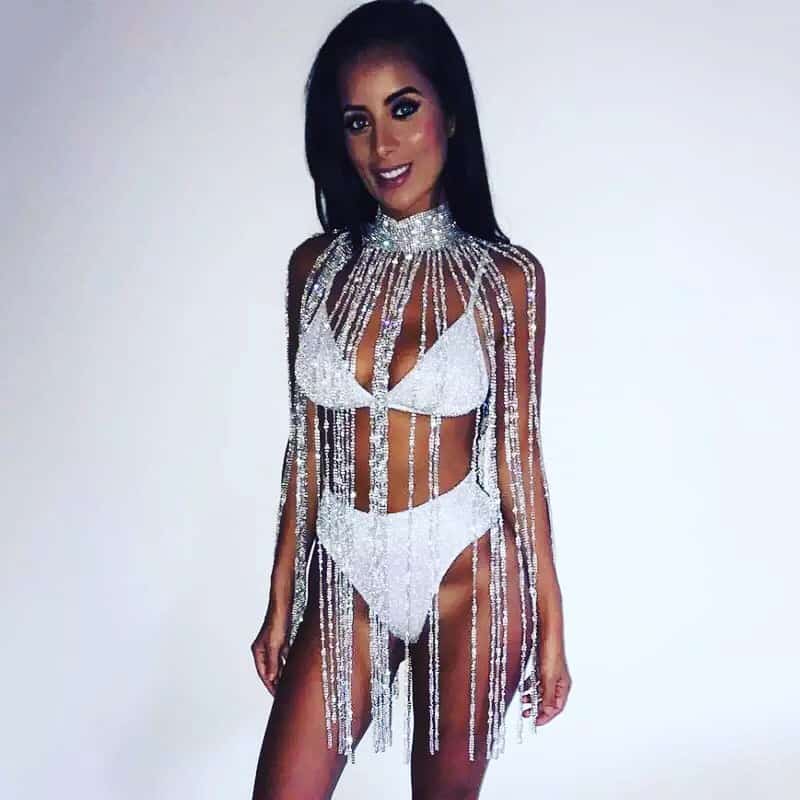 Image Source
Shine like a million dollars with this sparkly, diamond-encrusted outfit, perfect for any beach party. Channeling long party nights at Ibiza, a heavily bedazzled collar gives way to long, jewel-laden fringes that catch the light in every angle. Effortlessly paired with anything from a simple bikini or white dress, this outfit is a one-stop choice for all fashionistas. This look with extensive sparkle and an open back is blindingly flashy yet enamoring in its elegance.
24. Black Crop Top With Fringed Denim Jacket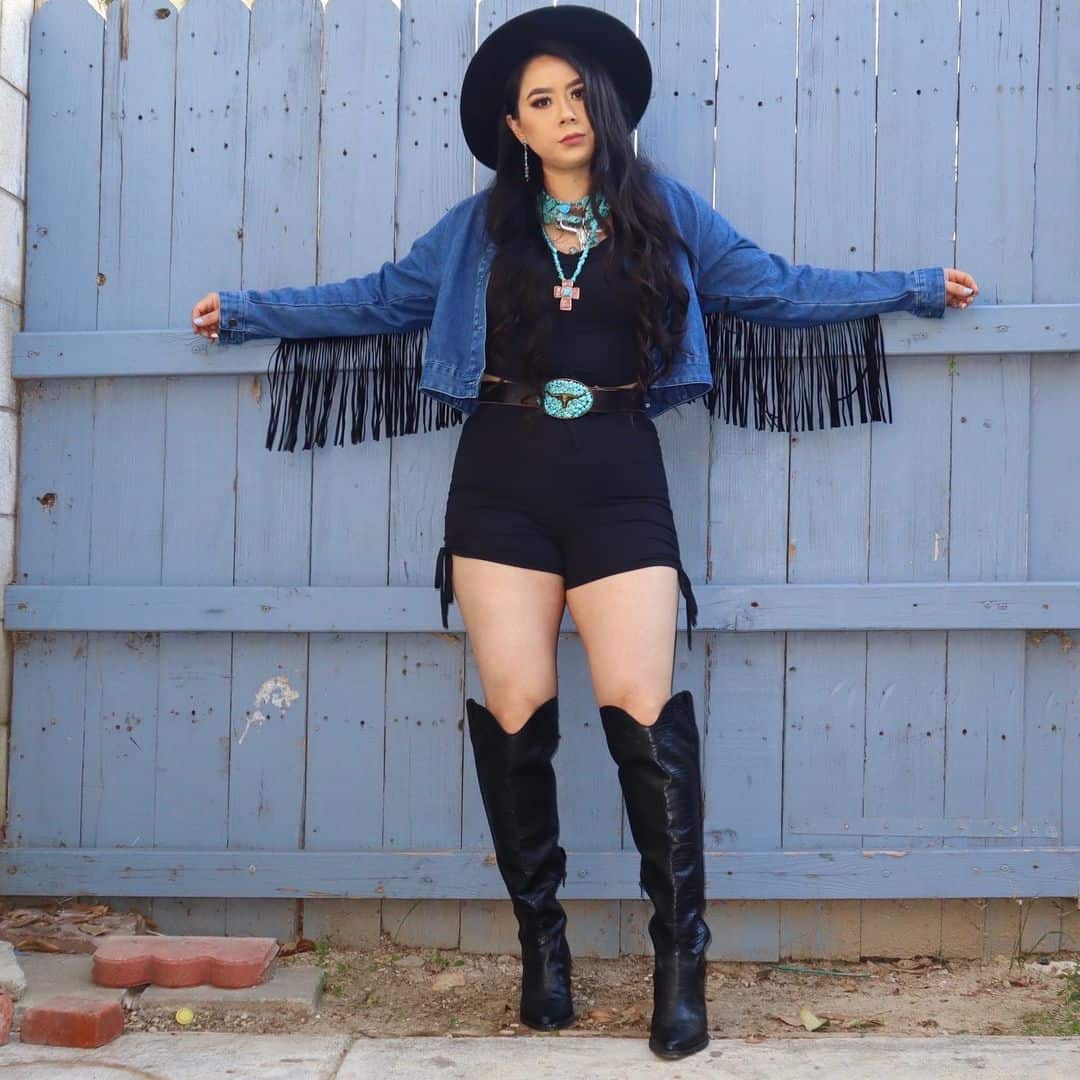 Image Source
Fringes galore with this cowgirl-themed outfit that gives off edgy yet comfy country vibes. A plain black crop top is paired with tight, black shorts as knee-black boots add a sultry but functional element to the look. A short denim jacket with long black fringes along the arm complements the layered, blue-tinged necklaces and a snazzy belt with a big, aqua-colored buckle. A black hat enhances the cowgirl vibe of the ensemble.
25. Lavender Top With Lavender Trousers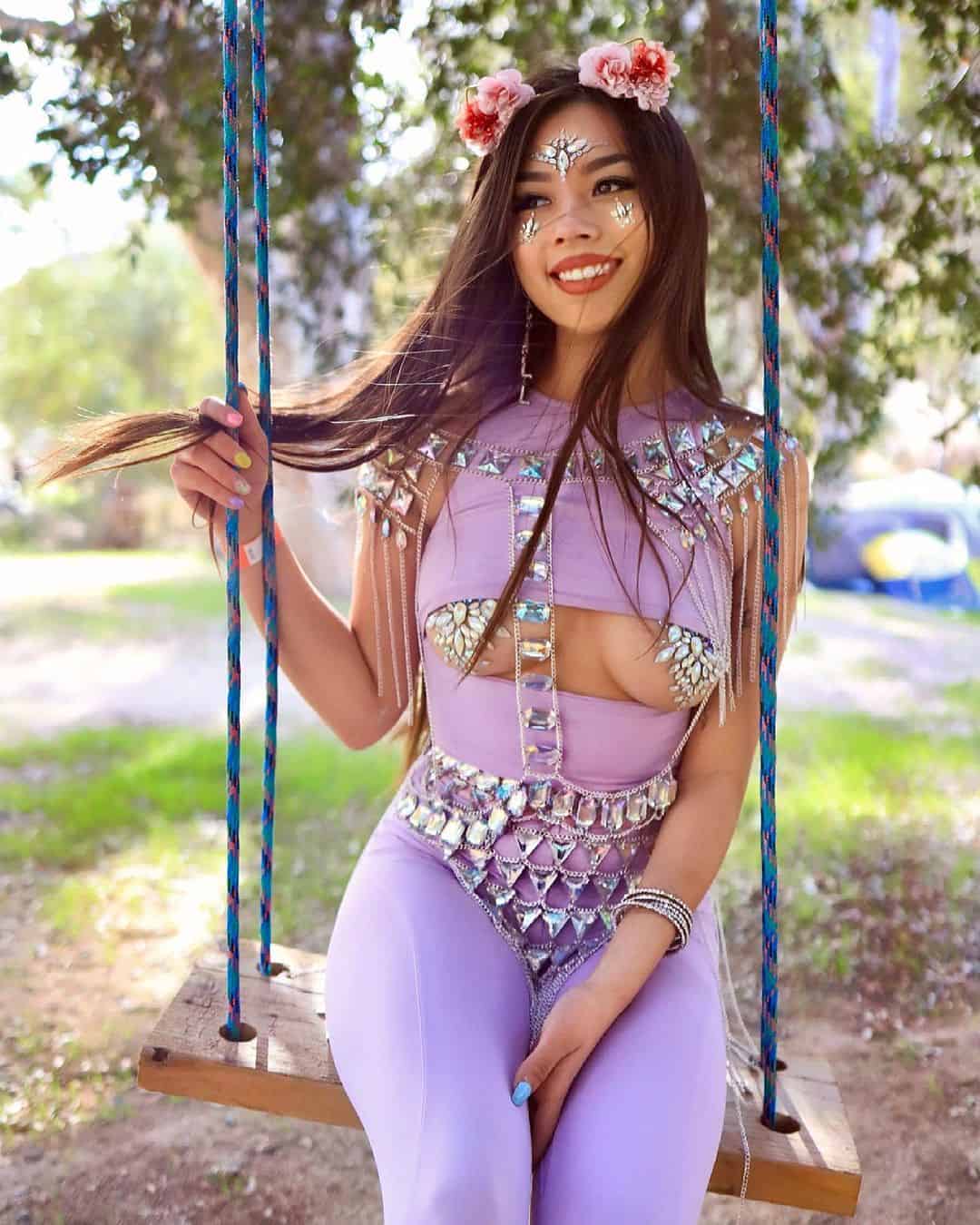 Image Source
This bejeweled, lavender ensemble is the perfect fairy tale, combining youthful innocence with the appeal of maturity. An intricate body belt hugs the lavender-themed outfit from the neck to the waist, with a chunky collection of jewels clustered at the chest in an elegant cover-up. Face jewels on the forehead and cheek add a youthful glow elevated by pink flowers in the hair.
26. Funky Flower Patterned Crop Top With Flared Trousers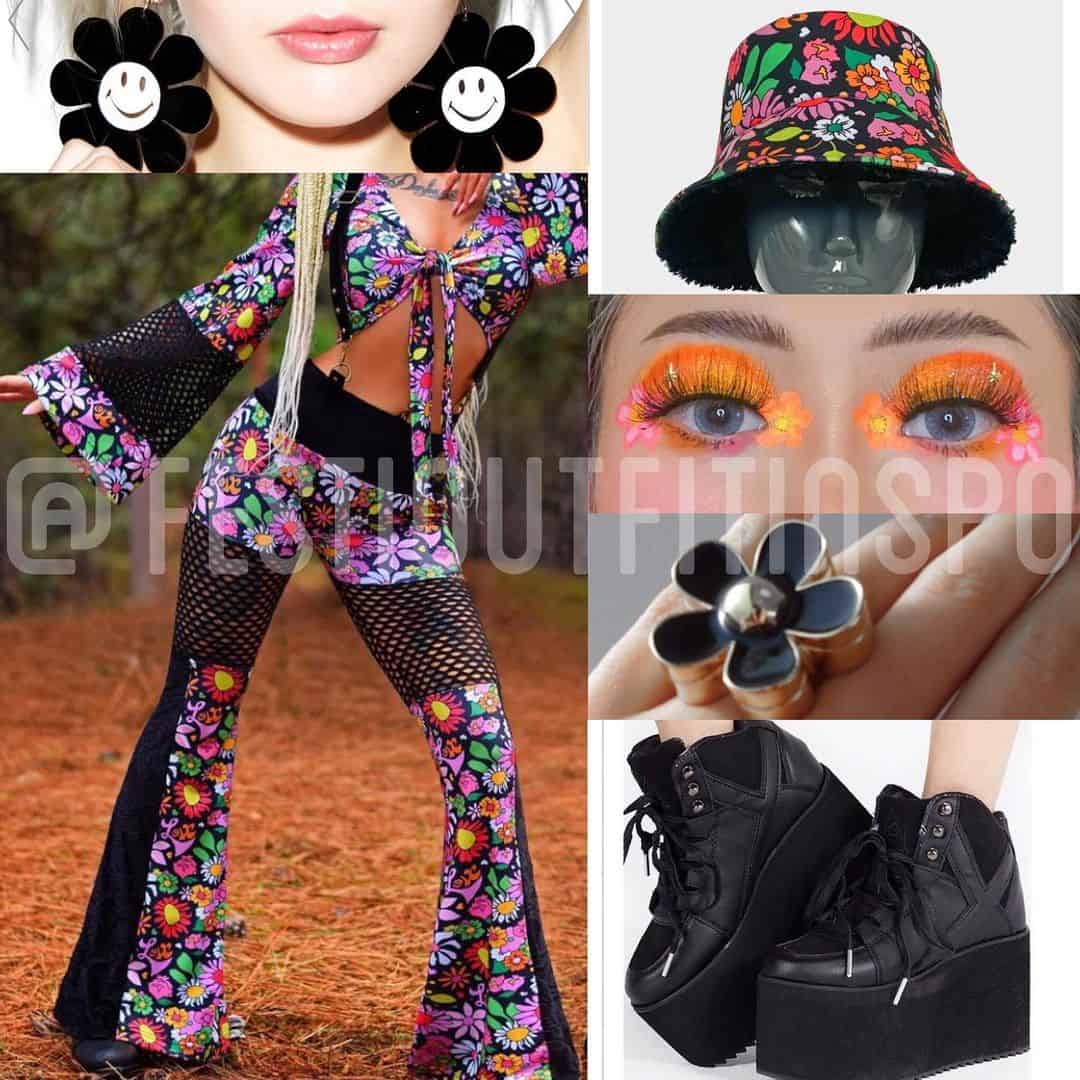 Image Source
Funky, fresh, and fun, this vibrant outfit oozes easy-going charm with an olden touch. Flared pants and a tight, bikini-style crop top with flared long sleeves transport you back into another era of fashion. Abstract flower patterns add a burst of color bordering the black mesh material, accessorizing the outfit heavily. Quirky additions such as a vibrant, patterned bucket hat, platform sneakers, and chunky, flower-shaped jewelry make it the perfect amount of over-the-top to be charming.
27. Crocheted Off-Shoulder Top With Mini Skirt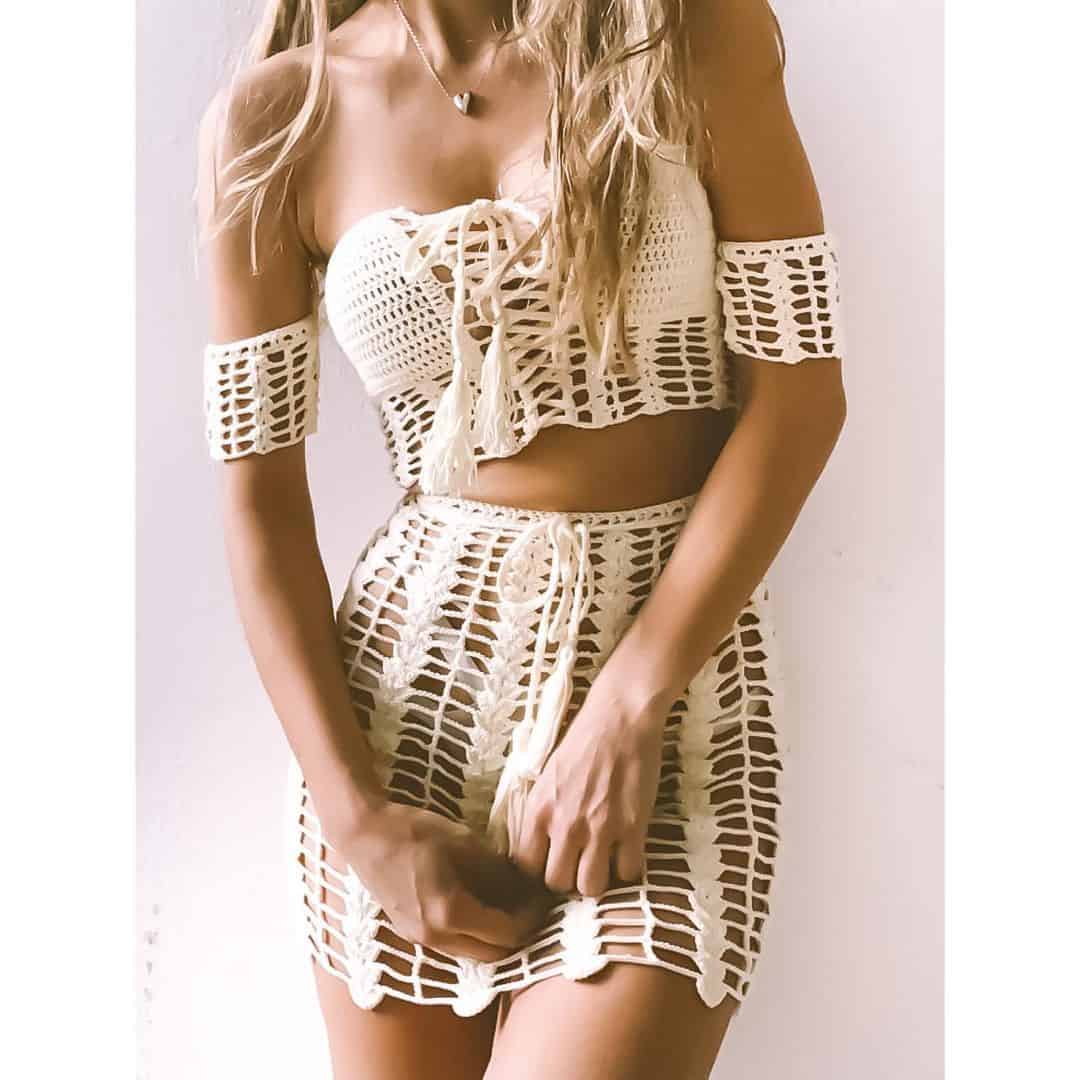 Image Source
This crocheted outfit combines elegance and comfort with its breathable yet fashionable cut. The crocheted crop-top pairs well with a matching mini-skirt, making for a charming, boho-style look. The off-white tight top and skirt come with cute lace bows at the center, requiring no accessories except a silver, heart-shaped necklace. The off-shoulder sleeves rest snugly on shoulders, adding to the grace and femininity of the open-weave crochet.
28. Black Mesh Crop Top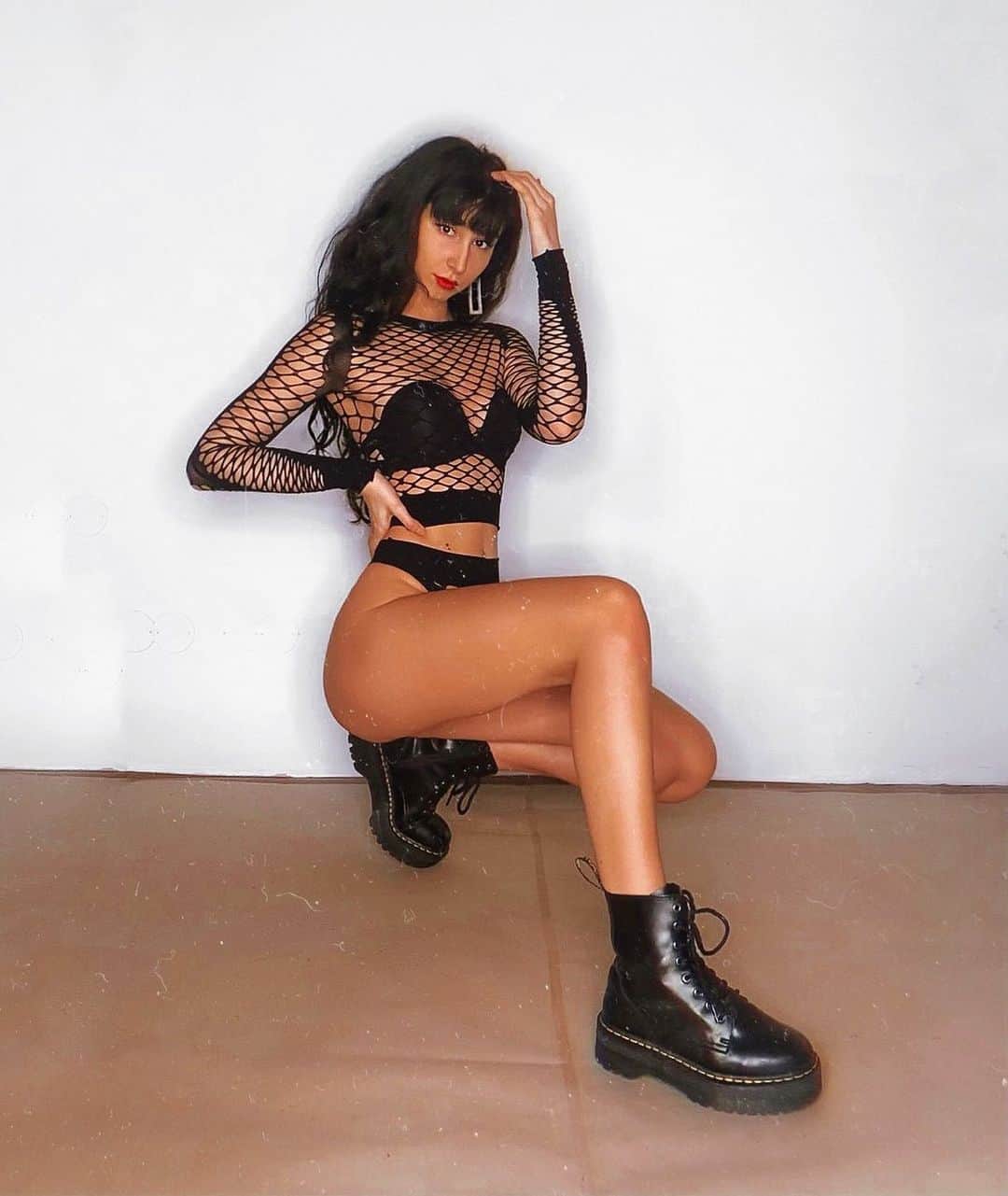 Image Source
Be your sexiest self with this simplistic yet sophisticated all-black outfit. A look that oozes sex appeal and self-confidence, the femme fatale vibes dominate in this snug but stylish ensemble. The see-through black crop top with a wide netted mesh and long sleeves pairs well with lingerie-style bottoms showing off long, toned legs. Lace-up ankle boots add a tomboyish edge and a tinge of easy-going functionality to the sultry figure-hugging style while dangling earrings give it a feminine flair.
29. Polka-Dot Crop Top With Denim Shorts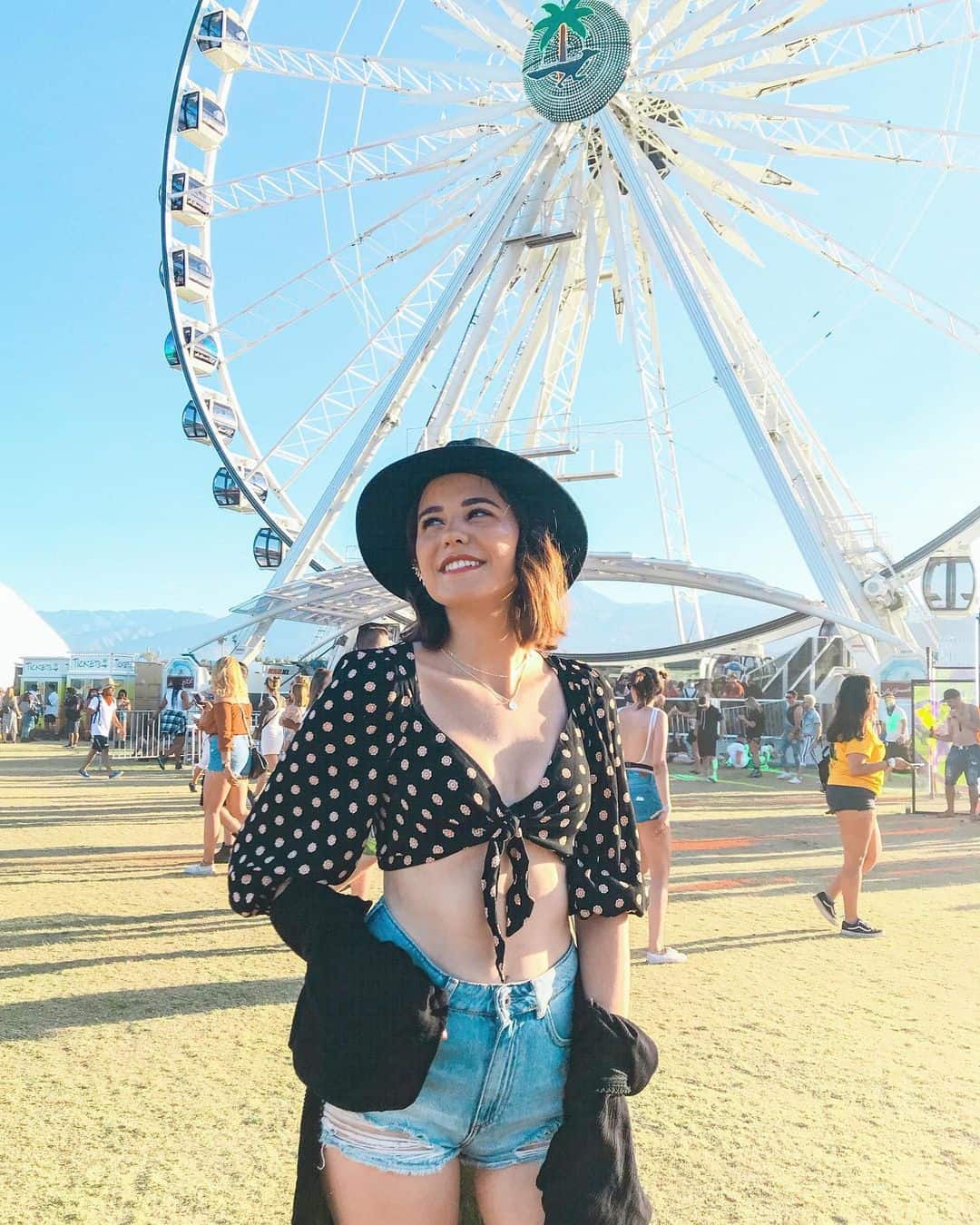 Image Source
This cool, minimalist outfit is summer goals with its warm and comfortable feel. The silky, black bikini-tied crop-top pairs well with simple, distressed denim shorts, making for a casual style. The yellow polka dots on the top add a burst of brightness, while the long flowy, blouse-style sleeves add a graceful but easy-going charm. A simple black jacket and fedora elevate the youthful disposition of the look.
30. Pink Crop Top With Denim Shorts and Fringed Jacket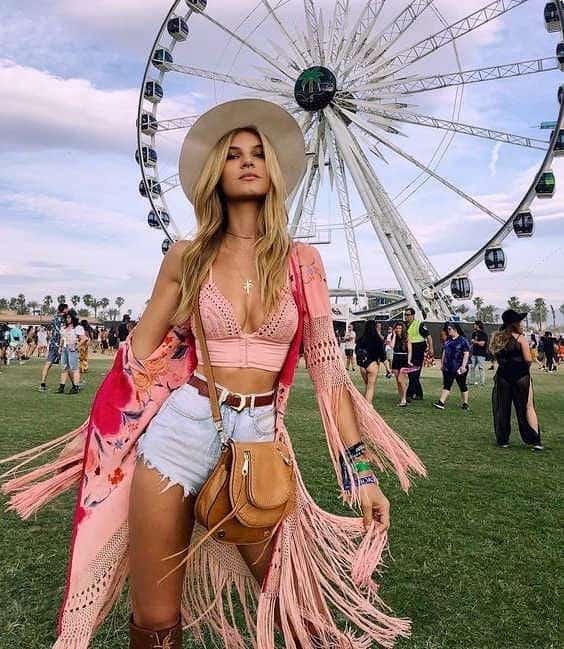 Image Source
Feminine yet edgy, this pink-themed, country-inspired outfit is a fancy take on the cowgirl look. A short, pink, lace-front crop top pairs well with light-wash denim shorts with a simple brown belt, making for a casual style. The ensemble is taken to the next level with a vibrant, flower-print pink jacket loaded with fringes and some lace patterns for added elegance. Brown knee-high boots, a tan sling bag, and fedora complete the look.
31. Mesh and Black Lace Outfit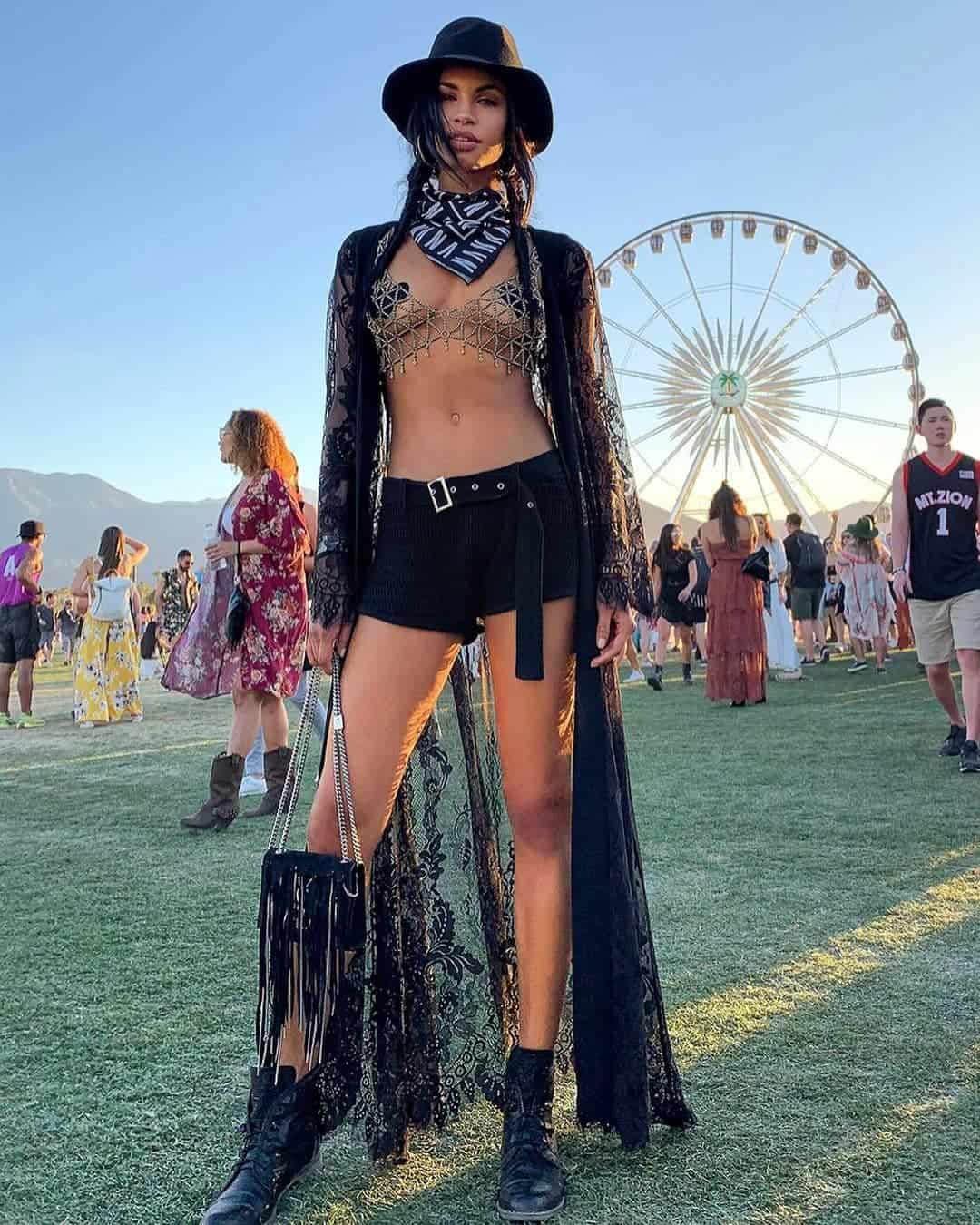 Image Source
Seductive but stylish, this all-black outfit is dark and mysterious at the same time. A gold-tinged mesh bikini top pairs well with tight black shorts with a buckled belt, making for a charming look. With black ankle boots and a black fedora to match it, the star of the outfit is the long, black lace overcoat that flows down to the ankles adding a tinge of intrigue to the sultry style. The ensemble also incorporates black accessories like a striped neck scarf and a fringe-laden bag to complete the look.
32. Silver Swimsuit With See-Through Overcoat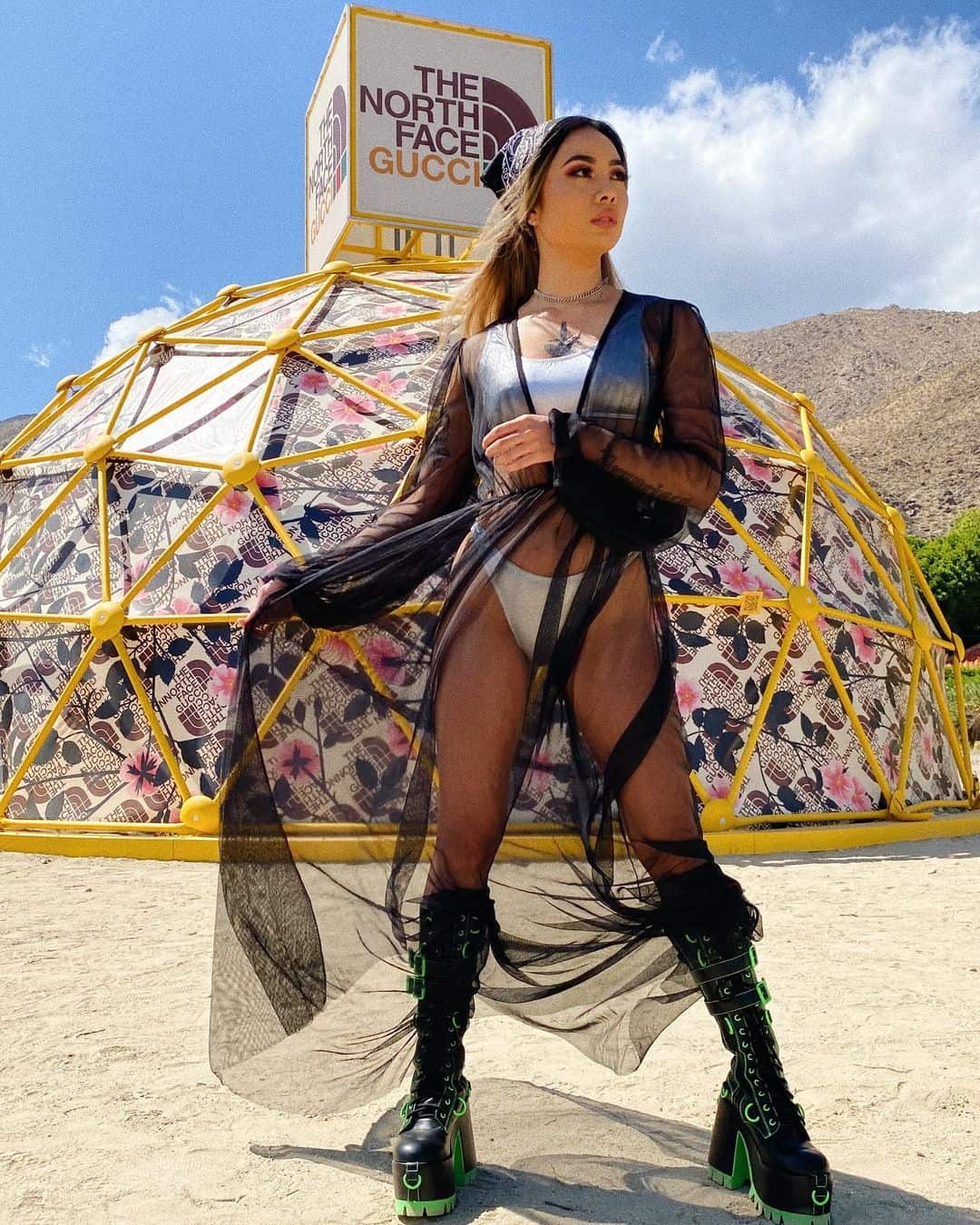 Image Source
Elegant and sexy, this look brings together a classic summer beach party vibe with soft femininity. A silver swimsuit-style crop top is paired with a bikini-inspired bottom to highlight toned legs. The flowing, black overcoat with its see-through material adds a touch of elegance and sophisticated comfort. A pair of knee boots tinted in neon-green trimmings and a simple, patterned bandana finish off the look.
33. Unitard and Bikini Combo Outfit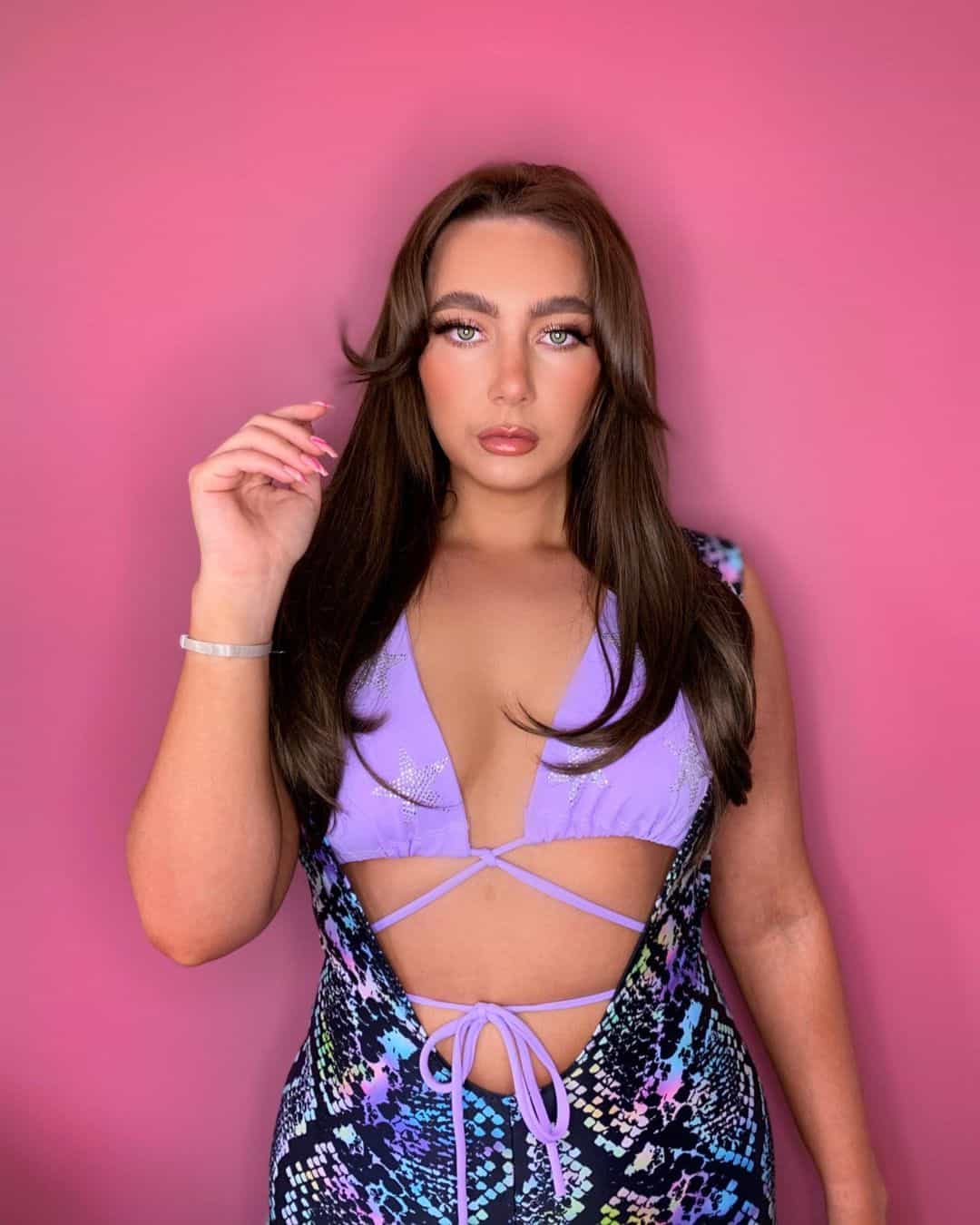 Image Source
This bikini-unitard combo is perfect for any festival or pool party as it overflows with summer vibes. Colorful but not overpowering, a lavender bikini outfit pairs well with a multi-colored, inkblot patterned unitard for a look that marries gentle grace with youthful charm. The unitard is left open in the front to reveal subtle sparkles woven into the bikini top, adding a seductive touch to the ensemble. A single silver bangle serves as the perfect accessory injecting sophistication into the summery vibe.
34. Western Vibe Little Black Dress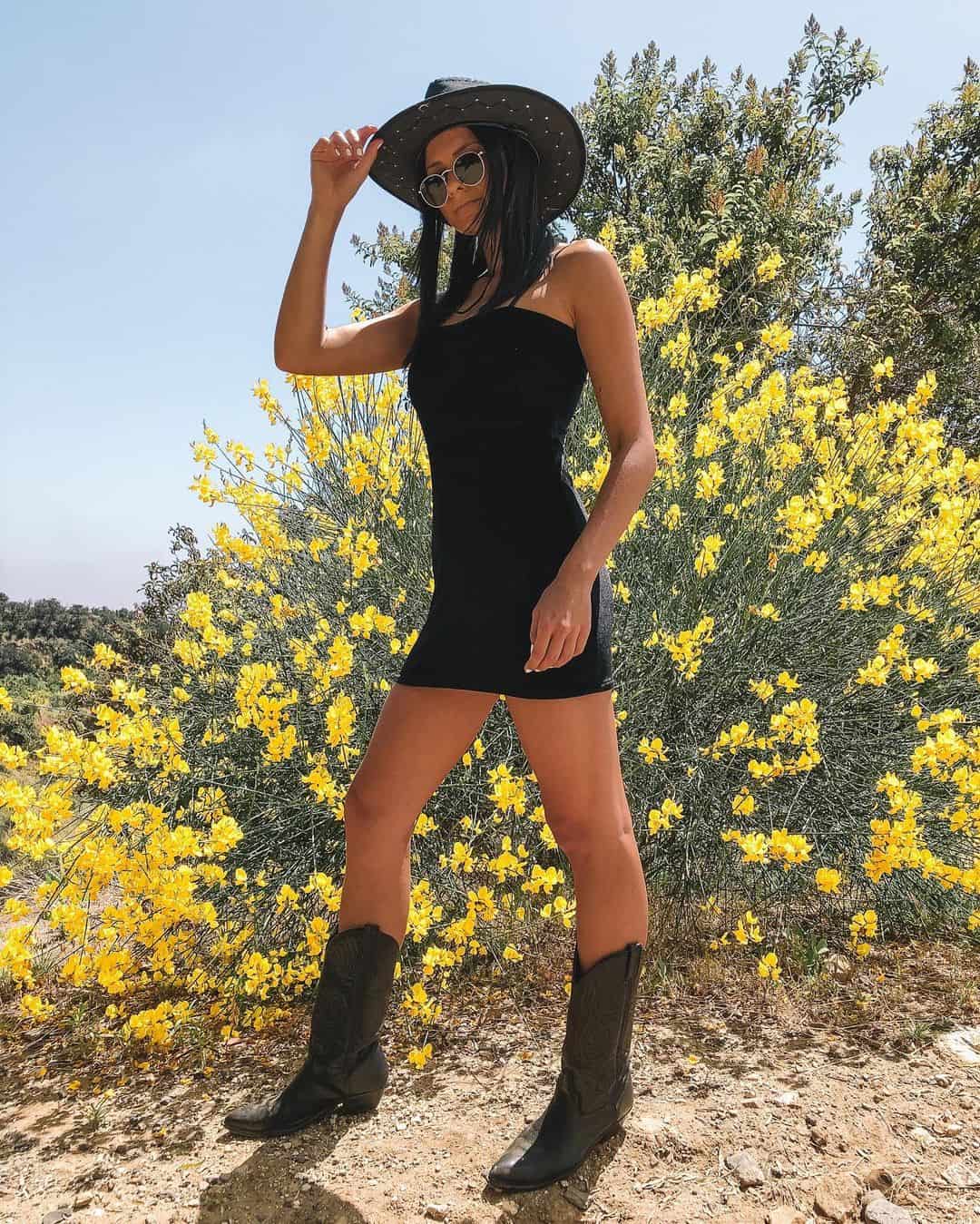 Image Source
You can never go wrong with a black dress, no matter what the occasion. Simple yet seductive, this classic outfit is given a twist with summery, Western vibes. The tight, black minidress is left untouched and allowed to shine without the distractions of any accessories. A pair of stylish ankle boots in greyish-olive green leather, a sexy fedora, and casual black shades accentuate the simplicity of the look.
35. Purple Halter Neck Dress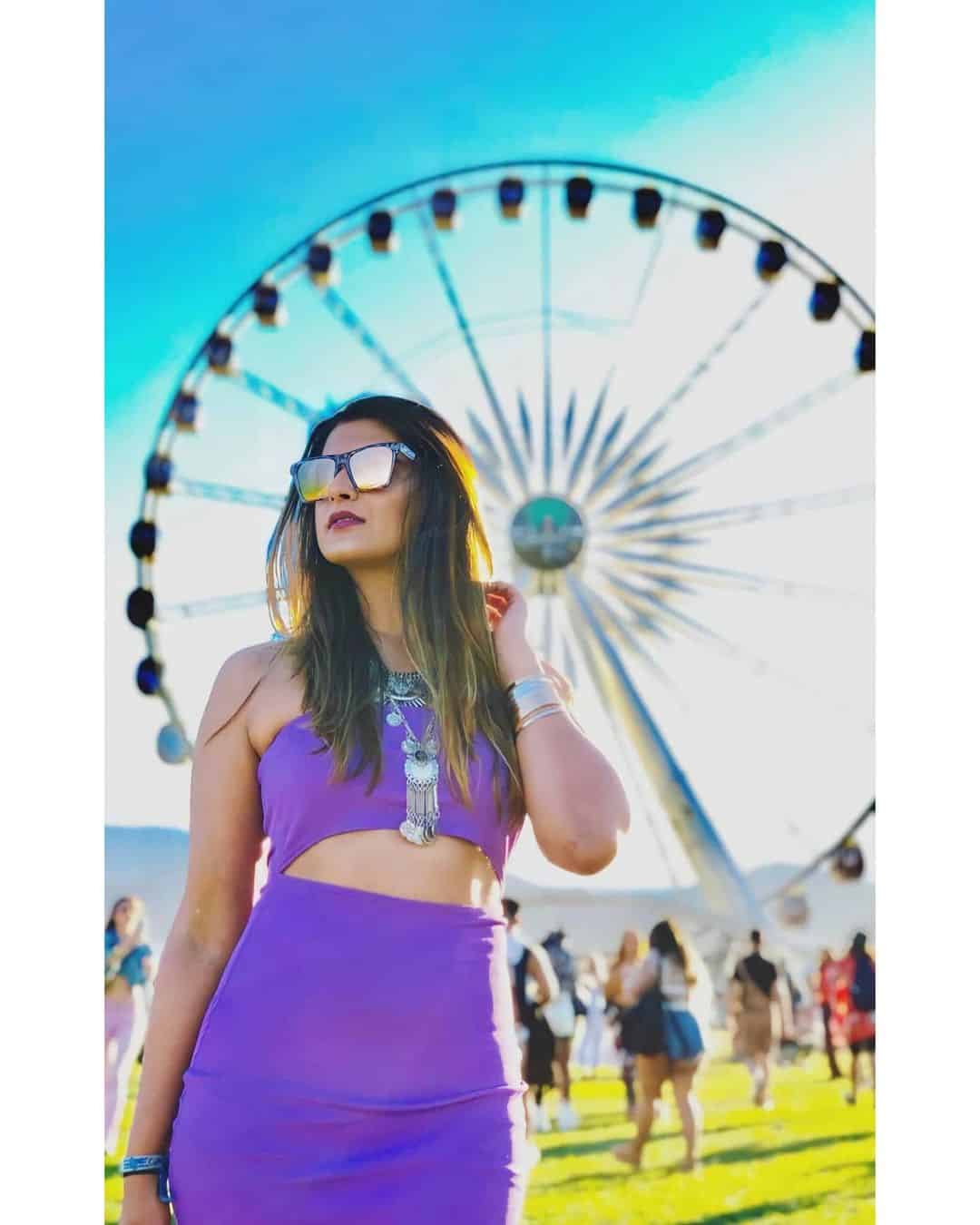 Image Source
Charming and colorful, this bright purple halter-neck dress keeps things simple without losing any style points. The outfit resembles a two-piece with a cut across the middle exposing the midriff. Minimalistic but stylish, the dress is given a fashionable boost with chunky silver accessories, including a silver necklace with a tribal-inspired design and several simple, silver bangles for a bit of understated yet graceful femininity.
36. Victorian Cow Girl Look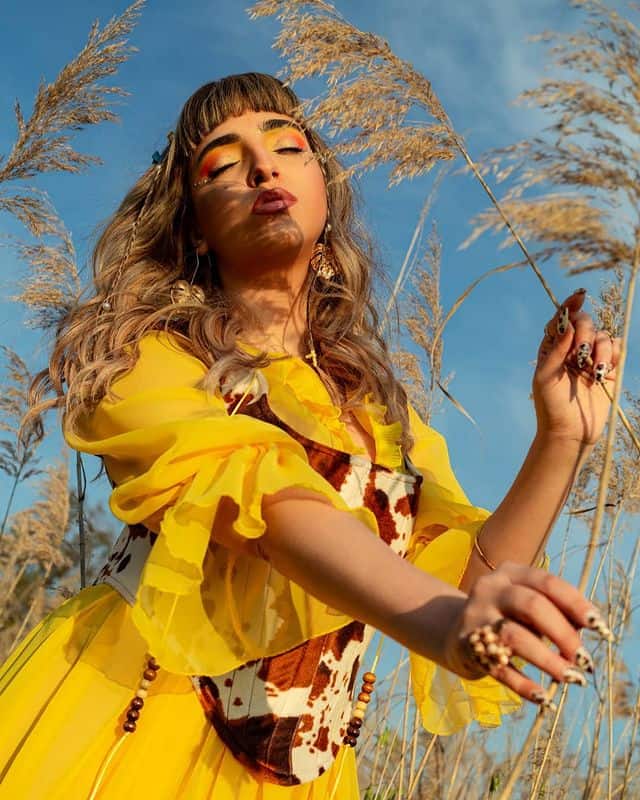 Image Source
This outfit encompasses eccentric charm and carefree hippie vibes in warm summer shades. The bright yellow dress is comfortable yet stylish as it flows with an easy-going, romantic grace. The highlight is the cow-skin patterned corset layered over the dress, which boasts frilly sleeves and a collar for a unique vintage touch. An array of summery, festival-inspired accessories like colorful hair beads and vibrant makeup, elevated by the cow-patterned nails, balances the romanticism of the outfit
37. Formal Pantsuit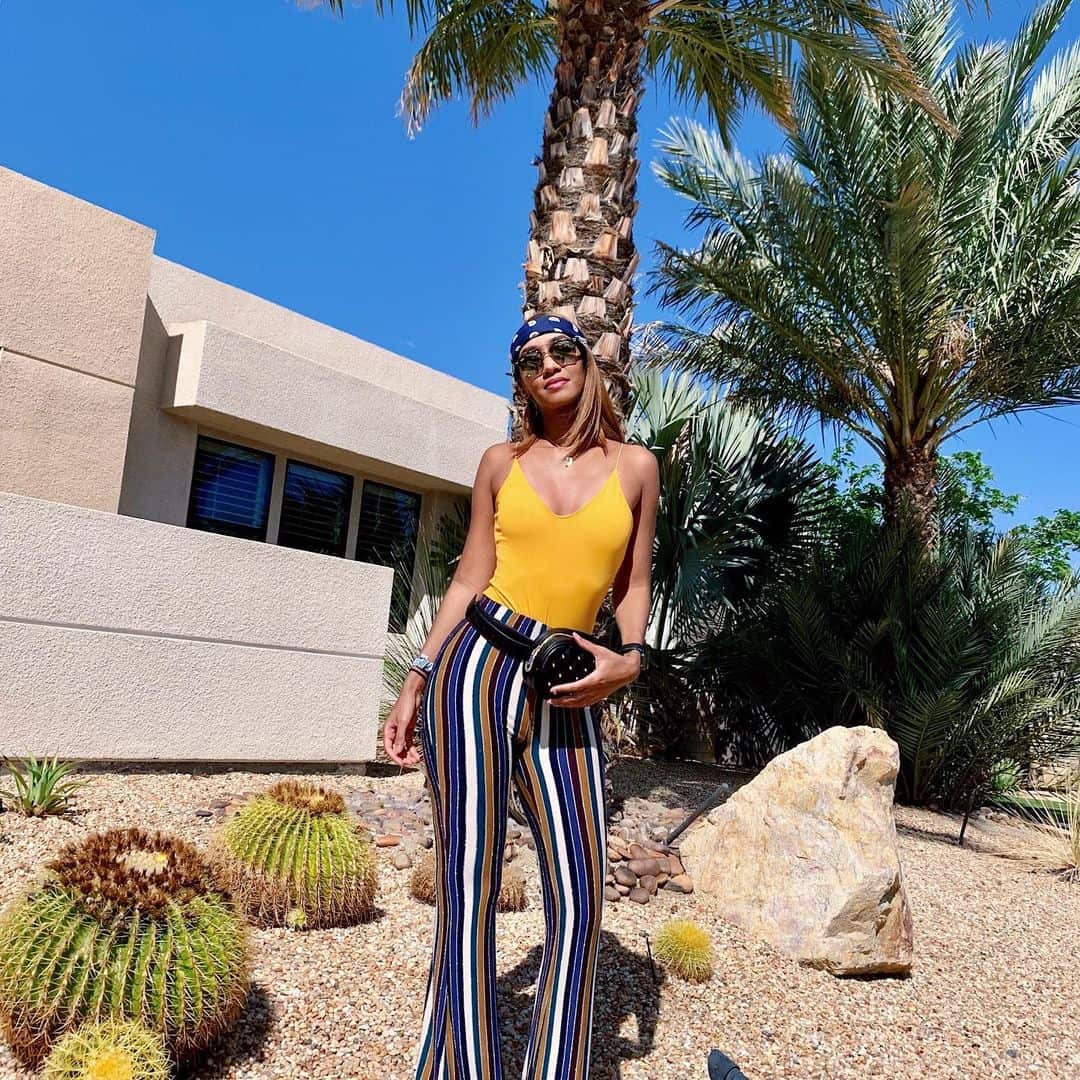 Image Source
Formal and classy, pantsuits may not be the most obvious choice for festivals, but this outfit proves otherwise. An ochre yellow tube top is paired with high-waisted formal pants with a combo of blue, white, and brown stripes for a stylish yet sultry look. With the top tucked into the pin-striped pants, the cut of the ensemble is made even more figure-hugging with the addition of a black, leather fanny pack and a blue-patterned bandana, adding an edgy vibe to the sophistication.
38. Bohemian-Inspired Skirt and Blouse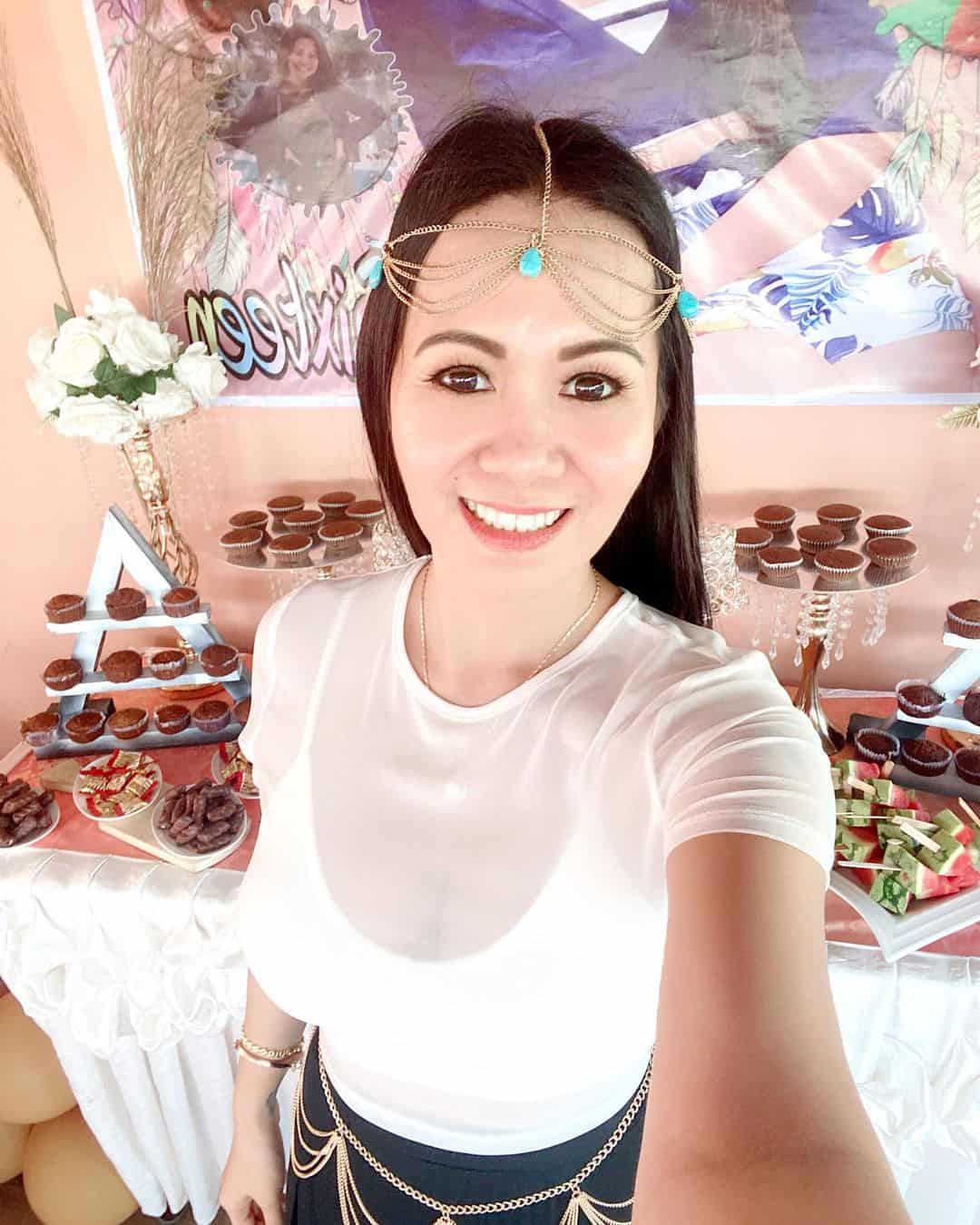 Image Source
Elegant and mature, this skirt and blouse ensemble is simple yet stylish, with a fashionable bohemian twist. A see-through white top is layered over a sleeveless crop top and paired with a black pencil skirt for a classy vibe. With a thigh-length slit offset by edgy black leather knee boots, the graceful style is kicked up a notch with the addition of a belly dancer-inspired golden chain belt and head accessory accented by aqua gemstones for a boho touch.
39. Japanese Flower-Print Bathing Suit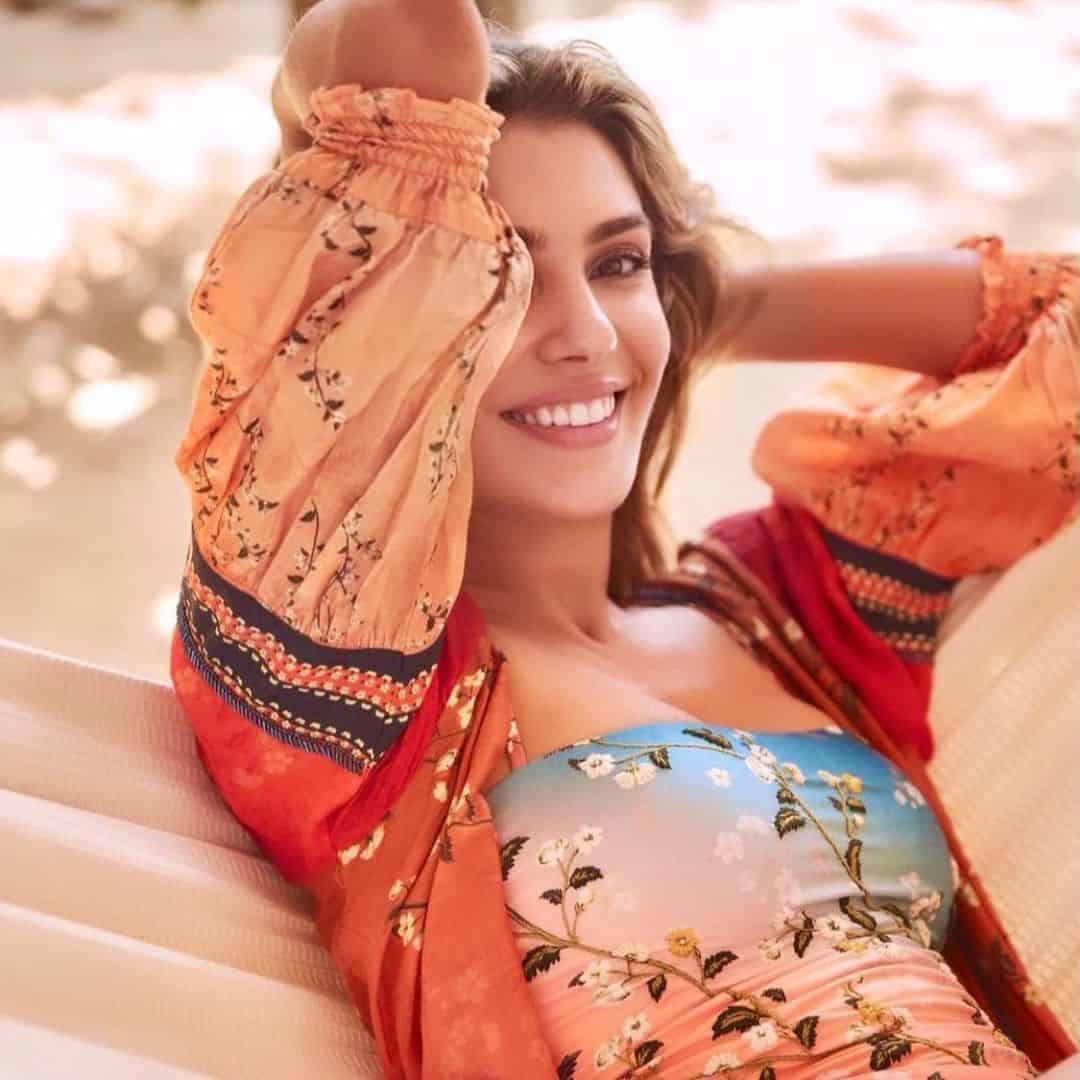 Image Source
With the grace and femininity of light pastel shades and delicate floral prints, this Japanese cherry blossom print outfit is perfect for a breezy summer look. The minimalistic, eye-catching bathing suit fades in a gentle gradient from sky blue to pastel pink. The cherry blossom print on the bathing suit encapsulates a vibrant style, setting the mood for a cozy vacation. Finish off this look with a burnt orange kimono-style robe that offsets the soft colors of the suit.
40. Starry Night Two Piece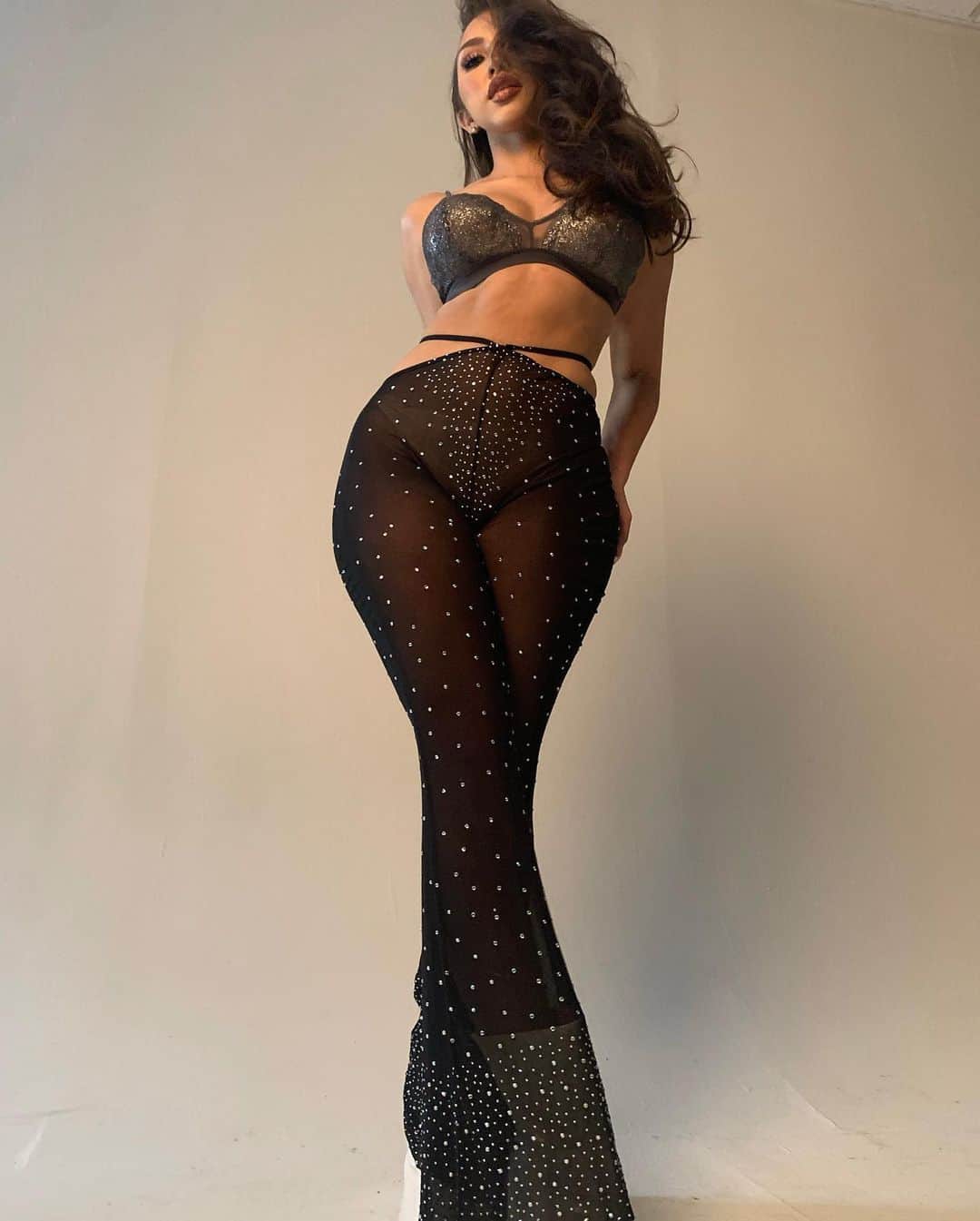 Image Source
Sensual and classy, this black ensemble is perfect if you love some sparkle in your clothes. A shimmery, silver-grey bikini-style top pairs well with translucent flare pants making for a seductive vibe. The highlight is the smattering of silver stars along the length of the pants – the sparkles getting closer together and denser towards the ankles for a pretty, nighttime look. A pair of white platform heels balance out the inky black outfit.
41. School Girl Flannel Look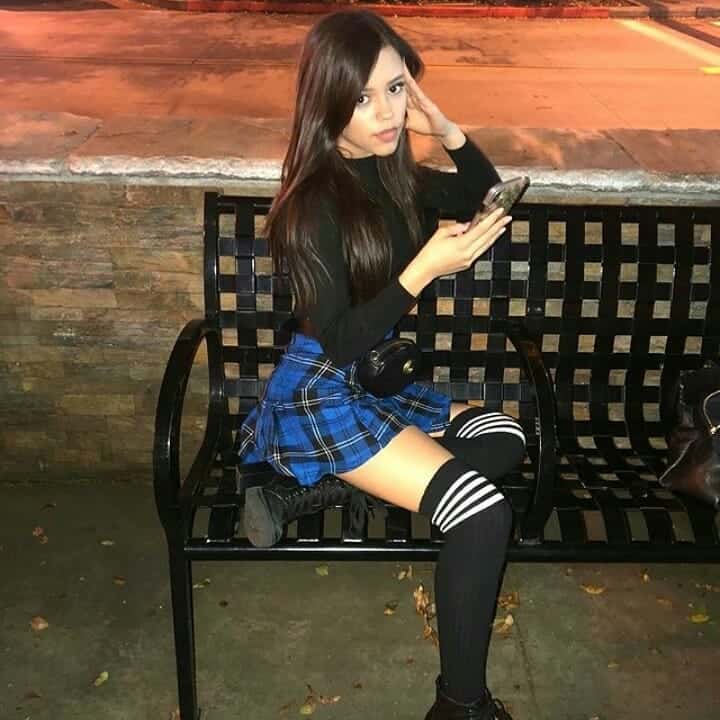 Image Source
Flannel will never fail you, as this simple look proves – a plain black full-sleeve top pairs well with a blue and black flannel-inspired mini-skirt. A small black fanny pack makes the outfit an understated, minimalistic one. White-striped, black thigh-high socks with heavy, lace-up black boots imbues grace and maturity into this ensemble. The delicate and youthful charm of the outfit gives out cute anime school girl vibes.
42. Mesh Bodysuit With Jeans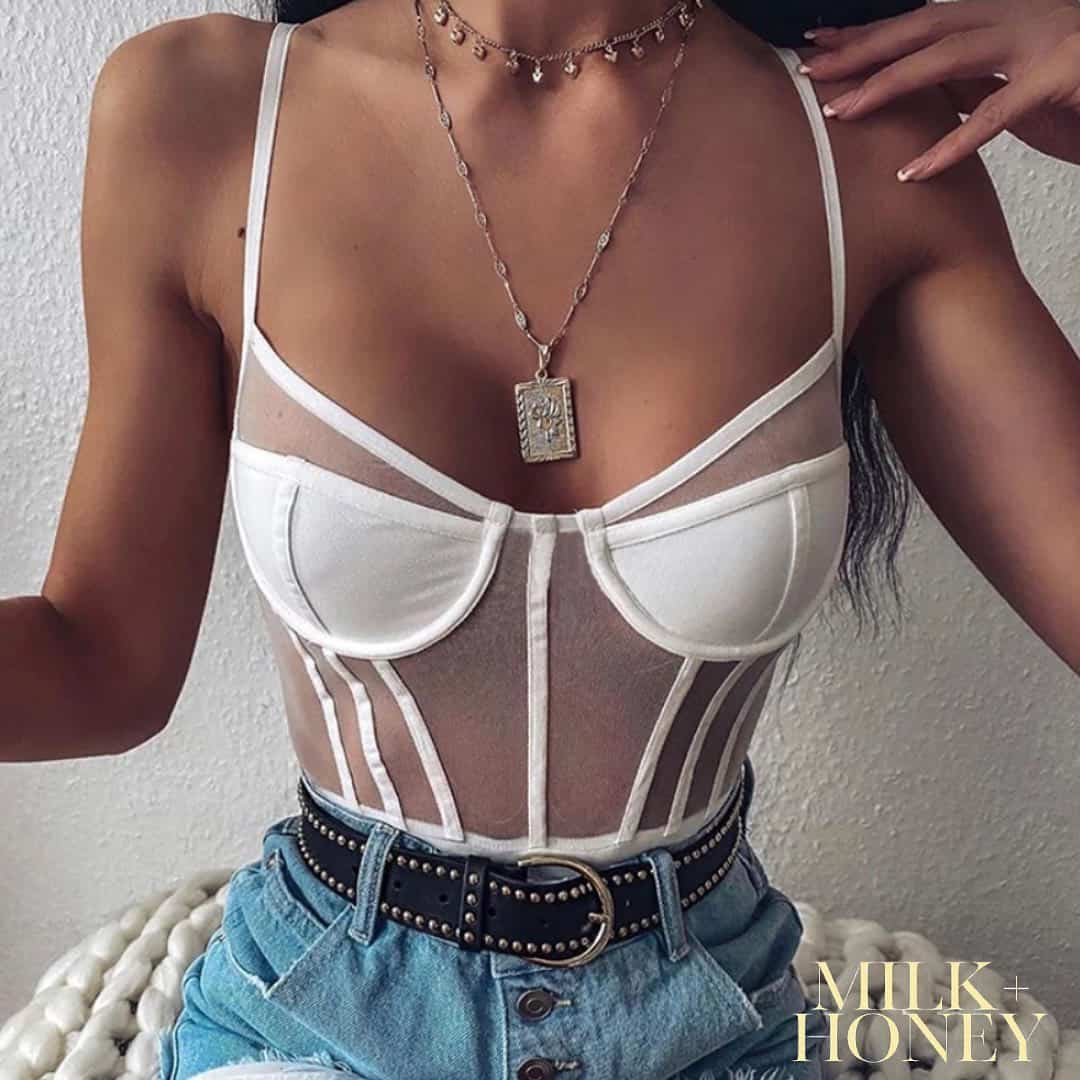 Image Source
Versatile and fit for spring and summer, this delicate bodysuit is a great look for the breezy outdoors. The white bodysuit with dainty straps and a see-through mesh style is graceful and elegant yet comfortable to lounge in with its easy-going vibe. The look sets the mood for summer with its casual style when paired with simple denim jeans. A delicate silver choker and bohemian locket match perfectly with the studded trimming on the leather belt, pulling the look together stylishly.
43. Summer Retro Star Design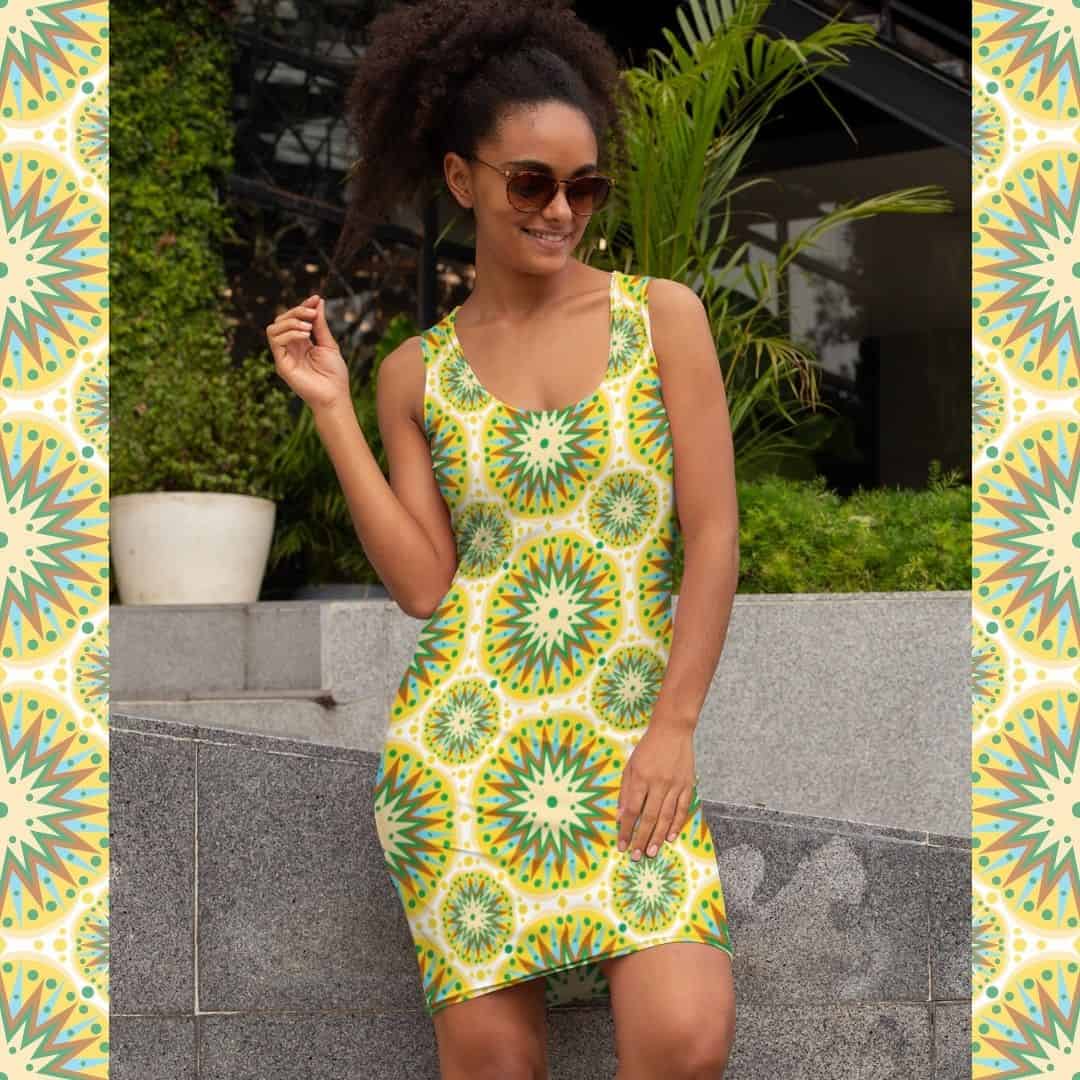 Image Source
Vibrant, wild, and full of sunshine vibes, this yellow, retro star-print dress is one for vintage fashion lovers. The sleeveless lemon yellow mini dress comes with an abstract, 70s-inspired star-print design. Simple and stylish, this is the perfect choice for any pool party or festival. The bright dress with its bold print brings the graceful and understated maturity together with energetic, youthful charm and is sure to grab attention wherever you go.
44. Neon Green Mini Dress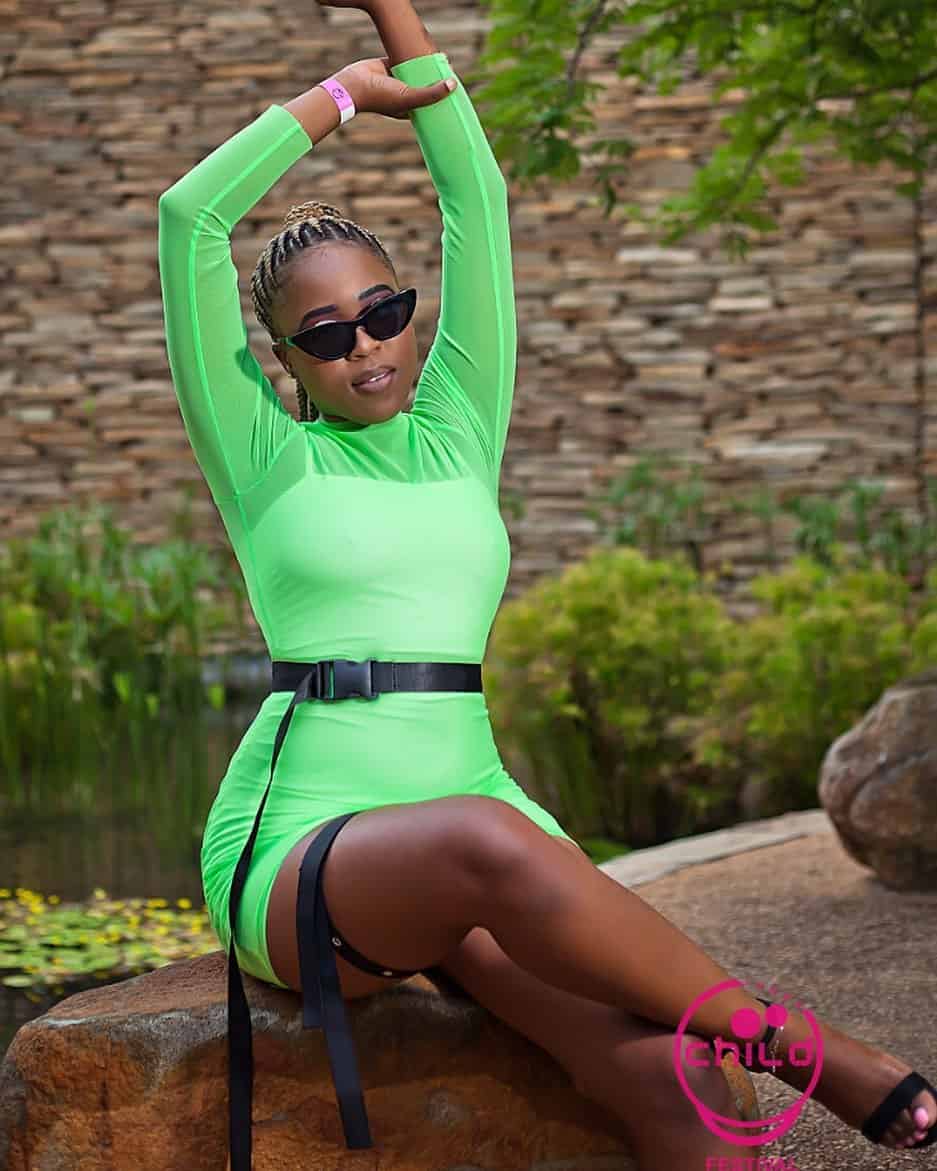 Image Source
Nothing says party, like neon clothes. This fluorescent green mini dress is just as eye-catching during the day as it is during the night. A see-through full-sleeve ensemble layers the tight sleeveless one-piece paired, making for a casual vibe. Black seat-belt-like straps are fastened at the waist and wrapped around the left thigh for a bold and edgy twist, while black sandals complete the look.
45. Halter-Neck Bikini and Wrap-Around Skirt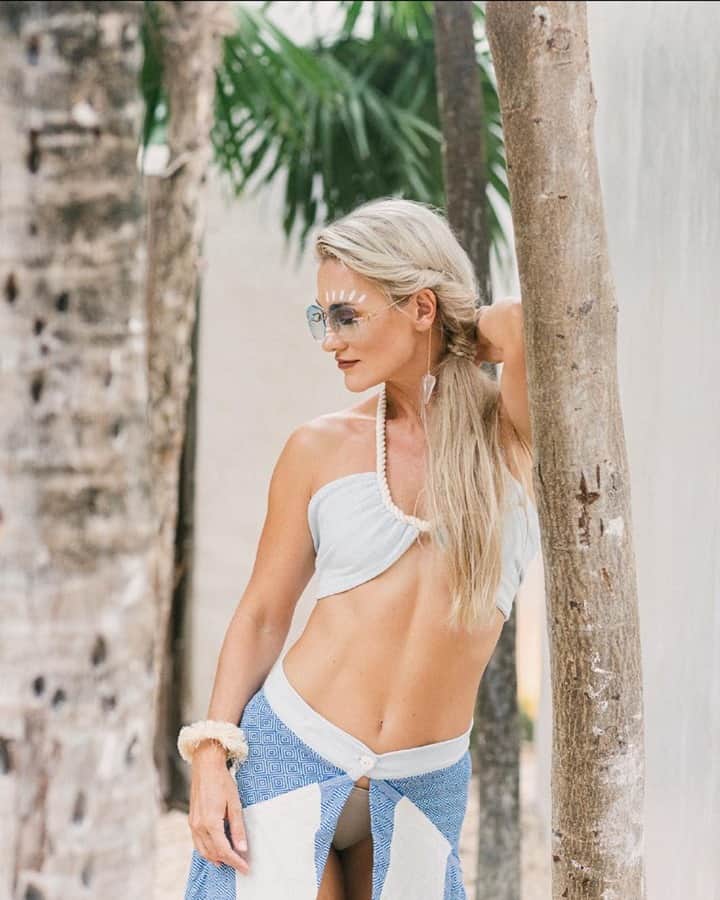 Image Source
This beachy look is casual and sensual, with tribal-influenced accessories adding a unique twist. A white halter-neck bikini top with rope-like straps pairs well with a blue and white, block-printed wrap-around skirt. The simple look is given a tinge of tousled grace with a messy braid framed by dangling crystal earrings and a fuzzy band around the wrist as accessories. White strips of face paint along the eyebrows add to the summery, festival mood.
46. Flower-Print Dress With Lace Overcoat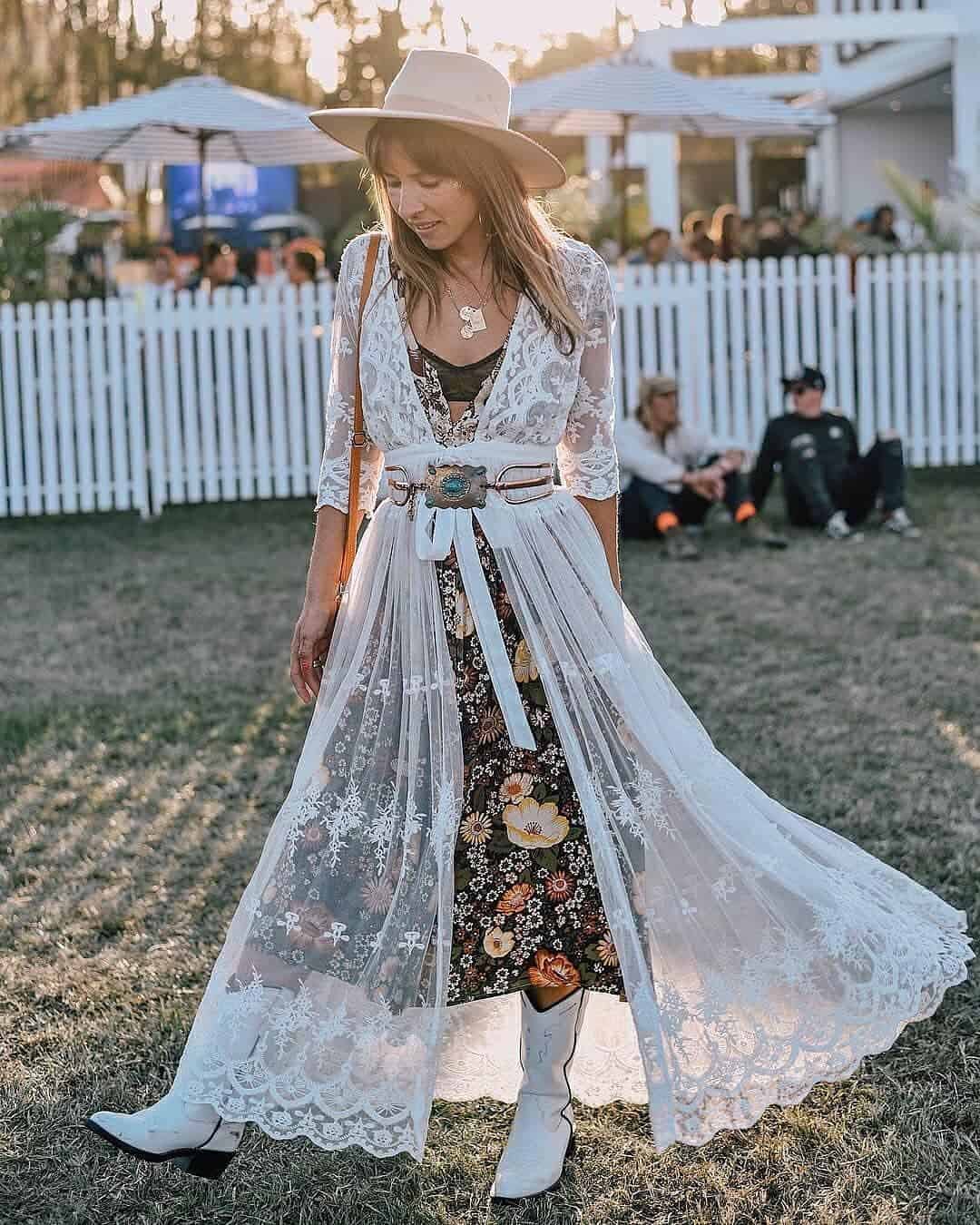 Image Source
Comfortable and graceful, this summer dress captures an easy-going vacation mood. The black dress falls delicately beyond the knees stopping above a pair of heeled, white ankle boots. A white lace overcoat tied at the waist adds a dainty touch imbued with maturity to the youthful charm of the eye-catching flower-print summer dress. A cream-colored fedora offset by a chunky belt and necklace pulls together the look.
47. Lavender Bandana-Print Look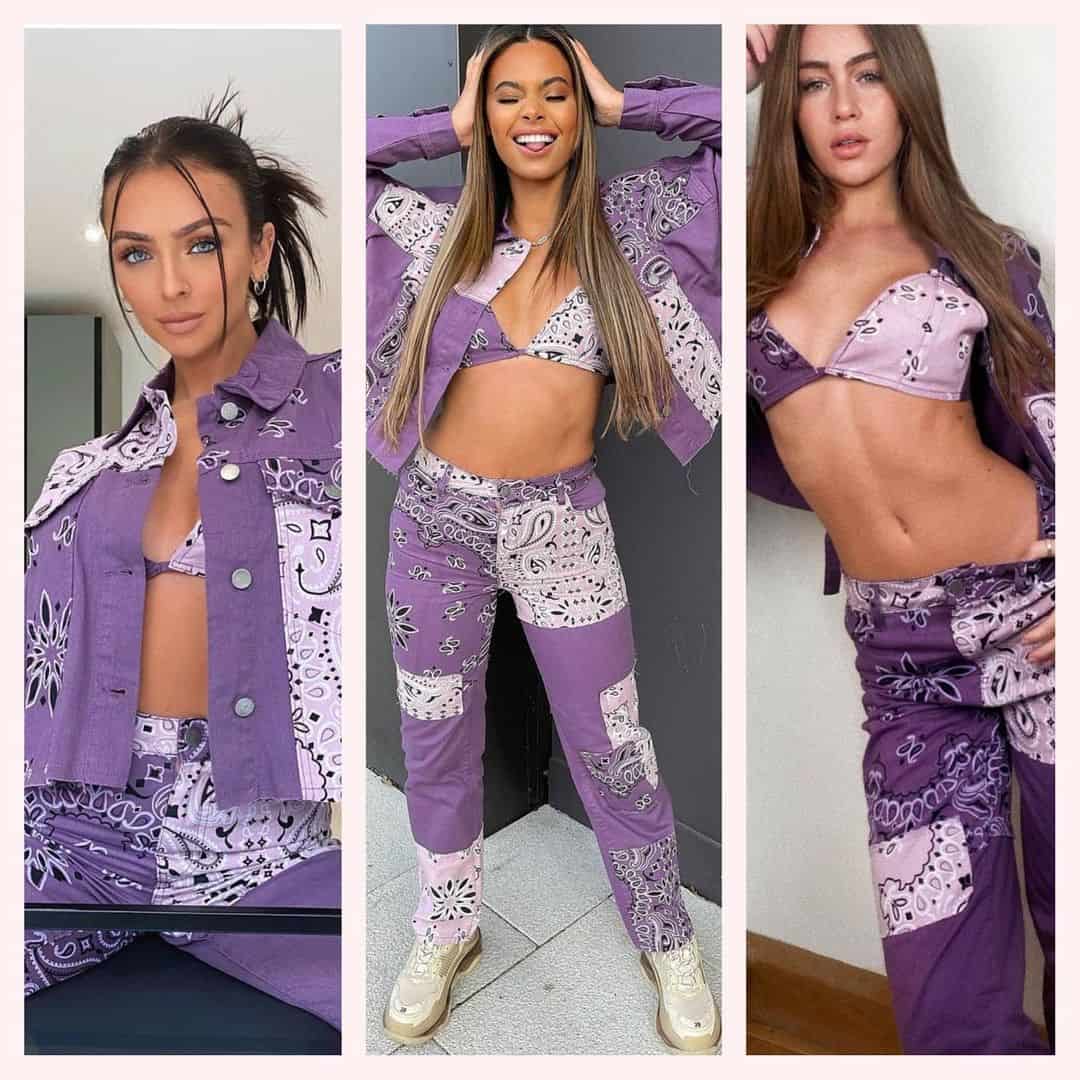 Image Source
Deck up in denim from head to toe with this denim-themed look which is monochrome yet attractively mismatched in shades of lavender and purple. With a bright yet gently muted color palette, the denim, bandana printed bralette top pairs well with matching boyfriend jeans with bandana print patchwork for a casual, sensual look. A cropped denim jacket is woven with bandana patchwork to match the rest of the fashionable ensemble.
48. Silver Fringed Outfit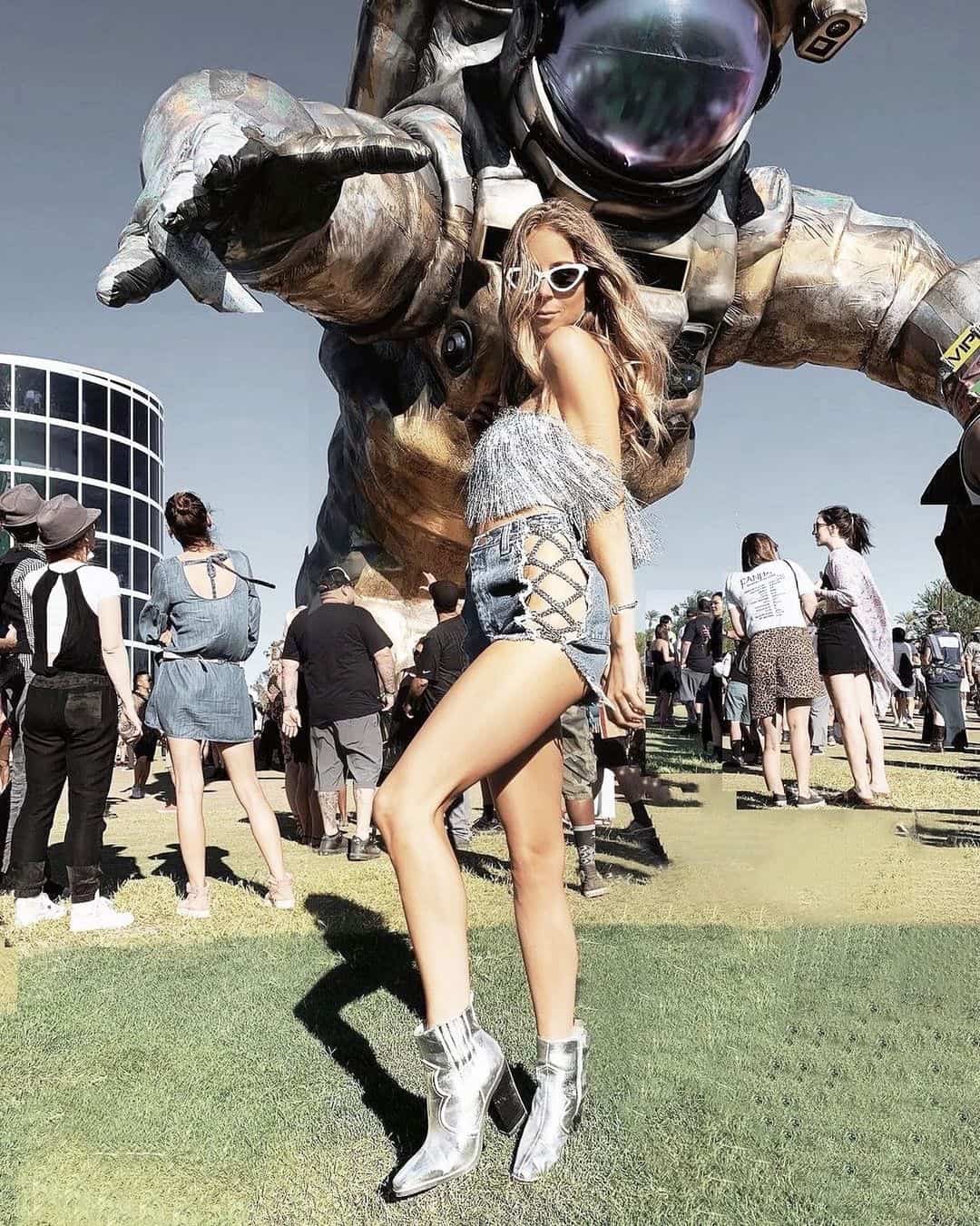 Image Source
Sexy and sparkly, this outfit is the perfect disco party look. An off-shoulder crop top populated with extensive silver fringes matches well with heavily distressed denim shorts that are ripped fashionably in a criss-cross manner along the sides for a sultry summer vibe. The blinding shine of heeled, silver ankle boots takes the easy-going and youthful style of the look to the next level.
49. Gold and Pink High-Fashion Ensemble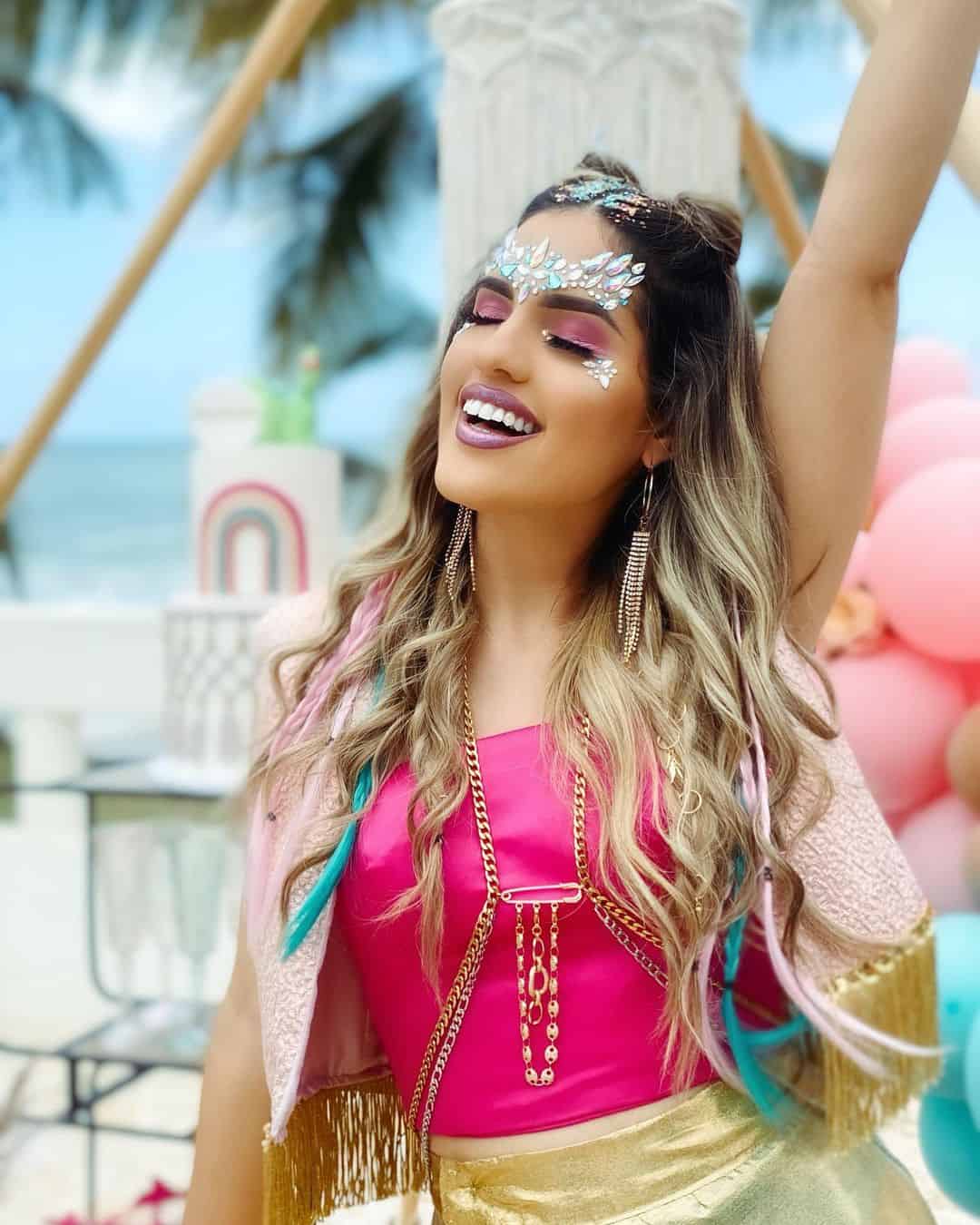 Image Source
Turn heads with this delicate yet rich-looking outfit which pairs vibrant colors and classy designs for a fun-loving style. A neon pink crop top with gold chains is paired with a long wrap-around in brilliant gold for a sensual look overflowing with youthful energy. A muted pink cropped jacket with golden fringes, rose-gold heels add feminine accents that brighten the ensemble, while aqua-colored face jewels on the forehead add a tinge of contrast to the look.
50. Caramel Beige Crocheted Bikini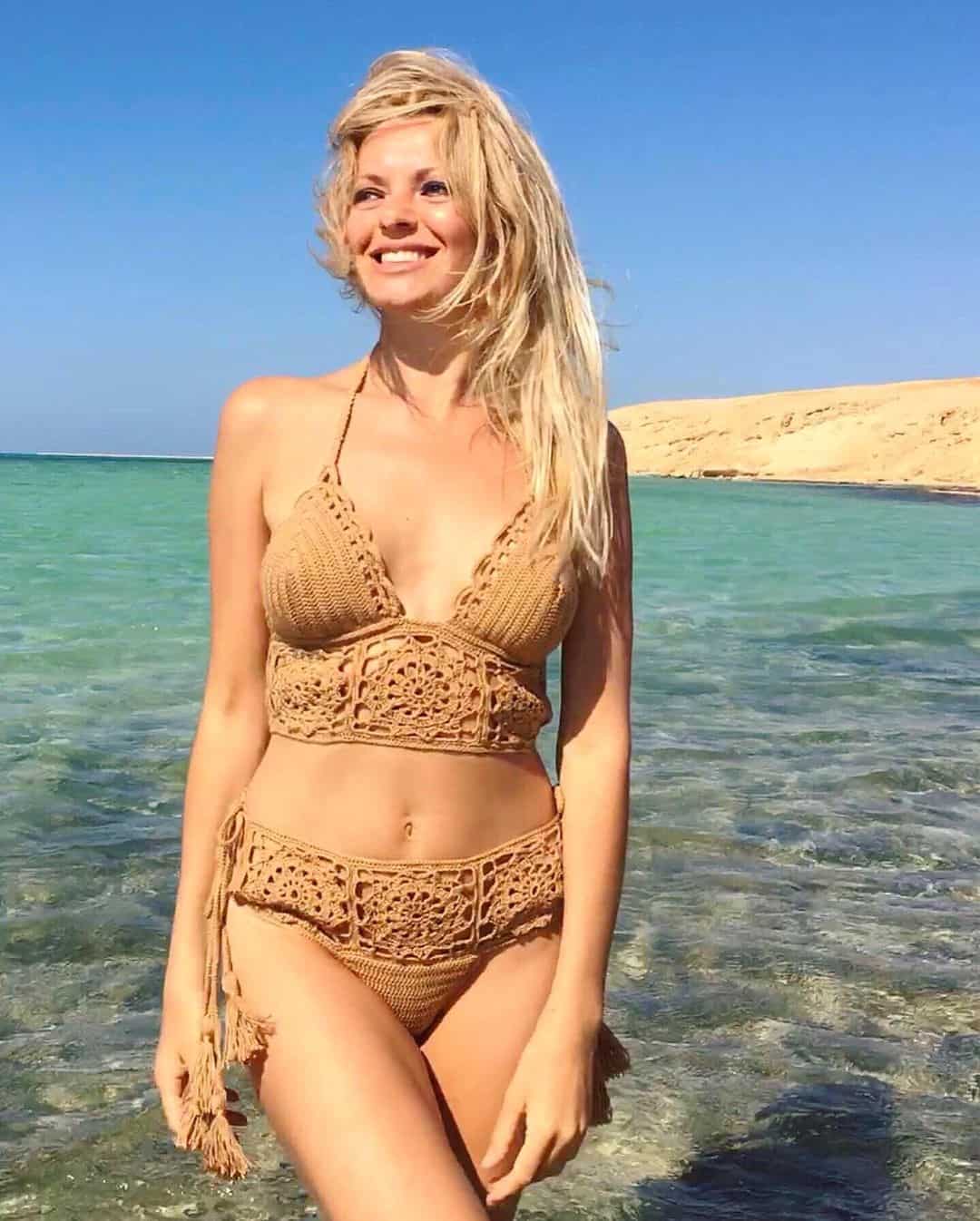 Image Source
Delicate and feminine, this unique bikini look will fit right in at any beach party or festival. The two-piece bikini is carefully detailed, woven by hand with intricate crochet patterns for a pretty and dainty look, warmed by the caramel beige material. Giving off sun-kissed vibes that conjure up images of wind in the hair and the sunshine on the skin, the bikini set adds to the summer vacation vibe with its sensual cut.
How to Pick Your Next Coachella Outfit
Picking out your next Coachella outfit can be an exciting and liberating process – with pretty much no rules to adhere to, there is no limit to which your creativity can go. If you want to play it safe, you can always opt for a cute, vibrant summer dress with a classic summer hat or fedora. If you're looking to show off that toned summer body that you worked hard to get, then don't be afraid to sport a bikini top with a mini skirt or shorts.
Scarves, bandanas, and colorful overcoats can adorn just about any outfit you choose to sport. Neon outfits, fringed ensembles, floral-printed summer dresses are a few fail-safe options.
Keep accessories to a minimum if you want your outfit to do all the talking for you! If not, then you can always go with chunky bracelets, multi-layered necklaces, and long feathered earrings. When it comes to makeup, face paint is a big hit at Coachella – you can also sport dewy makeup with bright lipstick and highlighted eyes.
Be sure to give these spectacular Coachella outfits a try the next time the tap of ideas runs dry!