Shoes can make or break an outfit, and high heels are no exception. With so many types of heels out there it can be hard to navigate which pairs are most suitable for your needs, whether you're a seasoned fashionista or a first-time wearer. Luckily getting to know the different types of heels available can also be a lot of fun, so let's find some new favorites!
Types of Heels
Here, we'll break down the more common heel types, as well as more unique and stylishly-daring options.
Classic Heels Types
Some heels will never go out of style. These are the tried-and-true options that have stood the test of time.
Stilettos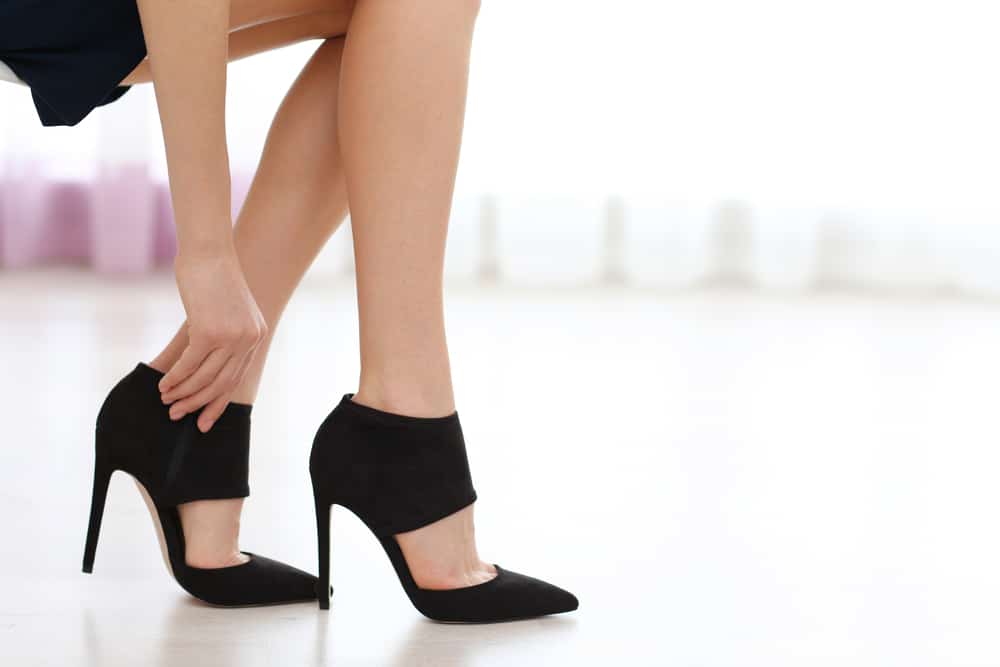 Stilettos feature a long thin heel that can be anywhere from 2 to 10 inches. They came around in the 30's and were named for stiletto daggers because of their thinness. Most often stilettos are found on pumps, but they are also featured on many special occasion sandals and party shoes.
Because stilettos have such a wide range of height possibilities, they are one of the most versatile types of heels even if they aren't always the easiest to wear and walk in.
Kitten Heels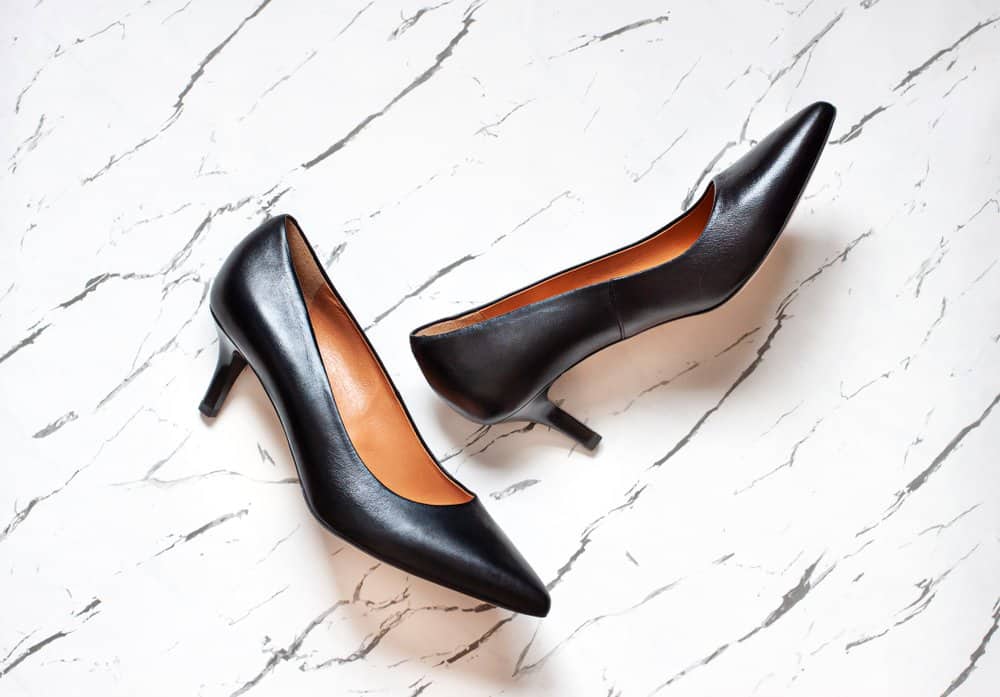 Kitten heels are thin like stilettos but only range from 1-2 inches. Kitten heels used to be thought of as old-fashioned, but women in power like Michelle Obama made them stylish once more and now they're known for being feminine but practical.
Kitten heels can also be found on sandals which are perfect for running summer errands, and dressier versions are great for formal occasions with lots of time spent standing, like wedding receptions.
Block Heels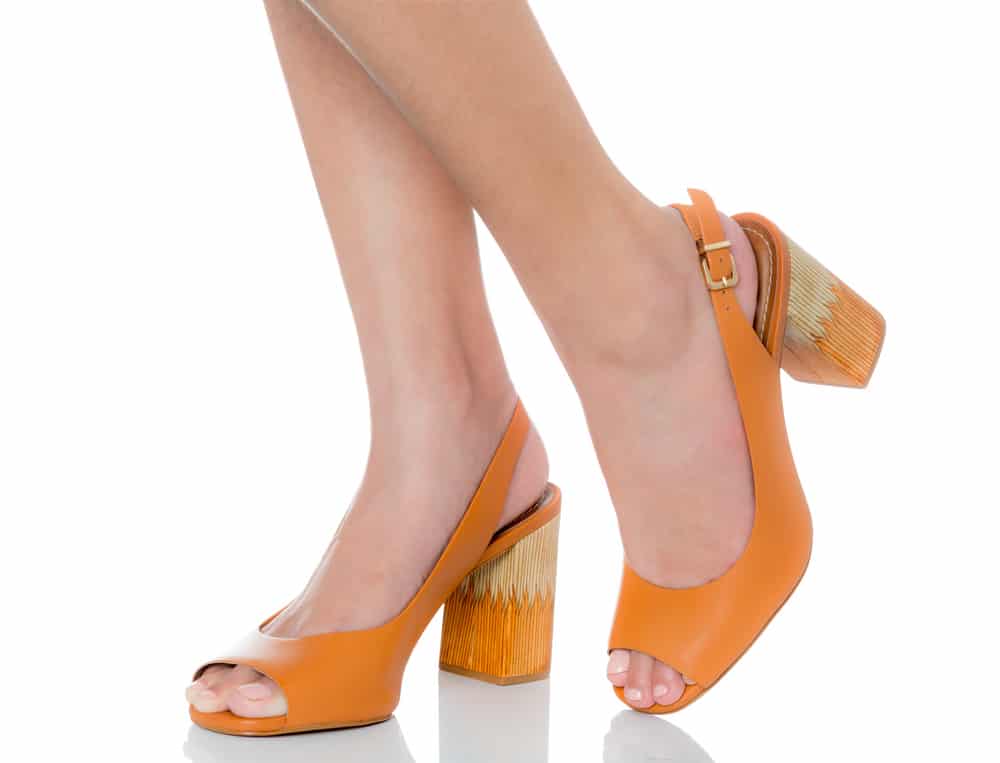 Made popular in the 60's, block heels are defined by their square shape and can run the entire spectrum of heel heights. They're much thicker than a stiletto, making them more comfortable even when they're just as tall. They're one of the most common types of heels found on everyday boots, since the sturdiness of the block heel is a good option for fall and early winter weather.
Sandals can also have block heels, and like wedge sandals, are a good no-fuss choice for summer strolls or garden parties.
Cuban Heels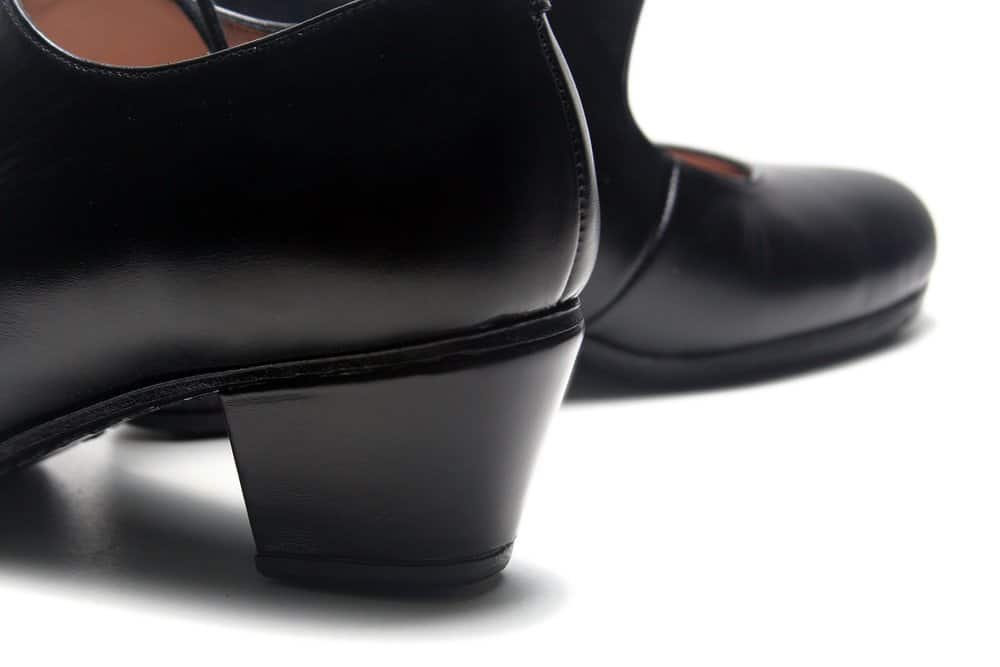 Cuban heels started in the world of ballroom dance on both men's and women's shoes, and then they were taken to the mainstream because of their comfort and style. Cuban heels are square, thick, usually not too high and in some variations may taper in towards the ground. They are always found on close-toed shoes like ankle booties or Oxfords.
Wedges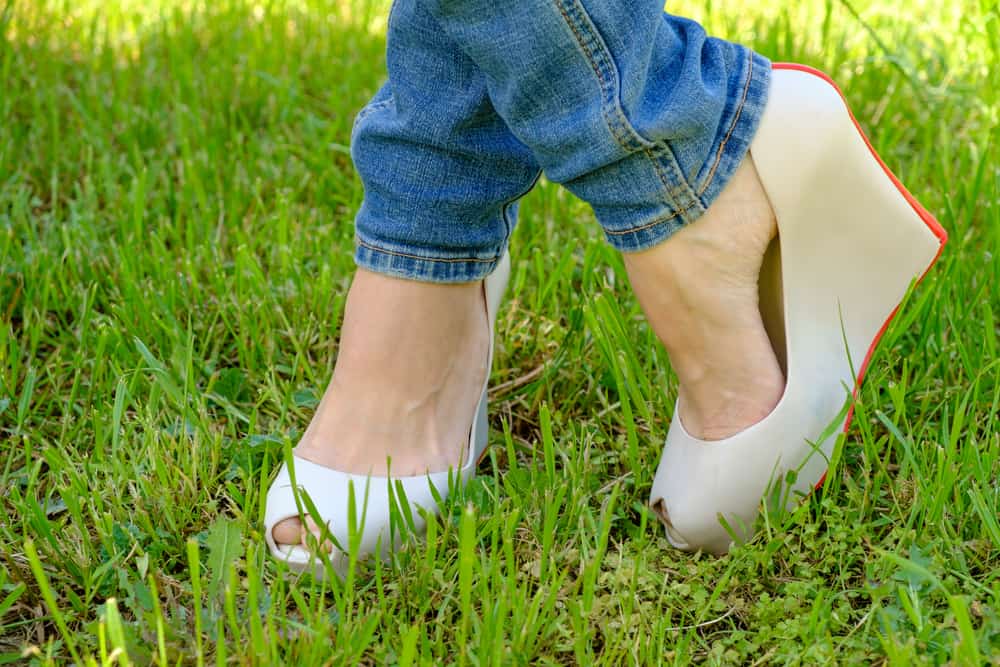 Wedges are known for their triangular-shaped heel as well as the fact that there's no interruption between the heel and the ball of the foot, which distributes weight evenly and makes them one of the most comfortable heel options. Because of their construction, wedges also tend to be more sturdy than thinner heels even when they're very high.
They can come in any height or shoe type (like sandals and boots) and can be styled for both a casual look or something more dressed up, depending on the colors and embellishments.
Wedge Sandals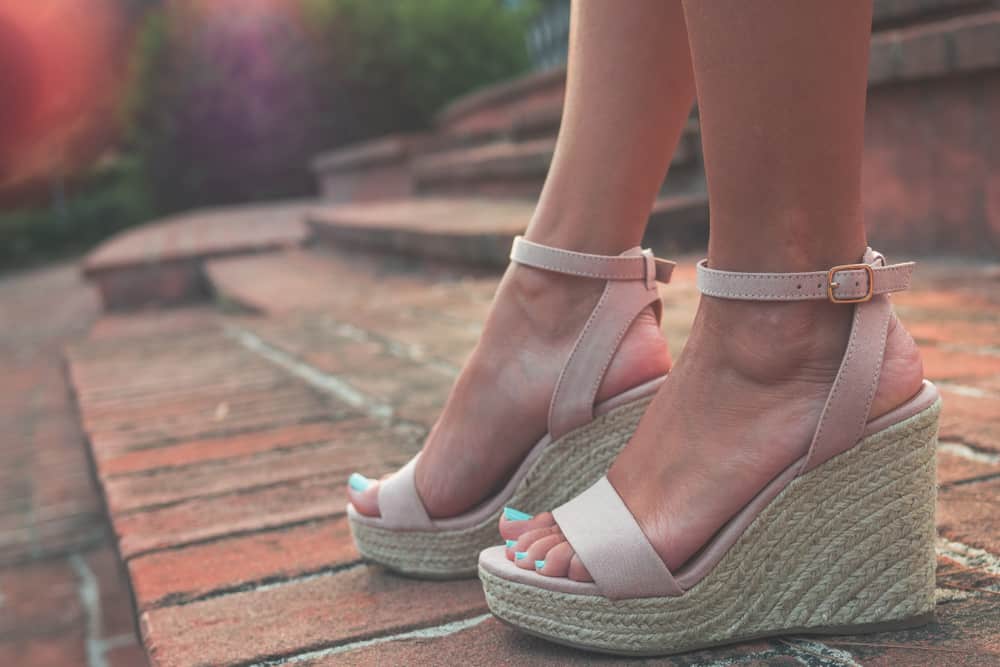 Wedge sandals are just like close-toed wedges in that there is one fluid piece between the heel and the ball of the foot, and the heel itself is triangular in shape. Wedge sandals are a common summer style since they pair very well with sundresses or shorts, and are easy to walk around in on a nice day.
Unique Heel Types
If you're looking for something a little more different to add to your shoe closet, check out these fun and fashionable options.
Comma Heels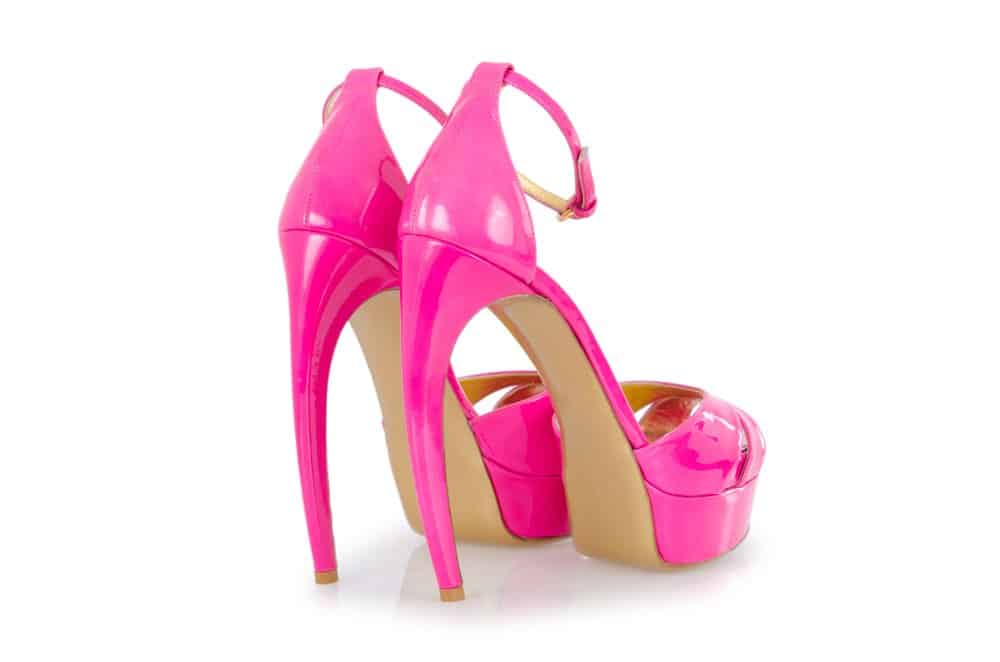 Comma heels are thin heels that are curved–sometimes very severely and other times only slightly–which gives the heel the appearance of a comma. They're not very common outside of fashion shows or red carpets, but they're worthy of note because of their interesting architecture.
Originally, comma heels were meant to be a riff on the highly traditional pump style of shoe, but as indicated in the image above they can be present on sandals as well.
Spool Heels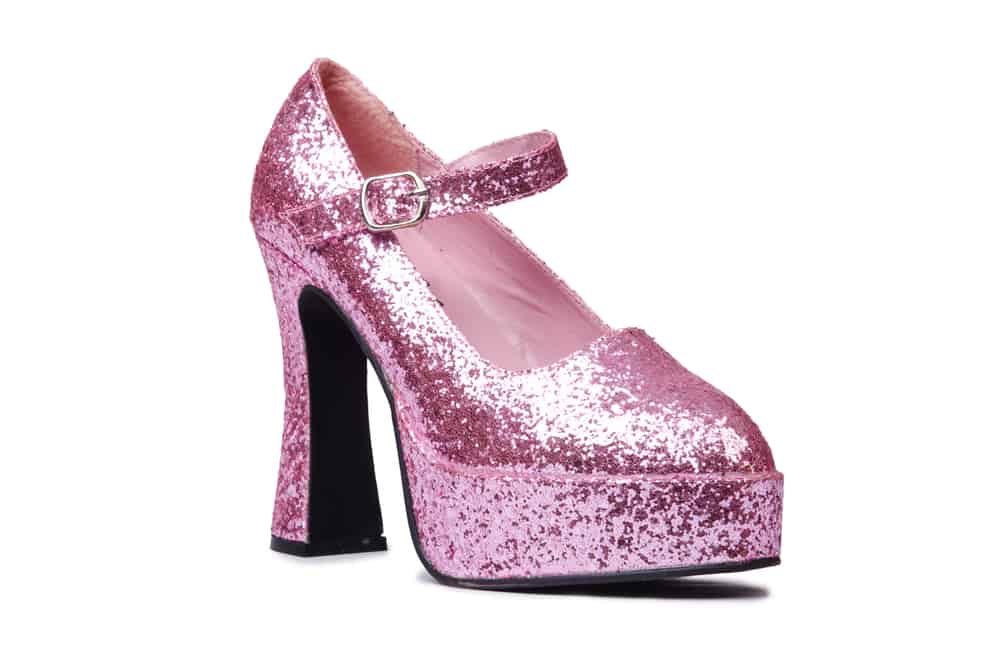 Spool heels, sometimes called "flare" or "cakestand" heels resemble an hourglass; narrow in the middle, and widest on the top and bottom of the heel. Spool heels can come in any height or width, with the hourglass proportions of the heel typically being less pronounced in higher versions.
French heels (otherwise known as pompadour or Louis heels) are a variation of spool heels that are short and wide, and are not very common in modern fashion.
Cone Heels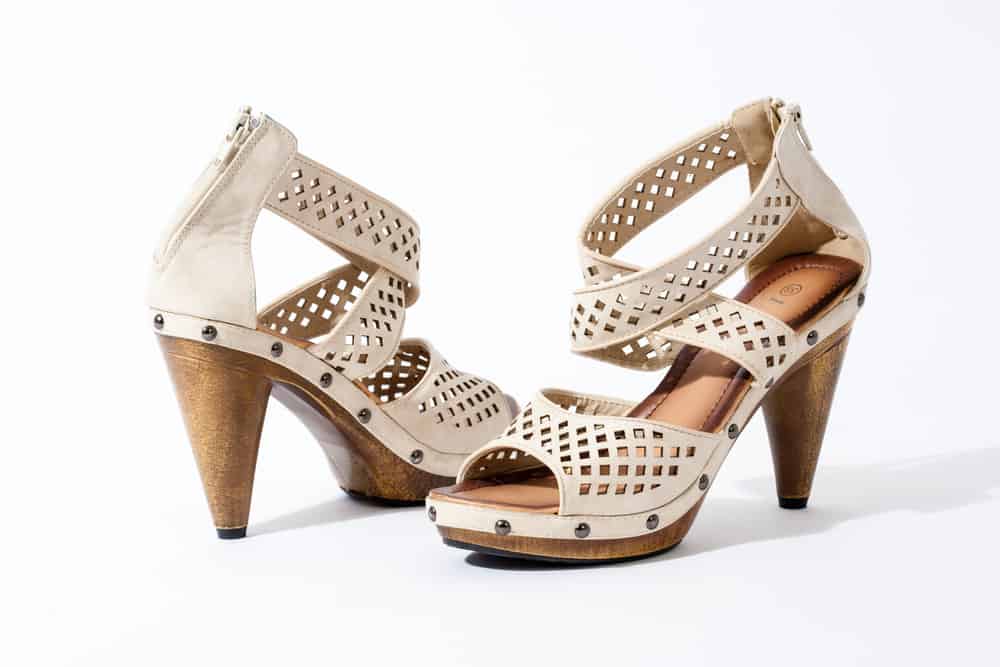 Resembling an ice cream cone, cone heels start wide at the sole of the shoe and taper down towards the floor into a point. Because they're widest at the top, they have the benefit of being a sturdier choice than a stiletto while still maintaining the delicacy that comes with having a smaller heel.
However, higher versions of cone heels won't be nearly as sturdy as a block heel or wedge. A higher cone heel will have a more dramatic effect but lower heels can still give any outfit a pop.
Heeled Oxfords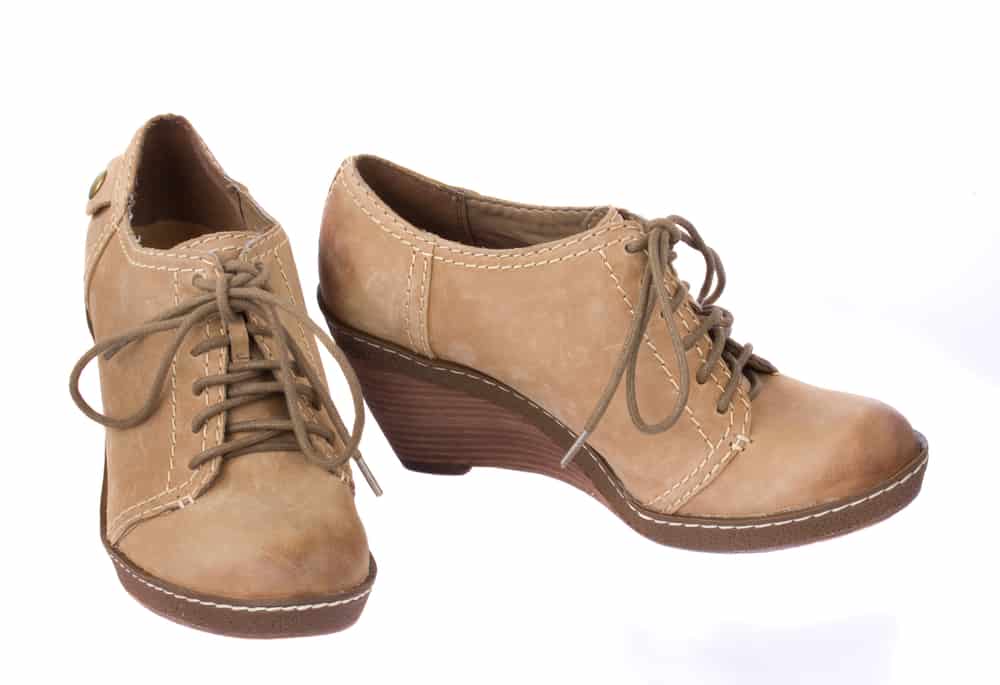 Heeled Oxfords are always close-toed and have a thicker heel than a stiletto but the height of the heel itself has some variation (while still remaining practical.) Heeled Oxfords also always have lacing of some sort and usually resemble menswear Oxfords with a rounded or slightly pointed toe. These are the perfect shoes for an elegant and more academic look.
Other Shoe Terms to Know
The following types of shoes are not defined by the shape or size of the heel, but the terms are used in conversations about heels and dress shoes so often that it's important to be familiar with them:
Pumps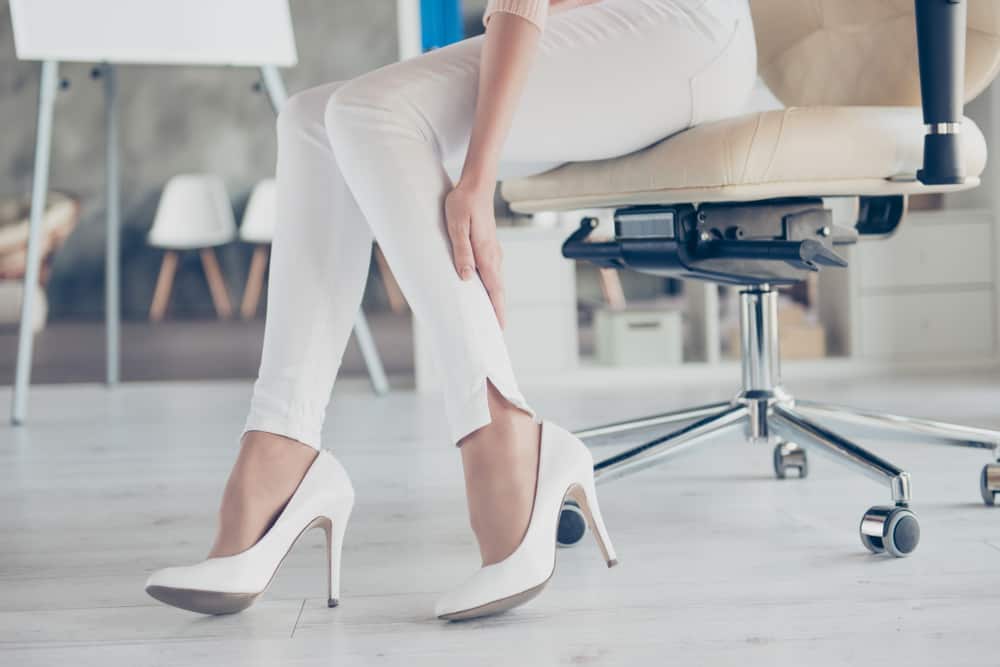 Also known as court shoes, pumps are notoriously difficult to define. These heels are the go-to shoe for just about any occasion because they're so versatile (while adding a bit of glamour to any outfit.)
Classic pumps don't have any embellishments like laces or buckles and are cut low to show off the ankle and the top of the foot. Modern pumps may include details like a peep toe or an ankle strap.
Mules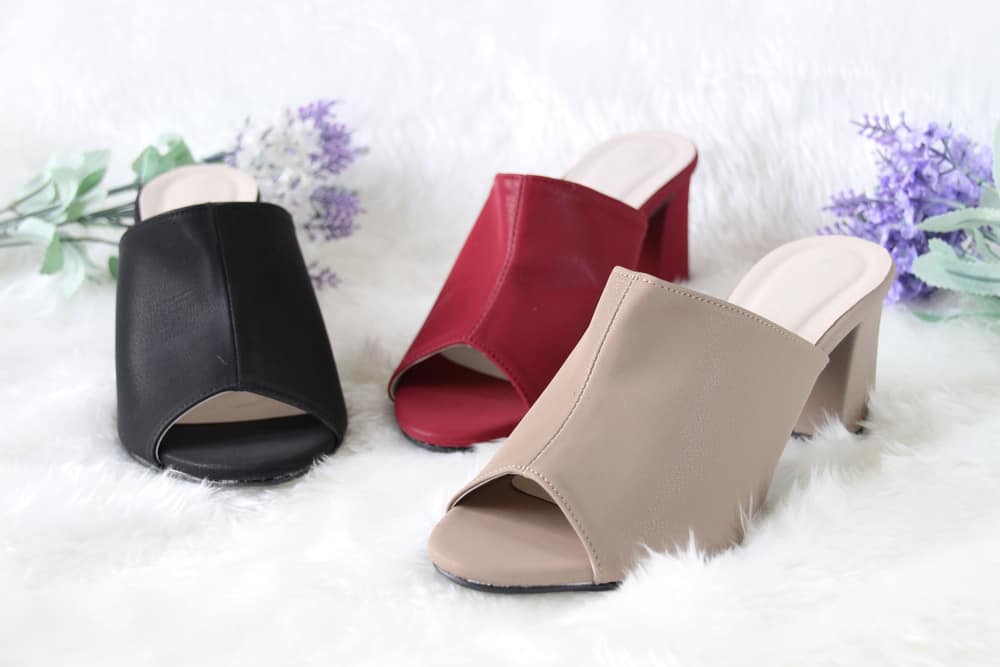 Mules don't have a back or ankle strap making them easy to slide in and out of, though they do prove to be more difficult to walk in than shoes with more reinforcements. Because there aren't any other straps, mules tend to not be as low cut on the foot as pumps.
Mules are a very common choice for sandal-wearers who don't want to opt for flip flops, but they can also feature a closed-toe and be any height.
Boots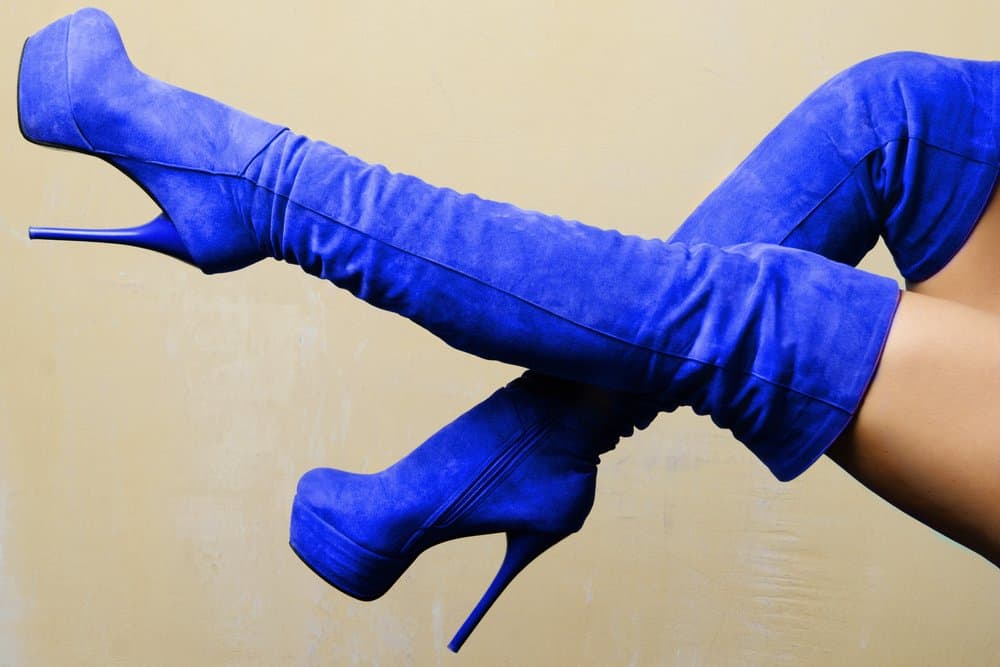 Boots are an excellent option for maintaining style in cooler weather. There are so many different types of boots ranging from thigh high to ankle (described below) and each one of them can have any type of heel mentioned in the previous section.
Boots can come in just about any color, but basic neutrals like black or brown will get the most use no matter what wardrobe style they're complimenting.
Ankle Booties
Ankle booties are boots that go up to, or just above, the ankle. They are often singled out as the most versatile of any boot choice, because the wearer doesn't have to be as conscious of dress or skirt hemlines clashing with them.
Ankle booties are ideal for wearing between seasons; they have a little more coverage than a regular shoe, but don't have the heaviness of a full boot.
Espadrilles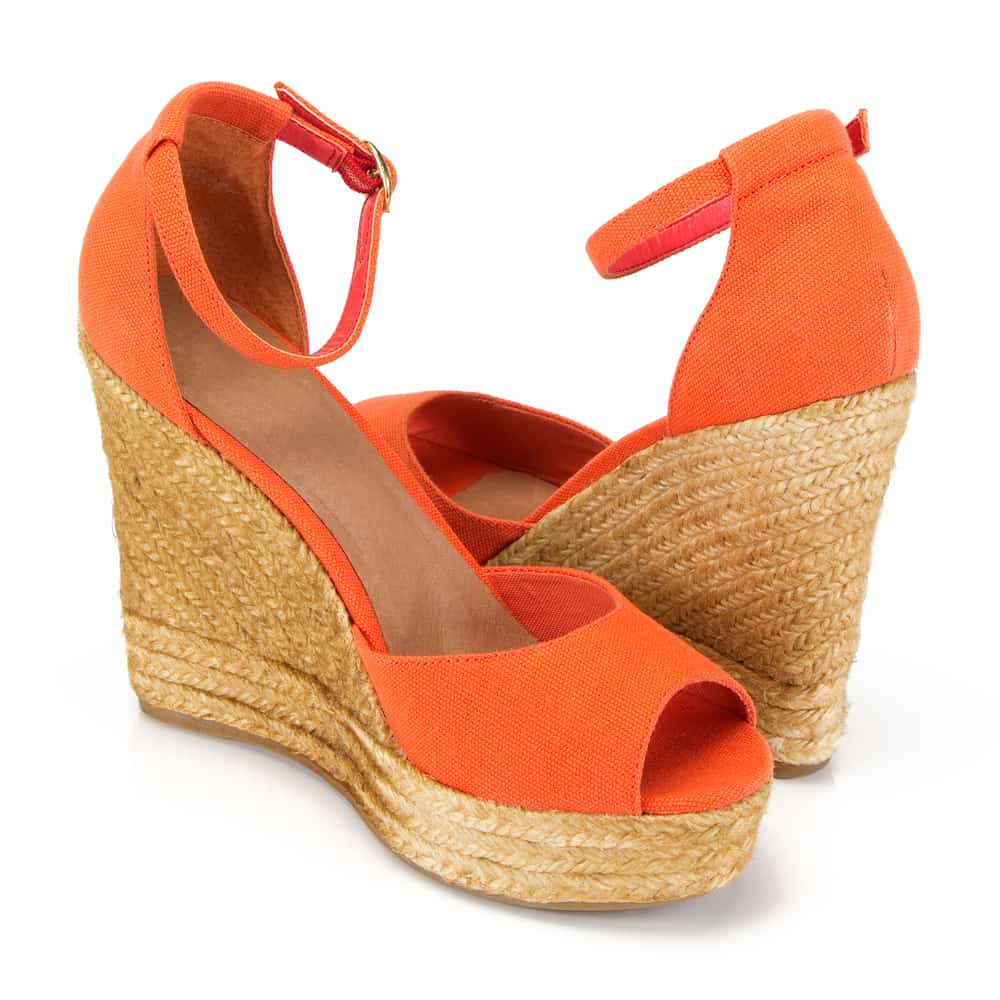 Originally from Spain, the name of the shoe refers to the esparto rope that makes up the sole, though modern espadrilles are most commonly made from jute rope because of cost. Jute rope still retains the texture and appearance of esparto rope-based espadrilles, making for a very casual summertime shoe.
Almost always, espadrille heels are found in a wedge style which can be close-toed or sandals, and the upper parts of the shoes are made of canvas or cotton.
Cork Heels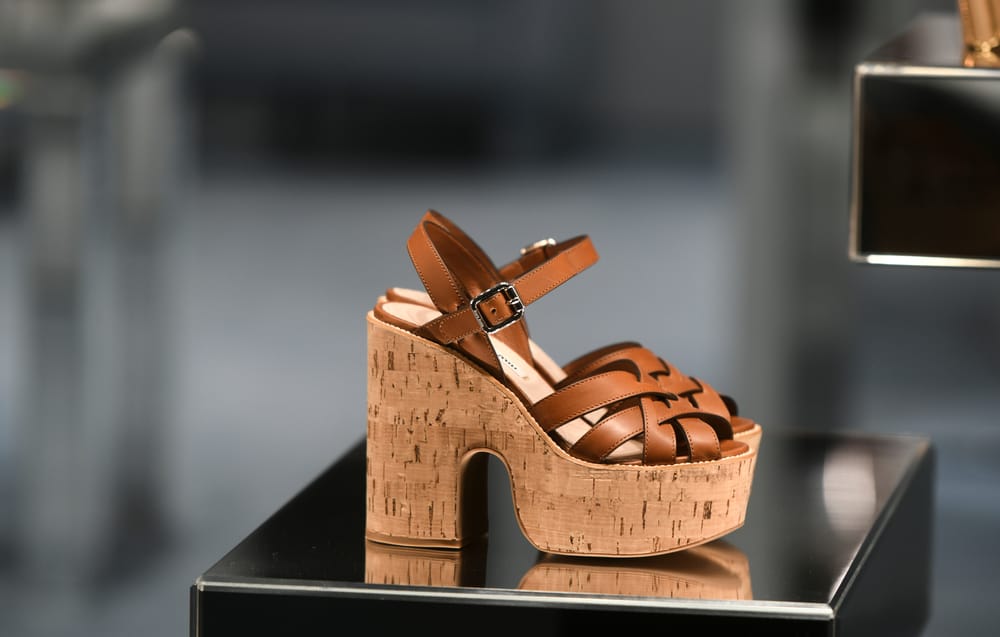 Cork heels are any heels that have a base material of cork oak, most commonly used for bottles of wine. A big draw to cork heels is that because the material is softer than traditional heels, they tend to be more comfortable to wear for long periods of time and as a bonus, they're more eco-friendly. The most common style of cork heels are typically either sandals or shoes with chunkier features like wedge heels, or block heels and accompanying platforms. These are another good choice for a casual warm weather look.
Platforms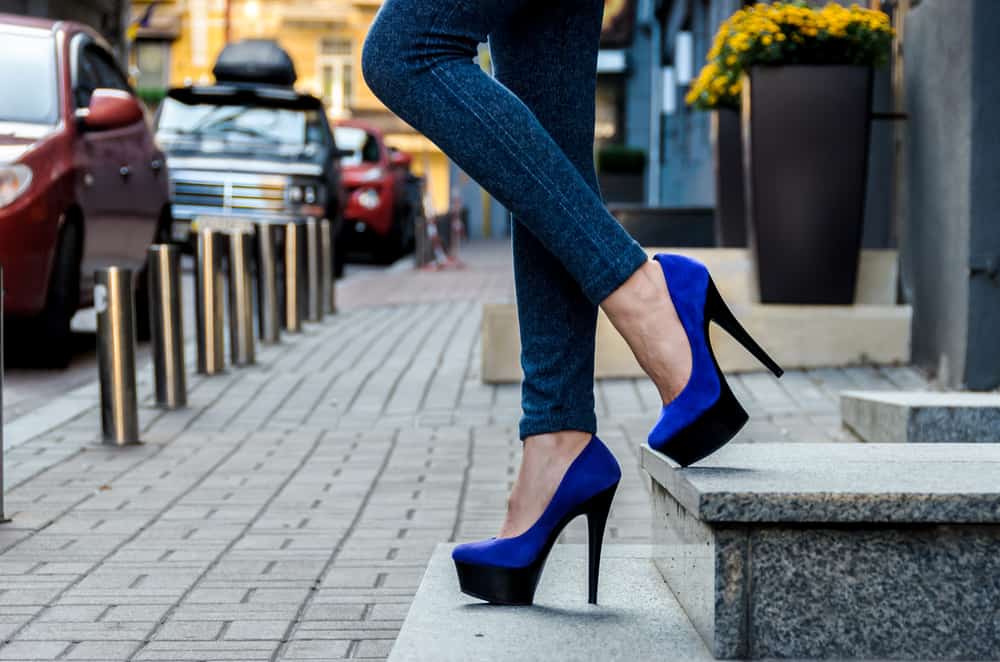 A platform heel is any shoe that has a platform at the bottom of the toe box, which is either covered with fabric for a 'hidden' effect, or is simply attached to the bottom of the shoe and left exposed. Platforms make higher heels more comfortable because they make the angle between heel and toes less severe, but the presence of platforms can make walking more difficult. Platforms can be added to any type of shoe: sandals, boots, or regular dress shoes.
Stacked Heels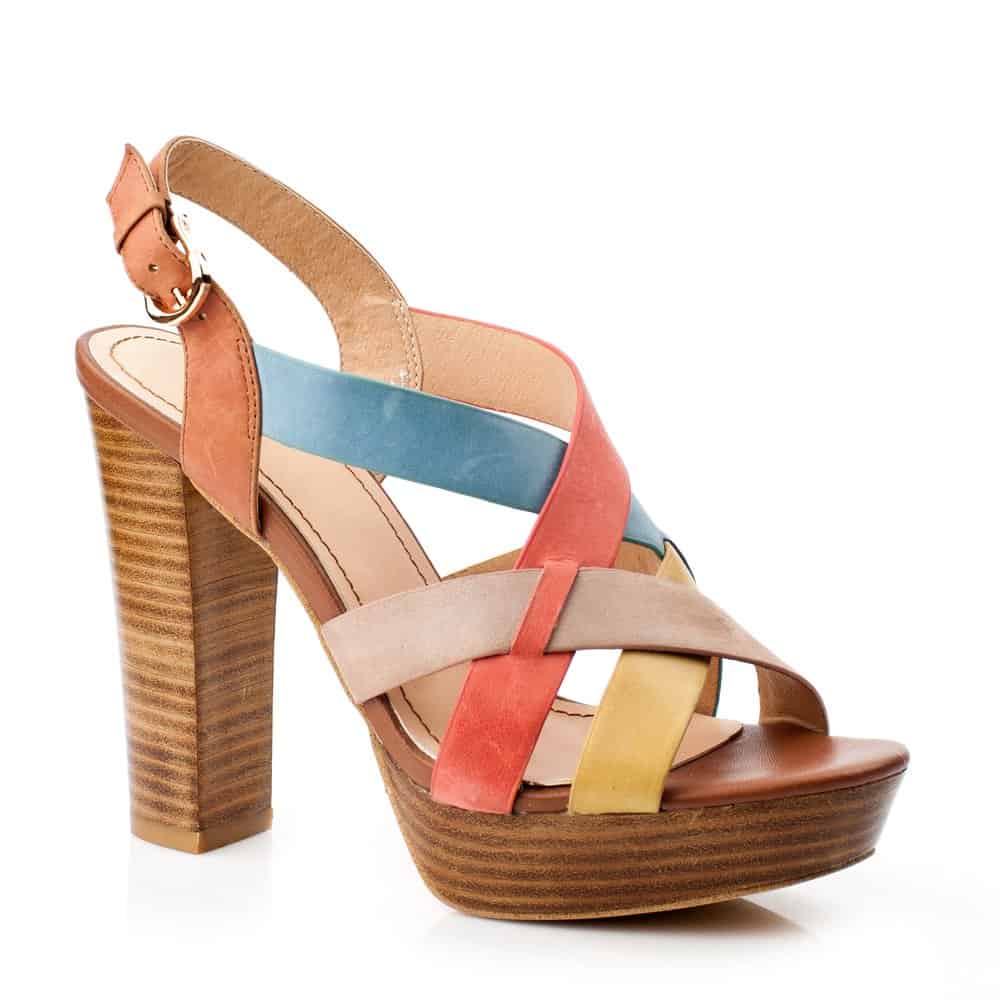 Stacked heels give the illusion that the heels themselves are made up of thin pieces of wood stacked on top of each other, which is evident in striping along the heel. For the most part, heels in this design are thicker or in a wedge style but thinner variations are possible as well. Stacked heels are especially common on boots and ankle booties.
Slingbacks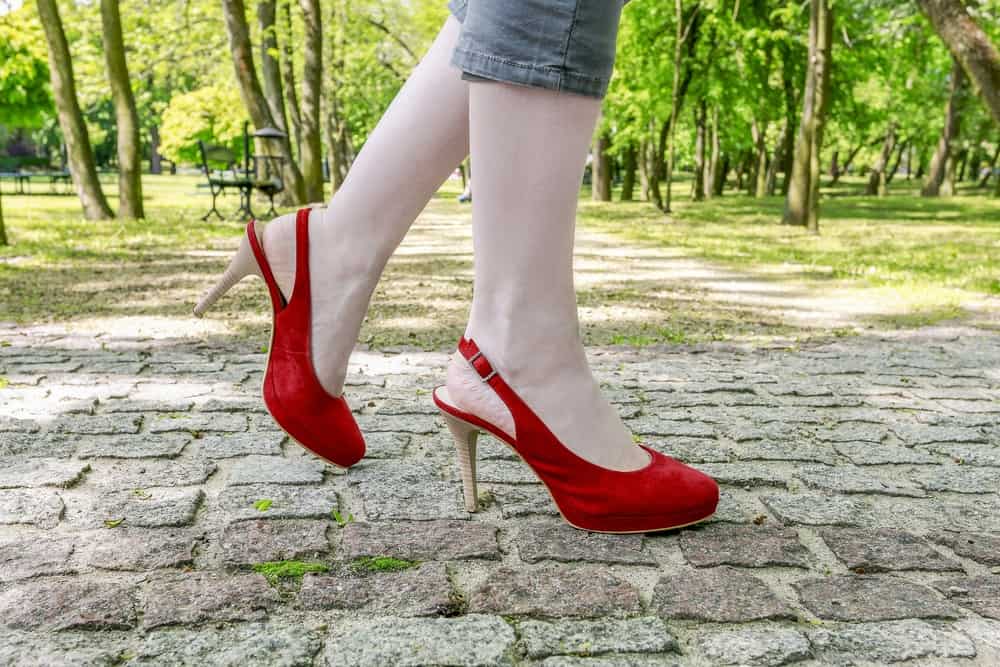 Slingbacks provide extra support through a strap around the back of the foot that goes across the Achilles tendon. They came about during the rise of pin up figures in the '40s, as a means of getting away from the chunkier shoe styles of the past. Slingbacks can be found on regular dress shoes or sandals, and can feature details like buckles, elastic for extra stretch, or can simply be made of fabric.
Ankle Straps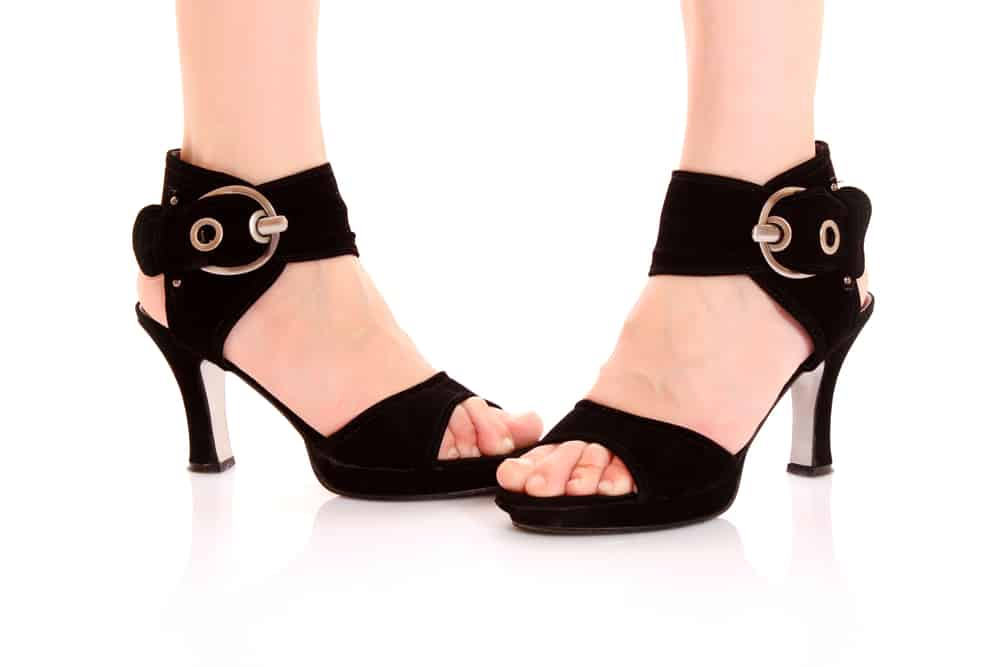 Ankle straps provide support through a strap that goes completely around the ankle. Originally they became popular in the '50s but they have remained a timeless classic on both sandals and close-toed heels. Ankle straps most commonly have buckles, but they can also be tied or part of the zipper found on the back of the shoe (which doesn't leave much room for variations in ankle size, unless there's an accompanying elastic component.) Like slingbacks, ankle straps are found equally on regular dress shoes and sandals.
Peep Toe Heels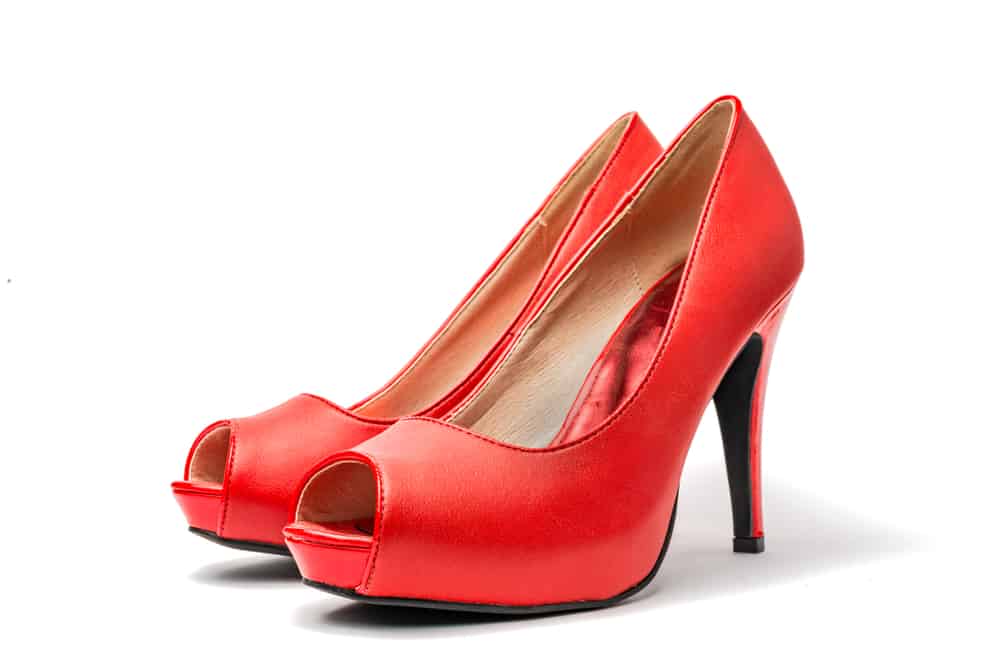 Peep toe heels feature a cutout at the front of the toe box that allows the toes to be visible–which is perfect for showing off a pedicure without the full commitment of a sandal. Because of their playfulness, peep toes tend to make shoes look a bit more casual unless they're already very dressy shoes by design. This style is common on all types of heels, even boots.
Cut-Out Heels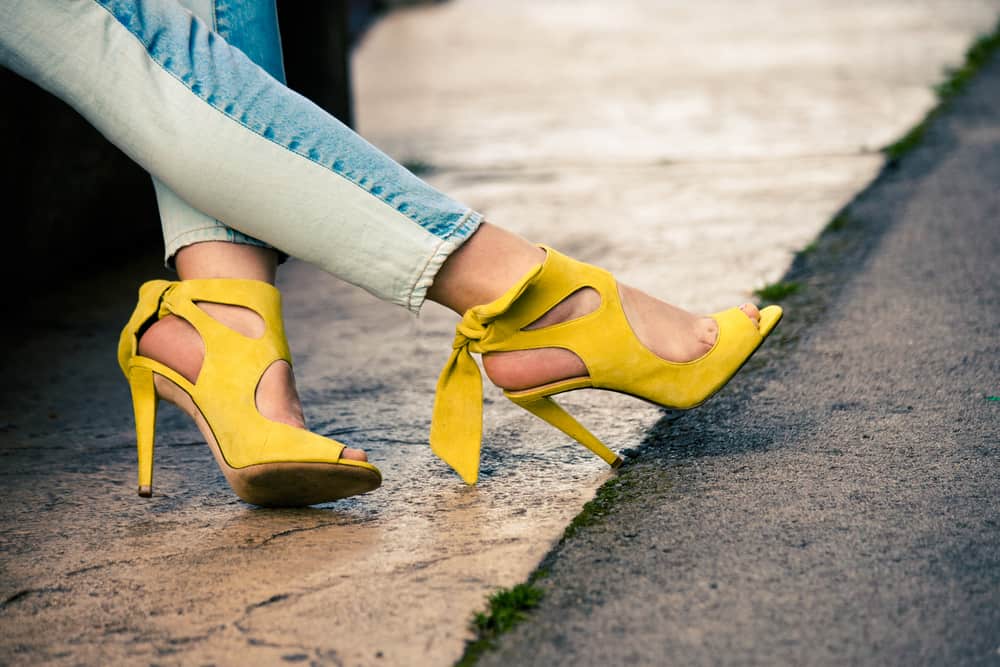 Cut-out heels' artful form makes a statement with any outfit that they're paired with. Though cut-outs are an embellishment choice that can be applied to shoes in just about any shape and size, typically, cut out heels have the appearance of a very strappy sandal. Sometimes the cut-outs resemble straps and other times they're more artistic in design. Cut-out heels pair best with outfits meant to show them off (like dresses, skirts, or shorter pants) that won't clash with them being a statement piece.
Find Your Perfect Pair of Heels
From summer to winter and from work to play, there's a type of heel (or two!) suited for the occasion. Knowing the vocabulary and having some ideas for outfit execution will make shopping for your next pair a breeze.