Top Picks

Adidas Adilette Comfort Slides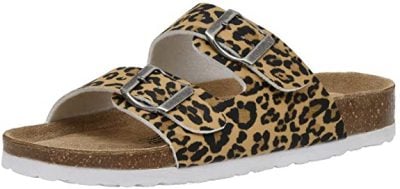 Cushionaire Lane Cork Footbed Sandals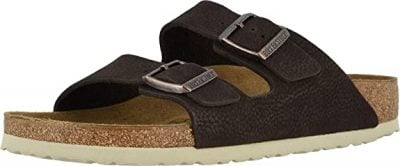 Birkenstock Arizona Leather Sandals
Previous
Next
There's a pair of shoes for every occasion but when it comes to lounging and performing day-to-day tasks, nothing reigns supreme like a good pair of slides. Back in the day, slides weren't all that comfortable but today you can easily find a pair that makes you feel like you're walking on a cloud.
Whether you're looking for a pair of slides to wear to the grocery store or a fancy pair to wear to social events, there are dozens of different types of slides that can assist you in every walk of life. If you're looking for a good pair of slides but don't know where to start, our guide can help you pinpoint which pair will benefit your feet and lifestyle.
Slide Into 2020 With the Perfect Pair of Slides
There are so many wonderful pairs of slides out there, making it hard to make a decision and stick with it. So, before we reveal our top picks of the year, we want to quickly explain the components of a great pair of slides. This way, you can make your pick without a shadow of a doubt. But first, let's get two of the most commonly asked questions out of the way.
What Are Slides?
Slides are commonly referred to as slider sandals: a pair of open-toed sandals that do not need to be buckled or tied around the ankle. As its name suggests, you can literally slide your foot into a pair of slides, much like you would a slipper. However, despite their many similarities, slippers and slides are not one and the same, as slippers do not have a strong enough sole to be worn outside and tend to be made of less resilient materials.
Are Slides Good for Your Feet?
Unlike regular shoes and sandals, slides don't offer the ankles much support which is why it's best to lay off high-impact activities and sports when rocking a pair of them. However, some slides have two straps, which better supports the foot and improves stability, making them perfectly suitable for long walks.
Every pair of slides offers its own set of key features but they tend to share one simple factor: comfort. In fact, slides are so comfortable you'll choose them over most options on any given day. Some slides have built-in arch supports and others do not, which could be a problem for someone with high arches. For this reason and many others, it's important to take your feet into consideration when selecting a pair of slides. This way, your feet can remain in good standing for miles to come.
In conclusion, slides can be both good and bad for your feet, depending on whether you choose a padded or flat insole, and how often you choose to wear them.
What to Look for in a Great Pair of Slides
Whether you're looking for the best budget option or for something a little fancier, our guide includes a good variety of slides that everyone can enjoy — even your grandma! When making your pick, take the following factors into account.
An attractive design
Adjustable straps
Additional straps
Comfortable and supportive insoles
Anti-slip and shock-absorbent soles
Quality materials
Ease of care
Durability
Affordability
We'll be sure to touch on these subjects as we explain why each pair of slides made it into our list.
What We Considered When Choosing the Best Slides for Women
When putting together our guide of the best slides for women, we also took the following two categories into account:
Lifestyle
Each pair of slides was designed with a certain person in mind. If you plan on using slides as your main footwear for the summer, you'll need something much more supportive than if you're looking to wear slides only occasionally. We'll let you know which slides work best with which lifestyles as we explore each option.
Key Features
We'll also fill you in on all the fun features pertaining to each pair of slides. We'll discuss everything from materials and ease of care to adjustable straps and insoles.
When you find the perfect pair of slides, slipping them on will feel like catching up with an old friend. If you have any more questions concerning slides and whether or not they're right for you, we invite you to check out our full guide. Otherwise, we hope you enjoy our list of the top 10 best slides for women.
Top 10 Best Slides for Women 2021
Guide to Buying the Best Slides for Women

Our feet support us and take us where we need to go but just like a pair of shoes, they're susceptible to wear and tear, which is why taking the time to choose the best slides can be very rewarding.
In this guide, we explain the benefits and drawbacks of wearing slides, while informing you on how to minimize the discomfort some slides may bring. We'll cap things off by answering some of the most commonly asked questions surrounding slides, so you have all the information you need to step forward.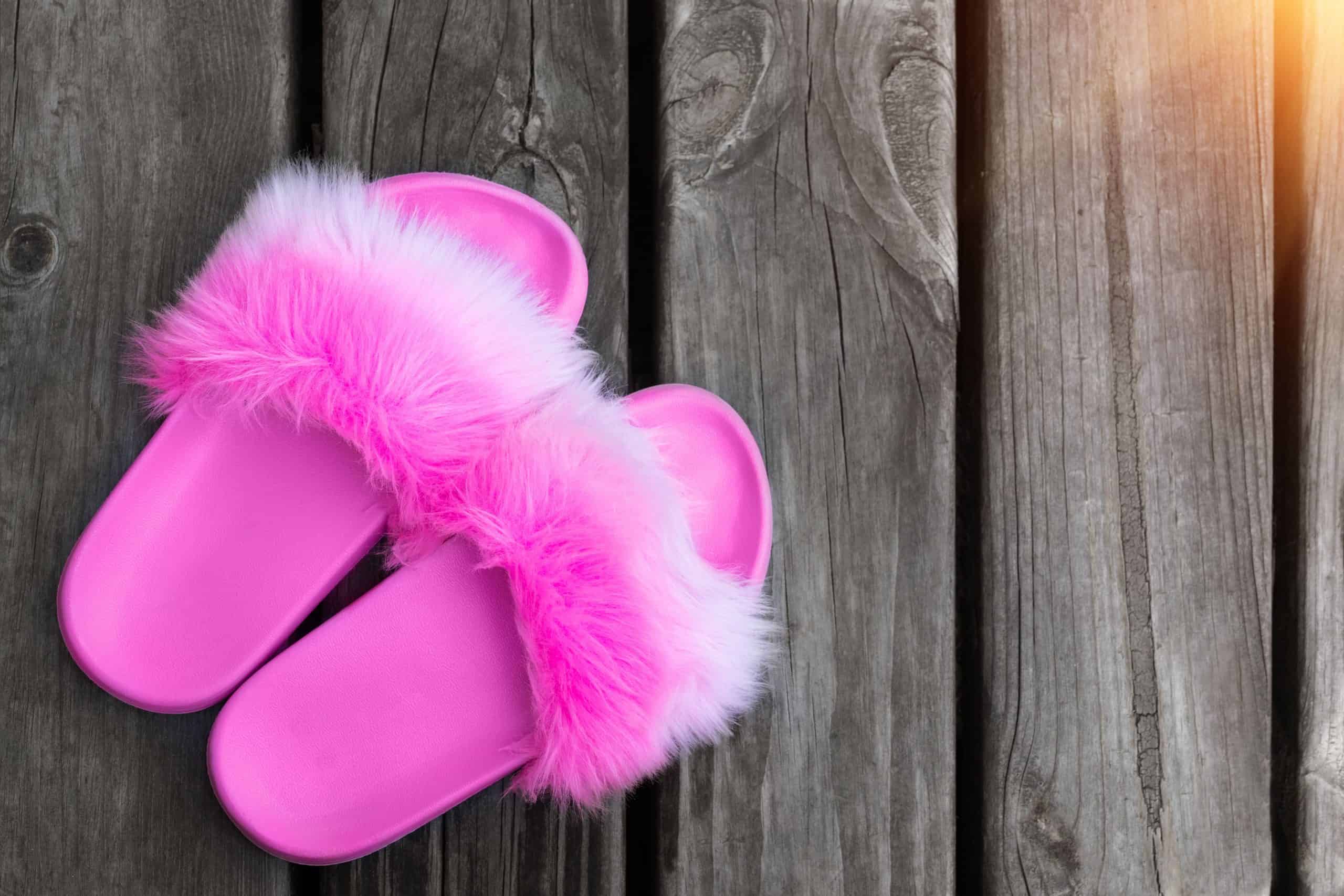 Pros & Cons of Wearing Slides
Depending on your feet and the support they crave, slides could be exactly what you're looking for or exactly what your podiatrist warns you about. Let's kick things off by covering the pros before finishing off with the cons!
The Pros
Here, we break down everything there is to love about slides.
Practical
If there's one thing everyone loves about slides, it's their ease of access. Whether you're running out to greet the mailman, taking the dog out for a short walk, or simply jetting out to complete some quick errands, slides are always ready to go — no socks needed. Slip them on or kick them off with ease! They're especially practical for people who have trouble bending down to tie their laces.
Comfortable
Slides resemble slippers in more ways than one and by now, we all know that slippers are the most comfortable form of footwear available. Some slides have memory foam insoles, making you feel like you're walking on clouds. They don't do much to restrict your feet, hence why they're such a joy to slip on.
Breathable
In the summertime, wearing socks and closed shoes can be a little daunting, especially if your feet are prone to sweating. Slides are open-toed shoes that allow your feet to breathe a sigh of relief, no matter how hot it is outside. You can also wear them with socks if it's a bit chilly out. Although, some might see this as a social blunder.
Perfect Solution for Swollen Feet
There are many conditions that could lead to swollen or painful feet, which can make strapping them into closed shoes quite nightmarish. Some slides have adjustable straps that make housing swollen feet an enjoyable experience. For this reason, pregnant women often tend to ditch shoes and opt for slides, especially after completing their first trimester.
Perfect for Pedicures
There's nothing more annoying than getting a beautiful pedicure and smudging the polish on your way out. This often happens when women wear closed shoes, which is why it's recommended to bring a pair of slides with adjustable Velcro straps to these types of appointments. Simply undo the strap, step into your slides and fasten them up.
Quick Drying or Waterproof
Slides are often referred to as beach or pool shoes because they're typically made with waterproof materials. Although, this isn't the case for all slides, especially the ones that contain real leather. Still, beach-goers and pool-enthusiasts love themselves a good old pair of slides because of their quick-drying abilities.
The Cons
No shoes are perfect, and slides are no exception. These are the things we love less about this style of footwear.
Poor Foot and Ankle Support
Unlike closed shoes, slides don't offer any ankle support, seeing as their straps are limited to the front area of your feet. For this reason, running and taking on tough environments isn't the best idea when wearing a pair of slides. Some slides offer poor foot and arch support, too, which is something to consider if you have plantar fasciitis.
For these reasons, podiatrists often discourage their patients from wearing these types of shoes. However, there are plenty of high-end slides, like Birkenstock Arizona Leather Sandals that do a lot to appease tender and high-maintenance feet. The longer you plan on using your slides, the more features you should seek.
Straps May Cause Discomfort
No two feet are created equal and sometimes, a person's right foot can be somewhat different from their left foot. As a result, slides with rigid straps can be somewhat uncomfortable. This is especially true for women with very narrow or wide feet or those who have bunions. However, people with average feet can generally wear slides without ever complaining about discomfort.
When choosing the best slides for your feet, take your size, width and conditions into account. There are plenty of slides with adjustable straps that can accommodate bunions or uncomfortable conditions.
Not Built for Vigorous Activities
Slides are one of the simplest kinds of footwear and while many of them offer supportive features, they aren't built for vigorous activities like running or hiking. To prevent injuries from happening, wear slides during low-impact activities.
How to Sidestep Slide Discomfort
There's nothing like spending money on a pair of shoes that are too painful to wear. Let's face it, we all have a pair of those in our closets! Ordering shoes online can be especially difficult, but since slides are relatively straightforward, there are many tricks you can apply to prevent from ordering yourself a pair of lemons.
Make sure the straps offer some leeway. The more stretchy the material, the less likely you are to feel permanent discomfort.
Check to see if the materials are breathable, this way your foot won't sweat and move around under the strap.
Size up to prevent the heel of your foot from striking the edge of the slide. Double-check the size guide and measure your feet if necessary. Sizing up by half a size should do the trick.
If your slides offer a relatively flat insole, avoid wearing them out on long walks or excursions.
Frequently Asked Questions (FAQs)
To help you find the best slides for your feet, we answered some of the most frequently asked questions on the internet and grouped them into one straightforward section. We hope these answers and recommendations ease all of your concerns!
Are Slides Still in Fashion?
Once upon a time, slides were far from fashionable but today, they're one of the most sought-after types of sandals on the market. However, we must admit that some slides have way more appeal than others. Adidas and Nike slides never go out of fashion. Still, we wouldn't call them the most fashionable options on our list. Nope, that title goes to the UGG Jane Leopard Flat Sandals — one look is all you need to know what we're talking about!
Is It Bad to Run in Slides?
Slides are best for walking, as they offer little to no foot support. Podiatrists don't recommend them for running.
Are Slides Good for Walking?
Slides are great for walking, especially the ones with more than one strap. These types of slides offer the most stability. So, if you plan on getting your walk on, we recommend opting for Birkenstock Arizona Leather Sandals. These slides have 2 adjustable straps and a supportive insole — so you know they've got your back!
Are Slides Good for People With Bunions?
Women with bunions often have a hard time finding cute and supportive shoes. This is because straight-across straps can cause bunions to feel immense discomfort. If you have bunions, we highly recommend looking into the Skechers Go Walk Fiji Slides. These slides have crisscrossed flexible straps that welcome bunions instead of restricting them.
Are Slides Good for People With Flat Feet?
If you have flat feet, you want a pair of slides that can offer you a decent amount of arch support alongside a beveled insole that can gently cup your heels. Your toes should also have plenty of wiggle room! The Cushionaire Lane Cork Footbed Sandals check all three of these boxes.
However, if you're looking for something a little more feminine and lightweight, you can also check out Crocs Swiftwater Sandals. These slides are waterproof, too, in case that's what you're looking for.
Which Slides Are Best for People With High Arches?
When you have high arches, it's important to choose the right pair of slides to avoid pain and discomfort. Sometimes, slides that are geared towards preventing plantar fasciitis can be on the homely side, but we found a stylish pair that everyone can enjoy. The Nike Beach & Pool Slides have cushioned arch supports and two thick straps to keep your feet locked in and comfortable.
What Are the Most Comfortable Slides for Women?
Under Armour Ignite VIII Slide Sandals are super comfortable thanks to their adjustable Velcro straps and memory foam insoles.
Which Slides Are the Most Popular?
If there's one pair of slides that never goes out of style and continues to be in high demand, year after year, it's the Adidas Adilette Comfort Slides.
Which Slides Are Best for Seniors?
Some people enjoy wearing slides because of how practical they are. However some people, especially seniors, choose to wear slides out of necessity. As we get older, our feet begin to swell (especially if you have diabetes), which can make wearing regular shoes a big no-no. This also applies to pregnant women or individuals who have suffered a foot injury or recently undergone an operation. Although they aren't the most visually appealing, we would hands down recommended the RockDove Memory Foam Slides to elderly women or individuals seeking comfort over style.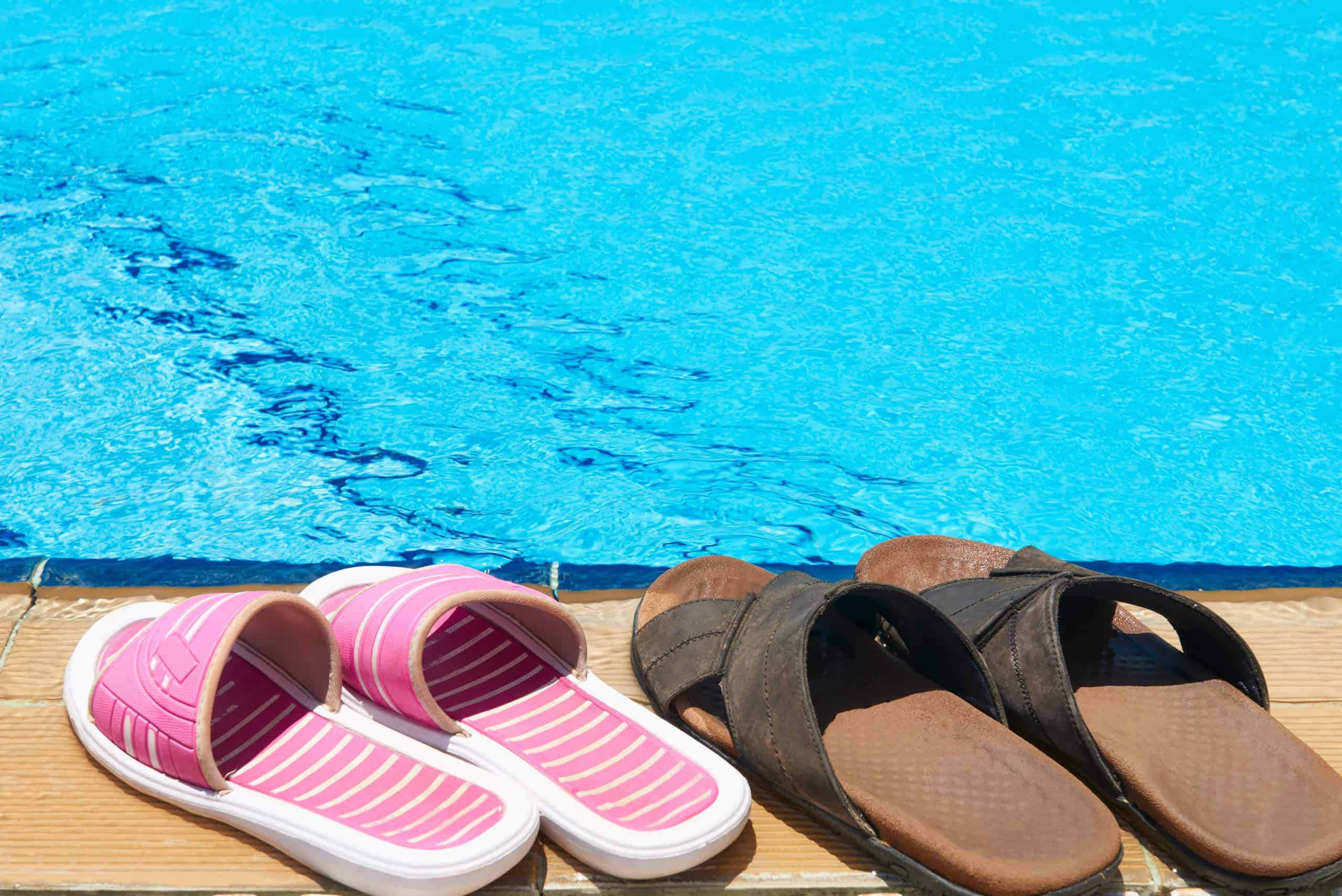 Final Steps
Shopping around for the best pair of slides can be a little overwhelming — there are just so many options and cool styles to choose from! However, once you know what you don't want, you can wean out the bad and make way for the good. We hope that this guide has helped you find exactly what you're looking for from a pair of slides. Most importantly, we hope that your new pair of slides will support your feet for many years to come.