Top Picks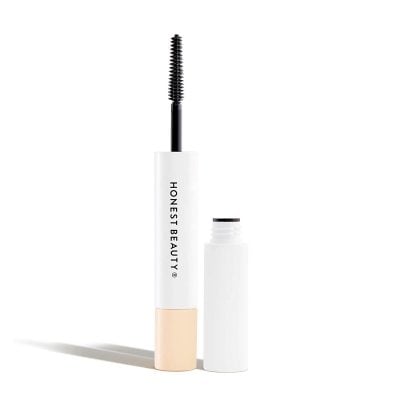 Honest Beauty Extreme Length Mascara + Lash Primer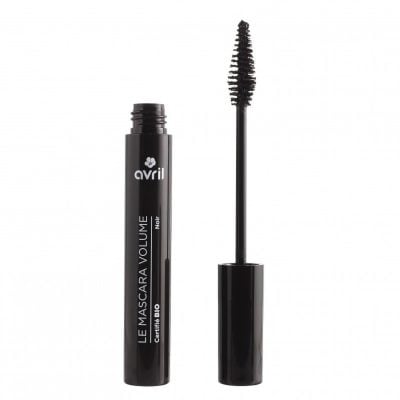 Avril Le Mascara Volume Bio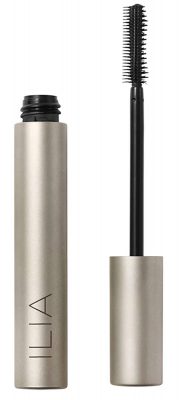 Ilia Limitless Lash Mascara
Previous
Next
Mascara is an important beauty staple, but we don't pay much attention to it. It deserves a second look! It sits right up against our sensitive eyes for hours-on-end, so isn't it important to know what's inside it? To know that it's safe?
Mainstream mascaras are often made with controversial pigments and preservatives that may cause harm to the body or the environment. Beauty products should only do good for our body and the planet, which is where natural & organic mascaras come into play. Made with plant-based ingredients and no harsh chemicals, they enhance the lashes without causing harm!
What Makes a Great Natural & Organic Mascara?
Dodging nasty chemicals while actually achieving glamorous lashes is no easy feat, but we've figured it out! These are the features we make sure to consider when selecting natural and organic mascaras.
Safe Formula
The most important feature in a natural mascara is that it has a safe formula that is free of potentially harmful chemicals. We often call this concept "clean," and we discuss it in more detail here. We used safety ratings from the Environmental Working Group to verify the safety of each mascara. We list them in each review — the lower the rating, the better, with 4 as the maximum we were willing to allow. We also excluded formulas containing parabens, phthalates, mineral oil, and coal-tar dyes. Check out our list of banned ingredients to learn more about what to avoid.
Lash-Enhancing Effects
When you wear mascara you want it to have an impact! Some shoppers might want long and voluminous lashes while others might prefer a more natural look. That's why we included an "Effects at A Glance" section. You can quickly learn what kind of effect each mascara has, and grab the one that fits your style. If you're not sure what kind of effects you want out of your mascara, check out our explanation below.
Natural Ingredients
For a mascara to count as natural, most of its ingredients have to come from nature. Small amounts of safe synthetic film-formers and preservatives are sometimes needed, but we'll still let you know if a mascara contains more synthetic ingredients than others on our list. Another detail you might want to consider is whether a mascara includes organic ingredients, so we cover that as well. If you're not sure about the difference between organic, natural, and other terms, we explain it all below.
Longevity
Natural mascaras aren't as intensely long-lasting or waterproof as mainstream ones, and that's okay! We still prefer that they hold up well throughout the day, without flaking or smudging too easily. We'll let you know how each mascara on our list performs over time and in different situations, so you can choose the one that'll fit your lifestyle. We also give some tips on how you can apply mascara in a way that'll prevent smudging.
Cruelty-Free and Vegan
We're thrilled to declare that every single mascara on our list is cruelty-free and vegetarian friendly! Because beeswax is an important ingredient in many natural mascaras, not all of them are vegan. If you adhere to a vegan diet, we make it easy for you to find some great mascaras with the "Quick Facts" section in each review.
Nourishing Effects
A mascara, especially when it's made with natural ingredients, can actually help nourish the lashes! Oils, proteins, peptides, and plant extracts can condition, protect, or strengthen the hairs and maintain their health. While not all of the mascaras on our list have lash-boosting ingredients, most do, so we'll let you know exactly what they are in each review.
Now that you know what you should look for in a natural mascara, let's get into the reviews. These are the best natural and organic mascaras we've discovered for every need, aesthetic, and lifestyle!
Top 10 Best Natural & Organic Mascaras 2021
Understanding Natural & Organic Mascaras
When it comes to your beauty, health, and personal convictions many considerations are subjective. We're not about placing limits–we're about giving options! This guide will help you figure out your own preferences so you can find the natural or organic mascara that'll be best for you.

Natural Mascara Terms to Know
Throughout this article, we talk about terms like "natural" and "clean," but what do they mean, exactly? And which of these terms are important to you? In this section, we define and explain all of the important green beauty terms, so you can decide what's important for you.
Natural
"Natural" is an unregulated term that vaguely means that something comes from nature.  It brings to mind the idea that a product is made with nothing but vegetable dyes and plant oils. The term "green" is often used interchangeably with "natural."
When putting together our list of natural mascaras, we had to decide what natural meant for us.
Many brands pretend that their products are natural when, in reality, their formula is mostly synthetic with just a drop of aloe–that doesn't fly for us!
For a mascara to qualify, it had to be free of all of the harmful chemicals we mention below and its ingredient list had to consist primarily of naturally-derived ingredients or earth-based minerals. We also accept some nature-identical ingredients, which are ingredients made in a lab but with an identical structure to substances that exist in nature.
If you want a mascara that specifically contains little-to-no synthetics, the 100% Pure Fruit Pigmented Mascara is the one to choose.
Organic
While the term "natural" isn't regulated, the term organic definitely is! Organic means that a substance was farmed in an organic manner, without any genetic modification or dangerous pesticides.
For something to be labeled organic it must be certified. In the US, the USDA is responsible for giving organic certification, while in Europe the most common standard is the COSMOS Standard.
There is still room for brands to make misleading claims. A company can advertise that their product is "made with organic ingredients" because 5% of the formula is an organic extract while the remaining 95% is synthetically-derived. The product might contain organic ingredients, but it still won't be natural!
Brands like Ilia and Avril do an excellent job, however! They offer truly natural products with certified organic ingredients. They make it clear which ingredients are organically-sourced by adding asterisks to their ingredient lists and by clarifying percentages.

Clean
"Clean beauty" is a relatively new term that's slowly but surely overtaking "green beauty" in popularity. Like the term "natural," "clean" doesn't have a strict definition, either. It generally means that a cosmetic is totally free of potentially harmful ingredients, regardless of whether they are synthetic or natural.
There's a false belief that because something is natural it must be safe, but that's not true. A lot of the chemicals on our banned list are organic compounds that exist in nature! However, the green and clean beauty communities have a lot of overlap. Most advocates for natural cosmetics also prefer clean formulas and vice versa.
There is some disagreement when it comes to specific ingredients: clean beauty advocates might avoid natural cosmetics made with essential oils, while some green beauty advocates might avoid clean cosmetics that are made with silicone or mineral oil. Our list of mascaras straddles the two terms, with some formulas that are more strictly "clean," other formulas that are more strictly "natural,"  and many formulas that fit into both categories perfectly.
The Honest Beauty Extreme Length Mascara and Thrive Causemetics Mascara are both closer to the "clean beauty" category, although they also count as natural.
Vegan
When it comes to food, vegans avoid anything sourced from an animal, including meat, dairy products, eggs, and honey. They usually extend the same principles to cosmetics, avoiding products made with honey extract, silk proteins, or beeswax.
People often think that if a product is vegan, it must be both healthy and natural! In reality, there are a ton of vegan mascaras made with synthetics, while many natural mascaras rely on animal-sourced ingredients like beeswax! In the natural beauty world, vegan mascaras like the Pacifica Aquarian Gaze Mascara and the Gabriel Cosmetics Mascara are an exception to the rule.

What Effects Do You Want?
All that talk of definitions can get a little heavy, so let's shift focus to something more fun: just what kind of lashes do you dream of? Choose the best natural mascara for you based on the effect you love!
Long Lashes
Long lashes are a major symbol of femininity, which is why almost all natural mascaras will help add length to your lashes. If you have naturally short lashes, you should definitely look for lengthening effects, but even those with naturally long lashes often like adding on those layers of mascara to mimic false-lashes.
You can't go wrong with any of the mascaras on our list, but the Honest Beauty Extreme Length Mascara and the Pacifica Aquarian Gaze Mascara do a particularly nice job. The Thrive Causemetics Mascara also deserves an honorable mention, for having an unusual formula that creates elongating tubes over the lashes.
Voluminous Lashes
Volumizing mascaras coat the lashes, making them appear thicker and lusher. They're a must-have if you have sparse lashes, but they're also just nice when you want a dramatic look. There's no rule that says that just because your makeup is natural your style has to be natural too!
One thing to note about very volumizing mascaras is that they're a little more prone to clumpiness, though this also strongly depends on the type of wand you use and how you apply the mascara.
It can be harder to find a very volumizing natural mascara since the formulas are often a little thinner. However, we found some really phenomenal options that break the curse and volumize as much as mainstream mascaras. The 100% Pure Fruit Pigmented Mascara in particular, is extremely volumizing, while the budget-friendly Avril Le Mascara Volume, also does a beautiful job.
Separated Lashes
Lash separation often depends on the type of mascara wand you have. Mascaras with a plastic wand that's tightly packed with bristles will do the best job of separating the lashes, while nylon wands are slightly likelier to clump. However, more volumizing formulas are also a little more clump-prone.
Clumping kills any illusion that your lashes aren't coated in makeup, which isn't necessarily a bad thing, but it's not what most shoppers want. That's why we love a properly separating mascara. The Ilia Limitless Mascara is especially fantastic because it doesn't compromise length or volume for separation, while Burt's Bees Nourishing Mascara is better for a more natural look.
Lifted Lashes
Length and volume aren't particularly helpful if your lashes just hang down over your eyes. While some of our readers are blessed with naturally curled lashes, many women have straight or even downturned lashes that aren't visible at all when glimpsed head-on. While an eyelash curler can help, it's important to have a mascara that can enhance and maintain that lift.
The best formulas for lifting the lashes and holding a curl will have a texture that's neither so thick that it weighs down the lashes nor so wet that it undoes a curl. It's hard to find that sweet spot, but the Gabriel Cosmetics Mascara does the job beautifully.
Natural Lashes
If you gravitate towards subtle makeup looks, that's perfectly okay as well! With our list, we wanted to show that natural mascaras can have supernatural effects, but that doesn't work for everyone, especially not for day-to-day looks.
Natural-looking mascaras are easier to use since they're not likely to clump. They add a hint of darkness and slightly enhance volume and length, to emphasize the lashes without ever looking like makeup. EVXO Mineral Mascara is the most natural-looking mascara on our list, but the Gabriel Cosmetics Mascara is another nice option, especially if you want a brown-colored mascara.

Banned Ingredient List
Organizations like the Environmental Working Group and The Campaign for Safe Cosmetics warn against a lot of chemicals that are often used in cosmetics. These are the ones that are particularly likely to pop up in mainstream mascaras, and that we made sure to avoid!
Coal Tar Dyes
One of the categories of dyes used to color cosmetics are called coal tar dyes. They pose a risk as carcinogens because of their potential for being contaminated. The FDA does regulate these kinds of dyes and they are subject to certification, but we still chose to exclude products containing them from this list.
They usually show up on ingredient lists with the letters FD&C followed by a color and number. In mascaras, specifically, we avoid carbon black, a coal tar dye that's usually listed as D&C Black No. 2.
Safe Alternatives to Dyes
Thankfully, iron oxides and other mineral pigments present a safe alternative to coal tar dyes! They show up looking nearly as dark and intense on your lashes, and they don't pose any risk. Brands like 100% Pure came up with an even more innovative solution, by turning tea extracts and fruits into dark pigments.
Harmful Preservatives
Preservatives are important in cosmetics because they keep bacteria and fungus from colonizing your favorite products. Without them, mascaras become highly dangerous products that can cause serious eye infections! However, many of the preservatives used in mainstream cosmetics may carry their own risks.
Parabens used to be the most common preservatives used in cosmetics. They show up on ingredient lists as propylparaben, methylparaben, and other words ending in -paraben. They are considered endocrine disruptors and have been tied specifically to breast cancer.
Formaldehyde-donors are another class of potentially carcinogenic preservatives. They kill contaminants by slowly releasing formaldehyde into a formula as they degrade. They show up on ingredient lists as quaternium-15, diazolidinyl urea, imidazolidinyl urea, and DMDM hydantoin.
Safe Alternatives to Harmful Preservatives
Instead of parabens and formaldehyde-donors, we looked for new preservatives that are approved for use in natural cosmetics, like benzyl alcohol, sodium benzoate, and dehydroacetic acid. These types of preservatives don't have any risks associated with them, so while they are synthesized in a lab, they have also been given the green light by certifying bodies like Ecocert.
Finally, there's phenoxyethanol, which is one of the most common preservatives used in green cosmetics, even though it has been the subject of some mild controversy. It's mostly associated with allergic reactions, as it's slightly more likely to irritate the skin when compared to other preservatives. It can also cause issues to infants if ingested, but that's not a risk we associate with mascara.
If you'd like a mascara that is specifically free of phenoxyethanol, Honest Beauty's Extreme Length Mascara and Ilia's Limitless Mascara are both fine, as are many other options on our list.
Phthalates
Phthalates are a group of ingredients that are used to increase the flexibility and durability of plastics. They are part of a category called "plasticizers." They used to be common in mascaras because they helped other ingredients form a more flexible film over the lashes. Like parabens, they are also considered to be endocrine disruptors. While we don't like seeing them in mascaras, they are particularly dangerous in plastic children's toys.
Safe Alternatives to Phthalates
Beeswax and plant waxes are fantastic for creating an even coating over the lashes, so they're almost always used in clean and natural mascaras.
Additionally, though they're not necessarily natural, there are many safe polymers that act as excellent film formers around the lashes. They show up in the more water or oil-resistant formulas on our list, like the Pacifica Aquarian Gaze Mascara and the Thrive Causemetics Mascara.
Petroleum-Derived Compounds
When it comes to the skin, petroleum-derived compounds aren't so bad. Back in the day, there was a risk that they'd be contaminated with carcinogenic compounds, but nowadays, anything used in cosmetics gets thoroughly purified. However, that doesn't make them okay in natural cosmetics!
Mineral oil, paraffin, and petrolatum are all byproducts that come from the petrol industry, which is extremely destructive to the environment. Because of that, we made sure to avoid any so-called "natural" mascaras that included them.
Safe Alternatives to Petroleum
Thankfully, the natural world is filled with lovely alternatives to mineral oil and petrolatum that even have a nice, fortifying effect on the lashes. These include jojoba esters, which are used in the Honest Beauty Extreme Length Mascara and shea butter which is used in the Ilia Limitless Mascara.
Fragrances
Fragrances can cause a lot of issues in mascara. It's estimated that between 1%-3% of the population is allergic to fragrances. This may not sound like much, but no other ingredient category is as likely to be allergenic!
An allergic reaction around the eyes can cause long-lasting issues including damage to the skin and to the eyes themselves. Even if you don't have fragrance allergies, their presence in mascaras can still be bothersome to those around you.
Synthetic fragrances are especially problematic because they're considered "trade secrets." It's impossible to know how many different compounds are hidden within one little word like "fragrance" or "parfum." Brands can hide phthalates in their fragrance without having to disclose it to anyone!
All of the mascaras we've selected are free of synthetic fragrances, but some do include natural essential oils that may still not work for those with fragrance allergies. If you'd like a completely fragrance-free mascara, Honest Beauty and EVXO both have you covered.
There's More to Know About Natural Mascaras
If you have a few more questions or concerns about natural mascara, have no fear! We've got them all covered in this section.

How Do You Apply Natural Mascara Flawlessly?
We've put together step-by-step instructions for applying natural mascara, along with some must-know tips that guarantee a clump-free, flawless look that's unlikely to smudge!
To ensure your mascara doesn't smudge too easily, apply a light layer of setting powder around your eye to absorb facial oils.
If you want, curl your lashes to give them a bit of a lift.
Next, open your tube of mascara and have a look at the wand. If it's totally covered in globs of mascara, you're at serious risk of clumping!
Wipe off the wand on the rim of your mascara tube to remove excess product. If it's still too saturated, wipe it down gently with a clean tissue.
You're ready to start! While looking up, bringing the wand right up against the base of your lash line, from below.
Pull the wand up towards the tips while also wiggling it from side to side. This wiggling while pulling motion guarantees separated lashes and maximum volume!
Repeat this motion all along your lash line to cover all of your lashes.
Let the mascara dry down partially–it should still be a little tacky. Then add more coats of mascara to increase both the volume and length.
Be careful not to overdo the layers or you can end up with spidery lashes.
Finally, apply a single coat of mascara to your bottom lashes, using the same wiggle and pull motion.
If any mascara smudges on your eyelids, you can wipe it away with a cotton bud dipped in a bit of makeup remover or concealer!
Can Natural Mascara Damage Your Eyelashes?
Sadly, we know for a fact that mascara can damage the lashes. According to research, it's the removal process, specifically, that is most damaging to the eyelashes, especially if you try to remove your mascara with water.
While no research has been done on natural mascara specifically, we can make an educated guess and assume that natural mascara is gentler on the lashes than traditional mascara. This is because natural mascaras are often made with beneficial oils and plant proteins that help to condition and fortify the lashes.
Additionally, natural mascaras are much easier to remove! Since they come off so easily, the removal process is going to be a lot less damaging to the lashes, with less pulling and rubbing. Just to be safe, we still recommend you use a proper makeup remover at the end of the day.
How Often Should Natural Mascara Be Replaced?
Natural mascaras should normally be replaced 3 months after they've been opened. In most cases, you can find out the exact amount of time by looking at the packaging of your mascara for the "period-after-opening" symbol.
The symbol looks like an open jar. It'll be marked with "3M" if your mascara should be used within 3 months of opening, or "6M" if it can be used for up to 6 months from opening. The preservatives used in natural mascaras are often a little weaker than mainstream ones, so they should never be used beyond the expiration date!
How Do You Make Natural Mascara?
You don't. With so many amazing natural mascaras made by professional chemists (including some very budget-friendly options like Avril Le Mascara), there is no reason why you should try to make your own.
On the other hand, there are many reasons why you shouldn't try! Our eyes are incredibly sensitive and prone to infections. When you make cosmetics at home, you don't have a way of guaranteeing a totally sterile environment, and chances are you don't have access to the safe preservatives that natural beauty brands use.
Any mascara you make can quickly become a breeding ground for bacteria. In the worst-case scenario, an eye infection induced by a homemade mascara can lead to blindness. Please leave cosmetic formulation to the professionals!
What Can You Use Instead of Mascara?
While natural mascaras can mitigate some risk of eyelash damage, it's still good to give your eyes the occasional break from makeup! We have a couple of suggestions for days when you'd like to go makeup-free.
If you'd like your lashes to look a little longer, giving them a quick curl with an eyelash curler will immediately push them up and open up your eyes.
You can also  apply a thin coat of coconut oil or castor oil to your lashes with a clean spoolie. While the belief that these oils help with hair growth is not verified, they will certainly condition the lashes and give them a pretty sheen.
A Natural Conclusion
Long, lush lashes are possible even without those synthetic ingredients! These days, natural mascaras easily rival their traditional counterparts, offering the same intense length, volume, or separation. Even those who prefer a natural look will find an organic mascara to love! With natural mascara, you can bat those lashes with confidence, knowing that you're doing something good for yourself and the environment.