Pink is the new blonde as far as hair colors go. It's the most on-fleek and trendy hair color this season, and it works well with most standard hair colors, though you may have to bleach your hair if yours is naturally dark.
The pink palette has so many varied shades and hues that you can create a unique pink hairstyle for yourself every few weeks. Fun, funky, fresh, and fabulous – pink hairstyles are all the rage, and you should head to the salon asap to redo your hair!
Know Your Pink Before You Cast the Dye
If you're going for a pink hairstyle, you have plenty of options to choose from. Whether it's the shade of pink, the cut of your hair, its length, or its texture, you can personalize the hairstyle according to your facial features, shape, and complexion.
There are as many pink shades to choose from as there are natural hair colors to match them with. While there's no official classification of different shades of pink, we will try and group them into different ranges based on the hue, depth, and tint.
Here's a quick pink hair color guide for those interested in coloring their hair in one of the many shades of pink:
Dark Pinks
Magenta pink, mauve pink, and midnight rose pink are some shades of pink that look good with dark roots and naturally dark hair.
Bold Pinks
Vivid pink, vibrant pink, neon pink, hot pink, cherry pink, reddish-pink, and shocking pink are colors that are usually combined with lighter shades of pink and blonde locks to mute their effect. They also look good by themselves as standalone colors, especially on short hair.
Bright Pinks
Powder pink, metallic pink, peach-pink, candy pink, and strawberry pink are shades that look best when blended with one or more of the bold or dark pink hues. These are also quite funky and can be used to create the perfect glossy pink waves.
Pale Pinks
Dusty pink, pastel pinks, iced pink, frosted pink, rose pink, and summer pink are shades of pink that are subtle yet stylish.
You can mix and match different pink shades to create your own unique pink hairstyle that's funky, fresh, and fabulous!
Get on-trend and find your signature pink color from amongst the 50 pink hairstyles shown below.
Gallery of 50 Pink Hairstyle Ideas
1. Kawaii Pink Ombre Locks With Leaf Cut Bangs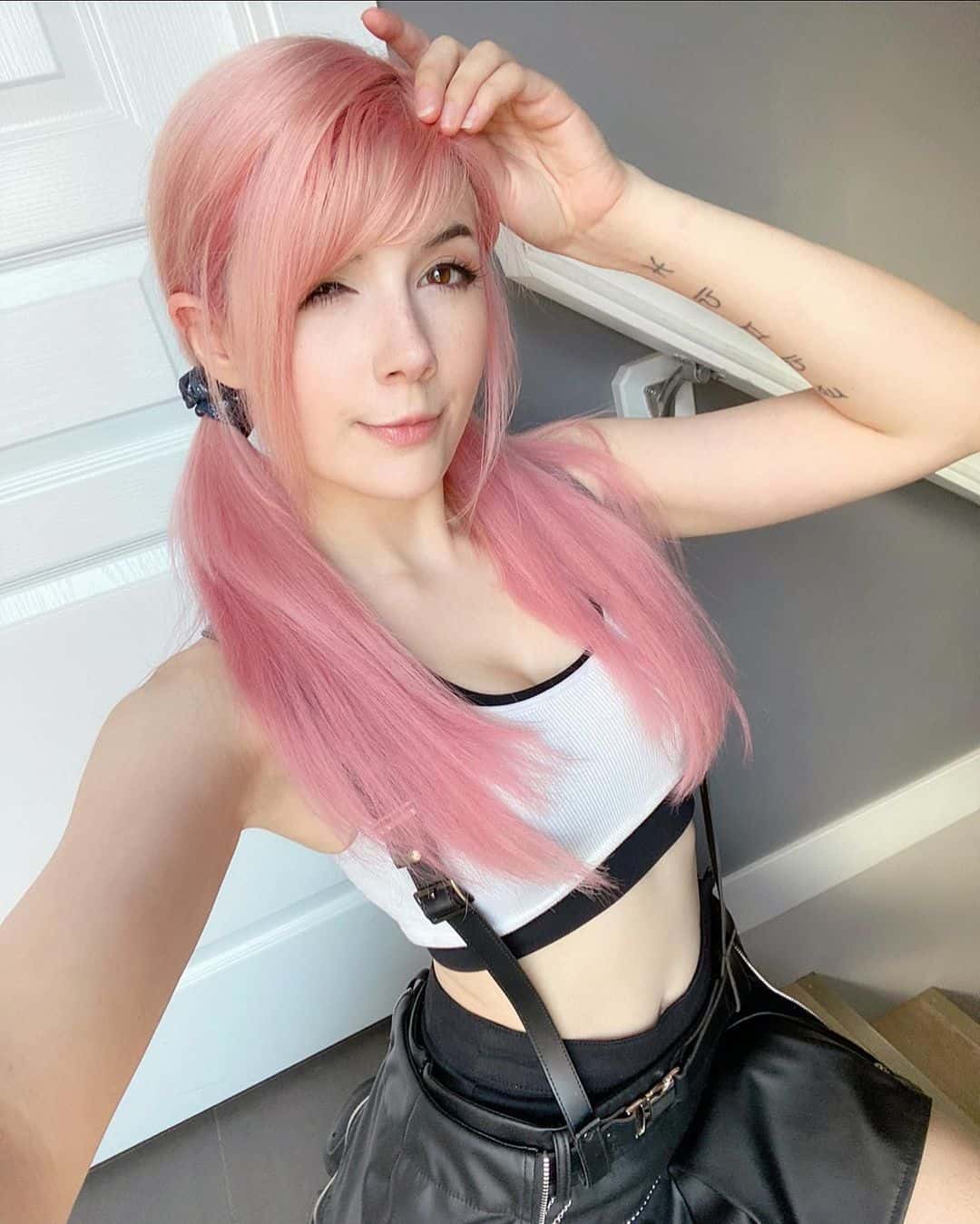 Pink is to kawaii as black is to gothic. When you think of a pink hairstyle, this is probably the kind of hairdo that comes to your mind. It's pink, it's super cute, and looks fresh and young.
It is also the kind of pink hairstyle that suits a younger demographic. But no matter your age, if you're a big fan of Japanese manga comics, you might want to try this cute pink shade with soft bangs and darker pink tips.
2. Grunge Pastel Pink Buzz Cut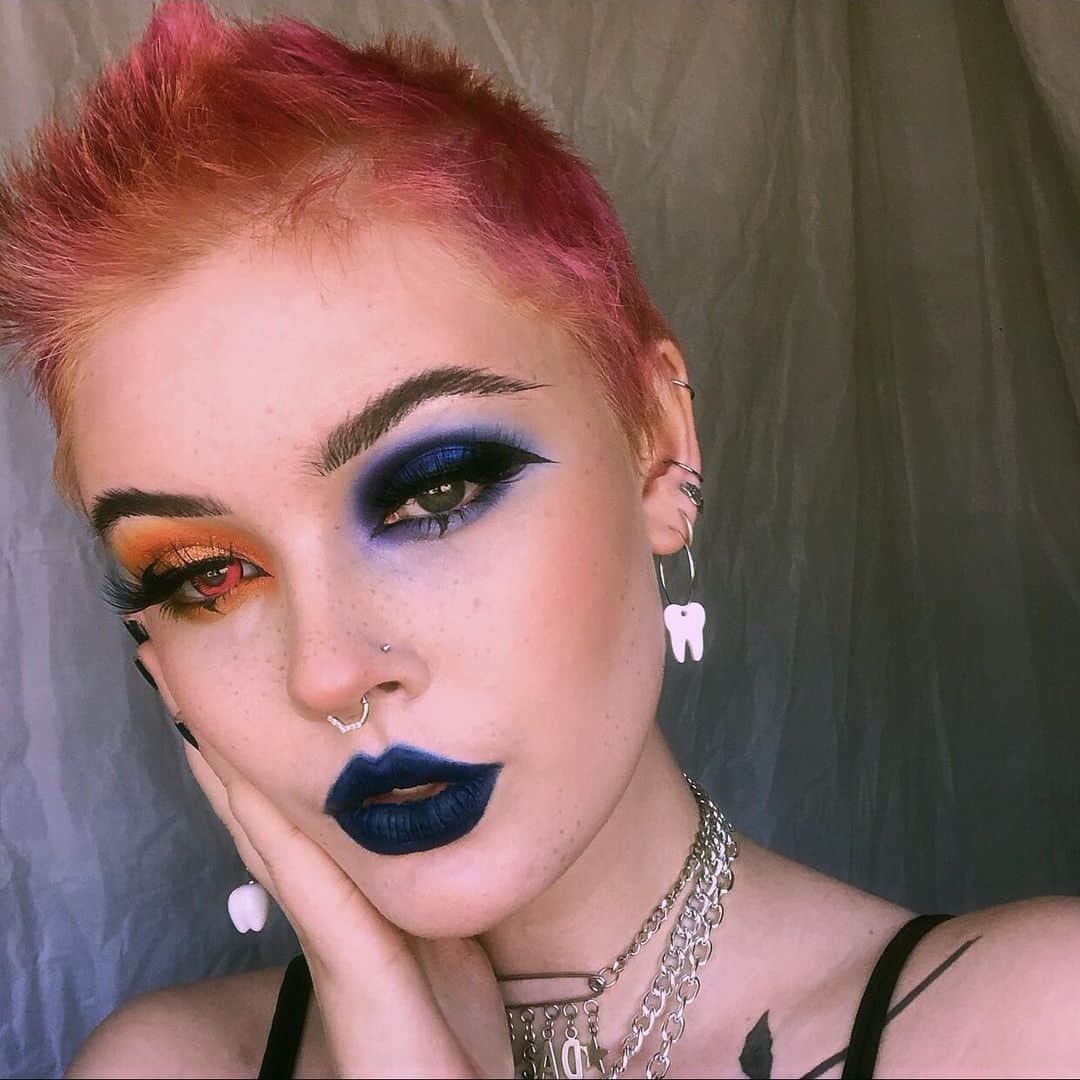 If you think dark, edgy, and gothic do not mix with pink, think again. Here's a grungy buzz cut that's rocking a pastel pink hair color without looking cutesy. This shade of pink works equally well with the dark and gothic vibe as the default red or black. The pastel pink shade here is paired with honey blonde hues to provide the finishing touches.
3. Pretty Pink Long Bob With Bangs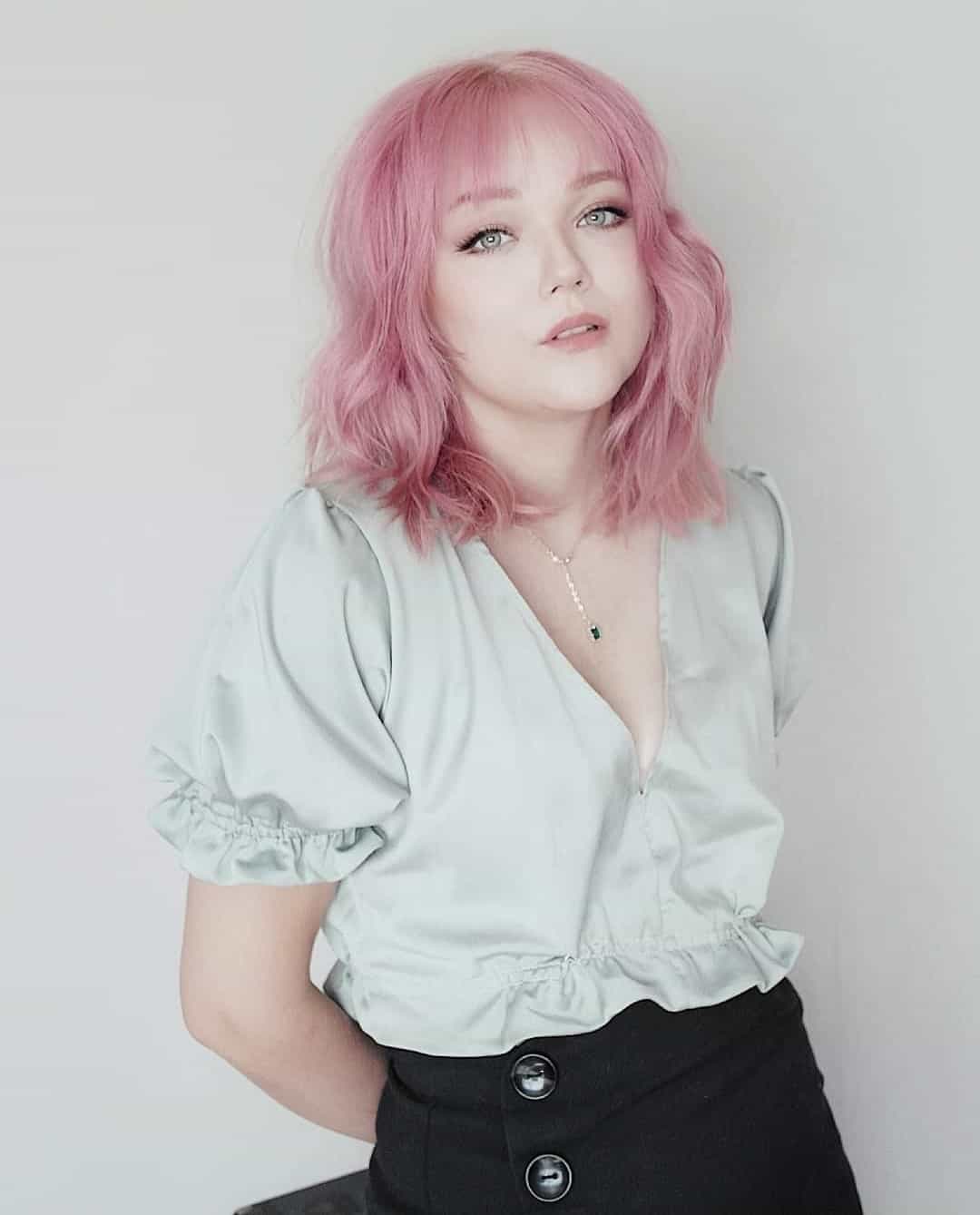 This pretty pastel shade of pink hair color is a UV color that glows under black lights. It's a thick hair color that's mostly opaque on application but brings out this iced shade of pink really well on bleached blonde hair.
This color is semi-permanent and fades after multiple washes, and hence is perfect for those who do not want to commit to a long-ter color.
4. Face-Framing Vivid Pink and Purple Locks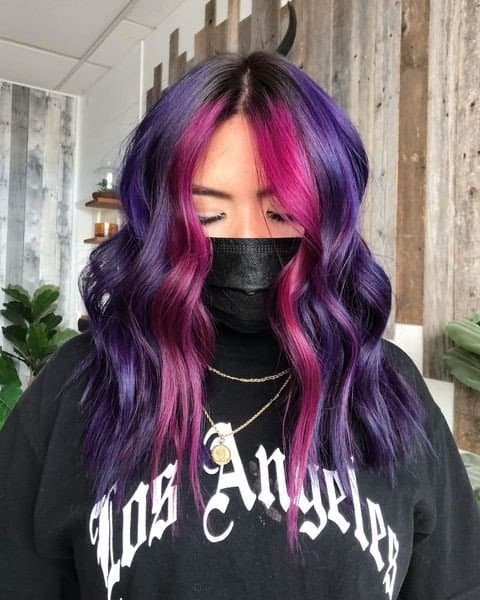 Consider a face-framing hairstyle that doesn't require short bangs. One way of getting this look is by using contrasting hair colors. This hairstyle uses a vivid and bright shade of pink on the front locks to create a face-framing wave. The rest of the hair is dyed a contrasting shade of dark violet.
This technique is currently quite popular and looks especially good on people with shorter foreheads.
5. Mermaid Pink Blonde Lob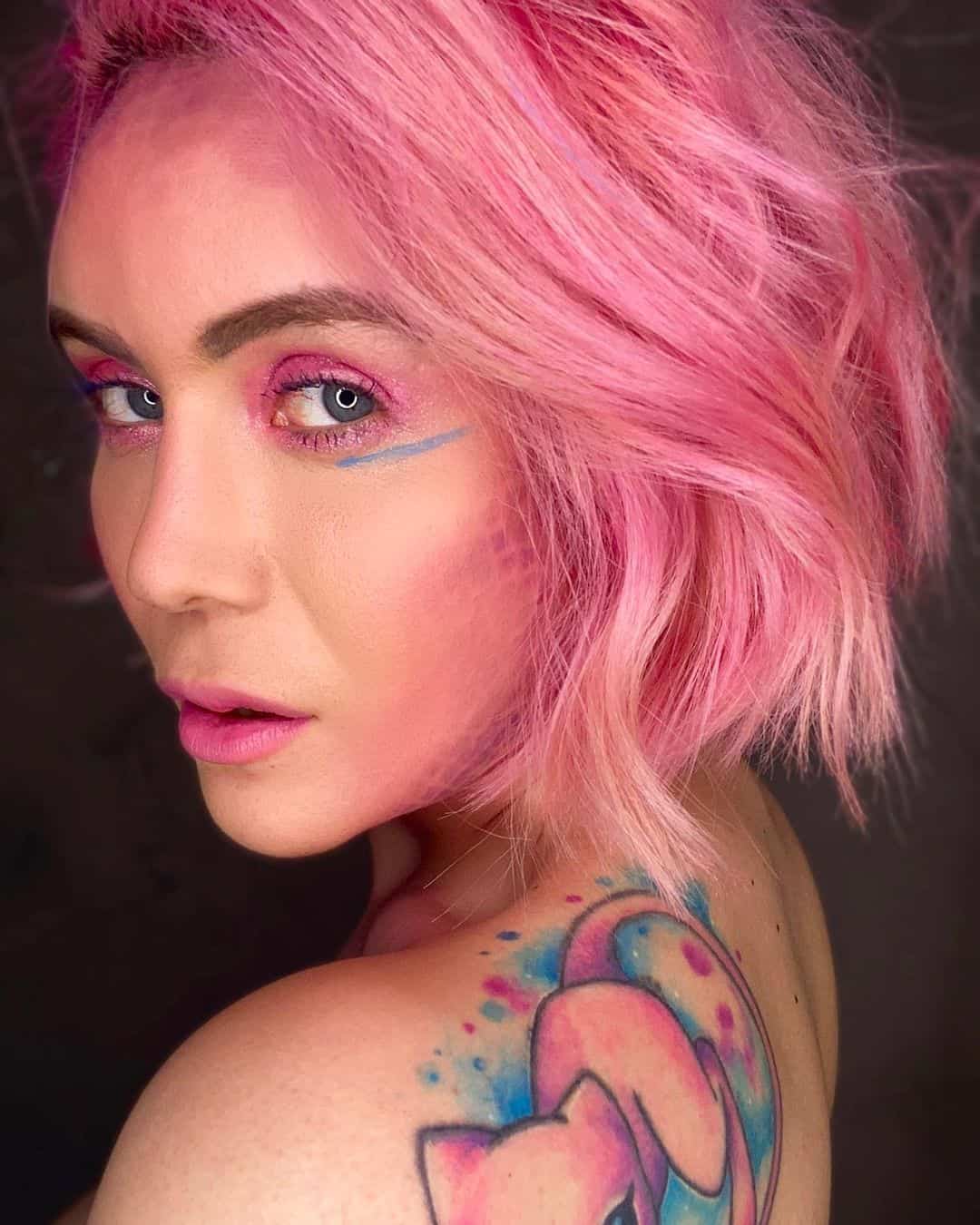 Who says mermaid waves need to be long in length? You can create the perfect beachy mermaid waves with short hair by using this hue of candy pink.
Applied on bleached blonde hair, this color is reminiscent of a sunset by the sea on a warm summer's evening. This pink hairstyle needs a salon visit to create and regular upkeep to maintain the freshness.
6. Candy Pink Polished Hair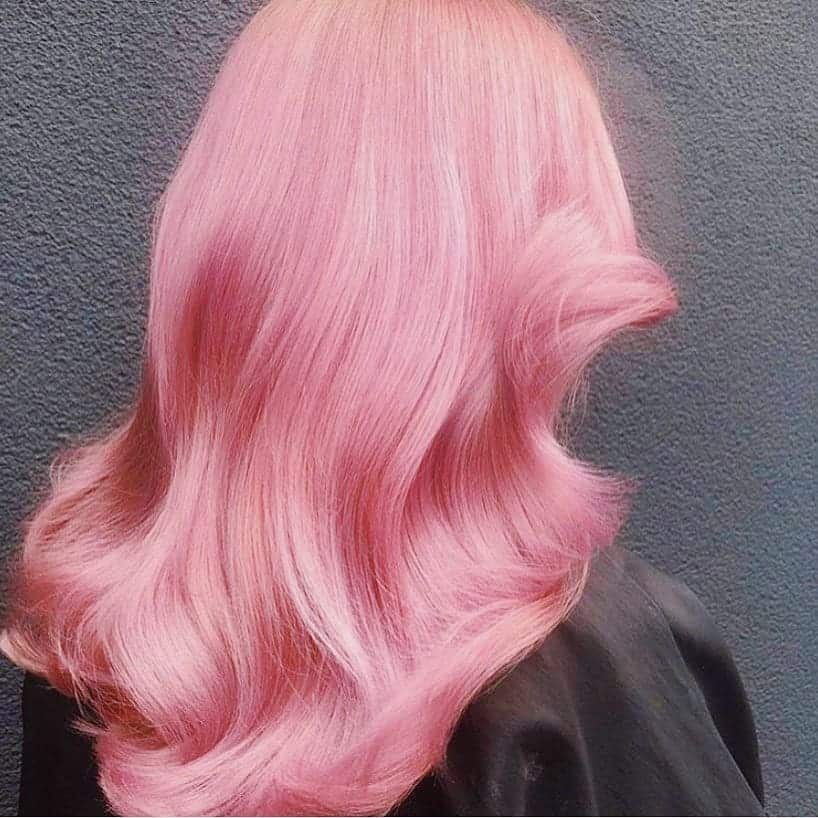 Want the perfect pink blonde hair that is red carpet ready? Go with this polished pink blonde look that uses a hue of candy pink to color in blonde locks.
Once the pink hue sets in, straightening and curling at the right places are applied to create this professional-looking mane worthy of a movie star.
7. Baby Pink Hair Lob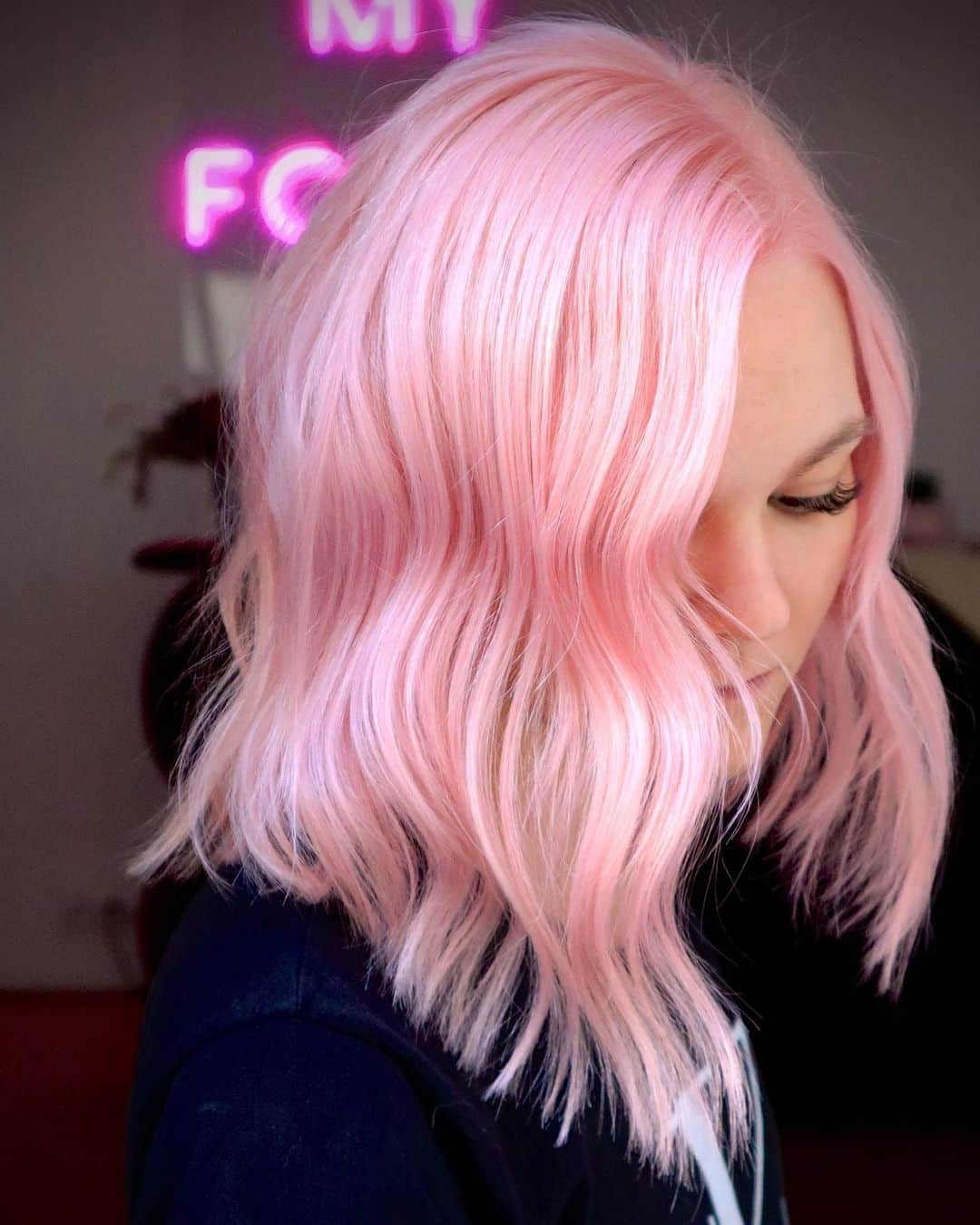 Have an uneven bob or a lob? Want to try something new with your edgy haircut? Go with this baby pink hair lob that marries this trending haircut craze with this trending hair color craze.
Freshly bleached pink blonde locks provide softness to this otherwise edgy haircut.
8. Pink Cotton Candy Farrah Fawcett Hairstyle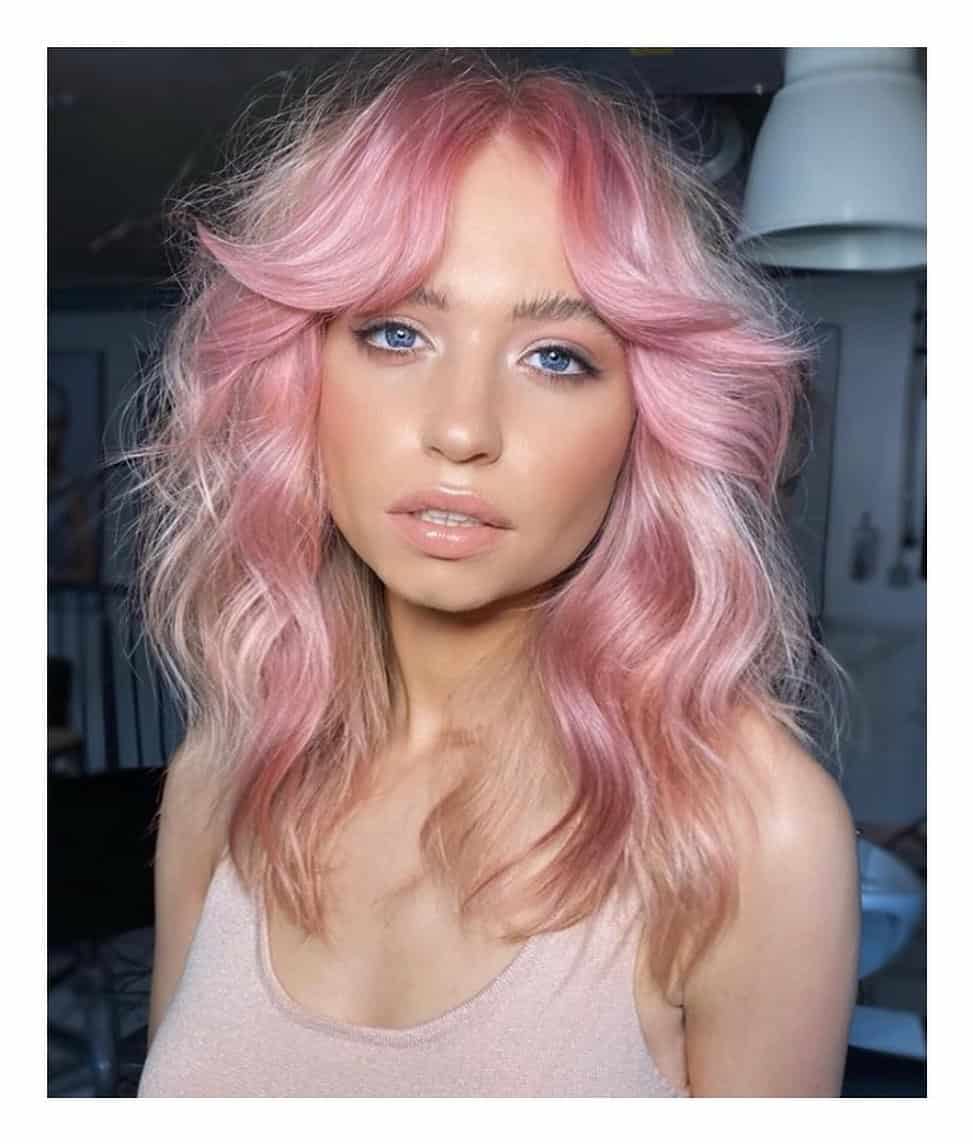 A lasting legacy of Charlie's Angels (the original show) is Farrah Fawcett and her inimitable feathered blonde hairstyle. Now you can add a touch of modernity to this classic haircut by adding a pop of pink.
An ombre effect is created here with honey blonde and cotton candy pink locks that give this feathered hairdo a much-needed upgrade.
9. Dark Pink and Brown Ombre Hair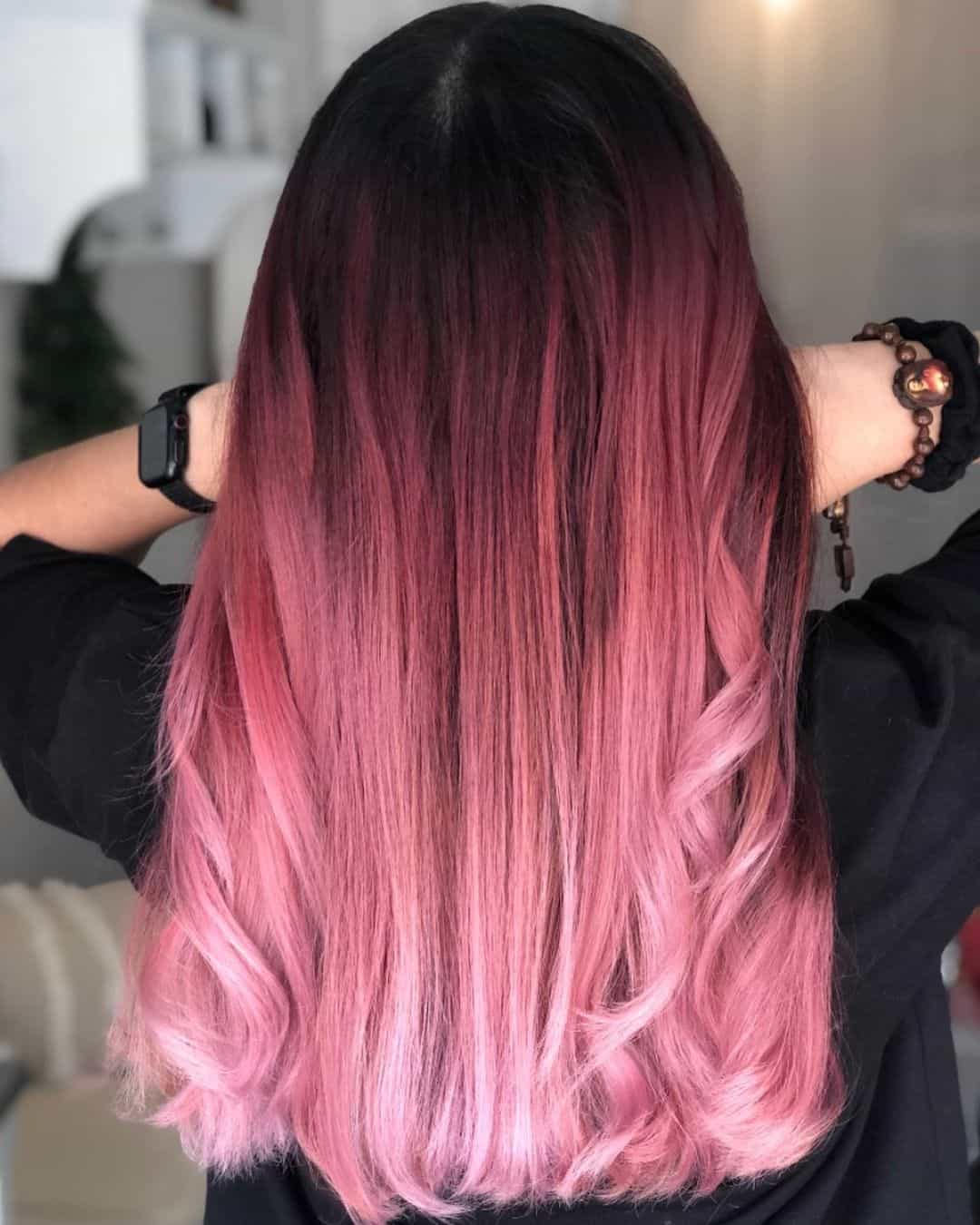 Pink doesn't automatically mean light-colored locks. Pink hair color can also be combined with dark brown locks to create a hairstyle that showcases a darker palette of pinks.
This particular hairstyle is going for the ombre effect with brown and dark pink shades. While the crown and the locks in the front are dark, they slowly fade to dark shades of pink, ending in iced pink tips.
10. Rose Gold Pink Short Hair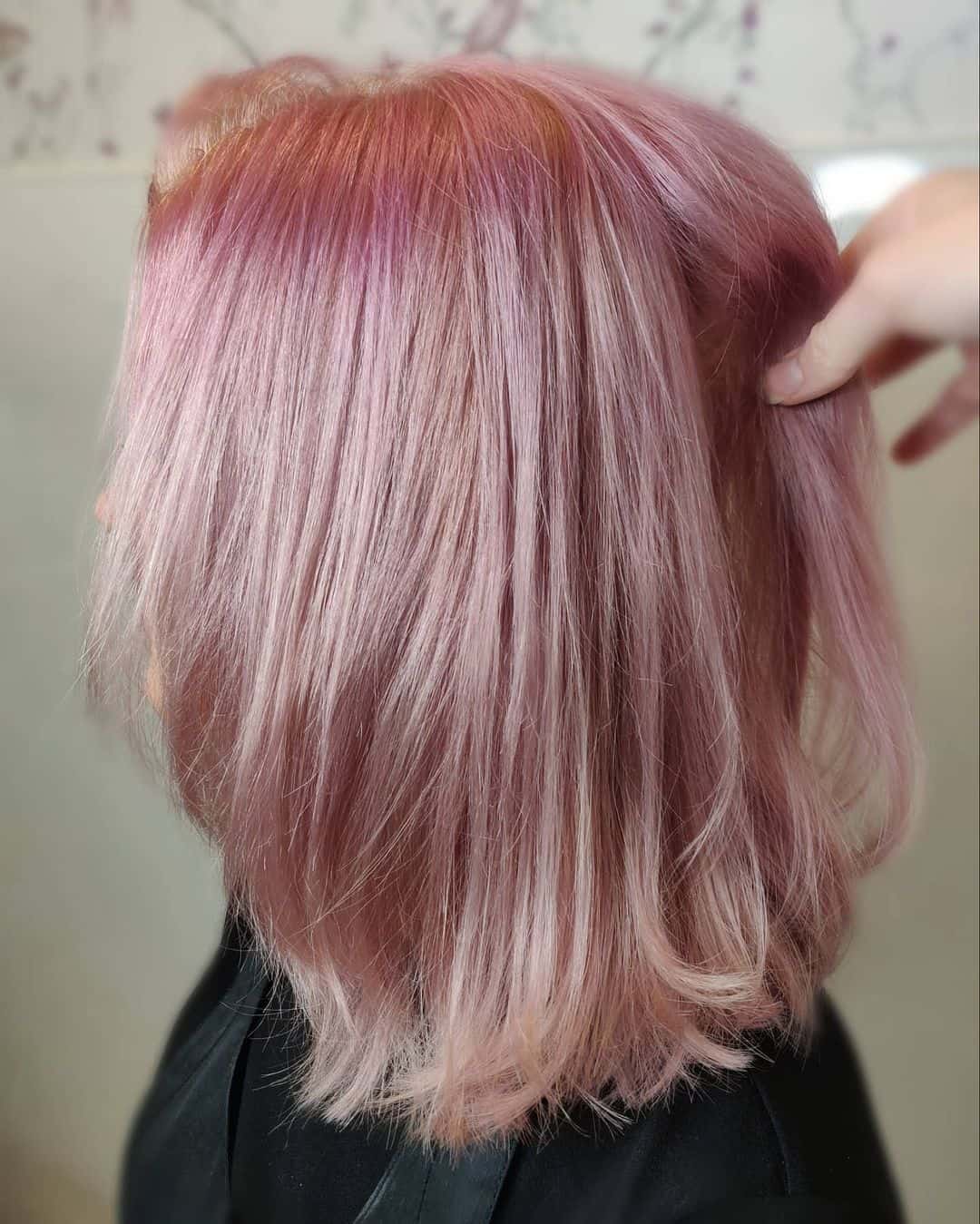 Rose gold – gold infused with a pinkish hue – is quite the rage these days. So why not try to reproduce this metallic hue of pink on your hair? Here's one hairstyle that uses the rose gold pink color on a short blonde bob to create a shiny, glossy, rose gold bob.
Achieving this metallic pink hue isn't easy and should be left to professionals. Also, this look requires the mixing of multiple shades of pink and blonde.
11. Glossy Muted Pink Mane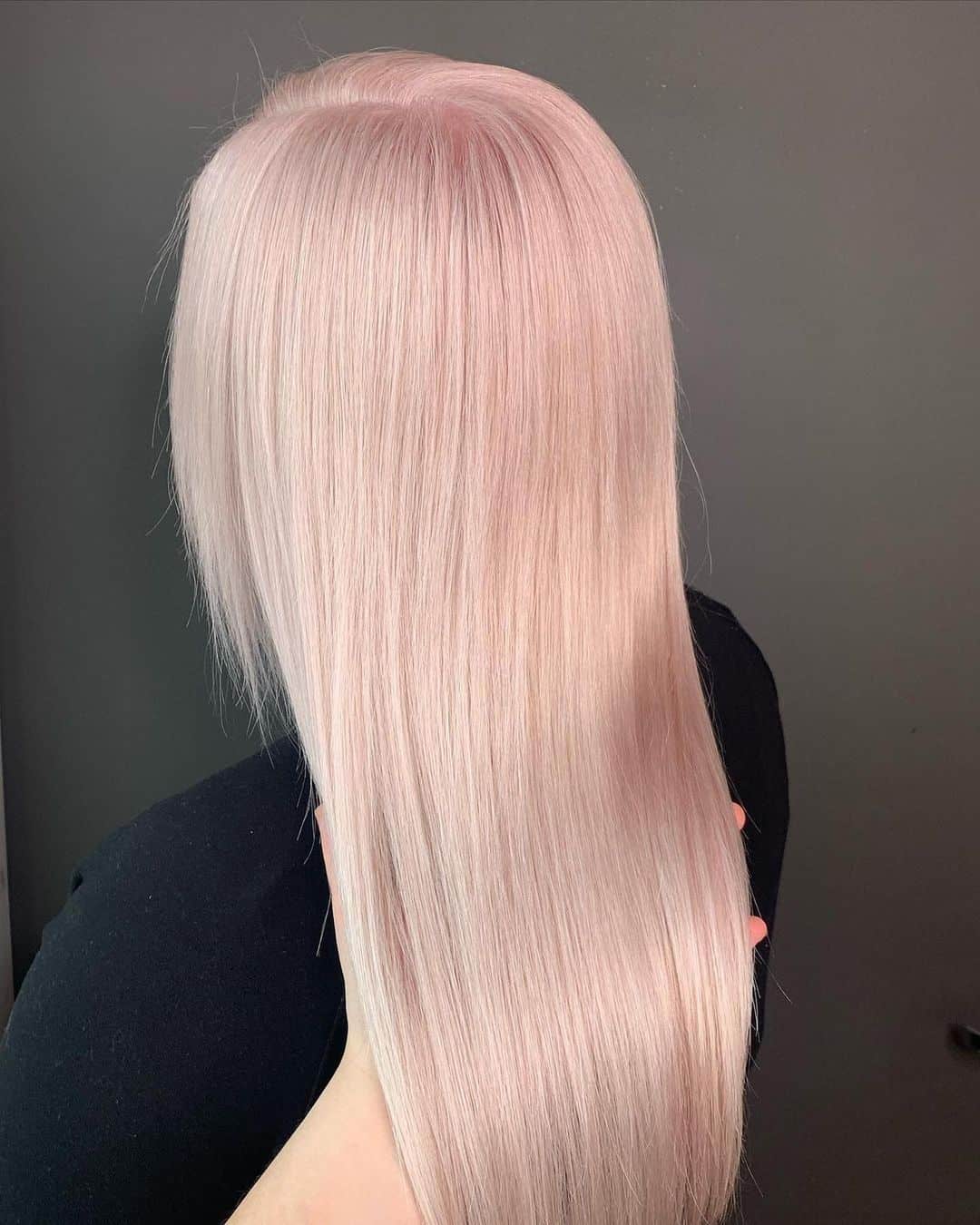 So, you would like to have pink hair but only with a tinge of pink, something so subtle, it can almost pass off as blonde hair? We've got you covered. Sample this barely-there muted pink blonde mane that uses minimal pink dye to give these long blonde locks a subtle shade of pink.
It's such a finely done job that you would be hard-pressed to tell the exact color of this hairstyle. Give this pink hairstyle a try if you're afraid of using shocking colors on your hair but still want to try out something new.
12. Pastel Pink and Green Split Hairstyle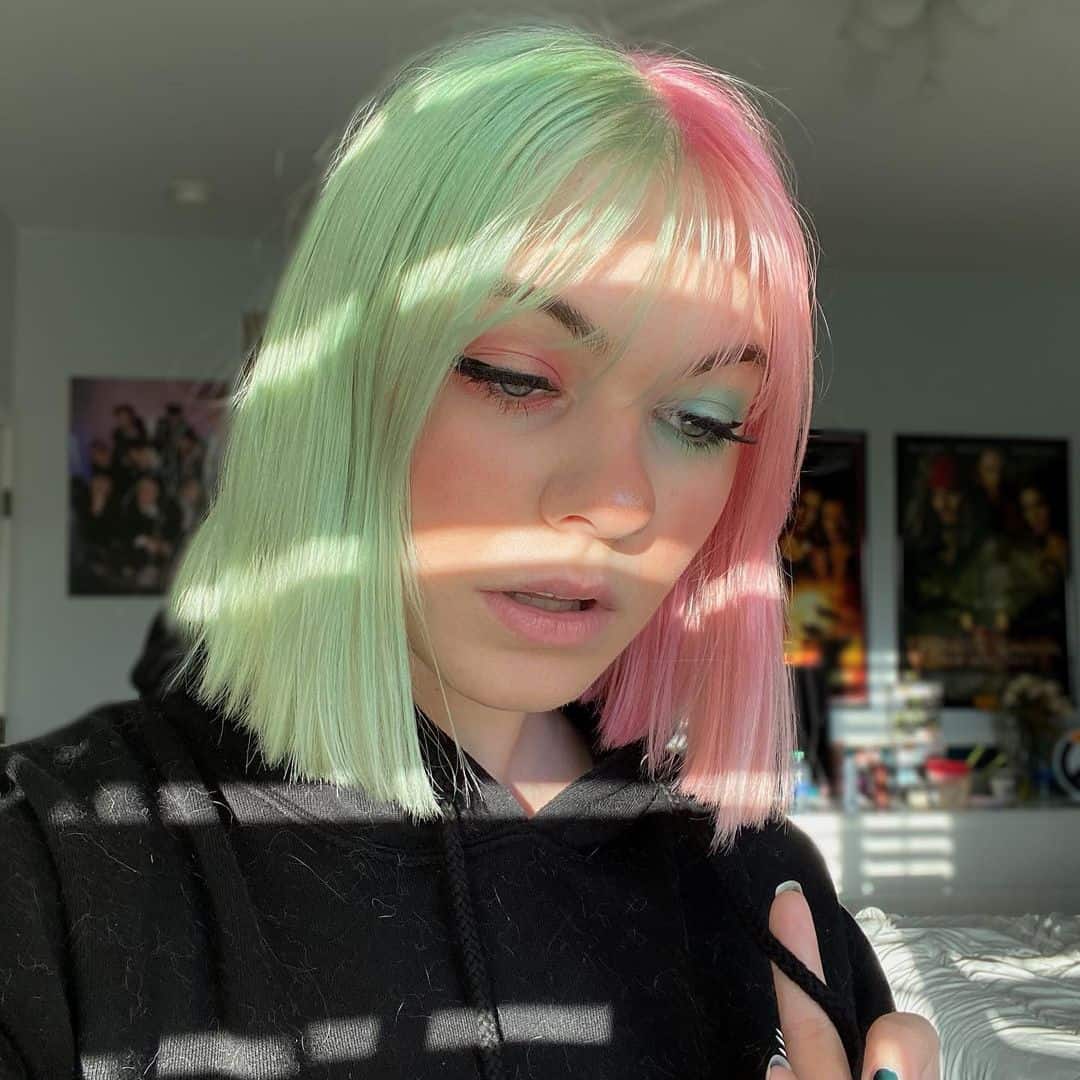 Split hair coloring is becoming quite the rage with teenagers across the globe. Those who are already bored of trying on new and shocking hair colors have moved on to this recent phenomenon where the hair is dyed in two different colors, right down the middle of the head – thus the name – split hairstyle.
The colors used can be pretty random, but you should still consider color contrast. The color job shown here uses a pastel pink shade combined with fluorescent green to create the split hairstyle.
13. Rose Pink Ombre Waves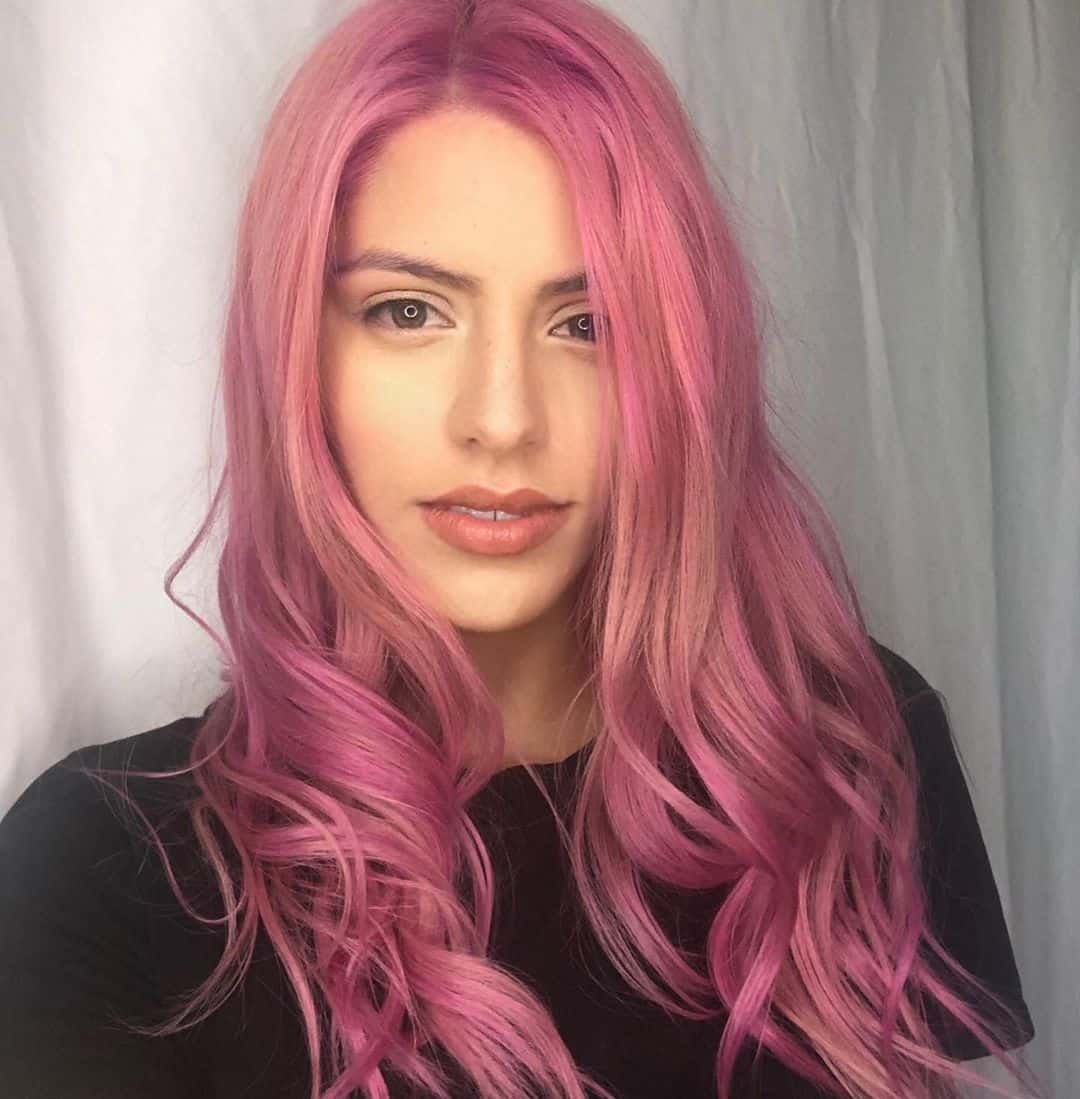 Pink roses remain as popular with youngsters today as they were 100 years ago. This hairstyle mimics the pale rose hue of these popular flowers to create a deep pink hair color that defies a pink mane's expectations.
It is unique because the hue of pink looks markedly different from the candy and pale pinks generally used by colorists to create pink hairstyles. Stand out from the pink crowd with this rose pink hair color.
14. Shocking Pink Short Hair Mop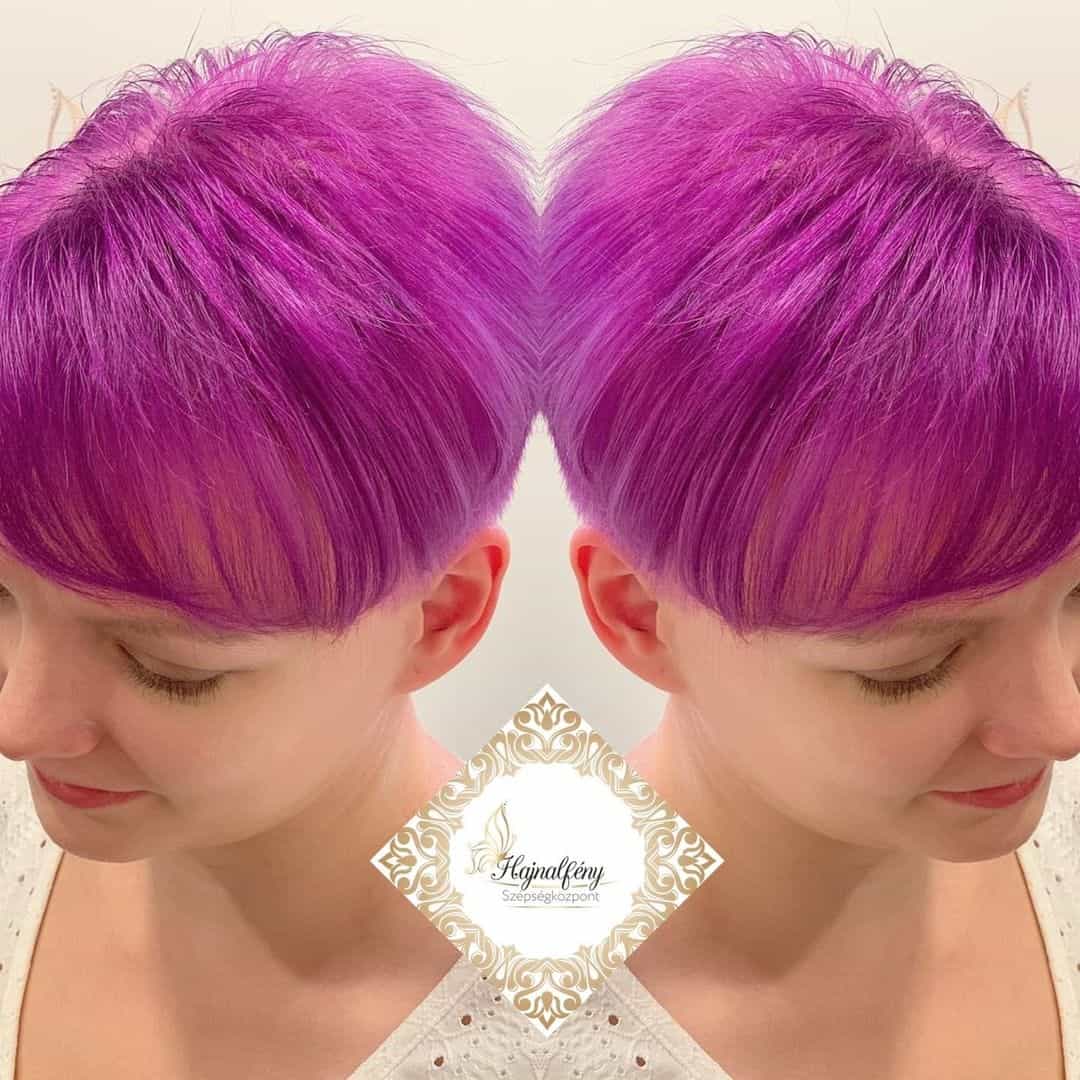 So you've seen vivid pink hair, pale pink hair, candy pink hair, metallic rose gold pink hair, as well as pale rose pink hair; what's next? Shocking pink hair so vibrant you cannot look away.
This mop of hair is so bright and vibrant, heads of all other colors will turn to notice yours. Do try it if you maintain really short hair and are looking for something fun for a short while.
15. Smoky Pink Blonde Beachy Waves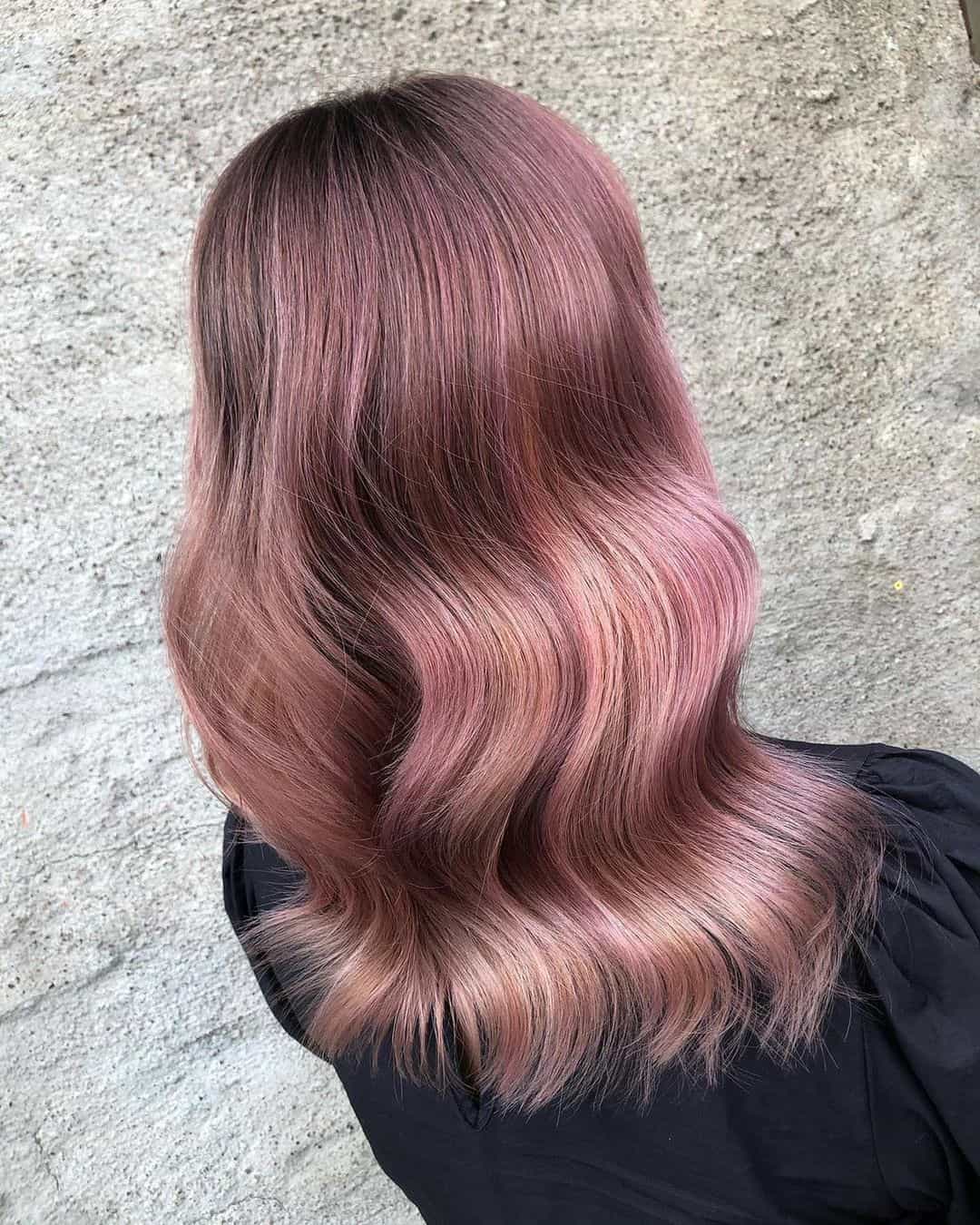 How about mixing pink, brown, and blonde locks? Create this beachy waves look with dark pink tresses in combination with brunette locks, and blonde highlights.
There's a lot at play here with root shadows, relights, muted pinks, and ombre waves that come together perfectly to create this unique smoky pink hairstyle.
16. Powder Pink Curly Hair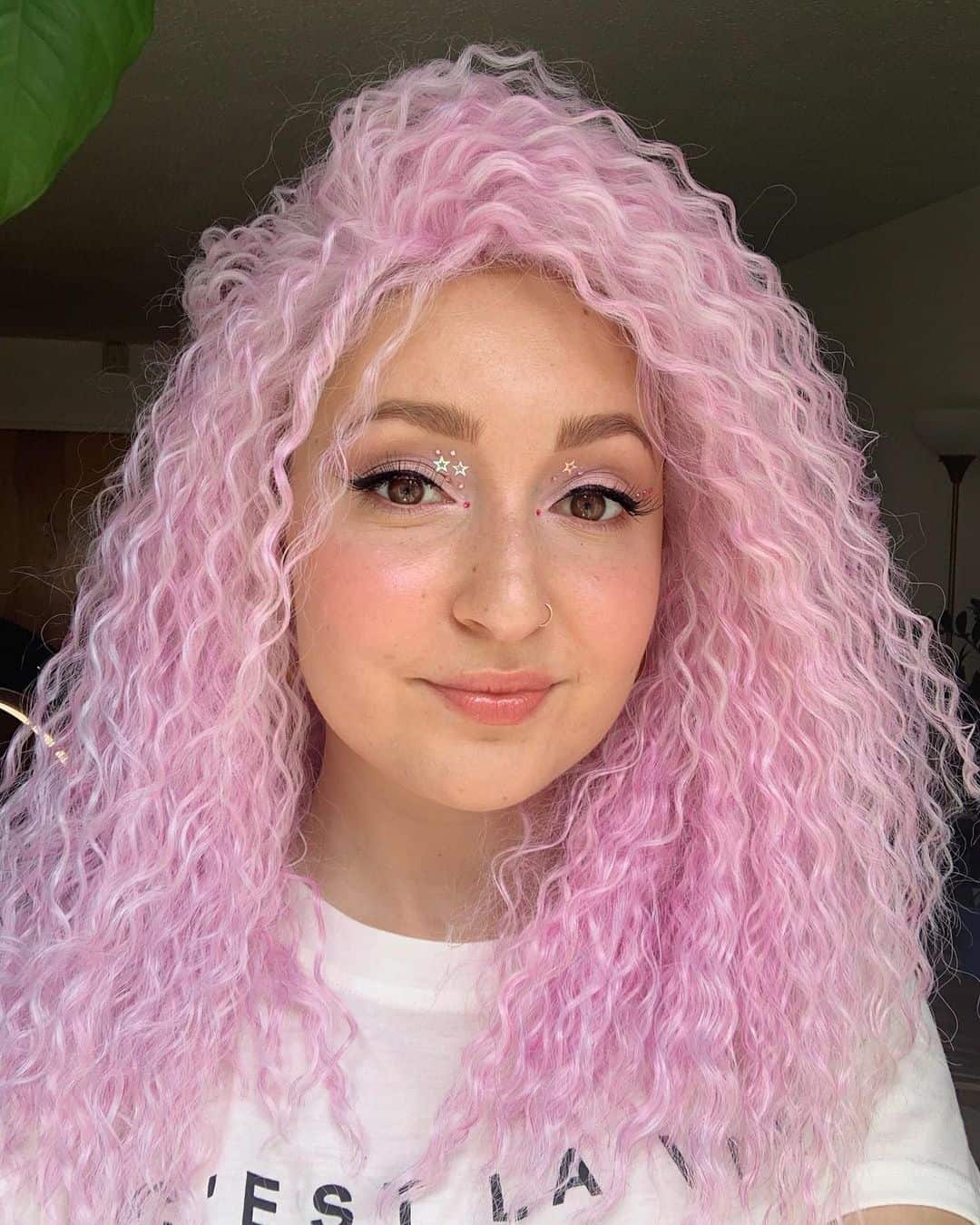 The same shade of pink looks different on different-colored hair. Pale and candy pink look really light and bright on blonde locks. However, when applied on white, silver, and platinum blonde locks, you get this powder pink effect that resembles true cotton candy.
This unique hairstyle looks lovelier as it uses tight curls to enhance the powder pink hair color further. Although this seems relatively recent, Drew Barrymore did it way back in the 90s. Give it a try if you already have white/silver locks.
17. Dusty Pink Tight Curls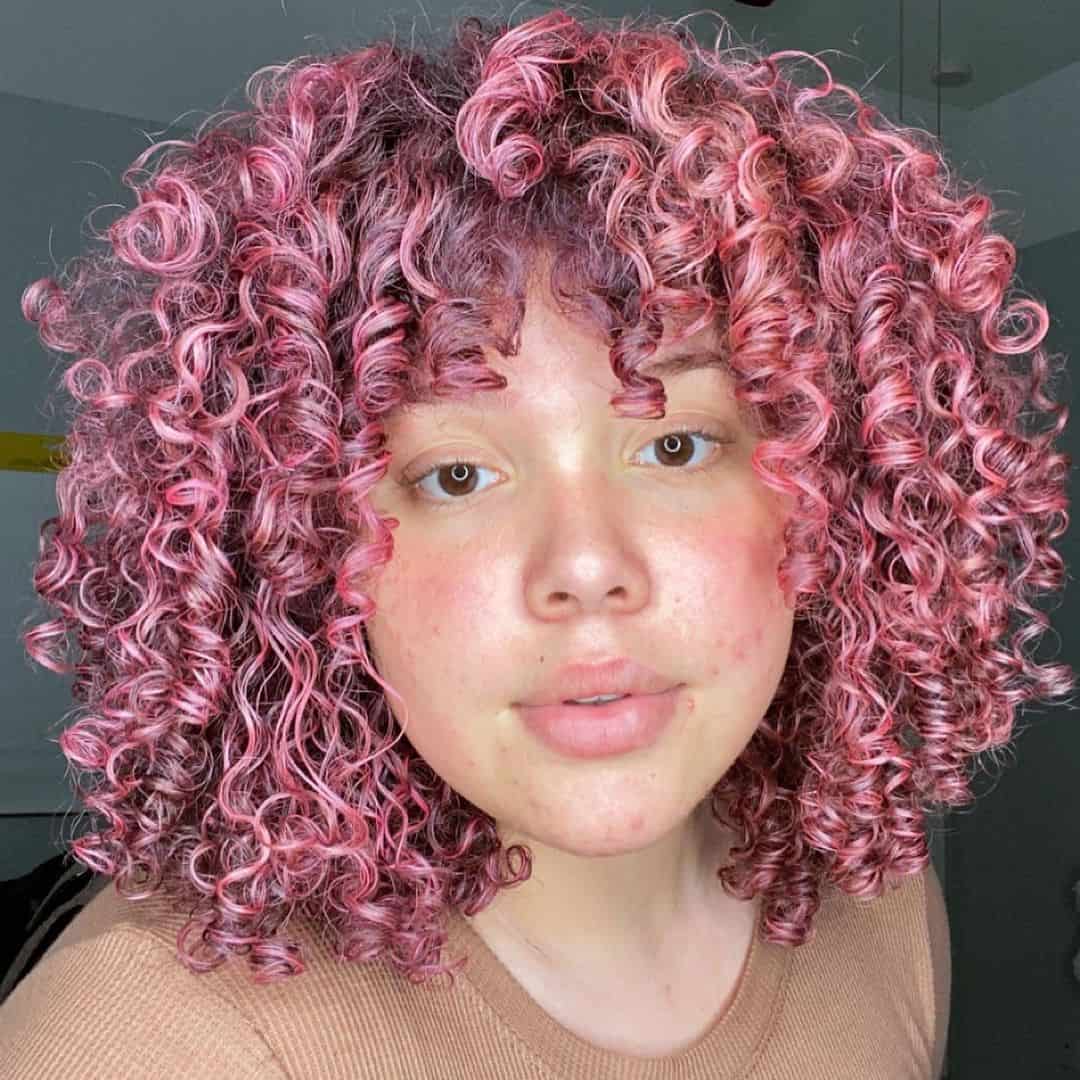 Speaking of curls, here's another mop of dark pink hair with super tight curls that ends up looking unique owing to the shade of pink used, the haircut, and the styling.
If you have short locks with bangs, you can easily create this look using a deep shade of pink to dye your hair and then curling them into tight locks that frame your face.
18. Magenta Pink Balayage Highlights With Brown Waves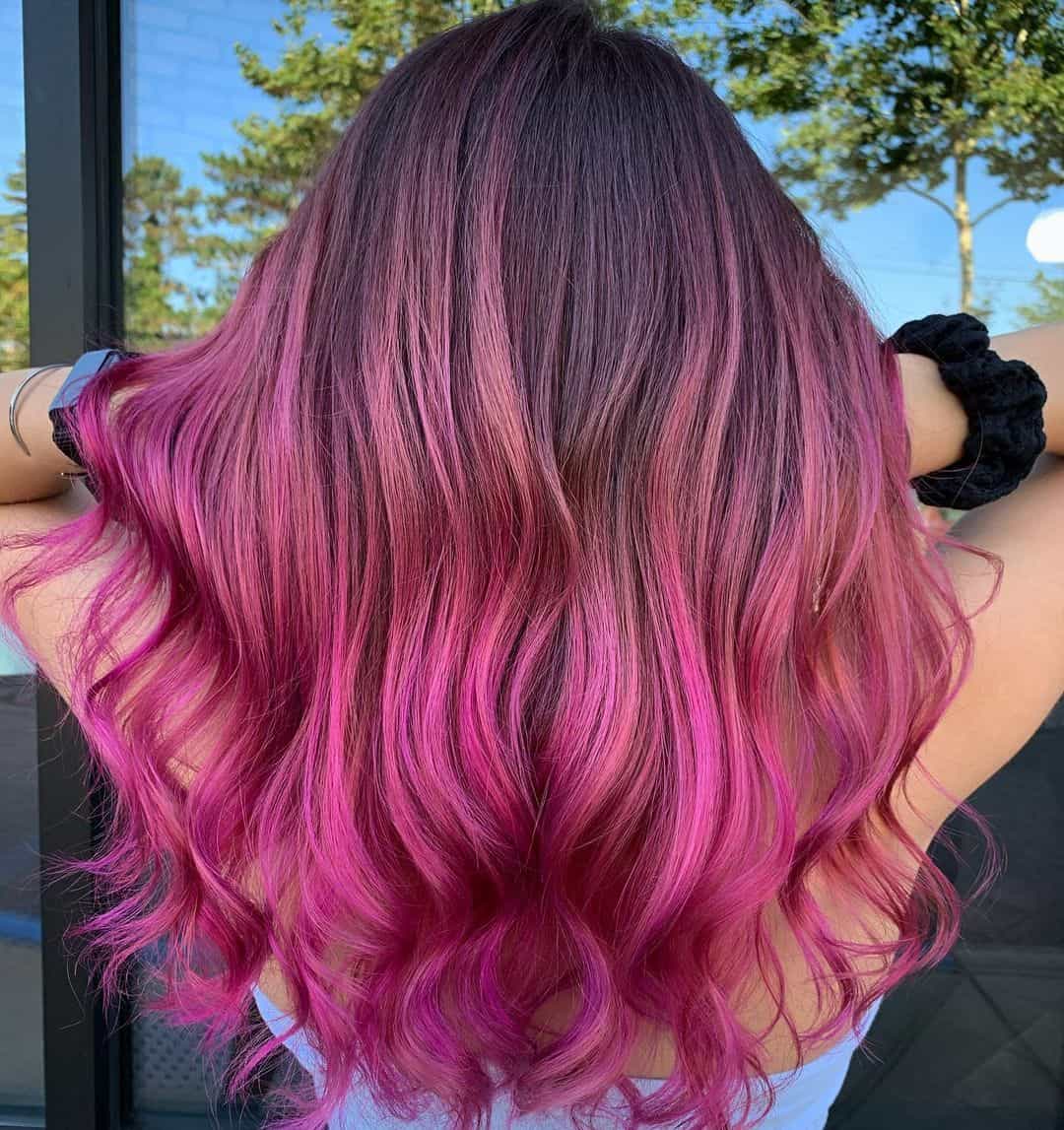 Pink hair color looks as good with light brown hair as it does with darker shades of brown; you just need to choose the right shade of pink to contrast your browns with.
Here we have a magenta pink shade that is as striking and dark as the brown roots. Balayage pink highlights set as beachy waves finish this look.
19. Shades of Pink Dark Ombre Locks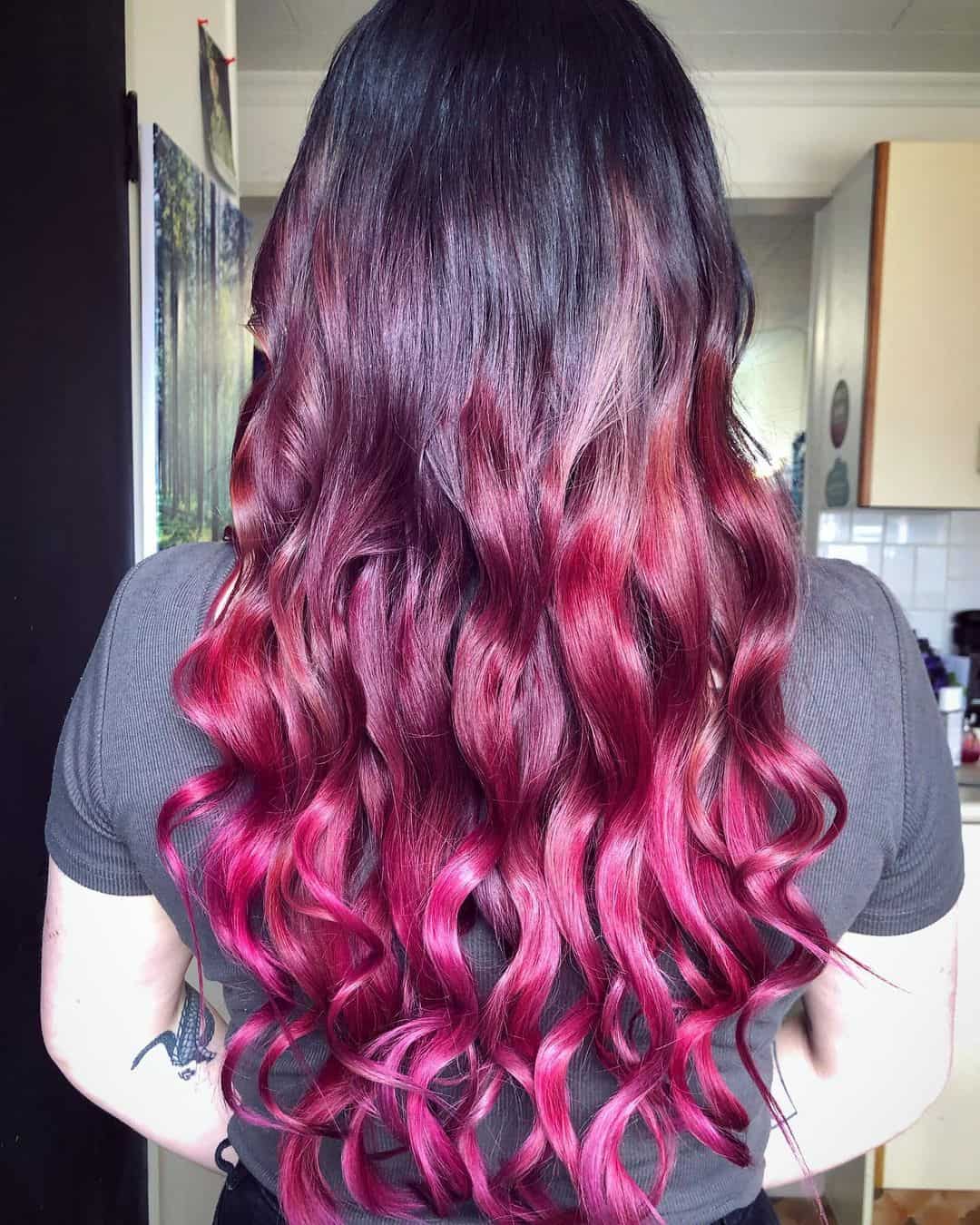 If you have dark and lustrous locks, you might want to give this hairstyle a try. It leaves the crown and roots untouched. Brunettes who want to incorporate shades of pink in their hair can go for this pink hairstyle as it doesn't require coloring in the roots.
You can start coloring hair at mid-length with bright pink hues that gradually cascade down to deeper pink tips. Even the highlights – which help with blending in the colors more seamlessly – begin at the back of the head, leaving the roots untouched.
20. Chocolate Pink and Blonde Neapolitan Hair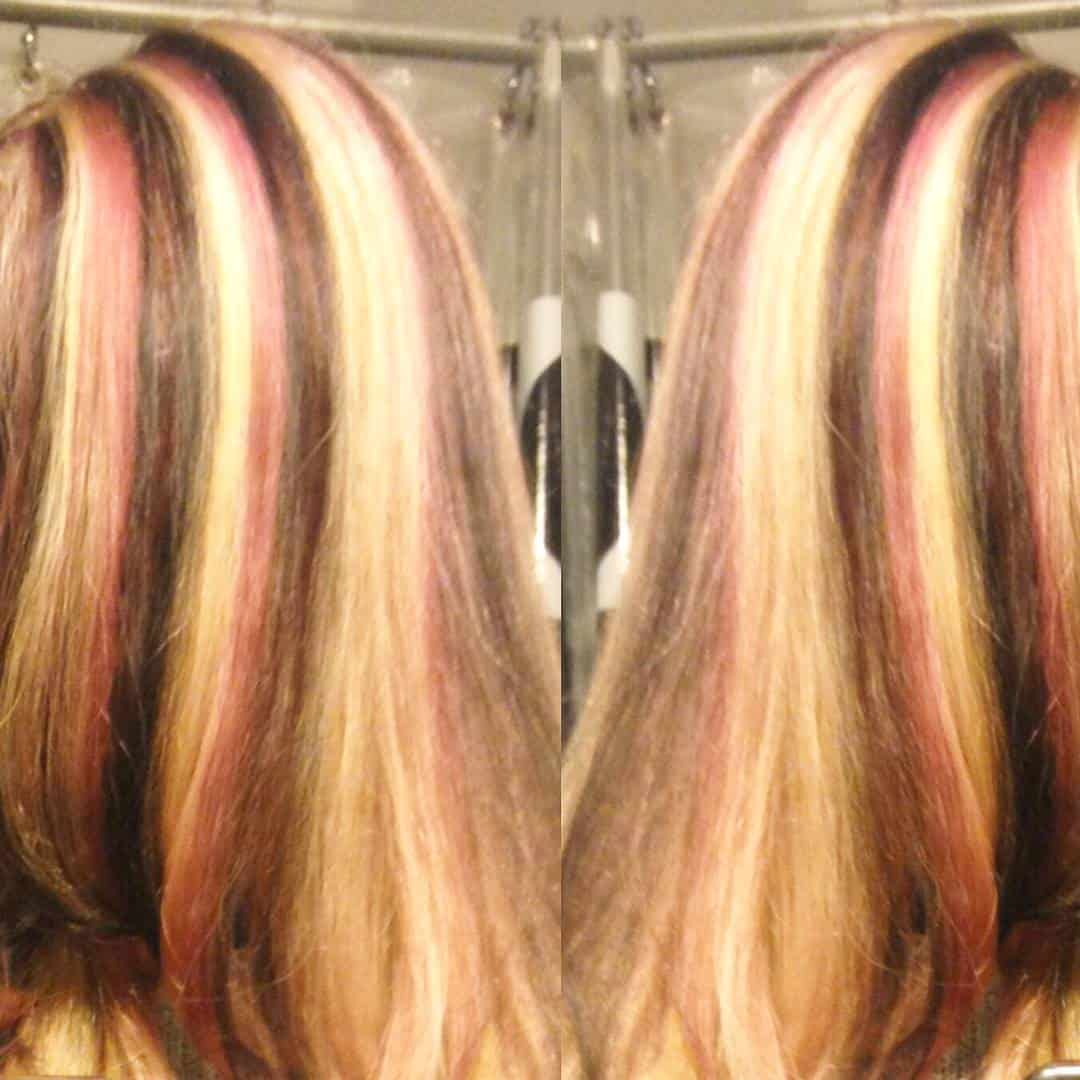 Neapolitan hair coloring is a technique that's named after the ice cream of the same name. This ice cream is usually made up of three different flavors of ice cream stacked in the form of bars, giving it a tri-color appearance.
The Neapolitan hairstyle is also created by using three or more hair colors – usually contrasting colors to mark the difference, in a repetitive pattern. This particular hairstyle uses a shade of pink, dark blonde, and brown to create the Neapolitan look.
21. Cotton Candy Pink Afro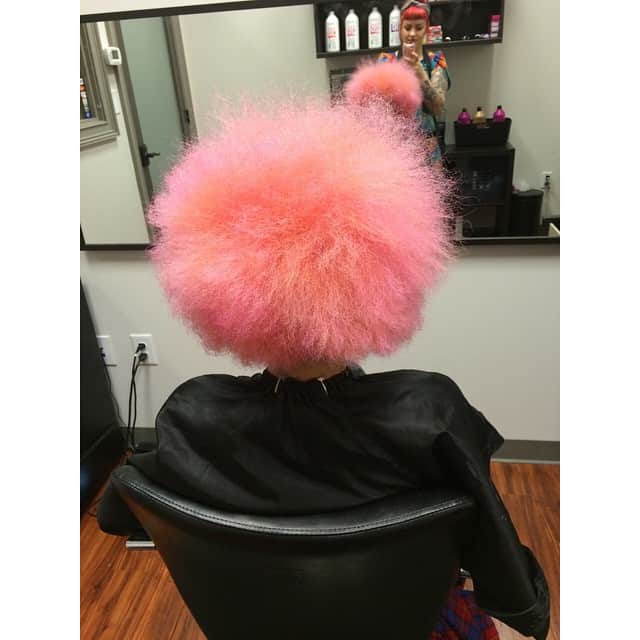 Do you have a mop of hair that's neither too short nor too long? Is it neither buzzcut nor long enough to be curled? Do you like to keep your hair its natural texture? If your answer to all these questions was a resounding yes, then we have a new hairstyle goal for you.
Use this cotton candy color to create a pink afro hairstyle that looks natural, unique and works with the kind of hair you have. Just maintain the hair color with frequent touch-ups!
22. Peachy Pink Shoulder-Length Curls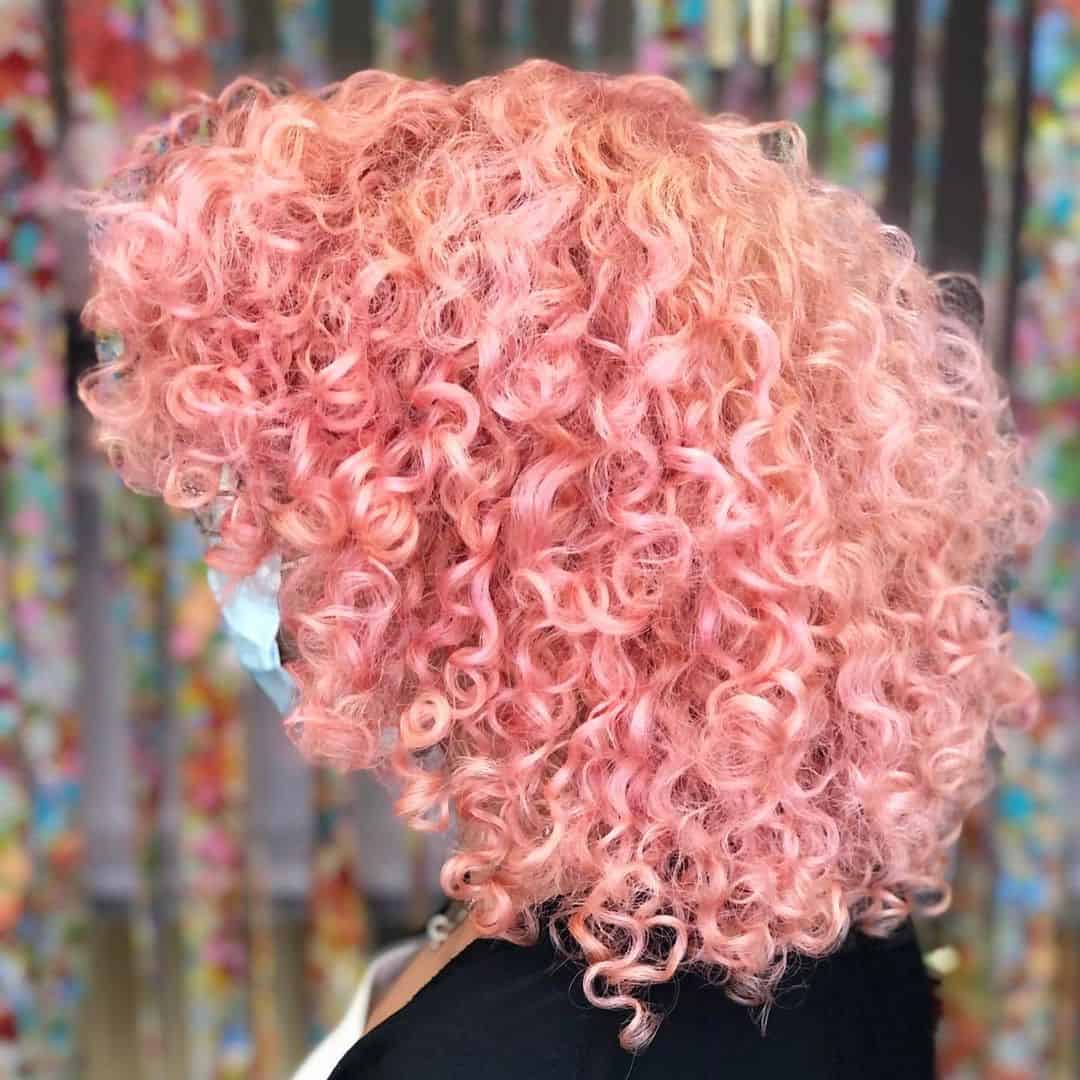 If you're looking for something less bluish-pink and more reddish-pink, this peach pink color is the perfect fit for you. Create this ombre curls hairstyle by blending in peach and pink shades and using short and tight curls.
This hairstyle requires bleached blonde locks, or, at the very least, very light brunette locks with blonde undertones, to begin with.
23. Pop of Pink Highlights in a Choppy Black Bob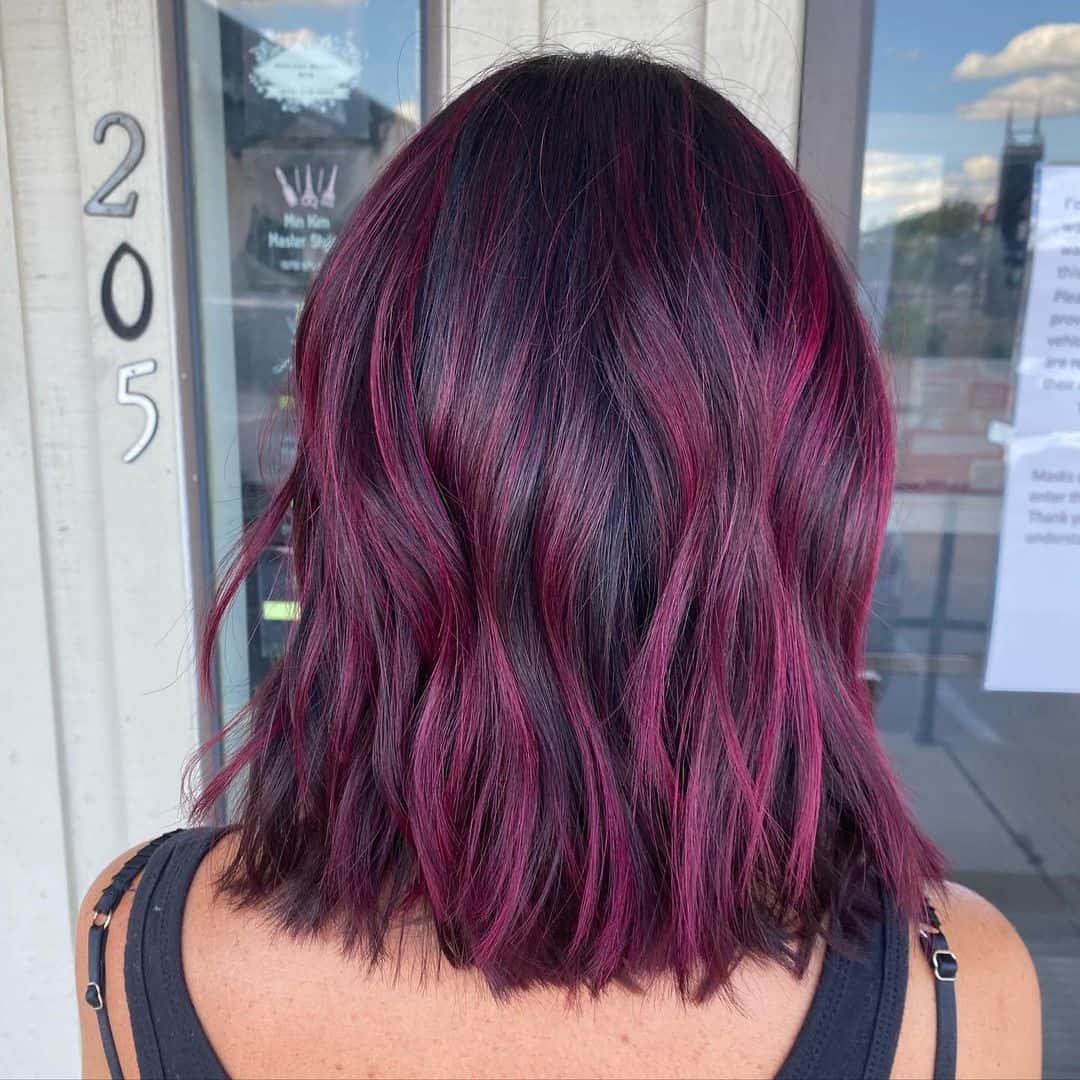 Have dark black hair and want to add a dash of pink to it without lightening all of your locks? Here's how you can do it. Just choose a dark shade of pink or one that's vivid and bright.
Use this color to add highlights all over your crown, the back, and sides – balayage highlights work best in this regard. Lo and behold! You've created your very own pink-hued mane with minimal fuss!
24. Pink and Ash Blonde Ombre Hair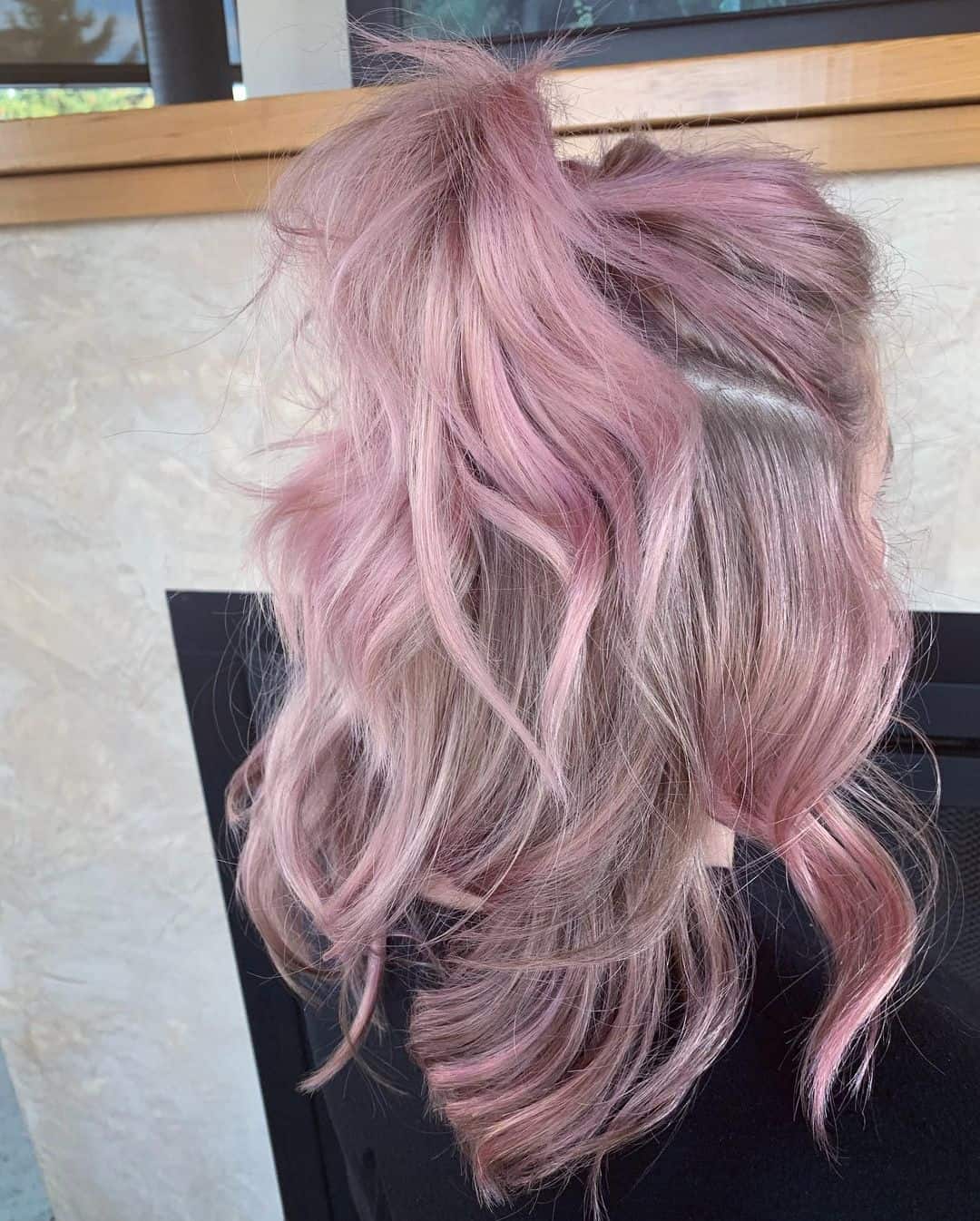 You've seen dirty blonde hair as well as dirty grey hair (nothing dirty about either – it's just a moniker for a particular shade of both colors). Now you can get dirty pink hair by combining this pale powder pink hue with ash and grey blonde hair.
The base and undertones are all grey and ash, with pale pink used for the top layer of hair.
25. Bright Pink 'n' Peach Afro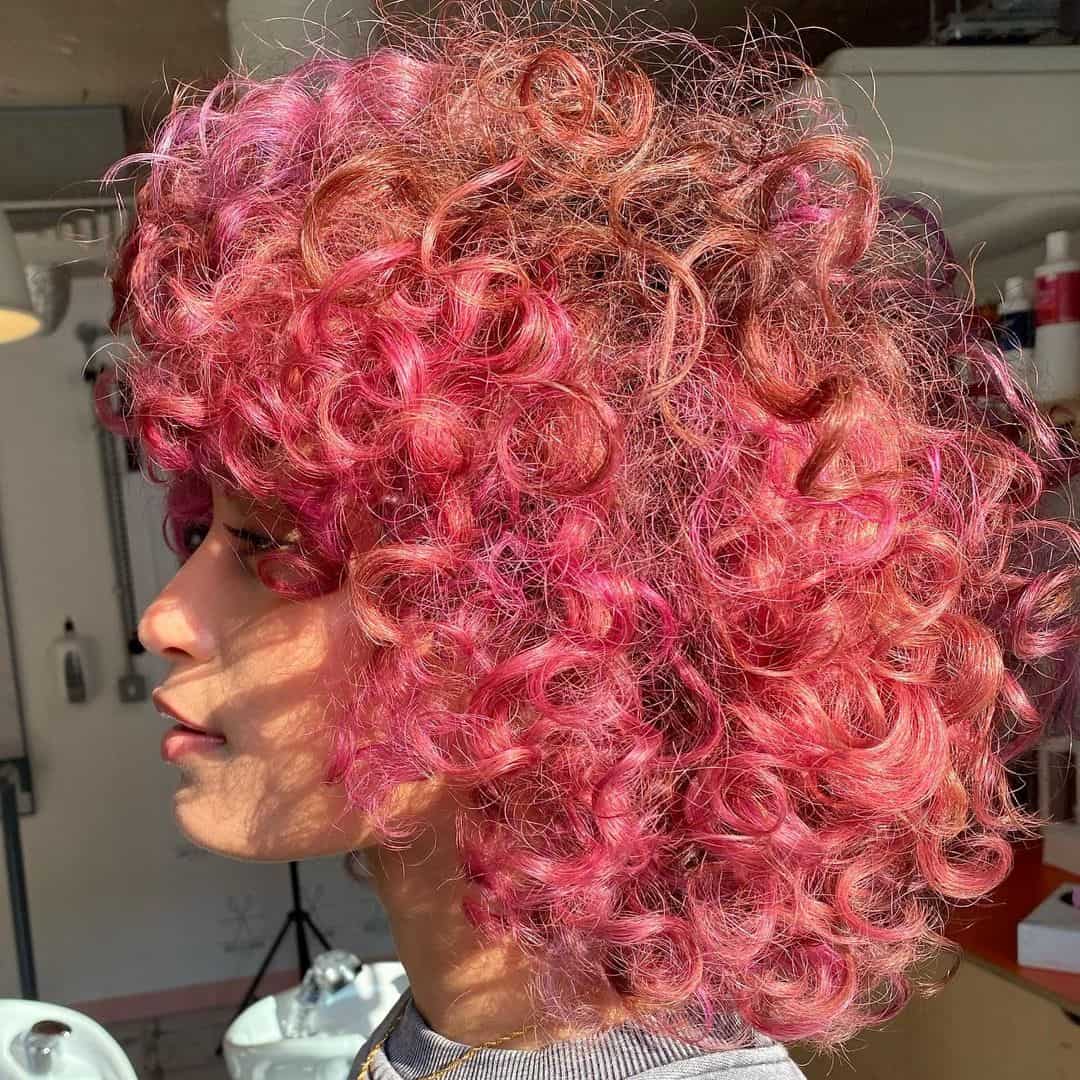 Have an afro that needs an upgrade? How about going '50 shades of pink' on your afro and creating an envious mop of colorful pink curls that are as unique as they're drool-worthy?
Use this hairstyle as inspiration and give it a unique twist by adding a few different lilac and burgundy shades to make it your own.
26. Midnight Rose Pink Glazed Highlights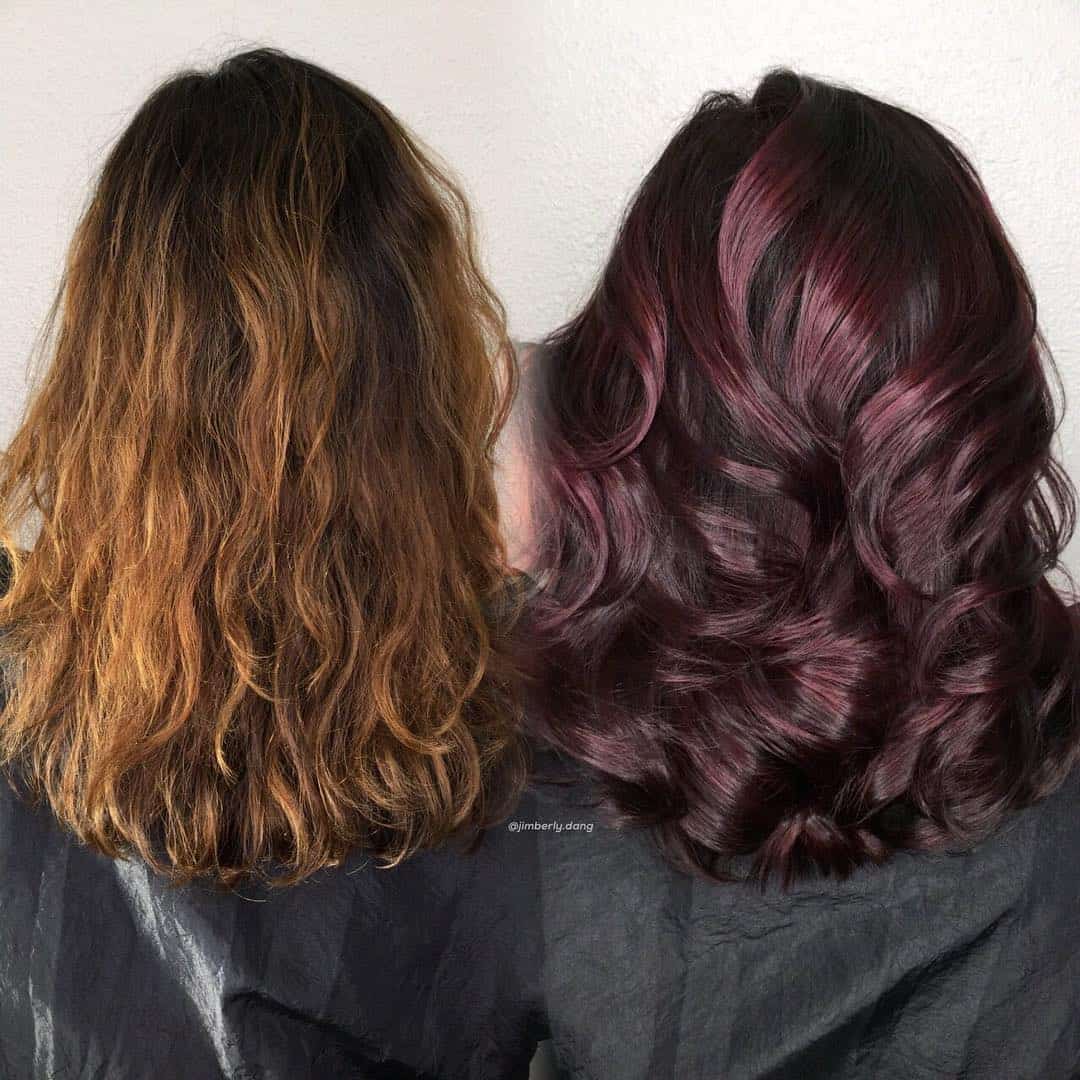 Give your over-processed dry brunette locks a new lease of life with this midnight rose pink hue combined with a glazing treatment that will protect the color for a longer duration.
Finish with pin-up curled ends that take this look to the polished diva territory. This is one of the darker pink shades featured in our compilation and is perfect for those who have naturally dark hair.
27. Pink and Black Curly Split Hair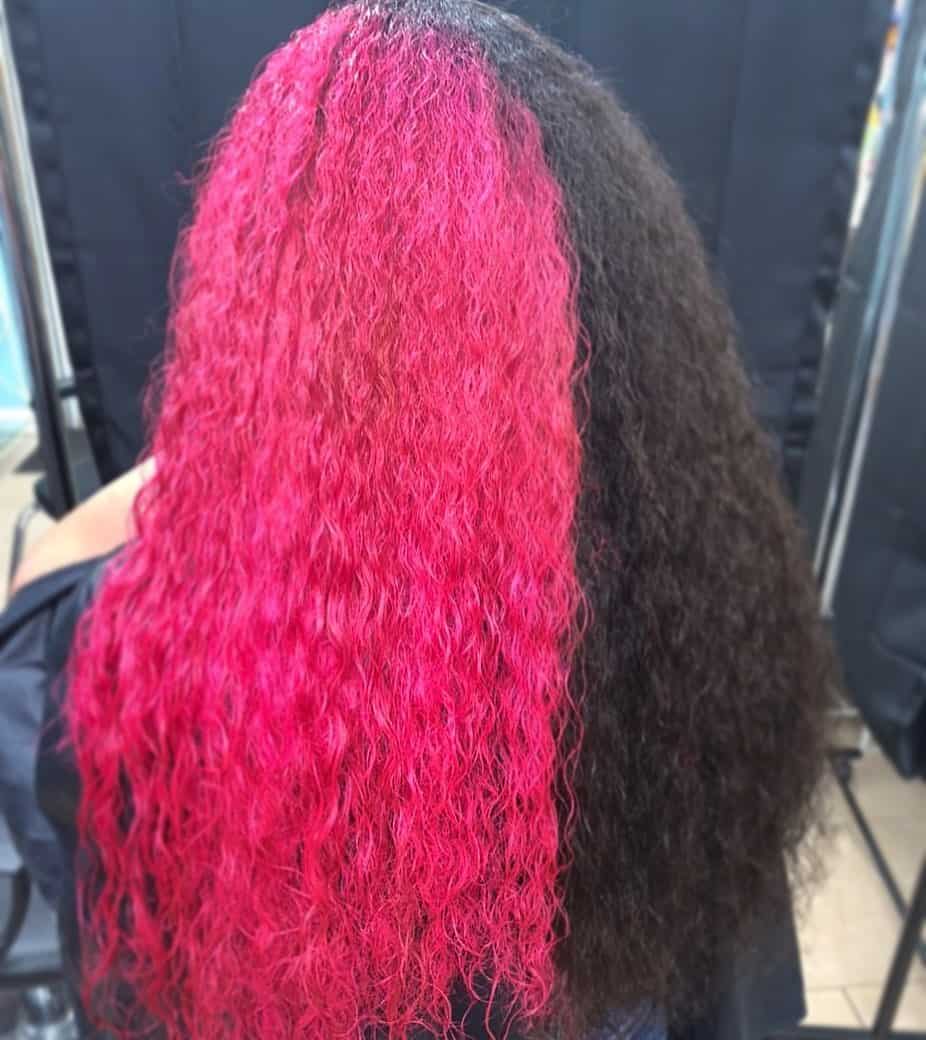 This is a very unusual, pink, split hairstyle that calls for a dramatic transition from dark black locks to neon pink locks. Curls from top to the tips finish this look.
It's not your average pink hairstyle and is more suited to those willing to coordinate a gothic-chic aesthetic from top to bottom.
28. Glossy Magic Pink Balayange Hair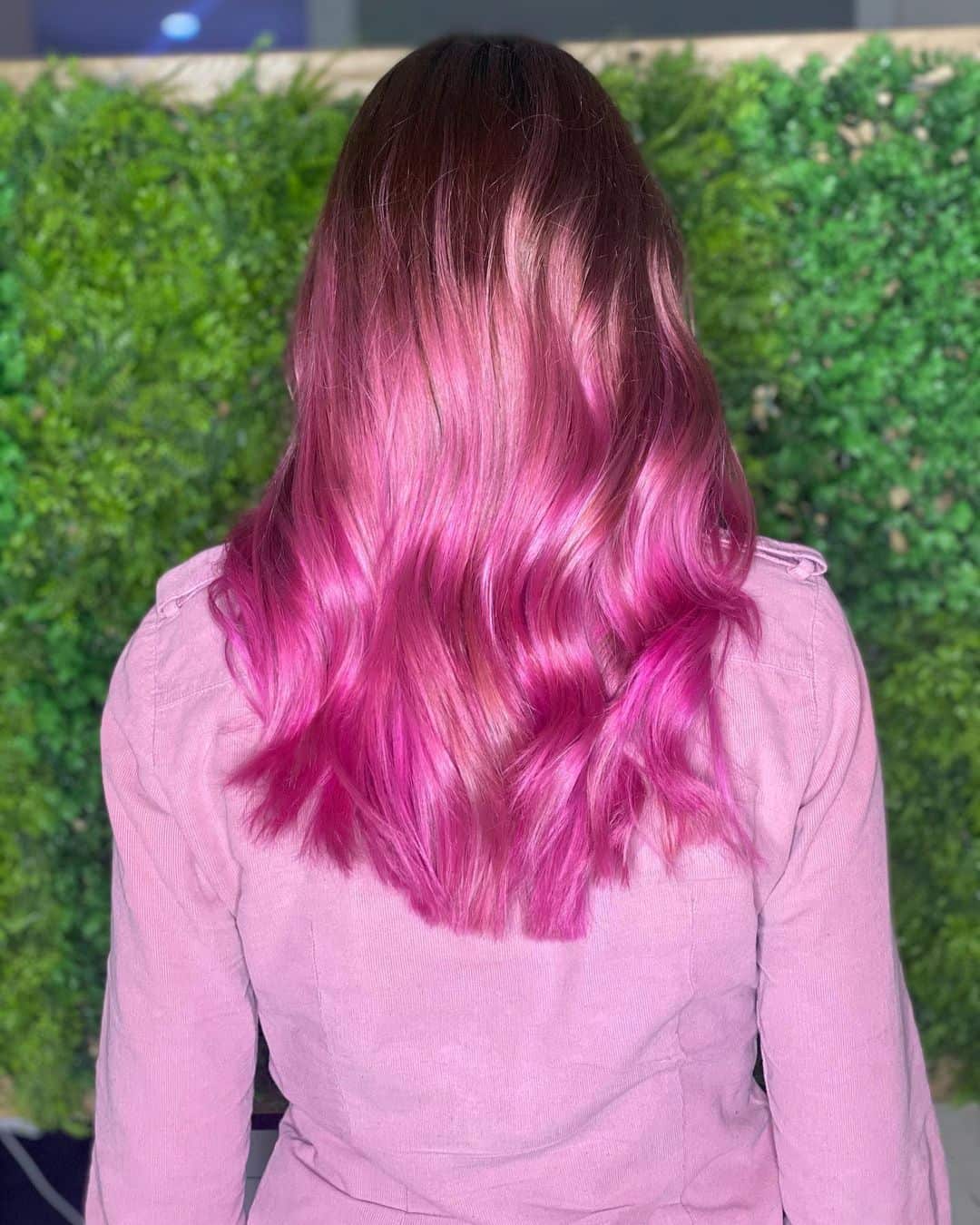 This is one of our favorite pink hairstyles. It goes from a glossy shade of light brown to a peachy pink, giving way to vibrant pink tips. The ombre coloring technique has been used here to transition smoothly from one color to another, while balayage highlights make sure that the different shades of pink blend in seamlessly.
It's an excellent pink hairstyle for those with light brunette locks as it doesn't require coloring the roots.
29. Frosted Pink Bleach Blonde Relaxed Curls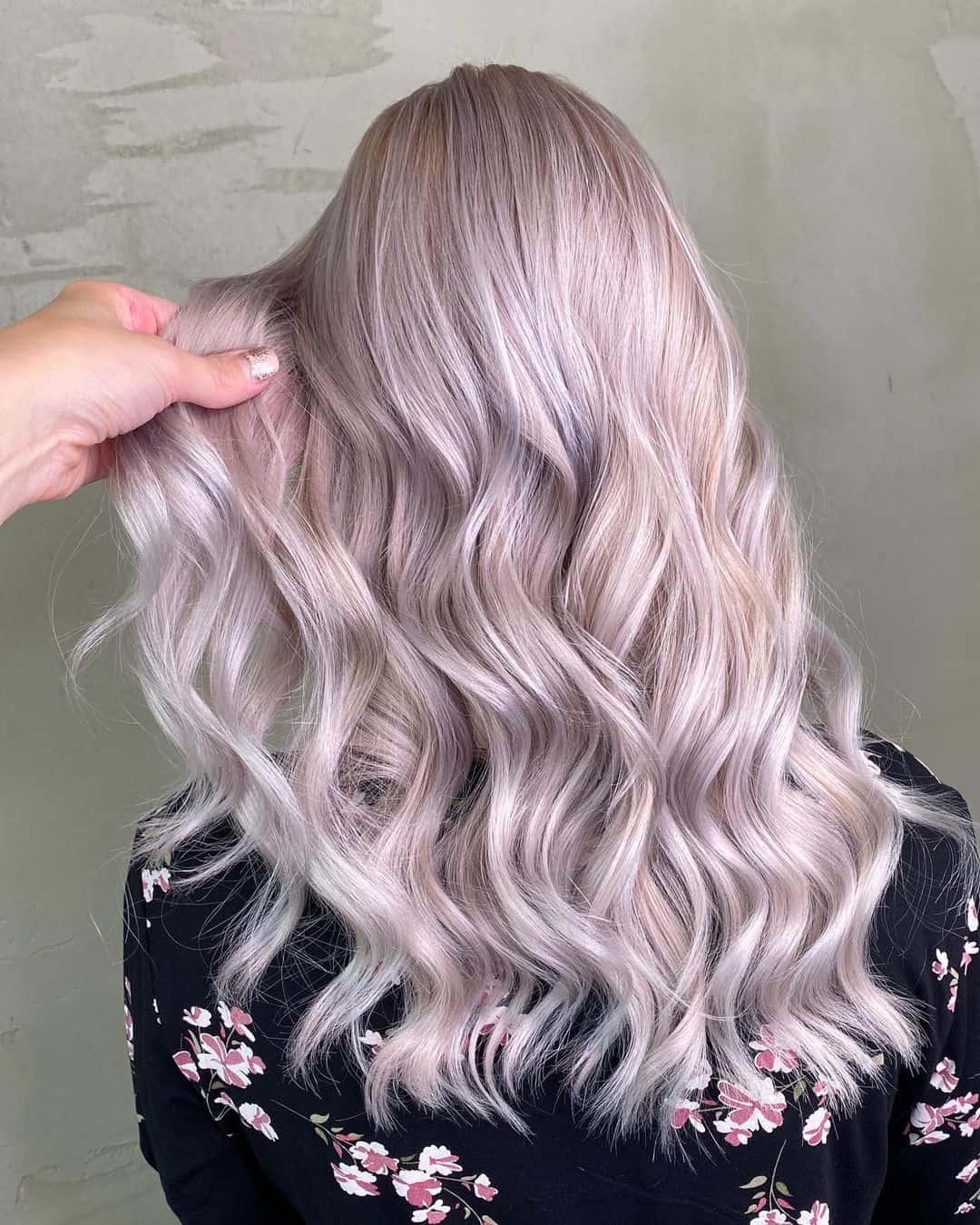 What do you get when you mix an icy shade of pale pink with bleached blonde locks in shades of platinum, grey, and iced yellow? You get this cool hairstyle that creates a collage of iced blonde and pink hues.
Relaxed beachy curls ensure that the colors blend-in to create a unique look where the different shades are very difficult to tell apart.
30. Super Long Hot Pink Hair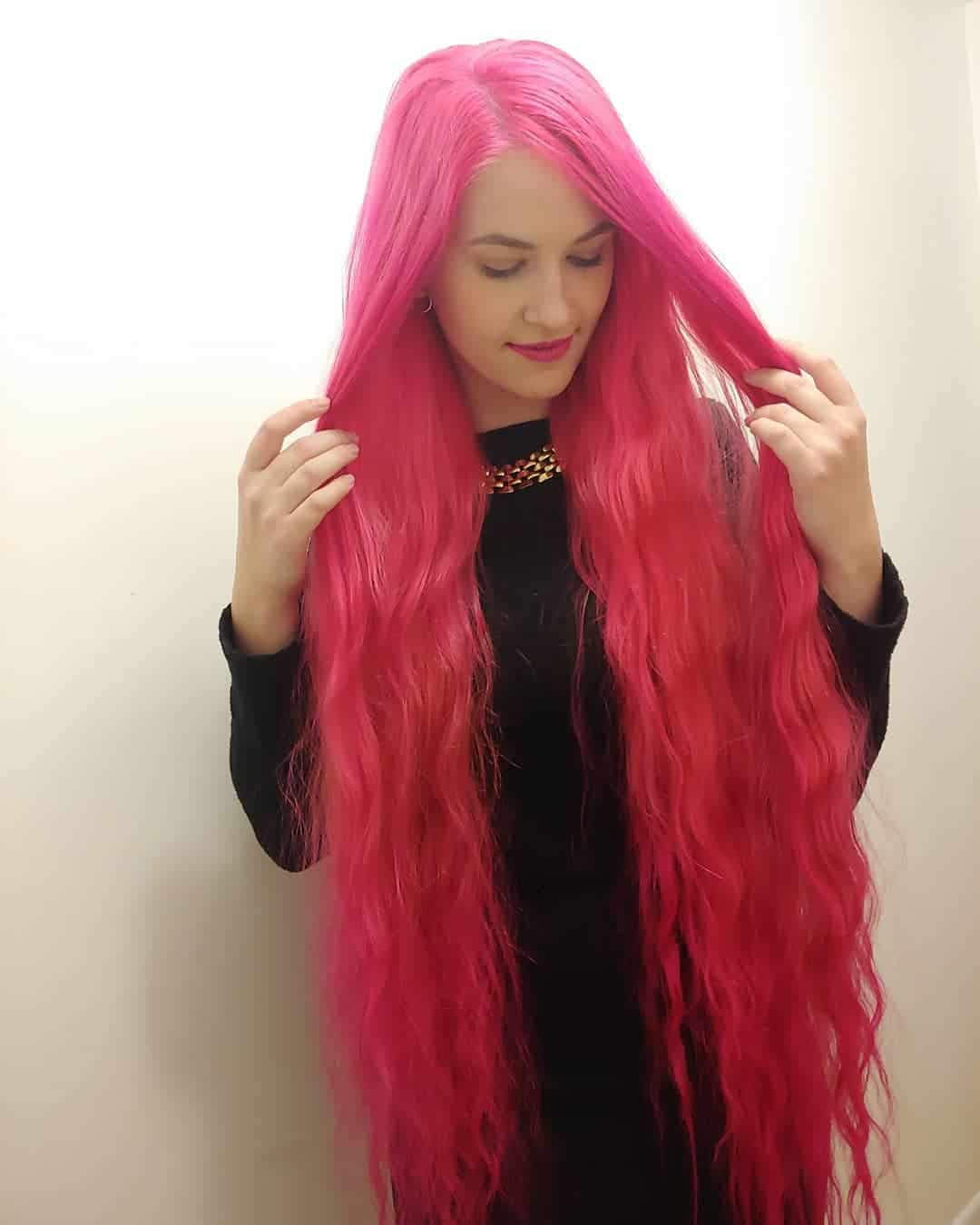 Who says neon colors only look good with or short bobs? If you have really long hair and want to try out something different, give this dramatic hot pink hair color a go and see if you can carry this head-to-toe pink hair with elan.
It's a bold look that doesn't blunt the neon effect by mixing it with other shades of pink, or softer colors.
31. Summer Pink Bleached Blonde Hair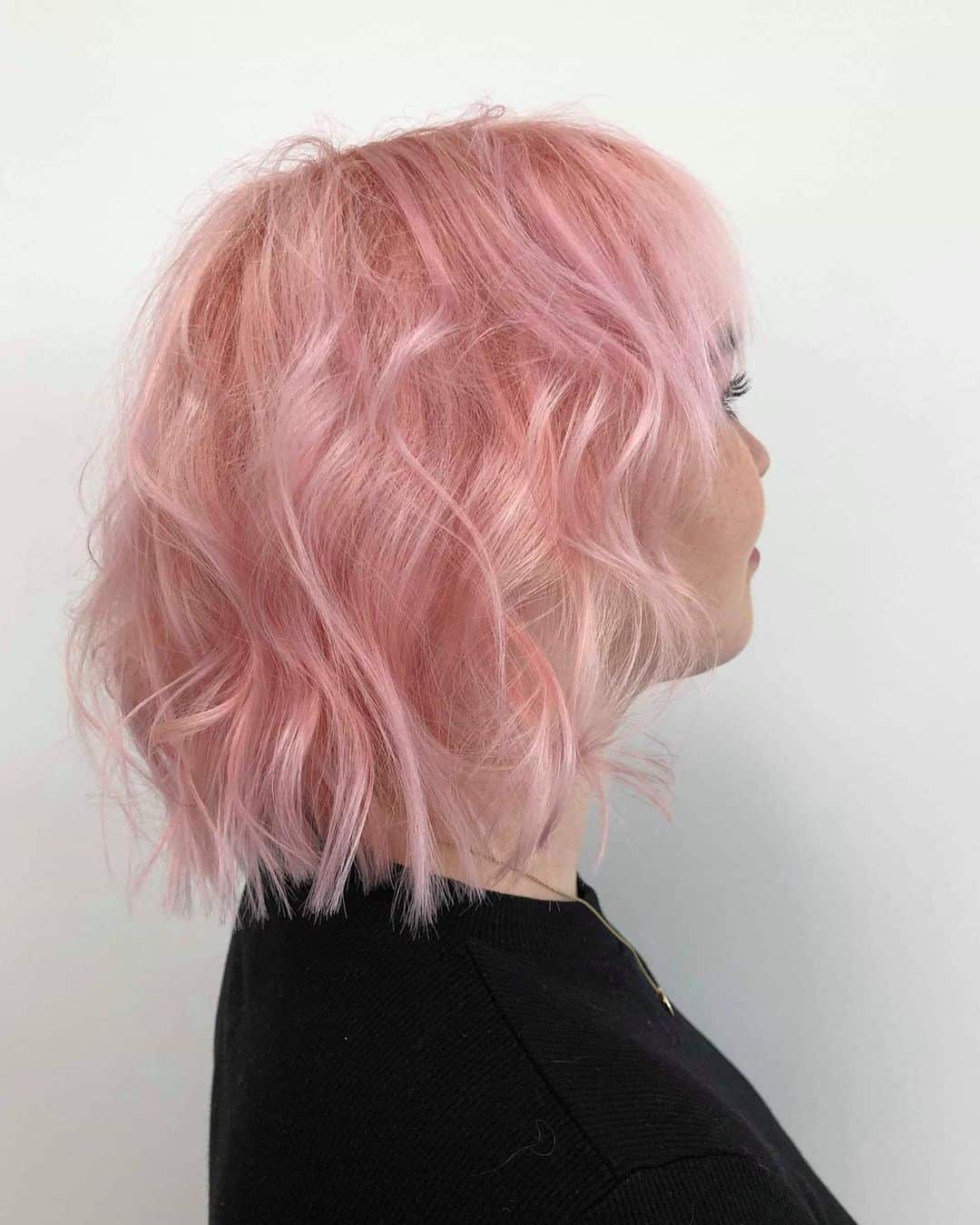 Have very light-colored hair and do not want to go for dark and bold shades of pink? Try this pale summer pink shade that could pass off as brownish blonde or pinkish-red.
It goes well with short bobs and looks even better as a mess of wavy hair rather than straight locks.
32. Strawberry Blonde Hot Pink Hair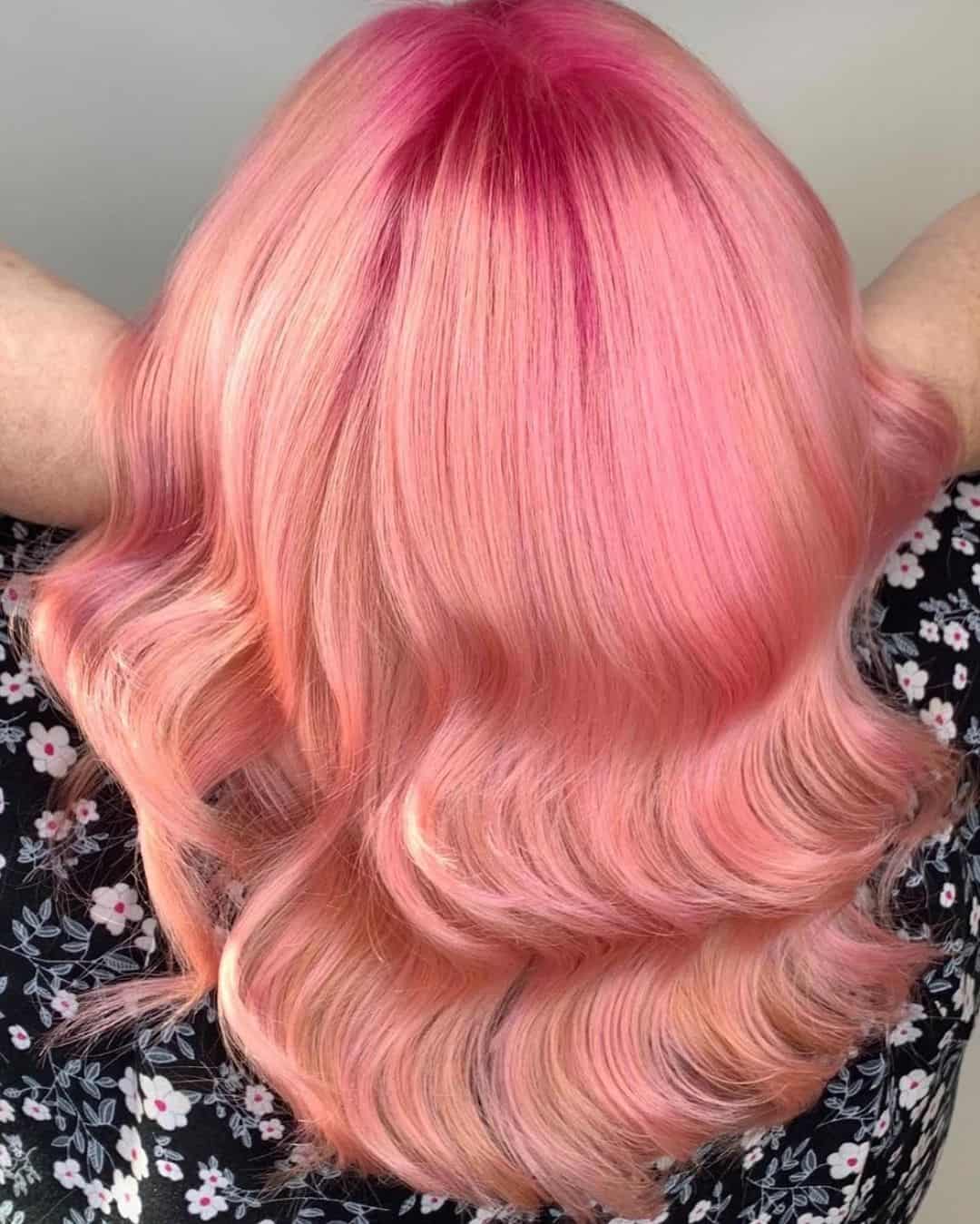 Give your blonde locks a golden sundae twist with this metallic shade of strawberry pink color. It's a light shade that gives blonde hair a lovely hue of pink.
This hairstyle is further lifted up by the addition of dark pink roots and highlights, and finishing it by setting the hair in beachy waves.
33. Bold Pink Mohawk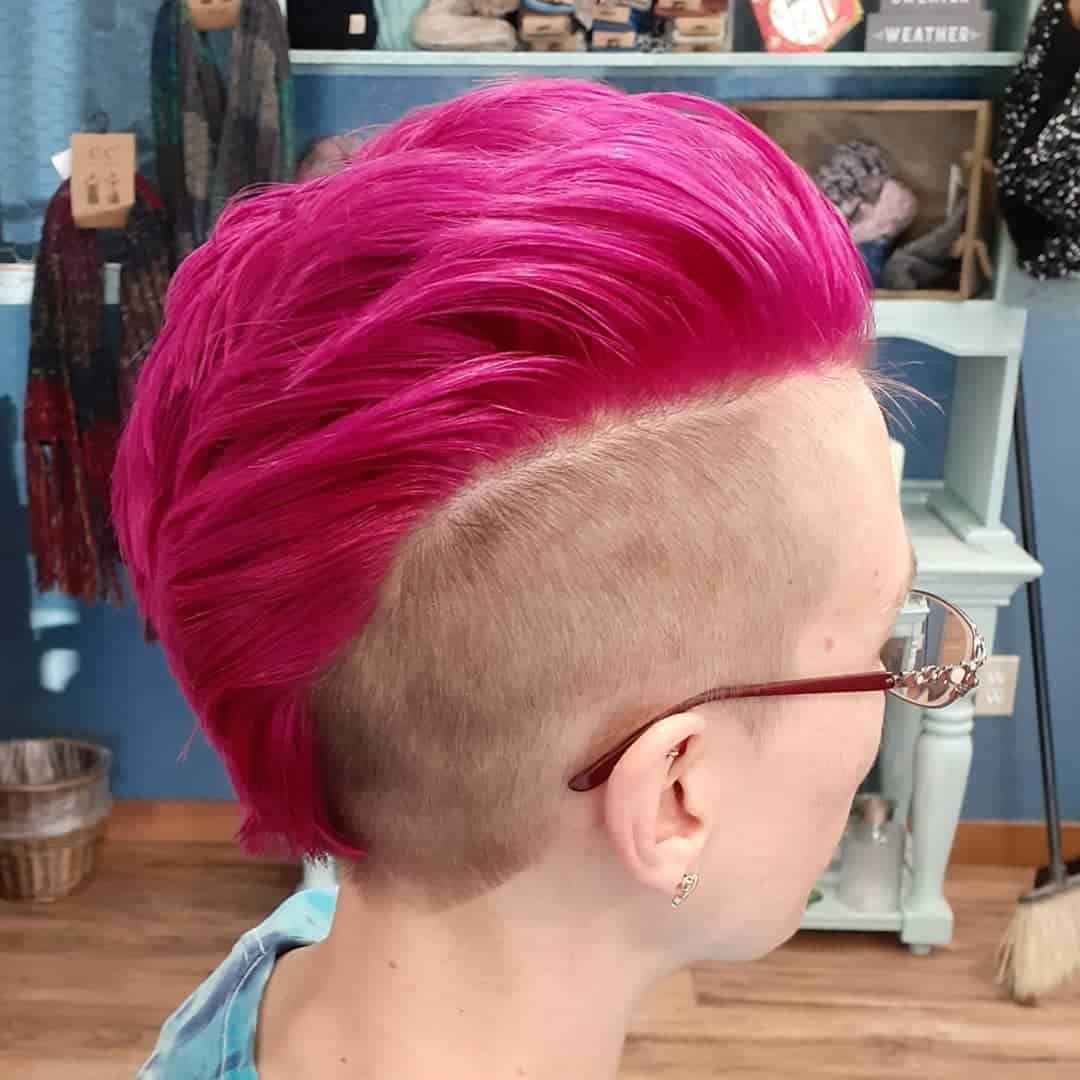 Go bold this season with a bright pink mohawk that will make heads turn. This hairstyle is simple in both the idea and its application.
You need to have a mohawk first, then color it with a fabulous shade of shocking pink. Voilà, time to turn heads!
34. Midnight Rose Pink Peekaboo Blonde Hair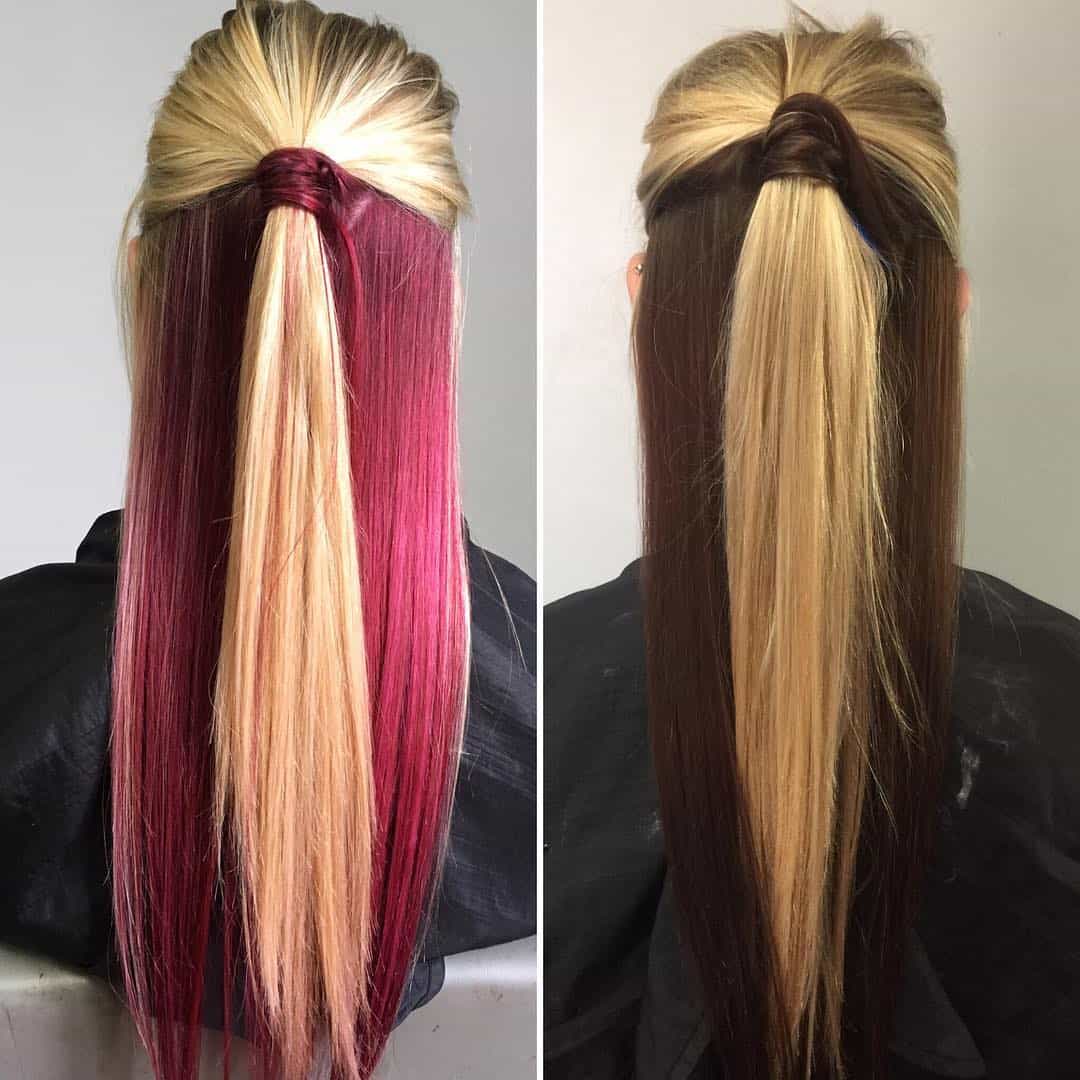 Peek-a-boo hair coloring is a technique that hides a bright or peppy hair color underneath a more regular hair color. The hair on top or the surface is all the same color, while the hair underneath sports a fun hue.
In this case, a lovely shade of midnight rose pink has been used to color the hair underneath a layer of lustrous blonde locks. The play of light and dark tones and the glossy hair make this hairstyle and its color combination unique, fun, and very interesting.
We are in love with the velvet finish of the midnight pink hue used in to create this hairstyle.
35. Pink Ombre Sleek Vintage Pin-up Curls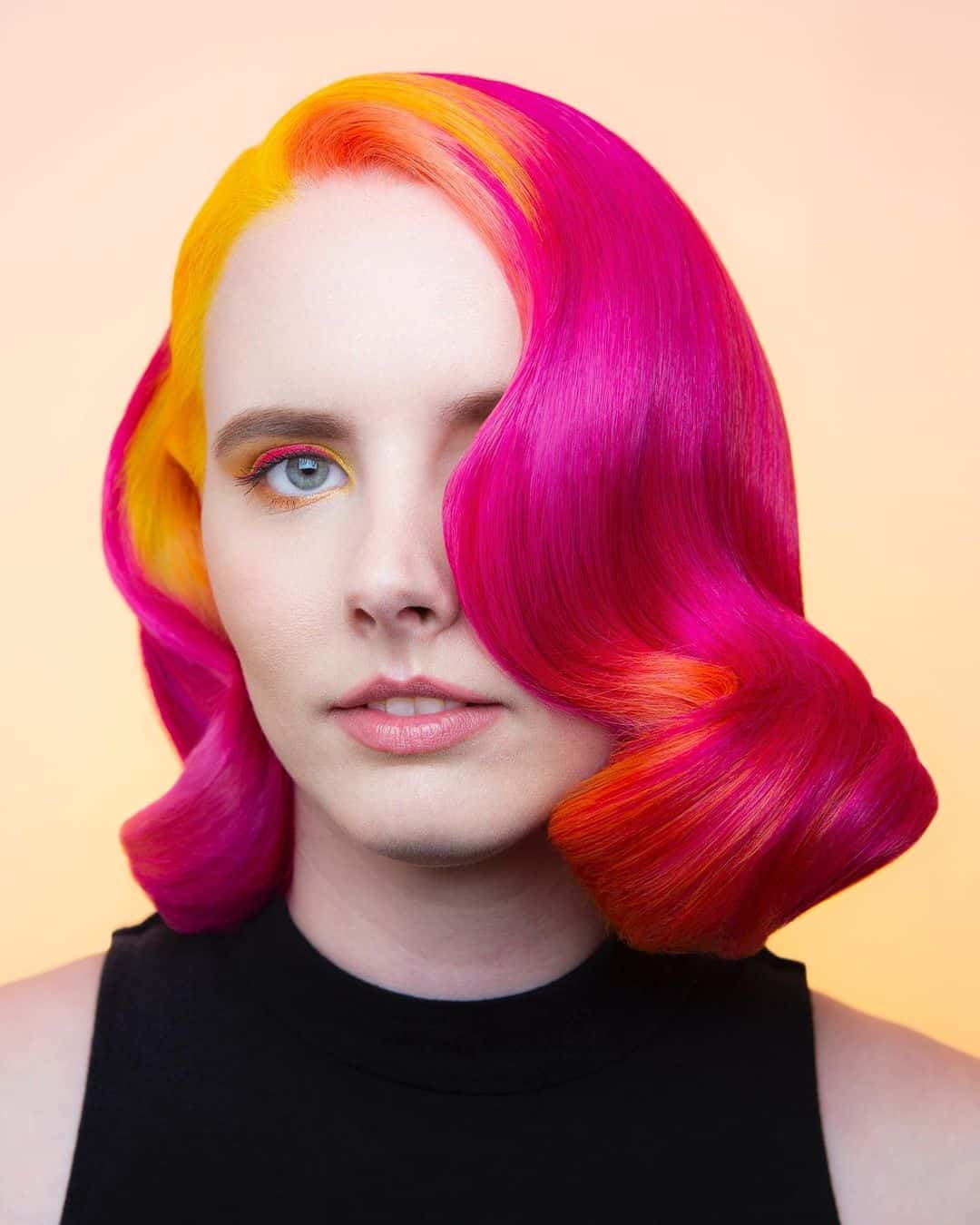 Let your inner burlesque diva shine through with this pink hairstyle that is nothing short of a stellar work of art. It combines shades of golden yellow, fiery red, and vivid pink to paint a short pin-up curls vintage hairdo.
The reds and pinks are blended in seamlessly, while the yellow highlights the hair on one side. It's a professional hair color job that would make Dita Von Teese green with envy!
36. Neon Pink Page Boy Cut Hair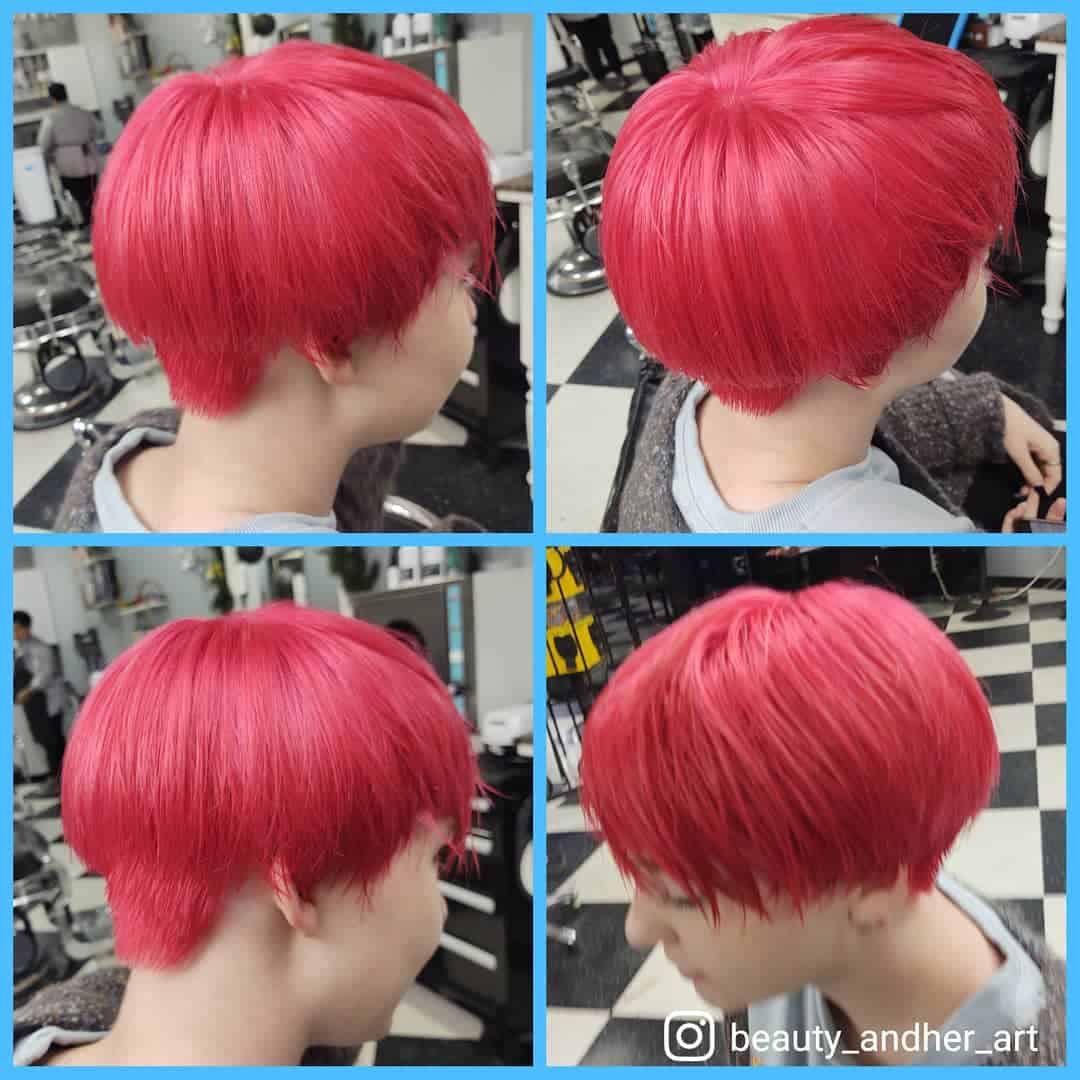 If you have a pageboy haircut and are looking to try something new, have a look at this unique shade of bright reddish-pink hair. It's a straightforward hair coloring job, and the haircut is also quite simple.
The neon shade of reddish-pink is what makes this hairstyle stand apart from the regular pageboy crowd.
37. Light Pink Pixie Cut Hair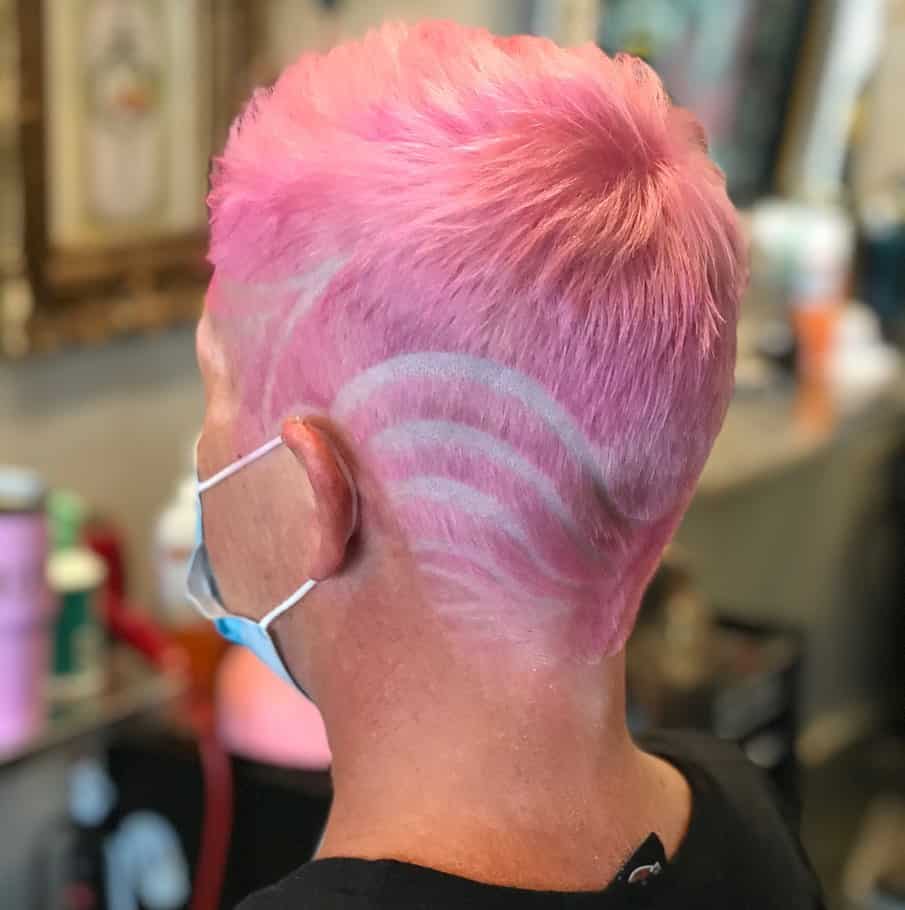 Speaking of super short hairstyles, here's another idea for those who have pixie-cut hair. This hairstyle also has some buzzcut patterns that make it a little more fun.
Use a light shade of pink to create this colored bleached blonde pixie-cut hairstyle.
38. Silver Hair With Frosted Pink Tips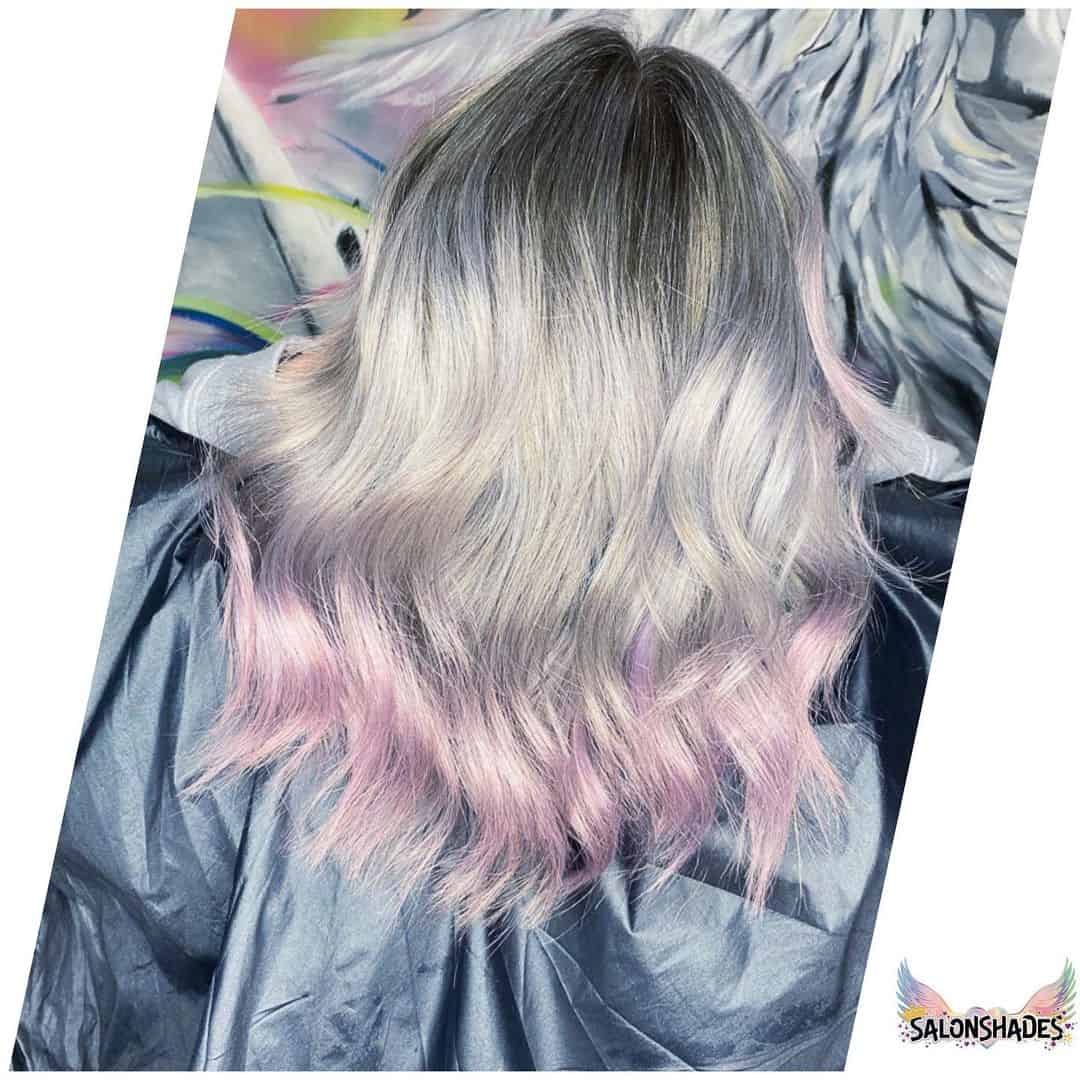 Grey blonde, ash blonde, silver blonde, white blonde, and platinum blonde hair with colored tips is a new phenomenon that is catching on amongst the young and the old alike.
This is one such hairstyle that uses powder pink tips with ash blonde hair to create this look. You can choose your own shade of pink as well as one of the many shades of ice blondes to create this look.
39. Candy Pink Big Frizzy Hair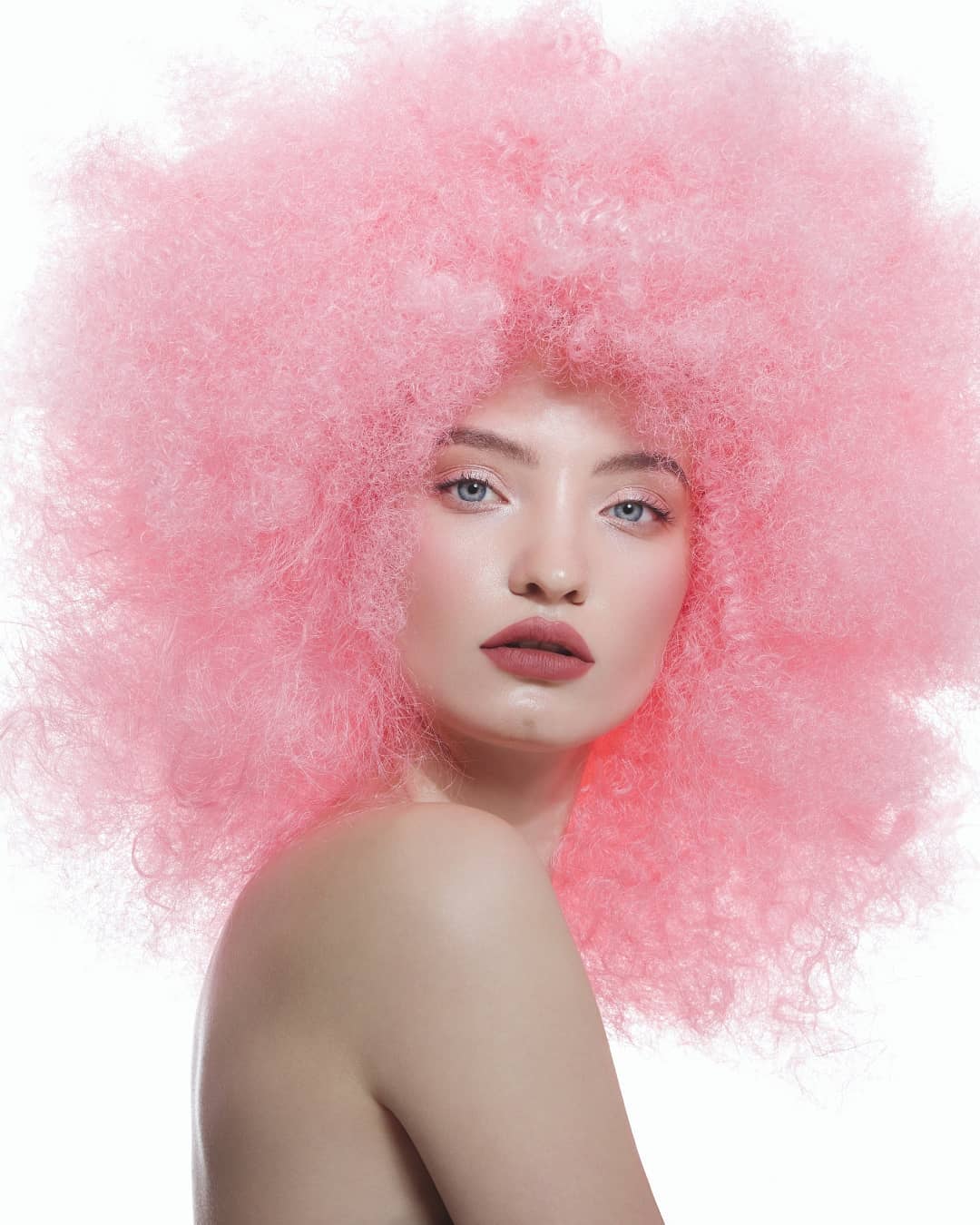 This is not a wig. It's a big hairstyle with a big blowout. It's the kind of hairstyle usually restricted to magazines and photoshoots. While not a very practical hairstyle, you can try it on for a special occasion.
Not much to it besides choosing the right shade of pink for your hair and creating this massive mess of frizzy curls that sits right atop your crown as well as frames your face.
40. Iced Pink Shadow Roots With Platinum Blonde Hair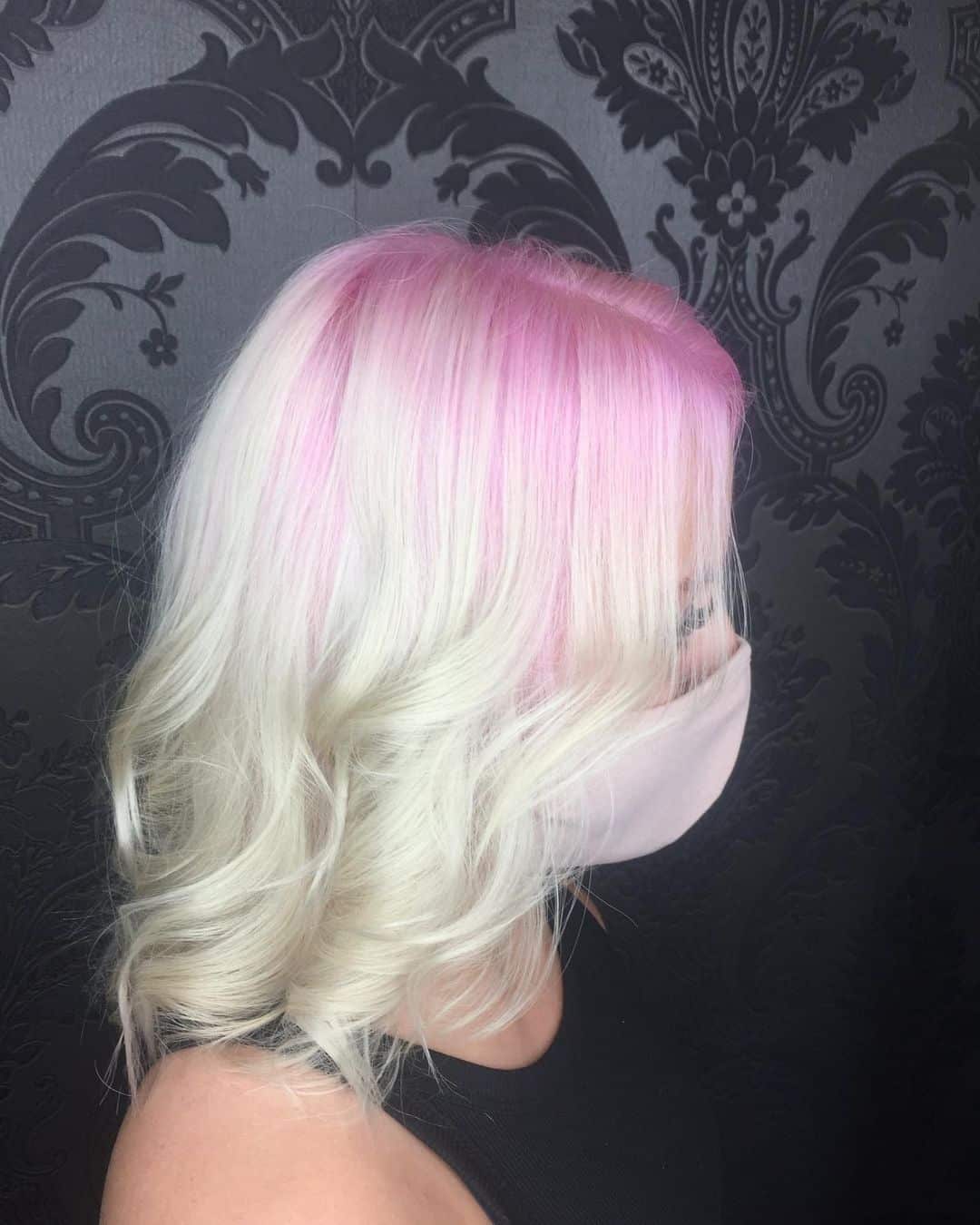 Colored tips with iced blonde crowns isn't the only notable trend that is catching on; the reverse trend with a colored crown of hair and iced blonde tips is also quite the rage these days.
Relatively simple in the application, as all you've got to do is choose a shade of pink for coloring the hair on the crown, and bleach the rest of your locks, down to the tips, to some shade of cool icy blonde. This hairstyle has a bright pink crown of hair that cascades down to a platinum blonde mane.
41. Dusty Rose Pink Messy Waves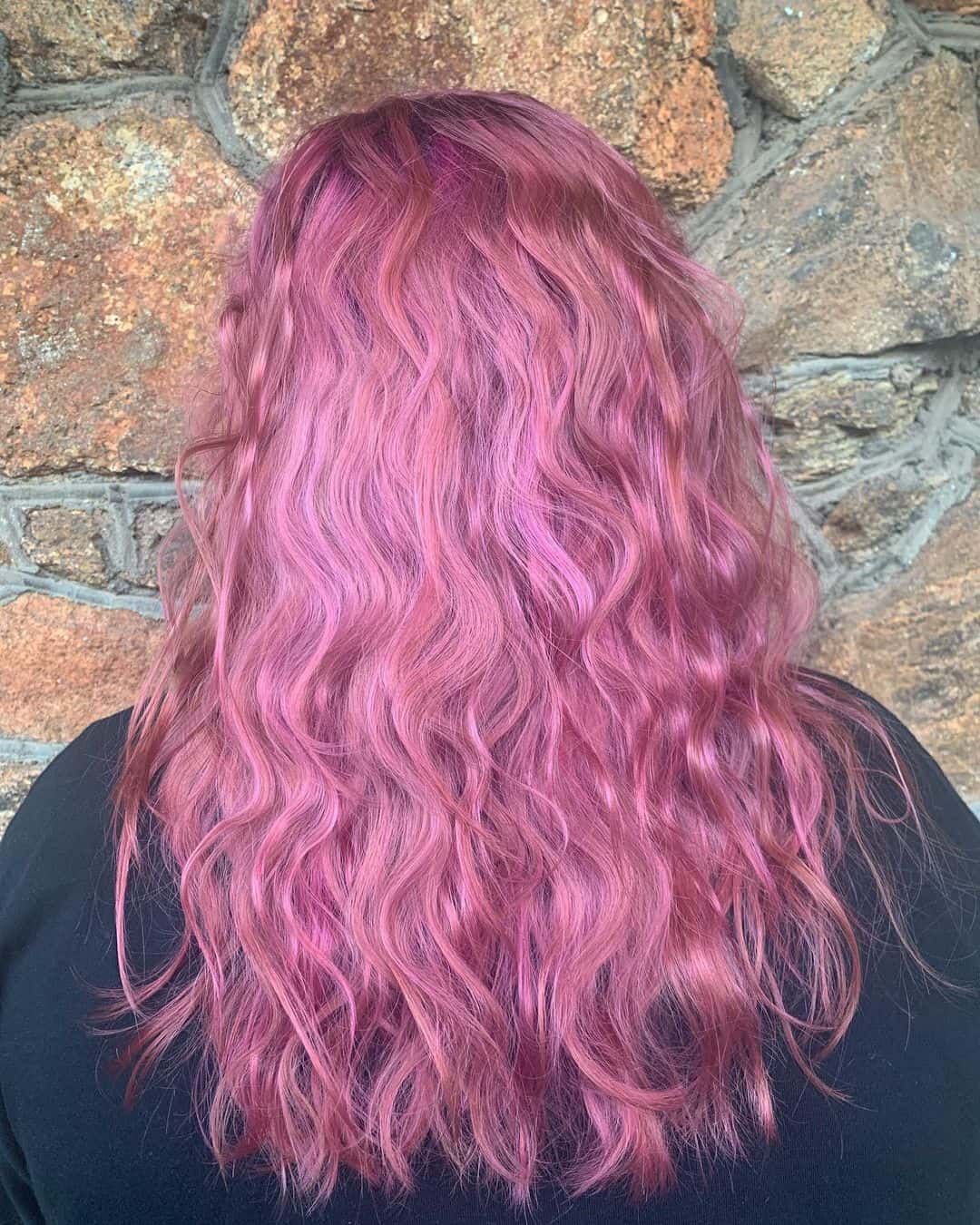 How about a sprinkle of rose pink dust over your blonde locks to create a fresh colored hairstyle that adds a zing to your mane? Use a dusty rose pink color to create this hairstyle with a base of light brown or dark blonde locks.
The resulting pink resembles a mild tone of a pink rose. Finish the hairstyle by setting it in messy waves.
42. Face Framing Peach Pink Color-Blocked Hair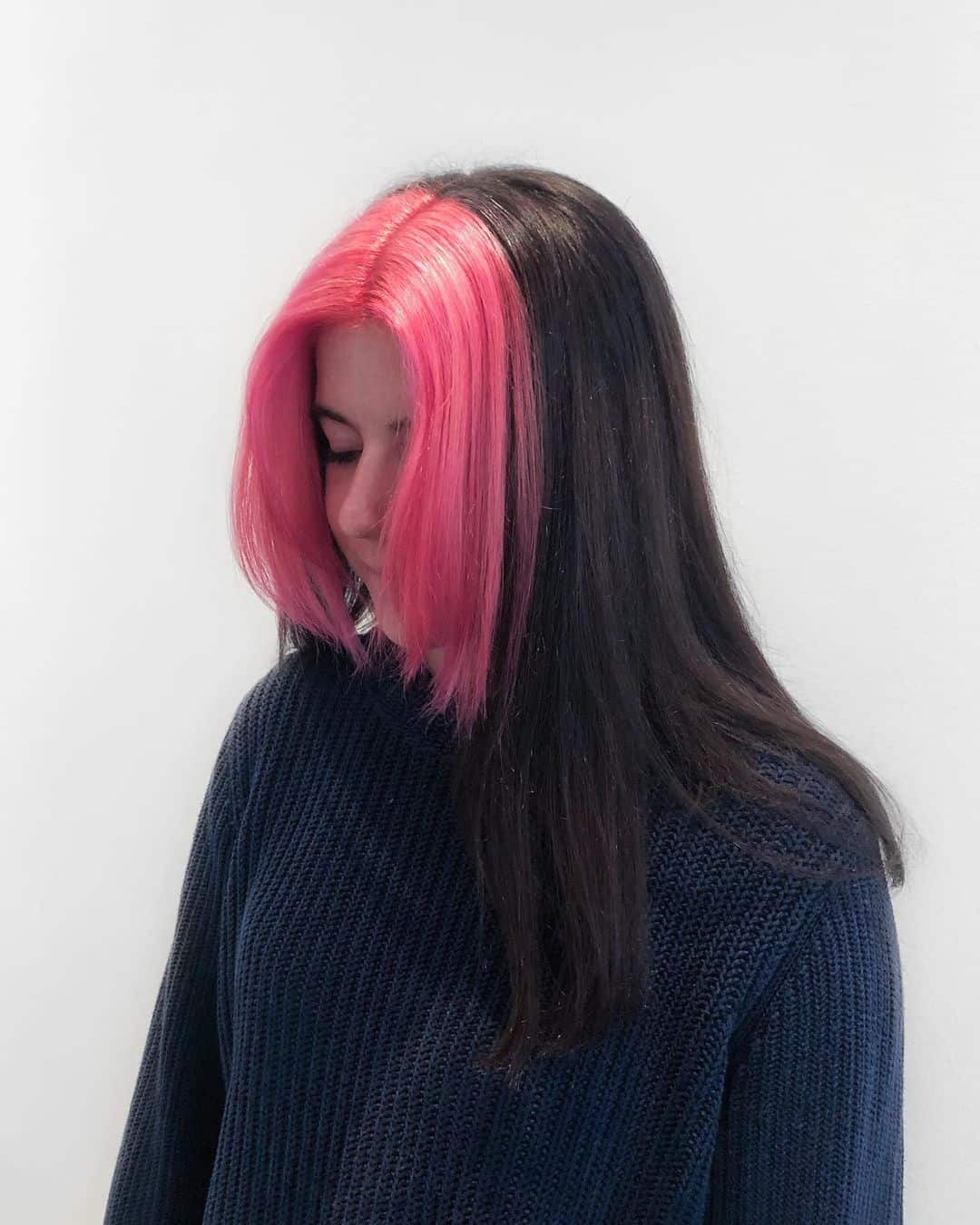 Color-blocked clothing and accessories were all the rage a few years back. It's no wonder then that this scheme found a few takers with hair color enthusiasts. Here's an example that uses the color blocking technique to create a face-framing hairstyle.
The long pink bangs in the front frame the face while the rest of the mane is all black. If you have long bangs, you can steal this idea to color them in a favorite shade of yours while leaving the rest of your mane as is.
43. Mauve Pink Balayage Hairstyle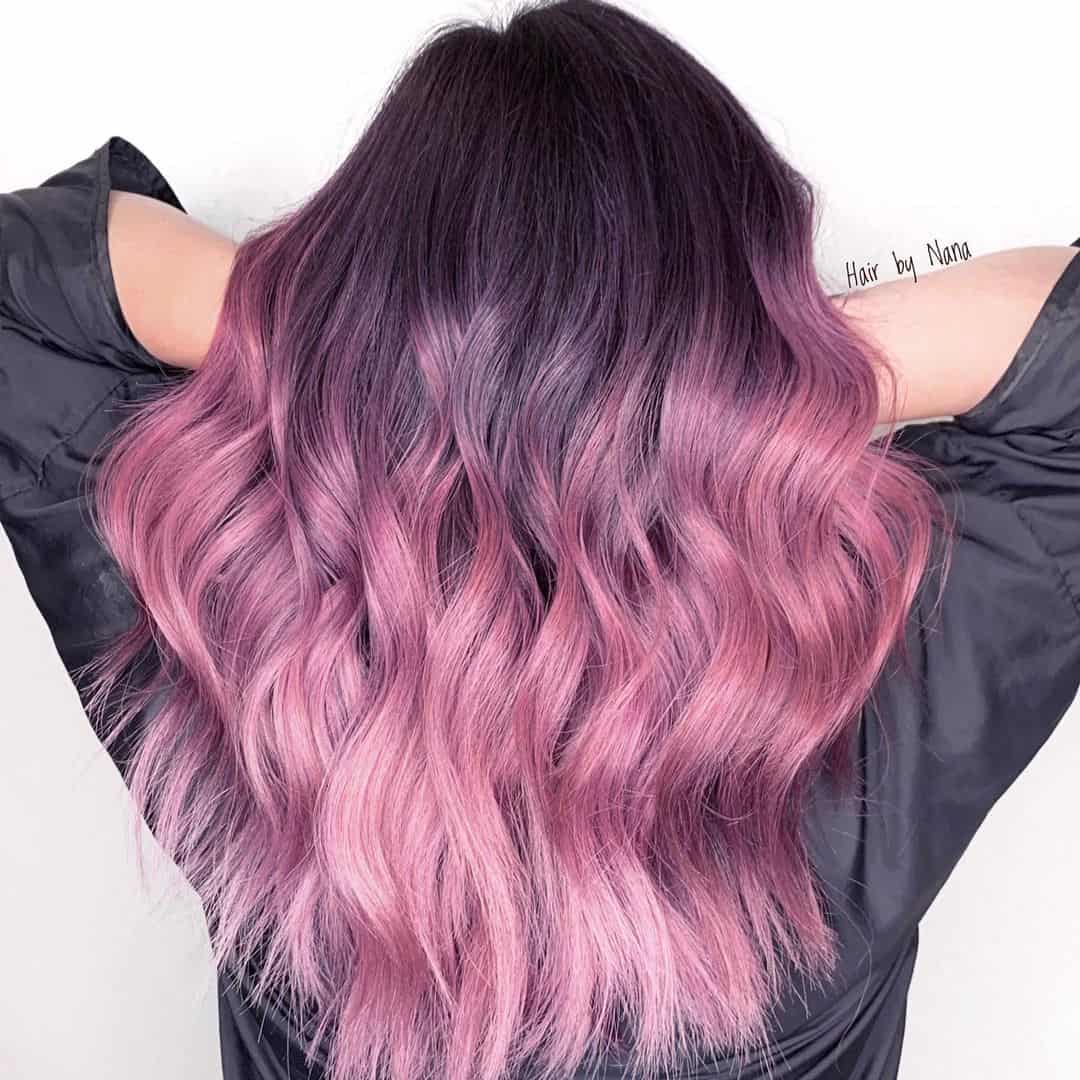 This hairstyle blends a shade of mauve-pink with dark brunette locks creating an ombre hair lightening effect. These ombre locks end in brownish pink beachy waves. Although a pastel shade of pink has been used to create this hairstyle, it looks different due to it being balanced by the dark hair around it.
The resulting pink color can pass off as a natural hair color and is an apt choice for folks who're looking for a less dramatic shade of pink hair.
44. Pink Diamond Hair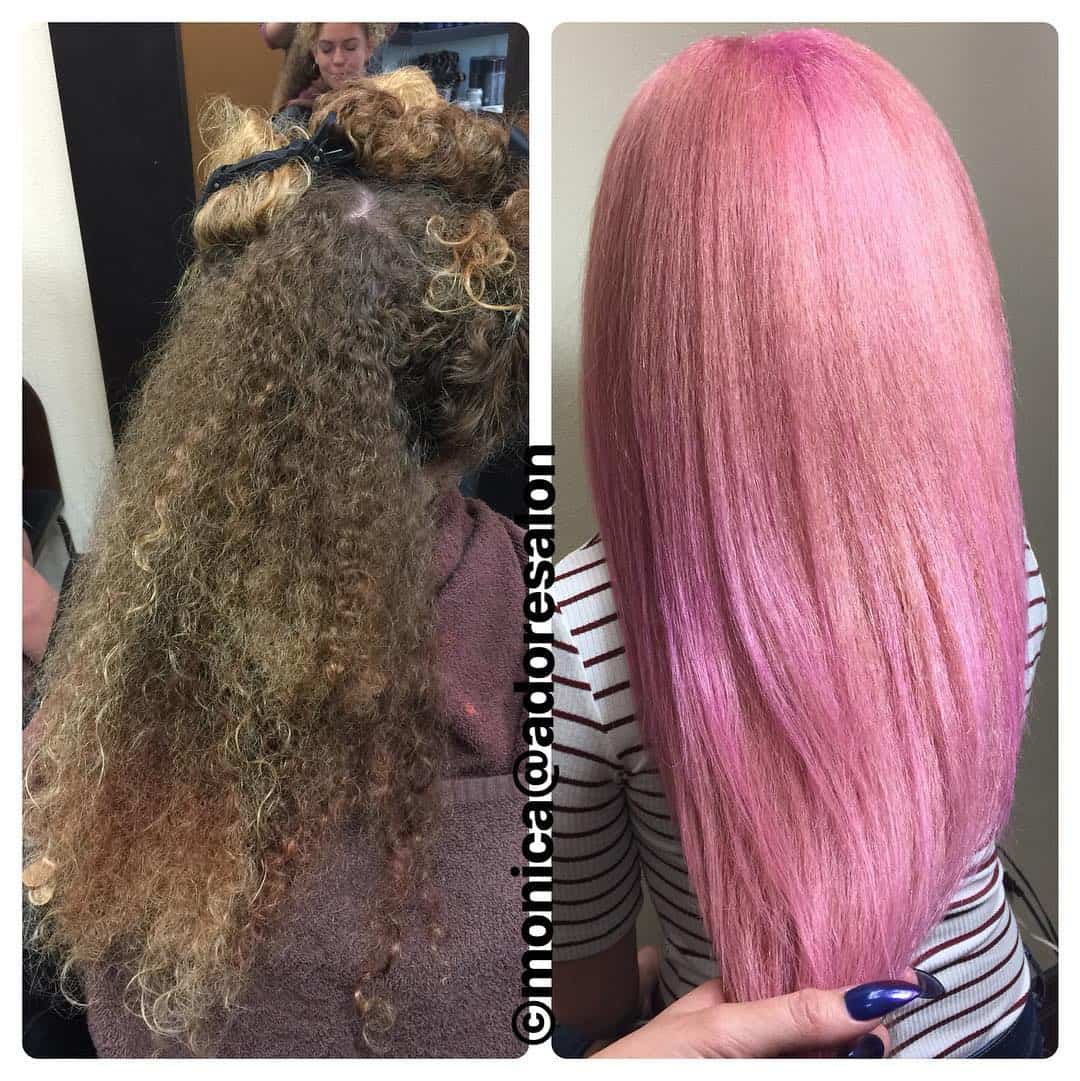 Want to reclaim your damaged locks without giving up on the color quotient? We've got just the inspiration for you. This pink hairstyle is especially recommended for those who have damaged and over-processed curly hair.
It uses various shades of pastel pink and peach, that reflect light differently, to create a glossy mane even if the hair is still in the recovery phase and lacks a natural sheen. Straightening the locks also helps with making them appear livelier and healthier.
45. Pink Rainbow Mermaid Waves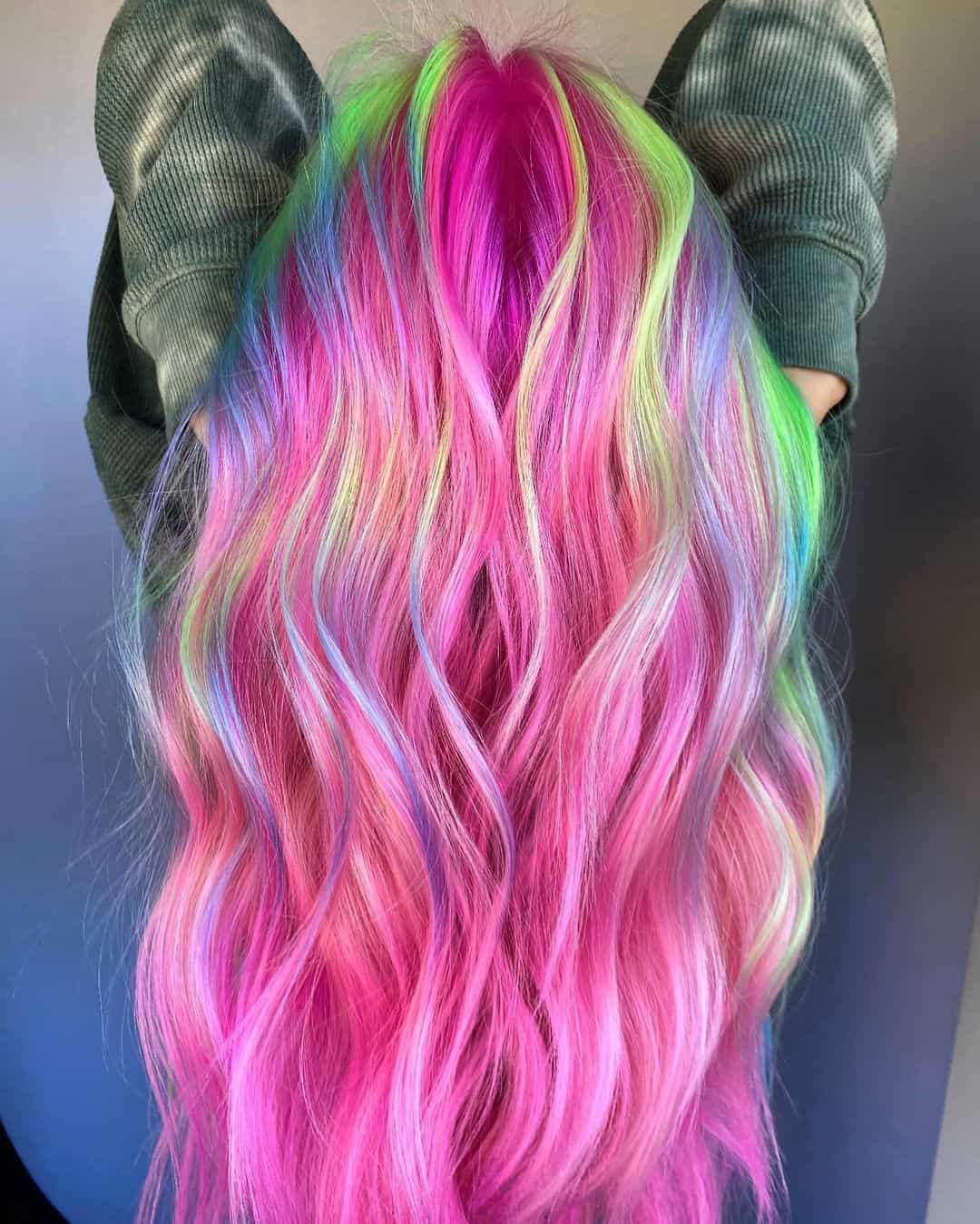 This hairstyle combines a bright neon pink hair color with rainbow highlights to create these very lively, vibrant mermaid waves.
Neon pink is used as the base color for this hairstyle, and highlights are added in different colors like fluorescent green, purple, blue, and blonde streaks to finish the look.
46. Dark Pink Sunset Ombre Hair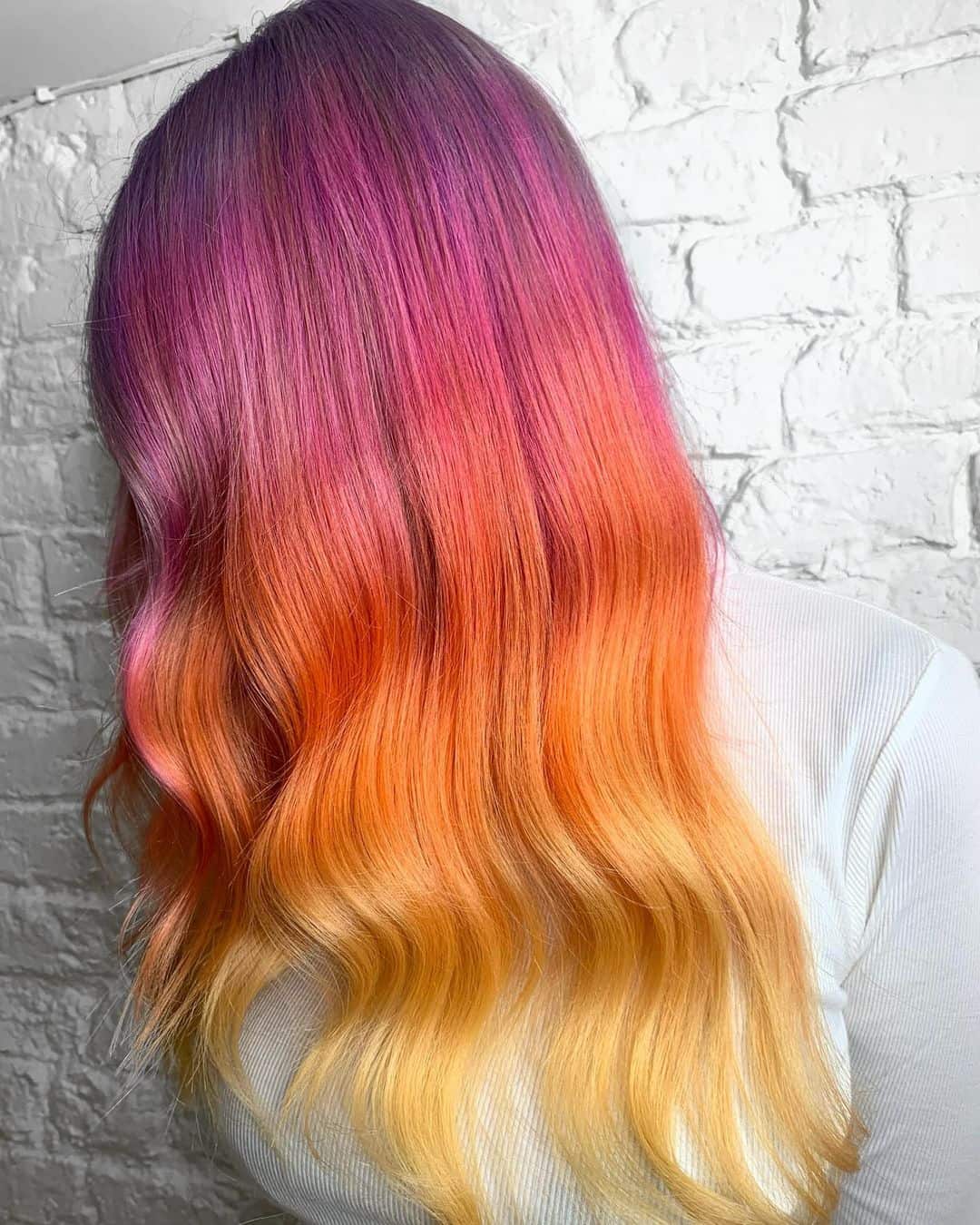 We've seen many pink beachy wave hairstyles so far but how about recreating the sunset at the beach with your hair? Here's some inspiration for you to recreate your own sunset on the sea on a warm summer's eve look.
This hairstyle uses three different hair colors to achieve this look. It begins with dark pink hair on the crown followed by ginger locks that resemble the evening sky. These ombre ginger locks gradually cascade to a bright shade of yellow reminiscent of the setting sun.
47. Smoky Pink Beachy Waves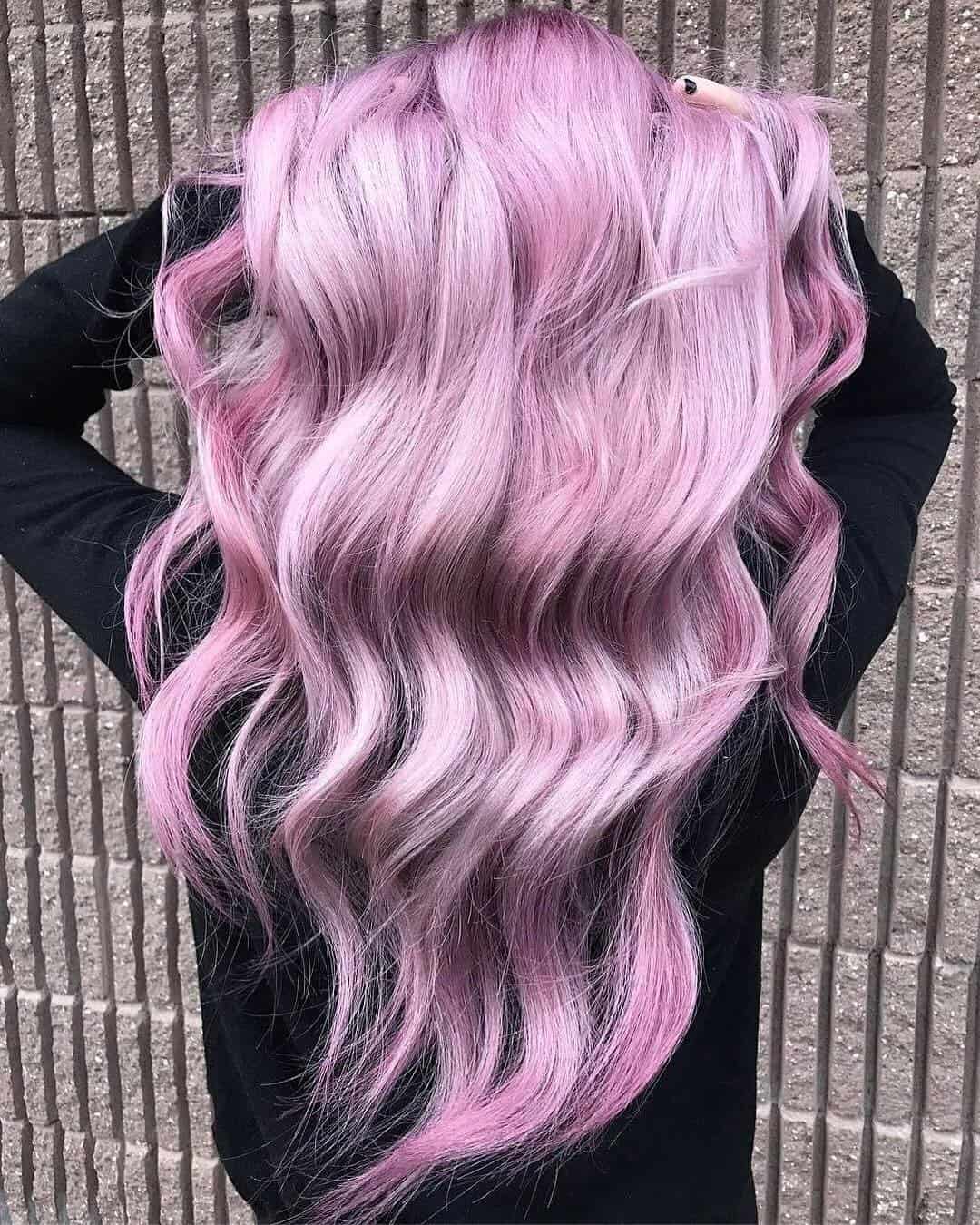 Combine powder pink hair with greys and platinum blondes to create this smoky pink hue. This long mane is styled like the on-trend and popular beachy waves, with a few highlights added for creating some depth and contrast.
This pink hue almost ends up looking like a soft shade of lavender, especially as it is combined with some grey undertones.
48. Sweet Cherry Pink Bob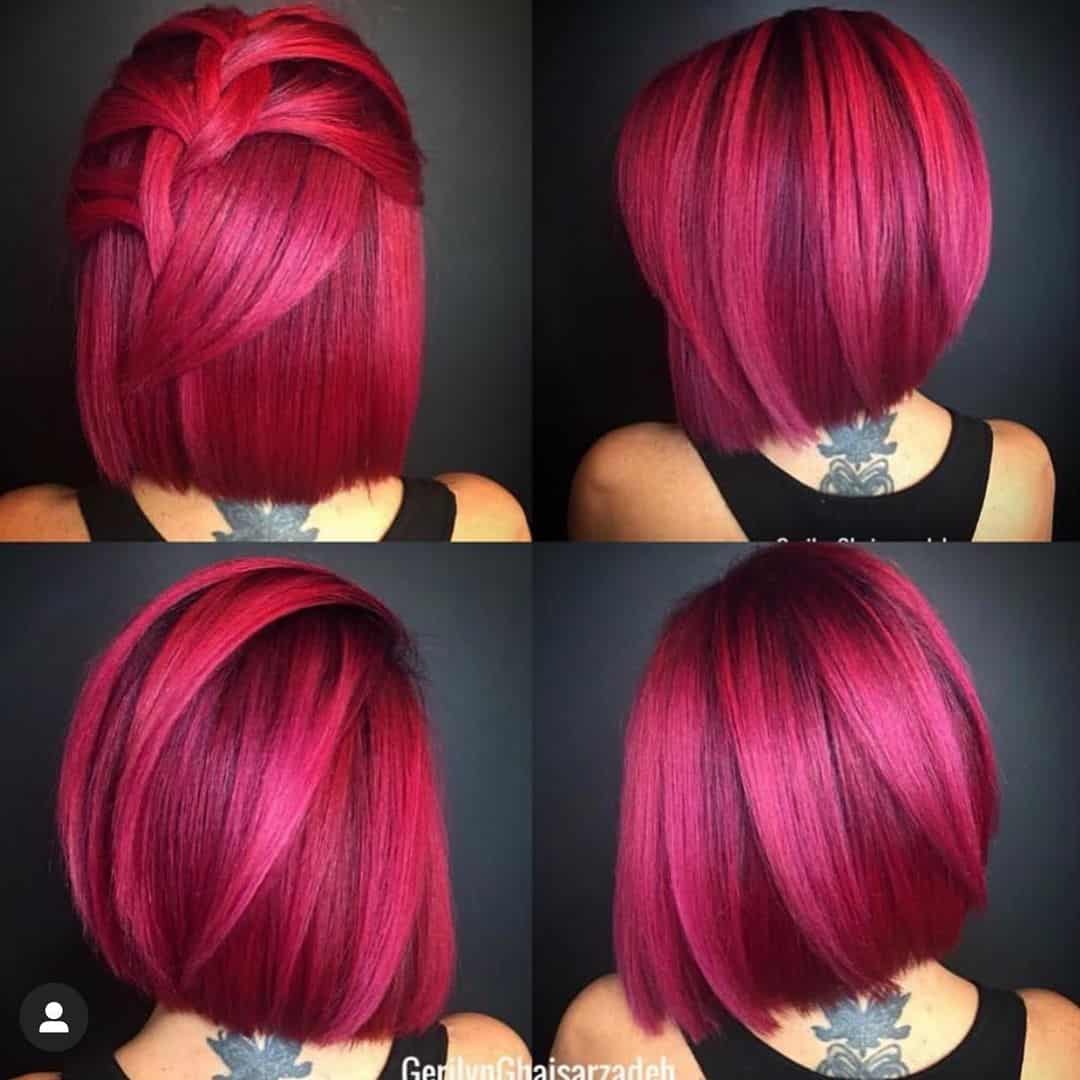 How about dark pink hair with dark pink highlights? This deep cherry pink bob achieves that goal by using a reddish cherry pink hue combined with a bright and vivid shade of pink to create contrasting pink highlights.
The highlights are carefully colored to make them look like unfolding petals. The straight cut bob adds to the neatness of the look.
49. Vivid Pink Dimensional Balayage Hair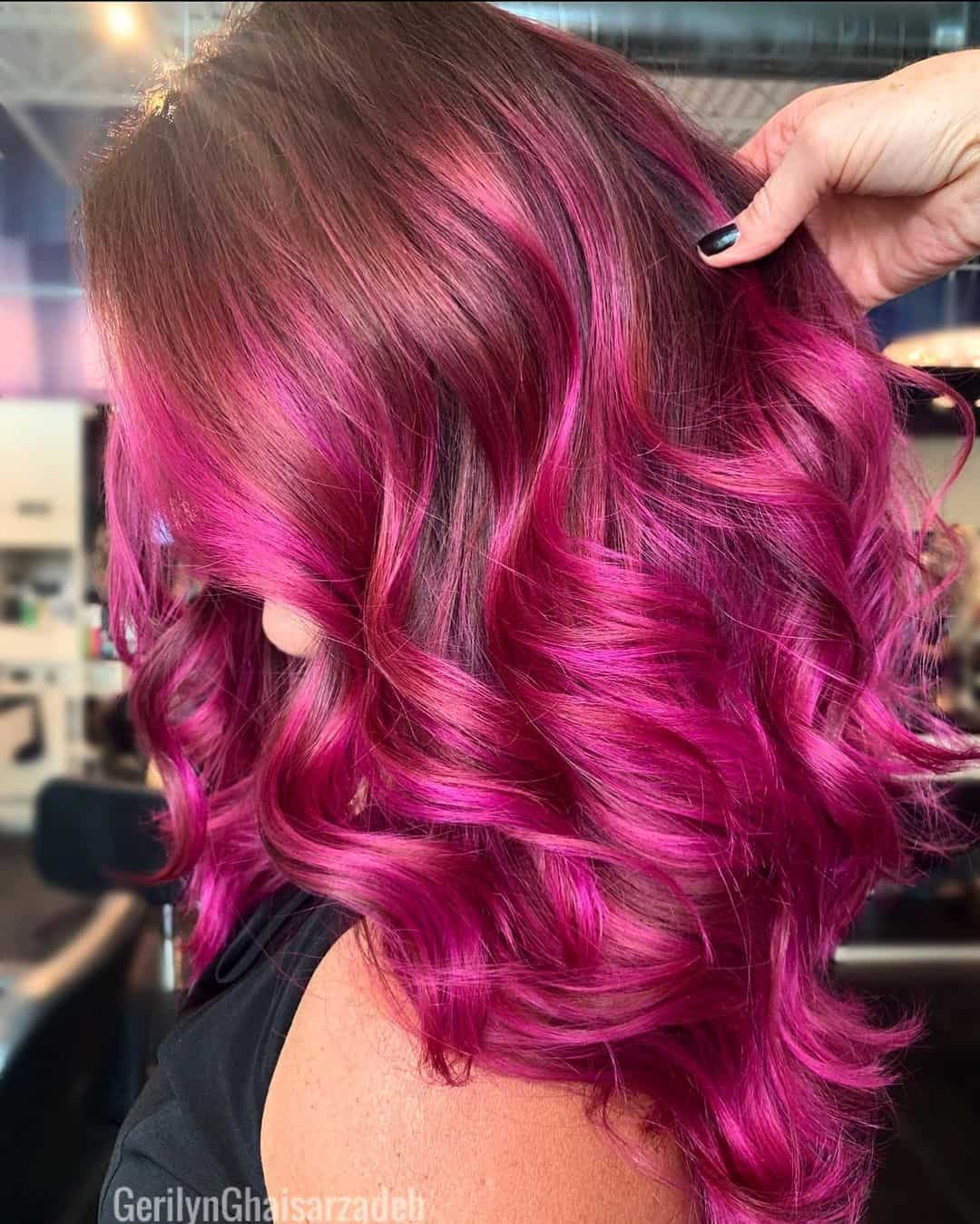 Use the reverse ombre hair trend to create this hairstyle that uses a light brunette color on the crown and a myriad of dark pink colors on the locks.
Highlights, curls, and a step cut lend this look a unique style that ends in dark pink tips. This is a dimensional balayage highlights job and requires professional help.
50. Pastel Blue and Pink Wavy Hair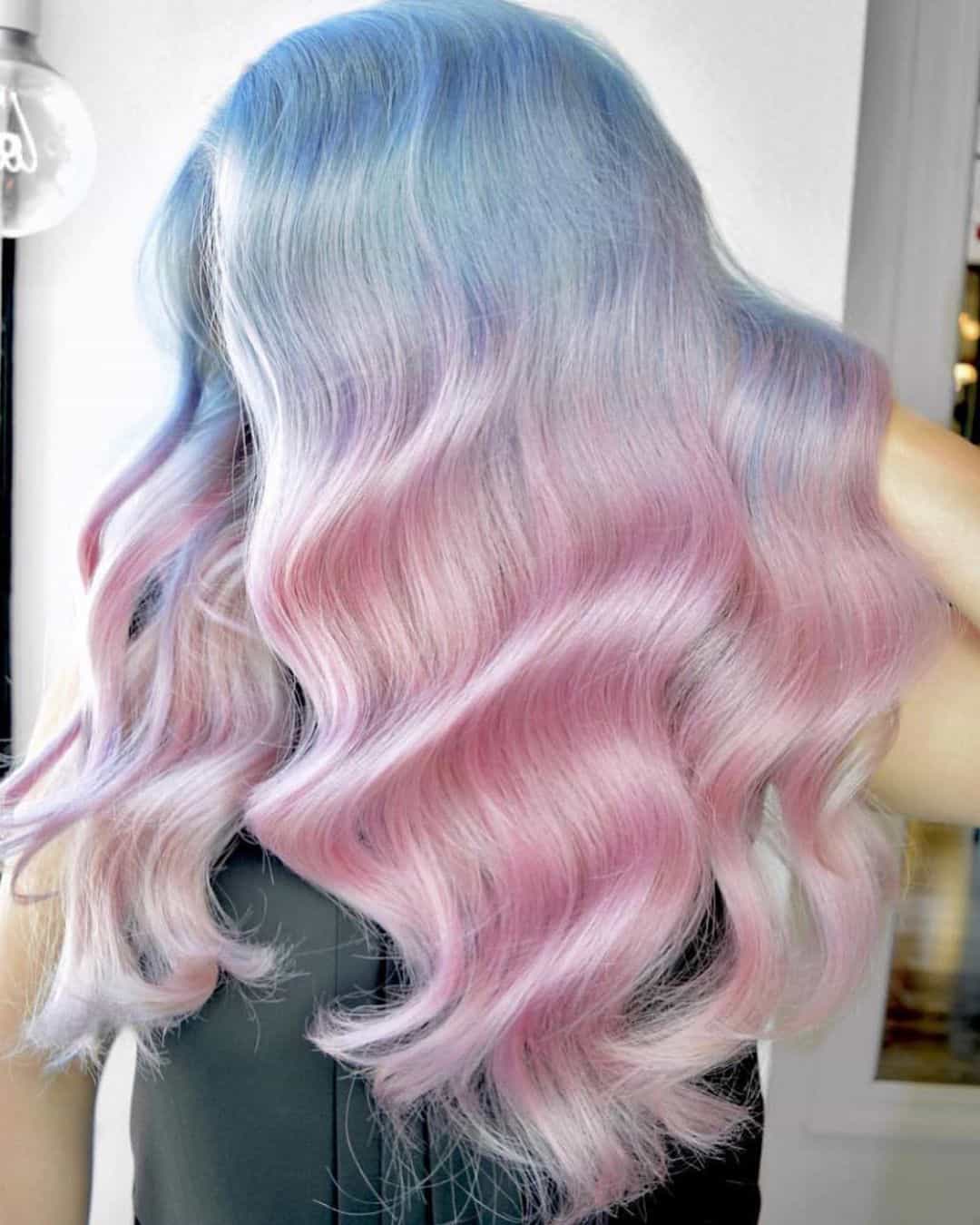 Boy-girl hairstyles are getting quite popular, and this pastel ombre style does a brilliant job of mixing the two patent boy-girl colors seamlessly. While the roots are icy pastel blue, the beachy waves cascading down from the side and the back are all a cool shade of pastel pink.
Nikki Minaj sports a similar two-toned blue roots plus pink locks hairstyle in her music video 'The Boys.' Her blue, however, is a much bolder hue than the one shown here.
Do's and Don'ts for Pink Hairstyles
That rounds up our choice of 50 pink hairstyles. Let's have a quick look at some do's and don'ts if you're planning to use one of these hairstyles as your next style inspo.
Here are some pointers for you if you're looking to dye your hair pink this season.
Do's
Make sure your pink hair stays bright and colorful by taking the following steps.
Use Protective Hair Treatments
Invest in treatments like hair-glazing and other color-protecting procedures so you can maintain your color for longer durations.
Deep Condition Your Hair
Deep conditioning treatments bring out the best in pink hair as it is a color that reflects a lot of light naturally. A little help with a good conditioner, and you'll be rocking a glossy mane that looks red-carpet ready.
Use a Green Shampoo
Use the right color shampoo and toner. Green is the go-to toner for color-correcting pink and red hair. You might want to consult your stylist about the best green shampoo for the shade of pink you've used to neutralize brittle red tones.
Pick the Right Shade of Pink for You
Choosing the right shade of pink is half the battle towards creating a unique hairstyle. Always keep in mind that you can't go for a very light shade of pink without bleach if you have naturally dark locks, although you can go for a dramatic dark shade of pink if you have naturally blonde locks.
If you're aiming for really light pink locks, you'll have to take it step-by-step, lightening your hair with successive dye jobs.
Consider Highlights and Styles That Compliment Your New Color
Balayage highlights, low lights, beachy waves, and slightly crimped or curled locks look excellent in pink shades; this is just a tip – you can obviously opt for a ramrod straight pink hairstyle.
Don'ts
To keep your hair looking pink, make sure that you don't:
Wash Too Often With Shampoo
Once you're done with your pink hair dye job, don't shampoo your hair too often lest you wash the color out sooner than you're intended to.
Use Lots of Hairspray
Use of hairsprays and other hair setting products should be kept to a minimum to maintain the integrity of your hair color.
Exposure Your Hair to Direct Sunlight
Colored hair shouldn't be exposed to direct sunlight as harsh UV rays can damage your hair-bonds. Be careful when and where you step out once you've got your coloring treatment done.
Use Hot Water on Your Hair
Do not use hot water to wash your hair. Use lukewarm water to avoid color fade.
Over-Rinse Your Hair
Do not use excessive water to wash your hair, as that may also result in the color draining off unnecessarily.
Use Heat-Styling Tools
Do not apply excessive heat to your hair. Curling irons, hair straighteners, and other hair appliances should also be used minimally as too much heat can result in dull hair colors.
Final Words
Pink hair color is so popular because all shades of pink, especially light and pastel shades, look so good with many complexions.
Whether you have dark roots, long black tresses, medium brown hair, red hair, blonde, grey, or white hair, a touch of pink will give them a style boost and help you create a unique look for yourself.
Pink is also a natural choice of hair color if you want to leave your roots untouched and just play with the tips. Choose one of the many shades of pink hair colors shown in the gallery above and rock a fabulous pink hairstyle this new year!