Top Picks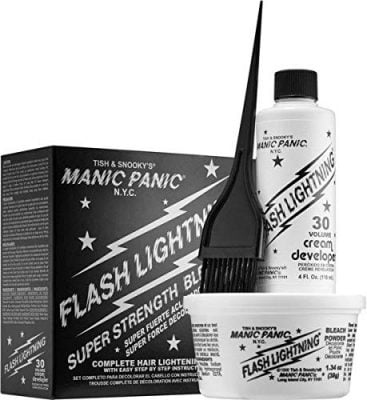 Manic Panic Flash Lightning Hair Bleach Kit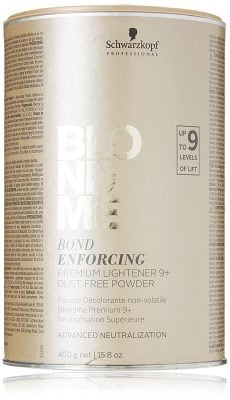 Schwarzkopf BlondMe Bond Enforcing Premium Lightener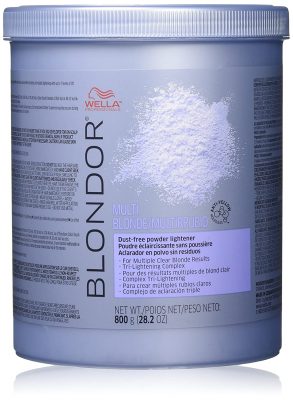 Wella Blondor Multi Blonde Powder Lightener
Previous
Next
Hair bleaching has had quite a journey, developing with humans through the ages. Since ancient times people have bleached their hair, but we have moved on from using lemon and sunlight to the fantastic products we have available today. Modern formulations result in less damage, leaving your hair beautiful and healthy.
Regardless of the times, we still go through cycles of wanting to drastically change our hair. From haircuts to dying, sometimes you just want to do something bold and out of the ordinary. But bleaching your hair may not be the best option if you're having a crisis and you want instant results.
How To Choose The Perfect Hair Bleach
Hair bleaching is one of those treatments for which we highly recommend you go to a salon if you want a professional result. Think a DIY Brazilian wax at home – no thanks! We understand, though, that you may want to learn how to do it yourself and skip the trip to the salon.
With that disclaimer out of the way, this guide will get you started on the journey to learn how to bleach your hair safely and successfully every time. To get good you need practice and experience, and if you're ready to experiment on your own head, it's time to get started.
Hair Type
First and foremost you need to assess your hair and be honest with yourself. The main things to determine are:
How dark is your hair?
Is your hair processed (dyed, permed, etc.)?
What's the health of your scalp and hair in general?
Check out our hair guide below to get a full assessment, but the main points are:
The darker the hair, the more sessions you will need to get it very light blonde
Processed hair is already damaged and more porous, meaning that the bleaching needs to be more gentle compared to bleaching virgin hair
If you've dyed your hair black before with a box dye, go to the salon or proceed with extreme caution to not melt your hair
If you have scalp dryness or issues, don't apply the bleach to the scalp
Make sure to do a strand test
Levels of Lift
What does it mean when a package says that the bleach has a "lift of up to 7 levels"? Considering the levels of hair, it's the potential maximum change your hair will undergo if the stars align and you get the perfect result. For example, a lift level of up to 7 will mean that in one session your hair can go from a level 2 to a level 9.
Promise vs Reality
However, the reality is that your hair most likely won't lift as much as the manufacturer claims. Everyone's hair is different, both in pigment composition as well as the treatment and health of our hair. This is important, as these factors are what determines how well your hair will lift, and therefore lighten.
Potential Damage
Bleaches claiming a higher lift level are stronger, and therefore may be more damaging to the hair as they will aggressively get the pigment out. You should consider how light you want to go and pick an appropriate strength of bleach and developer, as well as follow an appropriate bleaching technique. If you want to go from level 5 to level 7, for example, there's no need to go for a 40 volume developer, as this will only fry your hair. Some products such as BlondMe powder offset the damage by packing their products with restoring ingredients.
Equipment Needed
As you need to prepare the hair, bleach it, and treat it afterward, you need the right tools. As a minimum for the bleaching process, you will need a hair bleach, developer, gloves, mixing bowl, and an applicator brush. Oh, and you will need a comb or brush to prepare your hair. Some kits such as Manic Panic come with everything you need to bleach your hair, while others will require all the tools to be bought separately.
The use of foils isn't necessary, and you can achieve great results without them. They're generally used to separate the strands, for example when doing highlights, to prevent the bleach from getting on the rest of the hair.
A plastic cap (or a plastic bag) can be very useful to incubate the hair and make the process more efficient. You may also require a measuring jug to ensure the correct ratio of the bleach powder and developer.
Make sure all your equipment isn't metal (such as iron or copper) as it will corrode when in contact with the bleach.
Disclaimer
Bleaching is not a simple, carefree process, and should be done by a professional. But if you want to press on regardless, we have included a mini crash course in hair bleaching.
A professional has the experience to accurately assess your hair and formulate the best course of action to get the right shade of blonde for you. The process can also be quite time consuming if you want to keep your hair healthy and beautiful – going from level 1 or 2 hair to platinum blonde could take up to a year – so be patient, and avoid going too strong too fast as this will just melt your hair off.
Top 10 Best Hair Bleaches 2021
The Ultimate Guide to the Best Hair Bleach
Here is an in detail step by step guide to bleaching your hair, and doing it safely, so get ready for some science!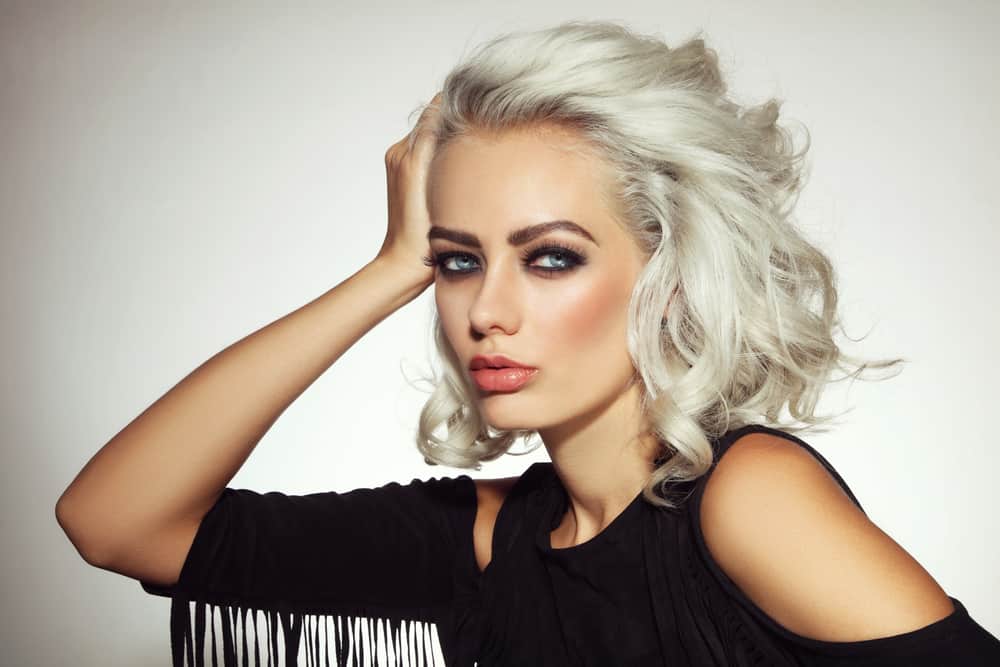 What Is Hair Bleach? How Does It Work?
Bleaching your hair consists of mixing a bleach powder and a developer to form an alkaline cream that will transform your hair into a blonde paradise. It's been practiced for over two thousand years and a whole mix of things goes into the formulation, so here's an overview of the chemistry.
The Bleach
The bleach powder you get is made up of persulfate compounds, pH balancing ingredients, and care ingredients. Persulfates are responsible for the strength of the bleach, and alongside hydrogen peroxide found in the developer, they oxidize and destroy the pigments in your hair. The pH balancing ingredients maintain an alkaline environment, which causes the hair cuticle to swell and lift, exposing the pigments found in the hair.
Powder vs Cream
Creams like the Wella Blondor tend to be much more gentle than powders as the concentration of persulfates isn't as high. They will do less damage to your hair but because of the lower strength, they won't lift as much color. Cream bleach is also supplied in smaller quantities, making them the perfect choice to treat your grown-out roots. You do still need a developer however, to make the bleaching maximally efficient.
Developer
A developer contains hydrogen peroxide as well as emollient ingredients to dissolve the bleach powder and provide a workable consistency. The hydrogen peroxide concentration is what determines the strength of the developer, which is given as 10 (2%), 20 (6%), 30 (9%), and 40 (12%) volume. The higher the volume, the more hydrogen peroxide is in the solution, resulting in more efficient pigment oxidation.
Higher volume developers also have a longer development time. This means that while a lower volume developer will fizz out and stop developing after 10-20 minutes, leaving the persulfates to finish the job, the higher volume developer, such as 40 vol, will keep on developing for a whole 50 minutes. This results in a very aggressive bleaching process for the whole duration of the bleach sitting on your hair.
It's therefore important to choose an appropriate strength developer for your hair, to bleach the pigments in your hair without damaging your scalp or the hair structure.
Care ingredients
Sometimes companies will put in ingredients that are supposed to protect the hair shaft, repair the damage, and ultimately leave your hair feeling healthy. Such ingredients are definitely something to consider if you're planning to bleach your hair more than once as these ingredients will pay off in the long run, so consider something like the nourishing Schwarzkopf Professional Igora Vario Blond Plus.
Bleach or Color Remover – What's The Difference?
Depending on the result you want to achieve, if you have colored your hair before, you have the option of using a color remover, bleach, or both.
Color Remover
As the name suggests, a color remover removes color from your hair. While it won't do anything on natural virgin hair, it can be a great option for those who have previously dyed their hair.
If you want to go back to your natural hair color you don't have to use bleach, as you can remove only the extra pigment. The remover is much more gentle than bleach, and if you're not trying to go lighter than your natural hair color then there is no need to undergo such harsh treatment.
Also if you have dyed black hair, and you do want to bleach it, this is most likely the way to go – remove all the hair dye first with a color remover, then do a strand test, and go with bleach afterward. You will need fewer bleach sessions using this method, and it will keep your hair a little bit healthier.
Bleach
Bleach doesn't remove pigment in the same way a color remover does. While a remover brings back your natural hair color by reducing the synthetic pigment molecules, bleach destroys all the pigment by oxidation.
This means not only the additional pigment from the dye gets removed, but also melanins, which are the molecules that create natural hair color. As some pigments are more difficult to oxidize than others, you may find that your hair has a warm undertone after bleaching. For more info on this check out the chemistry corner.
What Do We Mean by Lift?
This can be a little confusing as it refers to both the action of lifting the cuticle to create access to the pigments as well as the lifting of color out of the hair, hence removing it. The action of lifting the cuticle from the hair shaft, creating access to where the pigments reside, looks a bit like when an acorn opens up to release the seeds. You want enough lift to make the pigments accessible to the bleach but not so much that the cuticle will rip right off resulting in melted hair that just breaks off at the slightest touch.
The level of lift describes the number of levels your hair can lighten according to the hair color table. Generally speaking, the higher the lift level, the stronger the bleach is.

Assessing Your Hair
This will play a big role in the hair bleaching journey, as the products you choose will be determined by what your hair needs and what it can handle.
Determining Your Hair Type
Hair can be put on a scale of color (tone) and depth. How dark your hair is naturally depends on the levels of melanin in the hair shaft. As shown in our table type 1 hair is the darkest black and type 10 is platinum blonde.
Hair color consists of the main color as well as the undertone – similarly to your skin. The color itself is quite easy to get out, but then what you're left with is the undertone. Red pigments are harder to oxidize and remove out of the hair shaft, causing the brassy tint after bleaching. Check out the chemistry corner if you're interested in the science behind natural hair color.
Bleaching Virgin vs Previously Colored Hair
Bleaching dyed or processed hair is slightly different from bleaching virgin hair. Previous treatments and dyes make the hair more porous as the cuticle is inevitably damaged to some extent.
This means that your previously processed hair requires more delicate treatment, hence lower strength developer. Depending on the damage you'd want a 10 vol developer if your hair is highly processed and quite light already, and a maximum 30 vol developer if you feel your hair is super healthy despite the previous treatments.
If you have virgin hair the cuticle should be in really good shape, protecting your hair and effectively making it non-porous. This means you will need a stronger developer such as 30 or 40 volume, to swell and lift the cuticle enough to enable the bleach to penetrate.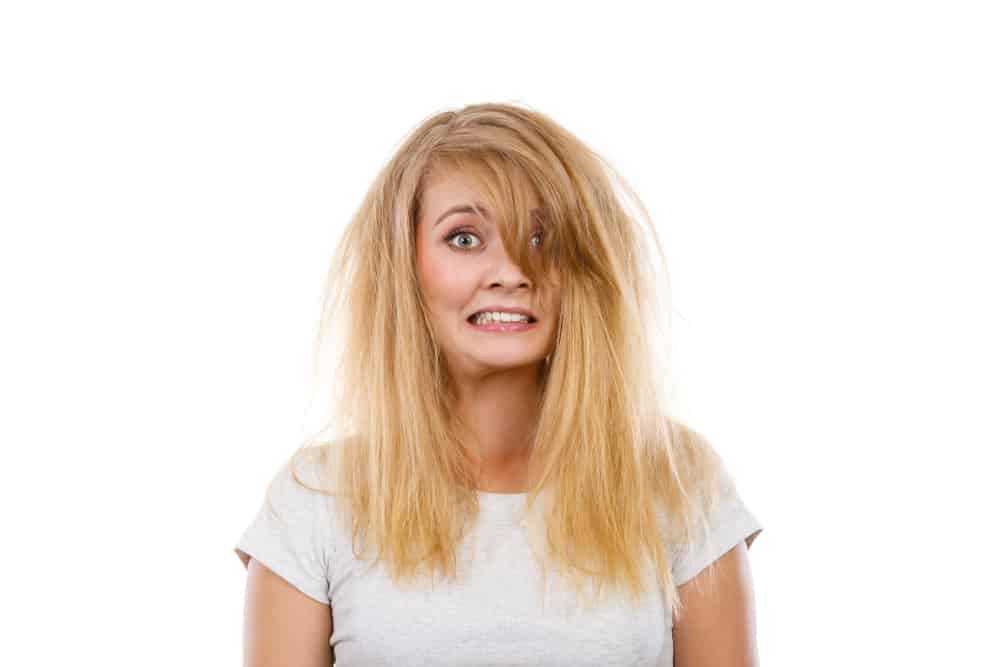 Health of Your Hair
Already damaged cuticle will make the hair more porous, making the bleaching process more damaging. If your hair is already damaged and porous, you will need to be more gentle with the process than if you were bleaching super healthy hair.
You need to take into account that the cuticle doesn't need to be lifted as much to expose the pigments. Picking a lower volume developer is one of the ways in which you can reduce the damage. Choosing products that are packed with care ingredients is a good option, as they will help to minimize the damage.

Strand Test
Whatever your bleaching plans are, do a strand test first. It will save you potential headaches later on, as you will know what to expect.
To do a strand test it may be easiest to cut off a small strand, around 2 inches, from the back on the underside of your hair so it won't be noticeable. You can also do the test without cutting by separating a strand and tying it off.
Treat the hair as you will treat your hair later, so you get a predictable result. After assessing the hair, decide on the bleach and the developer, mix up a small amount according to the recommended ratio, and apply this to your test strand.
Observe the development time for that strand, how the hair develops in general, and what color it is after washing off the bleach. If you decide you need a higher or lower volume developer, you should perform the strand test again.
This way you will know exactly what to expect and what toner to pick to finish the job. This will also minimize the chances of excessive damage and the hair melting. Remember that the ends are the most damaged part of your hair – if your ends bleach well, the rest of your hair will be fine too.
The General Hair Bleaching Process – a Step by Step Guide
Step 1 – Do a Strand Test
Before you do anything, check how your hair will react to the bleaching process by performing a strand test as previously described.

Step 2 – Prepare the Tools and Space
Once you know what you need for your hair to bleach successfully, get the equipment ready so you don't run around the house trying to find things as you bleach.
If you got a whole kit such as the Manic Panic Flash Kit, then all you need is an old t-shirt to wear, a towel for potential spills and drips, and a toner or hair dye.
If however, you got bleach powder such as Blondor, in addition to the list above you will need a developer, a mixing bowl and applicator brush, gloves, and a plastic bag or cap.

Step 3 – Brush and Section Your Hair
Before you start you should brush your hair to get out any tangles and knots. Don't scrub at the scalp with the brush though as this will cause damage to the scalp, and once the bleach is applied it will burn.
Section the hair into at least four sections – two at the front and two at the back, by parting your hair down the middle and then from the apex of your head to behind your ear on each side. How many sections you need is up to you and how thick your hair is, as thicker hair will need more sections. You can check out different ways of sectioning your hair here.
The goal is to have manageable segments that you can handle easily to thoroughly apply the bleach to every single hair strand.

Step 4 – MIX and Apply the Bleach
First mix…
Read the instructions, get your gloves on, and get mixing! The ratio of powder to developer can be anywhere between 1:1 and 1:2, so make sure to check in the instructions provided, as this information will be included with the products.
If you get just a bleach powde,r you're free to choose whatever brand of developer you want. For some of the premium products with caring ingredients, such as BlondMe, you will most likely get a superior result if you use the recommended developer for the bleach.
Make sure you mix the components thoroughly to obtain a smooth creamy consistency.
…then apply
The order of application of bleach is non-negotiable – first midsections and ends, then roots. The midsection starts between 1 ½ to 2 inches away from the scalp, and you want to work from this point down the strand all the way to the ends.
Using your hands and the applicator brush, work through your sections, one at a time, starting with the front and working towards the back to allow your front hair to process a little longer. Take thin strands of hair to make sure that you're saturating every single hair – in the case of bleach more is more, so don't skimp on the amount. If the hair isn't fully saturated, the bleach can dry out, stopping the development process and ultimately providing you with uneven cheetah spots – not a good look.
Once all your hair is bleached from midsections down, start applying the bleach to your roots. This is important as the heat from your scalp will process the roots faster which can result in hot roots that are lighter and yellow compared to the rest of your hair. For this reason, it is never recommended to use anything more than a 20 volume developer for on-scalp application.
Step 5 – Let the Hair Process
To prevent the bleach from drying out, and to allow the hair to lighten efficiently, put a plastic cap or bag on your head. This will keep a humid warm environment, which is perfect for the bleaching process.
Every 10 minutes, check on your hair to make sure it's developing as expected (remember your strand test?) and stop if your hair starts to steam, fizz or do anything you clearly don't want it to do. Some itchiness is to be expected, though, if you applied the bleach to your scalp – try not to scratch, as this will cause your scalp to not only itch but also burn. If your hair is developing fine and isn't breaking, continue the process until it's time to wash the bleach off.
The development time is usually between 30 and 50 minutes, so keep on checking up on your hair to make sure you get it to the level you want while preventing potential damage.
Step 6 – Wash and Tone/Dye
Once your hair is ready, wash the bleach out thoroughly. Do not be rough with your hair as it's still in a very fragile state!
Assess your hair and tone it to neutralize the warm tones, or dye it the desired color.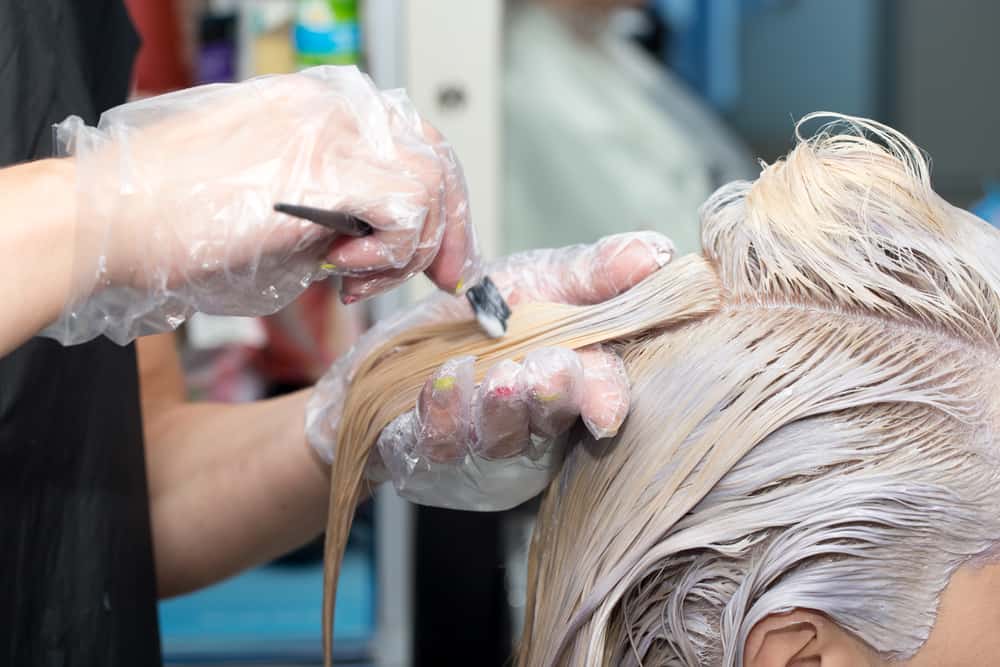 Tips, Tricks, and Warnings
Here is a compilation of the most common mistakes, and suggestions on how to avoid them. This type of information is normally only obtained from experience, but by reading this section you will be prepared much better than most people when starting your hair bleaching journey.
Getting the Perfect Results
The trick to getting the perfect blonde hair of your dreams is knowing that there is no single trick. However, a great result can still be achieved by being thorough and careful throughout the process.
The more experience and knowledge you have with hair bleaching, the more likely you are to make good decisions and adapt during the process, resulting in a better outcome.

Avoiding Irritation
Not considering the scalp to be part of the hair bleaching equation can be quite dangerous. Not only can some ingredients cause an allergic reaction, but also there is a chance to permanently damage your scalp if you go too strong too fast.
To avoid any issues always follow the instructions and don't use anything stronger than 20 volume on your scalp. Higher concentrations of peroxide have a chance of scarring the scalp causing hair loss.
Don't panic though! Stick to lower volumes of peroxide, and be gentle with your scalp as scrubbing at it at any point will only cause pain and irritation. Be gentle to yourself and you'll be fine.
Pro Tip: Some people do find that itching and slight burning can be eased if they apply coconut oil to their scalp before bleaching. The oil doesn't affect the effectiveness of the bleach but can provide an extra layer of protection on your skin, hence minimizing damage.
Minimizing Damage to the Hair
Using bleach and a developer that is too strong for your hair has a chance of literally melting your hair off. As mentioned before, do a strand test to ensure that your hair will be fine with the chosen bleach and developer, and you can continue with the peace of mind that your hair will turn out gorgeous.
Do remember – during the bleaching process hair is in a very vulnerable state as the cuticle is wide open, exposing the cortex of the hair. This means that you want to be very careful with your hair during that time – you don't want to cause any more damage than necessary:
Do not brush the hair during the development process
Don't try to lather the bleach! Bleach is not shampoo and so it does not lather! Let's repeat – bleach does not lather
Don't pull, twist, or rub the hair
Black Hair Dye and Metals
You will hear time and time again – don't bleach hair that has been previously dyed black. But what's the deal with that?
Black box hair dye can sometimes contain metal compounds as one of the ingredients, which will hang around in your hair, giving you a shiny raven black color. When metals come in contact with bleach they can corrode and stain, hence the warnings on the box saying to not use metal tools during the bleaching process.
Putting the two together, metal compounds in your hair can react with bleach just the same, causing a series of chemical reactions that will turn your hair into sticky gum.
So how to avoid this mess? Either you can hedge your bets and go straight into a strand test to see if the black dye will react. Or you can be super safe and use a hair color remover first, remove all the dye and bring back your natural hair color, and then follow with a strand test as you would normally.

Heat and Processing Time
One trick to make the bleaching process more efficient is to use heat to your advantage. While it's not recommended to use any appliances to heat your processing hair, the heat from your scalp is sufficient.
Incubating your hair during the process by using foils or a plastic cap/bag is a good way of making bleaching more efficient. This way you can either shorten the overall processing time or use a lower volume developer, which will provide you with a healthier result.
Bleach Baths
If you really want to lather bleach, then doing a bleach bath is the only way. Bleach baths are a great option if you want to refresh your blonde hair and slightly lighten it by taking out the yellow tones.
This is done by mixing your bleach powder with shampoo and water and using this mixture to wash your hair. A bleach bath will cause minimal damage and is one of the best ways to gently lighten and maintain your blonde locks.
Refreshing Your Highlights and Roots
If the aim of the game is to maintain and refresh, the approach to bleaching is slightly different. The same rules apply, however you have to be very deliberate to where you apply the bleach.
When treating the roots, make sure you don't overlap with the already bleached portion of the hair as this can lead to overprocessing, damage, and a weird outcome. Only apply the bleach to the grown out portion, and remember that roots process faster, so keep an eye on them.
Bleaching Body Hair
Bleaching hair other than on your scalp is a whole different ball game. The skin on your face, arms, and legs is more delicate and the hair thinner. It's important to bleach on healthy unbroken skin, and when the pores are completely shrunk tight.
Shrinking the pores will minimize irritation and sensitivity, and for this reason don't bleach after a bath or shower when the pores are expanded.
Pro Tip: Wiping the skin with some witch hazel or alcohol can help to shrink the pores and make the bleaching a lot less irritating.

Post-Bleach Care
You could write a whole book about toners and the color theory, but here are the basics to get you going.
Toner
After you wash out the bleach you will need to tone your hair. This is where the strand test comes in handy again, as you will know what your hair will look like after bleaching.
The toner you pick will need to be a shade darker to be effective, as the job of the toner is to deposit pigment back into the hair, effectively neutralizing the undesirable tones. If your hair is at a level 9 or higher you can use the Wella ColorCharm T18, otherwise, you should pick the toner that will work best with your hair undertone..
As a very quick guide:
| | |
| --- | --- |
| Color to neutralize | Shade needed |
| Red | Green |
| Red/orange | Blue/green |
| Orange | Blue |
| Yellow/orange | Blue/violet |
| Yellow | Violet |
| Pale yellow | Violet |
Haircare
If you do have the platinum blonde of your dreams, one way to maintain it and keep the yellow tint at bay is to use purple shampoo. While it won't do much for darker hair, for the palest blondes it will keep the color fresh and beautiful.
Another way to treat your hair and avoid damage is to use specialized products such as Olaplex. While expensive, it's definitely worth the splurge.
Now with the hair bleached and toned, you will need to assess the hair again if you want to go lighter still and repeat the process.

Chemistry Corner
The tone and depth of your hair are determined by melanin found within your hair. As your hair grows, a reaction takes place in the bulb of the hair where two types of melanin – eumelanin and pheomelanin are synthesized.
Eumelanin is what gives the main color of the hair, we perceive it as blacks, browns, and blondes. The more melanin the darker the color, and the fewer melanin compounds are found in the hair shaft the lighter (more blonde) the color. As you see this explains why you don't require as much work to bleach naturally blonde hair vs black hair – it's a simple numbers game of melanins vs persulfates.

Hair Color
Pheomelanin is what gives the undertone to hair. There is an international level system which is used to measure color depth and tone:
| | | |
| --- | --- | --- |
| Level | Color | Primary undertone  |
| 1 | black | red |
| 2 |  darkest brown | red |
| 3 | dark brown | red |
| 4 | medium brown | red, red/orange |
| 5 | light brown | red/orange, orange/red |
| 6 |  dark blonde | orange/red |
| 7 |  medium blonde | orange/yellow |
| 8 |  light blonde | orange/yellow |
| 9 | very light blonde | yellow |
| 10 | lightest blonde | yellow |
Again, this shows you why your hair may end up orange after bleaching. That's why doing a strand test is so important, so you know what to expect and how to proceed with the result. The pheomelanin is more difficult to take out of your hair, potentially leading to more bleaching sessions.
In the end, the toner takes care of neutralizing or enhancing the undertones of your hair, giving you the results you want.

The Chemistry of Hair Bleach
Bleach itself consists of the bleach powder and a developer, which you need to mix together to activate the compounds and get those chemical reactions going.
A bleach mixture is highly alkaline (pH of about 12) which causes the hair cuticle to swell and lift, revealing the hair cortex and the hair pigments normally protected by the cuticle. The persulfate compounds contained in the bleach powder and the hydrogen peroxide in the developer form radicals which aggressively attack pigment molecules oxidizing them. The oxidized compounds no longer hang around the cortex but are dissolved into the bleach cream, which you wash off afterward.
Unfortunately, as the persulfates and peroxide attack the molecules they can also react with the composition of your hair breaking the cysteine bridges that make your hair strong and elastic, which prevents spontaneous breakage. This is why if you go too strong too fast your hair is said to melt off – if the bleach destroys enough bonds in your hair, the entire structure will fall apart and fall off.
Wrapping Up
Now that you're equipped with the knowledge you need, you can go forth and begin your journey towards the gorgeous blonde hair of your dreams. Using this guide you can pick the products that will suit you best, avoid common mistakes, and keep your hair healthy and beautiful.