Top 10 Best Hair Bleaches 2023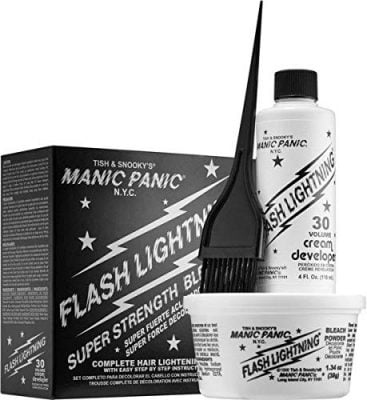 Level of lift: Up to 5 levels
Amount you get: Bleach powder – 1.34 oz., developer – 4 fl. oz.
The Manic Panic bleach kit is the most popular option among at-home-bleachers, and for a good reason. The company has been creating cruelty-free, vegan products since the late 70s. When they first opened their punky NYC boutique and changed cosmetic history forever.
Strength
This is a medium-strength bleach which will lighten even dark brown hair when mixed with the provided 30 volume developer. However, don't expect to be a platinum blonde in one session unless your hair color is already quite light.
If you have naturally black hair, the manufacturer does recommend going for the 40 volume kit to provide a better lift for the stubborn dark pigment.
Features
Not only is it vegan, but also the formula is PPD, ammonia, and paraben free, creating a healthier and more pleasant experience. The included instructions are clear to follow even if you're bleaching your hair for the first time.
What's included in the kit
The Manic Panic pack contains everything you need to bleach your hair: dust-free powder bleach, developer, brush, mixing bowl, cap, and gloves.
The amount you get is great for bleaching strands or shorter hair, but if you have thick long hair you will most likely need more than one kit.
---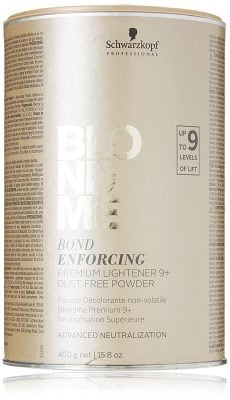 Level of lift: Up to 9 levels
Amount you get: 15.8 oz.
What makes this product premium isn't necessarily the price, but the amazing formulation. The BlondMe range from Schwarzkopf is developed around the newest advanced bonding system, that ensures healthy hair despite the damaging bleaching process. For the best results, get the matching developer. This definitely bumps up the cost to a premium level, but it's worth the price.
Strength
The first ingredient is sodium silicate, which is used to control the pH and stabilize hydrogen peroxide, hence enhancing the bleaching process and making it more efficient. The persulfate compounds are further down the list compared to, for example BW2, reducing potential irritation. As the BlondMe formulation strikes a balance between the oxidizing ingredients and the care ingredients, you can expect a high color lift without the associated damage.
Features
While bleach is bleach, and does what bleach does best (damaging hair while lightening it), what makes this formula great are the extra ingredients, not found in other products, that support the health of the hair during the bleaching process.
The inclusion of succinic acid is at the heart of the advanced bonding system. The acid is a patented ingredient that forms bridges in the hair structure, resulting in healthier, less damaged hair. This is very important, as cysteine bridges are broken during the oxidation, resulting in weakened and brittle hair.
The care ingredients such as mineral oil, lysine, arginine, and acrylates copolymer are included in the formula to further protect and restore the hair structure during the extremely damaging oxidation. This results in the hair feeling smooth, healthy, and beautiful after the harsh treatment, significantly reducing hair loss and hair breakage.
One of the ingredients is ultramarine blue color to reduce the brassiness before you even get to the toning stage. Fragrance is also added to create a more pleasant smell during the bleaching process.
What's included in the kit
Only the bleach powder is included, with the developer being sold separately. It's recommended to get 30 volume developer or lower for best results. The powder does have a flexible mixing ratio, so you don't need to panic about slight differences when mixing with the developer, allowing you to make the consistency you want.
---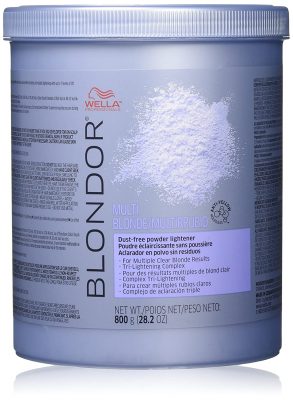 Level of lift: Up to 7 levels
Amount you get: 28.2 oz.
In direct competition to Schwarzkopf BlondMe for the healthiest bleach for your hair, Wella Blondor is almost just as good. While there are no patented ingredients in this formula, nor does it boast a new technology, many still swear by this product as being the best and most effective for bleaching their hair. Despite lack of innovation, Wella Blondor still has a premium price tag, similar to Schwarzkopf Blondme bleach.
Strength
Claiming to lift up to 7 levels, while lower than Blondme, it means it's also more gentle on the hair. The lower strength offsets the damage and the lack of nourishing ingredients, and is therefore a great choice if you're already blonde wanting to lighten your hair further.
For people trying to go from level 1 to level 10, this formula may not be strong enough and may require more bleaching sessions to get the platinum blonde you desire.
Features
Wella is providing a more caring formula compared to many other bleach powders on the market, even if it's not the most advanced formulation. While succinic acid is patented, Wella contains mineral oil, and in particular Oryza sativa (rice) starch, which acts as a conditioning agent that helps in protecting and caring for the hair during bleaching.
Algin may seem like a healthy addition to the formula, however, its main job is to act as a texture improver for the emulsion to help the mixture mix well and glide on the hair. It's also a humectant keeping the bleach moist as it's developing, similar to sorbitol in Clairol BW2.
The formula also contains ultramarine color compounds to minimize the brassy and yellow tones in the hair, marketed as 'anti-yellowing compounds.' This allows you to potentially skip the toner, particularly if you're going to be dying your hair afterward.
What's included in the kit
You get the dust-free bleach powder supplied in a tub, and you will need to get the developer separately along with the required tools. While you can use any developer with the bleach, the manufacturer does advise using the Koleston developer for best results.
---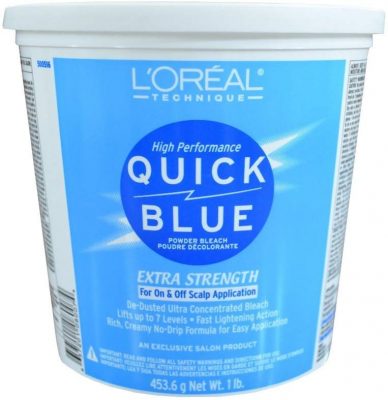 Level of lift: Up to 7 levels
Amount you get: 16 oz.
L'Oreal is the pioneer in hair highlighting, with the founder of the company discovering that hydrogen peroxide is a safe way to lighten your hair. The L'Oreal Quick Blue is a great bleach in its own right, even though it doesn't compete on the same level as the Blondme and Blondor ranges. It doesn't contain any nourishing ingredients, yet it still does leave your hair feeling soft.
Strength
This is a medium-strength bleach, lifting up to 7 levels in one session. The weaker strength, as compared to BlondMe or BW2, means less damage to the hair, which is important considering the lack of care ingredients. Overall this is a formula that will lighten your hair while minimizing the damage, and doing it for less cash than some of the competitors.
Features
The bleach powder is de-dusted and contains ingredients that provide a non-drip cream when mixed with a developer. The kaolin in the formula keeps the moisture to prevent the cream from drying out as you work.
Urea is included to soften the keratin in the hair, hence preventing the hair from feeling brittle and damaged. This bleach isn't called Quick Blue for no reason – it contains ultramarine color compounds to neutralize the warm brassy tones in the hair.
What's included in the kit
Only the powder is included, meaning you need to get the appropriate developer yourself. The recommended developer strength would be 20 or 30 volume such as L'Oreal Oreor.
---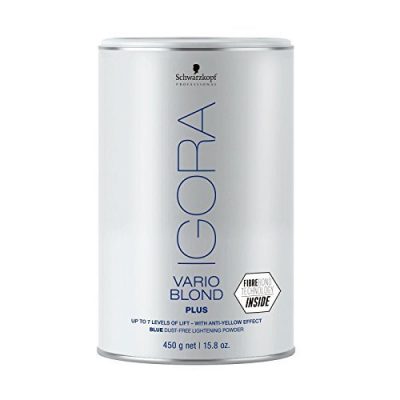 Level of lift: Up to 7 levels
Amount you get: 15.9 oz.
If you're trying to lighten your hair, but not necessarily go from black to platinum blonde, this is a good alternative to the BlondMe bleach. As this product is also from Schwarzkopf, it includes care ingredients and fiber bond technology to minimize the damage and give you beautiful healthy blond hair.
Strength
At up to 7 levels of lift, this bleach isn't as strong as the Blondme bleach which claims up to 9 levels of lift, meaning it's perfect if you want to lighten your hair without wanting to go very pale blond. Not only is it weaker, hence reducing the oxidative damage, but it's still packed with care ingredients that will ensure your hair feels soft, smooth, and deliciously healthy.
Features
As is standard for Schwarzkopf bleach products, the Igora bleach has integrated fiber bond technology to minimize the damage, by forming a protective layer around hair bonds.
The patented succinic acid is one of the ingredients, which forms new bonds resulting in strengthening of the hair strands. The bleach also contains mineral oil, lysine, and arginine which nourish the hair, while the ultramarine blue neutralizes yellow tones.
What's included in the kit
You get almost 16 oz. of dust-free bleach powder. While you can use any developer with this powder, Schwarzkopf recommends Igora Royal 30 volume developer.
---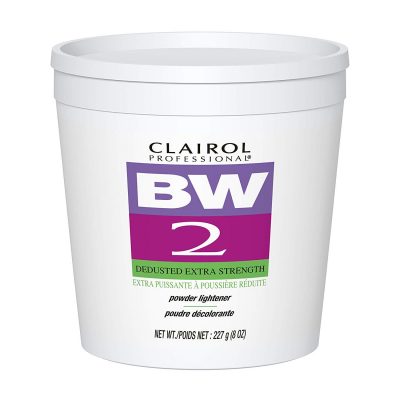 Level of lift: No information available
Amount you get: 8 oz.
From Clairol's bleaching range, the BW2 is the strongest of them all. It's very popular among women with black hair, where milder bleaches won't do the job nearly as well.
Strength
While Clairol doesn't make any claims regarding the lift level, you can rest assured that this is the strongest stuff you can get your hands on. Due to its strength, the product is recommended for off scalp applications using a 10 or 20 volume developer. If, however, you do have luscious, healthy, resistant hair, you may need to use a 30 or 40 volume developer.
Features
The bleach is de-dusted to minimize the risk of inhalation of the powder, which would be extremely irritating to the respiratory system. The formula also contains sorbitol, which acts as a humectant, meaning it attracts moisture. This significantly increases the drying time, keeping the strands moist, and therefore developing, throughout the process.
Specifically formulated with strength in mind, this bleach doesn't contain any blue or violet pigments that would neutralize the yellow undertones. Because of this it's highly advised to get a toner to achieve a good result.
What's included in the kit
You get an 8 oz. tub of the bleach powder, meaning you will need to obtain your own mixing bowl, gloves, and developer.
---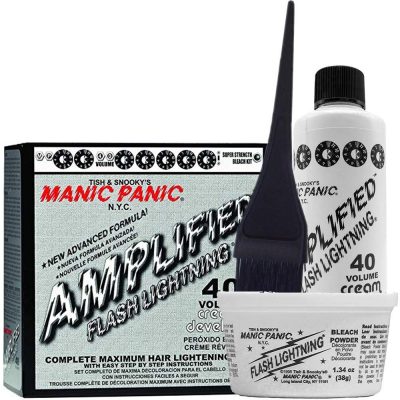 Level of lift: Up to 7 levels
Amount you get: Bleach powder – 1.34 oz., developer – 4 fl oz.
If you require more bleaching power than the Manic Panic 30 volume kit, then this is for you. The formula is vegan and cruelty-free, while providing more lift and bleaching your hair much faster.
Strength
While this is great for dark, resistant hair, and off scalp bleaching, the 40 volume developer is way too strong for lighter hair (level 3 or higher). This extra strength has a much greater chance to damage your hair and leave it brittle.
This can be an issue for some, as unlike Clairol BW2 where the bleach itself is strong, allowing the color molecules to be removed more effectively, increasing the developer strength increases the risk of damaging your scalp and hair.
You can, however, dilute the developer to your liking with water to obtain the volume you want.
Features
Although the formula is cruelty-free regarding the environment, it's not cruelty-free regarding your hair. As there are no caring ingredients included like in the Schwarzkopf BlondMe and Wella bleach powders, most likely your hair will feel dry and damaged. Particularly in combination with the high volume developer, it has the potential to fry your locks and leave them damaged.
What's included in the kit
The kit includes everything you need to bleach your hair – brush, mixing bowl, cap, gloves, bleach powder, and developer. The bleach powder is the same stuff as in the 30-vol kit, but the supplied developer is stronger, at 40 volume.
---

Level of lift: Up to 7 levels
Amount you get: 7 oz.
From Wella's Blondor range you get to choose whether you want to use the powder or this cream. This lightener is specifically designed for on-scalp applications, as it's much more gentle than the Blondor powder.
Strength
While this cream formula offers you up to 7 levels of lift, it's much more gentle on your scalp. The quality of ingredients is just as high as in the powder, however the formula was adjusted for skin contact, making it the best option for bleaching your roots.
Features
As the bleach is in a cream formula, it contains liquid care ingredients, such as nourishing oils, as well as hydrophobic (water-hating) ingredients. Anti-irritant and anti-bacterial compounds, bisabolol and farnesol, are included to care for the scalp during the bleaching process.
While it may sound that you can simply apply the cream bleach directly to your roots, this is not the case and you will need to mix this lightener with a developer.
What's included in the kit
The pack contains a 7 oz. tube of oil-mixed cream lightener. It's recommended to get a Koleston developer, however, you can use any brand developer as long as it's a 20 volume or lower.
As the tube contains quite a small amount of the bleach, it is the perfect product for root touch-ups.
---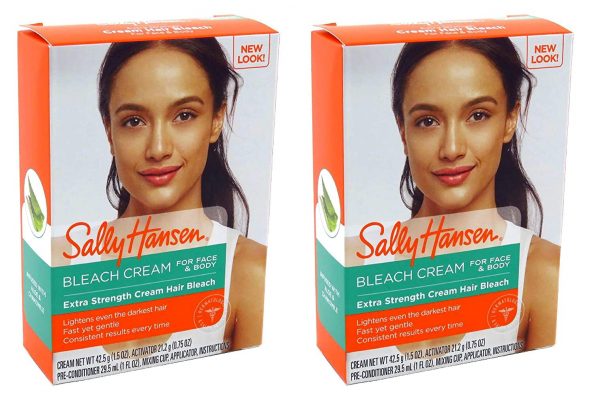 Level of lift: Very low
Amount you get: 1.5 oz.
If it's not your head hair that you want to bleach, there are products available for body hair such as this Sally Hansen cream bleach. As normal hair bleach is much too strong to use on your body, this bleach is formulated specifically to lighten any facial hair, eyebrows, arm hair, and leg.
Strength
Much more gentle than the standard hair bleach, this uses only hydrogen peroxide for the bleaching process. There are no persulfate compounds that are found in normal hair bleach, making this suitable for facial use. However, if your hair is very dark and naturally resistant, you will most likely need more than one bleaching session if you want to dramatically lighten the hair.
Features
The included preconditioner contains witch hazel and alcohol to shrink the pores in order to minimize the irritation to the skin. The bleach itself contains mineral oil, aloe extract, and tocopherol (vitamin E), which will ease the irritation and prevent excessive skin dryness after the treatment.
Just like with head hair, the bleaching process can reveal warm undertones, and you may end up with orange or yellow eyebrows. As the formula doesn't contain any toning ingredients, you may need to tone or dye your eyebrows the correct color.
While suitable for use on the face and body, don't try to bleach your eyelashes or pubic hair: it's just not a good idea.
What's included in the kit
The pack includes bleach cream, activator powder, pre-conditioner, a mixing cup, and applicator, which is everything you need to achieve great results. The cream does contain parabens as preservatives, which can be a major downside for those who are trying to eliminate those compounds from their beauty routines.
---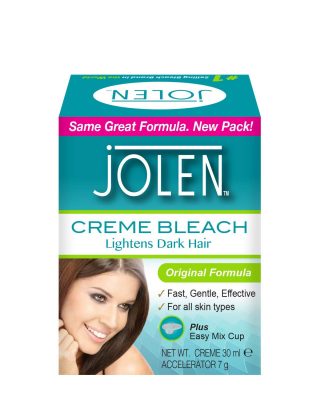 Level of lift: Very low
Amount you get: 1 oz.
While Jolen Bleach is a popular choice and is not tested on animals, there is nothing about this bleach to write home about. It does bleach body hair well, but the formula is very basic, particularly when compared to the Sally Hansen bleach.
Strength
As the bleach is formulated for body use it's more gentle, yet still effective. If you have very dark hair, you may need more than one bleaching session to get it to a desired level of blonde.
Features
It's a very basic formula, containing only the necessary ingredients for the bleaching. It doesn't contain any care ingredients like the Sally Hansen bleach does, meaning it may be a little drying and potentially irritating. The natural smell of bleach isn't masked either, which can be off-putting for some.
What's included in the kit
In the pack you will receive cream bleach, accelerator, mixing cup, and a spatula. Upon mixing the bleach and accelerator, you will obtain a thick cream that is ready to apply.
---