Some people get tattoos purely for aesthetic value, but the majority of individuals like to attach some meaning to the different designs. Matching tattoos are a very popular way to officialize a bond shared by two people – or more!
Matching tattoos can fall into two categories – tattoos that look the same, and tattoos that complement each other. Either way, there are some amazing options that we will explore in this list.
How to Choose Your Ideal Matching Tattoos
To be certain you're picking the best matching tattoo for you, be sure to consider these important elements.
Think Deeply About Who You Match With
You should get a matching tattoo only with people who will stay in your life for as long as your tattoo will, like family, long-term friends, or a spouse. Keep in mind that it is always a risk to get a matching tattoo with anyone, because life has many twists and turns.
But you should always think positively, and although you should keep the volatility of life in mind, if you feel in your heart that your decision is right, then you should go for it.
Consider Celebrating a Major Event
Couple tattoos are often done on important anniversaries or as a wedding present. Friends and family tattoos can be done at any time, but people usually prefer to get them on special occasions as well.
Keep Your Budget in Mind
The price will depend on how detailed and big the tattoo is, but most options are very affordable since, in the majority of the cases, matching tattoos tend to be on the smaller side. How much color or shading the tattoo involves is also a factor, as is the expertise and reputation of the artist you choose.
Select a Style That Works for Both of You
When choosing the design, you must keep in mind both people's taste, style, and life situation. You wouldn't want to get a tattoo on a place you can't hide with someone who can't have visible tattoos where they work.
Getting something this permanent with someone can even strengthen the relationship between you two since no matter what happens, you will always share something.
For each design we've chosen, you will learn how much it would cost to get something like it done, and who often gets it. Some designs are tailored to mothers and daughters, others for sisters or couples, and some work for everyone.
1. Wedding Vow Matching Finger Tattoos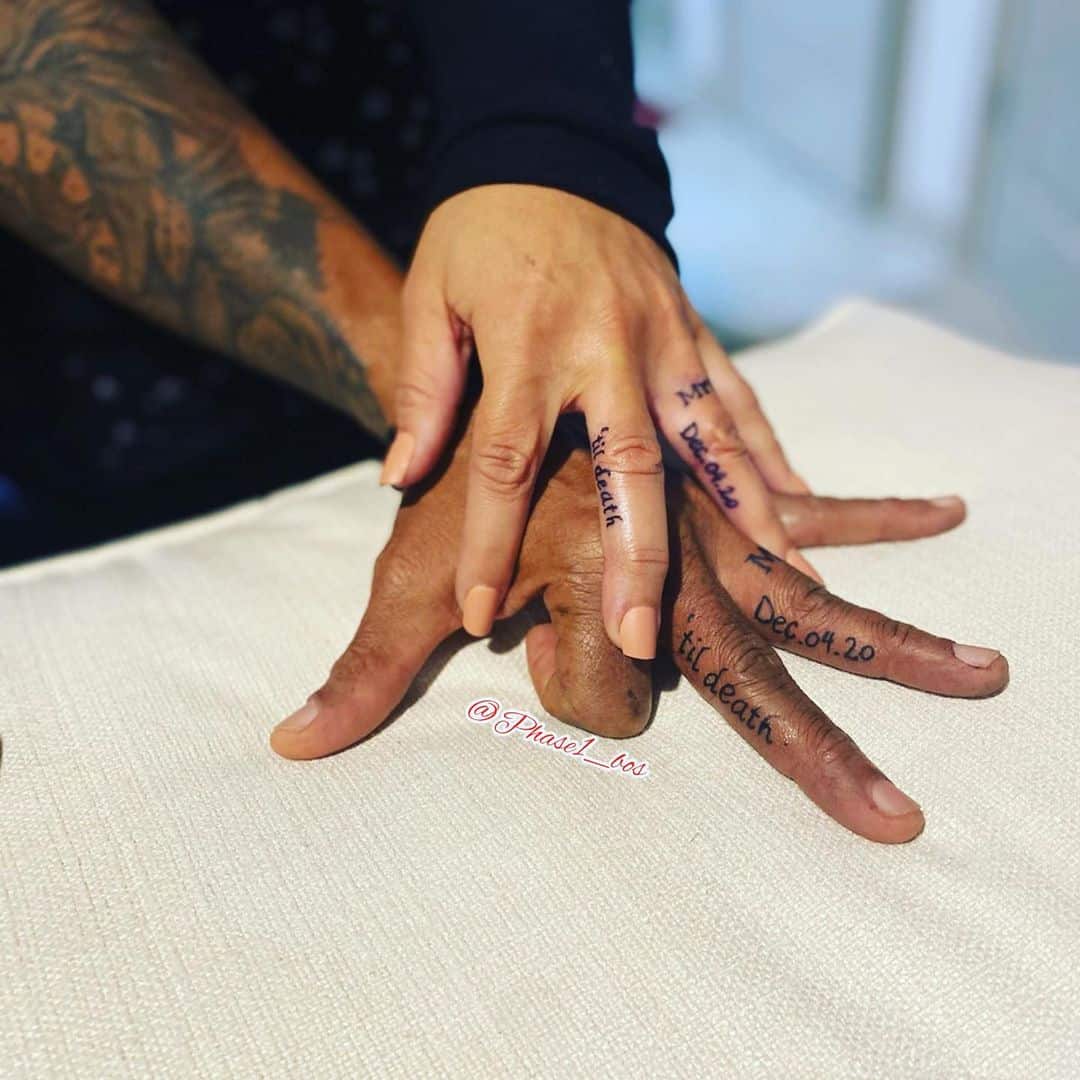 For the past few years, a new trend has taken over the wedding scene – finger tattoos. Some people do not like wearing jewelry or their job simply doesn't allow it, so people started tattooing a wedding ring on their finger.
This is a lovely trend, and you can get creative with it. In the image, you can see that the couple tattooed Mr and Mrs respectively, where the ring would go, and they didn't stop there; they added the date they got married and the famous promise "'till Death".
Getting something like this would surely be cheaper than an enormous diamond ring, but it is as, if not more, meaningful.
2. Sisters' Birth Dates Matching Tattoos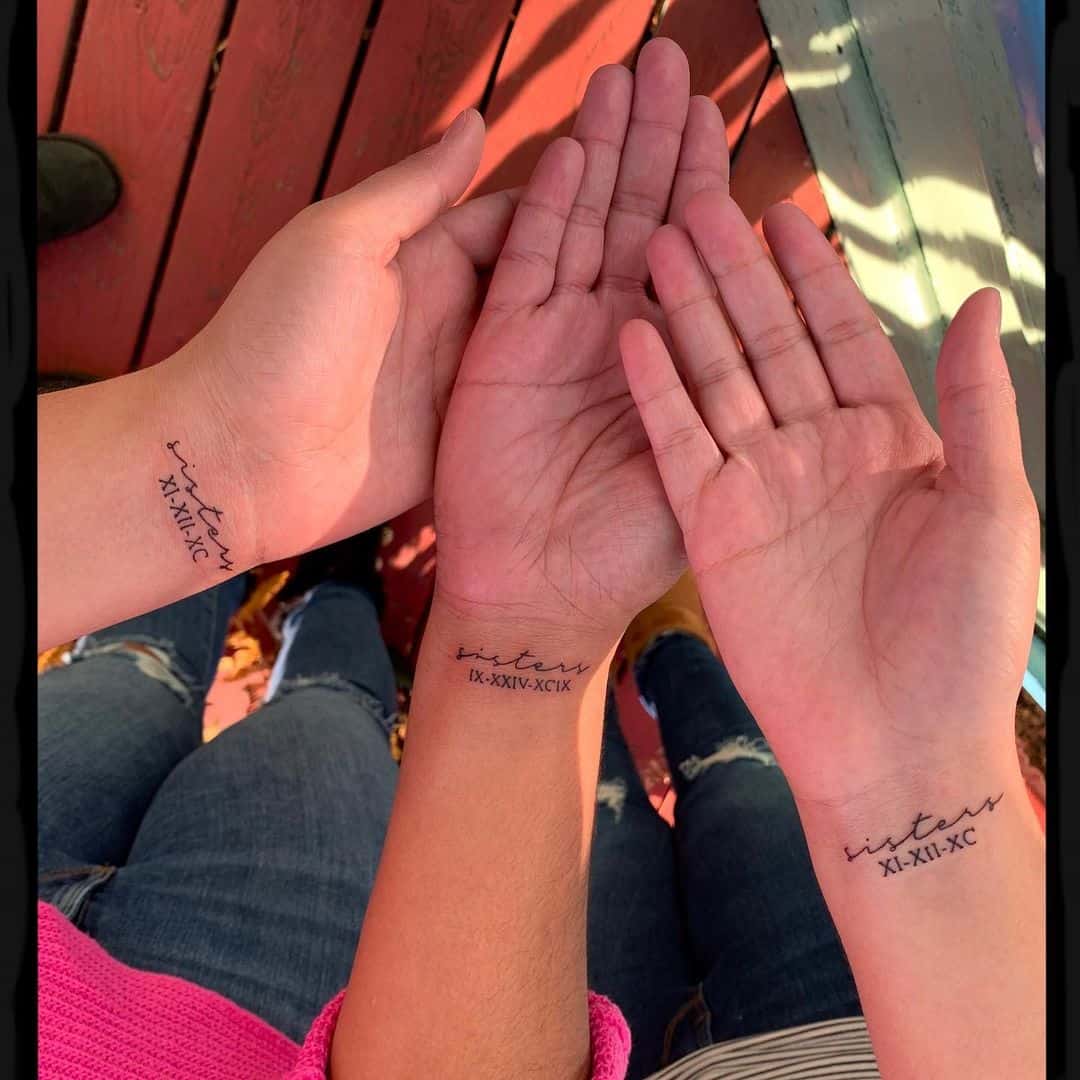 These three sisters tattooed the word "sisters" with a beautiful font and underneath added their birthdates in roman numerals. This is a fashionable idea, and even though roman numerals and the font they chose is very different, it works well together.
You can adapt this design and get it with your best friends and add the date you met instead of your birthdates.
This would be a very affordable look to achieve, and since it's not massive, you don't have to worry about it getting in the way of your professional life.
3. Monkey and Banana Matching Tattoos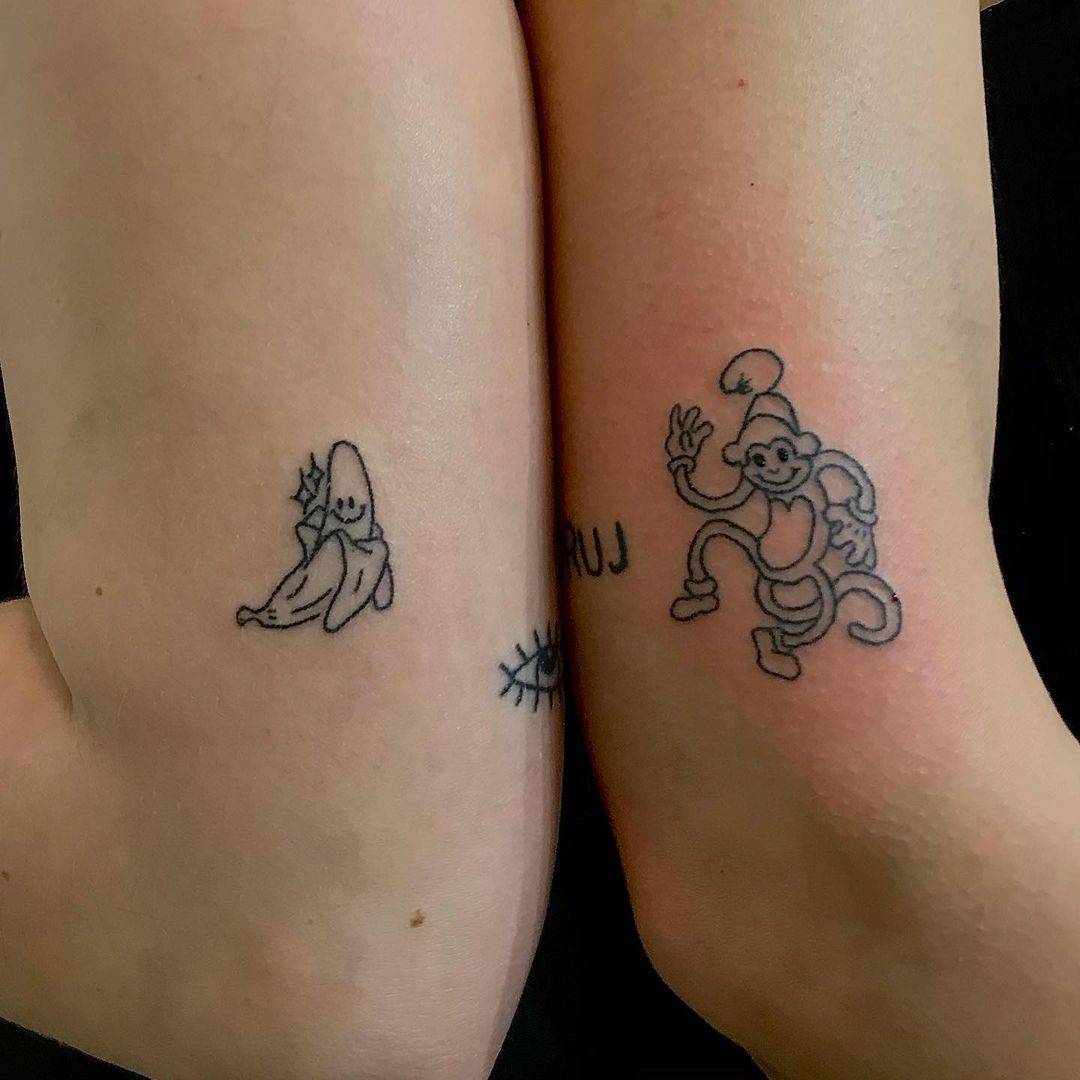 These tattoos of a monkey and a banana are a perfect example of tattoos that complement each other. This would suit a pair who is always up to some harmless mischief and loves to laugh together.
This design doesn't involve colors or shading, and since it works as a small tattoo, the price would be quite low. Get this with a relative, a friend, or even a spouse – anyone who is always ready to have fun.
4. Infinity Symbol With Rose Matching Tattoos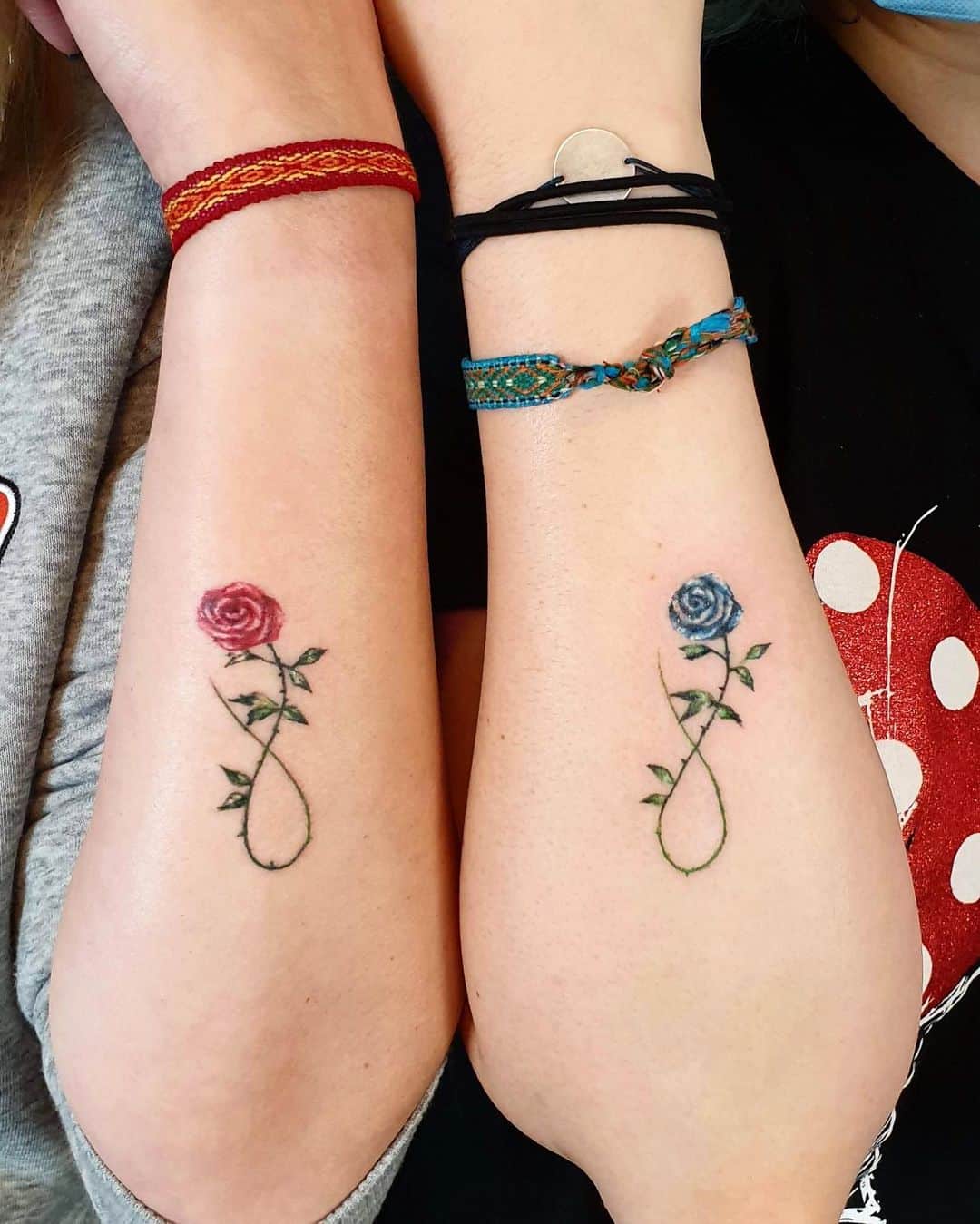 There was a time when infinity symbol tattoos got so popular that almost everyone who likes tattoos either had one or incorporated it into another design. The trend has weakened since then but that doesn't mean that the tattoos are any less meaningful.
This design of an infinity symbol, formed by a rose, is stunning. And, just like in the picture, you can make the roses any color you wish. It doesn't even need to be a rose! A sunflower, orchid, or any other flower would look delightful.
You can get something like this with your sister, mother, or best friend, and you don't have to worry much about the price; despite the colors, this design is small enough to be affordable for everyone.
5. ET Matching Tattoos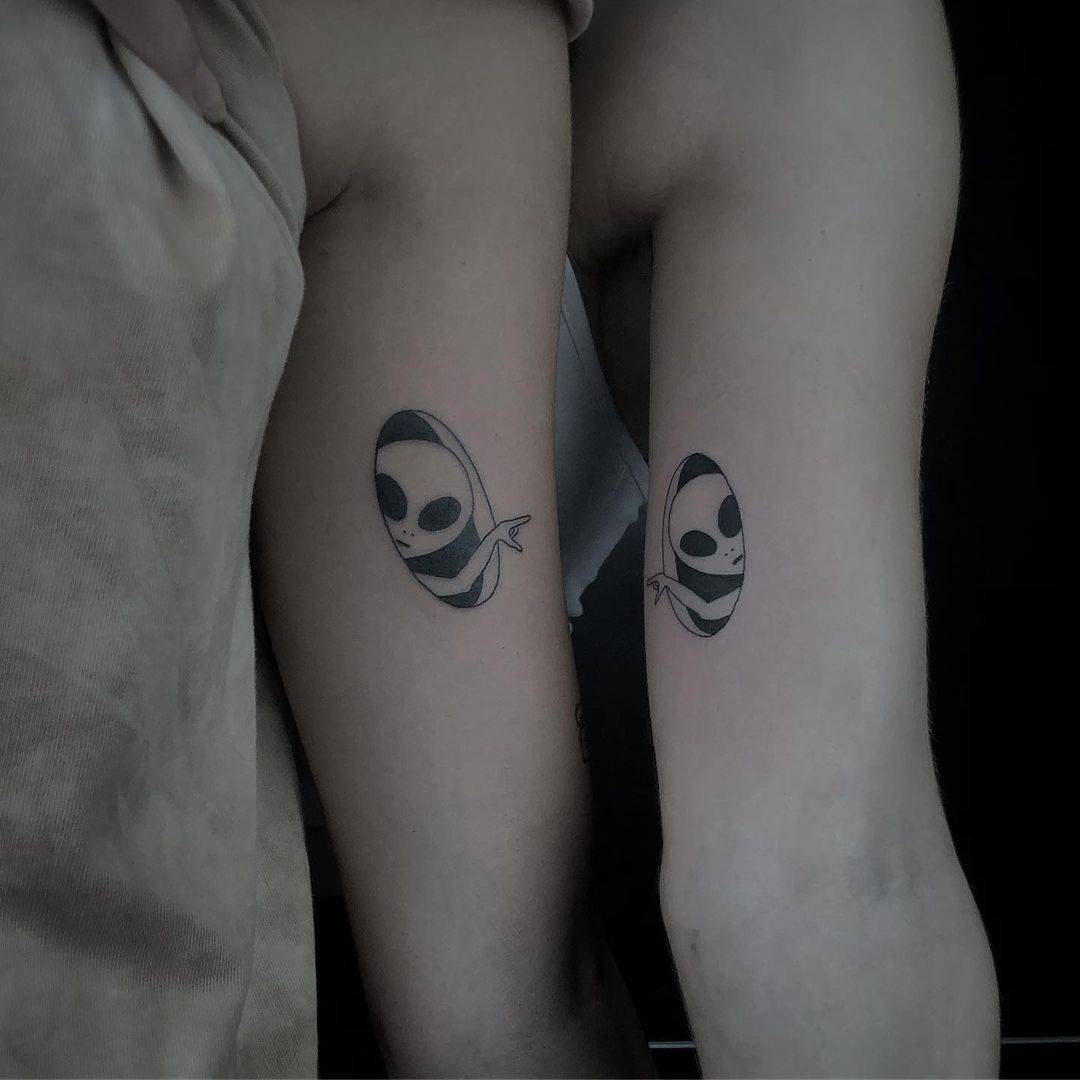 These cute little matching aliens are the perfect option for you and that super crazy person (in a good way)! You're always up to no good, and everyone knows that when you two are going out, nothing is off the table!
Prove you're out of the ordinary and at least a little bit extra(terrestrial) by getting one of these fun and adorable tattoos.
6. "Queen" With Crown Matching Tattoos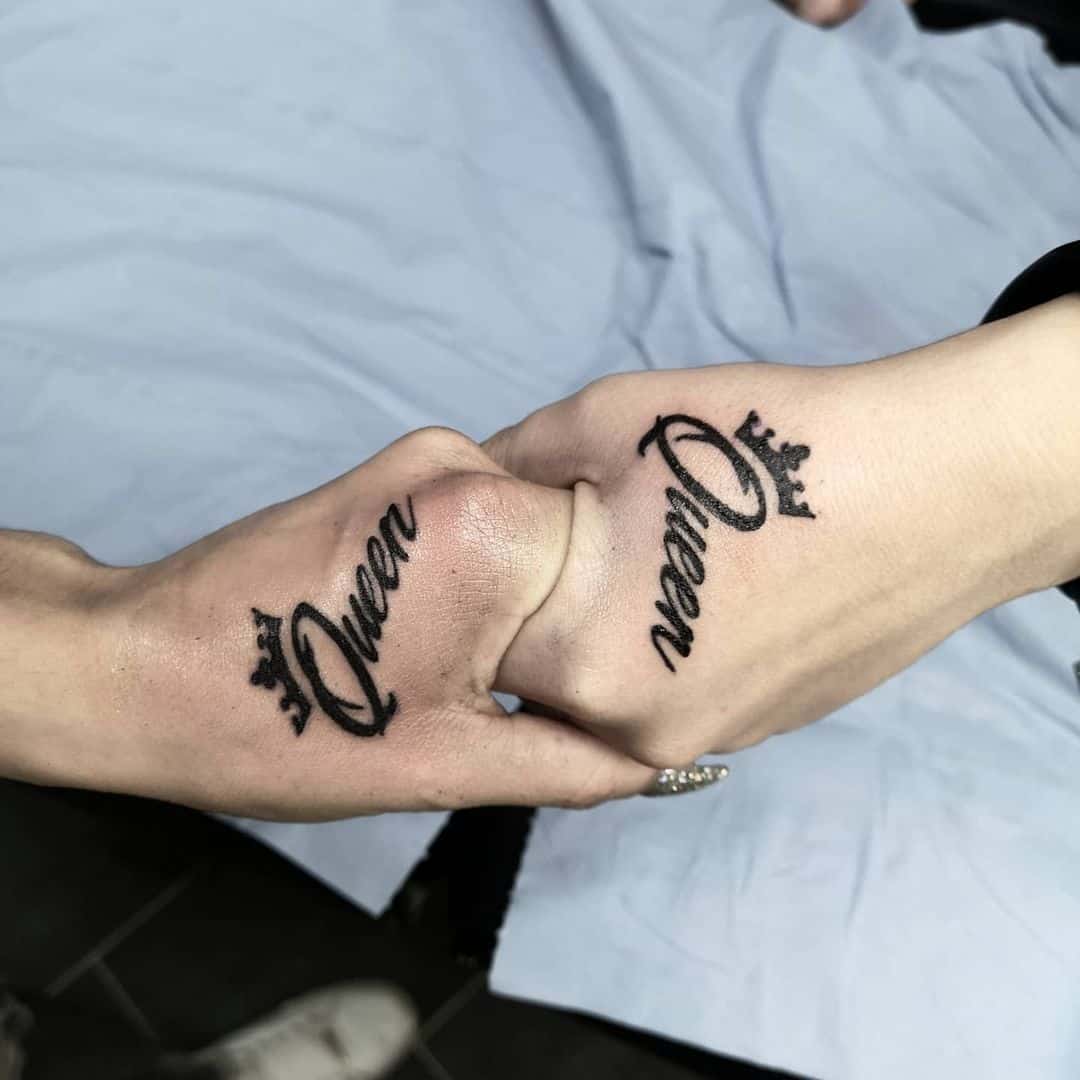 Queen nowadays doesn't just mean ruler of a country; it is also used as a compliment or to refer to someone you love dearly. This design of the word queen with a crown will look amazing and fitting for couples, or even best friends!
The size and location of the tattoo will influence the price, but as a rule, plain black tattoos are on the cheaper side of the spectrum.
7. Patrick and SpongeBob Matching Tattoos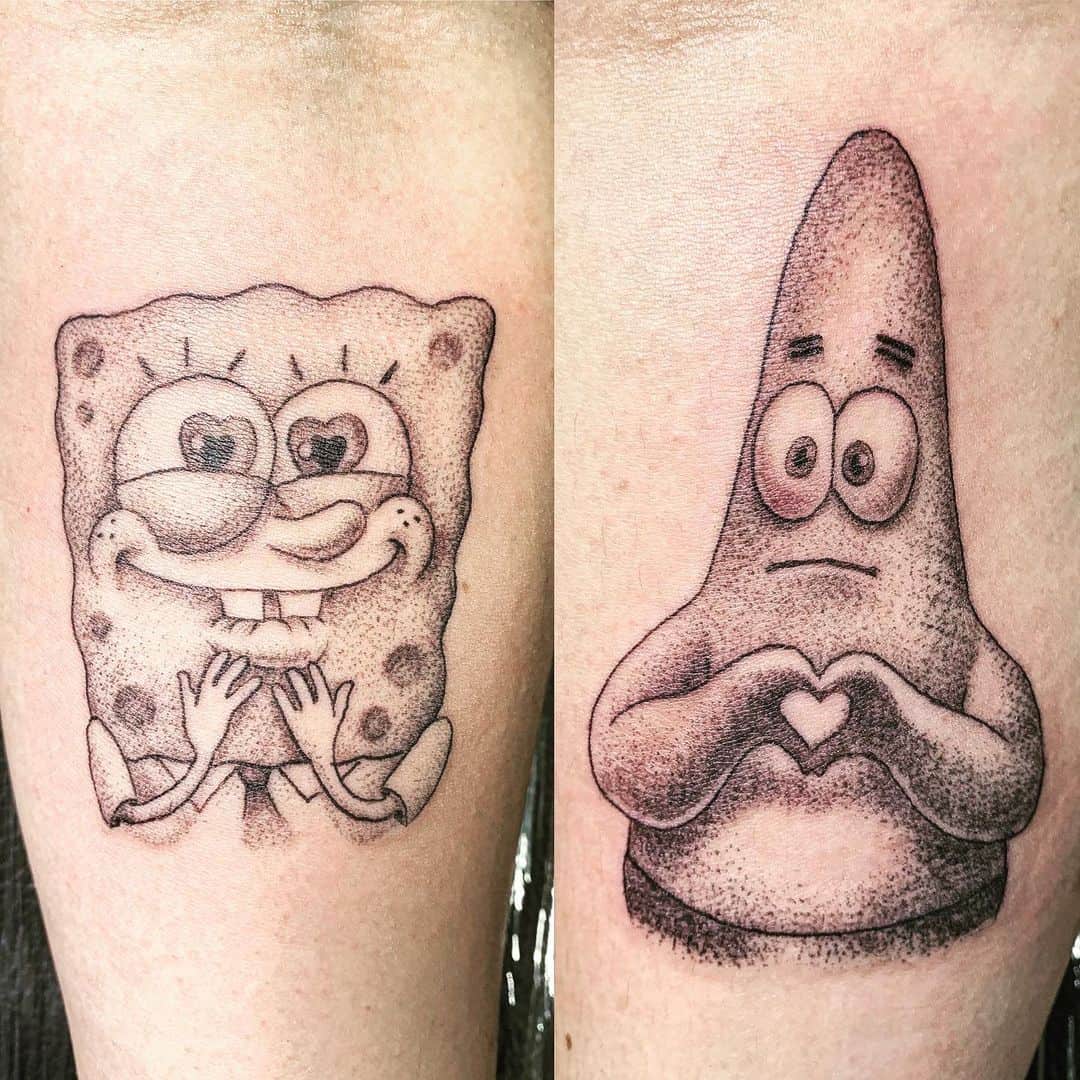 Patrick and SpongeBob have a special bond. Separately, they are a bit crazy, but always held back a bit by others – but when they are together, they go bonkers! You can see that they're most like themselves when they're together. If you have someone like that in your life, this cute pair may be the perfect option for a matching tattoo!
If price isn't an issue, these tattoos will look even better when done in color.
8. Sunflower Matching Tattoos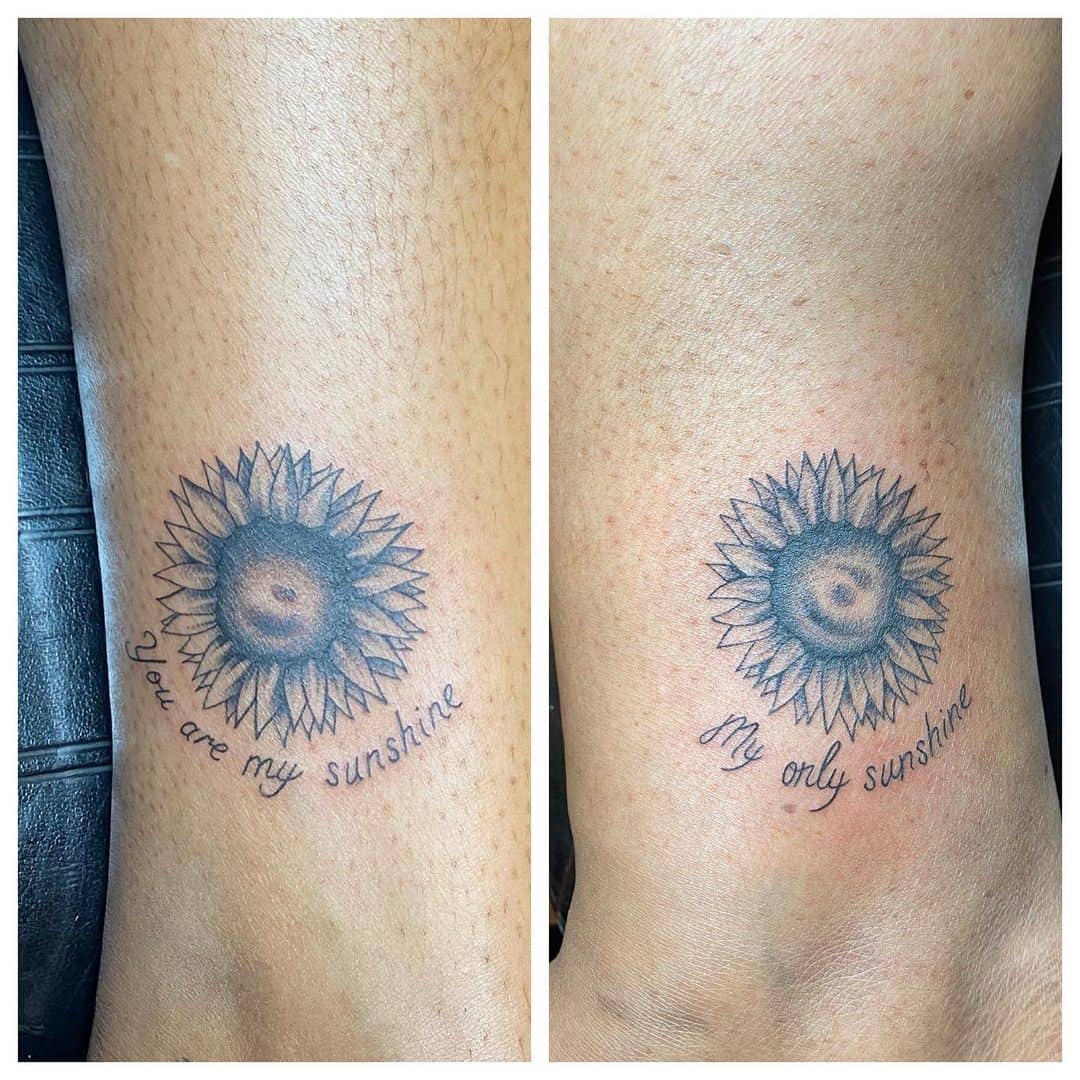 Here's another versatile design that would work for best friends, siblings, relatives, or spouses. Sunflower tattoos symbolize romance and everlasting love, and they look stunning whether you want colors or not.
These matching tattoos also have the sentences "you are my sunshine" and "my only sunshine," which work well together and separately. This is a cheap and simple tattoo option for all tastes.
9. Lion and Lioness Matching Tattoos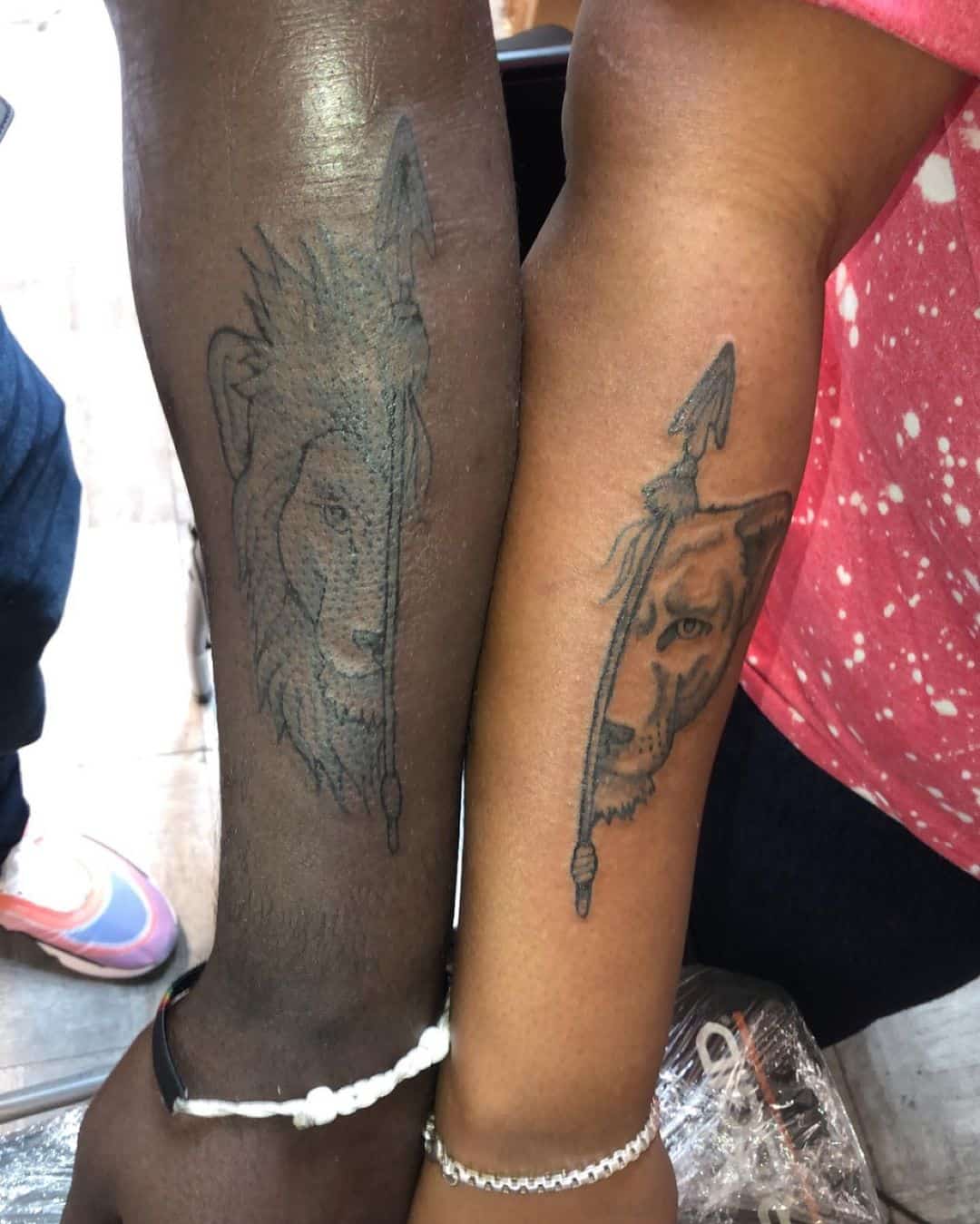 The lion is notably known as the king of the jungle and by default, but not without merit, the lioness is the queen. These matching tattoos feature a split-in-half portrait of a lion and one of a lioness, each meant for husband and wife, respectively.
This is one of the best matching tattoos to get with a romantic partner because it complements well together whilst still working as an individual tattoo. This design is complex, and it would take a while to finish, so it is a pricier option.
10. Flying Bird Silhouettes Matching Tattoos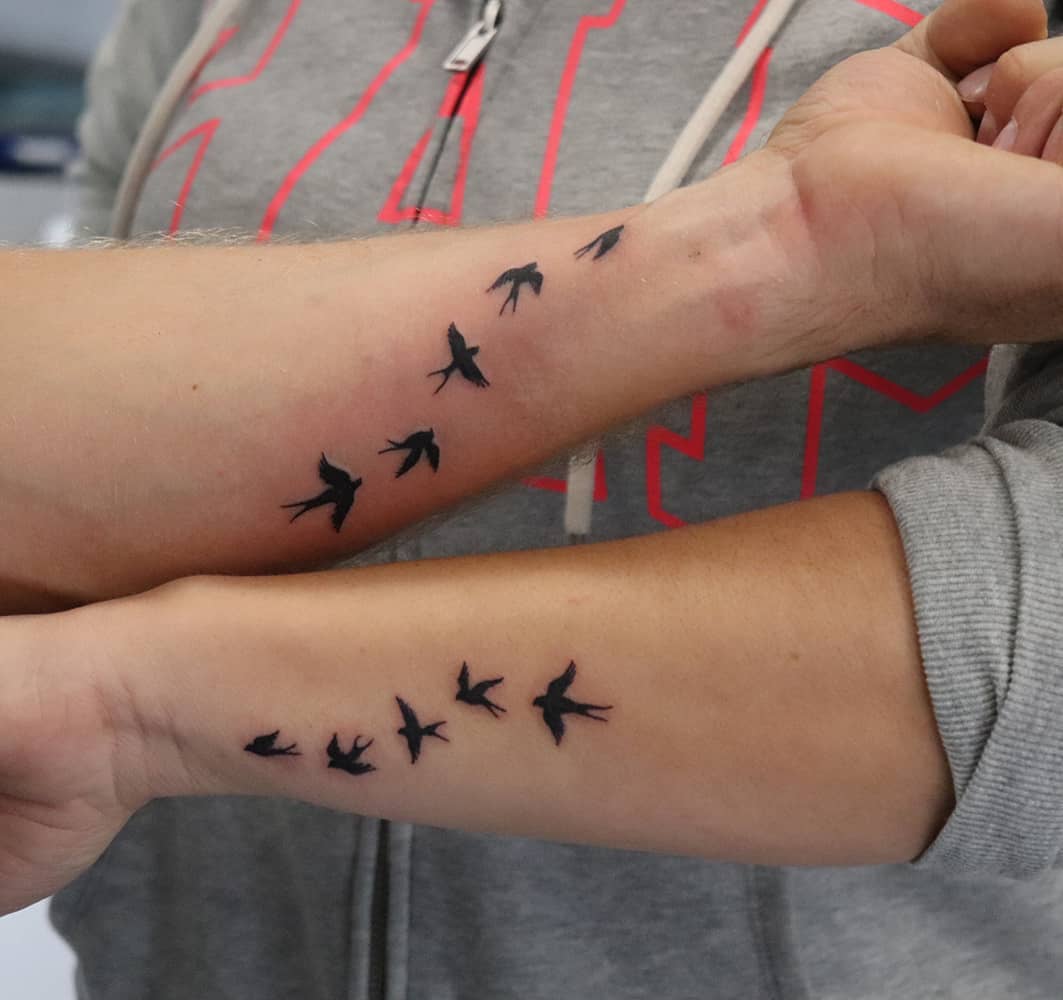 Bird tattoos symbolize freedom, travel, and courage. When thinking of these things, if someone came to mind straight away, then bird tattoos are the perfect matching tattoo option for you two.
These tattoos of a silhouette of a flock of birds are a cheap and fashionable idea you should consider, as it has meaning, it looks great, and it works perfectly by itself as well as together. This is a cheap look to achieve, and every tattoo artist could do it.
11. Geometry Design Matching Tattoos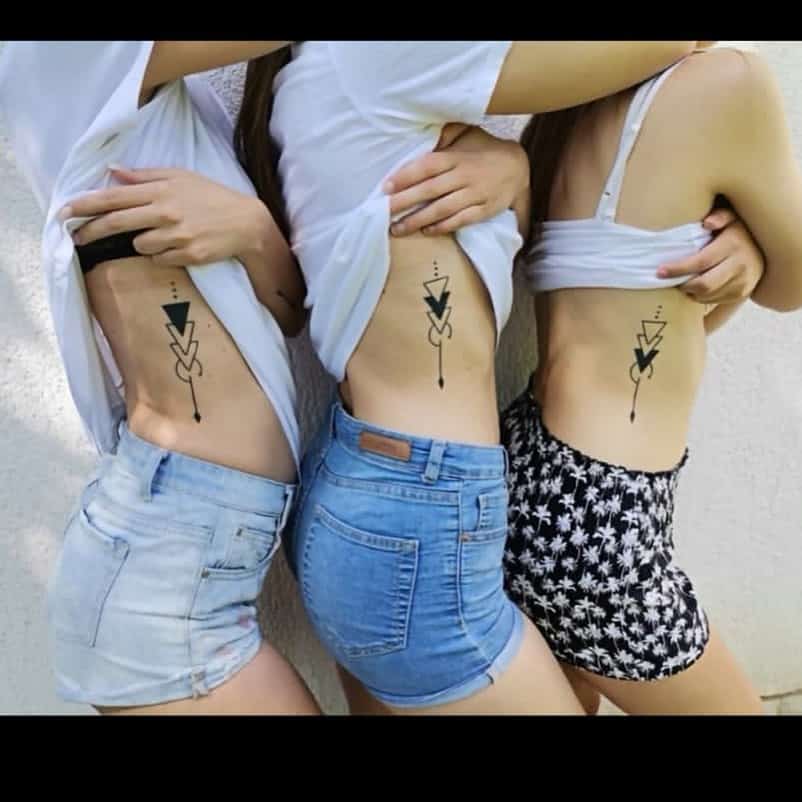 The good thing about designs involving geometric shapes is how much you can play around with it; you can add a triangle here, a circle there, or parallel lines, and it will look like a work-of-art in the most fashion-forward way possible.
These matching tattoos were gotten by three sisters, but you can get it with anyone. Since there is no underlying, deep meaning, and it just looks amazing, you can get it with a friend, relative, or spouse. It can be as cheap or as expensive as you please, but generally, these designs only use black ink which already cuts the price down a bit.
12. Line Drawing Portrait and Date Matching Tattoos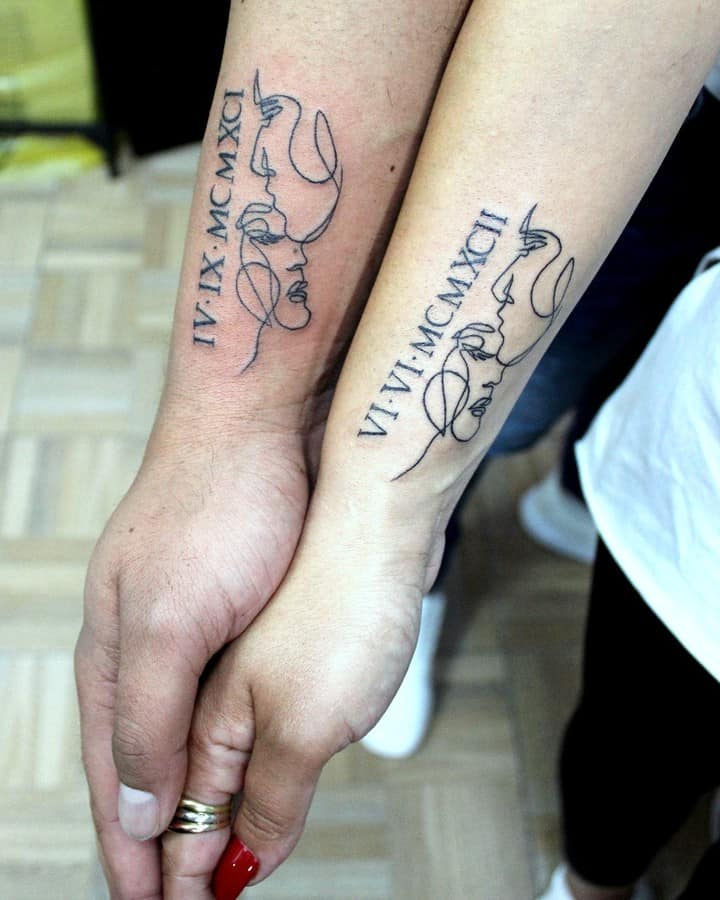 Linework is really popular both for being inexpensive and for allowing you to get creative and create amazing designs. This one is done using a one-line only technique, and the seemingly chaotic entanglement of lines creates two faces in a romantic pose.
This is perfect for couples, and you can add a special date, initials, or leave it as it is. Something like this would be cheap to achieve, yet it looks classy and artistically expensive.
13. Half Mandala Matching Tattoos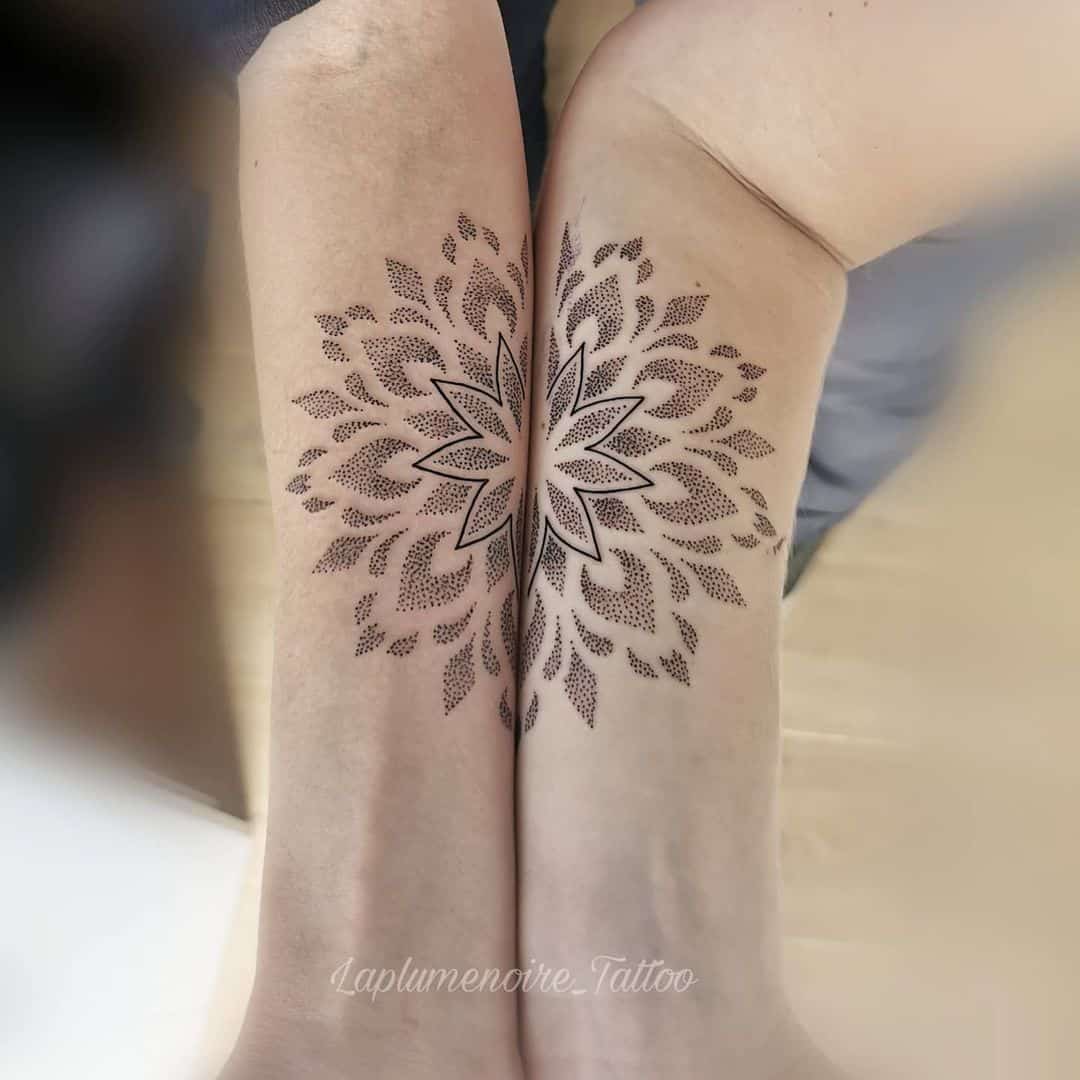 Mandala tattoos symbolize perfection, eternity, and balance. Although many people don't care much about the meaning when it comes to mandalas, because they are so stunning that anything else is overlooked.
Mandalas are everywhere nowadays, from clothes to jewelry, and even in adult coloring books. They're therapeutic and most definitely a trend that is here to stay for a long time.
These matching tattoos split a mandala in half and each person gets half. When joining arms, the mandala is complete, and the effect is stunning. This is a slightly pricier option, but mandalas are versatile, so you can get a simpler version, or even a more detailed version. You could even add color!
14. Simple Heart Outline Matching Tattoos
If you both would love a simple yet charming design, consider this cute outline of a heart. Not only is it completely adorable, but it's a sweetly subtle reminder of the love you both share. This modest design is a great choice for a first tattoo, or for those who work in environments where tattoos must remain hidden.
Since it simply expresses love and affection, it's also a good option for a wide variety of relationships. This would work equally well for friends, siblings, romantic partners, or a parent and their child.
15. Colorful Heart Matching Tattoos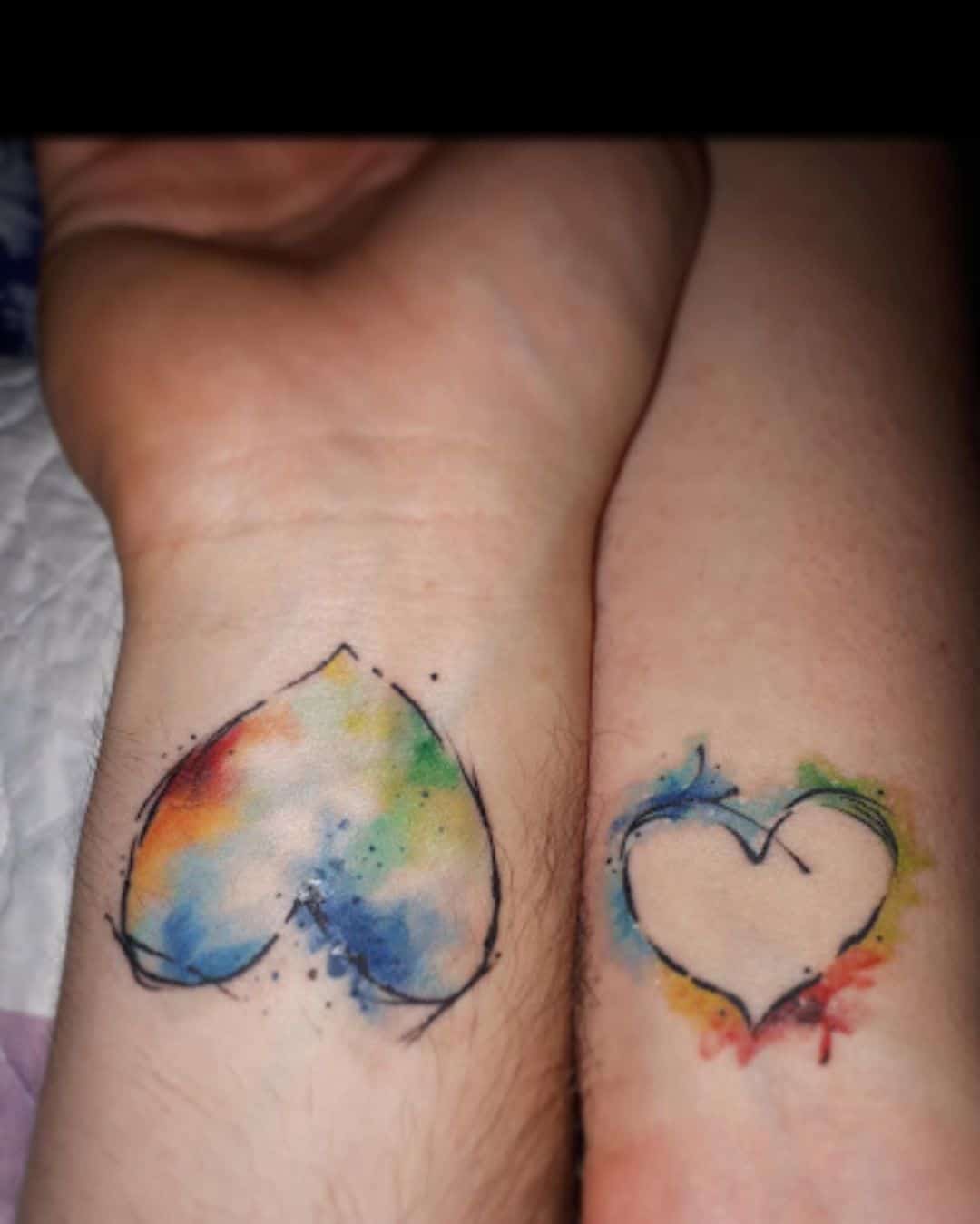 These tattoos feature two hearts, done in a seemingly sloppy way that works amazingly and adds some character. Then the color is the real twist: one tattoo is colored on the inside and the other one on the outside, making it look like you took a piece of someone and put it on someone else. And that is exactly the point – telling someone they're a piece of you.
Colored tattoos tend to be pricier, but this one is small enough that it still should be a relatively affordable option.
16. Special Location Matching Tattoos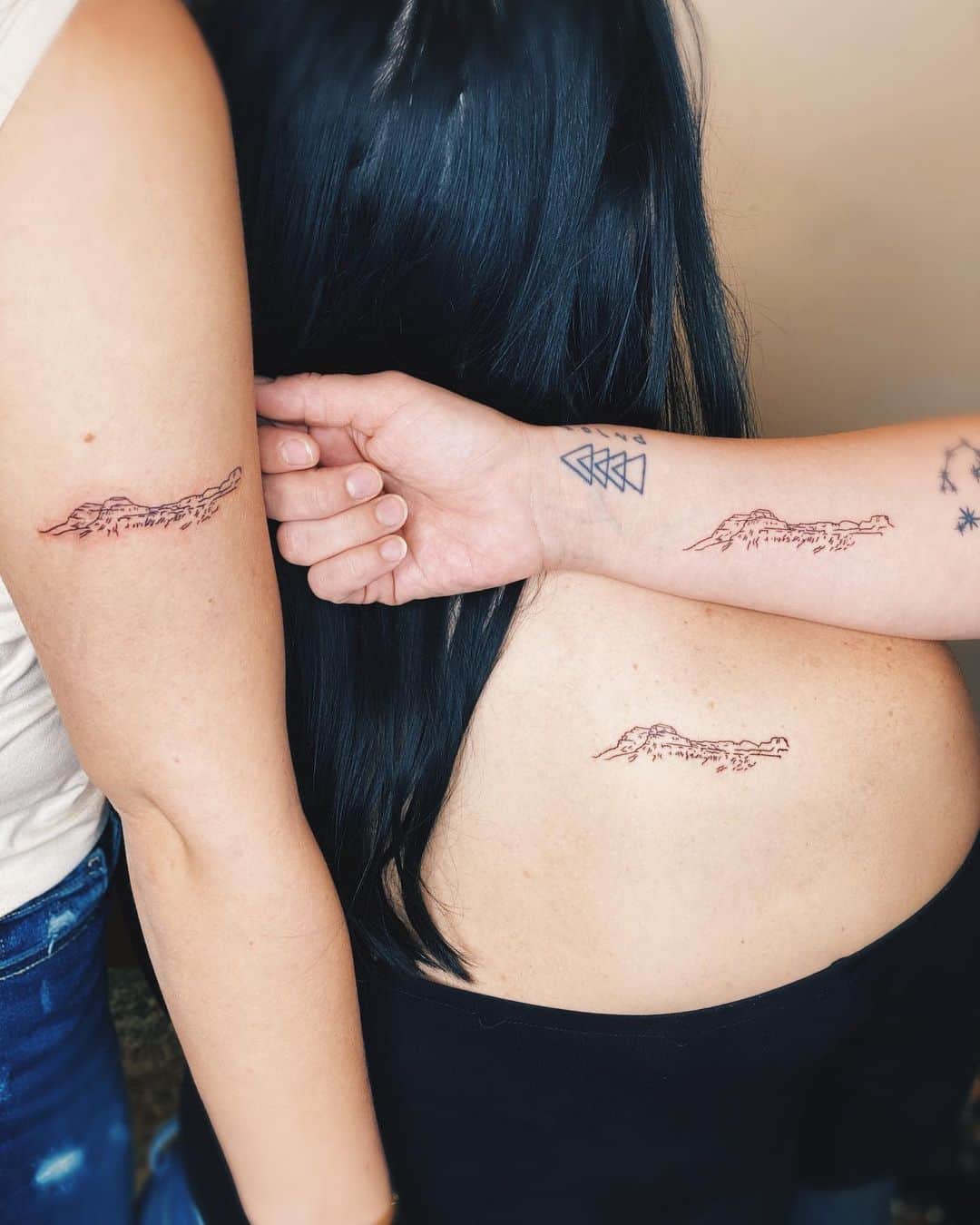 These three best friends tattooed the place where they met, and we have to admit, it is an original idea that is worth a try. This would also work wonderfully for spouses; you can feature the place you met, had your first kiss, or got married.
Whether you met on a landmark, a sunny vacation, or simply at the park, line drawings are versatile and look fashionable no matter what they depict. Plus, something like this may be pretty cheap to achieve.
17. Sun and Moon Matching Tattoos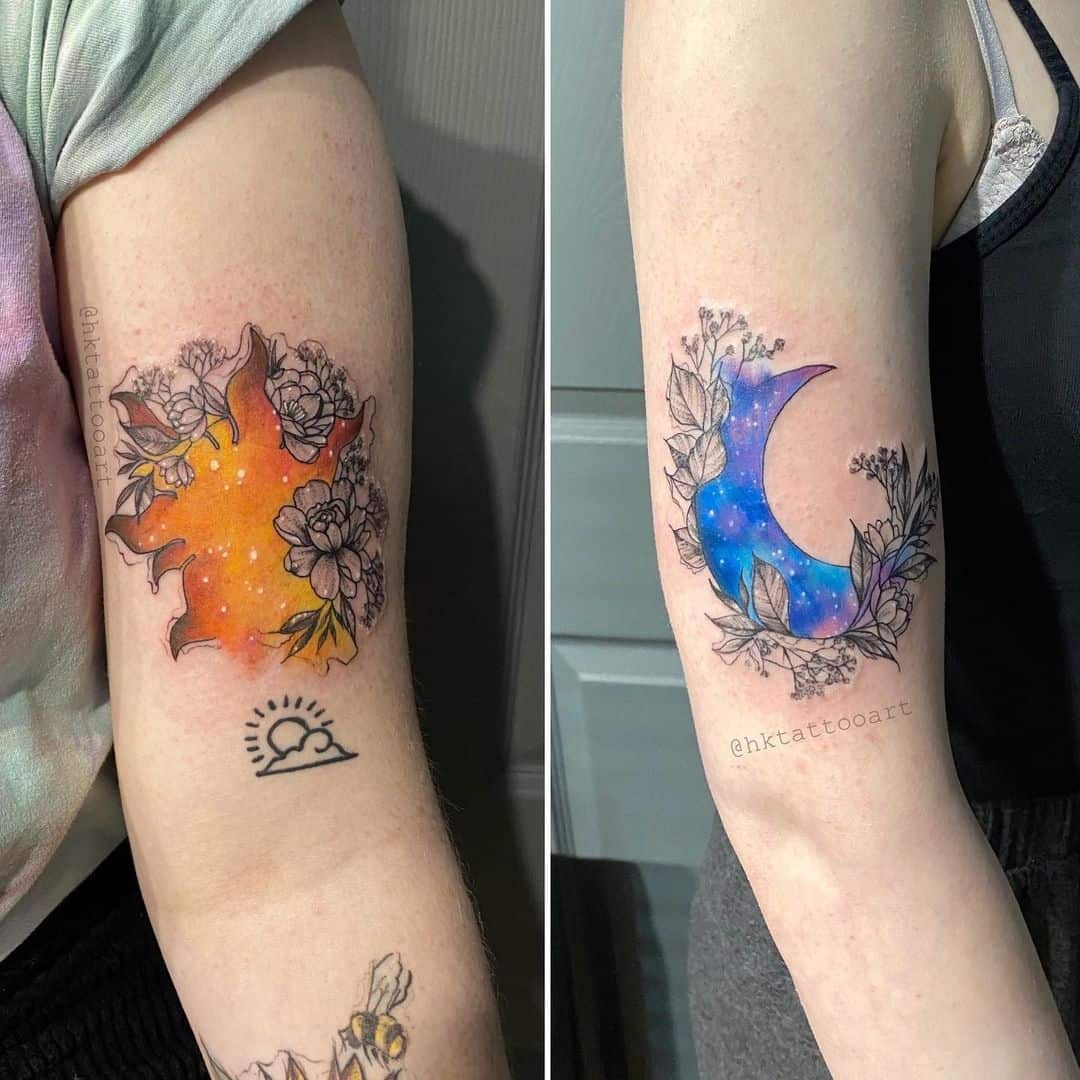 The sun and the moon, day and night… Opposites, yet one doesn't exist without the other. This design is beautiful and would be perfect matching tattoos for best friends or siblings.
Something like this would be expensive, unfortunately. The details, the colors – it's a work of art. But all those things add to the price. If you want to use the sun and moon tattoos anyway, but your budget is low, you can get a small line drawing, or something like in the image but on a smaller scale.
18. Sugar Skulls Wedding Matching Tattoos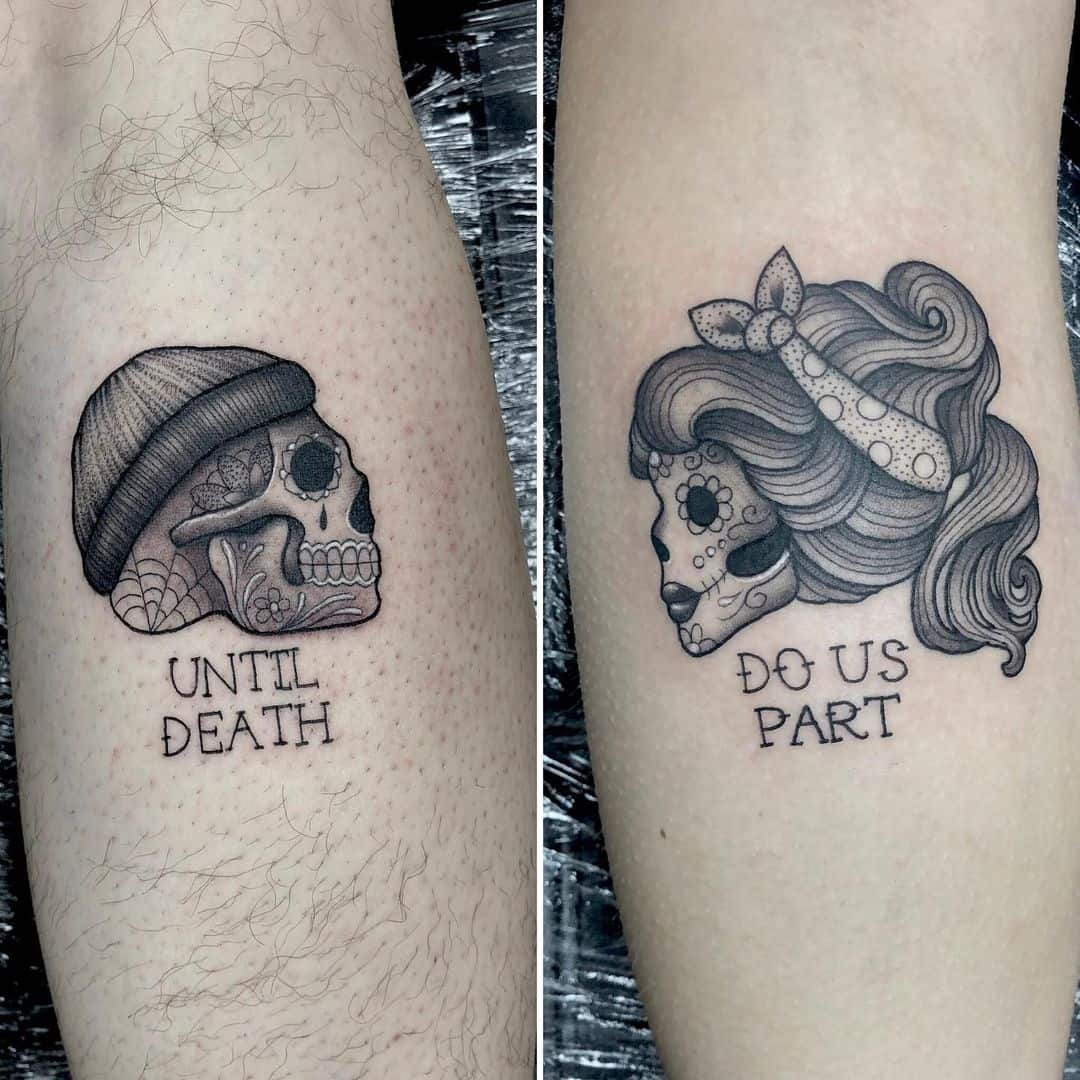 Sugar skulls are a very popular feature in tattoos due to how artistic and aesthetically pleasing they are. This design of male and female sugar skulls is a great matching tattoo option for spouses. The phrase "'till death do us part" split into two and placed underneath the skulls makes it so that these tattoos only make sense together.
This would be a cheap look to achieve and it's small enough that you could get it as a walk-in customer on your honeymoon. A beautiful way of eternalizing the moment.
19. Mother and Daughter Butterfly Matching Tattoos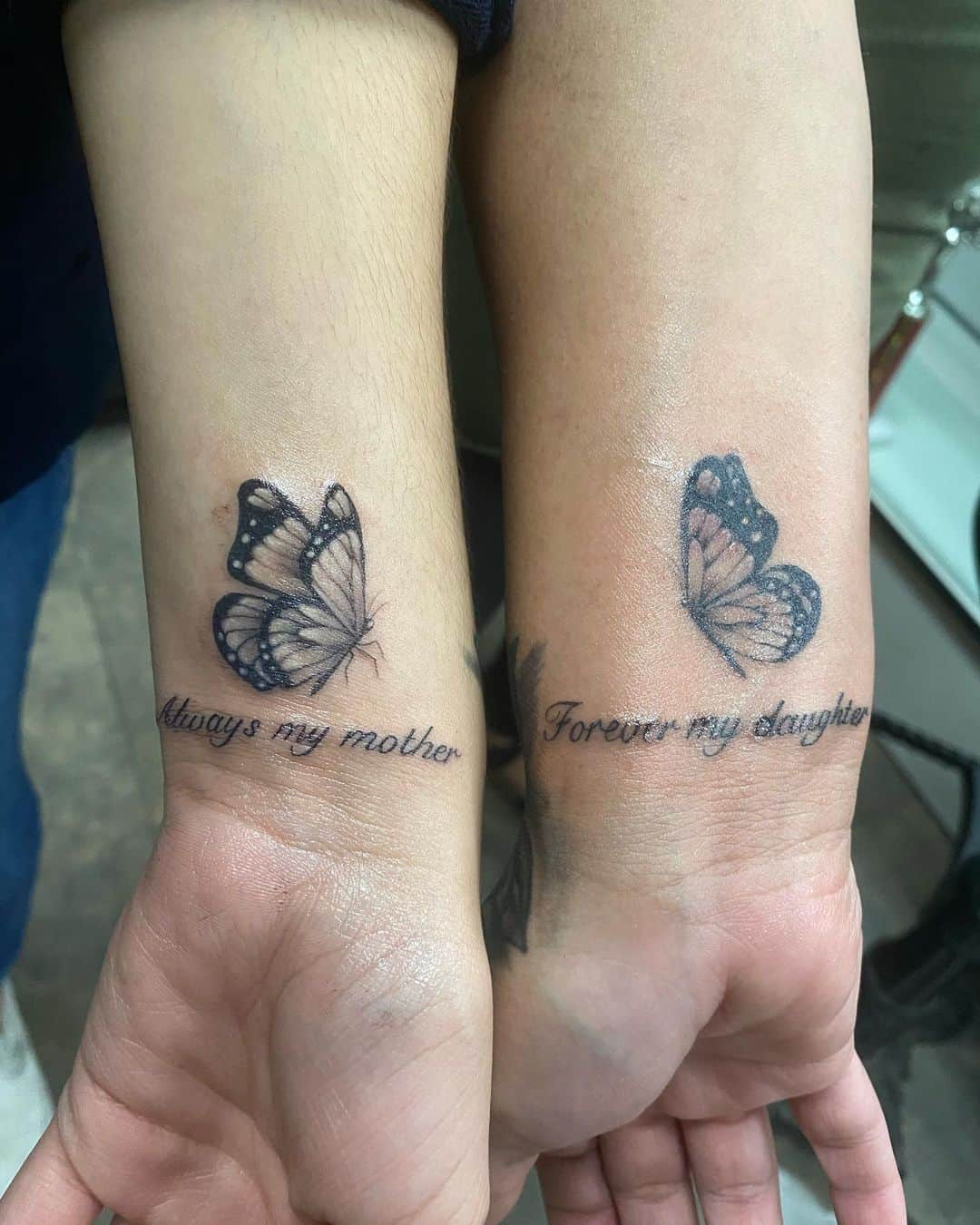 These tattoos of a butterfly with the sentences "Always my mother" and "Always my daughter" are perfect for those who prefer a more classic take on tattoos. Nowadays people get tattoos of anything they wish, but years and years ago there were a bunch of popular designs that everyone got, like anchors, dragons, butterflies, and tribal patterns.
You can adapt it and exchange the words "mother" and "daughter" for something else if you wish to get these tattoos with someone else.
20. Complementary Sentences Matching Tattoos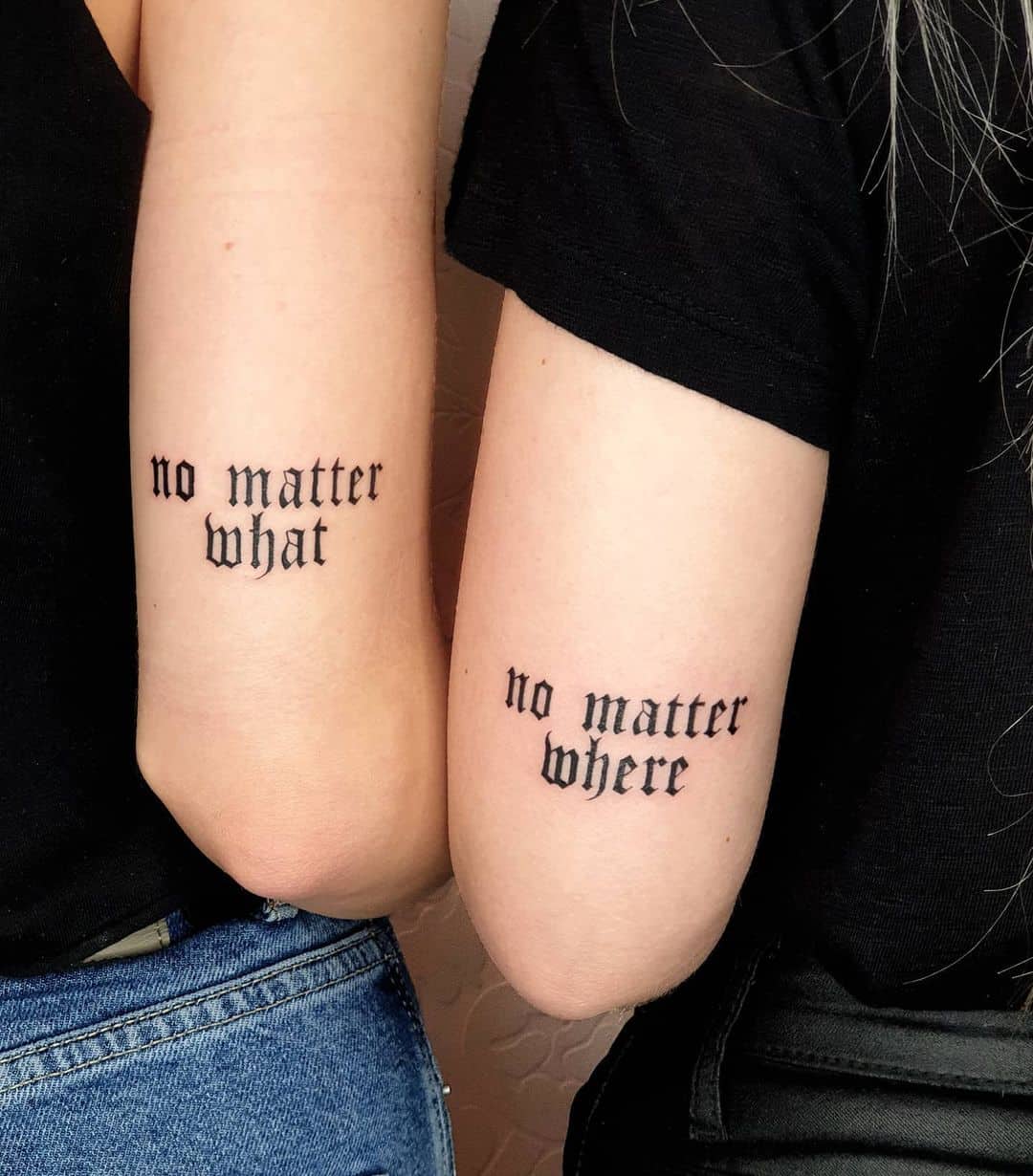 Tattoos usually have a deeper meaning, but if you're the sort of person who likes to skip the puzzles and just put your feelings into words, then a complementing sentence will be the perfect option for you.
These tattoos of the sentences "No matter what" and "No matter where" depict the bond between two people with a stunning font and simplicity. This is a cheap option that looks great no matter your overall style.
21. Funny Avocado Matching Tattoos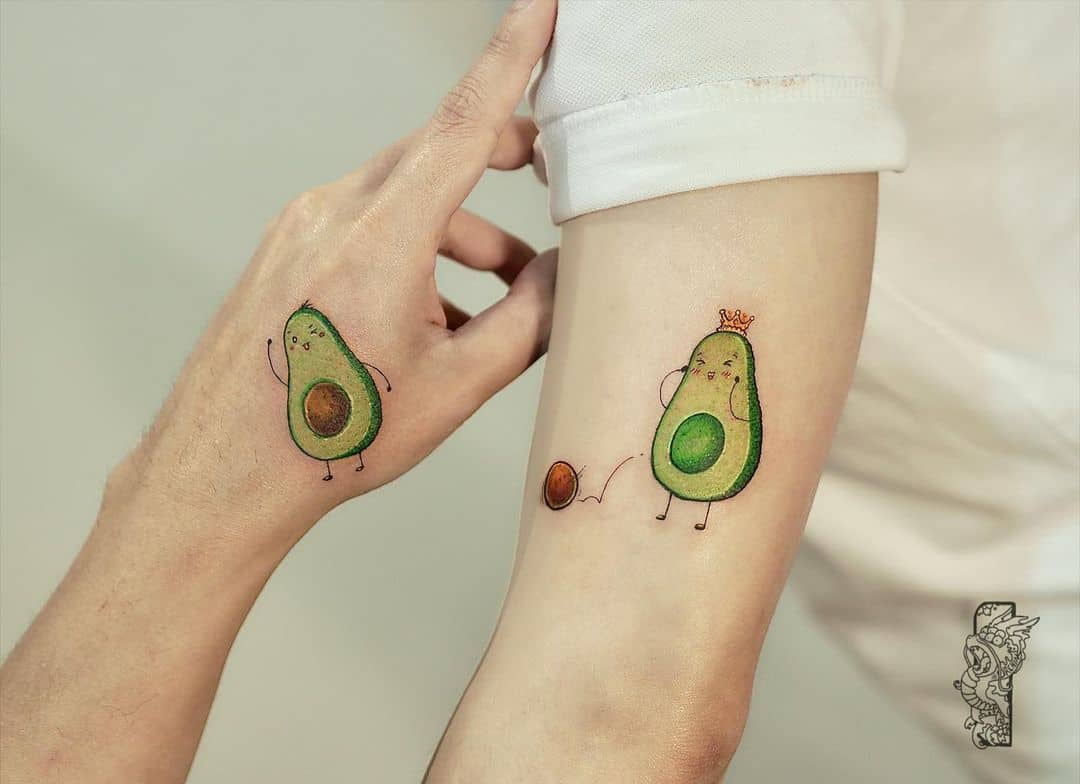 Avocados are a fun and quirky trend, both in people's diets and looks. These tattoos of avocado halves are perfect for friends or siblings. They give a fun and youthful look, either together or individually.
To make it even more fun you could make one of them have the seed and the other be missing it.
22. Tea Bag and Mug Matching Tattoos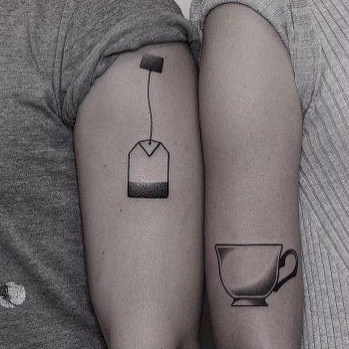 This fun design is part of the "we belong together" collection because some things simply make sense together without the need to add words. This cute design has a teabag on one person and a mug on another. Simple, cheap, and meaningful.
This is the kind of matching tattoo you can get with anyone because even if fate brings you and the other person apart, the tattoo by itself is still cute, and you can attribute whatever meaning you want to it.
23. The Little Prince Matching Tattoos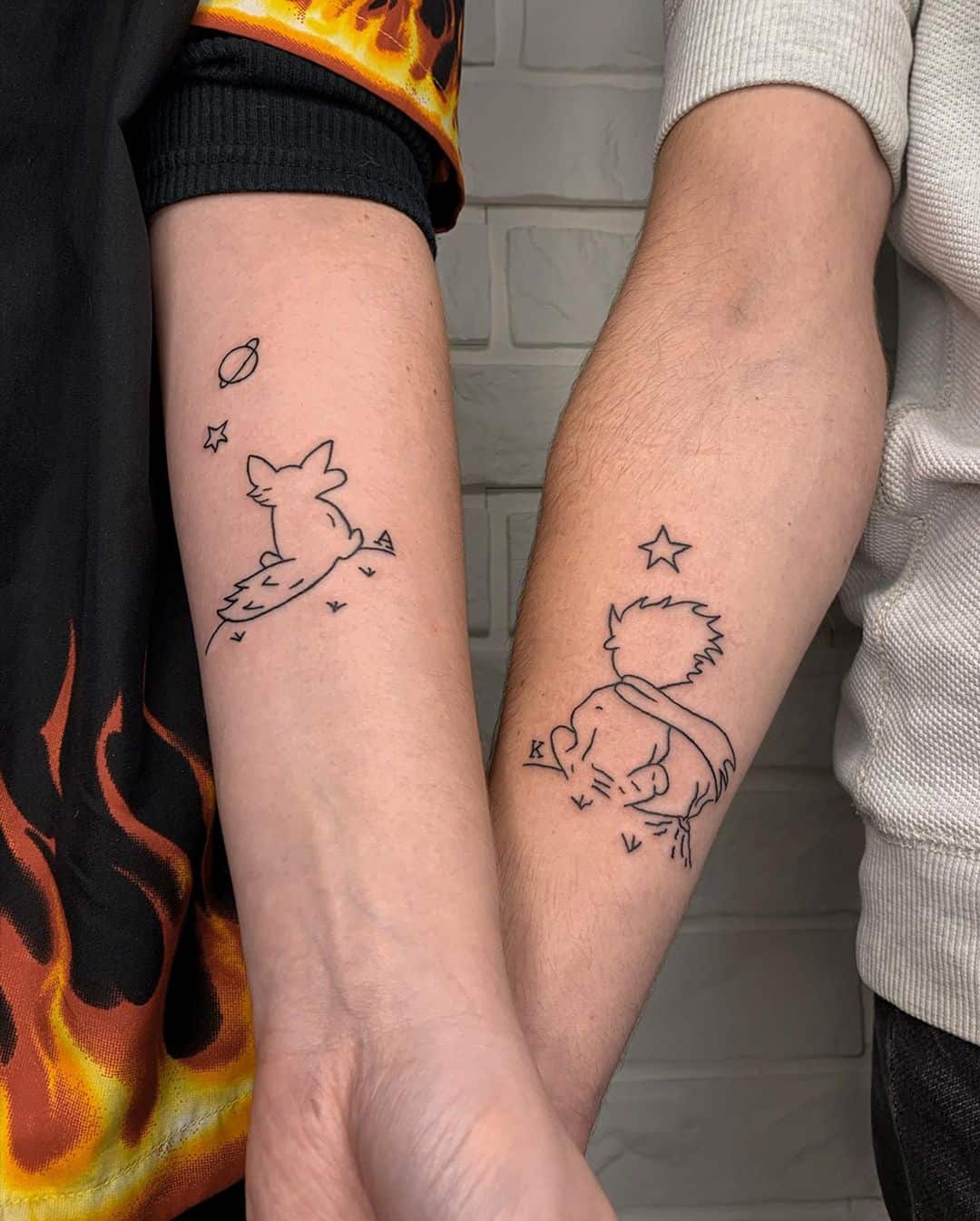 The Little Prince is a children's book, but most adults love it, and rightly so – it explores themes like love, loneliness, friendship, and loss in a heart-warming and kind way.
You should get these Little Prince matching tattoos with someone who you enjoy having deep conversations with, someone who you navigate the world and explore feelings with, like a relative, a best friend, or a spouse.
24. Pineapple Matching Tattoos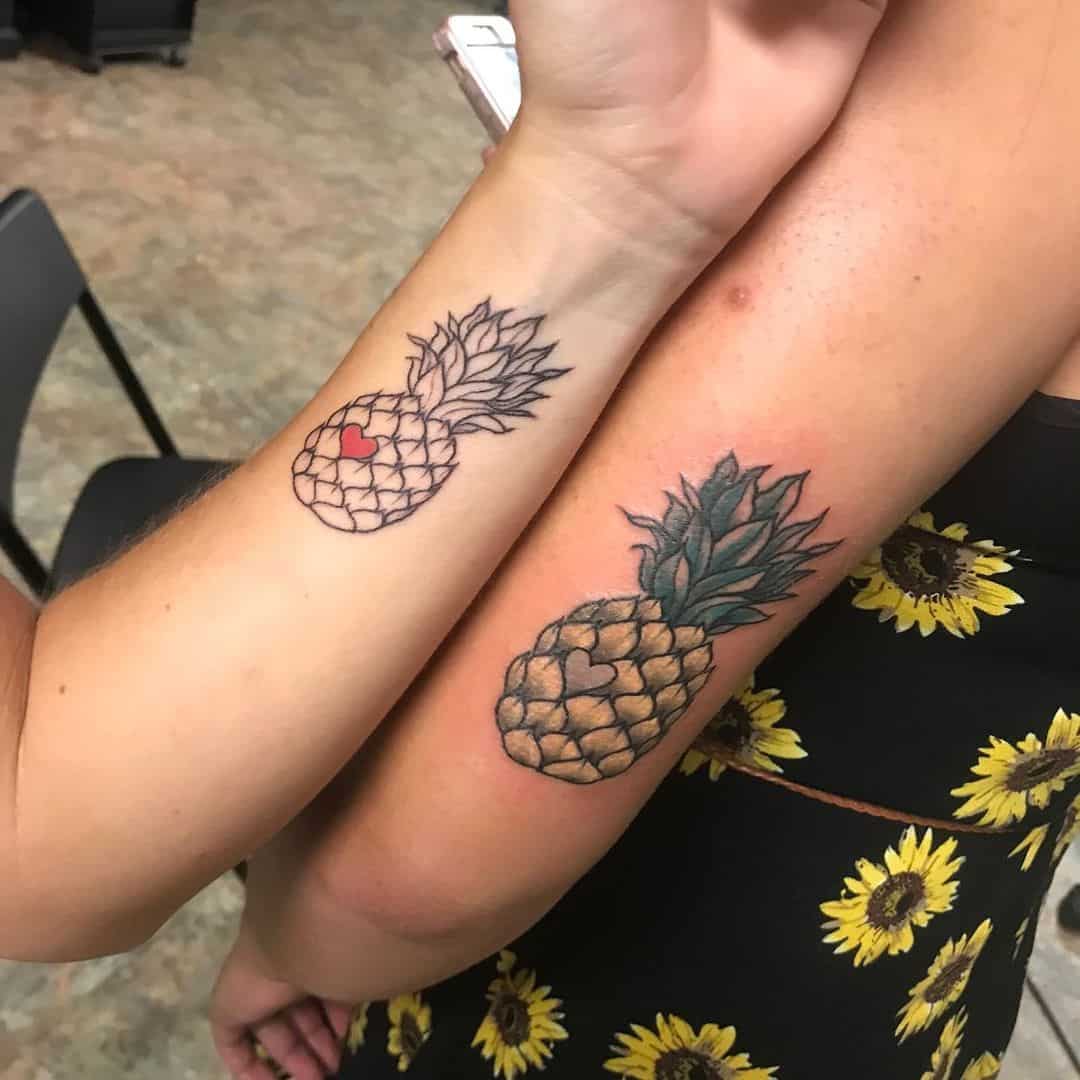 Pineapples have become a fashion trend in the past few years; you see it in jewelry, clothes, and tattoos! In terms of meaning, pineapple tattoos symbolize warmth, welcome, friendship, and all things familiar. Plus, it is fashionable, and it gives off a summery and fun vibe. For this reason, it is a great option for a matching tattoo for relatives, best friends, or spouses.
The one in the image complements each other, one being colored with a part missing, and the other grey with red on the part the other is missing, in the shape of a heart.
25. Pinky Promise Matching Tattoos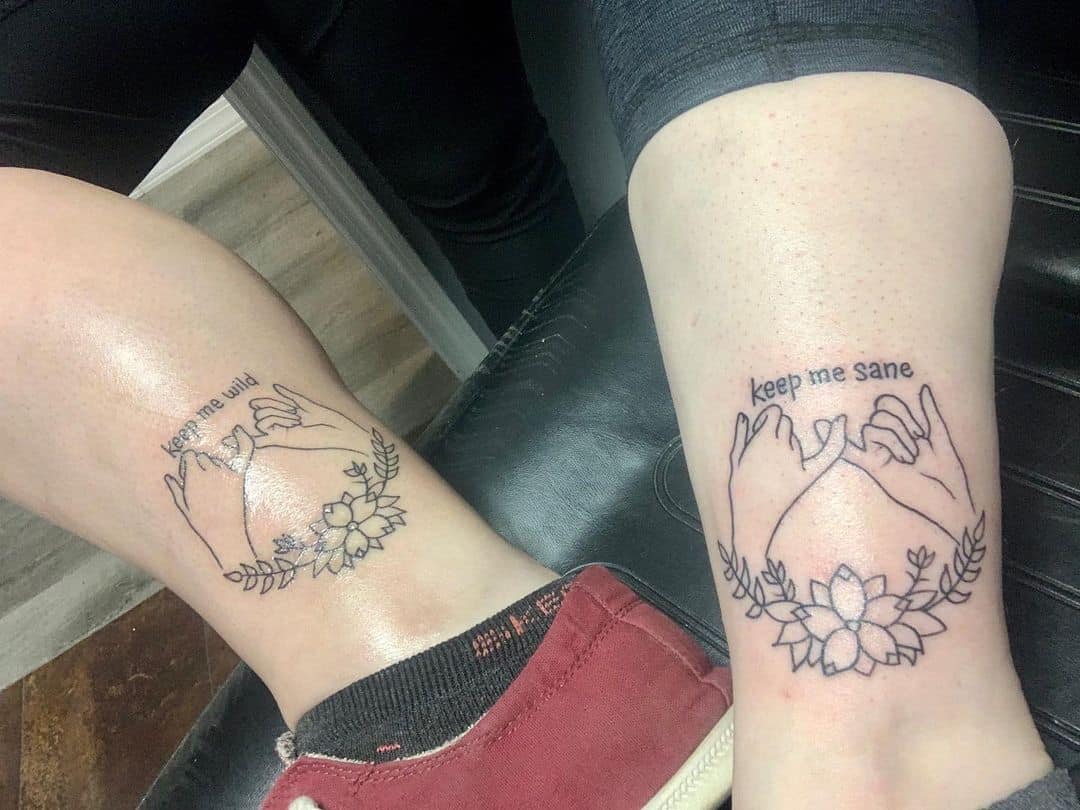 Pinky promises are widely known for being the kind of promise one cannot break. These tattoos show a sine drawing pinky promise with the sentences "keep me wild" and keep me sane" underneath.
Get this with that person who brings balance to your life, that person who you need to bring the best in you, and who you help be the best version of themselves.
26. Lock and Key Matching Tattoos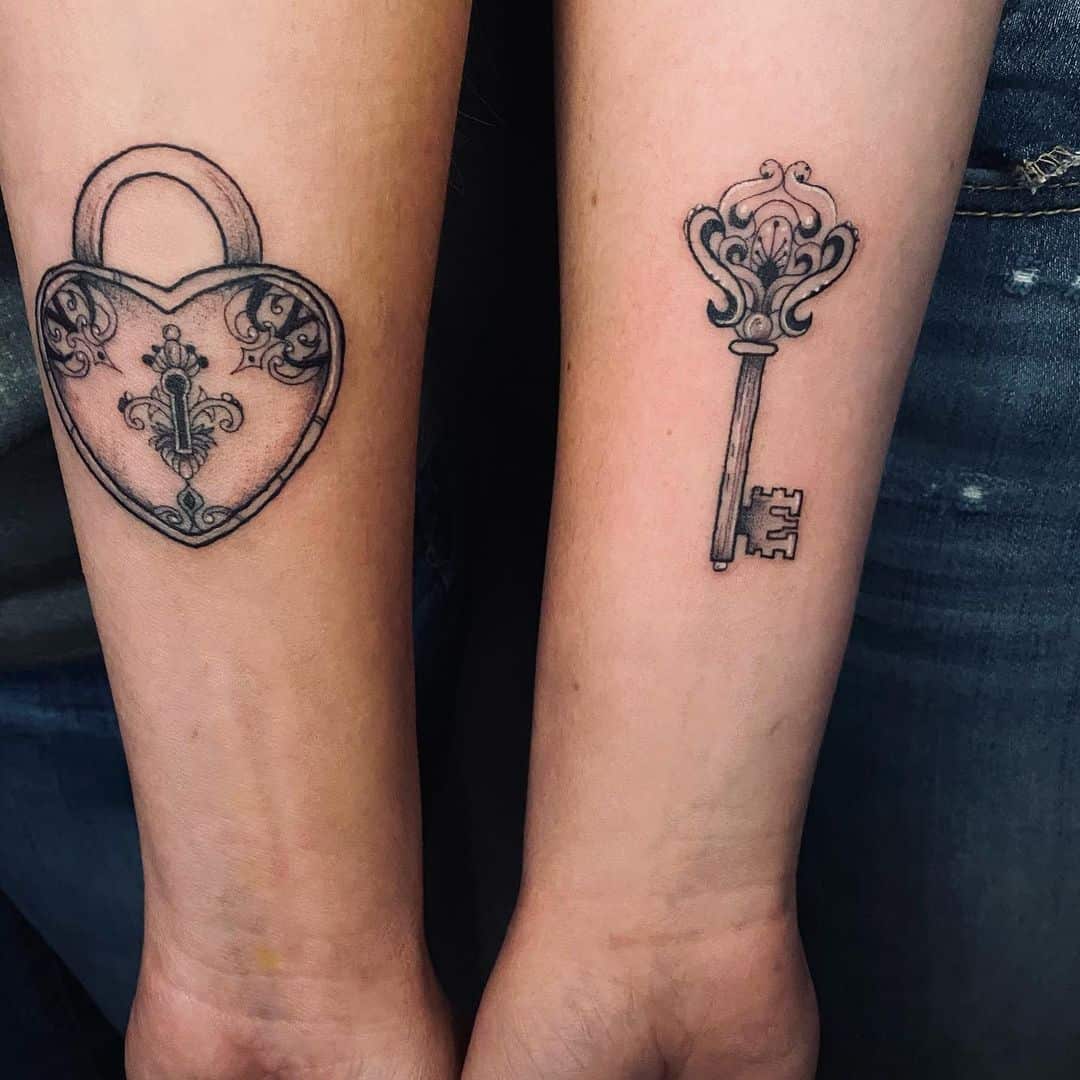 A lock and key is one of the obvious choices for matching tattoos. And these ones are done in a beautiful style. It looks classy and cute. This would be perfect for a couple, best friends, or relatives.
This design would be cheap to achieve since there is no color or shading. But the overall look is elegant, classic, and timeless – which can make it feel more luxurious than the price may suggest.
27. Half-Word Matching Tattoos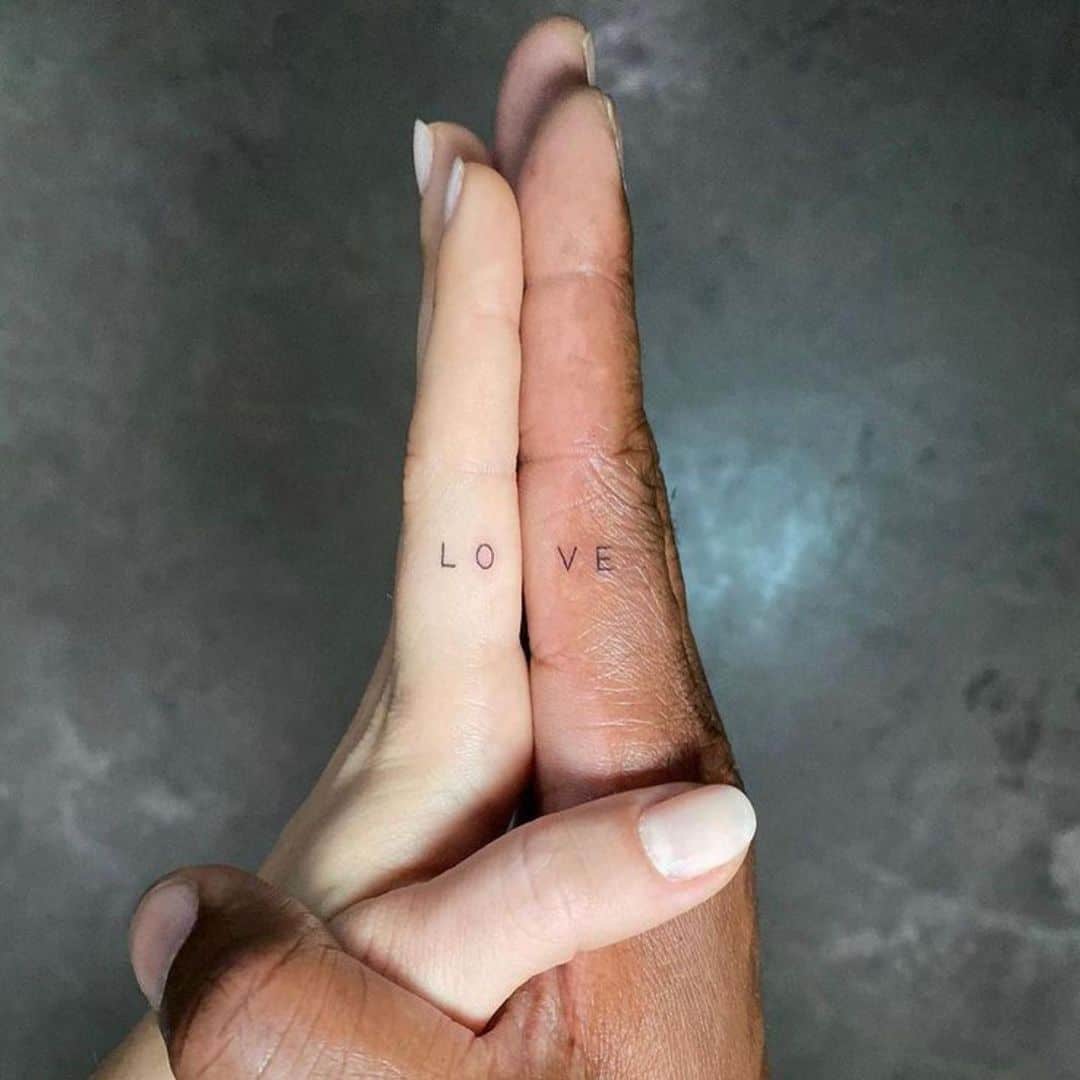 This design is super simple and small, yet the effect it creates is stunning. It only makes sense when you put the hands together, making this tattoo one of the few that don't make sense unless put together.
This design in theory would be really cheap, but the cost will depend on your tattoo artist's minimum charge, which can vary. Regardless, this is typically a very budget-friendly option.
28. Diamond Heart Matching Finger Tattoos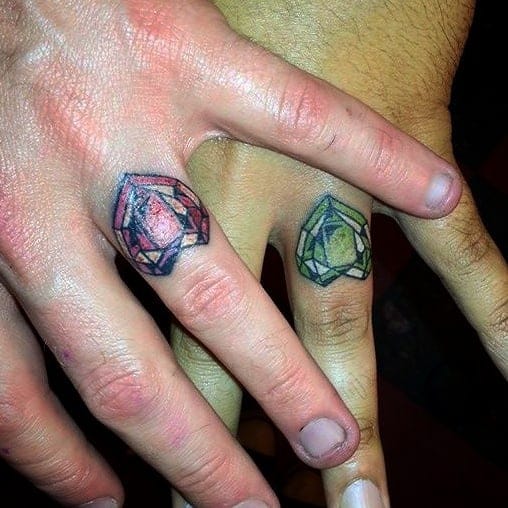 These stunning finger tattoos are the perfect substitute for a wedding or engagement ring. People who work in labs, kitchens, or who just simply don't like wearing jewelry could use this as a permanent way to symbolize the bond between spouses.
It's not an expensive tattoo at all, and you don't have to necessarily use the big diamond design; you can go for a wedding band or something more discreet.
29. Tin Can Phone Matching Tattoos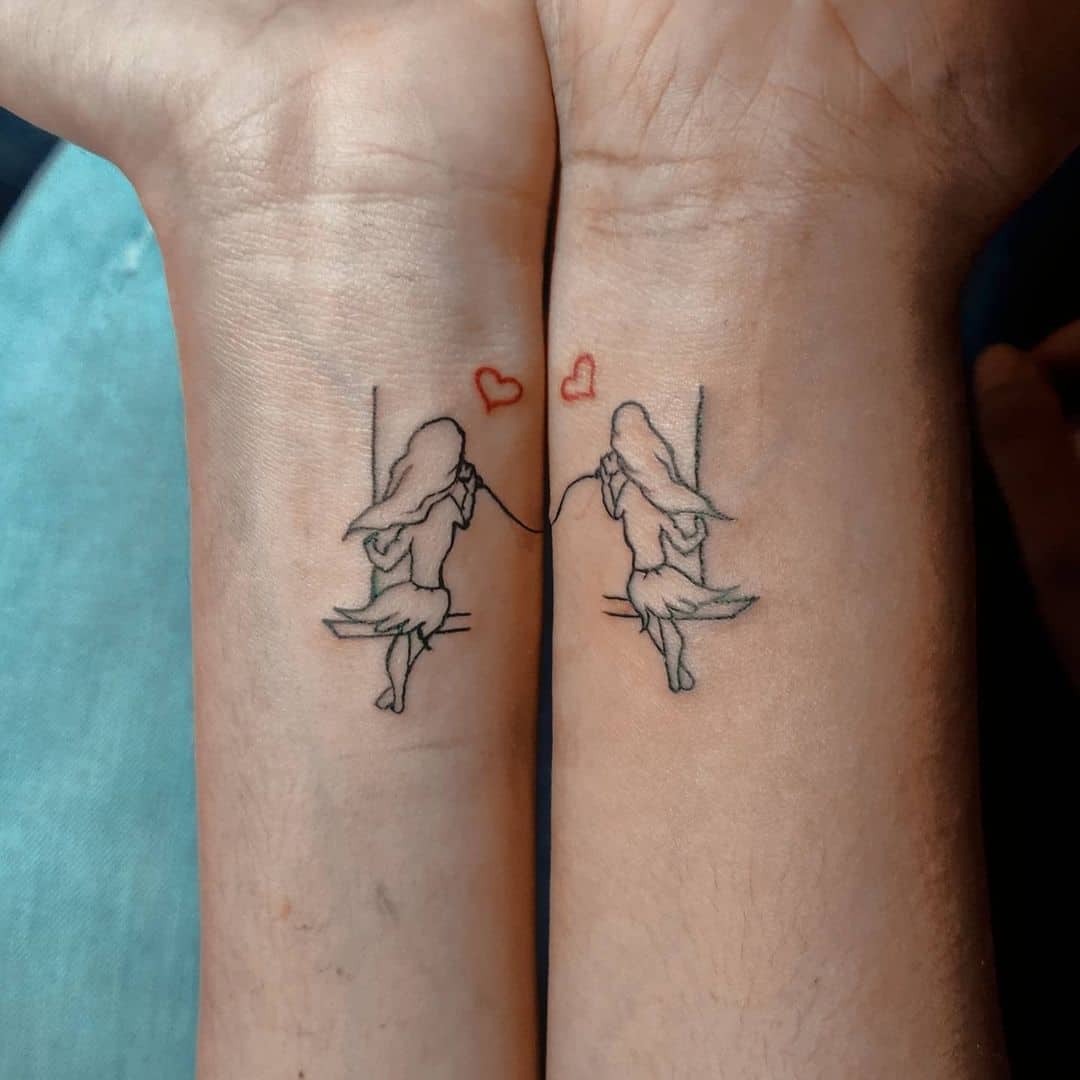 This design is perfect for siblings, cousins, or childhood best friends. It shows two girls sitting on a swing, using tin can telephones. It's split into two and each person gets one girl.
You could even add names or dates underneath, perhaps even some color. It's an inexpensive and discreet design that symbolizes such a special time in our lives. This is the perfect tattoo to share with those who spent that special time with you.
30. King and Queen Matching Tattoos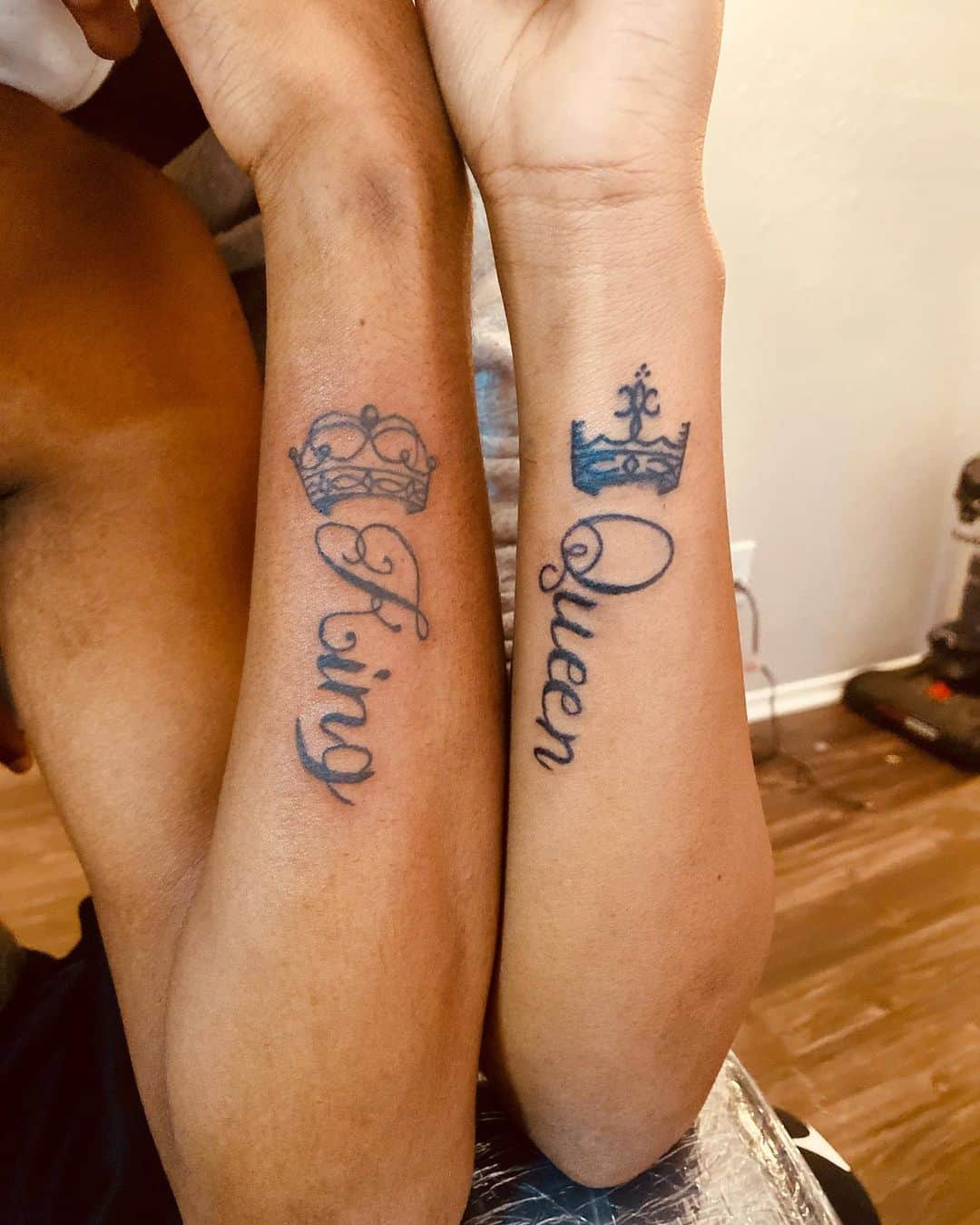 Here's another design for couples. The words king and queen written in a beautiful font with the crowns next to it are a heart-warming way of showcasing to the world how happy you are in your relationship.
Something like this would be cheap to achieve, and a great anniversary present, or an engagement or wedding treat.
31. Anchor and Helm Matching Tattoos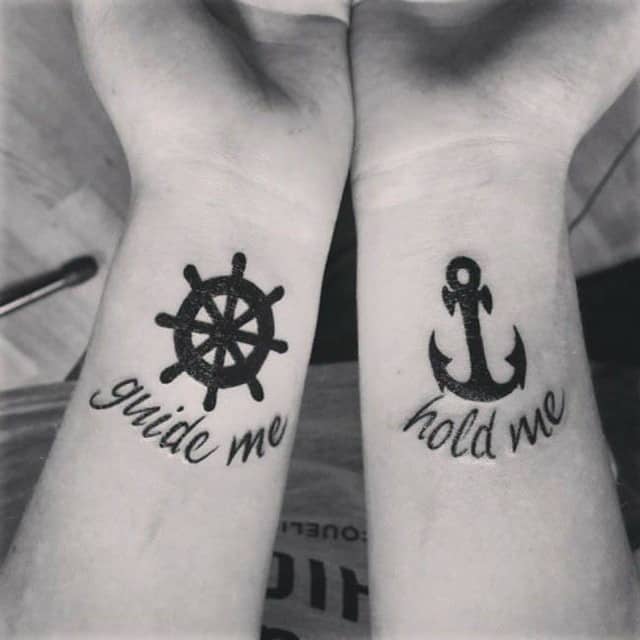 Anchor and helm tattoos mean that there's a constant change of direction in someone's life and they're still looking for somewhere to drop the anchor – stability. When getting them as matching tattoos, the meaning remains the same, but it gains another perspective; if you get this with someone then you consider them the source of stability in your life, your anchor.
The phrases "Hold me" and "Guide me"  underneath reinforces the idea that you ground each other. Something like this is simple and inexpensive to achieve, and the meaning is evident to anyone who sees it.
32. Smiley Face Matching Tattoos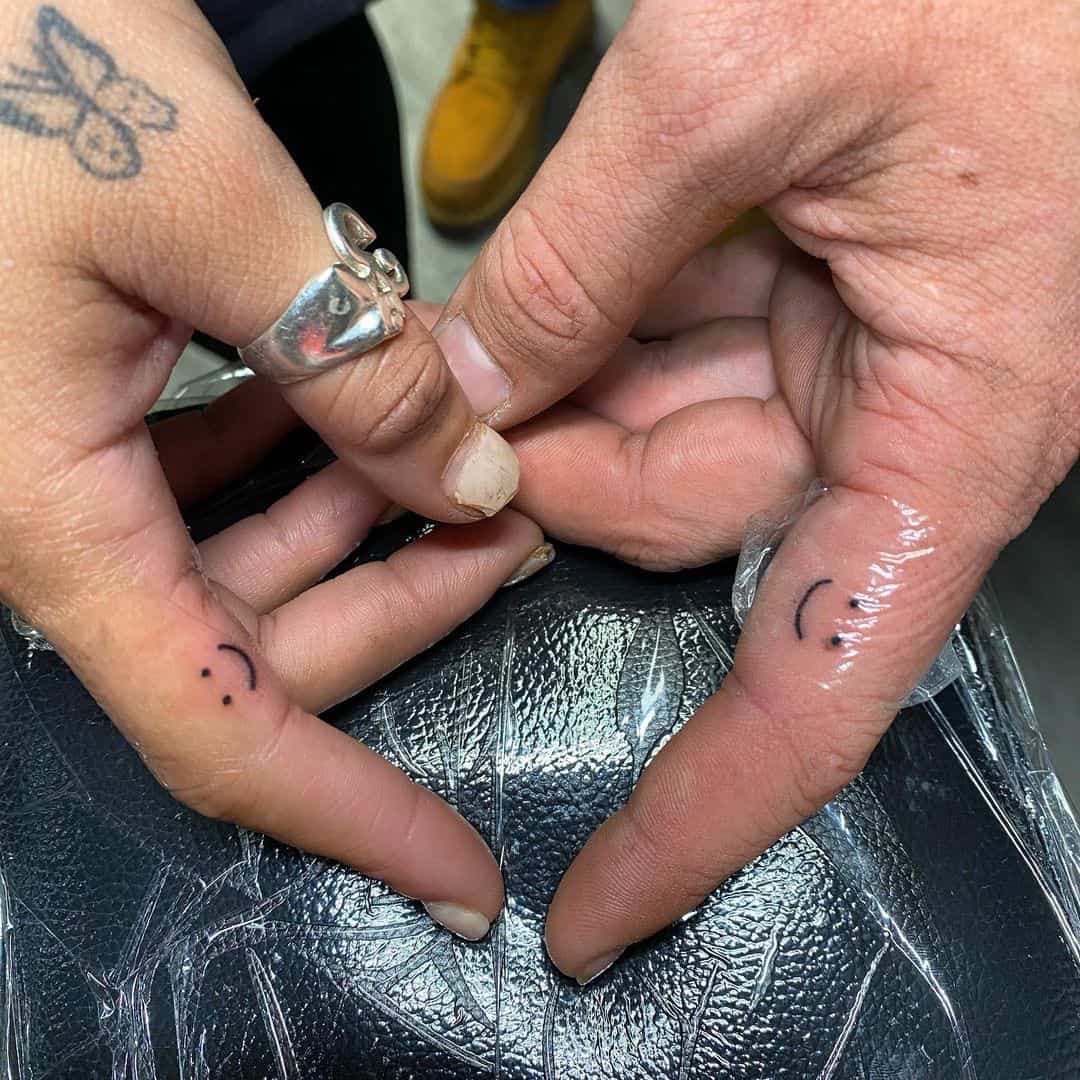 If you're not a big fan of tattoos mainly due to the big commitment that comes with it, but you still think that a matching tattoo would be the best way to materialize the bond you have with someone, this option would be perfect for you.
Just a smiley face on a finger is something that easily goes unseen, and only those with exceptional attention to detail would notice. It's small and definitely inexpensive; however, with some artists, it might cost a bit more depending on their minimum charge.
33. Lisa and Bart Tattoos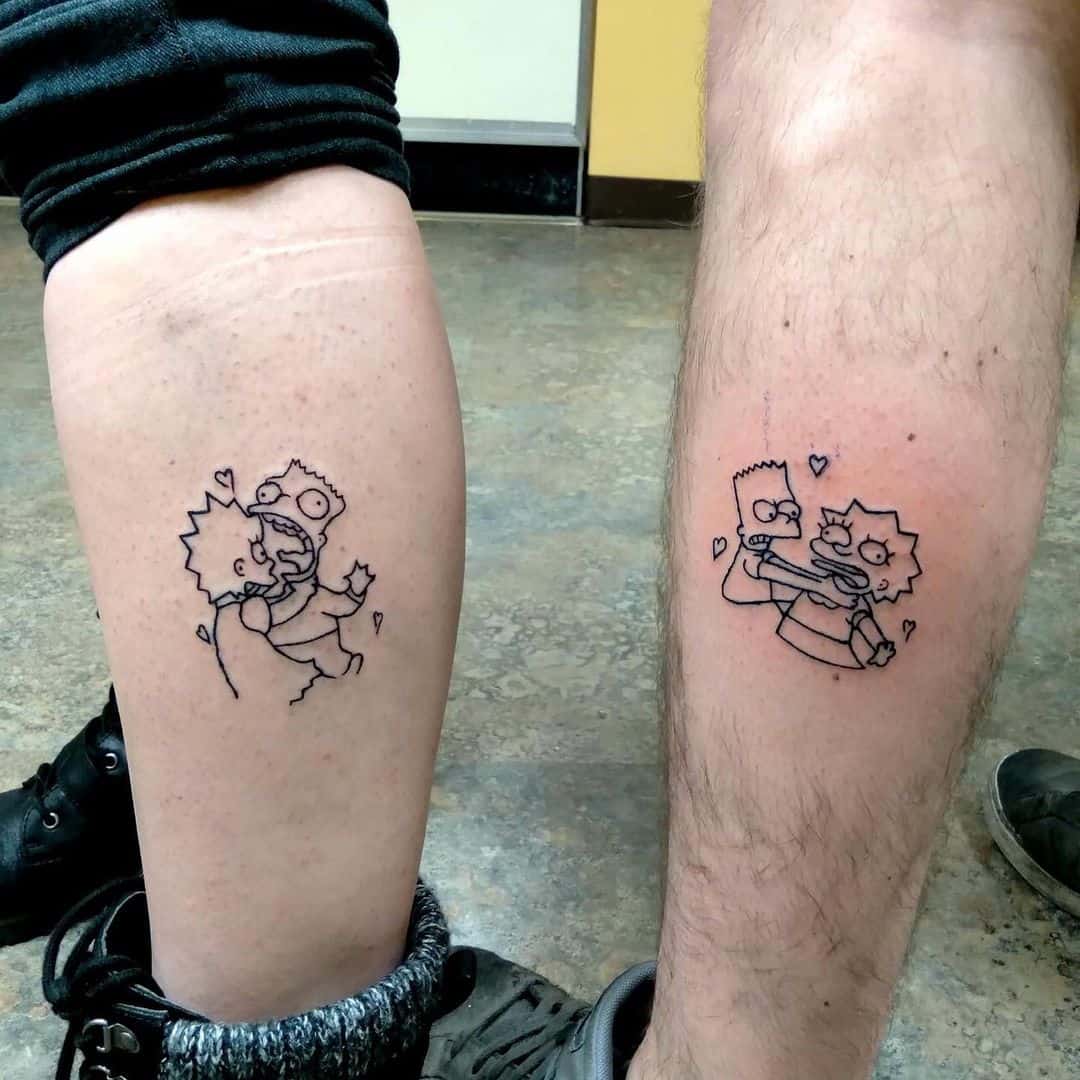 This one is exclusive for a brother and sister. Everyone knows this pair, and it's perhaps the most accurate depiction of a brother and sister relationship to ever appear on TV.
They fight, and can't admit how much they care for each other, but in actions, it shows. This design would be the subtle action that tells your brother or sister how much you love them.
The chocking element is optional, but it is funny, especially if in your tattoo you win, and in their tattoo, they win. This is a perfect option for siblings who grew up watching "The Simpsons" together!
34. Half-Butterfly Matching Tattoos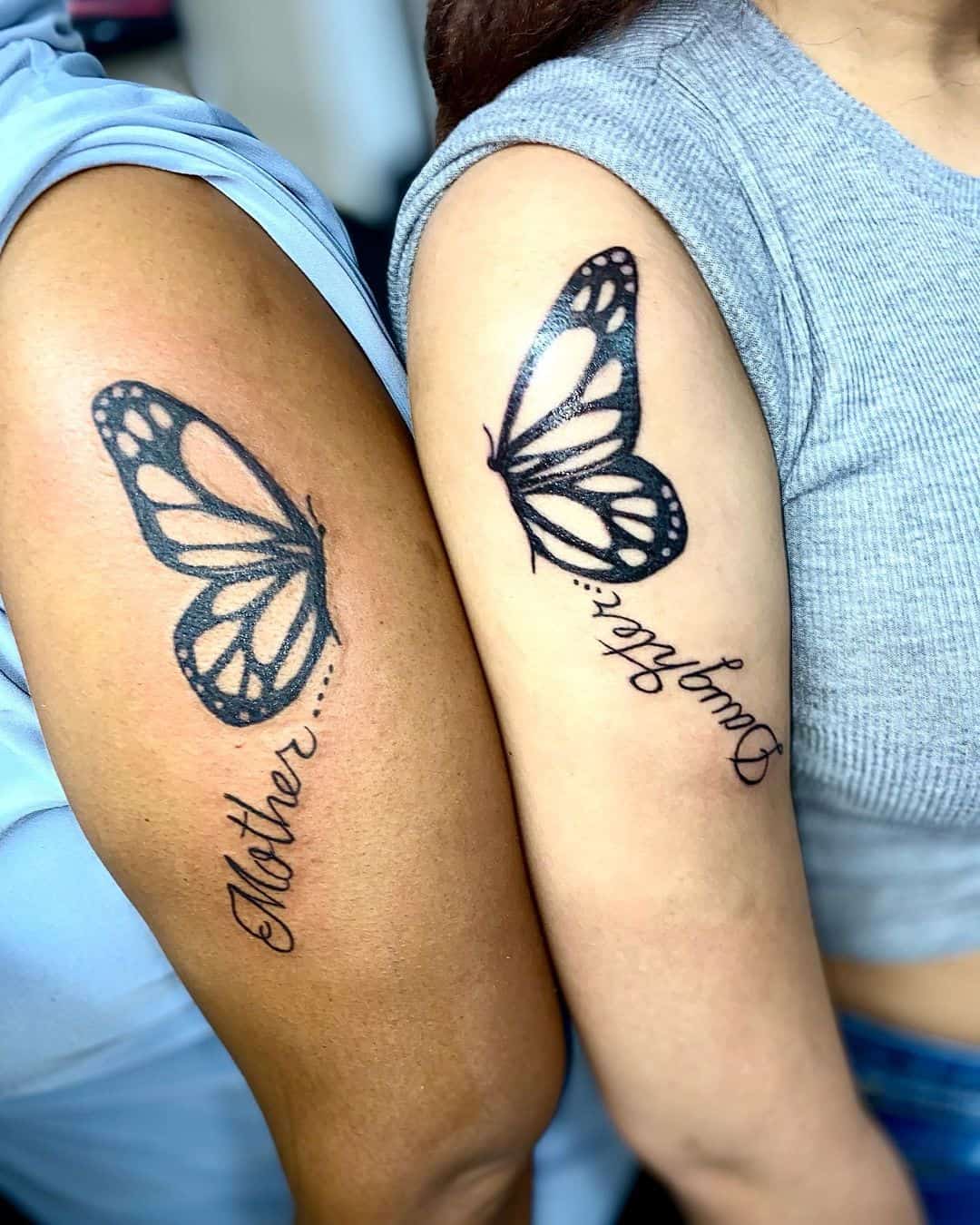 These gorgeous butterflies would be great for a mother and daughter, sisters, or best friends. You can add a splash of color and write anything underneath. The butterfly can also be as detailed as you wish, but the ones in the images are simple and inexpensive.
You could also add other elements like some flowers, or hearts incorporated in the wings.
35. Player One and Player Two Matching Tattoos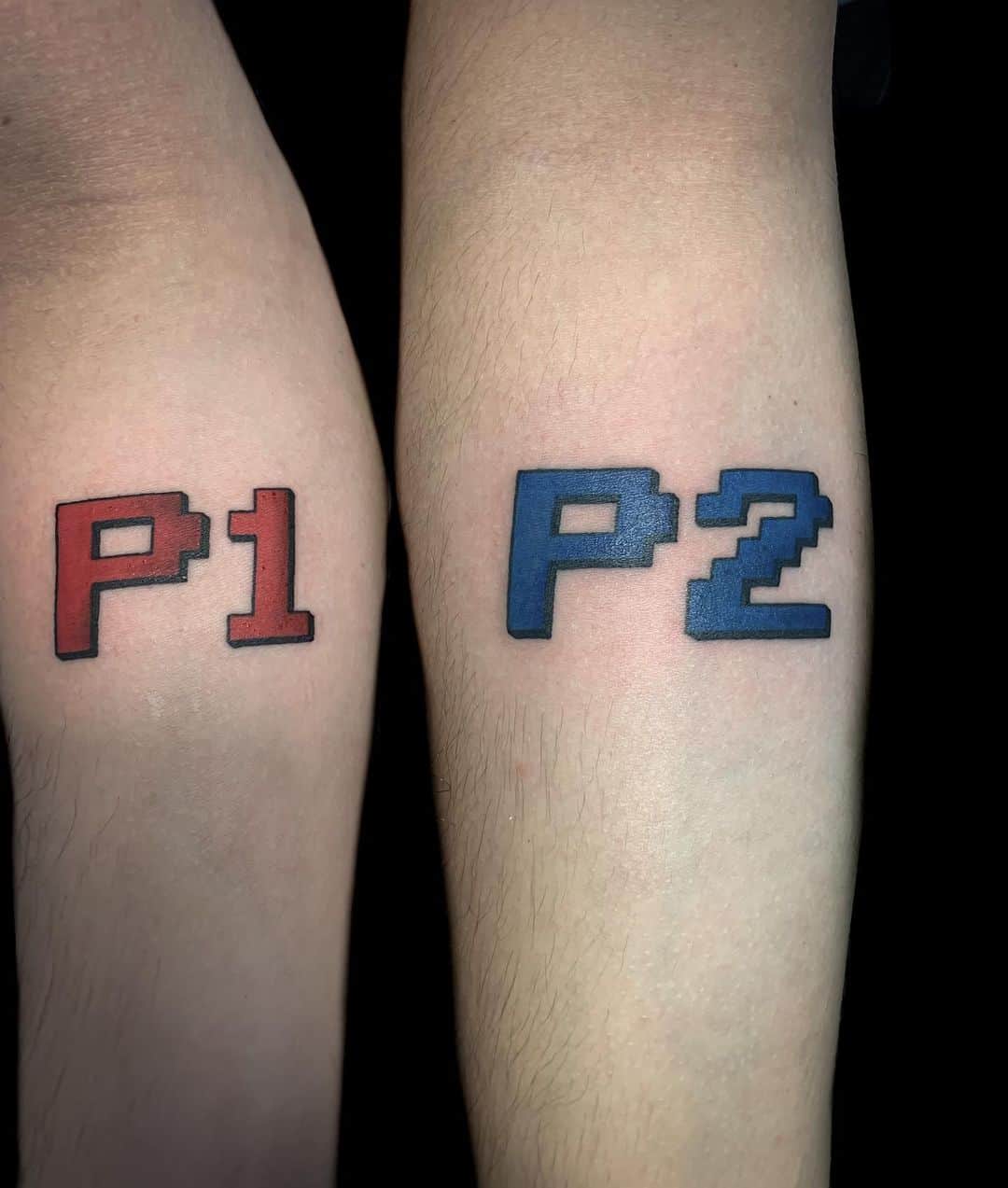 This one is for those who love playing games. Video games, mobile games, board games, card games – everything is valid! This would be the perfect matching tattoos to get with that person who is always up for a game, or two, or countless.
The pixelated style font with the colors gives 90s gaming vibes, and it is as fashionable as it is fun.
36. Dinosaur Line Drawing Matching Tattoos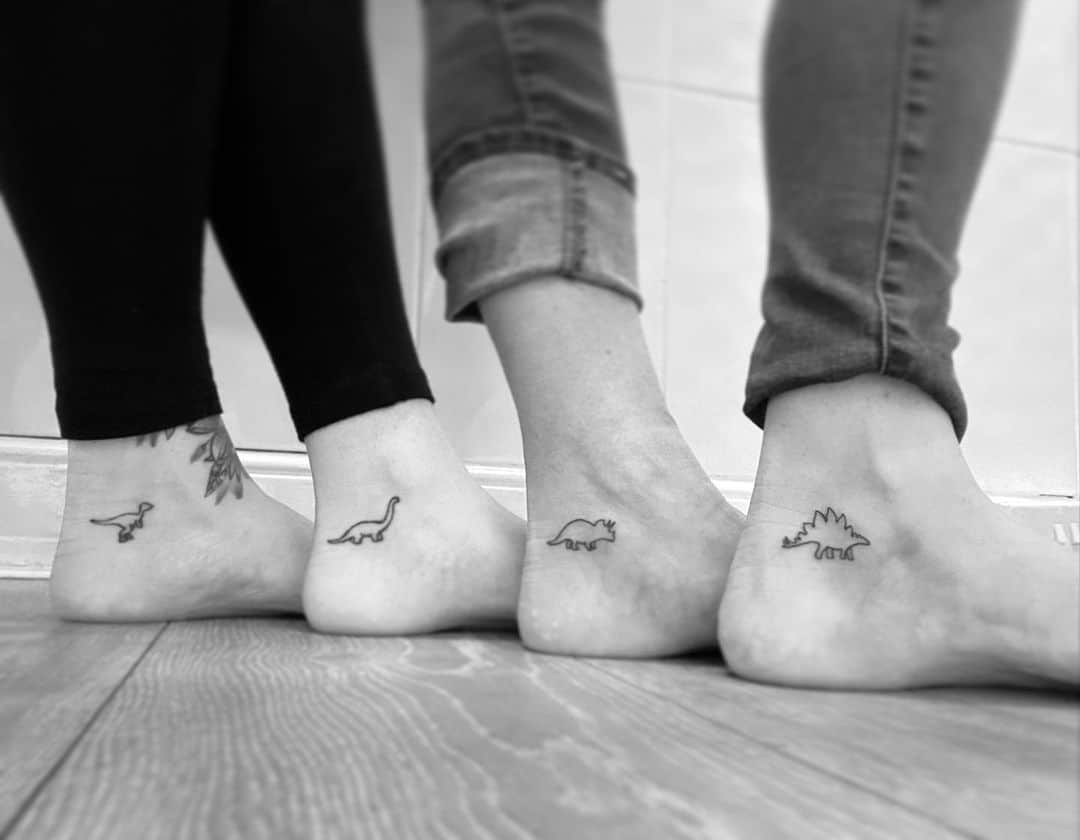 Dinosaurs are more popular than you might think, especially ones drawn in a cute and childish way. These line drawing tattoos of different dinosaurs is a fun option for a group of friends, siblings, or even the entire family.
Everyone gets to pick their favorite dinosaur, and you can even have two of the same if you want.
37. Bee and Flower Matching Tattoos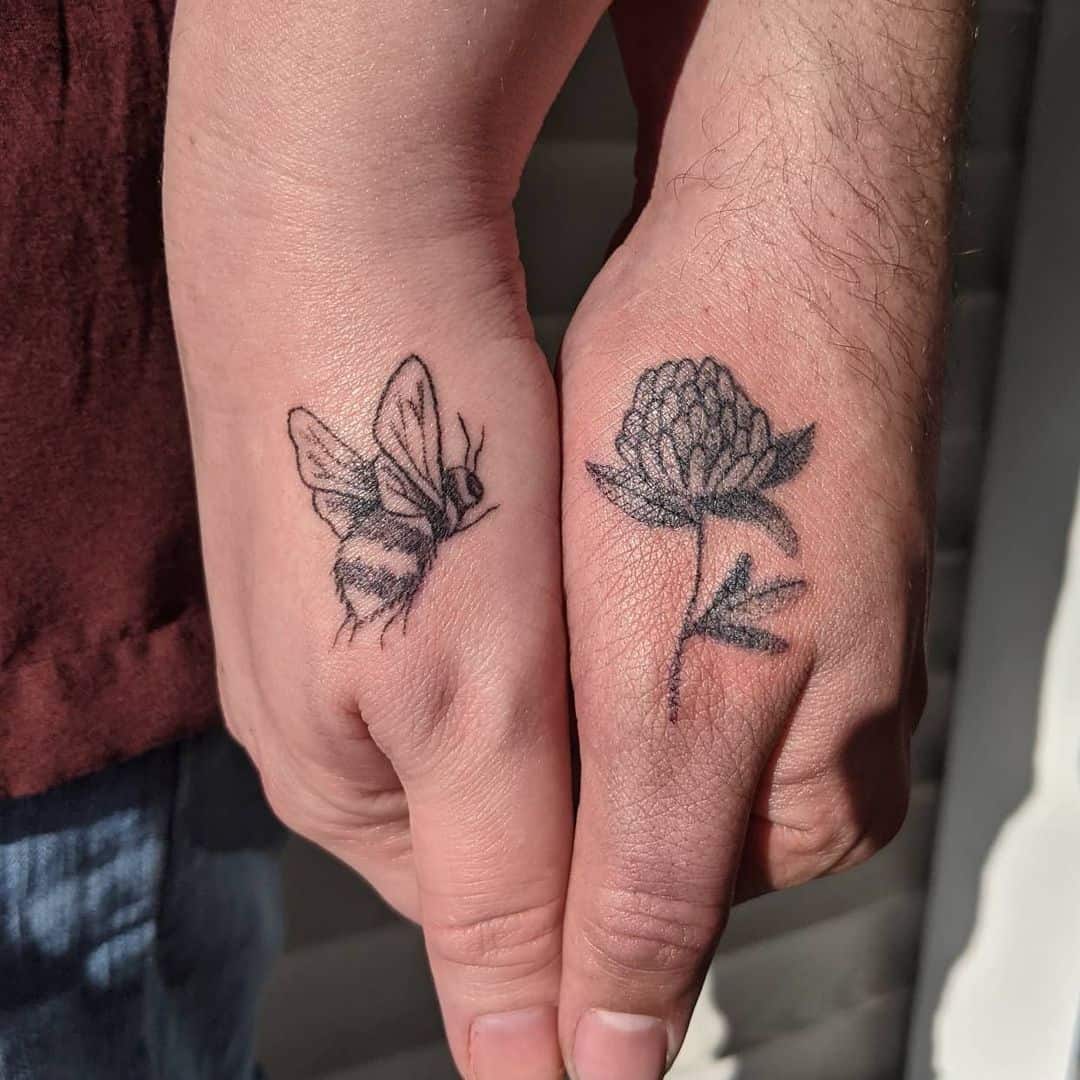 Bees need flowers to survive. But most flowers only exist because of bees. Get this beautiful design with someone who you need to live a happy and fulfilled life. Because some people are so important that though we may be able to survive without them, but we won't truly live.
You can play around with the design and add some color; since it's a relatively small tattoo it won't make the price go super high.
38. XOXO Matching Tattoos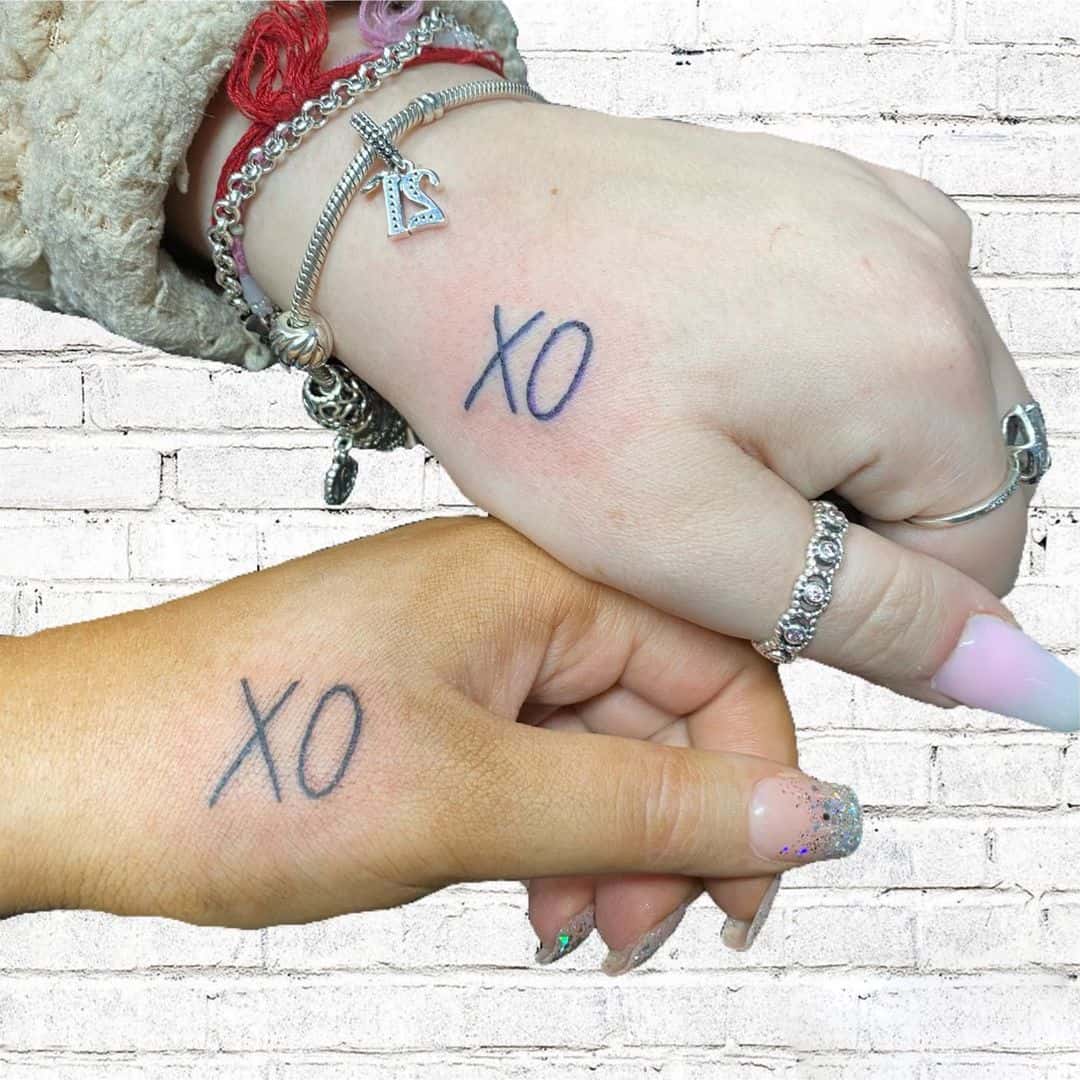 This one is for those best friends who love anything girly and live for that perfect Instagram shot. It is super simple: each person has an XO, forming the word XOXO when together. This is something so simple that you can probably get it on a walk-in appointment, and it's relatively cheap.
39. Door Number Matching Tattoos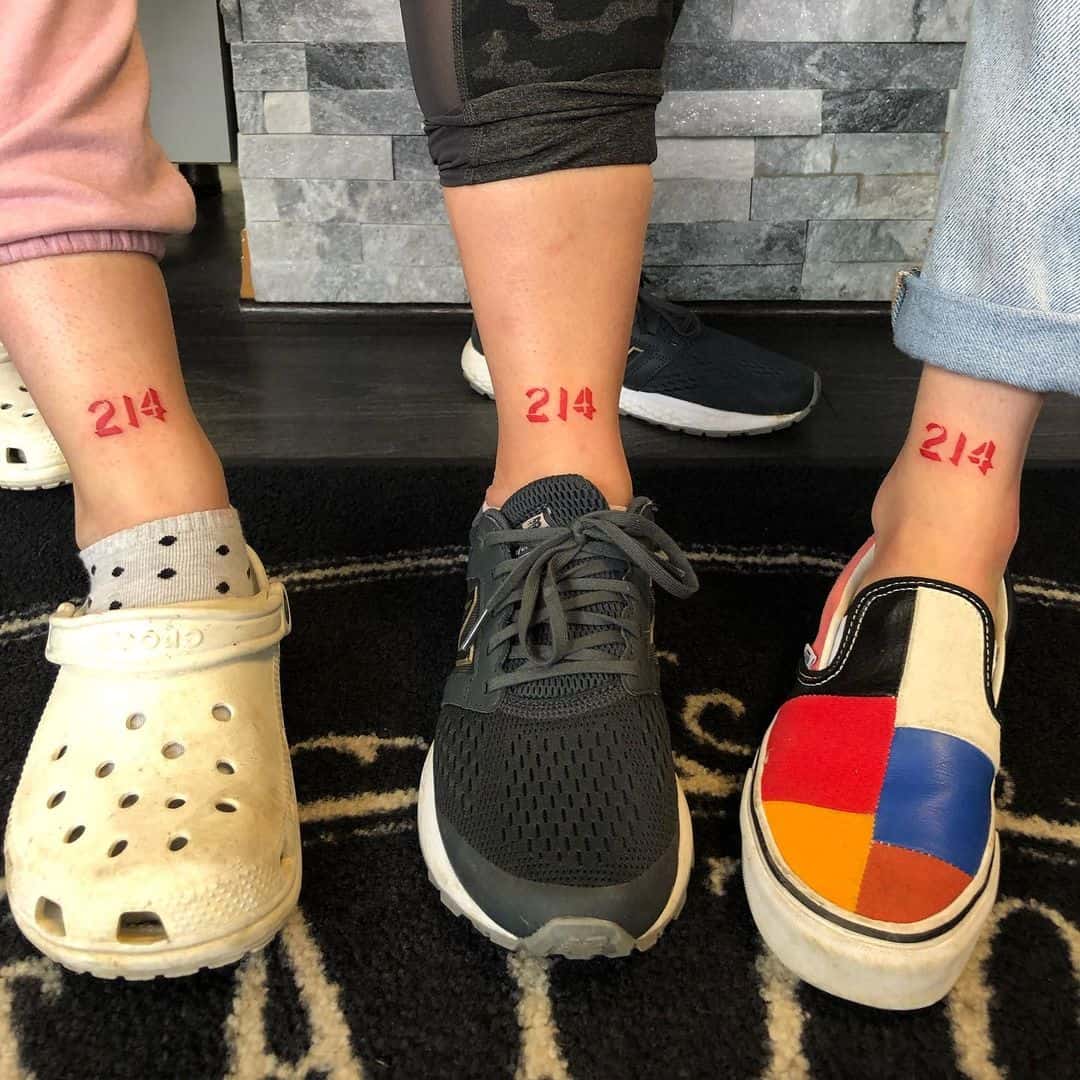 These matching tattoos of a door number are the way to go for roommates. This simple design makes them great for roommates with varying styles, and they're also easy to hide at your job. They can be a permanent reminder of an important part of your life, especially if you both lived away from home for the first time together.
If you find yourself bonding with your roommate in college, getting this matching tattoo is a great way to commemorate that. Even if you lose touch, as often happens with many people after college, you will still have that little connection.
40. "Love Sick" Matching Tattoos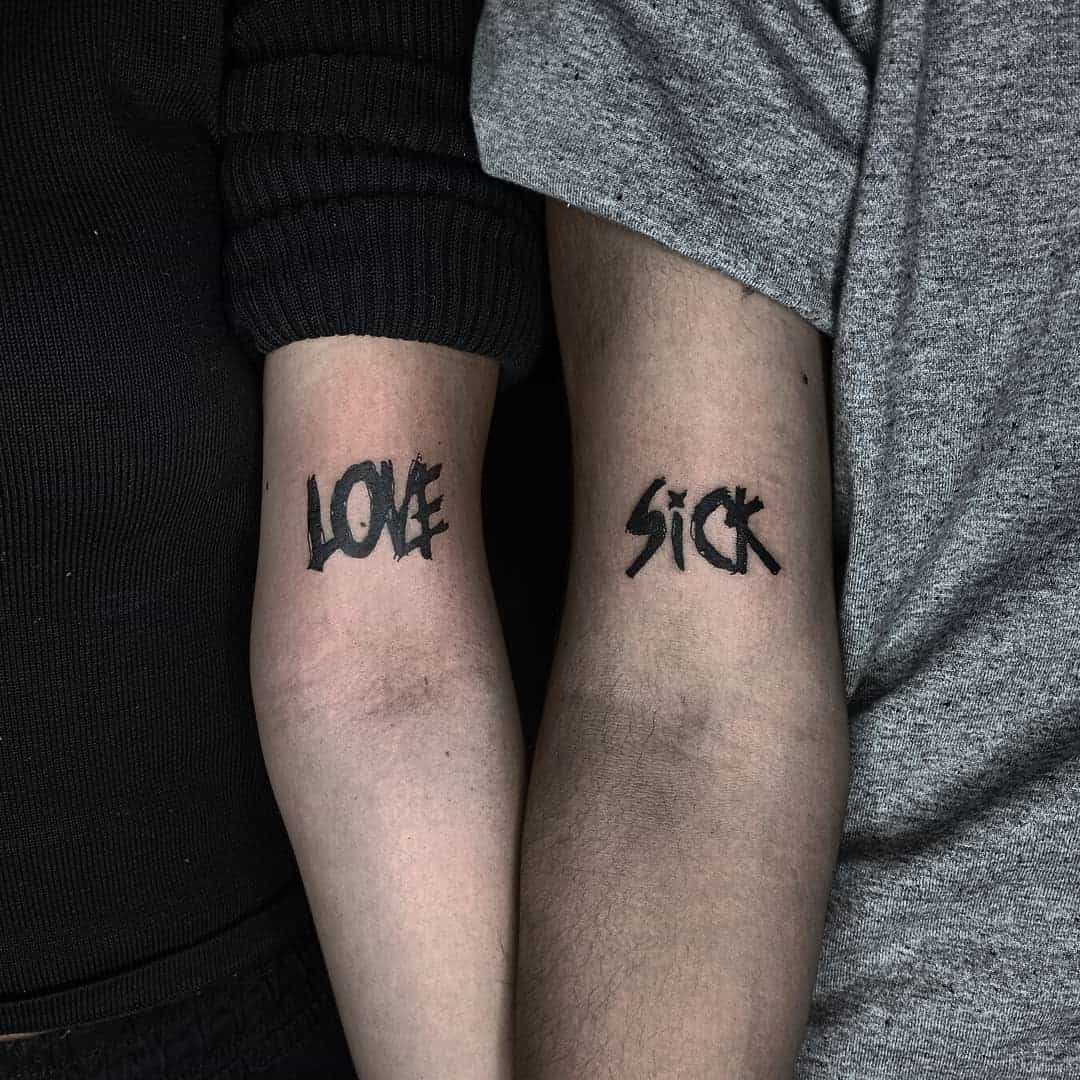 Here's a great design for a quirky couple; one will have the word "Love" and the other will have the word "Sick". What makes this design shine is the art style, reminiscing back to 90s punk and emo styles.
This is something inexpensive that will bond you and your partner for life. And these tattoos looks great together and individually.
41. Koi Fish Matching Tattoos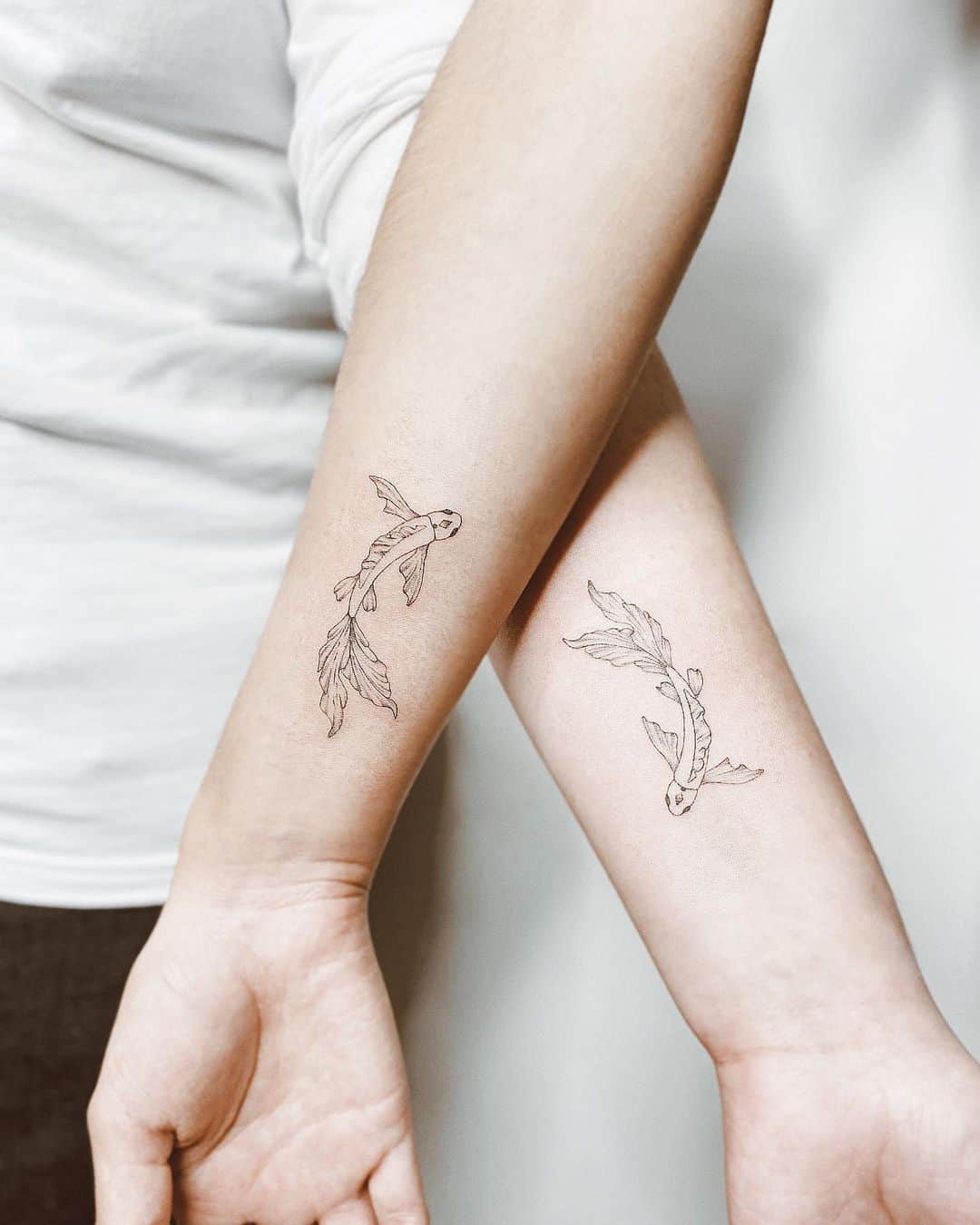 Koi fish tattoos mean perseverance, and strength to overcome struggles and obstacles in life. This would be a great idea for a matching tattoo with someone who has been with you throughout the most difficult moments in your life, and has helped you come out of any bad situation stronger than before.
42. Sunflower and Inspiring Sentence Matching Tattoos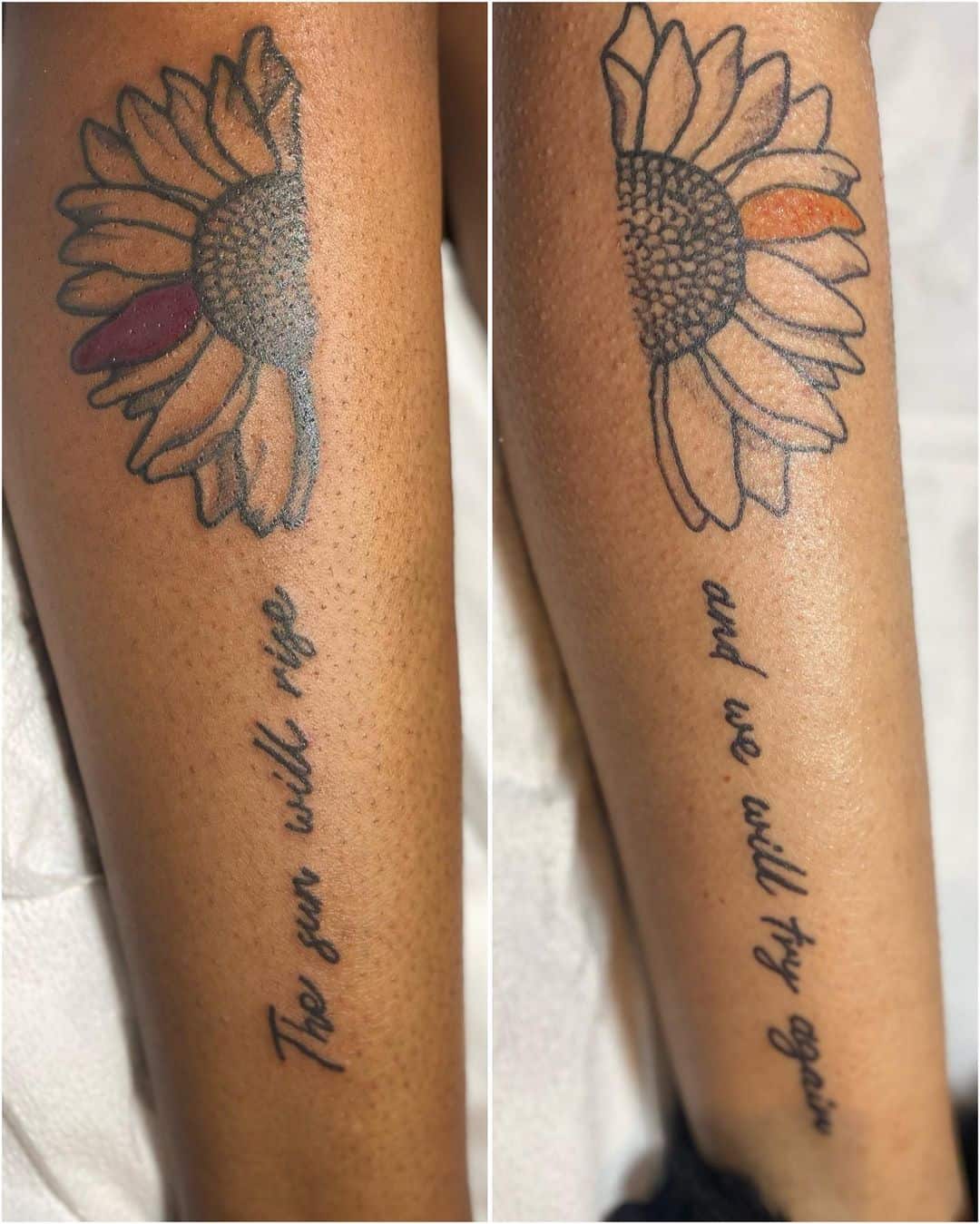 These complementing tattoos only work when together. It is not the kind of design that would still make sense individually so you must make sure you get it with someone who you will no doubt stay with for the rest of your life.
The reason for this is that one person will have the sentence "The sun will rise" and the other "and we will try again". A beautiful quote that works wonderfully together, but when apart it, loses its meaning.
43. Harley Quinn and Joker Matching Tattoos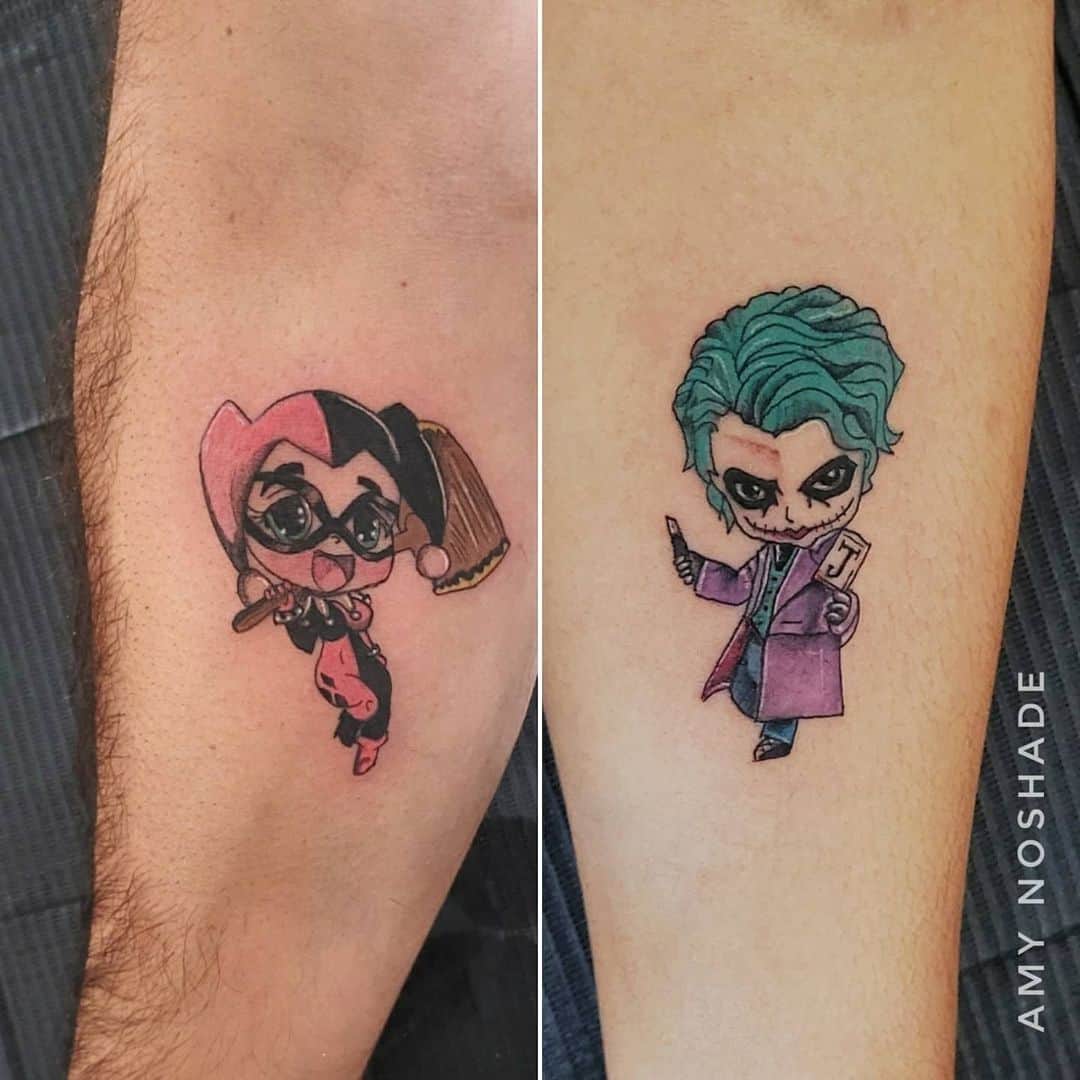 Harley Quinn and the Joker are one of those chaotic couples who have become really popular in popular media lately. Although their relationship can be considered toxic, the truth is, they would do anything for each other.
If you and your partner are unconventional or even odd at times, then this pair may be the best representation you can use in a matching tattoo. Plus, this art style is amazing.
44. Beauty and the Beast Matching Tattoos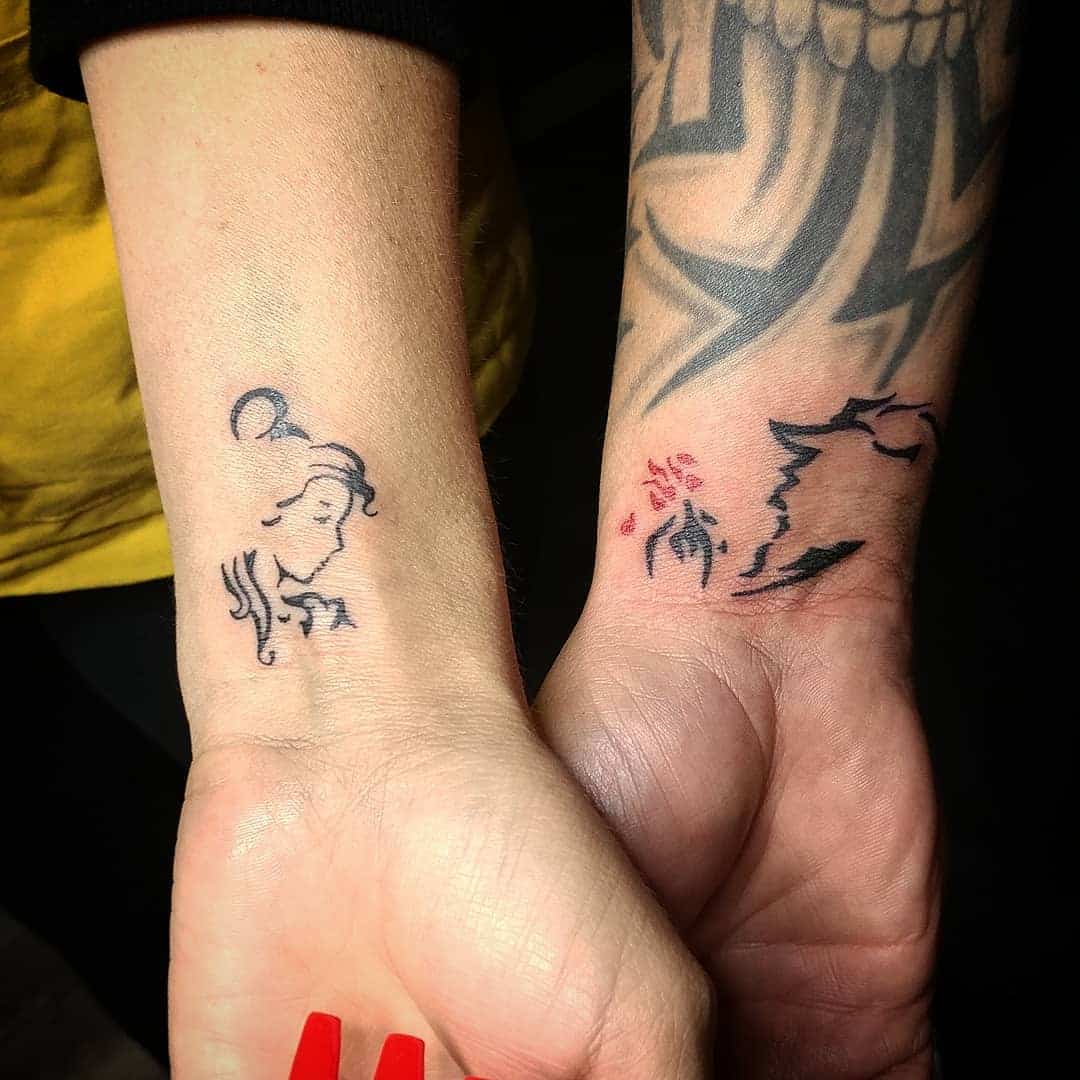 This line drawing matching tattoos of Beauty and the Beast is perfect for couples who love Disney. The majority of us doesn't get over our favorite childhood movies once we become adults, and that is absolutely fine. In fact, it is something you should be proud of. You were able to reach adulthood and leave the child inside you alive.
This design is inexpensive and easy to achieve, so keep this one in mind and let the world know that you're living a real-life fairy tale.
45. Coordinates Matching Tattoos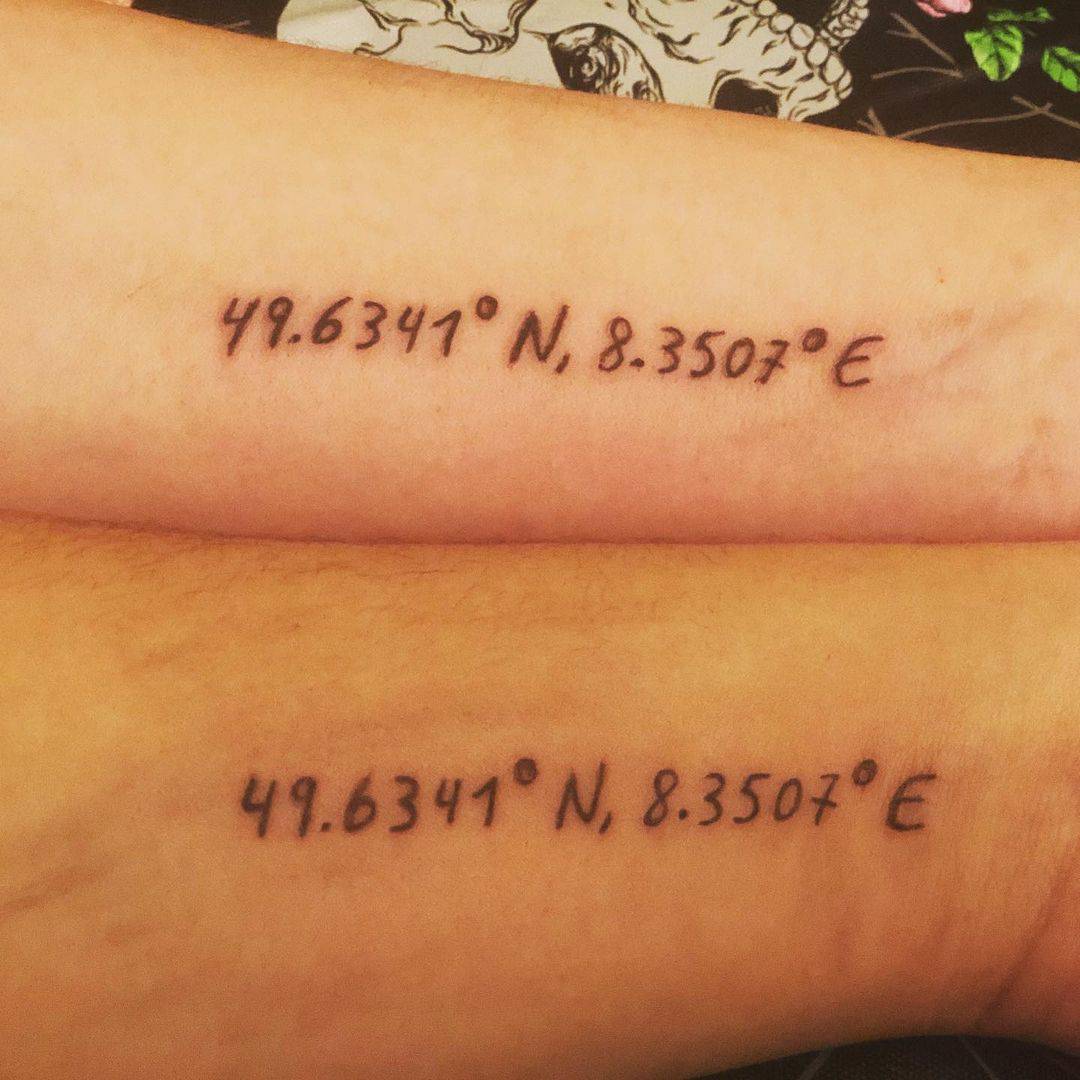 These matching tattoos of coordinates are an original and unique idea for those who like to think outside of the box. The coordinates can be of anywhere: the place you met, your childhood house, the place where someone was born – the options are endless.
This is an inexpensive option as well, making it a good choice for a pair that's on a budget!
46. Horror Movie References Matching Tattoos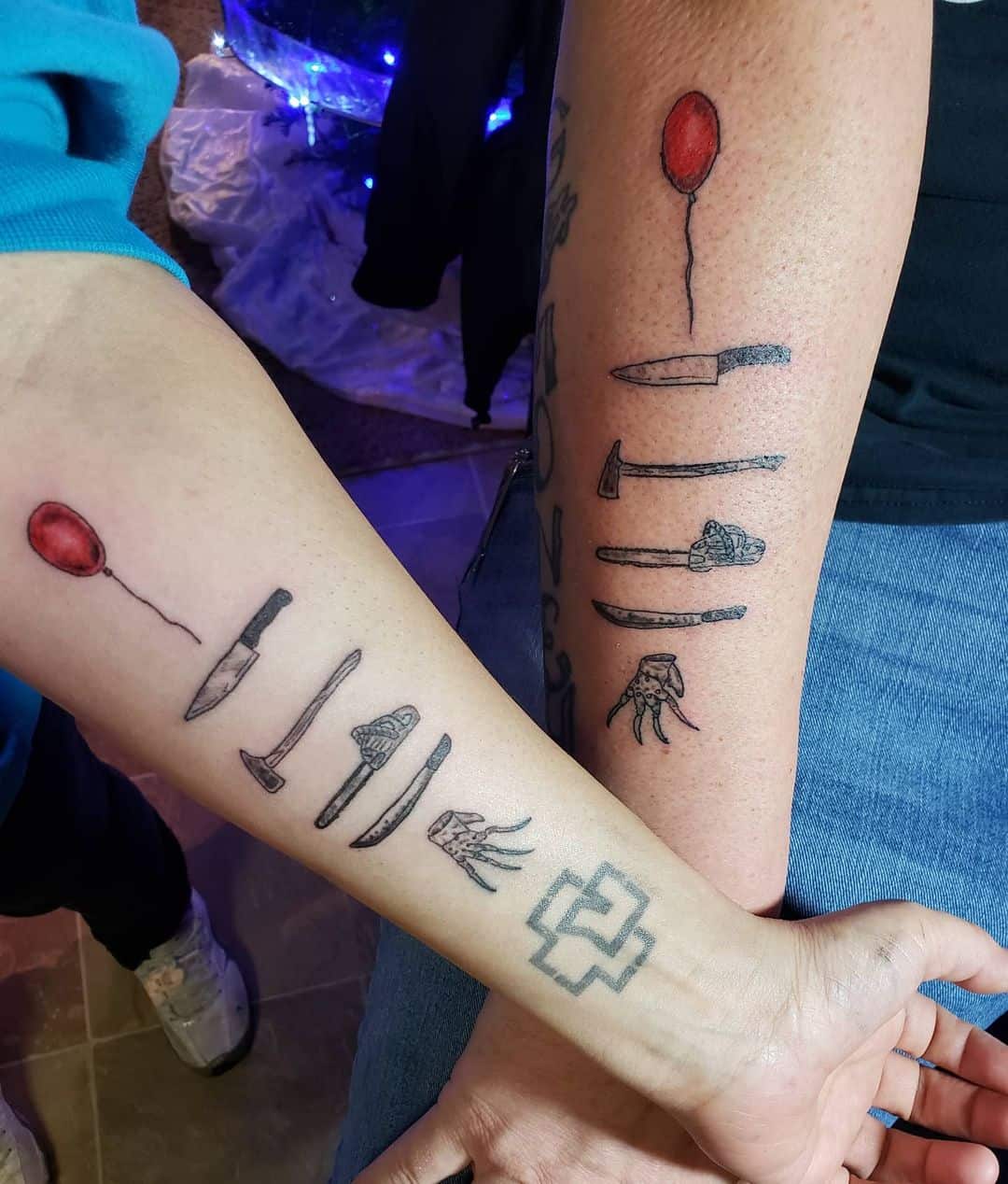 These matching tattoos have a small reference for all the most popular horror movies, like IT, Nightmare on Elm Street, and Friday the 13th. This would be the perfect design for you and that person who loves to stay up late watching horror movies and eating snacks.
You could change things up and add references to different movies, genres or just various references to a single movie.
47. Arrow, Feather, and Inspiring Word Matching Tattoos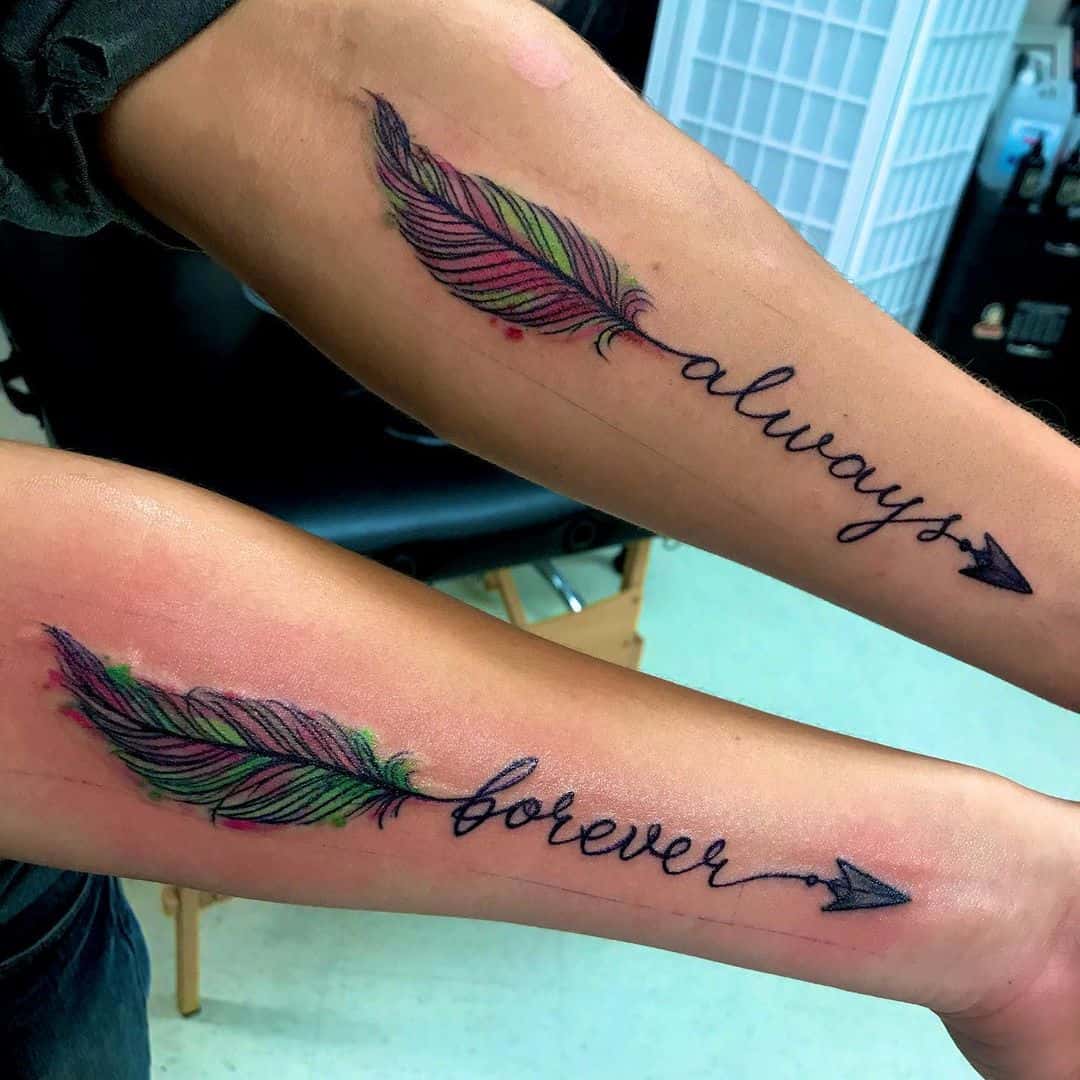 This design starts with a colorful feather, followed by the words "forever" and "always," and it ends in a pointy stone to simulate an arrow. This is perfect for siblings, best friends, or relatives.
This design mixes three really popular things – arrows, feathers, and written words – making it the perfect collage if you're torn between trends.
48. King of Spades and Queen of Hearts Matching Tattoos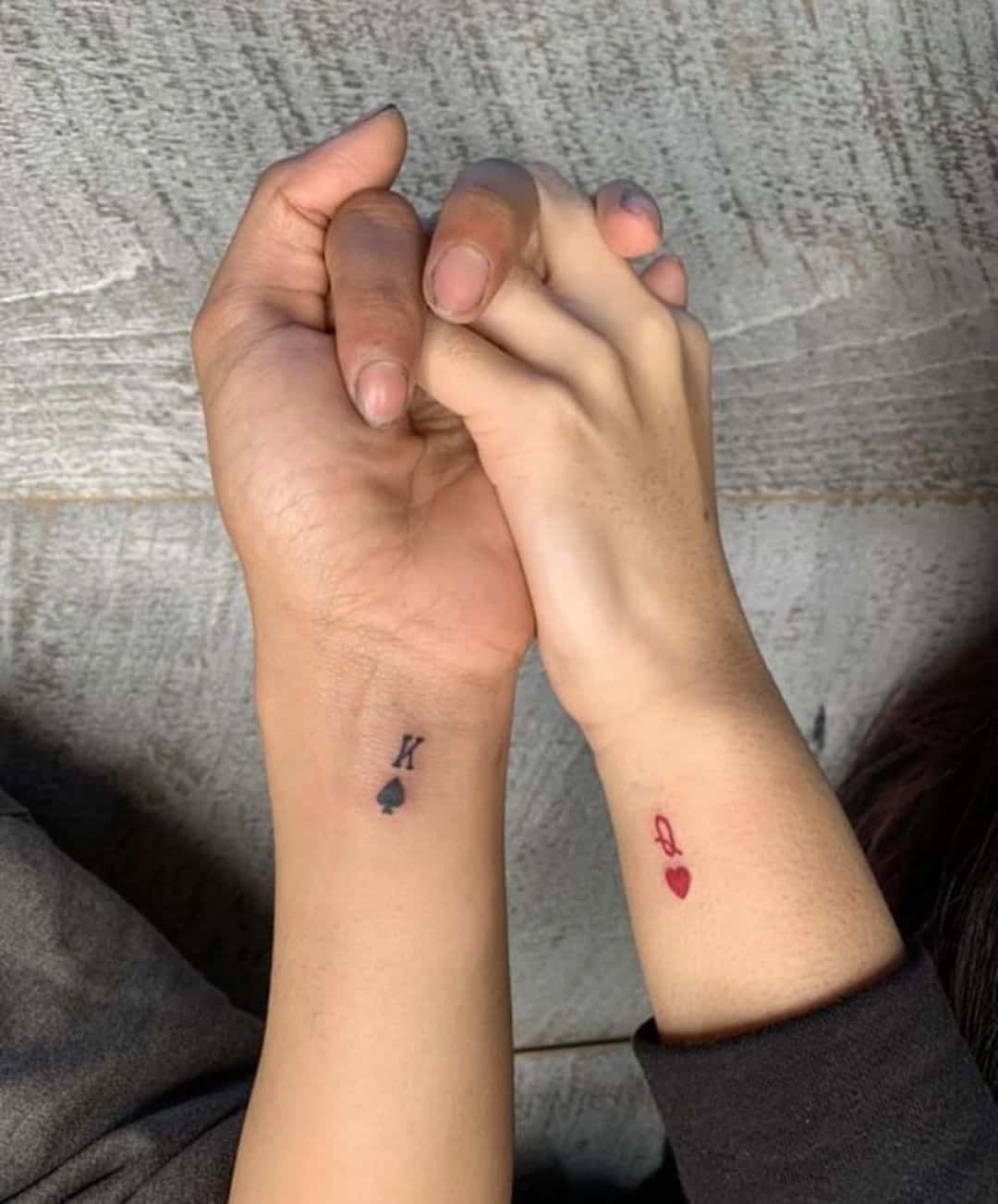 This design of the king of spades and the queen of hearts symbols is perfect for couples. It gets the point across but still embraces simplicity. If you want it to be in an even more discreet place, you can get it on a finger, behind your ear, or even your ankle.
Another great thing about this design is you can either get them both done in black in, or you can have the queen of hearts design be done in a bold red. You could even mix up the suits, if a different one speaks more strongly to either of you.
49. Peanut Butter and Jelly Matching Tattoos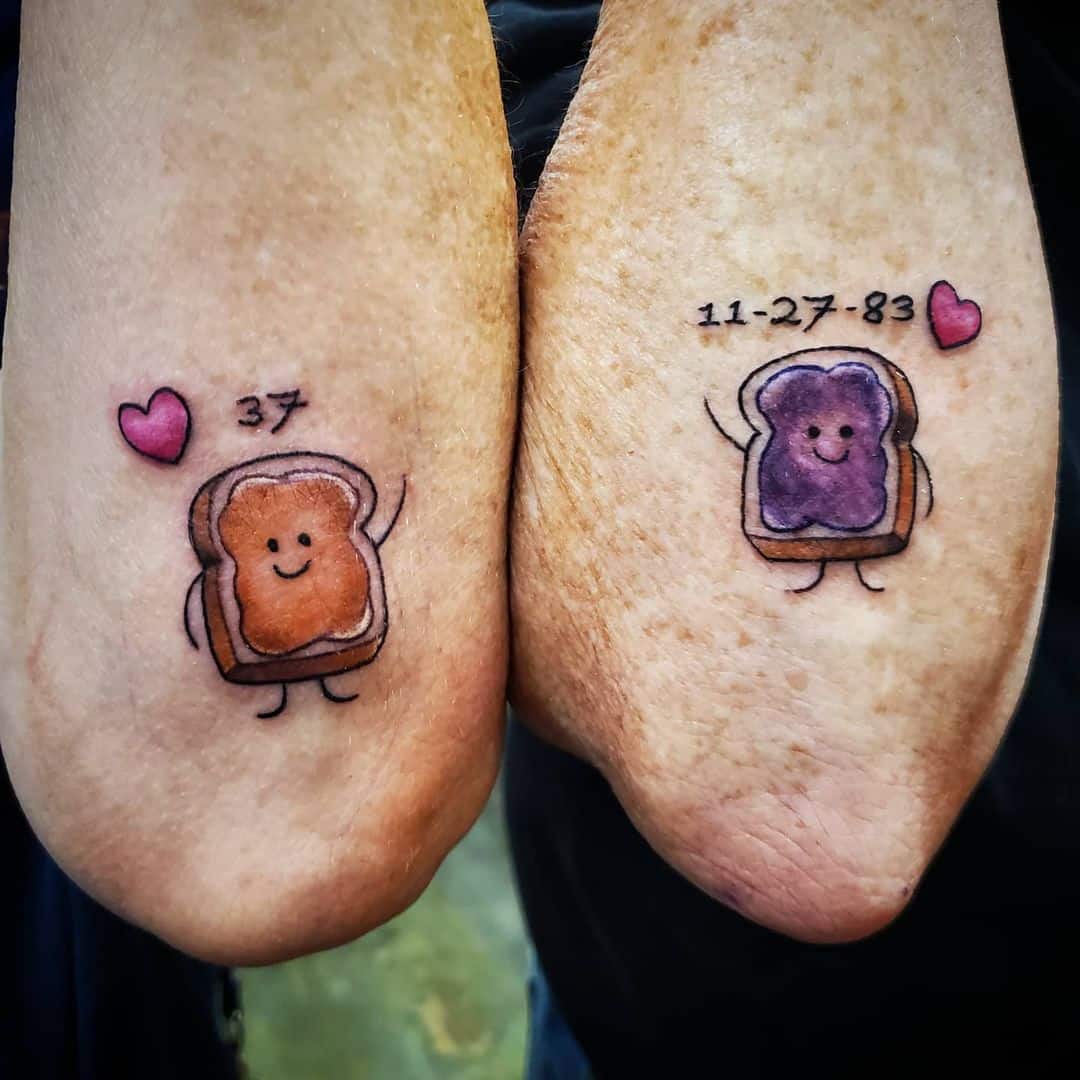 Peanut butter and Jelly tend to come together, either in a sandwich, or even a poem or song. It's a childhood classic and a great idea for matching tattoos, since it would symbolize how much you and the other person can't be without each other.
Plus, this design is adorable! You can add the date you met, birthdates, or even names.
50. TV Show Reference Matching Tattoos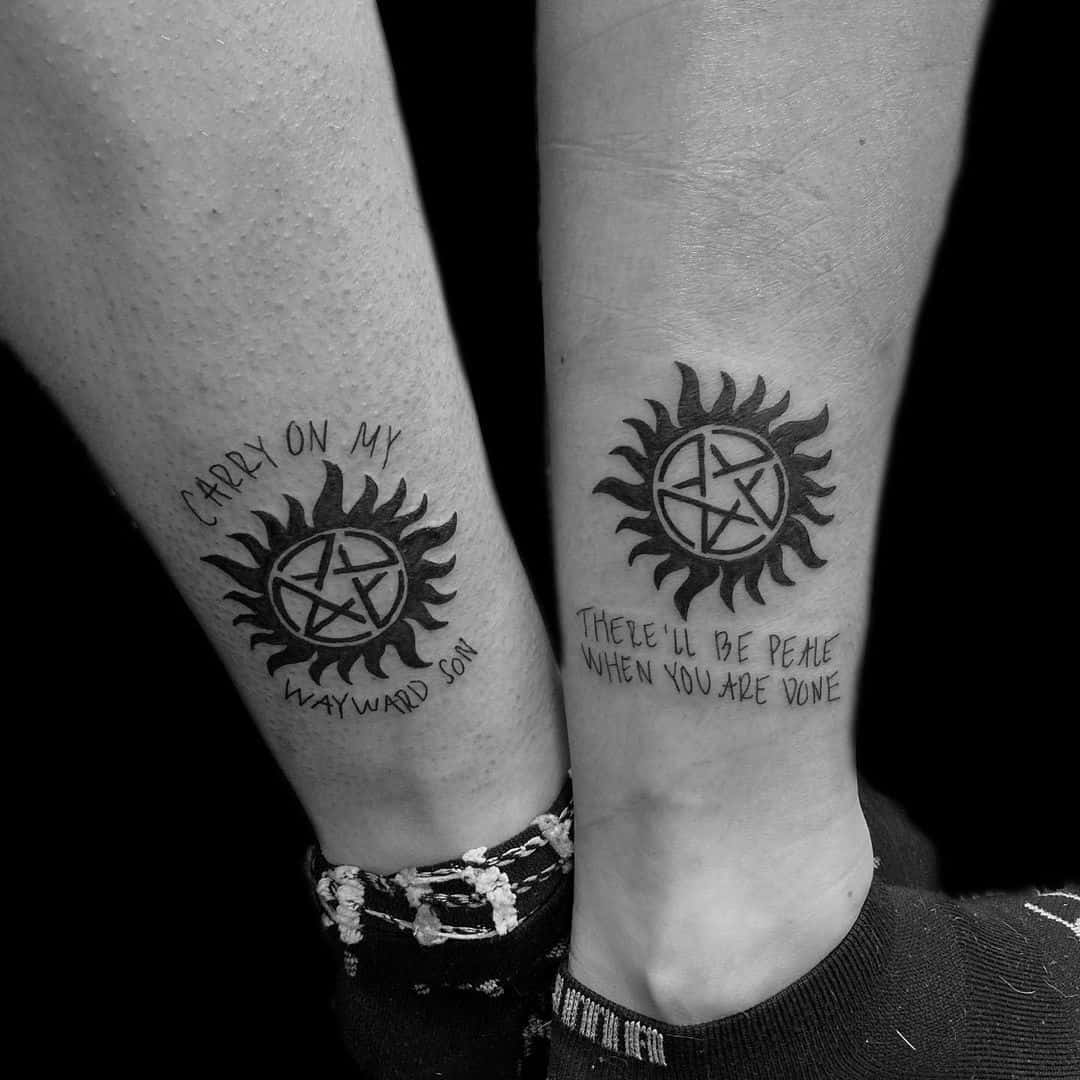 Most of us have TV shows we love, but only a few have a TV show we are obsessed about, watched several times, know every line, and spend hours looking at fandom content. Those of us who also have someone close to us who share the same obsession are lucky people.
These tattoos are for Supernatural fans, with the pentagon and the opening theme underneath. But you can get one for any show; there are countless references you can feature. Plus, it's a unique way of showcasing the bond with that relative or friend who loves the same show as you.
Celebrate Your Bond With Matching Tattoos
One of the best ways you can truly cement your bond with someone close to you is with matching tattoos. Whether it's a relative, a best friend, or your partner, permanent art on your bodies will be a constant reminder of how close you are.
Like with all tattoos, you'll want to be very mindful about choosing a great artist. Be sure to select someone with a good reputation, a solid portfolio, and whose style meshes with your vision. For instance, if you want a cute design, like the Peanut Butter and Jelly Matching Tattoos, you wouldn't go for an artist that does primarily dark, edgy work.
Also, be sure that you and the person you're getting a matching tattoo with are on the same page. Talk in detail together about exactly what style of tattoo you want, the meaning you both want it to have, and how much you're willing to spend. This is a life-long decision you both are making together, so take your time and be considerate of each other's wishes.
Once you both have gotten your tattoo, make sure to properly care for it to avoid any infection taking hold and to ensure proper healing. Listen to any specific advice your tattoo artist or doctor gives you, but in general, you'll want to practice these aftercare steps:
Leave on any bandage and ointment your artist applies for at least 24 hours.
Once your remove the bandage, wash with antimicrobial soap and gently pat dry. Note: Do not apply another bandage after removing this one.
Wash your tattoo, again with an antimicrobial soap, twice a day.
After each wash, apply an antibacterial ointment.
Moisturize with a tattoo lotion after cleaning.
Continue this process for 2-4 weeks.
If you choose the right artist, pick a design that speaks to both of you, and care for your new ink, both of you will have a memento of your bond that will last forever. Celebrate the most important relationship in your life with a tattoo that turns your bond into art – and proudly displays it for the whole world to see.