Family is one of the most common themes for tattoos, if not the most common. Those who have many tattoos are bound to have at least one dedicated to their families, and those with just one or a few oftentimes got them to pay tribute to their loved ones.
Most things in life are temporary, and since tattoos are not, we often struggle to find something that will be as relevant in 20, 30, 40 years as it is today. The answer is usually family.
Romantic relationships can end; hobbies, likes, and trends can change; and even hopes and dreams may be altered overnight. Life is unpredictable, but we can be sure of one thing: family is family, no matter what happens.
Family tattoos are often done when something important happens; they can be a birthday present to honor a mother or father, a marker of the birth of a child, or a memento of any other important family milestone. But there is no such thing as the perfect time to honor family, any time is a good time.
What to Consider When Getting a Family Tattoo
When you pick your design, there are a couple of things that are important for you to know – how to choose a tattoo artist and how much it will cost.
The Talent and Quality of the Tattoo Artist
When it comes to choosing a tattoo artist, you should have a look at the portfolios of every tattoo artist near you. If you have chosen a simple design, most will be capable of doing a great job. However, if you want something complex and full of details, then this part of the process is the most important because you don't want a badly executed design on you for the rest of your life – or to have to pay extra to fix it!
Have a look at portfolios and see if something similar has been done, if they are used to big jobs, and how much you like their style – many artists like to add their spin to every design, with your consent.
Your Personal Budget
When it comes to price, it depends depends on the design you choose and the tattoo artist you choose. Some ask for a fixed price and some charge hourly, so the price can vary greatly.
Always consider your budget before choosing a design; however, if you can't afford a full sleeve but you want one, you can have it done in sessions. That way it's easier on your pocket, but you'll want to make sure you don't mind walking around with an unfinished tattoo on your skin.
We'll now explore 50 family tattoo ideas. Hopefully, you can find one on this list that resonates with you.
1. Line Drawing of Family Picture Tattoo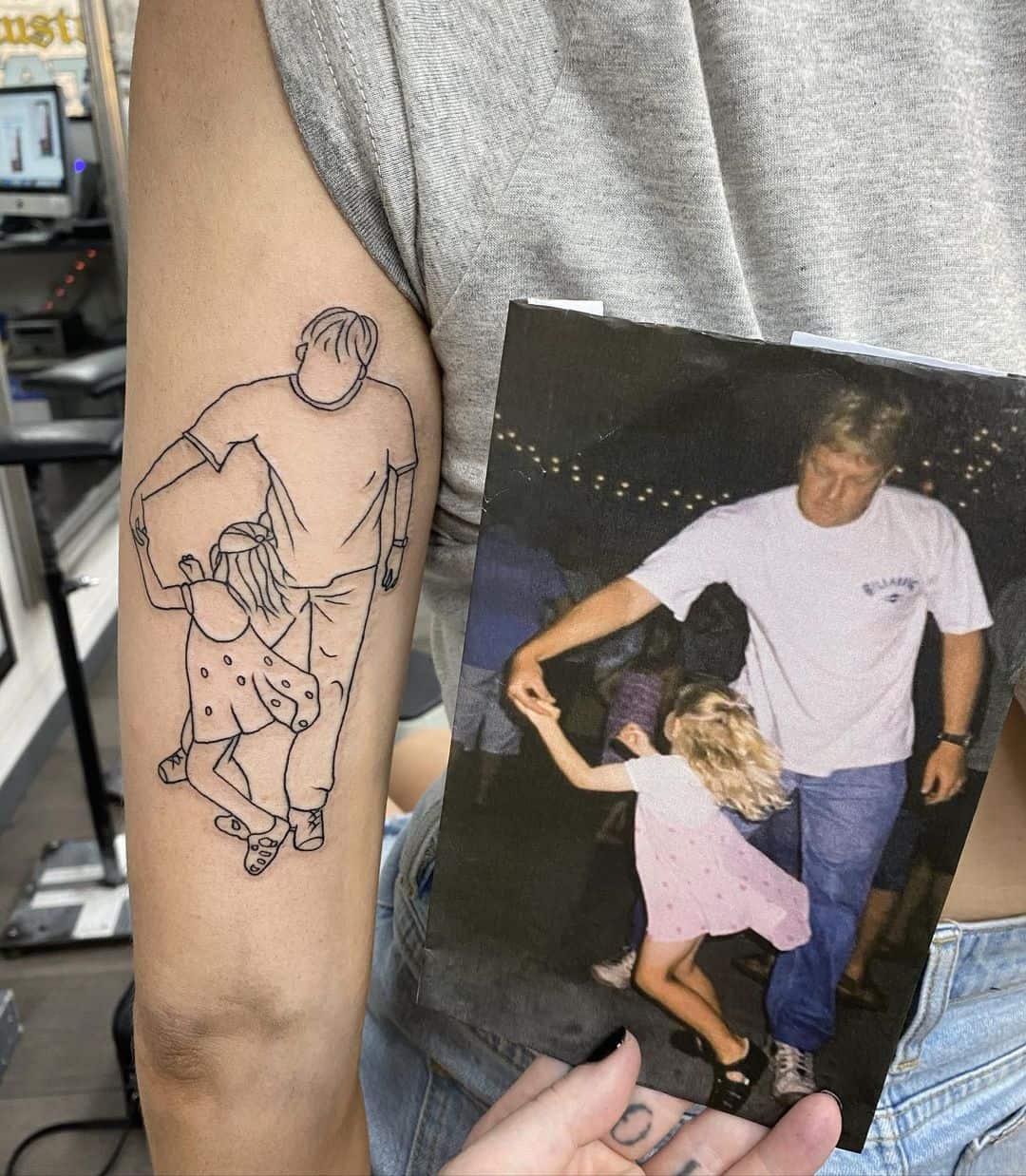 This is a simple design that can be adapted to any family picture of your own. This design is perfect for those who have a minimalist personal style.
The meaning behind the tattoo would be personal and recognizable only by yourself and those closest to you who are familiar with the original picture. The price would be quite low, and it wouldn't take long to finish.
If you want something discreet and don't like spending a lot of money on cosmetic features, consider this, as it will tick all your boxes.
2. Woman and Baby With Birth Date Tattoo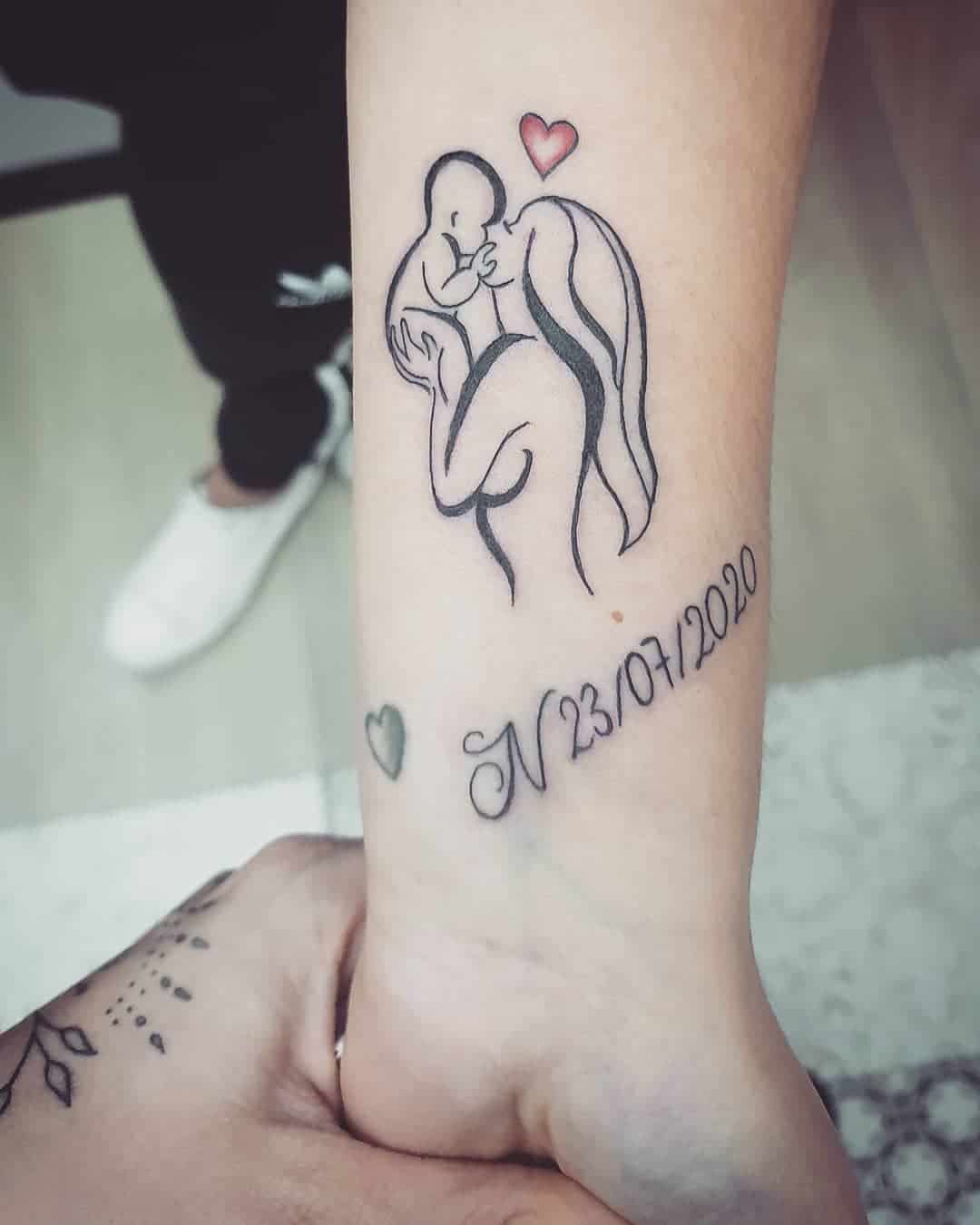 If you have just given birth to a beautiful baby, or even became an aunt and want to mark that occasion on your skin forever, then this design might be the one for you.
It showcases a woman with a baby in a thick line design, a heart filled with red ink, and a date at the bottom. It's a beautiful minimalist design that is great for those who want just the tiniest hint of color, This design isn't time-consuming to make and would fit low budgets perfectly.
3. Colorful Family Illustration Tattoo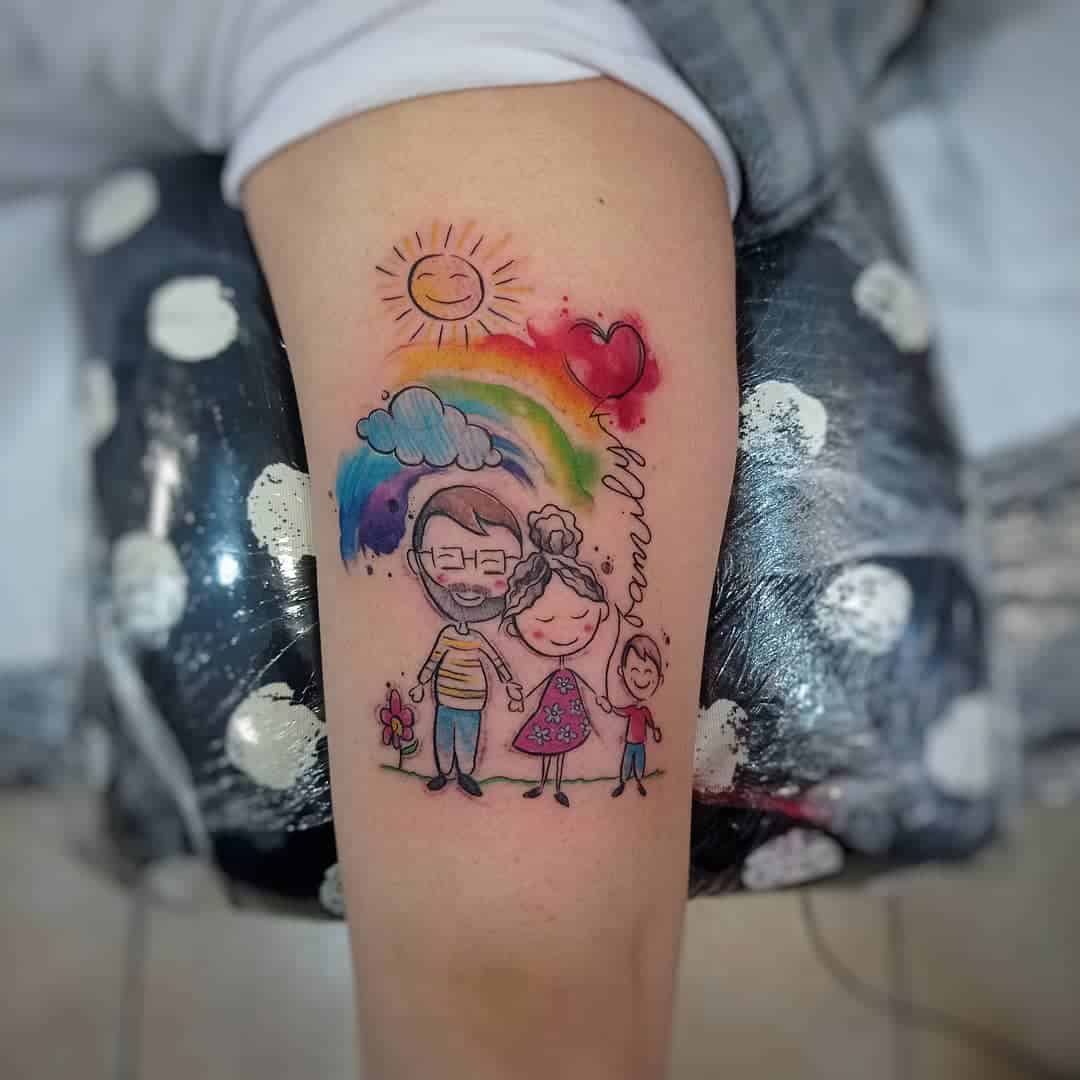 This light-hearted and colorful illustration of a family is perfect for those who like lively and youthful designs. You can adapt it and add family members and even a loved pet; the characters can also be done to look like you and your family.
It is an option full of fun that pays homage to your loved ones. Colored tattoos tend to be pricier, but this one is still simple enough to remain affordable for most people.
4. Animals Representing Family Members Tattoo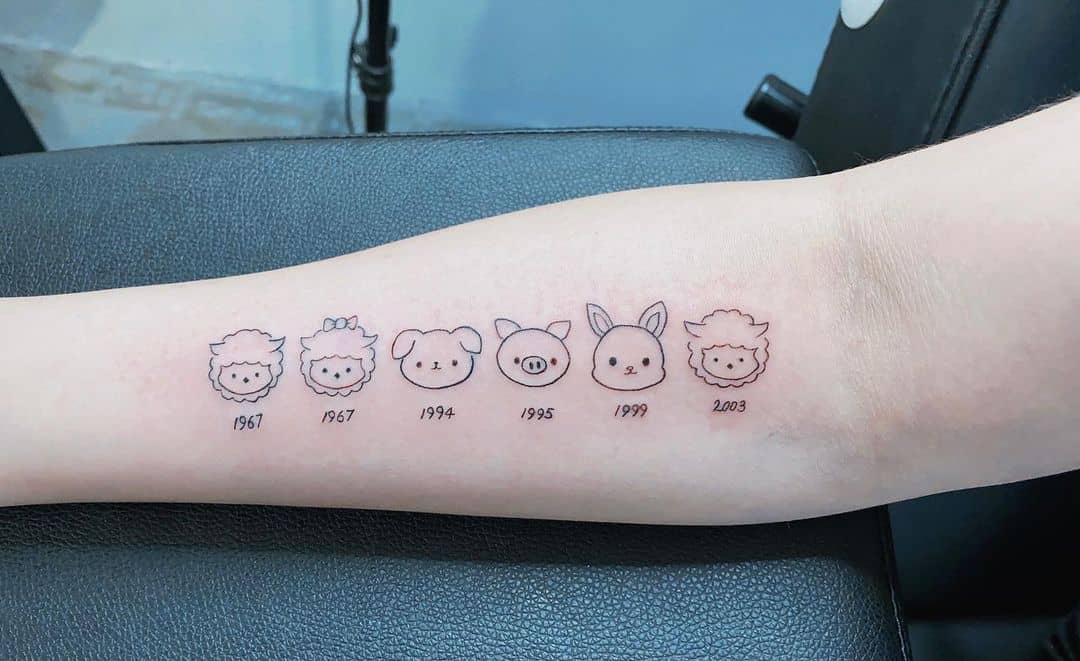 This little design will allow you to portray the funnier side of your family. Each family member is represented by an animal and differentiated by their birth year underneath.
The options are endless when it comes to what animals you can use; the answer is – all of them! Is your brother known in the family for not cleaning his room? Make him a cute piglet. Is your mother always worried about your safety and making sure you're warm? A little mama bear's face will do her just fine!
5. Woman and Kids With Initials Tattoo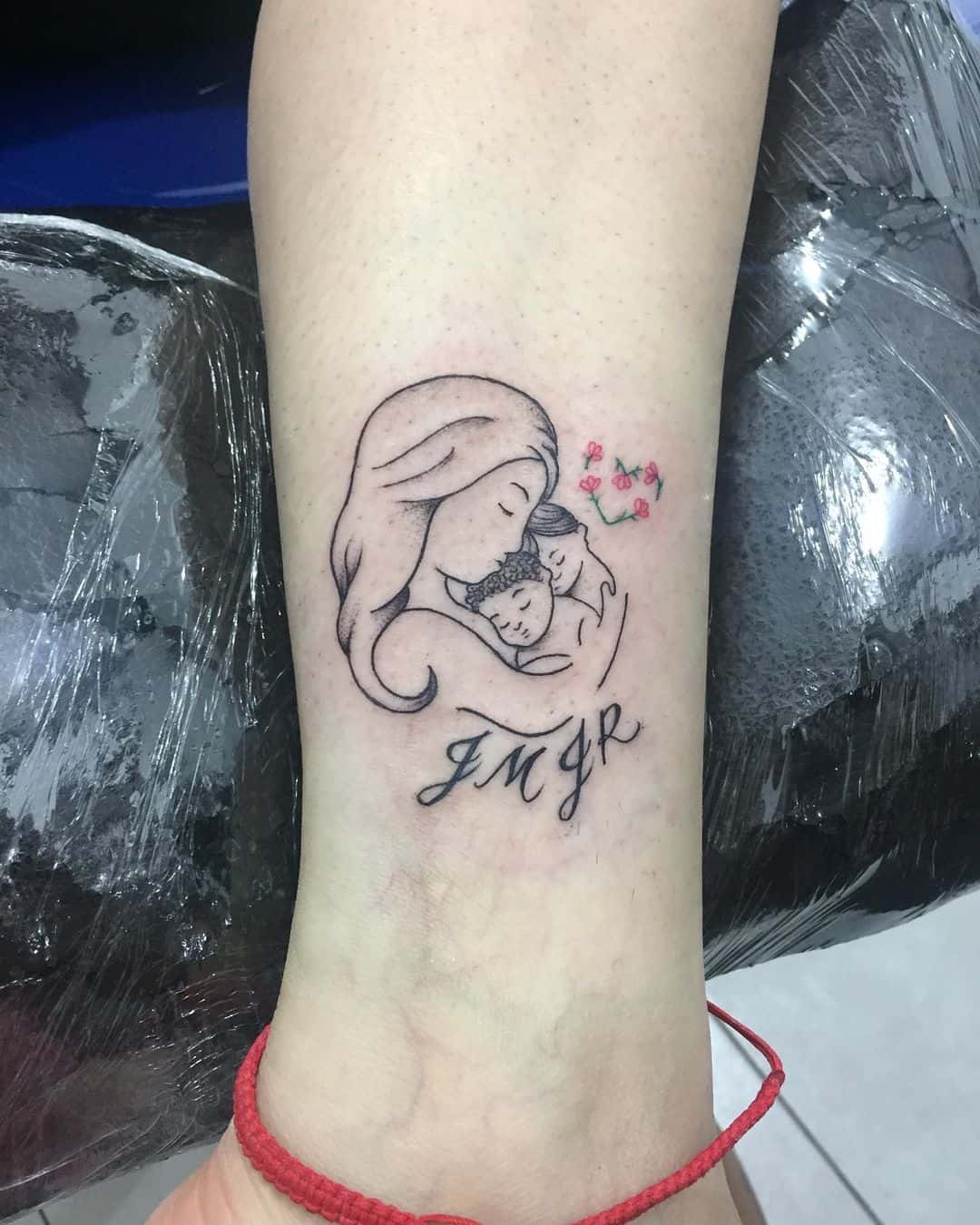 This thick line design of a woman protectively hugging two kids is heart-warming and quite discreet if you want something subtle. Adding the initials underneath makes it even more personal, and you can change the design to have a different number of kids or even change how they look.
This is a great, affordable option, and you can get it at any tattoo studio. Since it is so simple, any tattoo artist can do it.
6. Heartbeat Family Tattoo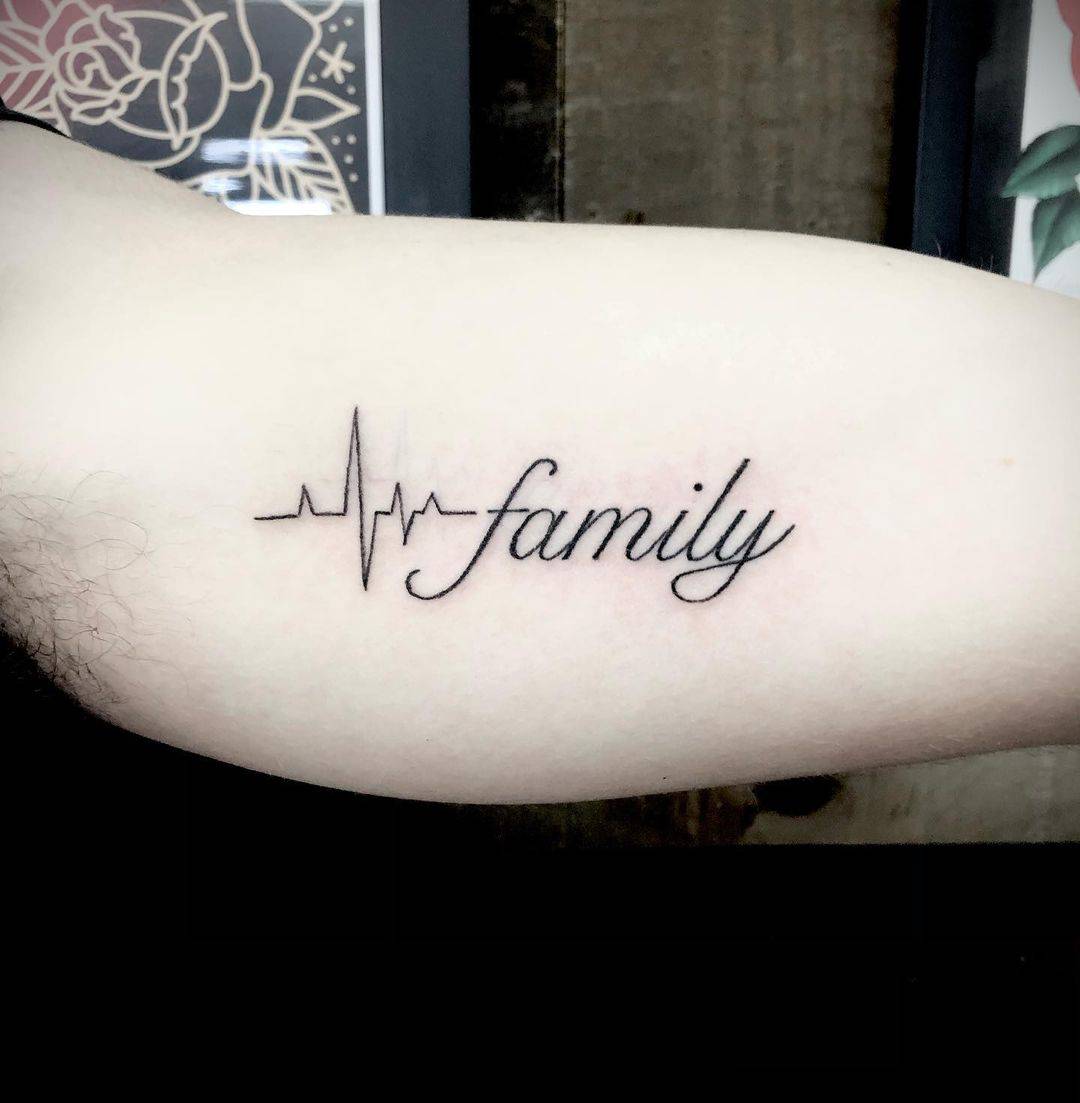 For the fans of tattoos in the form of written words, here is an awesome option. The heartbeat line followed by the word "family" is a classic.
You can have this tattoo anywhere on your body and any size you want; it is entirely up to you. It's simple, subtle, and straight to the point, all things that are desirable to those who want a little tattoo to honor their families, but don't want their body covered in ink.
7. Line Drawing of Grandparents Tattoo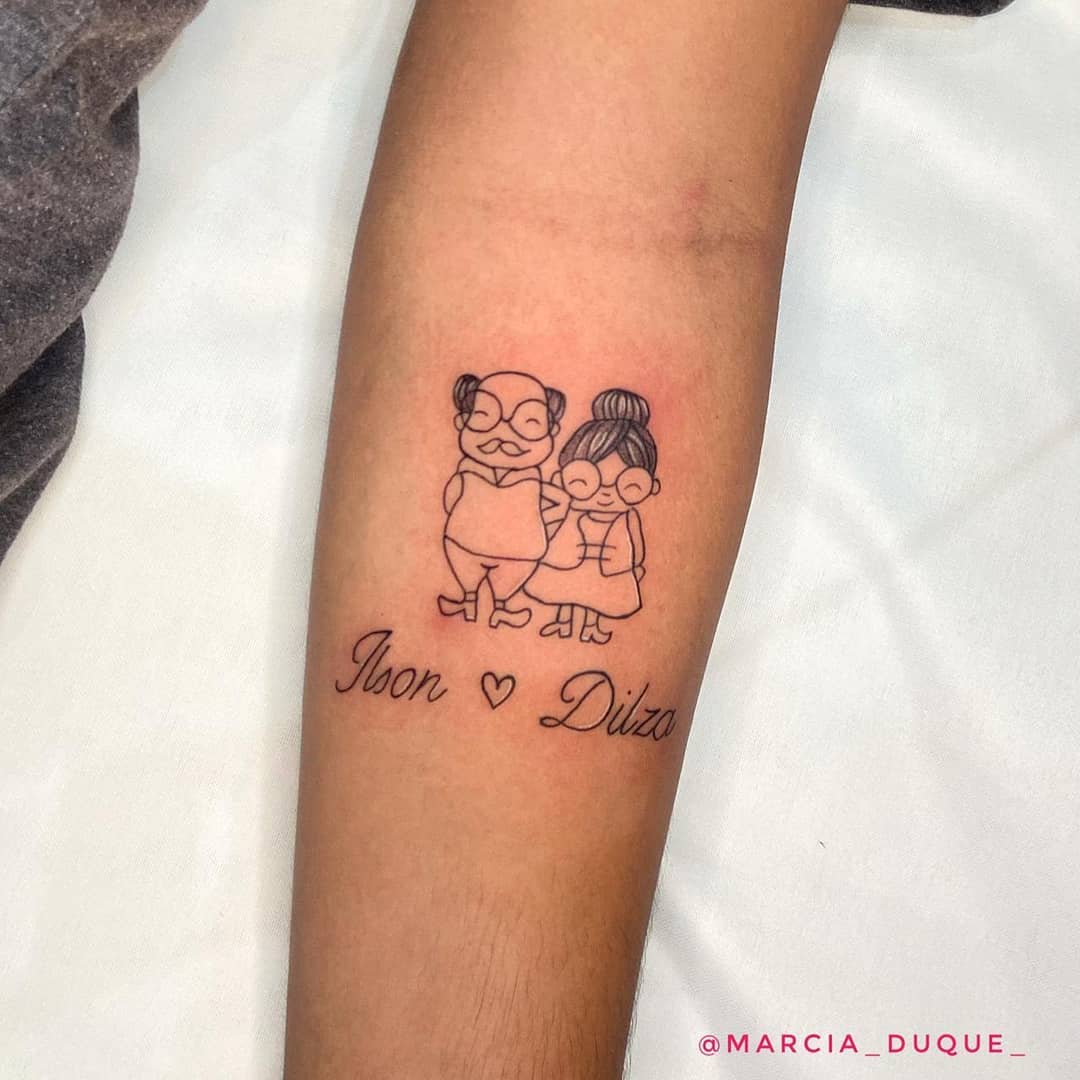 First of all, you can use this drawing style for anyone in the family – kids, parents, siblings, the entire family, or even pets! But this specific design is adorable.
For many of us, grandparents are like our second parents, and they deserve all the love and praise we can give. Because after all, without them, we wouldn't be here. Literally.
This beautiful line drawing of an old couple will warm up the heart of anyone who sees it. It's simple yet profound, and not something you would get tired of, no matter how many years pass.
8. Woman and Baby Colourful Line Drawing Tattoo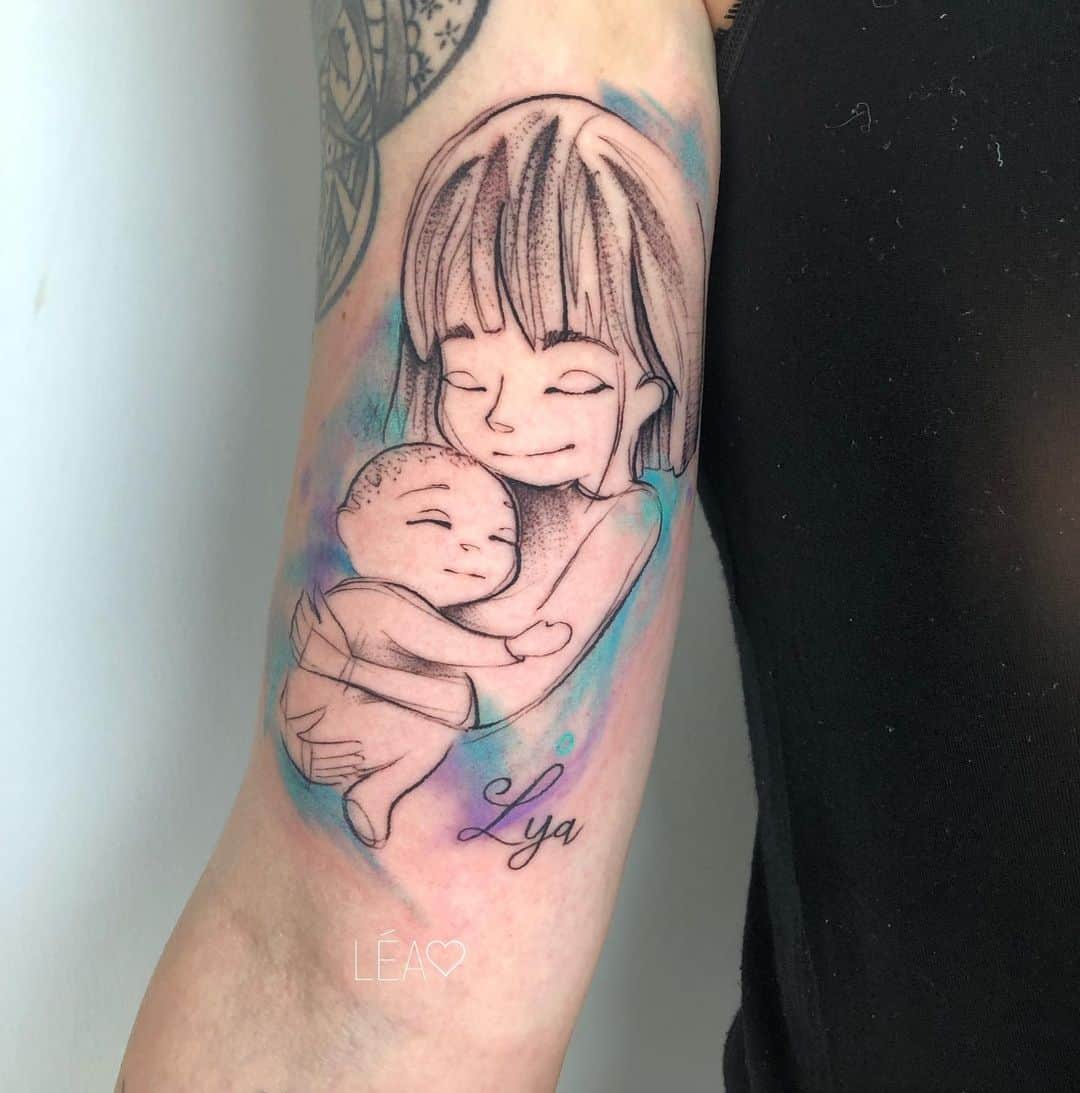 The art style on this line drawing is beautiful and would work perfectly whetheryou're a mother, an aunt, or a big sister! The splash of color added around the pair makes the tattoo look livelier and youthful.
This design is simple; therefore, it shouldn't be too expensive. However, it is a design that would look better on a bigger tattoo, and color is always a bit more expensive. But even considering all these factors, it isn't a big commitment for your wallet.
9. Matching Heart Tattoo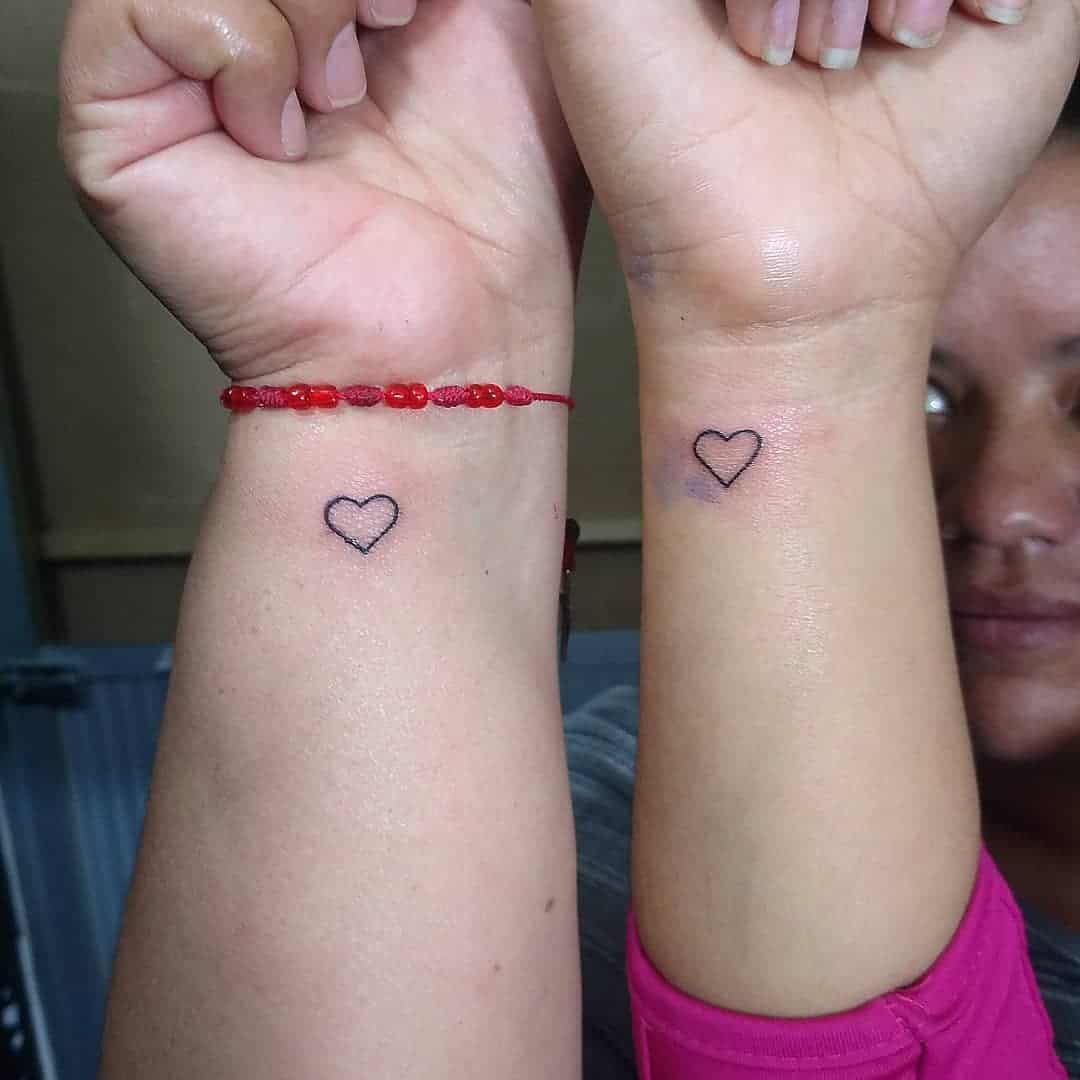 Having a big tattoo that spells or illustrates your family is an amazing way to honor them, but having a matching tattoo with one member or multiple members of your family is a candid way of symbolizing the love you feel for each other.
This tiny matching heart tattoo is cheap, quick to do, and it's not a big aesthetic commitment.
10. Guitar and Name Family Tattoo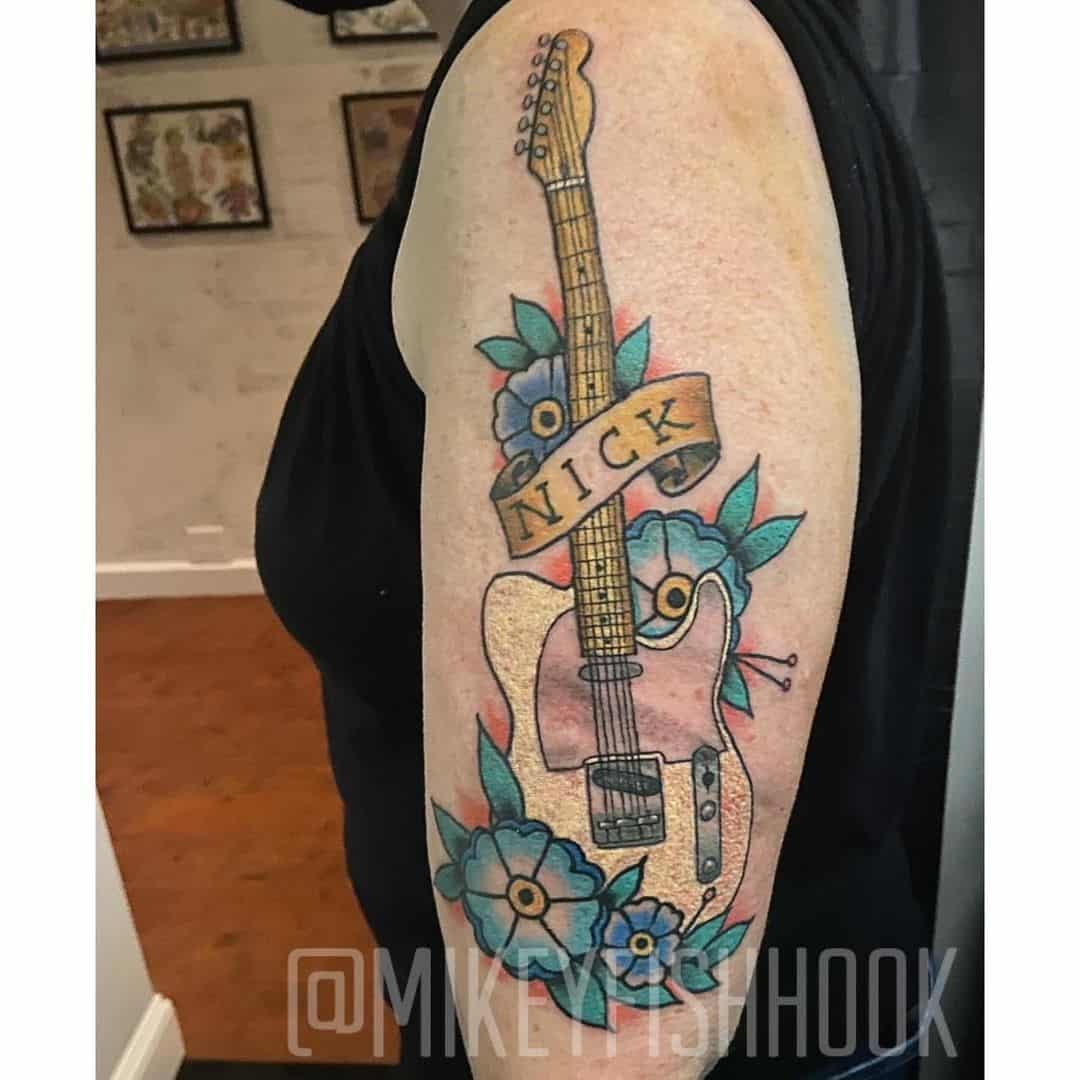 This tattoo of a guitar with a name honors a family member by representing them with their favorite hobby. The guitar is just an example; you can use anything – rollerskates, a paint palette, or ballerina shoes. The choice is entirely up to you.
It can be done in a small or large size, but that will depend on what elements you want to use; not every tattoo can shine in smaller sizes.
11. Matching Name Family Tattoos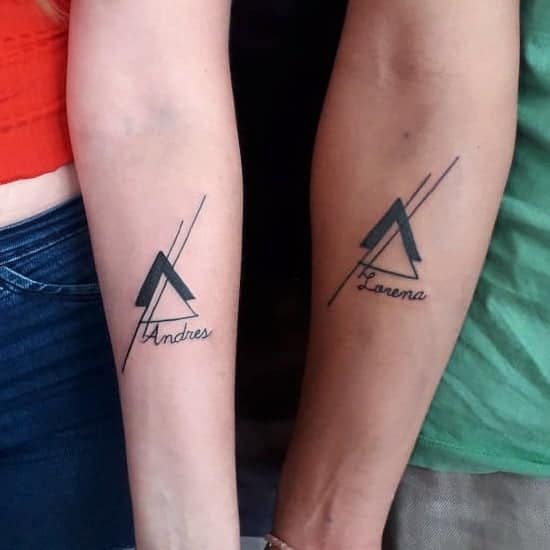 Tattooing names is a big deal, and not something you should do unless it's for a family member. These beautiful matching tattoos would be perfect for siblings or cousins, and the geometric shapes add a trendy look that is undeniably pretty.
Instead of the geometric shapes, you can add any element you wish. But keeping it simple, like in the image, will guarantee a cheap and quick tattoo that gets the point across.
12. Sunset and Family Silhouette Tattoo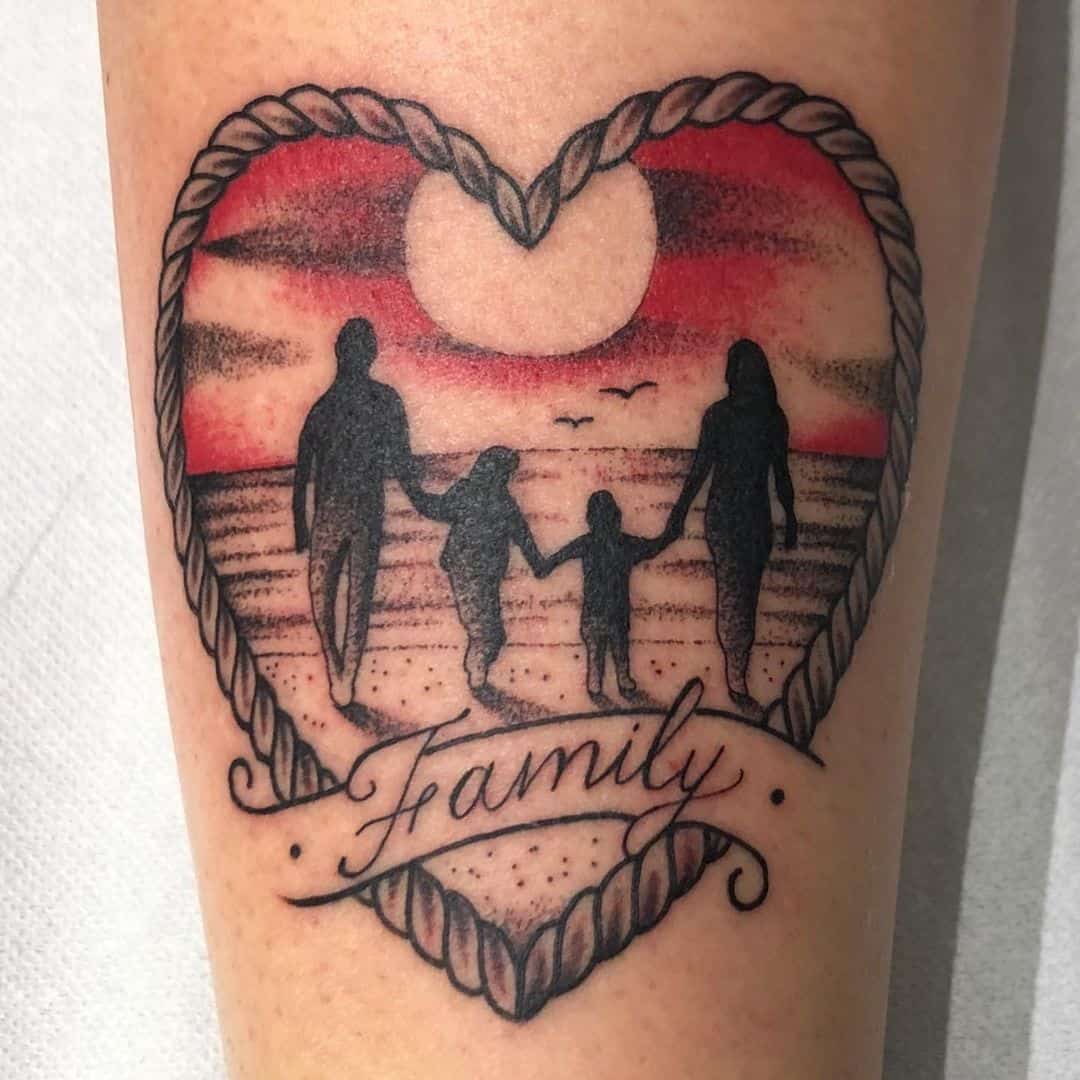 This design is for those who like to stand out but still have a modest personal style. This design of a heart-shaped rope with a sunset and the silhouette of a family, plus the banner with the word family written on it, is a tattoo that is anything but subtle.
Since there is color and shading, this tattoo may be in a medium price range, or perhaps medium-high since the design would be a lot better on the bigger side. Make sure to find a tattoo artist who is experienced with colors and shading so you get the best outcome possible.
13. Lioness and Cubs Family Tattoo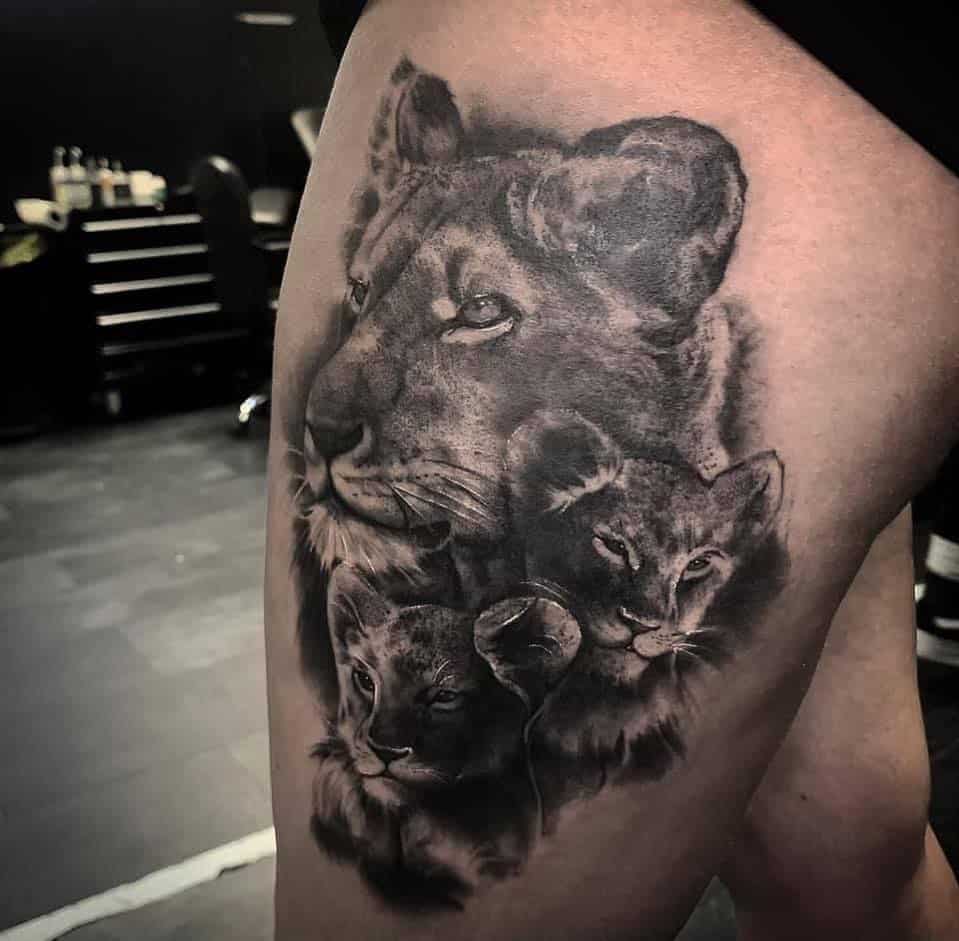 This stunning tattoo of a lioness with her two cubs is a popular option when it comes to family-themed tattoos.
Lion tattoos mean royalty and strength, but a lioness with cubs has a whole different meaning. In the wild, lionesses will give their lives to protect their cubs, so this design is often used to symbolize the love of a mother for her kids.
14. Heartbeats With Names Family Tattoo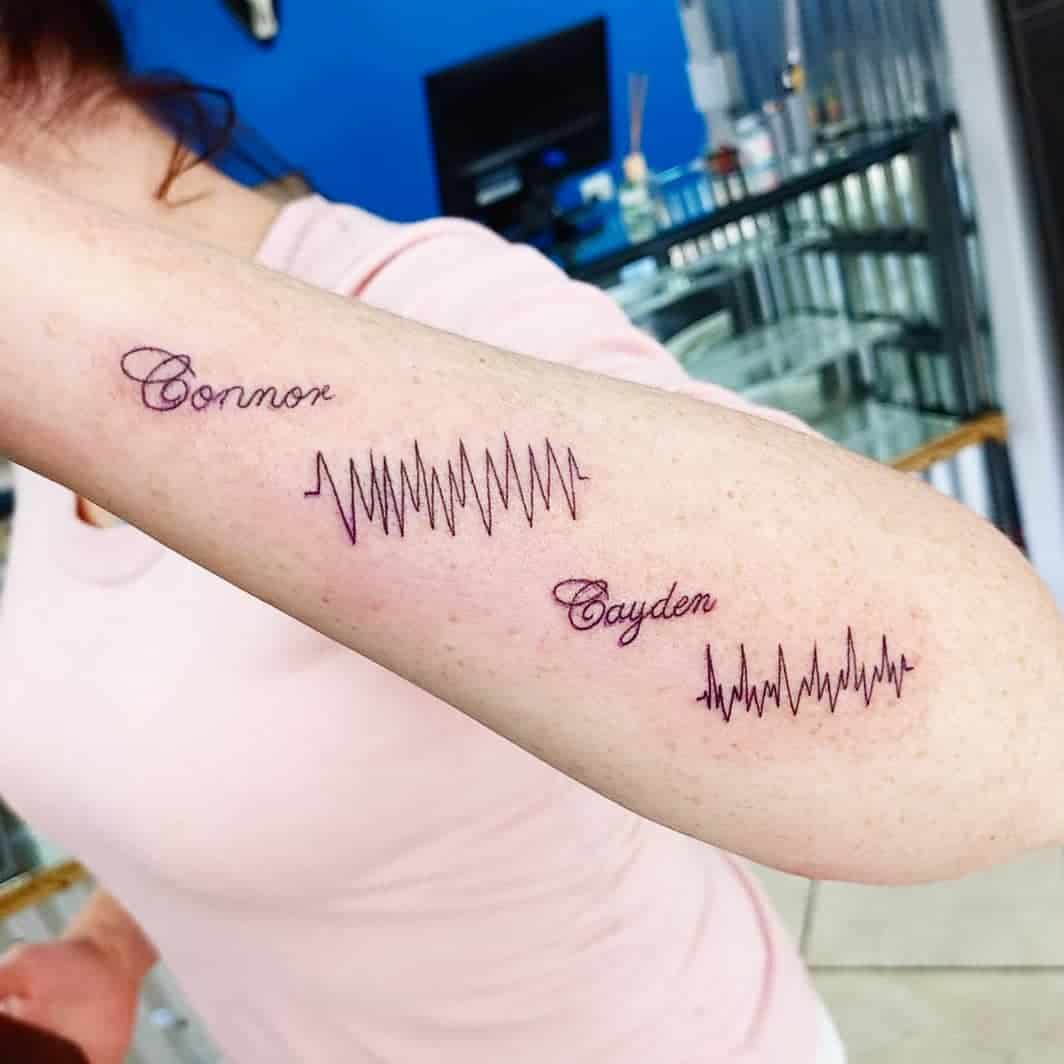 This is a really good option for those who want something deeply personal that no one else in the world is going to have.
Oftentimes, when getting an ultrasound, mothers will get a picture of the baby and their heartbeat. Tattooing the baby's heartbeat with their name underneath will be unique to every baby and a perfect way to immortalize such a special moment on a tattoo.
15. Tree of Life With Initials Family Tattoo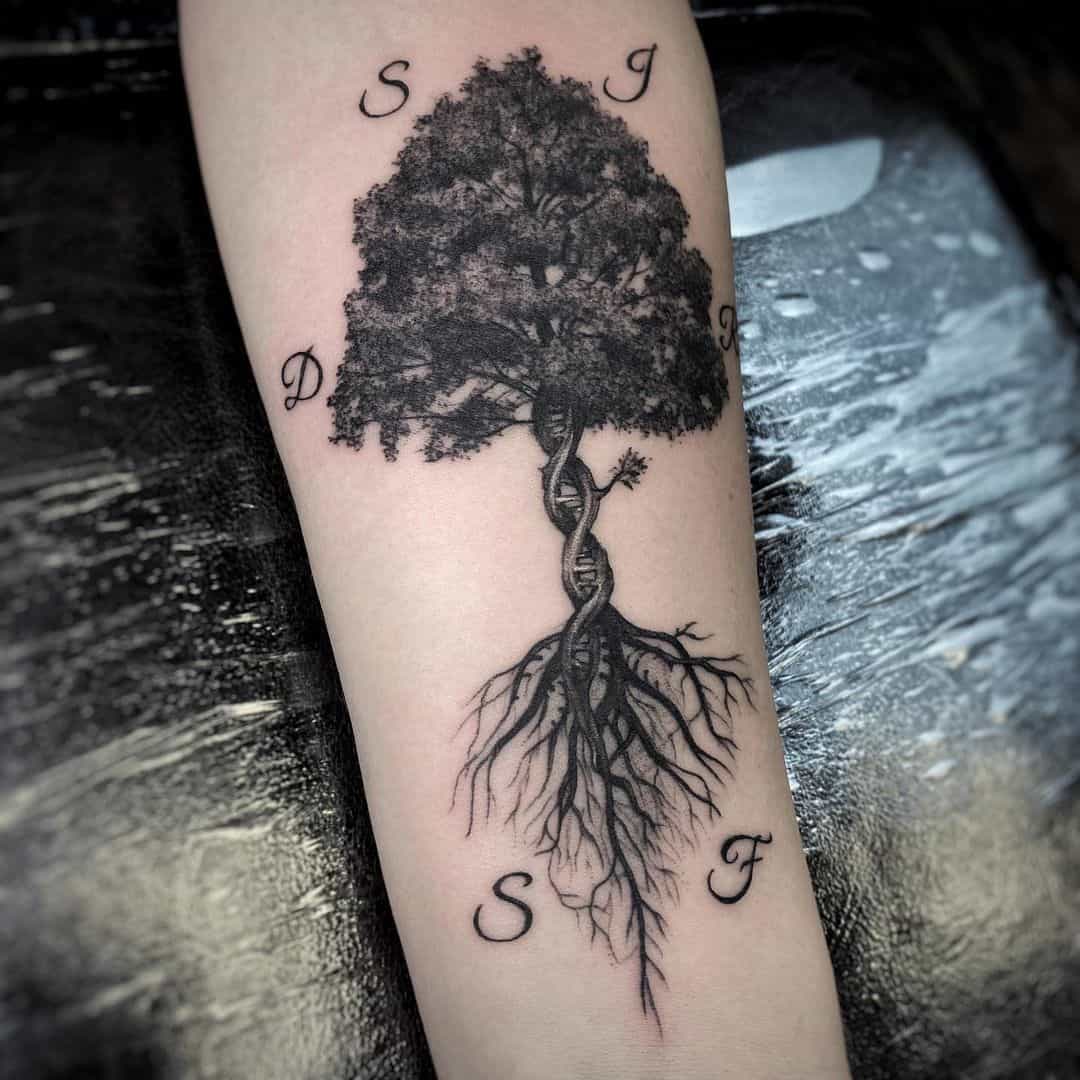 Amongst many things, the tree of life means strength, growth, eternity, protection, and salvation. It's no surprise then that this is quite a popular option for a family tattoo.
Some people choose to add the initials around the, others add them on the branches, and some people will add whole names. No matter what way you choose to do it, this is a great family tattoo.
Another great thing about this design is the size flexibility, it will look great on the smaller side, and it will look even better as a bigger and more detailed tattoo.
16. Pet Dog Portrait Family Tattoo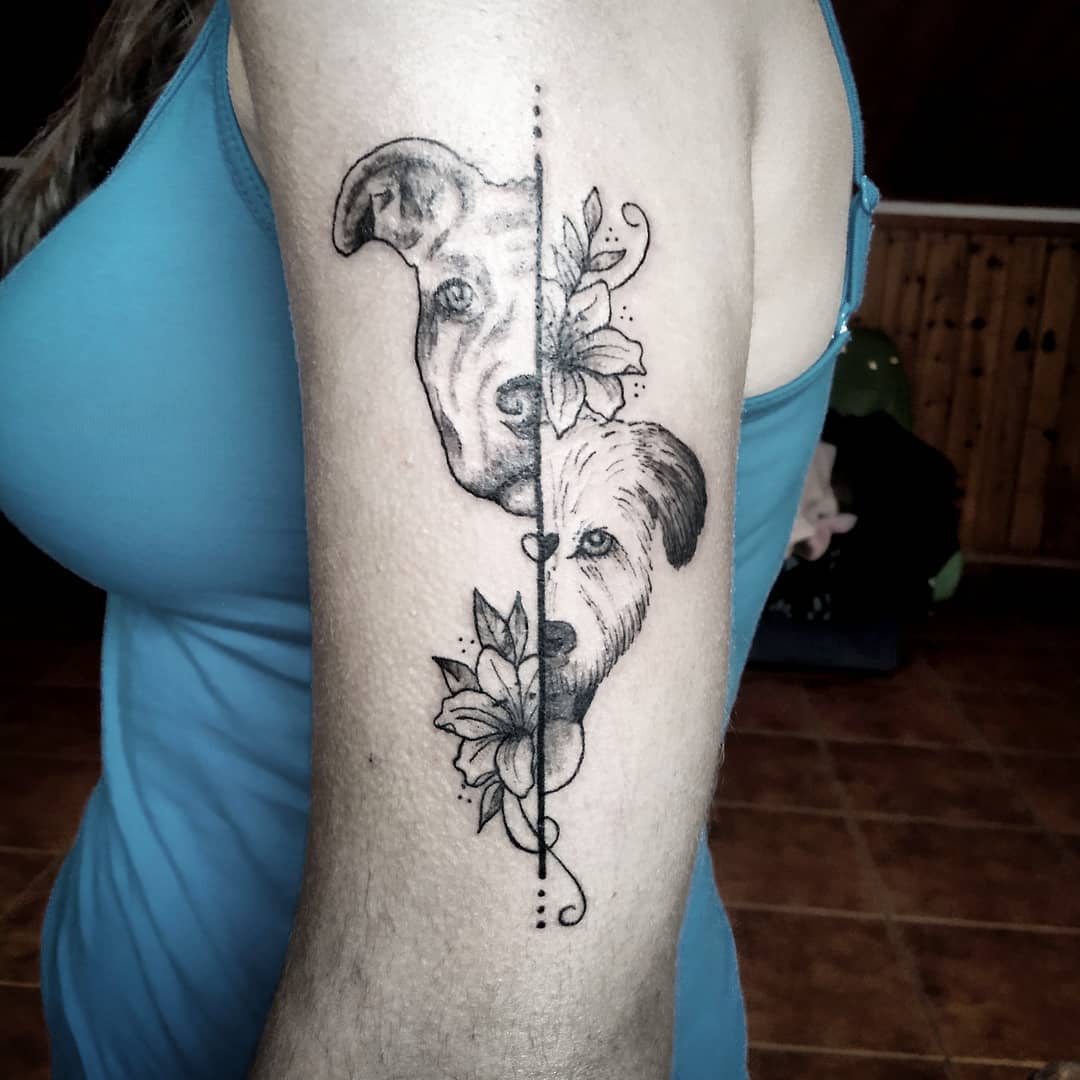 Most pet owners can agree that our lovely animals are members of the family, just like any other human family member! You must own a pet to know the unconditional love and unbreakable bond that forms between pet and owner, and for that reason, it is no surprise that we want to honor them in every way possible.
This design is a candid way to immortalize your loved pets. You can also add their names, and it can be adapted to every animal – cat, dog, hamster, guinea pig, snake, bearded dragon, or even a fish!
17. Bear and Cubs Family Tattoo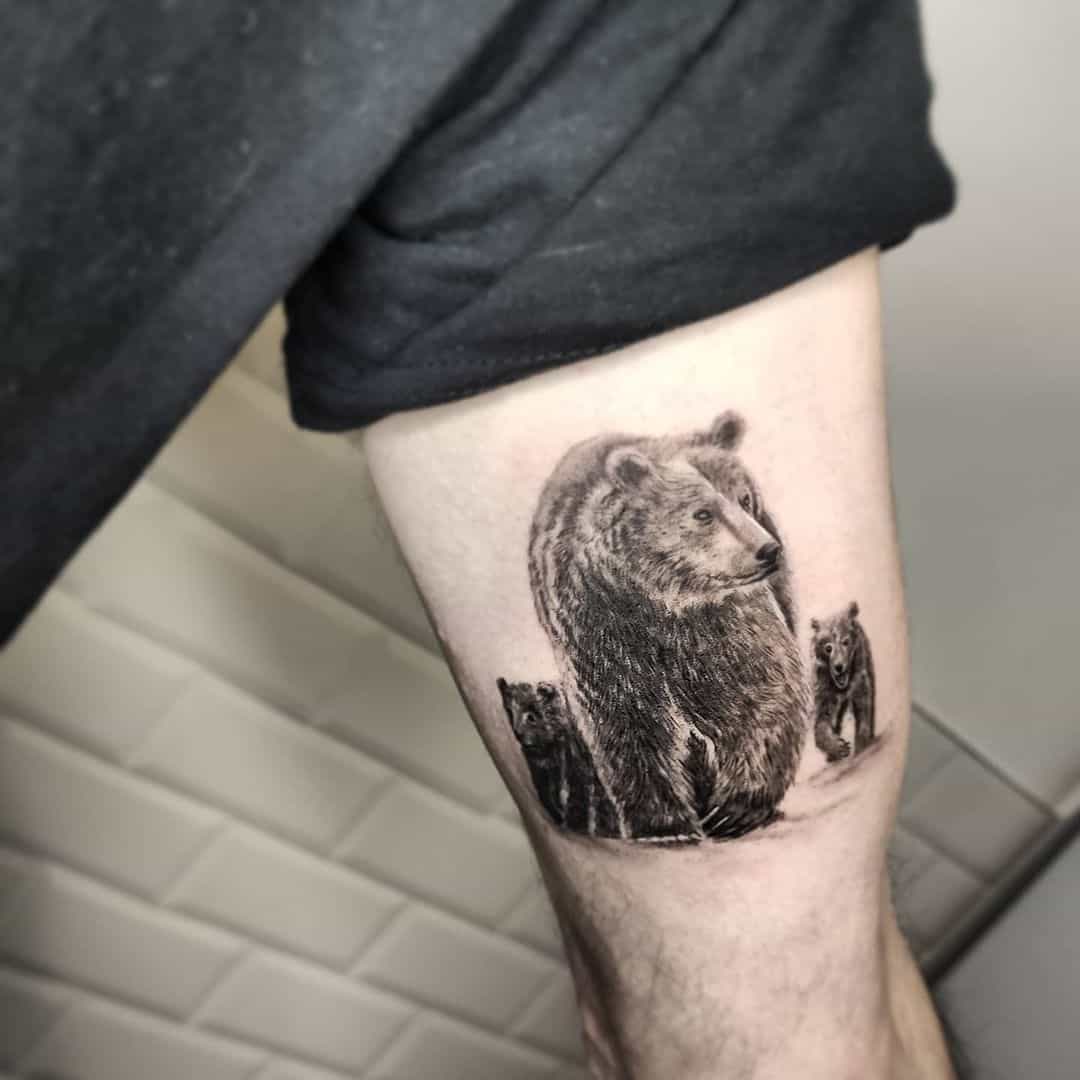 A mother bear is the quintessential example of a mother's love. Just like humans, some mammals have a very maternal nature, bears being the most notable of them all. They will stop at nothing to protect their cubs.
This design involves a lot of work and you must make sure your tattoo artist is up to the task. You should also make sure they have done similar jobs, which you can check on their portfolio. Something like this would require a higher budget on your part.
18. "Love" Anchor Family Tattoo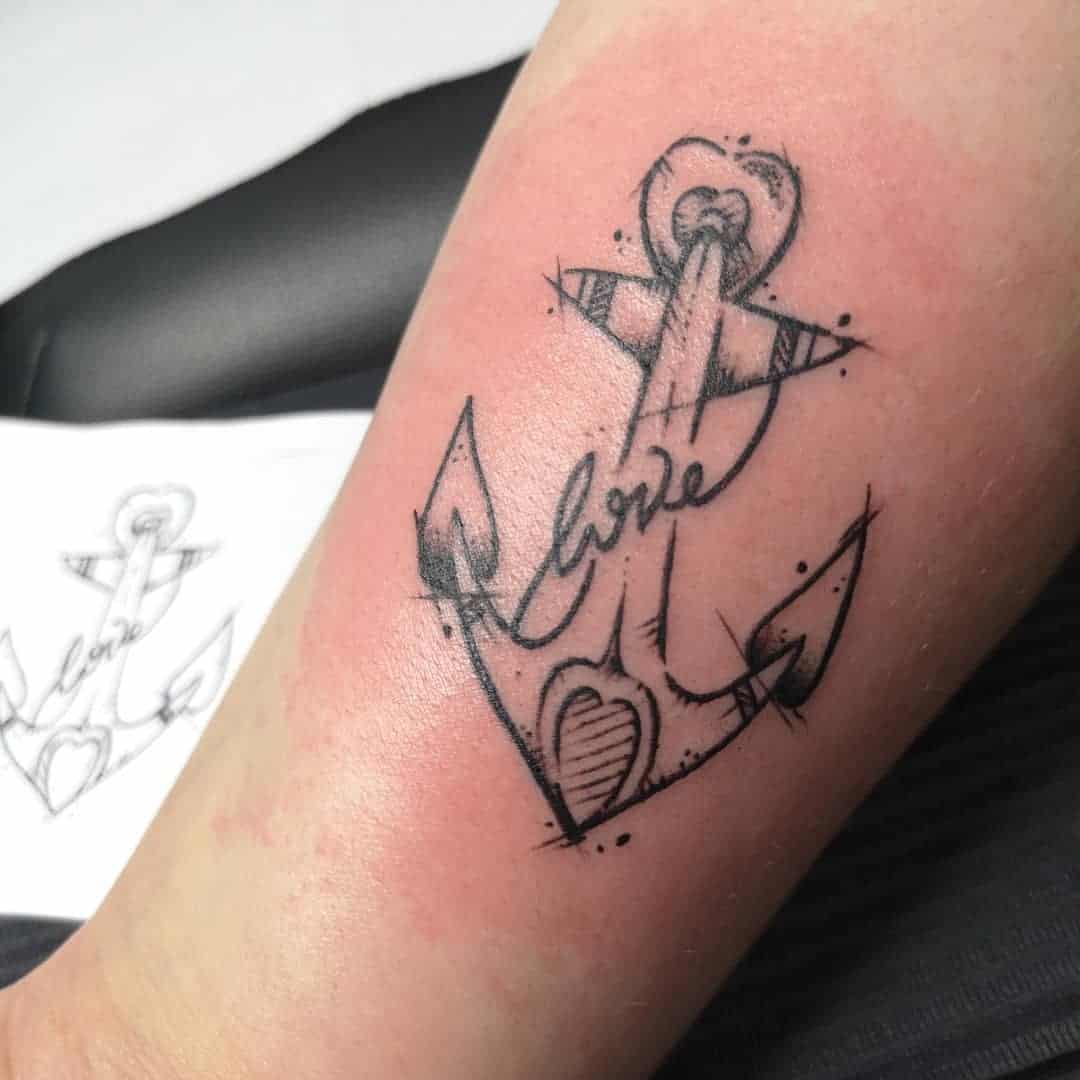 Anchors have quite a few lovely meanings: they can represent hope, strength, and security. Many people also use them to represent something that grounds them. No matter what, it is a beautiful symbol, and it can be drawn in many different styles.
This design shows an anchor with "love" written in the middle. You could also change the word "love" for "family," or someone's name. This is a simple and cheap option that remains fashionable no matter how much time passes.
19. Four Leaf Clover Family Tattoo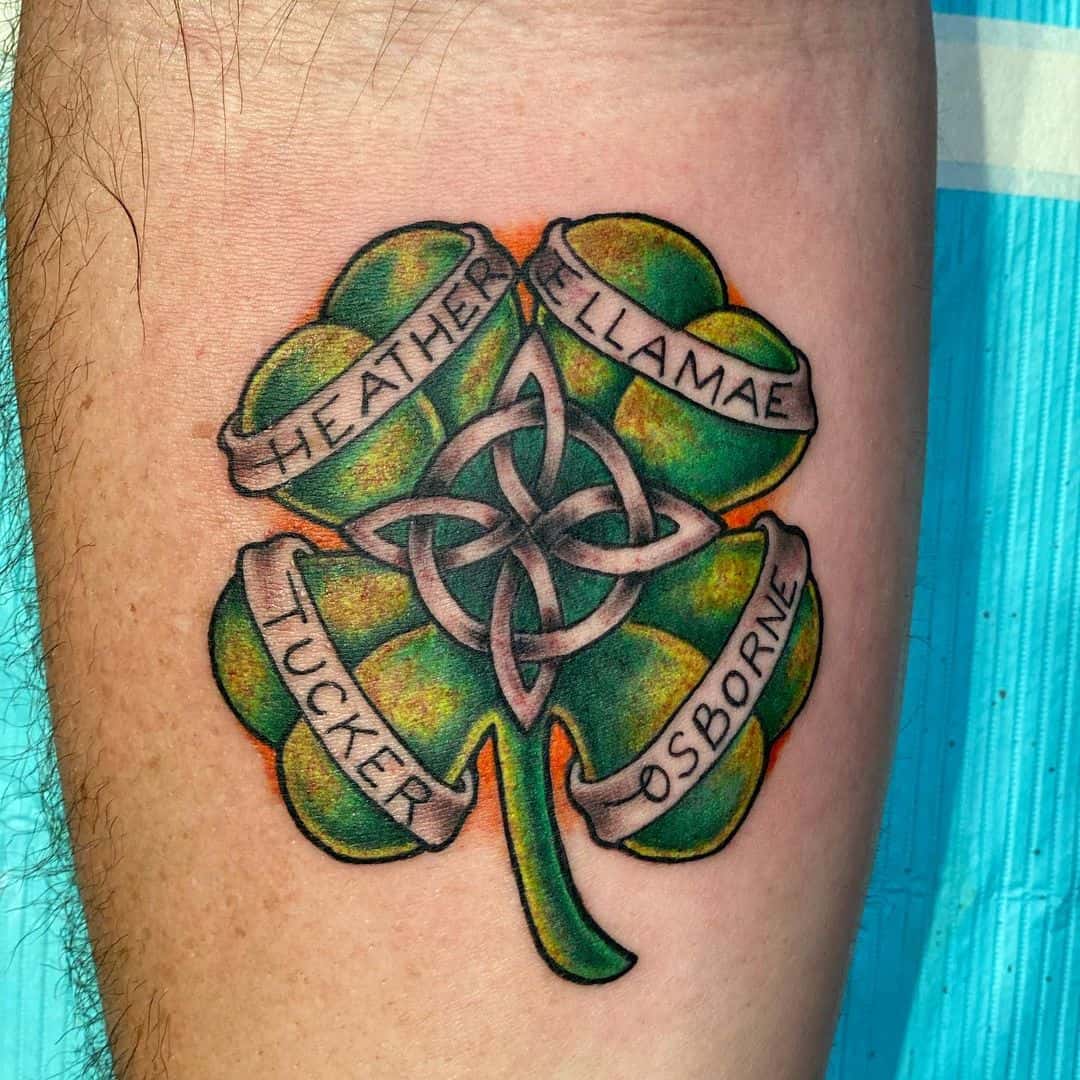 This particular design would work best if you have four people you want to pay homage to. A four-leaf clover is commonly known to cause good luck, since it is so rare to find. So having this tattoo with the name of four loved ones will symbolize how rare and special you think they are.
Alternatively, you could add only one name in the middle, or at the bottom. This design can be as cheap or as pricey as you wish since the size can be quite flexible. Even though it uses color, it is only one color, which doesn't add that much to the price.
20. "Ohana" Family Tattoo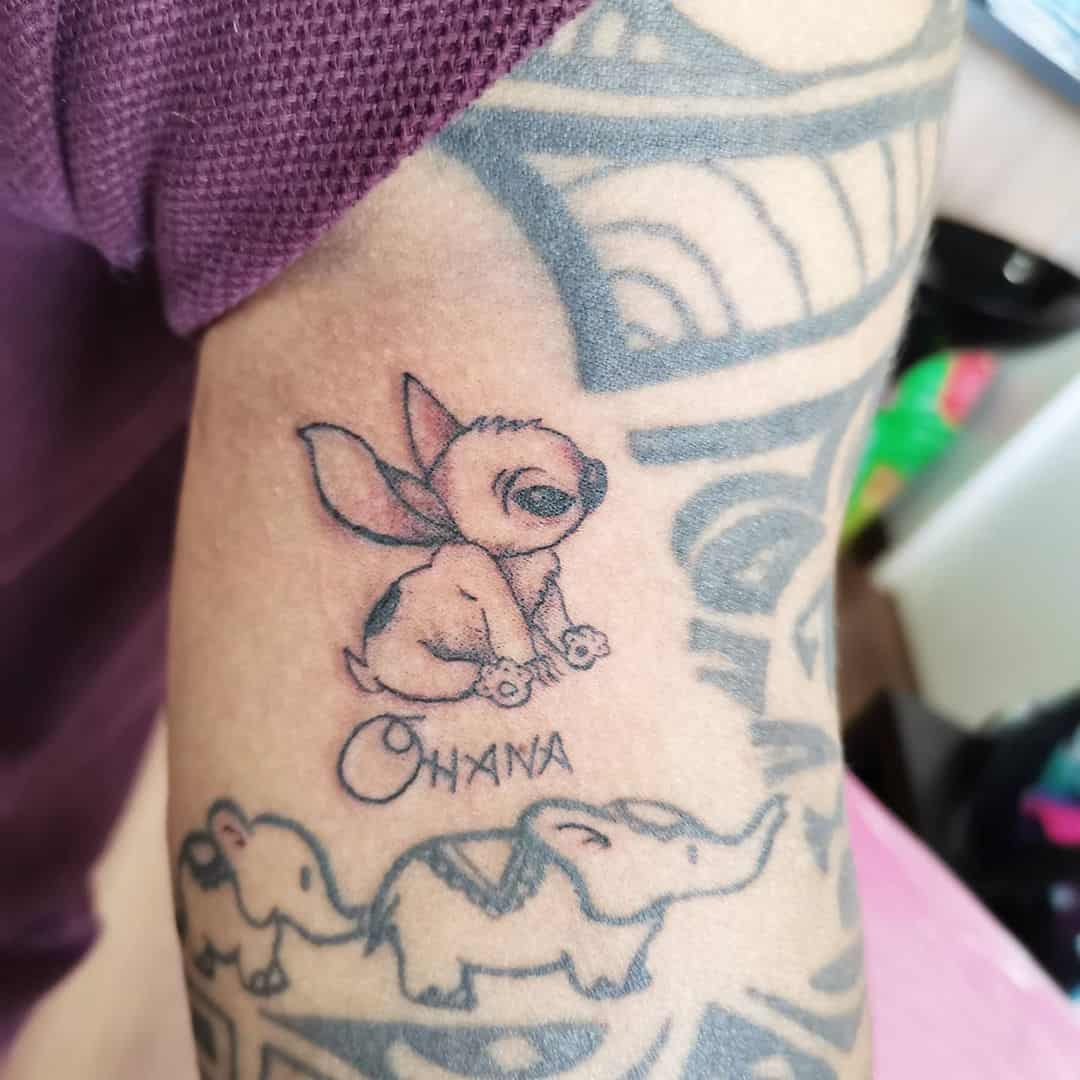 "Ohana means Family." Whether you're a Disney fan or not, you most probably have heard this quote sometime in your life. This stunning design of Stitch with the word "Ohana" underneath is a good option for anyone who wants something fun and simple yet meaningful.
You can achieve an even cleaner look if you take Stitch out and just leave the word there, but do you want to say goodbye to this blue little alien?
21. Elephant Family Tattoo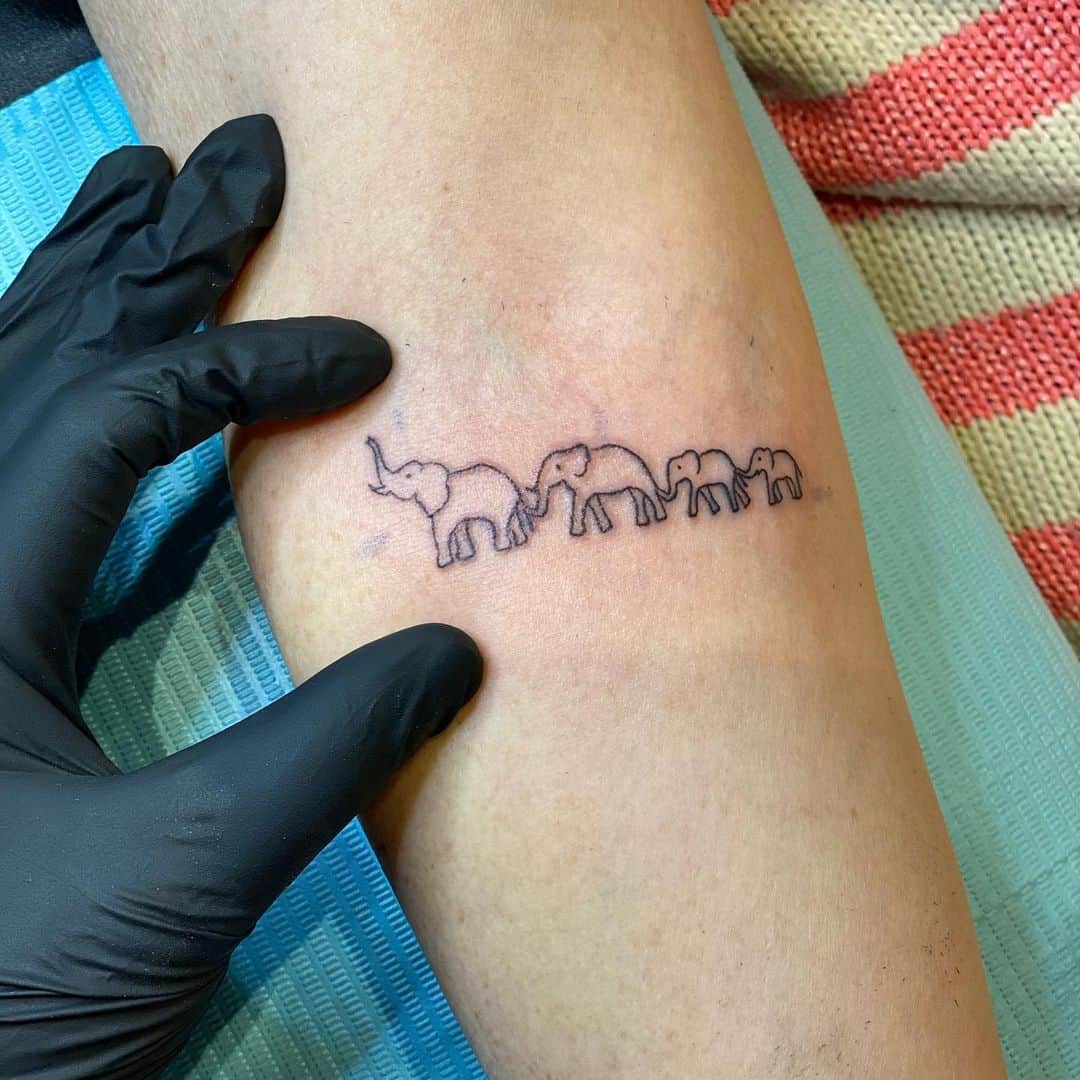 Elephants live with their families their entire lives and are protective and loyal to their relatives, so using them as a symbol for the love you feel for your family on a tattoo is a brilliant idea.
This design is a simple line drawing of two adults and two baby elephants, but you can add or take away as many elephants as you want! This is a perfect example of a cheap and meaningful tattoo.
22. Handwritten Note Family Tattoo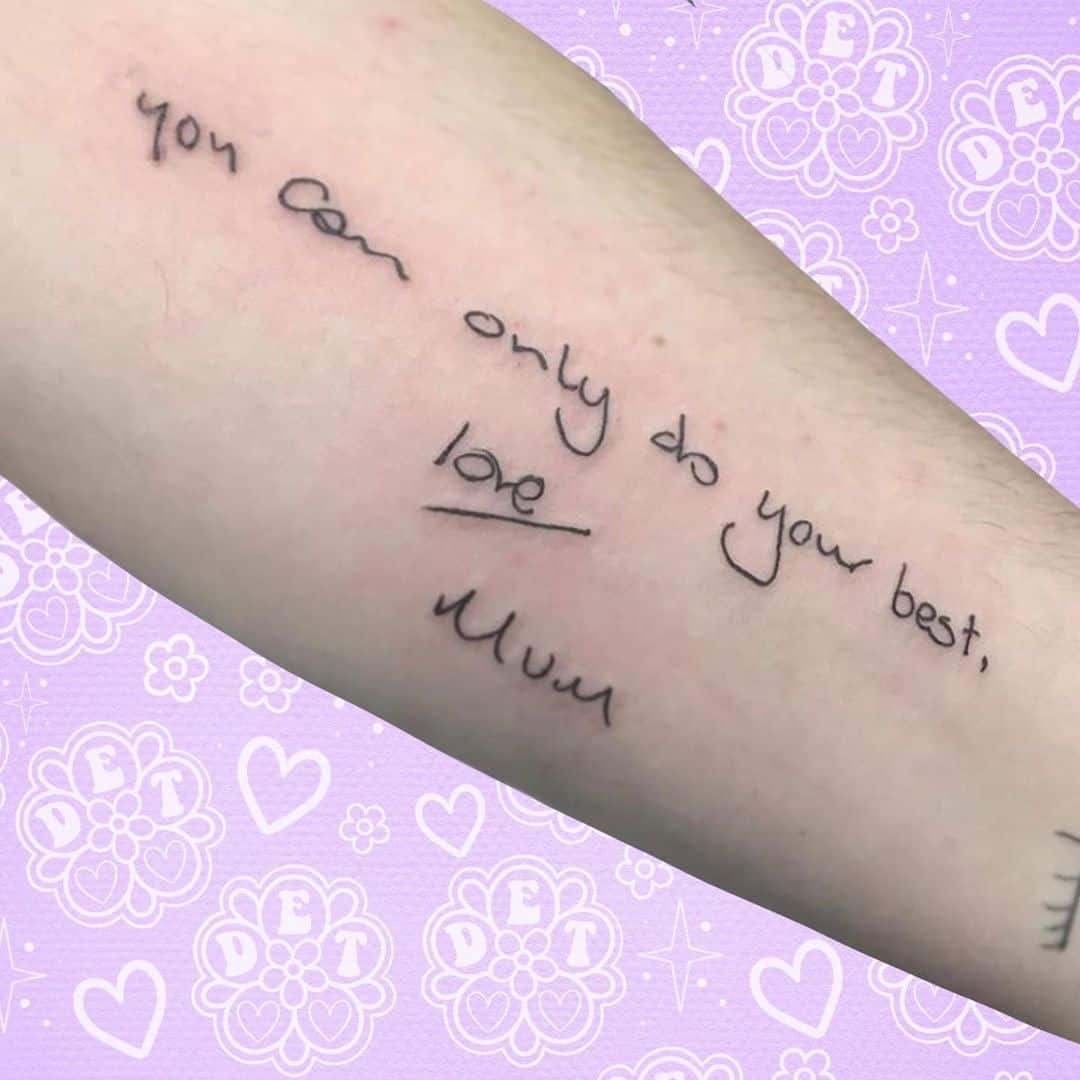 This design is a replica of a handwritten note; how much more personal can you get? Whether it be a note from your child, husband, mother, father, sibling, or grandparent, it will be a unique tattoo and a perfect way to immortalize someone.
This tattoo would work better on your wrist or forearm so you can read it whenever you need a little extra motivation.
23. Family Home Tattoo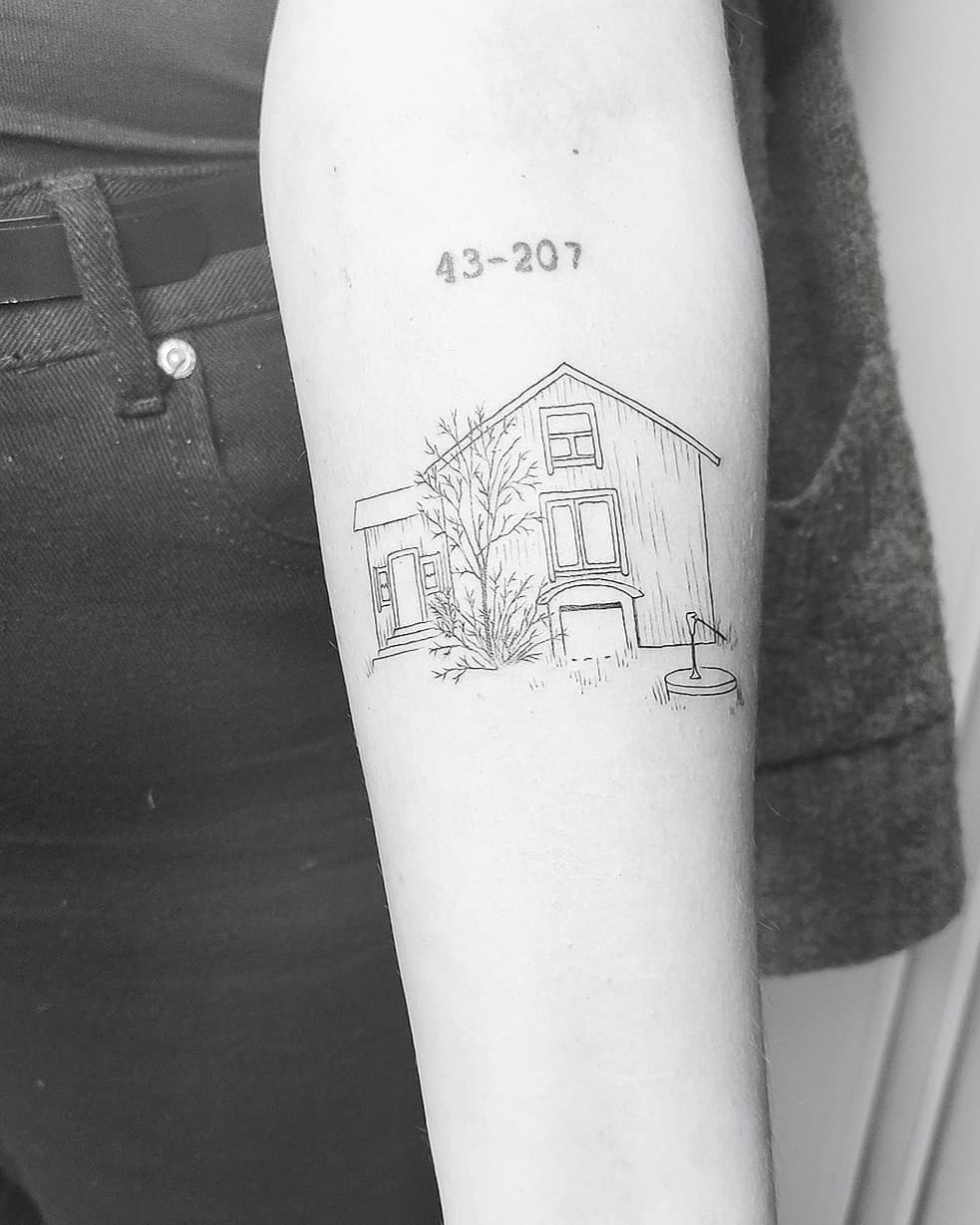 As human beings, we tend to associate our feelings with things like objects, music, or dance. And for many people, when thinking about their childhood and family, the first thing that comes to mind is the house they grew up in.
Tattooing your childhood home is a fashionable way of representing the fondness you feel for your younger years and those who were, and still are, with you.
24. Orchid With Word "Mom" Family Tattoo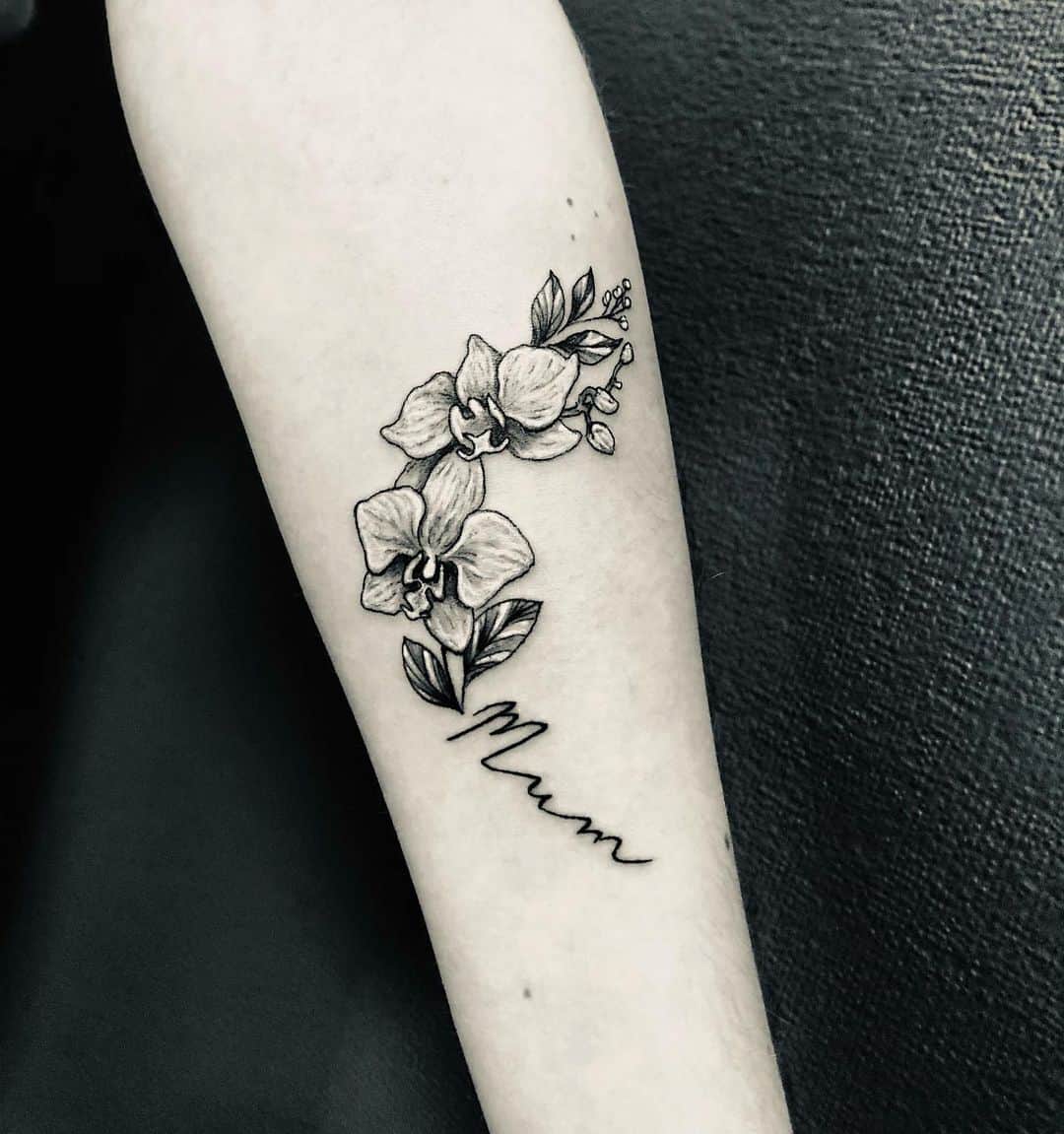 Orchid tattoos, amongst other things, represent love, beauty, and strength – all features that fit the description of a mother perfectly.
This beautiful design of two orchids is elegant, exotic, classy, and wild, all at the same time! It's a popular choice with women and not something that would get old with time. There is a lot of space for change with this tattoo: you can make the flowers bigger, you can add more flowers, or you can add some color. The price will depend on the final product, but if it is as simple as the one in the image, you are looking at a very affordable tattoo.
25. Dandelion Matching Family Tattoo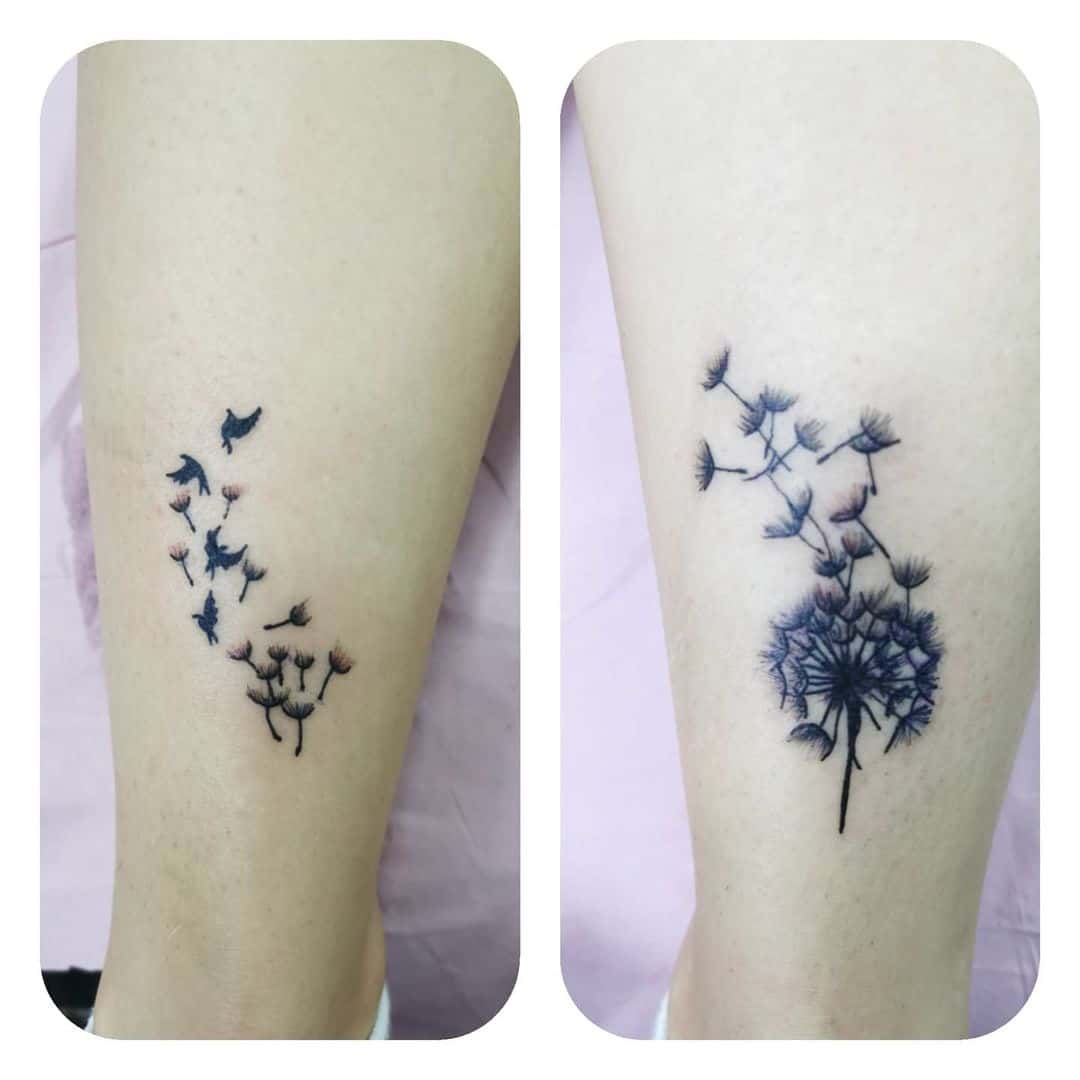 This is more of a complementing tattoo rather than matching pair. Dandelions release their seedlings which will fly on their own until they land and become a full-grown dandelion themselves.
This is a fun idea for a mother and daughter or son tattoo; the mother will get the dandelion and the kid will get the seedlings.
26. "Familia Ante Omnia" Family Tattoo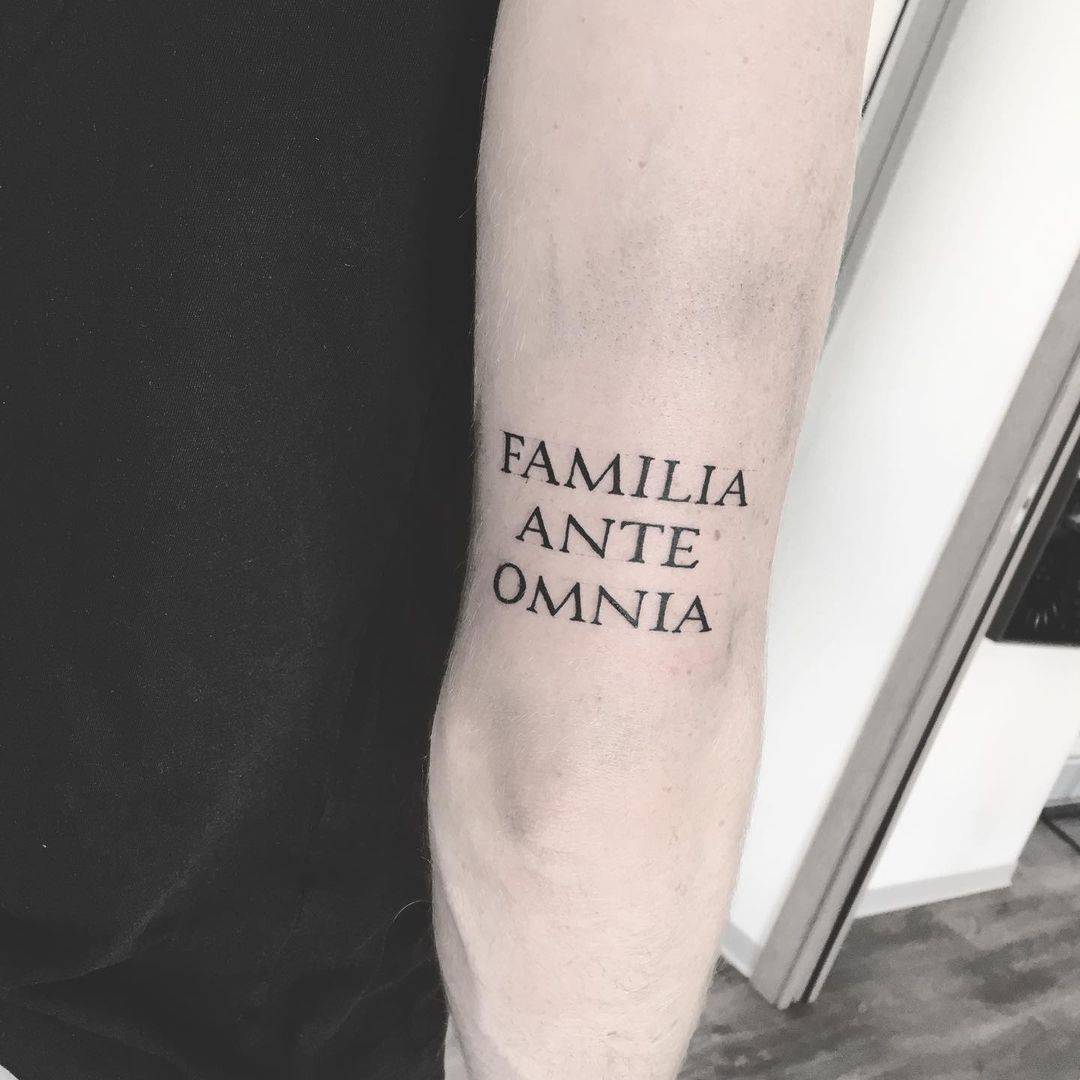 Familia Ante Omnia comes from Latin, and it means "Family Before All." If you enjoy things such as history, ancient literature, a vintage style, and classical looks, this one is for you. It is simply a phrase, but the font and the fact that it is written in a dead language make it seem like a work of art.
A cheap fashion statement that would combine well with any other tattoos you might have or wish to get in the future.
27. Funny "Made by" Family Tattoo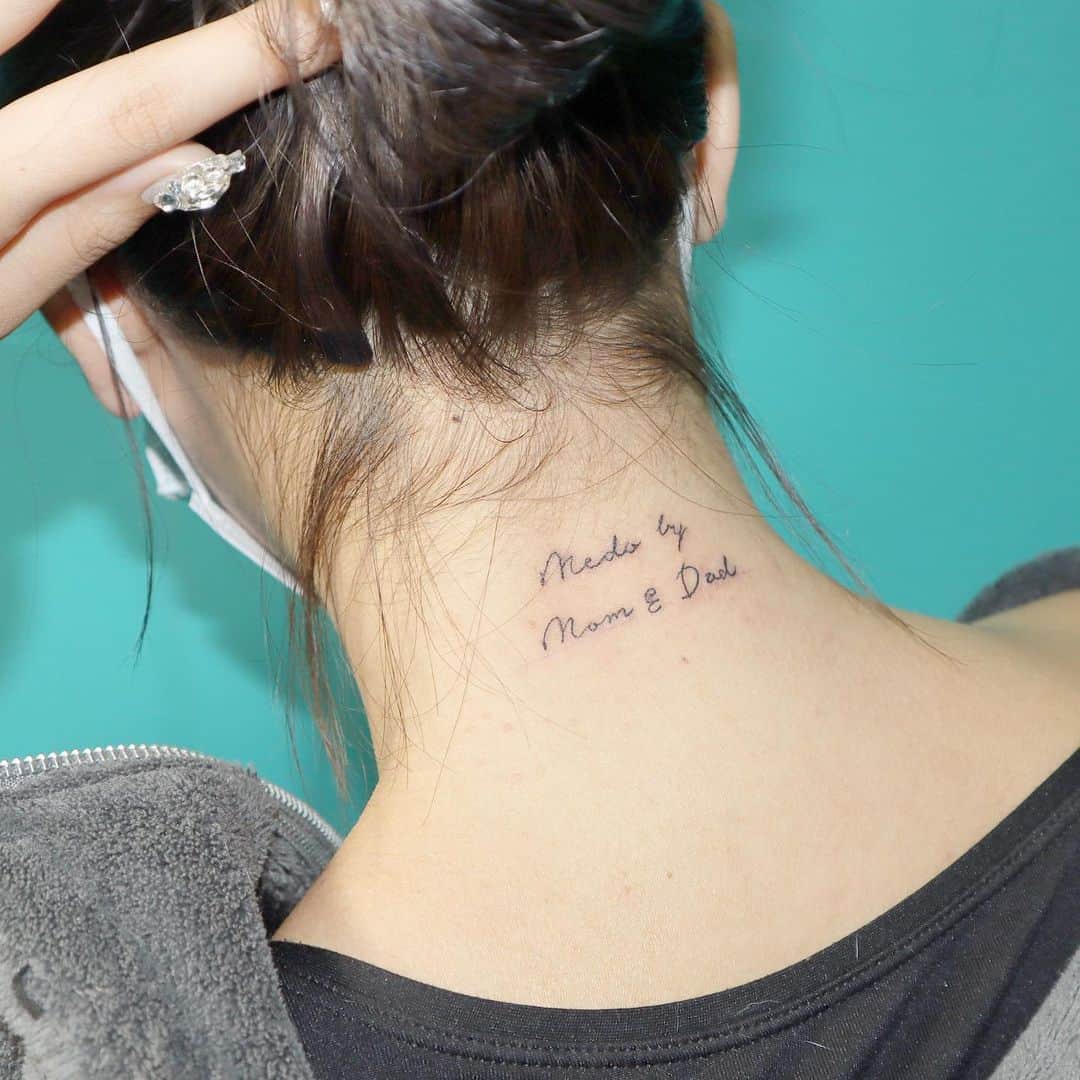 This design is hilarious, and it's bound to spark some lively conversations. The "Made By Mom and Dad" tag should be a classic by now; it is simple, subtle, and full of personality. Not to mention the low budget you would need to get something like this.
If you are not the kind of person to do grand gestures and openly show affection, this is a good way to acknowledge and showcase the love you feel for your parents.
28. Mother Elephant and Calf Family Tattoo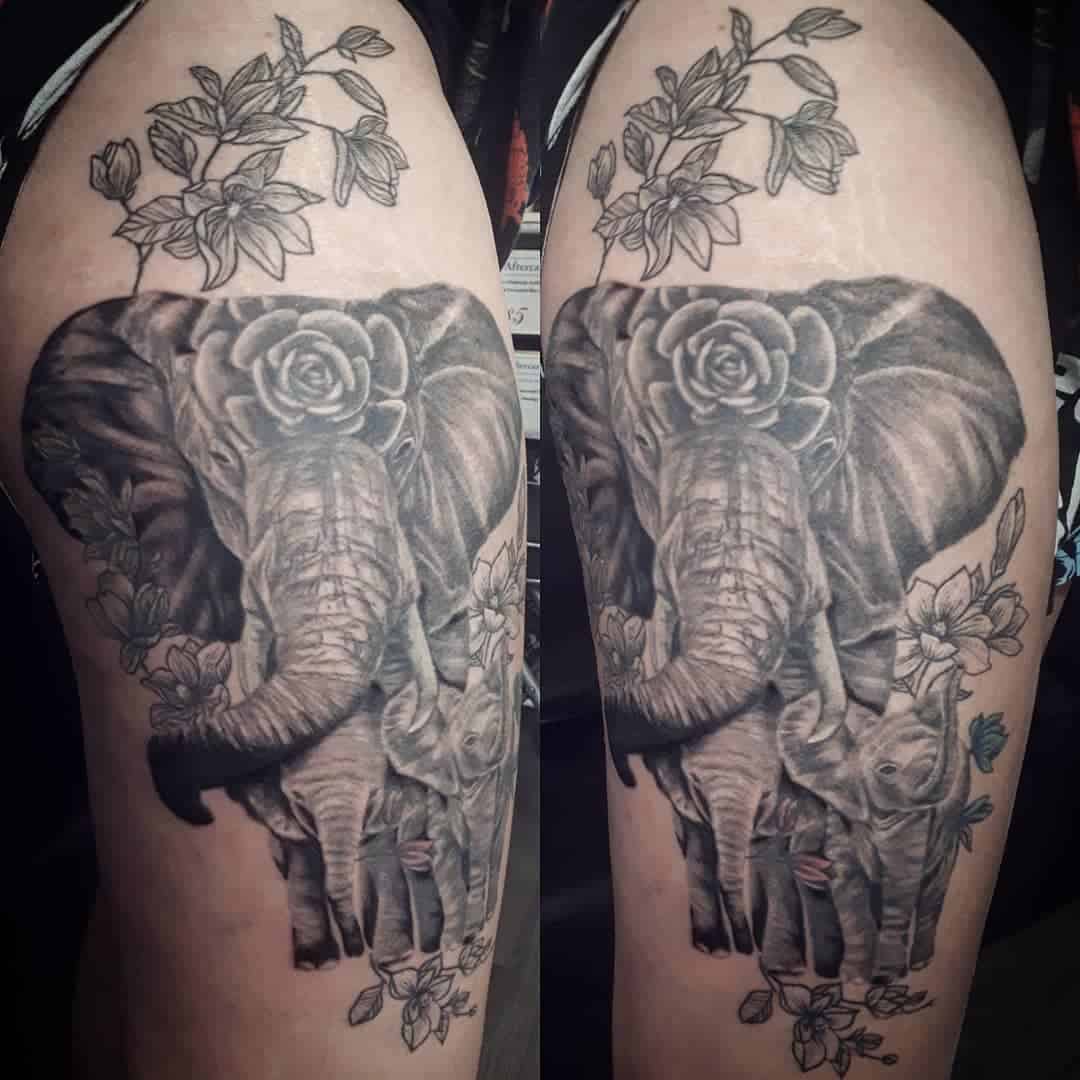 Elephants are one of the most popular options for family tattoo designs, this one takes a more realistic take, and the final product is glorious. If you want a big tattoo, and like detailed and complex designs, this one is for you.
Something of this caliber would be pricier and not for everyone, but if you really love tattoos and already have some, this will be a great addition to your collection.
29. "My Family, My Life" Tattoo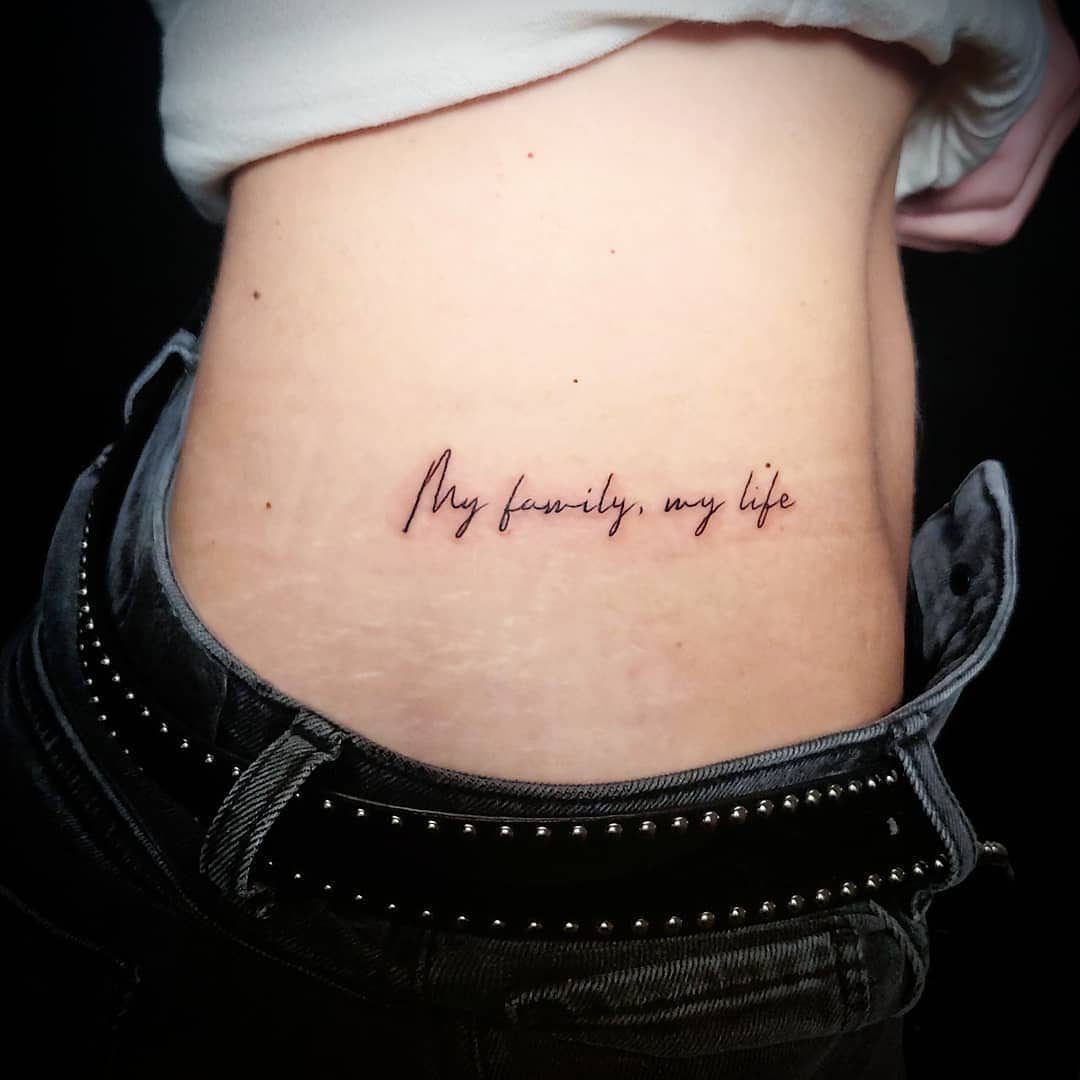 This simple design of the quote "My family, my life" is elegant and subtle, you can tattoo it anywhere on your body, and you don't need a massive budget at all.
If you love the font but would prefer if it said something else, no worries – you can use any quote you wish.
30. Simple One Word Family Tattoo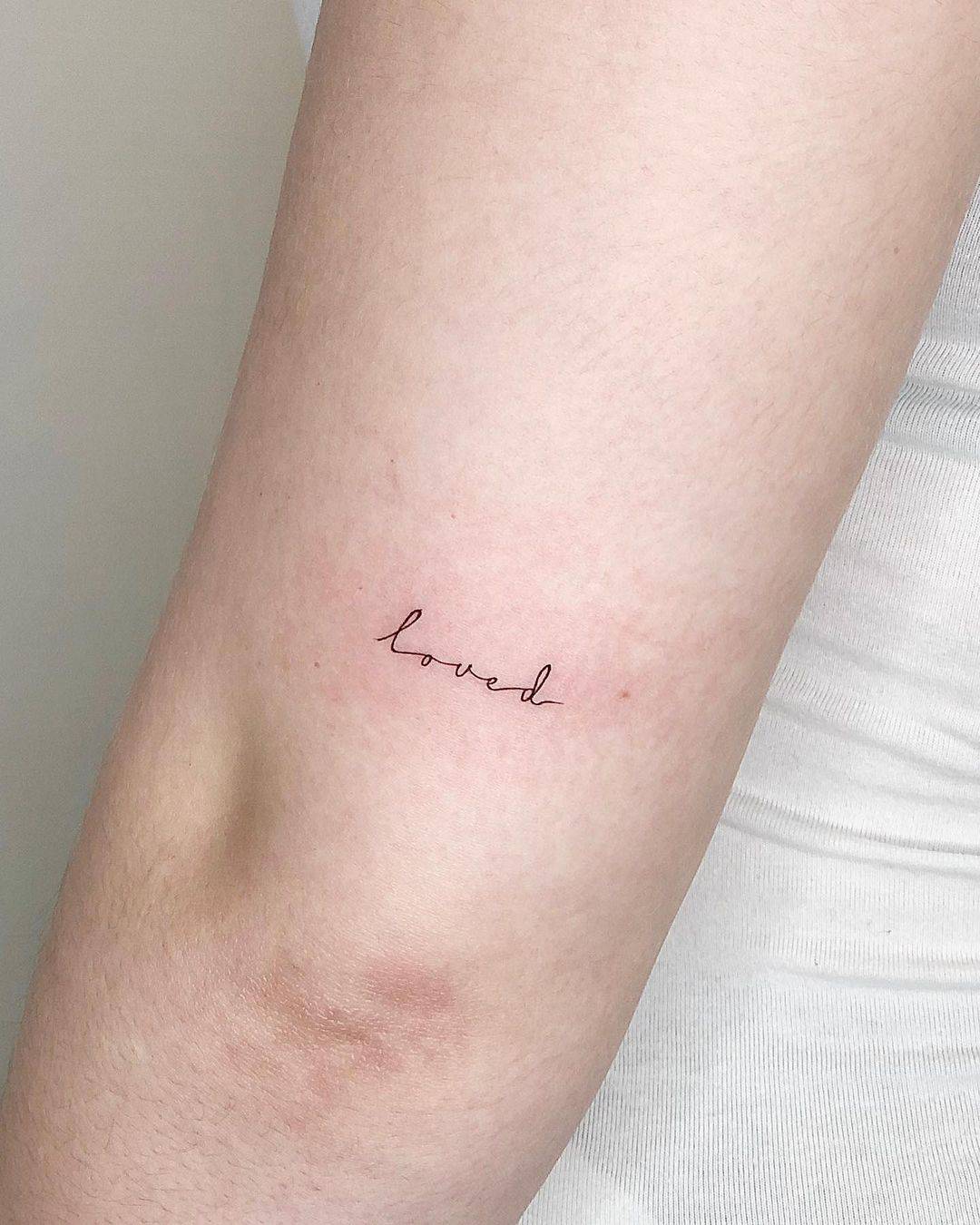 Let's be honest, not everyone can commit to a lifetime with a big tattoo. Circumstances change and some jobs still frown upon tattoos, and for that reason, many people usually opt for something small and symbolic.
Tattooing just one word doesn't need to be boring; you can play with different sizes, fonts, and styles. In this example, the tattoo reads "loved," but you could also have it say, "family," "home," or your family name.
31. Message to Someone Family Tattoo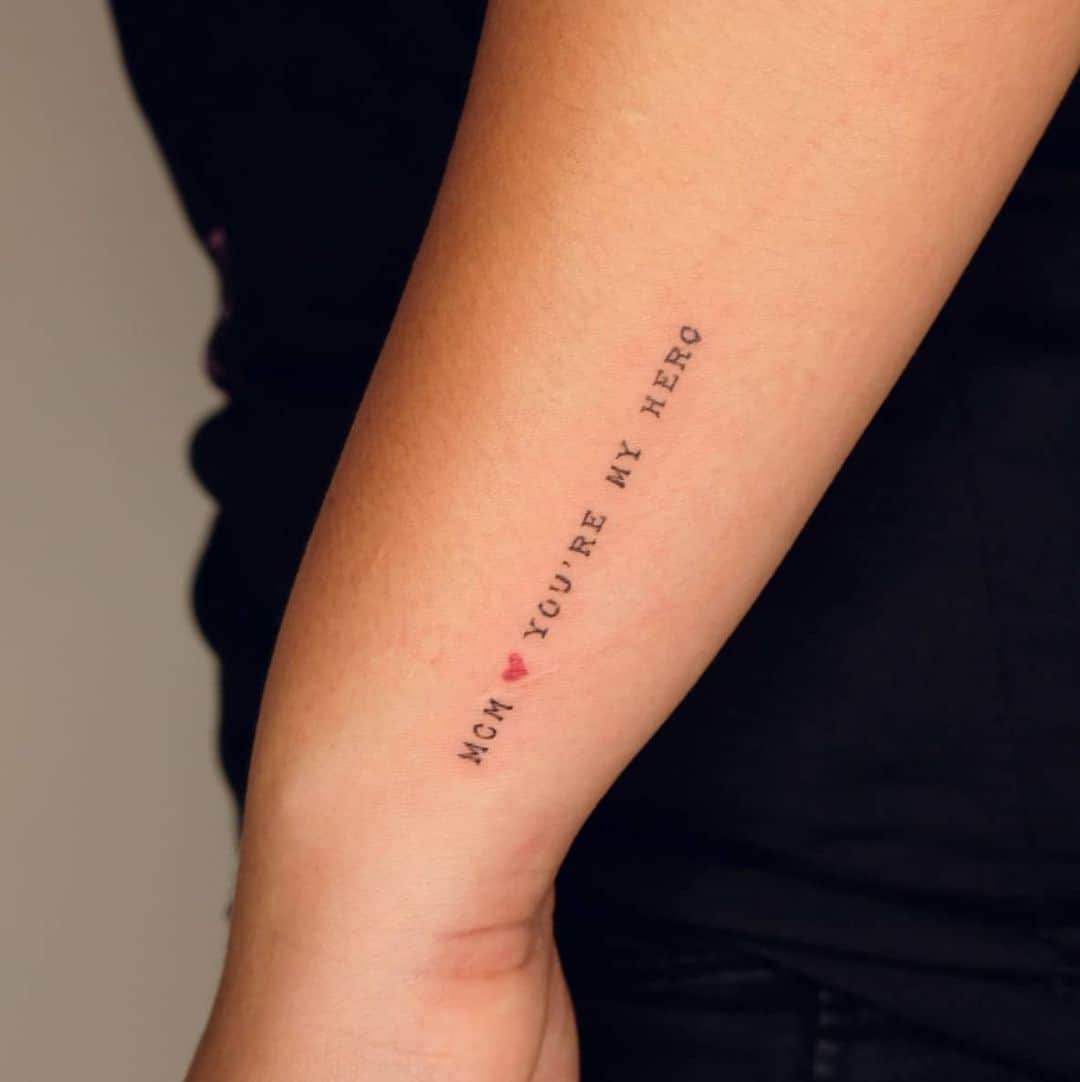 Why not use a tattoo to tell someone something? This small tattoo is gorgeous and will fit any style and outfit, so there isn't much space for regret!
You can tell something to your mother, like in the picture, or adapt it and tell something to a sibling, father, kid, or any relative.
32. Bird Family Tattoo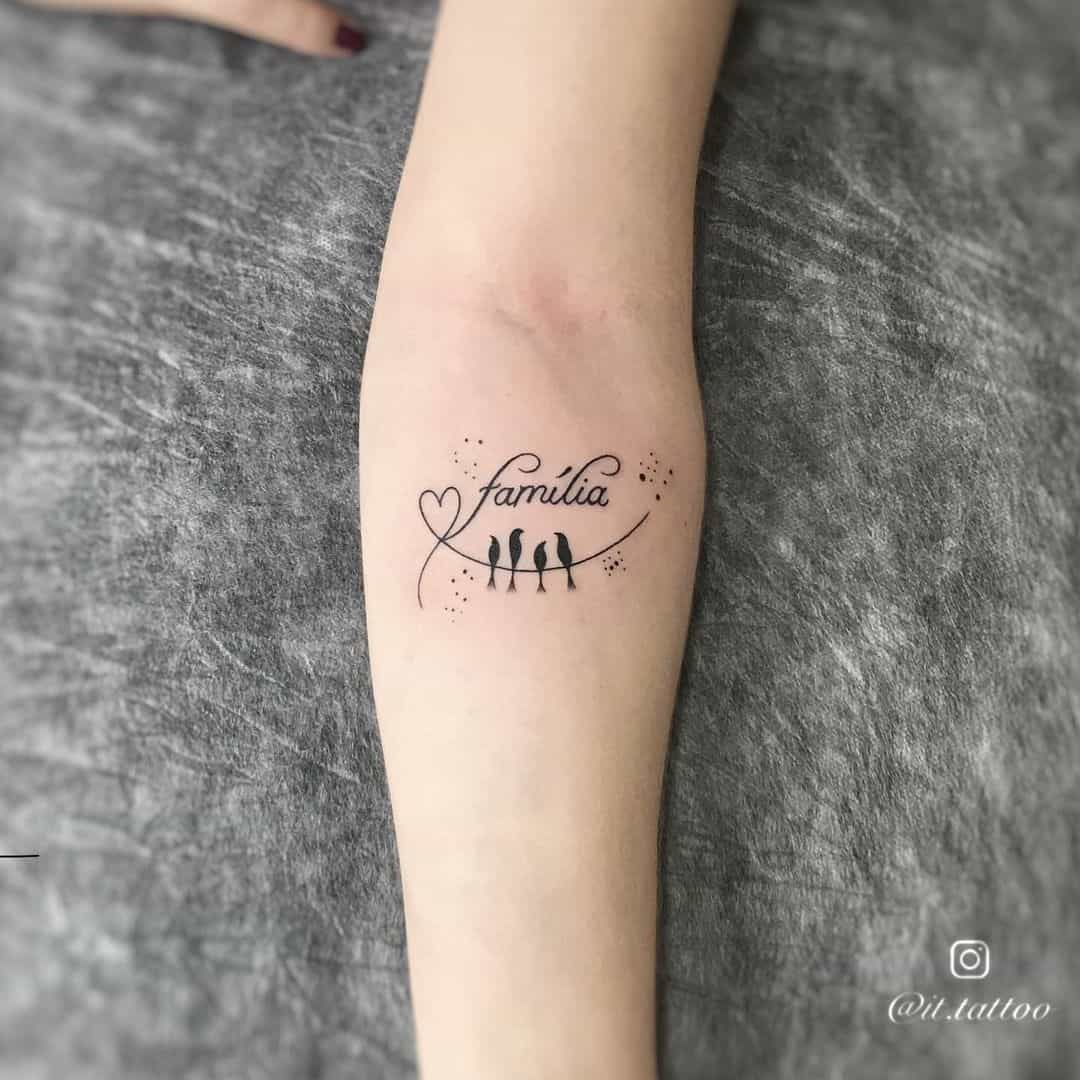 Birds are not the most family-oriented animals in the world. They might warm up the eggs and offer food at the beginning of their chick's lives, but overall, they are not known for family values and loyalty at all. But bird tattoos are adorable and loved by many.
Many people don't care about the meaning of every element of their tattoos. If this is you, the word "family" with the silhouette of a family of birds is a really pretty tattoo idea you should consider.
33. Heart and Initial Family Tattoo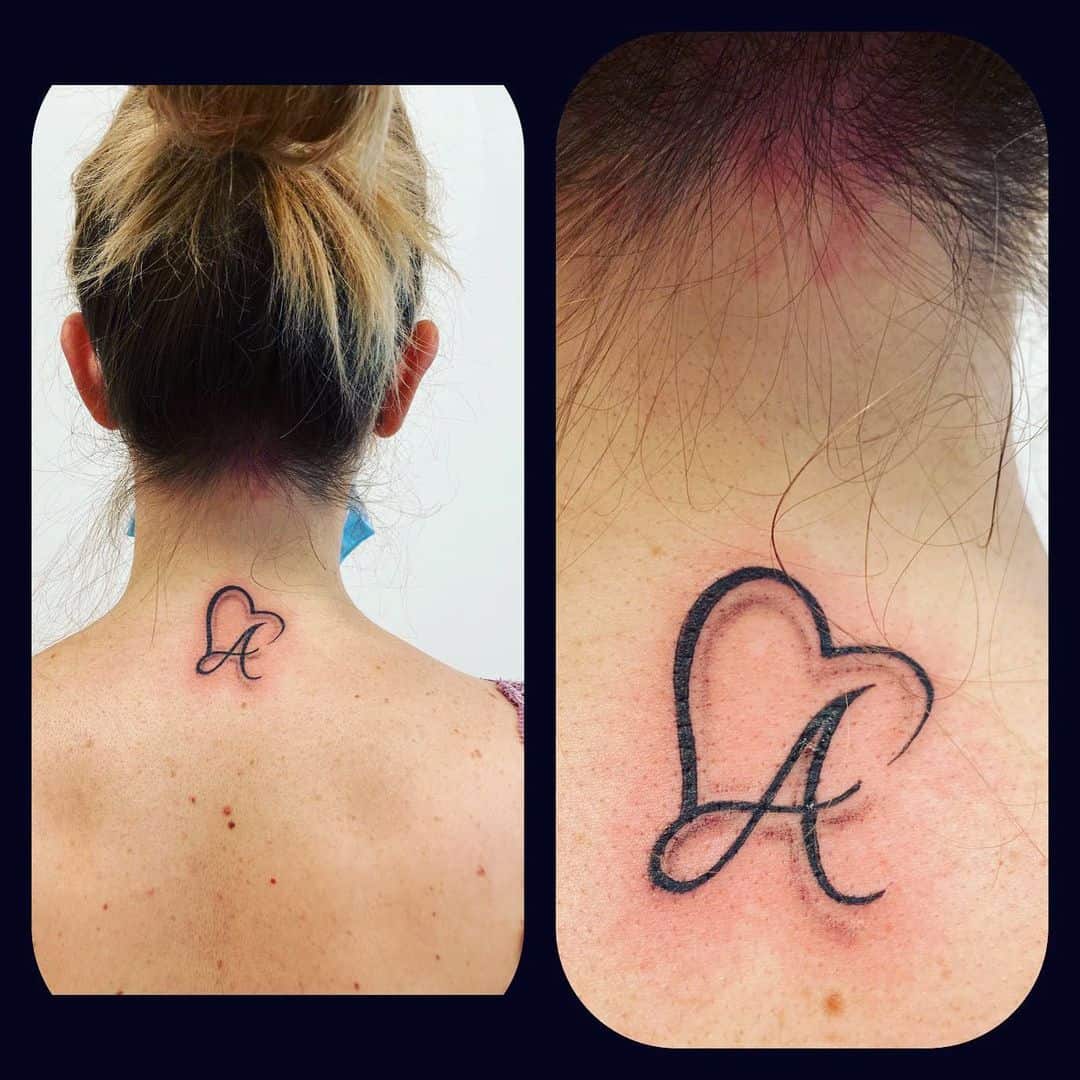 A letter with a heart attached to it is a great design and quite popular amongst small tattoo lovers. You can use any initial you wish, and the price for this tattoo would be as low as it gets.
You can get this tattoo anywhere on your body, but it would look better on your wrist or behind your ear.
34. Movie Reference Family Tattoo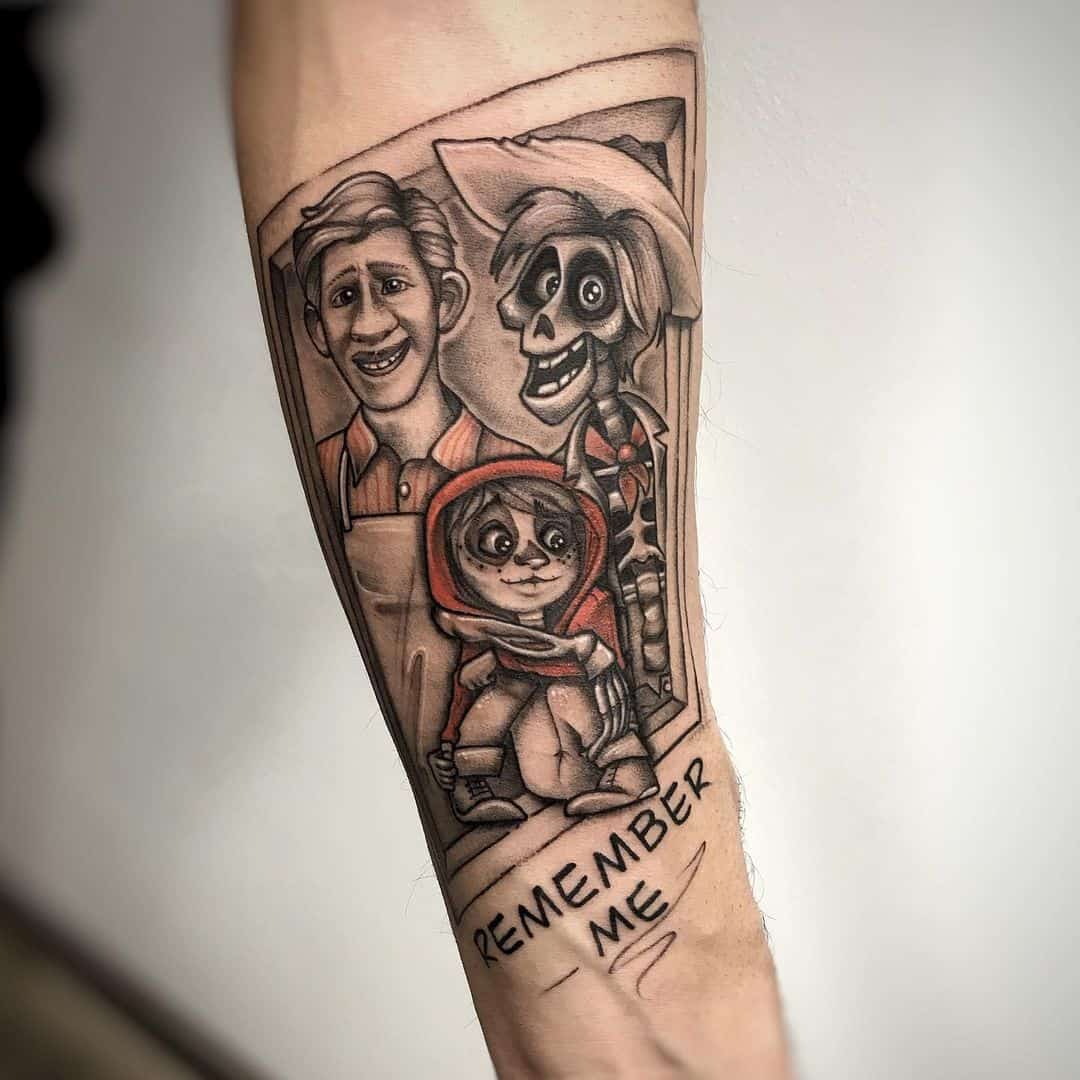 There is no stopping a movie fan from inserting references everywhere, and Disney fans can be spotted miles away! If you are a movie fan, then there are quite a few that depict great family values and morals.
This tattoo references the Disney movie "Coco," a motion picture that explores the value of family. You would need a higher budget for something like this.
35. Stork Family Tattoo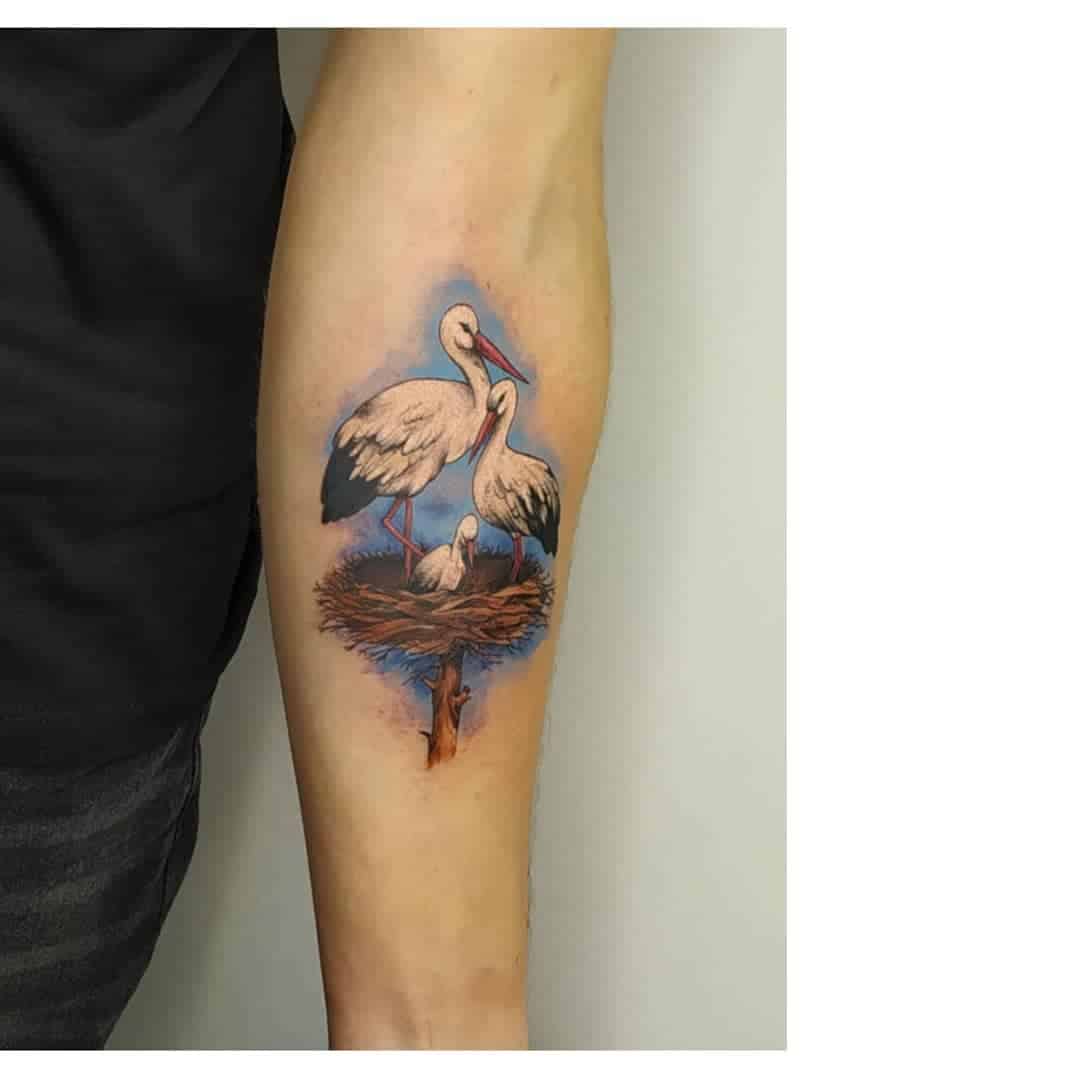 Yes, birds are not family-oriented, but we can all agree that storks are a big exception. As a child, you surely heard that storks bring babies, right? That is because, for centuries, storks have been seen as a symbol of rebirth and new life. In addition to this, they also symbolize motherhood, purity, and protection.
Storks are a very meaningful symbol, and most point towards family, so they make a great element in a family tattoo design.
36. Penguin Family Tattoo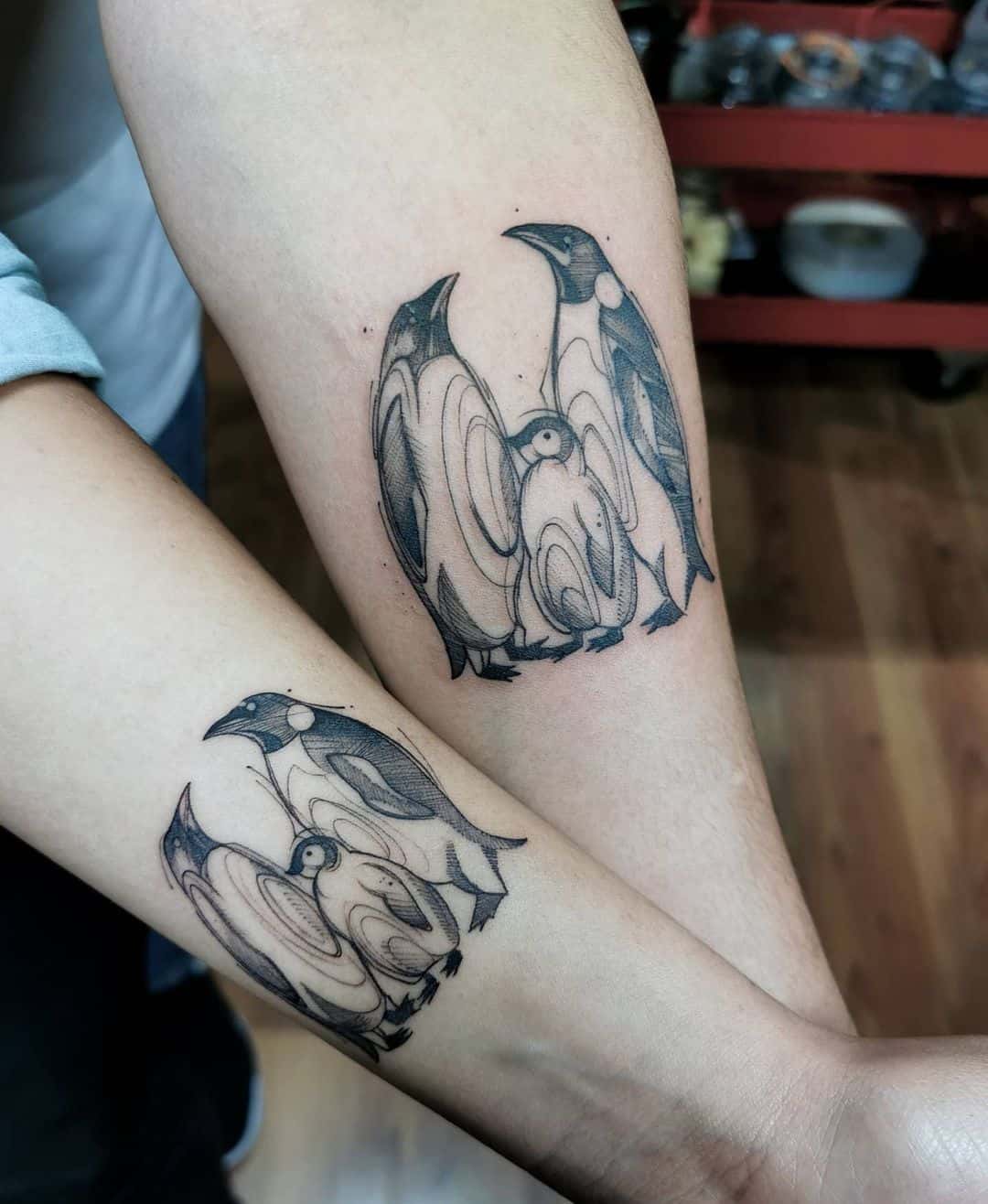 Penguins are social creatures and stay with their families for their entire lives. A penguin tattoo can mean many things, like protection, community, renewal, evolution, and intuition. A family of penguins is an endearing design for a family tattoo and something you are likely to never regret.
You can get something like in the picture or just a simple penguin silhouette. The size of the tattoo is flexible since it doesn't need a lot of detail to shine.
37. Funny Equation Family Tattoo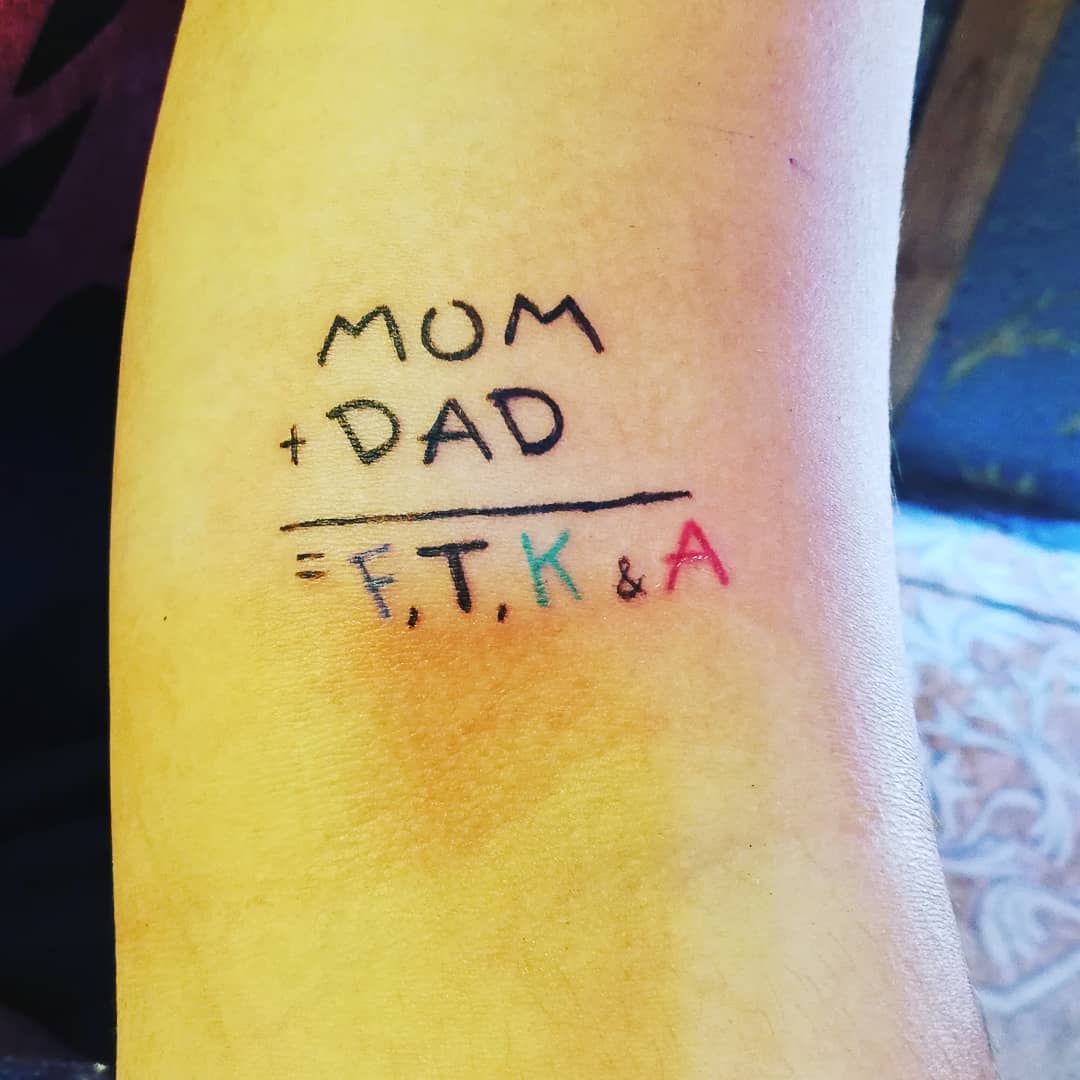 This one is for those of you who like to make jokes out of everything. This simple equation that adds mum and dad together and equals all the kids' initials is bound to cause some giggles. If you are an only child, you can even add your whole first name.
38. Colorful Handprint and Pawprint Family Tattoo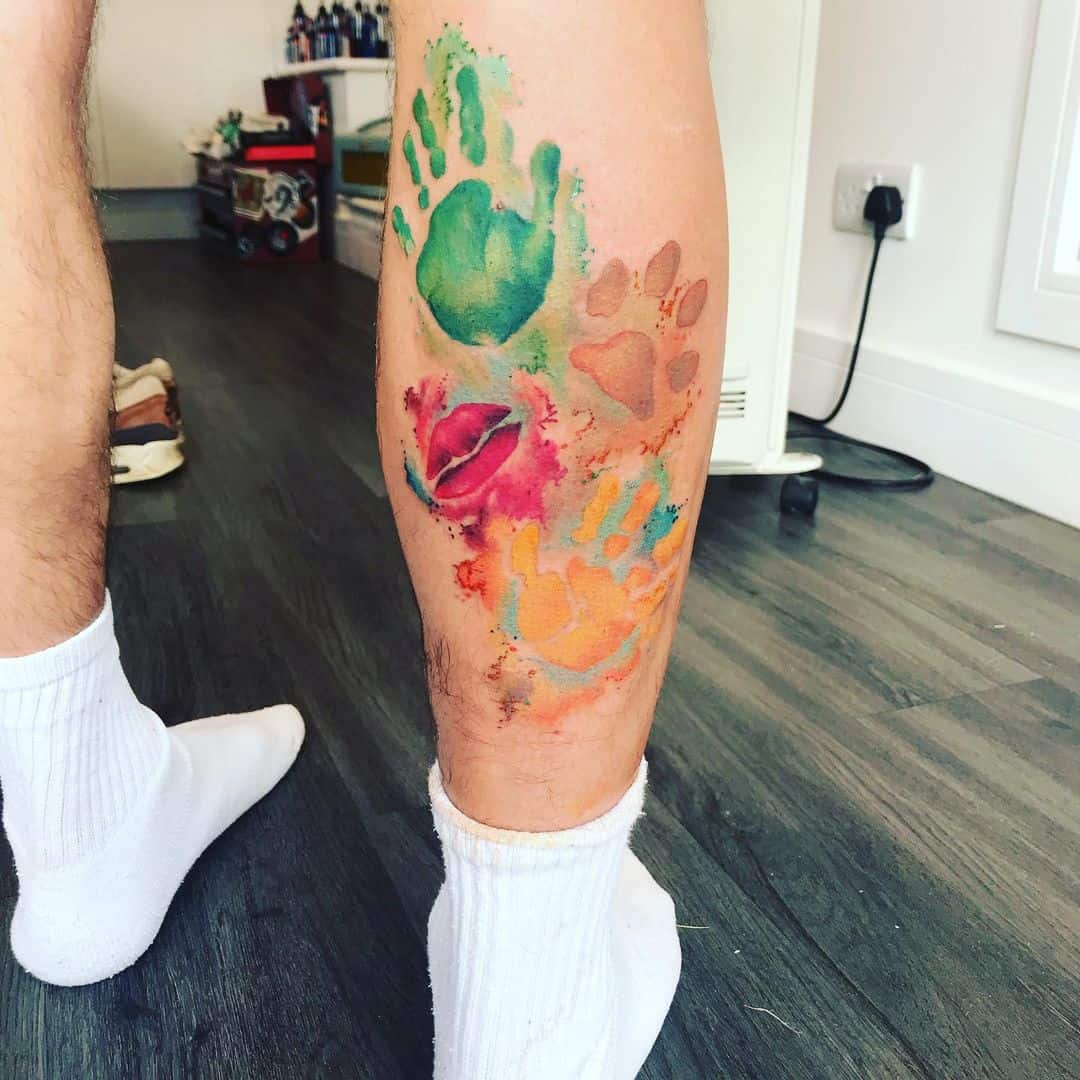 This design of two handprints and a pawprint create a fashionable and unique tattoo that will honor those you love in the most intimate way possible. With the colors added it looks a bit more playful, but if you prefer black ink only tattoos, it would work too. It does need to be big to work.
You can add however many handprints you wish, and play around with the elements until you create a design that you love thoroughly. The price would be high, but worth it.
39. Actual Footprint, Name, and Date Family Tattoo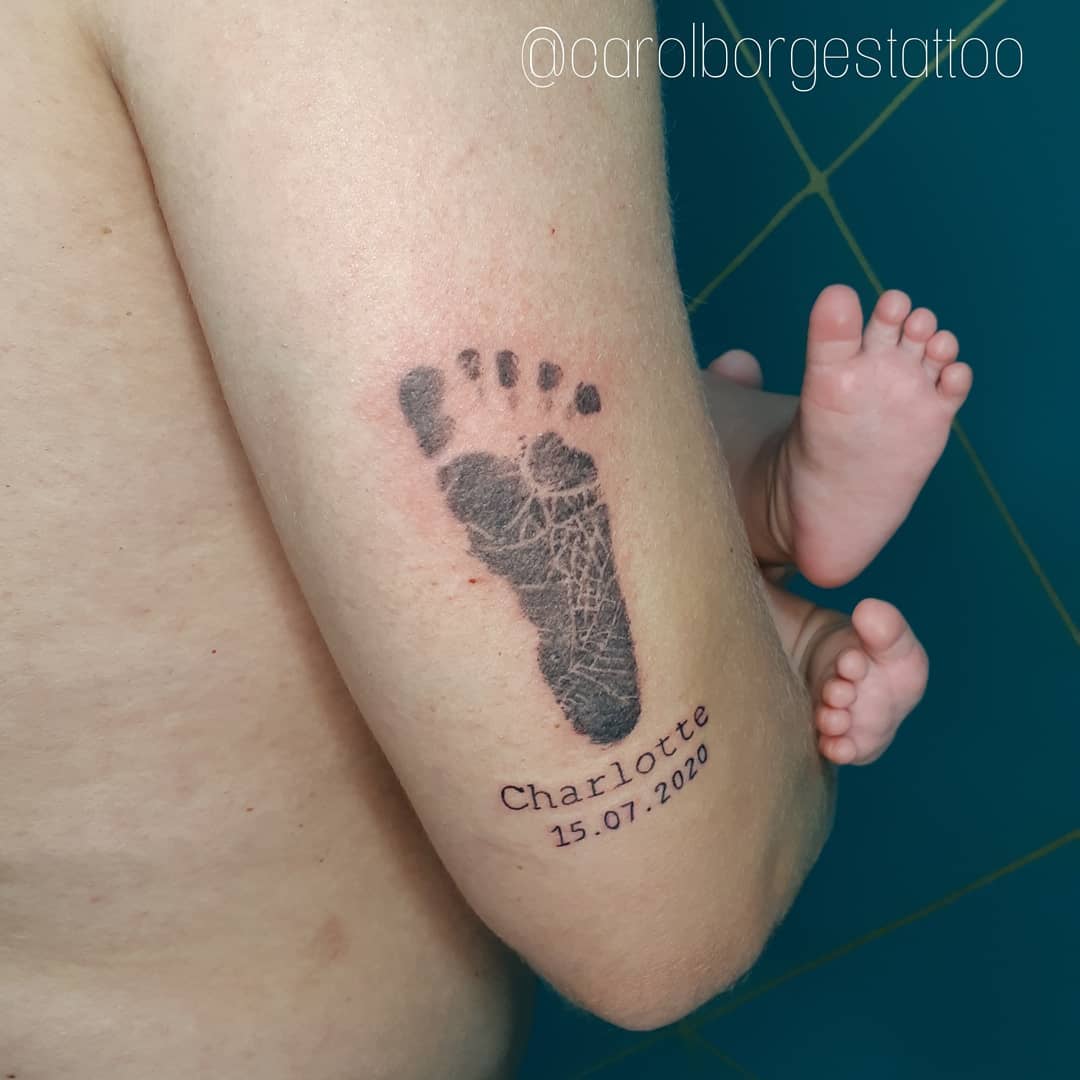 The birth of a child is without a doubt the best moment in every parent's life, and the more things that can be done to immortalize the moment, the better. This design of a footprint with a date and name is a great and unique tattoo idea for new parents.
40. Footprint Illustration, Name, and Date Family Tattoo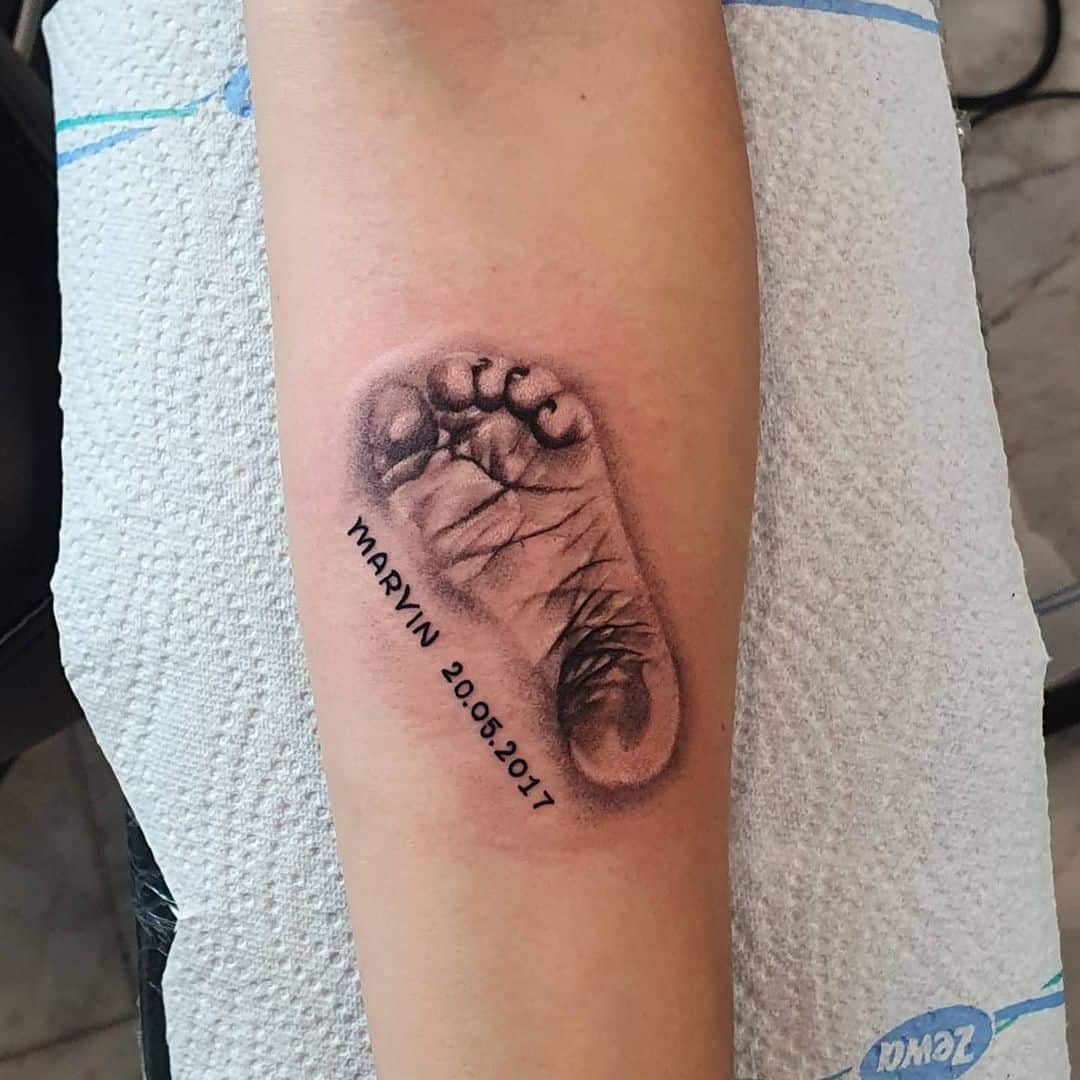 If you like the idea of tattooing your baby's footprint on your body but you don't like the look of an actual footprint, a realistic illustration will give a similar effect, and the result is still a gorgeous tattoo.
41. "Ohana" Matching Family Tattoo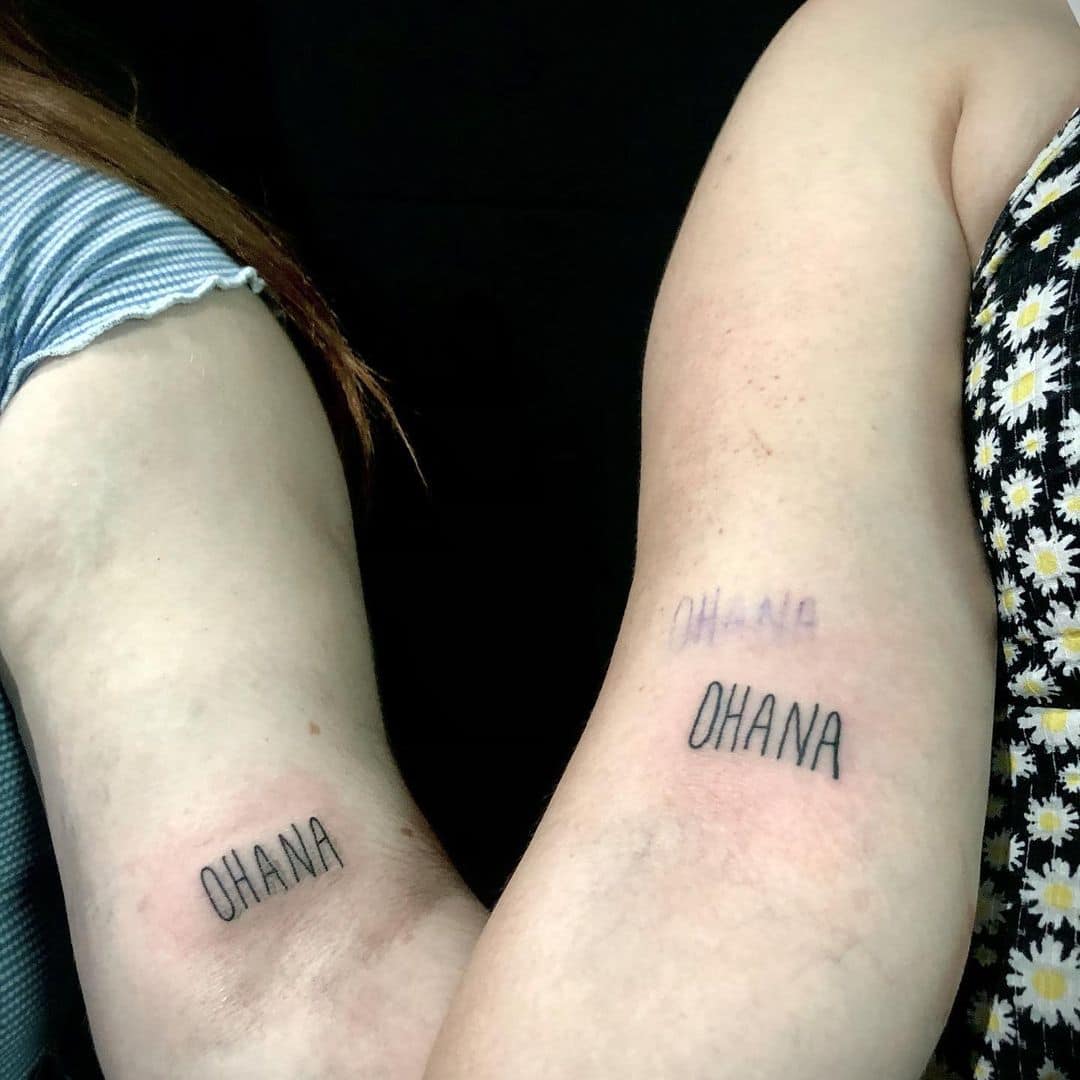 This Ohana matching tattoo is a great idea for two sisters, but it would also work with any other family members.
Ohana means family, it is a widely known concept, and it would be a great way to share something permanent with someone, especially if you spent your childhood together.
42. Koi Fish Matching Family Tattoo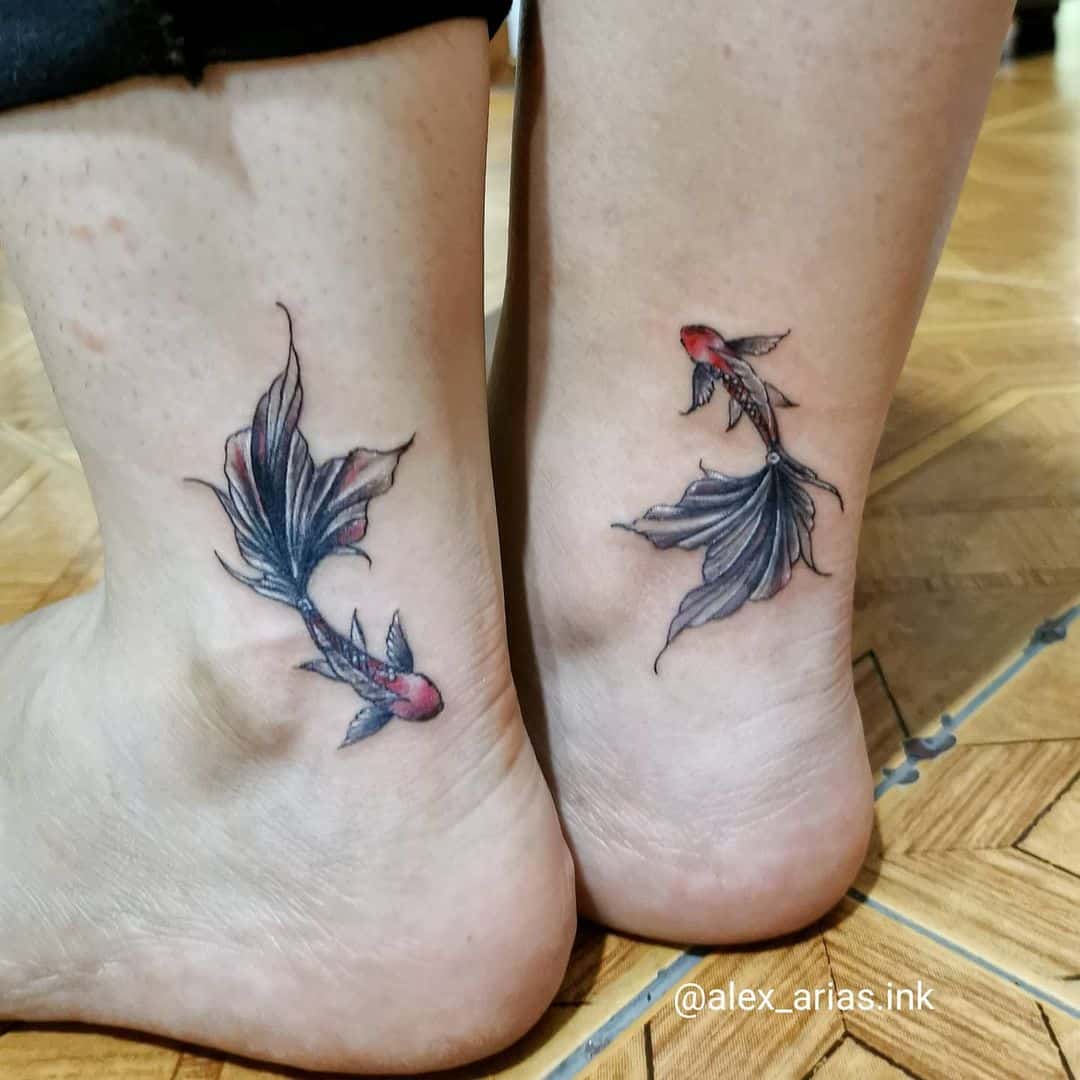 A koi fish tattoo means perseverance and alludes to the struggles someone had to overcome in their life, but there is another element to it that will make it work well as a family tattoo – koi fish often come in pairs.
A matching tattoo with a family member is a meaningful way to let them and the world know how much you love them, and just like koi fish, you two are attached at the hip.
43. Family Tree Tattoo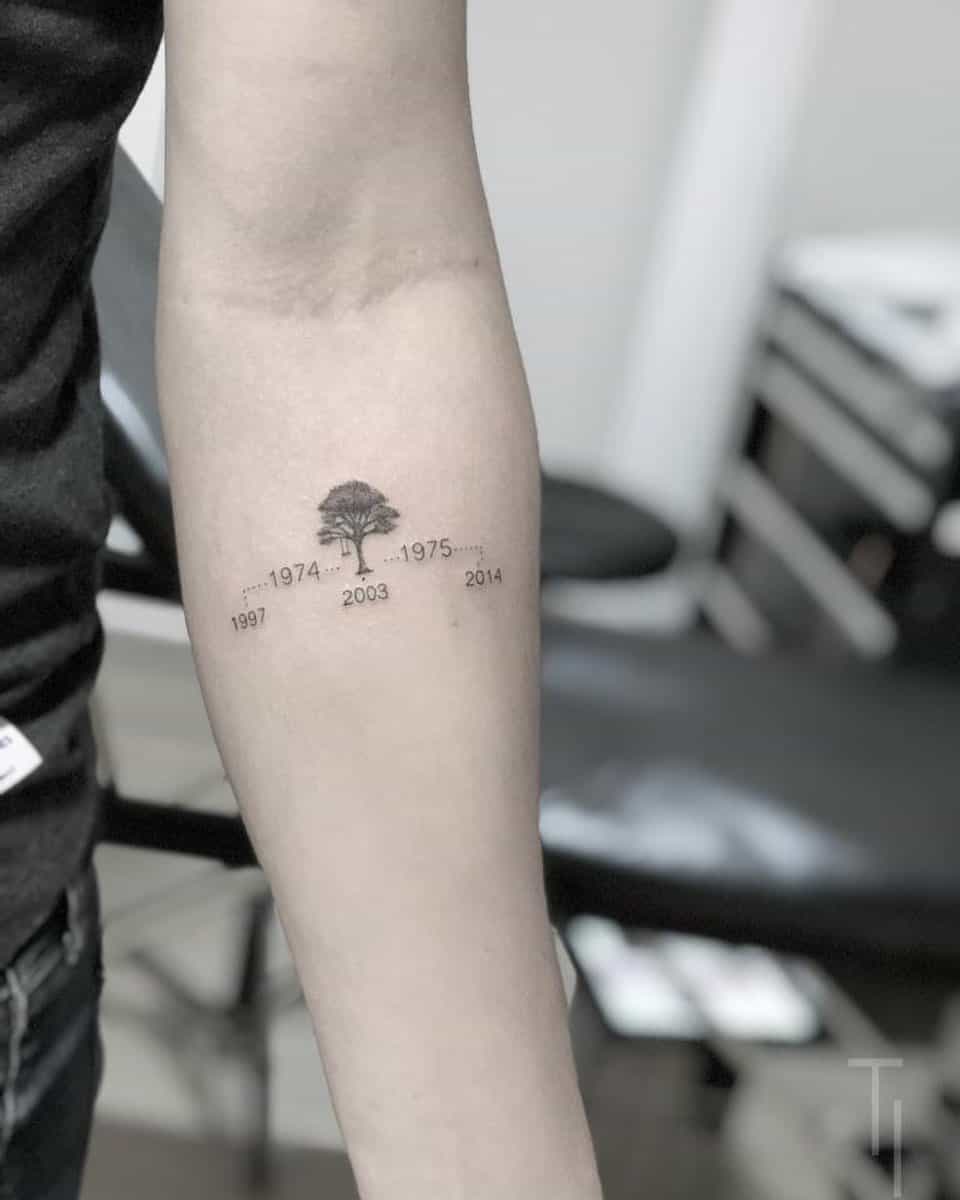 This simple design of a family tree is an original and fashionable idea that would look great no matter what age you are. Plus, it has some flexibility, since you can add new family members as they are born.
It's minimalist, yet it adds some depth with the realistic tree. This design will fit any style.
44. Kid's Drawing Family Tattoo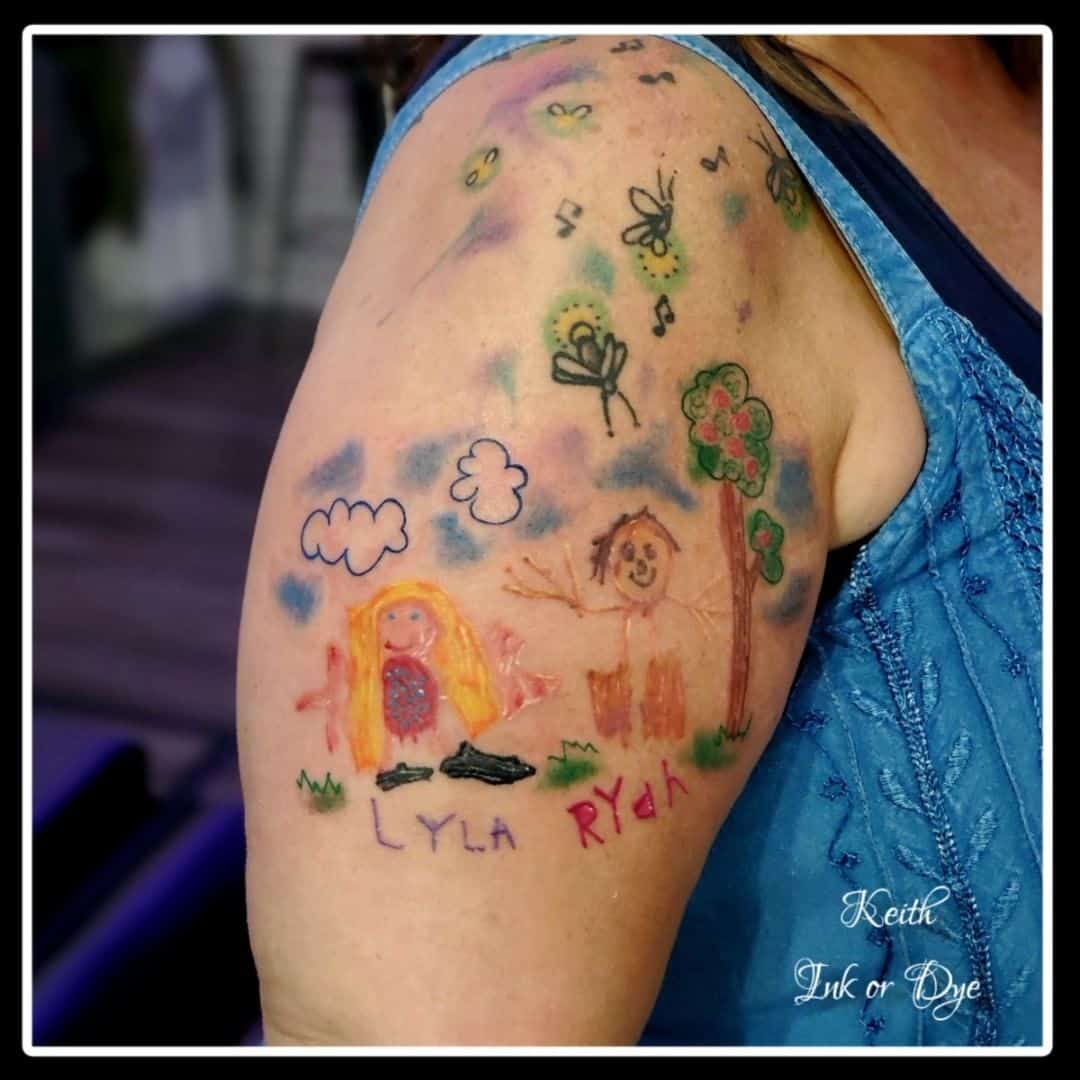 A kid's drawing may not be a work of art, but for a parent, it is a beautiful source of pride, and what better way to show how much you love something than to imprint it on your body? Whether it be your kid's first drawing or a Mother's Day present, this design is a unique and personal way of showcasing your love for your child.
45. A Literal Family Tree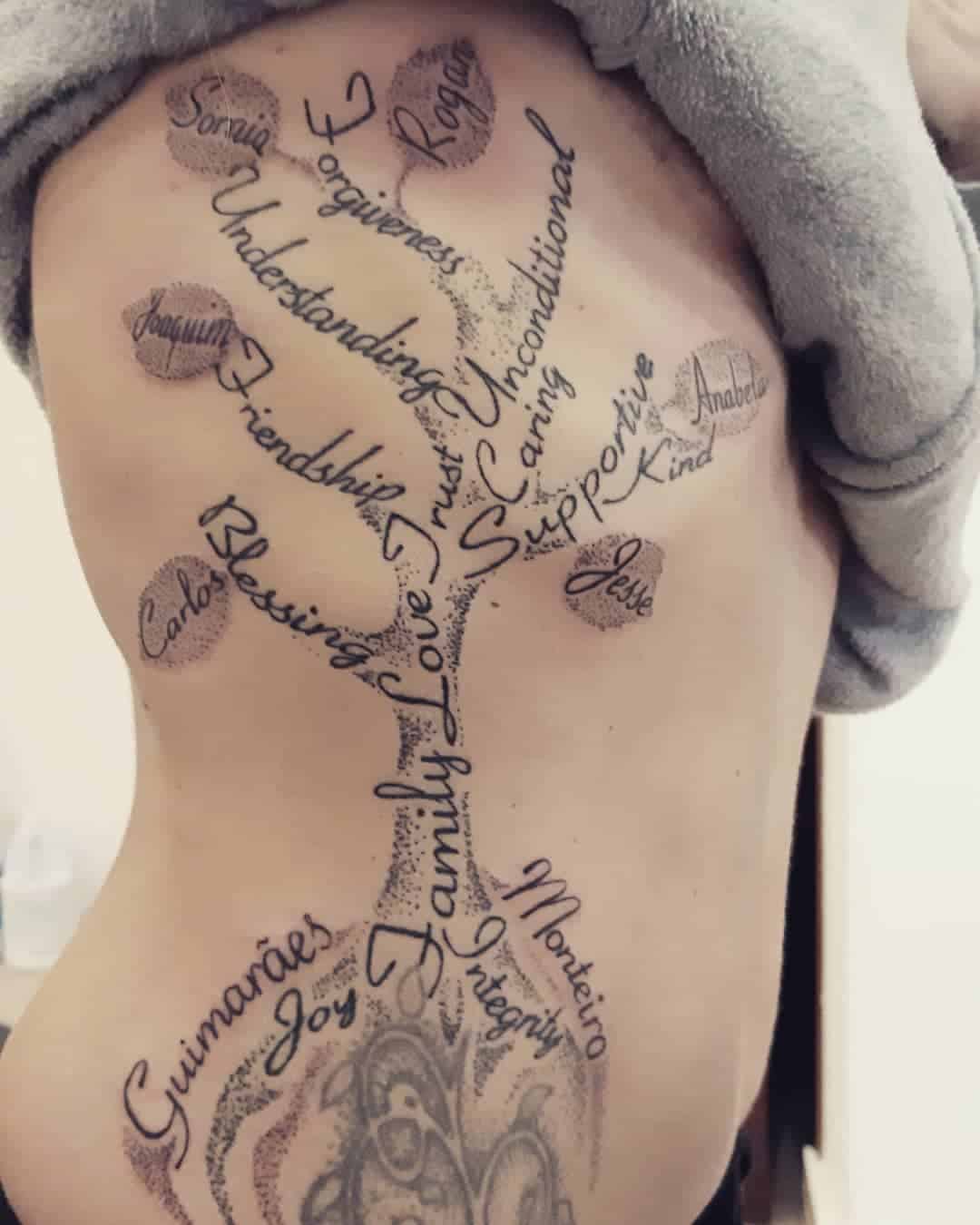 This is quite a large tattoo, and therefore, it requires a high budget and a higher commitment on your part. But if you can tick those boxes, this option can be for you.
This collage of words forming a shape of a tree mixes family names with all the features that characterize a family – including love, friendship, forgiveness, caring, and unconditional. You can add any additional words that symbolize family to you.
46. Stick Figure Family Tattoo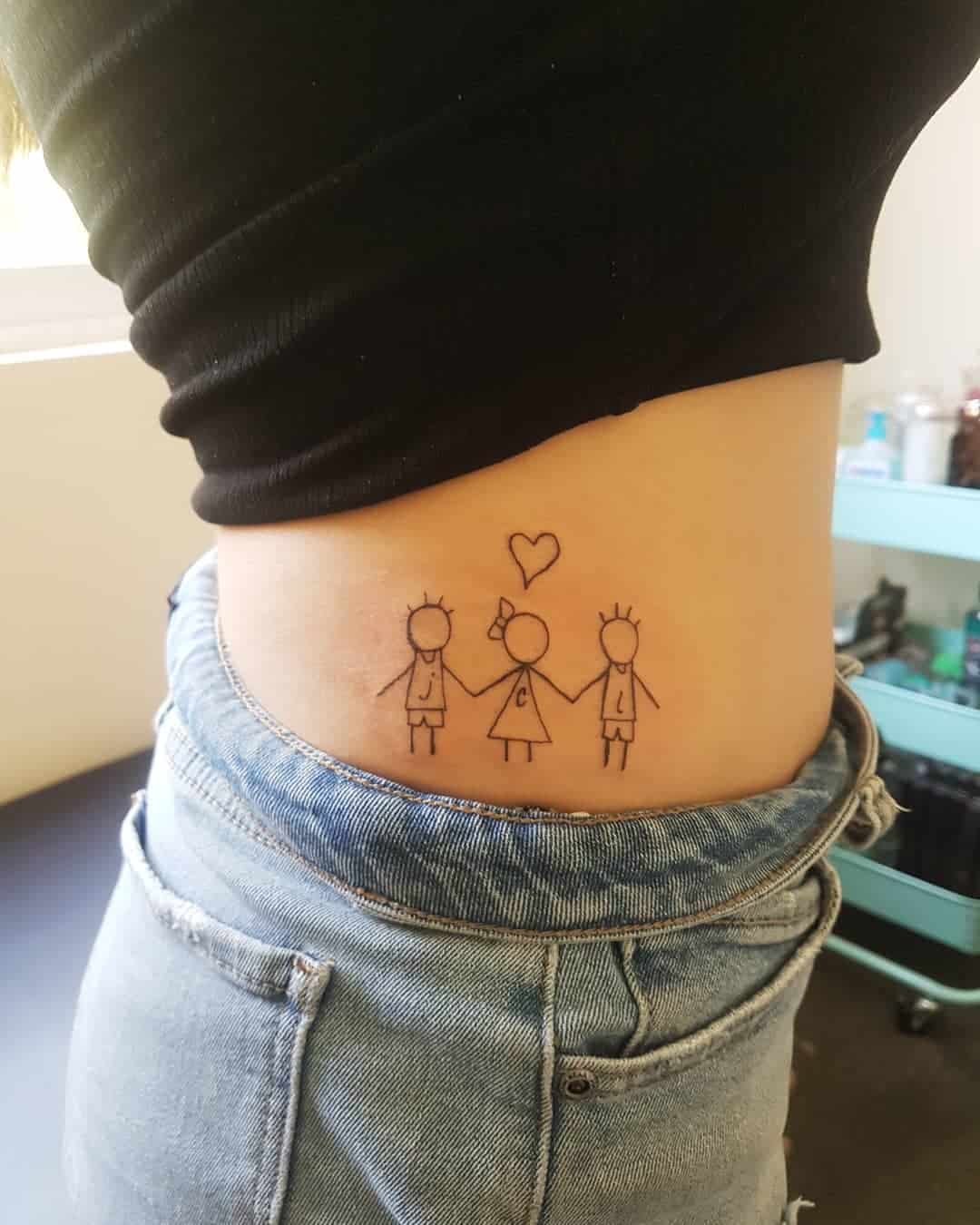 This stick figure family tattoo is a simple and cheap option for those who want something cute with a childish vibe to honor family and childhood.
You can add members to the family or even pets; it can be as long as you please. Even the style can change if you want to add more features to the stick figures.
47. DNA Strand With Dates Family Tattoo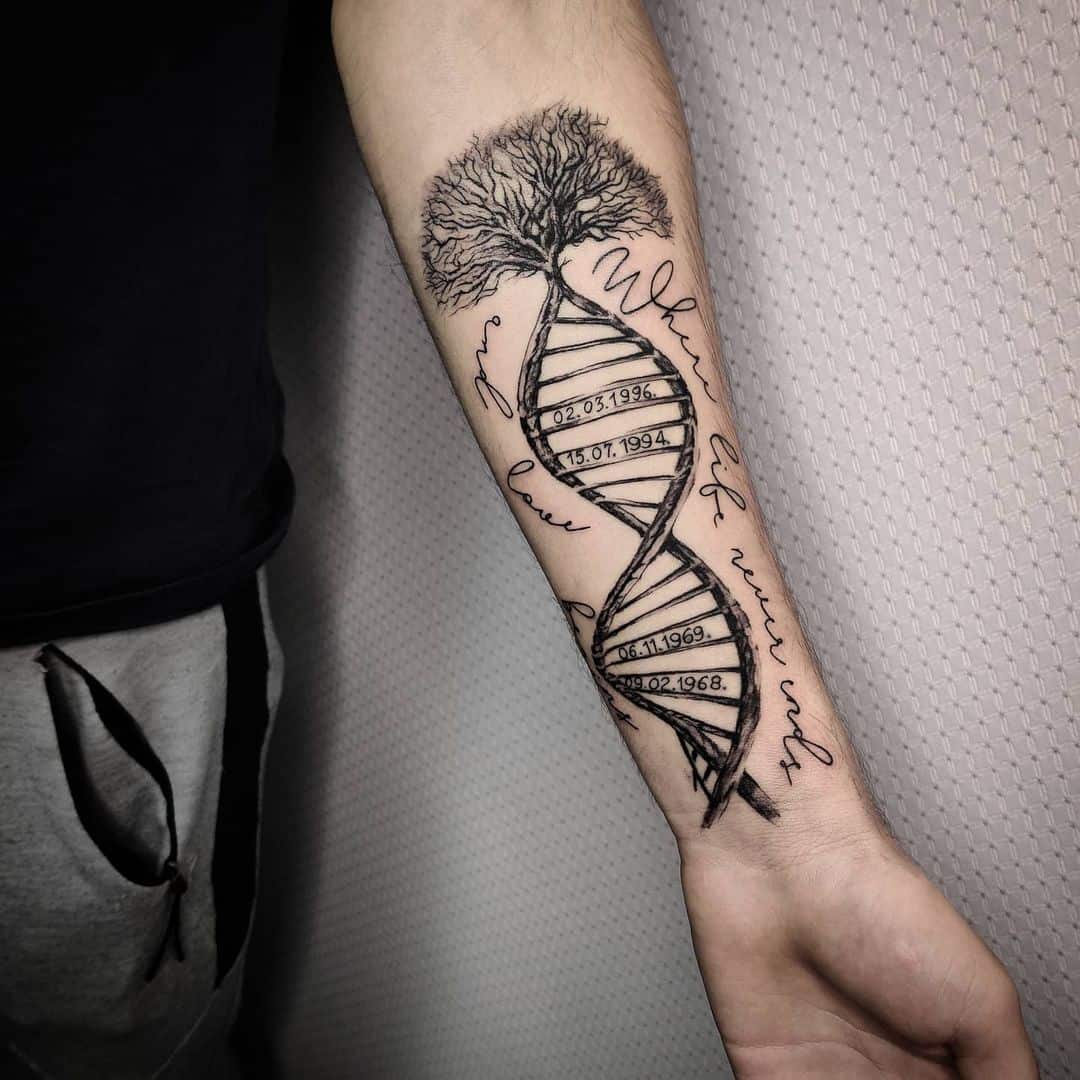 This design adopts a different take on the tree of life and turns the trunk into a big DNA strand. The phrase, "Where life never ends and love begins" is written around it with a beautiful and elegant font, and dates are engraved within the DNA strand.
This design is undeniably pretty, and it's perfect for those who like to make a statement and prefer boldness over subtleness.
48. Roman Numerals Family Tattoo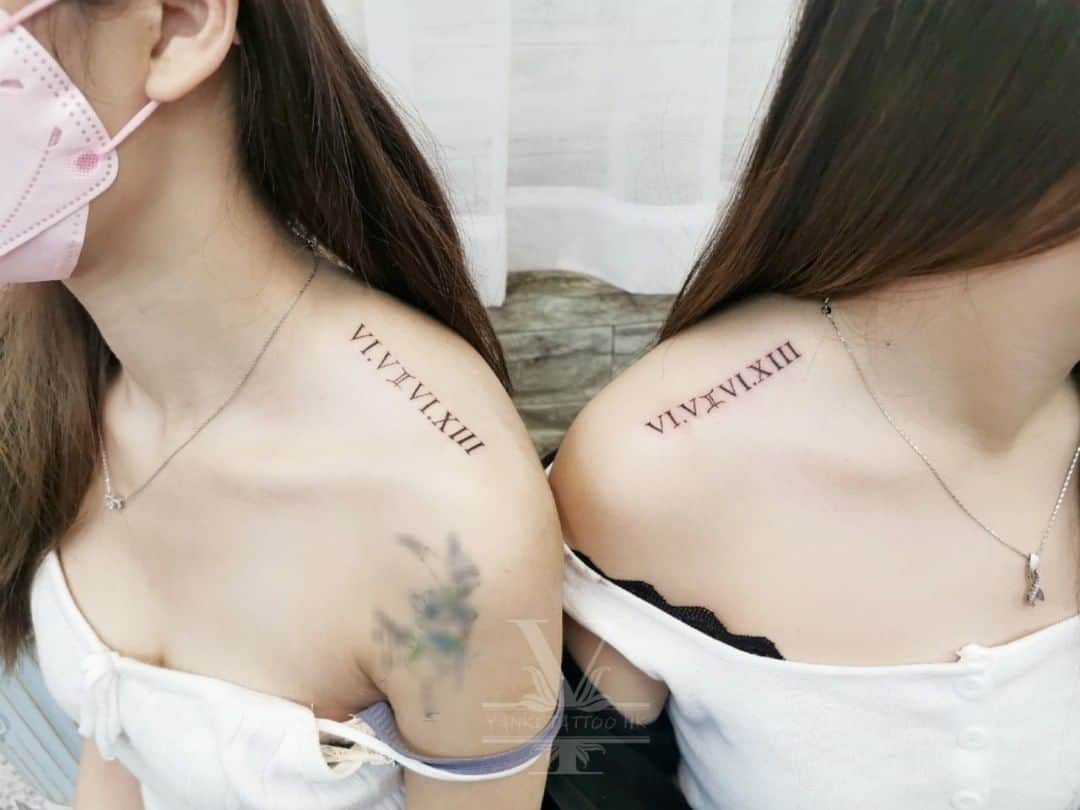 If you would love to tattoo a date, but you find it too simple and want to add a twist, roman numerals are the answer. It adds a clean, vintage look to something as simple as a date.
You can have this tattoo done anywhere on your body, as a complement to another tattoo, or in any size you like.
49. Watch With Baby and Hour of Birth Tattoo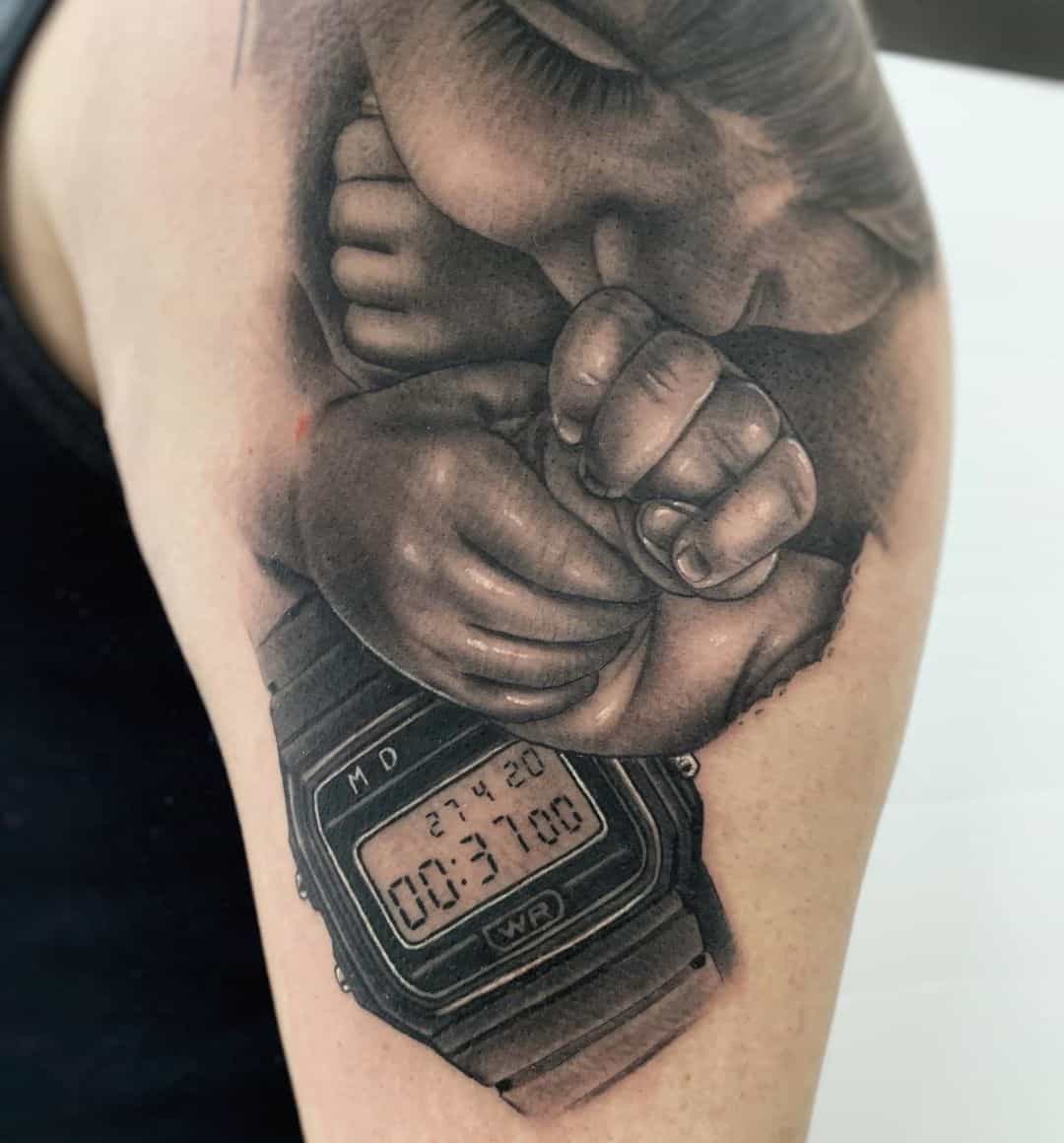 This hyper-realistic tattoo of a newborn baby and a watch with the baby's hour of birth is not for everyone, but if you can commit to a big tattoo and have the budget to get it, then this design is something to consider.
You can make it look like your newborn baby, or have the watch look just like yours; there is a lot you can do when you wish to make a tattoo more unique. Something like this will need someone highly experienced in similar projects.
50. Rose and Quote Tattoo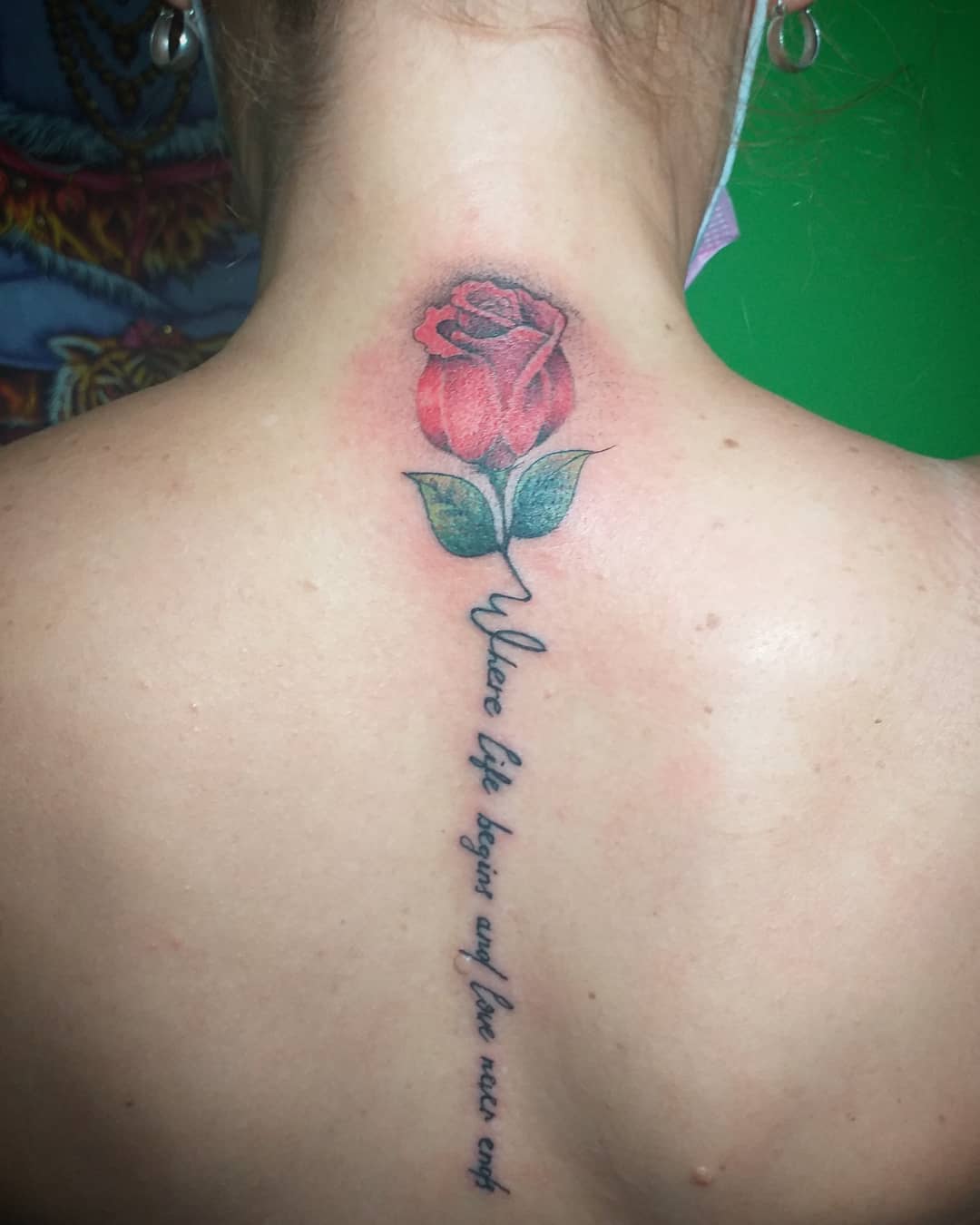 Red roses are a popular gift choice for a mother; most people will be able to say they have given their mother one at least once in their lives. Red roses are also a popular choice when it comes to tattoos, and in that context, they represent love.
This design of a red rose with a stem in the form of the phrase, "Where life begins and love never ends" can be the perfect gift to give your mother on her birthday or Mother's Day.
Choosing a Family Tattoo and Aftercare
If you have tattoos, by now, you have probably heard the question, "What does it mean?" For most people, the meaning is a really important component of a tattoo, but the opposite is also true; some people get a tattoo just because it's visually appealing. The goal is to find something that means something but that is also a work of art.
Many tattoos aren't unique, and that is ok; when we see something we like, we tend to want it for ourselves, and tattoos are not an exception. That's why you've just read this article, and that is why you browse Pinterest or Instagram looking for the most beautiful tattoo designs.
Amazon has a fair share of books with hundreds of tattoo ideas that you can browse. Three books stand out: 1000 Tattoos: The Most Creative New Designs from the World's Leading and Up-and-Coming Tattoo Artists, Superior Tattoo Bible, and 1000 Tattoos: A Sourcebook of Designs for Body Decoration.
When browsing through different designs, it's also important you learn about the meaning of the tattoo elements, and for that, you can have a look at the Tattoo Dictionary. And when you see something you enjoy, you can even copy it to some tattoo transfer paper and transfer it to your body so you can effectively see if you would enjoy having that tattoo.
In addition to choosing the right tattoo for you, you'll want to make sure you are well-equipped to take care of your tattoo after you go home. A tattoo isn't just drawing; it is a complex process where ink, dyes, and pigments are inserted into the dermis of your skin, changing its natural pigmentation. It sounds serious, because it is, and a four-stage healing process starts as soon as your tattoo is done.
It is of extreme importance that your tattoo doesn't get infected. To avoid that happening, you must take action and do everything in your power to keep it clean and sterile. Two things you must have is a good ointment and dressing, and not just any dressing – clear film dressing is often used to help tattoos heal. There are also vegan products if that is what you prefer.
Once you choose something you like to see on your body and has a meaning that resonates with you, and are prepared to care for your tattoo, you are ready to find a tattoo artist and get the work done!