Our love for face powder here at BeautyMag knows no bounds. From pigmented foundation powders to sheer translucent ones, there are many incredible powders worth trying! We're surprised anew every time we find a different way to use powder. From adding coverage to ensuring longevity, powders are essential for even the softest makeup looks.
To get the most out of your powder, keep reading! We'll explain how to use face powder in three different methods, along with a few added tips about what you can do with it.
When it comes to selecting a powder, we also have some advice, especially when it comes to deciding between pressed and loose powders and finding the right color for you.
How Do You Apply Face Powder?

The way you apply your powder will have a huge impact on its performance. These are the three main application methods, from the lightest coverage to the highest.
With a Fluffy Brush
Fluffy makeup brushes distribute powder lightly and evenly. They don't pick up too much product off the compact, so you're much less likely to over-apply when using them. This is the method favored for a more natural look since it is unlikely to look heavy, overly matte, or cakey. Our favorite brush for the job is the Real Techniques Powder Brush.
Swirl your brush gently over your face powder to load it up. If you're using a loose powder, make sure to tap off the excess.
If you're already wearing foundation or concealer, apply it over your skin with gentle tapping motions. This way, you won't disturb any of the makeup underneath.
If you're not wearing color cosmetics underneath, you can use circular motions to apply the powder instead.
When you're done applying, you can use a clean, fluffy brush to remove any excess powder if you think you overapplied.
Once your face is powdered, you can finish your look with other powder-based complexion products.
With a Flat Brush
A flat-topped kabuki brush is firmer and more tightly packed, so it will deposit more powder on the skin, giving you higher coverage. Try this method if you use a high-coverage powder instead of foundation or if you have to use a lot of powder for serious oil-control. If you don't have a kabuki brush, check out our article for some great options.
Swirl the brush into the powder to pick up the product, and make sure to tap off any excess.
Gently tap the brush over areas of your skin where you've applied foundation or concealer.
To build up the powder over bare areas of skin, buff it in gently with circular motions.
Start with the areas where you want the most coverage, and then blend the powder out towards the areas where you don't need as much.
Load your brush up with more powder as necessary–you'll probably need to do this once or twice to cover the whole face.
Use a tapping motion to add more powder to areas where you'd like stronger coverage.
Once your face is covered, use a clean, fluffy brush to remove any excess powder.
With a Sponge
Sponges are not ideal for applying powder all over the face, but they can be convenient on-the-go. They're also great if you like to "bake" your foundation or concealer with loose translucent powder. Many powders come with a sponge applicator, but we always prefer a blender-style sponge like this one from Real Techniques.
If you're using a sponge to set your concealer, it's best to dampen it first. Hold it under the tap so it becomes totally saturated with water, and then squeeze it a few times so it's not dripping at all.
Press your sponge into your powder to load it up, and tap off the excess.
Gently press the sponge against your skin, using a tapping motion to set the concealer without disturbing it at all.
Wait a few minutes to allow the powder to "bake," and then use a clean fluffy brush to remove any excess powder.
If you're out and about, a dry sponge will work just fine to do touch-ups.
For touch-ups, it's still important that you use a pressing motion to tap powder into the skin without disturbing any makeup underneath.
What Does Face Powder Do?

Face powder, how to use thee, let us count the ways! These are all of the potential uses you can get out of your powder.
Setting
First and foremost, powder is most commonly used to "set" foundation. This means that it helps to absorb some of the moisture in the foundation, to get it to dry down in place. With many foundations, this is very important for increasing their wear-time, preventing smudging or creasing, and even turning the foundation waterproof.
Some foundations can dry down on their own, in which case they're referred to as "self-setting," although those with oily skin may still want the added reinforcement. Foundation isn't the only product that can benefit from being set with a powder. You can also set concealers, tinted moisturizers, BB creams, and other cream or liquid complexion products.
Touch-Ups
Powders, especially pressed ones, are great for carrying around for makeup touch-ups throughout the day. You can lightly powder to remove shine or apply with a sponge to add a bit of color where your foundation might have worn off during the day.
Mattifying
Most (though not all) powders can mattify the skin, either slightly or extremely depending on how much oil-control they offer. They absorb oils from foundation or from the skin, which makes the skin appear less shiny.
Diffusing
Some powders are made with ingredients that have a "blurring" or "photo focus" effect, sort of like a primer. They diffuse light as it hits the skin, which helps to camouflage the appearance of texture, large pores, and even wrinkles. This is done without added pigmentation, so the skin looks extra-smooth but not overly made up.
Increasing Coverage
With the exception of translucent powders, the majority of powders will also increase the coverage of whatever you use below them. If you usually use a foundation with lower pigmentation, a powder will bring it up a level and camouflage more of your skin. This can also help if you want to reduce the intensity of blush or bronzer.
Using a very high-coverage powder over a high-coverage foundation can give the skin an almost artificial appearance, which can be especially cool in photos (though it may seem too heavy in real life).
Tinting
If your foundation shade doesn't quite match your skin tone, powder can help shift it a bit and correct its color. The most common example would be if you picked up a tan on vacation and now your foundation is too light for your skin. By using a slightly darker powder to set it, you can get your old foundation to match and don't have to buy a new one!
As a Foundation
Medium and high-coverage powders can work beautifully instead of foundation, especially for those who don't like the feeling of creams on their skin. They're often even marketed as mineral or powder foundations!
As Bronzer, Contour, or Highlighter
With powder-based products, you can often break some rules. You can use a slightly darker powder as your contour or bronzer, while a lighter powder can be a great non-shimmery highlighter.

Which Is Better: Pressed or Loose Powder?
Pressed powder and loose powders each have their own unique benefits. If you're not familiar, loose powders come in a jar, often with a layer of plastic dotted with holes separating the powder from the lid and keeping it from going everywhere. On the other hand, pressed powders are a solid block in a compact. Neither one is better than the other–it's just a question of lifestyle and preferences!
Some sources discuss differences when it comes to coverage level or skin-type compatibility, saying that because pressed powders are pressed with silicones or oils, they're more suitable for dry skin. In reality, there are a lot of pressed and loose powders that behave very similarly once applied to the skin, so it's impossible to try and make these kinds of distinctions.
Pressed Powder Benefits
The major benefit of pressed powders over loose ones is portability. In general, pressed powders are easier to travel with because they come in more streamlined containers (often ones that include a mirror and applicator) that are easy to slip into a bag. Once opened, the pressed powder stays put, whereas a loose powder can create a cloud of dust when opened, which makes a big mess.
Loose Powder Benefits
However, when applying makeup at home, loose powders might be the better choice. A jar of loose powder usually costs the same as a pressed powder compact, but it will almost always contain more product, so it's the better value-for-money choice. Makeup artists might also prefer loose powders since they're easier to use from client to client and still keep things hygienic since the artist doesn't have to swirl their brush directly into the product container.

Finding the Right Color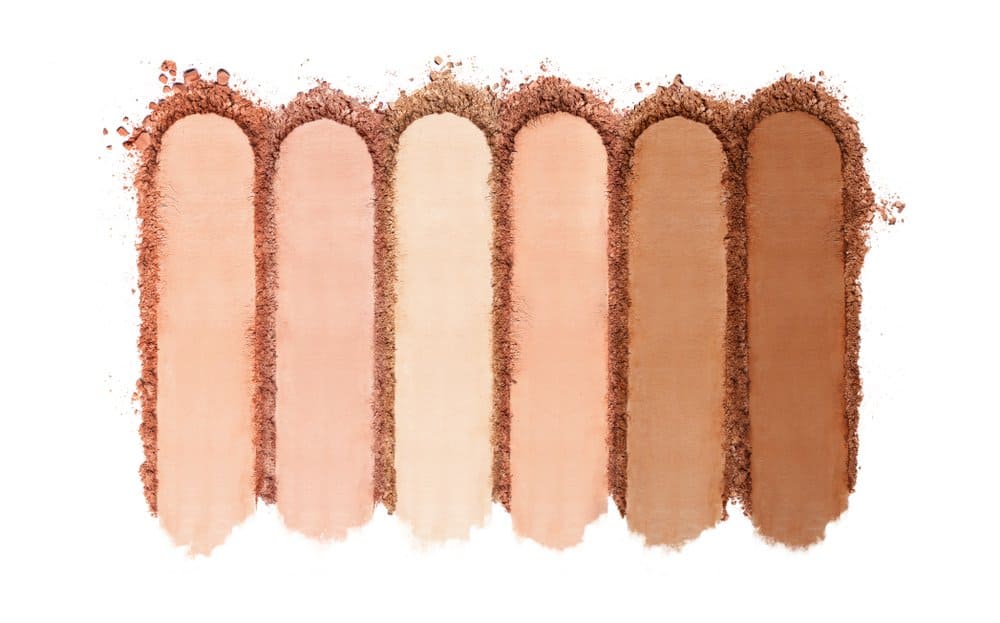 Normally, finding a color match is very important with complexion makeup, but with powders, it doesn't always matter. Translucent and light-coverage powders blend beautifully into a very wide range of skin tones, while high-coverage powders need to be color matched as carefully as a foundation.
The traditional way to check that a powder matches your skin is to swatch it along your jawline and see how well it blends into the skin on your face and on your neck. In the age of online shopping, trying a powder before buying it is not so easy, so our tips focus on finding the right color when shopping online!
Know Your Skin Tone
Light-coverage powders will only come in a few light shades and a few dark shades, and they won't have enough color for undertones to matter. You'll just need to find the shade that'll be closest to the darkness level of your skin.
If you're very pale, a "light" or "ivory" shade will work, if you're a little more tan then a "medium" or "beige" shade will suffice, and if you have darker skin you'll want a shade with a name like "deep" or "dark."
If you want to be truly sure that a color will work for you, we recommend looking up video reviews. They'll allow you to see how the powder performs in real life and can be especially helpful if you find a reviewer whose skin tone is similar to yours.
Know Your Undertone
Powders aren't usually classified by undertones, but if you're looking at high-coverage powders, it's still an important consideration. The main undertones are:
Cool, which is a little pink or red.
Warm, which is a little yellow or golden.
Neutral, which is either a very clear beige or an equal blend of warm and cool tones.
Olive, which has a slight greenish tint, sometimes in combination with yellow (warm olive) and other times without (neutral olive).
When looking at powders, either in photos or swatches, see if you can pinpoint the same undertones that you see in your skin. Swatches are especially helpful because they allow you to compare the different colors in a shade range against one another.
In the case of light and medium coverage powders, the undertones are often neutral by default, so they work for most people regardless of undertones. The exception is those whose skin leans very strongly yellow, red, pink, or olive. In that case, it's often easier to stick to cream products, which come in wider shade ranges, and to set the skin with a translucent powder.
Powdered to Perfection
It's amazing when a product can do more than the obvious! With so many beautifying effects, powder is absolutely essential to any makeup collection. You probably already knew about a few of these methods and techniques, but we hope we got you excited to use your powder in new ways!