While most makeup lovers look for ways to make their eyes look larger, a rare few out there actually want to make their eyes look smaller.
Maybe your eyes are naturally large, so most makeup techniques make them look absurdly big, or perhaps you want to appear more mature and sophisticated, and big eyes simply look too young. Finally, there are those who find that their large eyes look protruding, and may want to draw attention away from that.
Whatever your reason might be, if you want to make your eyes look smaller, you've come to the right place! We've compiled expert tips to make your eyes look smaller. We start with our best makeup tips, but we also added some advice to make the eyes look smaller without makeup. Finally, we touch on circumstances when large eyes can be a health risk, to keep you safe.
How to Make Your Eyes Look Smaller With Makeup
With a few simple changes to your makeup routine, you can make your eyes look a little smaller without taking ever away from your beauty.
Apply Concealer Under the Eyes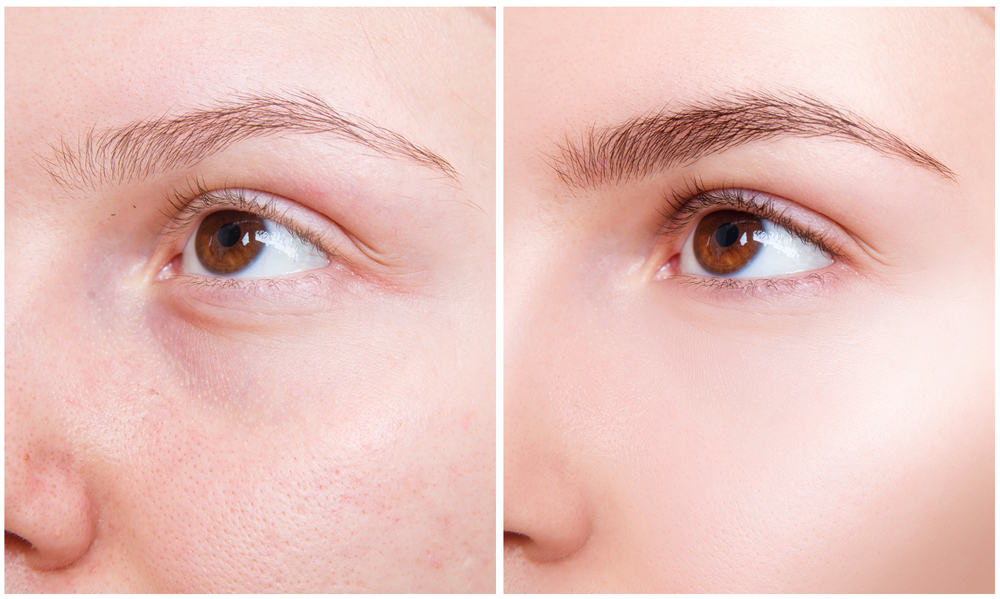 The natural contours and shadows you have under the eyes might make you feel like you look tired and haggard, but they actually also add a contrast that makes the eyes look bigger.
Using a concealer to even out and flatten the skin under the eyes is one easy way of making the eyes look smaller while also evening out your overall complexion! The result? You'll look more awake, but your eyes will look smaller.
If you have slightly purple or blue bags under the eyes, use a color-correcting peach concealer (A. Girl makes a great one) and then foundation or skin-tone concealer on top.
If your under eyes get puffy, use a concealer that matches your skin tone exactly.
If your under-eye area is a little sunken in, you can use a concealer that's a shade or two lighter than your skin tone to brighten the area.
Line Your Waterline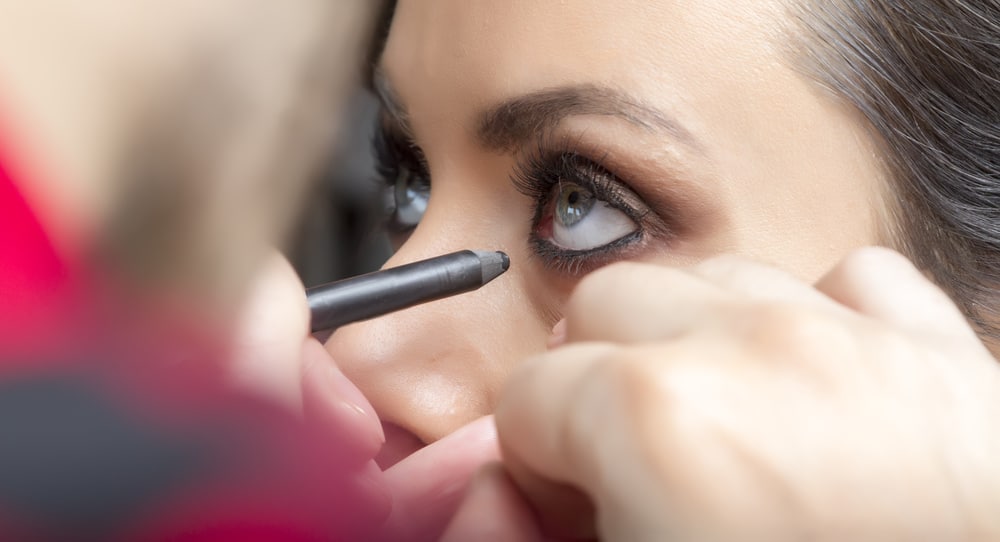 Lining the waterline with a black or dark brown eyeliner is a great way of making the eyes look a little smaller. The eyes' natural border is the lashline, so by darkening the waterline, you make their border smaller. The result is a sultry look that still draws attention to the eyes while also minimizing them.
Lining the waterline is not the easiest process, since you have to bring your eyeliner very close to the eye. The trick to making it work is to pull gently on the skin under the eyes, which reveals the waterline and allows you to darken it.
It's important to use a soft, gentle eyeliner that won't harm the eye, so check out our article on the best eyeliners for the waterline for product recommendations and a few more eyeliner tips.
Go Easy on the Mascara
Since the lash line is the main visual border of the eye, the darker your lashes, the more your eyes will stand out. Applying a lot of black mascara is a quick way of making the eyes look larger, so by doing the opposite, you can keep your eyes looking small.
If you're already wearing some makeup, going totally without mascara might be a little weird, so you can opt for brown mascara instead of a typical black one. To ensure you don't apply too much, wipe the wand off on a tissue (this will also prevent clumping), and only apply one or two coats to each eye.
Alternatively, Go Wild With Falsies
Oddly enough, going in the opposite direction and applying thick false lashes can also help the eyes look smaller. The key here is that the false eyelashes you choose have to be extremely voluminous and long, like the super-fluffy Jimire 3D Lashes. These massive lashes put your eyes into shadow and simply draw all of the attention, whereas more subtle false eyelashes will have the opposite effect.
It's also useful if you apply them to the eye in a way that casts a shadow. The normal advice is to apply falsies so that they're fanned out vertically over the eyes, but laying them down so they're more horizontal (i.e. stick out straight over the eye) will put the eye under more of a shadow.
Keep the Lid Matte
As much as we love a gleaming, shimmery eyeshadow, the dimension it'll add to your eye by reflecting light is not going to help with your mission of making the eyes look smaller.
Keeping the eyes matte, on the other hand, is going to have the same impact as applying concealer to the undereye area. It'll make the lid look flat and smooth, which will help keep the eyes from standing out.
This is a nice option that can work both with and without eyeliner, and the best part is that it doesn't restrict your creativity too much. Some sources will suggest you rock a smoky eye with a darker matte shade over the lid. In practice, any matte eyeshadow that's the same darkness-level as your skin or a bit darker will work.
On days when you don't want to put in too much effort, just a layer of your go-to translucent powder will work, and it'll fit better with a casual or no-makeup makeup look.
Try the Fox Eyeliner Trend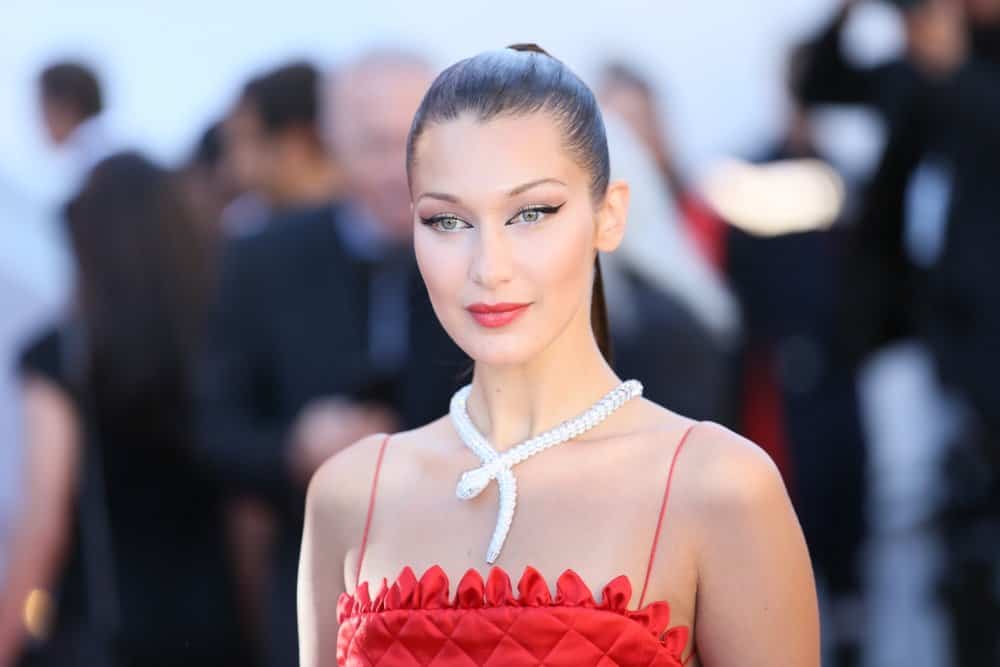 The fox eyeliner trend is another great way of making the eyes look a little smaller without taking away from their beauty or femininity. It's called the fox eyeliner trend because it's meant to make the eyes resemble a fox's—a little sharper, slimmer, and more upturned.
The look relies on winging out the eyeliner both in the inner and outer corners of the eye, which elongates the eye just a bit, while leaving the line above the lash line as thin as possible, to avoid adding roundness on top. If you like, you can combine this look with liner in the waterline, or leave it off.
Make Your Lips the Focus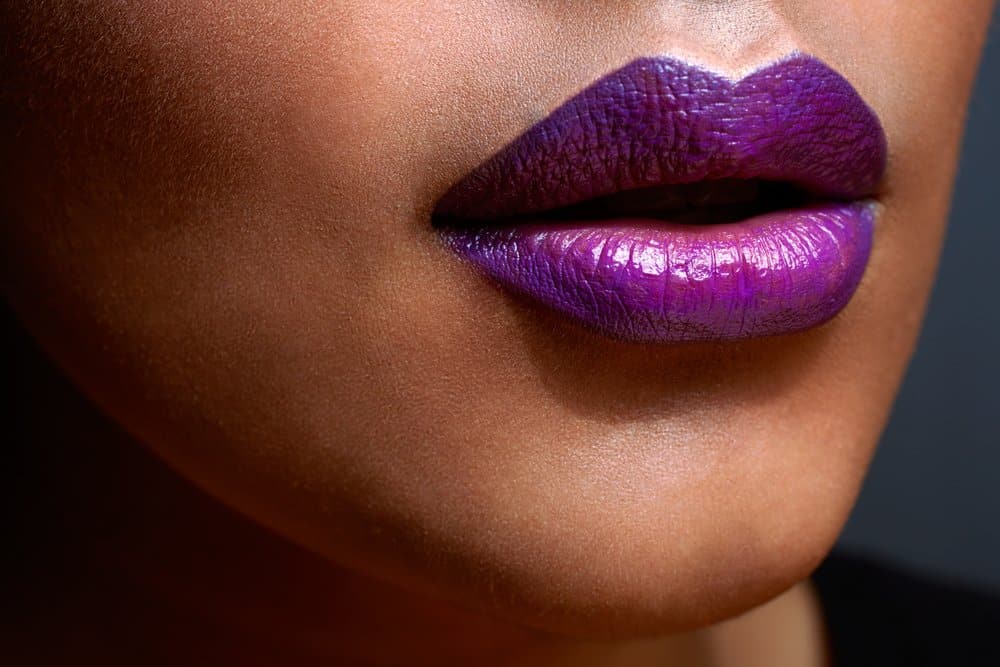 Our final makeup tip for making the eyes look small is to simply draw the attention away from them! Instead, make your lips the focal point of your look, by applying a healthy dose of lipstick.
You can try a technique that'll make your lips look bigger, like an ombre lip with a darker shade of lipstick on the outside and a lighter shade in the center of the lips, or just use a vivid red or berry shade topped with eye-catching lip gloss.
How to Make Your Eyes Look Smaller Without Makeup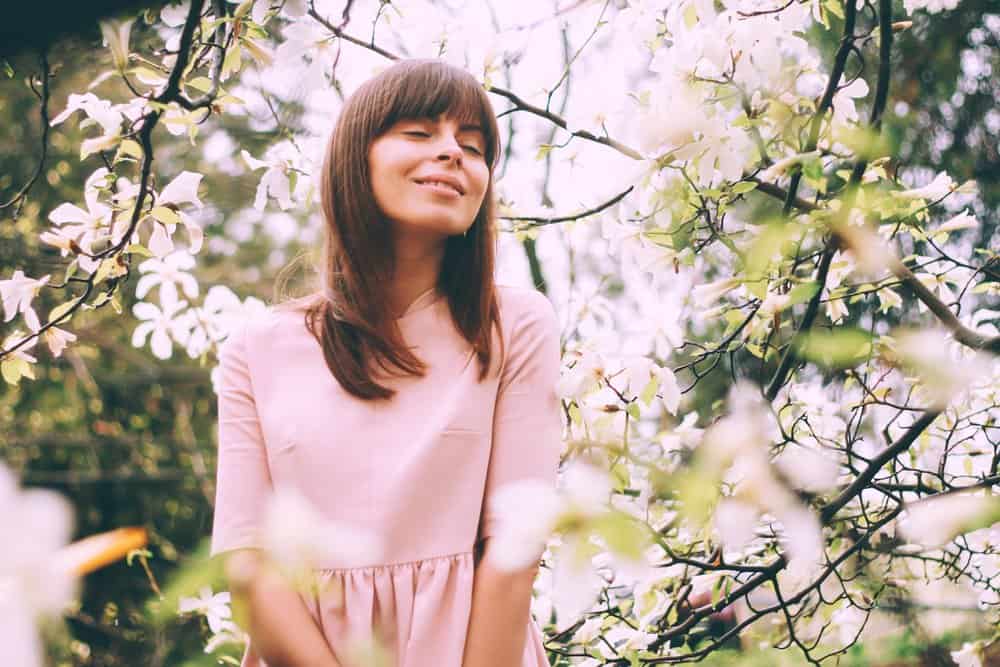 Makeup isn't for everyone, so we also have a bit of advice to help you make your eyes look smaller without it.
Change Your Brows
The eyebrows frame the eyes and allow you to make expressions, so they're definitely one of the most important features. Both heavy, dark eyebrows and light, thin eyebrows will make the eyes look smaller, while perfectly-groomed, arched brows can make the eyes look bigger.
You should weigh your options carefully before taking tweezers to your brows, so here are our thoughts on either going heavier or lighter.
Make Your Brows Heavier
Thick, bushy brows will cast a shadow over your lid and make your eyes stand out a lot less.
Thickening up the brows is especially useful for men who want to make their eyes look smaller.
It's also a better tactic for camouflaging slightly protruding eyes, which thin brows can emphasize.
Additionally, bushy brows are much trendier than thin brows, not to mention that they're not a long-term commitment the way thin brows are.
To try this temporarily: choose one of our recommended eyebrow pencils to fill in your brows more heavily, concentrating especially on thickening up the area below your natural arch.
Semi-permanent solution: eyebrow tinting is another great option because it'll make your brows darker without forcing you to put makeup on every day. It's helpful if you have a lot of brow hair that's naturally light, since darkening it will immediately make the brows more prominent.
Make Your Brows Thinner
Thinner brows will make the eyes look smaller by opening up more lid space. Your eyes will look smaller in relation to the lid, especially if you combine this with some of our makeup tips.
In general, we recommend first giving this a try in a non-permanent way, since once you start tweezing, there's no going back.
You can use a concealer to give yourself an idea of what your brows will look like if they were lighter, or go all-out by blocking them with glue.
If you decide making them thinner is the way to go, you can tweeze them carefully at home or book a brow shaping appointment with a professional.
Note that if your eyes are a little protruding, thin brows will bring that out even more.
Use a Depuffing Eye Product
If your main concern isn't exactly the size of your eyes, but the skin around them, then all you might need is an eye cream! Puffy eye creams use astringent ingredients, like caffeine, to constrict the capillaries and to break down fat deposits, which makes the area around the eyes look firmer and more awake.
We've written an entire guide to eye creams for puffy eyes, with some amazing firming eye creams as well as a few extra eye depuffing tips.
Consider Surgery for Smaller Eyes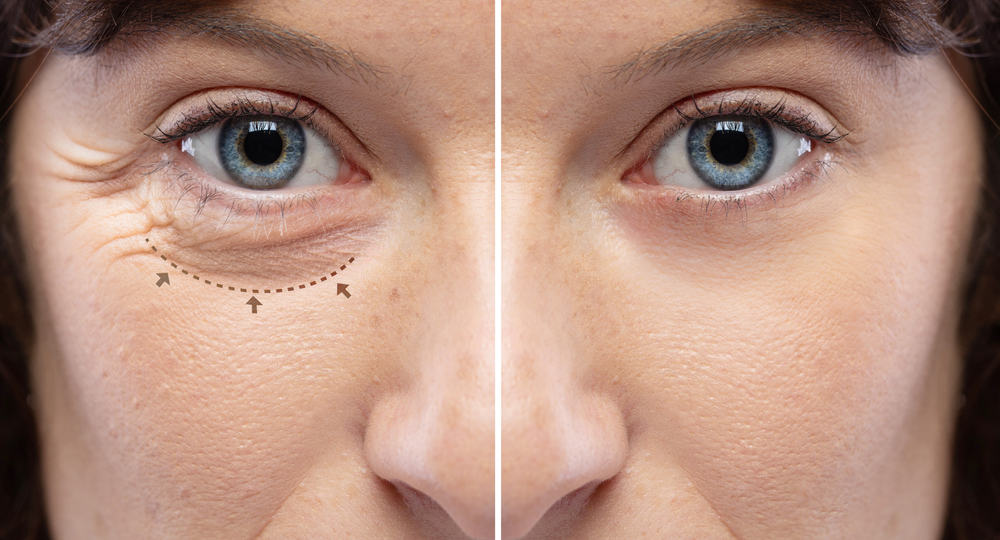 While there is no surgery out there that can make your actual eyes smaller, there are surgeries that can change the fat distribution and musculature around your eyes. This can make the eyes look smaller, and will also help reduce puffiness or fat deposits around the eyes.
However, undergoing surgery is a very serious consideration. Plastic surgery can take both a physical and financial toll, so we recommend doing a lot of research and consulting a few doctors before taking such a serious step.
Knowing When Big Eyes Are a Health Risk
Often, the eyes bulge or protrude because of a condition called proptosis. If your bulging is severe or starts happening suddenly out of nowhere, then it's better to talk to a doctor about your issues first.
Proptosis is often a side-effect of more serious diseases like Graves' disease, and if it's ignored, it can lead to long-term vision issues. Speak to your family doctor first, and then they can refer you either to an ophthalmologist or an endocrinologist for treatment.
Small-Eyed Conclusion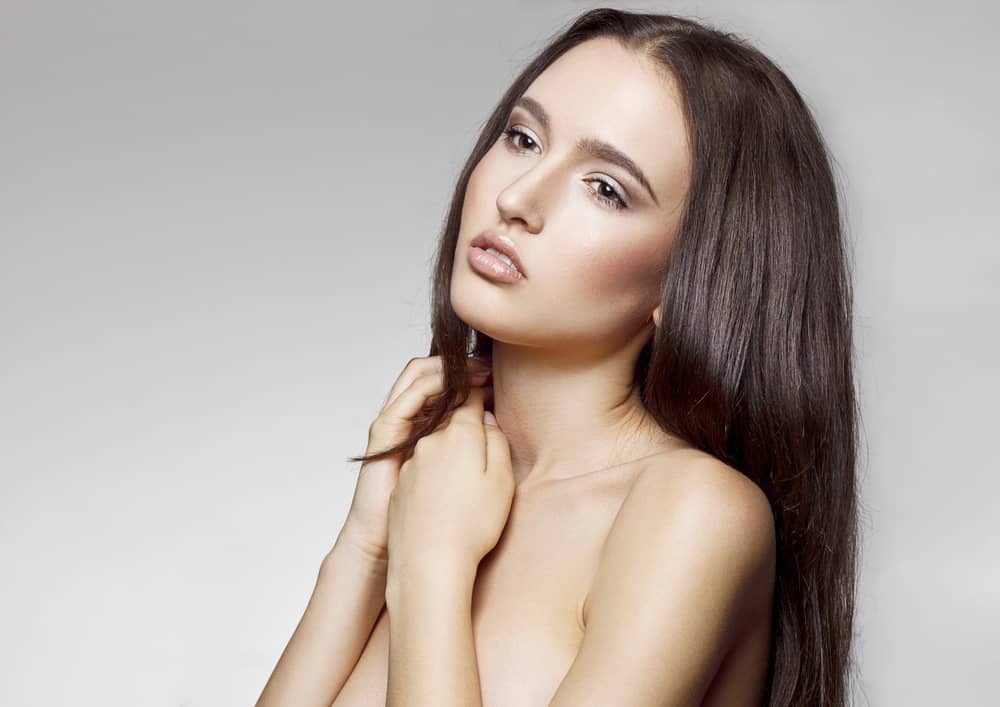 Just because your desire for smaller-looking eyes isn't common, it doesn't mean it's wrong. You can minimize your eyes with makeup and still look eye-catching, that's for sure!
Even if makeup doesn't spark your fancy, there are still some options that'll allow you to feel more confident about how your eyes look. You deserve to feel good about your features, no matter what that means to you!