Editor's Note: Using eyeliner on your waterline is one of my favorite tricks for making your eyes look brighter and more awake, or for adding a unique touch to your makeup. White and black are the most popular waterline eyeliner colors, and it's important to select a product that is going to work with your skin and be easy to apply, as your waterline is a sensitive area.
Make sure you double-check our guide to using a waterline eyeliner to be fully prepared before you attempt this fresh and unique style.
There are many makeup looks that are taken to the next level by adding liner to the waterline. Using black eyeliner on your waterline (the line of skin between your eyelashes and your eye) can be the finishing touch to a sexy, sultry look.
White and nude shades are great for brightening the eyes and making them look more open and awake. If you want to add color to your look but aren't comfortable rocking it on your actual lid, the waterline is the perfect place to experiment.
However, due to the waterline's watery nature, it's tough to find a liner that really sticks to it and won't budge throughout the day. We've rounded up the best eyeliners for your waterline and have also provided some tips on hygiene, application, and removal.
But first, let's talk about which types of eyeliners work best for the waterline.
What to Consider When Choosing Eyeliner for Your Waterline
Searching for your next holy grail eyeliner may not be easy, but you'll save some time if you know what to look for and what to pass up.
Which Types of Eyeliner Work Best for Your Waterline?
You probably know that eyeliner is available in a few different formats: pencil, gel, marker, and liquid. Let's discuss which types are worth trying and which ones you should leave on the shelf.
Pencil
When it comes to lining the waterline, pencils are fantastic. They are easy to control, which reduces the likelihood of poking yourself in the eye or getting product where you don't want it.
Makeup companies have also come a long way with their formulas. Pencils are not stiff and waxy, but soft and creamy. This makes them easy to apply.
The pencil's real shortcoming is its versatility. If you want a product that works great on your waterline but can also be used to create, say, winged liner, a pencil isn't going to be the best option.
Even when you keep them sharpened, pencils never seem to be as precise as other types of liners. You just can't create incredibly thin lines with a pencil.
If you just want something for your waterline, then a pencil is a fantastic option, but if you're looking for something more versatile, then you might prefer a gel liner instead.
Gel
Gel liners come in pots and require a brush for application. Some brands will supply a brush, but you may still need to purchase one separately depending on what kind of look you're going for.
If you have hooded eyes, for example, the brushes that come with products are usually too thick to make lines thin enough to show up beneath a hood.
The appeal of gel liner is that it is smooth and creamy, making it easy to apply to the eye without any skipping or tugging. The formula is easy to work with, but once it sets, it becomes completely budge-proof.
These qualities also make it a great option for the waterline. Because you need to use a brush, it might not be quite so easy to apply to the waterline as a pencil liner, but most people can get the hang of it with a bit of practice.
Best of all, you won't have to limit your use of gel liner solely to the waterline. Gel liner is great for lining the lash line or creating a wing. All you need to do is pick the right brush!
Markers
Markers usually aren't the best choice for lining the waterline. Though many of them have awesome, long-lasting formulas, application can be pretty tricky.
You'd think using a marker wouldn't be so hard since the shape is very similar to a pencil, but for some reason, markers just don't offer a lot of control. It's common to get liner in places you don't want it, including inside your eye, when using a marker on the waterline.
Of course, there are always unicorns out there with incredible control who are somehow able to line their waterlines with markers. If you are one of these magical people, more power to you, but the rest of us will be sticking with pencils and gel.
Liquid
There may be a few magical beings who can steadily line their waterlines with marker eyeliners, but using a liquid liner to do so is pretty much impossible across the board.
Most liquid liners come with a brush tip or a pointed-sponge tip, and both are sure to paint your eyeball with black (or whatever color you choose) if you try to line your waterline with them.
It's best to steer clear of liquid liner completely.
The Woes of Watery Eyes
Though we've handpicked the best of the best eyeliners for our list, unfortunately, there is no such thing as a universally perfect product.
Everyone is different, and thus their skin takes products differently. While we hope that you could choose any liner from our list and it will be a smash hit, there is always a chance that it just won't work out.
This is especially possible for those who are cursed with watery eyes, whether they are that way all the time naturally, you're prone to sensitivity, or you suffer from allergies.
If you have corrosive tears, you're going to need to help your eyeliner out a bit. There are a few ways to do this, like drying your waterline before application or using powder, which we've detailed in a guide for you.
That said, let's get into our recommendations.
Top 11 Best Eyeliners for Your Waterline 2023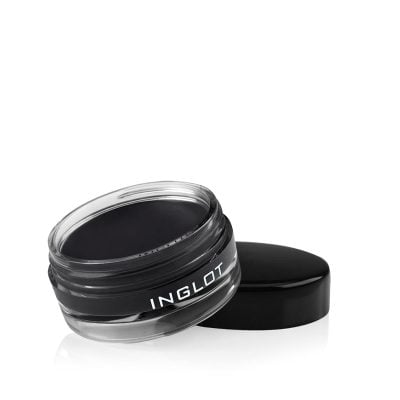 Why we like it:
This eyeliner is everything you could want for your waterline. It's easy to apply, highly pigmented, and it stays put all day without smudging. Because it's a gel, its use isn't limited to just the waterline.
Editor's Rating:
When it comes to lining your waterline, the Inglot AMC Eyeliner Gel 77 is a fan favorite. The silky formula glides on easily and sets quickly.
If you like to smudge your liner for a smokey look, you have to be fast. Once this liner sets, it won't budge all day. It won't transfer from your tightline to your waterline (or vice versa), and it can stand up to sweat, tears, and naturally watery eyes.
You don't need a heavy hand, either. A little bit of this gel liner goes a long way. Not only is it long-lasting on your eyes, but you won't be re-purchasing frequently (unless you love it so much you have to buy all the colors).
The color selection for this product includes some unique and vibrant colors such as yellow, red, and cyan. Of course, everyday shades such as black, brown, and white are also available. Regardless of which color you choose, the pigmentation won't disappoint.
Despite costing double that of some of the drugstore liners on this list, the Inglot AMC Eyeliner Gel 77 does not come with a brush. Still, the quality of this product is arguably worth the price tag.
Pros
Sets quickly so you don't have to worry about smudging or transfer

Vibrant color selection with impressive pigmentation

Easy, even application

Long-lasting and smudge-proof
Cons
Sets quickly leaving little time to smoke out liner or fix mistakes

Doesn't come with a brush
---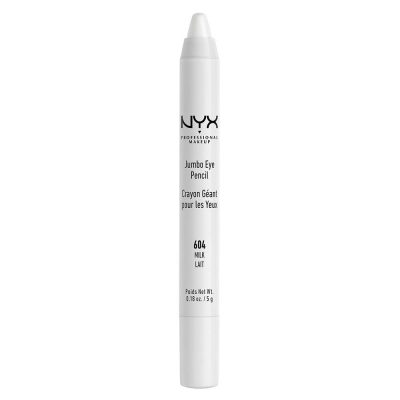 Why we like it:
This pencil is so much more than just an eyeliner. It can also be used as eyeshadow, an eyeshadow base, highlighter, and lip liner.
Editor's Rating:
The NYX Jumbo Eye Pencil comes in a number of shades that go beyond just the basics (though they have those, too), including pink, silver, gold, rose gold, champagne, and rust to name a few. The colors look beautiful as both liner and eyeshadow.
The white shade, called "Milk," is a cult favorite. People love using it on the waterline to make the eyes appear bright and open. It is lauded as the perfect eyeshadow base that makes any color put on top pop.
For those with fair skin, it can even be used when highlighting and contouring the face. Many of the other colors make great highlighters as well due to the small flecks of shimmer within them.
The NYX jumbo eye pencil can even be used as a lip liner to keep your lipsticks from bleeding, and Milk can be used as a base to make bright lip colors stand out more. However, for hygiene reasons, we wouldn't recommend using the same product on both your lips and eyes.
As you can see, the versatility of this product gives you a lot of bang for your buck.
When it comes to the waterline, the NYX Jumbo Eye Pencil is long-lasting despite not being waterproof. The formula is smooth, soft, and creamy, so it glides onto the waterline effortlessly.
These eyeliners are also highly pigmented, so you won't need more than a couple of swipes to get your desired intensity.
Though this product sounds like a dream, it isn't without faults. Because of the large tip, it lacks precision, and some users may struggle to apply it to an area as slim as the waterline.
A standard eyeliner sharpener will not work with this Jumbo Eye Pencil; as the name suggests, you'll need something bigger. Furthermore, sharpening can be tricky due to the product's plastic packaging.
Pros
Versatile

Creamy formula makes for easy application

Intriguing color selection

Pigmented
Cons
Large size means less precision

Difficult to sharpen
---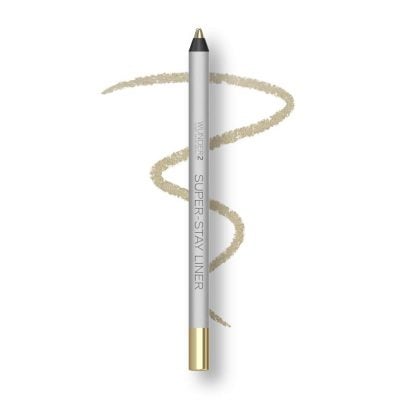 Why we like it:
Wunder2 offers a range of gorgeous matte, shimmer, and metallic colors to suit every preference. The waterproof formula keeps this liner locked in place all day long.
Editor's Rating:
You may recognize the name "Wunder" and wonder if this eyeliner is made by the same brand as Wunderbrow. It is!
The Wunder2 Super-Stay Liner has the best color selection with 21 highly-pigmented shades in three different finishes: matte, glitter, and metallic.
The formula is soft and creamy, making for an easy, gentle application to the waterline. Once it sets in place, it won't budge. In fact, it will last all day and all night should you forget to take it off.
Contact wearers have to be extra careful with application as the formula is so malleable that it will fog up lenses if it touches them. Luckily, it isn't likely to cause any irritation to the eyes.
Because it is waterproof, it can be difficult to remove and you will definitely need a makeup remover that is up to the task.
Though this pencil performs well on the eye, sharpening it can be a trial. The soft formula has a tendency to break during sharpening, causing you to waste more and more product in your quest for a sharpened tip.
Freezing the pencil before sharpening can help prevent broken tips and wasted product.
Pros
Impressive color selection

Soft formula is easy to apply and gentle on the waterline

Long-lasting
Cons
May not be suitable for contact wearers

Tip tends to break during sharpening
---

Why we like it:
The waterproof formula is long-lasting and smudge-proof while delivering bold pigment. You won't find a better eyeliner for the price!
Editor's Rating:
It's hard to believe Rimmel is able to offer a liner of this quality for such an affordable price. The Waterproof Kohl Kajal Liner stays put for hours and doesn't smudge or bleed.
Unlike other eyeliners, you won't see this one building up in the corners of your eyes. Application is easy due to the creamy formula and impressive color payoff — no tugging here!
This liner won't irritate sensitive eyes, nor will it smudge all over contact lenses.
The stay-put formula does make it a bit difficult to remove, however, and you'll need an oil-based or waterproof makeup remover. Though the Rimmel Scandal'eyes Kajal Liner lasts great on your eyes, it isn't so long-lasting in the tube.
Because it's a pencil, it needs to be sharpened. Sadly, there are some flaws in the pencil's design in this regard. Sharpening the tip back into a point is difficult and tends to waste a lot of product.
Pros
Easy to apply

Long-lasting

Good for sensitive eyes

Inexpensive
Cons
Hard to remove

Sharpening is difficult and wastes product
---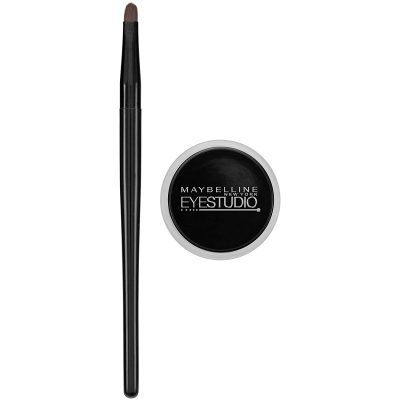 Why we like it:
We all know we shouldn't fall asleep with makeup on, but even a nap can't ruin this eyeliner. Once it dries down, it won't move.
Editor's Rating:
The Maybelline Eye Studio Lasting Drama Gel Liner takes long-lasting to the next level: you could wear it all day, sleep in it overnight, and wake up to it on your waterline the next day (but you shouldn't).
This liner can resist naps, sweat, and even tear-jerkers. It glides on smoothly, and the black shade is a dark, true black.
Unfortunately, the color selection for this product is limited to darker shades and won't be a good choice for someone looking to brighten up their eyes with a white or nude color in the waterline.
While this product is creamy enough not to tug at the eye, beginners may struggle using a brush to apply liner directly to the waterline without getting any in the eyes. Practice makes perfect, as they say.
Luckily, the Maybelline Eye Studio Lasting Drama Gel Liner is ophthalmologist-tested and safe for sensitive eyes.
Due to its waterproof formula, this liner can be tough to remove, and an oil-based makeup remover is a must.
Pros
Comes with a brush

Impressive staying power — waterproof, sweatproof, and nap-proof

Black shade is very dark and pigmented
Cons
Limited color selection

Difficult to remove
---

Why we like it:
The waterproof formula has the potential to resist both sweat and tears, and it won't smudge into your contact lenses.
Editor's Rating:
The Rimmel Exaggerate Eye Definer comes in nine different colors, but aside from Aqua Sparkle and In The Nude, the shades are rather dark. This makes them great for more traditional eye looks, but if you want to play with color, your options are limited.
The creamy, pigmented formula makes application a breeze; this stuff glides right onto the waterline without tugging at your eye, and the rich pigment means you don't have to apply any pressure.
This eyeliner is waterproof, sweatproof, cry-proof, and transfer-proof. It doesn't smudge, run, or bleed, so it's unlikely to irritate the eyes or get on contact lenses. These qualities also mean that it's going to stay put all day.
Despite being waterproof, the Rimmel Exaggerate Eye Definer comes off easily with makeup removers like micellar water.
This eyeliner is truly a stellar product considering how inexpensive it is.
Of course, everyone's eyes are different. While the product performs swimmingly on the majority of users, some people may still experience smudging or fading and may have to reapply throughout the day.
Pros
Safe for contact wearers

No need to sharpen

Rich pigment makes for an easy application

Long-lasting due to waterproof formula

Easy to remove with makeup remover
Cons
May collect in tear ducts or smudge at outer corners
---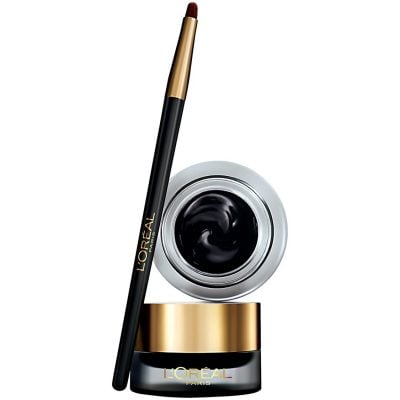 Why we like it:
This classic black gel liner has the staying power of a waterproof product with a formula that glides on like a dream. The pigment is rich and deep, providing instant intensity.
Editor's Rating:
L'Oreal claims that their Infallible Lacquer Eyeliner can last up to 24 hours, but it's more likely to last about 8-12 in the waterline. Still, that's pretty solid considering this eyeliner is not waterproof.
In fact, as long as you do not touch your liner, it is unlikely to smear even if it gets wet. However, this does mean you will need more than just good old soap and water to remove this liner. Makeup remover is your friend.
The formula of this gel liner is smooth and deeply pigmented; it glides on easily and evenly so you won't need to keep layering it up. If you enjoy tightlining, you'll find that this product won't transfer from your upper to lower waterline. It stays right where you want it.
Because it is a gel, it can also be used to create winged eyeliner sharp enough to cut all of your enemies. The L'Oreal Infallible Lacquer Eyeliner comes with a brush that can certainly get the job done, but you may still prefer to use one of your own.
You should be aware that this liner is not matte; in fact, it was purposefully named "lacquer" to describe its shiny quality. If you don't like a glossy black liner, this product isn't for you.
Though the Lacquer Eyeliner is a great product for most, if you have oily or watery eyes, you may find its lasting power to be less than superb.
Pros
Long-lasting

Rich pigment

Smooth formula for easy application

Brush included
Cons
May smudge on oily or watery eyes

Cannot be washed off with soap and water despite being non-waterproof
---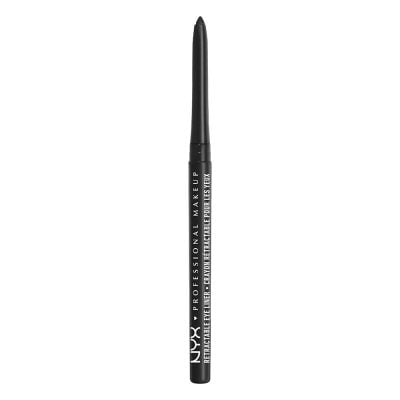 Why we like it:
This eyeliner is highly pigmented and builds without becoming cakey. The waterproof formula stays put all day long.
Editor's Rating:
This eyeliner comes in a range of colors to match any look. The formula is creamy, so it applies smoothly without any tugging or pulling.
Many of the shades are highly pigmented, meaning you won't have to spend an hour trying to build up your color. Should you desire a color to be more intense, you can apply as many coats as you need and the product won't get cakey.
Because the formula is waterproof, it stays put all day and won't leave you with raccoon eyes.
NYX created this eyeliner to be safe for the waterline, so it is unlikely to irritate the eyes even if you're a contact wearer.
The twist-up design of this pen means you won't have to sharpen it and waste product, giving you even more bang for your buck on top of the already affordable drugstore price.
If you have watery eyes, you may have some difficulties with this product. Some colors may not stick well to the moist waterline and require you to spend more time on application. You may also find that this product fades throughout the day or smudges onto the lower lashline.
Pros
Smooth application

Colors are pigmented and build without becoming cakey

Does not irritate the eyes

Decent color selection
Cons
May need to go over the waterline a number of times to build up color

Watery eyes may cause fading or smudging
---
Why we like it:
Despite not being waterproof, this eyeliner holds its own with minimal smudging or transfer.
Editor's Rating:
Some people love mechanical pencils because you don't need to sharpen them. For others, this is a negative because once the tip dulls, it becomes impossible to create precise, fine lines.
The L'Oreal Infallible Never Fail Eyeliner is the best of both worlds.
Though technically a mechanical eyeliner pencil, it comes with a built-in sharpener so you never have to worry about a rounded tip. This is great for those who like to line both the lower and upper waterlines and create a point in the tear duct area for a bold cat-like look.
Speaking of tightlining, this product can be used on the upper waterline without transferring to the lower when you blink.
For the most part, this eyeliner goes on pigmented and does not smudge or run. However, if you have sensitive or watery eyes, this may not hold true for you.
When using the L'Oreal Infallible Never Fail Eyeliner, don't twist the product out too far, and be sure to use a gentle hand or you may find the tip breaking off.
Pros
Won't transfer from upper to lower waterline

Minimal smudging

Rich pigment

Built-in sharpener
Cons
Difficult to remove even though it isn't waterproof

Tip can break off easily
---

Why we like it:
The formula of this pencil is waterproof, easy to apply, and safe for contact lens wearers.
Editor's Rating:
The LORAC Front of the Line Pro Eye Pencil was tested by ophthalmologists and made specifically to be safe for contact lens wearers. This means that it won't transfer from the waterline onto contact lenses, nor will it cause any eye irritation.
This pencil is pigmented and applies smoothly and evenly. The waterproof formula helps it last all day without smudging or running.
Though it is a retractable pencil, it comes with a built-in sharpener so you never have to worry about a dull tip.
LORAC offers a decent color selection for this eyeliner, with a handful of dark and light shades in both matte and shimmery finishes. However, there are not any especially unique or vibrant colors.
Unfortunately, the formula of this pencil does not seem to be consistent across the board, with some colors performing better than others. You may find a color you love and be excited to try others only to find that those shades weren't worth the price tag.
Pros
Good for contact lens wearers and sensitive eyes

Long-lasting

Easy to apply

Built-in sharpener
Cons
Inconsistent formula means some colors may disappoint
---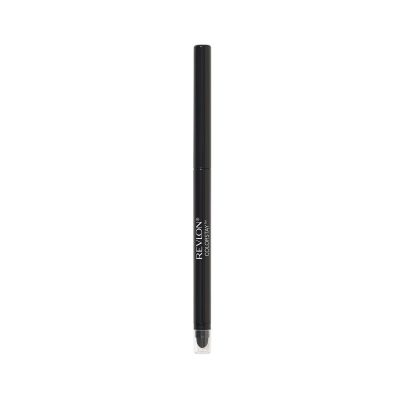 Why we like it:
After some initial cleanup, this product is long-lasting and won't smudge.
Editor's Rating:
While we would prefer our eyeliner not to smudge at all, it feels like that's asking for too much when it comes to the waterline. After all, it's called a waterline for a reason.
The great thing about the Revlon Colorstay Eyeliner Pencil is that it won't continually smudge. You may need to do some initial cleanup, but after that, the liner stays in place.
For the most part, this is a solid liner that applies smoothly and evenly and doesn't transfer, smudge, or budge. However, if you're one of those unlucky folks with watery eyes that are the bane to all eyeliners, never fear. This eyeliner will fade away gracefully rather than smudging all over your lower lash line. No raccoon eyes here!
Just like the L'Oreal Infallible Never Fail Eyeliner and the LORAC Pro Eye Pencil, this liner also comes with a built-in sharpener.
Unfortunately, the Revlon Colorstay Eyeliner Pencil is not available in white or nude, so you can't use it to create a doe-eyed effect. In general, the colors offered in this collection are rather run of the mill.
Pros
Applies smoothly and evenly

Built-in sharpener

Fades gracefully instead of running or smudging
Cons
No white shade

Available shades are basic

May require reapplication throughout the day
---
Guide to Buying the Best Eyeliner for Your Waterline
There are so many eyeliners available on the market that choosing one can feel overwhelming. In this section, we've provided information on safety, application, and removal that may help you feel more prepared to make a decision.

Is It Safe to Wear Eyeliner on Your Waterline?
You've probably heard rumors that wearing eyeliner on your waterline is dangerous to your eye health, but is there any truth to those rumors?
While there isn't much scientific research available on the matter, the risk to your eyes seems low.
A study performed in 2015 did find that glitter from eyeliner placed on the waterline transferred onto the tear film that coats our eyes, but it was also flushed out within two hours.
As long as you observe proper hygiene, you should be safe. The FDA suggests that you do (or don't do) the following:
Wash your hands before applying makeup.
To avoid infection, do not use products on your eyes that have been used on your mouth.
Do not use products that are not intended for use on the eyes.
Never share products with others.
Do not apply eye makeup in moving vehicles.
Dispose of expired products; do not use them on your eyes.
Keep applicators, such as brushes, clean.
How Lining Your Waterline Can Change Your Look
Part of what makes makeup so fun is the way it can seemingly change your features. That's why it's helpful to know how a certain color or technique will modify your look. Let's talk about how lining your waterline can change your appearance.
Dark Colors Make Your Eyes Look Smaller
Applying a dark shade like black or brown on the waterline will close up the eye and make it appear smaller. For some people, this is the exact opposite of what they want to do. However, for some makeup looks, this is perfect.
For instance, a smokey eye paired with winged liner and a smudged out lower lash line wouldn't look complete without a dark shade on the waterline. With this type of look, a bare waterline often stands out too much and keeps the look from being cohesive.
White and Nude Colors Make Your Eyes Look Bigger
If you want to make your eyes look bigger, white is your best option. Some people find white to be a bit too harsh for their complexion, and in this case, a nude shade is a great substitute.
It may seem counterintuitive to use nude on your waterline when your waterline is already nude, but most nude shades are still brighter and stand out more than your natural skin tone.
Nude eyeliner is also great if you have a pink or red-toned waterline that you aren't crazy about.
Vibrant Hues Can Make Your Eye Color Pop
If you're doing a bright look with your eyeshadow, you can of course tie your waterline in with a matching shade. However, you can also use certain shades to make your eye color really stand out.
For brown eyes, purple, green, and blue are great choices.
For blue eyes, we suggest yellows, oranges, and peaches.
Green eyes look great with red undertones, so try colors like purple and even pink.
Because hazel eyes can often be a mix of brown and blue or brown and green, you can pick any of the corresponding shades we mentioned.

How to Make Eyeliner Last Longer on Your Waterline
The name "waterline" aptly describes how moist this inner rim of our eyes is. It is this wetness that makes the area so tricky to work with.
Not only can it be difficult to even get liner to stick, but this area is prone to smudging, fading, or transferring throughout the day.
Though the eyeliners on our list are the best contenders for being long-wearing and easy to apply, we understand that everyone's eyes are unique.
Some of us need to go the extra mile to prevent smudging and ensure that our liner lasts all day long on our waterlines.
Luckily, there are a few simple techniques you can use to keep your eyeliner in place.
Dry Your Waterline Before Application
It may sound strange and it certainly feels a bit uncomfortable when you do it, but drying your waterline before applying eyeliner can help it stick better.
All you need to do is wash your hands and find a clean cotton swab. Gently pull down on the skin beneath your eye to expose your waterline and run the cotton swab along it.
It's best to apply your eyeliner immediately after and avoid blinking, which can re-moisten the waterline.
Set Your Waterline With Powder
If you're comfortable drying your waterline beforehand, you can use both of these tricks to help your eyeliner last.
If drying your waterline with a cotton swab is too uncomfortable for you, this step alone may still be enough to keep your eyeliner in place all day.
After you apply eyeliner onto your waterline, take an eyeshadow of the corresponding color and dab it on top with a brush. Make sure you tap excess shadow off the brush first though, or it may fall into your eye and cause irritation.
Adding eyeshadow will set the liner in place, helping it last longer and preventing smudges.
You can use transparent powders if you don't have the proper eyeshadow color.
You can also apply eyeshadow or transparent powder on the lower lash line as close to the waterline as possible. This will help prevent your liner from bleeding onto your lower lash line.
Double-Up on Products
Some people find that using not one, but two different types of liner and setting them with powder is the ultimate system for locking your eyeliner into place.
First, apply your favorite pencil liner to your waterline. Next, top it with a gel liner. Finally, set everything in place with eyeshadow or powder.
If you can, avoid blinking until you have set the eyeliner as blinking moistens the eye and may cause products to transfer before they have set.
How to Remove Eyeliner From Your Waterline
Because your waterline is watery, you'll be using products like the ones on our list that are waterproof, long-lasting, and/or smudge-resistant. This often means that those products can be difficult to remove.
To do so, makeup remover is a must. Oil-based removers work well on the toughest of liners, but a micellar water made to remove waterproof makeup can also work.
To remove eyeliner from your waterline, first, wash your hands.
Then, take a clean cotton swab and put some makeup remover on it. Don't use too much, though; you don't want makeup remover dripping off the swab and into your eye.
Gently pull on the skin beneath your eye to expose your waterline just like you did when you were first applying the liner.
Run the cotton swab along the waterline to remove the makeup.
Be patient with this — if you're rubbing intensely to get product off, you can cause irritation. Instead, let the makeup remover do its job. It may take a moment for it to break down the liner, but it's better to wait than to rub your eyes raw.
Final Thoughts
Lining your waterline can complete a look, give you that doe-eyed effect, or even make your eye color pop. Getting your liner to stay all day on such a wet surface isn't always easy, though. If you pair a great product with our tips for making it last, you'll surely be rocking eyeliner on your waterline all day long.