Top Picks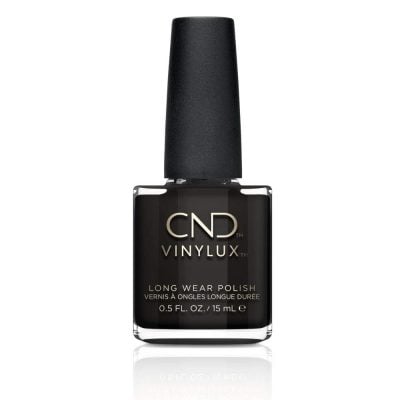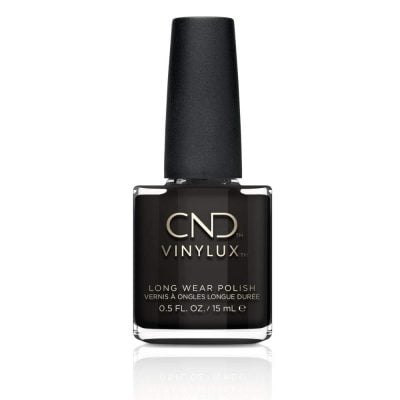 CND Vinylux Nail Polish – Black Pool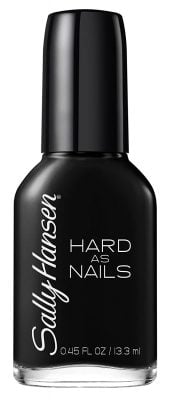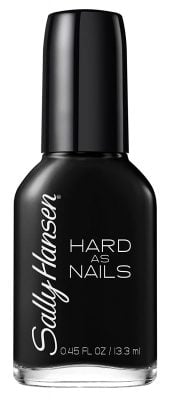 Sally Hansen Hard as Nails – Black Heart


OPI Nail Lacquer – Black Onyx
Previous
Next
Do you want to achieve a sophisticated look? Are you angsty and in need of a way of showing your emotions? One thing's for sure: black nail polish has some interesting stereotypes attached to it.
Black polish has earned its reputation of being bold, but it doesn't always have to be. You can kick back on the weekends with black polish without having to make a statement. It's a versatile color that can be used for any occasion.
How do you choose the perfect polish when there are so many options available? We've gathered ten of the best polishes you can buy, so keep reading to learn how to pick what's right for you.
Choosing the Right Nail Polish
A black polish is a black polish, right? Surely, you can't overthink it.
Actually, there's quite a bit to think about when it comes to picking the right polish. No two black polishes are the same, even if they look like they're the same. From the finish down to the ingredients, there are a few factors you should think about before you make a purchase, especially if you're not the type that likes hoard every polish under the sun. (But come on, who doesn't want that?)
Consider the Finish
There are several different types of finishes to choose from, including:
Creme
Gel
Matte
Holographic
Jelly
Glitter
Pearl
Metallic
Chrome
Creme, matte, and jelly finishes are the most common for black nail polishes and usually serve as a base for the holographic particles to go in.
Pearl, metallic, and chrome polishes aren't as common for black polishes because they often rely on multiple colors or really light colors for their effect to work well. Glitter is an additive that can be added to any base, though it's most frequently mixed into jelly or holographic polishes.
To find out more details about each type of finish, check out our full guide below.
Duration
Not every polish can guarantee to last for a week. If you paint your nails because you don't want them to be bare, then the longer the polish will last, the better. But, if you want to paint them for an event or just a weekend, then you might benefit from a polish that won't last long.
Touching up your nails every couple of days can extend the lifespan of your manicure. So, if a polish promises to last up to a week, you could end up going beyond that with touch ups.
Number of Coats
Most polishes require two coats for it to be opaque. Black polishes look best with full coverage, so if you need three coats, it's best to do so.
Jelly polishes aren't meant to be completely opaque unless you use multiple coats, so this type is usually more difficult to get full coverage with.
Ingredients
A lot of ingredients go into a single bottle of nail polish, and unfortunately, they're not always safe.
Chemicals that are known to be toxic can be put into nail polishes in small amounts, so long as the chemicals have been proven to be safe if used as intended. So, if a chemical is known to cause skin irritation but doesn't have a negative effect on the nails, it can go in the polish.
The most common toxic ingredients in nail polishes are carbon black, formaldehyde, and phthalates. Carbon black is usually disguised as D&C Black No. 2, so that's something to look out for. Toluene is also another chemical that was once used in nail polishes, but most brands are saying goodbye to that one. We'll let you know if any of the polishes below have these ingredients, and how problematic they are in that particular formula; sometimes, in lower quantities, they can be much safer to use.
However, sometimes nail polishes will also include helpful ingredients, like vitamin E, green tea, or keratin to help improve nail health or make the polish last longer. We'll also highlight when formulas use beneficial ingredients that make them stand out.
Now that you know what to look for, let's take a look at the ten best black nail polishes.
Top 10 Best Black Nail Polishes 2020
Everything You Need to Know About Choosing Black Nail Polish
With so many brands and types of polishes to choose from, it can be a bit overwhelming to choose just one. You might see that one person says the polish lasted them a long time while someone else says it chipped in the same day. What's that all about?
Application, the type of polish, and daily wear and tear will all affect your manicure and how long it lasts. Let's get into the details of what makes one polish different from another and how to make any manicure last a little longer.

Nail Polish Finishes
The world of nail polish is diverse – shiny, matte, glitter, there's so much to choose from. Each type of nail polish finish works a little differently than the others, and that'll greatly change how you should apply and care for the polishes.
Creme
Creme polishes (which are also called cream and crème) are the most basic type of polish, and it's likely the type you imagine when you think of nail polish.
These polishes are opaque and come in nearly every color under the sun. There's nothing else in them besides the pigment, and they're usually made from a white base.
Most creme polishes are glossy, meaning you'll see a little shine on it when the light hits it. However, it won't be super strong, so if you want a super glossy finish, you'll need to add a glossy top coat.

Gel
Gel polishes are typically more expensive than creme polishes, but they've earned their right to be so. These polishes are stronger than creme and can endure more wear and tear and won't chip as quickly.
Gel manicures in nail salons used to involve UV lights to set the polish, although these days, LED lights are used instead. The lights cause the polish to harden, which gives them the strength you want your manicure to have.
Do you need a UV or LED light for gel polishes you can use at home? Not anymore! Sally Hansen's Miracle Gel doesn't require any kind of light, but you still get that solid gel finish. It's an awesome way to get a durable manicure without breaking the bank.
In order for DIY gel polishes to work correctly, you'll need a second coat. Sally Hansen's Miracle Gel has a Step 2 Top Coat that is what makes it durable as it should be. Different brands might have a different system, however, so be sure to follow the directions provided with the polish you buy.
Matte
Matte polishes can be described as flat or dull. There's no shine to it, and it's frequently used to achieve a sophisticated or subdued look.
Polishes can be made matte, like the Maybelline New York Color Show on our list, or you can apply a matte top coat to any creme polish.
Matte polishes will make glitter and glossy polishes (or anything else exciting) pretty dull, so you shouldn't apply a matte polish or top coat with or on an exciting polish. They clash together and won't really create a great look, although you're more than welcome to experiment to see what you get.
Holographic
Holographic nail polish is a recent trend online that seems like it will stay popular for many years to come. These polishes have a special pigment in them made from aluminum that reflects and refracts light. Once it's on your nails, moving your hand around under light will cause a rainbow effect to appear.
There are two different ways you can get the holographic effect on your nails. Nail polishes contain them, or you can get a holographic top coat. Holographic polishes typically have a creme base, and the top coats are usually glossy and can be applied on any kind nail polish.
The holographic pigments contain what looks like little pieces of glitter. The size will vary depending on what the polish uses. You can get a scattered holographic polish that appears random or a linear version, which shows the rainbow in a linear order.

Jelly
Jelly nail polishes look downright fun – they look like Jell-O on your nails. They might even look like you can squish them. But, they dry just like regular creme polishes, and there's no squishy effect at all (admittedly, that's pretty disappointing).
Many jelly polishes contain glitter and sparkles to make it look extra fun. An annoying aspect of jelly polishes is that they don't always look opaque. If you don't want to see your nail underneath the color, you'll have to use several coats for full coverage, and that might cause you to sacrifice the squishy appearance.
Glitter
Pretty much any polish can be a glitter polish – it just has to contain glitter. Jelly and creme polishes are usually the types of polish you'll find that have glitter in them. You can also find clear polishes and top coats that contain glitter. You can wear these by themselves or add them on top of another polish to really make the manicure stand out.
Pearl
Pearl nail polish has a soft sheen and is typically used for natural colors. Pinks and whites are common colors for these polishes, and you'll be able to see your fingernails underneath. If you do find a black pearl polish, it'll look more like a grey or dark green and won't have the same effect as pink and white polishes.
Metallic and Chrome
Metallic nail polishes have the kind of shine you'd expect to see on metal. Black is a common color for this type of polish, although it will usually look silver because of the shine.
The chrome finish is similar to the metallic finish, but it's much more reflective and it usually comes in the form of a powder instead of a polish. You have to buff the powder into the polish to get the effect. Chrome powders come in a variety of colors, but they're usually silver or dark colors like purple or green.
Metallic and chrome finishes can get confusing when you see pictures online, but they're easy to tell the difference when looking at products because one is a polish, and the other is a powder.

Nail Polish Ingredients
Nail polishes contain several ingredients that vary from bottle to bottle. The list for each polish will depend on the brand that makes the polish and the type of finish it is. However, all polishes usually contain the following:
Solvents
These are liquids that allow all the ingredients to mix together. Alcohol, butyl acetate, and ethyl acetate are all common solvents. Harmful chemicals that might be present in nail polishes that are used as solvents include formaldehyde, toluene, xylene, and formalin. We'll dig deeper into the dark side in our look at toxic ingredients below.
Resins
Resins are what make the nail polish stick to your nails. They're also responsible for making the polish dry hard and look glossy. Tosylamide-formaldehyde is frequently used as a resin.
Film Formers
Nail polishes would apply thick and chunky without a film former. They're what makes the nail polish have a smooth surface on your nail. Nitrocellulose is often used the most.
Plasticizers
Film formers and resins cause nail polishes to be brittle, but plasticizers are added to make them flexible. If you see a polish marketed as chip-resistant, it probably contains quite a bit of plasticizer in it. If you see camphor on the ingredient list, that's the plasticizer.
Pigments
It's a no-brainer that nail polishes will have pigments in them. There's a long list of possible ingredients that could go into a single bottle of polish, ranging from non-toxic to toxic. It's common to find ingredients that you'd also find in a bucket of paint that you'd apply to the wall.
Extras
Each finish has its own ingredient list that will be different from all the others. Holographic polishes will likely have aluminum, glitter polishes will have plastic, and pearl polishes might have ground mica or titanium dioxide to achieve the desired effect. Many polishes might have thickening agents or ultraviolet filters to prevent fading in sunlight.

Toxic Ingredients
Unfortunately, nail polish has a history of containing toxic ingredients. They aren't as common today as they used to be since consumers and manufacturers are trying to be more careful when it comes to health. Still, many polishes contain toxic chemicals that can be hazardous to your health.
According to the Food and Drug Administration, cosmetics, including nail polishes, don't have to be approved by the FDA to be sold to customers. However, they do have to comply with FDA regulations about warning labels and ingredient lists, both of which nail polishes are required to have.
If a nail polish contains a toxic chemical, it can still be sold in stores if the chemical has been proven to be safe if used as directed. Basically, most of the toxic chemicals could harm you if you eat them or apply them directly on the skin, but if you keep the polish on your nails, they won't cause harm.
The toxic chemicals you might find in your polishes include:
Carbon Black
Carbon black is a powder that makes nail polishes black that comes from carbon-based products like coal tar. It's hazardous because it has been linked to cancer and is toxic to organs. Carbon black is often hidden under other names like D&C Black No. 2, acetylene black, lamp black, and channel black.
Formaldehyde
Formaldehyde is used in industrial resins, plastics, disinfectants, embalming, and in antiperspirants. In nail polish, it's been frequently used in the resin. In 2011, the chemical was officially claimed to be a human carcinogen. Because of its toxicity, more nail polish brands are omitting this ingredient.
Methacrylate
This chemical is found in artificial acrylic nails rather than nail polishes, but it's still worth mentioning because it can cause reactions such as pain and swelling in the nails. If a polish mentions anything about being acrylic, it might contain methacrylate. Again, this is mostly found in acrylic nails.
Methacrylic Acid
This acid, also called MAA, can be found in nail primers that help acrylic nails stick to your natural fingernails. Since it's an acid, it's highly corrosive and might cause irritation or damage to your nails and skin.
Phthalates
Phthalates are found in the plasticizers that help make the nail polish flexible. These can be found in almost anything from glue to toys to paint and even in food. Many cosmetics and skin care products use phthalates. Even though they're widely used, they're super dangerous because they can lead hormone and fertility disruption.
Toluene
Toluene has been used in nail polishes for decades, but recent studies show that large amounts of it in nail polish cause irritation or harm to the person wearing it. Most nail polish brands are no longer using this chemical or are in the process of removing it from their polishes, so the chances of you finding it will be smaller when you buy new products.
Applying Polish for Longevity
Nail polish can say it will last up to seven or ten days, but how you apply it to your nails will determine how long it lasts. Some people have more nail polish knowledge than others and know how to properly apply nail polish. This will cause a big difference in reviews on many products. One person might say it lasted a day while someone else says they're on day six of their perfect manicure.
If you want your nail polish to live up to the claims it makes on the bottle, then you'll need to be willing to have the time and patience to make sure you apply it correctly. Follow these tips:

1. Use Base and Top Coats
You can find specific polishes that are labeled as base and top coats. You might even find a dual purpose polish that will work for both. If you're not picky, a simple, clear nail polish will suffice. The base coat helps smooth out your nail bed while the top coat prevents the polish from chipping.
2. Push Back the Cuticles
Before you apply the base coat, carefully push back your cuticles with a tool or your fingernail. This will help the polish apply flat and will prevent any chipping or peeling.
3. Only Paint the Nails
You're probably thinking duh, but any amount of nail polish on the cuticle or in the crevices around your nail will result in peeling very soon after it's dried. Clean it up as soon as possible with a cotton swab and nail polish remover.
4. Stay Hydrated
Dry and brittle nails are prone to chipping and cracking, and a lack of moisture will do the same thing to your nail polish. Treat your nails and cuticles to nail oil at least once a day and use lotion regularly.
5. Be Gentle on Your Hands
Your nail polish will probably last longer if you sit at a desk all day than it will for someone who spends their day lifting heavy objects. Daily tasks like gardening, doing the dishes, doing laundry, or opening boxes will result in faster wear and tear and will chip your polish and even break your nails. Be extra careful with your hands if you want the polish to last a long time.
Final Thoughts
A lot goes into finding the right black polish. Whatever you choose, you should pick something that will work for you. Find the one that will give you the vibe you're going for, whether that be moody, sophisticated, or something in between.