As the leaves start changing colors with the arrival of fall, so does our styling and fashion. However, while you are bundling up for the season, it does not mean you have to compromise on doing your nails.
From classics like pumpkin nails to trendier options like striped nail art, you have a lot of fall nail designs to choose from these days. You just need to find a design (or a few) that you feel confident wearing and will blend well with your fall attire.
Trendiest Colors for Beautiful Fall Nail Designs
There are some colors, like berry red, emerald green, and copper orange, which are vastly associated with fall manicures.
While they make for stunning classic fall nail designs, you do not have to stick to them only. Instead, you can experiment with many more colors to create your own masterpiece and stay fashionable all season.
Trying a fresh color update will spice things up and make your nail designs pop wherever you go. So try the below trending fall colors to take your manicures to a whole new level.
Orange: Considered one of the classic fall colors, orange gives you enough versatility to create elegant fall manicures. Where it's for an event or daily wear, deep orange hues will elevate your look throughout the season.
Blue: As we transition from summer to colder months, blue nails can perfectly complement the change in fashion and attire. It can be paired with any cool-toned fall outfit, like denim or plaid, to perfectly balance your looks.
Red: The depth and versatility of red have always attracted nail artists to choose it for fall nail designs. With juicy, glossy, and matte finishes, red nails can make your fall fashion even more refined.
Green: The warmth and sheen of dark green hues make fall nails quite intriguing. It goes well with the cooler vibes of the season while giving you a charming accessory that shows how you admire nature and foliage.
Brown: Light brown and neutral colors can be the most subtle choice for fall nail designs. Shades like beige, sand, and tan evoke an earthy vibe and go very well with the tone of the season.
Nude: With their subtle sophistication, nude colors flawlessly match the crispness of fall fashion. It gives you an understated and mature look that goes well with every fall outfit, especially for daily office wear.
White: Choosing a shade of white allows you to go all-glam and be completely neutral at the same time. It works well with all skin tones and nail shapes, and it blends amazingly with the mellow vibes of fall.
Gray: Painting your nails in gray evokes a welcoming feel of fall and can be paired with black outfits. From matte finishes to frosty and flushed hues, gray imparts a sense of posh and sophistication to your attire.
Pink: With a huge amount of diversity, pink hues give you the option to choose from understated to vibrant nail designs. Pink nails can also be ideal for expressing the romantic vibes of fall through your fashion.
Purple: Since it's a fun and exciting color, purple allows you to stay trendy in fall with glamorous nail designs. Dark and metallic purple tones give a stark contrast to the subtle fall vibes to make you look cool and classy.
With professional nail artists sharing cute and stylish designs on social media all the time, there is no dearth of fall nail ideas to add to your bucket list. You can try any of the aforementioned trending fall colors to give your nails a new dimension.
Here are some of the best fall nail designs that you can consider to accentuate your outfit and styling.
1. Glossy Black With Autumn-Colored Glitter Accents Fall Nails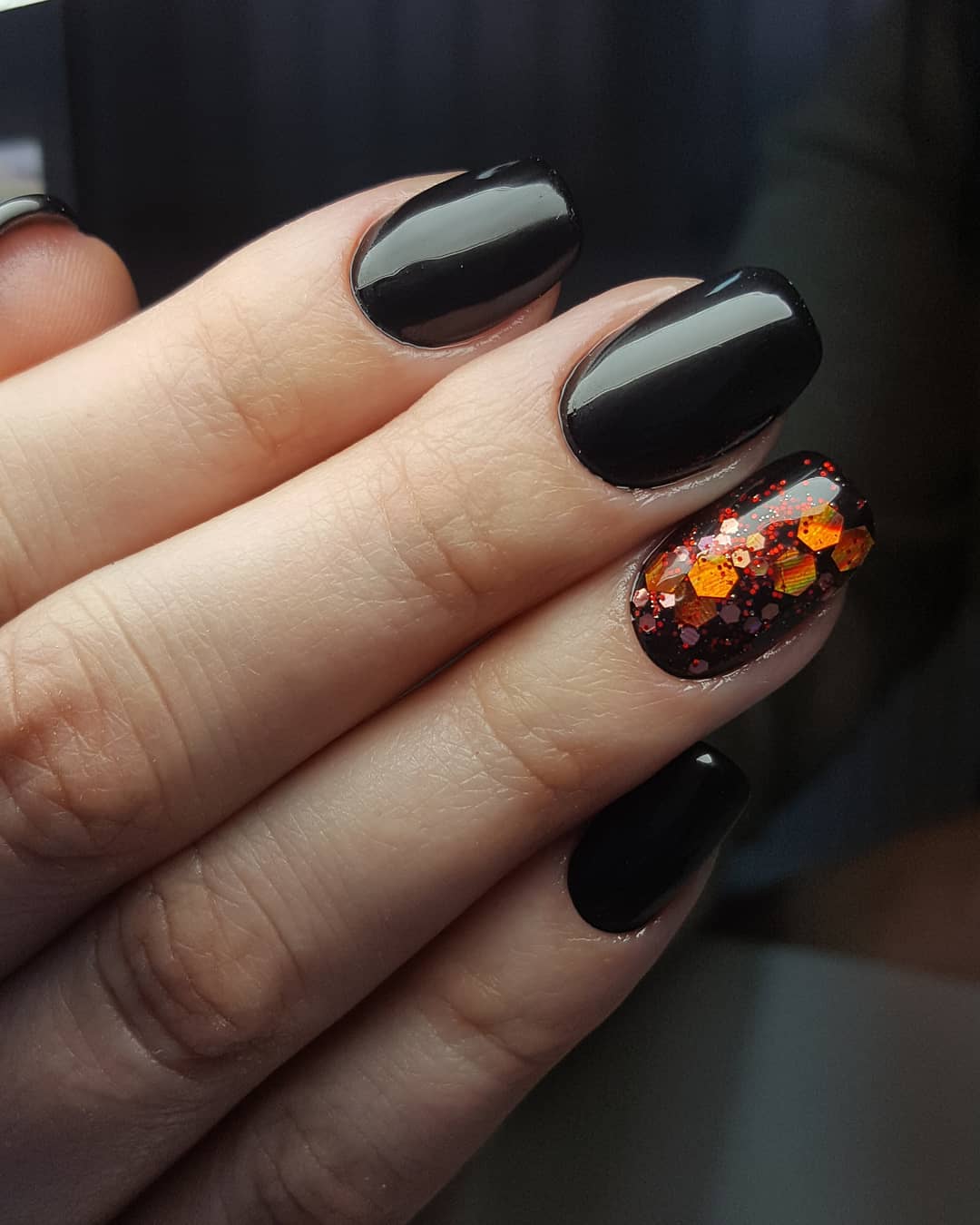 This adorable nail design perfectly expresses that black is not reserved for gothic looks alone. If you are in love with dark hues, then go for this glossy black fall nail idea to create a chic and trendy design. Adding a dash of orange and red notes on the ring finger feature nail makes it look even more elegant while infusing the warm hues of fall in the nail design.

2. Lunar Cycle Fall Nail Art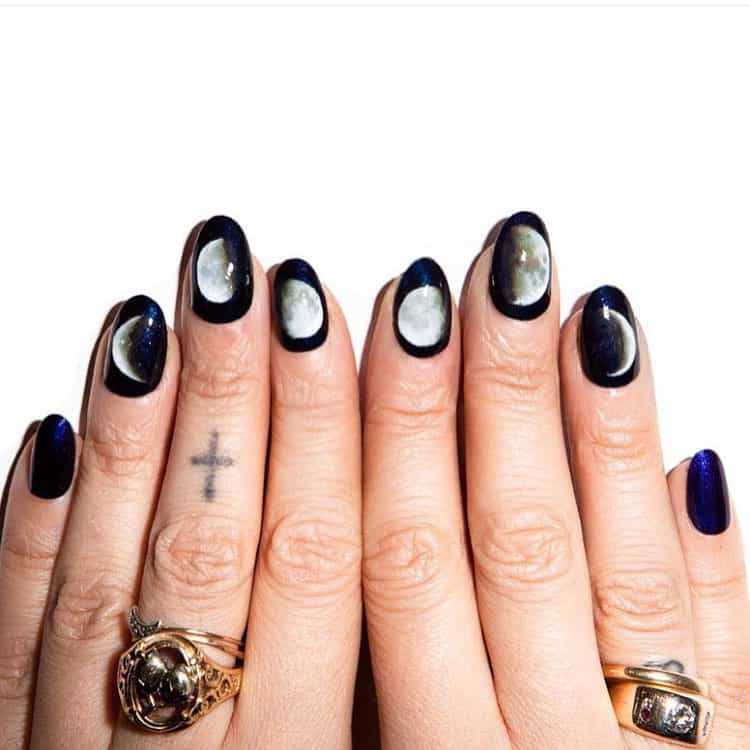 If you are a true astronomy aficionado, then go for this amazing nail art to redefine your fall fashion. The deep blue base produces a feeling of the vast night sky while giving you the perfect background to illustrate the full lunar cycle. Add the symbolic meanings of the moon to the mix, and you will get a graceful fall nail design that will be much more significant to you.

3. Shimmery Gradient Fall Nails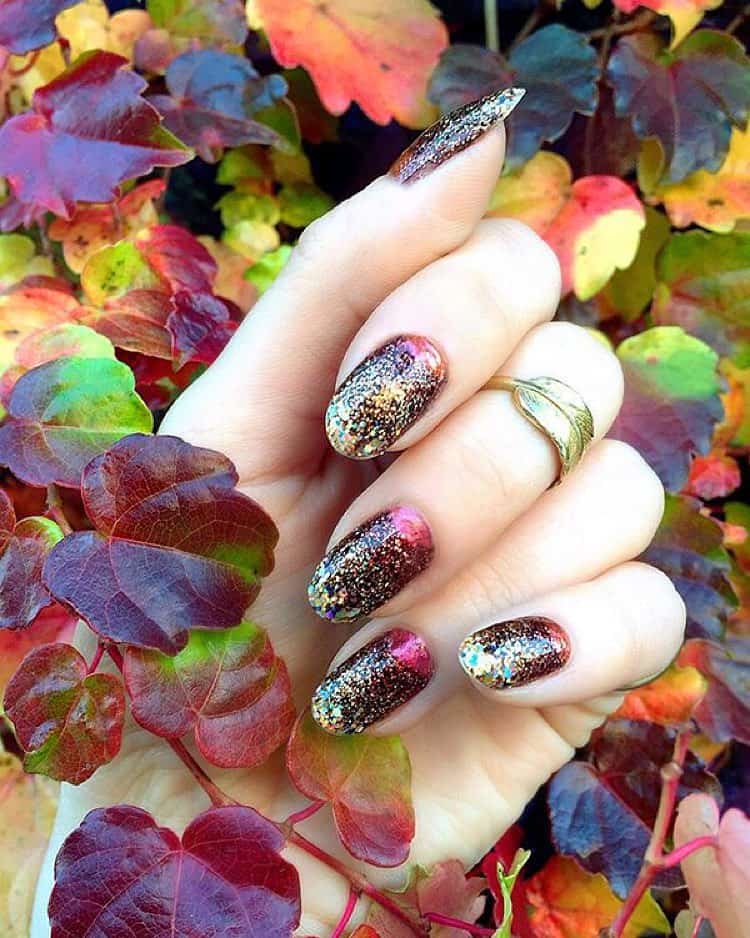 Create a dazzling gradient pattern with deep brown, red, and green nail polishes to celebrate the changing of the leaves in fall. Throwing in some gold glitter in the design further spruces up your nails and gives them a subtle 3D effect. This nail design will be ideal for all festive parties of the season; pairing it with a little black dress will further elevate your looks.
4. Braided Fall Nail Art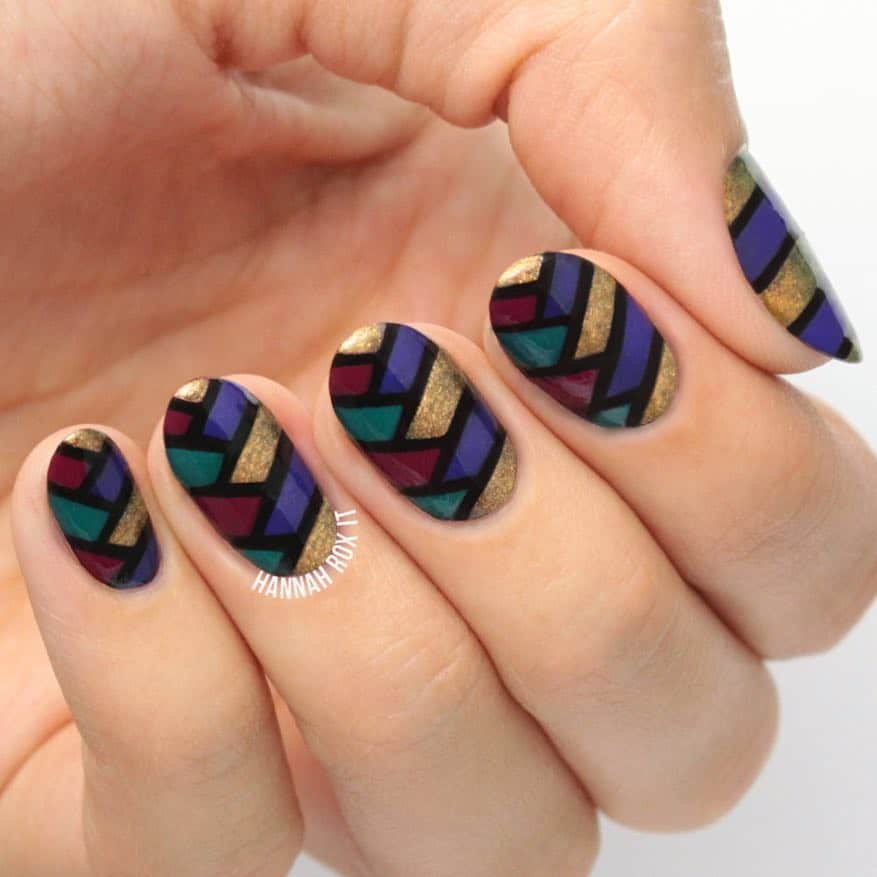 This geometric nail design with gold, red, green, and blue with black outlines looks quite modish and sophisticated. It may take some time to recreate this nail design at home, but you can easily achieve this look with some clear tape and a nail polish set featuring different fall colors to get the seasonal feel. Pair this nail design with a braided hairstyle, and you will surely be the center of attention at the event.
5. Baby Blue Fall Nails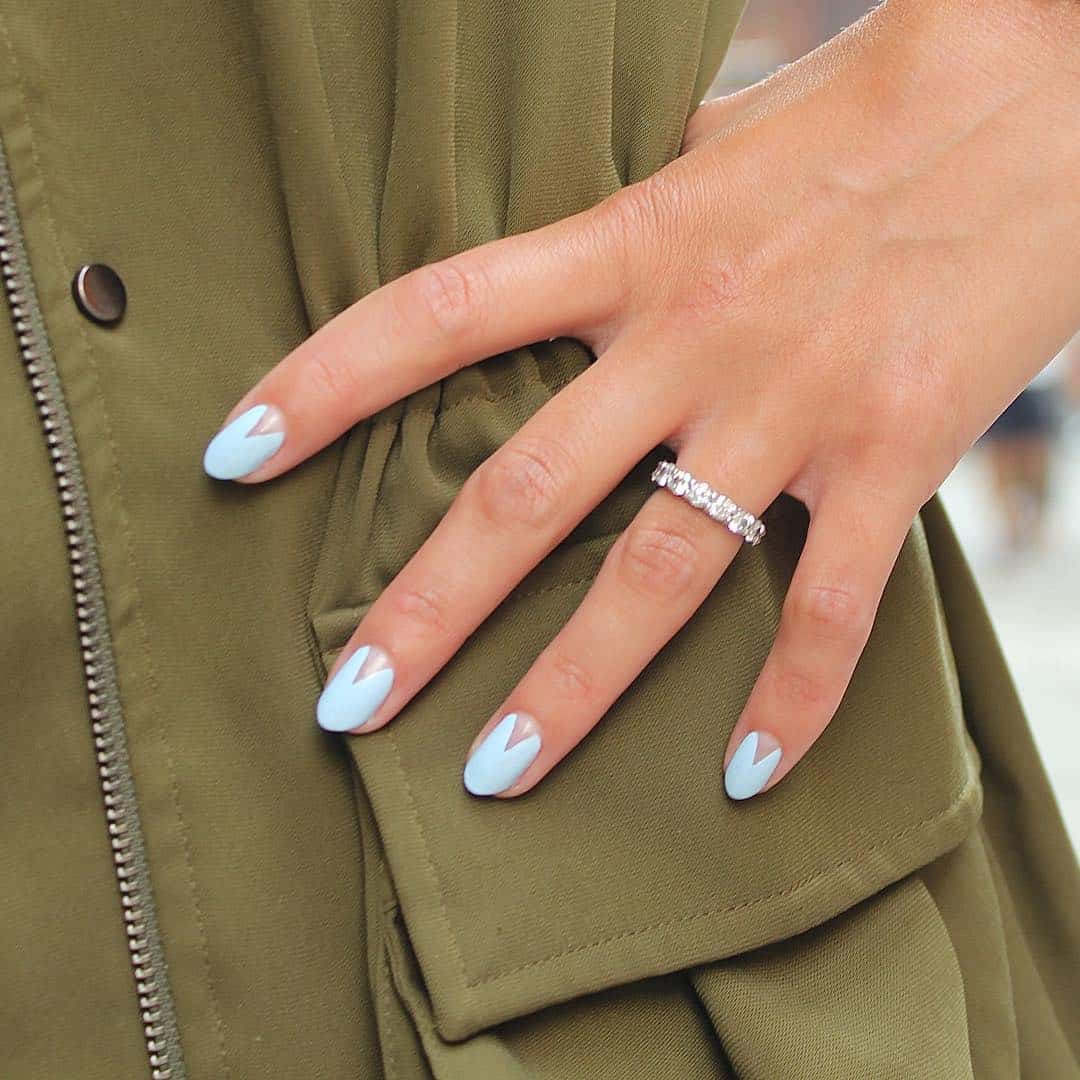 Pastel blue is one of the go-to fall colors for many fashionistas. If you belong to that category, then try infusing the elegant versatility of baby blue into your nail design, as shown in this one. An angular cutout on your nails will further add an edgy appeal to your hands while giving you a cool and soft nail design to wear to the office or a formal fall event.
6. Polka Dots and Floral Fall Nail Art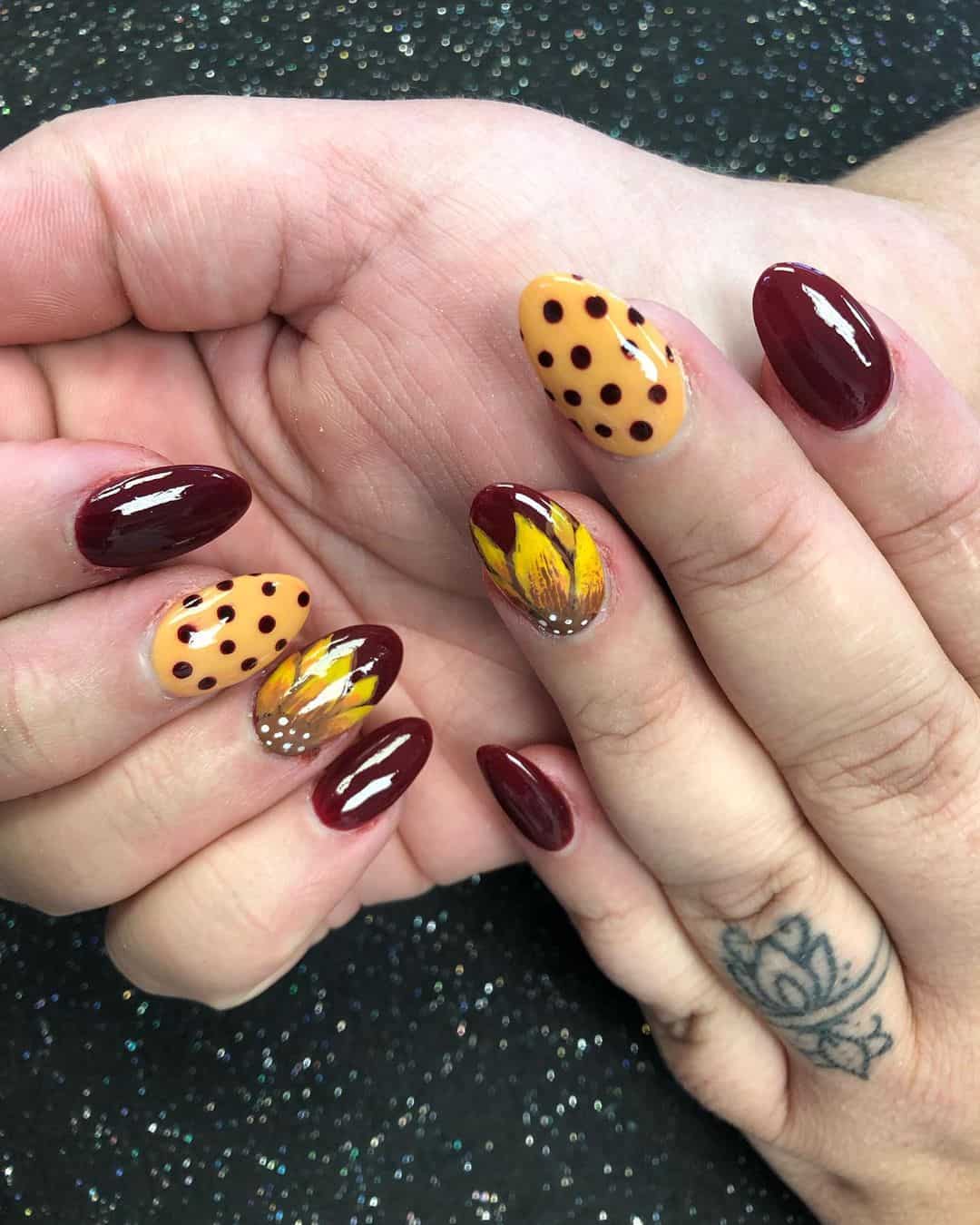 Polka dots nail designs make you look stylish and fashionable throughout the year. To merge it with the fall vibe, go for dark cinnamon brown polka dots on an orange-yellow background. Adding sunflower floral accents to the ring fingers with some jewels will give it a cheery and blissful touch, while keeping the index and pinkie fingernails in plain cinnamon brown will draw more attention to the feature nails.

7. Orange and Gold Glitter Fall Nails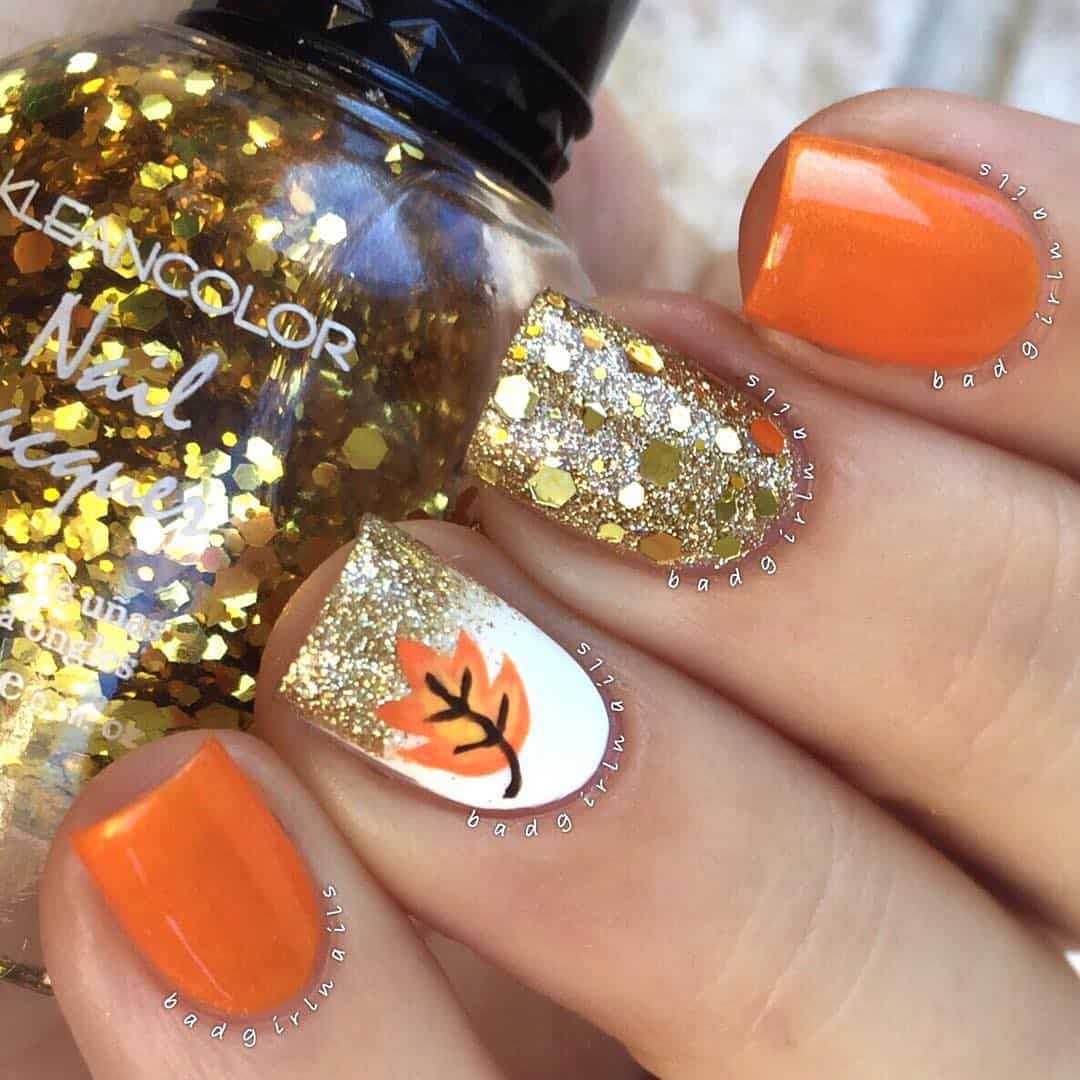 Amp up your fall outfit with this bright classic orange and sparkling gold nail design. Instead of going all-sparkle, like in the Shimmery Gradient Fall Nails design, this one creates two feature nails with gold sequins and glitter. The ring finger feature nail, with a cute orange leaf on top of a white and gold gradient background, further makes it an uber-cool fall nail design.
8. Snakeskin Feature Fall Nails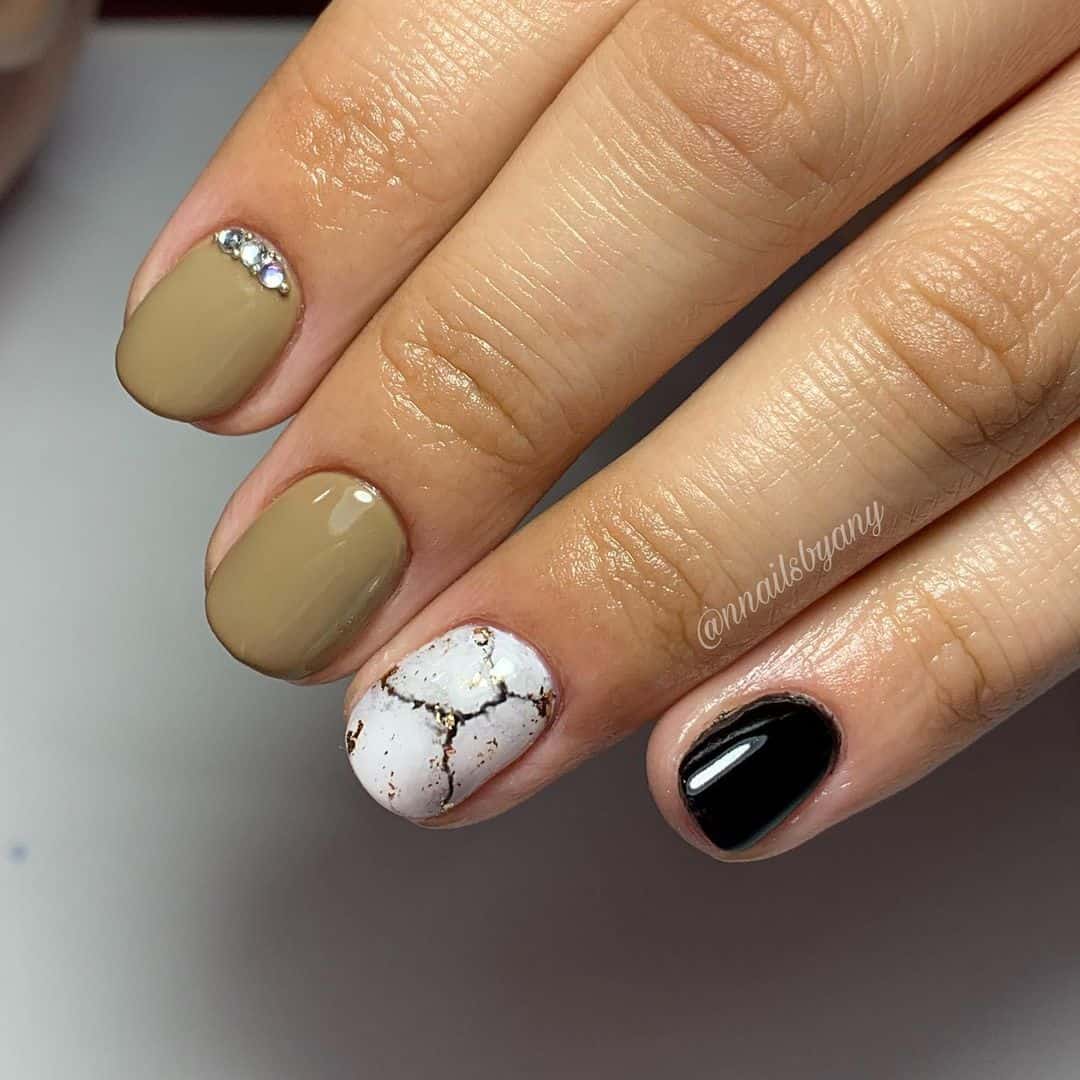 This nail design reproduces the snakeskin effect on your feature nail to match with your statement apparel and accessories. Here, the ring finger feature nail is painted in a snakeskin pattern on a white background, whereas the index and middle fingernails are kept in muddy amber brown to keep the focus on the feature nail. Having the pinkie in bold black further highlights the feature nail, while adding a couple of jewels on the index fingernail gives it a touch of extra elegance.
9. Red and Blue Checkered Fall Nails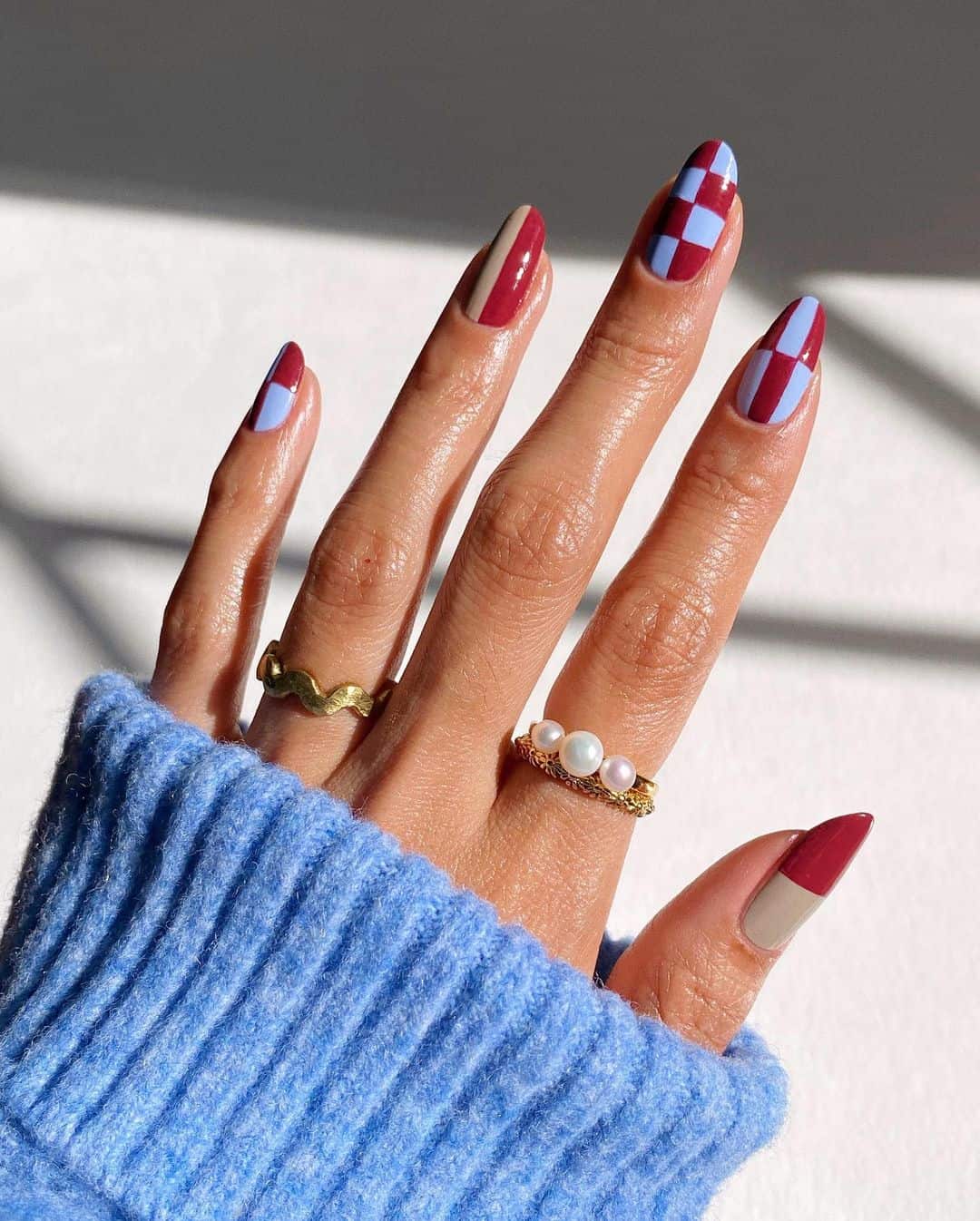 Checkered nails are becoming increasingly popular these days. They can be worn to all types of occasions, and they can be done in different colors as well to suit the mood and vibe of the season. This nail design features red and blue checkered patterns to give your fall outfit a trendy twist. You can have the thumb and ring fingernails in different shades, as shown in this one, or keep it all balanced with red and blue across all your fingers.
10. Glittery Purple Fall Nails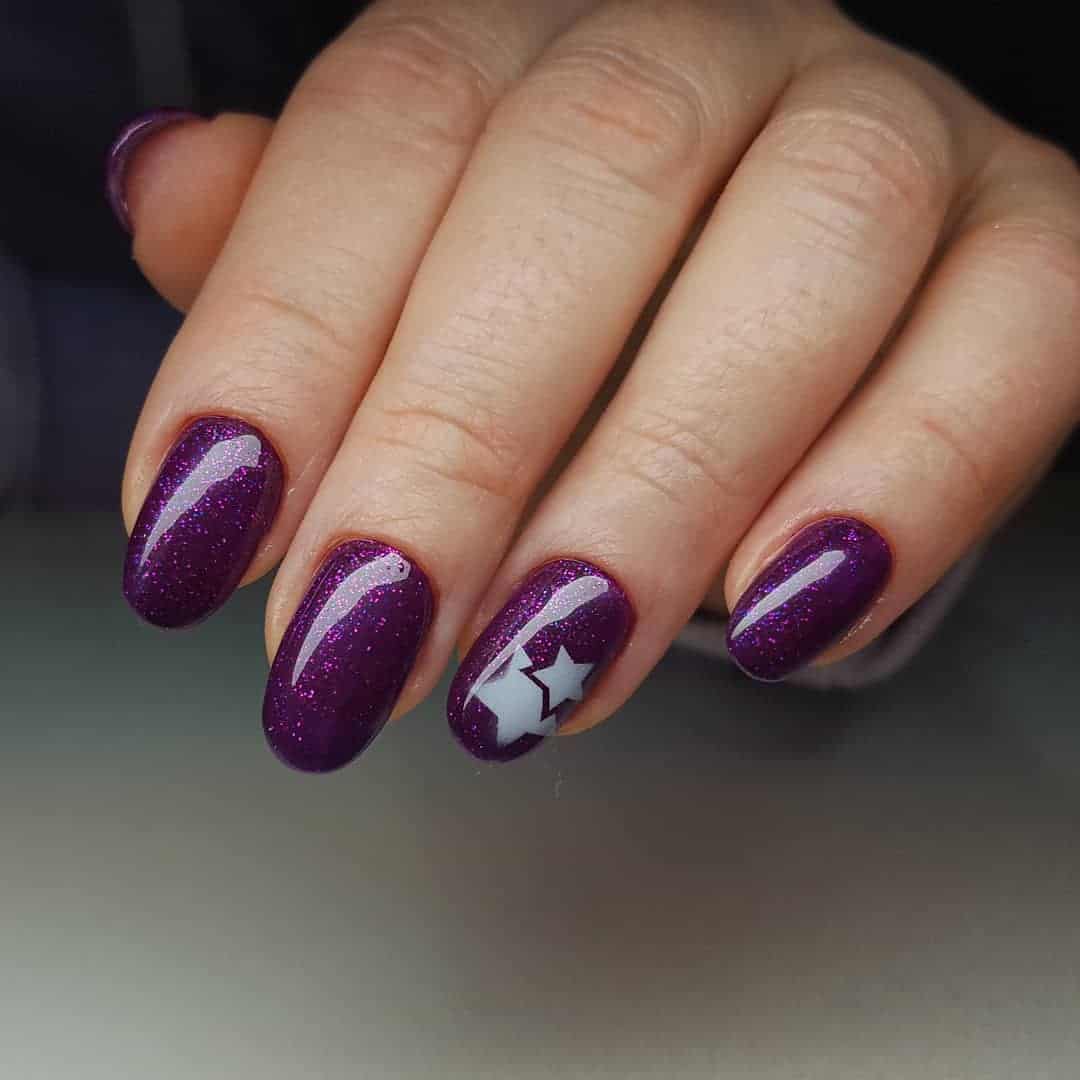 This nail design idea blends glittery appeal with subtle elegance to let you dazzle and shine on your own terms. It is a gorgeous nail design to wear all season long and brings a sense of sophistication to your attire. Adding a couple of white stars to the ring finger feature nail gives it a cute makeover, but you can skip it too if you are looking for a somewhat understated look.

11. Colors of Fall Nails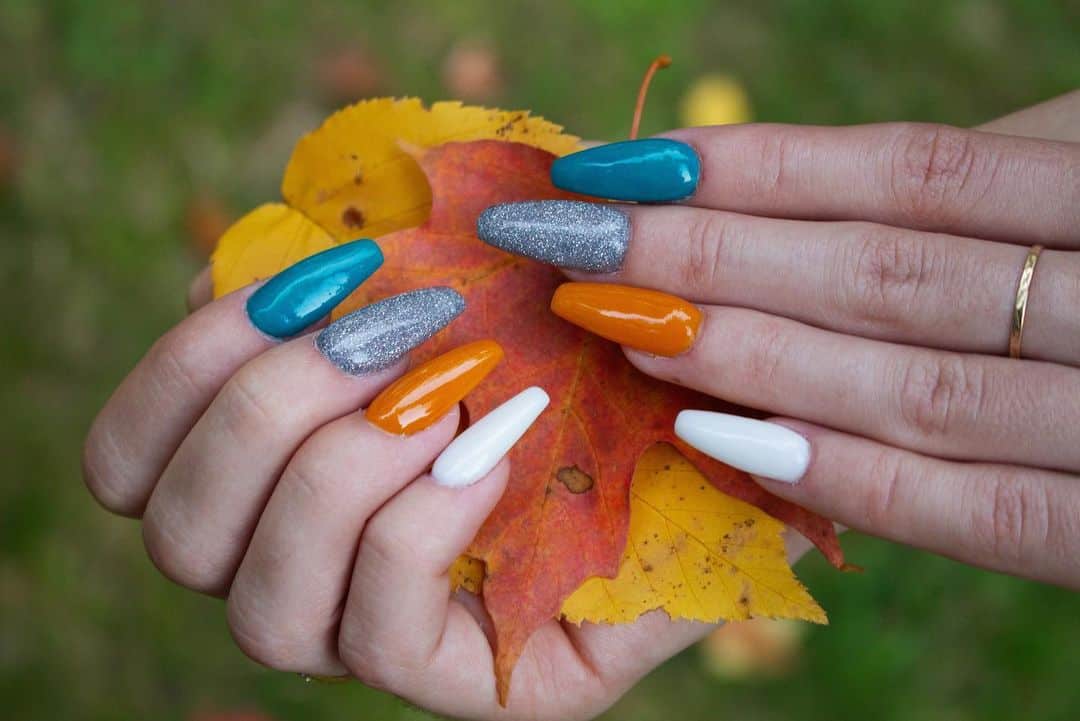 Why stick to a single nail color when you can mix and match different trending fall colors to create your distinctive style? This nail design features a play of atomic teal, stone gray, fire orange, and opaque white to get you into the fall vibe. You can also recreate this nail design with any of your favorite fall colors that suit your skin tone; it goes well with all nail shapes and manicures too.

12. Tortoiseshell Fall Nail Art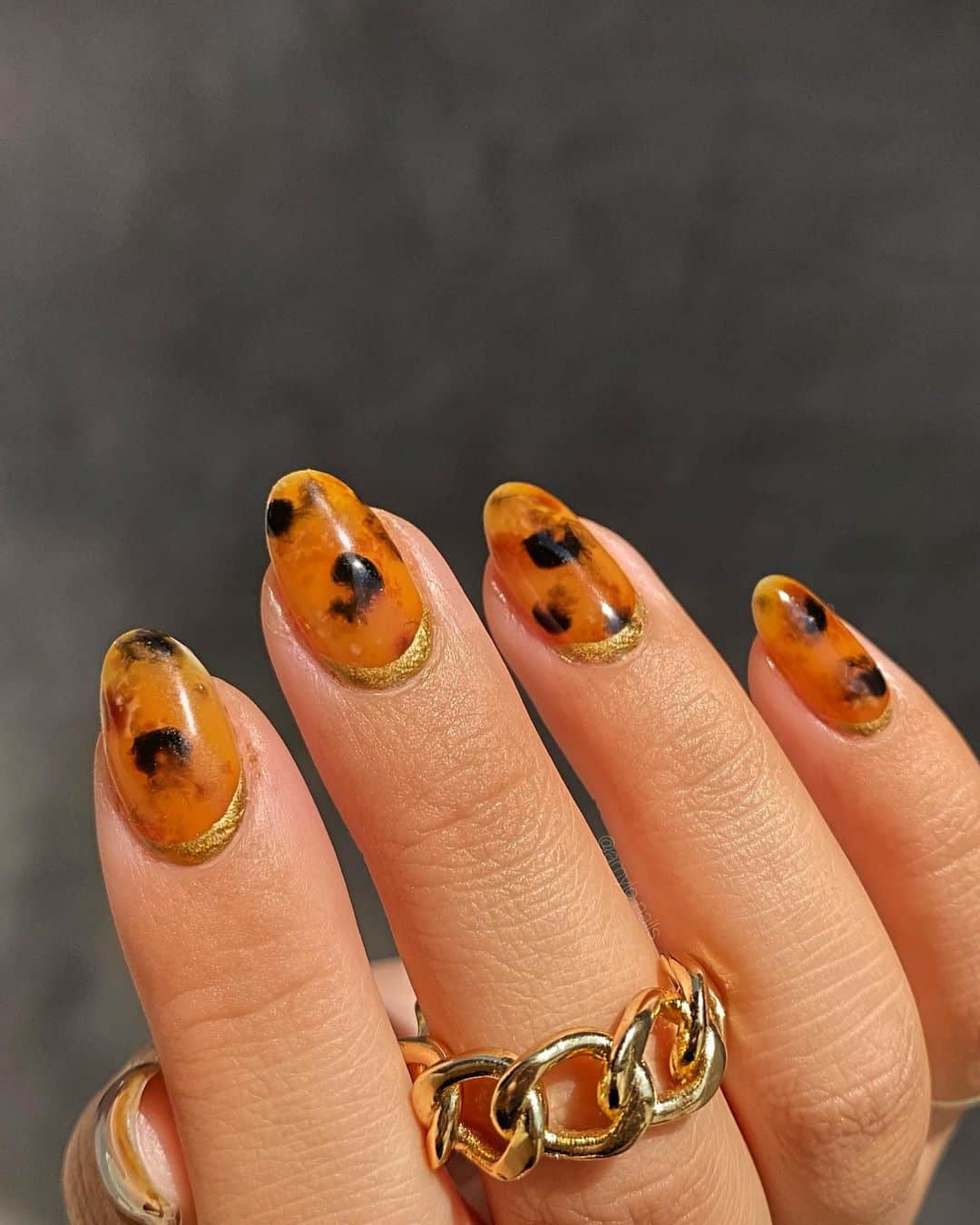 Tortoiseshell nails have been doing the rounds in the fashion industry for quite some time now and it seems that they are here to stay. Creating this animal-inspired nail design in orange and black makes them ideal for fall parties. Adding a touch of gold on the cuticles further elevates its style quotient, giving you an inherently beautiful nail design. You can easily create this abstract nail design at home; the more natural it looks, the better.

13. Nude Crystal Fall Nails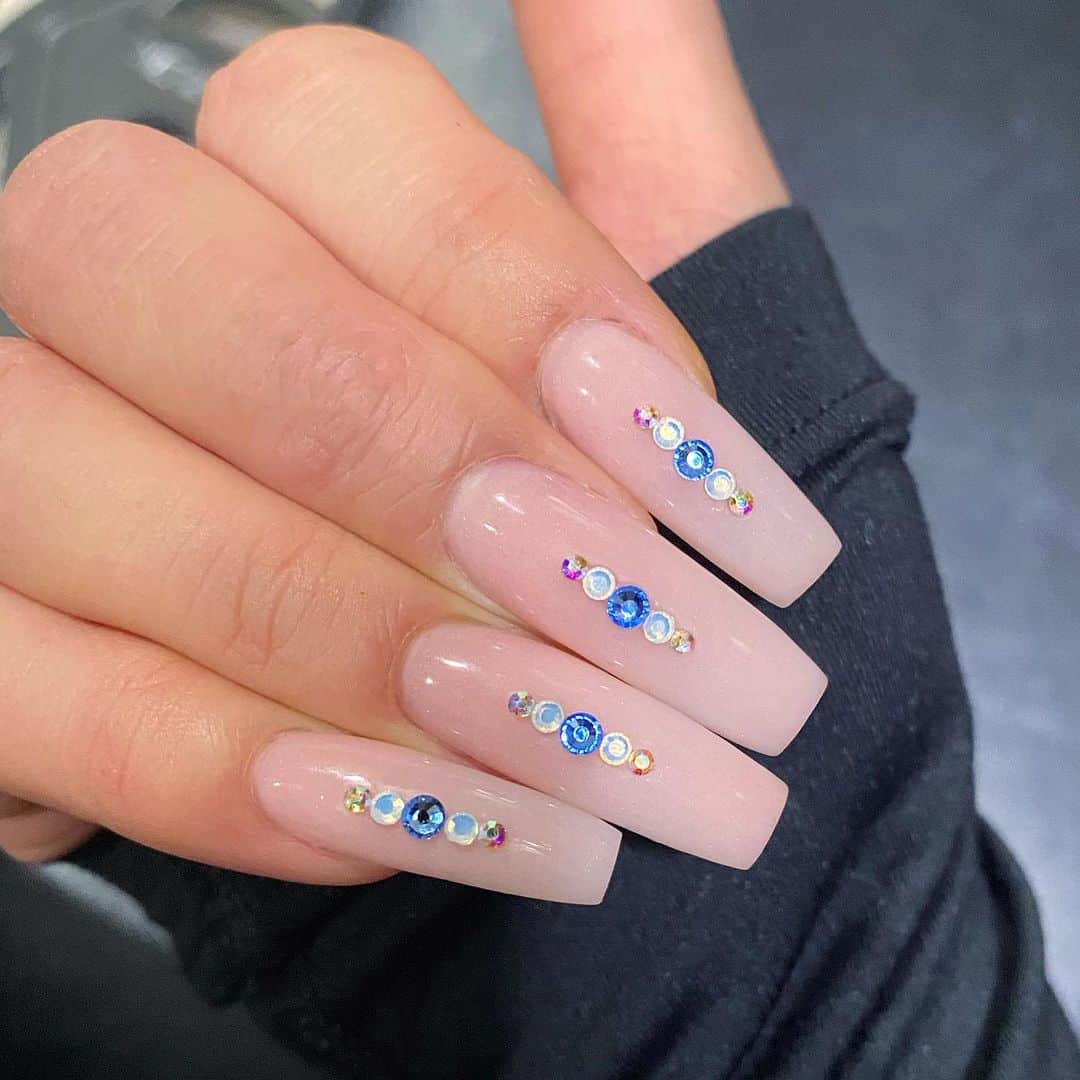 This nail design gives your understated nude nails a sparkly twist with some crystals on top. You can choose from any of your favorite nail crystals to create your own masterpiece. To give it even more depth, try creating a gradient background with two different nude shades that go well with your skin tone.
14. White Flames Fall Nails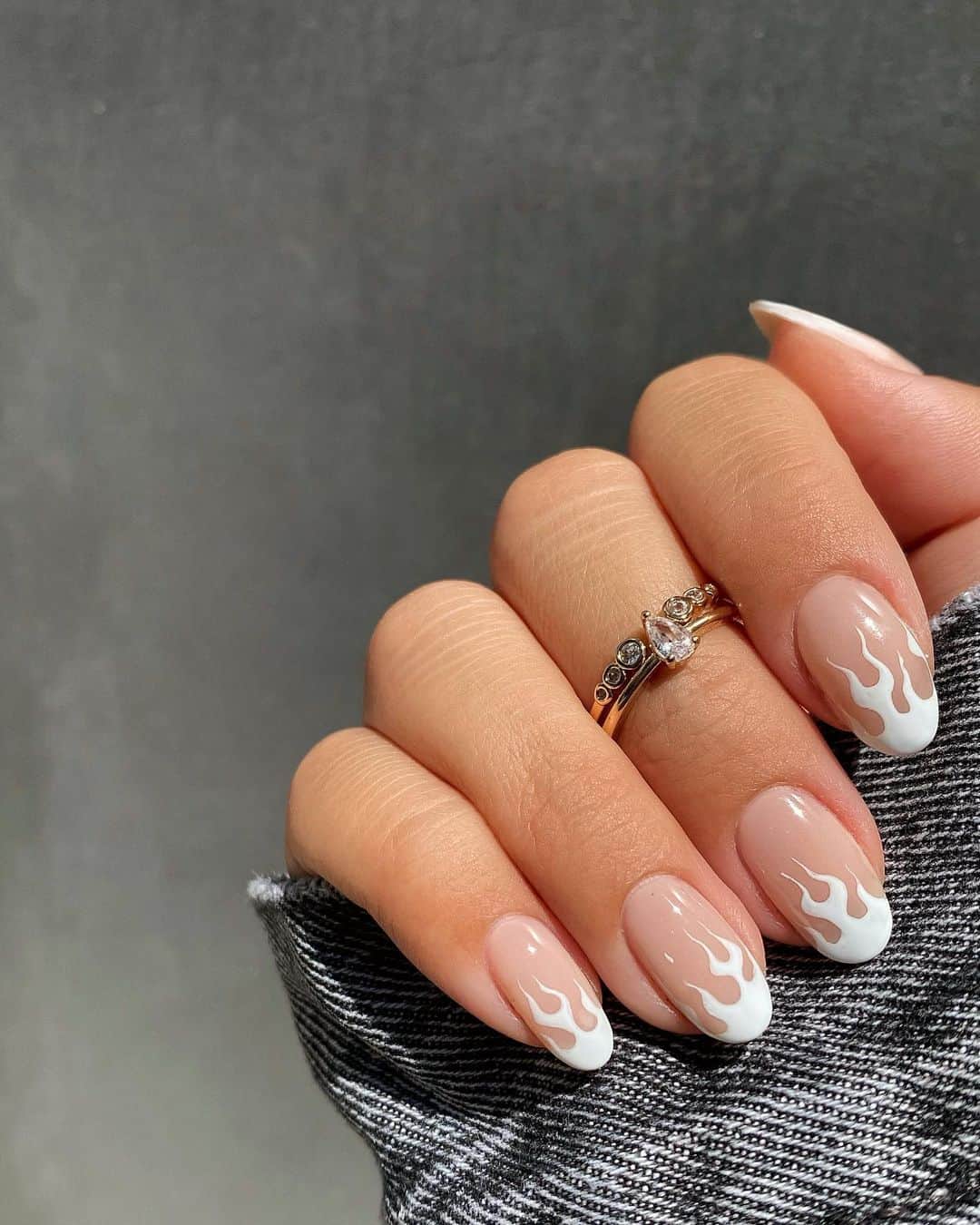 Flaming nail designs look exceptional on almond-shaped and oval nails because they allow you more room to play with its swirling structure. This nail design features white flames to blend it with the fall mood, while the neutral color background makes it look subtle and ethereal. It can also be a great nail design to make your fingers appear long and slender.
15. Floral Christmas Fall Nails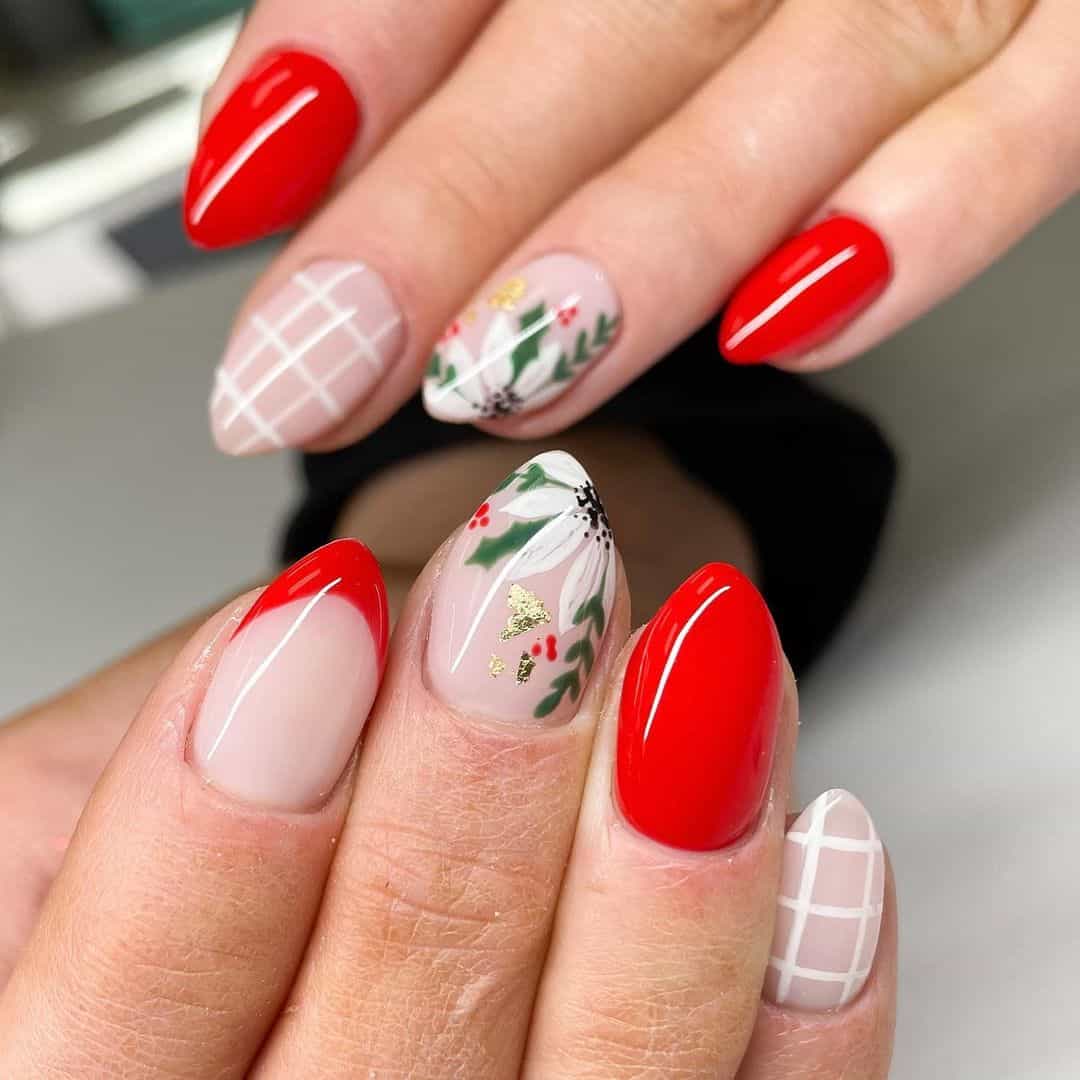 This Christmas-inspired nail design will be perfect to celebrate the latter part of the fall season and transition into winter. It features a classy mix of bold glossy red nails, white striped nails, red tips nail design, and floral feature nails to spice up your outfit and style. You can also throw in a dash of gold accents to this design to make it even more exciting.
16. Blue and White Fall Nails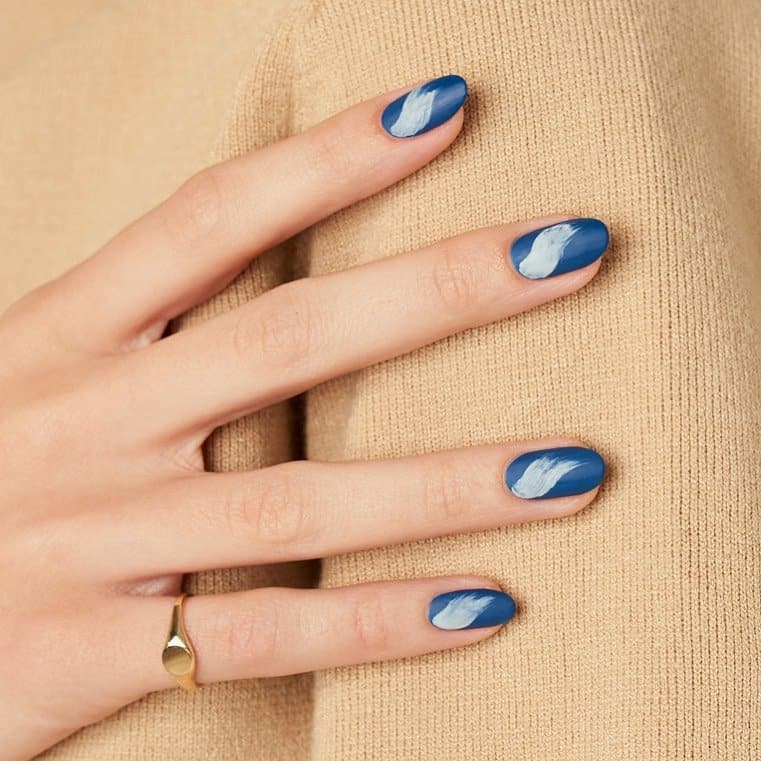 This cute nail design idea can be a smart choice for daily office wear as well as any fall party. It allows you to make a bold statement with deep blue hues while adding a touch of foggy white elegance on top. This nail design is also simple to recreate at home because you do not need to have perfect strokes of white atop the blue nails across your hand.
17. Curvy Purple and Pastel Fall Nails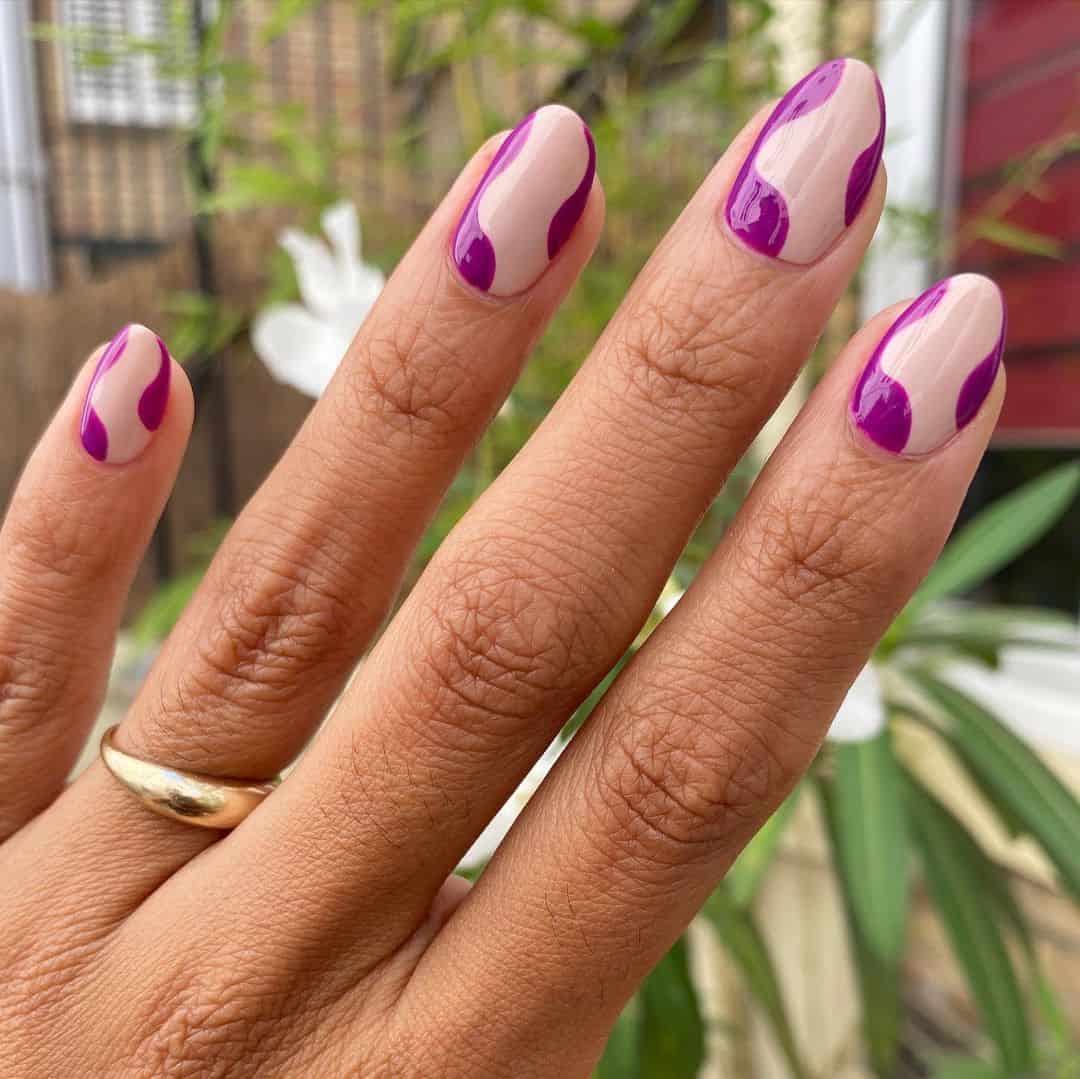 If you admire wavy patterns and are looking for something unique along those lines for your fall nail inspiration, then try this one for a sophisticated appeal. Purple nails will add a pop of color to your fall fashion, while the swirly negative spaces in pastel pink will keep it neutral. You can also have the negative space on the feature nail, and leave others in plain purple, to draw more attention to the curvy design.
18. Forest Green Fall Nails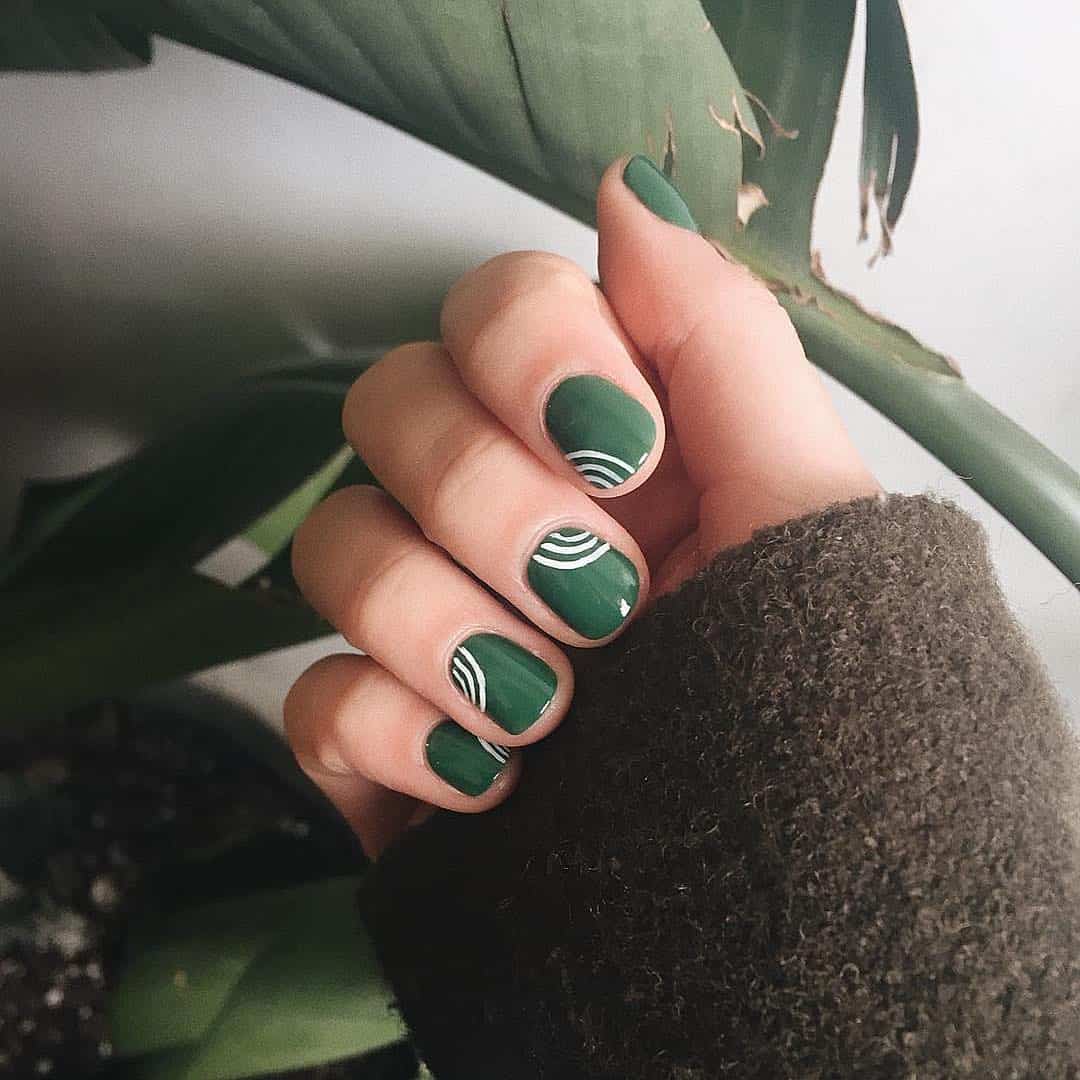 Forest green is considered synonymous with the fall season and makes for classic fall manicures. Yet as that can be predictable, this nail design adds a bit of uniqueness to your fingers by adding some crisp white graphic lines. You can try this look with a nail art pen or use a toothpick and white nail polish for creating the lines over a base of forest green on your fingers.
19. Blue and Gold Nugget Fall Nails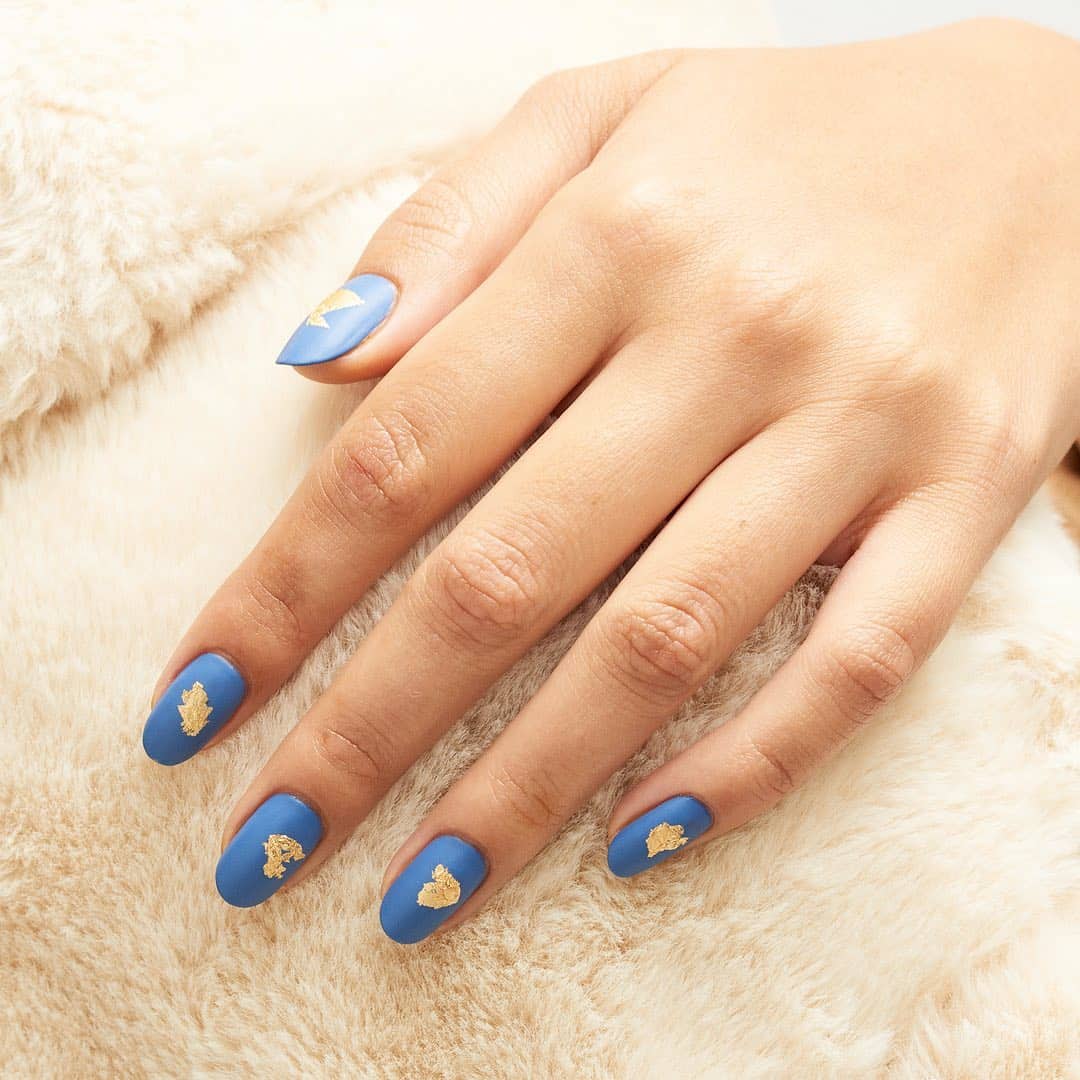 This is a simple matte blue nail design idea that you can recreate all by yourself at home. Just apply a coat of matte blue nail polish base on your fingers and add some gold sequins on top to get this stylish look. Similar to the Orange and Gold Glitter Fall Nails design, you can also have a feature nail in all-gold to create a unique look with this fall nail idea.
20. Oxblood and White Fall Nails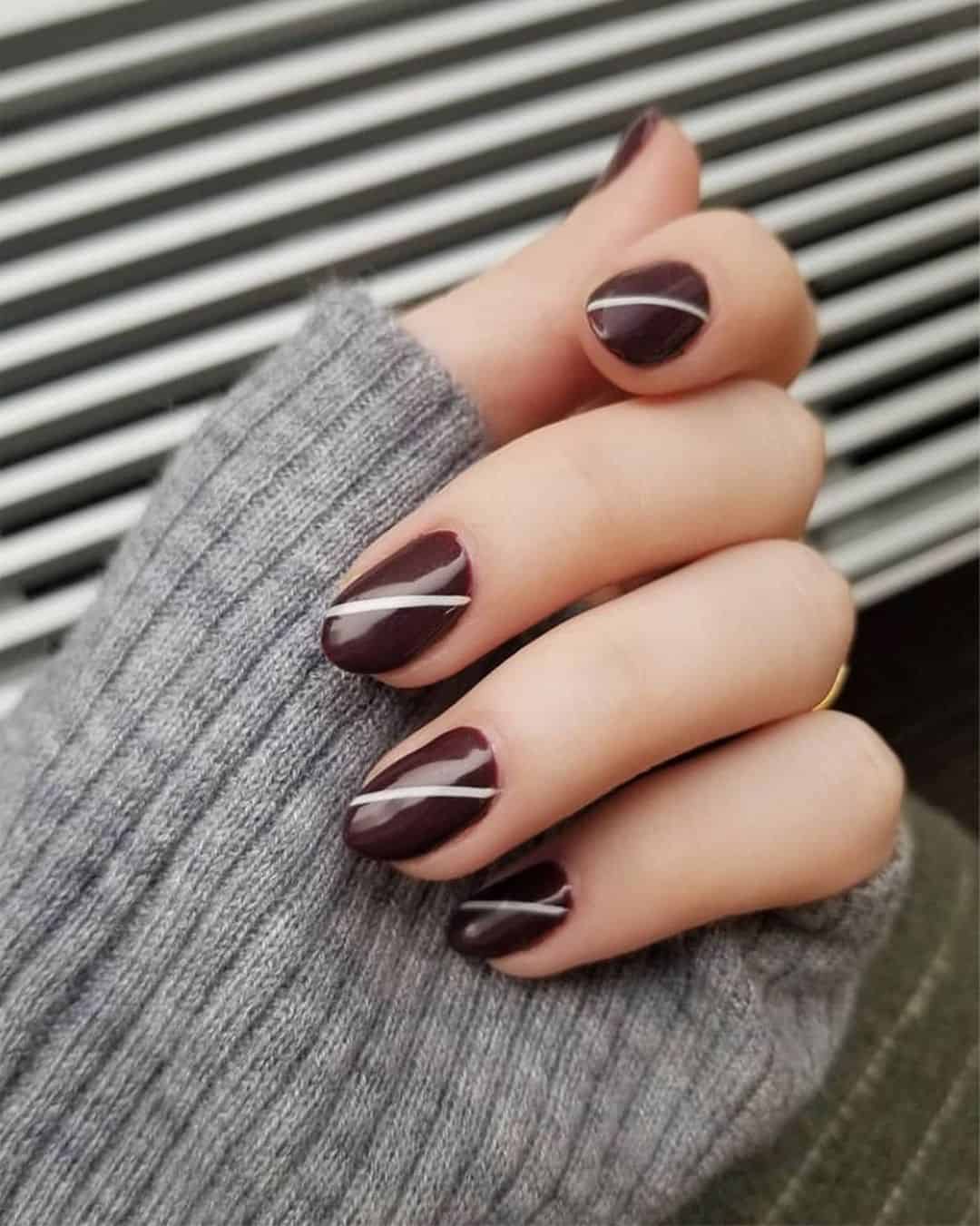 Go all-glam and posh with this elegant oxblood nail design idea. The strokes of diagonal white stripes on your nails give it an edgy look while allowing you to flaunt your bold and vivid side with dark temptress color nails. If you are going with this one on stiletto or ballerina nails, then you can even skip adding the white lines to get an even more ravishing look.
21. Matte Green Pumpkin Fall Nails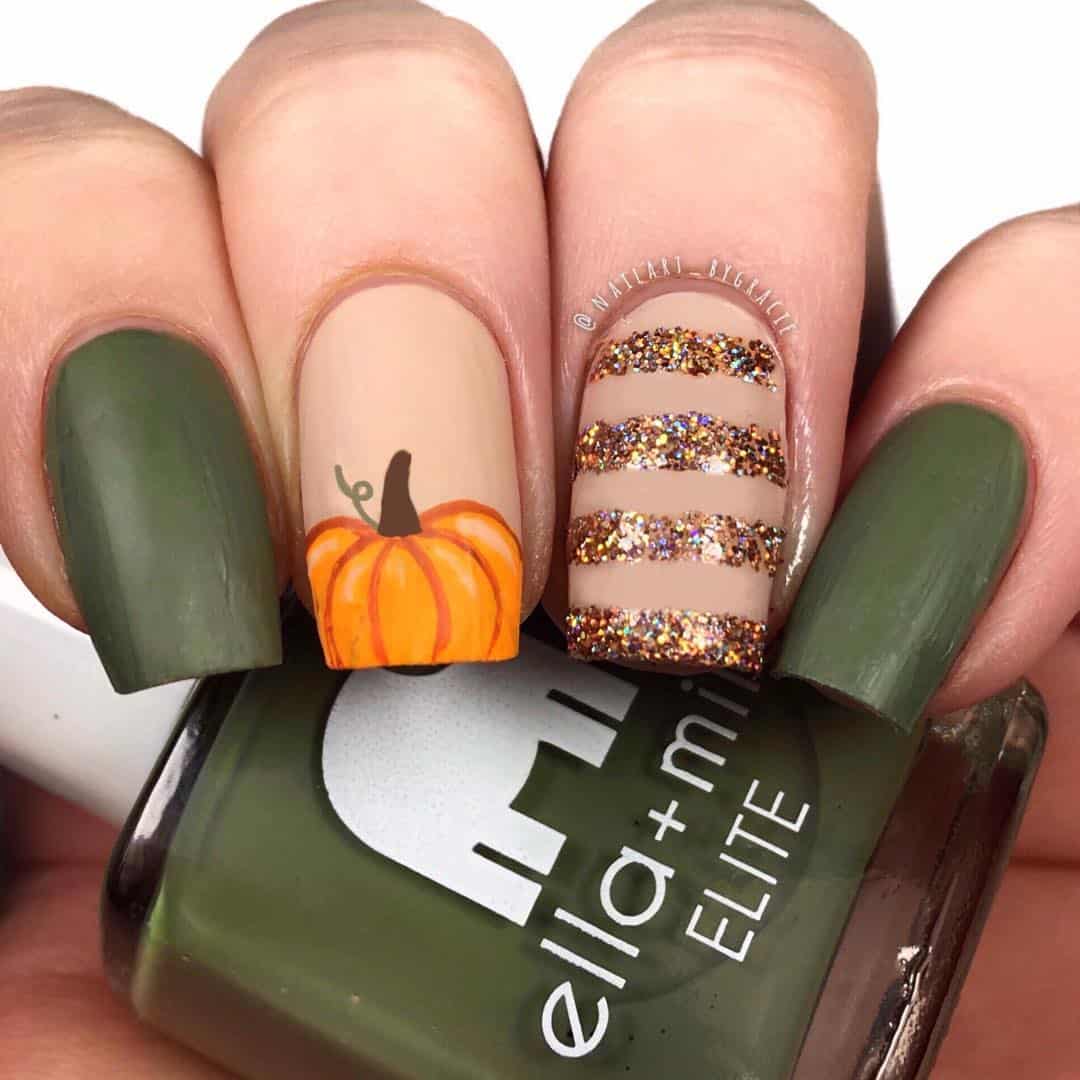 This cute nail design will be the perfect accessory to flaunt when you are attending a Halloween party. The matte green nail polish on the index finger and pinkie highlight the tiny pumpkin painted on your middle fingernail adorably, while the golden sparkly stripes on the ring fingernail give it a sophisticated and stylish touch. You can either go with a nude shade background for the pumpkin and gold stripe feature nails or keep it neutral to blend it with your skin tone.
22. Autumn Leaf Feature Nails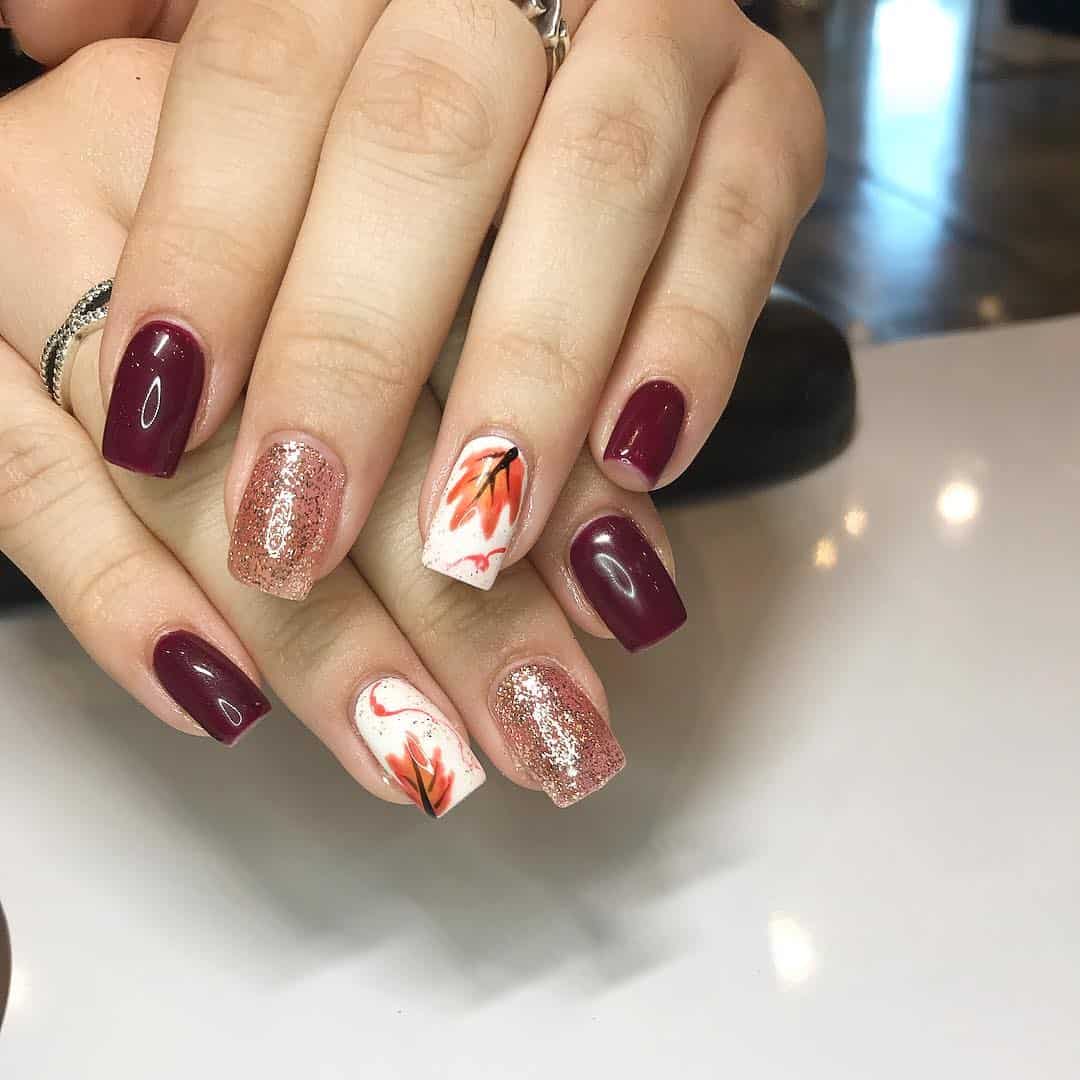 This is another mix and match fall nails idea, but unlike the Colors of Fall Nails design, it focuses on keeping the colors more balanced across your hand. Here, the ring finger feature nail sports an autumn leaf design on a white background, while the middle fingernails are in glittery pink and the index fingernails are in bold wine red to draw maximum attention to the feature nail leaf.
23. White and Gray Fall Nails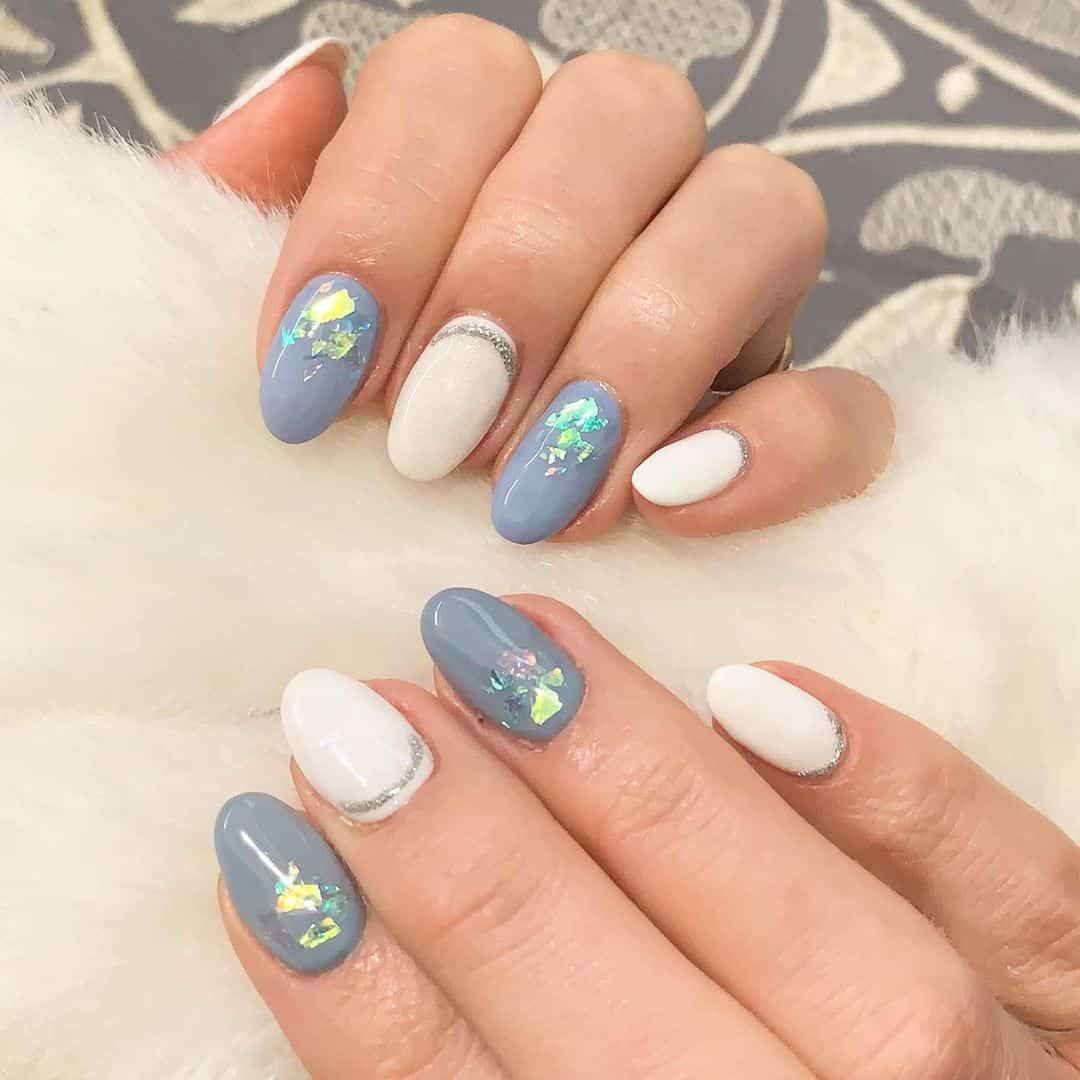 Gray and white nails make one of the most refined color combinations for the fall season. Adding golden accents on your gray nails further elevates its elegance, while the sparkling cuticles add more versatility to your white nails. This can be a perfect platform to showcase your creativity with understated shades of fall colors. As it is less austere than darker tints, you can also wear this fall nail design to the office or even a business meeting.
24. Orange and White Floral Fall Nails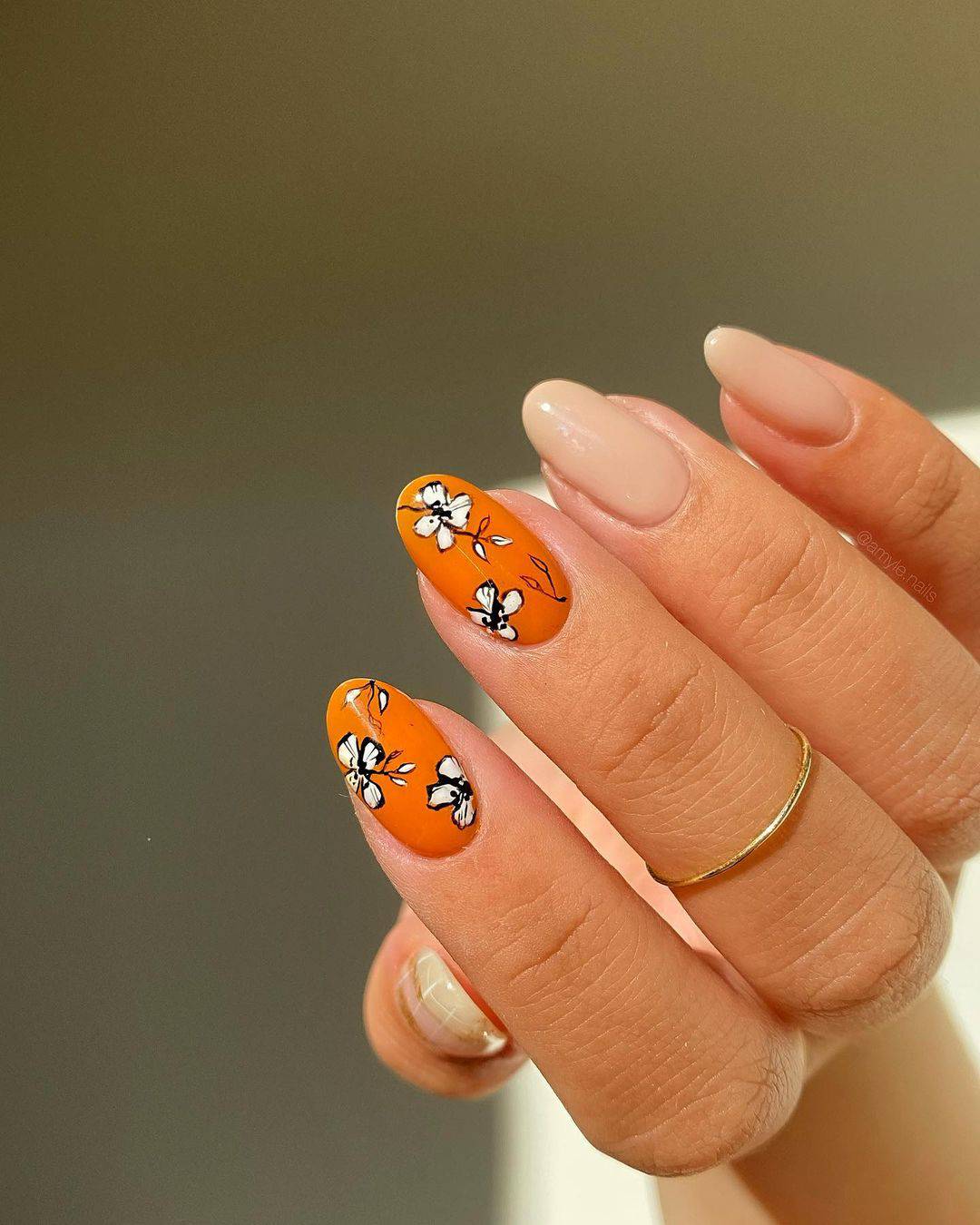 Fall florals are a popular trend among nail art enthusiasts. This nail design features elegant white flowers on a deep orange background to stay true to the seasonal vibe. Here, the pinkie and ring fingernails are kept in a neutral shade to drive complete focus to the floral designs. However, you can also follow the same pattern across all your fingers to achieve a more vibrant appeal.
25. Black Hearts Fall Nails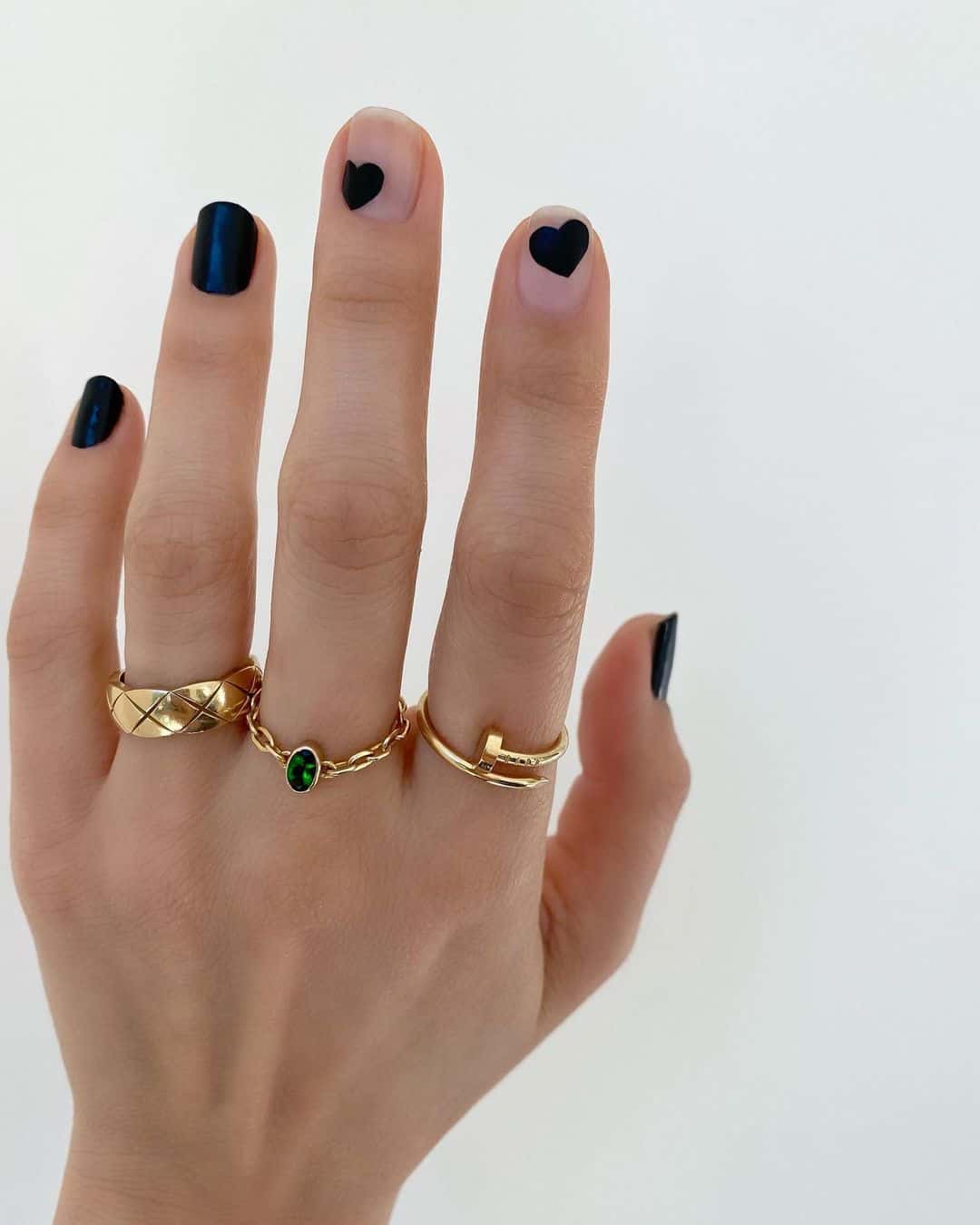 Give your black nails look a subtle twist by painting cute little hearts on the middle and ring fingernails. Keeping the other fingers in bold shiny black hues will make the tiny hearts on the two fingernails pop and look more adorable. You can also try painting half hearts on your feature nails instead of a full heart silhouette. Likewise, you can choose a nude shade for the background or keep it plain, as shown in this nail design.
26. Fall Leaves Nail Art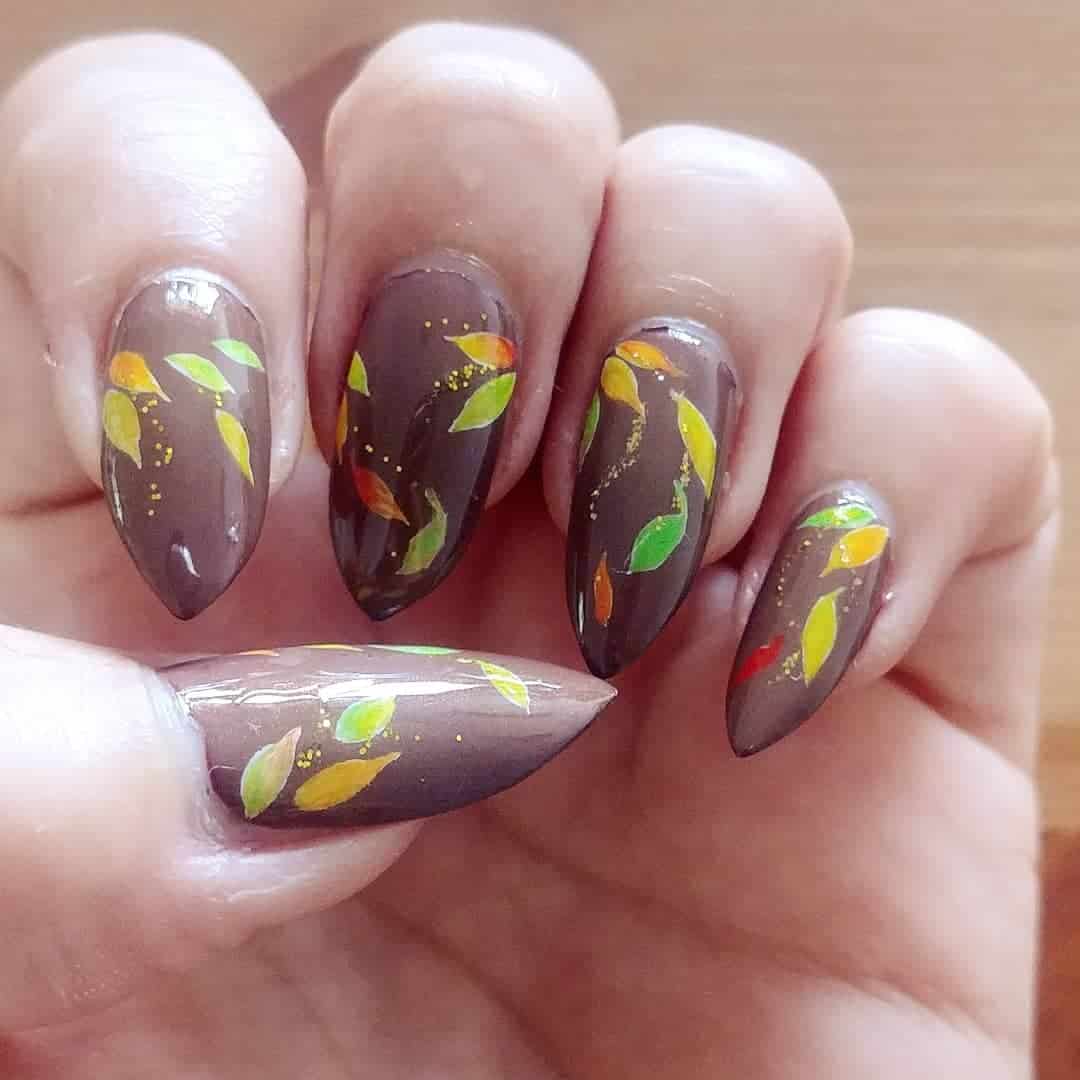 This pretty fall leaves nail design is best suited for nature lovers. It looks exceptional on both acrylic and natural nails, while adding a touch of gold glitter gives your nail design just the right amount of shimmer. You can go with this nail art on any kind of manicure and nail length, although long nails will give you more room to create a stunning look with fall leaves.

27. Brown and Gold Fall Nails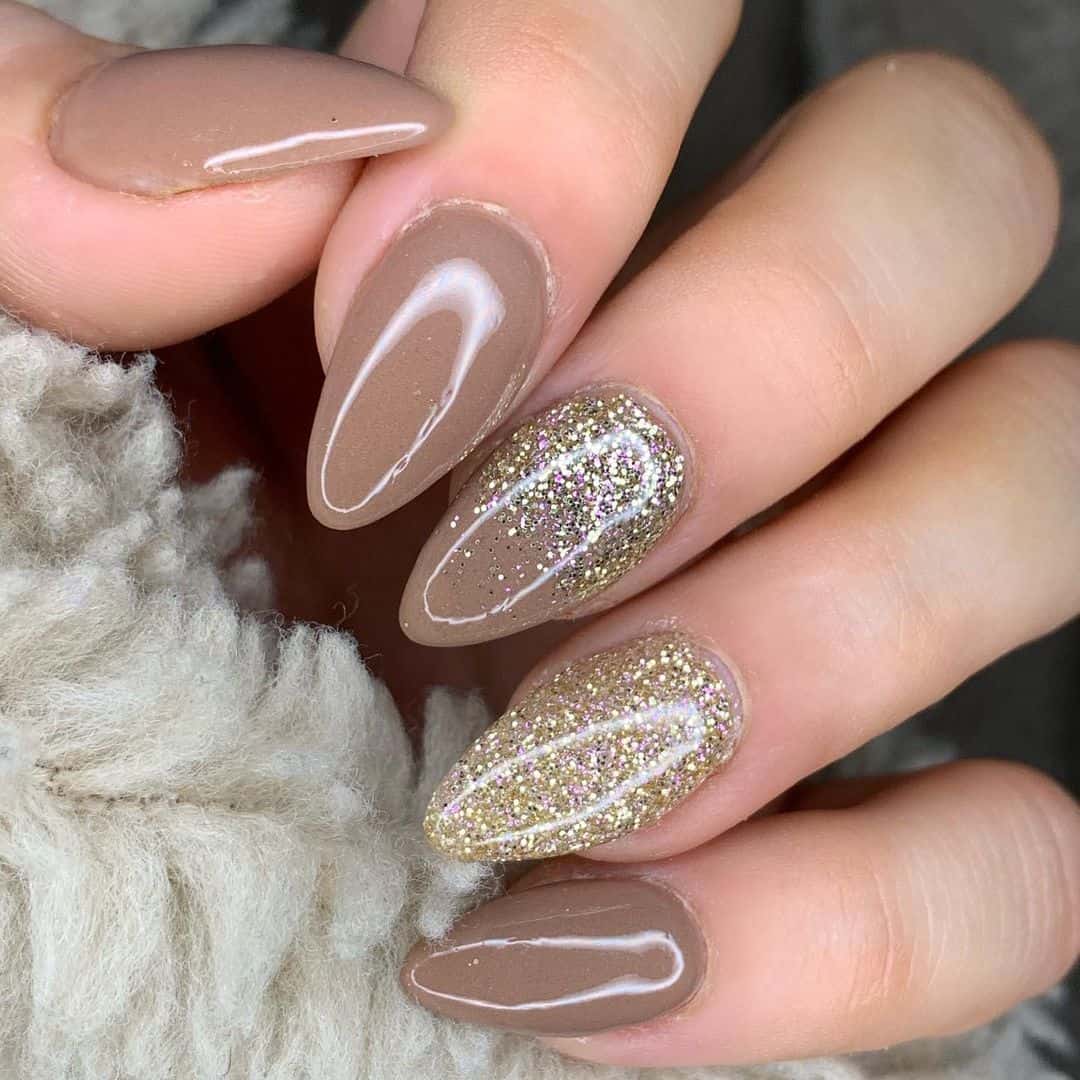 This alluring mid-tone brown and gold nail design will take you back to the '70s when chocolaty brown shades were at their peak. Painting your nails in mid-tone brown gives you a sweet and refined look, while adding gold glitter conveys a luxurious and sumptuous appeal. It will perfectly complement your cozy wool sweater and brown leather boots fall outfit.

28. Red Lines Fall Nails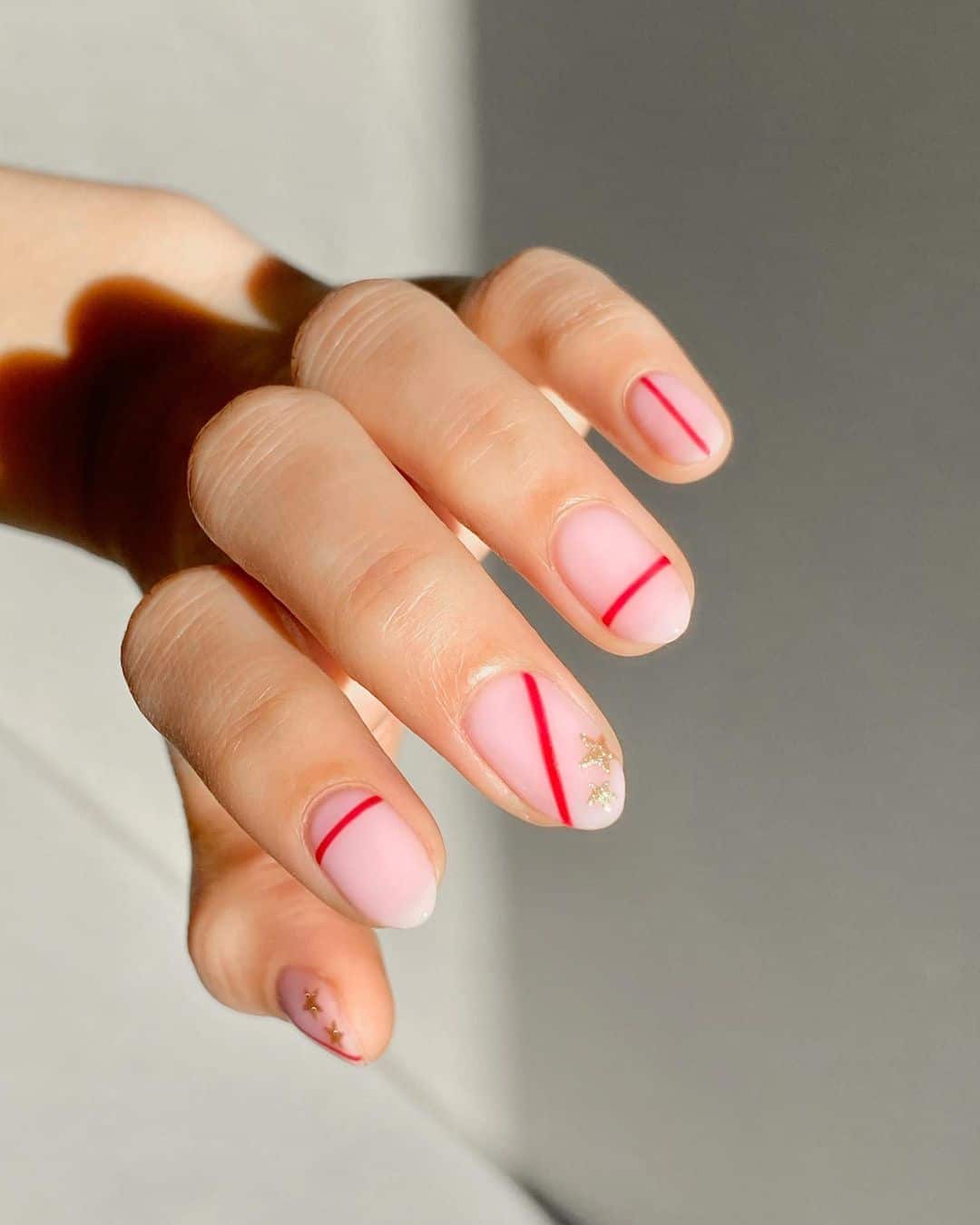 If you are looking for a minimalistic fall nail design, then try this simple red lines nail design for balancing your casual looks. You can easily create this fall nail design at home using some clear tape; painting your nails in pastel pink will make them an even more charming background for the straight red lines. You can also add some starry accents to your nails, as shown in this design, to give it a delicate sparkle.
29. Pastel Ombré Fall Nails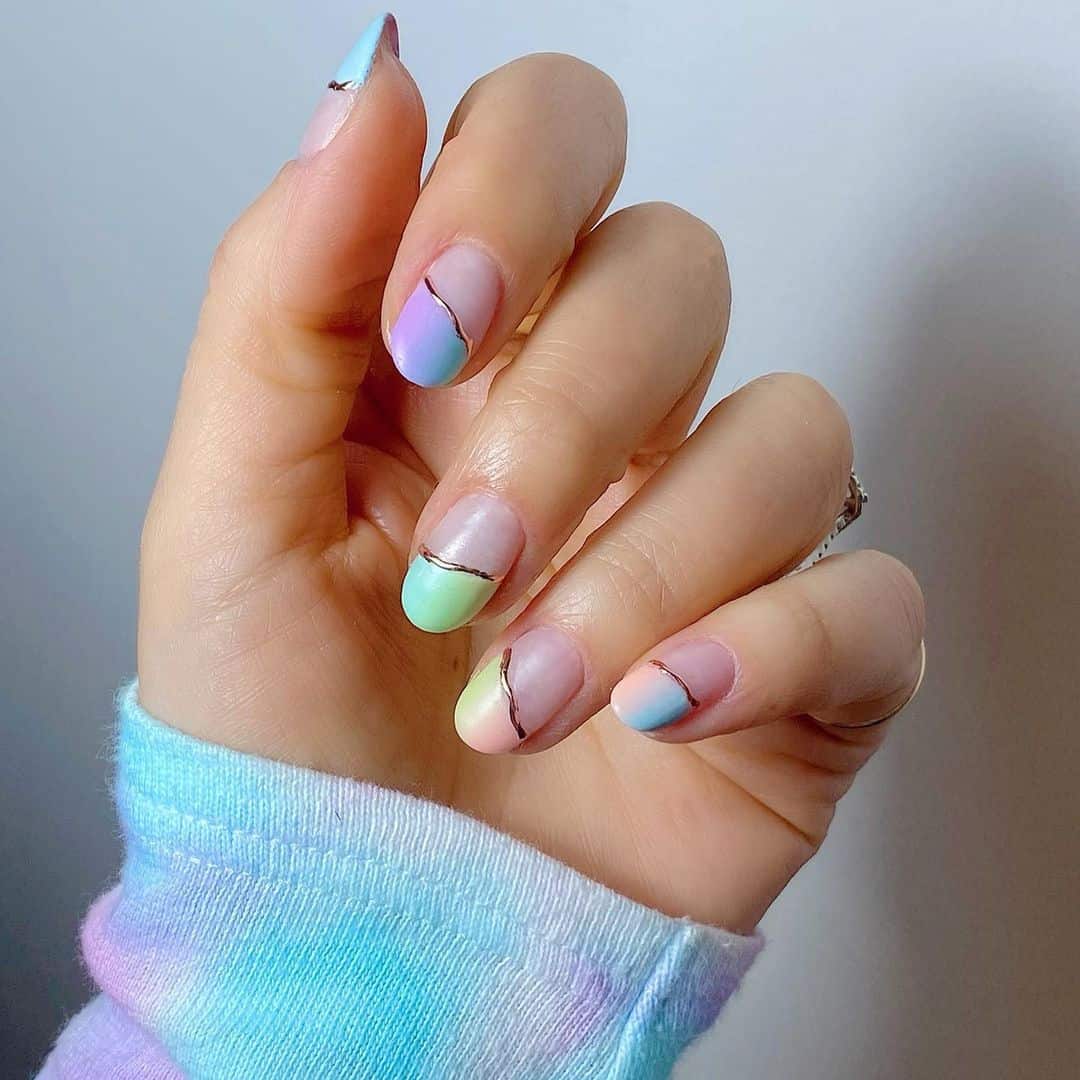 Ombré nails are quite voguish, and they have made a special place for themselves among nail art lovers. To blend the trend with the fall mood, try different shades of fall colors on your fingernails and create an intensifying ombré effect. You can go all the way to the cuticles or divide each of your fingernails with shimmering gold tracing, as shown in this nail design, to give it a stylish tie-dye appeal.

30. Nude Floral Fall Nails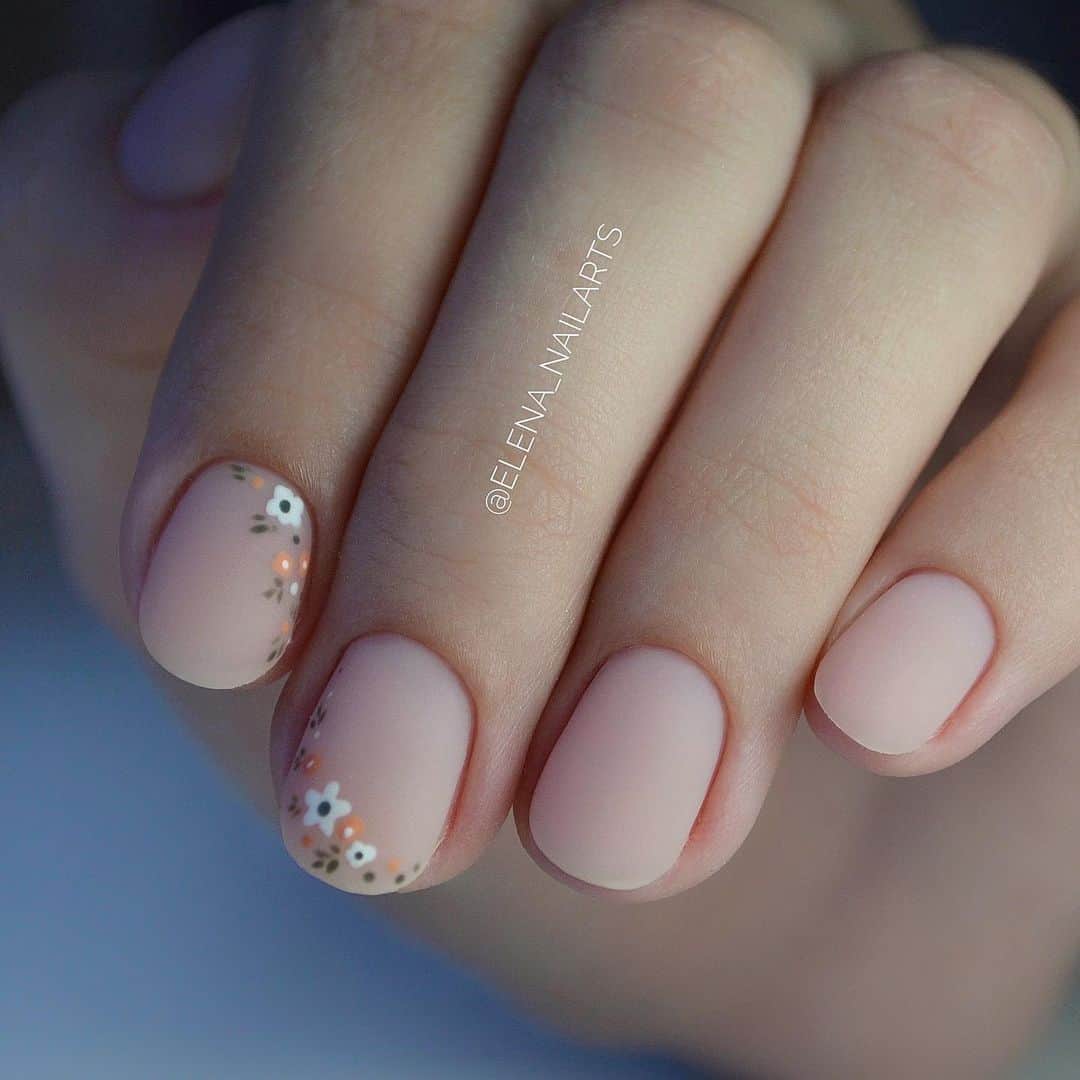 Sheer matte nude nails give a whole new dimension to your fingers, not to mention how they blend with your attire flawlessly in any season. This nail design features a touch of florals on the index and middle fingernails to give a delicate fall season feel to your hands. It can be a great nail inspiration for daily office wear or formal business meetings.

31. Yellow and Orange Abstract Fall Nail Art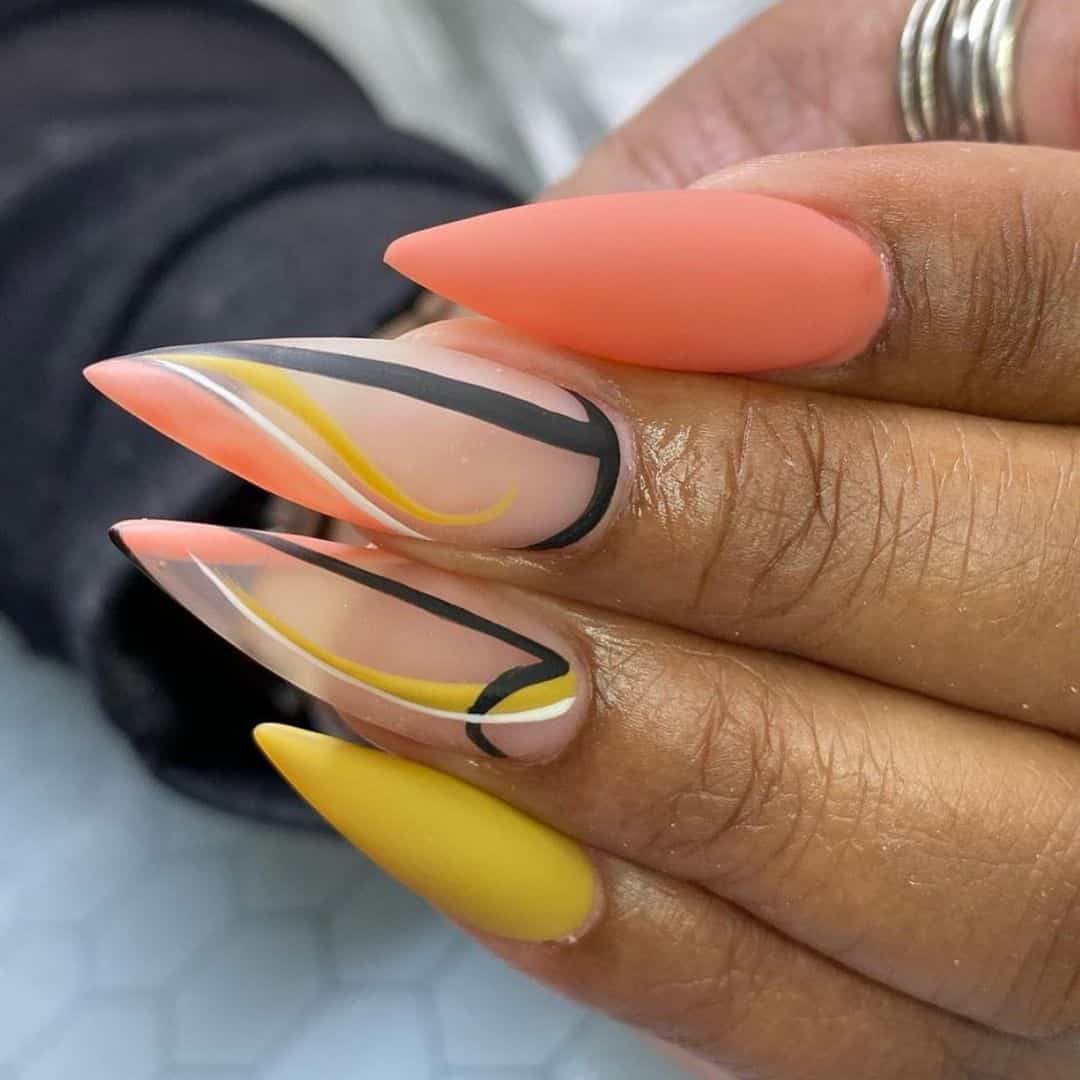 This cheery nail design allows you to show off your creativity and love for abstract art to the fullest. The strokes of orange, yellow, white, and black on your middle and ring finger feature nails look quite stunning, while keeping the pinkie and index fingernails in plain yellow and orange infuse the fall vibe to the design. This abstract nail art will look especially exceptional on stiletto and coffin nails.
32. Mocha Floral Fall Nails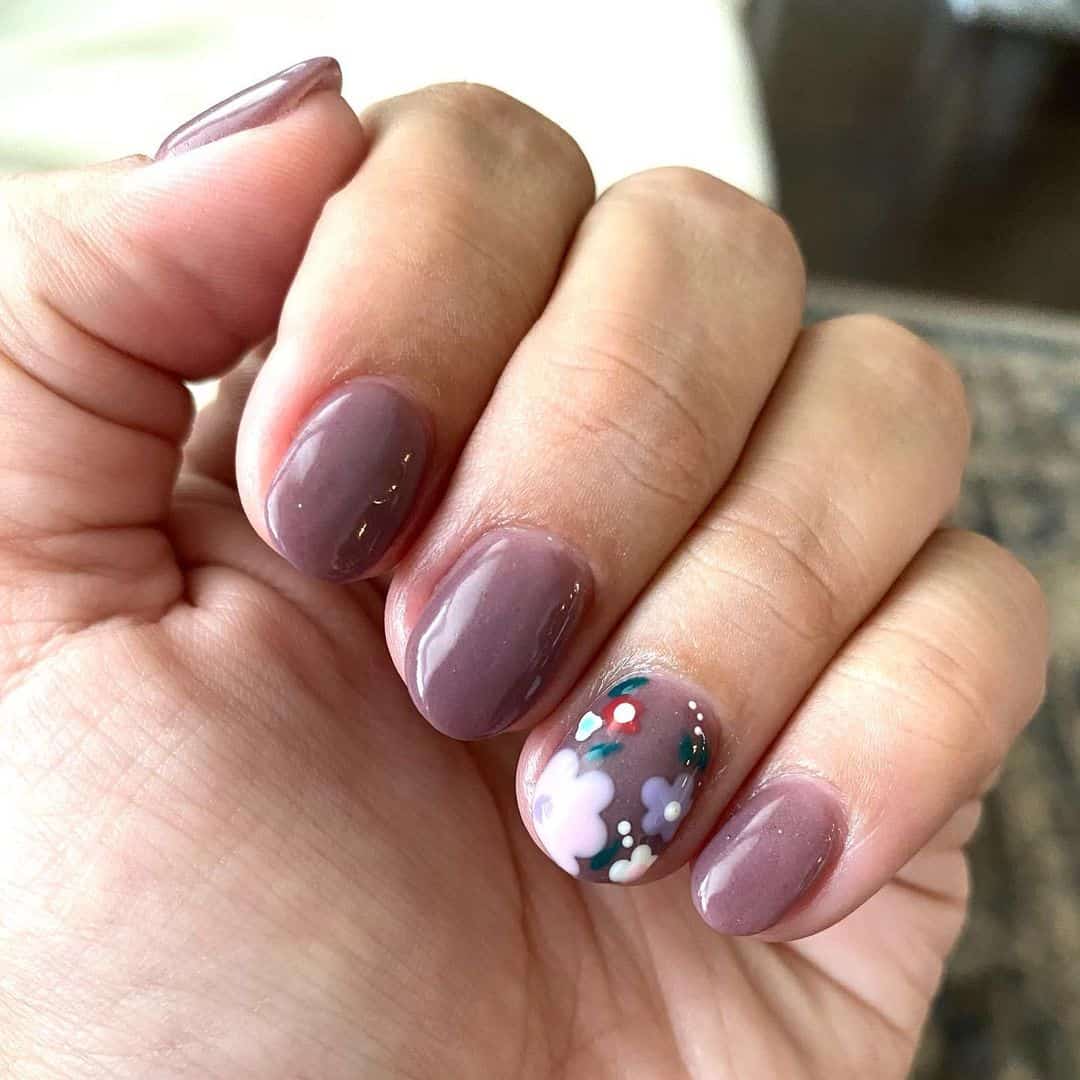 If you like chocolate brown hues, but do not want a nail design as extravagant as Brown and Gold Fall Nails, then try this one for a rather simplistic look. Here, all the nails are painted in the neutral mocha shade, while the ring finger is adorned with tiny floral accents to give it a delicate fall-inspired twist. You can even skip adding the flowers if you wanted to keep it all neutral.
33. White and Evening Teal Feature Fall Nails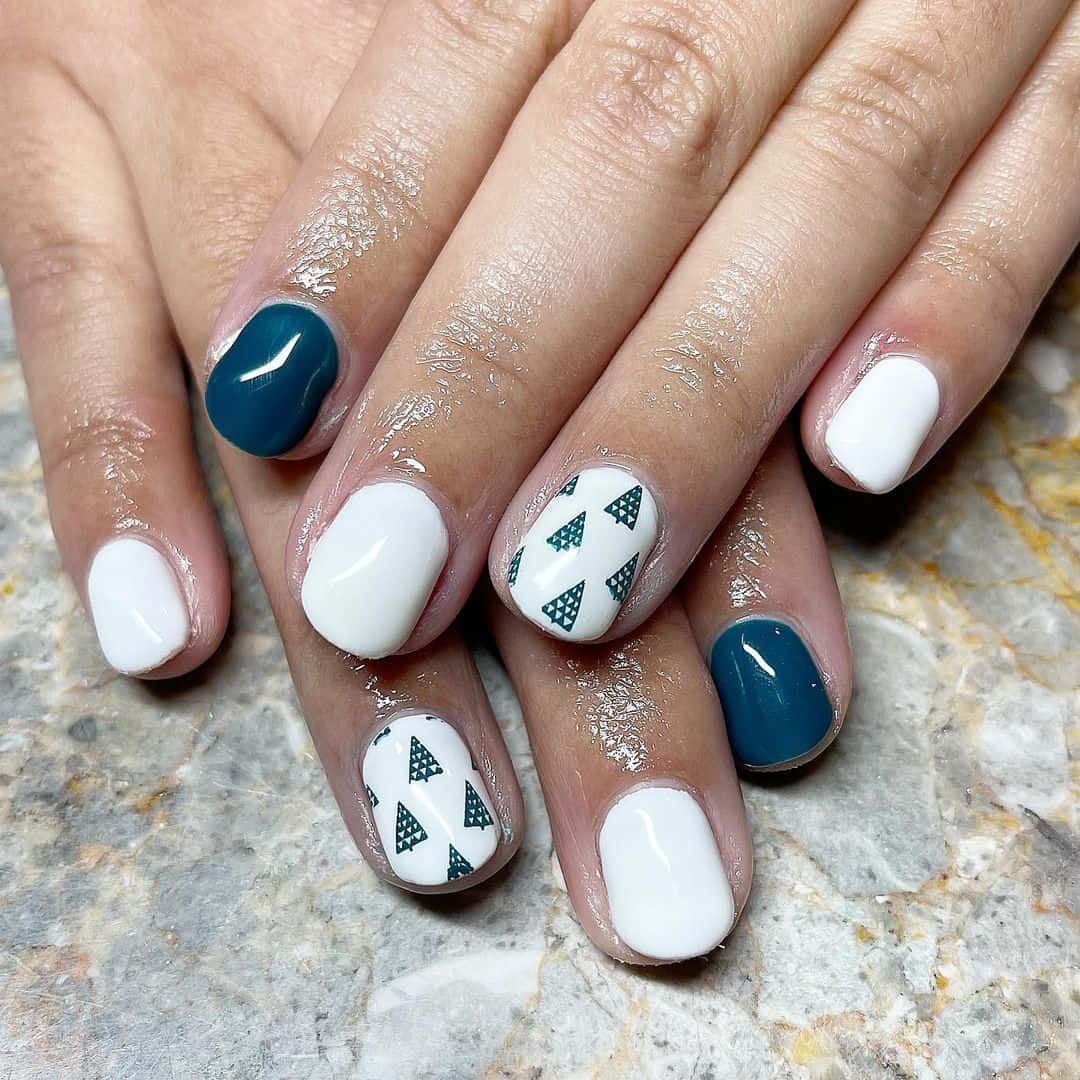 This is a smart fall nail idea to infuse the Christmas spirit in the nail design. Here, cute little Christmas trees are painted on an opaque white background to give your feature nails a jolly boost. At the same time, the index fingernails are painted in bold evening teal color to make it look a tad sophisticated. This nail design can be a great accessory to wear in the latter part of fall and welcome winter in style.
34. Matte and Glossy Dripping Blood Red Fall Nails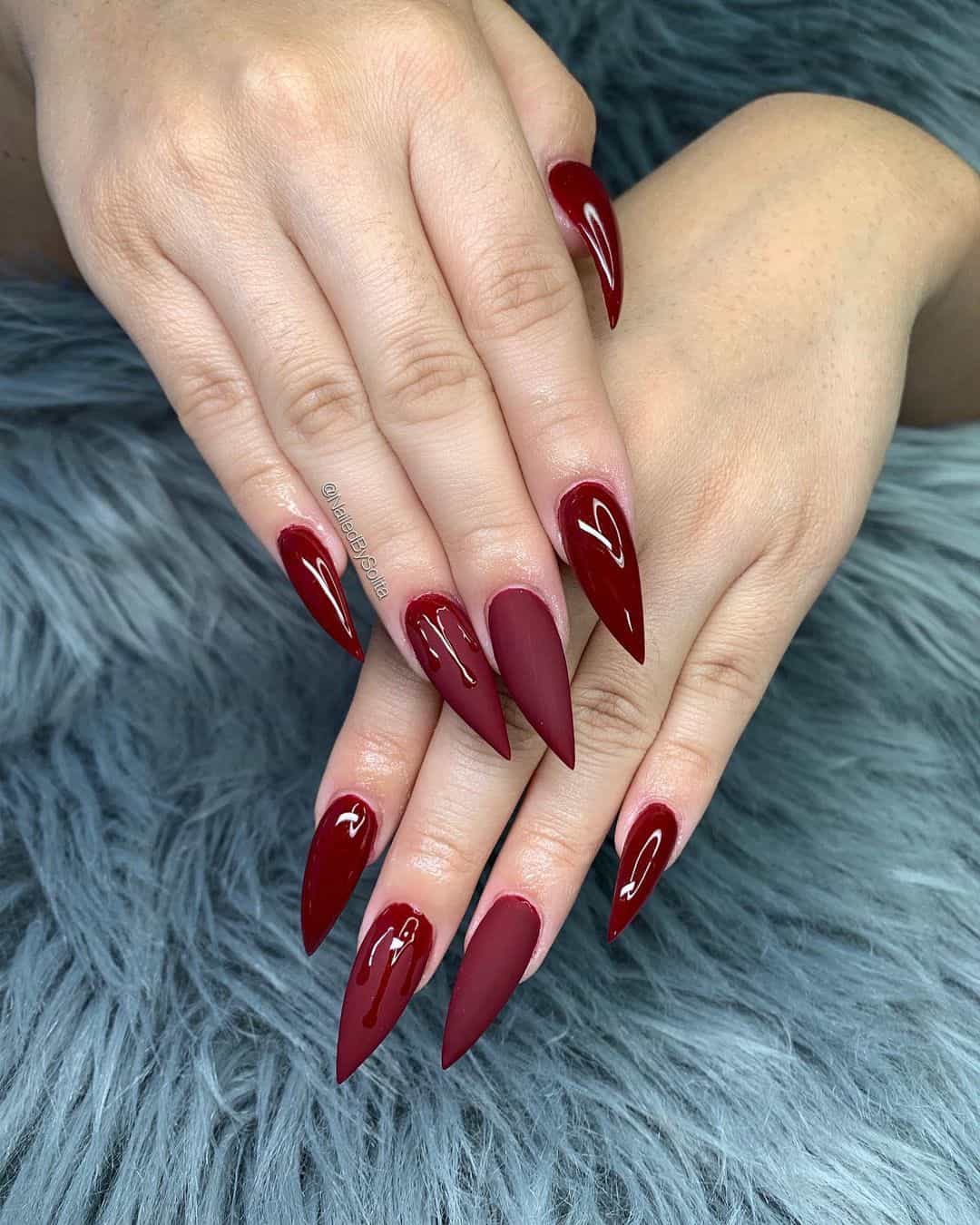 Create an enchanting fall manicure with this matte and glossy red nails design. The dripping blood nail art on a matte maroon background makes your feature nails look really stunning and captivating, especially when done on stiletto nails. It can be the best fall nail design to flaunt when attending Halloween parties. Yet if you have short nails, skipping the dripping blood style and going with alternate matte and glossy red nails will look better.
35. Royal Tea Blue Sparkly Fall Nails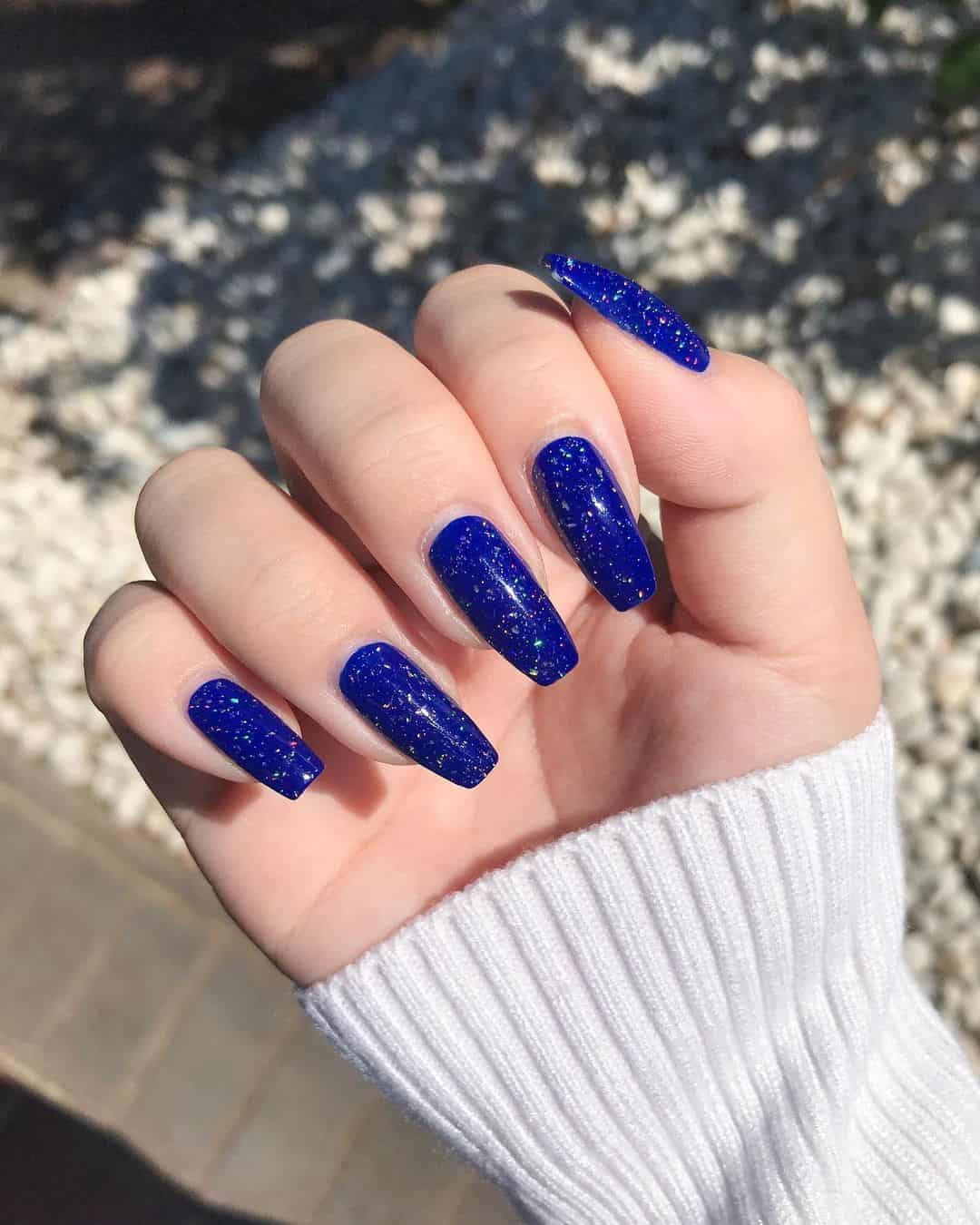 This gorgeous nail design gives an upgrade to your regular royal tea blue nails with a coat of glitter. While you can also wear it all year long, it gives a special touch of sophistication and elegance to fall fashion and attire. Pair it with any complementary colors and see how your eye-catching glitzy nails drive all the attention to your outfit.
36. Black Leaves Fall Nails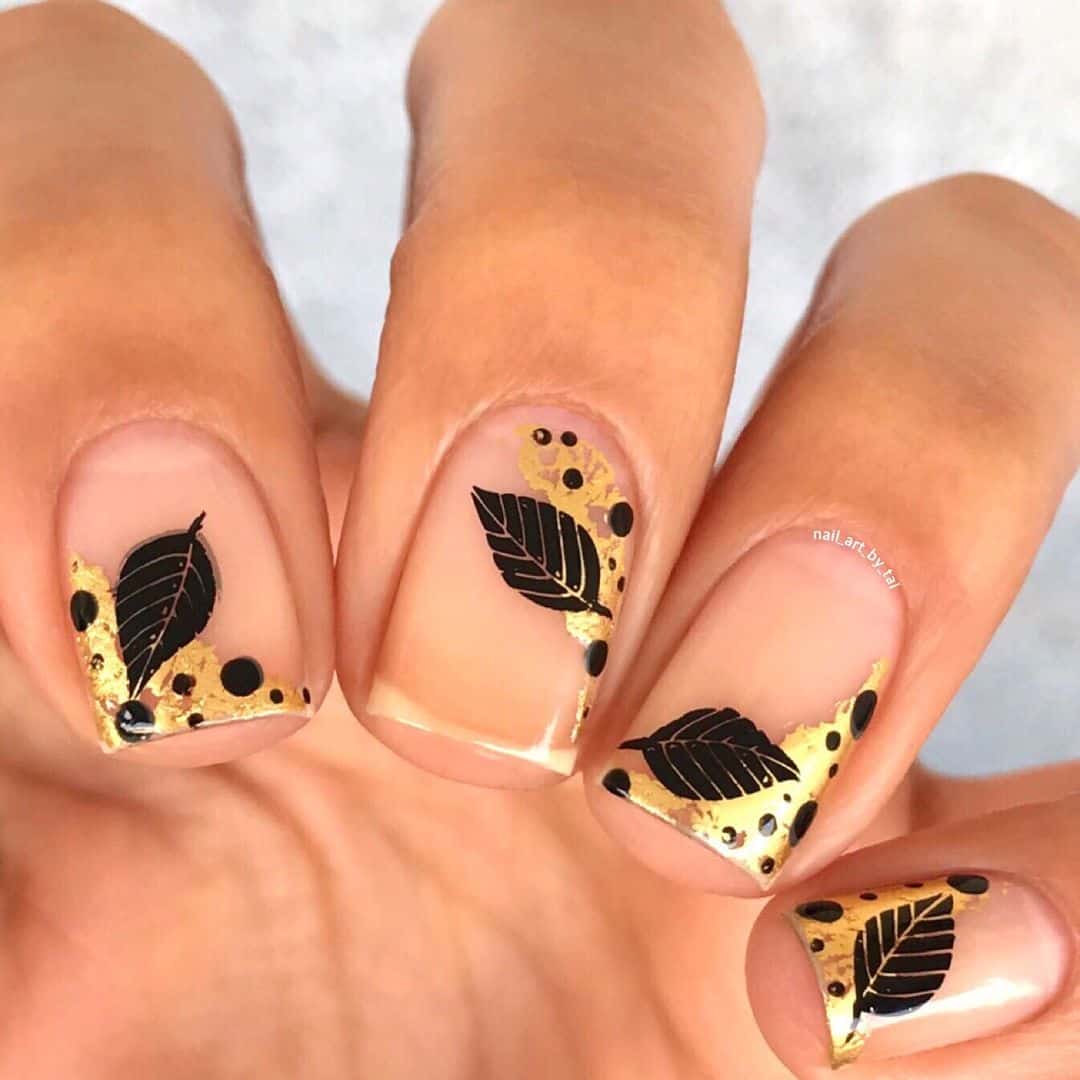 This stylish nail design blends gold and black colors superbly on your fingers. The black leaves in this design represent the fall, whereas the flaky golden glitter and natural background add a touch of beautiful refinement to your hands. You can also try this nail design with other popular fall symbols like acorns, pumpkins, or a bare tree to make them more special.
37. Metallic Gray Fall Nails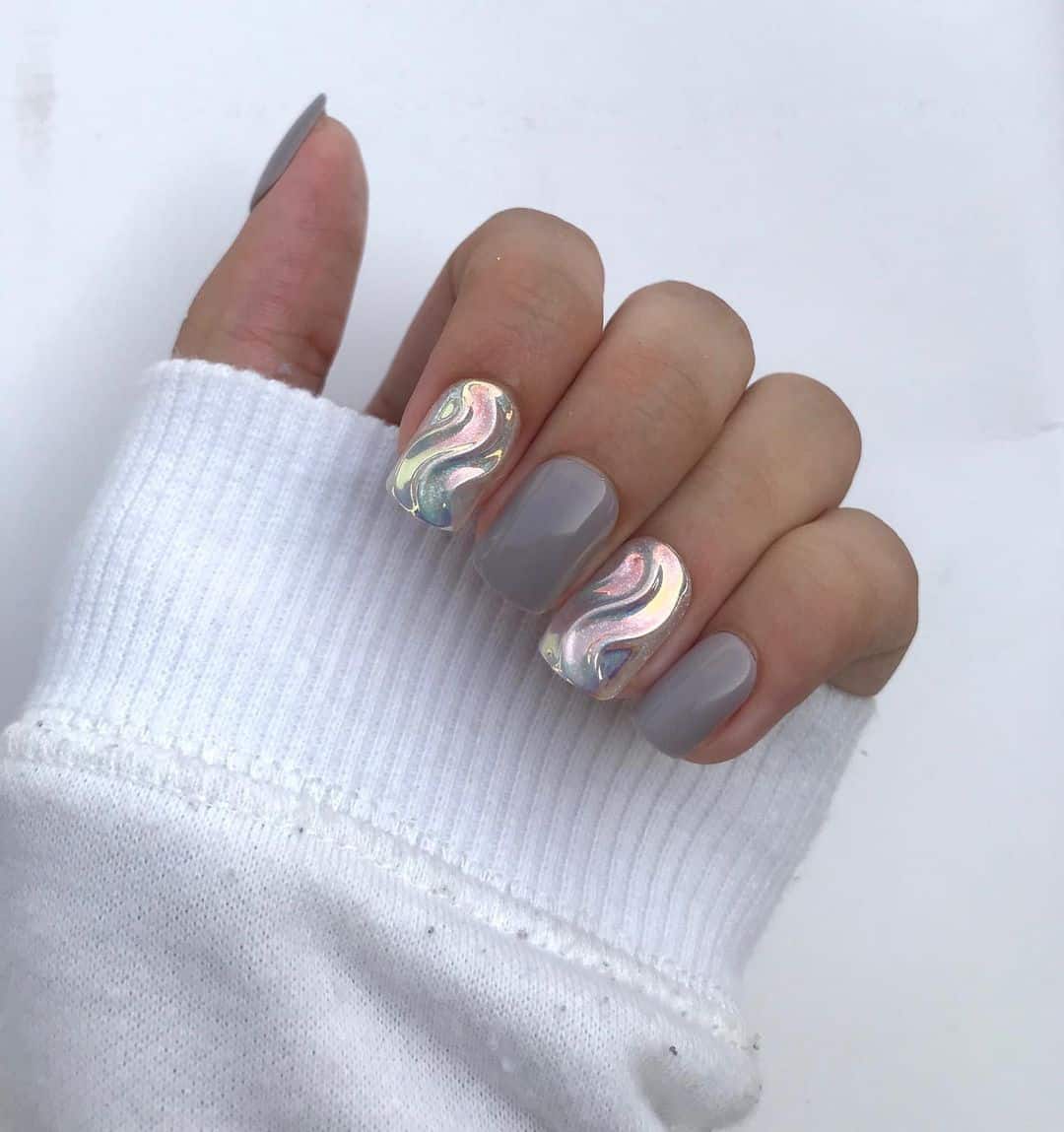 Upgrade your fall nails with this textured metallic gray nail design. Here, the metallic gray accent nails on the index and ring fingers make it look sophisticated and posh, whereas the light gray shade on the other fingers keeps it balanced. Perfect for all kinds of fall parties and get-togethers, this nail design is sure to turn heads wherever you go.
38. Colorful Stripes Fall Nail Art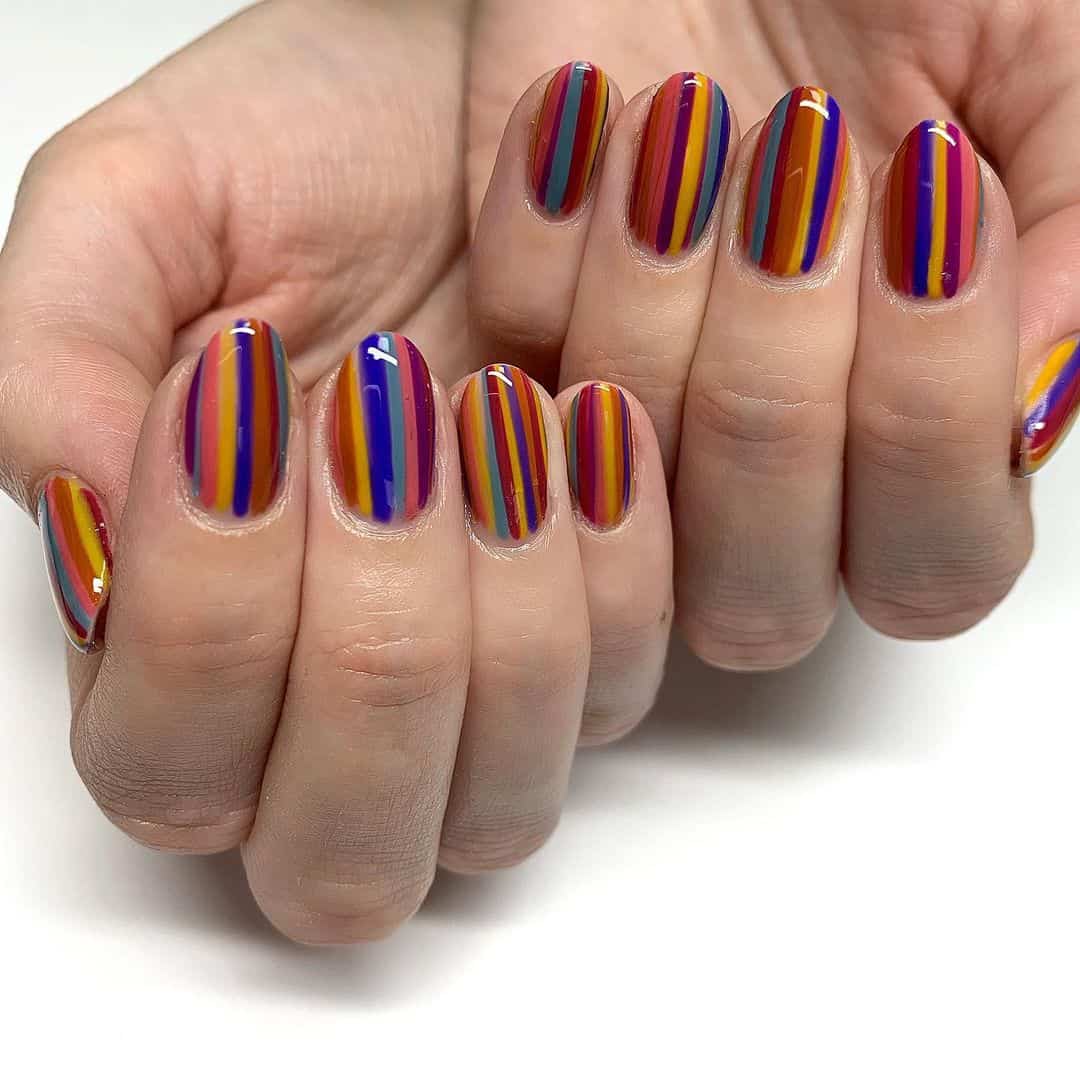 This cozy nail design idea brings multiple dark-toned fall nail colors together in a single design to give you an elegant look. You can easily recreate this colorful striped design at home using some clear tape and a nail polish set. Or you can get some nail art tape and experiment with different colors to see which one suits your styling preferences.

39. Matte Teal Plaid Fall Nails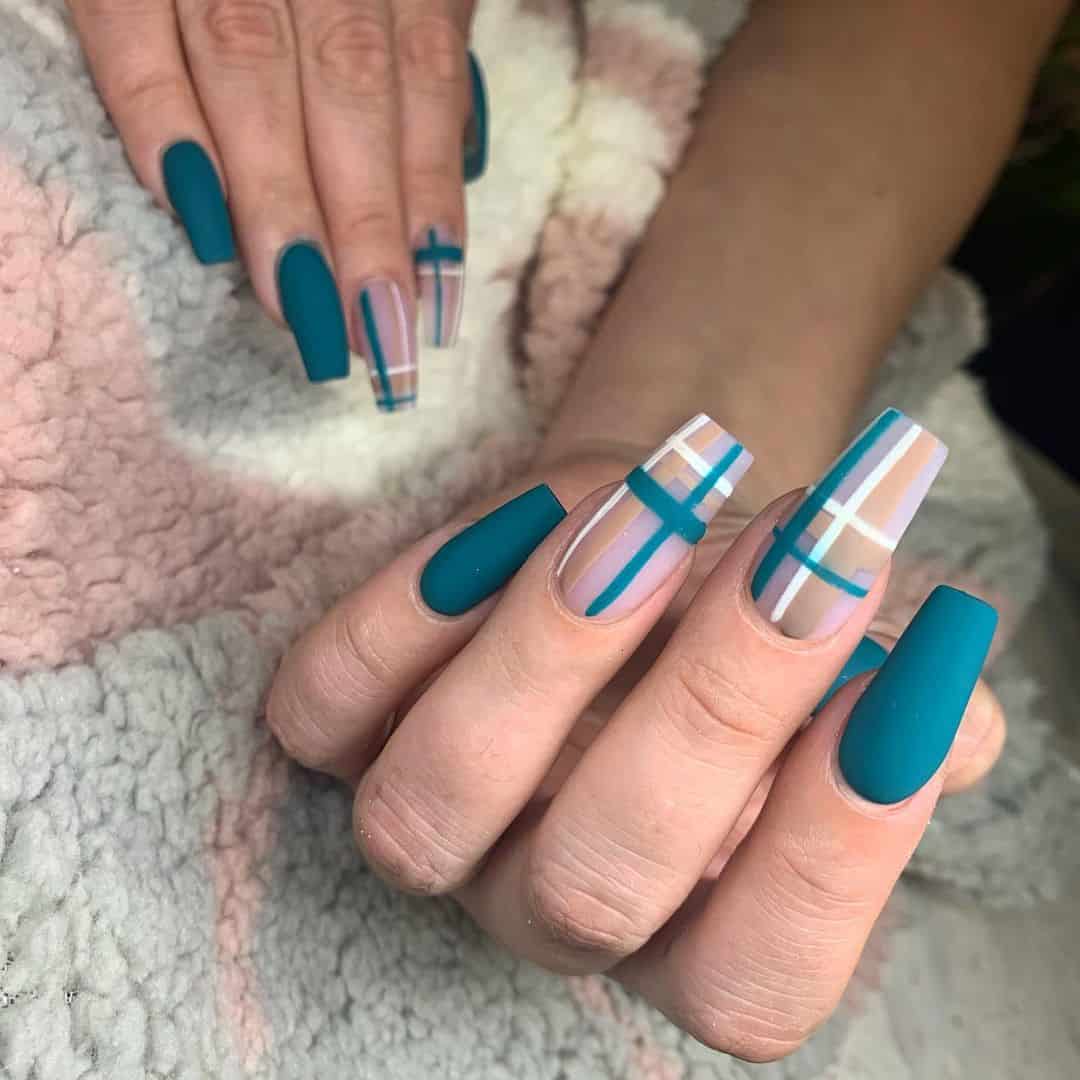 Plaid nail designs are a favorite during fall and winter. This teal and white plaid nail design, with a touch of neutral hues, gives you a cozy and stylish accessory to pair with your beloved scarves. Having the plaid design on two fingers as feature nails, and leaving the others in a plain teal shade, further makes your nail art pop with elegance.
40. Starry Night Fall Nail Art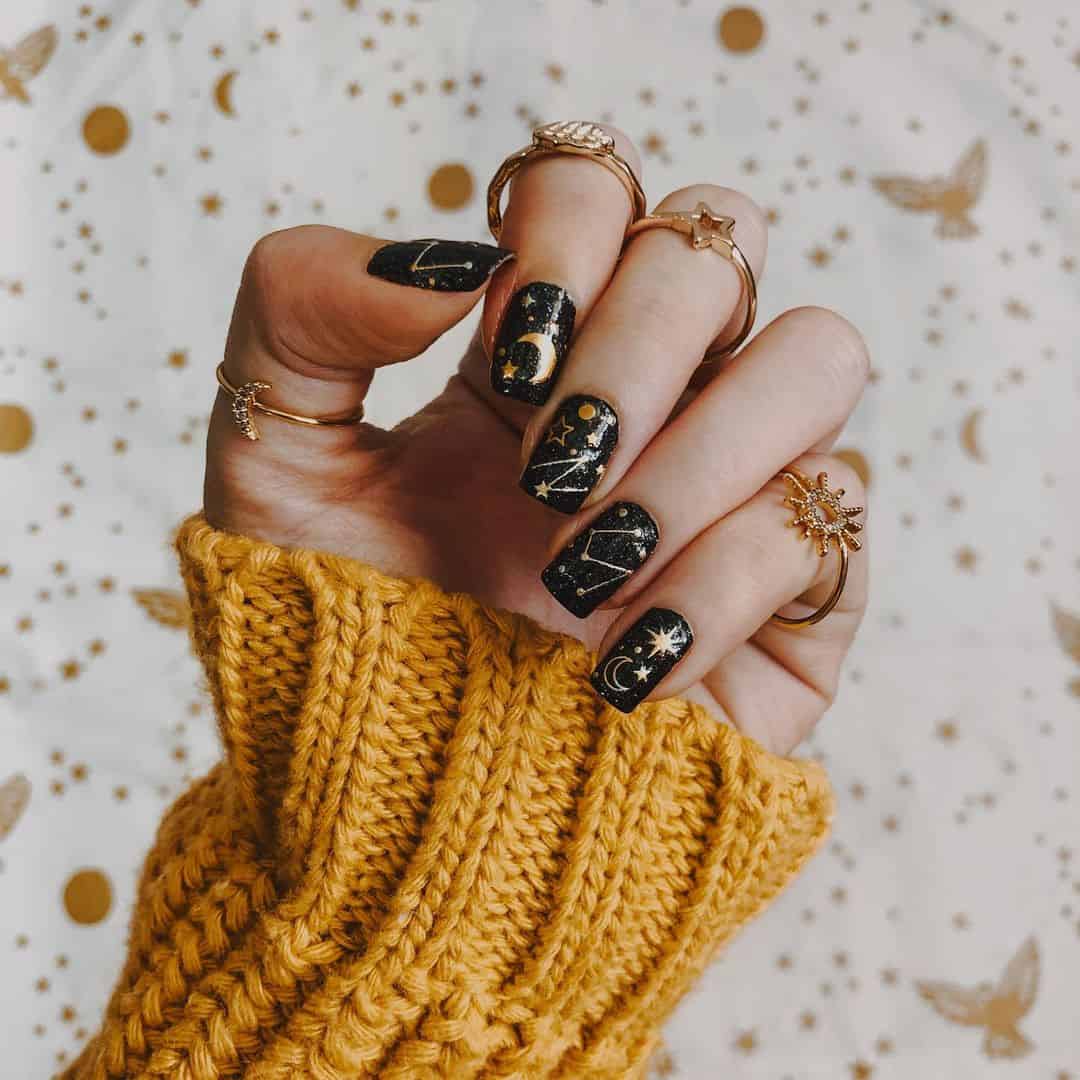 If you wanted to show your love for the night skies, then try this black and gold sparkly nail design to achieve a classy look. Unlike Lunar Cycle Fall Nail Art, this one allows you to explore your imagination and create a deep space-inspired design with bright moons, stars, and constellations. It can be a perfect choice to match with gold rings and warm color accessories.
41. Matte Orange and Floral Fall Nails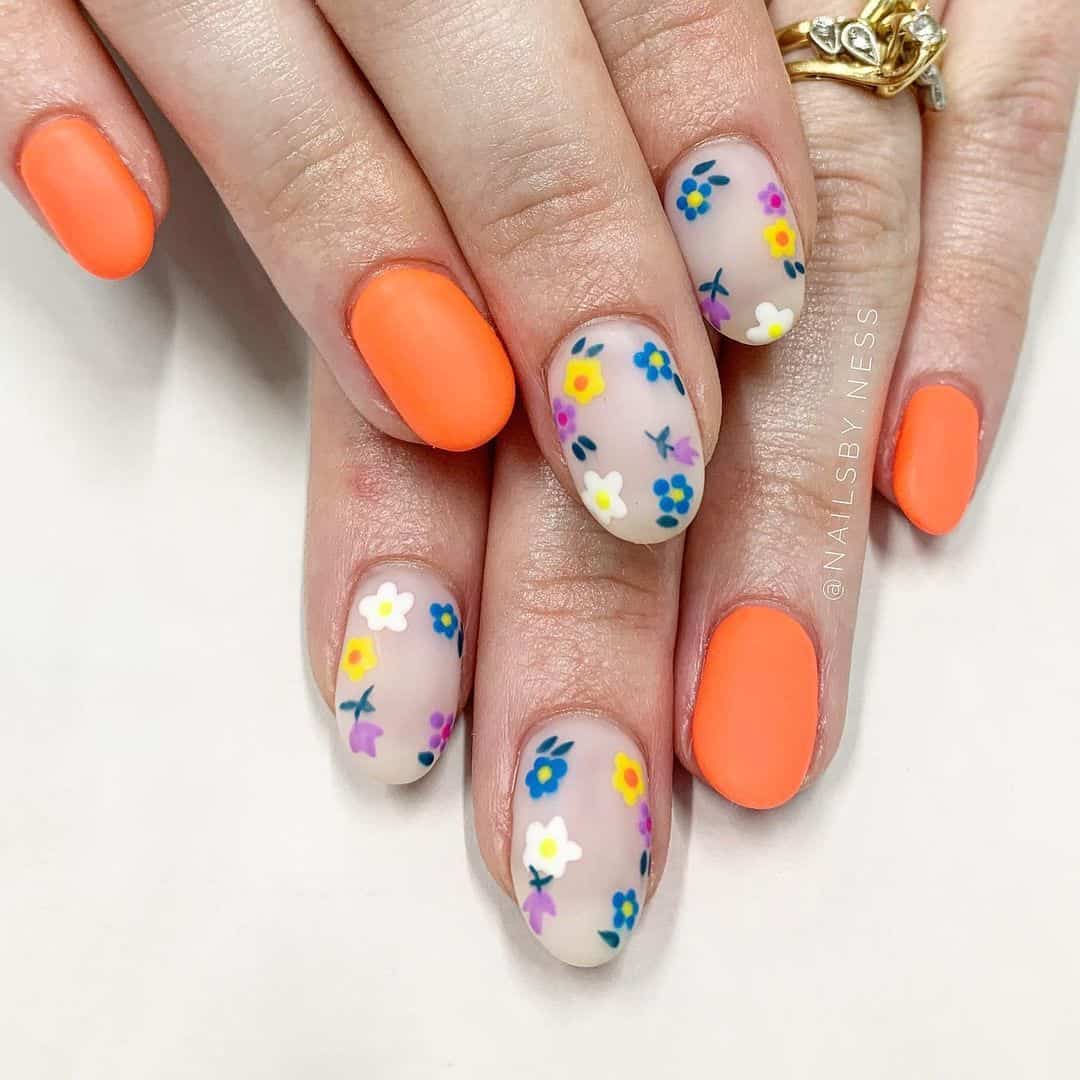 Spruce up your fall nails with this blissful floral nail design idea. It features deep matte orange hues on the pinkie and ring finger, while the index and middle fingernails have beautiful floral accents on a nude matte background. You can wear this nail design to any formal or casual fall party; it suits all types of manicures and nail lengths as well.
42. Yellow and Red Fall Nails With Negative Space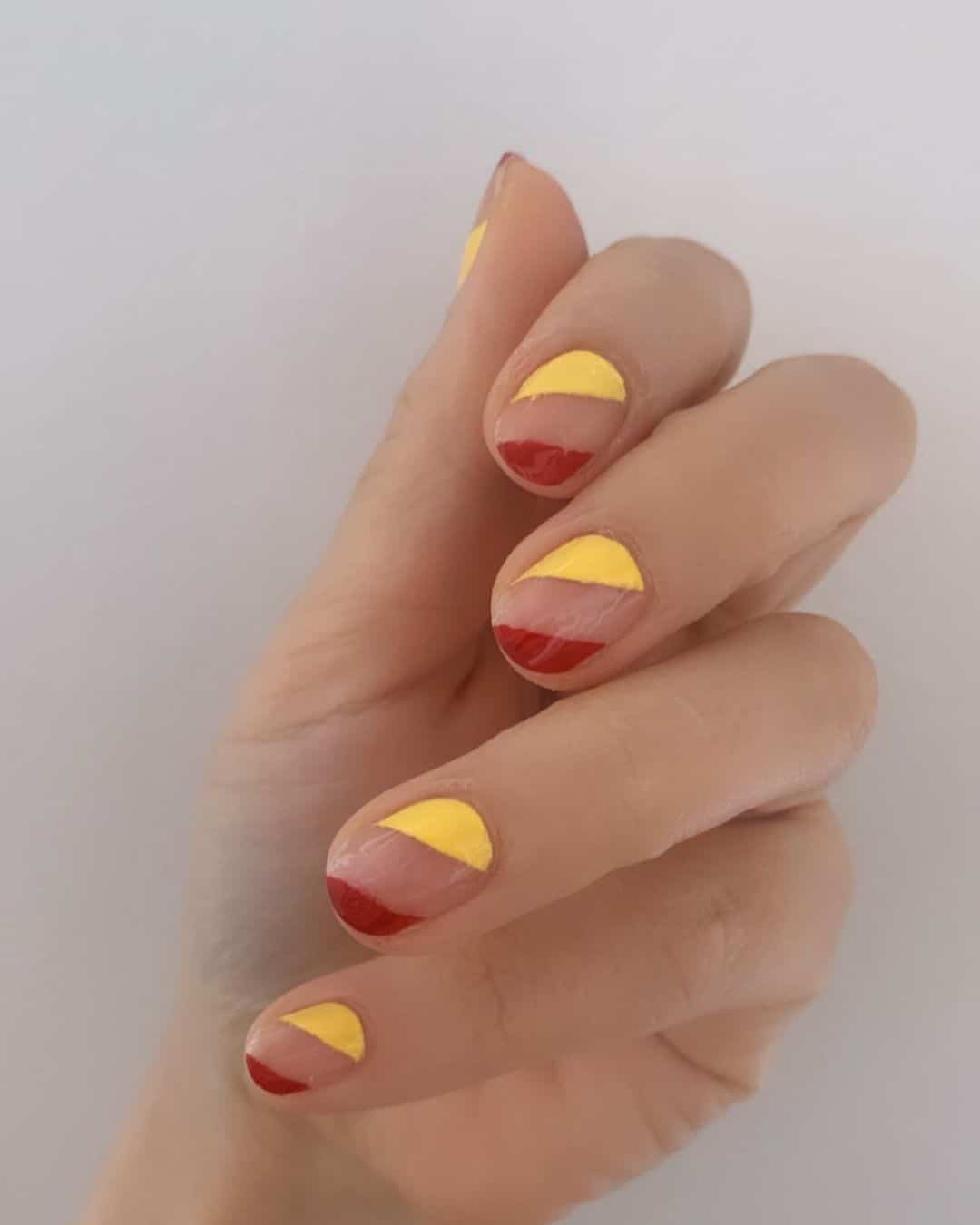 This is an elegant fall manicure idea to give your looks a classy and sophisticated touch. You can easily recreate this nail design by yourself using some scotch tape and yellow and red nail polishes. It will look even more fashionable if you keep one color in the matte finish and the other glossy. Likewise, you can try experimenting with different fall colors, too, while following this nail design pattern.
43. Sunflower Fall Nail Art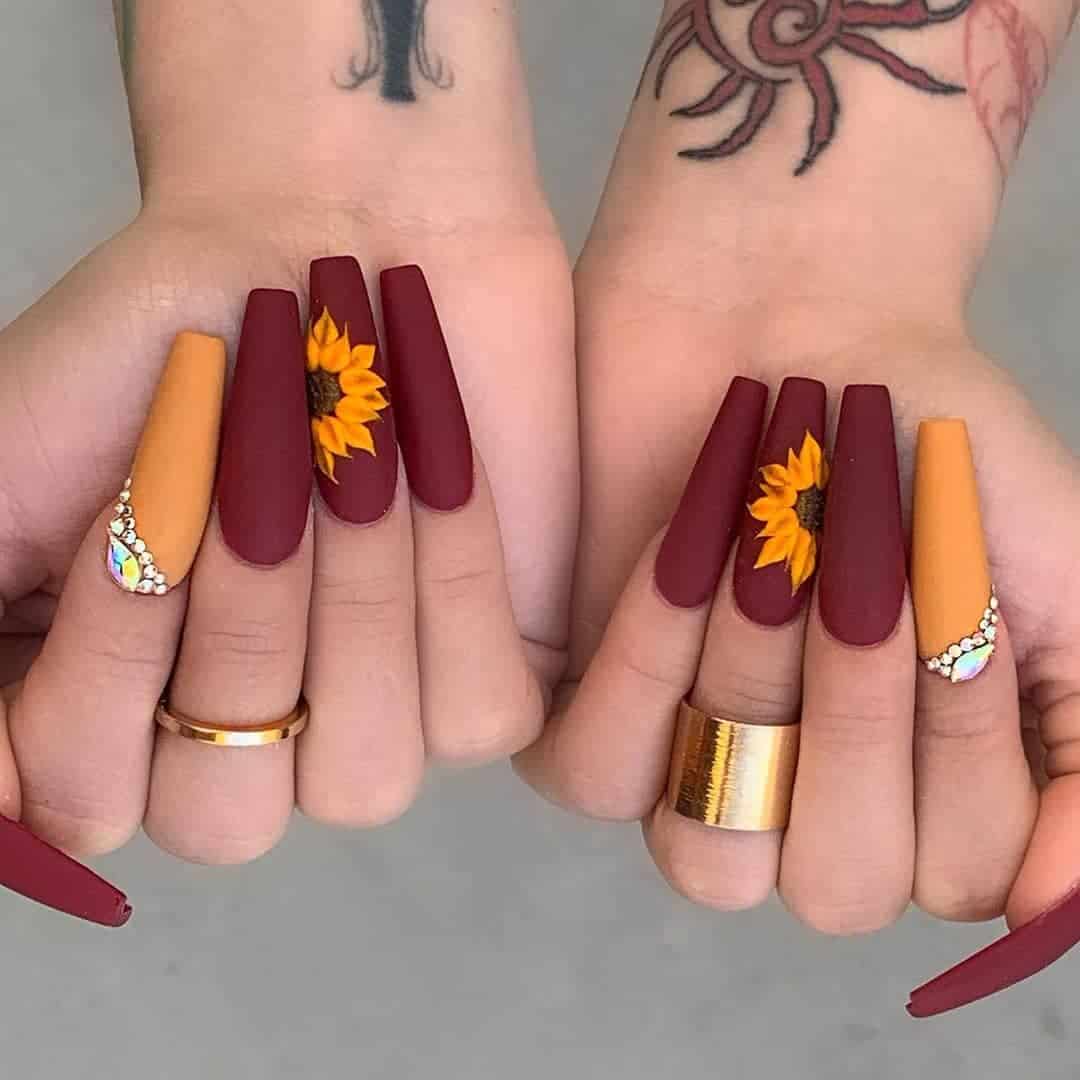 While sunflowers may be out of season, they always make your hands look adorable. Keeping the index fingernails in an orangish shade will uphold the fall seasonal vibe, while adding a sunflower on a deep red background will give more depth to your nail design. You can also try this nail design with some sunflower nail art stickers and embellish the index fingernails with crystals to see how it works for you.
44. Yin & Yang Pastel Fall Nails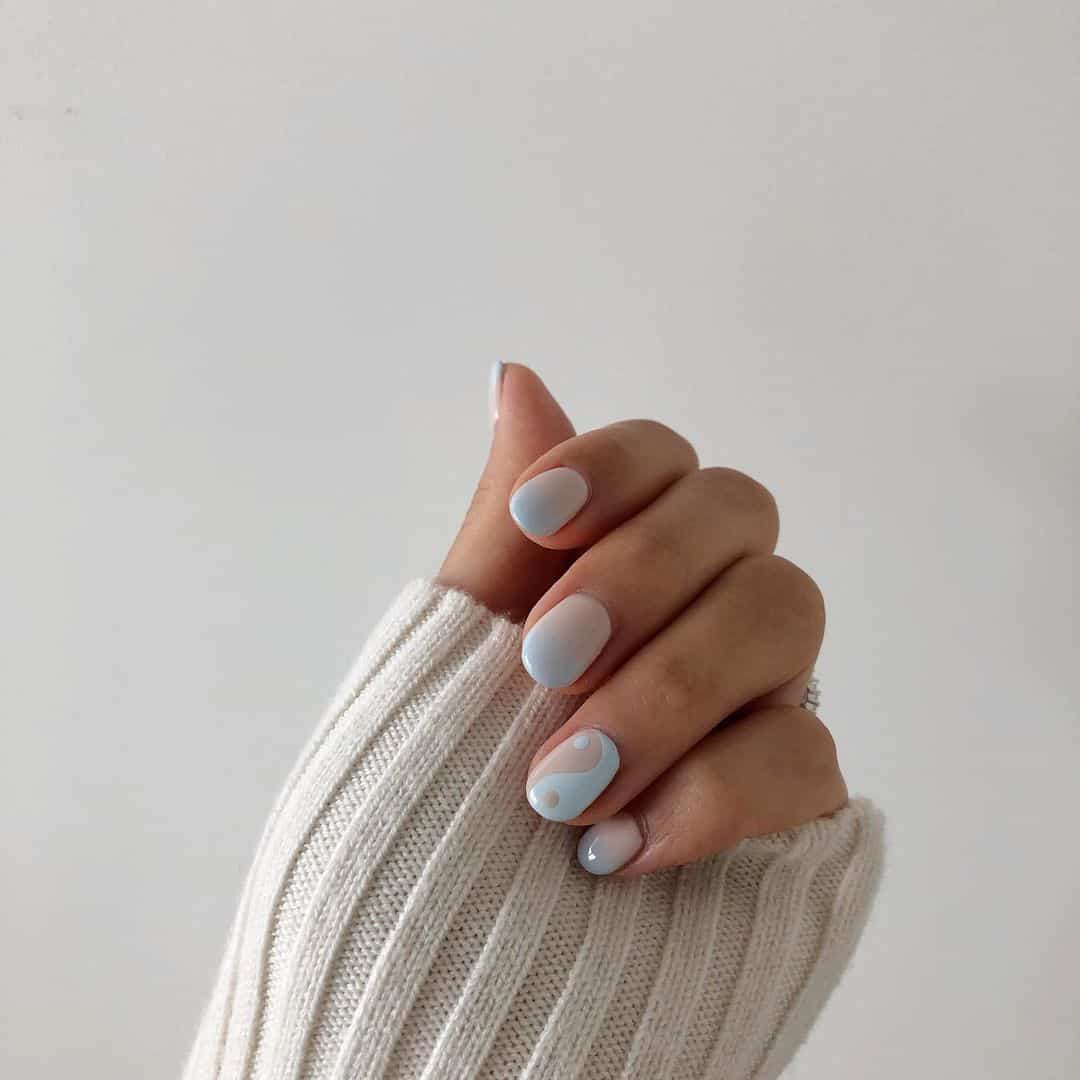 If you wanted to give your pastel ombré nails a different take, then create a yin & yang symbol on the feature nail with the same pastel hues, as shown in this one. This will not only make your nail design unique and cool but also add a deeper symbolic meaning to it, making it more significant to you.

45. Jack-O'-Lantern Fall Nail Art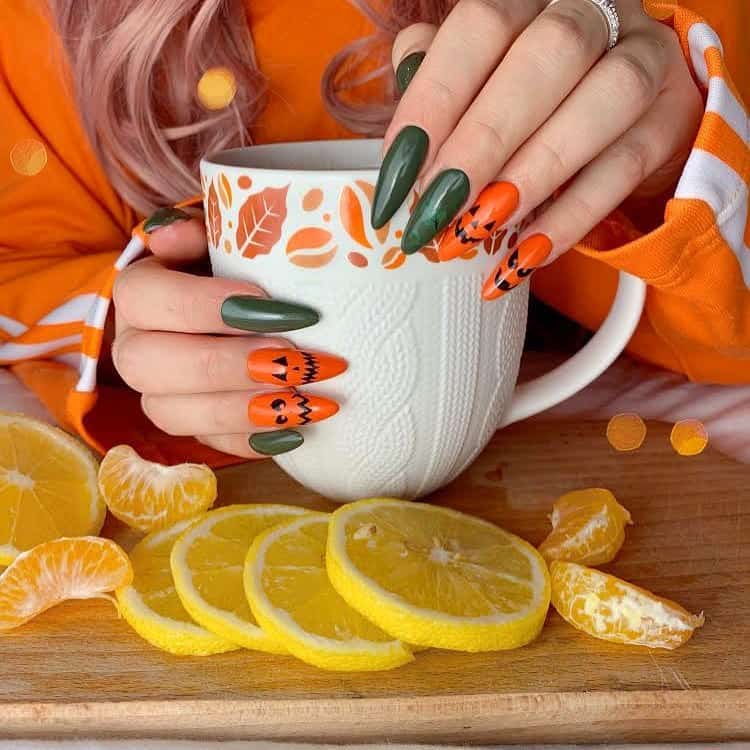 This intricate nail design can be the best way to celebrate Halloween and transition from sweet pumpkins to jack-o'-lanterns as the season progresses. Keeping the jack-o'-lantern nail art to two fingers and painting the others in forest green produces a stark contrast and makes your fall nail design pop stunningly. You can even keep the jack-o'-lantern on a single feature nail to get a similar vibe but with a bit less intensity.
46. Candy Cane Ombré Fall Nails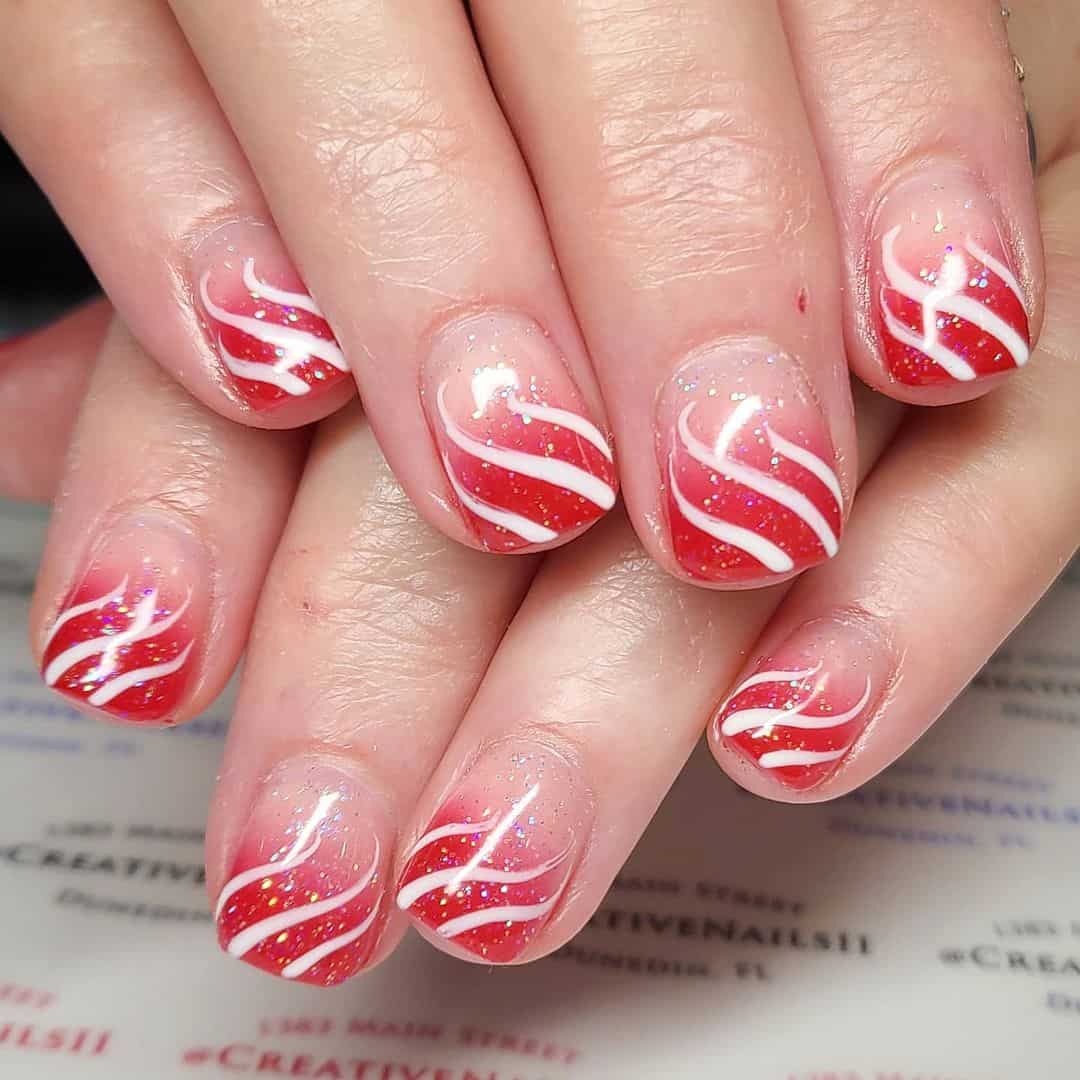 Dive deep into the festive spirit of fall and winter with this sweet nail design. Candy cane nails are one of the most popular Christmas-themed nail design ideas, so it will be a great choice for late November parties. Giving it an ombré effect makes the swirls look even more lovely, but you can also go all the way to the cuticles to achieve a more traditional candy cane nail design.
47. Plaid Fall Nails With Negative Space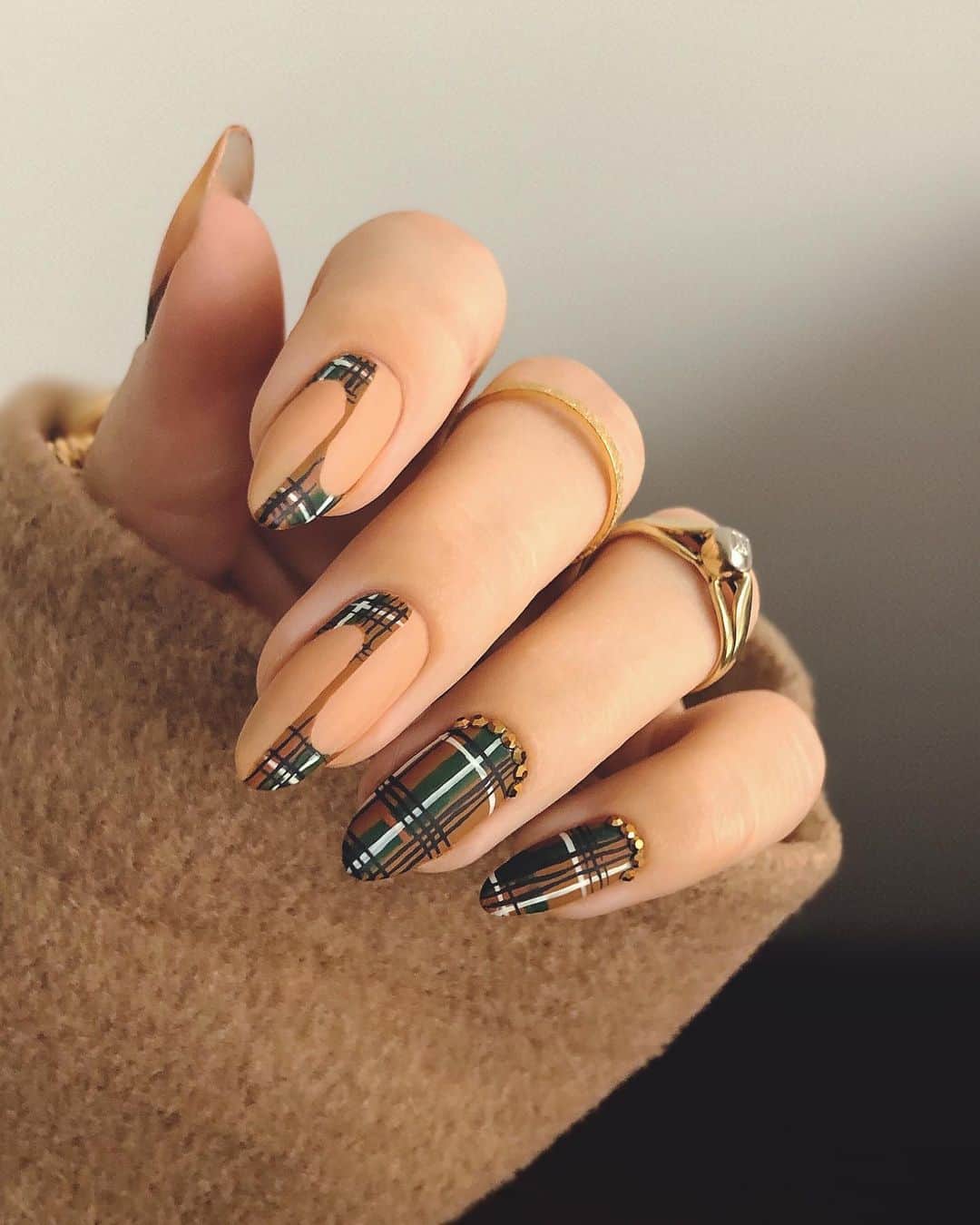 This graceful plaid nail design will go hand-in-hand with your favorite flannel and elevate your attire with some elegance. Instead of following a feature nail style as seen in the Matte Teal Plaid Fall Nails design, this one plays with negative spaces to make your nails look more exquisite. You can create the negative spaces with a neutral shade, as shown in this nail design, or keep them plain to balance your style.
48. Metallic Stripes Fall Nail Art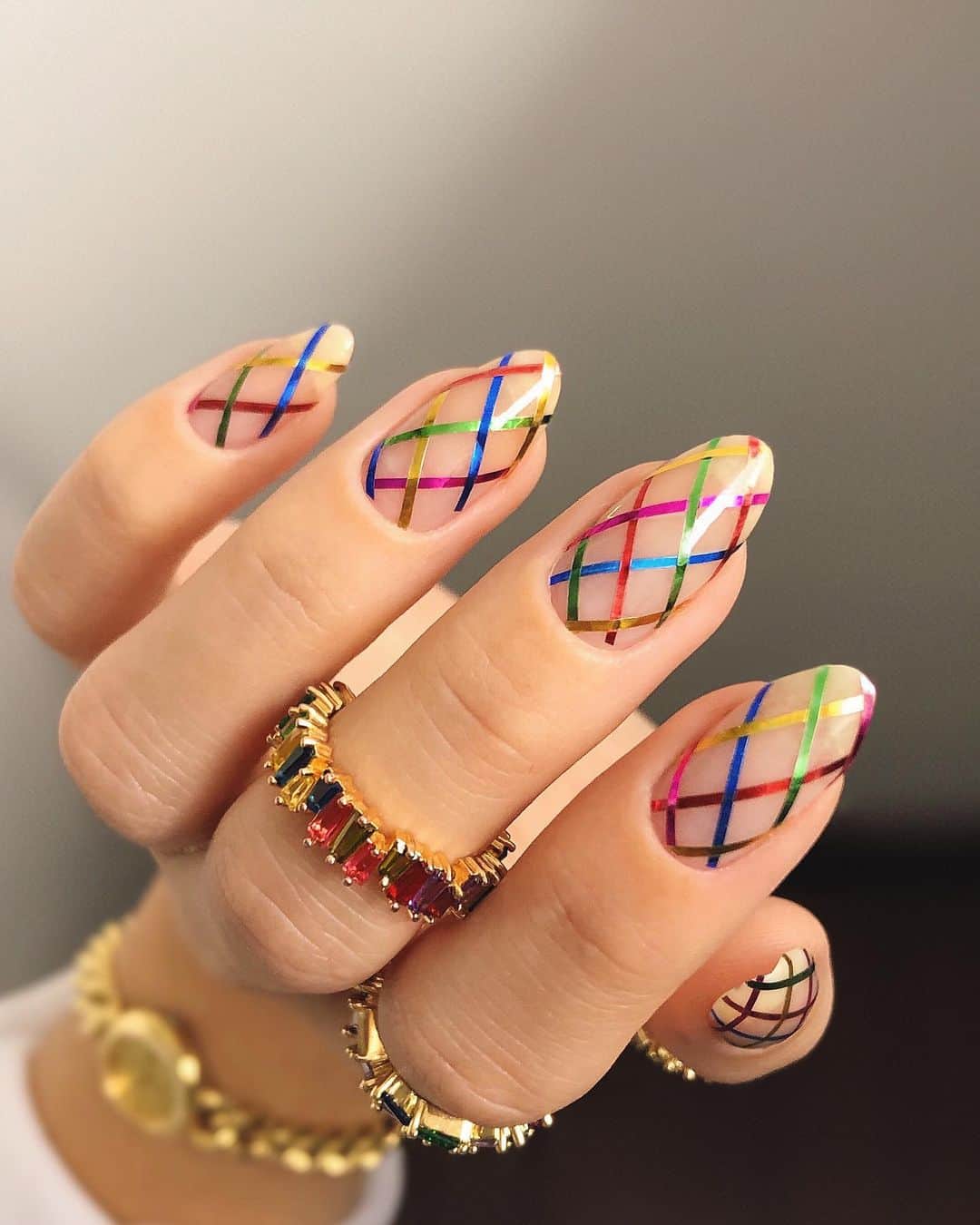 If you prefer intricate nail art, then this metallic stripe nail design will be an ideal choice to accentuate your fall fashion. Here, the geometric design is created with different royal shades to get a fall-friendly look and match the argyle pattern on your cozy sweaters. You can recreate this nail design easily at home with some nail art tape as well.
49. Fall Flowers Feature Nails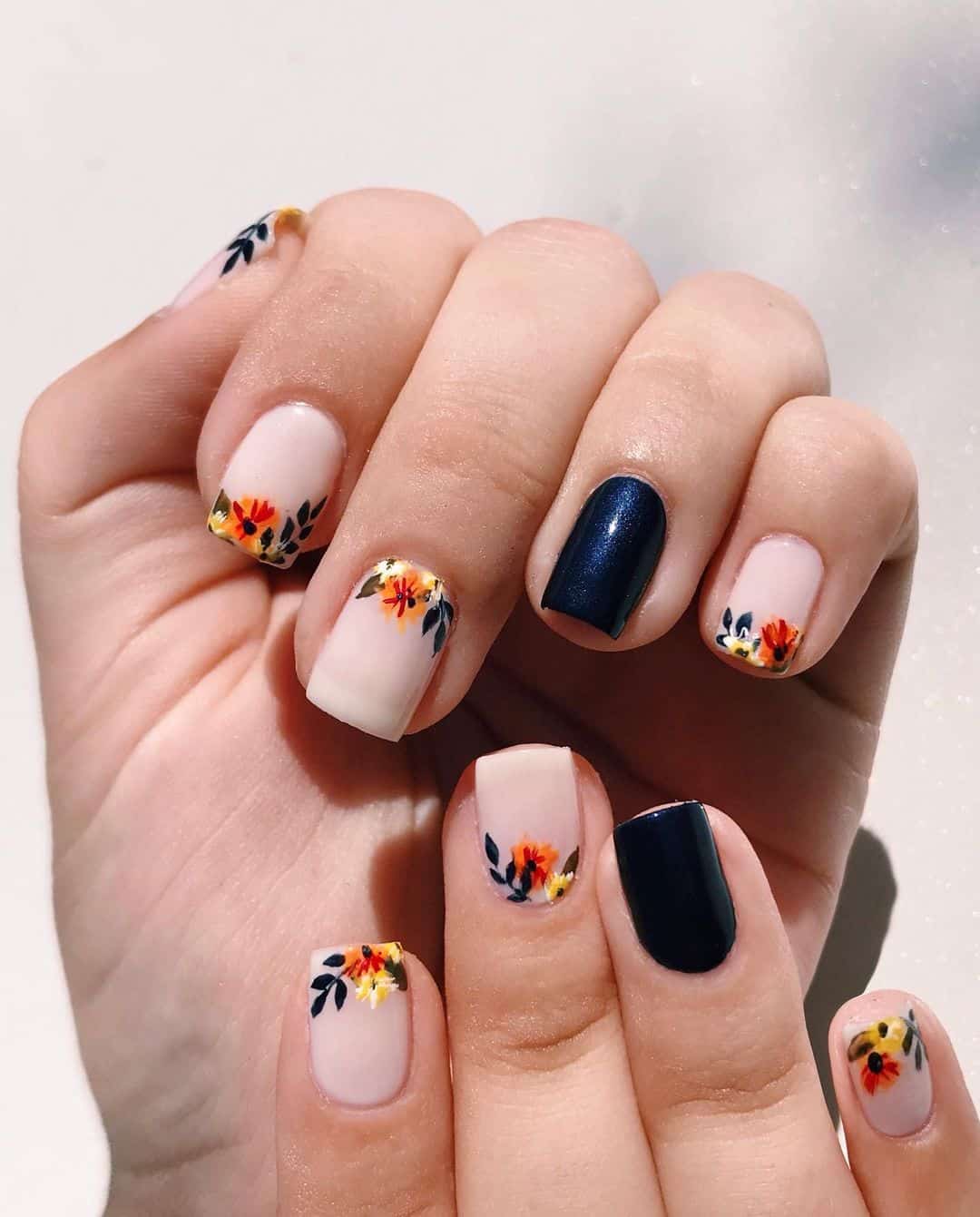 This is a different version of the Nude Floral Fall Nails design. Here, the floral accents are painted on a matte background across the hand with the exception of the ring finger, which is kept in glossy deep space blue color. This gives it a reverse feature nail look and allows you to express your creativity with some style.
50. Mix and Match Fall Nails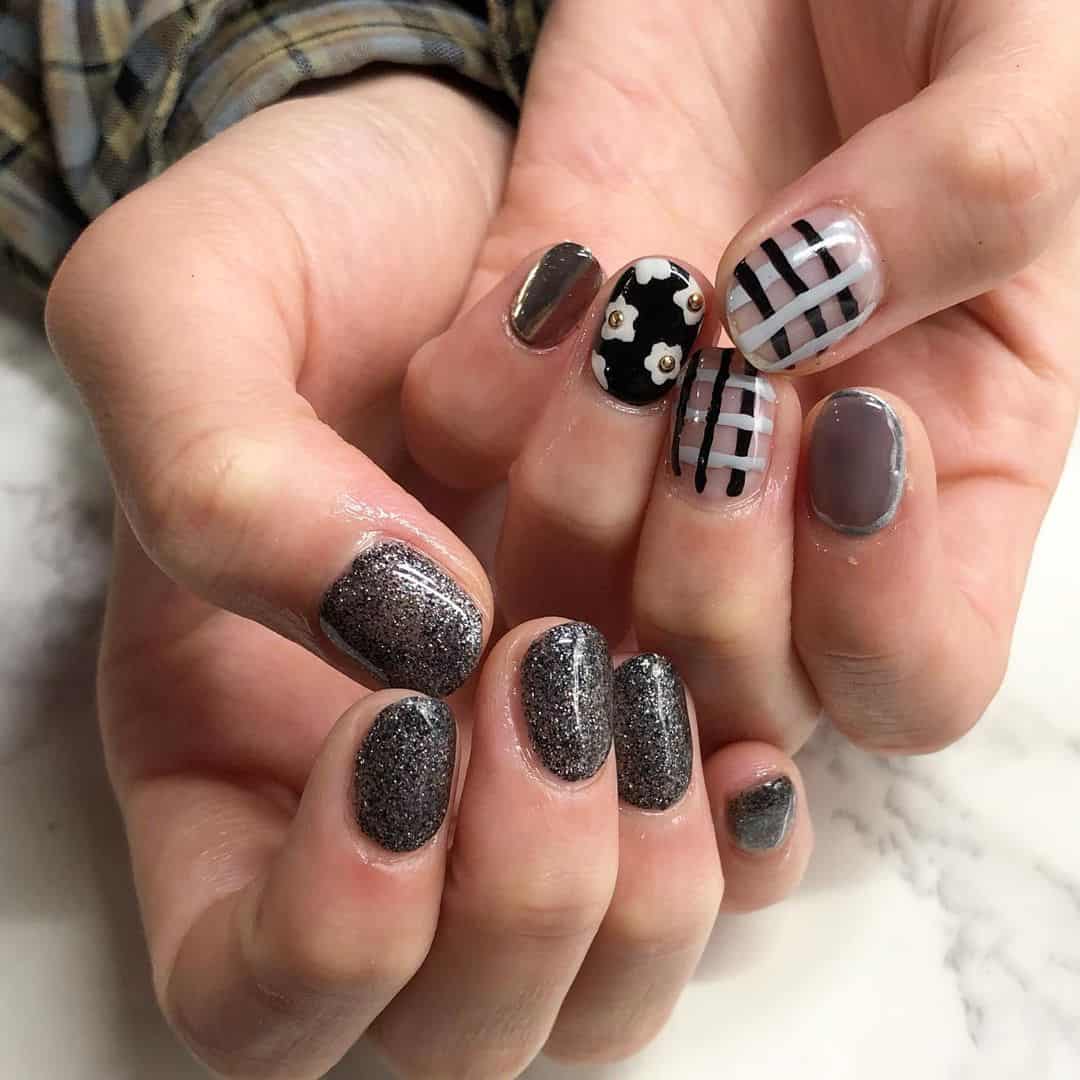 If you are looking for a truly assorted fall nail design, then try this one with black, gold, white, and mocha nail polishes. Here, you have white and gold florals on a black background on the ring finger, a plain gold pinkie feature nail, black and white plaid designs on the middle finger and thumb, and a plain mocha nail with a glittery outline on the index finger. You can also go with an entirely different shimmery design on the other hand, as shown in this one, or follow the same pattern – whichever you prefer.
Choosing the Best Fall Nail Design for You
With dropping temperatures and changing colors all around, fall is unquestionably the most inspirational season for fashion. So this allows you to try a different look in fall by adding a pop of color to your attire and nail art.
If you were looking to give your nails a bright makeover in fall, you can go with designs like tortoiseshell nails and abstract nail art.
However, if you wanted to keep it subtle and wanted something for daily wear, choosing designs like nude crystal nails OR red lines nails would be better.
Note that you should also make the choice based on your manicure type and nail length. Not all fall nail designs look appealing on all kinds of manicures and nail lengths, so you will need to figure out whether the nail design you chose will be ideal for your hands.
To make things easier, you can buy some acrylic nails and try recreating the design at home. You can also consult with a professional to learn how to determine the right nail design for your nail length and manicure.
Similarly, not all fall nail designs go well with all types of occasions. For instance, designs featuring intricate nail art or sparkly glitter may only be suited for casual parties and get-togethers, and not for formal events or daily wear.
Therefore, you should make the choice considering all the possible aspects that you take into account when selecting the right outfit for the occasion.
Wrapping Up
Fall fashion is all about giving a fresh color update to your overall attire and achieve a stunning look. The above-mentioned fall nail designs allow you to embrace what's trending and create a statement appeal that blends well with the seasonal vibe.
Just pick the best one considering your styling preferences, the occasion, and your manicure type, and rock the season by unleashing your inner diva.