Editor's Note: Purple is one of my favorite colors, and it's making a comeback. From Angela Bassett's striking lilac Oscars gown to Emily Ratajkowski's rich plum mini-dress for her Met Gala afterparty, purple is making a splash in 2023.
If you want to work a bit of that glamour into your own look, why not adorn your nails? Purple, especially deep aubergine, is neutral enough to go with most looks in your day-to-day life while still giving a little pop of color. This is one of the reasons why purple tends to be my color pop element of choice–it's easy to make purple look great.
We've gathered 50 purple looks for you that range from light tones to deep, from ultra-sparkly to matte, and from intricate to simplistic to suit any fit.
There are tons of great purple nail designs to consider if you are looking for an elegant and chic way to wear this less common color. The sheer number of hues that purple is available in makes it a versatile option when styling nails. Purple nail art is quite flexible, too, as it works well with any skin tone and length of nails.
The designs mentioned here show how purple can be used in many styles, from simple minimalist purple designs to more intricate ones with creative detailing. If you are looking for a fresh new look for your nails, this list will not disappoint!
50 Purple Nail Designs to Make Your Nails Stand Out
Selecting the right nail polish or nail design can be as challenging as picking the right outfit to suit a particular occasion. The last thing you want is to keep changing your nail polish to match your attire, but, instead, opt for a design or color that matches your entire wardrobe. Choosing nails that are both fun and suited to the occasion can be daunting, but a respite in purple nail designs you will find.
Purple nail designs go with nearly any style and color. Whether the occasion is a fun night out or a more formal one, you can trust that purple will not disappoint. Many designs go all out, and at the same time, many are beautiful and soft. Anyone can pull off purple nails with ease – all you need to do is go for it! Purple nails can be dressed up or dressed down without the need for radical change. With so many options to choose from, you will find a style that suits your needs.
The purple nail designs mentioned here range from matte to glitter nail polish with jeweled accents and sequins. You are bound to find what you are looking for, regardless of which option you choose!
1. Galaxy Glitter Nails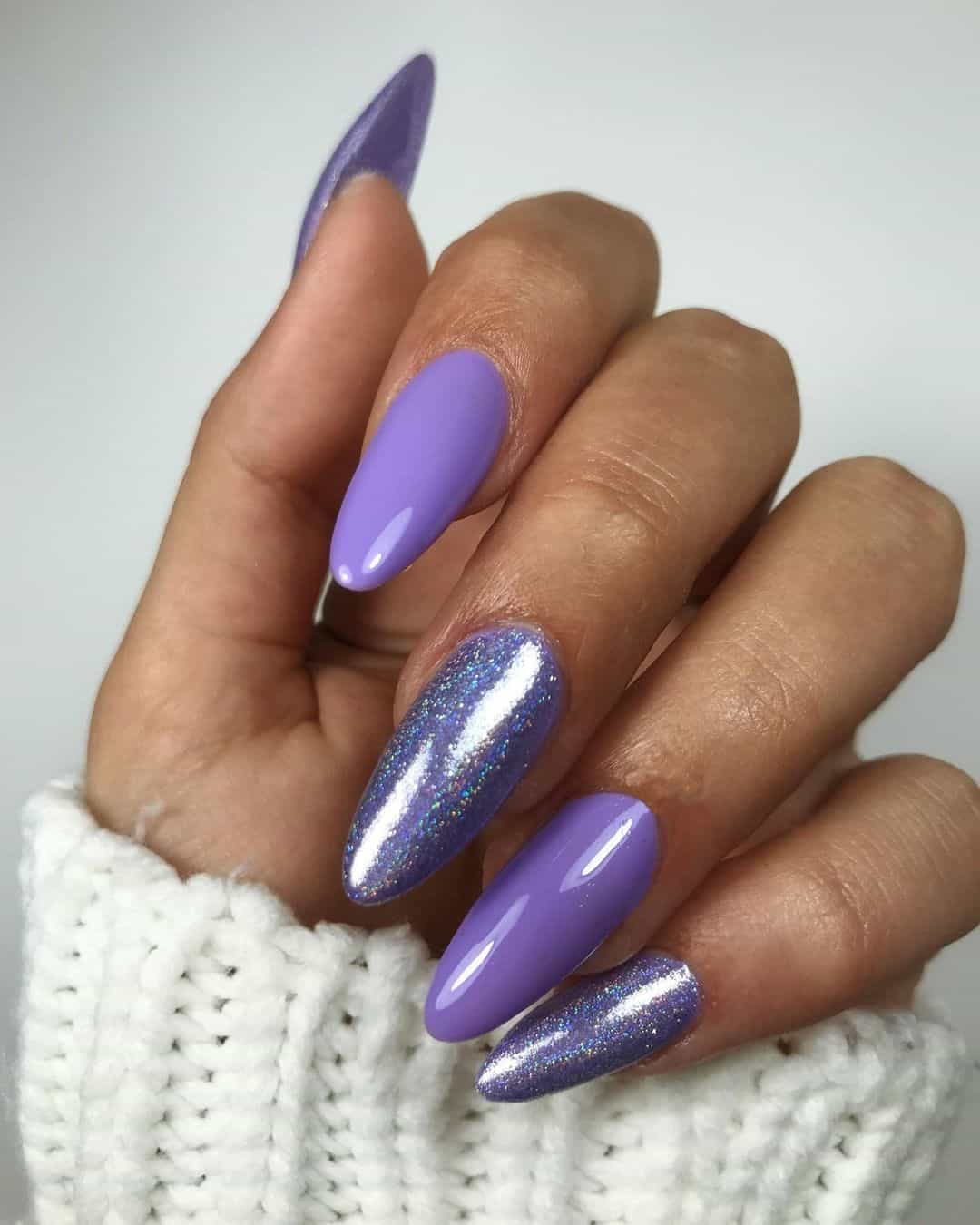 If you are looking for a shade that matches all looks and styles, this is the perfect nail art for you. Begin by applying amethyst glossy nail polish on alternating nails and glossy galaxy glitter paint on the remaining. The application of nail polish in this fashion creates a well-balanced look accentuated by the almond-shaped nails.
The fingernails look modern and chic, working well when paired against neutral hues such as white and ivory. Sport these nails in a formal or informal setting to look your best.
2. Majestic Purple Fall Nails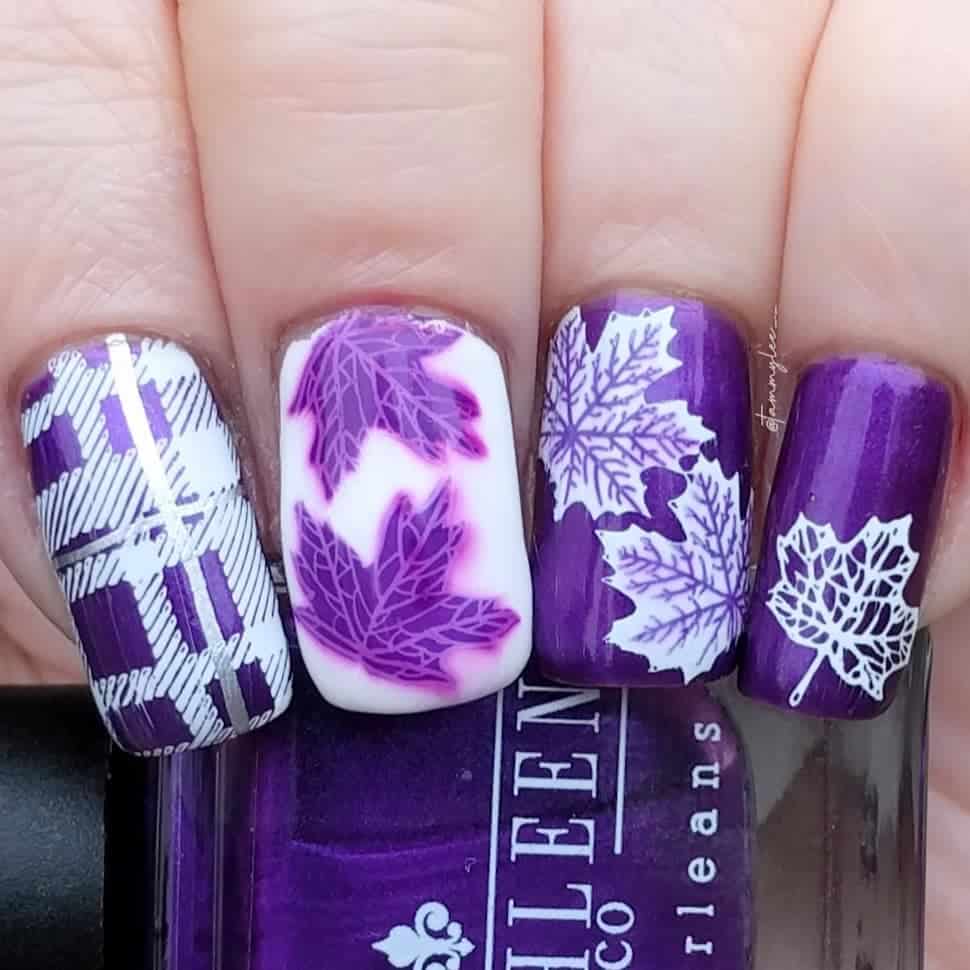 Fall in love with these fall nails that take on the many nuances of autumn. Contrasting white maple leaves against a majestic purple background, along with purple leaves against a white backdrop, make these nails very appealing. Purple and white nail colors are used on the index fingernail to create a plaid pattern that reels in a warm autumn vibe. You can sport these nails with a complementary color such as red or orange.
3. Aurora Borealis Themed Nails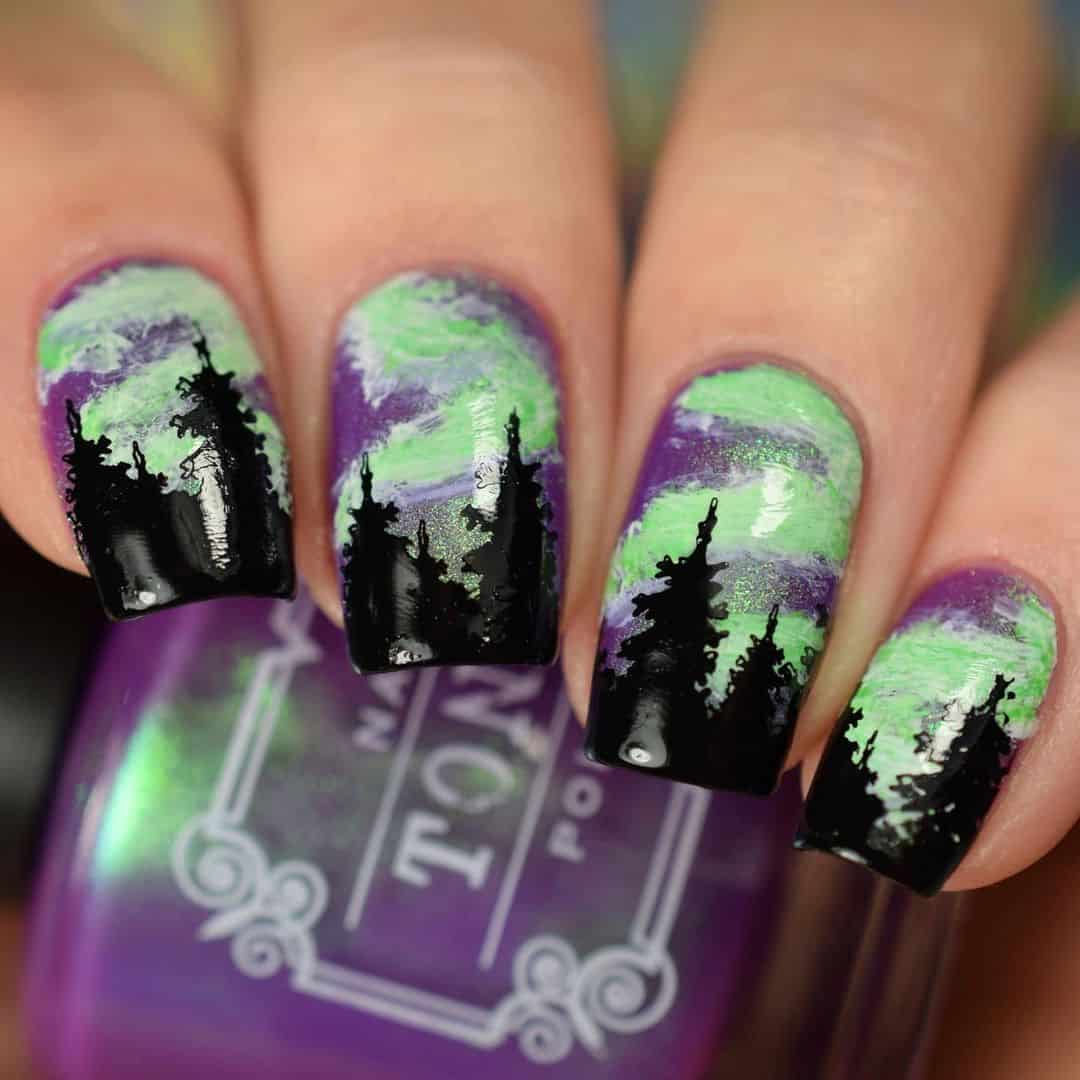 Capture the beauty of the Northern Lights with this nail design. The nail polish transitions from bright violet to an invisible lilac tinted grey. A soft mint shimmer that almost shifts to blue forms the lights in the sky. Black nail polish creates a silhouette of trees making for a stunning visual. Sport these nails with a lighter-hued outfit to make them stand out!
4. Spooky Halloween Nails With Black Gel Detailing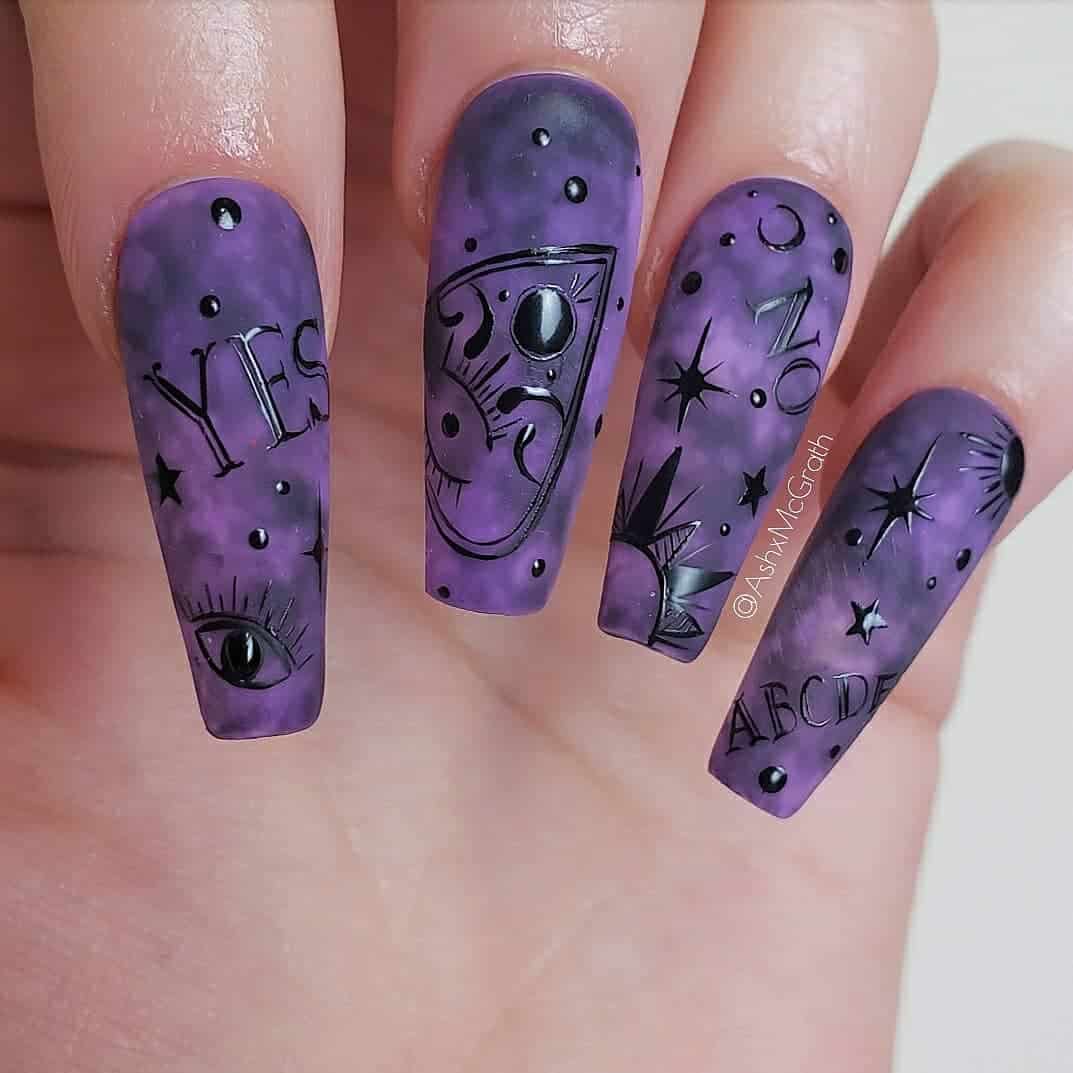 These nails are a must-try if Halloween is just around the corner. Not only are they spooky and whimsical, but also super chic! Coffin-shaped long nails in a smoky, cloudy, ash-like backdrop form the base of these nails. A blend of purple and black nail polish helps to create the base. Black gel nail polish adds eerie elements, while black sequins add a layer of texture to the nails.
5. Lavender Glossy Nails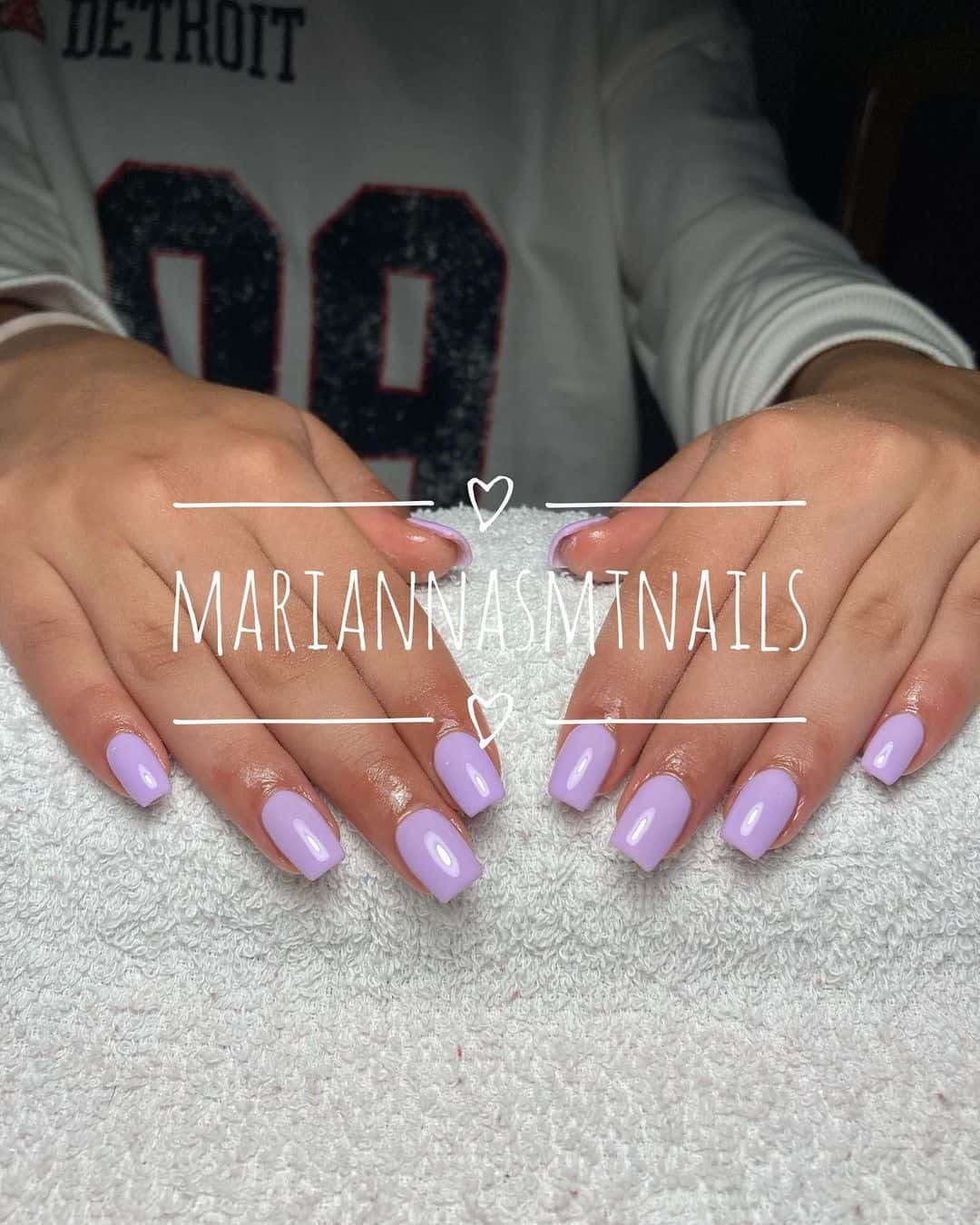 Consider painting your nails in a shade of lavender or light purple for a simple and chic look. Square-shaped nails, in a length of your preference, are ideal for this look. Ensure that your nails are trimmed and neat, as square-shaped nails have sharp corners that make every little detail visible. These nails are perfect for everyday wear as they do not require a great deal of maintenance.
6. Floral Patterned Purple Nails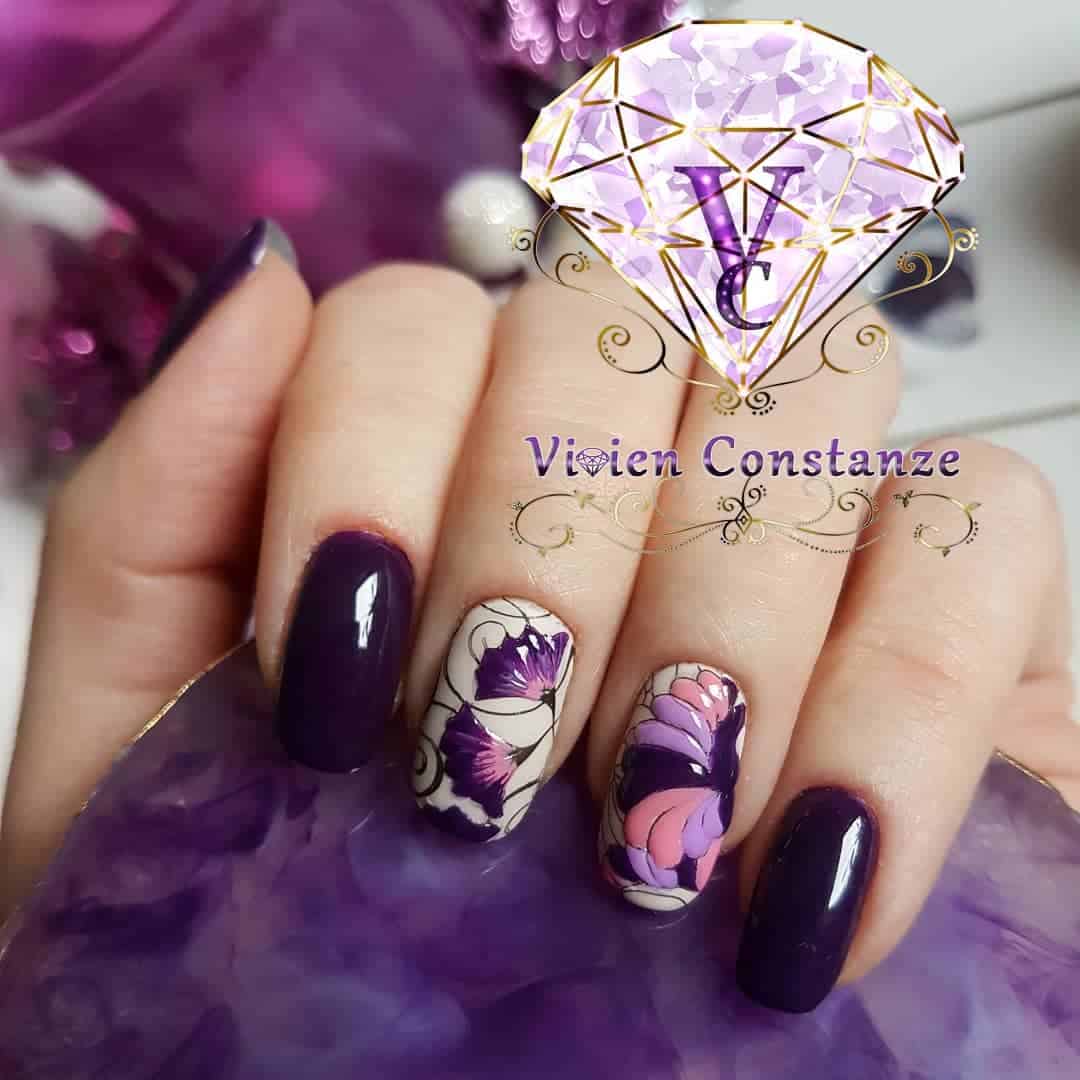 This nail art aims to create a bold look that is extravagant and elegant. The use of dark Byzantine purple creates depth, balanced perfectly well by the off white hue of nail polish. Intricate floral designs in shades of purple and pink create a glass painting-like effect. Sport these nails at a grand event such as a wedding or gala to look your best!
7. Sparkly Purple Glitter Nails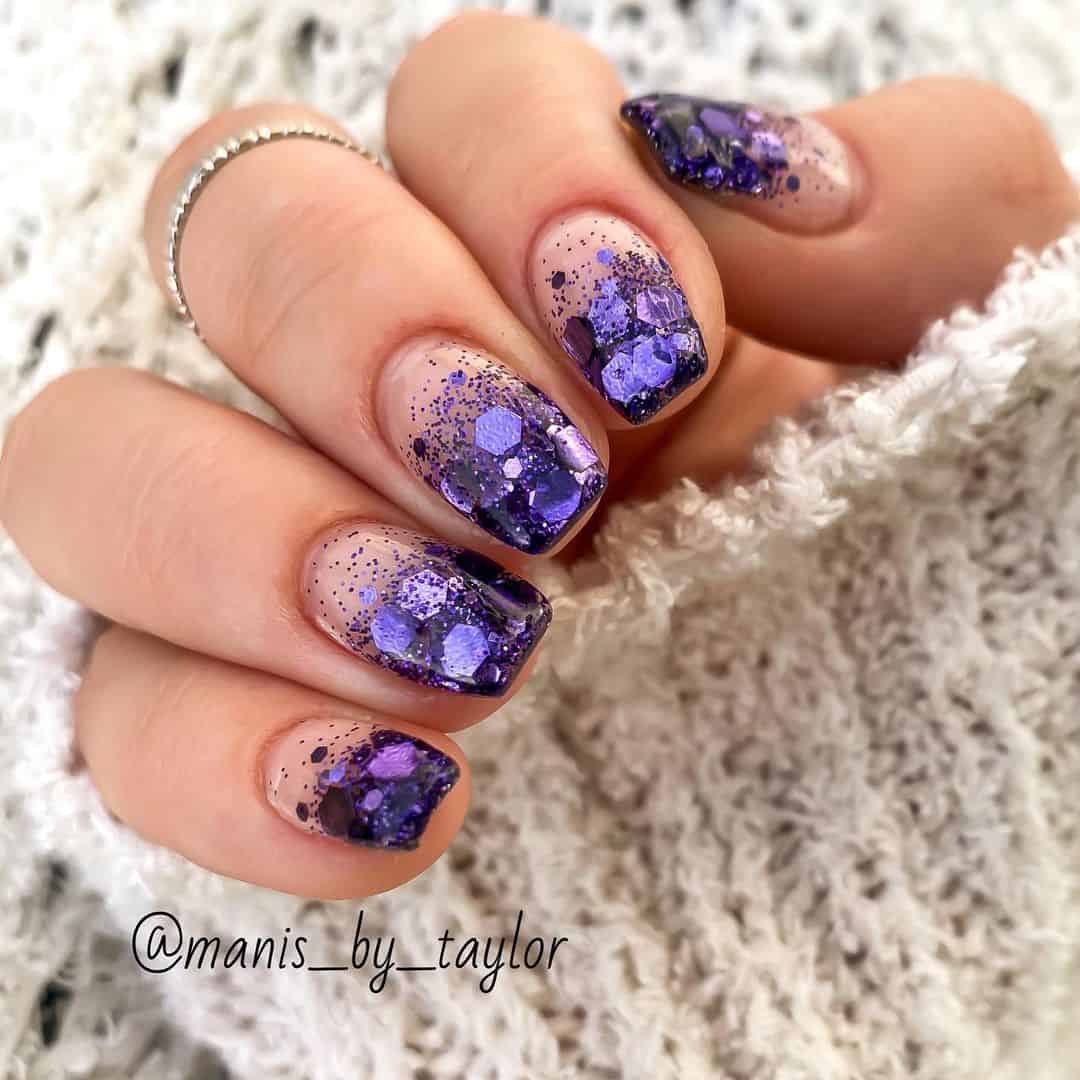 These nails start with a clear transparent base leading up to tips with a generous amount of glitter. The color palette ranges from dark purple to black forming a unique cushion of colors. A layer of hexagons gives rise to a textured look. This look works with any length – for a bolder look, consider getting this design on square or ballerina shaped nails.
8. Purple Tips With a Marble Feature Nail
These purple tips with a peach base are a great way to make a statement. A clear base leads to a square nail tip balancing the bright pop of color that emanates from the purple tips. A unique touch is added by the marble accent nail that combines white and purple for a unique touch. Glossy nail polish locks in the sprinkle of glitter, completing the look. If you are feeling particularly wild, these nails are for you to try!
9. Shimmering Violet Galaxy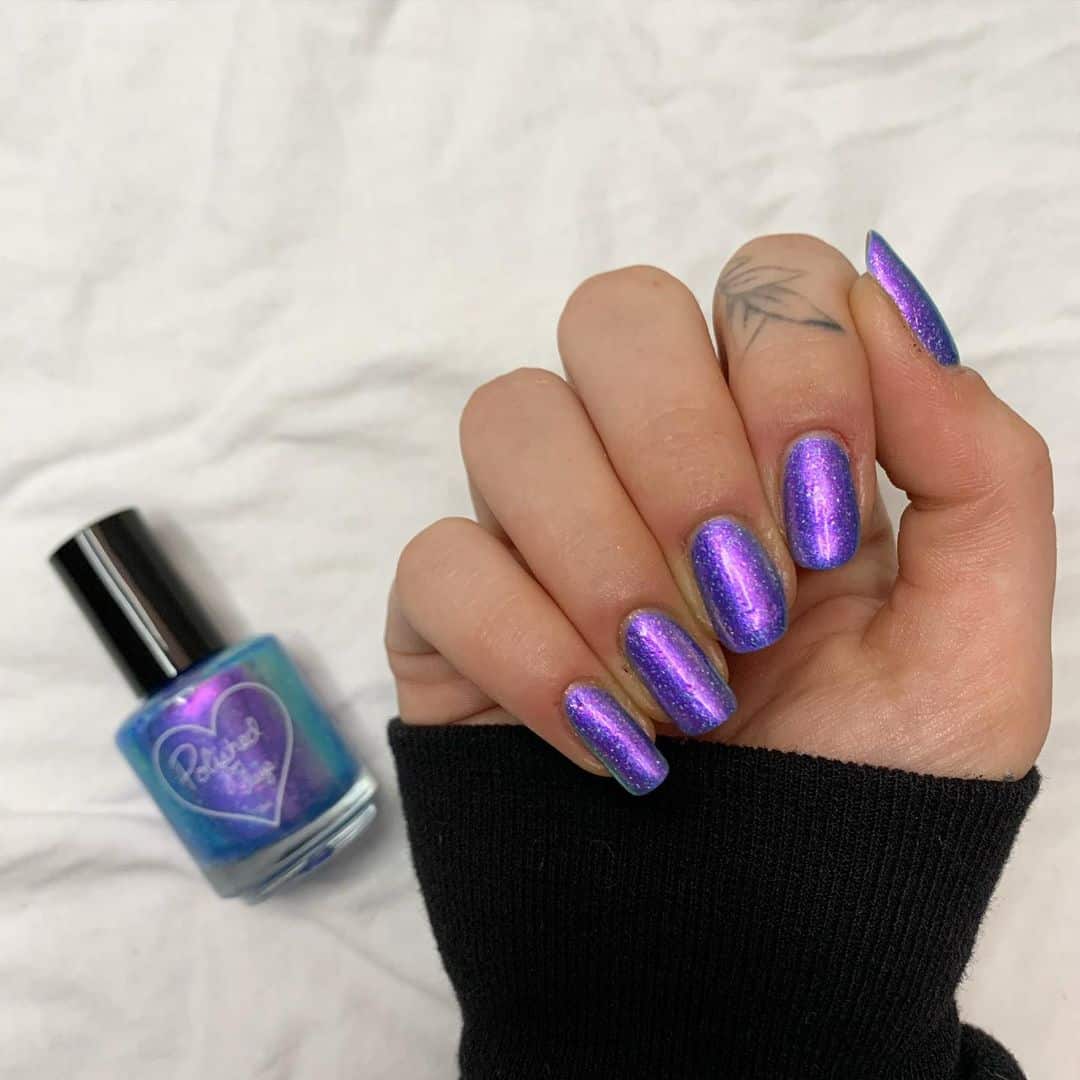 Violet shimmer nail polish makes these nails sparkle, almost like a sky full of stars. Square oval or squoval nails create a rounded effect that keeps the nails in check. Shimmer nail polish creates the best look when two or three coats are applied. You could even add a coat of clear nail polish over it for a glossy finish. Pair these nails with your favorite little black dress for date night or perhaps a fun night out.
10. Matte Lilac Nails With a Clear Accent Nail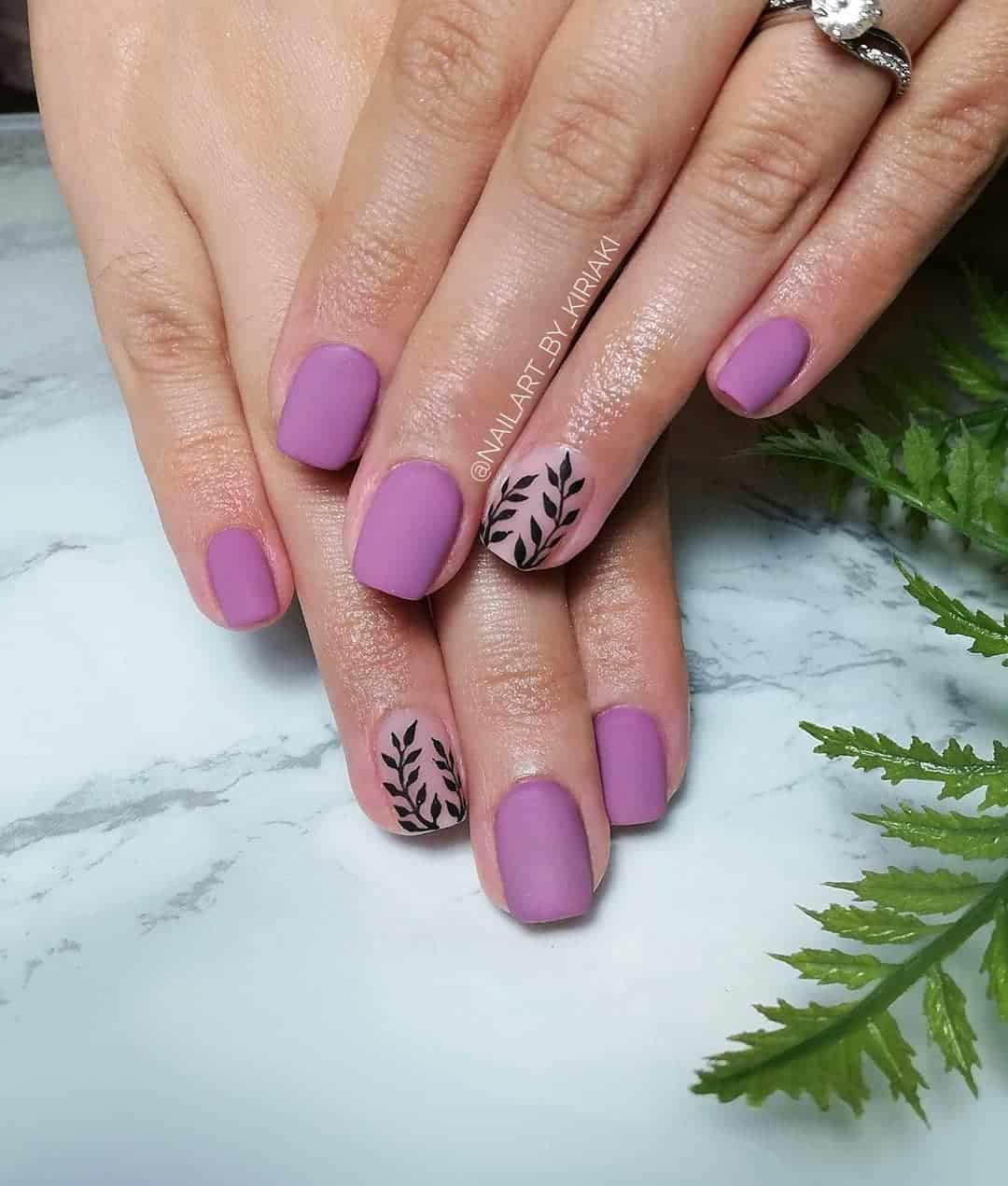 Lilac is a subtle hue that is perfect for a toned-down look. You can opt for matte lilac nail polish instead of glossy nail polish if you are looking for a softer tone. Clear nail polish is made use of as the base of the accent nail, although painting directly on your nail or using a stamp to print the pattern works just as well. This design features a leaf-patterned motif adding the right amount of detailing to the nails. You can sport this look in a formal or informal setting.
11. Starry Night Purple Nails With Red Shimmer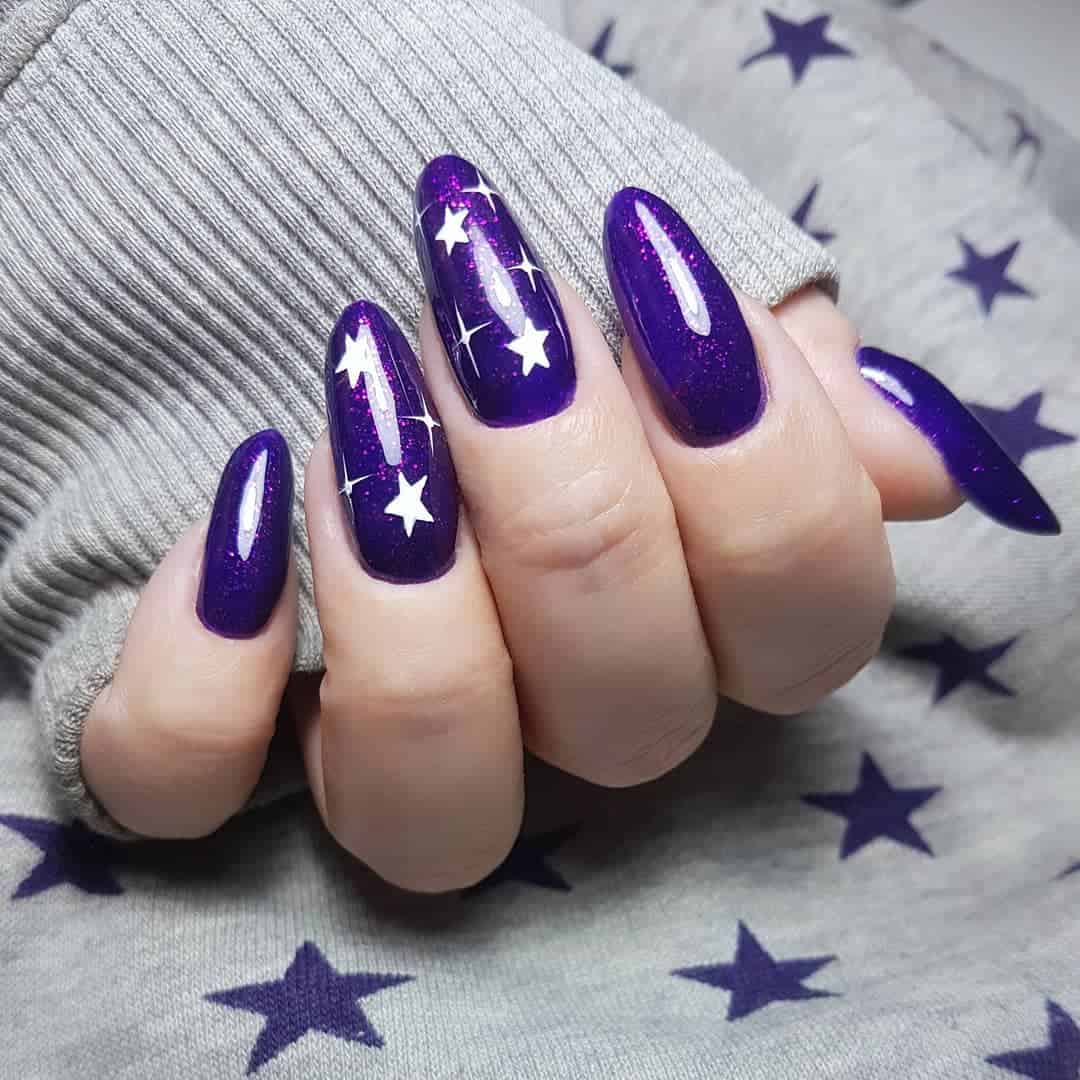 Glossy purple nail polish with a red shimmer forms the base of these nails. The presence of printed stars and diamonds on the nails accentuates the shimmer giving rise to a sparkle effect. The white print complements the purple base, making it the perfect canvas for the design. Pairing these nails with lighter-hued outfits in grey and white would make them stand out.
12. Trendy Long Icicle Stiletto Nails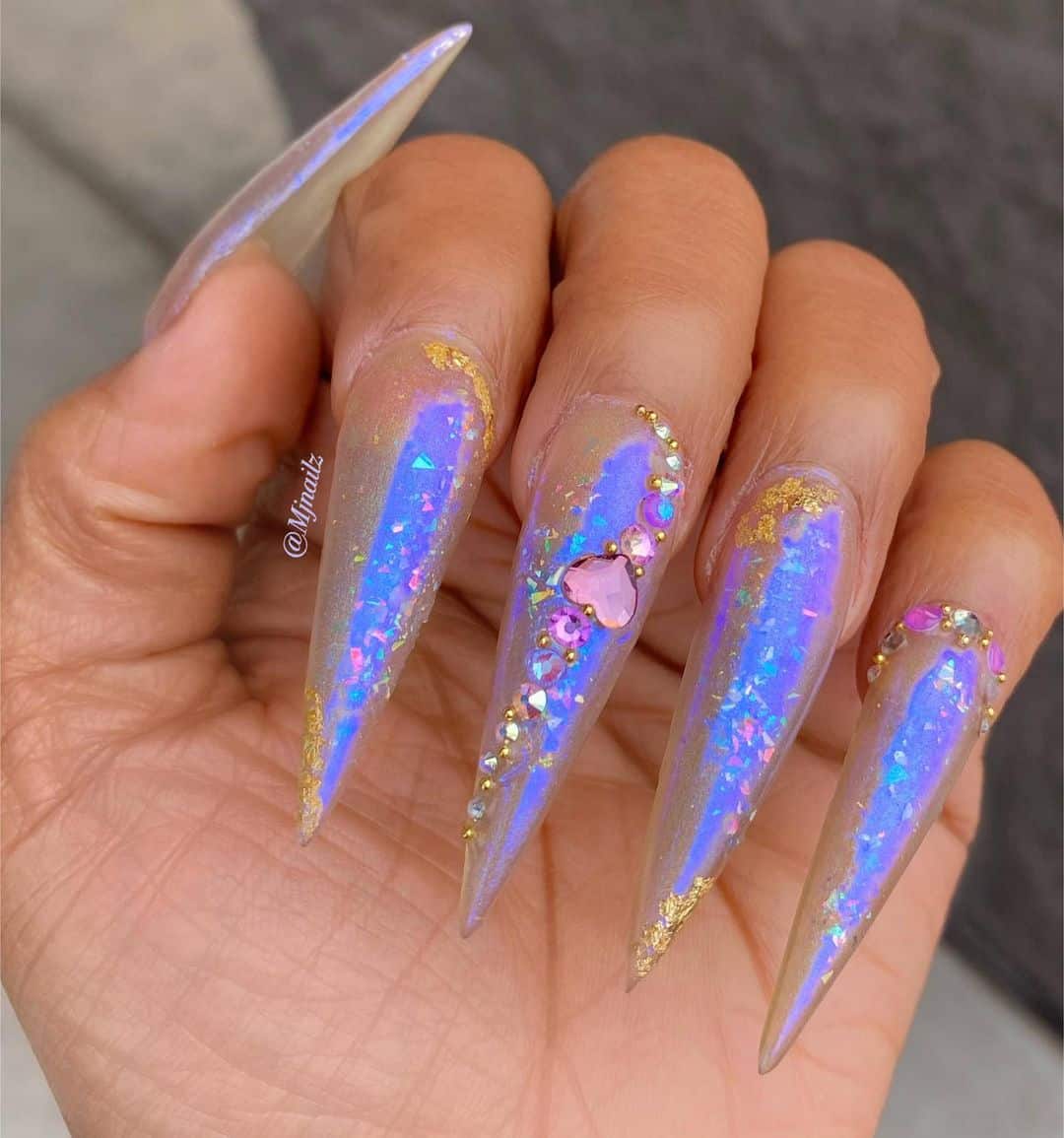 Chrome nails are lovely to experiment with if you are feeling playful. These stiletto nails take on glazed light purple nail polish infused with blue, pink, and green glitter. Gently placed gold foil along the tips of the nails contribute to the glam factor of the look. The finishing touch that bridges the entire look has to be the beautiful studs tracing the middle fingernail in a curved fashion.
13. Periwinkle Ballerina Nails With a Butterfly Accent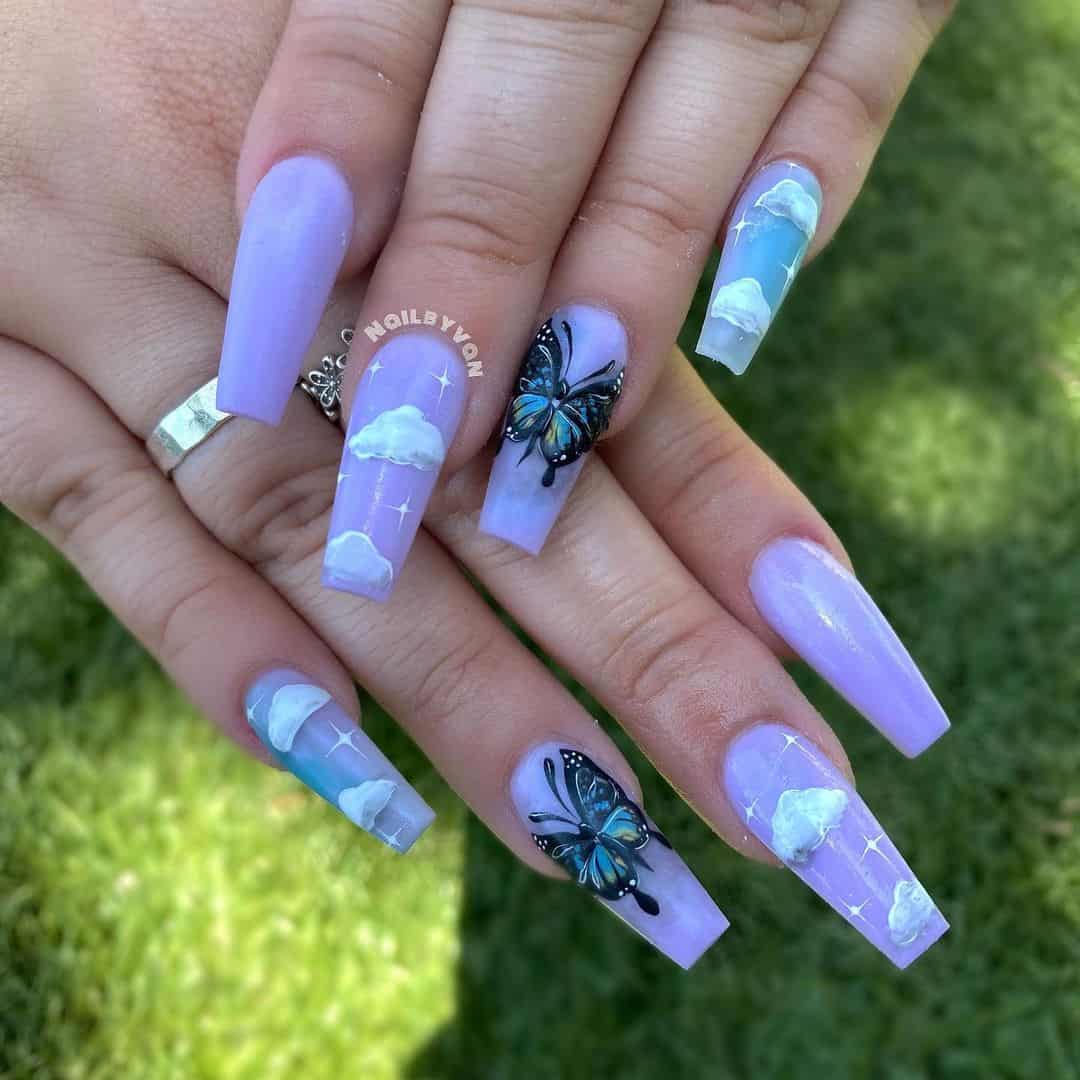 Periwinkle, an otherwise muted color, is brought to life with creative detailing here. The accent nail hosts a butterfly print bordered with acrylic black gel paint, the wings in blue nail polish with white dots. The choice of clouds and stars on every other fingernail makes for a sparkle that is impossible to miss.
The nail art sends out a message of hope, to let you spread your wings and reach for the sky. These nails are perfect for formal and informal occasions as the blend of colors chosen complements any color.
14. Bright Playful Light Purple Nails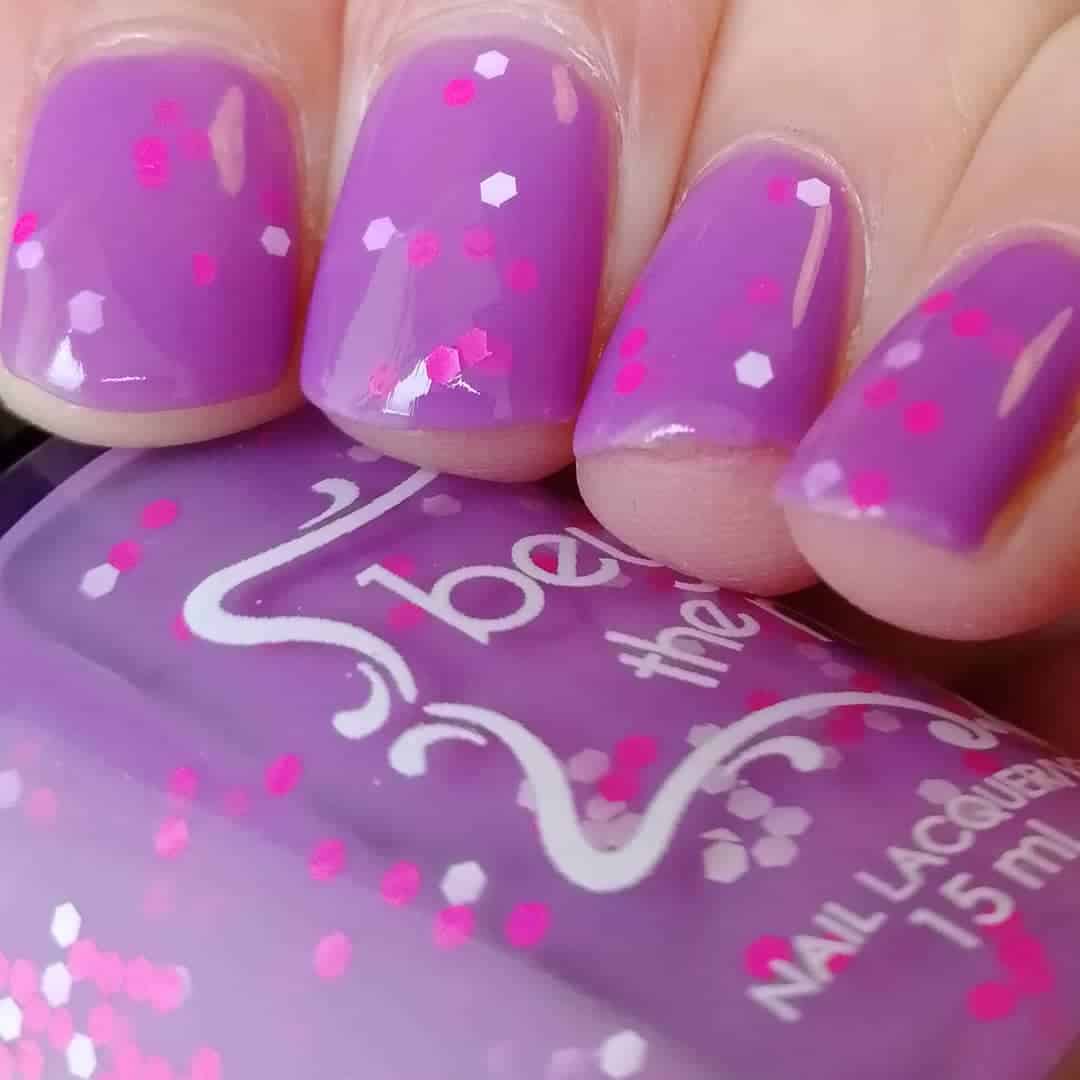 These bright purple gel nails come with white and neon pink hex glitter making them a fun, fashionable option. The choice of glossy nail polish adds a playful element to the nails. If you are not looking to grow your nails out too long, this is the perfect choice as the look works better on shorter nails. You can sport these nails with a peppy floral dress to bring out the best in them.
15. Violet Nails With Mandala Design
Several coats of violet nail polish are made use of to form the base of these nails. Two of the accent fingernails feature a mandala design in brass paint. Glossy nail polish paired with the brass print creates a royal effect making for a stunning combination! The symmetrical pattern and the color palette in this nail art make it truly unique.
16. Lavender Nails With Butterfly Acrylic Accents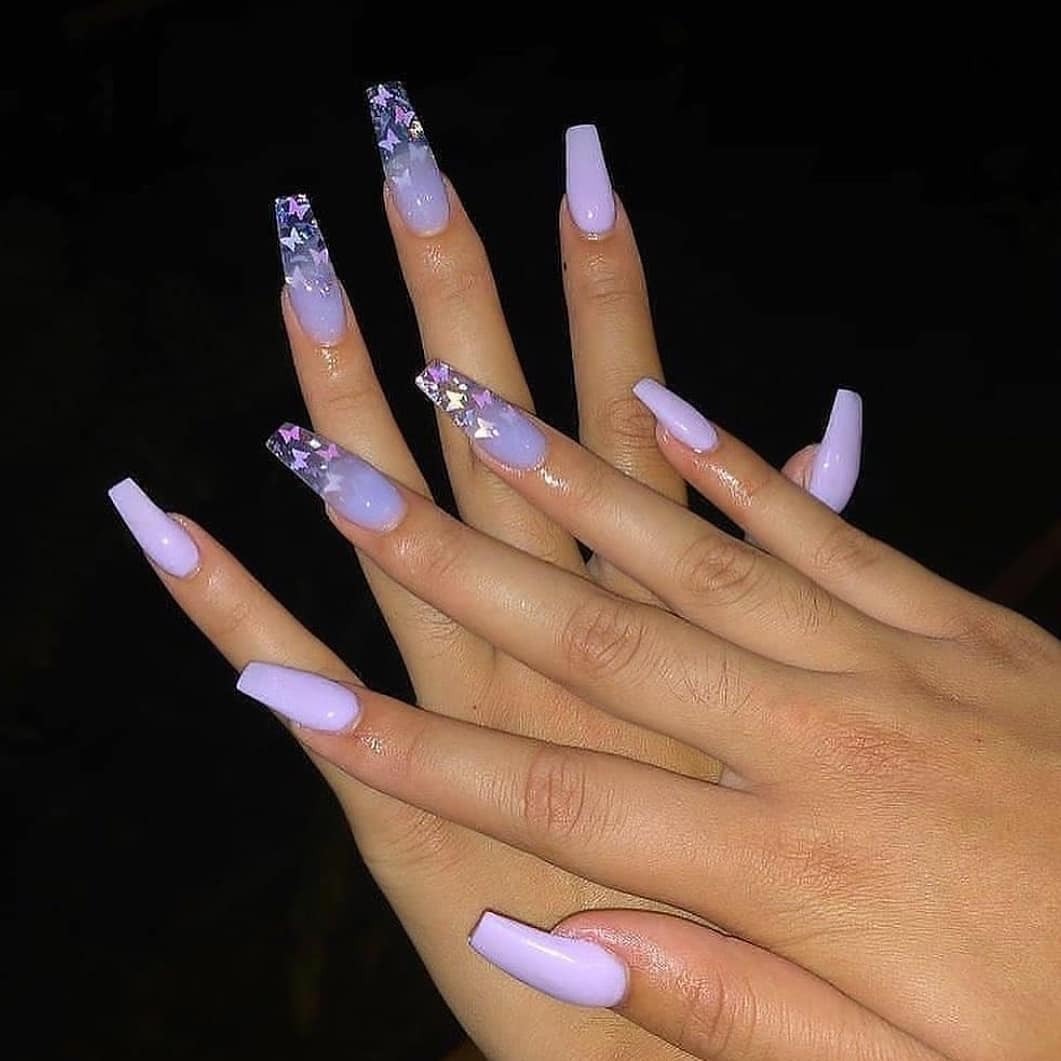 Lavender is a subtle hue that is charming and alluring at the same time. Coffin-shaped nails painted in a few coats of lavender paint create a pleasant look accentuated by the acrylic nails creating a dual effect. The beginning of each fingernail is painted in lavender, transitioning to clear, transparent nail polish. The acrylic nails have butterflies imprinted on them in shades of lavender, silver, and lilac.
17. Marble Purple Nails With Golden Flakes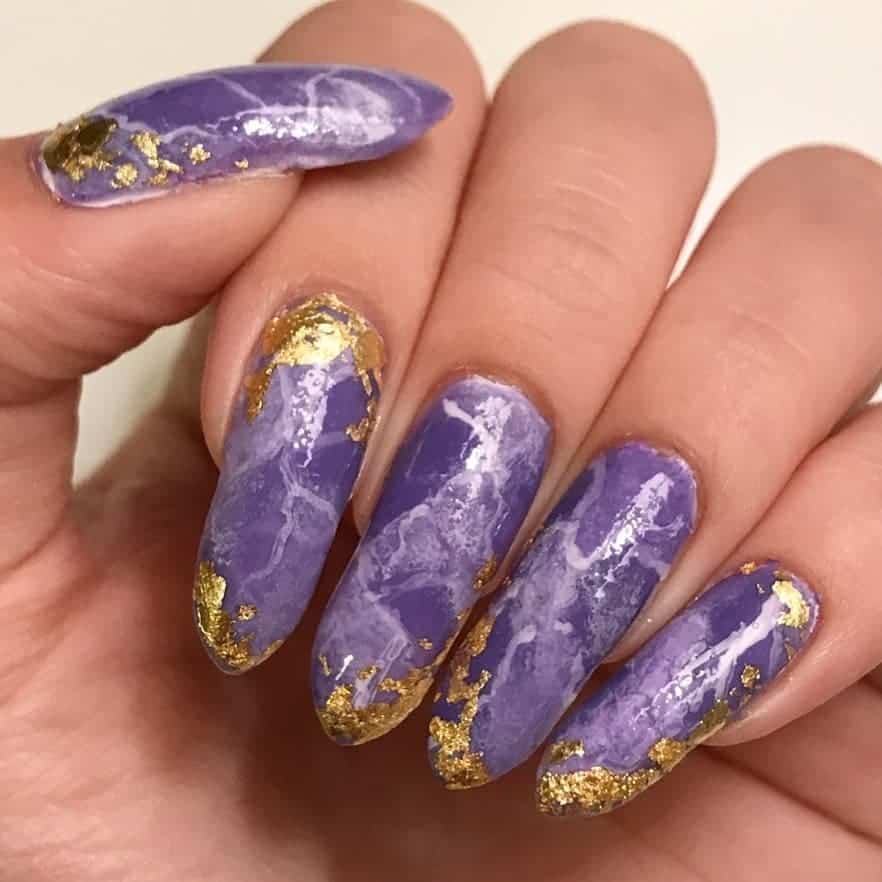 Purple marble nails are a great option to experiment with if you're looking for an edgy look. Dark and light purple, as well as white, unite, giving rise to a look that is modern and unique. Gold flakes meticulously placed on the tips ups the style quotient of the nails significantly!
Multiple colors, when featured in this manner, give texture to the nail art. Rounded nails are ideal for this look as they highlight the gold flakes.
18. Cute Purple Nails With Black Eggshell Nail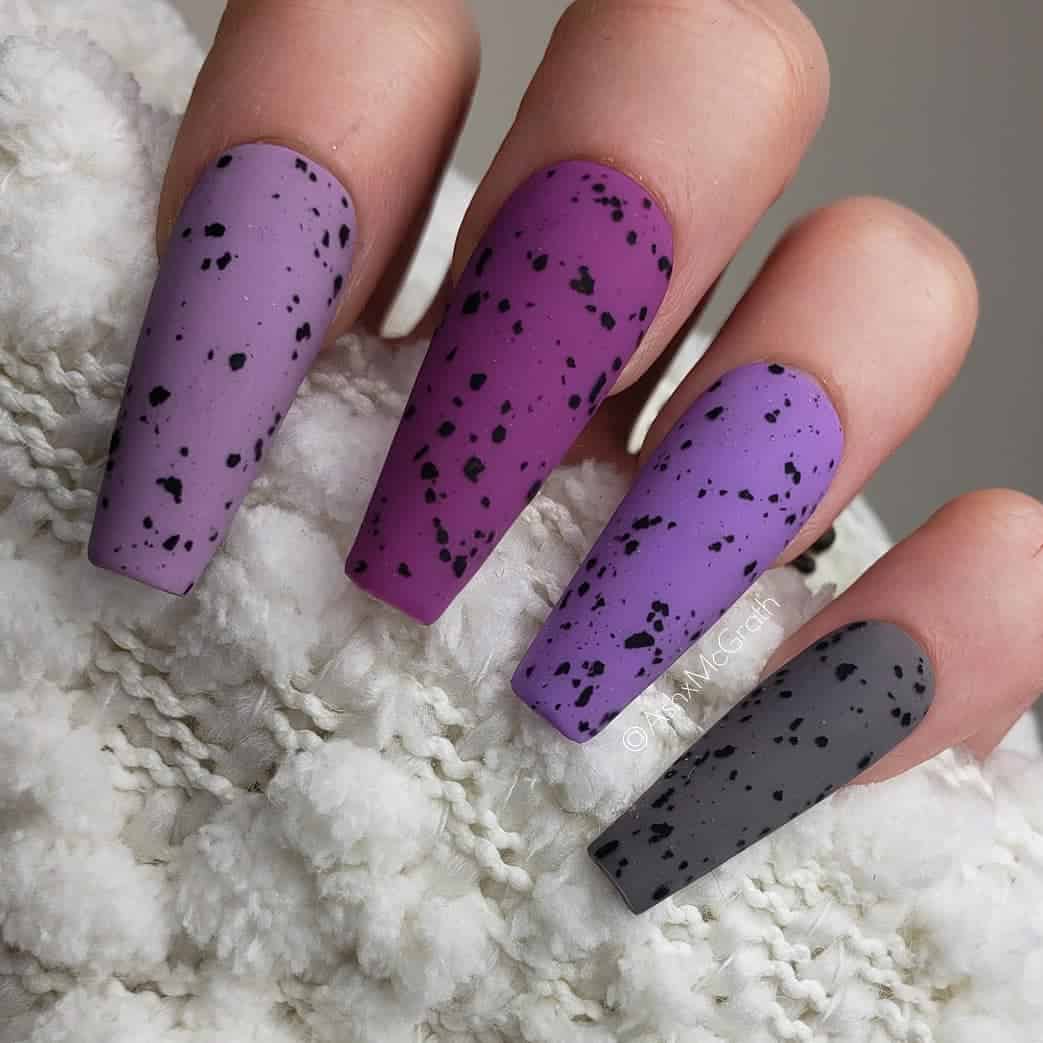 Mauve, iris, plum, and black eggshell nail polish create a fun, playful look. Spots of varying sizes and shapes in black nail polish add detail to these nails. Long coffin-shaped nails are perfect for this look as they make the detailing very evident. If you're looking for subtle nail art that isn't too simple or too grand, this is the way to go!
19. Sparkly Dip Powder Cute Purple Nails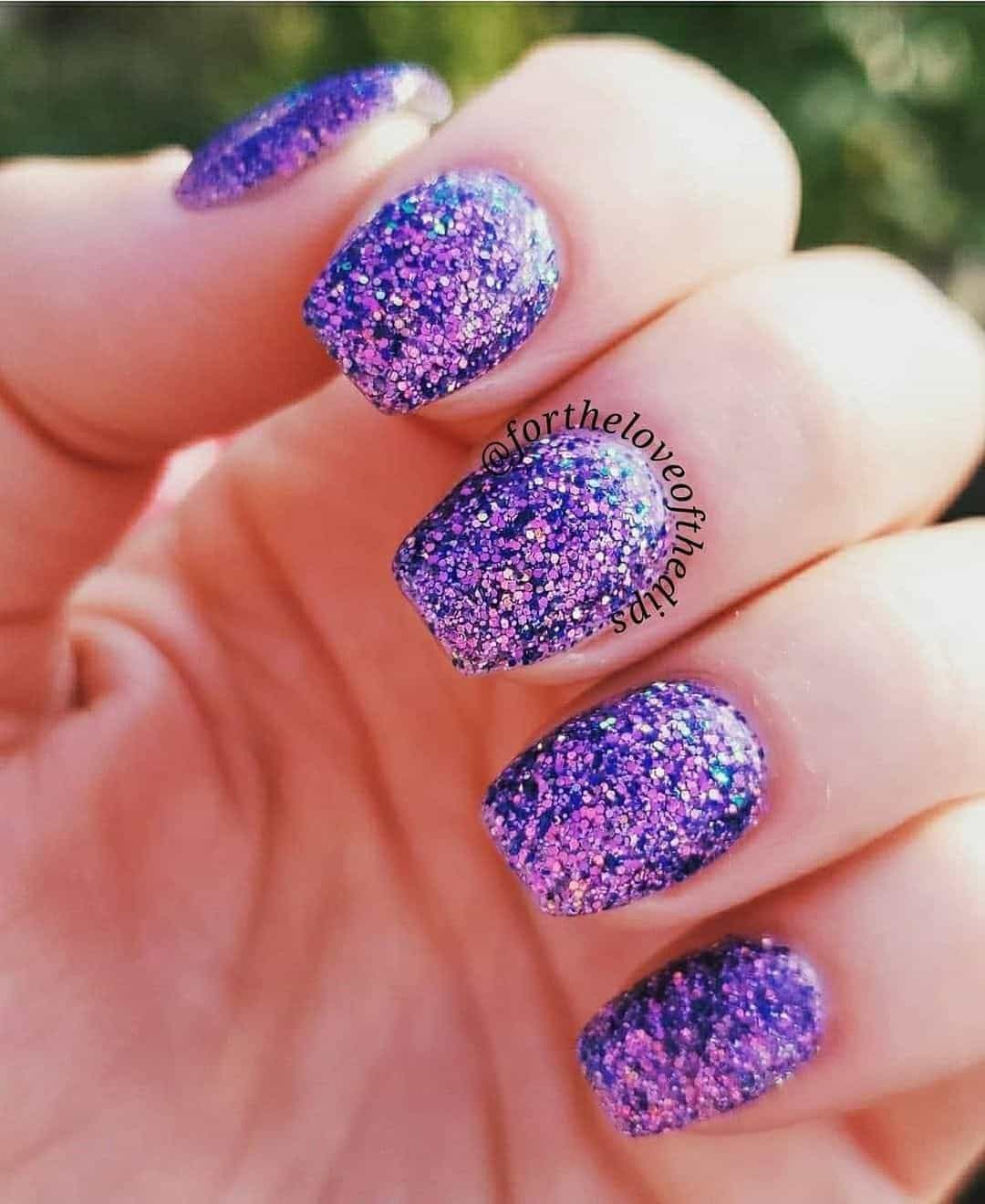 Dip powder is an excellent choice if you're looking to achieve a simple yet eye-catching look. Glitter in shades of blue, white, pink, and purple make this nail art a stunner. The glitter also adds a layer of texture to the nails that make them look quirky and fun.
Shorter nails are preferred for the look though you can experiment with medium-length nails as well. Pair these nails with a brightly colored floral dress to make them shine!
20. Chequered Matte Purple Nails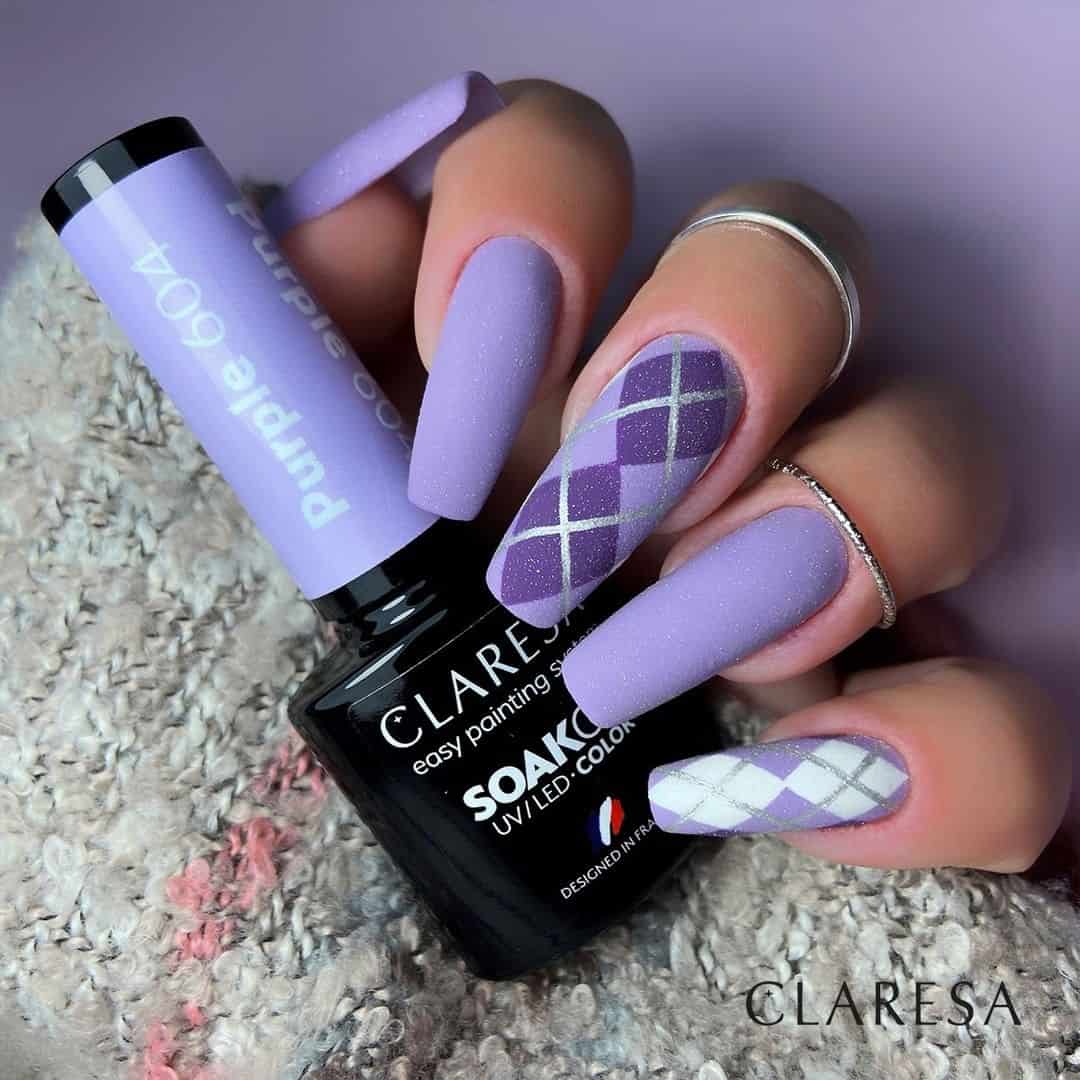 Periwinkle purple matte nail polish is on show here. The middle fingernail has dark purple diamonds painted with the ends touching. Silver lines cross over the diamonds creating a chequered effect.
The little fingernail follows a similar pattern – the exception being that the diamonds are in white nail polish. These nails capture the essence of winter all too perfectly. Matching them with a chequered sweater in a similar pattern would make you winter ready!
21. Candy Inspired Purple Stiletto Nails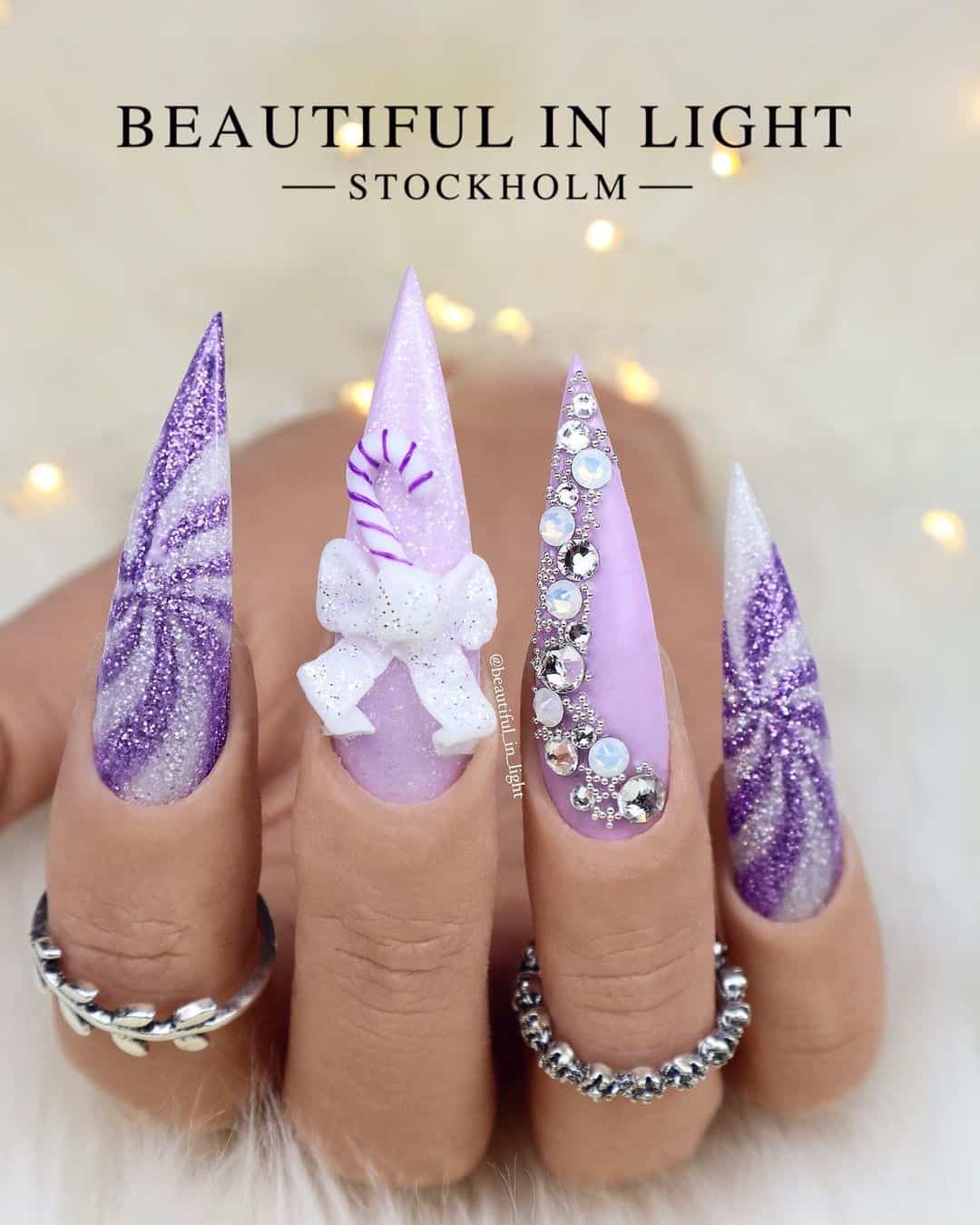 The first and the last fingernail take on dark purple glitter nail polish that creates a spiral effect. Light purple glitter nail polish fills the empty spaces giving rise to a candy pattern. A purple striped candy cane with a white bow tie against a lavender backdrop on the index fingernail contributes to the overall theme. Embellishments on the ring fingernail give this nail art a bit of bling.
22. Soft Lavender Nails With Clear Floral Print Accent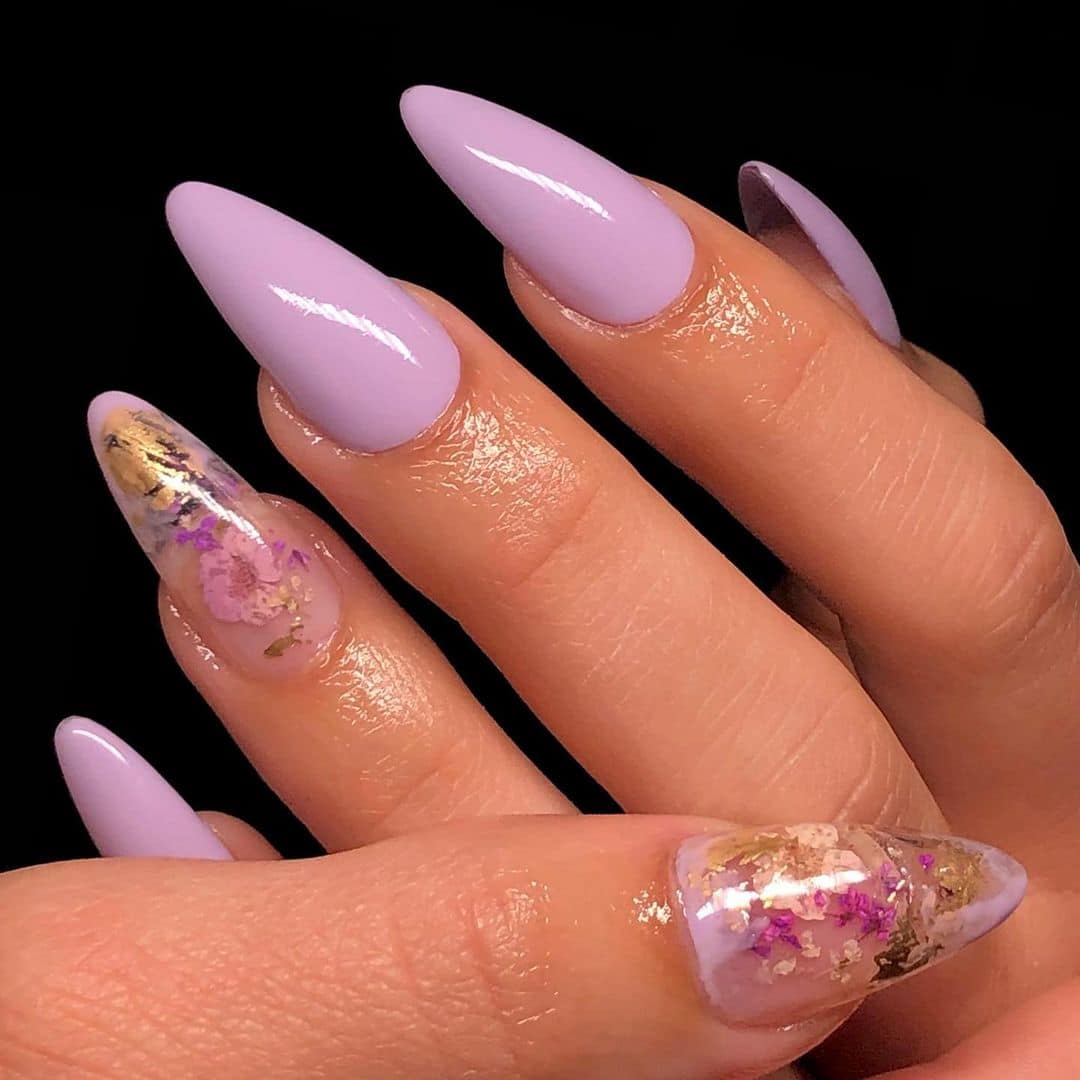 For a soft, simple look, consider this nail art. Soft lavender nail polish forms the base – coated in a layer of clear nail polish for a glossy effect. A clear accent nail with floral art in peach, purple, green, and gold adds a unique touch to the nail art. The tips of the accent nail features a subtle hint of lavender. Pointed nails of medium length are preferred, though you can grow your nails according to your liking.
23. Rainbow Coffin Shaped Nails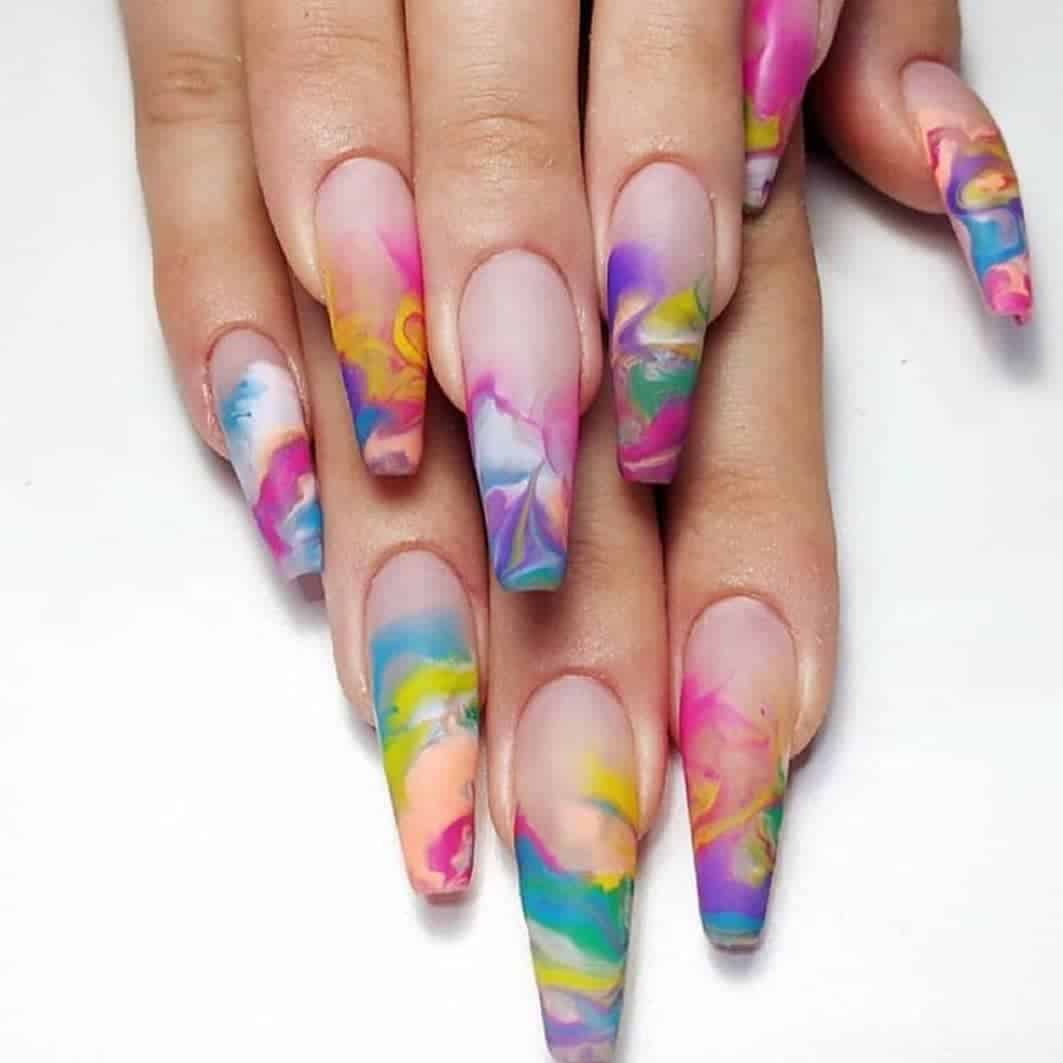 This nail art is ideal for anyone looking to add a pop of color to their nails. Nail extensions are a good option if you don't want to grow your nails out long, though you can choose to grow your nails out to a length that you prefer.
The ends of the extensions are painted in various hues creating a fusion of rainbow colors, while the beginning of the nail is left in its natural color, adding a certain balance to the design. If you like, you can have the pattern painted along the entirety of each nail or alternate between each.
24. Violet Metallic Nails With Glossy Triangle Tips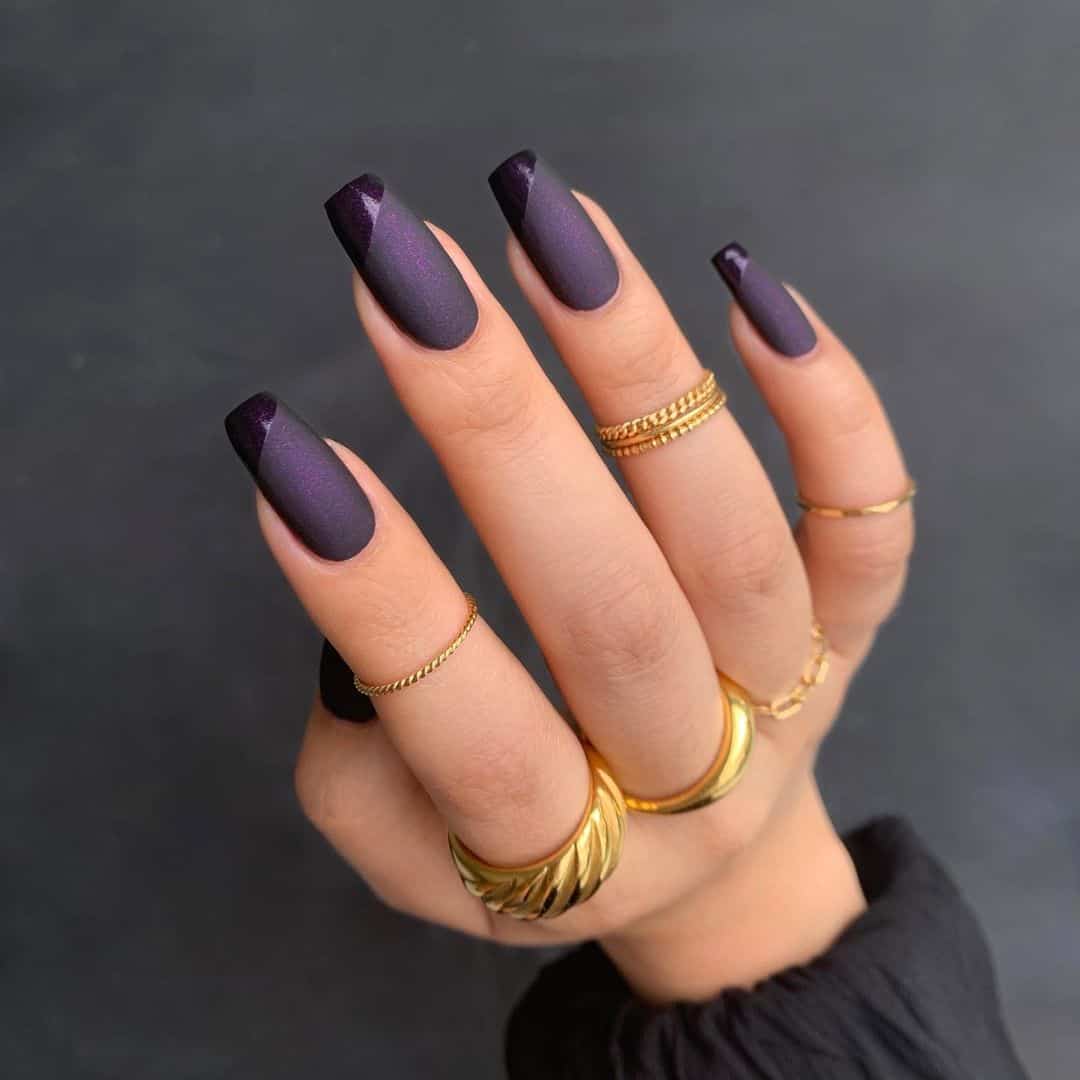 Violet nail polish is elegant and rich – adding depth when used by itself. For a more textured look, you can opt for metallic nail polish. If a single hue of nail polish doesn't appeal to you too much, you can choose to use metallic violet in combination with a contrasting color. This design uses a darker hue of glossy violet that adds the right amount of glam to the look. The tips feature triangles in glossy nail polish – a nice touch to these square-shaped nails.
25. Purple Nails With Leaf Motif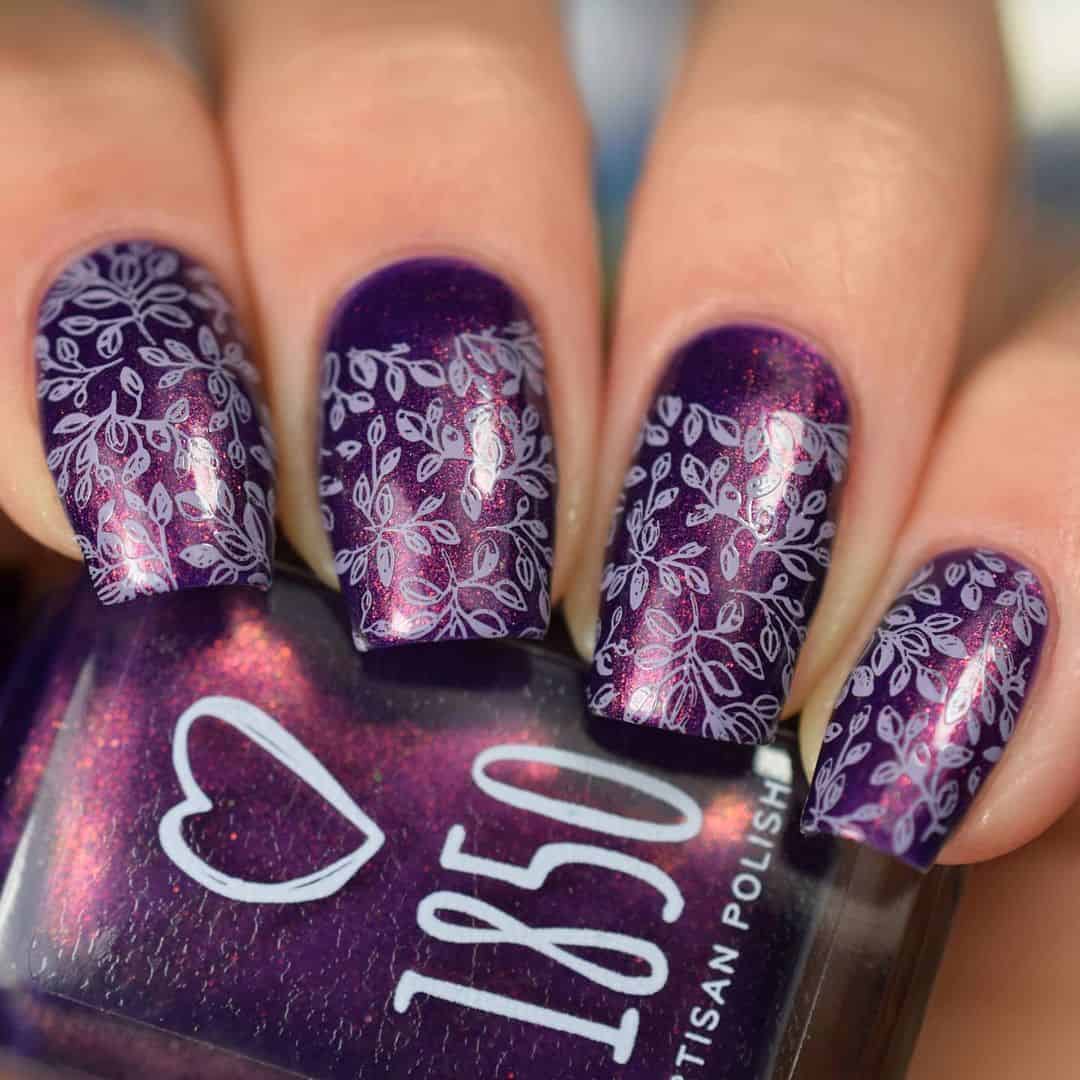 These nails feature a royal purple gel base with a reddish-green shifting shimmer and copper shimmer. French tips are better suited for the look as it looks great to provide more surface area for the overall pattern. A stamp of leaf motifs in light purple nail polish creates a contrast between the colors. These nails are great to sport at a wedding or grand event.
26. Lilac Nails With Ribbed Rainbow Accent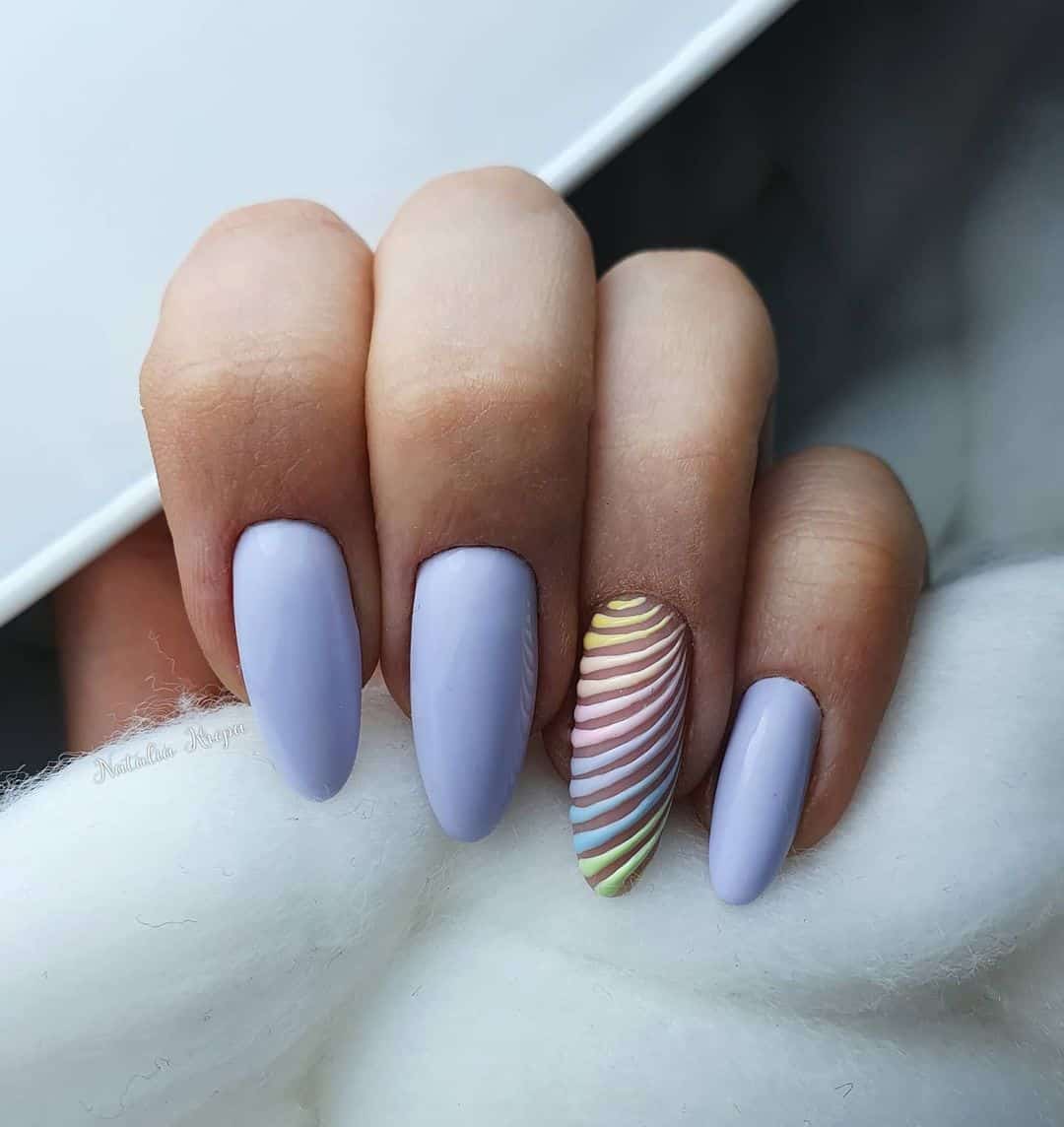 A simple shade of lilac is taken up a notch with this nail art. The accent nail features a ribbed design, carried out by painting stripes in multiple shades of rainbow colors. The color palette shifts from yellow to peach to blue, before finally ending in a bright green – giving rise to a unique transition from lighter shades to darker ones. Almond-shaped nails are well suited to the look.
27. Nude Nails With Lavender Tips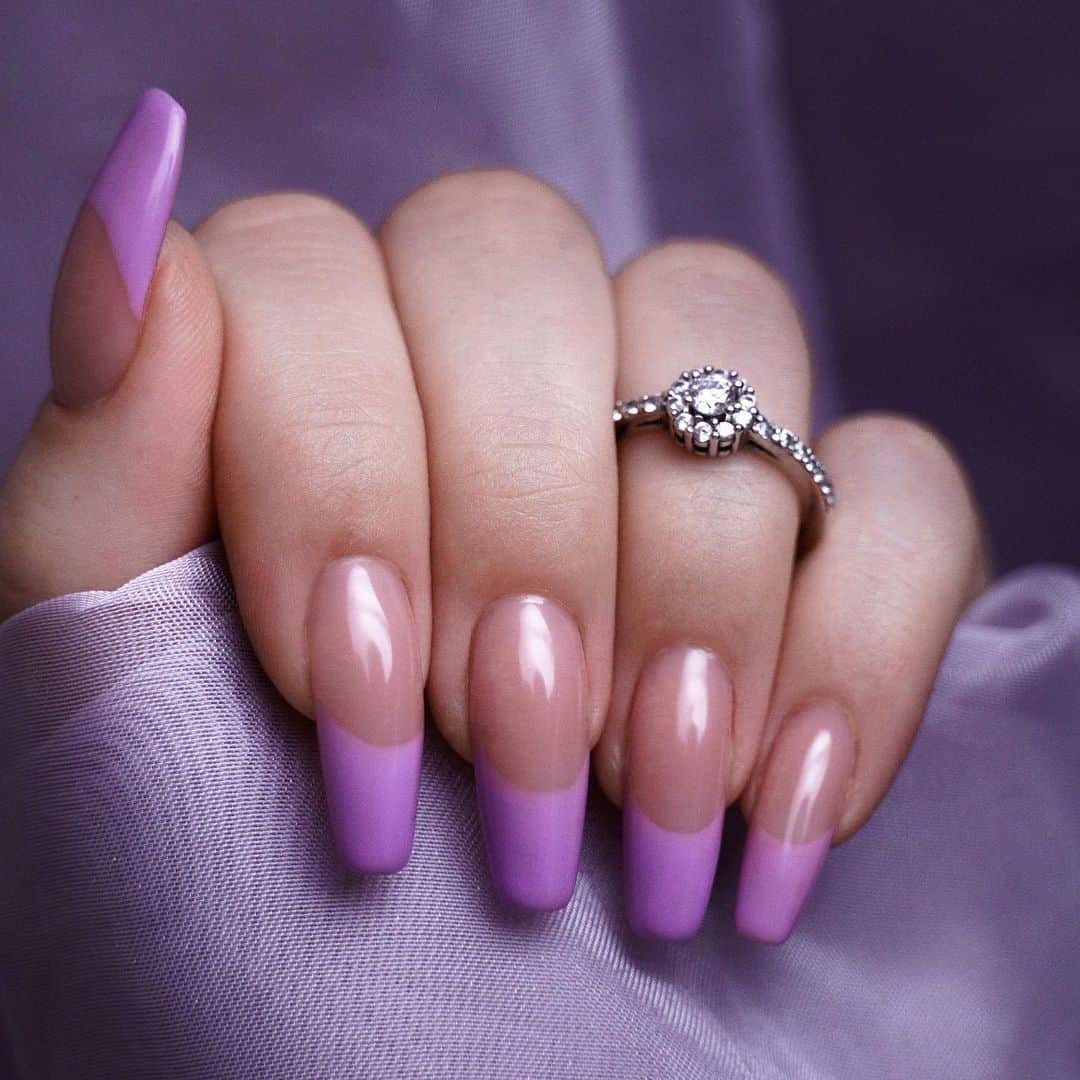 These nails begin with a nude base leading up to lavender tips. The nails take on a slight variation to the classic french manicure in that the nail tip is oval-shaped as opposed to being square. Each color occupies an equal portion of the nail giving rise to an overall symmetric design. You could choose to go with clear nail polish or a lighter shade like peach for the base.
28. Violet Nails With V-Shaped Pattern and Glitter Accent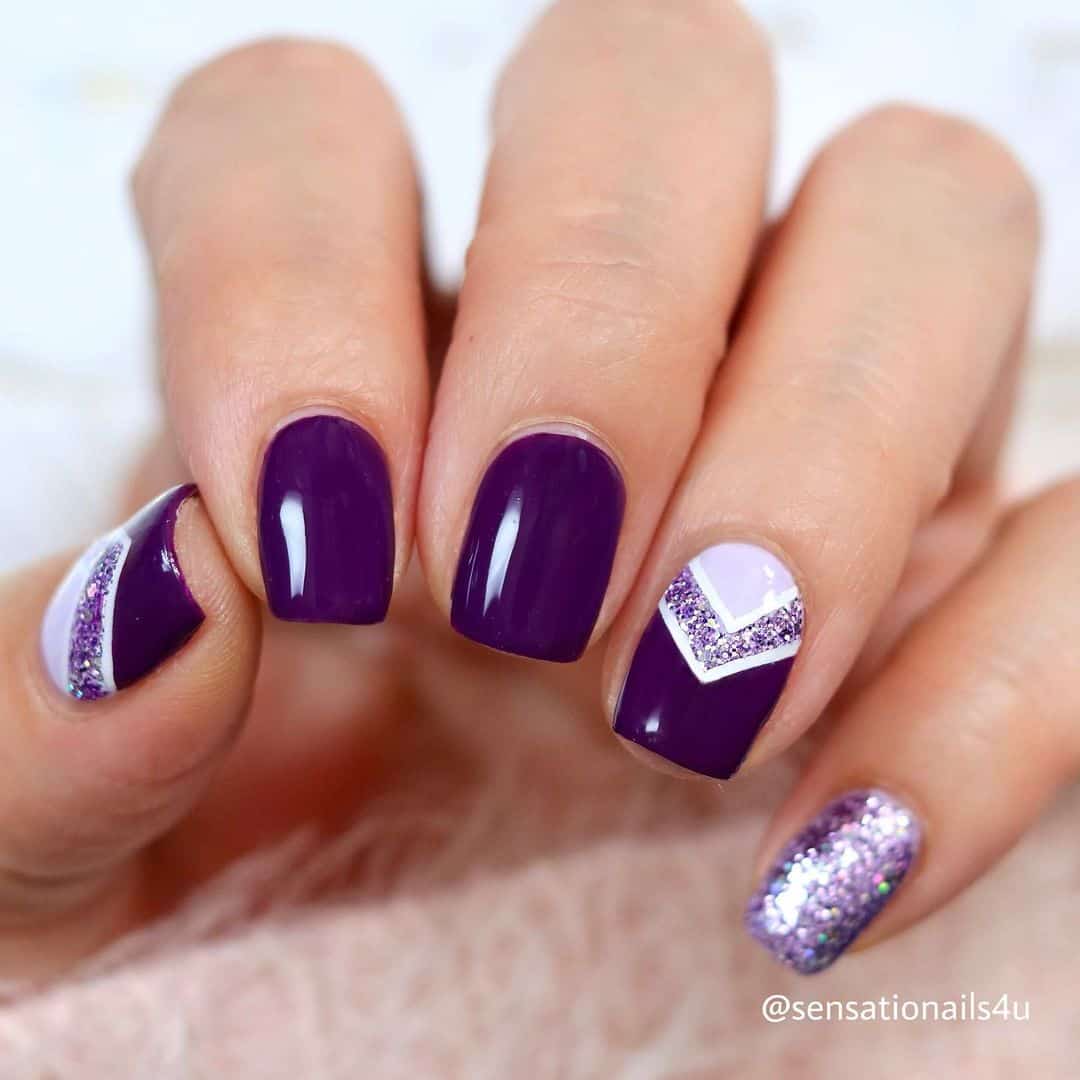 Deep violet nail polish creates a luscious look that works well in formal as well as informal settings. Glitter nail polish is made use of creating a V-shaped pattern outlined in white on two nails. Lavender nail polish fills the gap left behind by the division. An all-glitter accent nail on the pinky finger completes the look.
29. Acrylic 3D Cloud Purple Nails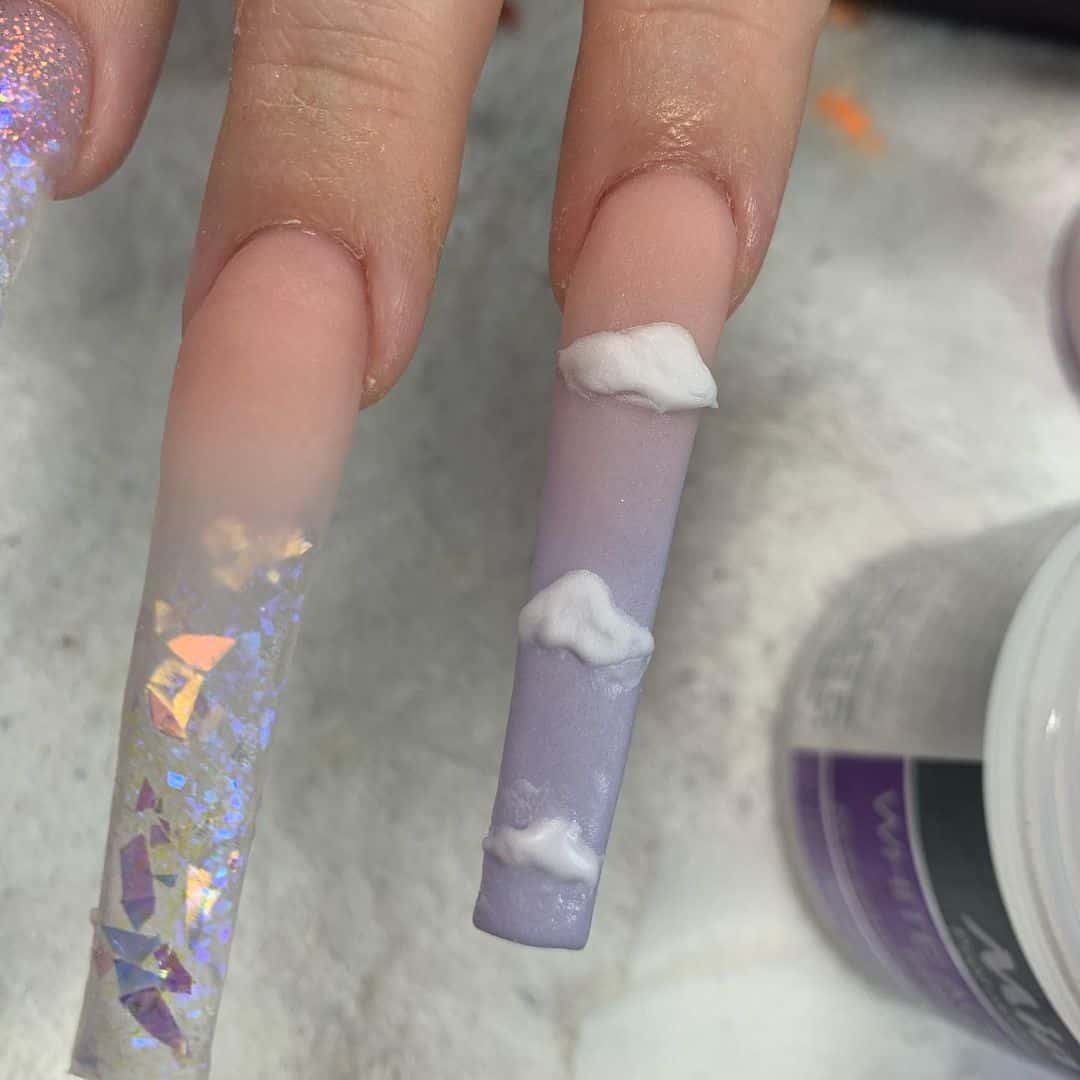 Tapered square long acrylic nails make the canvas for this creative nail art. Each fingernail begins with peach nail polish, with the gradient shifting toward light purple. White nail polish shaped as clouds are used to create texture, and the adjacent fingernail makes use of clear nail polish with a sprinkle of glitter with a purple tint.
30. Leopard Printed Purple Nails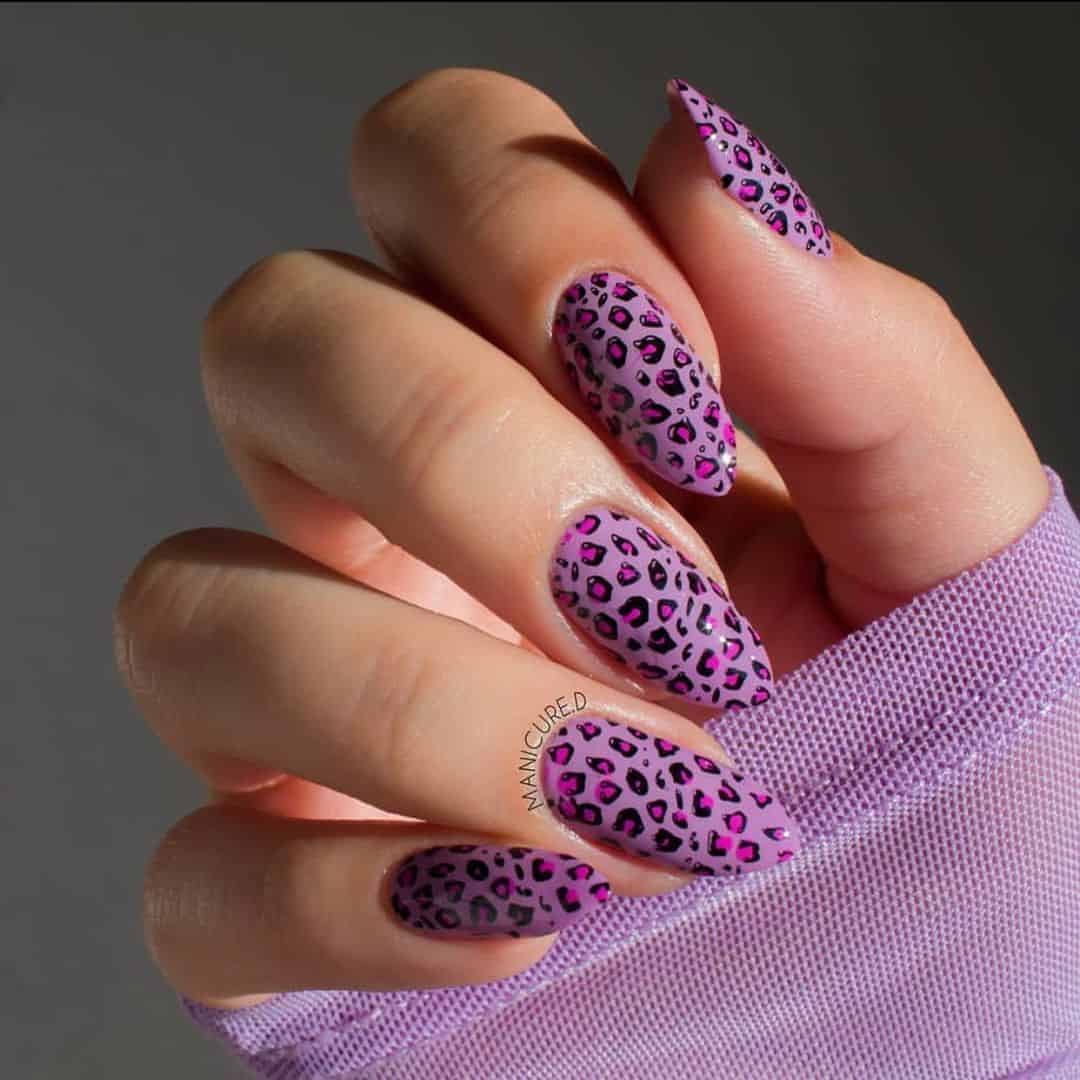 A light purple nail polish forms the base for these leopard print inspired nails. Pink spots bordered by black gel paint are used to detail the leopard print. Pointed nails add to the overall feline theme that is featured here. Purple, pink, and black is a cute color combination that looks beautiful on these nails.
31. Geometric Purple Nails
These nails play with purple hues ranging from light pink to dark purple. White paint creates geometric prints on each of the fingernails giving rise to cute, playful patterns. Almond-shaped nails help in creating a rounded effect that bodes well with the overall theme. The subtle hues chosen make these nails ideal for just about any outfit in any setting.
32. Deep Purple Nails With Marble Accents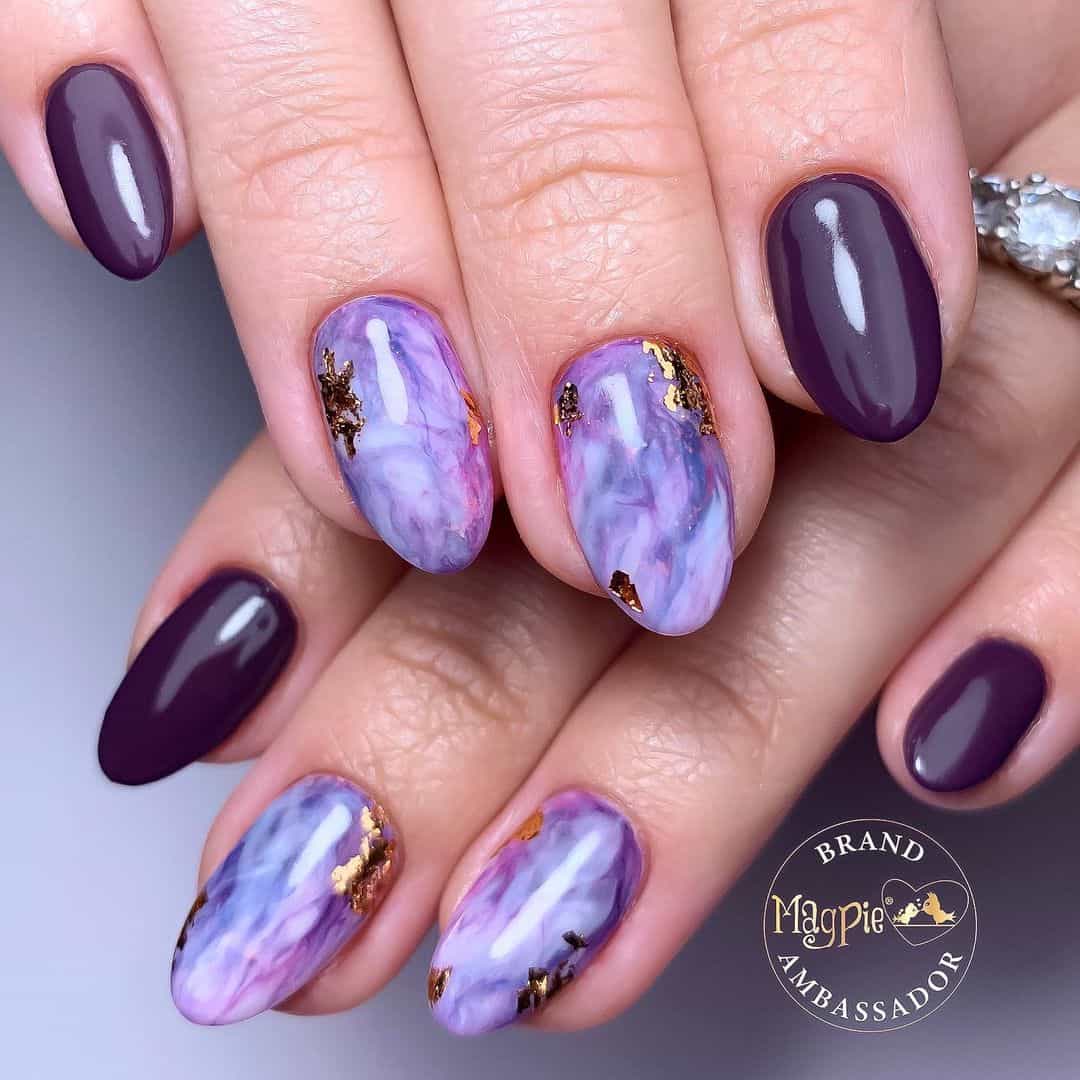 These glamorous nails make use of a varied choice of hues from the purple palette. The dense, deep purple color contrasts the white, lavender, and violet shades of the marble accent. Golden flakes on the accent nails are simply the icing on the cake. The purple glossy nail polish makes these nails look unique and sophisticated.
33. Square Shaped Lavender Nails With White Floral Pattern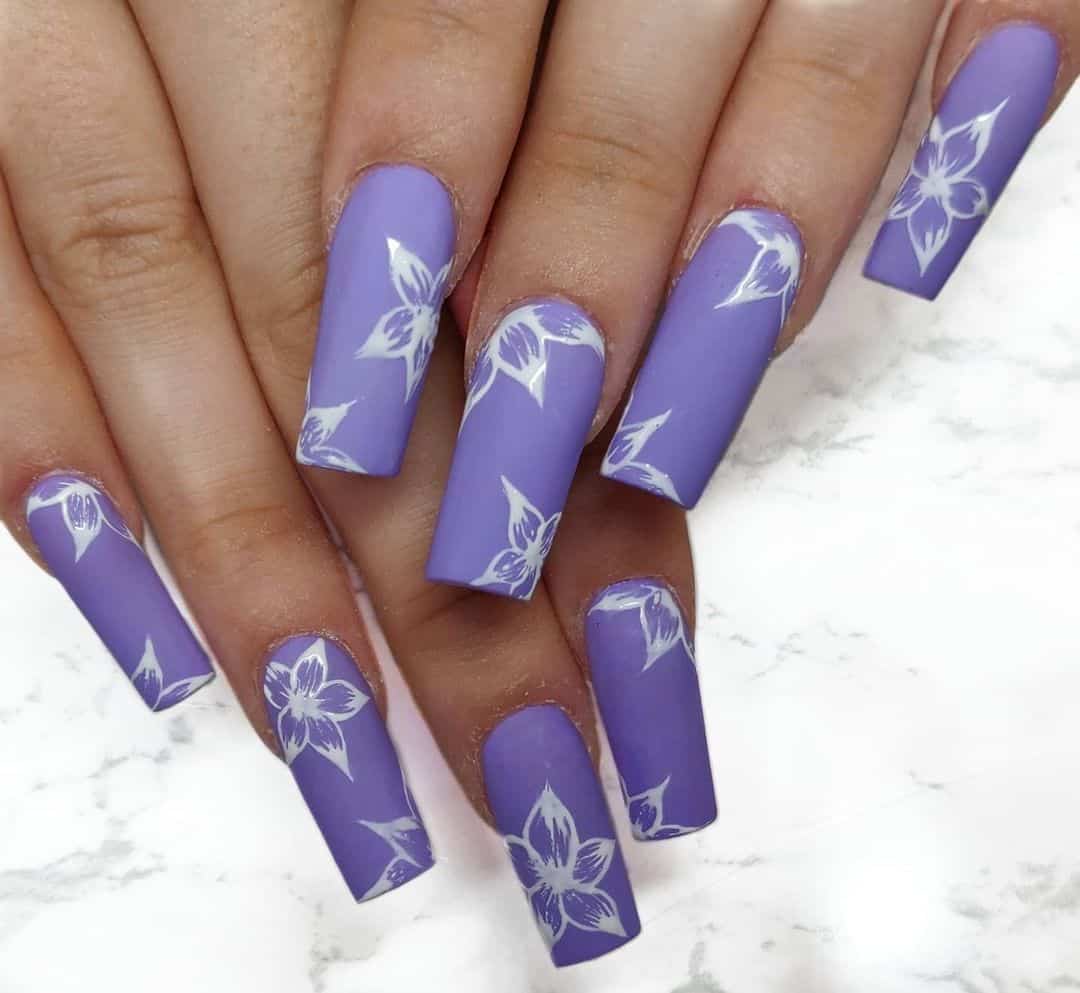 Matte lavender nail polish forms the base for these nails. The prints of five-petalled flowers in glossy white nail polish contrast well with the lavender. The tips of each nail feature incomplete flowers, offering a unique, subtle touch to the typical look.
Square-shaped nails are ideal for the design as they provide a larger surface area for the print. To make things easier, you can opt to use stamps to print any nail art of your choice.
34. Soft Lilac Nails With Pink Marble Accent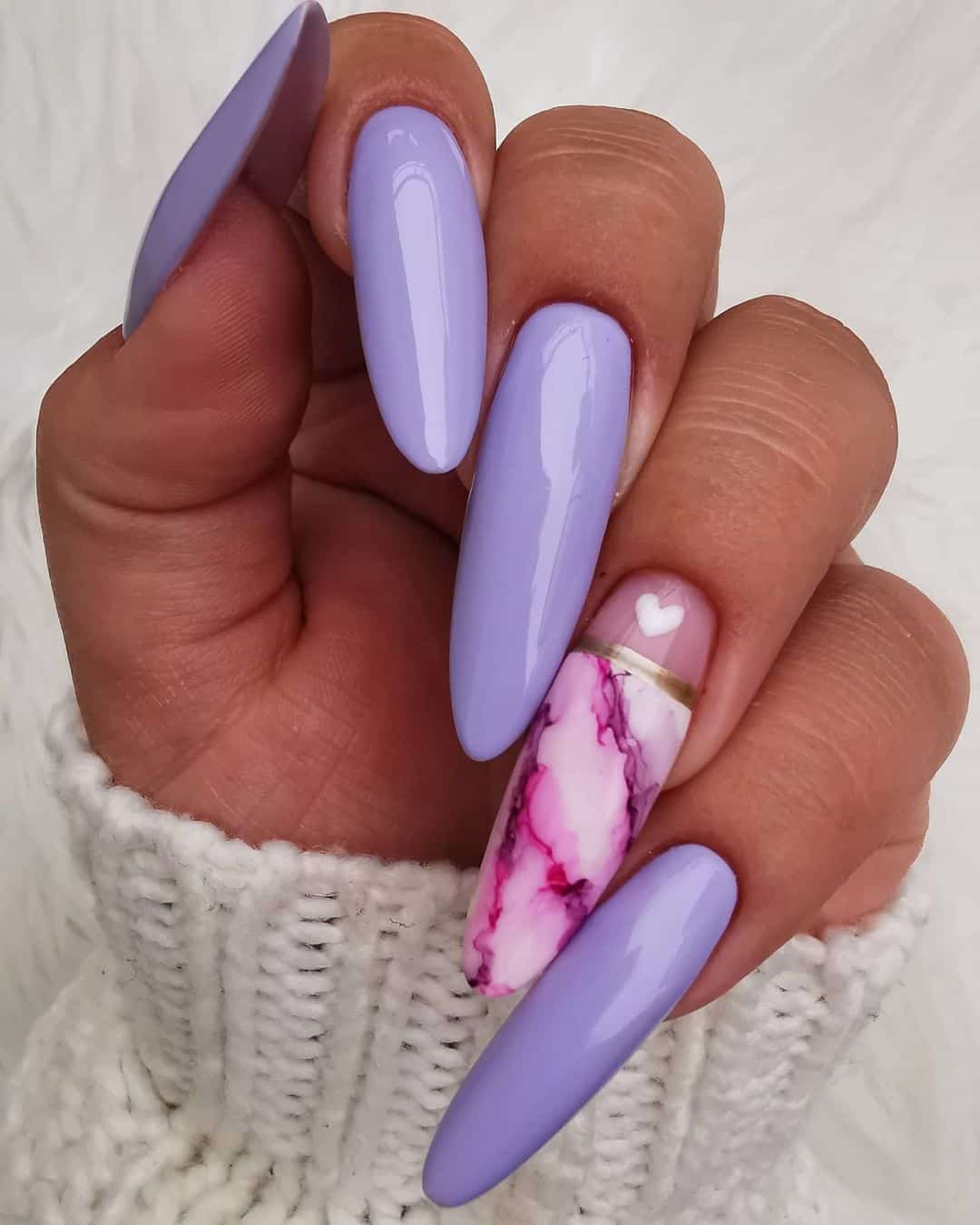 Lilac is a soft shade of purple that is classy and cute at the same time. These nails are painted in two coats of lilac nail polish and finished off with a coat of clear nail polish. You can even opt for glossy lilac nail polish to switch the look up.
A pink marble accent nail with a gold ream and white heart at the center takes these nails to the next level. Almond-shaped nails are ideal for this look, though you can experiment with French tips as well.
35. Glittery Violet Nails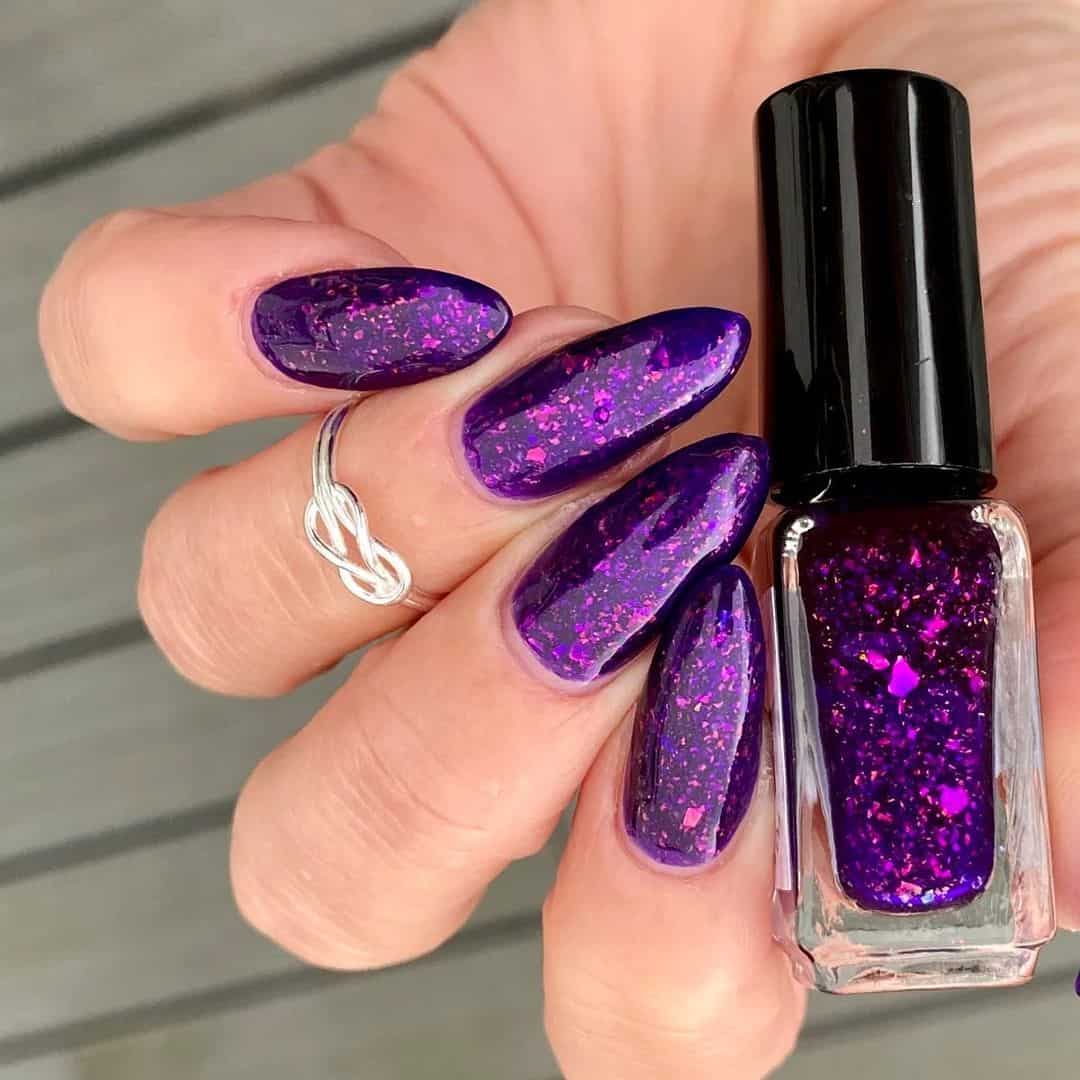 Glittery nail polish is a great option if you are looking for a deeply textured look without the hassle of using multiple nail polishes or glitter to create a layered effect. The violet nail polish used here is rich and vibrant. Pink, purple and blue flakes add a bright pop of color to the nails. Flaunting this nail polish on shorter nails makes for a fun, quirky option. On longer nails, they make for a more sophisticated look.
36. Spacey Purple and Blue Nails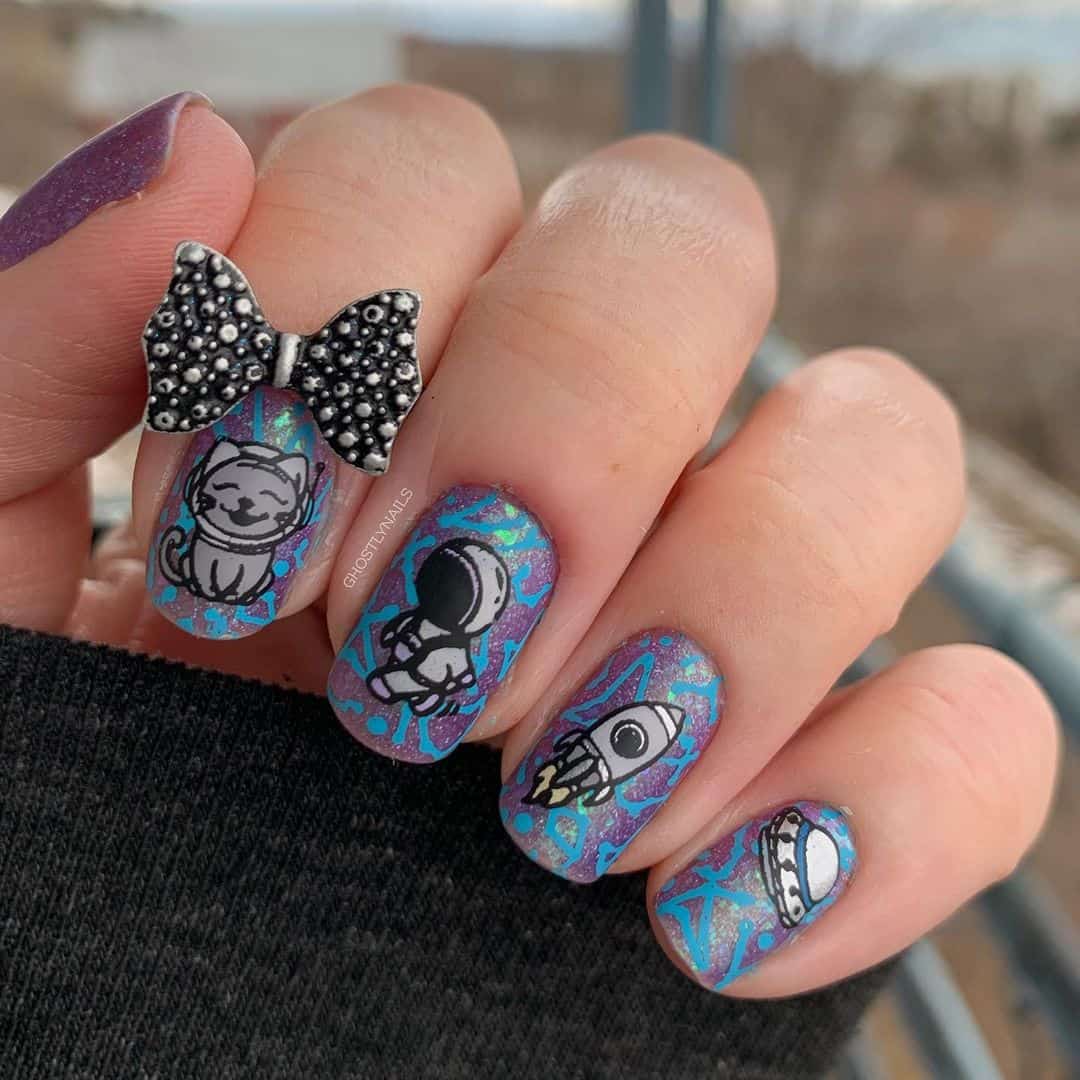 These nails are fun and playful and are a great choice if you are looking for nail art that's out of this world! A combination of purple and blue creates a galactic background, and cute prints of a spaceship, rocket, astronaut, and cat are a lovely addition to the scene. A pretty studded bow is attached to the index finger finishing the look all too perfectly.
37. Polka-Dotted Playful Deep Purple Nails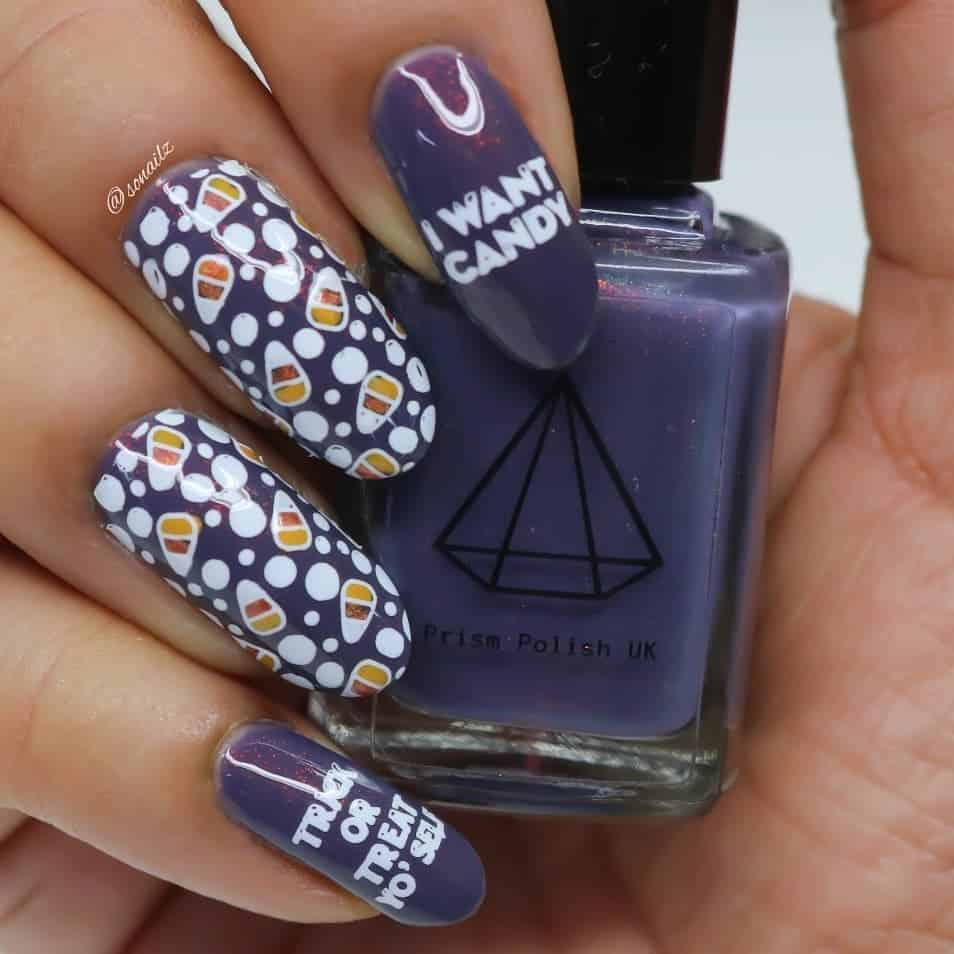 Deep purple nail polish with a red shimmer forms the base coat of these nails. Polka dots of varying sizes are detailed in white nail polish, complemented by orange and yellow candy corns. Playful messages hosted on the nails make these nails a great addition to any Halloween costume!
38. Purple Boxed Nails With Glittery Accent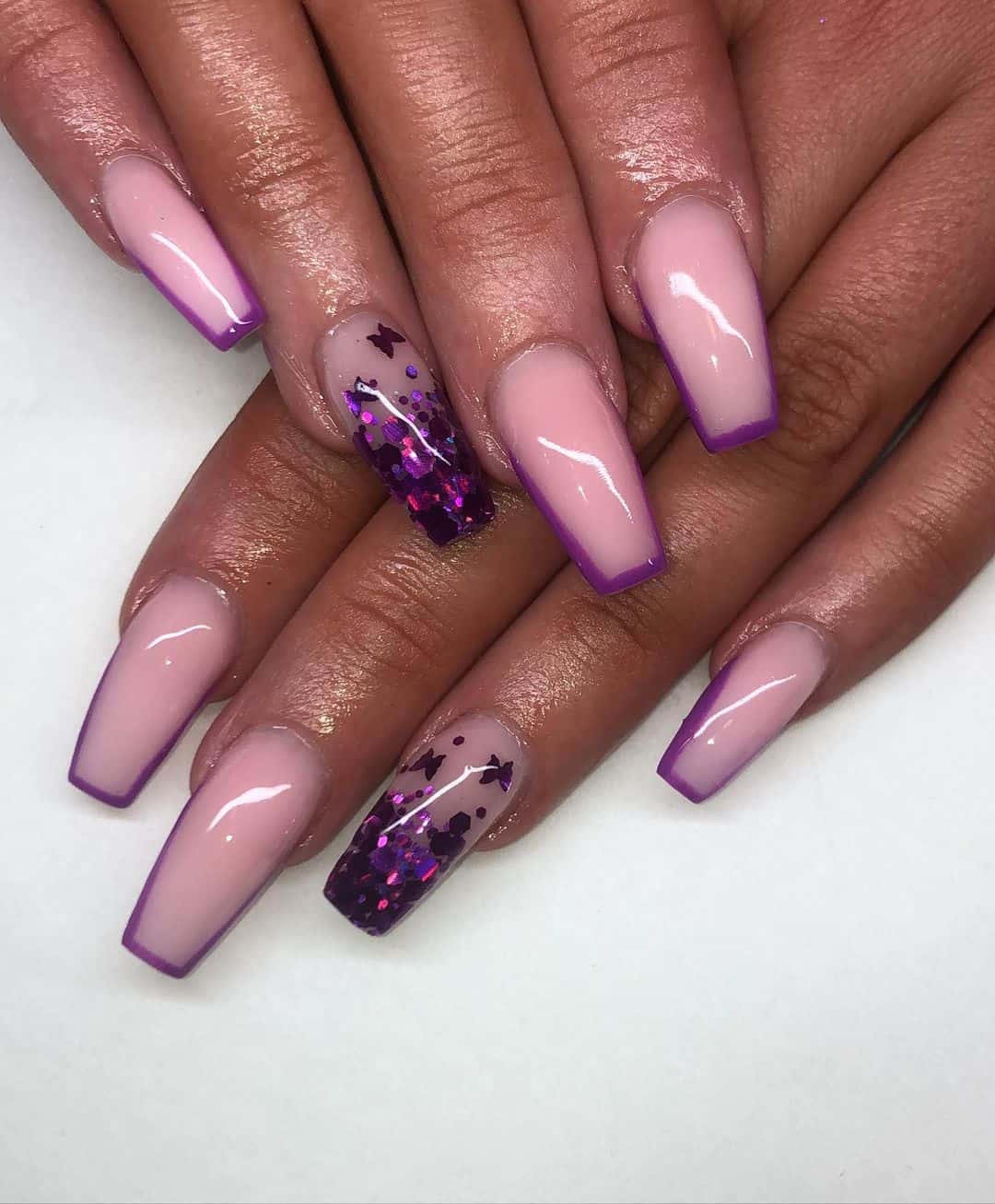 A thin purple border gives these otherwise regular coffin-shaped nails an added flair. Peach gel nail polish complements the purple nail polish very well, and a layer of transparent nail polish locks in the purple and black hex glitter on the accent nail. The addition of butterflies to the accent adds a soft, unique touch to these nails. You could try this nail art on square-shaped nails as well.
39. Frosted Lavender Nails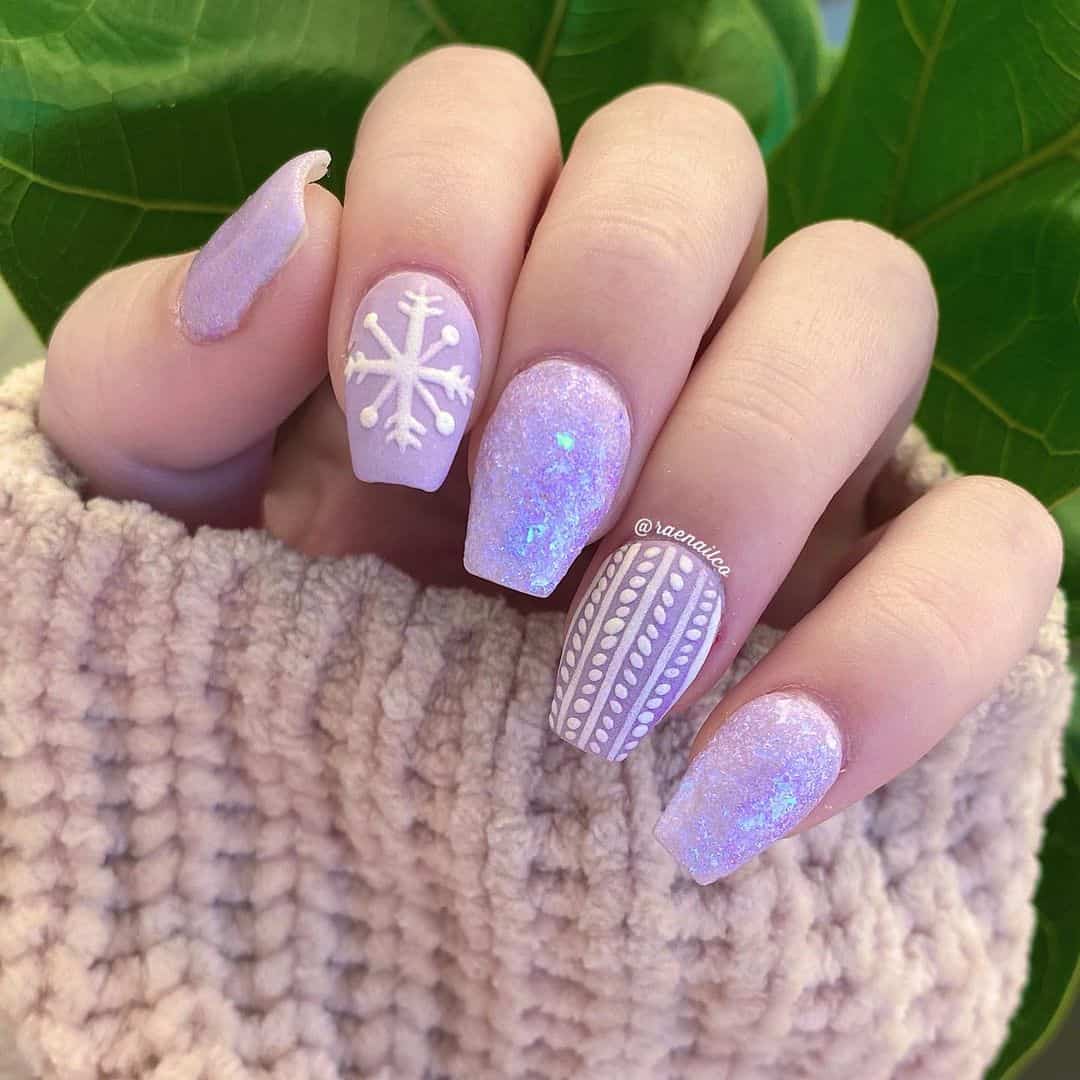 If you are looking for winter-inspired nails, these are perfect for you to try out. Lavender nail polish forms the base of these nails, accentuated by the presence of white detailing. Three fingernails feature glitter nail polish that creates a frosted ice-like effect.
A snowflake on the index fingernail and a cable knit pattern on the third fingernail brings the look closer to a winter-inspired theme. Pair these nails with sweaters or hoodies for the perfect look.
40. Pale Purple Tapered Nails With Butterfly Printed Accent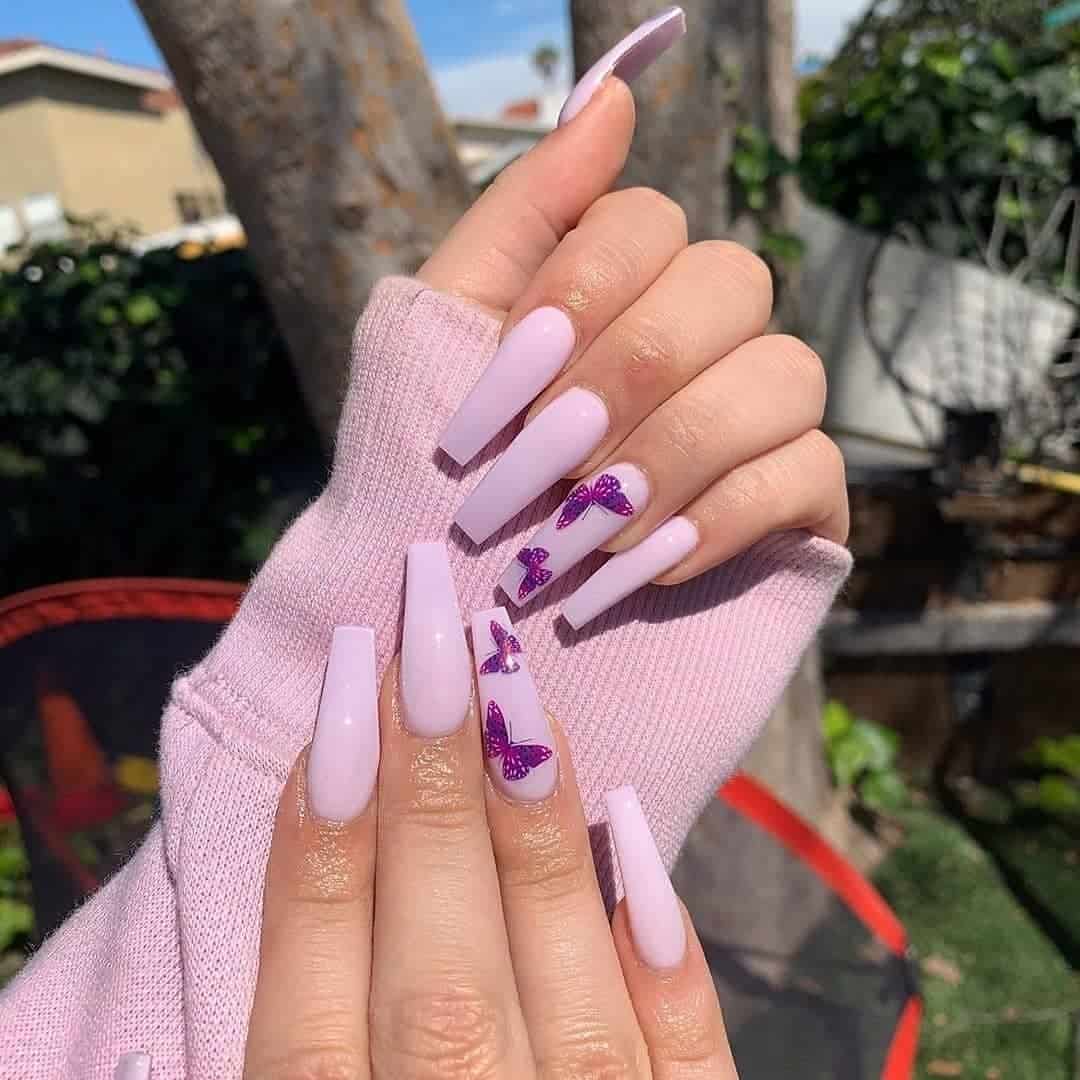 Pale purple or light purple is the perfect choice for a subtle, soft look. Adding a butterfly print to the accent nail accentuates this nail design. Opting for a darker hue of purple for the accent print adds the right balance to these nails. The look works well with tapered, long nails, but if you prefer, you could have them done on square-shaped nails as well.
41. Purple Glitter Nails With White Cable Knit Pattern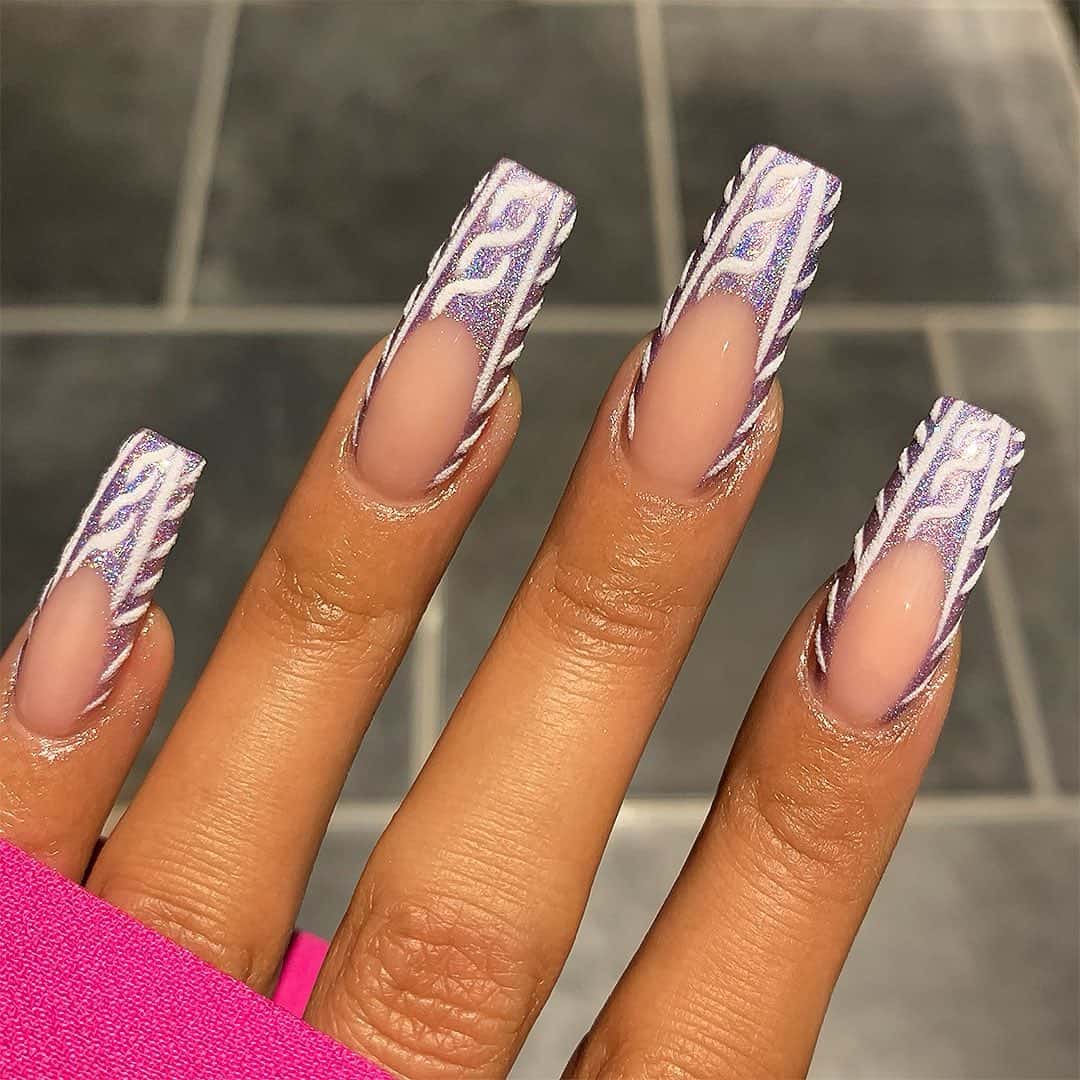 These french tips have the upper edge because the design begins right from the cuticle. Purple glitter nail polish in a bluish-green tint covers the nail tips, as well as the edges along the cuticle. White nail polish is made use of to create a cable knit pattern over the glitter. The center of the nail keeps its natural hue – you could use nude nail polish or a lighter shade of your choice.
42. Plaid Purple Nails With Turquoise Accent Nail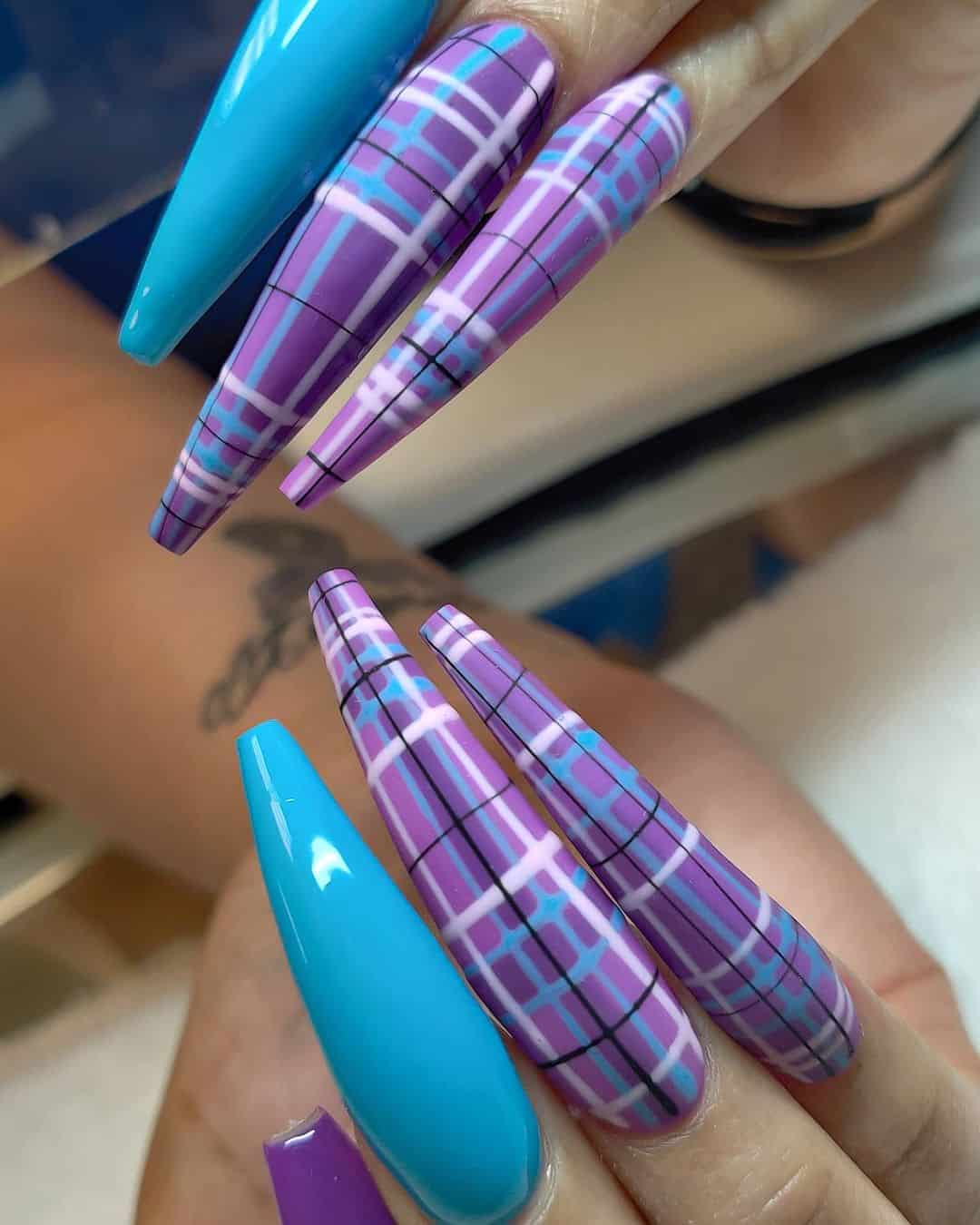 If you are looking to make a statement with your fingernails, this is the way to go. A purple base lays the foundation of these nails. Turquoise, white, and black stripes give rise to a chequered look. Tapered shaped nails used here create the illusion of length. A turquoise accent nail in glossy nail polish ties the color palette chosen for the look together.
43. Clear Nails With Lavender-Blue V-Shaped Tips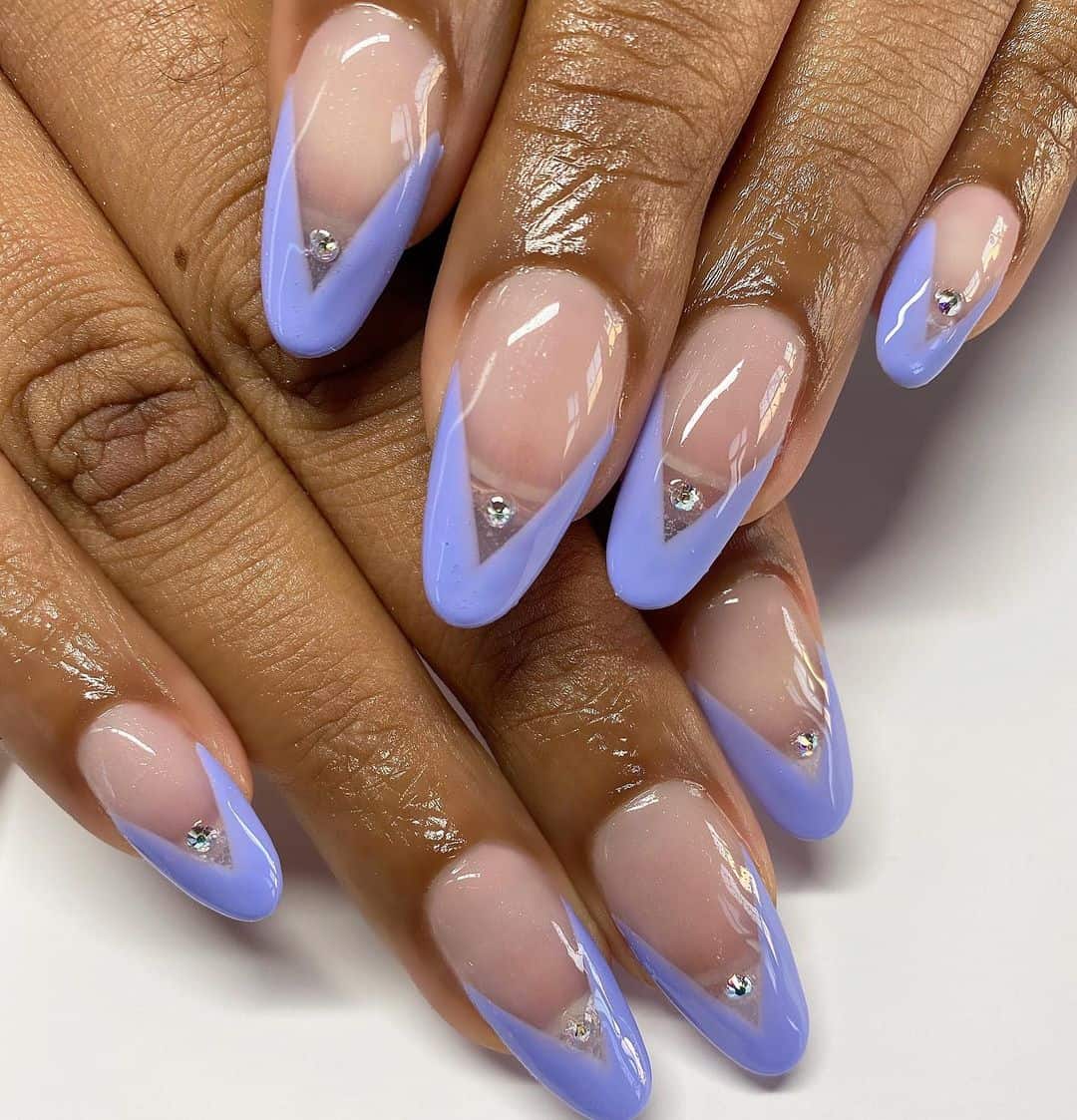 If you are looking for a modern, fresh, unique design, these nails are a must-try. They begin with clear nail polish forming the base that is met by the v-shaped tips. Lavender-blue nail polish is made use of to create a v-shaped design on the nail tips.
You could also opt for nail extensions if you are a little messy with straight lines. Consider adding a silver stud to each nail for a better effect.
44. Patterned Blue and Purple Ombre Nails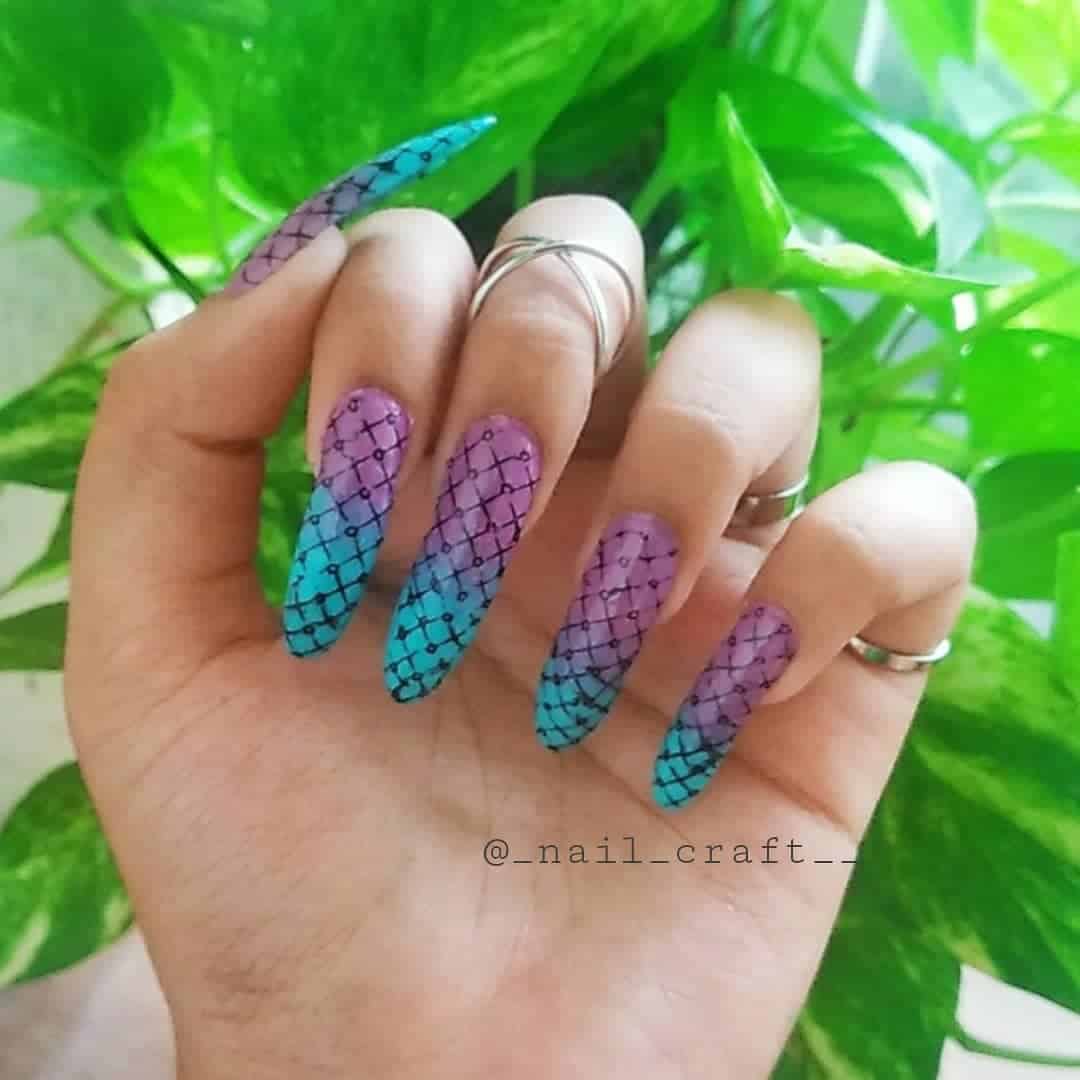 These nails begin with purple at the roots, gradually transitioning to aqua blue at the tips. Black nail polish creates a criss-cross pattern on the nails. Squoval shaped long nails help to bring out the best in this design. A layer of clear nail polish over the design should be enough to seal the deal! You can sport these nails at an informal get-together with friends.
45. Violet Chrome Metallic Nails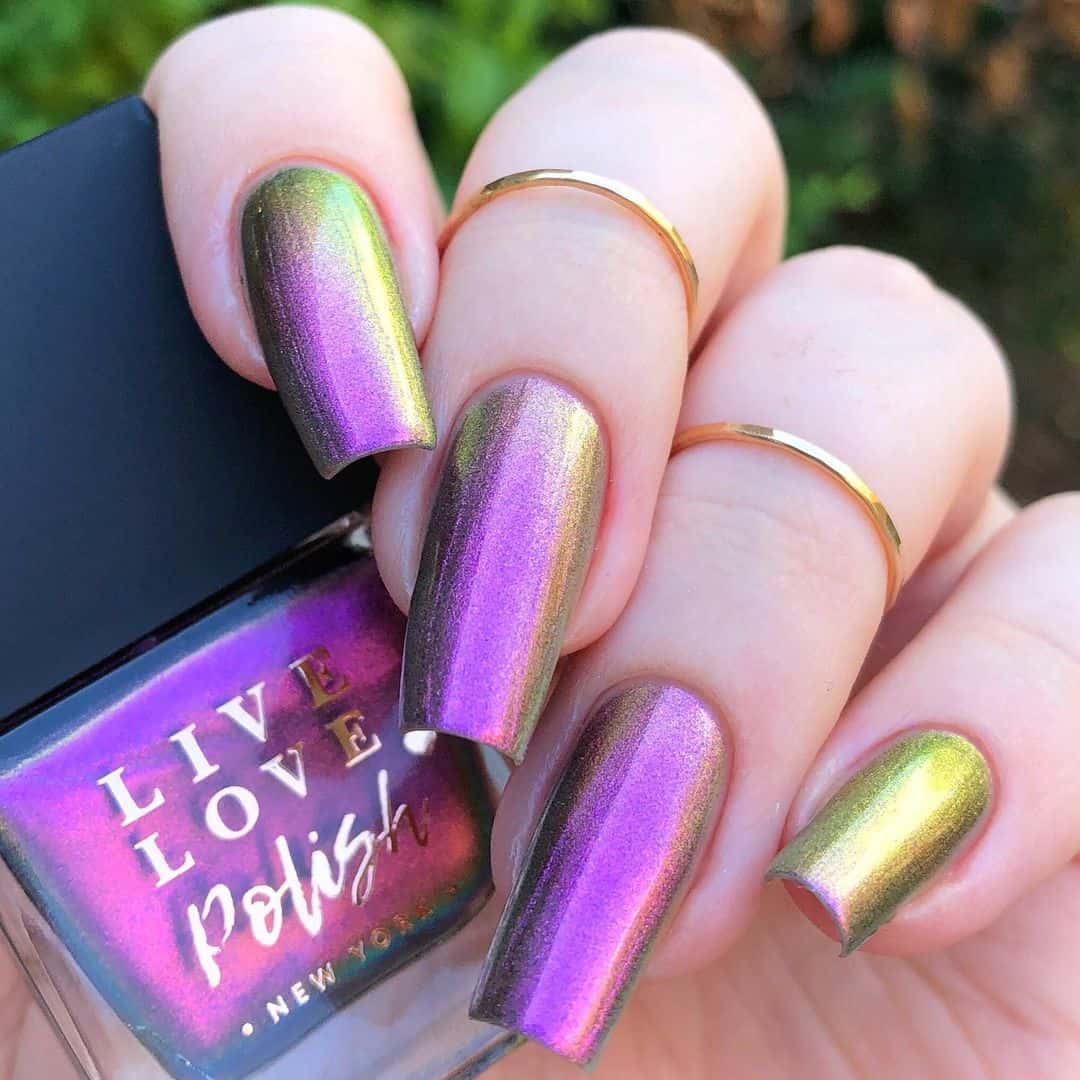 Chrome nails allow you to experiment with an array of colors. These nails transition smoothly from violet to pink and eventually green. Square shaped nails are ideal for the look as the surface area makes the subtle transition visible. These nails are great for a festive get-together with friends and family.
46. Clear Glossy Nails With Purple Flame Tips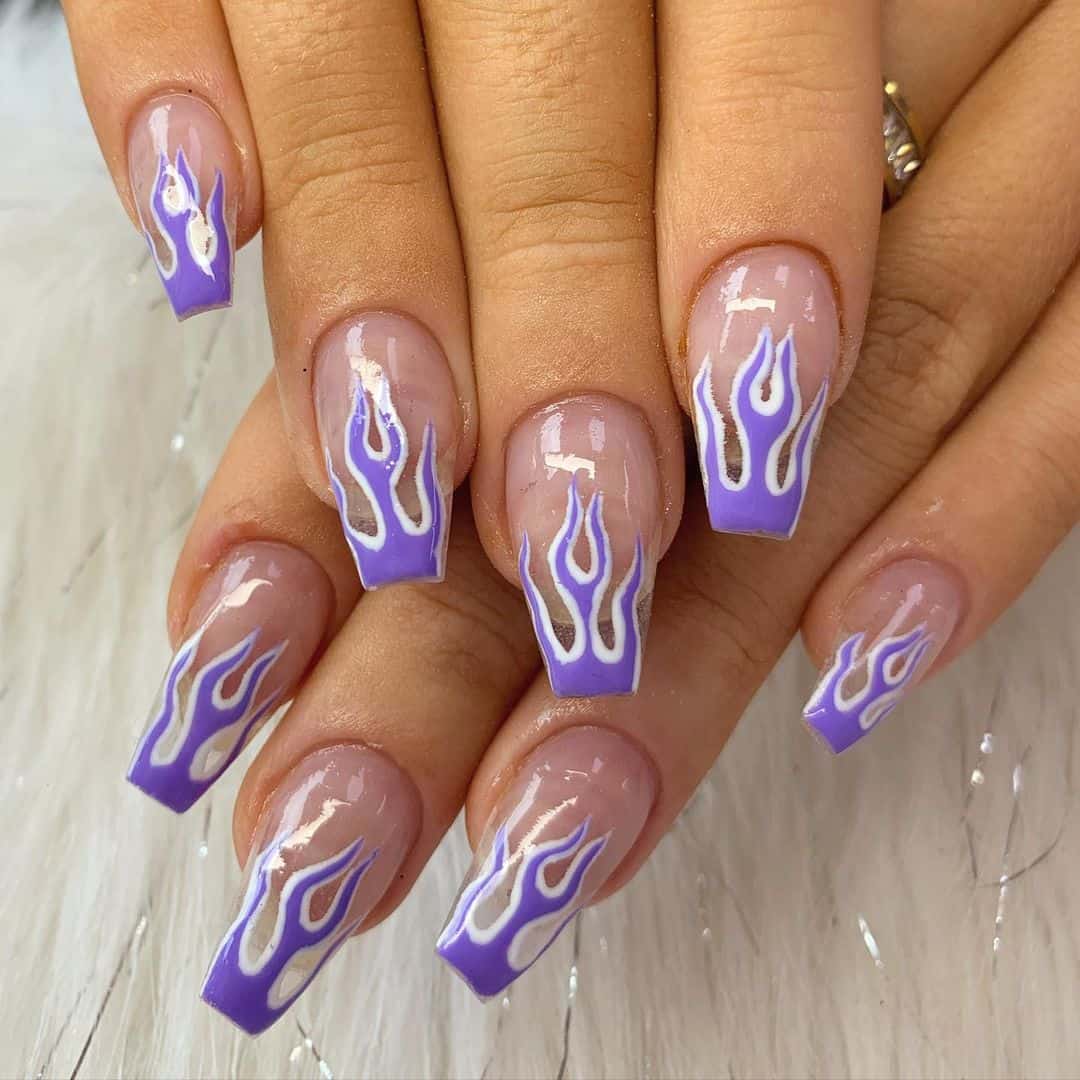 These nails are fun and creative at the same time. Clear glossy nail polish serves as the base of this nail art. Purple flames in light purple nail polish featured along the tips of the nails add a unique touch. White nail polish borders the flame design making the tips prominent.
Tapered shaped nails create the effect of fire perfectly well. As an alternate, you can opt for acrylic nails with the same detailing. This choice enables you to switch between multiple designs.
47. Oval Shaped Plum Nails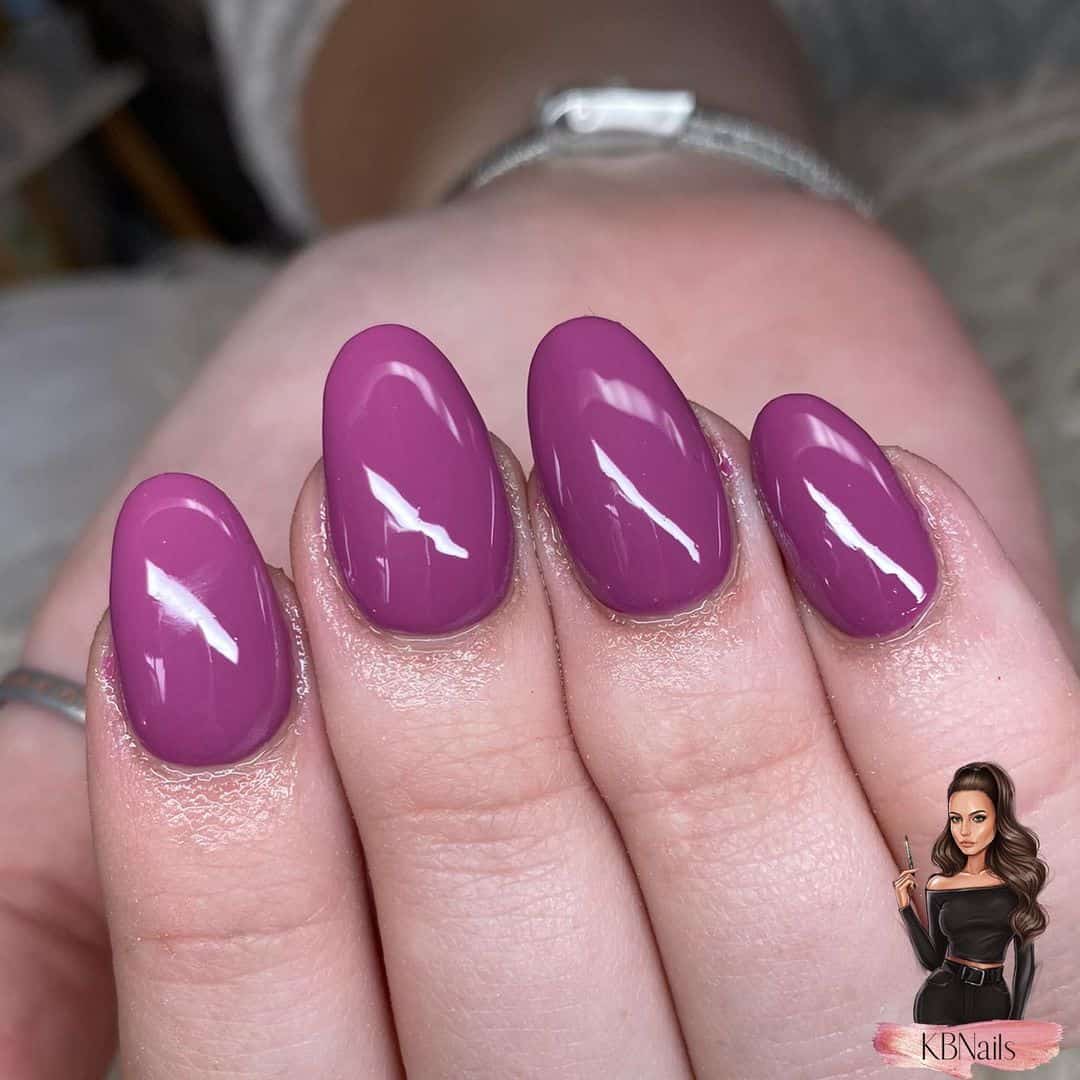 Plum is a lovely shade of purple that is classy and definitive. Minimalist yet elegant, glossy plum nail polish can complement any color. Trimmed nails are preferred for this look, although you can grow yours out to any length that you prefer. You can flaunt this look at work, in a formal setting, or perhaps at family get-togethers.
48. Berry Ballerina Nails
These berry ballerina nails are the way to go if you want a sleek and sophisticated look. The fingernails make use of matte berry nail polish on all nails with a slight twist. The first three nails are finished off with a glossy coat, while the other two sport a matte look. Tapered coffin-shaped fingernails are a subtle choice giving this look an upper edge.
49. Lilac Gradient Matte Nails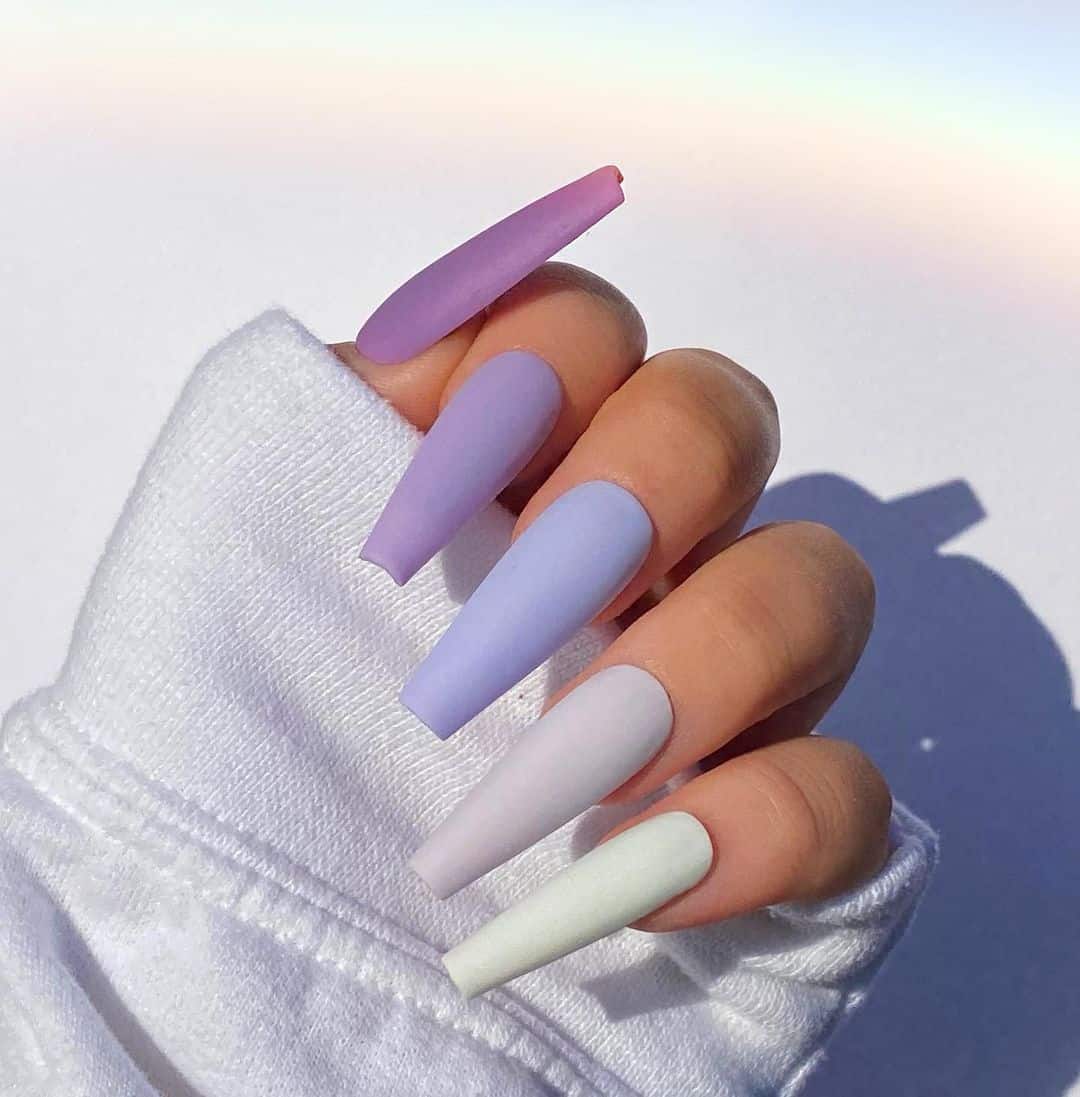 This look takes inspiration from the lilac color palette. The thumb begins with a darker shade, the choice of colors varies – each lighter than the previous. Starting with lavender, moving towards lilac, periwinkle, ivory, and ending with sea glass green, the nails display a wide array of colors. Matte nail polish brings each shade out perfectly, but you can opt for glossy nail polish as well. Longer stiletto, square-shaped nails work well for the look.
50. Autumn Purple Tapered Nails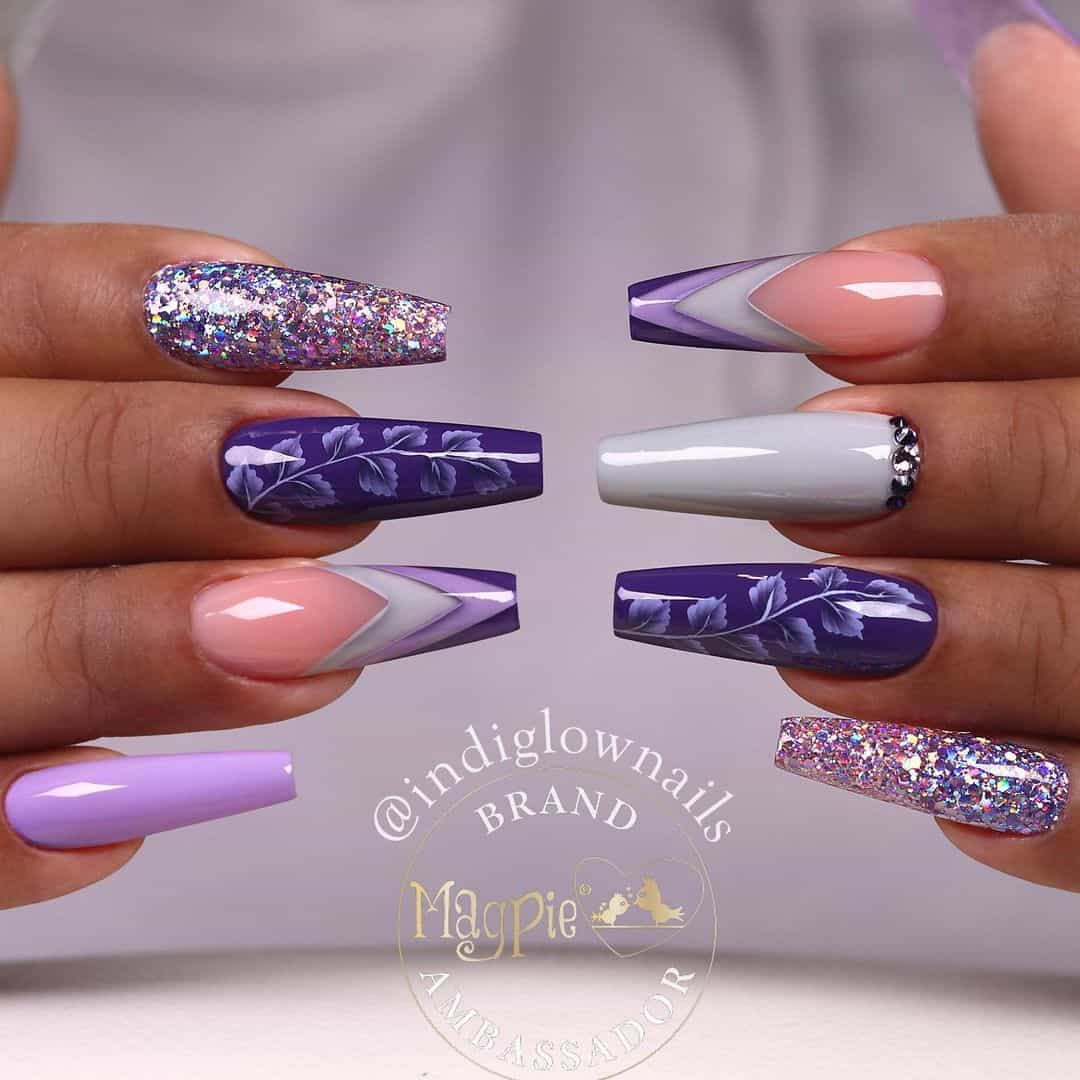 This nail art plays with asymmetry giving rise to a design that features multiple shades of purple. Light purple autumn leaves against a violet background forms the print for one of the nails. Glitter nail polish, a single shade of grey with a studded cuticle, and lavender unite to form the other three accents. A transparent base leading to symmetric printed tips in dark purple, light purple, and grey completes the look.
50 Unique Purple Nail Designs to Make a Statement
Your nails contribute to your outfit, so be sure to dress them up to match each of your outfits. The idea of choosing a different nail design for yourself might not be easy at first. This list will help you narrow it down to some of the best options of purple nail designs out there.
You can take an idea and make it your own, in any way that you like. Perhaps you can tweak the length of your nails, or even the accents – you could make a nail design from all the accents mentioned here or make the accent design the same for all your nails. Fall nails, winter nails, or Halloween nails – we hope this list has given you a comprehensive set of options.
Acrylic nails are a fun option to explore if you have a shaky hand when applying nail polish. Jewels, sequins, and prints are a great way to spruce your nails. Whether it is warm autumn nails or cool winter nails you are after, this list has you covered.
Creativity has no bounds – these purple nail designs depict that. Go all out and ensure that your nail art reflects how you are feeling. Pick out your favorite shade of purple and get painting!