Are you ready to dip your toe into the world of beauty subscription boxes? It only makes sense to start with the subscription box that brought on the craze: Birchbox. Made with the casual beauty lover in mind, Birchbox sends a carefully-curated selection of items to your door every month.
Now, Birchbox might be the OG, but is it worth it? Well, that depends on what kind of beauty shopper you are! We'll help you figure it out in this review.
We cover everything you need to know about Birchbox, including how it works, what kind of products you can receive, whether it's worth the price, and who it's best for!
What Is Birchbox?
Launched in 2010, Birchbox was the first beauty subscription box. The brand focuses on discovery and curation, with beauty experts carefully selecting products that they think individual subscribers will love.
The purpose of Birchbox is to introduce subscribers to new products and brands that they can then re-purchase in full sizes and introduce into their regular beauty routine.
Each Birchbox subscriber fills out a profile that covers everything from their age, skin type, hair type, concerns, style, and preferences. Based on that, they can receive a specially curated box once a month, although there are a few other options that we'll get into in a bit.
Birchbox also has an online store, much like Sephora or Ulta, where you can buy full-sized products.
What Do You Get In Birchbox?
There are a couple of different Birchbox options, but what they all have in common is that they include 4-6 deluxe-sized product samples. In general, Birchbox does not send out full-sized products (with occasional exceptions), but it's not as expensive as the beauty boxes that do.
The meaning of "deluxe sample" changes from product category to product category, but usually, a bottle will hold enough for 3-10 uses. You can expect to receive products from a wide variety of beauty brands, which keeps things exciting. The selection includes skincare, haircare, makeup, and beauty tools from mid and high-end brands. Usually, you'll get a nice mix in each box.
The Brands
Some of the brands you might get in a Birchbox include Sunday Riley, It Cosmetics, Wander Beauty, Stila, Dr. Jart +, Pai, Amika, Living Proof, Marcelle, and many others. The boxes also often include products from ARROW, which is Birchbox's own brand of clean beauty multitaskers.
What all of the brands have in common is that they're considered mid-end and above, so you're not likely to receive anything cheap or even drugstore-priced.
Other than that, the selection can be incredibly diverse! Mainstream brands, cult favorites, K-beauty, and clean beauty are all represented. The products in the box are usually new or less well-known, even if they come from well-established brands. This is the main way in which Birchbox generates discovery.
The Box
The actual, literal boxes are a lot of fun! Each month's box has a new, creative, and colorful design, and it comes with cute cards that explain what's in the box. You can save the box and repurpose it, or recycle it when you're done. In general, the Birchbox boxes and packaging are very eco-friendly, which we appreciate.
Can You Choose Your Birchbox?
Each month when you log on to your profile, you can choose your favorite from a few different Birchbox options! The main Monthly Box is more of a surprise, but with the others, you can see which products you'll receive.
The Monthly Box
This is the subscription with which Birchbox started. It's a surprise box filled with deluxe samples that are (mostly) based on your personal profile, as well as one product that you get to pick for yourself. Sometimes the selection hits the mark perfectly, but often it's way off, which can lead to disappointment. The selection is often better in Birchbox's Katia Picks box or the Clean Box.
Katia's Pick
This box is curated by Katia Beauchamp, the CEO of Birchbox. This box isn't a surprise, so you'll be able to see exactly what it'll include during selection. The product curation is often really nice and suitable for a wide range of beauty lovers.
Clean Box
The Clean Box is for fans of clean beauty, meaning products free of controversial chemicals. These products are usually formulated primarily with natural ingredients. While Birchbox as a whole isn't strictly cruelty-free, the products in the Clean Box almost always are.
Other Boxes
Sometimes Birchbox adds other curated box options based on different themes. For instance, in October 2020, they included a box of products from brands owned by Black women.
Birchbox Grooming
Geared towards men (though not exclusively), the grooming subscription box is totally separate from the rest of Birchbox and requires a separate sign-up. At the time of writing, it costs $10 per month, $60 for 6 months, or $110 per year. It includes 5 deluxe samples of grooming products like soaps, deodorants, or aftershaves.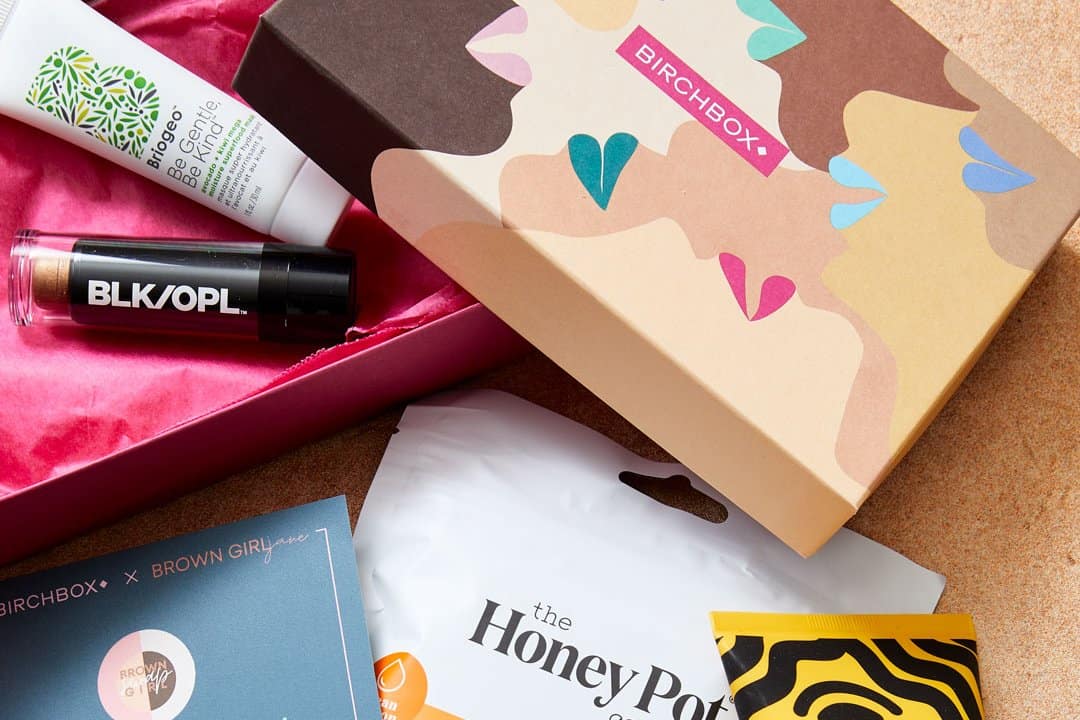 How Much Is a Subscription to Birchbox?
At the time of writing, a Birchbox subscription costs between $13-$15 depending on how long you decide to commit to it. If you only want to try it for one month, it's $15; if you commit to 6 months, it's $14 per month; and if you commit to a full year, it only costs $13 per month.
This makes it one of the more affordable beauty subscription boxes, which can range in price from $10-$50 per month, with most options coming in at around $25 per month. Birchbox used to be a little cheaper, but they introduced a controversial price hike in 2019.
Birchbox Bonuses and Promotions
One of the fun things about Birchbox is that they constantly add new promotions and curate new boxes and kits. You can receive gifts like additional boxes or full-sized items when you commit to 6 months or a year, and the different gifts change each month.
Subscribe now using code DOUBLEFUN for a Free extra box with your regular subscription at Birchbox.com!
There is also a loyalty rewards program that you can use to buy full-sized products that will get shipped out with your monthly box. You can receive points by referring friends, writing reviews of the samples you receive, and spending money in the Birchbox store.
Where Can Birchbox Be Shipped To?
Birchbox is based in the US, and the subscription can be shipped to anywhere in the country for free. It's also available in the UK and Ireland, France, and Spain, although our review focuses on the US service.
Is Birchbox Worth It?
Birchbox was totally revolutionary when it was first released, but some of the magic has worn off, especially for shoppers who are heavily steeped in the beauty market.
There are many new players in the beauty box game, some of whom give out full-sized products. Even the subscribers who liked receiving samples and were very loyal to Birchbox were disappointed by the 2019 price hike.
That's a lot of bad, but despite these negatives, we don't think Birchbox is a bad deal. The experience itself, from the boxes to the product quality, is still great.
Subscription boxes with full-sized products can be very wasteful since there's never a guarantee that you'll like any item enough to use it up. With a box of samples, a lot less product and packaging go to waste if something doesn't work for you.
Ultimately, Birchbox is still cheaper than subscription boxes that send full-sized products. When we break things down by numbers, the samples the Birchbox subscription includes offer good value.
Pros
Only mid and high-end products
Extremely diverse curation of products
3 box options to choose from each month
Pretty, well-designed, and reusable packaging
Cons
Samples don't have the appeal of full-sized products
Monthly Box curation often misses the mark
Recent price hike
Who Is Birchbox Right For?
Since a big part of the Birchbox mission is to expose subscribers to brand new products and brands, it's a great option for anyone who wants to experiment and try new things but doesn't have time to do their own research. This can be especially helpful if you're a casual or new beauty shopper.
If you're a very picky beauty buyer who likes to research their purchases and know exactly what they'll be getting, Birchbox probably isn't for you. However, we don't say that too definitively: it's still worth having a quick scroll through the Birchbox Instagram to see what was inside recent boxes. If any of the finds in there pique your interest, you might still enjoy the subscription!
Convinced? Then why not browse Birchbox's different subscription offers and join today!