Have you ever woken up to look in the mirror, only to notice a puffier-than-normal face staring back at you? Are you suffering from acne, sunburn, or under-eye bags? Well, you should try using an ice roller!
Ice is often touted as a secret skincare ingredient by dermatologists, as it is effective at shrinking pores and enhancing your natural glow. But when ice itself is applied to the skin directly, it can irritate sensitive skin and make a watery mess.
This is where ice rollers come in handy. When used correctly, ice rollers reduce inflammation and enhance your skin's natural glow, without giving you frostbite or wet clothes. Here's everything you need to know.
Important Factors to Consider When Choosing an Ice Roller
Ice rollers are the hidden gems of the beauty world. Unbeknownst to many, there are ice rollers of every shape, color, and function available on the market.
If you were already using ice cubes to cool your face every day, you no longer have to worry about remembering to fill up the ice tray before bed. Ice rollers can freeze in mere minutes or and can be reused, making your life a little easier.
Your idea of a satisfactory ice roller will change depending on your skin type, age, and personal preferences, which is why it's crucial to read reviews and the item description before impulse buying an ice roller. For your convenience, we've done all the research and compiled a list of the best ice rollers of 2021 – hopefully, you'll find one that suits your needs here!
First, here are some things you might want to consider before you start your online shopping spree.
Material
Ice rollers are manufactured with a wide range of materials, but for the majority of ice rollers, you'll have two choices; metal or plastic. Metal is more durable than plastic but can give you frostbite if not used carefully.
On the other hand, plastic rollers are generally cheaper and maybe more convenient if you're planning to travel. Overall, they don't tend to perform quite as well, though.
Don't fret, all of our product reviews highlight the material type of every ice roller. In any case, many come with interchangeable roller heads, so you can test out both with only a single purchase
Shape
Most ice rollers are shaped in an inverted triangle with the roller head at the top due to its simple and effective design. With that being said, there are certainly ice rollers that deviate from the norm. Many ice rollers have a spherical roller head (or two!) instead of a rectangular roller head.
If you'd like to know more about the pros and cons of each roller shape before diving into our product reviews, you might want to skip over to our comprehensive ice roller buyer guide.
Time
Do you have enough patience to wait six hours for your ice roller to freeze, or will you forget and shove your ice roller behind your tubs of ice cream?
When choosing an ice roller, consider how much time you can wait for your skincare session. There are super quick ice rollers that will freeze after 15 minutes in the freezer, but on the opposite end of the spectrum, there are also ice rollers that take two hours and above to freeze.
It should be noted that the longer time that the ice roller spends in the freezer, the longer it will generally take to defrost, and vice versa; the shorter time your ice roller spends in the freezer, the less time it will take to melt.
Now you know what to consider, here are the best ice rollers your money can buy.
Top 9 Best Ice Rollers 2023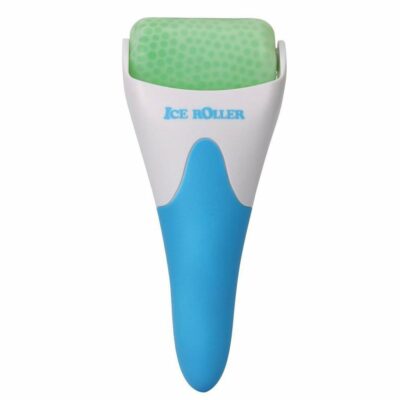 Why we like it:
This ESARORA Ice Roller is easy to use and freezes quickly. Plus, it keeps cool and doesn't turn into a watery mess after use.
Editor's Rating:
ESARORA's Ice Roller treats puffiness, migraines and offers pain relief. We love how it has decided to use a special type of gel instead of the traditional water, as it means that it will stay cold for a little longer. Whilst ice globes tend to jump over some parts of the skin unless properly lubricated, ESARORA's Ice Roller glides smoothly over the skin.
However, no product is truly perfect. This ice roller might get stuck in your hair if rolled too far into the hairline, but you should be fine as long as you keep the device away from your scalp. The roller also makes some noise, which might be a dealbreaker for some if they prefer a relaxing skincare session.
Material
This ice roller contains some collagen. Although the usefulness of collagen inside a freezable roller head is debatable as it is not directly applied to the skin, it is certainly thoughtful of the company to do so. Other than that, the ESARORA ice roller possesses all the typical materials of a standard ice roller, utilizing plastic and gel as its main ingredients. You can opt to purchase a metal roller head for extra money.
Shape
The ESARORA ice roller is shaped like an inverted triangle, with a handle at the bottom and a roller at the top. The head is composed of a plastic sack filled with gel – or you can choose to have a stainless steel roller head as well.
Time
If you're often in a hurry, this ice roller might be the one for you. You should freeze this roller for at least an hour for optimal results, but that's still much less time than you'll find with most ice rollers, including one of its closest competitors – like the Recoup Cryosphere Roller, which is best left overnight.
Once defrosted, the roller remains cold for up to ten minutes, depending on the climate you are in.
Pros
Easy application

Quick freeze

Stays cold for a long time

Interchangeable roller head
---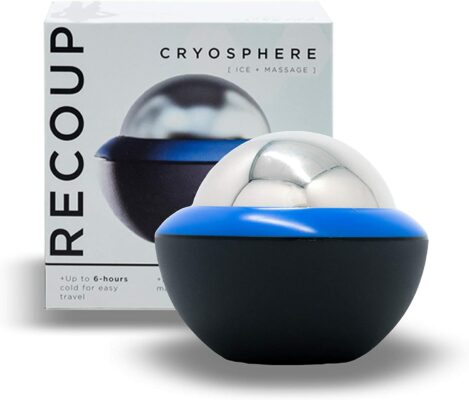 Why we like it:
Have you ever heard of an ice roller that will stay cold for six hours? Not six minutes - six hours? Well, this Cryosphere from Recoup Fitness will do exactly that.
Editor's Rating:
The Recoup Fitness Cryosphere Cold Massage Roller holds one significant benefit above its competitors; it stays cold for up to six hours. Although not a lot of people would use a massage roller for longer than an hour, it means that it keeps its freezing point at a stable temperature for far longer compared to ice rollers that defrost in twenty minutes. This mobility tool is also easy to carry around with you.
It's recommended purpose is to relieve your muscles, joints, and tendons, not to give yourself a facial. Even though you could try, the residue from the ball, especially on the first freeze, might make your skin appear blue, and the roller head would be too big.
Material
This ice roller is composed of stainless steel, with a plastic case.
Shape
The diameter of the stainless steel ball is a little larger than a tennis ball – 3.14 inches or roughly 8 centimeters. It is much larger than the types of ice rollers used for your face.
Time
This roller should ideally be frozen overnight for the best results but freezing it for over two hours is acceptable. The Recoup Fitness Cryosphere Cold Massage Roller should also be frozen at a low freezer temperature setting if you want it to stay cold for longer.
It isn't recommended to use this roller on your body for more than fifteen minutes at a time. Make sure to give your skin a five-minute break every fifteen minutes before continuing your massage session.
This roller would be perfect for those who want to take their ice roller to different places and have a relaxation session without having to re-freeze the roller every twenty minutes.
Pros
Stays cold for up to 6 hours

Easy to carry around

Made of stainless steel - easy to clean
Cons
Residue on the ball might make skin appear blue if not cleaned before usage

Might be too big
---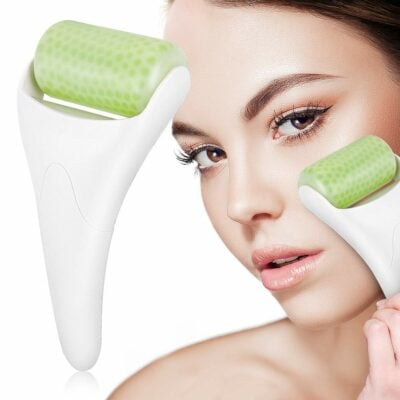 Why we like it:
A great budget option, this BFASU upgrade ice roller is easy on your wallet and stays cold for a long time.
Editor's Rating:
The BFASU upgrade ice roller is a cheap but quality ice roller. Like the ESARORA ice roller, it treats puffiness and promotes blood circulation. It can stay cold for up to 20-30 minutes, a long time for an ice roller. Despite being cheaper than most of its competitors, this roller doesn't compromise price for quality.
It must be stressed that caution must be taken whenever using ice rollers. If you press too hard on your face with the BFASU upgrade ice roller, the extreme temperatures can cause negative reactions to your skin, though this is true for most other ice rollers.
Furthermore, the roller is a little bulky and might be hard to roll on your eyes, depending on how large your eyes are. It's still a good option for elsewhere, though – just be aware you may need a different product for your puffy eyes.
Material
This roller is manufactured out of a plastic handle and a plastic roller, the latter of which is filled with gel, water, and beads. The beads inside the plastic roller head help to keep the temperature of the ice roller nice and cold.
Unfortunately, you cannot replace the plastic roller head with a metal one, so it wouldn't be a good choice for you if you prefer metal rollers or dislike the feel of plastic on your skin.
Shape
Like most other plastic ice rollers, the BFASU ice roller is shaped like an inverted triangle with the roller head at the top and the handle at the bottom. The roller head is soundless and rolls across the skin smoothly.
Time
It is recommended to keep this roller in the freezer for at least a couple of hours, but for optimal usage, it's best to leave the roller head in overnight.
Pros
Economical price

Very high quality

Stays cold for up to 20-30 minutes

Lasts a long time
Cons
The roller is a little bulky

Can cause skin reactions if not careful
---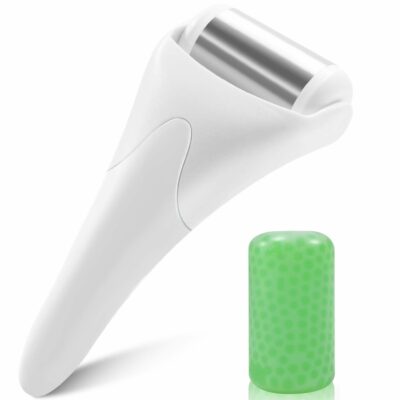 Why we like it:
The interchangeable roller on this ice roller can be used so that you can swap plastic gel out for stainless steel whenever you want, at no extra cost.
Editor's Rating:
With an additional roller barrel for no extra cost, the SPANLA 2 is a great choice for the finicky or adventurous. The exchangeable roller head means that you can exchange the heads depending on your mood or use both for your morning skincare session.
Despite the merits of the ice roller, the screeching sound that it makes as it rolls on the face can be loud and unbearable, especially for the metal roller head. If you're looking for a relaxing massage session, you might find your zen being interrupted by loud squeaks. Use the plastic roller head if you wish to minimize screeching or choose another option from our list.
Material
These ice rollers are made from plastic, gel, water, and stainless steel. The stainless steel is more efficient when you're short on time, as it lowers its temperature quickly but also comes to room temperature in a matter of seconds upon skin contact. The plastic roller, on the other hand, takes a little more time to freeze but stays cold for longer.
Shape
Unless you have an extremely large face, the shape isn't going to be something that you're buying the SPANLA 2 Ice Rollers for. They're large and bulky and don't fit under most people's eyes. What's more, the handle is far too big for most people (of course, unless you have big hands!)
Time
The time that is taken to freeze these ice rollers ultimately depends on the coldness of the fridge. This being said, it's safe to say that the metal roller likely won't take much more than 5-10 minutes to get cold when placed in the fridge. The plastic roller will take a minimum of 2 hours to freeze.
It doesn't matter if you have a couple of hours or a couple of minutes to de-puff your face, this roller will freeze within the time you need it to.
Pros
Exchangeable roller heads

Coldness lasts for a long time (for plastic roller head)

Additional metal roller head at no extra cost
Cons
Excessive screeching sounds occasionally

Large size
---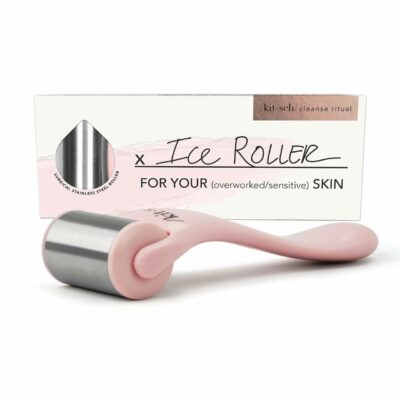 Why we like it:
With a chic, lightweight design, the Kitsch Ice Roller is a great accessory if you ignore the fact that it never stays cold for very long.
Editor's Rating:
The Kitsch Ice Roller might be a great choice if you're looking to replace your rose quartz/jade roller, but don't expect it to replace a standard ice roller made of plastic and gel. The ESARORA Ice Roller would be much better, in that case. Why? Steel absorbs warmth very quickly, so this Kitsch stainless steel roller will absorb your skin's heat before you're finished with half of your face, at least if the weather's warm. Bummer!
That isn't all bad news, though. The fact that this roller absorbs its surrounding temperatures very quickly can be useful in situations where you've forgotten to freeze your ice roller. Simply stick the Kitsch ice Roller in the fridge for three to five minutes, and you're finished. As it freezes in a short amount of time, this roller would be perfect for people who consistently forget to put their ice rollers in the fridge before bedtime.
Material
This Kitsch Ice Roller is made from stainless steel and plastic, which allows for easy cleaning. Simply rub the roller with a little bit of rubbing alcohol if you feel as though it's getting grimy.
Shape
A sleek curve gives the Kitsch roller elegance, whilst its pink color gives it some vibrance. The roller itself is shaped like a trapezoid, with the wide roller head at the top and the handle at the bottom.
Time
This roller can take as little as three to five minutes to freeze, but this also means it will stay cool for less time. You can expect to get half of your face done, and then you'll have to place the roller back in the freezer for a little while.
Pros
No need to place in the freezer

Stainless steel roller - easier to clean

Aesthetic design
Cons
Doesn't stay cold for long
---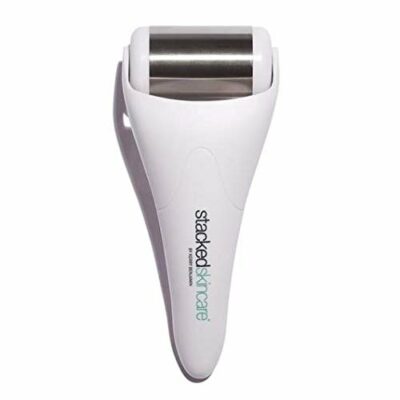 Why we like it:
A "hybrid" ice roller of sorts, this roller combines the best of both worlds and includes a gel and stainless steel roller head - the gel head is on the inside and is surrounded by a metal barrier.
Editor's Rating:
A high-quality tool for those who are willing to spend a little more on their ice rollers, the StackedSkincare Ice roller offers relief from your skin inflammation in a classy way. The aesthetic design and logo earned it some extra brownie points! This ice roller was developed by an expert esthetician, which makes this ice roller much more legitimate and makes it stand out from others on the market.
Unfortunately, this StackedSkincare roller is too bulky to roll over your eyes, which might be the very reason some might have bought the product, especially as the eyes are the most prone to being bloated.
Material
Metal and plastic and a gel/water filling combine to give this unique roller life. By utilizing a stainless steel roller head wrapped around a plastic gel sac, this roller keeps the best of two worlds – the metal feel of the roller and the long-lasting coolness of the gel sac.
Shape
This roller is another standard face roller, shaped like an inverted triangle. Unlike some of the other rollers on this list, it has a curved back for easy holding.
Time
It is recommended to put this roller in the freezer for at least a couple of hours or overnight for optimal results. Once frozen, you can expect this roller to remain cool on your face for at least ten minutes, though it might last a little bit longer if you had it in the freezer overnight.
Pros
Stainless steel design - more sanitary and smoother feel

Aesthetic design

Stays cool for a long time (10 minutes+)
Cons
Doesn't roll under eyes

Unreliable product shipment
---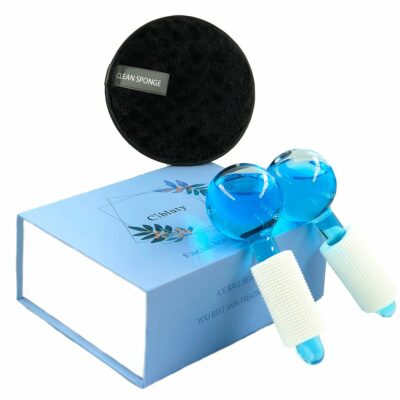 Why we like it:
Uniquely designed, this delicate Cibluty ice roller ball deviates from the norm of what an ice roller is and includes a serum that can be absorbed by the skin.
Editor's Rating:
Ten minutes of freezing time, plexiglass, and a unique shape. This Cibluty ice roller ball ticks nearly all the criteria for the ultimate ice roller, except that it's a little too fragile for the average person. Leaving the ice roller in the freezer for more than ten minutes can lead to cracks and an unusable ice roller, and one drop onto the floor, and you might be left with an enormous mess to clean up.
Apart from that, this is a solid and reasonably priced, high-quality product. It comes with one makeup remover pad, which you might consider an odd addition to an ice roller. However, it makes sense when you think about it; removing your makeup and massaging your face with these rollers could be a relaxing way to end your day after you get home.
Material
These ice rollers are made of a high-quality hybrid glass called "nano borosilicate," which you can think of like a fancy term for "freeze-proof glass" or plexiglass. Just because they're freeze-proof doesn't mean that they're break-proof, so be extra careful when handling them. As for the liquid inside, the bulbs are filled with a mixture of aqua, hyaluronic acid, peppermint, panthenol, and citric acid essence.
Shape
This ice roller is unique because it doesn't use a roller head at all – instead, it resembles a globe. Its round shape can be advantageous when compared to a roller-head ice roller as it can effectively focus on a smaller area of skin and reduce the puffiness in that area well, instead of being a general ice roller. If you'd like to reduce bloat in one particular place (e.g., your eyes), then this roller would be highly recommended.
Time
If you're the type to forget the cookies in the oven or the pasta on the stove, you probably shouldn't buy this product. Keeping this ice roller in the freezer at a temperature of 14-40°F (-10-4°C) for more than ten minutes can result in cracked and leaking ice bulbs.
However, if you're dead set on having an ice roller, you should probably set an alarm so you can be notified before your money goes down the drain (literally!). As it only takes ten minutes for these bulbs to freeze, it'd be a perfect fit if you're short on time in the mornings.
Pros
Effective at spot treatment

Ten minutes of chilling time is all you need

Comes with an absorbable serum to give skin more lift and glow

One-year replacement warranty
Cons
Will crack if left in the freezer too long

Careful handling required
---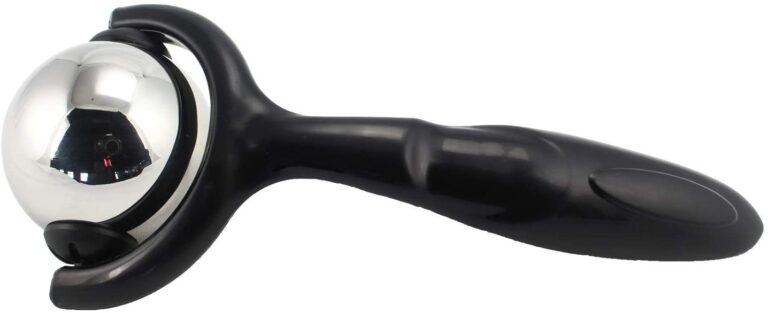 Why we like it:
Sometimes all you want on a cold day is a hot massage, not an ice roller. Good news - this roller can do both!
Editor's Rating:
If you're suffering from muscle pain, be it in your face, legs, or arms, this massage ball might be a great choice for you. It can soothe your sore muscles effectively using heat or coolness. Use it after an intense gym session or a long run, or even just in the morning when you want to loosen up your jaw muscles.
This roller can be kept in the freezer for as long as you need, but one drawback that it has is that it needs to sit for two hours before you can use it for ice rolling your face (or any other part of your body).
For a hot massage, it only takes five minutes to prepare – minus counting the time it takes to boil water. You could go for a hot/cold treatment by freezing the roller for two hours and rolling it on your face. You could then immerse the roller in hot water for twenty minutes, as the roller is probably retaining some coldness from the two-hour freeze.
Roll the warm steel device on your face, and you've just given yourself a hot/cold treatment, proven to reduce exercise-induced muscle pain.
Material
This metal roller is composed of a non-freezing alcohol gel interior with a stainless steel coating. Its hybrid design allows the roller to hold temperatures for longer times than its counterparts created of steel or plastic and gel. The steel ball itself sits in between a y-shaped plastic handle for easier rolling.
Shape
At first glance, the ALLWINWIN RMB09 massage ball looks identical to a traditional ice roller, but with one exception; it has a spherical roller head instead of a cylindrical one. Its spherical design allows for spot treatment, but it can't swivel in all directions – just up and down.
It serves all the same functions as a cylindrical ice roller, except that it is better at relaxing one particular spot instead of a wide area.
Time
For hot therapy, it's recommended to bring water to a temperature of 50-70 C, or around 150F, then immerse the roller in the boiling liquid for at least five minutes. For cold therapy, you should ideally put the roller in the freezer for at least two hours, although more is fine – you could leave it in overnight.
Pros
Holds temperatures for 20+ minutes

Hybrid design

Can be used for hot and cold massages
Cons
Takes two hours to freeze
---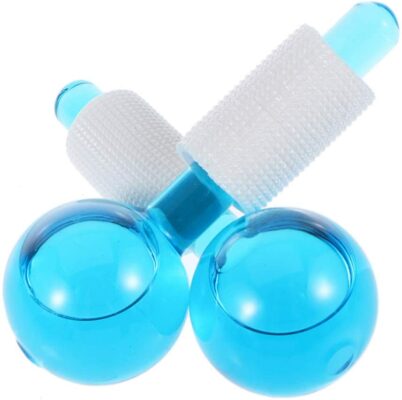 Why we like it:
Delicate and well-priced compared to other similar items, the HEALILLY ice rollers are great when used carefully.
Editor's Rating:
Make sure you don't freeze these "ice" rollers! The HEALILLY ice rollers are very fragile if placed in the freezer and can break after only a couple of hours in the fridge. If you're a forgetful person, we suggest you look elsewhere. If they break within the warranty period, they'll send you a gratuitous replacement, but you'll have to wait a little bit until they are shipped.
Other than that, these ice rollers are very helpful for reducing under-eye circles and improving circulation to your face.
Material
These ice rollers are made of crystal, a natural stone that will be easy on your skin. Although crystal is aesthetically pleasing and feels great, it can also shatter very easily if left in the freezer for too long.
Shape
Shaped like drumsticks, these crystal ice rollers are filled with a blue-tinted liquid. The handles of these ice rollers are surrounded by handles with "bump particles" for an easy and stable grip.
Time
Only ever put this roller in the refrigerator, never the freezer. You could risk putting it in the freezer at the lowest setting, but even then, you shouldn't leave it in there for more than five minutes. For the refrigerator, you can put it in there for twenty minutes in summer and ten minutes in winter.
Pros
Made of crystal

Gratuitous replacement

Bump particle handles

Quick freeze
Cons
Very easy to break - more than ten minutes in the freezer and your ice rollers are gone.

Vigilance needed when freezing
---
Guide to Buying Ice Rollers

Now you've seen the best ice rollers in our product review list, here are some further considerations to help your buying decision.
Jade Rollers vs. Ice Rollers
Both the jade and ice roller are excellent tools for de-bloating your face. Their shared aim is to reduce lymphatic drainage or to stimulate lymph fluid circulation, which is critical in removing toxins from the body. If you have a slow lymphatic system or want to get a slimmer face, you could see amazing results with both a jade roller or an ice roller but in slightly different ways.
So, what's the difference between the two? Well, ice rollers are fantastic for waking you up and improving blood circulation – check out the ESARORA Ice Roller if that sounds like just what you need. Ice rollers also shrink your pores and tighten your skin. Jade rollers, on the other hand, relax your muscles and give your skin a healthy glow.
Ice Roller Safety Cautions
Ice rollers are generally safe to use. There's little that can go wrong with rolling a cold piece of metal or plastic on your face, and the benefits far outweigh the risks in most cases. But if you fail to adhere to some safety guidelines (that should honestly be common sense), consequences will inevitably follow. Follow these tips to stay safe.
Watch the Time
Metal and stainless steel can stick to your skin, and if left in one position for an extended period, can give you frostbite. Watch out for any rust on the roller; though rust on stainless steel only appears after extended periods of use, it isn't impossible- especially if the roller is immersed in liquid whilst it is being frozen.
Remember to clean the roller after each use with an alcohol-based (nontoxic) cleaner.
Don't Ignore Leaks
Never ignore leaking liquid. There is a possibility that whatever is in the liquid might be toxic and cause a reaction (rashes, hives, etc.). Plus, the sharp edges from the broken roller might pierce your skin and wound you.
Pro Tips for Using Ice Rollers
Increase the temperature – If you find that the ice roller is too harsh, try putting the roller in the refrigerator instead of the freezer. Keep in mind that this might mean that the ice roller will stay cold for less time, but it will also be gentler on your skin.
Be consistent – Ice regularly (every morning) for optimal results. You'll see temporary benefits (reduced bloating) with one ice roller massage, but do it every day to reap additional benefits such as less acne, glowy skin, and reduced pores. Roll for 5-10 minutes every day for the best results.
Pressure – Roll with just enough pressure to make your skin move slightly but be careful not to put too much force.
Remove makeup first – Don't roll your face when you have makeup on. Never do this! This will roll whatever gunk you have on your face into your pores and clog them up more.
Use upward strokes – This further promotes lymphatic drainage and helps reduce wrinkles.
Final Thoughts
You're sure to have found an ice roller or two that you liked from this list. Maybe you're already looking forward to having your mornings rejuvenated and de-bloated! We hope you learned something new from this guide, and we wish you luck in your future skincare endeavors.