Top Picks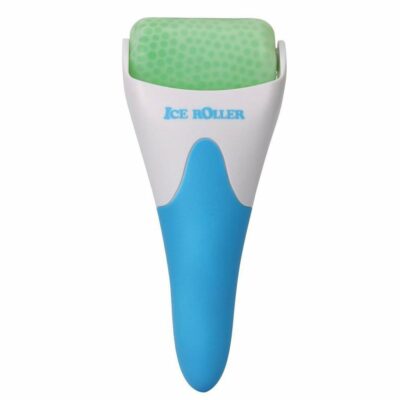 ESARORA Ice Roller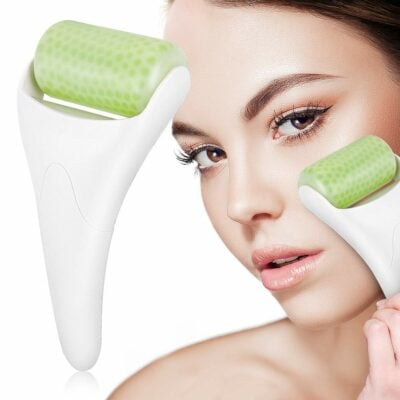 BFASU Upgrade Ice Roller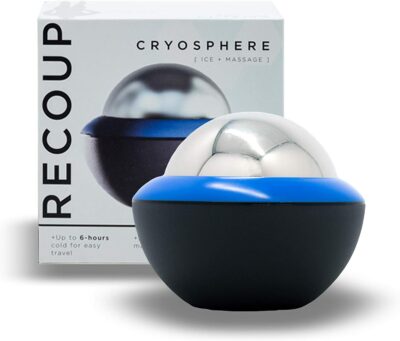 Recoup Fitness Cryosphere Cold Massage Roller
Previous
Next
Have you ever woken up to look in the mirror, only to notice a puffier-than-normal face staring back at you? Are you suffering from acne, sunburn, or under-eye bags? Well, you should try using an ice roller!
Ice is often touted as a secret skincare ingredient by dermatologists, as it is effective at shrinking pores and enhancing your natural glow. But when ice itself is applied to the skin directly, it can irritate sensitive skin and make a watery mess.
This is where ice rollers come in handy. When used correctly, ice rollers reduce inflammation and enhance your skin's natural glow, without giving you frostbite or wet clothes. Here's everything you need to know.
Important Factors to Consider When Choosing an Ice Roller
Ice rollers are the hidden gems of the beauty world. Unbeknownst to many, there are ice rollers of every shape, color, and function available on the market.
If you were already using ice cubes to cool your face every day, you no longer have to worry about remembering to fill up the ice tray before bed. Ice rollers can freeze in mere minutes or and can be reused, making your life a little easier.
Your idea of a satisfactory ice roller will change depending on your skin type, age, and personal preferences, which is why it's crucial to read reviews and the item description before impulse buying an ice roller. For your convenience, we've done all the research and compiled a list of the best ice rollers of 2020 – hopefully, you'll find one that suits your needs here!
First, here are some things you might want to consider before you start your online shopping spree.
Material
Ice rollers are manufactured with a wide range of materials, but for the majority of ice rollers, you'll have two choices; metal or plastic. Metal is more durable than plastic but can give you frostbite if not used carefully.
On the other hand, plastic rollers are generally cheaper and maybe more convenient if you're planning to travel. Overall, they don't tend to perform quite as well, though.
Don't fret, all of our product reviews highlight the material type of every ice roller. In any case, many come with interchangeable roller heads, so you can test out both with only a single purchase
Shape
Most ice rollers are shaped in an inverted triangle with the roller head at the top due to its simple and effective design. With that being said, there are certainly ice rollers that deviate from the norm. Many ice rollers have a spherical roller head (or two!) instead of a rectangular roller head.
If you'd like to know more about the pros and cons of each roller shape before diving into our product reviews, you might want to skip over to our comprehensive ice roller buyer guide.
Time
Do you have enough patience to wait six hours for your ice roller to freeze, or will you forget and shove your ice roller behind your tubs of ice cream?
When choosing an ice roller, consider how much time you can wait for your skincare session. There are super quick ice rollers that will freeze after 15 minutes in the freezer, but on the opposite end of the spectrum, there are also ice rollers that take two hours and above to freeze.
It should be noted that the longer time that the ice roller spends in the freezer, the longer it will generally take to defrost, and vice versa; the shorter time your ice roller spends in the freezer, the less time it will take to melt.
Now you know what to consider, here are the best ice rollers your money can buy.
Guide To Buying Ice Rollers

Now you've seen the best ice rollers in our product review list, here are some further considerations to help your buying decision.
Jade Rollers vs. Ice Rollers
Both the jade and ice roller are excellent tools for de-bloating your face. Their shared aim is to reduce lymphatic drainage or to stimulate lymph fluid circulation, which is critical in removing toxins from the body. If you have a slow lymphatic system or want to get a slimmer face, you could see amazing results with both a jade roller or an ice roller but in slightly different ways.
So, what's the difference between the two? Well, ice rollers are fantastic for waking you up and improving blood circulation – check out the ESARORA Ice Roller if that sounds like just what you need. Ice rollers also shrink your pores and tighten your skin. Jade rollers, on the other hand, relax your muscles and give your skin a healthy glow.
Ice Roller Safety Cautions
Ice rollers are generally safe to use. There's little that can go wrong with rolling a cold piece of metal or plastic on your face, and the benefits far outweigh the risks in most cases. But if you fail to adhere to some safety guidelines (that should honestly be common sense), consequences will inevitably follow. Follow these tips to stay safe.
Watch the Time
Metal and stainless steel can stick to your skin, and if left in one position for an extended period, can give you frostbite. Watch out for any rust on the roller; though rust on stainless steel only appears after extended periods of use, it isn't impossible- especially if the roller is immersed in liquid whilst it is being frozen.
Remember to clean the roller after each use with an alcohol-based (nontoxic) cleaner.
Don't Ignore Leaks
Never ignore leaking liquid. There is a possibility that whatever is in the liquid might be toxic and cause a reaction (rashes, hives, etc.). Plus, the sharp edges from the broken roller might pierce your skin and wound you.
Pro Tips for Using Ice Rollers
Increase the temperature – If you find that the ice roller is too harsh, try putting the roller in the refrigerator instead of the freezer. Keep in mind that this might mean that the ice roller will stay cold for less time, but it will also be gentler on your skin.
Be consistent – Ice regularly (every morning) for optimal results. You'll see temporary benefits (reduced bloating) with one ice roller massage, but do it every day to reap additional benefits such as less acne, glowy skin, and reduced pores. Roll for 5-10 minutes every day for the best results.
Pressure – Roll with just enough pressure to make your skin move slightly but be careful not to put too much force.
Remove makeup first – Don't roll your face when you have makeup on. Never do this! This will roll whatever gunk you have on your face into your pores and clog them up more.
Use upward strokes – This further promotes lymphatic drainage and helps reduce wrinkles.
Final Thoughts
You're sure to have found an ice roller or two that you liked from this list. Maybe you're already looking forward to having your mornings rejuvenated and de-bloated! We hope you learned something new from this guide, and we wish you luck in your future skincare endeavors.