Editor's Note: Protecting your skin and using products that soothe rather than irritate is incredibly important when dealing with rosacea. I find that it can be difficult to take these things into account as you read through ingredients and work to find a foundation that can offer coverage for redness. If you're struggling with rosacea, it's important to remember you aren't alone in this struggle – our guide helps you find the foundation you need to fit your sensitive skincare and makeup needs.
If you struggle with rosacea, a great foundation is key to keeping that redness under control. However, if you don't get the right formula, it can end up making the problem worse or even causing a new flare-up.
In this guide, we'll talk about some of the ingredients and features you should be looking for, and then give you our top 10 picks for the best foundation for rosacea for 2022.
Which Foundations Help Rosacea?
For those struggling with rosacea, choosing the wrong foundation can mean itchy, inflamed skin all day long. Your sensitive skin needs a formula that is gentle and free of potential irritants. In this section, we'll take a look at ingredients that can actively soothe a rosacea flare-up and features of formulas that are essential for those who struggle with rosacea.
Foundation Ingredients That Treat Rosacea
For a foundation to be able to actually soothe a flare-up and protect your skin from triggers, it needs to include sun protection and other calming ingredients. Here's a quick overview of some of the features and ingredients you might look for:
SPF
One of the triggers that can cause a flare-up is the sun. So, including sun protection in your skincare routine is an essential. You shouldn't rely on foundation to be your sole form of face sunscreen. You rarely apply enough for it to provide the full SPF protection it offers.
However, applying a face sunscreen as your primer and then layering a foundation with SPF on top is a great way to increase the amount of sun protection and minimize the risk of a flare-up.
Foundations with a high SPF like Tint du Soleil are especially helpful in the summer when UV rays can be even more intense.
Physical sunscreens like zinc oxide or titanium dioxide are less irritating than chemical sunscreens since they sit on top of your skin instead of sinking down into it. However, both are safe to use and preferable to no sun protection at all.
Antioxidants and Probiotics
Antioxidants, such as those found in calming essential oils like chamomile or lavender, can help soothe inflamed skin. Meanwhile, probiotics can actively repair skin and heal flare-ups.
While these are more effective at treating rosacea when you actually consume them from the food you eat, they can also provide some benefits when applied directly to your skin. So looking for formulas with these ingredients is a great way to help your skin while also covering up redness.
Foundation Features That Cover Redness
If you have rosacea, you don't have to get makeup that actively heals your skin. You can just opt for something that offers the best coverage to conceal redness and other symptoms of flare-ups. However, you should still look for formulas that offer coverage without making your symptoms worse. Here are the most important features your foundation should have:
Coverage
When you are experiencing excessive redness, light coverage foundations just won't be up to the task. Getting something with a lot of pigment in it, like this highly pigmented Dermablend foundation ensures that you can fully cover up that redness without needing to apply a thick layer of foundation.
People with rosacea need to allow their skin to breathe as much as possible. So when you layer on a light coverage foundation in an effort to cover redness, you end up creating too thick of a layer for your skin to breathe through.
With full coverage foundation, you can apply a much thinner layer. You'll still completely conceal the redness, but you won't suffocate your skin.
Finish
Foundations generally come in three possible finishes: matte, gloss, or satin. Matte offers a shine-free, more polished look while gloss provides more of a dewy glow. A satin finish is somewhere in between.
For oily skin, go for a matte finish. Gloss finishes can end up looking greasy on oily skin. Matte will help tone down oiliness and turn it into more of a dewy glow.
For dry skin, go for a gloss or satin finish. The gloss will help add life to dull, dry skin. They also often include hydrating ingredients than can soothe dryness. A matte finish, on the other hand, can look cakey and ashy on dry skin.
Formula Base
Most foundations use one of three bases to create their formulas: water, oil, or silicone. None of these bases are inherently irritating for your skin. However, oil and silicone do clog pores and decrease the breathability of the makeup.
For daily use, a water-based formula that doesn't clog pores and allows your skin to breathe is best. These formulas are least likely to contribute to flare-ups. However, they don't usually offer the full coverage you might be looking for.
For more coverage, a silicone base is better. For extra dry skin and a dewy gloss finish, an oil-based formula is best.
Minimal Ingredients
If you're not looking for something that treats your rosacea while it covers it, opt for minimalist formulas. The fewer the ingredients, the less the risk that it will cause a flare-up. Above all, make sure that the formula is free from the most common rosacea triggers.
Keep these ingredients and tips in mind as you browse through our list of the top 10 best foundations for Rosacea below:
Top 10 Best Foundations for Rosacea 2023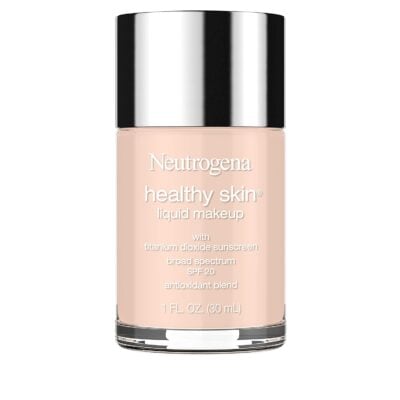 Why we like it:
With SPF 20 sunscreen, natural antioxidants, and great coverage, this lightweight formula is a fantastic example of everything a foundation for rosacea should do!
Editor's Rating:
Quick Facts:
Active Ingredients: Titanium Dioxide
Coverage: Medium
Finish: Satin
It's hard to beat a formula this well-designed at a price this affordable. It's one of the best options you'll find for both treating and covering up your rosacea flare-up. It includes vitamin E and feverfew infusions along with a gentle, physical sunscreen to protect and heal skin while it covers redness.
Coverage
This formula offers medium but buildable coverage so it's a versatile pick. Apply a thinner layer to tone down redness and work as your everyday look. For a night out, apply a second layer to get complete coverage.
One issue you might have is in matching the shade. The formula oxidizes a few seconds after being exposed to air. This causes it to turn slightly darker soon after you apply it to your face. Consider going a shade lighter than you normally would to compensate for this.
How It Works
Neutrogena healthy skin uses titanium dioxide as a gentle, physical sunscreen to provide a reliable SPF 20 protection. This is one reason it makes a great everyday foundation. The lightweight formula also includes natural antioxidants like vitamin E and feverfew to calm skin and reduce redness naturally.
Because of this, it actively reduces redness while covering it up.
Pros
Titanium Dioxide offers SPF 20 protection

Lightweight yet buildable coverage

Infused with antioxidants to calm redness and heal skin

Great for everyday wear
Cons
May need to go a shade lighter than you usually would
---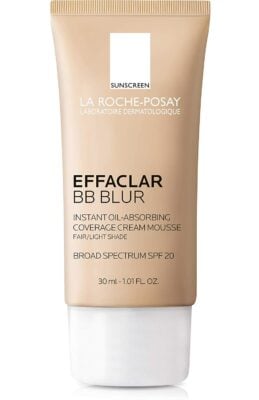 Why we like it:
This lightweight formula is designed to combat redness and absorb excess oil, all while protecting your face from harsh UV rays.
Editor's Rating:
Quick Facts:
Active Ingredients: Airlicium, Titanium Dioxide
Coverage: Medium
Finish: Matte
La Roche Posay is a staple for those with sensitive skin. This oil-absorbing foundation is a great example of why that is. It's lightweight, super breathable, and offers great sun protection. Above all, it's free of parabens, fragrance, and other ingredients that are known to inflame sensitive skin.
Coverage
This provides great everyday coverage. It's pigmented enough to conceal redness but lightweight enough to avoid that cakey look that comes from heavier foundations.
Unfortunately, this product comes in just two shades. For those who have lighter skin than the fair option or darker skin than the medium option, you won't be able to use this as a standalone foundation. You'll need to mix it with something to better match your skin.
For those who already struggle to match their skin tone with more diverse lines, you'll likely struggle to make these options work for you. For something similarly lightweight and mattifying but with more shade options, consider the PÜR powder foundation which comes in 24 different shades.
How It Works
This was formulated for sensitive yet oily skin. The mousse-like formula absorbs oil to prevent the greasiness and streaks that those with oily skin struggle with.
It also blurs the look of blemishes, pores, and uneven skin so if you're currently experiencing a rosacea flare-up, this can help mask some of the bumps and patches that appear. Meanwhile, the high-SPF and the gentle, fragrance-free formula are safe enough to use on your sensitive skin.
Pros
Lightweight, mousse-like foundation

Absorbs oil

SPF 20

Gentle formula is safe to use during flare-ups
---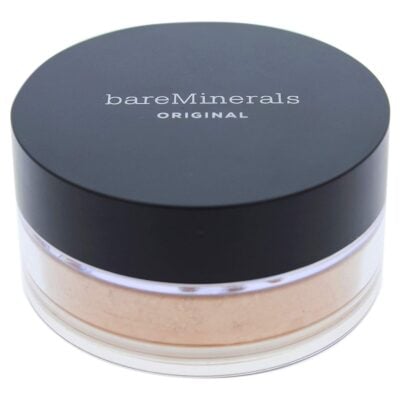 Why we like it:
This simple, mineral formula offers natural sun protection, reliable coverage, and is completely free of skin-irritating chemicals.
Editor's Rating:
Quick Facts:
Active Ingredients: Titanium Dioxide, Zinc Oxide
Coverage: Medium
Finish: Matte
bareMinerals is well-known for its natural, irritant-free powder foundations that offer protection, coverage, and breathability. This is the original formula, packed with natural physical sunscreens and natural mineral pigments. Most importantly, it's free of the talc, binders, or preservatives that irritate sensitive skin.
Coverage
This powder foundation provides great coverage, even when used on its own. It won't fully conceal your redness, but it will tone it down significantly. More importantly, it will do so without clogging pores or decreasing air flow to your skin. This means you can get decent coverage without the risk of triggering a flare-up.
How It Works
What we love about this mineral powder is that every ingredient is gentle and safe to use on sensitive skin. Where many powders use talc, binders, or waxes to create better coverage, this one skips all of that. Instead, it relies on the natural features of minerals like mica, iron oxides, and more to provide coverage without irritating your skin.
One drawback to this product is the lack of applicator. You'll need to have your own separate brush in order to apply this powder. Moreover, you need to have a high-quality makeup brush in order to use this as your sole foundation, as opposed to a finishing powder. With cheaper brushes, the powder just doesn't buff into the skin as well.
For a powder foundation that comes with its own brush applicator, check out the L'Oreal Paris True Match powder.
Pros
Provides breathable, redness-reducing coverage

Irritant-free formula is free of talc, parabens, and other fillers

All-natural mineral ingredients

Gentle enough for daily use
---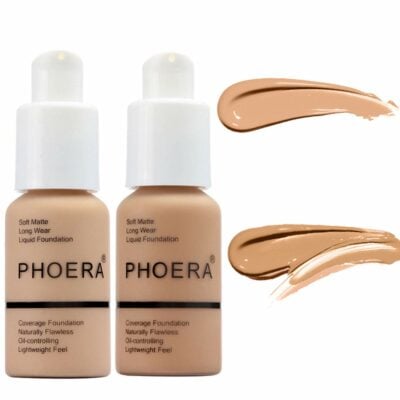 Why we like it:
This affordable full coverage formula will erase any sign of redness or unevenness in your skin.
Editor's Rating:
Quick Facts:
Active Ingredients: N/A
Coverage: Full
Finish: Matte
This set of Phoera liquid foundations offers full coverage, oil control, and moisturizing ingredients to treat dry, irritated skin. It's hard to beat this price for all-day coverage that doesn't settle into lines, streak, or cause flare-ups.
Coverage
Phoera offers incredible full coverage. The matte finish provides a blur effect to help smooth over uneven texture just as effectively as it smooths over redness. So you're left with a flawless look at a surprisingly affordable price.
This is a full coverage foundation. As such, use it very sparingly. It doesn't cake as much as other full coverage formulas, but it does quickly create a plastic look. Because it's waterproof, removing excess foundation from your skin is a challenge. You'll need to use a powerful makeup remover and the ingredients in those can worsen redness.
How It Works
Phoera foundation is formulated to be waterproof, sweatproof, and oil proof so that it stays on all day without caking or creasing. This makes it a great choice in all climates since it won't melt away in humidity or dry into a cakey mess on cold days.
This may not be the best choice for those with oily skin. While it does offer oil-control, this is mild, and the moisturizing ingredients included can cancel that out on oily skin. This is definitely better suited to those with dry or combination skin.
For something with comparable coverage that works better on oily skin, try the Dermablend camo foundation.
Pros
Affordable full coverage foundation

All-day coverage completely masks redness

Waterproof formula
---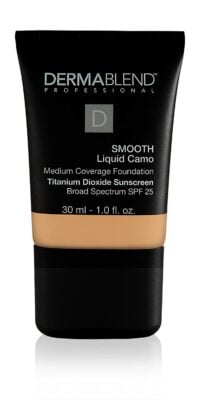 Why we like it:
Boasting a high SPF, great coverage, and a 100% skin-friendly formula, this Dermablend foundation is great for preventing flare-ups and covering redness.
Editor's Rating:
Quick Facts:
Active Ingredients: Titanium Dioxide
Coverage: Full
Finish: Satin
This camo foundation was formulated for dry, sensitive skin and it's packed with ingredients and features that make it a great pick for anyone with rosacea. You get great sun protection, an irritant-free formula, and incredible coverage, all in one foundation.
Coverage
With double the pigment concentration, there's no question about the coverage this foundation offers. This high concentration allows you to completely conceal redness while using significantly less product than you would need to with a more diluted formula.
Because of the increased pigmentation, however, it takes some time to learn how to use this foundation. It's easy to accidentally use too much, resulting in a heavy, cakey look.
Apply way less product than you think you need to start and build up a little at a time. For more polished looks, finish with a translucent powder instead of a tinted one. Otherwise, you risk adding too much pigment, resulting in a look that doesn't match your skin tone.
How It Works
The high pigment concentration combines with a similarly high titanium dioxide concentration, so you end up with a full coverage foundation that also offers SPF 25 protection from rosacea-triggering UV rays.
The formula is lightweight, breathable, and ideally suited for combination skin as it hydrates skin without clogging pores and absorbs excess oil without drying out skin.
Pros
High pigment allows full coverage with minimal product

Lightweight, buildable formula

SPF 25

Great for combination skin
Cons
Requires more careful application than other foundations
---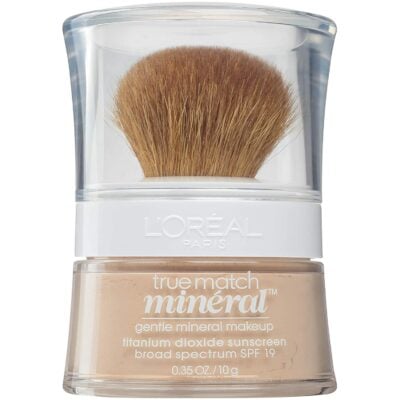 Why we like it:
The safe, mineral-based formula and the convenient brush applicator make this a great everyday foundation or a perfect finish on a full coverage look.
Editor's Rating:
Quick Facts:
Active Ingredients: Titanium Dioxide
Coverage: Medium
Finish: Matte
With a built-in brush applicator and a mineral-based formula, this powder foundation is a great everyday or on the go option. Keep it in your purse for quick touch ups throughout the day. The formula is gentle and breathable enough to apply on even inflamed skin.
Coverage
This offers great coverage for a powder foundation. Although, it does work best when applied on top of a primer or moisturizer. Once applied, it stays on without breaking down for hours so it's a great everyday coverage option that won't irritate your skin.
How It Works
This mineral-based formula is free of major irritants like talc, fragrance, or preservatives so it's safe to use on sensitive, flare-up prone skin. The SPF 19 formula blends well into your skin without clogging pores so you can significantly reduce redness without the risk of triggering a new flare-up.
While it does come with its own built-in brush applicator, those with rosacea may not want to use it. The bristles are a little rough, which could irritate your skin, especially if you're currently dealing with a flare-up.
For those with rosacea or sensitive skin, we recommend buying a softer, more premium quality brush. However, the coverage and quality of the powder itself is high enough that it's still worth getting this, even if you don't use the brush it comes with.
Pros
Irritant-free formula

Great for everyday coverage

Breathable, mineral-based foundation
Cons
Brush applicator may be too rough for sensitive skin
---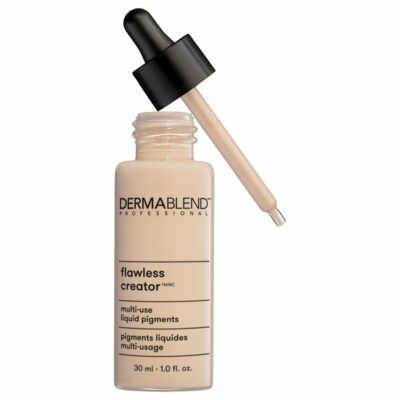 Why we like it:
This full coverage foundation boasts just 10 ingredients, making it one of the more minimalist formulas on the market.
Editor's Rating:
Quick Facts:
Active Ingredients: N/A
Coverage: Full
Finish: Matte
This is another great example of the quality and coverage that Dermablend offers. This liquid foundation provides flawless coverage with an oil-free formula that contains only 10 ingredients. This minimalist ingredient list makes it a great pick for rosacea skin that gets easily irritated by many ingredients found in standard foundations.
Coverage
This liquid foundation can provide total redness coverup with a surprisingly small amount of product. Your face won't feel weighed down just for the sake of concealing redness.
Not only is it full coverage, but it's also all-day coverage. Even in warmer climates, it stays in place. This is because it is a silicone-based formula rather than water or oil-based.
While that does help it stay in place all day, even in humidity, it also makes it heavier and less breathable. If your skin is currently experiencing a flare-up, that lack of breathability could end up making it worse.
For that reason, we don't recommend making this your everyday foundation. Reserve it for nights out or special occasions when you really need that flawless, stays-in-place makeup look.
For something better suited to everyday wear, check out the Neutrogena foundation.
How It Works
What sets this apart from other full coverage foundations is the drop applicator. This makes it much easier to apply the product sparingly so it's more beginner-friendly. Just apply one small drop at a time, blend it in, then apply the next drop.
This applicator also makes it easier to conserve product. Considering this is one of the more expensive foundations, you'll definitely appreciate the ability to easily conserve this foundation.
Pros
Great full coverage formula erases redness and uneven texture

Easy-to-use drop applicator

Flawless, all-day results even in humid or hot weather
Cons
Silicone-based formula isn't breathable enough for everyday use
---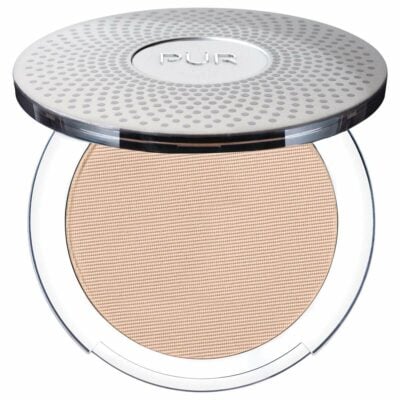 Why we like it:
With sun protection and buildable coverage, this is a great mineral powder foundation for getting full coverage that is still breathable.
Editor's Rating:
Quick Facts:
Active Ingredients: Titanium Dioxide
Coverage: Full
Finish: Matte
For a flawless yet breathable look that actually matches your skin tone, this is the way to go. The mineral-based formula is gentle on sensitive skin and the SPF 15 adds an extra layer of protection from the sun.
Coverage
Our favorite thing about this powder has to be the wide shade range. With 24 options, you'll have no trouble perfectly matching your skin tone. The high pigment concentration also makes this a buildable foundation that can offer surprisingly full coverage.
It's pigmented enough to work as an everyday foundation. While it won't completely erase redness, it can definitely reduce it to a manageable level.
How It Works
The pressed powder design makes it easier to layer this product on as thin or thick as you want it without using any more product than you actually need. The formula is designed to both conceal redness and imperfections while also offering some mild SPF 15 sun protection.
It also nourishes your skin with shea butter and soothing essential oils to calm inflamed skin. So it can reduce redness while also covering it.
The biggest drawback to this formula is the use of retinol. This helps to smooth out imperfections, but it also makes your skin more sensitive to sunlight. For those with rosacea, this can be a real problem since sunlight can be one of the more aggravating triggers.
While the concentration of retinol is low enough that it likely wouldn't cause a flare-up on its own, it's still enough that it could worsen an existing flare-up. So we recommend skipping this powder until your flare-up is gone. We also recommend skipping it on days when you plan to be out in the sun for extended periods of time.
Pros
Buildable coverage

Infused with shea butter and calming essential oils

Covers and treats red, inflamed skin
Cons
Retinol increases sun sensitivity
---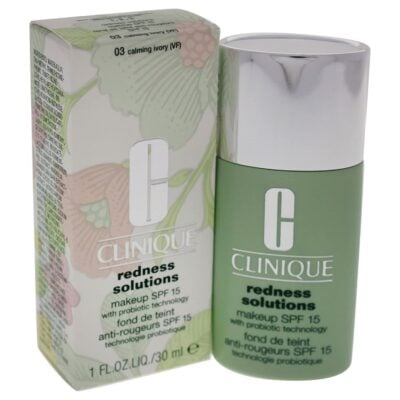 Why we like it:
The unique probiotic formula actively heals inflamed skin while the physical sunscreens prevent further irritation.
Editor's Rating:
Quick Facts:
Active Ingredients: Octinoxate, Titanium Dioxide, Zinc Oxide
Coverage: Medium
Finish: Satin
This is one of the best foundations you could wear if you have an existing flare-up. While most foundations tend to worsen itchiness and inflammation when applied, this Clinique formula will soothe and calm your skin.
Coverage
While this will tone down redness, it's not the most pigmented foundation on the market. It's formulated more as a healing solution that happens to offer some redness concealing features. If you have an active flare-up, it's the most soothing and calming foundation you could use but some redness will still show through.
However, because of how calming it is for the skin, redness will naturally reduce over the course of the day. So we think it's a worthy tradeoff for the decrease in coverage.
If you'd prefer something that better masks your redness, try the full coverage foundation from Dermablend.
How It Works
Clinique has developed an advanced probiotic-based formula that actively heals inflamed skin. The probiotics will help strengthen the natural barrier of your skin and minimize flare-ups. Meanwhile, the antioxidant infusion and mild SPF help heal damaged skin and prevent triggers from causing new flare-ups.
So this is a foundation that will treat your skin and reduce redness over the long term rather than simply covering it up.
Pros
Probiotic formula strengthens your skin's natural barrier

Antioxidants heal damage caused by flare-ups

SPF 15 to prevent sun from triggering new flare-up

Gentle, healing formula provides long-term redness reduction
Cons
Doesn't fully mask redness
---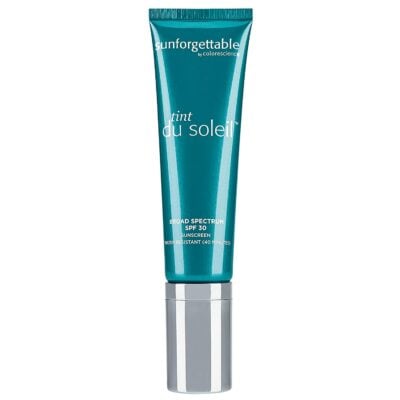 Why we like it:
This water-based formula offers some of the strongest SPF you'll find in a foundation. It's a great pick for everyday wear to prevent flare-ups.
Editor's Rating:
Quick Facts:
Active Ingredients: Titanium Dioxide, Zinc Oxide
Coverage: Light
Finish: Satin
The SPF 30 sunscreen, the nourishing and soothing vitamin formula, and the whipped mousse texture make this an incredible foundation to wear on your sensitive skin. It won't irritate an existing flare-up and it will provide the protection you need to prevent flare-ups from happening!
Coverage
This is a light coverage foundation that will tone down redness but won't mask it. For those with rosacea, it's probably better to think of this as a tinted sunscreen rather than a true foundation.
Because of this, you might want to treat it like a base or primer to wear beneath a full coverage foundation like PÜR powder foundation.
Another option is to conceal the most difficult red patches with a heavier foundation and then apply this across the entire face to even out your look.
How It Works
This lightweight formula is infused with vitamins, peptides, and physical sunscreens that your skin will love. The multi-vitamin infusion along with the peptides will help repair inflamed skin and strengthen the natural barrier to prevent future flare-ups.
Meanwhile, the zinc oxide and titanium dioxide provide powerful SPF 30 protection from rosacea-triggering UV rays so that you can minimize your risk of future flare-ups.
We love what this formula does for your skin. However, the high price makes it hard to justify since it doesn't offer the best coverage which is, ultimately, the main purpose of a foundation. You could create a similar look by adding a couple of drops of a full coverage foundation to your face sunscreen.
If you want more coverage, check out Phoera. However, when everything else is irritating your skin and you're more concerned about protection over coverage, this is a wonderful formula.
Pros
Powerful SPF 30 sunscreen

Skin nourishing multi-vitamin infusion

Peptides strengthen and hydrate skin's natural barrier

Gentle and healing for sensitive, inflamed skin
Cons
Light coverage won't mask redness fully

Expensive
---
Frequently Asked Questions About Foundation for Rosacea
In this section, we'll answer some of the most common questions people have as they shop for the best foundation to cover and treat their rosacea.
Does Foundation Make Rosacea Worse?
If you don't check the formula carefully, yes. Heavy, pore-clogging formulas with skin-irritating ingredients can absolutely cause flare-ups and worsen any existing symptoms you're facing. However, foundation doesn't have to be irritating or problematic.
Formulas like this healing solution from Clinique or minimalist formulas like this bareMinerals powder are irritant-free and actually soothing on inflamed skin.
The important thing is to make sure your foundation is free of certain ingredients that tend to make rosacea worse.

What Ingredients to Avoid if You Have Rosacea
Here are the most important things to avoid if you are prone to rosacea flare-ups:
Fragrance
The chemicals used to add fragrance to skincare products are often irritating on sensitive skin. For those with rosacea, this irritation can result in a full flare-up which can lead to needing more coverage to mask redness.
If you use the same fragrant foundation to get that coverage, you risk worsening the flare-up. It's a vicious cycle and one that can be easily avoided by opting for fragrance-free foundations.
Salicylic Acid
This and similar acids are found in a lot of foundations for acne-prone skin and it's precisely why you shouldn't use them. While acne and rosacea can appear similar, they are not the same. They have different triggers.
Where salicylic acid will calm and heal acne, it will irritate and potentially cause flare-ups in those with rosacea.
In general, be wary of products that are for acne. If it's a foundation that just offers to cover up redness, it may be fine. However, if it claims to treat acne, it may have salicylic acid or another ingredient that can inflame and irritate your rosacea.
Urea
This is another ingredient commonly found in acne-treating formulas. Unfortunately, it's a harsh treatment that can strip away your skin's natural barrier, making it more sensitive to sunlight.
Because sunlight is a trigger for rosacea, this is not ideal.
Oil-Reducing Formulas
In addition to staying away from formulas that claim to treat acne, avoid formulas that claim to reduce oil. Oil-absorbing formulas like this foundation from La Roche Posay are fine because they don't strip away moisture but just wick away excess buildup.
However, foundations that actively strip out oil can be harsh for those with rosacea. Again, they work great on acne-prone skin since they prevent pores from clogging, but they can leave your rosacea skin exposed and vulnerable. This makes it less capable of resisting damage caused by common triggers.
Test Your Foundation First
Even if you do get a foundation that has no potential irritants and seems perfect, don't apply it to your face right away. You should always test a product first before covering your whole face with it.
Dab a small patch of the new foundation onto an inconspicuous place, such as your neck or along the edge of your scalp. Give it a day or so to see if it causes a flare-up. If so, take note of the ingredients in that formula and try a different one.
Repeat this with each new foundation you buy until you find the one that works with your skin. Using our list of recommendations above is a great way to narrow down which options are most likely to be the best pick is a good place to start. However, all skin is different so it will likely still take a little trial and error before you find the perfect match.
Is Mineral Makeup Better for Rosacea?
This depends on what you're trying to achieve. In terms of safety, mineral-based powder foundations are better for your skin. They tend to be more breathable, and they usually offer more reliable sun protection because they stay on top of your skin instead of sinking down into your pores.
The drawback, however, is that powder doesn't usually offer the same full coverage that liquid foundations do. While they can reduce redness significantly, during an active flare-up, they are unlikely to fully mask the redness. If you apply more in an effort to get better coverage, it quickly looks cakey and heavy.
Liquid foundations are much better suited to masking redness. It's easier to build up to the level of coverage you need without getting a cakey, heavy look. Liquid foundations also tend to cling to your skin better.
Unfortunately, they aren't nearly as breathable as powder. Moreover, if you aren't careful to check the formula, the risk of irritation and flare-ups from a bad liquid foundation are much higher than from a bad powder foundation.
We recommend using a powder foundation when you don't currently have a flare-up. This will let your skin breathe and prevent a flare-up from happening. When you do have a flare-up, switch to a lightweight liquid formula that is gentle on your skin.
How Do You Hide the Redness of Rosacea?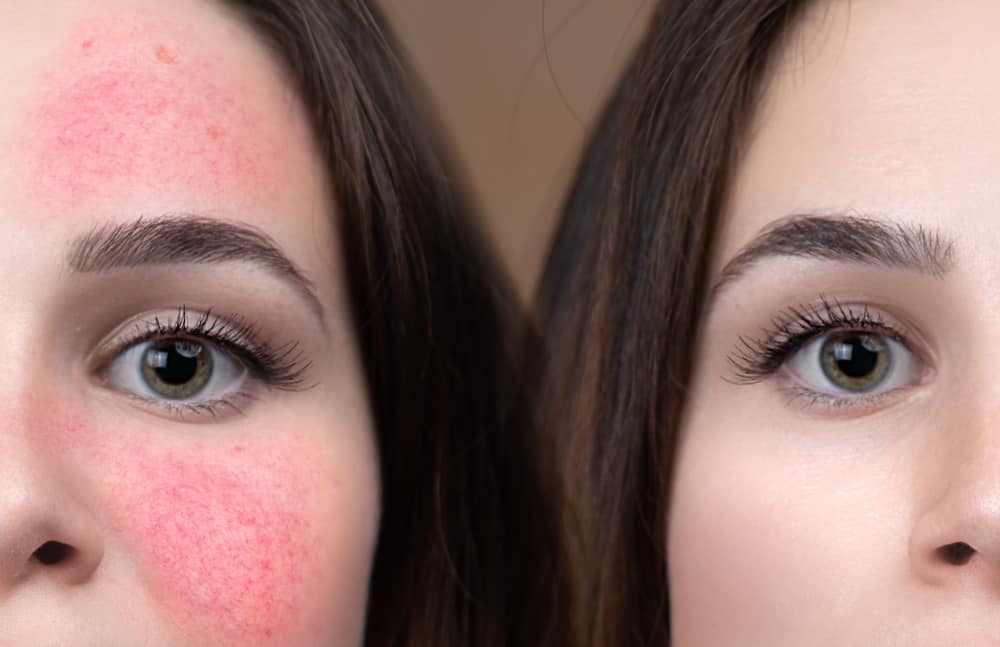 Hiding the redness of rosacea without worsening the condition can be tough. The goal is to find that balance between concealing the inflammation but avoiding further irritation. There are a few things you can try but the best option depends on what you're dealing with at this moment.
Tips When You Don't Have an Active Flare Up
When you aren't struggling with a flare-up, the redness is probably a little less intense; you also likely won't have too many bumps or other imperfections to deal with. Because of this, keep your makeup simple to avoid irritating your skin and triggering a flare-up. Use these tips:
Don't exfoliate before doing your makeup as this triggers even more redness, making it harder to cover up.
Use a mineral powder foundation like this L'Oreal foundation alone if possible.
Use sunscreen as a primer to minimize the amount of foundation you need to get coverage.
Wait 10-15 minutes before applying a second layer to allow temporary redness from the application process to calm down. This way, you can see if you really do need another layer or not.
Tips When You Do Have an Active Flare Up
When you do have a flare-up, your skin can feel tender to the touch, itchy, and easily irritated. Even the gentlest makeup routine can feel like too much. While the best thing to do is avoid makeup altogether until your flare-up calms down, it's not always possible if you have to go to work or a formal event. Here are some tips you can use during flare-ups:
Use a soothing primer below your foundation to treat and calm redness.
Use a full coverage liquid foundation like Dermablend to mask extreme redness
If possible, only apply full coverage to the red zones. Use a powder across the rest of your face.
Use a gentle cleanser and cool water to thoroughly remove makeup at the end of each day so that your skin can breathe and heal through the night.
What Causes Redness in Rosacea?

Some of the most common triggers that cause rosacea flare-ups include:
Sunlight
Hairspray
Heat
Stress
Alcohol
Spicy Foods
Everyone's skin is different so you might not react to all of these. The important thing is to start paying attention to when flare-ups happen and notice which of these triggers is the most likely culprit. This way, you can start eliminating the worst triggers and managing the others.
Many studies have shown a strong link between gut health and rosacea. In fact, when participants in these studies add more fiber and more probiotic foods to their diet, their risk of flare-ups significantly decreases, even when they are exposed to one of the common triggers listed above.
As much as it will help to cut back on things like alcohol and spicy food, it's just as important to increase your fiber and probiotic intake.
Tips to Minimize Flare Ups
With a few basic changes to your diet and skincare regimen, you can minimize the frequency and severity of flare-ups. By naturally reducing the redness of your skin this way, your foundation will have an easier job of masking the remaining redness. This way, you don't have to apply heavy layers of makeup to conceal redness and uneven skin.
Here are some of the best changes you can make to your skincare routine:
Switch all shampoos, body washes, and cleansers with gentler alternatives formulated for sensitive skin. Avoid artificial fragrances, alcohols, and the irritating ingredients mentioned earlier. Also avoid sodium laurel sulfate (a skin-irritant commonly used to make soaps and shampoos foam up).
Exfoliate with caution. Don't use a physical exfoliant (anything with beads or scratchy granules). Only do it at night, before bed, so your skin has time to repair and rebuild its natural barrier. Don't do it more than once a month and never in the summer or during an active flare-up.
Use a high SPF sunscreen daily, all year round. Apply it generously.
Always remove makeup as soon as possible.
Moisturize after cleansing.
Gently cleanse face in the morning before applying makeup.
Turn down the heat in your showers as much as you can tolerate.
Avoid rubbing, scrubbing, or touching your face as much as possible.
Here are some of the best changes you can make to your diet and lifestyle to minimize the appearance of rosacea:
Eat more probiotic-rich foods or take a probiotic supplement.
Avoid dietary triggers like alcohol and spicy foods as much as possible, but especially during active flare-ups.
Eat a high-fiber diet. Try to get most of your fiber from fruits and vegetables rather than grains.
Drink 2-3 liters of water per day.
Avoid direct sunlight when possible, especially during active flare-ups.
Exercise at night or indoors.
Opt for lower intensity workouts like slow jogs or walks if exercise tends to cause flare-ups.
Don't skip exercise, though. Regular physical activity improves circulation and reduces the severity of flare-ups.
Final Word
When you struggle with rosacea, it can feel like an unwinnable battle. If you cover up the redness, all that makeup could irritate your skin and make it worse. If you don't cover it up so that it can breathe and heal, you have to walk around with a bright red face all day.
Fortunately, there are some sympathetic makeup manufacturers that have formulated special foundations just for your sensitive, rosacea skin.
These formulas are lightweight yet full coverage and provide protection from common triggers like sunlight. With the right formula, you'll finally be able to get the coverage you want along with the healing ingredients you need!