Top Picks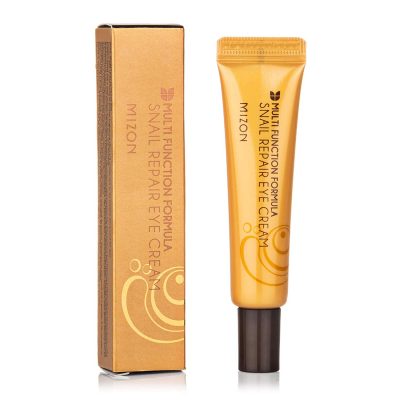 Mizon Snail Repair Eye Cream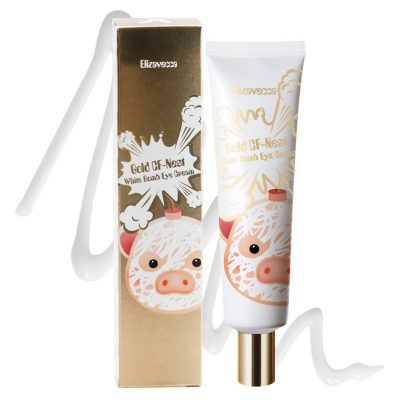 Elizavecca Gold CF-Nest White Bomb Eye Cream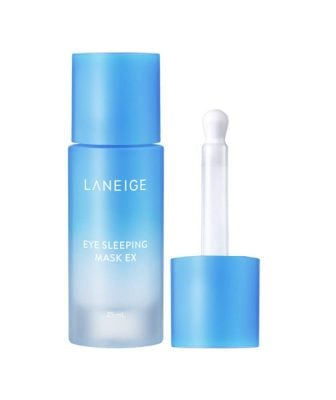 Laneige Eye Sleeping Mask
Previous
Next
The skin around the eyes is the first to show signs of aging and fatigue. Whether you're trying to keep your skin looking youthful or fade persistent fine lines, Korean eye creams are worth a try. Korean skincare is at the forefront of beauty science, with innovative eye creams made with well-researched, natural, and gentle ingredients. We've selected the best of the bunch, to visibly improve every common eye area concern.
How to Choose the Right Korean Eye Cream for You
There are a few factors to consider when choosing an eye cream. You need to consider how much moisture you need, what skin issues you would like to improve, and even what your scent preference is. We cover all of the important details so you can find the best eye cream for you.
Types of Korean Eye Creams
Eye cream is basically a moisturizer for the eye area, but the way it will moisturize depends on how light or heavy it is. A lighter eye cream will usually hydrate with water, while a thicker one will add restorative and protective oil-like ingredients. These are the main types, listed from lightest to heaviest:
Gels and gel-creams are transparent or semi-transparent with a cooling effect. They offer a lot of hydration, and are great for delivering active ingredients.
Light creams are the most common, offering a balanced mix of hydration and emollience.
Creams are a little thicker and more buttery, so while they offer some hydration, they mostly create a protective layer on the skin.
Balms are the thickest. They offer no direct hydration but seal existing moisture into the skin.
We'll point out exactly which category each eye cream falls into in the reviews, and you can also learn by jumping to our detailed section on the types of Korean eye creams.
Effective Ingredients
The most important factor to consider when choosing an eye cream are the specific concerns you'd like it to address. The most common concerns around the eye area are the following:
Dryness
Dehydration
Fine lines and wrinkles
Dark circles
Puffiness
In the reviews, we'll let you know exactly which major concerns each eye cream addresses, so you can easily identify the ones that'll be best for you. We also include an in-depth explanation of how each eye cream works and why.
You can also learn more about why these issues occur around the eye area and which ingredients work to address each concern by reading our detailed guide.
Safety
The skin around the eyes is significantly thinner than the skin elsewhere on the face and body, which makes it more susceptible to damage. Fragrances, in particular, can irritate the skin and cause allergic reactions. This is why it's important to choose gentle eye creams.
However, if you know that your skin tolerates fragrances just fine, you might like an eye cream with a lovely scent! We'll let you know about fragrances, strong ingredients, and the likelihood of irritation from each Korean eye cream we review, in the "Gentleness" section.
Airtight Packaging
We prefer products packaged in pumps or tubes. Those containers have smaller openings, so they don't allow as much air in which protects the stability and efficacy of the product. Jars, though not a deal-breaker, are less hygienic. They expose the cream to air and potential contaminants, which means the product is at a higher risk of spoiling and has to be formulated with stronger preservatives.
Style
Korean brands have some of the most stylish containers around! While we think performance and ingredients are much more important, you can let gorgeous or fun packaging sway you – after all, self-care should be fun!
Is It Cruelty-Free?
For many, it's very important to only use cruelty-free or strictly vegan products. Korea banned cosmetic testing on animals in 2018, but there are loopholes, and any products sold in China can still undergo post-market testing.
Korean eye creams are often made with animal-derived ingredients, like snail mucin, honey, and even bird saliva. It's not always clear, so we'll make it easy for you by mentioning when we know for certain that a product is vegan or cruelty-free.
With all this info in mind, let's explore the best Korean eye creams on the market today.
Top 10 Best Korean Eye Creams 2021
Guide to Choosing the Best Korean Eye Cream for You

Still have questions about how to pick the right Korean eye cream for you? We've gathered all the info you could need below!
Consider Your Specific Skin Concerns
When looking for an eye cream, chances are you're hoping to improve something specific. In this section, we break down everything you need to know about the common eye area concerns. Use this knowledge to choose the best Korean eye cream for your needs.
Dry skin does not produce a lot of oil, so it's more prone to flakiness, premature aging, sensitivity, and dehydration. The skin around the eyes has fewer oil glands than the skin elsewhere, so even those with normal or oily skin can have dryness around the eyes.
Thick eye creams made with ingredients like plant oils, plant butters, silicones, fatty acids, and ceramides do the best job of combating dryness, although the heavier they are the more likely to cause milia around the eyes.
In skincare parlance, dryness refers to a lack of oil while dehydration refers to a lack of water. The former can lead to the latter, so the two often come hand in hand. Dehydration makes the skin look dull and saggy, makes it more prone to sensitivity, and it magnifies the appearance of dark circles and wrinkles.
The best ingredients to counter it are humectants, which are moisture-binders that pull and keep water in the skin. These include glycerin, butylene glycol, collagen, hyaluronic acid, panthenol, and honey, just to name a few. Oily ingredients can also help by creating a barrier and keeping moisture from evaporating. With the exception of balms, nearly all Korean eye creams are formulated to counter dehydration.
Under eye puffiness (sometimes referred to as "eye bags") is a common complaint with two main causes. Temporary undereye puffiness is caused by an accumulation of fluids, often in the morning or after eating salty food.
If you experience this kind of puffiness regularly, look for Korean eye creams that contain ingredients that firm the skin and improve circulation like caffeine, tea extracts, and ginseng. We especially recommend Laneige Eye Sleeping Mask, though Innisfree Jeju Orchid Eye Cream can also help with a smaller dose of caffeine.
Permanent puffiness can come with age. As the muscles under the skin weaken, fat moves around and it can settle in that bag under the eye. Unfortunately, these types of eye bags can only be removed with surgical intervention, though you can enjoy a temporary firming effect from the same ingredients.
As we age, our skin slows down its production of collagen and other proteins that maintain tautness. Exposure to external aggressors like the sun's rays and pollution speed up this entire process. Because it's so thin and dry, the skin around the eyes is usually the first to show this loss with fine lines, crow's feet, and a crepey appearance.
While you're still young, choose an eye cream with antioxidants, which are ingredients that protect from external aggressors. The antioxidants used in K-beauty are very diverse, from botanical extracts and oils to isolated compounds like niacinamide.
Pro Tip: don't forget to protect your eyes with a big pair of sunglasses and daily use of sunscreen!
In the short term, ingredients that combat dehydration can pull moisture into the skin, which plumps it up and softens fine lines pretty much instantly. Korean eye creams are packed full of these ingredients, so nearly any one of them can help.
Later on in life, the key to reversing wrinkles is ingredients that boost collagen production. In Western skincare, retinoids and vitamin C are commonly used, but they're strong and likely to irritate so they're less common in Korean eye creams. Instead, K-beauty favors gentle collagen boosters that are considered Epidermal Growth Factors (EGF) like certain peptides and adenosine. If you'd like to try an eye cream with these ingredients, we recommend Mizon Snail Repair, Benton Fermentation Eye Cream, Mizon Collagen Power, Laneige Eye Sleeping Mask, and Purito Centella Green Level Eye Cream.
Blue or purple dark circles
Dark circles are complicated. They are usually caused by a combination of factors including circulation issues and transparent skin that shows the underlying blood vessels and musculature.
There are a few ways to deal with these kinds of dark circles. If the main cause is simply thin skin, humectants can help in the short term by plumping up the skin with moisture and making it temporarily thicker.
Collagen-boosters like adenosine and certain peptides can work slowly over the long-term to actually thicken the skin, which is also very effective for treating fine lines and wrinkles.
Finally, the same vasoconstrictors that help with puffiness like caffeine and tea extracts can help with dark circles by constricting the underlying blood vessels.
Laneige Eye Sleeping Mask is the best Korean eye cream for dealing with blue or purple dark circles because it includes all three categories of ingredients.
Hyperpigmentation is the overproduction of melanin in the skin, and it can show up as freckles, sun spots, melasma, and occasionally, brownish dark circles. Pigmentation is usually genetic, but the sun can make it more prominent.
Antioxidants and sunscreen are important for preventing these types of undereye circles from showing up in the first place.
If you already have pigmentation around your eyes then the best Korean eye creams for you would include proven pigmentation fighters like arbutin, niacinamide, vitamin C, licorice root extract, and kojic acid.
We'd recommend trying Mizon Snail Repair, Innisfree Jeju Orchid Eye Cream, Elizavecca Gold CF-Nest White Bomb, and MISSHA Waterful Eye Treatment.
Milia are little bumps that often show up under the eyes. They look like whiteheads, but they're actually hard plugs of keratin, which is the protein that makes up the bulk of the skin. They're usually genetic, but they can also be caused by the overapplication of heavy creams. A dermatologist can remove them surgically or they can be treated at home with gentle chemical exfoliants or retinoids.
If you're just looking for an eye cream that won't cause milia, you're in luck. Many Korean eye creams don't cause milia because of their gel or light cream texture. Our favorite milia-safe eye creams are: Mizon Snail Repair, Etude House Moistfull Collagen, Laneige Eye Sleeping Mask, and MISSHA Waterful Eye Treatment.
Because the eye area is thinner and more dry than other parts of the face, it's more prone to irritation. In addition to avoiding common irritants, there are also a lot of soothing and anti-inflammatory ingredients used in Korean eye creams that can help. These include oats, green tea, allantoin, snail mucin, centella asiatica, and ceramides.
The best Korean eye creams for sensitive skin are Mizon Snail Repair, Mizon Collagen Power, and Benton Fermentation Eye Cream.
Detailed Guide to the Types of Korean Eye Creams
Different eye cream types offer different levels of moisture, and each one has its own benefits, drawbacks, and the unique skin type that it suits.
Gel-based eye creams are great for hydration because they add water to the skin without heavy oils. Because they're so light, they are also great for infusing the skin with actives that need to go deep to have an effect, like caffeine. They're awesome in the daytime because they don't leave a residue, and are great for oily or milia-prone skin. They're not always moisturizing enough for dry skin.
The right word here would be lotion, but in Korea the word lotion is sometimes used to describe toners, so we opted for "light cream" instead. They strike a balance, offering both hydration and heavier emollient ingredients that smooth down dry skin and prevent moisture evaporation. They're suitable for all skin types, and rarely cause milia, which is why they're the most common type of Korean eye cream.
Thick creams have a heavier texture. They primarily help to make up for the lack of oil around the eyes, although they can still hydrate. This makes them very suitable for dry skin, especially for those suffering from extreme flakiness. They can leave a slight residue on the skin, so they're better for the evening. Note that heavy textures are not recommended for those who are prone to milia.
Finally, we have balms, which are the thickest, most moisture-binding, and least hydrating. Their texture is heavy and greasy, and they're best used in conjunction with hydrating gels or creams to counter extreme dryness. They are the most likely to cause milia.
Pro Tip: Texture lets you know in what order to apply your products. You can layer a lighter eye cream under a heavier one if you have multiple skin concerns or if you need deeper hydration.
Safety Tips for Shopping Online
When buying online, it's always important to be cautious. Shady sellers often send out fake or expired items, especially when it comes to popular Korean beauty products. Fake skincare can be dangerous, and applying it to the skin can result in infections or contact dermatitis rashes. Make sure to buy directly from Amazon or from a reputable seller to stay safe.
Korean Eye Cream FAQ
Why Is Korean Skincare So Popular?
Over the last decade or so, Korean skincare started popping up everywhere. Some say that it's even more popular and well-regarded outside of Korea than within it. There are a few different factors that contributed to the rise of Korean beauty, some of which have to do with the amazing products and others that have more to do with external factors.
When it comes to the products themselves, the Korean skincare industry puts a lot of effort into research and innovation. They're at the forefront when it comes to ingredients, effects, textures, and packaging. The result is unique, fun products that are also very effective.
Innovation in textures led to the unique Korean multi-step routine, which involves applying a series of different liquids and lotions to the skin instead of the typical "cleanser, toner, moisturizer" routine that was so ubiquitous in the West. Many people have adopted the multi-step routine because it hydrates the skin thoroughly, and gives a dewiness and luminosity sometimes referred to as "glass skin."
The external factors are also very important, however. The main one is the support of the Korean government, which helps Korean cosmetic brands with funding and tax breaks, especially if they export. The Korean government also supported the spread of Korean dramas and pop music all over the world. It's no surprise that fans of Korean media, in wanting to mimic the look of their idols, also became K-beauty consumers.
What Makes Korean Eye Creams Different?
There are a couple of major differences between Korean eye creams and eye creams made in North America or Europe.
Most of the eye creams on our list cost less than $20 (in some instances less than $10), while a browse through the shelves at Ulta shows that Western eye creams are far more expensive.
At the same time, the standard quantity for a Korean eye cream is between 0.8-1 oz per tube or jar, while in the West, most eye creams come in 0.5 oz containers. Despite offering nearly double the product, Korean eye creams consistently cost less than comparable Western ones, making the cost per oz shockingly low.
Strong vs. Gentle Ingredients
Western eye creams often include strong active ingredients like retinol, glycolic acid, or pure vitamin C. These give radical results but they also have a high potential to irritate the skin. Korean eye creams are usually more gentle, with slow-acting but still effective ingredients like peptides, adenosine, niacinamide, ferments, and plant extracts.
How to Use Korean Eye Cream
Eye cream can be used both in the morning and at night, or just in the evening. You should always apply it to clean skin, although your eye cream can be applied after eye-safe essences or serums.
Since we're talking about Korean eye creams, it's best to follow a gentle Korean application method. It involves tapping the product into the skin instead of massaging, so there's less friction against the eye.
Dispense a pea-sized amount of eye cream, and rub it between both ring fingers. Then, gently tap it into the skin. Avoid getting too close to the eye by following the curve of the orbital bone. Start slightly below the inner corner of each eye and apply it along the under eye, next to the outer corner of the eye, and below the brows.
Do I Really Need an Eye Cream in My Routine?
Whether eye creams are actually necessary is pretty controversial. Some experts say eye creams are just glorified moisturizers, while others say they're absolutely mandatory. We think the truth lies in the middle. A mild face cream is a safe choice for moisturizing the eye area, but a strong anti-aging or mattifying anti-acne moisturizer can hurt the delicate skin.
What makes eye creams worthwhile is that they're formulated with ingredients that help with the specific issues that show up around the eyes. A face moisturizer might do the trick, but the right eye cream will awaken and transform your eye area completely!
Final Thoughts on Korean Eye Creams
The Korean beauty world offers an endless supply of great products, and even the eye cream selection is surprisingly diverse! Having so many options can get confusing, and it can be hard to find an eye cream that will give you the results you want. However, by pinpointing your needs and preferences, you can find the Korean eye cream that will get you seeing the world with brand new eyes!