Top 10 Best Korean Eye Creams 2023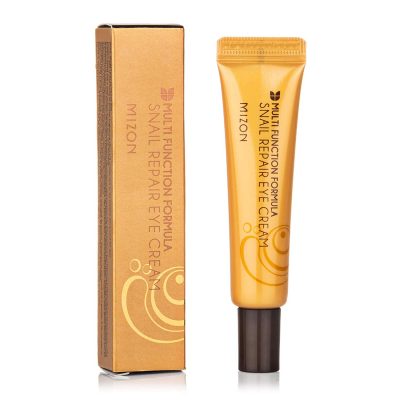 Type of eye cream: Light cream
Fragrance: Fragrance-free
Best for: Dehydration, sensitivity, dryness, anti-aging, and mild hyperpigmentation.
Packaging and Style: It's available in a 0.5 oz squeeze tube or 0.8 oz jar. While the price per oz is slightly better with the jar, we prefer the cleaner and more convenient tube.
Vegan or cruelty-free: This eye cream is cruelty-free and vegetarian, but not vegan because of the presence of snail mucin.
Effects: The primary effect of this eye cream is to hydrate and strengthen the eye area, but it goes above and beyond.
It's made with snail filtrate which deserves a special mention because it makes up 80% of this cream. Despite how weird it sounds, it's actually incredible, offering skin moisturizing, protecting, and even healing effects, which makes it great for soothing irritated skin. It's been proven to help reduce the depth of wrinkles, likely by plumping up the skin with water. This plumping effect can also help slightly reduce the visibility of dark circles caused by thin under eye skin.
While it loads the skin up with water, it's low on emollients, so it's great for dehydrated skin but won't always be enough for dry skin. For an eye cream that works great for dry skin, consider Etude House Moistfull Collagen Eye Cream.
There are other anti-aging ingredients in this mix that deserve a mention, like antioxidant niacinamide which is also known to help with hyperpigmentation, adenosine which reduces wrinkles with long-term use, and a copper peptide that's been shown to help reduce fine lines by stimulating collagen synthesis.
Gentleness: We feel comfortable recommending this eye cream for sensitive skin. It's free of fragrances, and even the anti-aging ingredients are unlikely to irritate. Snail mucin even has its own skin-soothing effects! As a bonus, if your skin is prone to developing milia, this eye cream is a safe choice because it's light and sinks in quickly.
---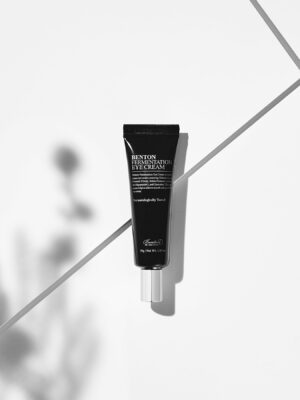 Type of eye cream: Balm-cream hybrid
Fragrance: Fragrance-free
Best for: Extreme dryness, compromised skin barrier, sensitivity, and anti-aging.
Packaging and Style: Black tube that holds 1 oz.
Vegan or cruelty-free: PETA-certified cruelty-free
Effects:
This thick eye cream is especially good for repairing very dry skin or a compromised skin barrier. It's made with a few ferment filtrates known for their ability to improve skin barrier function, which is important for reducing dryness and sensitivity. However, if you have fungal acne or a similar condition, stay away since yeasts can make things worse.
Ceramide NP and macadamia seed oil also help reduce dryness and improve the skin barrier, while allantoin increases the skin-soothing effects.
This cream is also helpful when it comes to anti-aging. It contains adenosine and sh-Oligopeptide-1, which stimulate collagen production to firm up the undereye area and fade wrinkles.
One drawback to this eye cream is that the thick texture does occasionally cause milia. It also has low water content so it isn't hydrating enough on its own. We recommend using it on top of a light product like the Missha Eye Treatment for added hydration. It's worth mentioning that despite the thick texture, it doesn't leave a greasy residue on the eyes.
Gentleness: There are no harsh ingredients to be found here, but instead there are many soothing agents, so this eye cream is safe for sensitive skin.
---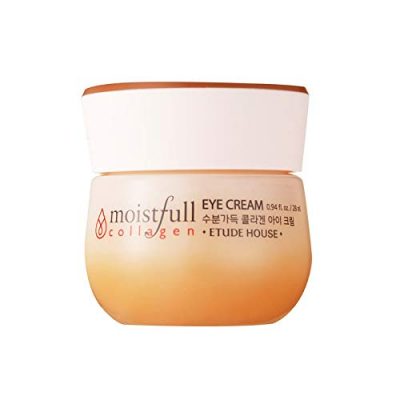 Type of eye cream: Light cream
Fragrance: Mild, allergen-free
Best for: Dehydration, dryness, and preventative anti-aging.
Packaging and Style: Peachy jar that holds 0.95 oz.
Vegan or cruelty-free: Sadly, no on both counts. Collagen is animal-derived, and Etude House is not considered cruelty-free.
Effects: This super-hydrating eye cream is aptly named. However, it's also touted as anti-aging, and while it is preventative, we don't think it's the best one to choose if you already have mature skin.
The main ingredient here is hydrolyzed collagen, which makes up around 65% of the formula. It's a powerful hydrating agent that pulls moisture into the skin, plumping it up instantly to reduce the appearance of fine lines. It also has protective effects as an antioxidant, to prevent premature aging.
There's a misconception that topical collagen can replenish natural collagen levels in the skin to give a long-term firming effect, but there's no research corroborating that. Collagen's true power comes from the ability to protect and hydrate.
The other ingredients here, like glycerin, and meadowfoam seed oil are simple moisturizing agents, while baobab oil and extract also have antioxidant effects to prevent wrinkle-formation.
Gentleness: There are no harsh active ingredients in this eye cream, and according to Etude House, the fragrance currently used in the formula is considered allergen-free. Indeed, irritation with this product is rare. Because it's so lightweight it's also a safe choice for those with milia-prone skin.
---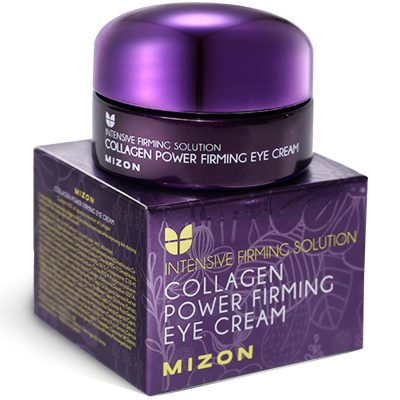 Type of eye cream: Cream
Fragrance: Fragrance-free
Best for: Dryness, dehydration, sensitivity, and anti-aging.
Packaging and Style: Purple 0.8 oz jar, includes a small spatula for dispensing product.
Vegan or cruelty-free: Cruelty-free but not vegan because of marine collagen.
Effects: This creamy eye product is a wonderful choice for very dry skin and it also counters dehydration. While collagen might be the "star ingredient," it shows up after other moisture-attracting agents like glycerin and butylene glycol. This is fine by us – we're not that impressed by collagen, and we love all humectants equally!
This is a silicone-heavy formula, which is why it's so good for dry skin. The silicones create an impenetrable barrier over the skin and prevent moisture-loss throughout the night. This is also awesome in dry climates. While silicones are generally very safe, their occlusive ability might contribute to the formation of milia.
It offers a similar anti-wrinkle effect to the Snail Repair Eye Cream, thanks to a similar use of adenosine and peptides. There are also a few antioxidant-rich botanical oils and extracts, for protection from external sources of aging. If the Snail Repair was too light for you, this one is definitely worth a try.
Gentleness: This eye cream doesn't contain any irritants, but it is very creamy and may cause milia.
---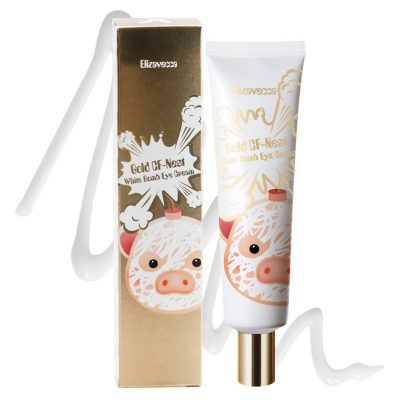 Type of eye cream: Thick cream
Fragrance: Fragrance-free
Best for: Dryness, dehydration, dark circles, and age-prevention.
Packaging and Style: Hilarious tube printed with pig cartoon that holds 1 oz.
Vegan or cruelty-free: Product isn't vegan and while Elizavecca claims to be cruelty-free, we couldn't find evidence corroborating the claim.
Effects: We'd recommend this eye cream for a younger crowd with dry skin, because of how it works and because of its low price.
The star ingredient here is swift nest extract, which is basically bird saliva. Don't get grossed out – it's actually a prized ingredient in traditional eastern medicine that contains >Epidermal Growth Factor which might have anti-aging effects on the skin. However, there isn't quite enough research for us to totally buy into Elizavecca's claims about it.
This cream is very moisturizing, with both water-attracting ingredients and moisturizing emollients. It contains protective antioxidants from a wide range of plants as well as niacinamide to help slow down skin aging and counter hyperpigmentation.
Because it's heavy, it doesn't sink into the skin completely, so it's better for dry skin, especially in the evening.
Gentleness:
Despite being fairly mild and fragrance-free, some of the plant extracts in this eye cream do occasionally irritate the eye area. For a better option for sensitive skin, consider Mizon Snail Repair. It's also not a fit for milia-prone skin.
---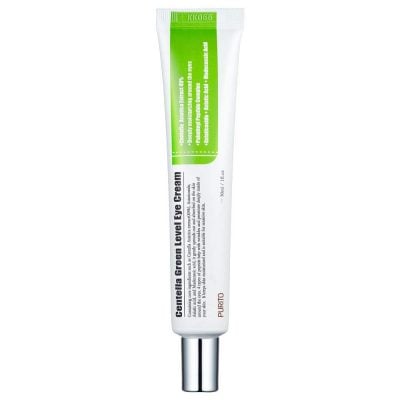 Type of eye cream: Light cream
Fragrance: Lavender and bergamot
Best for: Dryness, dehydration, and anti-aging.
Packaging and Style: 1 oz squeeze tube.
Vegan or cruelty-free: Vegan and cruelty-free.
Effects: Purito is one of the most exciting K-beauty brands right now, and with this eye cream they delivered a good product with an unfortunate drawback that keeps it from being amazing.
When it comes to moisturization, this eye cream delivers a balanced mix of emollience and hydration. It's suitable for all skin types, and leaves the skin looking slightly dewy.
The key ingredient in this formula is called centella asiatica, and it's worth getting excited about. This plant extract has >antioxidant and anti-inflammatory effects, which is especially nice for red or sensitive skin. The cream includes both centella extract and isolated centella compounds that are even more potently soothing.
It also contains a high amount of wrinkle-fighting and collagen-boosting peptides. While those ingredients are present in other products on this list, this eye cream contains the highest amount of them, so we think it's the best choice for fading wrinkles.
Gentleness: Now the drawbacks. It's unfortunate that an eye cream made with so many great soothing agents also includes lavender and bergamot essential oils, which have the potential to cause contact dermatitis. If Purito had left out the fragrance, this would have been one of our top choices, especially for sensitive skin. Instead, Mizon Collagen Power is a safer option for more sensitive users.
---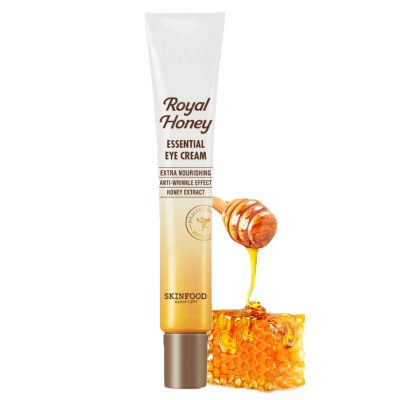 Type of eye cream: Cream
Fragrance: Mild honey scent
Best for: Dryness, dehydration, and mild anti-aging.
Packaging and Style: Honey-themed 1 oz tube.
Vegan or cruelty-free: Not vegan or cruelty-free.
Effects: There is a lot of good about this popular Korean eye cream, but also a few things that give us pause. It's a richly moisturizing, anti-aging product that includes honey extract, propolis, and royal jelly, which contribute to its honey-based product story. Honey and its extracts are known for being hydrating, soothing, and even anti-bacterial, although propolis, specifically, has the potential to irritate the skin. It also includes oils and emollients that keep moisture in the skin.
Unfortunately, this long ingredient list also includes a lot of fillers, which makes us second-guess the quantities of the more interesting ingredients like adenosine and peptides, which show up at the end of the list. Normally, fillers serve to make a formula silkier, but in this instance the texture is a little sticky.
Gentleness: In addition to propolis, this eye cream also includes a fragrance, so it does have the potential to irritate. It's also thick enough to potentially cause milia.
---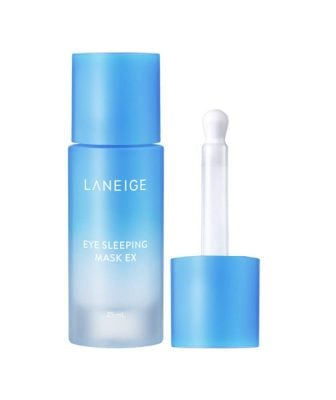 Type of eye cream: Gel
Fragrance: Lavender
Best for: Dehydration, dryness, puffiness, blue or purple dark circles, and anti-aging.
Packaging and Style: Elegant 0.8 oz glass jar and a separate ceramic ball applicator.
Vegan or cruelty-free: While Laneige claims cruelty-free status, their products are sold in China which makes us doubtful.
Effects: Though it's marketed as a "sleeping mask," this is more of a high-end overnight eye gel. Its primary effect is to hydrate the eye area with a blend of water-binding humectants like butylene glycol, glycerin, and beta-glucan. Despite the gel texture, it's still going to work for dry skin because of a touch of silicone which prevents transepidermal water loss.
We're impressed by this product's caffeine-content, which has a firming effect that helps reduce puffiness and dark circles caused by poor circulation. This cooling touch of an attached ceramic applicator magnifies this effect. Unfortunately, you will have to clean the applicator after every use.
It prevents premature aging with antioxidants like hesperidin and vitamin C derivatives, and counters existing fine lines with collagen-boosting adenosine.
It also has a calming effect on the skin because of the cooling wand, the aforementioned >hesperidin which is also anti-inflammatory, and skin-relieving >saccharomyces cerevisiae extract. We'd definitely recommend it for under eye redness if you can tolerate the fragrance.
Gentleness: Overall, this formula is very gentle and soothing. Unfortunately, it contains a lavender fragrance and as a result some users could experience irritation.
---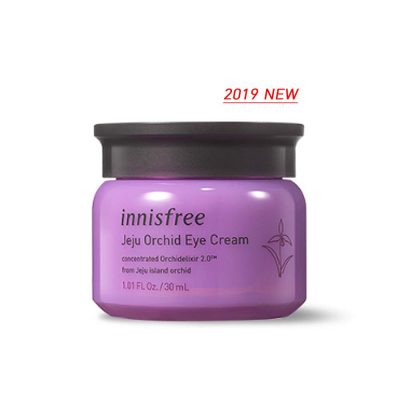 Type of eye cream: Rich cream
Fragrance: Strong orchid scent
Best for: Dryness, dehydration, puffiness, and wrinkle-prevention.
Packaging and Style: Purple jar holds 1 oz but can be bulky and uncomfortable.
Vegan or cruelty-free: While this product is vegan, Innisfree as a brand sells in China and cannot be considered cruelty-free.
Effects: This eye cream is famously moisturizing, with a focus on natural emollients that smooth down flakey skin and fortify the skin's barrier functions. The main ingredients contributing to this are squalane, meadowfoam seed oil, and shea butter. These oils make up for the lack of sebum produced around the eyes, and they also offer antioxidant protection.
It features moisture-absorbing glycerin, so it hydrates the skin, and there's also a touch of silicone which creates a layer over the skin to prevent evaporation. All in all, it's a comprehensive moisturizing cream.
For morning puffiness or visible veins under the eyes, caffeine is included here. It's a vasoconstrictor with an instant firming effect, although the amount is quite small (especially compared to Laneige) so the results are not intense. The final ingredient of note is niacinamide, the do-it-all antioxidant, moisture-booster, skin soother, and brightening agent that we always like seeing in an eye cream.
Oh, and what about the star ingredient, Jeju orchid extract? Sure, it possesses some antioxidant abilities, but it's not very well researched so we're not that impressed with it.
Gentleness: This Korean eye cream has a strong fragrance, which is actually one of the reasons why it's so popular. Unfortunately, it also increases its chances of irritating the skin. Additionally, because of all of the rich ingredients it often causes milia.
---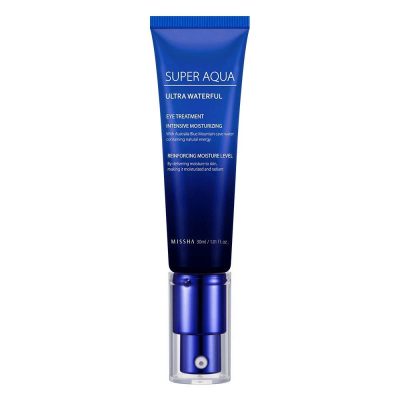 Type of eye cream: Gel
Fragrance: Fragrance-free
Best for: Dehydration, hyperpigmentation, wrinkle-prevention, oily and milia-prone skin.
Packaging and Style: Dark blue 1 oz tube with airless pump dispenser.
Vegan or cruelty-free: This product is cruelty-free and vegan.
Effects: This eye treatment is primarily an excellent hydrator. It contains some great but commonly-used moisture-binders like glycerin, along with plant extracts from seaweed, cactus, baobab and sugarcane, which are also said to be moisturizing and hydrating.
It does a good job of loading up the skin with a ton of water, and as a result cooling it and temporarily reducing the visibility of fine lines. Its texture is fantastic for oily skin, but not enough for dry skin.
This eye treatment contains more than a dozen different plant extracts, but most of those extracts aren't well-researched so we think they're only there to make the ingredient list seem longer.
Missha claims that this eye treatment targets dark circles, although we think that in practice, it's only a momentary reduction thanks to hydration. It does feature niacinamide, which helps specifically with dark circles caused by hyperpigmentation, and also helps protect the skin from extrinsic aging factors.
Gentleness: Gel texture makes it great for milia-prone skin. However, even though there are no obvious irritants in the formula, there are also a lot of plant extracts that aren't commonly used. As a result, a minority of users end up with irritated skin. We recommend testing it behind the ear or the arm for a few days before applying under the eyes.
---