Top Picks
NutriRise Ashwagandha Capsules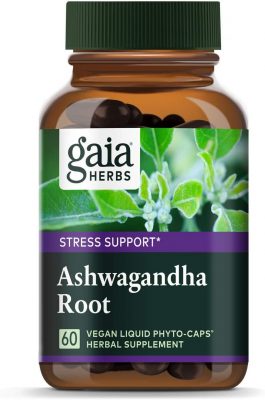 Gaia Herbs Ashwagandha Capsules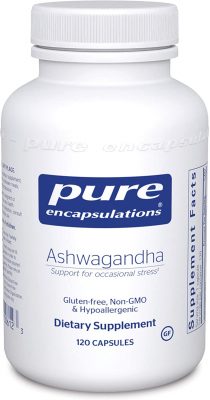 Pure Encapsulations Ashwagandha Capsules
Previous
Next
Ashwagandha supplements are a healthy and natural way to heal your spirit, mind, and body. The healing properties of this ancient medicinal herb continue to draw people in with promises of improving brain function, lowering stress levels, reducing inflammation, and much, much more.
If you're interested in taking a natural approach to a healthier life, we're here to help you take the first steps. In this guide, we'll fill you in on exactly what you need to know before taking ashwagandha supplements and help you choose the right ones.
Finding the Best Ashwagandha Supplements for You
Ashwagandha has been helping people heal, in more ways than one, for over 5,000 years. There's a lot to learn about this epic plant and its magical roots — like what it is, where it comes from, what it can do for you, and any potential side effects it might have.
With this in mind, we'd like to cover the basics before revealing our favorite ashwagandha supplements of the year. This way, you'll know what to look for when making your pick.
What Is Ashwagandha?
The ashwagandha plant, most commonly known by its botanical name, Withania somnifera, is a shrub that belongs to the nightshade family. It is native to Asia and Africa, where it continues to be cultivated for its wide range of medicinal properties. However, its reputation precedes it all around the world.
Ashwagandha is a natural adaptogen that can be used to appease certain health conditions while also protecting the body from harmful components. Its roots and berries can be transformed into holistic tinctures and powders or in this case, supplements.
What Are Ashwagandha Supplements Used For?
Although ashwagandha has been used for thousands of years, few trials have been conducted to support its many health benefits. However, medical health experts have deduced that this ever-so-versatile herb can effectively reduce high blood pressure, stress, and inflammation.
Studies have also concluded that, if taken regularly, ashwagandha may be effective in fighting the following ailments:
Anxiety
Insomnia
Chronic pain
Fatigue
Diabetes
High cholesterol
Male infertility
Cognitive decline
Liver problems
Osteoarthritis
Rheumatoid arthritis
Obesity
Attention deficit-hyperactivity disorder (ADHD)
Ingesting ashwagandha has also been linked to reducing the production and activity of certain cancer cells. However, since most of these studies were conducted on animals and not humans, experts have yet to determine if ashwagandha is effective in fighting cancer. Nevertheless, ashwagandha has been deemed safe to use alongside cancer treatments like chemotherapy and radiation.
What We Considered When Picking the Best Ashwagandha Supplements
There's a lot to consider when shopping around for the best ashwagandha supplements on the market. As we cover the products on our list, we'll reveal what sets them apart from their competitors while also shining a light on the following factors.
Quantity
We'll let you know how many capsules are included in every order of ashwagandha supplements. The quantity differs from bottle to bottle, but that isn't always reflected in the price. This subsection can help you decipher which supplement offers you the most for the least.
Dosage
We'll also let you know the dosage of each capsule we review. A typical daily dose of ashwagandha is around 500 mg, but some studies suggest that certain benefits may not occur until you've reached high dosages of up to five grams per day, so be sure to match your dosage to the benefits you're looking for.
Suggested Use
Lastly, we'll fill you in on the suggested use of each ashwagandha supplement bottle while also covering when you should take it.
If you wish to find out more about ashwagandha supplements, we invite you to check out our full buyer's guide, where you can find answers to some frequently asked questions amongst many other things.
Now that we know a little more about the benefits and origins of the ashwagandha plant, it's time to reveal our favorite ashwagandha supplements of 2020. However, before we do, we'd like to point out that before taking a new supplement, it's always a good idea to consult your doctor. Now, let's get right to it.
Top 10 Best Ashwagandha Supplements 2020
Guide to Buying the Best Ashwagandha Supplements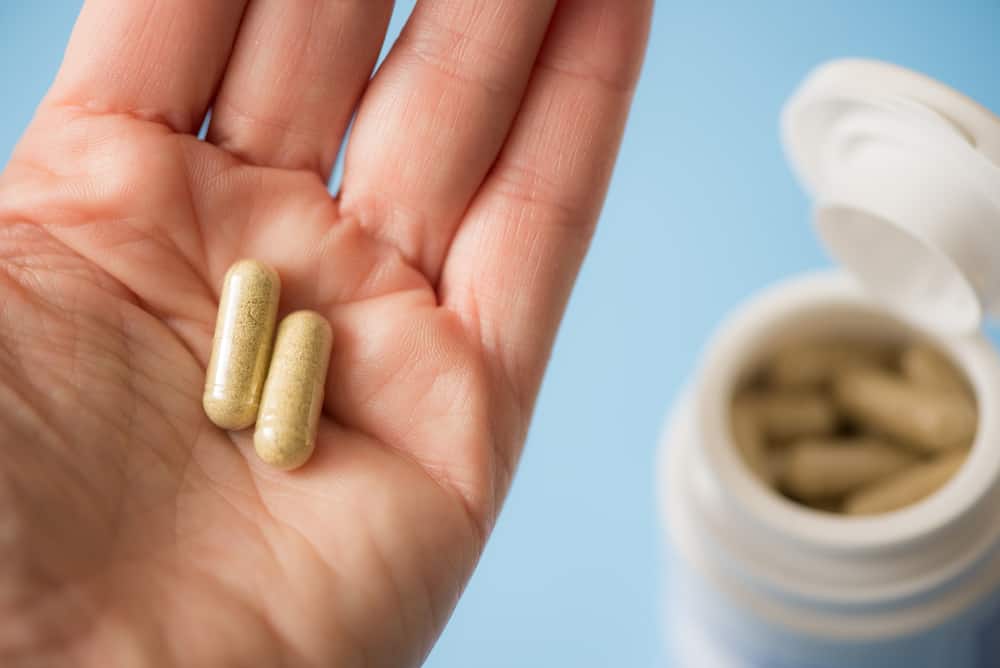 Taking ashwagandha can change your life for the better but there are still many things you need to know about this medicinal herb before taking the plunge. In this guide, we'll go through the most common side effects of ashwagandha, while also answering some of the most frequently asked questions.
Factors to Consider Before Taking Ashwagandha Supplements
Before taking a supplement, even one as natural as ashwagandha, it's always best to consider your current lifestyle to determine if it will bring upon a positive change. Here are a few factors to consider before making your order.
Pregnancy
Before taking ashwagandha, it's important to determine if you are pregnant or not. Pregnancy and ashwagandha do not go hand in hand. Although ashwagandha can balance hormones, therefore, helping conceive, it's best to talk to your doctor before using ashwagandha to boost your chances of conception.
Breastfeeding
Since the effects of ashwagandha on babies have yet to be studied, it's important to refrain from taking ashwagandha while breastfeeding.
Overall Health
A healthy person can choose to take ashwagandha supplements without consulting their doctor, but the same cannot be said about someone with severe health complications or comorbidities. Consider your health profile before taking ashwagandha supplements.
Medications
Another thing to consider is whether or not you're taking medications. Some ashwagandha supplements like Planetary Herbals should not be taken alongside sedatives and this is just one example. To be sure, talk to your doctor before taking ashwagandha if you are currently taking medications.
How Do I Take Ashwagandha?
To experience the full effects of ashwagandha, its root powder (or an extract) must be ingested. You can accomplish this by taking tablets, supplements, teas, or powders.
Due to limited clinical trials, there isn't a standard dosage when it comes to taking ashwagandha. Typically, consuming anything from 250 mg to 5 g a day is considered to standard and safe. However, if you're trying ashwagandha supplements for the first time, it's best to start small and take note of how you feel before choosing to up your dosage.

Side Effects of Ashwagandha
It's perfectly common to experience side effects when trying a new medication, even one as natural and holistic as ashwagandha. Despite its many health benefits, ashwagandha can cause side effects to arise, especially if you're taking too big of a dose. For this reason, it's always best to speak to your doctor before taking a supplement. Below are some of the most common side effects of ashwagandha.
Headaches
Headaches are one of the most common side effects of ashwagandha. Headaches can occur as a result of low blood pressure, which ashwagandha promotes.
Upset Stomach
High doses of ashwagandha root powder can cause some people to experience an upset stomach. This usually occurs in people who are prone to upset stomachs in the first place. However, this isn't to say that a healthy person won't experience this side effect. To lower your chances of feeling discomfort, be sure to eat a well-balanced meal or snack before taking supplements.
Nausea and Vomiting
In rare cases, nausea and/or vomiting can occur due to the intestinal mucosa becoming disturbed or irritated.
Diarrhea
If you take a large amount of ashwagandha on your first try, you may experience diarrhea due to your gastrointestinal becoming upset. If you have a sensitive stomach, we recommend taking a small to medium dose of ashwagandha on a day that you do not have to leave the house — just in case it does not agree with you.
Sleepiness
Ashwagandha supplements are known for their energy-boosting qualities. Strangely enough, some people have reported feeling extremely tired after ingesting this medicinal herb.
Immune System Activity
Ashwagandha does a lot to boost the immune system of a healthy person. However, if you are someone who has an autoimmune disease, it's best to avoid taking ashwagandha altogether, as it can negatively affect your immune system.
Miscarriages or Early Pregnancies
It's always important to talk to your doctor before taking new medications or supplements — especially when you're pregnant or breastfeeding. Ashwagandha contains compounds that may cause miscarriages and premature births.
Should any of these side effects occur, it's best to discontinue the supplement and call your doctor for more information.
Frequently Asked Questions (FAQ)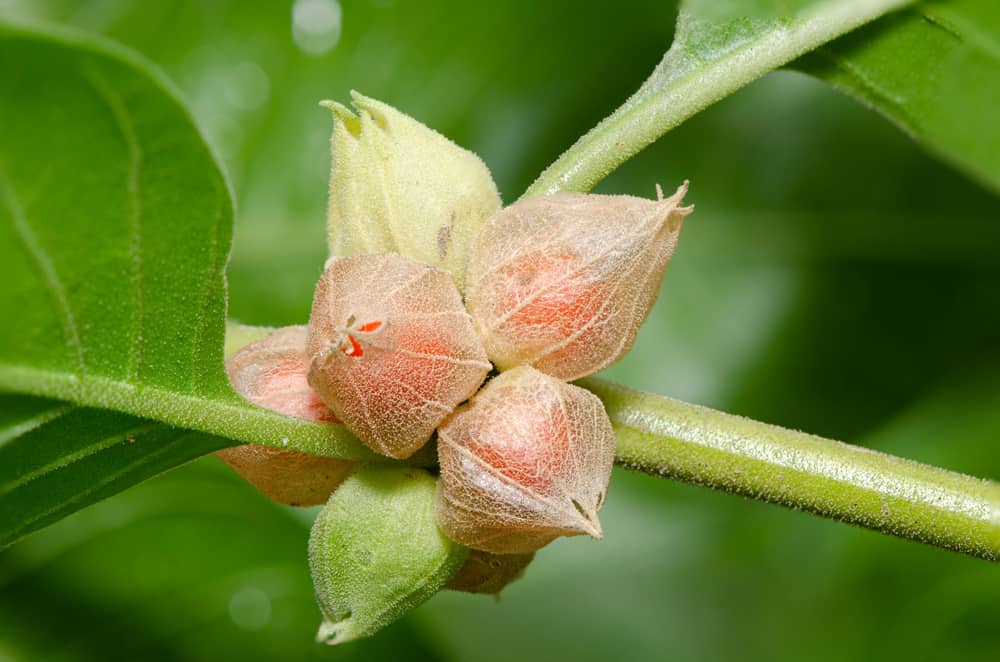 Can I Take Ashwagandha Every Day?
To receive the full effects of ashwagandha, it's recommended to take the same dosage every day. However, some supplements are fast-acting while others are not. Every single ashwagandha supplement on our list is safe to take daily.
If you're someone who wants to take ashwagandha only on days when you feel particularly stressed, we recommend siding with Himalaya Ashwagandha Supplements. This supplement can relieve stress and anxiety in just a few hours, allowing you to take it when you need it instead of making a habit out of it.
Does Ashwagandha Really Work?
When it comes to keeping stress and anxiety at bay, ashwagandha works like a charm, and almost immediately, too. However, if you're looking to take ashwagandha to increase your muscle mass and overall strength, it can take a few months before you notice a change in your body. Ashwagandha supplements really do work, but their effectiveness depends on the dosage you're taking. If you are not feeling any benefits, it's safe to up your dosage — provided that you have not encountered any side effects.
Who Should Not Use Ashwagandha?
Although ashwagandha is a relatively safe herb to use, it should not be consumed by women who are pregnant or breastfeeding. This is also the case for those who have hyperthyroidism and autoimmune disorders, as ashwagandha may worsen their conditions. Ashwagandha may also clash with certain medications but this isn't always the case. Talk to your doctor before combining ashwagandha with other medications.
Should I Take Ashwagandha in the Morning or at Night?
There is no right time to take ashwagandha supplements, as they can be taken at any time of the day. In the end, it all depends on your preferences and the instructions given by the ashwagandha supplement company. Some individuals prefer taking these supplements before bed to improve their quality of sleep, and others enjoy taking them before work to lower their stress levels.
Can Ashwagandha Help With Male Infertility?
Yes it can! If you're a male who is interested in taking ashwagandha to manage infertility or erectile dysfunction, it's recommended that you take ashwagandha root powder with milk in the morning.
Final Thoughts
If you're interested in healing your body and rejuvenating your spirit, ashwagandha can lift you up where you belong. Taking ashwagandha on the daily can transform your life, turning you into a more relaxed and positive person, while also encouraging your body to heal from certain ailments. There's a lot ashwagandha can do for you, and we sincerely hope that it changes your life for the better. Good luck with everything!