Top Picks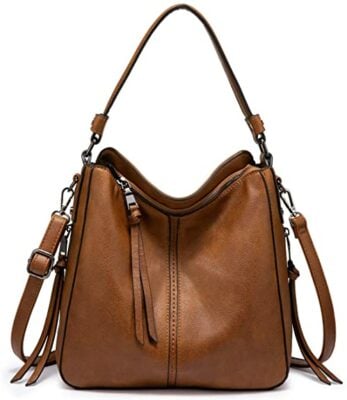 Realer Hobo Bucket Bag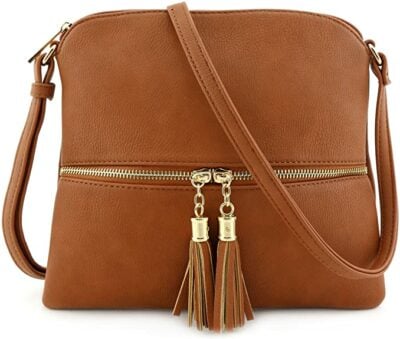 Deluxity Lightweight Crossbody Bag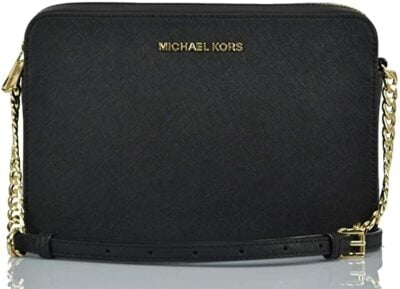 Michael Kors Jet Set Crossbody
Previous
Next
The crossbody bag has gotten a bad name in years past. Some view it as the ultimate practical mom-bag or simply a tourist bag. While it's true that crossbody bags tend to be very functional, they can also be fashionable.
There's a huge variety of crossbody bags that make them perfect for anyone's needs. Whether you're looking for something designer, something retro, or something utilitarian, you can enjoy the safe and comfortable benefits of the crossbody style.
What You Need to Know About Crossbody Bags
To help you choose the right crossbody bag for your taste and needs, we've gathered the most important info you need to know before you shop.
Why Choose a Crossbody Bag?
There's a reason why crossbody bags are staples for moms and tourists: they're immensely practical. By wearing your bag from shoulder to hip, you keep your things close to you while leaving your hands free to hold a wiggly infant or try some delicious street food.
Crossbody bags don't have to be held, taking up one of your hands, and they don't have to be balanced precariously on one shoulder either. Since the weight of them is distributed across your body, you can enjoy the benefits of a big bag with all the things you need inside, without having to fatigue one or both hands by clutching the strap of a huge heavy purse all day.
Choosing the Material for Your Bag
In our guide, we've attempted to give a good cross-section of materials including leather and vegan leather options. But your choices go beyond just those two. There are other plant-based and synthetic materials that come with their own pros and cons,
Leather
Leather is extremely durable. It's not prone to tearing or cracking, particularly if you take the time to occasionally condition your leather goods. Most leather is colored by using vegetable dyes that won't run or bleed onto your clothing and don't expose you to any synthetic chemicals. Leather also develops a distinct patina as it ages, sometimes even looking better a few years down the line. It's also water-resistant.
PU/Vegan Leather
Vegan leather often attempts to mimic the look of an animal hide but it can be dyed a wider range of bright colors than many other materials, including real leather. It is also much more affordable than animal leather. Often waterproof some vegan leathers are also resistant to oil stains, cutting, and tearing. It's also relatively strong given its weight per square inch.
Nylon
This semi-silk synthetic fabric was popularized as a substitute for silk in stockings during the world wars. It's a popular choice for handbags because it's an inexpensive vegan option that feels less like plastic than some leather substitutes. It's also water-resistant and can be tear-resistant as well.
Canvas
Not just for painting on, canvas is a durable material made of natural fibers like cotton or linen. Sometimes this will be combined with a small percentage of PVC material to make it stronger and more waterproof. It's a great option if you want a vegan material that doesn't rely heavily on synthetic fibers, making it one of the most eco-friendly options without sacrificing strength.
Styles of Crossbody Bag
There are many styles of bags out there, but we've narrowed it down to a few basic designs that the bags on our list fall into. There are also many terms that can describe different style elements, and it can sometimes be hard to define all the names designers and fashion magazines will use to describe handbags.
Some bags we review may fall into more than one category, but for the sake of simplicity, we've chosen to call each bag by whichever style it can be most clearly defined by based on a few basic characteristics. Here's a quick guide to what those characteristics are.
Hobo Bag
A hobo bag is a slouchy purse that's taller than it is wide. It doesn't have any framing, so the top will often give a slightly saggy appearance. That makes these bags popular for casual wear. Many crossbody bags fall into this category since they can depend on their strap to hold them up at the top.
Satchel
Satchels tend to be somewhat wider than they are tall. They will have a more structured frame to hold themselves up and will usually close via a flap that folds over the front with snaps or hooks. Satchels can be paired with a crossbody strap or a short handle at the top.
Baguette Bag
Baguette bags are, well, shaped like baguettes. They tend to be a good deal wider than they are tall and will usually close with a zipper at the top. These bags tend to be on the smaller side.
Messenger
A messenger bag is designed to hold documents, books, and in many cases, a full-size laptop. They are almost always crossbody bags that are wider than they are tall. Most will close with a rectangular flap over the front, often with a zipper or velcro closure inside.
Sling
You can think of slings like a crossbody backpack. They tend to be styled similarly to backpacks and frequently have many pockets. Instead of having two straps for either shoulder, slings will have one strap that crosses the body diagonally.
After scouring the available crossbody bags on the market, we've come up with a list of ten to share with you. There's a decent amount of variation when it comes to size and style, but we're confident that nearly everyone will be able to find one on our list that will fit their needs and budget.
Top 10 Best Crossbody Bags 2021
All About Crossbody Bags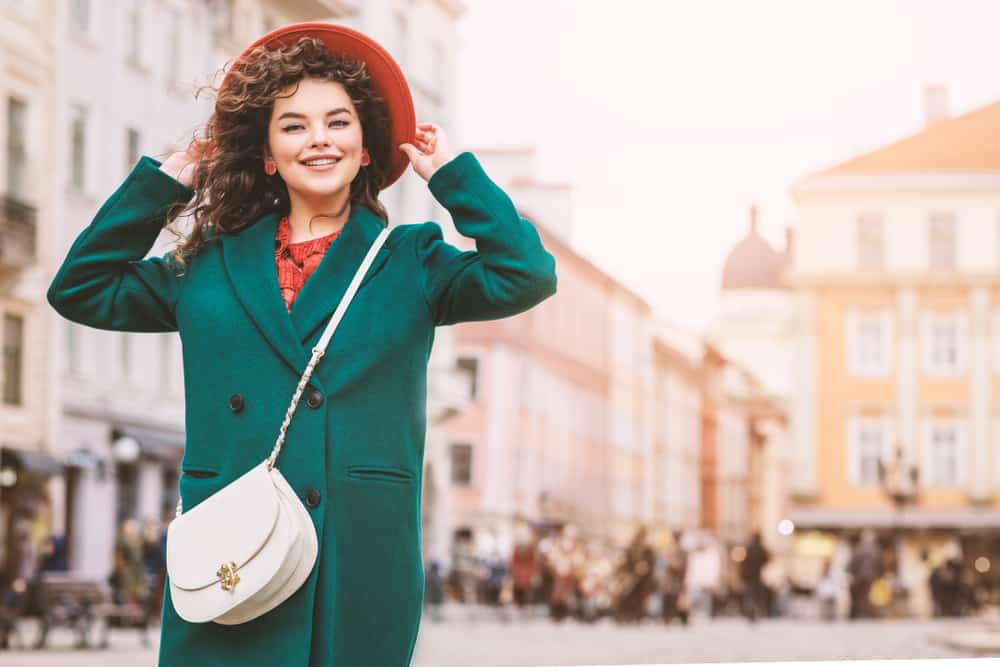 Now that we've walked you through a few of our favorites, you may still be wondering how to fit crossbody bags into your life.
Styling Your Crossbody Bag
Crossbody bags are a great choice for a number of situations. Anytime you need to carry something but would like to keep your hands free, you can turn to the trusty crossbody bag.
Crossbody bags are extremely versatile; you don't have to feel limited by them. Here are a few ideas about how to style one.
City Break
When hitting the town, you don't want to worry about a bag that will get in your way while you're seeing the sights and navigating the subway. But you'll probably need to carry things like your wallet, water bottle, and maybe even a small camera.
Try pairing a bag like our pick from Realer with a pair of dark wash jeans, comfortable boots, and your favorite knit sweater for a modern casual look that can take you from a stylish cafe to a shopping excursion.
Botanical Gardens
Going out to a park or botanical gardens is a great time to choose a crossbody bag so you can keep your hands free to snap some nature photography. For a day outside, you might choose something sportier like our pick from Waterfly.
Put it together with your comfiest sneakers, a pair of lightweight trousers, and a button-down shirt to keep you comfortable and fashionable while trekking.
Museums and Cultural Events
Leave the backpack at home (you don't want to be that guy who knocks over a statue with an overloaded bag after all!) and opt for a spacious and stylish crossbody bag instead. Choose something like our pick from KPL for a sophisticated academic look.
Pair it with comfortable flats, opaque tights or leggings, a knee-length wool skirt, and a cable knit cardigan if the weather is chilly. Your hands will be free to thumb through the program or self-guided tour book with ease and you'll look as timeless as the art.
Real or Synthetic Leather: Which Is Better for a Crossbody Bag?
Leather used to be the go-to material for purses for good reason. It can last for decades when properly cared for, it looks (and smells) great, and it's extremely versatile. However, as many people see plant-based diets as the way forward, many have also become interested in cutting animal products out of their wardrobes.
With many leather alternatives being made of plastic materials, though, it can be a toss-up over which is actually better for the environment. The answer is that it depends on how each item is produced, and it also depends on us to take care of whichever material we choose so that we're buying and ultimately landfilling less each year.
Maybe mushroom or cactus leather alternatives will be more widely available soon giving us durable and sustainable options for our shoes and bags. Until then, we encourage everyone to do their own research and buy to their values, whether that's encouraging the reduction of animal agriculture, or reducing the plastic toxins in our environment.
Crossbody Bags and Travel
Traveling and wearing crossbody bags seem to go hand-in-hand. During summer, if you walk down a crowded street in a city like Tokyo or Hong Kong, you'll usually see a number of young women travelers. Nearly all will have a crossbody bag slung across their shoulders, often with a scarf knotted to the strap or a cardigan peeking out the top of their bag.
Why do experienced travelers choose a crossbody bag most of the time? The same reason they might have a scarf or cardigan with them: preparedness. When traveling, you're trying to get the most out of limited time in a new place. You want to carry a bag that won't slow you down by being cumbersome. But you also need a bag that can carry pretty much everything you need for the day so you don't need to stop back at your hotel or B&B.
Backpacks used to be the standard choice, but they've gone out of fashion for several reasons. First, if you're in a city, a hiking backpack stands out quite a bit. Looking obviously like a tourist can make you a target for pickpocketing or tourist scams. Second, backpacks can be very cumbersome, even when worn around the front. You can knock things over in stores or bump into people in crowded areas. They also won't work if you're going to a nice restaurant.
Crossbody bags have since become the default option for marrying style and convenience in an appropriate way. Plenty of companies like Baggallini have started designing travel-specific crossbody bags with extra security features. For travel, though, you can pick nearly any crossbody bag you like. Just make sure it's sturdy enough that it won't fall apart and that it has enough space for all the things you need to carry.
Are Crossbody Bags Bad for Your Back?
Any time you distribute more weight on one shoulder for a long period of time, it has the potential to throw your posture out of whack and cause pain. Crossbody bags don't do this any more than shoulder bags. In fact, many chiropractors suggest that for heavy items, crossbody bags are better at distributing weight than shoulder bags.
For carrying really heavy items, or for people who already suffer from back and shoulder pain, backpacks and belt bags are considered the safest option. If carrying a belt bag or backpack doesn't suit your lifestyle or personal style, you can do a few things to make crossbody bag wearing even safer.
Straps
Thinner straps are more likely to cause pain because they don't distribute weight, but concentrate it. Choosing a crossbody bag with a wider or even padded strap helps distribute weight over a wider section of your body. This can help prevent shoulder pain.
Alternating Sides
If you always wear your bag on one side, it can cause posture problems that can make your body become misaligned. It may seem like a small thing, but gradually, this can lead to problems. Switching your bag between your shoulders each day will help correct that imbalance.
Care for Your Posture
Being more aware of our posture is something most of us need to do. The tendency to slump and slouch is only emphasized by working in front of a computer as many of us do throughout our day. Being more conscientious about holding our head up, chest out, and shoulders back while walking or sitting– especially when carrying a bag will help us prevent injury and pain.
And making sure to incorporate exercises and stretches to help improve our posture each day can have a huge impact as well.
Final Words
Maybe you were a skeptic about crossbody bags. We hope that our guide has helped make you a convert, though. Crossbody bags are at the intersection of fashion and function. They are incredibly versatile and even, maybe, fun.
With background information and a pool of ten great candidates to choose from, we hope this guide has helped you find the perfect crossbody bag for you.