The crossbody bag has gotten a bad name in years past. Some view it as the ultimate practical mom-bag or simply a tourist bag. While it's true that crossbody bags tend to be very functional, they can also be fashionable.
There's a huge variety of crossbody bags that make them perfect for anyone's needs. Whether you're looking for something designer, something retro, or something utilitarian, you can enjoy the safe and comfortable benefits of the crossbody style.
What You Need to Know About Crossbody Bags
To help you choose the right crossbody bag for your taste and needs, we've gathered the most important info you need to know before you shop.
Why Choose a Crossbody Bag?
There's a reason why crossbody bags are staples for moms and tourists: they're immensely practical. By wearing your bag from shoulder to hip, you keep your things close to you while leaving your hands free to hold a wiggly infant or try some delicious street food.
Crossbody bags don't have to be held, taking up one of your hands, and they don't have to be balanced precariously on one shoulder either. Since the weight of them is distributed across your body, you can enjoy the benefits of a big bag with all the things you need inside, without having to fatigue one or both hands by clutching the strap of a huge heavy purse all day.
Choosing the Material for Your Bag
In our guide, we've attempted to give a good cross-section of materials including leather and vegan leather options. But your choices go beyond just those two. There are other plant-based and synthetic materials that come with their own pros and cons,
Leather
Leather is extremely durable. It's not prone to tearing or cracking, particularly if you take the time to occasionally condition your leather goods. Most leather is colored by using vegetable dyes that won't run or bleed onto your clothing and don't expose you to any synthetic chemicals. Leather also develops a distinct patina as it ages, sometimes even looking better a few years down the line. It's also water-resistant.
PU/Vegan Leather
Vegan leather often attempts to mimic the look of an animal hide but it can be dyed a wider range of bright colors than many other materials, including real leather. It is also much more affordable than animal leather. Often waterproof some vegan leathers are also resistant to oil stains, cutting, and tearing. It's also relatively strong given its weight per square inch.
Nylon
This semi-silk synthetic fabric was popularized as a substitute for silk in stockings during the world wars. It's a popular choice for handbags because it's an inexpensive vegan option that feels less like plastic than some leather substitutes. It's also water-resistant and can be tear-resistant as well.
Canvas
Not just for painting on, canvas is a durable material made of natural fibers like cotton or linen. Sometimes this will be combined with a small percentage of PVC material to make it stronger and more waterproof. It's a great option if you want a vegan material that doesn't rely heavily on synthetic fibers, making it one of the most eco-friendly options without sacrificing strength.
Styles of Crossbody Bag
There are many styles of bags out there, but we've narrowed it down to a few basic designs that the bags on our list fall into. There are also many terms that can describe different style elements, and it can sometimes be hard to define all the names designers and fashion magazines will use to describe handbags.
Some bags we review may fall into more than one category, but for the sake of simplicity, we've chosen to call each bag by whichever style it can be most clearly defined by based on a few basic characteristics. Here's a quick guide to what those characteristics are.
Hobo Bag
A hobo bag is a slouchy purse that's taller than it is wide. It doesn't have any framing, so the top will often give a slightly saggy appearance. That makes these bags popular for casual wear. Many crossbody bags fall into this category since they can depend on their strap to hold them up at the top.
Satchel
Satchels tend to be somewhat wider than they are tall. They will have a more structured frame to hold themselves up and will usually close via a flap that folds over the front with snaps or hooks. Satchels can be paired with a crossbody strap or a short handle at the top.
Baguette Bag
Baguette bags are, well, shaped like baguettes. They tend to be a good deal wider than they are tall and will usually close with a zipper at the top. These bags tend to be on the smaller side.
Messenger
A messenger bag is designed to hold documents, books, and in many cases, a full-size laptop. They are almost always crossbody bags that are wider than they are tall. Most will close with a rectangular flap over the front, often with a zipper or velcro closure inside.
Sling
You can think of slings like a crossbody backpack. They tend to be styled similarly to backpacks and frequently have many pockets. Instead of having two straps for either shoulder, slings will have one strap that crosses the body diagonally.
After scouring the available crossbody bags on the market, we've come up with a list of ten to share with you. There's a decent amount of variation when it comes to size and style, but we're confident that nearly everyone will be able to find one on our list that will fit their needs and budget.
Top 10 Best Crossbody Bags 2023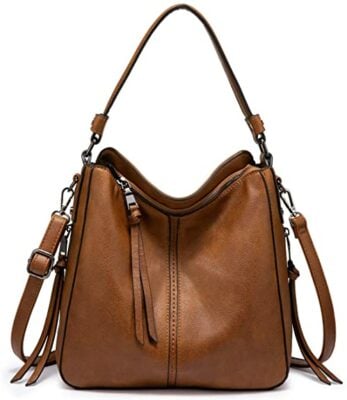 Why we like it:
This is one of the most versatile vegan leather bags we've found.
Editor's Rating:
Quick Facts:
Material: PU/vegan leather
Style: hobo bag
Size: medium– 12.4"x4.7"x11"
Product Overview
This faux leather bag has one main compartment with a center divider. It has several internal pockets as well for organizing smaller items. It's spacious enough to carry nearly anything you need for a busy day, and if that's not enough, it does come in a larger size as well.
The bag has a zipper closure at the top and comes with two straps. One shorter strap allows this bag to be carried like a fashion handbag, and the longer strap adjusts between one-shoulder and crossbody lengths to be carried in any configuration you prefer. The long strap attaches with sturdy metal clips.
The bag is available in about 22 different colors, so you have a lot of options when it comes to picking one that works with your existing wardrobe.
The Downsides
Faux leather is a tough material to work with. While this bag looks nice, over time the edges of the strap start peeling because the vinyl material is quite thin. That makes this a little less durable than we'd like for an everyday carrying bag.
Some users may also feel that there's not enough division in the main compartment. If you aren't carrying larger objects like a tablet and water bottle, it can be easy for things to get a bit jumbled in the large cavern of the bag.
Who It's For
People who regularly find themselves carrying a lot of things like notebooks and tablets for work or school will appreciate the open center compartment of this bag. This can easily accommodate those and still have room for a water bottle, makeup bag, phone, and wallet.
If you're also looking for an attractive alternative to real leather in a variety of colors to match nearly anything, this bag will fit the bill at a moderate price.
Pros
Suitable for vegans

Versatile strap lengths

Wide variety of colors

Sturdy metal hardware
Cons
Vinyl isn't very durable

Not many dividers in the main compartment
---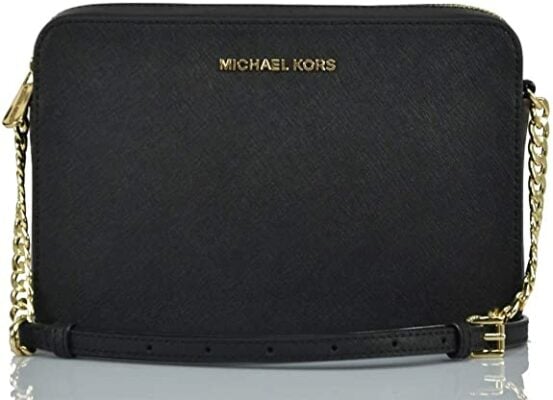 Why we like it:
Minimalist in size, this bag will still scratch your designer handbag itch.
Editor's Rating:
Quick Facts:
Material: canvas
Style: baguette bag
Size: 9.5"x6.5"x2"
Product Overview
Designer bags aren't just for little clutches or big purses. Michael Kors has released this travel-friendly crossbody bag to carry your basic essentials while flying or while you're out exploring a new city.
The bag is made of a coated canvas material which makes it easy to spot clean with a damp cloth. The signature "MK" logo is printed across the bag, looking more subtle on certain color options, and very bold on others. The interior has two small pockets on either side to fit travel documents or cash, and the lining is quilted and similarly printed with the brand logo.
It has a single zipper closure and no outer pockets. Rather than a sliding buckle for shoulder strap adjustments, it features a belt-style buckle that hooks into precut holes.
The Downsides
Some users may find that this bag is simply too small. Its compact design is really only able to accommodate keys, a phone, and a small wallet comfortably. If you find that your lifestyle doesn't allow for that, you're going to need a bag with more interior space.
While many people like having designer branding clearly visible on their bags (isn't that the main reason to pay a designer price, after all?), some may find that the repeating logo pattern is a bit much on this bag. And, as a bag designed for travel, it would make more sense for it to be a little more discreet. Flashy logos make you a target for pick-pocketers.
If you want a more versatile and less flashy bag for travel, you might prefer our pick from Baggallini.
Who It's For
If you love designer handbags but need something a little more convenient and petite, this bag by Michael Kors may be your new go-to. Maybe you don't need to carry your whole life with you, but don't have enough pocket space for everything (a common problem of women's clothing). This little bag will give you the designer look you crave while comfortably carrying your essentials.
Pros
Easy to clean

Interior pockets

Sized for the essentials

Secure adjustable strap
Cons
May be a bit too small

Very obvious branding may make you a target
---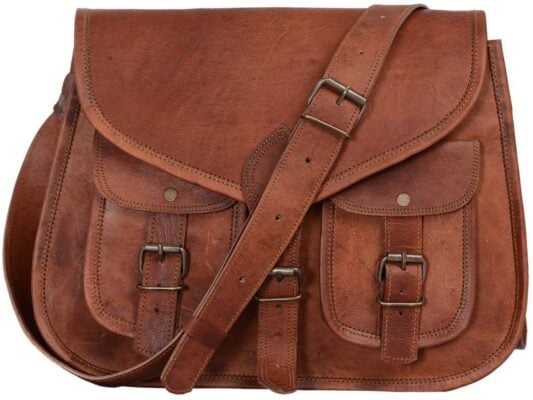 Why we like it:
This has the look of a gorgeous heirloom piece while being functional and affordable.
Editor's Rating:
Quick Facts:
Material: leather
Style: satchel
Size: 14"x10.5"x4
Product Overview
If you're looking for something timeless that will never go out of style, this bag is a great addition to your wardrobe. The classic satchel styling is just as functional and attractive for modern-day people as it would have been for students and workers 100 hundred years ago.
The timeless style is paired with a classic material: full-grain leather lined with canvas. The leather will soften and patina as you keep this bag in your wardrobe for possibly decades to come. and the sturdy canvas lining will stand up to daily wear and tear. The wider strap helps distribute its weight over a larger area to help reduce shoulder pain while carrying it all day.
Large enough to carry your basic necessities, plus books or a tablet in the main compartment, the front flap and two smaller front compartments securely buckle shut. This makes it more secure for carrying through busy streets. The front compartments keep small but important things like cash or your phone safe, but easily accessible.
The Downsides
When this bag is brand new, the leather may feel quite hard and stiff. While this will soften over time, the breaking-in process may be somewhat inconvenient if you're looking for a supple, flexible leather bag. Adding leather treatment creams can help speed up the softening process, but you may find it inconvenient to do.
All of the closures on this bag buckle shut with a belt-loop style system. While this really does keep everything securely locked down, it can be a bit of a hassle if you want to quickly open and shut your bag. Having some snaps or zippers would make it much easier to navigate during a busy day.
For a pre-softened leather bag with a zipper closure, you may like our pick from Estalon.
Who It's For
If you're looking for a spacious and affordable leather bag, this is a great option. The large internal cavity paired with multiple smaller pockets means you can carry almost anything you need for your busy day without it becoming a jumble. Its wider straps make it more comfortable to carry even if you do load it up with a ton of stuff and the leather will only get softer and nicer with age.
Pros
Will age nicely

Sturdy canvas lining

Comfortable wide strap

Stay shut securely
Cons
Material may feel stiff until broken-in

Buckles take time to open and shut
---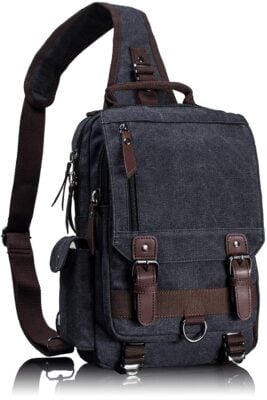 Why we like it:
Stay stylish and secure while biking to work or taking public transit with this handy sling bag.
Editor's Rating:
Quick Facts:
Material: canvas
Style: sling
Size: 10.2"x13.6"x4.4"
Product Overview
This sling-style bag can be worn across your body around the front or back. It can be worn quite close to your torso and has padded straps to keep it from digging into your shoulders. This makes it a great commuter bag if you bike to work or even take crowded public transportation.
The sturdy canvas bag has an attractive unisex style and features plenty of pockets for organization. It has pockets suited to carrying larger items like a laptop, a main center cavity, and small pockets for personal items. The front features several faux-buckle closures that are actually convenient magnetic snaps. These help keep your bag shut as you go about your day, but easily pull open when you need access.
The bag comes in a medium and a large size, so you can choose which one will work best for you. The large can carry up to a 13-inch laptop, whereas the medium will carry a 10-inch tablet. It also comes in colors ranging from bold to neutral.
The Downsides
Over time, the sliding buckle on the strap may loosen up. This means that you may need to make adjustments throughout the day, or it will cause the position of the bag to shift and can lightly choke you if left unchecked. It can also cause the padded portion of the strap to move away from your shoulder where you need that extra cushion.
The magnetic clasps also seem a little weak and prone to failure, breaking and losing their ability to remain secure. Fortunately, the bag can stay shut without them both being closed, but it is slightly annoying to lose the use of them.
Who It's For
If you need a comfortable and versatile bag that's well suited to commuting and traversing a big city, you might just fall in love with this bag. The design is not overtly feminine or masculine either, making it a great option for anyone. The padded straps will also save you a good deal of shoulder pain if you're carrying heavy items like books or laptops around with you.
Pros
Multiple organization pockets

Padded strap

Can be worn around the front or back
Cons
Adjustment buckle loosens throughout the day

Weak magnetic clasps
---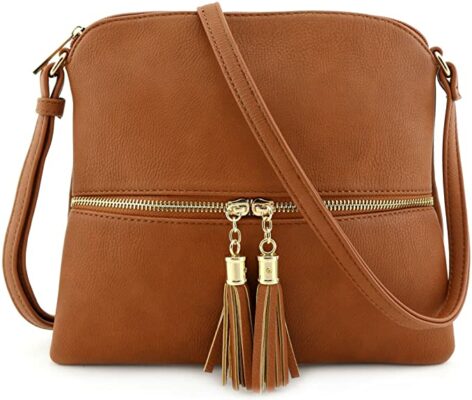 Why we like it:
This easy-to-carry, highly-affordable bag is offered in a wide range of colors.
Editor's Rating:
Quick Facts:
Material: PU/vegan leather
Style: hobo bag
Size: 10"x9"x0.5"
Product Overview
This is a lightweight, slimline bag that features a functional front pocket with two decorative tassels on the zippers to give it a playful and distinctive look. The interior features a deep but flat center cavity with one zipper pocket and one open pocket on either side.
What's most interesting about this product is how wide the range of colors is. It comes in 50+ shades and combinations of colors. Nearly all of them have the same distinct gold-tone hardware. This product is priced in a way that encourages you to buy multiples. And with such a huge selection to choose from, you can have a few in your wardrobe to match a variety of shoes, coats, or outfits.
The material is a vegan leather substitute, and each bag features a striped lining. In spite of how thin it is, you can carry a surprising amount of stuff inside it.
The Downsides
This bag isn't made with the highest quality vegan leather, which is to be expected when it's priced this low. It looks like plastic and the stitching isn't strong enough to stand up to regularly carrying heavy items in the bag.
The metal is a little flimsy, too, making the hardware more prone to bending or tarnishing. And the decorative tassels are likely to get caught in the zipper.
While this bag can hold a lot, it doesn't expand much width-wise, so it can't hold wide objects well. If you're looking for a handy vegan leather bag that can carry more in multiple pockets, try our pick from Scarleton.
Who It's For
If you find yourself needing to carry a lot of slim, rectangular things for work or school like documents, notebooks, and tablets, this bag can easily accommodate that and has pockets for your phone, wallet, and keys as well.
It probably won't be an investment piece you can use for years, but you can keep it in multiple colors to rotate through your wardrobe if you're a bit of a clotheshorse.
Pros
Very lightweight

Suited to carrying tall thin items

Available in many colors

Attractive full lining
Cons
Poor quality stitching

Flimsy hardware

Lacks expandability width-wise
---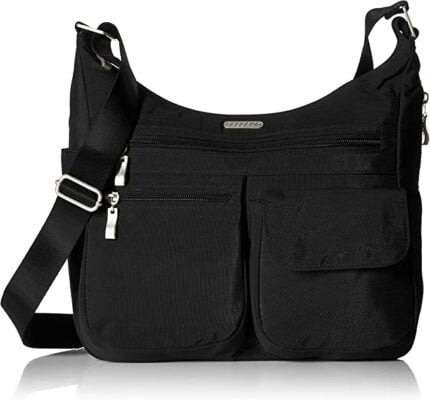 Why we like it:
This bag will help you keep everything organized and safe while you're out exploring.
Editor's Rating:
Quick Facts:
Material: nylon
Style: hobo
Size: 9"x13.5"x5"
Product Overview
Designed with travel in mind, Baggallini is a popular brand among tourists. This Everywhere Bagg is designed to carry everything you might need while traveling, keep your things safe, and work with a variety of outfits.
The sturdy nylon material means that the bag is water-resistant, keeping your documents dry if you get caught in the rain, but it can be machine washed between excursions if needed. The strap is sturdy, though not quite cut-proof. There are also several outer pockets to keep things you need frequent access to.
Inside, you'll find more organization pockets for documents and smaller items. There's also a removable RFID-blocking wallet inside the bag to help protect you from hackers wherever you are. It also comes with a sleeve to fit over your luggage handle so that you can secure it on top of your rolling luggage while running to catch your connecting flight.
The Downsides
The strap, while having excellent adjustability, isn't the greatest quality. It's rather stiff and hard, which can make it uncomfortable, digging into the skin on your neck and shoulder. It's also not cut-proof, which is something you might expect from a travel bag.
For the price, this bag is a little disappointing. Some of the stitching comes loose and the pocket loops for the outer pockets are hard to maneuver. It also doesn't look as sleek and stylish as you may want. Especially in some of the brighter colors, it kind of screams, "I'm a tourist who's afraid of getting pickpocketed!" Not, "I'm a savvy and sophisticated jet-setter."
If a sturdy and spacious bag that blends in a little better on European streets is your goal, you may want to choose something a bit more classic, like our choice from KPL.
Who It's For
If you're a jet-setter who needs a bag that can carry their necessities from a plane cabin to the busy city streets, you might appreciate the large capacity and extra protective features of this bag.
If you find yourself in unpredictable weather, the washability combined with water-resistance just might prove to be a match made in heaven. While this won't be at home in a five-star restaurant, you can feel confident while out hunting for the best street food stands.
Pros
RFID protection

Water-resistant and washable

Multiple organizational pockets

Luggage sleeve
Cons
Stiff uncomfortable strap

Not the best quality

Looks touristy
---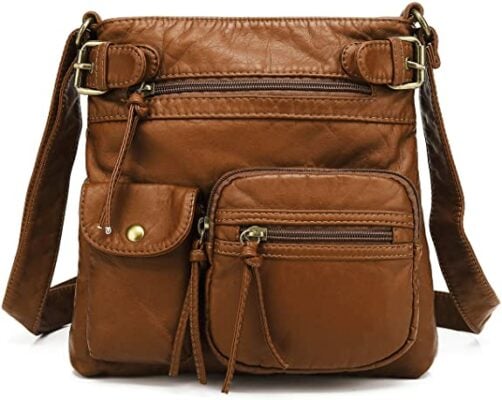 Why we like it:
Pockets to keep you organized and a center compartment to carry larger items.
Editor's Rating:
Quick Facts:
Material: PU/vegan leather
Style: hobo bag
Size: 9.4"x10.6"x2"
Product Overview
This handy vegan leather bag comes in two sizes, each featuring a deep center compartment and several zipper pockets inside and out to help organize your necessities. A snap closure pocket on the front of the bag allows you quick access to small items like your keys or headphones while you're out and about.
The soft, thin faux leather has a broken-in look and it comes in 12 colors. It features warm, bronze-toned hardware on the zippers, snaps, and the sliding buckle to adjust the strap length.
The bag is tall enough to accommodate a standard water bottle and the outer zipper pocket can fit a passport, making it suited to traveling. The bag is very lightweight, so it won't add to the weight of what you're carrying. It's also water-resistant.
The Downsides
While the bag is cute and versatile, it is lacking in a few areas. The main compartment, for example, has a good amount of depth, but it doesn't expand as much as we'd like width-wise, so it is better suited to flatter objects. The front pockets are also meant to allow you quick access to your necessities, but it's nearly impossible to fit a modern smartphone in a case inside any of these pockets. And what do you need to access on the go, if not your phone?
The dye on this bag too, seems to fade over time, rubbing almost bald in some high-contact areas. For a vegan leather option that is more color-fast and more spacious, you might have better luck with our pick from Realer.
Who It's For
If you need an easy bag that's comfortable and cute to carry every day, this could be a good option. Just watch out for color fading, which might give the bag a distressed look after a while. That could be a look you enjoy, however, depending on your personal style.
It's also a great choice if you don't want to have a lot of weight pulling on your shoulders. The bag doesn't have the ability to carry a huge amount, and it doesn't weigh much on its own either.
Pros
Very lightweight

Multiple outer pockets for accessibility

Water-resistant material

Deep inner compartment
Cons
Not much width inside

Compartments are too small for most phones

Color can fade and rub off
---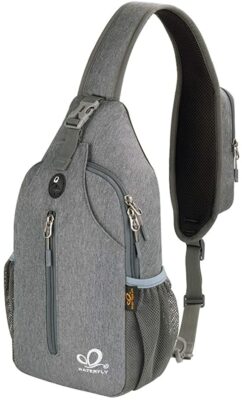 Why we like it:
This bag features a few smart and handy details that are great for an on-the-go lifestyle.
Editor's Rating:
Quick Facts:
Material: nylon
Style: sling
Size: 7"x3.5"15"
Product Overview
Modern and sleek, this bag can take you from the hiking trail to the office with its versatile design. The sling design fits comfortably around your front or back via a wide strap to help distribute the weight.
Outside, it has two mesh pockets on either side of the bag to accommodate both a water bottle and a damp umbrella (since you'd like to keep that from getting everything wet inside your bag). It also had a zipper pocket on the strap for your cell phone, and a front zipper compartment. Perfect for access on the go.
There's also a small access port for your headphones to loop through so that you can keep your device hidden away in the outer zipper pouch while enjoying music on your way.
The main cavity of the bag has a latch closure and opens up to a space with several compartments for organization. There's enough room to carry a small Chromebook or a tablet. Inside, there's also a lanyard you can hook onto your keyring to so that it won't get lost in the main cavity of the bag.
The Downsides
The strap on this bag is somewhat uncomfortable; it's stiff and doesn't feature additional padding. If you're carrying something heavy in the bag, that can make it especially uncomfortable to wear. It also doesn't extend very long, making the fit tight if you have a longer torso.
It also is quite small in its capacity. A standard size laptop or photography equipment is unlikely to fit inside this bag. Even multiple books for school would be hard for it to handle. If you need a sling that offers a most spacious interior and has a more comfortably padded strap, our pick from Leaper may be better for you.
Who It's For
If you need something small and convenient that lets you stay organized while accessing things you commonly use, you may be won over by the organizational features of this bag. It allows you to keep your phone and cards within easy reach while you're running errands, but keep everything secure at the same time. It's an easy casual carry to wear while commuting too, as long as you don't have a big laptop or too many books to carry.
Pros
Outer organization pockets

Lanyard to keep keys safe

Headphone access port
Cons
Shorter strap length

No strap padding

Not a lot of internal space
---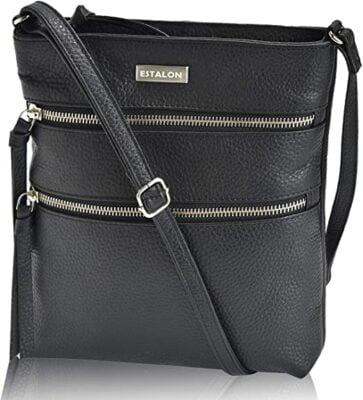 Why we like it:
Durable leather combines with an easy casual look in this bag.
Editor's Rating:
Quick Facts:
Material: leather
Style: hobo bag
Size: 9.5"x9"x2"
Product Overview
Made of 100% cowhide, this bag has a pre-softened flexible texture. The strap is all leather as well, with an adjustable metal sliding buckle. It closes at the top with a zipper, and the front features two outer zipper pockets.
Inside, the bag is cloth lined. It has a phone pocket as well as a hidden zipper compartment inside. With wear, the leather outer will continue to soften and develop a unique patina based on your user habits. It comes in 21 colors ranging from classic black and brown to bright red and even animal print. This means that whether your style is classic or bold, you can match this bag to your personality.
By using leather, the durable material makes it a good everyday bag that is resistant to tearing or stretching even after many uses. The bag is still lightweight despite the sturdiness of the leather.
The Downsides
This bag doesn't have a lot of room to expand, and if you stuff it to capacity, you can lose the function of the outer zippers. Even a thick wallet can strain the capacity of this bag. Those outer pockets also can't hold much more than slim items like cash or a transit card.
The strap on this is rather thin which can be uncomfortable as it puts more pressure on a smaller area. Anything heavy, like a water bottle inside your bag, will feel like a great weight when it's only distributed over an inch wide strip of leather.
Despite being a thinner, softened leather, the bag may take a while to develop that attractive patina that it seems to have in the product photos. The sides in particular may feel a bit stiff, and the color will take some time to gradually evolve into the lived-in leather style.
If you want a soft, semi-distressed looking bag from day one, you might choose a synthetic leather option like our pick from Scarleton.
Who It's For
If you want the durability of leather in a simple style for a bag that can stay in your wardrobe for years to come, you might appreciate this simple and casual bag. It can go from day to night, and you can choose a color that best matches your clothing from their variety of options. It's easy to style and will keep your essentials close.
Pros
Will get better and softer over time

Wide variety of colors

Secure metal zippers
Cons
Limited capacity in main and zipper sections

Thin strap may be uncomfortable

Takes time to develop desired look and texture
---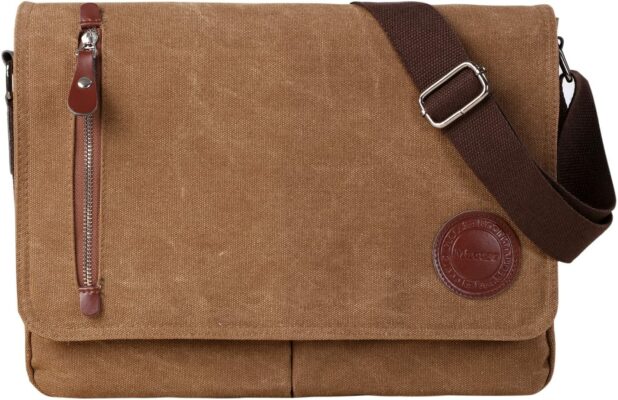 Why we like it:
This bag is ideal if you're carrying a laptop, folders, or books regularly.
Editor's Rating:
Quick Facts:
Material: canvas
Style: messenger
Size: 13.5"x 3.1"x11"
Product Overview
A classic messenger bag like this is perfect for a student or hardworking professional. The outer canvas material is sturdy and water-resistant and available in 4 colors. The hardware on the bag is complemented by real leather tabs for durability and stylish looks.
The large center cavity is big enough for a 13-inch laptop to comfortably fit. This is also the perfect size for document folders and books. Inside, there are several smaller pockets, including one zipper pocket, to safely store your phone, cards, and keys.
Outside, there are two larger pockets that could fit a mini-tablet, any size phone, or a pen and notebook within easy reach. The front flat velcros shut to protect these open-top pockets and keep the whole bag neatly contained.
The Downsides
While the bag can carry up to a 13-inch laptop, it doesn't offer much in the way of additional cushion or protection for anything carried inside it. You may want to put an additional case on your laptop to protect it as you go about your day, but that limits the size you're able to carry even further.
There's also no cushioning on the strap. It is fairly wide, which can help distribute the weight, but for a bag designed to carry heavy things like books and laptops, that little extra cushion would be much appreciated by most. If you find yourself with frequent shoulder pain from heavy bags, choosing an option like our choice from Leaper that provides some shoulder padding may be helpful.
The bag is lined with a polyester fabric, which isn't necessarily a bad thing. Polyester linings are used in most bags because they are tear-resistant and slightly slippery, which can make it easier to get things in and out of the bag. However, the particular polyester used in this bag seems cheap, like the material used for disposable ponchos. It doesn't feel pleasant to touch, and it also makes quite a lot of noise if you're rooting around in your bag for something. Not ideal for a library or quiet office.
Who It's For
For work or for school, if you find yourself carrying a small laptop or documents almost daily, then choosing a good messenger bag can help you streamline your routine. This bag will fit those larger items you need while still giving you pockets to carry your small things so they don't disappear into the depths of the main compartment. It has a very classic, clean look that will suit almost anyone.
Pros
Holds up to a 13-inch laptop

Made from durable materials

Multiple organization pockets

Clean, classic look
Cons
No protective padding for laptop

Strap not cushioned

Cheap lining
---
All About Crossbody Bags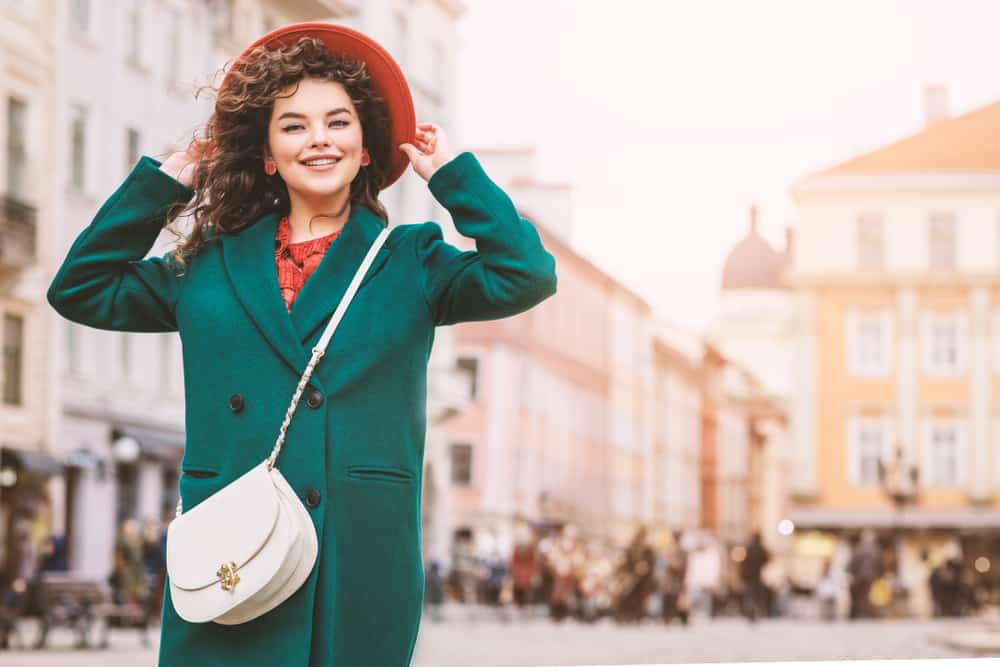 Now that we've walked you through a few of our favorites, you may still be wondering how to fit crossbody bags into your life.
Styling Your Crossbody Bag
Crossbody bags are a great choice for a number of situations. Anytime you need to carry something but would like to keep your hands free, you can turn to the trusty crossbody bag.
Crossbody bags are extremely versatile; you don't have to feel limited by them. Here are a few ideas about how to style one.
City Break
When hitting the town, you don't want to worry about a bag that will get in your way while you're seeing the sights and navigating the subway. But you'll probably need to carry things like your wallet, water bottle, and maybe even a small camera.
Try pairing a bag like our pick from Realer with a pair of dark wash jeans, comfortable boots, and your favorite knit sweater for a modern casual look that can take you from a stylish cafe to a shopping excursion.
Botanical Gardens
Going out to a park or botanical gardens is a great time to choose a crossbody bag so you can keep your hands free to snap some nature photography. For a day outside, you might choose something sportier like our pick from Waterfly.
Put it together with your comfiest sneakers, a pair of lightweight trousers, and a button-down shirt to keep you comfortable and fashionable while trekking.
Museums and Cultural Events
Leave the backpack at home (you don't want to be that guy who knocks over a statue with an overloaded bag after all!) and opt for a spacious and stylish crossbody bag instead. Choose something like our pick from KPL for a sophisticated academic look.
Pair it with comfortable flats, opaque tights or leggings, a knee-length wool skirt, and a cable knit cardigan if the weather is chilly. Your hands will be free to thumb through the program or self-guided tour book with ease and you'll look as timeless as the art.
Real or Synthetic Leather: Which Is Better for a Crossbody Bag?
Leather used to be the go-to material for purses for good reason. It can last for decades when properly cared for, it looks (and smells) great, and it's extremely versatile. However, as many people see plant-based diets as the way forward, many have also become interested in cutting animal products out of their wardrobes.
With many leather alternatives being made of plastic materials, though, it can be a toss-up over which is actually better for the environment. The answer is that it depends on how each item is produced, and it also depends on us to take care of whichever material we choose so that we're buying and ultimately landfilling less each year.
Maybe mushroom or cactus leather alternatives will be more widely available soon giving us durable and sustainable options for our shoes and bags. Until then, we encourage everyone to do their own research and buy to their values, whether that's encouraging the reduction of animal agriculture, or reducing the plastic toxins in our environment.
Crossbody Bags and Travel
Traveling and wearing crossbody bags seem to go hand-in-hand. During summer, if you walk down a crowded street in a city like Tokyo or Hong Kong, you'll usually see a number of young women travelers. Nearly all will have a crossbody bag slung across their shoulders, often with a scarf knotted to the strap or a cardigan peeking out the top of their bag.
Why do experienced travelers choose a crossbody bag most of the time? The same reason they might have a scarf or cardigan with them: preparedness. When traveling, you're trying to get the most out of limited time in a new place. You want to carry a bag that won't slow you down by being cumbersome. But you also need a bag that can carry pretty much everything you need for the day so you don't need to stop back at your hotel or B&B.
Backpacks used to be the standard choice, but they've gone out of fashion for several reasons. First, if you're in a city, a hiking backpack stands out quite a bit. Looking obviously like a tourist can make you a target for pickpocketing or tourist scams. Second, backpacks can be very cumbersome, even when worn around the front. You can knock things over in stores or bump into people in crowded areas. They also won't work if you're going to a nice restaurant.
Crossbody bags have since become the default option for marrying style and convenience in an appropriate way. Plenty of companies like Baggallini have started designing travel-specific crossbody bags with extra security features. For travel, though, you can pick nearly any crossbody bag you like. Just make sure it's sturdy enough that it won't fall apart and that it has enough space for all the things you need to carry.
Are Crossbody Bags Bad for Your Back?
Any time you distribute more weight on one shoulder for a long period of time, it has the potential to throw your posture out of whack and cause pain. Crossbody bags don't do this any more than shoulder bags. In fact, many chiropractors suggest that for heavy items, crossbody bags are better at distributing weight than shoulder bags.
For carrying really heavy items, or for people who already suffer from back and shoulder pain, backpacks and belt bags are considered the safest option. If carrying a belt bag or backpack doesn't suit your lifestyle or personal style, you can do a few things to make crossbody bag wearing even safer.
Straps
Thinner straps are more likely to cause pain because they don't distribute weight, but concentrate it. Choosing a crossbody bag with a wider or even padded strap helps distribute weight over a wider section of your body. This can help prevent shoulder pain.
Alternating Sides
If you always wear your bag on one side, it can cause posture problems that can make your body become misaligned. It may seem like a small thing, but gradually, this can lead to problems. Switching your bag between your shoulders each day will help correct that imbalance.
Care For Your Posture
Being more aware of our posture is something most of us need to do. The tendency to slump and slouch is only emphasized by working in front of a computer as many of us do throughout our day. Being more conscientious about holding our head up, chest out, and shoulders back while walking or sitting– especially when carrying a bag will help us prevent injury and pain.
And making sure to incorporate exercises and stretches to help improve our posture each day can have a huge impact as well.
Final Words
Maybe you were a skeptic about crossbody bags. We hope that our guide has helped make you a convert, though. Crossbody bags are at the intersection of fashion and function. They are incredibly versatile and even, maybe, fun.
With background information and a pool of ten great candidates to choose from, we hope this guide has helped you find the perfect crossbody bag for you.