If you've ever wondered how celebrities and models create a perfectly smooth finish to their skin, seemingly even when barefaced, the secret just might be dermaplaning.
More than just hair removal, dermaplaning can make your skin look fresh and glowing by sloughing off old dead skin and encouraging skin rejuvenation. It also helps makeup go on more smoothly and blend better with your skin.
Dermaplaning can be performed at a spa or aesthetician's office, but the procedure can be pricey. It also gets the best results when done regularly, at least every couple of weeks. This has left many people looking for a way to do it themselves at home to save money and avoid constant appointments.
Fortunately, there are plenty of options to help you look radiant without going to a specialist. In this guide, we rank some of the most popular at-home dermaplaning tools on the market for at-home use.
What Is Dermaplaning?
It's easy to assume that dermaplaning, sometimes also called "dermablading," is like any other exfoliation process. However, it's a little more complicated. When you have it done by a professional, they will run a scalpel lightly over your face at a 45-degree angle to shave off the soft peach fuzz many of us have all over our face while at the same time, scraping off the top layers of dead skin that accumulate on your face.
Removing dead skin encourages your body to regenerate skin cells faster, helping you achieve a glowing, fresh complexion.  Old skin can look flaky and dull, causing buildup that creates an uneven texture. Dead skin and little hairs are also more likely to trap dirt, oil, and other environmental elements that can cause breakouts.
Unlike many other forms of exfoliation, dermaplaning doesn't use any chemicals. This helps reduce the risk of breakouts and allergic reactions, particularly in sensitive skin. It helps your skin appear more even, reduces the appearance of discoloration and fine lines, and allows creams and serums to penetrate deeper for better results.
Types of Dermaplaning Tools
In our guide, we'll show you a variety of different tools you can use for at-home dermaplaning treatments. Each comes with its own pros and cons. There are a few basic ways to categorize these tools and we'll give you this information in the product stats for each product.
Electronic
Some grooming and trimming tools are electrically powered. This means that they will actively cut or trim with a small blade that oscillates. These trimmers are quick and easy to use and are especially handy for removing excess facial hair. You can simply swipe them over your skin without as much need for precise angling. They also tend to be quite safe, with little risk of cutting or scratching.
Electric trimmers take some of the guesswork out, but they may make it harder to get a very close shave, which is essential to dermaplaning. Some may also find the need to charge them up to be a hassle.
Manual
Manual shavers or trimmers are the most common style of dermaplaning tool. They put the speed, pressure, and angle of treatment in your hands. This gives you complete control over how closely you want to shave your skin, making it easier to get meaningful exfoliation at the same time. You can also be super precise about where you're trimming and how much, making it a good option for areas around your eyebrows and hairline.
Of course, a closer trim does mean more risk of irritation if you're not using a sharp enough blade.
Mesh Razor
Nearly all the tools in our guide use some sort of mesh or grooved blade. This means that instead of a straight sharp razor blade, the edge is covered by loops or ridges. These ridges are what do the shaving and make it nearly impossible to cut yourself on the blade since all the actual cutting surfaces are tucked away.
Straight Edge
In a professional skin clinic, an aesthetician will likely use a straight-edged scalpel blade for dermaplaning. This gives the most dramatic exfoliation, cleanly lifting layers of dead skin off your face with precision. However, a scalpel blade is sharp and easy to injure yourself with which makes it less ideal for at-home use. We only include two straight edges and only one with a scalpel blade on our list for this reason.
Now that you understand the basic principles of dermaplaning, it's time to look at some of the best at-home tools for the job. Many of these products aren't labeled as dermaplaners but have gained customers who swear by them for this off-label use.
Top 10 Best Dermaplaning Tools 2023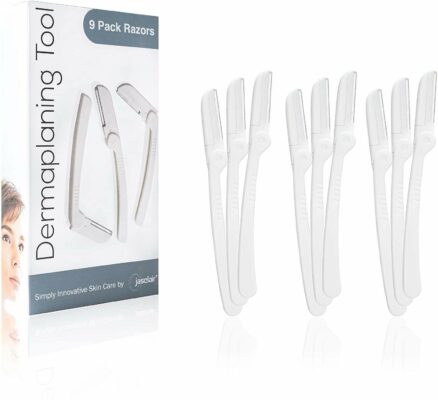 Why we like it:
Well-designed and functional, this is an approachable option for any beginner.
Editor's Rating:
Quick Facts
Power: Manual
Blade: Mesh
Number of Blades: 9
The Product
This pack of 9 razors comes with an eBook of instructions guiding you through how to use this tool for both hair removal and exfoliation. We particularly like how handy these tools are, with their foldable edge. This makes them safer for putting in your makeup bag for travel or having on hand for touch-ups. They're compact enough for any on-the-go lifestyle.
The tool is small and the handle is slightly curved for better comfort in the hand. The micro-grooved blade is made of stainless steel and has a Teflon coating to help it last longer and avoid rust and pitting. This helps it stay sharp and gives you multiple uses from each blade.
The Downsides
Sometimes the small, rounded edge of the blade guard can pull away from the blade, leaving the outer edge unprotected. The outer edge of the blade can be sharp and can scratch your face when uncovered. This is more likely to happen if the tool gets jostled during shipping or in your purse.
The mesh grooves themselves aren't particularly sharp, which makes it a little safer to use on your face. However, if you have thicker and heavier facial hair, it can tug on it a little if you're looking to use this product mainly for hair removal.
Who It's For
For someone who's new to dermaplaning, this set is a good choice. It's easy to use, safe, compact to put in a travel bag, and durable. It's also a pretty good value for the price. This is a good overall choice for anyone looking to break into at-home dermaplaning. Also, experienced users will appreciate how handy and reliable these trimmers are.
Pros
Foldable blade

Ergonomic design

Protective Teflon coating

Good value
Cons
Blade guard can pull away

May tug on thicker hairs
---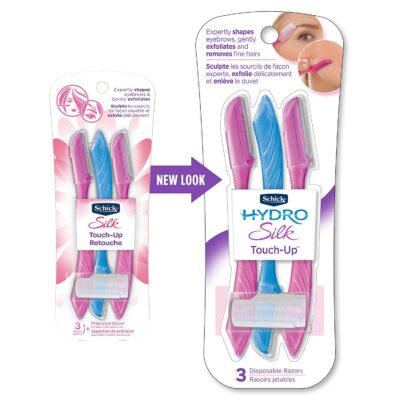 Why we like it:
This reliable option proves why Schick is a mainstay in the shaving game.
Editor's Rating:
Quick Facts:
Power: Manual
Blade: Mesh
Number of Blades: 3
The Product
This set of 3 trimmers from Schick prove that the brand isn't just for making your dad's disposable razor. The blade itself is designed with multiple micro guards to protect your skin from shaving irritation. This is especially useful because you won't be using shaving cream or lotion. Dermaplaning is done dry, which can cause some redness. This feature helps protect you from razor burn.
By using the precision cover included with the set, you can truly take advantage of the multipurpose nature of the tool. The precision cover blocks some of the blades so that when you're using the razor as an eyebrow shaper or to focus on other small areas, you can carefully trim only a few hairs at a time instead of risking an eyebrow-loss situation.
The Downsides
Unfortunately, these blades don't have a protective coating like our pick from Jasclair. This means that they will get dull quicker, especially if you use them for both hair removal and dermaplaning.
The micro guards on the blade are meant to protect the skin, but they also can make it harder to use for a newbie. If you don't angle it properly or maintain even pressure, it's easier to scratch yourself with this blade.
Who It's For
If you're looking for a reliable option from a well-known brand at a low price, this might just be the best dermaplaning device for you. For people who feel a little more confident about dermaplaning, this is easy to use, though there may be a greater margin for error if you're a first-timer. It may not be the cheapest tool on our list, but it does offer one of the best values for those who are trying to be more budget-conscious.
It's also a good choice if you want a tool that will be just as effective at eyebrow trimming and shaping as it is at removing peach fuzz and dead skin.
Pros
Micro guards protect against razor burn

Precision tool for eyebrows

Reliable and consistent
Cons
Will dull more quickly

Might be harder for a first-timer
---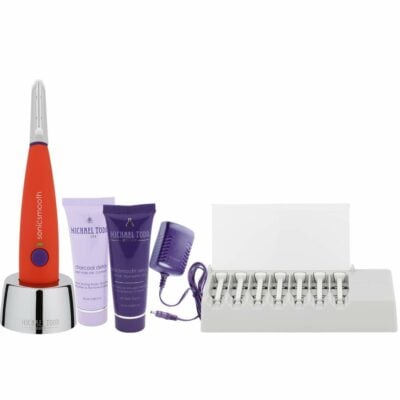 Why we like it:
Get the spa experience at home with this full set of products and tools.
Editor's Rating:
Quick Facts
Power: Electric
Blade: Mesh
Number of Blades: 6
The Product
Sonicsmooth has included everything you need to give yourself a luxurious spa treatment at home in this set. This rechargeable device has three speeds and comes with a 2-month supply of replacement blades. One charge gives you up to three hours of use, so you can charge it and then toss it in your carry-on for a trip.
The blade moves back and forth to closely shave your skin, removing hair and loosening dead skin cells. The tool also has a slightly curved handle to fit comfortably in the hand so you can hold it at the optimal angle. This allows it to glide over the skin without tugging or ripping.
The set also includes a pre-treatment cleanser to remove excess oils and a post-treatment serum to soothe and nourish your skin.
The Downsides
Unfortunately, the blades for this device are single-use. So, the six that come with the set will run out pretty quickly if you want to do regular treatments. The company says that it's about two month's worth of blades, then you have to order replacements. It seems a bit wasteful to need a fresh blade after every single treatment.
While this is an easy to use and effective hair remover, it doesn't seem to deeply remove skin the way manual blades do. For such an expensive system, we'd hope for higher performance and deeper exfoliation, not milder exfoliation. If you're looking for a more versatile electric trimmer that will leave you feeling baby smooth, try our pick from Suibety.
Who It's For
For people with thicker facial hair who want a very close shave, this trimmer does a great job. When combined with the spa treatment cleanser and serum, it gives a light exfoliation treatment and can brighten the look of your skin. The electric shaving function also helps take some of the guesswork out of home dermaplaning.
Pros
Easy to get the proper angle

Comfortable to use

3-hours of use from one charge

Full treatment set
Cons
Single-use blades

Does not deeply exfoliate

Expensive system
---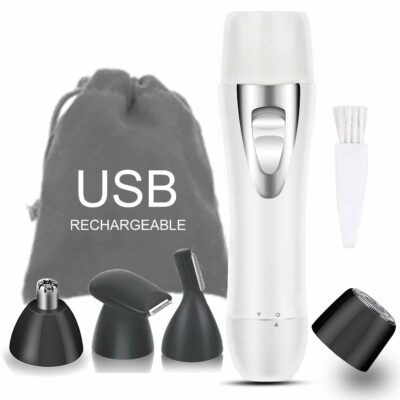 Why we like it:
This versatile tool takes care of all your grooming needs and leaves your skin baby smooth.
Editor's Rating:
Quick Facts
Power: Electric
Blade: Mesh
Number of Blades: 4 trimmer heads
The Product
This full face and body trimmer come with four different heads to suit a variety of needs. The comb style trimmer heads come sized for face and body use. There's also a nose hair trimmer and a specific facial hair removal head. The facial hair head is round, with a flat surface covered in metal loops to gently remove hair by moving in a circular motion close to the skin. It's almost like a massage that exfoliates while stimulating the skin.
The device has a USB charger and runs for about one hour per charge. It comes in a small travel pouch and has a cleaning brush to help you get any bits of hair and skin out. It's also waterproof.
The Downsides
The trimming heads for this tool will gradually dull. This can make the facial hair remover start to pull at your hair uncomfortably. Within a few months, you'll need to replace it. Unfortunately, the company itself doesn't offer replacements, so you'll need to buy from a third party and hope they fit, or you'll need to buy an entirely new trimmer set.
The promised one hour of use per charge might also be a little optimistic. As this device is used and recharged more times, the running time per charge time gets shorter. While this initially seems like a device you can have in your beauty arsenal for a long time, it turns out to be sadly disposable before long.
Who It's For
The facial hair removal tool does a great job of, well, removing hairs, but it also gently exfoliates and leaves your skin baby smooth. If you also want a device that will take care of other face and body hair, then this tool is a great combination for you to simplify your routine. Just be aware that you may need to replace it every couple of months. Fortunately, the price is reasonable, even keeping this in mind.
Pros
Full face and body trimmer

Facial trimmer gently exfoliates

USB charging

Included travel pouch
Cons
Trimmer heads will dull

May need to replace the whole device every few months

Short-lived charge
---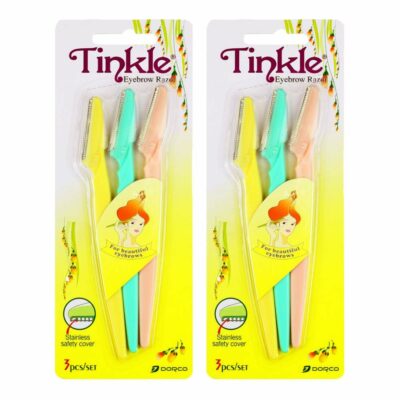 Why we like it:
A cult-favorite, these tiny razors are great at precision work.
Editor's Rating:
Quick Facts
Power: Manual
Blade: Mesh
Number of Blades: 6
The Product
An extremely popular trimmer for the delicate bikini-area, Dorco's Tinkle razor was originally marketed for eyebrow trimming and shaping. Its wide range of uses has made it beloved. Many women also swear by using it as a dermaplaning tool to smooth out their facial skin.
These lightweight disposable razors have petite blades for precision trimming and come in three cute pastel colors. The blade itself is quite long, which makes it well-suited to taking care of larger areas, but narrow enough to attack smaller areas as well.
The Downsides
While these are disposable, you might be a little disappointed by how quickly they dull down. If you're doing an intense, full-face treatment, you may only get one use per blade. While the pack of six is handy and the price is reasonable, it still seems a little wasteful. Our pick from Jasclair has a better lifespan, so you can get more use out of each blade.
The plastic on the tool itself is a bit flimsy. While this means it's lightweight, that also means it can be a little fragile. The plastic around the blade guard can easily break, and when that happens, the blade can become unprotected around the edges or even fall out.
Who It's For
This quick and easy precision trimmer that also gets the job done when it comes to exfoliating will be a good choice for casual users. Especially if you only need touch-ups between waxings or professional dermaplaning treatments. It's not heavy-duty enough to give you the full treatment, at least not more than once per blade. Still, it's a favorite for a reason. It glides easily over your skin, enhancing your natural glow.
Pros
Versatile

Precision blade

Lightweight

Inexpensive
Cons
Dulls quickly

Plastic blade guard can break
---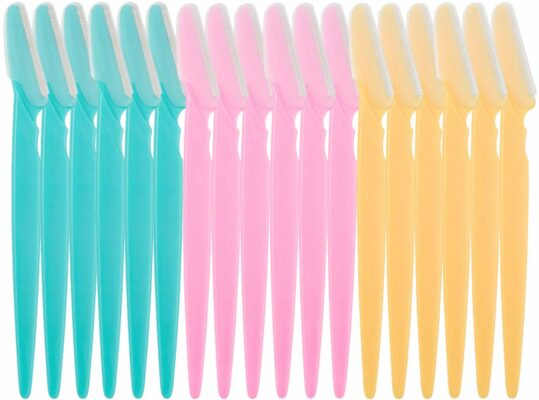 Why we like it:
Safe and simple, this multipack has a generous amount of dependable trimmers.
Editor's Rating:
Quick Facts
Power: Manual
Blade: Mesh
Number of Blades: 18
The Product
This set of 18 disposable blades is handy for keeping wherever you need them. Have one in your makeup bag, your desk drawer at work, your purse– you can always be prepared for touch-ups. Each blade comes with its own clear plastic cap. This keeps the blade safe from dulling and becoming dirty, but also ensures that nothing will get snagged by the razor. That makes them perfect for using on the go.
The blades have safety grooves to make them easier and less risky to use than other cutting edges. The razors are very lightweight and the bright colored handles make them easier to find in a makeup bag. There is good consistency between each blade in the set, so you know what to expect.
The Downsides
These little blades don't give as close of a shave as some tools. They aren't particularly sharp, so getting a silky smooth finish on your skin is a little harder and may take several passes to achieve. Some people may prefer an electric tool like our pick from Michael Todd to really get a close trimming and exfoliating experience.
Since these are disposable, they also aren't the most durable tools. The handles can break and the plastic around the blade can crack, causing the blade to come away from the handle.
Who It's For
If you like having a tool for every bag, this set will give you a decent product in a generous eighteen-pack to accommodate your needs. It's safe and simple for beginners to use as well. They won't stand up to intense use, but for refreshing a bit of dully, dry skin around your nose or trimming a few hairs on your chin, they'll do very well.
Pros
Generous 18-pack

Protective blade cover

Safety grooves
Cons
Not as sharp

Flimsy plastic handles
---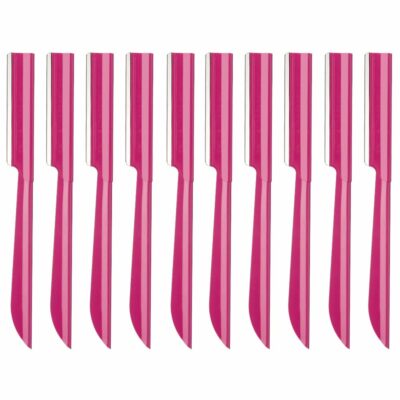 Why we like it:
This set of straight razor style trimmers gives an extremely close shave for dramatic shaving and exfoliating.
Editor's Rating:
Quick Facts:
Power: Manual
Blade: Straight
Number of Blades: 10
The Product
These lightweight steel trimmers have a blade very similar to a men's straight razor but are attached to a handle that is better suited to dermaplaning than a traditional men's facial razor. The blade is high-quality stainless steel made in Japan. The handle is sturdy but lightweight.
Each blade comes with a plastic safety cover to protect both you and the blade between uses. The very thin and sharp blade means that you can get close trimming and exfoliating without using a lot of pressure. They also come in several colors, so you can choose which one best suits you.
The Downsides
These are probably not ideal for someone who is new to dermaplaning. While they can be very effective at shaving off the top dead skin cell layers, they are also much easier to cut yourself with. The blade really must be held at the correct angle with your skin pulled tautly, or you risk cutting the skin itself.
While putting this straight razor edge on a thin and maneuverable handle makes it more suited to precision trimming than a standard shaver, the handle could still use some improvement. It's not very ergonomic and can be hard to keep a firm grip on, unlike our other straight edge choice from Medipride.
Who It's For
If you're not messing around when it comes to sharpness and precision, these blades provide both in abundance. The stainless-steel blade stays sharp for several uses, which also makes this pack of ten tools an economical choice that will last a long time. For a more experienced dermaplaning enthusiast who wants that intense exfoliation, these are a good choice to get dramatic results at home.
Pros
Safety cover for the blade

Stays sharp over several uses

Can use lighter pressure

Very close trimming
Cons
Only for advanced users

Easy to cut yourself

Uncomfortable handle
---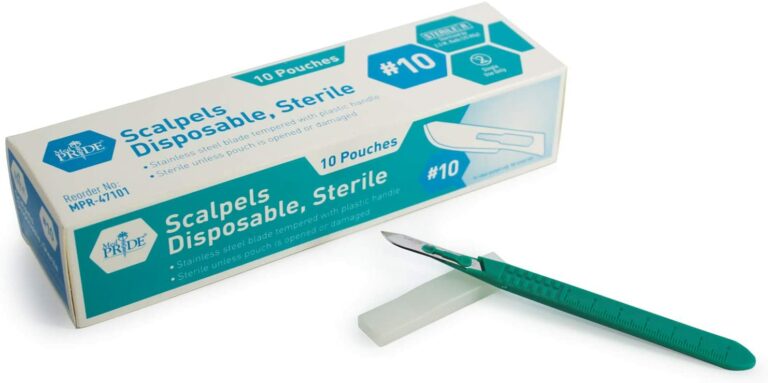 Why we like it:
To get the closest thing to a professional dermaplaning treatment, you can get professional-level tools.
Editor's Rating:
Quick Facts:
Power: Manual
Blade: Straight edge
Number of Blades: 10
The Product
If you're really set on recreating a professional dermaplaning treatment at home, you can't get any more authentic than using these medical-grade scalpels. Each box contains ten sealed and sterile disposable scalpels with wide, easy to grip handles.
A single pass of the blade will lift off thin layers of dead skin and easily cut through your peach fuzz. You'll need to use very light pressure since the blades are quite sharp, but they are effective for achieving soft and glowing skin like you'd expect from a skin clinic.
The Downsides
We wouldn't recommend using a scalpel to scrape your face if you're new to dermaplaning. Starting with an eyebrow trimmer style tool like our pick from Jasclair is safer and lets you practice finding the right angle, pressure, and tension you need with much less risk of injury. The tip of this scalpel, in particular, is very sharp and could be dangerous.
There is some inconsistency between blades in this ten pack as well. Some will have a sharper, finer edge than others. This can make it difficult to get the same dermaplaning experience each time. It's also not ideal for professionals who need to deliver the same performance week after week for their clients.
Who It's For
Skincare enthusiasts who have some dermaplaning experience or training may find that this is the best way to replicate professional results at home. A scalpel really can give you a more effective treatment than most eyebrow trimmers will. You should be careful and not store this anywhere where children might get to it and be sure to use caution when applying it to your delicate facial skin.
Pros
Sterile sealed packs

Easy to grip handle

Very effective exfoliation
Cons
Dangerously sharp tip

Some inconsistency between the blades
---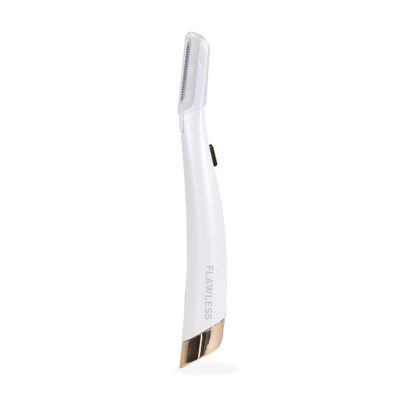 Why we like it:
This trimmer helps you spot every little patch of peach fuzz and eliminate it.
Editor's Rating:
Quick Facts
Power: Manual
Blade: Mesh
Number of Blades: 7
The Product
This dermaplaning tool is designed to help you see what you're doing for a closer and safer treatment. Despite being a manually powered device, it takes one AAA battery to power a small LED light. This light casts a glow over your face just in front of the device to help you better see where you're trimming.
The device has a wide, curved handle that's comfortable to hold and maneuver around your face. It also comes with six single-use replacement heads.
The Downsides
The design of the blade guard curves over the edge of the blade to be protective, but unfortunately, it juts out slightly further than the blade. This can make it difficult to get a very close trim without pressing too hard, which can be risky.
The blades aren't very sharp either and dull quickly, which is why they are single-use. It certainly isn't as effective as other disposables that are much cheaper, such as the Dorco Tinkle blades. Most of the cost of this product then is due to the light, which will only be useful in certain situations.
Who It's For
If you have a poorly lit bathroom or struggle to trim without missing patches of peach fuzz and dry skin, this product might be helpful. The handle is comfortable to hold and the blade will give you some mild exfoliation. Overall though, the razor itself is middle-of-the-pack, and it's debatable whether the light will be worth the extra cost for most people.
Pros
Bright LED light

Comfortable handle

Easy replacement heads
Cons
Blade guard prevents close trimming

Blades dull quickly

Expensive
---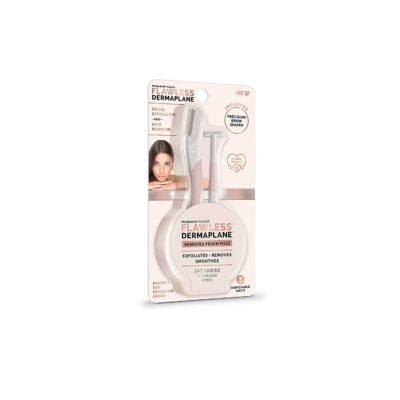 Why we like it:
A basic trimmer set adds sturdy handles and a precision tool into the mix.
Editor's Rating:
Quick Facts:
Power: Manual
Blade: Mesh
Number of Blades: 3
The Product
This travel pack contains two full-size eyebrow trimmer tools and one small precision tool. Each tool can be used a few times before it needs to be replaced, making them, as the package says, great for travel. The studier handle sets it apart from single-use tools and makes it comfortable to use.
The small, square precision trimmer is called a brow shaper. However, it's actually really great to use for trimming and exfoliating areas like the upper lip. Each blade also comes with a clear safety cover, which makes it convenient to toss in your bag and go.
The Downsides
As a shaver, this product is somewhat mediocre. It's not very sharp, so while the mesh ridges of the blade do lift some dead skin, it may leave hair behind. Removing fine facial hair is very important to many people and a big part of dermaplaning, so it is disappointing that it may take multiple passes or an additional trimmer to leave your face truly smooth.
Despite claiming to be made of stainless steel, this product can rust or tarnish fairly quickly if it comes in contact with moisture. It also can start to lose its edge. This is quite a contrast to other stainless steel tools on our list, like our pick from Miss Gorgeous.
Who It's For
If your facial hair is very fine and removing it all isn't your main priority, you may enjoy the light exfoliation this trimmer can give. If you're looking for a tool that can navigate smaller areas, the precision tool in this set is great at that. It is a good set for travel that will give you 4-5 uses per blade, but the overall performance isn't spectacular.
Pros
Study and comfortable handle

4-5 uses per blade

Precision tool for small areas
Cons
May leave behind peach fuzz

Rusts and tarnishes more quickly

Can dull quickly
---
Your Guide to Dermaplaning

Don't be too intimidated by dermaplaning. It seems like quite a tricky process, but with a few precautions, you can safely get a beautiful smooth finish. Our guide will walk you through some of the key things you should know before jumping in.
How Should You Prepare Your Skin for Dermaplaning?
Unlike traditional shaving, you should dermaplane dry skin. But that doesn't mean you should start without first preparing your skin.
Before dermaplaning, you should cleanse your skin with warm water. Warm water will help open up your pores. By cleansing off excess dirt and oil, it makes it easier to effectively remove the dead, dry skin on your face's surface. There should be no makeup or products on your skin when you start. Pat your skin with a towel and give it a moment to air dry after washing.
Once your skin is clean, you'll need to pull your skin taught with clean fingers and angle your razor to about 45-degrees to remove hair and old skin buildup. Use small light strokes and don't press too hard. Try to go over your main face surfaces only once during the treatment.
Dermaplaning Aftercare
When your skin is freshly scraped, it's primed to absorb any serum or treatment you want to apply. Immediately after dermaplaning, your skin might feel a little raw. To soothe sensitive skin and remove any lingering bits of dry skin, you may want to tone with a bit of rose water before applying any products.
Some dermatologists recommend leaving your skin bare for at least 8 hours after dermaplaning to prevent your pores from getting clogged up with any products. But others recommend using light serums almost immediately. Heavy creams shouldn't be applied until your skin has recovered for a few hours, though.
You should avoid sun exposure in the hours immediately following a dermaplaning treatment, which is why many choose to do it at night shortly before bed.
Using a hyaluronic acid serum is a great way to help stimulate your skin's ability to repair itself for anti-aging benefits. It also helps brighten and improve the texture of your skin while locking in moisture. Since dermaplaning itself helps to encourage brighter, tighter skin, pairing it with hyaluronic acid creates a dream team of complexion perfection.
What Are the Side-Effects of Dermaplaning?
The most common side effect is the possibility of redness and irritation. While dermaplaning has fewer risks, even for sensitive skin, since there are no chemicals or abrasive ingredients, some people may still experience mild irritation. Especially if your blade has started to dull, it may tug on the hairs of your face, causing redness.
In some cases, you may experience a few whiteheads popping up a day or two after treatment since it pulls up so much dead skin and deep levels of dirt and oil.
It's also not recommended for people with cystic acne to practice dermaplaning at home or even in a professional clinic. The uneven texture of their skin makes it more difficult to safely run the razor over the skin. It can also cause further breakouts. In these cases, it is best to stick to a traditional face wash.
How Often Should You Dermaplane?
This is a situation where less is more. You won't benefit from dermaplaning every couple of days because there simply will not be anything to remove. It takes time for old skin cells to accumulate and peach fuzz to grow in. Everyone is slightly different but doing treatment about once every two weeks is a good rule of thumb.
If you do it too often, you greatly increase your chances of irritation. Constantly dragging a razor across unprotected skin can cause pain, redness, and breakouts.
Is At-Home Dermaplaning Safe and Effective?
While you might be sold on the benefits of dermaplaning, you might still be wary of the idea of doing it at home. It's understandable since taking a razor to some very delicate and visible skin could have some risks. Still, it's considered generally safe as long you use the right tools for the job and practice good hygiene.
Overall, most people can enjoy the effects of dermaplaning treatments from home and save themselves several hundred dollars per session. Most of the tools we reviewed for this guide have a very low risk of injury. Later in this article, we'll also walk you through the proper way to care for your skin before and after dermaplaning to reduce any risk of irritation.
Enjoy Your Journey to Fresher Skin
Fresh, bright skin can be achieved without any chemical peels or mystery ointments. Dermaplaning helps your skin refresh itself by stimulating new cell production. By doing a dermaplaning treatment every couple of weeks, you keep your skin in a constant regenerative cycle.
Once you get down to it, it's not as scary or complicated as it may first sound. Our guide is designed to help you pick a tool that suits your personal needs and experience level. We also hope our include tips can encourage you to stop hesitating and start dermaplaning.