Top Picks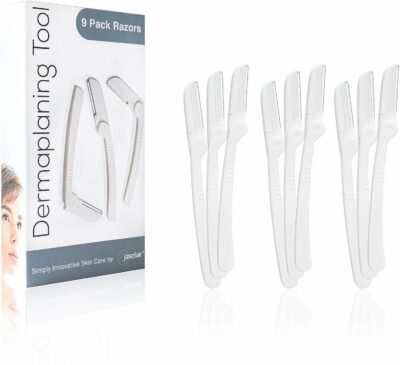 Jasclair Dermaplaning Tool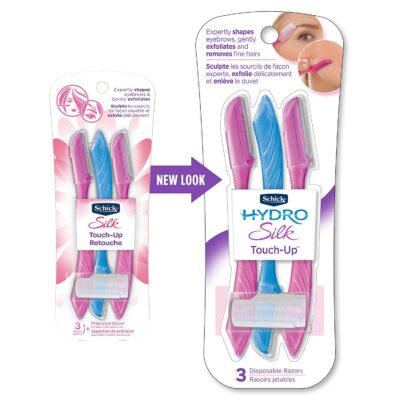 Schick Hydro Silk Touch-Up Multipurpose Exfoliating Dermaplaning Tool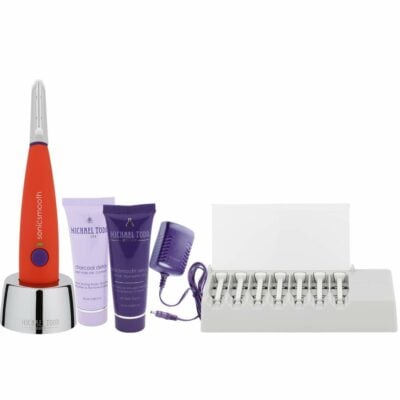 Michael Todd Beauty Sonicsmooth
Previous
Next
If you've ever wondered how celebrities and models create a perfectly smooth finish to their skin, seemingly even when barefaced, the secret just might be dermaplaning.
More than just hair removal, dermaplaning can make your skin look fresh and glowing by sloughing off old dead skin and encouraging skin rejuvenation. It also helps makeup go on more smoothly and blend better with your skin.
Dermaplaning can be performed at a spa or aesthetician's office, but the procedure can be pricey. It also gets the best results when done regularly, at least every couple of weeks. This has left many people looking for a way to do it themselves at home to save money and avoid constant appointments.
Fortunately, there are plenty of options to help you look radiant without going to a specialist. In this guide, we rank some of the most popular at-home dermaplaning tools on the market for at-home use.
What is Dermaplaning?
It's easy to assume that dermaplaning, sometimes also called "dermablading," is like any other exfoliation process. However, it's a little more complicated. When you have it done by a professional, they will run a scalpel lightly over your face at a 45-degree angle to shave off the soft peach fuzz many of us have all over our face while at the same time, scraping off the top layers of dead skin that accumulate on your face.
Removing dead skin encourages your body to regenerate skin cells faster, helping you achieve a glowing, fresh complexion.  Old skin can look flaky and dull, causing buildup that creates an uneven texture. Dead skin and little hairs are also more likely to trap dirt, oil, and other environmental elements that can cause breakouts.
Unlike many other forms of exfoliation, dermaplaning doesn't use any chemicals. This helps reduce the risk of breakouts and allergic reactions, particularly in sensitive skin. It helps your skin appear more even, reduces the appearance of discoloration and fine lines, and allows creams and serums to penetrate deeper for better results.
Types of Dermaplaning Tools
In our guide, we'll show you a variety of different tools you can use for at-home dermaplaning treatments. Each comes with its own pros and cons. There are a few basic ways to categorize these tools and we'll give you this information in the product stats for each product.
Electronic
Some grooming and trimming tools are electrically powered. This means that they will actively cut or trim with a small blade that oscillates. These trimmers are quick and easy to use and are especially handy for removing excess facial hair. You can simply swipe them over your skin without as much need for precise angling. They also tend to be quite safe, with little risk of cutting or scratching.
Electric trimmers take some of the guesswork out, but they may make it harder to get a very close shave, which is essential to dermaplaning. Some may also find the need to charge them up to be a hassle.
Manual
Manual shavers or trimmers are the most common style of dermaplaning tool. They put the speed, pressure, and angle of treatment in your hands. This gives you complete control over how closely you want to shave your skin, making it easier to get meaningful exfoliation at the same time. You can also be super precise about where you're trimming and how much, making it a good option for areas around your eyebrows and hairline.
Of course, a closer trim does mean more risk of irritation if you're not using a sharp enough blade.
Mesh Razor
Nearly all the tools in our guide use some sort of mesh or grooved blade. This means that instead of a straight sharp razor blade, the edge is covered by loops or ridges. These ridges are what do the shaving and make it nearly impossible to cut yourself on the blade since all the actual cutting surfaces are tucked away.
Straight Edge
In a professional skin clinic, an aesthetician will likely use a straight-edged scalpel blade for dermaplaning. This gives the most dramatic exfoliation, cleanly lifting layers of dead skin off your face with precision. However, a scalpel blade is sharp and easy to injure yourself with which makes it less ideal for at-home use. We only include two straight edges and only one with a scalpel blade on our list for this reason.
Now that you understand the basic principles of dermaplaning, it's time to look at some of the best at-home tools for the job. Many of these products aren't labeled as dermaplaners but have gained customers who swear by them for this off-label use.
Top 10 Best Dermaplaning Tools 2021
Your Guide to Dermaplaning

Don't be too intimidated by dermaplaning. It seems like quite a tricky process, but with a few precautions, you can safely get a beautiful smooth finish. Our guide will walk you through some of the key things you should know before jumping in.
How Should You Prepare Your Skin for Dermaplaning?
Unlike traditional shaving, you should dermaplane dry skin. But that doesn't mean you should start without first preparing your skin.
Before dermaplaning, you should cleanse your skin with warm water. Warm water will help open up your pores. By cleansing off excess dirt and oil, it makes it easier to effectively remove the dead, dry skin on your face's surface. There should be no makeup or products on your skin when you start. Pat your skin with a towel and give it a moment to air dry after washing.
Once your skin is clean, you'll need to pull your skin taught with clean fingers and angle your razor to about 45-degrees to remove hair and old skin buildup. Use small light strokes and don't press too hard. Try to go over your main face surfaces only once during the treatment.
Dermaplaning Aftercare
When your skin is freshly scraped, it's primed to absorb any serum or treatment you want to apply. Immediately after dermaplaning, your skin might feel a little raw. To soothe sensitive skin and remove any lingering bits of dry skin, you may want to tone with a bit of rose water before applying any products.
Some dermatologists recommend leaving your skin bare for at least 8 hours after dermaplaning to prevent your pores from getting clogged up with any products. But others recommend using light serums almost immediately. Heavy creams shouldn't be applied until your skin has recovered for a few hours, though.
You should avoid sun exposure in the hours immediately following a dermaplaning treatment, which is why many choose to do it at night shortly before bed.
Using a hyaluronic acid serum is a great way to help stimulate your skin's ability to repair itself for anti-aging benefits. It also helps brighten and improve the texture of your skin while locking in moisture. Since dermaplaning itself helps to encourage brighter, tighter skin, pairing it with hyaluronic acid creates a dream team of complexion perfection.
What Are the Side-Effects of Dermaplaning?
The most common side effect is the possibility of redness and irritation. While dermaplaning has fewer risks, even for sensitive skin, since there are no chemicals or abrasive ingredients, some people may still experience mild irritation. Especially if your blade has started to dull, it may tug on the hairs of your face, causing redness.
In some cases, you may experience a few whiteheads popping up a day or two after treatment since it pulls up so much dead skin and deep levels of dirt and oil.
It's also not recommended for people with cystic acne to practice dermaplaning at home or even in a professional clinic. The uneven texture of their skin makes it more difficult to safely run the razor over the skin. It can also cause further breakouts. In these cases, it is best to stick to a traditional face wash.
How Often Should You Dermaplane?
This is a situation where less is more. You won't benefit from dermaplaning every couple of days because there simply will not be anything to remove. It takes time for old skin cells to accumulate and peach fuzz to grow in. Everyone is slightly different but doing treatment about once every two weeks is a good rule of thumb.
If you do it too often, you greatly increase your chances of irritation. Constantly dragging a razor across unprotected skin can cause pain, redness, and breakouts.
Is At-Home Dermaplaning Safe and Effective?
While you might be sold on the benefits of dermaplaning, you might still be wary of the idea of doing it at home. It's understandable since taking a razor to some very delicate and visible skin could have some risks. Still, it's considered generally safe as long you use the right tools for the job and practice good hygiene.
Overall, most people can enjoy the effects of dermaplaning treatments from home and save themselves several hundred dollars per session. Most of the tools we reviewed for this guide have a very low risk of injury. Later in this article, we'll also walk you through the proper way to care for your skin before and after dermaplaning to reduce any risk of irritation.
Enjoy Your Journey to Fresher Skin
Fresh, bright skin can be achieved without any chemical peels or mystery ointments. Dermaplaning helps your skin refresh itself by stimulating new cell production. By doing a dermaplaning treatment every couple of weeks, you keep your skin in a constant regenerative cycle.
Once you get down to it, it's not as scary or complicated as it may first sound. Our guide is designed to help you pick a tool that suits your personal needs and experience level. We also hope our include tips can encourage you to stop hesitating and start dermaplaning.