The world would be a boring place if everyone had perfectly smooth, straight hair. Sleek hair is great, but frizziness can be beautiful too! Having said that, there are times when we wish all those flyaways and stray hairs would just behave themselves and fall into place.
That's where shampoo for frizzy hair comes in. In our moments of need, it swoops in to whip our naughty strands into place, leaving us looking runway-ready. At least, that's the plan. If you've been trying to tame your frizz for years, you'll know that finding the right product can be a nightmare.
If that sounds familiar, you're in the right place. We'll help you consider what a good shampoo for frizzy hair looks like, give you a comprehensive list of the best shampoos out there, and help you to choose the right option for your hair.
What to Consider in Shampoos for Frizzy Hair
To make sure you know what to look out for on ingredient labels and product descriptions, think critically about the needs of you and your hair. Don't just buy the first shampoo bottle you see that says "anti-frizz" on it! Here are some useful pointers to bear in mind during your search.
Moisturizing Ingredients
Hair usually becomes frizzy when it's too dry – maybe a humid environment has absorbed all your hair's moisture, or the excessive use of heat treatments has taken its toll.
Either way, one of the most effective ways to reverse the damage is to nourish your hair with a wide range of moisturizing ingredients – all the best anti-frizz shampoos include plenty of these. Key examples include nut or seed oils and glycerin.
Protein Treatments
Although dryness is the main culprit behind frizziness, another possible contributor is protein deficiency. If you dye your hair or use other chemical treatments, it can result in a lack of protein – making the hair appear limp, weak, and frizzy.
Luckily, many shampoos for frizzy hair contain protein treatments that can rebuild your hair's strength and restore it to its former sleek glory, such as hydrolyzed keratin.
Drying Ingredients
If moisture-boosting ingredients help to tackle frizziness, common sense dictates that drying ingredients have the opposite effect. Anything that will dry your hair can make your frizziness worse – unfortunately, many drying ingredients are common in shampoo.
Sulfates are major contributors, especially sodium lauryl sulfate (or SLS), and other drying substances include sodium chloride and alcohol.
However, you shouldn't necessarily rule out a shampoo if it contains sulfates or another drying ingredient. When combined with other hydrating ingredients or in lower concentrations, they're less harmful.
Hair Type
You know you have frizzy hair. But that's not the only thing that matters! Is your hair oily? Fine? Color-treated? Dandruff-prone? All these factors affect which shampoo is right for you.
Shampoo Type
Your hair's greasiness and the frequency you wash it both affect the type of shampoo you need. Clarifying shampoos are stronger and aim to strip your hair of all products (great for greasier hair), but they can be overly dry for coarser hair, and nobody should use them more than twice a week.
Meanwhile, daily wash shampoos are gentle enough to use on a daily basis, and general use shampoos are somewhere in between the two.
Cruelty-Free
We all want our hair to look as good as possible, but not everyone is willing to compromise on animal welfare. If this is where you stand, look out for cruelty-free brands.
It's the moment we've all been waiting for – time to find out what the best shampoos for frizzy hair are. Can you feel the tension in the air?
Top 10 Best Shampoos for Frizzy Hair 2023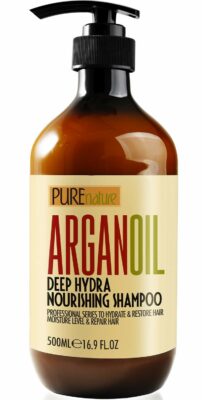 Why we like it:
If your hair needs some serious restoration, this PureNature covers all the bases. With ingredients to offer nourishment, protein, and even thermal protection, you can't go wrong.
Editor's Rating:
Quick Facts:
Size: 16.9 Fl Oz
Type: General use shampoo
Suitable for: All hair types (including color- and keratin-treated)
Sulfate-free: Yes
Cruelty-free: Yes
Some shampoos clean your locks and stop there; others double as multiple other hair treatments and your beauty therapist all at once. This PureNature shampoo fits into the second category!
The high level of hydration and nourishment provided makes it ideal for anyone struggling with frizziness, but that's not all it brings to the table. There are even ingredients that tackle hair loss, stop split ends, and provide UV protection!
Whether your hair type is curly or straight, thick or fine, you can make this one work for you. It even works with hair that's undergone color or keratin treatment.
The only possible downside is that it contains the silicone dimethicone and artificial fragrances, which could irritate your scalp if you have sensitive skin. To err on the side of caution, consider the Maui shampoo instead.
Helpful Ingredients
The shampoo's namesake is Argan Oil, and this premier moisture-boosting natural oil is the star ingredient. It also has vitamin E to help boost the strength of your hair and promote smoothness.
As you'd expect, it's free from most ingredients that cause dryness – including sulfates, parabens, sodium chloride, gluten, and phthalates.
Not sure if your hair needs a boost in protein or moisturization? You can have one foot in both camps if you opt for the PureNature argan oil shampoo, which also contains collagen protein and keratin.
However, bear in mind that collagen isn't a vegan ingredient.
Pros
Free of sulfates and most nasty chemicals

Suitable for color- and keratin-treated hair

Includes ingredients for both moisturization and protein
Cons
Contains dimethicone and fragrances
---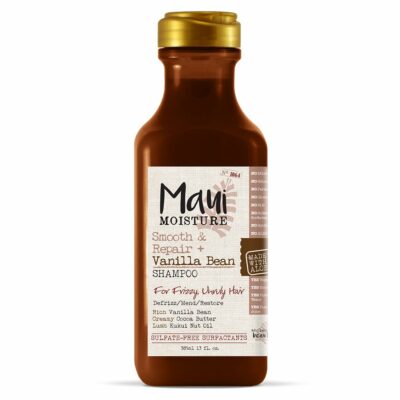 Why we like it:
Especially helpful for anyone with thick and curly hair, the Maui Moisture shampoo is dedicated to restoring your hair's moisture, and it will stop at nothing to achieve it. Enjoy glossy, shiny hair in no time.
Editor's Rating:
Quick Facts:
Size: 13 Fl Oz
Type: General use shampoo
Suitable for: Thick, curly, and chemically-treated hair.
Sulfate-free: Yes
Cruelty-free: Yes
Slightly frizzy hair can start to feel like an unfortunate fact of life if your locks are curly, thick, or chemically-treated. But this Maui moisture shampoo pulls out all the stops to kick it into shape. It's also vegan!
Free from sulfates, silicones, and parabens, the ingredients list is almost completely natural, with no artificial fragrances in sight. Gentler surfactants are used in place of drying options like SLS. However, it does contain PEGs and PPGs, which some people avoid for causing environmental damage.
Another consideration is that this shampoo is primarily for coarse and curly hair – if your hair is fine and oily, it might not be a match made in heaven. Consider trying the Davines LOVE Smoothing Shampoo instead.
Helpful Ingredients
Most people have never heard of kukui nut oil, but this Hawaiian ingredient could be the thing you never knew you needed to get your hair in shape. The exotic oil contains vitamins A, C, and E, making it able to regenerate damaged hair and add some shine. It even helps to treat itchy scalps.
Meanwhile, vanilla bean gives you a full cocktail of vitamins and minerals that will solve your hair woes. There's also a healthy dose of moisturizing ingredients like glycerin, cocoa butter, and macadamia oil.
A blend of aloe vera gel and coconut water replaces the chemically-treated "aqua" that shampoos usually contain. This is the final frontier against dry, damaged hair.
Pros
Great for thick, curly hair

Free from most nasty chemicals

Vegan
Cons
Contains PEG/PPGs

Might not be suitable for thinner hair
---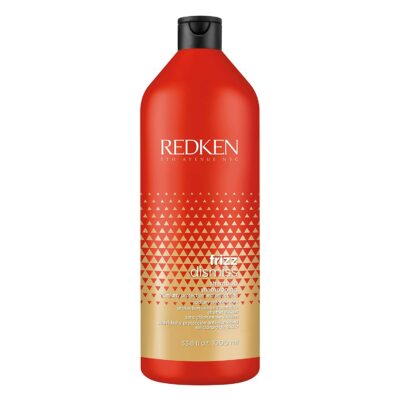 Why we like it:
Give your hair a gentle wash while tackling dryness and all related problems. Frizz Dismiss smells good, feels good, and looks good!
Editor's Rating:
Quick Facts:
Size: 33.8 Fl Oz
Type: General use shampoo
Suitable for: Dry, thick, and color-treated hair
Sulfate-free: Yes
Cruelty-free: No
Redken recently switched up the Frizz Dismiss formula to eliminate sodium chloride and SLS; now, it opts for gentler surfactants instead.
Focused on making your hair smooth and silky, this is a shampoo that does an excellent job of fighting flyaways and static hair. As a bonus, it smells really good.
However, there are a few ingredients that could cause problems for some people. It has the antifoaming agent dimethicone, which is a silicone that can contribute to greasiness over time, and a little alcohol.
But there's a solution. Using a clarifying shampoo like MATRIX Total Results once a week can cut down on the build-up of chemicals and grease in your hair.
Helpful Ingredients
The Frizz Dismiss formula contains just about every textbook ingredient for providing moisturization.
Close to the top of the ingredients list is citric acid. You might be worried that an acidic-sounding ingredient could dry your hair even more, but hair is naturally acidic, and citric acid actually does a great job of keeping our locks shiny. It even helps with dandruff!
Another relevant item included is glycerin, which attracts extra moisture to your hair – and, more importantly, keeps it there. Perfect for combatting frizziness and dryness.
Finally, babassu oil is one of the many seed and nut oils that nourishes the hair.
Pros
Free from sulfates and sodium chloride

Contains moisturizing ingredients like glycerin and babassu oil

Pleasant scent
Cons
A few potentially harmful ingredients

Less suitable for fine and oily hair
---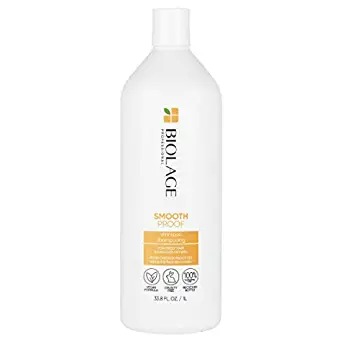 Why we like it:
If you're looking for a paraben-free shampoo that will see you through the highest humidity environments and work with all hair types, the BIOLAGE Smoothproof should tick all your boxes and then some!
Editor's Rating:
Quick Facts:
Size: 33.8 Fl Oz
Type: General use shampoo
Suitable for: All hair types
Sulfate-free: No
Cruelty-free: No
High humidity is a key contributor to frizzy hair, but unless you're willing to move to an entirely new location, there's not a lot you can do to tackle the root cause. Thankfully, you can tackle the consequence – the BIOLAGE Smoothproof shampoo promises to fend off frizziness in up to 97% humidity.
But that's not all.
Color-treated hair is one of the hardest hair types to find the right product for – unfortunately, the chemical treatment it's undergone also makes it more likely to be frizzy and dry. Thankfully, BIOLAGE has created a formula that's perfect for dyed or highlighted hair. Of course, you don't need to have color-treated hair to benefit!
A word of caution, though. Although it's free from parabens, the shampoo does contain SLS and artificial fragrances, which anyone with a more sensitive scalp might want to take into consideration.
If you'd prefer something gentler, consider the Maui shampoo instead.
Helpful Ingredients
BIOLAGE takes inspiration from the weather-resistant camellia to provide a shampoo that will get its users through all humidity levels, and it even uses its essence as an ingredient. Camellia kissi seed oil is a traditional Japanese oil known for sculpting the hair, and it works wonders.
You'll also find glycerin and citric acid, two common nourishing ingredients that give your hair some extra strength and shine.
Pros
Works for color-treated hair

Suitable for high humidity

Contains glycerin and camellia kissi seed oil for moisturization
Cons
Contains SLS and artificial fragrances

Not cruelty-free
---

Why we like it:
This shampoo is called Mega Sleek for a reason. According to studies from the manufacturer, it leaves the hair looking five times smoother, and we don't find it hard to believe.
Editor's Rating:
Quick Facts:
Size: 1.7 Fl Oz
Type: Clarifying shampoo
Suitable for: All hair types
Sulfate-free: No
Cruelty-free: No
If you've been battling with frizzy hair for a long time, you might have unintentionally left your hair with a huge build-up of chemicals and products. A regular shampoo can't get all this out – but a clarifying shampoo like MATRIX Total Results can.
A thorough cleanse and a sleek finish – not a bad combo, huh?
When it comes to the ingredients list, there's some good news and some bad news. The bad? It contains the harsh surfactant SLS, the silicone dimethicone, and artificial fragrances.
This combination of harsh ingredients might sound disappointing, but remember, we're talking about a clarifying shampoo here. It needs some harsher-than-average items to achieve a thorough cleanse.
And the good news? It's free from parabens and has some magical extras, which we'll get to shortly.
Helpful Ingredients
Don't run a mile just because of the sulfates. To achieve the five-times-greater-shine that MATRIX promises, this shampoo is packed full of nourishing goodness.
Firstly, shea butter contains vitamins A and E, both of which have fatty acids believed to soften and moisturize the hair. This is especially great for curly-haired folk!
It also has citric acid and glycerin, two key ingredients for adding extra moisture to your hair and stopping it from escaping.
Pros
Clarifying shampoo provides a thorough cleanse

Promises to make hair five times shinier

Free from parabens
Cons
Contains SLS and other harsh ingredients

Not cruelty-free
---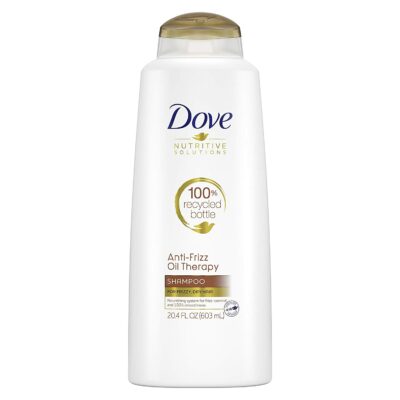 Why we like it:
Filled with oils to moisturize your hair, this Dove shampoo is all about nourishing your hair without going overboard, making it the perfect product for your daily hair wash.
Editor's Rating:
Quick Facts:
Size: 20.4 Fl Oz
Type: General use shampoo
Suitable for: All hair types
Sulfate-free: No
Cruelty-free: Yes
The non-greasy formula of the Dove Nutritive Solutions shampoo makes it ideal for anyone with dry and frizzy hair, and it's also gentle enough for everyday use.
You might be surprised that a shampoo claiming to be light contains sulfates, but the difference between this Dove shampoo and other products with SLS is the concentration used.
Dove uses a larger concentration of lighter surfactants like cocamidopropyl betaine, with SLS further down the ingredients list.
However, it also contains artificial colors and fragrances, which is disappointing.
Helpful Ingredients
With the phrase "oil therapy" in the name, it shouldn't come as a surprise that the Dove Nutritive Solutions shampoo contains a wide range of nut and seed oils.
There's coconut oil, there's sweet almond oil, there's argan oil – really, there's a whole party here! All these oils are excellent at giving your hair an intense moisture boost. Why wouldn't you want to use this shampoo every day?
Finally, you'll find citric acid and glycerin high up in the ingredients list too, which both help the hair to retain its natural moisture.
Pros
Light enough to use every day

Uses lots of oils

Cruelty-free
Cons
Contains SLS

Has artificial fragrances and colors
---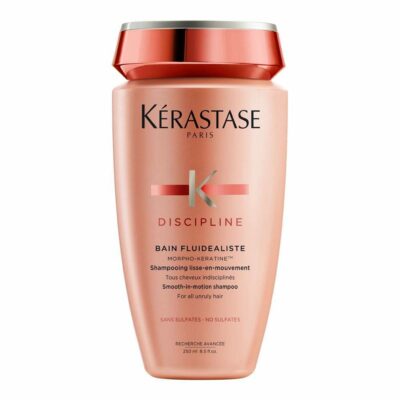 Why we like it:
A true multitasker, this shampoo contains proteins, moisturizing ingredients – and, best of all, a special detangling ingredient. A dream for anyone with frizzy hair!
Editor's Rating:
Quick Facts:
Size: 8.5 Fl Oz
Type: General use shampoo
Suitable for: Thick hair
Sulfate-free: Yes
Cruelty-free: No
The Kerastase Fluidealiste shampoo might seem like a regular shampoo at first, but in reality, it's anything but. A few extra-special ingredients make it especially useful for thick, coarse hair that becomes tangled easily.
The first in Morpho-Keratine, a cationic polymer – that means it coats each hair fiber to smooth them from within. No matter how unruly your hair gets, this cutting-edge technology will help to get things in order again.
And that's not all. It also contains a surface perfector to make your hair easier to detangle – a true life-saver when you just don't have the energy to spend half an hour going through your locks with a comb. You might be concerned that turning to shampoo to detangle your hair is damaging, but a restorative care agent in the shampoo takes care of that.
It's also free from silicones and sulfates, two of the harshest chemicals for the hair – but it does contain artificial fragrances, sodium chloride, and alcohol. These can be drying ingredients, but the positive items in the formula should counteract their effect for the most part.
Helpful Ingredients
Although the Kerastase shampoo's main focus is detangling and strengthening, it makes sure to finish off the job with a couple of ingredients for moisturization.
Glycerin attracts moisture into the hair and seals it in to prevent dryness and resulting frizziness, while citric acid nourishes your hair to stop it from becoming dry.
Pros
Free from silicones and sulfates

Great for thick, coarse hair

Contains special detangling ingredients
Cons
Contains artificial fragrances and alcohol

Not cruelty-free
---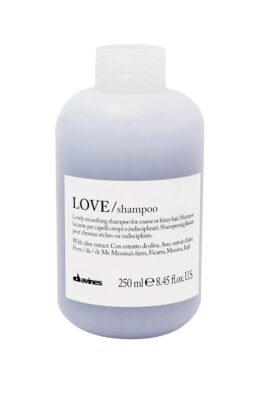 Why we like it:
Shampoos that are both effective and gentle are few and far between, but LOVE shampoo by Davines is one of the few that manages to do both. Fight frizz without worrying about harsh chemicals like sulfates and parabens.
Editor's Rating:
Quick Facts:
Size: 8.45 Fl Oz
Type: General use shampoo
Suitable for: All hair types
Sulfate-free: Yes
Cruelty-free: No
We all want to tame our frizzy hair, but going too far by loading it with chemicals can cause more harm than good. The Davines LOVE smoothing shampoo helps you find a happy medium by providing a little bit of both.
Davines is an Italian brand focused on sustainability and beauty; its LOVE shampoo wants you to have smooth and frizz-free hair without using harsh surfactants like SLS to get there.
Thanks to the sustainably sourced ingredients Davines uses, you can purchase it guilt-free.
However, although it's less chemical-laden than other shampoos built to tackle frizz, it's not quite perfect. The shampoo does contain artificial fragrances and small concentrations of alcohol.
Helpful Ingredients
Given the Italian manufacturer, it shouldn't come as a shock that one of the magic ingredients in this shampoo is olive extract! Grown on a small farm in Italy, no less – beat that, American brands. Olive oil is an antioxidant full of vitamins and fatty acids, so it's sure to work wonders on your hair.
The shampoo also has glycerin and citric acid, two of the best ingredients out there for nourishing your hair and making those locks as luscious as possible.
Pros
Free from sulfates and parabens

Uses sustainably sourced ingredients

Contains extract from Italian-grown olives
Cons
Contains alcohol and artificial fragrances

Not cruelty-free
---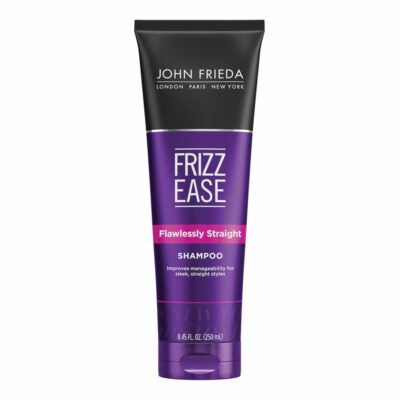 Why we like it:
Frizzy hair often requires plenty of styling, and this is a shampoo that preps your hair beforehand by making it as smooth and sleek as possible. It also comes with lots of nutritious protein ingredients.
Editor's Rating:
Quick Facts:
Size: 8.45 Fl Oz
Type: General use shampoo
Suitable for: Wavy/medium thickness and color-treated hair
Sulfate-free: No
Cruelty-free: No
Wouldn't your life be so much easier if you could step straight out the shower, dry your hair, and find that your locks are smooth and ready for further styling? The aim of John Frieda's Flawlessly Straight shampoo is to get you to that point. Although it won't straighten your hair itself, it will make the process a lot easier when you get your hot iron out.
Sadly, it might not work for everyone. The shampoo is designed to help with hair of medium thickness and a wavy consistency – if you have natural curly hair or extremely thick hair, it's less likely to be completely successful at tackling the frizz.
A better option for thick hair is the Kerastase Discipline Bain.
Something else to bear in mind is that the shampoo includes SLS and sodium chloride, two harsh chemicals that not everyone is happy letting near their precious hair.
Helpful Ingredients
To help make your hair shiny, sleek, and ready for styling, John Frieda has included hydrolyzed keratin into the formula. Keratin is a large protein molecule; hydrolyzed keratin is the molecule in a broken-down form that can penetrate the hair.
This will give your hair the strength it needs ready for styling!
Pros
Includes protein ingredients

Helps to get the hair ready for styling

Safe for color-treated hair
Cons
Contains SLS

Not suitable for the coarsest hair
---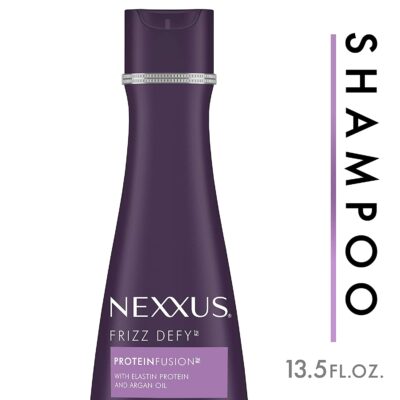 Why we like it:
This silicone-free shampoo uses the finest selection of proteins to give your hair an extra boost, making it smoother and shinier in the process.
Editor's Rating:
Quick Facts:
Size: 13.5 Fl Oz
Type: General use shampoo
Suitable for: All hair types
Sulfate-free: No
Cruelty-free: No
If you love heat treatments a little too much, you might have found yourself with damaged, frizzy hair. No worries – a protein treatment can restore your hair to its former glory. And although we've looked at a few of them so far, the Nexxus Frizz Defy definitely stands out!
The downside is that not all the ingredients are as great as the proteins. There are harsh chemicals like SLS and sodium chloride, plus minor problems like artificial fragrances. Proceed with caution and consider an alternative like Maui the Maui shampoo.
Helpful Ingredients
Hydrolyzed elastin (marine collagen) and hydrolyzed keratin work together to build your hair back to the strength it had before heat treatment and damage, restoring broken bonds.
Keratin is a protein often used for deluxe, upmarket hair treatments, while collagen is a naturally-occurring protein from fish that detangles hair and makes it glossier.
Basically, you're in safe hands!
In addition to the protein-boosting ingredients, the shampoo has its fair share of nourishing substances.
These include argan oil, Orbignya oleifera seed oil, and marula oil, plus additional moisturizing ingredients like citric acid.
Pros
Contains proteins to restore hair strength

Uses seed and nut oils

Good for those who love heat treatments
Cons
Contains SLS and sodium chloride

Not cruelty-free
---
How to Choose the Perfect Shampoo for Frizzy Hair

You've seen the best of what the world has to offer for frizzy hair. Now, the only question left is, how can you choose between them? We can't tell you the perfect answer – everyone is different, after all – but we can certainly give you some pointers.
Types of Frizzy Hair
Most people assume that frizzy hair has a single meaning – hair with a mind of its own, fuzzing out and curling in all directions. It turns out there are specific names to describe different kinds of frizz – who knew.
Let's have a quick breakdown of each type.
You can experience frizz at the tips of your hair, often caused by split ends and dryness. Conversely, halo frizz features only on the top of the head, making you look like a kind of disheveled angel.
Surface frizz takes place on the outside layer of your hair only – it has a static look, as if you'd just suffered a minor electrocution.
If you have curly hair, you might have a special kind of frizziness that manifests in waves and makes them look more unkempt.
Finally, the most extreme (and cruel) type of frizz is the kind that appears absolutely everywhere – the top, the bottom, the sides, and every single layer.
The type of frizz affects which treatment is most effective for you, as we'll soon see.
Does Your Hair Need Protein or Moisture?
Depending on the type of damage your hair has, it demands a different solution. These fit into two principal categories – protein treatment and moisture treatment.
If your hair is dry and brittle, it requires moisturization. A hydrating approach is also helpful for anyone with coarse and thick hair – the Maui shampoo is a great option.
Although dry and frizzy hair is more common, it's also possible to have frizzy hair that's weak and somewhat mushy. If it feels like cotton candy, it's crying out for some protein!
Protein is also the best solution for folks with finer hair. We recommend the Nexxus Frizz Defy shampoo since it has both collagen and keratin, two highly effective proteins.
Anything with hydrolyzed protein is probably a great option – but bear in mind that protein treatments are only a temporary measure. You need to complement them with more long-term measures.
Still confused? The elasticity test is helpful to determine which treatment type you need. Take a tiny section of a hair strand and stretch it with your finger – if it breaks, you most likely need protein, but otherwise it requires moisture.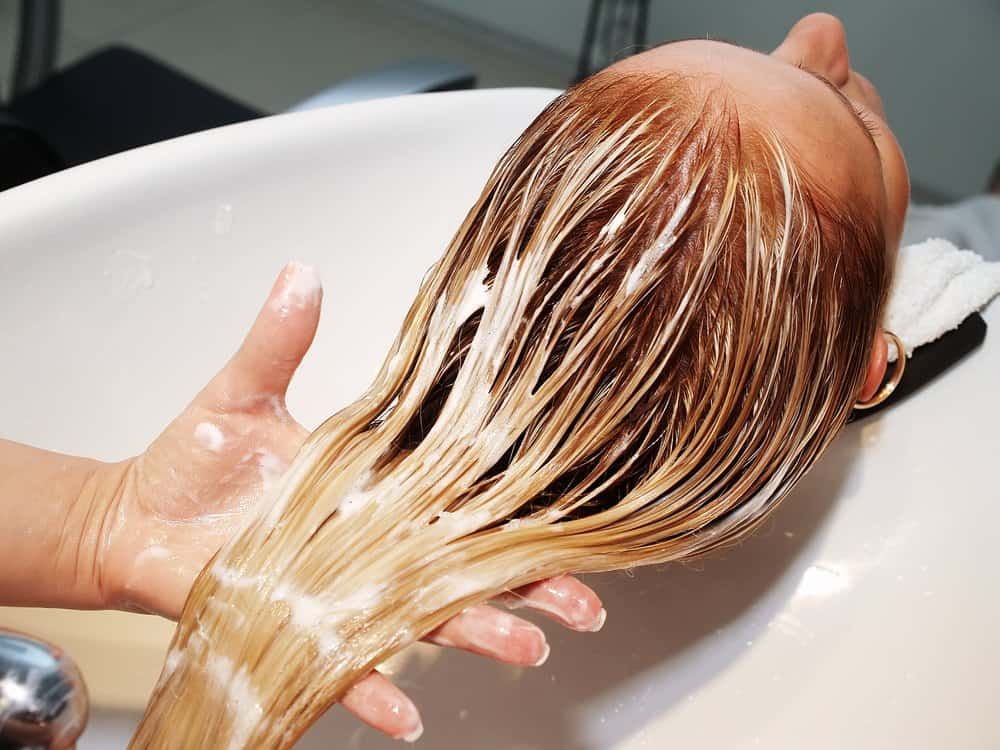 Oils to Tame Frizziness
If you've determined that your frizzy hair can be tackled most effectively with moisture, few substances are better-placed to help you than oil. Although oil treatment is typically hailed as a solution for those with curly hair, it can work for all hair types.
But which oils are best?
Argan oil is a common ingredient in shampoos, and for good reason. Native to Morocco, this oil is full of vitamin E and fatty acids, both of which give your hair a moisture boost and tackle dry hair.
Another staple of hair products is coconut oil, which is also packed with minerals and vitamins to add some strength to your strands.
However, all nut or seed oils are effective. These include macadamia nut oil, sweet almond oil, olive oil, and just about anything else natural with oil on the end.
Why not try a product that combines them all in a lovely oil cocktail, like the Dove Nutritive Solutions shampoo?
Other Moisturizing Ingredients to Tackle Frizziness
Oils aren't the only ingredients that have the power to stop frizziness in its tracks – here are a few more.
Glycerin is a moisturizing ingredient that penetrates the hair to ensure existing moisture stays put, and it even sucks in any extra moisture from the air, nourishing your strands to the max.
The second most common moisturizing ingredient is citric acid, which is such a nourishing substance that some people use it as a standalone product in their hair. As an acidic ingredient, it keeps your hair at the right pH (the hair is slightly acidic naturally) and looks after the cuticles to ensure they remain smooth.
Other effective ingredients include aloe vera, coconut water, and cocoa butter.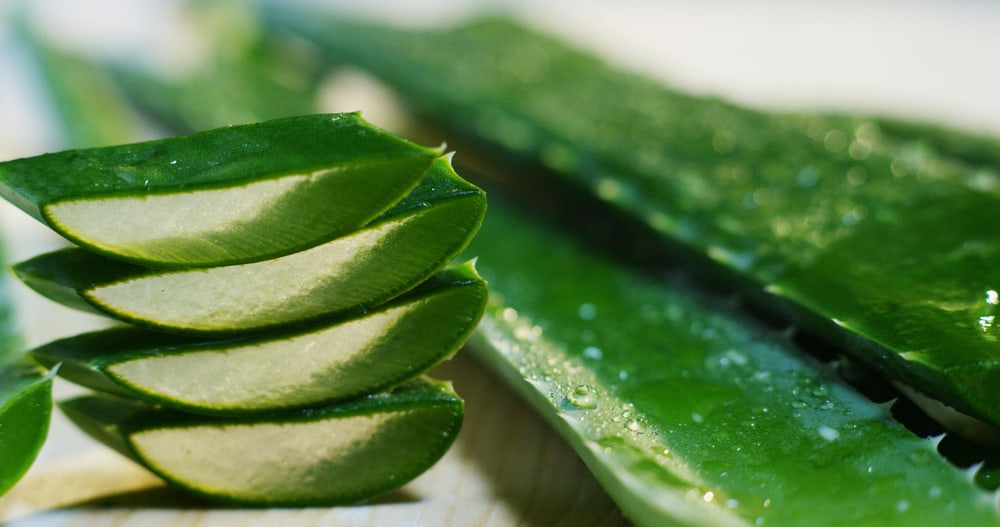 Ingredients That Can Contribute to Frizziness
Sulfates are added to shampoo to create a foaming lather – especially SLS, a staple ingredient in many shampoos – but they have the unfortunate side effect of stripping your hair of its moisture. Stripping equals dryness equals frizziness.
Another ingredient to be wary of is alcohol, which is incredibly drying and can counteract your efforts to nourish and moisturize your hair.
Finally, sodium chloride can not only dehydrate your hair but also strip away your hair's natural protective barrier – including color, so beware if you dye hair.
Should You Choose a Chemical-Free Shampoo?
Since ingredients like alcohol and sulfates can contribute to frizziness, it seems logical to avoid chemical-laden shampoos altogether and opt for a more natural option. Right?
Sadly, the most effective shampoos at tackling frizziness tend to include more chemicals.
The ratio of drying to moisturizing ingredients matters, as does your hair type. Some trial and error will almost certainly be necessary!
If you like the idea of trying a more natural shampoo, you can still choose something that's free of the worst chemicals, like sulfates and parabens. For instance, consider the Maui Moisture Smooth.
How to Care for Frizzy Hair Overnight
Caring for frizzy hair doesn't stop the second you exit the shower (or bath). If you really want to go the extra mile, you should also gear your evening routine toward minimizing frizziness.
It might sound overly indulgent, but switching your regular pillowcase for a silk option can help to keep your hair looking smooth. How? The friction between your hair and the pillowcase overnight contributes to your hair's poof – if you toss and turn all night, we're talking to you.
In contrast, a silky pillowcase has minimal friction and keeps your hair looking smooth.
You can also add some extra product to your hair before you sleep – leaving hair serum in overnight helps to protect your hair from humidity while providing your locks with nourishment. Alternatively, you could try a conditioning spray – similarly, this aims to seal in moisture.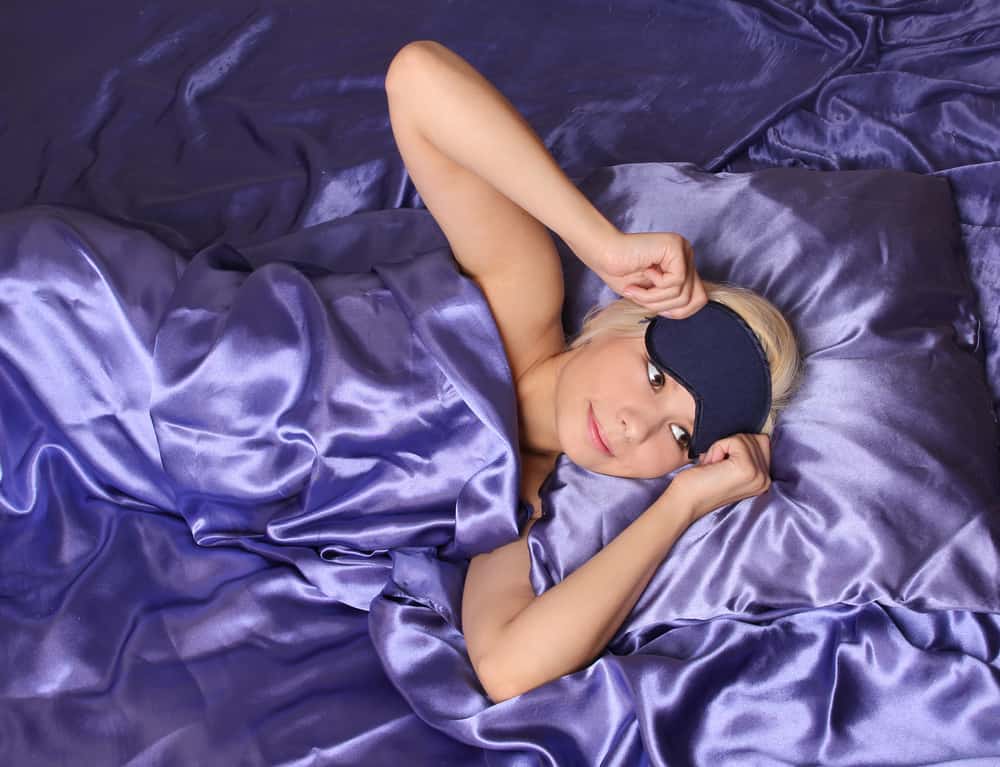 FAQs
Struggled with frizzy hair all your life and feel like you need answers? We've got you! Here are some typical questions related to hair care for frizziness.
What Causes Frizzy Hair?
Sometimes, damage to your hair from heat treatment or similar can be the cause of frizziness – if so, the simple solution is to give your hair a break. Your hair could also be too dry, in which case you need to boost hydration.
Humidity is another contributor to frizziness. Hotter, more humid climates tend to absorb natural moisture from the hair and make it drier.
However, frizzy hair can also be genetic. We weren't all born to have smooth, slick hair – and that's okay!
How Often Should I Wash Frizzy Hair?
No matter what hair type you have, washing your hair too often can be damaging – it causes an overload of product and stops your hair from regulating itself naturally. The result can be even worse for people with frizzy hair, which is often damaged already – excess shampoo can exacerbate the issues of dry cuticles and split ends.
To avoid this, stick to washing your hair every two or three days.
How Can You Make Frizzy Hair Smoother?
Some people have naturally frizzier hair – if that's you, then there's no cheap trick to smooth your hair. However, there are a few things you can do to make the issue less extreme.
Washing your hair with a highly hydrating shampoo and conditioner is the perfect place to start, and you can make the treatment even more effective by using a hair mask, a nourishing oil, or a serum afterward.
Also, washing your hair with colder water seals your hair cuticles to stop them from drying out – even if you can't face taking a shower with colder water, you can at least opt for a rinse at the end of your session.
When you step out, opt for a microfiber towel to dry your hair and a wide-tooth comb to brush it.
Is It a Good Idea to Wash Frizzy Hair With Baby Shampoo?
Baby shampoo is high in glycerin, a nourishing ingredient that stops moisture escaping from your hair. By hydrating your hair and preventing moisture loss, it can help to tackle frizzy hair. However, baby shampoo isn't the only way to achieve this outcome – other shampoos also have glycerin and other moisturizing ingredients.
1, 2, 3…. Smooth Hair
See, taming your hair isn't really as you hard as you thought. There's nothing more to it than switching up your shampoo and improving your haircare regime. Simple!
Whether you love or hate your frizzy hair, it's a relief to know that you're not doomed to nothing but frizziness for the rest of your life. If you're willing to put a little bit of effort into learning what makes your hair tick (and to part with some cash), you too can have the sleek hair you've always wanted.
Still, we've said it once and we'll say it again – damaged and dry hair might be bad news, but frizziness can certainly be beautiful. We're willing to bet there are millions of sleek-haired people out there who wish their hair had more volume and oomph. Just saying!
Okay, rant over. You're now free to pursue your dreams of glossy, silky locks.