Bras are so last year. Why put those uncomfortable underwires and fabrics near your chest if you don't have to? But there are also certain situations where you can't exactly "free the nipple" in the way you want to – meetings with top executives, for one.
Maybe you just want to stop chafing when playing sports or rock that sheer-bralette-with-nipple-stickers look for Coachella. Whatever you want nipple covers for, you're totally valid!
But most people don't know where to turn or what to look for. Nipple covers and pasties are a relatively new phenomenon in their current form, and they don't come up in everyday conversation very often. You might be surprised at how much there is to them (figuratively, not literally).
First, we'll give you a brief overview of what to look out for when shopping for nipple covers, before going on to outline the best 10 products on the market and give you some pointers on choosing the perfect option for your needs.

A Quick Overview of Nipple Covers
If you've ever had a wardrobe emergency and needed to shun your bra without exposing your nips – probably for that backless/strapless/deep-plunge top – you might have been tempted to reach for a band-aid. Or even a piece of paper and sellotape!
A few words of wisdom: that almost certainly won't work. Here's how to know you've found yourself a winning pair of nipple covers and not something you can recreate yourself with a few art supplies from a local school.
Are Nipple Covers Right for You?
Bralettes can be a comfortable alternative to traditional bra wearing, but most people in the market for nipple covers want to use them so they can wear summer or party clothes that don't facilitate either. If that's you, you're in the right place.
But these aren't the only things you can use nipple covers for.
Some people like to wear (waterproof) nipple covers underneath their swimwear, which isn't exactly known for hiding protruding nipples. Others want to wear them during pregnancy when the breasts often feel heavy and sore.
But nipple covers don't have to be a bra replacement – they can also be a bra supplement. You might want to wear your nipple covers underneath your bra if you're self-conscious about having noticeable nipples.
Finally, male and female athletes sometimes wear nipple covers to prevent chafing. They're a pretty versatile item!
Types of Nipple Covers
The term "nipple cover" encompasses a wide range of products, so knowing the technical terms for each one ensures we're all on the same page.
Silicone Covers
The most popular and common type is silicone covers: ultra-thin and discreet stickers designed to blend in with the rest of the breast area seamlessly. They're usually nude-colored, making you look kind of like a mannequin without nipples.
Nipple Pasties
Nipple pasties and silicone nipple covers are two terms often used interchangeably, but there's actually a subtle difference. Although nipple pasties cover the nipples, they also have a decorative element. If you want to rock a bold party outfit wearing nothing but hotpants and stickers over your nipples, nipple pasties are your go-to. You'll find them in fun patterns, like crosses and emojis.
Bra Discs
Whereas silicone covers and pasties are both adhesives designed to replace bras completely, bra discs are for slotting into your bra for that extra bit of security. Who doesn't want to be 100% certain that their nipples aren't peeking out at unsuspecting passers-by?
Nip Protectors
This category is reserved for nipple covering products that have been developed for sporting use, primarily to prevent chafing. They're usually more heavy-duty and often used by men, as well as women.
But it's not as simple as these four types – there are also plenty of sub-types of nipple covers, as you'll soon see.
Reusable
Nipple covers can either be disposable or reusable. If you opt for reusable nipple covers, you can wash them after use and put them on another day. Otherwise, they're for one use only (just in case there was any doubt over what the word disposable means).
Hypoallergenic
You probably don't need us to tell you that nipple infections can be painful. Even having a sore, itchy area for a few days is something we can live without.
If you have sensitive skin, make sure you opt for a hypoallergenic nipple cover, which is free from the materials most likely to cause allergies – like latex, for example.
Size
Nipples come in all shapes and sizes; so do nipple covers. Although the majority of nipple covers are suitable for everyone, if you think your areolas are larger than average, check the dimensions before buying. Some nipple covers also come in different cup sizes.
Material
Depending on what you want to use your nipple covers for, you might need to consider what material they're made from. Some materials are waterproof, sweatproof, breathable, medical-grade, and anti-chafe (great for exercising).
Nobody should let their nipples stop them from having a good time and going about their life. Sadly, as any woman who's left the house braless in a tight top will know, the world isn't always ready to accept that.
Whether you're having one of those days when you'd rather not attract too much attention, or you just prefer the smooth look, these ten nipple covers are here to lend a helping hand.
Top 10 Best Nipple Covers 2023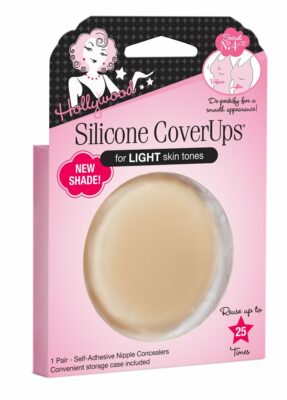 Why we like it:
Covering up your nipples doesn't have to be a difficult or stressful experience, and these adhesives will ensure that you'll never have a hard time. They're thin, gentle on the skin, and super smooth – the holy trinity!
Editor's Rating:
Quick Facts:
Type: Silicone covers
Dimensions: 4.5 x 6.5 x 1 inches
Material: Silicone
Number of pairs: One
Reusable: Yes (25 times)
Hypoallergenic: Yes
Whether or not these coverups are truly Hollywood's fashion secret, they can certainly be your secret to effortlessly looking good in your clothes.
You might be apprehensive about reusing the same adhesives or ending up with a rash after applying coverups every day, but fear not. These ones are made from hypoallergenic silicone to avoid skin irritation and are designed for you to reuse up to 25 times.
Just remember to wash them with soap and water each time, and you're golden!
They're even waterproof – and by waterproof, we mean enough to go swimming, not just waterproof enough to withstand a little sweat.
Oh, and they come with a travel case.
Although these nipple covers tick just about all the boxes for hiding your nipples comfortably, they're not perfect for everyone. If you want something to look pretty or make a statement and not to make you look like a nippleless robot, try these rave pasties instead.
Design
These coverups might look like plain circular stickers at first glance, but they're actually cleverly designed to provide a great experience.
They feature a tapered edge to ensure a quick, smooth application on to your skin. Alongside the matte finish and nude tones, nobody will ever notice you're wearing nipple covers! You can even choose between light, medium, and dark shades to ensure that they match your skin tone.
As self-adhesives, all you need to do is peel away the protective backing and press it into place around your nipple. Could you imagine anything simpler?
Pros
Tapered edge to facilitate easy application

Tapered edge to facilitate easy application

Waterproof

Reuse up to 25 times
Cons
Only includes one pair

Not decorative
---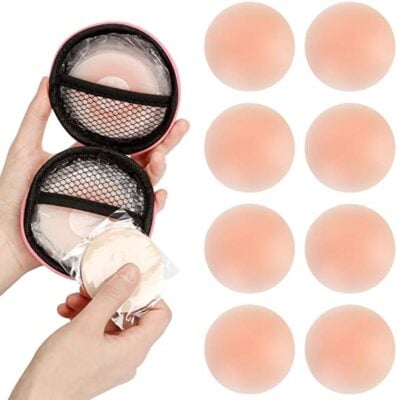 Why we like it:
Ultra-light and smooth, apply these discreet coverups to your nipples and nobody will be any the wiser. The best part? There are four of them!
Editor's Rating:
Quick Facts:
Type: Silicone covers
Dimensions: 4 x 4 x 2.13 inches
Material: Silicone
Number of pairs: Four
Reusable: Yes (up to 25 times)
Hypoallergenic: No
Just because nipple covers are reusable, it doesn't mean that you can always put time aside to wash them. What are you supposed to do when you had a crazy night on the town in your backless dress the evening before, then wake up late the next day and want to throw on your strapless summer top?
Thankfully, these Dimore nipple covers come in a pack of four to ensure you never have to experience such a traumatic event.
No matter what the occasion is, put all four pairs into the accompanying travel case, and you're ready to go.
However, considering that you're effectively getting four for the price of one here, it shouldn't come as a surprise that something's got to give. In this case, the catch is that the adhesives aren't hypoallergenic.
That shouldn't be a major issue unless you have sensitive skin – but if you do, it's worth paying a little extra for a product like the Hollywood Fashion Secrets coverups instead.
Design
No matter how much a brand claims that its nipple covers won't cause any pain when you apply them, it can be hard to believe this can be true for an area as sensitive as the nipples.
The Dimore covers have a clever design, though – there's a protected center in the middle of the sticker made from premium cotton, designed to nurse the nipple during harsh removals. This results in a natural feeling and comfortable design.
They're light enough to ensure seamlessly smooth cover with no lumps and ridges – no matter how thin the material of your clothes is.
Pros
Cotton protection in the center for the nipple area

Come in a pack of four

Reuse up to 25 times
Cons
Not waterproof

Not hypoallergenic
---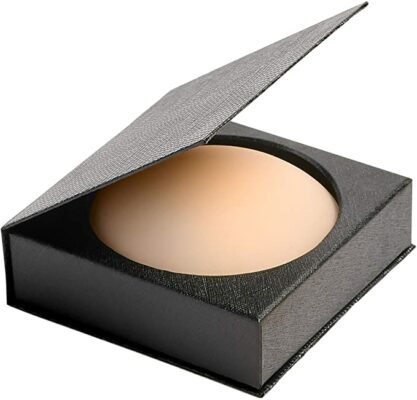 Why we like it:
These nipple covers are called the "ultimate" range for a reason. They provide a comfortable nest over your areolas in medical-grade material that fits onto your skin perfectly. What more could you want?
Editor's Rating:
Quick Facts:
Type: Silicone covers (breast discs also available)
Dimensions: 3 x 3 x 0.06 inches
Material: Silicone
Number of pairs: One
Reusable: Yes (Up to 30 times)
Hypoallergenic: Yes
You can tell the Nippies nipple covers are a premium item the second you take them out of the packaging. They come in a lovely black storage box that's nice enough to display in your bedroom!
The version featured here is cream-colored and designed for A-C cups, but Nippies provides three colors (creme, caramel, and coco) and two sizes (A-C and D+). You can also choose between an adhesive version like this one, or a non-adhesive to slip into your bra.
Yes, there are 12 different versions in total – how's that for customization? No matter the size of your cups or your skin tone, you'll end up with a semi-transparent and smooth finish.
The only downside is that they're more expensive than other nipple covers on the market. You get what you pay for in quality, but if you need a cheaper option, try the Dimore reusable adhesives.
Design
Rather than just placing a sticker over the direct nipple area, Nippies uses a larger design that covers almost your entire breast – that's why you need to choose the right version for your cup size.
The silicone itself isn't just hypoallergenic but also medical-grade, ensuring maximum comfort for you all day long.
Finally, a matte finish and thin edges ensure that nobody will be able to see you're wearing nipple covers, no matter what material your clothes are.
Pros
Medical-grade and hypoallergenic

Extra thin and smooth

Tailor them to your cup size and skin tone
---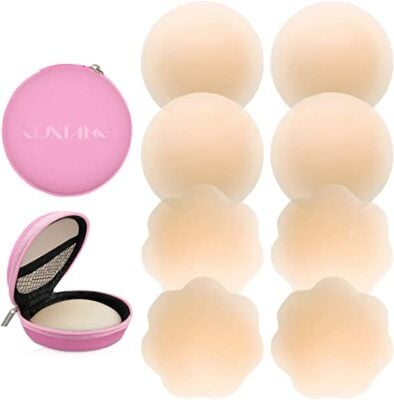 Why we like it:
You'll be pleasantly surprised at how soft and natural these coverups feel on your nipples, but the best thing about them is that they'll stay on all day without losing their stickiness.
Editor's Rating:
Quick Facts:
Type: Silicone covers
Dimensions: 3.6 x 3.6 x 1.5 inches
Material: Silicone
Number of pairs: Four
Reusable: Yes (25 times)
Hypoallergenic: Yes
The whole point of using nipple covers is to cover your nipples – the last thing you want is to look down and realize that your coverups just slipped down, leaving you exposed in one of your most vulnerable areas.
That won't happen when you use the QUXIANG nipple covers. Wear them for hours on end and reuse them every day for weeks; whatever you do, they won't lose their strength! No matter how much you sweat or what shape your nipples are, these are coverups you can count on to stay put.
They also come in a cute pink travel case to take with you everywhere.
Design
QUXIANG promises that its nipple covers will make you feel like a "free and sexy goddess" – whether or not you agree with that sentiment, these are a great pair of adhesives. Made from medical-grade, hypoallergenic, and eco-friendly silicone, they're breathable and provide extra cushioning around the nipples.
They also come in two designs: circles and flowers.
But it's not all good news. One serious drawback is that they're thicker than other nipple covers, so they're not suitable for thinner and tighter clothing.
It's a small price to pay for coverups that stay put all day, but for a thinner option, try the Hollywood Fashion Secrets coverups.
Also, separating the dust cover (the back of the adhesive part) from the sticky side is a fiddly task that may take you a while. Don't leave it until five minutes before you leave the house!
Pros
Hypoallergenic and medical-grade material

The adhesive is very strong

Come in two designs
Cons
Too thick for light clothing

Hard to separate dust cover from adhesive
---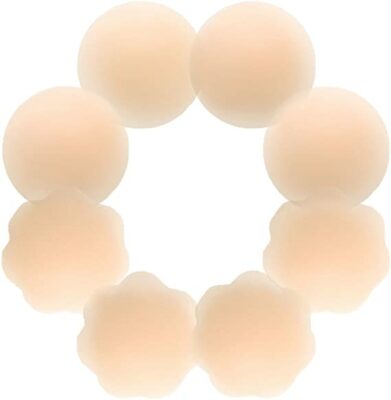 Why we like it:
Choose between petal and circular shapes when applying these lightweight, almost-invisible nipple covers. The best part is that you can reuse them up to 50 times per pair.
Editor's Rating:
Quick Facts:
Type: Silicone covers
Dimensions: 5 x 5 x 0.7 inches
Material: Silicone
Number of pairs: Four
Reusable: Yes (up to 50 times)
Hypoallergenic: No
Whether your motive is environmental impact or saving money, you probably don't want to buy new nipple covers more often than is strictly necessary. CHARMKING knows how you feel, and the brand has really pulled it out of the bag with these nipple covers.
Whereas most coverups are only suitable for 25 to 30 uses, these ones can be washed and worn again up to 50 times. Considering the packet contains four pairs, that's a whopping 200 uses from one purchase! Talk about value for money.
They also come with a handy travel case.
Unfortunately, they're not hypoallergenic. If you have sensitive skin, try the the Hollywood Fashion Secrets coverups – they're also reusable, but only up to 25 times.
Design
Can't decide if you want a smooth, circular, or a petal-shaped design for your nipple adhesives? No problem – these CHARMKING nipple covers come in a packet that has both, so you can wear whatever you fancy on a given day.
The tapered, thin edges of the coverups, the matte material, and the light material used all guarantee that they'll remain invisible under your clothing. No need to worry about small bulges giving away your secret!
Pros
Reuse up to 50 times

Set includes two shapes

Matte finish to be discreet
Cons
Not hypoallergenic

Not waterproof
---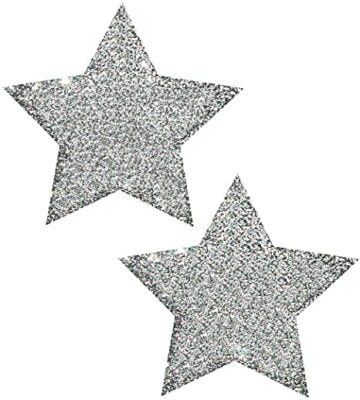 Why we like it:
With 30+ designs to choose from, you're sure to find something that tickles your fancy with all the choices for these pasties. Perfect for parties, raves, and festivals!
Editor's Rating:
Quick Facts:
Type: Nipple pasties
Dimensions: 1.6 x 3 x 3 inches
Material: Eco-fi
Number of pairs: One
Reusable: No
Hypoallergenic: Yes
Some people wear nipple covers to let nobody know they're going braless; others wear them so that everyone knows they're going braless! The iHeartRave pasties certainly fit into the second category.
They also last for between 10 and 12 hours, ensuring that you can stay dancing for the whole party – and even the afterparty! Also, they're waterproof.
The major disadvantage is that they're not reusable, unlike most other nipple covers. Realistically, wearing alien faces on your nipples is a once-in-a-blue-moon type of event – but if you want something you can reuse more times, try the CHARMKING nipple covers instead.
There's also just one pair in the pack, making them slightly more expensive than other options.
Design
The standout feature of these pasties is obviously that they're stylish. Choose between alien faces, colorful crosses, stars, dinosaurs, and more. If you can't find something that suits your fashion sense, you just might be too picky!
Some of the designs even glow in the dark.
But this isn't a case of style over substance. The nipple covers are made of eco-fi, a PET fiber made from plastic bottles – it's a breathable and environmentally friendly material.
They're also medical-grade and hypoallergenic, ensuring suitability for those with sensitive skin. The latex-free material feels comfortable on the skin, even after endless hours of dancing.
Pros
31 designs to choose from

Last for 10-12 hours

Hypoallergenic and medical-grade
Cons
Not reusable

Only one pair
---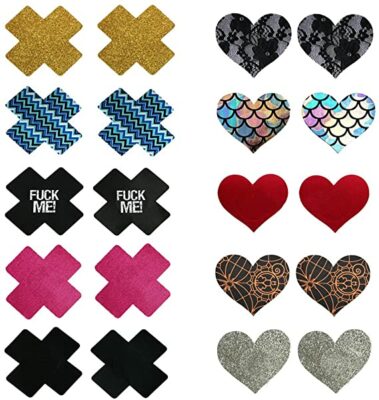 Why we like it:
The main problem with having ten cute designs in one packet of nipple pasties is having to choose just one! As a bonus, each sticker is hypoallergenic and breathable.
Editor's Rating:
Quick Facts:
Type: Nipple pasties
Dimensions: 3.6 x 3.5 x 0.5 inches
Material: Satin
Number of pairs: Ten pairs
Reusable: No
Hypoallergenic: Yes
For just a few dollars, you can get your hands on this pack of ten different nipple pasties, each with different designs. In case ten styles aren't enough for you, there are also four variations to choose from – some with hearts, others with a mixture of hearts and crosses, all with different patterns.
Sadly, they're for one use only – after you wear them once, they'll lose their stickiness. The adhesive also isn't particularly strong. For a reusable option, try the CHARMKING nipple covers.
Design
As mentioned, the distinguishing feature of these nipple pasties is the different designs available. These designs include rainbow, tartan, lace, stripes, and more.
Each adhesive is relatively small, with a cushioned pattern in the center to keep the actual nipple area comfortable.
They're also hypoallergenic and made of breathable satin material. Nobody should have to sacrifice comfort to look good!
Pros
Come in a pack with ten different designs

Made from breathable fabric

Hypoallergenic
Cons
One use only

Adhesive is weak
---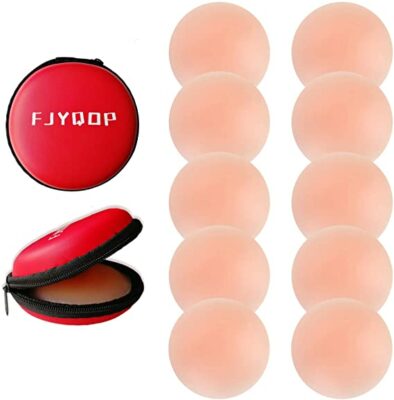 Why we like it:
Swim and sweat to your heart's content without giving a second thought to your nipples, thanks to these perfectly waterproof nipple covers. A true game-changer!
Editor's Rating:
Quick Facts:
Type: Silicone covers
Dimensions: 5 x 5 x 0.7 inches
Material: Silicone
Number of pairs: Five
Reusable: Yes
Hypoallergenic: Yes
Although lots of nipple covers manage to withstand water by fluke, it's probably not a good idea to leave things down to luck when you're in the middle of the sea or the swimming pool! You won't have many options open to you if things go wrong when you're in the water.
But the FJYQOP nipple covers ensure that you'll never end up in that situation. They're 100% waterproof.
However, they're not a great choice if you want to wear them under everyday clothes for daily use. They're thicker than some other options, and the pink color can be visible under light-colored clothing. Instead, try the the Hollywood Fashion Secrets coverups – they're also waterproof, but not quite as effective.
Design
These nipple covers have more to offer than just being waterproof. They're made from medical-grade silicone and are designed to offer maximum comfort.
They're extra thick in the center to protect your nipples, while the outside section is thinner, ensuring your adhesives are invisible to the naked eye when underneath swimsuits.
Pros
Made from medical-grade silicone

Waterproof

Hypoallergenic
Cons
Thicker than others

Pink color visible under lighter-colored clothes
---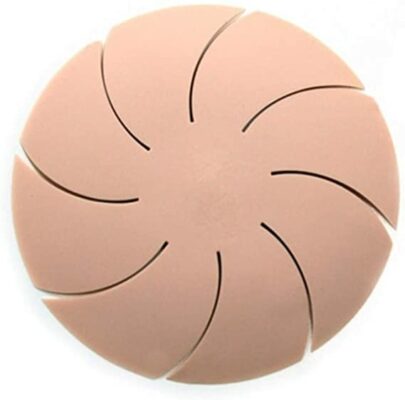 Why we like it:
If you ever find yourself getting paranoid about your nips showing through, a bra disc will change your life. And none are more effective than the Bezi bra discs!
Editor's Rating:
Quick Facts:
Type: Bra disc
Dimensions: 3.4 x 3.4 x 0.4 inches
Material: Non-latex resin
Number of pairs: One
Reusable: Yes
Hypoallergenic: No
Adhesives aren't right for everyone. If you don't fancy putting a sticker over your nipples but still want to avoid the outline of your nips showing, a bra disc is perfect.
These come in four colors: natural, blush, latte, and mocha. The main downside is that they don't withstand sweat very well and can become stinky and uncomfortable. Also, the discs might slide around a little in your bra.
For a more breathable option, you could try the QUXIANG nipple covers – but they're adhesives and not bra discs.
Design
In many ways, these bra discs look similar to most adhesive nipple coverups – they're circular, very thin, just large enough to cover the areola, and comes in a neutral color.
Made of latex-free resin, they naturally mold to the shape of your breast to ensure no adhesive is needed (although they can slide around a little, as mentioned).
Despite being thin, they're extremely effective at covering everything up.
Pros
Come in four colors

Don't require adhesion to your nipples

Reusable unlimited times
Cons
Don't withstand sweat well

Can slide around inside your bra
---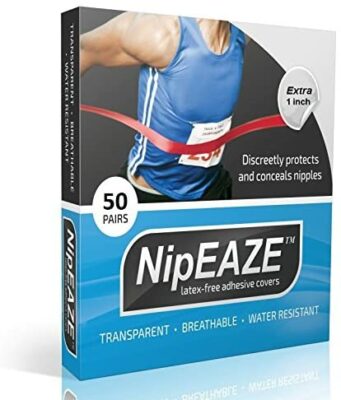 Why we like it:
Don't let chafing get in the way of your performance when doing sports. These super lightweight nip protectors will ensure you can focus on what really matters.
Editor's Rating:
Quick Facts:
Type: Nip protectors
Dimensions: 4 x 0.5 x 3.5 inches
Material: A proprietary blend (latex-free)
Number of pairs: Four
Reusable: No
Hypoallergenic: Yes
Anyone used to running marathons, weightlifting, or other heavy physical activity will be well aware that chafing can be a painful problem. All those clingy sports top can take their toll!
NipEaze has created a solution: you can apply these adhesives to your areolas to stop them clinging to your top and causing chafing. According to the brand, they have ten times more staying power than the spot bandages many athletes revert to using.
The adhesives come in two sizes – extra and regular – to make sure they cater to all kinds of sportspeople.
Of course, these nip protectors are designed explicitly for sportspeople. If you simply want a standard pair of nipple coverups to wear a wider variety of clothes without your nipples showing, the the Hollywood Fashion Secrets coverups are a better bet.
Design
Nobody wants discomfort or irritation in the middle of a marathon, so NipEaze focused on creating a comfortable fit. These adhesives slot smoothly onto the skin – and stay there.
The material is sweat- and water-resistant, so no matter how much effort you're exerting, they'll stay put. They're also breathable and latex-free.
Unlike spot bandages, these nip protectors are thin enough to be truly discreet – and they're also nude-colored, making them practically invisible.
Pros
Latex-free

Sweat- and water-resistant

Great for tackling chafing during sports
Cons
Only suitable for sports

Not reusable
---
A Complete Guide to Nipple Covers

The concept of putting little stickers on your nipples sounds fantastic and intriguing to a lot of women – but also a little confusing. Fortunately for you, we're not going to abandon you without explaining how things work!
If you have questions about how to care for your nipple covers, which type of adhesives are best for you, or just about anything else, keep reading.
How to Apply Nipple Covers
We could tell you that you apply nipple covers to your nipples by sticking them on, but that would be a little patronizing. Honestly though, applying nipple covers is pretty straightforward.
For adhesive coverups, the first step is to remove the dust cover from the sticky layer underneath – this can be a little fiddly when you try it for the first time, but you'll get there with some patience.
Then, simply apply the adhesive to your skin and smooth it into place. It's best to press the middle part of the sticker into the center of your nipple first and flatten the rest of the adhesive after.
If you opted for bra discs, the process is even simpler. Assuming your disc is clean already, all you have to do is slot it into your bra in the right place, and you're good to go!
Wearing Nipple Covers With Nipple Piercings
One of the biggest perks to getting your nipples pierced is showing them off by going braless. But that doesn't mean that you want to flaunt them all the time, especially if you're heading to a job interview at a bank.
Nipple covers seem like the perfect solution, but you might be concerned that they won't work for you, considering the extra bump that piercings give you. No need to worry – nipple covers are also suitable for people with piercings – as long as your piercing isn't the size of a tomato or something.
As anyone with nipple piercings will be all too aware, having a piercing makes your nipples more susceptible to infections, so you have to take precautions in this regard. Luckily, the next section is dedicated to this.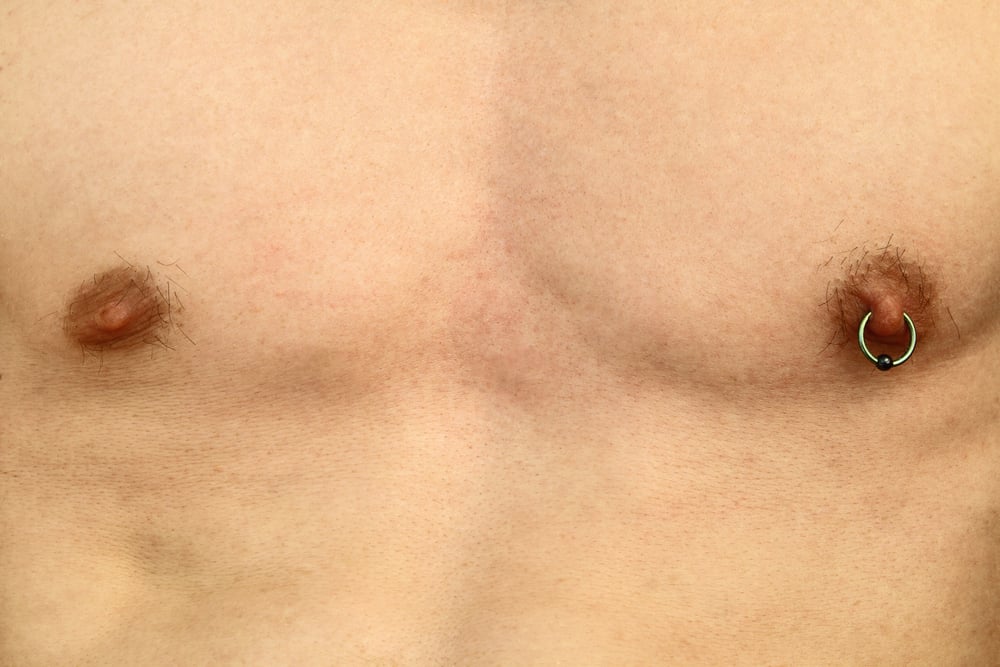 Avoiding Infections From Nipple Covers
Firstly, we can't reiterate enough that nipple covers are totally safe and unlikely to cause infections. But to be completely sure that you won't suffer from any unpleasant side effects, you need to take a few precautions.
Assuming that you've chosen nipple covers made from hypoallergenic, medical-grade, and breathable material – like the Nippies covers – the most important step you can take is not keeping your nipple covers on for too long.
Just because you only take a shower every three days, it doesn't mean you can get away with wearing the same pair of nipple covers for three days straight. Usually, you can only wear nipple covers for between 6-8 hours, although some are suitable for wearing for longer.
Then, after removing them, be sure to give them a proper wash. More on that next!
How to Clean Nipple Covers
Given that one of the main causes of infections from nipple covers is not looking after them properly, it's about time we told you how to clean them.
Thankfully, this process is pretty simple. Fill your sink or a bowl up with warm water and mild soap, and place the nipple covers in for a few minutes. After they've had a chance to soak, use your hands to gently rub at the adhesive section, making sure that you remove all residue and buildup.
Then, simply leave them out to air dry. Finished!
You also need to wash your breasts and nipples before you apply them again, but we won't teach you how to do that.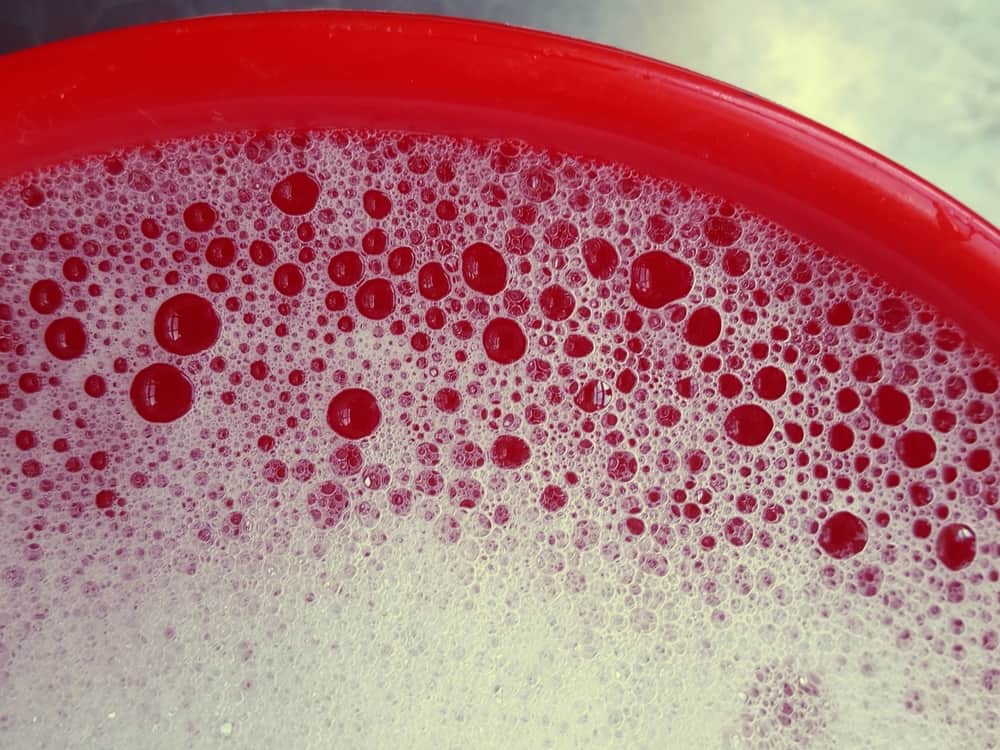 Wearing Nipple Covers for Sports
Lots of people like to wear nipple covers to play sports. Not only do they cover up any extra-perky nipples that come out to play during cold weather, but they also prevent chafing – a common problem athletes face.
We recommend the NipEaze nip protectors, which are especially good at preventing chafing.
However, one drawback of wearing nipple covers to play sports is that sweating too much can reduce their stickiness.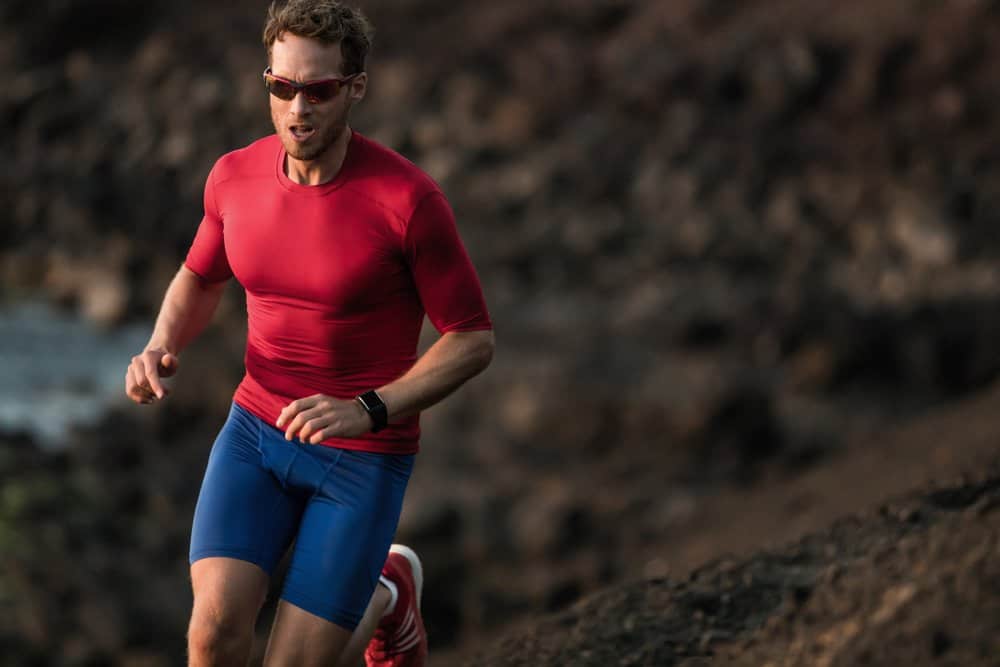 FAQs
There are a few things in the world that you know exist but you're still not convinced anyone actually does. One example is wearing nipple covers – probably because they do their job so well that you can't tell when anyone is actually wearing them.
So, we're willing to bet that you have plenty of questions about these things. Luckily, we've got all the answers!
Are Nipple Covers Comfortable?
Anyone who finds nipple covers uncomfortable has probably just bought a terrible pair of nipple covers. Jokes aside, nipple covers should be so comfortable that you forget you're wearing them and go about your day oblivious. They're just a pair of lightweight adhesives, after all.
However, if your skin is sensitive, you might find that some nipple covers irritate them. To minimize the chance of this happening, opt for adhesives made from hypoallergenic material, meaning they're free from all common allergens.
Can You Reuse Nipple Covers?
Most manufacturers design their nipple covers to be reused multiple times – if this is the case, it will say so clearly on the packaging or product description. You can reuse most nipple covers between 20 and 50 times, but there's some variance between products (again, the packaging or product description will tell you).
This doesn't mean that you can wear the same nipple covers for days on end without cleaning them, though. You must wash them after each use!
Also, you can't assume that all nipple covers are reusable – some are for one use only.
Can Nipple Covers Cause Infection?
Unfortunately, nipple covers do cause infections from time to time, but it's relatively unusual and comes down to a number of factors.
Washing nipple covers after each use is essential, and missing this step increases the risk of infection. Avoid bacteria buildup at all costs!
Some people also have skin that's more sensitive, and anyone with nipple piercings is also more likely to get an infection. If you're in either category, opt for hypoallergenic and highly breathable nipple covers.
Can You Wear Nipple Covers Every Day?
Once you realize how easy and comfortable it is to wear nipple covers, you'll probably want to know if you can get away with ditching your bra for nipple covers every single day. The answer, in theory, is yes. A good pair of nipple covers are perfectly healthy to apply to your skin, so why not wear them every single day if you fancy it?
However, bear in mind that most nipple covers can only be reused for around 25 days. If you want to wear these adhesives every day, you'll have to keep buying new pairs fairly often.
Can You Swim With Nipple Covers?
If you're self-conscious about protruding nipples and fantasize about being able to swim without the paranoia of thinking other people are staring at your chest area, we come with good news. Nipple covers can totally be waterproof.
Not all nipple covers are waterproof, but many are, so be sure to check the label. Especially useful for anyone who likes to swim in ice-cold waters!
Welcome to Your New, Liberated Life
As you can see, the world has come a long way over the last 100 years. Nipple covers were once reserved for burlesque dancers who needed to flout anti-toplessness laws (yes, really), but now they're available to anyone and everyone.
There's a pair of nipple covers suitable for every occasion, from swimming to raves to wearing a summer dress to meet the in-laws.
Once you realize how easy it is to go without a bra, you'll be wondering why you ever wore one in the first place. Unless you actually like putting yourself through that torture, in which case, you do you.
The point is giving people options, and that's a message we can get behind!