Top Picks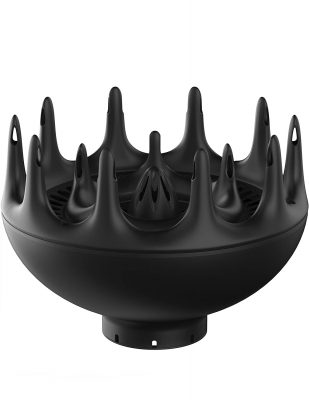 Black Orchid Large Hair Diffuser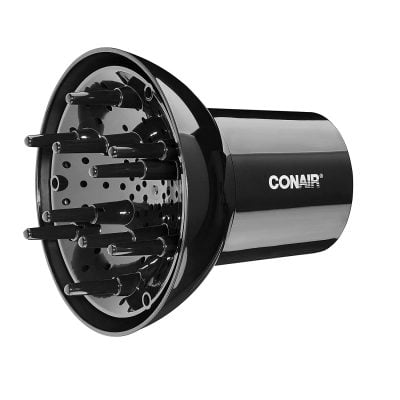 Conair Volumizing Diffuser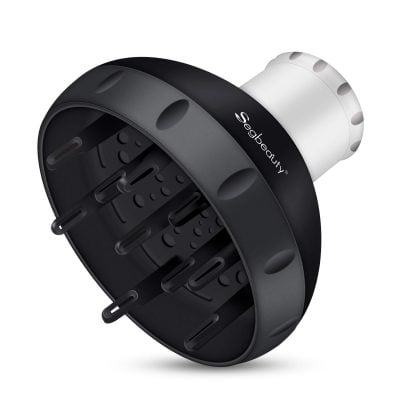 Segbeauty Professional Hair Dryer Diffuser
Previous
Next
Waking up with perfect hair is a dream, but like most dreams, it's not quite reality. It takes care and attention to get those flowing locks where you want them to be. But that is not enough; you need more. You need the best tools that are designed specifically to work with curly hair. From shampoo and conditioners to combs, hairbrushes and hairdryers, everything you use should help give you shining, flowing, voluminous, frizz-free, glorious curls.
That is why top of your list should be finding the most effective diffuser for your hair. A basic hair dryer is just not going to cut it—and let's be honest you are not going to stand for anything but the best for your curls.
Things to Consider Before Buying a Diffuser
A diffuser is normally an attachment that fits to a hairdryer. For the most part these attachments have no power or heat themselves: that is all down to the hairdryer. There are some exceptions: for example, the Bed Head Curls in Check model is a combined diffuser and hairdryer – the perfect one-stop-shop for your drying needs.
Diffusers can be more complex than you might expect. Knowing more about how they work and what you need to be thinking about can help you make the right buying decision. We have put together some healthy pointers to set you on the road to enlightenment (and, of course, those legendary bouncy curls).
Design
Designs for diffusers might surprise you with their variety. The most common type is the familiar wide, round dome with the small 'fingers' sticking out. But there are also:
If you're going to purchase a diffuser attachment, be sure to match it with one of the choices from our guide to the best hair dryers for curly hair.
Another important factor in the design are the 'fingers', the pointy bits that stick out, which allow you to wrap strands of hair around them as you dry to enhance your curls and helping the air flow and heat get deep into your hair for a more even dry. Longer 'fingers' can also include extra holes which help spread that airy love, softly and gently throughout your curls.
The depth of the bowl is also important. A deeper bowl allows you to rest more hair on the diffuser, drying larger areas and making life easier for your arms because you are not moving the diffuser as much.
Material
There are a variety of materials that are used, from plastic to silicone. In general, diffusers will be built from sturdy stuff, but there are additional advantages of some materials. For example, silicone is a great material for diffusers because it is heat resistant. This means that, while you are using it, if you happen to touch the attachment it will not be hot to the touch. It also means less heat on the hair that dangles around the diffuser, so less damage.
Silicone is also popular in travel diffusers, because it makes them more flexible for fitting the wide range of hotel dryers you may come across.
A product which uses a specific, stand-out material will often mention this in the description, so it is always a good idea to look out for that. Material technology is always advancing, which can only mean great things for your hair!
Compatibility
This is about which hair dryers each diffuser is compatible with in its size and shape.
We live in a world with millions of products, manufacturers and designs. This can be bad for compatibility because one product like a diffuser is not always going to fit with your hair dryer.
We have pointed out compatibility throughout this guide, so you can make sure your dryer is a good fit before you buy.
Portability
Big hair needs big solutions, which is why all the diffusers you see have such wide openings. This is so it can do the job of spreading the airflow for a gentler dry.
This does not necessarily equal travel friendly. We'll show you some good options, which are specifically built to be flexible, collapsible and easily fit into the corner of your suitcase. This is a great feature when you want a diffuser for vacations, weddings or weekends away.
Extra Features
Some diffusers have extra features beyond the basic design. These could include adjustable air controls like the Segbeauty Professional Hair Dryer Diffuser, detachable parts for easier cleaning like the Segbeauty Travel Hair Dryer Diffuser and more. These extra features could be just what you are looking for in your hair drying experience.
The following products show you what is out there in the world of diffusers. From professional to budget, travel to universal, we have investigated, probed and prodded to give you the highlights to help you choose the best diffuser for you and your amazing curls.
The 10 Best Diffusers for Curly Hair in 2021
Everything You Need to Know About Diffusers for Curly Hair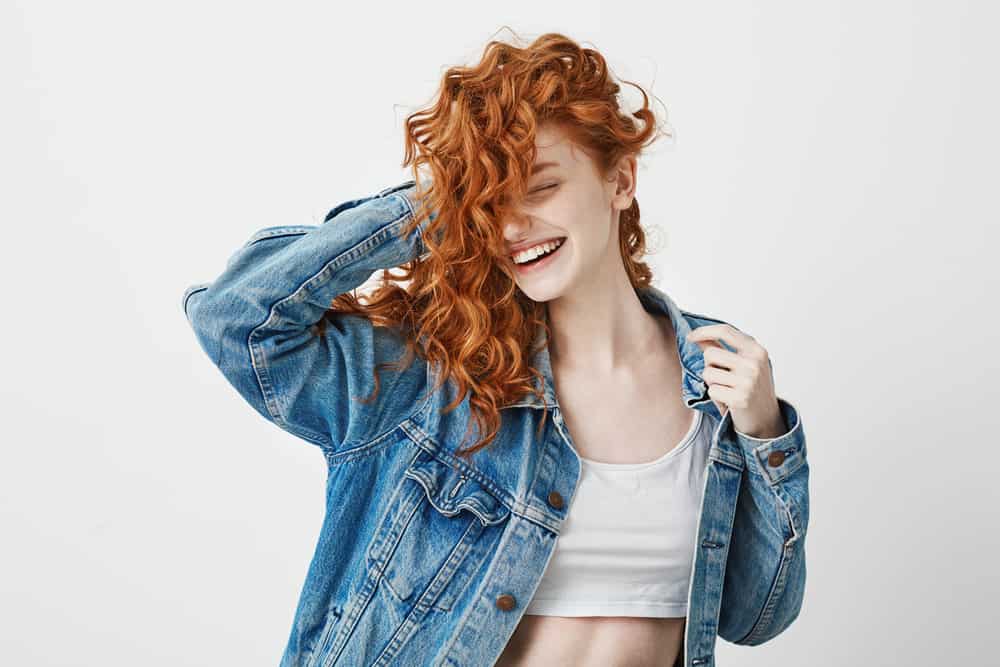 We have put together a guide for using a diffuser, along with tips for choosing a travel diffuser and some general FAQs to help you explore more in your pursuit of curls beyond curls.
How Diffusers Work
You will notice how wide and round the diffuser tends to be. The purpose is to, as the name suggests, diffuse the air coming out of the dryer. This serves two purposes:
The first is dispersing air over a wider area reduces the power of the airflow. This helps to keep the curl in your curls. Too strong a blast can weaken the curl, damage your hair, lessen the fullness and leave you with flat, dull and lifeless hair.
The second reason is that a wider area of air blowing onto your hair reduces the heat on each strand. Concentrated heat, as you get with the normal hairdryer airflow, can lead to damaged hair and the dreaded fizz. A diffuser limits the negative effect of drying and, especially for those with much thicker hair, it allows you to blow dry for longer.
How to Use a Diffuser for Curly Hair
Impressive curls can take some effort and there are a few stages, but it is all worthwhile in the end. No pain, no gain, right? Whether you're buying a professional diffuser and using a hair dryer with all the bells and whistles, or you're on your travels with a collapsible option that fits snuggly into your overnight bag, it's just one part of your repertoire.
Step 1 – Washing and Conditioning
The journey to great hair starts in the shower. Why? Well, the diffuser is the last stage and you need to protect your hair against damage and the dreaded frizz, so you need to get a few things sorted first.
Have the following on hand:
Shampoo your hair using a product specifically designed for curly hair. This will remove the day's grime. Do not get rough, just gently massage to create a smooth lather. Remember: The name of the game is protecting your curls from losing their shape. Rinse your hair thoroughly, but gently.
Next, you are going to condition your hair. Choose a conditioner with superb moisturising properties. Your hair will thank you.
Conditioning provides the moisture to keep your hair looking and feeling healthy. It also helps to reduce damage and frizz when you get to the diffuser stage.
Step 2 – Detangling
Next, you need to comb out the knots in your hair. Gently. Doing this in the shower while your hair is wet is another way to reduce damage to your hair and, you guessed it, leads to less frizz. Notice a pattern here?
Pro Tip: Avoid combing through your hair while using the diffuser. The combined air flow, heat and combing action will create frizz.
At this point you are almost ready for drying.
Step 3 – Remove Excess Moisture
It may seem obvious, but still important to say – do not step out of the shower and start drying your hair with the diffuser. They really do not like to get wet, and an electric hair dryer combined with water is just a really bad idea.
To get the excess water out of your hair, bear in mind the following:
A think fluffy towel may seem perfect for drying your hair, but the rough surface will lead to damage and frizz.
You want to be gentle with your hair – give your curls the chance to thrive.
You are not trying to completely dry your hair at this point, that is what the diffuser is for.
A cotton t-shirt or microfiber towel are both perfect options. Wrap your hair in one of these and squeeze out the extra water.
Step 4 – Remove Any Final Tangles and Final Conditioning
Running your fingers through your hair will get out any leftover knots. Do this gently to avoid damage. You can encourage the curls to keep their shape by twirling around your finger as you go.
If you're using leave-in conditioners you can combine adding this product while also removing knots. Simply use your fingers to rake the conditioner through your hair, gently tease out knots and twirl the ends through your fingers to retain the curl.
Pro Tip: For extra protection, choose a leave-in conditioner with heat protection to reduce the damage caused by blow drying, even with a diffuser.
Stage 5 – Time for the Diffuser
At this stage, whichever diffuser you choose will work in a remarkably similar way. The main difference being the size of the opening (requiring more drying time if smaller) and the size of the 'fingers'.
A less expensive model like the Conair Volumizing Diffuser with smaller 'fingers' might take a little longer to dry your hair than a wider model like the Black Orchid Large Hair Diffuser. This one is also great for those with thicker curls, as the larger size can get deep into your hair for an effective dry that does not involve excessive time exposed to heat.
Make sure your dryer is set on a low heat and low blow setting. High heat causes damage and a strong air flow can cause your curls to look limp.
For technique, the key is to be gentle. Use the diffuser to lift your hair over the surface, then take strands of hair into your fingers and gently push against the diffuser. To help maintain a good curl, twirl your hair around the 'fingers'.
Pro Tip: Avoid the urge to tightly scrunch your hair. Friction from the strands can add to long-term damage.
Continue to move the diffuser to different strands of your hair, using your fingers to gently press into the bowl each time.
Keep doing this until your hair is dry.
Here is a video of a hair diffuser in action so you can see how easy it really is!
Travel Diffusers
There is a good choice of diffusers for travelling. The Conair Volumizing Diffuser is a cheaper option, while the more expensive Segbeauty Travel Hair Dryer Diffuser offers more features and durability.
When considering travel and the variety of hair dryers you will meet in hotel rooms, The Curly Co. Collapsible Hair Diffuser offers the most versatile attachment with its unique stretch and shrink design. With its price in the mid-range for travel diffusers, it is a great option when you are wanting the ease of mind that comes with a flexible fitting system.
FAQs
What does 'universal size' really mean?
This can be a bit misleading. Universal for a diffuser refers to how it fits with hair dryers. When products state 'universal' it usually means that they fit most dryers. There are so many varieties, models and designs, it would be almost impossible to create a truly universal fit. So, the best advice to deal with this is to check your dryer for the size of the opening. Around 1.8" tends to be the most common.
Can I use a high heat with a diffuser for faster drying?
You might be tempted to dry your hair faster, but you really should not. Yes, diffusers do spread the heat over a large area, but that does not mean you can get away with turning the temperature up. Higher heat settings will dry your hair faster and can be tempting if you are in a rush, but it will be guaranteed to cause more damage to your hair. Heat dries out the hair cuticle and creates the dreaded frizz effect. This damage to your hair can be permanent. The best advice to avoid heat damage: Give yourself time for a slower dry on a lower heat setting. Your hair will thank you and this advice will help you to avoid dull, limp and frizzy curls.
If you are interested in the science, an interesting study into the effects of heat on hair was conducted, showing how hair dryers can damage hair – the results aren't pretty!
Does the design make a difference?
The size of the 'fingers' which protrude from the diffuser can affect how effective the diffuser can be. For example, the Black Orchid Large Hair Diffuser is built with much wider fingers and will speed up drying while also allowing you to wrap your hair around these 'fingers' as you go. Being wider, you are not scrunching your hair so tight, which reduces the friction and therefore the damage to your hair that can be caused by styling.
Will a diffuser curl straight hair?
The main reason for using a diffuser is to dry already curly hair. Yes, you might see some slight curling if you use one on straight hair, but it is not recommended, and it is not what diffusers were invented for.
Should I use products to protect my hair from heat when using a diffuser?
Yes, it is really recommended to use products which protect your hair from the heat of drying. The aim is to get the benefit of heat for drying your hair, while minimising the damage it can do to the hair cuticle.
Can I use a diffuser on dry hair?
Technically yes, but you absolutely should not. The purpose of a diffuser is to dry your hair in a way that protects your curls while limiting the damage to your hair that styling can cause. A diffuser is not designed for use on dry hair when you are wanting to enhance your curls.
Final Thoughts
Choosing the right diffuser is important, but deceptively simple. While many of the options feature similar designs, there are some subtle (and not-so-subtle!) differences which can be important factors in your final decision.
If you want to talk curls with others, there are some great resources and forums out there, where you can share tips, experiences and more.
So, what are you waiting for? Go get that diffuser to suit your technique, your hair and your lifestyle.