Top Picks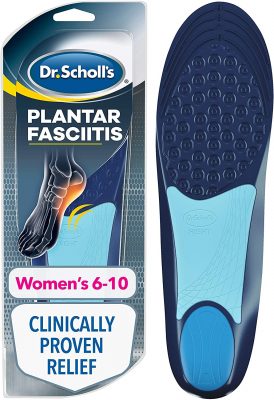 Dr. Scholl's Plantar Fasciitis Pain Relief Orthotics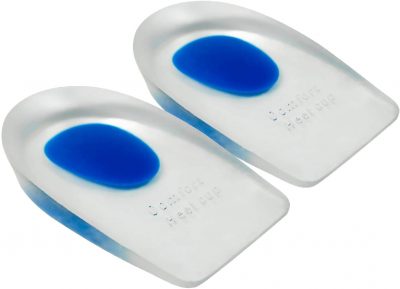 ViveSole Silicone Gel Heel Cups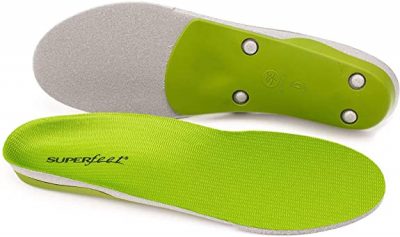 Superfeet ORANGE Insoles
Previous
Next
Women's shoes are notoriously bad at giving comfort and support. It's not always possible to find a perfectly comfortable shoe that suits your budget and lifestyle. If you've been experiencing heel pain for any reason, we've got you covered. Our list covers everything from arch-supporting insoles that correct your foot posture to pads that help prevent blisters in shoes that aren't broken in yet. Whatever your issue, you deserve to have comfortable shoes and we're here to help.
Everyone has experienced the pain of a long day in shoes that don't quite fit right. Wearing unsupportive and ill-fitting shoes can damage your feet over time and cause conditions like plantar fasciitis. This is one of the most common causes of heel pain. There are many conditions that can cause discomfort, though, and we'll discuss those later in our article.
Picking the Right Insert for You
When picking a heel insert, you'll have to determine what your specific needs are. Certain styles may not work for you, so you need to understand how they work and what they're made of.
Materials
The material your heel cup or pad is made from can affect how it works, how durable it is, and what your experience will be like while wearing it. Here are the most common materials you'll find and how they behave. Some inserts will utilize more than one of these materials to create a better combination of comfort and support.
Gel
Gel inserts are usually silicone-based and have a pleasant squishiness to them. If your shoe doesn't have a cushioned footbed adding a gel insert can immediately improve your comfort. The gel helps absorb and distribute pressure to improve comfort. The downsides to gel are that it tends to lose shape and stiffness quickly. Gel inserts also won't correct the position of your foot and overall posture.
Foam
Like gel, foam adds extra cushioning to your shoes. This is helpful to relieve pressure and better distribute your weight, especially if you stand a lot. It has less squish, which means less immediate relief, but won't wear down as quickly. Foam tends to be more supportive but less shock absorbing.
Rubber
Rubber has a lot more rigidity than a gel or foam material. This is especially useful in areas where you need more support. Rubber can lift up your heel or arch much more firmly. While this can take some time to get used to, it may have more long-term benefits for your feet. It can help mold your foot into a better posture over time and relieve pressure on your knees and back.
Urethane
A plastic material, urethane can be soft or rigid depending on how it's manufactured. The foamy version of urethane is used to cushion and prevent blisters in shoes. However, it's not a very durable material.
Plastic
While many of the materials on the list are forms of plastic, when a product is considered a "plastic insert" this means it's made of a thin, but hard plastic. Plastic is used by itself or with other cushioning materials to give shape to shoe inserts. This can help make a shoe insert more supportive and better position your foot. The main downside is that rigid plastic is more prone to cracking and breaking
Styles
There are several different styles of heel inserts on our list. Some are just basic heel cups, but others protect the heel and other areas of the foot.
Heel Cup
A heel cup is inserted into your shoe to cushion the spot where your heel comes in contact with the shoe. They also may surround your heel to give more support and keep it correctly positioned while you're on your feet all day. Heel cups can help reduce pain from certain conditions and improve your overall comfort.
Heel Pad
Heel pads usually adhere to the inside of your shoe to target areas that chafe and cause blisters. These can be lifesavers when breaking in a new pair of shoes or borrowing a pair that doesn't fit you well.
Full-length Insole
Not only do insoles provide comfort and support to your heels, but they also give support to the rest of the foot. If your foot pain is caused by a lack of support, a full insole can help correct your foot posture. This can relieve pain over time and help prevent further injury.
Heel Sling
A heel sling is a sort of wearable heel cup that wraps around your heel and upper foot. It provides cushion even in backless shoes or while barefoot.
Sleeve
Stretching our definition slightly, our list includes one compression sleeve. Compression can do a lot to improve circulation and relieve discomfort and fatigue. Compression sleeves are very similar to socks and can be worn in any shoe in place of normal socks.
Now that you know what is available, here are our top picks for heel cups, pads, and similar inserts that will help relieve heel discomfort.
The 10 Best Heel Cups and Pads in 2021
Choosing the Right Heel Insert for You
To make an informed decision, you'll need to understand the way heel cups and inserts work. You may also need to evaluate whether your foot pain is caused by bad shoes, long hours on your feet, or a more serious condition. If over-the-counter inserts don't relieve your condition, you may need to see a podiatrist. They may have specific recommendations for products or they may even make you custom insoles.
Purpose of a Heel Cup
Heel cups are added to a shoe to give targeted support and comfort to your heel area. Some may extend longer to give some arch support as well. They can add extra cushion to relieve pain from long hours on your feet. Some will also come up and surround the heel to help keep your foot and ankle in alignment.
Heel cups and similar products that focus on the heel can help relieve various conditions that cause foot pain.

Conditions that Cause Discomfort
There are many other conditions that can throw your feet out of balance. Some of them are more serious than others. Here are a few common problems that can cause heel pain.
Plantar Fasciitis
Many people experiencing serious pain or discomfort have probably done some online searches and have found information about plantar fasciitis. This condition is extremely common, particularly in women. If you run often or work on your feet, you're also at a higher risk.
The plantar fascia is a band of tissue that runs from your heel all the way to your toes. It can start with a bruised feeling in your heel, but may cause pain throughout the foot. This can become a chronic condition if left untreated. The pain often occurs after waking up, often the day after you've been very active. Eventually, the pain may be severe enough to interfere with your daily activities.
Plantar fasciitis is treated in a number of ways. Of course, improving the position of your foot while active is very important. There are many insoles specifically designed to help with plantar fasciitis. There are also a series of stretches you can do to improve your tendon flexibility and improve your conditions. Over-the-counter anti-inflammatory painkillers can help as well.
If this doesn't seem to be helping, or your condition worsens, you should see a doctor. It may be another condition that needs different attention.
Heel Pad Syndrome
This condition can often be confused with plantar fasciitis, but must be treated differently. Our heels naturally have a dense, fatty pad that acts as a cushion and shock absorber. Over time, this pad may shift out of position or degrade. This can cause pain, swelling, and tenderness in your heel.
Insoles designed to support the plantar fascia will likely not reduce your pain if this is your problem. Instead, trying a heel cup that will support and redistribute your natural heel pad may be a better option.
Pronation
Pronation occurs when your roll your foot inward while walking rather than stepping straight. This means that you don't evenly distribute pressure, but makes certain parts of the foot do extra work. This can cause pain and increase your chances of injury. Over time, pronation can flatten out your natural arch as well.
If you tend to pronate when you walk, choosing a more supportive insert can help correct your posture. A full insole with arch support can increase your comfort greatly.
Heel Spurs
Pain and swelling in your heels can also indicate heel spurs. Heel spurs are bony growths that develop over time and can extend to your arch. Having plantar fasciitis can increase your risk for developing heel spurs.
These can only be properly diagnosed by a doctor, but they can be very serious, so if you have tried other ways of relieving your heel pain with no success, visit a podiatrist. If you have heel spurs, you may find some relief from a cushioned gel cup that will reduce the impact of your heel on the ground.
Take Good Care of Your Feet for Life
Our feet are so vital to our life, but we may not give them the level of care they always deserve. We live busy lives and can't always afford good shoes or trips to the spa. So how can you prevent a serious condition from slowing you down or causing a big doctor's bill? There are a few things you can do to take better care of your feet.
Giving yourself foot massages can help relieve discomfort after a long day. Combine this with tendon stretches (as mentioned above) and your feet can become more flexible and strong. This can help prevent injury. Soaking them can help soothe them after an active day as well. Just be sure to dry them thoroughly afterward.
Choosing good shoes is extremely important, even on a budget. Many slides and ballet flat styles are simply too thin for days spent walking on asphalt and concrete. They lack arch support and cushioning which can lead to injury. Stiletto heels may look great, but they stretch your tendons and cause your feet to take on an unnatural position. Wear comfortable, well-fitted walking or running shoes if you need to be on your feet a lot. Keep your heels in your bag and wear them sparingly.
Always try shoes on before buying them and take the time to properly break them in. Investing in one supportive pair of shoes can make a huge difference. And adding an insole that suits your unique needs will make a good pair of shoes into a great one.
Keep taking care of your feet and they'll keep taking care of you.