Women's shoes are notoriously bad at giving comfort and support. It's not always possible to find a perfectly comfortable shoe that suits your budget and lifestyle. If you've been experiencing heel pain for any reason, we've got you covered. Our list covers everything from arch-supporting insoles that correct your foot posture to pads that help prevent blisters in shoes that aren't broken in yet. Whatever your issue, you deserve to have comfortable shoes and we're here to help.
Everyone has experienced the pain of a long day in shoes that don't quite fit right. Wearing unsupportive and ill-fitting shoes can damage your feet over time and cause conditions like plantar fasciitis. This is one of the most common causes of heel pain. There are many conditions that can cause discomfort, though, and we'll discuss those later in our article.
Picking the Right Insert for You
When picking a heel insert, you'll have to determine what your specific needs are. Certain styles may not work for you, so you need to understand how they work and what they're made of.
Materials
The material your heel cup or pad is made from can affect how it works, how durable it is, and what your experience will be like while wearing it. Here are the most common materials you'll find and how they behave. Some inserts will utilize more than one of these materials to create a better combination of comfort and support.
Gel
Gel inserts are usually silicone-based and have a pleasant squishiness to them. If your shoe doesn't have a cushioned footbed adding a gel insert can immediately improve your comfort. The gel helps absorb and distribute pressure to improve comfort. The downsides to gel are that it tends to lose shape and stiffness quickly. Gel inserts also won't correct the position of your foot and overall posture.
Foam
Like gel, foam adds extra cushioning to your shoes. This is helpful to relieve pressure and better distribute your weight, especially if you stand a lot. It has less squish, which means less immediate relief, but won't wear down as quickly. Foam tends to be more supportive but less shock absorbing.
Rubber
Rubber has a lot more rigidity than a gel or foam material. This is especially useful in areas where you need more support. Rubber can lift up your heel or arch much more firmly. While this can take some time to get used to, it may have more long-term benefits for your feet. It can help mold your foot into a better posture over time and relieve pressure on your knees and back.
Urethane
A plastic material, urethane can be soft or rigid depending on how it's manufactured. The foamy version of urethane is used to cushion and prevent blisters in shoes. However, it's not a very durable material.
Plastic
While many of the materials on the list are forms of plastic, when a product is considered a "plastic insert" this means it's made of a thin, but hard plastic. Plastic is used by itself or with other cushioning materials to give shape to shoe inserts. This can help make a shoe insert more supportive and better position your foot. The main downside is that rigid plastic is more prone to cracking and breaking
Styles
There are several different styles of heel inserts on our list. Some are just basic heel cups, but others protect the heel and other areas of the foot.
Heel Cup
A heel cup is inserted into your shoe to cushion the spot where your heel comes in contact with the shoe. They also may surround your heel to give more support and keep it correctly positioned while you're on your feet all day. Heel cups can help reduce pain from certain conditions and improve your overall comfort.
Heel Pad
Heel pads usually adhere to the inside of your shoe to target areas that chafe and cause blisters. These can be lifesavers when breaking in a new pair of shoes or borrowing a pair that doesn't fit you well.
Full-Length Insole
Not only do insoles provide comfort and support to your heels, but they also give support to the rest of the foot. If your foot pain is caused by a lack of support, a full insole can help correct your foot posture. This can relieve pain over time and help prevent further injury.
Heel Sling
A heel sling is a sort of wearable heel cup that wraps around your heel and upper foot. It provides cushion even in backless shoes or while barefoot.
Sleeve
Stretching our definition slightly, our list includes one compression sleeve. Compression can do a lot to improve circulation and relieve discomfort and fatigue. Compression sleeves are very similar to socks and can be worn in any shoe in place of normal socks.
Now that you know what is available, here are our top picks for heel cups, pads, and similar inserts that will help relieve heel discomfort.
Top 10 Best Heel Cups and Pads 2023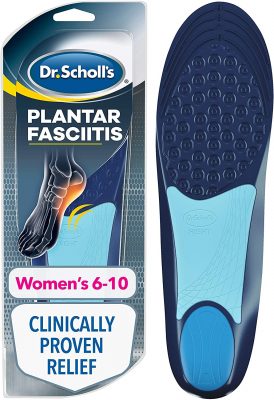 Why we like it:
This full-length insole provides cushion and support to relieve discomfort for long hours on your feet.
Editor's Rating:
Features:
Materials: gel and plastic
Style: full-length insole
The Highlights
These trim-to-fit insoles are discreet enough to wear in most close-toed shoes. They provide a shock-absorbing cushion in the heel with the addition of some arch support. This helps your foot stay in a healthy position even while you're on your feet all day.
Dr. Scholl's orthotics are designed to help reduce the pain from plantar fasciitis and prevent future bouts of this inconvenient condition. By correcting your foot's position in your shoe, they can help reduce overall discomfort and fatigue in your feet, but also your knee and ankle joints, rather than just targeting the heel.
The Downsides
In a strange case of gendered marketing, the men's insoles are thicker and more cushioned, whereas the women's are a bit thin. Perhaps this is to fit better in women's smaller shoes. For the most shock absorption, we would recommend going with the men's insoles and cutting them down even if you have smaller feet. They likely won't fit in dress shoes, but work shoes and sneakers should be fine.
These will start to wear out pretty quickly if you work long days with a lot of standing and walking. In particular, the plastic arch support will start to flatten within a few months of wear. The company recommends replacing your insoles every six months, but you may need to do it more frequently depending on your activity level.
Who It's For
If you work in a hospital or in the service industry, you probably know what it's like to wake up in the morning with your feet still aching from your previous shift. For people who are on their feet all day, especially on hard, uncarpeted floors, the extra shock absorption these insoles provide can make a huge difference.
They are ideal for someone who works in a sneaker or work shoe that will have the space to accommodate a full insert. If you tend to pronate while walking, these will also provide better support than a heel up alone.
Pros
Shock absorption

Arch support

Relieves pain and discomfort

Suitable for long periods of wear
Cons
Men's insoles are more cushioned than women's

Can't wear with dress shoes

May wear out after a few months
---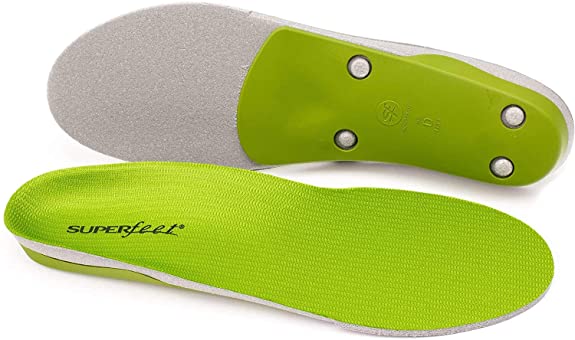 Why we like it:
With durable foam and extra reinforced arch support, these insoles are a close second to custom orthotics.
Editor's Rating:
Features:
Materials: foam and plastic
Style: full-length insoles
The Highlights
Superfeet is well-known for offering high-quality insoles alternatives to custom-made orthotics at a doctors' office. The heel and arch area of this model has a stabilizer cap made of hard plastic that runs all the way to the ball of the foot. This helps provide extra support and improves the overall posture of your foot.
The deep, padded heel cup is slightly narrow on the sides to prevent your foot from being able to wiggle too much within them. The foam along the ball of the foot helps provide additional cushion and spring as well. As a bonus, these insoles are coated to prevent bacterial growth and odor.
The Downsides
If you don't have a naturally high arch, this product can have the opposite effect to what you're looking for. Boosting up a low arch too much can cause pain and mess with your posture. You would be better off choosing something for medium arches like our pick from Dr. Scholl's or trying Superfeet's Blue insoles.
High-impact activity for long periods of time can cause the stabilizer caps along the heel and arch to crack or flatten faster than expected. At the end of the day, they are still just plastic and will need to be replaced periodically. But, for the higher price tag, it would be nice to see them last a little longer.
Who It's For
For people with naturally high arches, it can be hard to find adequate support from shoes. Even pairs with arch cushions likely won't be able to stand up high enough for you. If you have an active job or enjoy running or jogging, that extra support is especially important. This insole helps better distribute impact so your heel doesn't bear the brunt.
These insoles are a good option to correct heel pain and knee pain caused by being active without proper support. These will correct body posture issues that come from your arch flattening out from an active life in inadequate shoes.
Pros
Deep and supportive heel cup

High arch support

Improves posture

Odor-preventing coating
Cons
Can hurt people with lower arches

May flatten or crack from high-impact use
---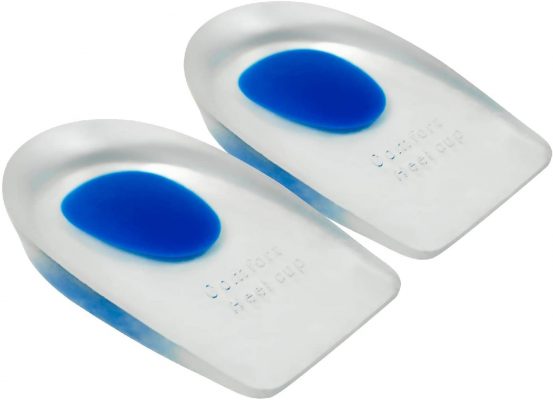 Why we like it:
Simple and supportive, this insert give you support exactly where you want it and can instantly make nearly any shoe more comfortable.
Editor's Rating:
Features:
Materials: gel
Style: heel cup
The Highlights
The latex-free gel of these heel cups provides cushioned support around the back of your foot. It helps distribute pressure more evenly to relieve the symptoms of conditions like heel spurs and plantar fasciitis. The center of the heels features an extra layer of denser gel where most of the pressure tends to be as you walk.
This insert is small and discreet enough to fit into most shoes, even dress shoes. The base has a self-adhesive layer that helps it stay in place. It will keep giving support where you need it, not slide around into your arch or the ball of your foot.
The Downsides
While these will fit in most shoes, they do add quite a bit of heel height. A shallow shoe may not have enough room to accommodate them. It's also important to situate them correctly before pulling off the adhesive's covering. Pulling them off and re-sticking them can be messy and cause the adhesive to fail.
As with most insoles, they only have a certain lifespan. With continued use, these will start to degrade or even disintegrate due to their gel construction. Once that process starts, it can be nearly impossible to keep wearing them. For something a bit more durable, you may prefer a rubber heel cup.
Who It's For
If you aren't someone who can wear sneakers in their everyday life, an insert that works in dress shoes is essential. If you have an active daily schedule but have to look professional, these gel heel cups can improve your comfort greatly. For someone with a commute who doesn't want to pack extra shoes, they can make a big difference.
For the budget-conscious, they provide relief for heel pain at a much lower cost than many other options. Their price and fit make them ideal for people working in real estate, a busy office, or in the hospitality field.
Pros
Cushioning gel

Distributes pressure evenly

Latex-free

Will fit some dress shoes
Cons
Hard to reposition

Gel will start to disintegrate over time
---
4.

Best Rubber Heel Insert:

Heel Seats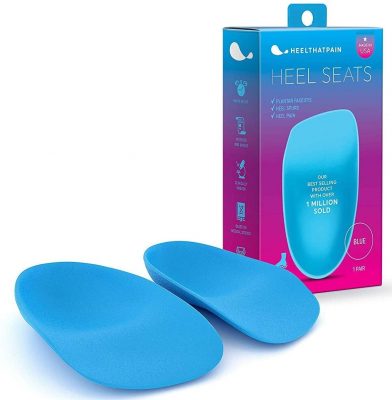 Why we like it:
This firm rubber heel cup extends to give you some arch support and stabilize the position of your heel.
Editor's Rating:
Features:
Materials: rubber
Style: heel cup
The Highlights
If you want the best of both worlds, this heel cup straddles the line between your average cup and a full-length insert. It focuses its support and shock absorption on the heel with a deep stabilizing cup and padding that mimics natural heel fat. However, it also extends to give arch support with a patented fascia bar to provide appropriately distributed pressure to the plantar fascia ligament. This helps correct your walking posture and prevents plantar fasciitis.
The outer coating on the insole is textured to prevent it from slipping. This helps it stay in place in your shoe and keeps your foot from sliding around on it, making it safer for sports. There's no need for adhesive, so these can be moved to other shoes in your wardrobe. Available in 4 sizes, they are discreet enough to fit in most closed shoes.
The Downsides
Since these are made out of firm rubber, they don't provide as much plush cushion as a gel insert might. They are intended to push your foot into a better posture, which can make the breaking-in period a bit longer. Wearing them all day right out of the box isn't recommended. You're less likely to have that instant sense of relief but will rather see a gradual improvement over time.
However, like many stiff arch inserts, they can be harmful to some. The arch height may not be adequate for some. The position may also be off if your natural arch sits further forward or back on the foot. By trying to create an arch that doesn't match your natural one, this can cause discomfort for some wearers. The fascia bar of this product will help many but may cause pain if you don't, in fact, have plantar fasciitis.
If you're looking for an insole based on your natural arch position, Superfeet has some good options.
Who It's For
If you have a fairly standard arch but have difficulty finding shoes that give you adequate support, this insert can make nearly any pair of shoes much better. People who pronate when they walk can be kept in alignment by the rigidity of this insert.
For people with frequent plantar fasciitis or heel spurs, this can provide the long-term support that will help correct those conditions. It does take some patience though. It doesn't offer the instant squishy comfort of gel inserts but will provide more long term support and posture correction that can prevent future bouts of these conditions.
Pros
Provides orthotic support in almost any shoe

Corrects position of foot

Can offer long-term relief to plantar fasciitis

Textured coating prevents slipping
Cons
Not as much instant relief

Less plush heel cushion

May not have correct arch position for some
---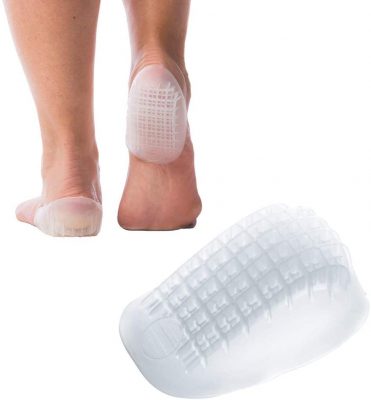 Why we like it:
The waffle texture design creates a super comfortable cushion that returns your natural impact energy.
Editor's Rating:
Features:
Materials: gel
Style: heel cup
The Highlights
Tuli's heavy-duty heel cups have been accepted by the American Podiatric Medical Association for their super comfortable design. These soft, flexible heel cups slot into most closed shoes, but are especially recommended for athletic shoes.
The unique waffle texture helps absorb impact and returns that energy back to your feet to create a more natural flow when you're running or jogging, similar to the benefits of barefoot running. It works with your feet to help them function as nature intended, like an extension of your body by mimicking the natural fat layer that protects your heel but can diminish over time.
They come in multiple sizes, so even children with conditions like Sever's Disease can benefit from these heel cups.
The Downsides
These heel cups provide a lot of cushion, but don't provide much overall support to your foot position and posture. It's loose and flexible so it won't stabilize your heel. If you have conditions like plantar fasciitis, it may reduce some of the pain you have while walking, but it may not prevent you from having further flair ups because it won't correct the way your foot's position.
While these don't have an adhesive layer to keep them in place, the gel itself is somewhat sticky. This means that they don't always stay in place (depending on your shoe's own insole) but they attract dirt and lint inside your shoe and from your sock.
For an option that adheres inside your shoe, try this one from Vive Sole.
Who It's For
If you have soreness in your heel after working out, these just might do the trick. Running, soccer, and HIT training all put a lot of pressure on your heels. Absorbing and dispersing some of that impact can leave you less fatigued and achy after exercise.
They may also help relieve pain caused by working on your feet for long hours, but you should ensure they fit well in your shoe beforehand. Overall, these tend to shine in short-term, high-impact situations like sports and exercise.
Pros
Unique waffle design distributes impact

Mimics natural energy exchange

Available in sizes for children
Cons
Doesn't provide posture stabilization

May slide around in shoe

Gets dirty easily
---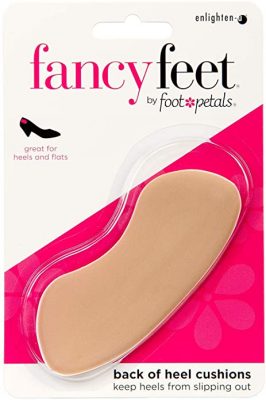 Why we like it:
Inexpensive and reliable, these help you break in nearly any shoe without blisters.
Editor's Rating:
Features:
Materials: urethane
Style: heel pad
The Highlights
Sometimes you don't need an insole to make a shoe more comfortable. Sometimes you just need something that will help prevent rubbing. These are one of the simplest solutions to blisters on the market. Most importantly, they will fit into nearly any pair of heels or flats.
Especially if you're in a situation where you have to wear new shoes without a proper break-in period or thick socks (hello wedding season!) these can really do the trick. These adhere to the inside of your shoe's heel cup to prevent it from chafing against your foot. It can also prevent your foot from coming out of a slightly-too-large shoe while walking.
The Downsides
As with any adhesive product, there is always a risk of it not sticking as well as it's supposed to. While this will fit most shoes, some fabric interiors may not bond with the adhesive as well. In sneakers, this is a more common problem. This may result in the petal moving out of position or even sticking to your sock.
These also won't be enough to correct serious sizing issues. The material is relatively thin, so they won't fill a significant gap in your heel. It also won't be a long-term solution to a truly uncomfortable shoe. While this sticker can make wearing them more bearable, nothing can replace breaking shoes in properly.
Who It's For
If you have a last-minute event and need to wear a pair of new or borrowed shoes, these can be a lifesaver. Or at the very least, a blister saver. It can be hard to make dress shoes comfortable or even bearable without taking a few days to break them in with thick socks. This product helps with that.
For people who find themselves in a bunch of wedding parties or wearing costumes for events, having these on hand is a great idea. They are a short-cut to a more bearable experience.
Pros
Works with most shoes

Helps prevent slipping out of shoe

Prevents blisters
Cons
Will not adhere well to cloth interiors

Not a long-term fit solution
---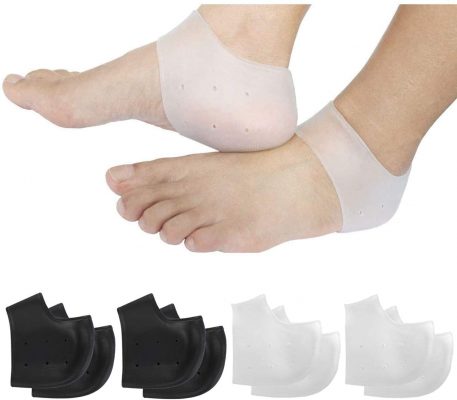 Why we like it:
Get rid of any worries you have about an insert not fitting your shoe by using a cushiony wearable one.
Editor's Rating:
Features:
Materials: gel
Style: heel sling
The Highlights
This is one of the only products on our list that can actually be worn barefoot. This gel sling slides over your foot and stays in place around your heel. This means that even around the house, you can have extra cushion for your heels. They will also fit in nearly any shoe. You can even wear them with sandals that may not be able to support other styles of heel inserts.
The soft gel provides shock absorption and is waterproof. There are vent holes to make the gel more breathable, so you can feel comfortable wearing them over socks or on bare feet. They are washable and reusable.
The thin gel material wraps around your heel to distribute pressure from walking. It also protects the back of your heel from the inner material of your shoe which can help prevent blisters.
The Downsides
Since these are silicone gel cushions, they are plastic. Even with the vents, it may be uncomfortable to wear these without socks. They can cause your foot to sweat more than usual and may chafe them.
There is no size variation to this product either, it relies on simply stretching over your foot. This can result in an improper fit. People with especially large feet may find that they get stretched out quickly or can snap over time. And for people with small feet, they may be too loose which can result in the sling twisting or bunching up inside your shoes.
The jelly-like material is thin. While this helps them fit into many shoes, it doesn't provide cushioned support the way a gel cup does, like our pick from Tuli's. This product may not offer enough support to help with more serious heel pain or foot conditions.
Who It's For
If you work from home or are a stay-at-home parent, you probably don't want to wear shoes in the house all day. But, you still might be on your feet quite a lot. This sling style of support lets you have extra cushion even when you're barefoot. That alone makes it a good option for many. If you wear sandals a lot, this also offers a solution.
For people without serious foot conditions who just want a little extra shock absorption with high heels or shoes that just don't have enough padding in the footbed, these may be enough to keep you from feeling sore at the end of the day. People with severe plantar fasciitis or bone spurs will probably need something more supportive.
Pros
Can be worn barefoot or with sandals

Waterproof and washable

Protects heel from blisters
Cons
Can cause your feet to sweat

Some sizing issues

May not provide adequate support for some conditions
---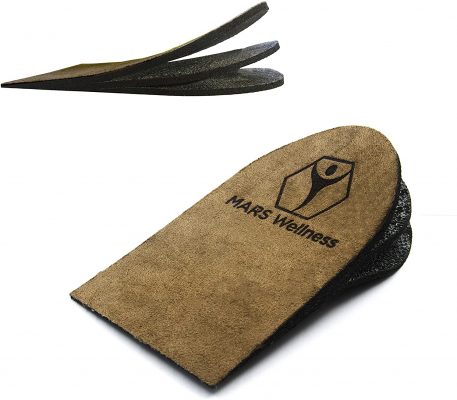 Why we like it:
For people with conditions like tendonitis and leg length discrepancies, this customizable heel insert can relieve discomfort.
Editor's Rating:
Features:
Materials: rubber, suede
Style: heel cup
The Highlights
This heel insert is available in three different sizes, but getting the right fit doesn't stop there. Each insert is made of multiple layers that can be removed as needed. This makes it ideal for people who need different levels of support. If you need more lift on one side, you can adjust to suit that particular leg's needs.
The sole is made of durable rubber, and the top is suede. This natural fiber makes it more durable and breathable than a plastic layer. It will fit in most close-backed shoes and will correct and stabilize your heel.
The wedge-shaped rubber insert is much firmer than gel heel cups, but that prevents it from flattening or degrading as quickly.
The Downsides
This product is sold individually, not in pairs, which can be a little surprising if you're used to buying shoe inserts in pairs. So, keep that in mind when ordering.
While the ability to adjust the height can be a major asset, it has some downsides too. Over time, the layers that you've left together might start to separate which makes it harder to keep this insert in place in your shoe.
Who It's For
If you have any sort of bodily asymmetry, being able to adjust each insole to the exact height you need it can be a big bonus. Instead of buying a pair that only suits your needs on one side, these are also sold individually. For people with tendonitis, one foot may need more support than the other.
If you have a leg length discrepancy, this can be a great solution for balancing your body alignment. It can make any shoe give you the custom lift you need. This adjustability can also be really helpful when you are recovering from an injury or surgery to your hip or knee.
Pros
Adjustable height

Corrects asymmetry

Firm support without flattening over time
Cons
Sold individually

Layers can start to split with use
---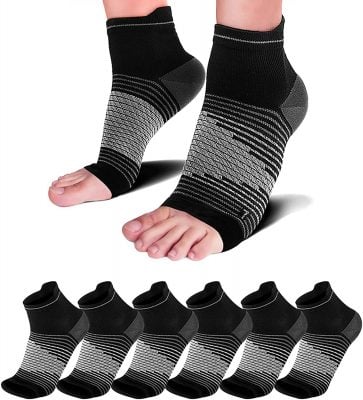 Why we like it:
This sock-like compression sleeve provides ankle support that other inserts don't.
Editor's Rating:
Features:
Materials: nylon/spandex blend
Style: sleeve
The Highlights
These thin, lightweight sleeves provide compression support for your foot and ankle. They are designed to exert pressure on certain points of your foot to help it stay in its correct natural alignment. Extending up the ankle, they can help keep you from pronating or turning your ankle throughout the day. Like some other options on our list, these can be worn without shoes for activities around the house.
The graduated compression helps keep circulation moving through your feet and ankles all day as well, reducing swelling and fatigue. This can help relieve the symptoms of many foot ailments. It's flexible enough to wear during exercise, like a regular sock.
Since these only extend to the ball of the foot, you can conceivably wear them with open-toed shoes or sandals.
The Downsides
The thin material of these sleeves makes it easy to fit them in many shoes, even if you are pairing them with other insoles. However, it also makes these more likely to wear out quickly and develop holes.
Sizing for these also tends to run small. When dealing with compression, it's not good to have things too tight. This can cause pain or actually increase inflammation. So, to ensure a good fit, you may need to size up
The versatility is also limited. While the open toe makes it possible to wear these with sandals and peep-toe shoes, the look of these makes them inappropriate for many situations. They look like an athletic sock, so wearing them with a skirt or dress won't necessarily fit a professional outfit. They are only useful in a professional environment if you are wearing trousers that hide the ankle.
Who It's For
If you're on your feet a lot for work or sports, these can give the extra support you need to reduce swelling and fatigue. The thin flexible material means you can wear them for activities like pilates or rock climbing without your mobility being inhibited.
Wearing these while you work at a desk can help improve your circulation even if while doing sedentary work. Their sock-like design means that even if you aren't wearing shoes indoors you can benefit from some extra support doing work from home.
Pros
Improve circulation

Help align foot and ankle

You can wear them without shoes
Cons
Thin fabric can wear quickly

Not a versatile look

May run small
---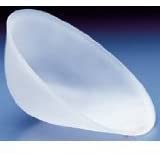 Why we like it:
These simple heel cups can help prevent blisters and help shape your natural heel pad.
Editor's Rating:
Features:
Materials: plastic
Style: heel cup
The Highlights
These small plastic heel cups slot discreetly into the back of any shoe. They only provide coverage around the heel itself, but for some people that can make a huge difference.
Rather than adding a lot of volume with cushion, this cup helps redistribute your weight to reduce stress on your heel. For people who have heel pad syndrome, this can relieve their discomfort by helping reshape the protective fat layer on your heel.
These provide protection to the back of your foot as well. This can prevent chafing and blisters in shoes or boots. It can also help keep your foot seated in a shoe that's a little wide for you.
The Downsides
For people suffering from plantar fasciitis, this may not provide relief. It doesn't correct the alignment of your arch in any way or cushion a sore heel. If you are looking to increase the softness of your shoe's footbed, these aren't for you.
They are only available in two sizes, so many with wide feet may find them too narrow. The back also may not come up high enough to provide full blister protection in something like hiking boots.
Since they are made of rigid plastic, they are also more prone to cracking and splitting than a material with more give. While they are inexpensive, their lifespan can require frequent replacements.
Who It's For
If you have heel pain from conditions like heel pad syndrome, this product can really make a difference in your comfort level. Heel spurs and bruises may also be relieved by this kind of heel cup. It will help keep your natural fat pad in the correct position while walking. Rather than providing cushion, then, it helps you better utilize your own.
If you have a narrow heel, this can also help improve the fit of shoes and boots. It can fill the gap in your shoe's heel to prevent your foot from rising up out of it with each step. This will reduce your chance of painful blisters.
Pros
Reduces stress on your heel

Shapes your heel's natural fat cushion

May reduce blisters and sizing issue
Cons
Doesn't provide cushion or arch support

Limited sizing

Prone to cracking
---
Choosing the Right Heel Insert for You
To make an informed decision, you'll need to understand the way heel cups and inserts work. You may also need to evaluate whether your foot pain is caused by bad shoes, long hours on your feet, or a more serious condition. If over-the-counter inserts don't relieve your condition, you may need to see a podiatrist. They may have specific recommendations for products or they may even make you custom insoles.
Purpose of a Heel Cup
Heel cups are added to a shoe to give targeted support and comfort to your heel area. Some may extend longer to give some arch support as well. They can add extra cushion to relieve pain from long hours on your feet. Some will also come up and surround the heel to help keep your foot and ankle in alignment.
Heel cups and similar products that focus on the heel can help relieve various conditions that cause foot pain.

Conditions That Cause Discomfort
There are many other conditions that can throw your feet out of balance. Some of them are more serious than others. Here are a few common problems that can cause heel pain.
Plantar Fasciitis
Many people experiencing serious pain or discomfort have probably done some online searches and have found information about plantar fasciitis. This condition is extremely common, particularly in women. If you run often or work on your feet, you're also at a higher risk.
The plantar fascia is a band of tissue that runs from your heel all the way to your toes. It can start with a bruised feeling in your heel, but may cause pain throughout the foot. This can become a chronic condition if left untreated. The pain often occurs after waking up, often the day after you've been very active. Eventually, the pain may be severe enough to interfere with your daily activities.
Plantar fasciitis is treated in a number of ways. Of course, improving the position of your foot while active is very important. There are many insoles specifically designed to help with plantar fasciitis. There are also a series of stretches you can do to improve your tendon flexibility and improve your conditions. Over-the-counter anti-inflammatory painkillers can help as well.
If this doesn't seem to be helping, or your condition worsens, you should see a doctor. It may be another condition that needs different attention.
Heel Pad Syndrome
This condition can often be confused with plantar fasciitis, but must be treated differently. Our heels naturally have a dense, fatty pad that acts as a cushion and shock absorber. Over time, this pad may shift out of position or degrade. This can cause pain, swelling, and tenderness in your heel.
Insoles designed to support the plantar fascia will likely not reduce your pain if this is your problem. Instead, trying a heel cup that will support and redistribute your natural heel pad may be a better option.
Pronation
Pronation occurs when your roll your foot inward while walking rather than stepping straight. This means that you don't evenly distribute pressure, but makes certain parts of the foot do extra work. This can cause pain and increase your chances of injury. Over time, pronation can flatten out your natural arch as well.
If you tend to pronate when you walk, choosing a more supportive insert can help correct your posture. A full insole with arch support can increase your comfort greatly.
Heel Spurs
Pain and swelling in your heels can also indicate heel spurs. Heel spurs are bony growths that develop over time and can extend to your arch. Having plantar fasciitis can increase your risk for developing heel spurs.
These can only be properly diagnosed by a doctor, but they can be very serious, so if you have tried other ways of relieving your heel pain with no success, visit a podiatrist. If you have heel spurs, you may find some relief from a cushioned gel cup that will reduce the impact of your heel on the ground.
Take Good Care of Your Feet
Our feet are so vital to our life, but we may not give them the level of care they always deserve. We live busy lives and can't always afford good shoes or trips to the spa. So how can you prevent a serious condition from slowing you down or causing a big doctor's bill? There are a few things you can do to take better care of your feet.
Giving yourself foot massages can help relieve discomfort after a long day. Combine this with tendon stretches (as mentioned above) and your feet can become more flexible and strong. This can help prevent injury. Soaking them can help soothe them after an active day as well. Just be sure to dry them thoroughly afterward.
Choosing good shoes is extremely important, even on a budget. Many slides and ballet flat styles are simply too thin for days spent walking on asphalt and concrete. They lack arch support and cushioning which can lead to injury. Stiletto heels may look great, but they stretch your tendons and cause your feet to take on an unnatural position. Wear comfortable, well-fitted walking or running shoes if you need to be on your feet a lot. Keep your heels in your bag and wear them sparingly.
Always try shoes on before buying them and take the time to properly break them in. Investing in one supportive pair of shoes can make a huge difference. And adding an insole that suits your unique needs will make a good pair of shoes into a great one.
Keep taking care of your feet and they'll keep taking care of you.