Top Picks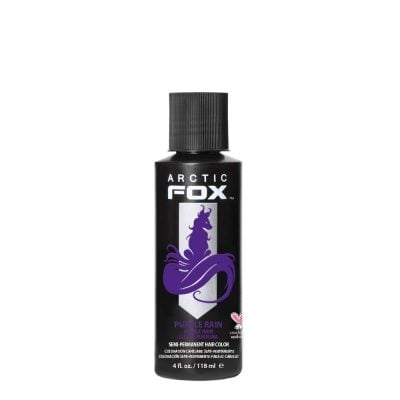 Arctic Fox Purple Rain


Adore Creative Image – Violet Gem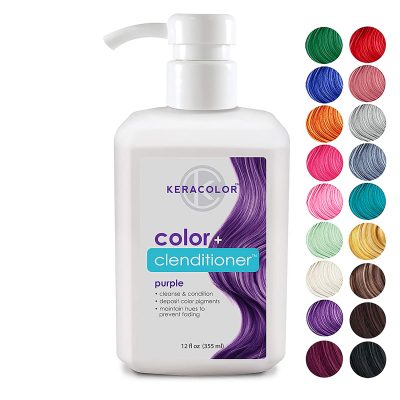 Keracolor Clenditioner Purple
Previous
Next
You're stuck with your hair for your entire life, so you might as well do something exciting with it, right? Natural hair is beautiful, but sometimes, you can get bored with it and want to do something fun.
If you're thinking of going purple, that's a great choice! You can go with something subtle that's more noticeable in the sun or something eye-catching the moment you walk into the room. Pastel purple is a whimsical look that's hard to pass up.
There are many options on the market and it can be difficult to know what to choose. Luckily, you're in the right place. We'll look at the ten best hair dyes worth dyeing for as well as what to look for when you're shopping.
How to Choose the Right Hair Dye
In a perfect world, you buy the color you want, apply it, and then bam: you look amazing. Unfortunately, that's not quite how it works. There are a few factors you need to consider before you take the purple plunge.
Current Hair Color
Are you currently light blonde, dark brown, or bright pink? Your current hair color plays a huge part in how you're going to dye your hair.
Light-haired people get the good life – they don't have to use as much bleach, or in some cases, don't even have to use any bleach at all. On the other hand, dark-haired people usually have to rely on bleach and hair lighteners before the dye will ever show up on their hair.
If your hair is already dyed, adding more dye could cause colors to change, or your hair might not change at all. Hair science is difficult to understand at first, and yes, it is a science.
Commitment
Going purple is a big commitment. Purple isn't a natural color, so it can't stay in your hair as long. So, if you want to stay purple, you're going to have to put in the time and effort. It's a lot like saying "I do!" to your hair.
You'll most likely have to bleach your hair if you want a vivid or pastel purple, which can mean lots of bleach touchups as your hair grows out. If you have any shade of brown or black hair, the purple on the box won't be what ends up on your head unless you bleach your hair to platinum blonde first. Even if you have a light brown or dark blonde mane, you might still experience some trouble with purple.
After you dye your hair, you'll have to work on maintenance. Expect to touch up your roots every three or four (maybe five) weeks. The middle and ends of your hair will start to fade at some point, so that will need some touching up, too.
You'll need to be careful about how often you wash your hair and what shampoos you use. You'll want to choose gentle, color-safe formulas that state they're safe for dyed hair; otherwise, you risk having your color fade faster.
What if you're the low-effort kind of person that wants to dye once and call it a day? You can, but it's not going to look the way you want it to from the start and it'll disappear before you know it. Purple hair is like a baby: it needs constant care.
Ingredients
When you're changing your hair from a natural to an unnatural color, it will involve plenty of chemicals. Obviously, chemicals aren't great for your hair. They can cause long-lasting damage that can be hard to repair.
Some of the chemicals in hair dyes are linked to cancer and several other issues, such as skin irritation and blindness. Fortunately, many hair dye brands today leave out the harmful chemicals to make safer products. Avoid the following chemicals:
Ammonia: Prolonged exposure can cause skin irritation; however, this makes the color stay in the hair for much longer.
Coal tar: Several chemicals that make colors last longer are called coal tar. They caused cancer in test animals, so the FDA requires a skin sensitivity warning on these products' boxes. If you get these chemicals in your eyes, you might go blind.
Hydrogen peroxide: This is responsible for removing the natural color from your hair. This will damage your hair, and the smell might burn your eyes.
PPD: Para-phenylenediamine makes it easier for drastic hair changes such as going light to super dark. This chemical has caused cancer in animals, so it's advised to use products with PPD very sparingly. Fortunately, not many dyes use this chemical anymore so you don't have to worry about it too much.
Dyeing your hair with harmful chemicals might not be enough to cause any harm, but you should always be careful. Those who are especially at risk are salon stylists, and people who frequently get their hair dyed because they are exposed to these chemicals more often.
Price
When considering the price of hair dye, money isn't the only price you're paying – time and effort are also spent. For those with super dark hair, the bleaching and dyeing process can be an all-day affair.
Consider the following:
Time: You might need to dedicate at least half a day or longer to dyeing your hair, whether you do it at home or a salon. Be sure to clear your schedule!
Quantity: One box isn't enough for everyone. Longer, thicker, or darker hair will most likely require two boxes for full coverage, increasing the cost to dye your hair.
Mistakes: "Pobody's nerfect." Maybe your hair will turn orange instead of white during bleaching, or perhaps you missed a spot at the back of your head. If you make any mistakes, you'll have to buy more dye and fix it up (or take the walk of shame to the salon).
Let's say you have long hair so you need two boxes, and you messed up the process. If you buy a $10 box of dye, you'll have spent $30 or $40 in total. You might not even like how you "fixed" your hair, so you might end up going to a professional to help you out.
It won't be the worst-case scenario every time, of course. At-home dye jobs can look professional. Just be sure to weigh the price and the risks before you make any decisions.
Now then, let's take a look at the top ten purple hair dyes.
Top 10 Best Purple Hair Dyes 2021
Guide to Buying the Best Purple Hair Dye
There are many dyes to choose from and it can be difficult to know what to buy. Also, how do you pick a purple that will look good on you? And will it even stay in your hair? Most of these things you won't know until you try out a dye, but it is possible to know what will work with your hair type.
Know Your Hair
Is your hair fine, medium, or thick? Is it straight, wavy, or curly? Those are relatively easy to answer. But how porous is your hair? If you're not sure, that's okay – most people don't know.
How to Tell if Your Hair is Very Porous
The porosity of your hair will play a big part in how well your hair absorbs hair dye. To find out your hair porosity, get a bowl of water and drop a strand of hair into it. If it floats, your hair isn't very porous. If it hangs out underwater but isn't at the bottom, you have "normal" hair. If it's at the bottom of the bowl, you have very porous hair.
Porous hair absorbs moisture. When the strand of hair sinks to the bottom of the bowl, it's absorbing crazy amounts of water. You can expect your hair to act the same way when you apply dyes to it. If your hair floats toward the top of the bowl of water, there's bad news for you: don't anticipate hair dye to last longer than a few washes.
Porous Hair Affects How Long Dye Lasts
Porous hair will most likely stay dyed longer than the dye advertises. That's not a problem unless you're looking for something temporary. "Normal" hair will probably keep the dye for about as long as the box says unless you use a shampoo with sulfates, wash your hair frequently, or go swimming (chlorine is harsh on hair dye).
If you see conflicting reviews for hair dye, porosity is something to think about. Every head of hair is different. Blondes usually get to have more fun with hair dye than brunettes, but a blonde that doesn't have porous hair might only get a few days out of their dye job.

Temporary vs. Semi-Permanent vs. Permanent Dye
As you shop for hair dye, you'll notice permanent, semi-permanent, demi-permanent, and temporary hair dyes. The differences may seem obvious (of course a permanent dye will last longer than a temporary dye!) but it's the science behind them that sets them apart.
Temporary
Temporary dyes only work on the surface of your hair. You might get lucky and have the dye last for two washes, but they're usually a one-time use. If you have really porous hair, it's more likely to stick around longer. You can also try a temporary wax, like HailiCare Hair Color Wax.
Semi-Permanent
Each hair is made of layers and dyes require chemicals to get into deeper layers. Semi-permanent dyes don't usually contain the chemicals necessary to go deep into your hair, so color is only deposited in the outer layer. These dyes are usually safer to use and will last for up to 12 shampoos.
Demi-Permanent
These dyes last longer than semi-permanent and contain a little bit of hydrogen peroxide so the dye can go deeper into the hair. You'll probably get 24 shampoos out of the color. You can use this one to cover up grey hair; semi-permanent and temporary dyes aren't able to cover them.

Permanent
These dyes use ammonia and hydrogen peroxide to lighten and change the color of your hair. In terms of chemicals, they're the least safe to use. They go to the core of each hair and change the color of it. These dyes won't wash out, and you'll have to touch up your hair as the roots grow out. Haircuts and recoloring are the only ways to get rid of these dyes. If you know you want purple long-term, give a permanent dye like Garnier Nutrisse – Deep Intense Lilac a try.
Choosing What Suits Your Skin Tone
Your skin tone can help you choose a shade of purple if you're a little indecisive. Look at the veins on your wrist – if they're blue, you have cool undertones; if they're green, you have warm undertones.
Those with dark hair and cool undertones should go with a deep purple while light hair and warm undertones should use a warm or pastel purple. Dark hair doesn't take color as well as light hair, so choosing a warm or pastel purple will be more difficult to maintain than a dark purple. (Dark purples fade beautifully with dark hair, too.)
It's all up to you, of course. Dark hair and cool skintones can definitely work with pastel purple if you want to put the time and effort into it, and light hair and warm skintones will make deep, royal purples stand out even more.
Long-Term Care for Long-Term Color
Unnatural hair colors just don't last like the browns, blondes, and blacks do. If you want purple hair that will stay, you're going to have to actively make it stay. Follow these tips to make your purple last longer:
Slow the brakes on washing your hair: Shampoo strips your hair of color, especially if the shampoo contains sulfates. Don't wash your hair as often when you have purple hair. Wait a few days after dyeing your hair before you wash it again, and try to wash only 1-3 times a week. (Dry shampoo will be your best friend.
Avoid the heat: Curling irons, hair dryers, and the sun are your enemies. Well, they're at least not friendly to your purple hair. The heat and UV rays will quickly fade your hair, so you need to protect it. Use protective sprays when you style your hair and wear hats when you go outside. Hot water isn't good, either so yeah – that means colder showers.
Coloring conditioner: Use a conditioner that will deposit purple dye in your hair so you can slow down the fading process. Coloring conditioner isn't perfect, but it will definitely help, especially if you can't stand the idea of washing your hair less frequently.
Dye frequently: Purple requires commitment, so if you want long-lasting purple, you're going to have to reapply it frequently. It can be expensive and take up your whole Saturday (depending on if you have to spend time bleaching your hair), so you might decide it's not even worth your effort.
Final Thoughts
Whether you're new to dyeing your hair the colors of the rainbow or you dye your hair a new color each week, purple is an ambitious color to try. It's eye-catching and bold and requires a lot of maintenance. But, having that galaxy-like head of hair makes it worth the trouble.