You're stuck with your hair for your entire life, so you might as well do something exciting with it, right? Natural hair is beautiful, but sometimes, you can get bored with it and want to do something fun.
If you're thinking of going purple, that's a great choice! You can go with something subtle that's more noticeable in the sun or something eye-catching the moment you walk into the room. Pastel purple is a whimsical look that's hard to pass up.
There are many options on the market and it can be difficult to know what to choose. Luckily, you're in the right place. We'll look at the ten best hair dyes worth dyeing for as well as what to look for when you're shopping.
How to Choose the Right Hair Dye
In a perfect world, you buy the color you want, apply it, and then bam: you look amazing. Unfortunately, that's not quite how it works. There are a few factors you need to consider before you take the purple plunge.
Current Hair Color
Are you currently light blonde, dark brown, or bright pink? Your current hair color plays a huge part in how you're going to dye your hair.
Light-haired people get the good life – they don't have to use as much bleach, or in some cases, don't even have to use any bleach at all. On the other hand, dark-haired people usually have to rely on bleach and hair lighteners before the dye will ever show up on their hair.
If your hair is already dyed, adding more dye could cause colors to change, or your hair might not change at all. Hair science is difficult to understand at first, and yes, it is a science.
Commitment
Going purple is a big commitment. Purple isn't a natural color, so it can't stay in your hair as long. So, if you want to stay purple, you're going to have to put in the time and effort. It's a lot like saying "I do!" to your hair.
You'll most likely have to bleach your hair if you want a vivid or pastel purple, which can mean lots of bleach touchups as your hair grows out. If you have any shade of brown or black hair, the purple on the box won't be what ends up on your head unless you bleach your hair to platinum blonde first. Even if you have a light brown or dark blonde mane, you might still experience some trouble with purple.
After you dye your hair, you'll have to work on maintenance. Expect to touch up your roots every three or four (maybe five) weeks. The middle and ends of your hair will start to fade at some point, so that will need some touching up, too.
You'll need to be careful about how often you wash your hair and what shampoos you use. You'll want to choose gentle, color-safe formulas that state they're safe for dyed hair; otherwise, you risk having your color fade faster.
What if you're the low-effort kind of person that wants to dye once and call it a day? You can, but it's not going to look the way you want it to from the start and it'll disappear before you know it. Purple hair is like a baby: it needs constant care.
Ingredients
When you're changing your hair from a natural to an unnatural color, it will involve plenty of chemicals. Obviously, chemicals aren't great for your hair. They can cause long-lasting damage that can be hard to repair.
Some of the chemicals in hair dyes are linked to cancer and several other issues, such as skin irritation and blindness. Fortunately, many hair dye brands today leave out the harmful chemicals to make safer products. Avoid the following chemicals:
Ammonia: Prolonged exposure can cause skin irritation; however, this makes the color stay in the hair for much longer.
Coal tar: Several chemicals that make colors last longer are called coal tar. They caused cancer in test animals, so the FDA requires a skin sensitivity warning on these products' boxes. If you get these chemicals in your eyes, you might go blind.
Hydrogen peroxide: This is responsible for removing the natural color from your hair. This will damage your hair, and the smell might burn your eyes.
PPD: Para-phenylenediamine makes it easier for drastic hair changes such as going light to super dark. This chemical has caused cancer in animals, so it's advised to use products with PPD very sparingly. Fortunately, not many dyes use this chemical anymore so you don't have to worry about it too much.
Dyeing your hair with harmful chemicals might not be enough to cause any harm, but you should always be careful. Those who are especially at risk are salon stylists, and people who frequently get their hair dyed because they are exposed to these chemicals more often.
Price
When considering the price of hair dye, money isn't the only price you're paying – time and effort are also spent. For those with super dark hair, the bleaching and dyeing process can be an all-day affair.
Consider the following:
Time: You might need to dedicate at least half a day or longer to dyeing your hair, whether you do it at home or a salon. Be sure to clear your schedule!
Quantity: One box isn't enough for everyone. Longer, thicker, or darker hair will most likely require two boxes for full coverage, increasing the cost to dye your hair.
Mistakes: "Pobody's nerfect." Maybe your hair will turn orange instead of white during bleaching, or perhaps you missed a spot at the back of your head. If you make any mistakes, you'll have to buy more dye and fix it up (or take the walk of shame to the salon).
Let's say you have long hair so you need two boxes, and you messed up the process. If you buy a $10 box of dye, you'll have spent $30 or $40 in total. You might not even like how you "fixed" your hair, so you might end up going to a professional to help you out.
It won't be the worst-case scenario every time, of course. At-home dye jobs can look professional. Just be sure to weigh the price and the risks before you make any decisions.
Now then, let's take a look at the top ten purple hair dyes.
Top 10 Best Purple Hair Dyes 2023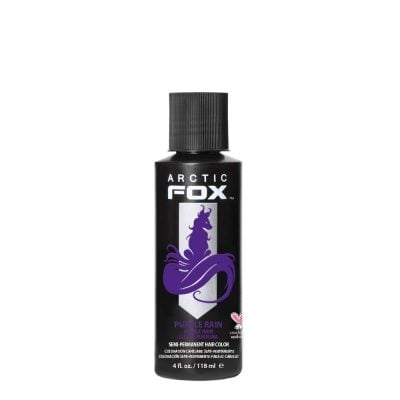 Why we like it:
This vegan hair dye doesn't contain the super dangerous chemicals and can last for up to 8 weeks. It's perfect for anyone who wants to try out purple hair.
Editor's Rating:
Ingredients
This dye doesn't contain peroxide, PPD, or ammonia. It does contain non-natural ingredients, but they're gentle on your hair and scalp. The dye conditions your hair while you use it, so instead of damaging your hair, you'll actually be improving it.
What's best about this hair dye? It's vegan – they don't use any products that come from animals, so you can feel good about using this product.
Shade
Purple Rain is a deep purple. On blonde hair, it looks like a royal purple. On brown hair, it will be very dark to the point of almost looking black. Standing in the sun will allow this color to be seen better, but dark-haired friends, you're going to want to bleach your hair first.
Duration
This is a semi-permanent hair dye that will last up to 8 weeks, depending on your hair and how you care for it. If you wash your hair frequently, spend time in the sun, and go swimming, it won't last but for a couple of weeks. Keep in mind that darker hair loses color more quickly than light hair.
Fading
When the purple starts to fade, it's possible for it to have blue or red tones. Depending on your hair color, your faded purple hair might look magenta, pink, blue, or lavender. Fading greatly depends on the colors that were in your hair before you dyed it.
Overall
We like this dye the most because it's a well-rounded dye. It's not too temporary or permanent, not too vibrant or subtle, and it's one of the safer options on the market. Whether you're new to crazy hair or have had every color of the rainbow in your hair, this is a great dye to use when you're in the mood for purple.
Pros
Vegan

No harsh chemicals

Conditions hair
Cons
Dark hair must be bleached

Won't last long without proper care
---

Why we like it:
This dye is ideal if you're on a budget or don't want to take too big of a financial risk if you're trying purple for the first time.
Editor's Rating:
Ingredients
This dye doesn't contain ammonia, alcohol, or peroxide, so it's safe to use and won't damage your hair. The formula makes your hair shiny while you use it, which makes the purple pop.
Shade
This purple is like a dark grape color on light hair. As usual, it will appear darker on dark hair and might not show up on black hair. However, the color does show up better on dark hair when you're in the sun.
Duration
This is a semi-permanent dye, so it won't last forever. The duration of this dye varies from person to person – some people lose a lot of dye after one wash while others can wash four or five times before the fading is noticeable. If you're looking for a serious commitment, this probably isn't the right dye for you.
Fading
The red undertones will turn your hair orange, red, and pink as it fades. Unfortunately, this dye is known to fade a little more quickly than other dyes. But, this can be a good thing if you're buying a budget dye just to test out a new color.
Overall
As long as you're not looking for something that will last a long time, this is a great pick for those who don't want to spend a lot of money. Maybe you're unsure if purple will look good on you, or haven't yet decided if that's the color you want to go with. This low-priced dye is a great way to try something new.
Pros
Budget-friendly

Suitable for those who don't want long-lasting color

Beautiful grape purple
Cons
Fades faster than other dyes

Fading might leave orange or red spots
---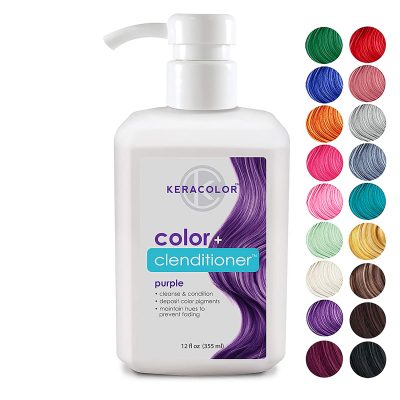 Why we like it:
This high-quality color-depositing cleansing conditioner is excellent for quick dye jobs or maintaining your already dyed hair.
Editor's Rating:
Ingredients
This dye is vegan and doesn't contain any parabens or sulfates. It's free of the harsh chemicals that damage your hair, so you don't have to worry about ruining it.
Shade
The more you use this product, the more color it will deposit. One wash on light blonde hair will leave you with a grape purple. Two washes will be a plum purple, and three washes will leave you with deep indigo. You can apply it to dry hair if you want a more vibrant color.
This is a color depositing cleanser meant for blonde hair. If you try to use it on dark hair, it won't show up, or you'll have to use it repeatedly for some color before it slightly tints your hair.
Duration
This will last around 12 shampoos. When you want to refresh the color, just use it again. You can alternate the Clenditioner with regular shampoo if you want to maintain the color in your hair for an extended period of time.
Fading
This dye will slowly fade as you wash it. It's a blue-based purple, so it might turn shades of blue or green as it fades out. Washing your hair frequently with regular shampoo will help it fade faster.
This Clenditioner can also be used to treat hair that's already dyed purple. If your "pre-purpled" hair starts to fade, this can help maintain it for a while before you have to dye it again. It should be noted that this dye has been reported to fade hair that was previously dyed purple with a different brand of purple. It doesn't happen to everyone, but it's a possibility.
Overall
This is an easy alternative to typical hair dyeing methods. You can apply this while you're in the shower and have dyed hair when you get out. If you want a deeper color, just use it again.
It's also great as a way to maintain purple hair, so even if you choose a different purple on this list, you could pick this one up too just to keep your purple locks longer.
Pros
Easy to use

Long-lasting color with constant application

Maintains purple hair
Cons
Might turn green when fading

Might fade hair that was dyed with other brands
---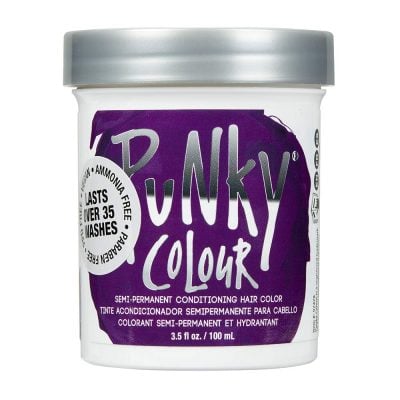 Why we like it:
For those who want their purple to last a long time, this one will last up to twenty-five washes.
Editor's Rating:
Ingredients
Punky Colour Purple is a vegan hair dye that doesn't contain any harmful chemicals. If your skin is sensitive to most hair dyes, this one might be worth trying because it's made to reduce scalp staining.
Bonus feature: no acid dyes mean it's less likely to bleed out on your clothing and pillowcases. It's a win-win, for sure.
Shade
This is a bright purple with red undertones, so it will look like a pinkish-purple on some heads. Some users experience more pink and even red than purple in their hair, but there are several factors that play into it.
Those with darker hair won't have as much a vibrant color compared to those with lighter hair and might see more pink than purple.
Duration
This product is a semi-permanent dye and promises to last up to twenty-five washes. As with most other hair dyes, washing your hair more frequently will mean the color will wash out quicker.
A lot of dye will most likely wash out during the first two or three washes, but the bleeding should stop after that, and the dye should stay in the hair for many more washes.
Fading
Since this purple has red undertones, you can expect to see shades of pink, orange, or red as the colors begin to fade.
Every head of hair is different, so some may experience fading sooner than others.
Overall
If you're committed to purple hair, this is the dye for you. It's received complaints that it doesn't wash out fast enough, so that's a good sign if you're looking for a long-lasting relationship with purple hair. This dye will be good to your hair – it conditions, doesn't have harsh chemicals, and it even smells like grapes!
Pros
Long-lasting semi-permanent dye

Conditions and shines your hair

Vegan and no harsh chemicals
Cons
Red undertones might not be ideal for some

Won't work as well on dark hair
---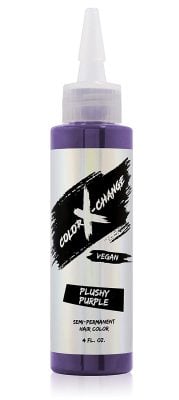 Why we like it:
If you're short on time or a little lazy, this pre-mixed hair dye is a great option – you only need this bottle. Well, get some gloves, too.
Editor's Rating:
Ingredients
This vegan hair dye is PETA-certified, so you can be sure that there are no animal products and it isn't tested on animals. It also doesn't contain PPD, peroxide, ammonia, or other harsh chemicals. It's also gluten-free, too.
Shade
Plushy Purple is a blue-based purple. It's a bright royal purple that doesn't look too blue. On dark hair, it will add a purple tint that will look lighter in the sun. Bleaching your hair is recommended as that's how you'll get the brightest color.
Duration
This is a semi-permanent dye that will slowly wash out every time you wash your hair. How long it lasts will vary greatly from person to person. Some have said their hair was back to normal after just two washes, while others have said it lasted about a month.
Fading
Since the dye has blue undertones, expect to see some blue as it starts to fade. When blue-based purples fade, they tend to blend in with the rest of the hair better than red-based purples do. Instead of pinks and oranges and reds, you get blue tones. This does mean that you might occasionally get some green when it fades.
Overall
Dyeing your hair shouldn't be complicated (and all the lazy people said, "Amen!"). If you're short on time or can't be bothered to spend a lot of time on your hair, this is an excellent choice for you. The dye is pre-mixed, so this bottle is all you need besides a bowl, gloves, and a comb or brush to put the color in your hair.
You don't have to add peroxide; just pour it in a bowl, don your gloves, and get to coloring. If you have dark hair, it's recommended that you bleach your hair ahead of time.
Pros
Pre-mixed and ready to use

PETA-certified

Fades well
Cons
Bleaching dark hair is recommended

Hair might fade to green
---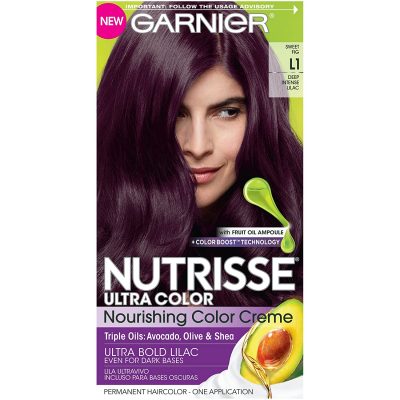 Why we like it:
Most purples are semi-permanent dyes, but sometimes you want something a little more permanent. This dye is subtle enough that you can have purple hair in the office without standing out too much.
Editor's Rating:
Ingredients
This dye is made with many natural ingredients that are healthy for hair, including avocado, shea, and olive oils. They help make the colors bold while helping your hair stay moisturized.
Unfortunately, this dye doesn't have a clean bill of health. It contains hydrogen peroxide and several alcohols, so it isn't the greatest on your hair. Ammonia isn't listed on the ingredients, but this particular box of dye doesn't flaunt that it's ammonia-free like other ammonia-free brands do. Ammonia is usually in permanent dyes to make the dye penetrate deep into the hair to make the color last longer.
The box has a warning about the dye containing skin irritants, which is usually required when a hair dye contains some harmful chemicals. Be careful when you use this dye, and be sure to keep it away from your eyes.
Shade
Lilacs are generally a pastel purple, but this dye is quite the opposite. It's a super deep violet that looks pretty brown from a distance. Expect the color to look brighter in the sun and in certain lighting.
The brownish-purple makes this hair color doable in situations where "fun" hair colors aren't allowed. While the purple will be more noticeable on lighter hair, dark-haired people can feel smug about "getting away with" the purple hair they wanted.
Duration
Permanent hair dye is meant to last. You can expect this dye to last a few months. Some users have reported that this dye fades too fast for a permanent dye, but there are many factors to consider including how often you wash your hair, the type of shampoo you use, and how often you go swimming in water treated with chlorine will all affect how quickly this dye fades.
Fading
Since this dye is a dark shade meant for medium and dark brown hair, the colors will fade beautifully. The purple will lighten slightly as it fades, making it more noticeable. If you're using this to have undercover purple hair in the workplace, you'll probably need to color it again as soon as it begins to fade so it will stay dark.
Overall
This dye is great for those who want a subtle purple that will stick around. The dye isn't recommended for light blonde hair or hair darker than dark brown.
The huge downside to this dye is that it isn't clean like other brands that have been mentioned. The dye isn't certified as vegan or cruelty-free, and it does contain hydrogen peroxide, alcohols, and a warning label. This dye is still safe to use, but it's not the best choice for your hair.
Pros
Long-lasting color

Subtle, deep purple

Fades well
Cons
Contains hydrogen peroxide and alcohols

Might fade too quickly
---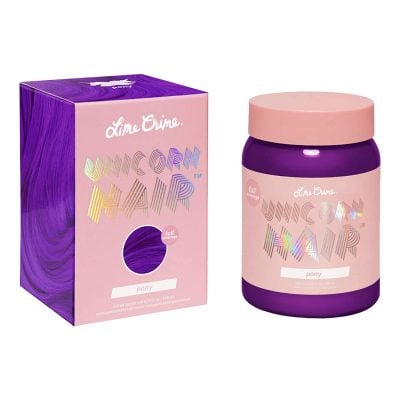 Why we like it:
If you're looking for something brighter than royal purple but darker than lavender, this is the best choice. It's bright without being neon.
Editor's Rating:
Ingredients
This is another vegan hair dye that doesn't contain ammonia, peroxide, bleach, or other harsh chemicals. This hair dye is PETA and Leaping Bunny certified, so it's vegan and cruelty-free and doesn't contain animal products and it isn't tested on animals.
This hair dye has a nice fruit scent and conditions your hair while you use it. It doesn't smell or feel like a harsh dye.
Shade
The name of this color is Electric Violet, and that's exactly what you get. It's vibrant and bright and will surely make you stand out in a crowd. If you're not keen on getting attention, this might not be the color for you.
The shade of purple is like a bright grape or royal purple. On darker blonde, the purple will look deeper and on light brown hair, it will only tint the hair. Unfortunately, you shouldn't expect it to show up at all on dark hair. Bleaching is necessary for this electric color to show up.
Duration
This dye is heavily pigmented, so it won't lack any color, and the color will stay in your hair for quite a while. It's a semi-permanent dye, and its duration will depend on your hair and how you care for it. If you want it to last a long time, use sulfate-free shampoos.
Fading
Lime Crime makes their hair dye with the intention to make it fade slowly over time. Each time you wash it, the color will fade little by little.
This dye has red undertones and tends to fade into a fuchsia color.
Overall
If you want to be bold, this is a great option for you. You probably won't see it on dark hair, so you'll need to use bleach if you don't have blonde hair. Even if you have blonde hair, bleaching to a platinum blonde is highly recommended for this dye to work as intended.
Pros
Heavily pigmented for bold color

Vegan and cruelty-free

Smells like fruit
Cons
Requires bleach

Every wash will remove some dye
---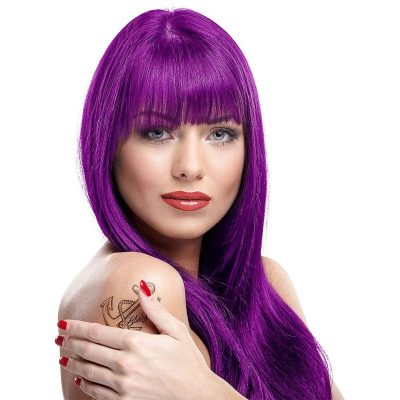 Why we like it:
This dye works best on level 9 or 10 blonde hair. If you have light hair, you can easily bleach your hair to platinum blonde to get the most vibrant color possible with this dye.
Editor's Rating:
Ingredients
This dye is free. No, not free as in money, but free in the sense that it doesn't contain PPD, ammonia, parabens, gluten, phthalates, or resorcinol. It's safe for your hair and it's safe for the animals too – it's vegan and cruelty-free.
Shade
This purple is arguably the most pigmented and vibrant purple you can get. It's somewhere between an eggplant and a grape and it's super vivid. The dye is three times more pigmented than the other Manic Panic dyes, so you're sure to get the bright color you want with this.
This only works as intended on light blondes. If you can go platinum, that will give you the best results. It will be much darker on medium and dark brown hair, and you likely won't see it on black hair.
Duration
The product promises six to eight weeks, but many users say it only lasted a few washes. As with all the other recommended products, how you treat your hair plays a big part in how long the color lasts. Since this hair dye is recommended for light hair, you can expect it to last longer on light hair than it will on dark hair.
Fading
When the color starts to fade, it will turn to a light purple or mauve color. It might start to look grey in some areas once the color is almost gone.
This dye tends to rub off on pillowcases and couches, so be careful when you use it. Just to be safe, don't let your wet or damp hair come into contact with any surfaces. In some cases, it even rubbed off while the hair was dry.
Overall
If you have light blonde or platinum hair, this is the best color to use because it's the most vibrant. It stands out among the other purple colors. This color is known not to last as long as it's promised to, so that's a significant downside to this dye.
Pros
Bright and vivid color

Fades into light purple or mauve

Safe to use on hair
Cons
Doesn't last as long as it should

Color may run onto clothing, pillowcases, etc.
---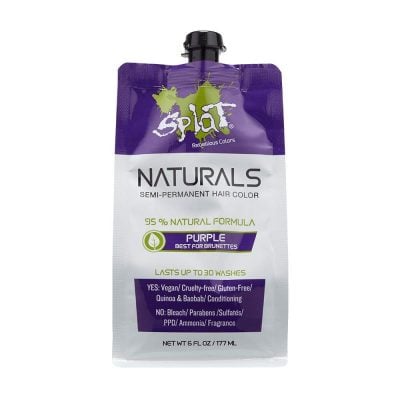 Why we like it:
Designed specifically with brunettes in mind, this hair dye doesn't require any bleach, yet you'll get a vibrant color in your dark hair.
Editor's Rating:
Ingredients
This is another dye that's free of all the harmful chemicals. It even has vitamin B5 to keep your hair healthy. The dye and packaging are eco-friendly – this dye uses far less packaging than most other dye kits on the market.
Shade
Brunettes, rejoice! While you won't get a whimsical pastel or a vibrant grape color without lightening your hair (only blondes can have fun), you'll still get noticeable purple in your hair. Light brown hair works best, and it will have a lovely plum shade of purple. Darker hair will be a darker plum color that will be more noticeable in the sun.
Duration
Duration varies significantly with this dye. Some have reported over a month with little change in color, while others lost all the color with just a few washes. Dark hair will lose color more quickly, even if a dye says it's for brunettes. No dye is ever for brunettes.
Fading
Since the plum color is a red-based dye, your hair will most likely show red tones as it begins to fade. If your hair is dark, it might be able to blend a little better.
Overall
This is arguably the most visible hair dye for brunettes. It's not perfect, but it's a great option if you don't want to ruin your hair with bleach. This dye will leave your hair feeling soft so you'll be doing your hair a favor.
Pros
Visible on dark hair

Vitamin B5 improves hair

Eco-friendly

Doesn't require bleach
Cons
Works better on lighter brunettes
---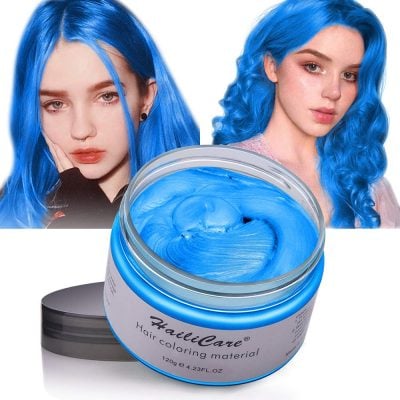 Why we like it:
This hair wax is a quick and easy way to get vibrant color in your hair without the commitment. It's a great option for parties or children.
Editor's Rating:
Ingredients
This hair wax is made from mostly natural ingredients, including beeswax, tea extract, and licorice extract. It has very few chemicals in it, and it easily washes out, so if you experience any kind of irritation, you can quickly get it out of your hair to avoid further discomfort.
This product isn't vegan since it contains beeswax, which may be a dealbreaker for some people.
Shade
This purple stays true to the color in the jar for the most part. As with most hair dyes, it'll look brighter on light hair and darker on dark hair; however, it does stay pretty vibrant on most dark hair, so brunettes, rejoice! Black-haired friends, you might have a harder time getting this to show up on your hair.
Duration
This hair wax is absolutely temporary. It should only take one wash to come out. In some cases, it might take two washes to get it out. Temporary dye might last longer than advertised on porous hair.
Fading
This hair wax won't fade since it's the wax that contains the color, and not your hair. Many hair dyes deposit color into your hair so the color will last longer, but this one only goes on top of the hair. Think of it like sunscreen – you're only protected for as long as the sunscreen is on your skin. Similarly, your hair will have the full color for as long as the color is on your hair.
Overall
This dye is ideal for those who don't want to make a commitment. Parents, if your child is begging for crazy hair and you're not comfortable with exposing their hair to harsh chemicals, this is the right product for you. They can have colorful hair on the weekends, and it'll be out before they go to school on Monday.
Take note that this is wax so it might dry up and chip out of your hair. It shouldn't stain any surfaces, but you might find little piles of flakes here and there.
Pros
Suitable for most hair colors

Easily wash it out

No permanent effects

No harsh chemicals
Cons
Can dry up and flake

Might not be vibrant on really dark hair
---
Guide to Buying the Best Purple Hair Dye
There are many dyes to choose from and it can be difficult to know what to buy. Also, how do you pick a purple that will look good on you? And will it even stay in your hair? Most of these things you won't know until you try out a dye, but it is possible to know what will work with your hair type.
Know Your Hair
Is your hair fine, medium, or thick? Is it straight, wavy, or curly? Those are relatively easy to answer. But how porous is your hair? If you're not sure, that's okay – most people don't know.
How to Tell if Your Hair is Very Porous
The porosity of your hair will play a big part in how well your hair absorbs hair dye. To find out your hair porosity, get a bowl of water and drop a strand of hair into it. If it floats, your hair isn't very porous. If it hangs out underwater but isn't at the bottom, you have "normal" hair. If it's at the bottom of the bowl, you have very porous hair.
Porous hair absorbs moisture. When the strand of hair sinks to the bottom of the bowl, it's absorbing crazy amounts of water. You can expect your hair to act the same way when you apply dyes to it. If your hair floats toward the top of the bowl of water, there's bad news for you: don't anticipate hair dye to last longer than a few washes.
Porous Hair Affects How Long Dye Lasts
Porous hair will most likely stay dyed longer than the dye advertises. That's not a problem unless you're looking for something temporary. "Normal" hair will probably keep the dye for about as long as the box says unless you use a shampoo with sulfates, wash your hair frequently, or go swimming (chlorine is harsh on hair dye).
If you see conflicting reviews for hair dye, porosity is something to think about. Every head of hair is different. Blondes usually get to have more fun with hair dye than brunettes, but a blonde that doesn't have porous hair might only get a few days out of their dye job.

Temporary vs. Semi-Permanent vs. Permanent Dye
As you shop for hair dye, you'll notice permanent, semi-permanent, demi-permanent, and temporary hair dyes. The differences may seem obvious (of course a permanent dye will last longer than a temporary dye!) but it's the science behind them that sets them apart.
Temporary
Temporary dyes only work on the surface of your hair. You might get lucky and have the dye last for two washes, but they're usually a one-time use. If you have really porous hair, it's more likely to stick around longer. You can also try a temporary wax, like HailiCare Hair Color Wax.
Semi-Permanent
Each hair is made of layers and dyes require chemicals to get into deeper layers. Semi-permanent dyes don't usually contain the chemicals necessary to go deep into your hair, so color is only deposited in the outer layer. These dyes are usually safer to use and will last for up to 12 shampoos.
Demi-Permanent
These dyes last longer than semi-permanent and contain a little bit of hydrogen peroxide so the dye can go deeper into the hair. You'll probably get 24 shampoos out of the color. You can use this one to cover up grey hair; semi-permanent and temporary dyes aren't able to cover them.

Permanent
These dyes use ammonia and hydrogen peroxide to lighten and change the color of your hair. In terms of chemicals, they're the least safe to use. They go to the core of each hair and change the color of it. These dyes won't wash out, and you'll have to touch up your hair as the roots grow out. Haircuts and recoloring are the only ways to get rid of these dyes. If you know you want purple long-term, give a permanent dye like Garnier Nutrisse – Deep Intense Lilac a try.
Choosing What Suits Your Skin Tone
Your skin tone can help you choose a shade of purple if you're a little indecisive. Look at the veins on your wrist – if they're blue, you have cool undertones; if they're green, you have warm undertones.
Those with dark hair and cool undertones should go with a deep purple while light hair and warm undertones should use a warm or pastel purple. Dark hair doesn't take color as well as light hair, so choosing a warm or pastel purple will be more difficult to maintain than a dark purple. (Dark purples fade beautifully with dark hair, too.)
It's all up to you, of course. Dark hair and cool skintones can definitely work with pastel purple if you want to put the time and effort into it, and light hair and warm skintones will make deep, royal purples stand out even more.
Long-Term Care for Long-Term Color
Unnatural hair colors just don't last like the browns, blondes, and blacks do. If you want purple hair that will stay, you're going to have to actively make it stay. Follow these tips to make your purple last longer:
Slow the brakes on washing your hair: Shampoo strips your hair of color, especially if the shampoo contains sulfates. Don't wash your hair as often when you have purple hair. Wait a few days after dyeing your hair before you wash it again, and try to wash only 1-3 times a week. (Dry shampoo will be your best friend.
Avoid the heat: Curling irons, hair dryers, and the sun are your enemies. Well, they're at least not friendly to your purple hair. The heat and UV rays will quickly fade your hair, so you need to protect it. Use protective sprays when you style your hair and wear hats when you go outside. Hot water isn't good, either so yeah – that means colder showers.
Coloring conditioner: Use a conditioner that will deposit purple dye in your hair so you can slow down the fading process. Coloring conditioner isn't perfect, but it will definitely help, especially if you can't stand the idea of washing your hair less frequently.
Dye frequently: Purple requires commitment, so if you want long-lasting purple, you're going to have to reapply it frequently. It can be expensive and take up your whole Saturday (depending on if you have to spend time bleaching your hair), so you might decide it's not even worth your effort.
Final Thoughts
Whether you're new to dyeing your hair the colors of the rainbow or you dye your hair a new color each week, purple is an ambitious color to try. It's eye-catching and bold and requires a lot of maintenance. But, having that galaxy-like head of hair makes it worth the trouble.