A great curling iron allows you to completely transform your look in a matter of minutes. Whether you want full, glamorous curls or soft, multidimensional waves, a curling iron can help you achieve that style. In this guide, we'll talk about what features you should look at as you compare curling irons, give you some tips on how to use a curling iron to perfect your style without overly damaging your hair, and show you the 10 best curling irons for short hair for 2021.

How to Choose the Right Curling Iron
Choosing the right curling iron for your hair type and style needs will come down to choosing the right barrel size, temperature range, material, and type. In this section, we'll quickly look at what kind of options you'll find for each of those factors.
Barrel Size
Curling irons come in a wide range of different sizes, from as narrow as 0.3" to as wide as 2". You may have heard the rule of larger barrel sizes meaning looser curls. This is true. However, what defines "large" and "small" barrel sizes for you depends entirely on your hair length.
You'll read more about why and how your hair length influences the barrel size you should use below.  For now, just know that those with short to medium hair should stick to barrel sizes between 0.3" and 1". The larger sizes above 1" will have limited or no noticeable effect on your shorter locks.
Temperature Range
Curling irons generally have temperature ranges somewhere between 200° and 450° Fahrenheit. The temperature you use depends entirely on the thickness of your hair and the level of definition you want in your curls.
For fine or damaged hair, stick to the low end of that range. You should also avoid curling irons that max out at too high a temperature because even the best irons will fluctuate in temperature a little throughout the styling process. You may have it set to 300°, but it could fluctuate as much as 40° in either direction. So, your delicate strands could be exposed to those higher temperatures if you're not careful.
Higher temperatures are really only meant for those with coarse or dense hair that is difficult to curl. You need more heat to get your strands to respond at all. In that case, you definitely need one that can reach those 400° and above temperatures in order to achieve the same looks that your finer-haired counterparts are getting with just 300°.
In addition to hair type, your decision on temperature also comes down to the amount of definition you want. For strongly defined ringlets, you need to bring on the heat. For looser, more textured waves, use a lower temperature. However, for those with fine to average hair, your maximum temperature should still be below 400°.

Barrel Material
Curling irons are most often found in three varieties: ceramic, titanium, and tourmaline. Each material comes with its own benefits and trade-offs, which we explore in detail later on.
The one that will work best for your hair depends on your hair type and the style you're going for.
Ceramic
Ceramic is a newer option on the market that offers a much more consistent heat and a gentler effect on your hair. It can heat faster than titanium and tourmaline and then maintain that temperature more consistently during the styling process.
It's a safe and effective choice for all hair types, especially fragile hair that can't withstand high heats. You can get a great style without using as high a heat setting since the temperature doesn't fluctuate as much.
Titanium
Titanium allows for the most lightweight and portable curling iron options. It's also the most durable of the materials. It can heat quickly and achieve the highest temperatures. If you have thick or coarse hair, titanium is the material that will be able to get hot enough to actually achieve the look you're trying to go for.
Tourmaline
Tourmaline is a semi-precious gemstone that is crushed and then used to create a coating over the wand of your curling iron. The iron underneath will be either ceramic or titanium. What the tourmaline coating does is release negative ions and prevent friction.
The negative ions help to neutralize any frizz that the curling process creates. The lack of friction helps prevent fly away strands from developing in the process.
Tourmaline coating was developed with fine or damaged hair in mind. It's meant to minimize the damage caused by the curling iron as much as possible so that you can achieve the styles you want without harming your hair in the process.
Type
There are many different types of curling irons from the classic conical wand to the automatic curler. Different types offer different styling functions and features, so choose the one that best fits the type of style you're trying to achieve.
The most common types of curling irons are the conical wand and the wand with a clip but bubble wands, automatic curlers, and waver wands are growing in popularity as they offer more convenient and less labor-intensive styling options. Later on in this guide, you'll find a quick overview of the most popular types.
Now that you've got a better idea of what features you should be looking at as you compare curling irons, take a look at our 2021 recommendations below:
Top 10 Best Curling Irons for Short Hair 2023

Why we like it:
The dual direction automated curling feature makes styling effortless while the exposed wand design allows you to take back manual control whenever you want.
Editor's Rating:
Quick Facts:
Barrel Material: Ceramic
Barrel Size: 1"
Max Temperature: 420°
Type: Automatic Curler
This automatic curler is a great example of the kind of convenience and quality you can find on the market today. The automated spinner allows you to achieve a fast yet even curl for a consistent result across your entire head.
Barrel Size and Material
The 1" barrel size is a great transitional diameter. It'll work for hair of all lengths to provide either the perfect beachy wave or, with the high setting, more defined glamorous curls. Combine that with the ceramic material and you have something that's ideal for all hair lengths and densities. The ceramic will help prevent frizz and breakage while the size offers a variety of styling options.
Heat and Styling Options
With a maximum temperature of 420°, this is one of the few automatic curling irons that is actually hot enough for thicker, coarser hair. Meanwhile, the low setting is safe and effective for fine to average density hair.
In addition to powerful heat settings, you also have a dual direction turning. With this, you can wrap the hair toward your head for a more glamorous, less voluminous look. Alternatively, use the other arrow button to curl it away from your head to add volume and bounce to your hair.
The main drawback to this model is the limited number of heat settings. You can either set it to "high" or "low." There's also no turbo heat button so there are some limits to your ability to create more advanced looks. However, for your regular weekend looks, this tool is more than enough to get the job done.
If you are looking for more precision and control, however, you might be better off with this Hot Tools model.
Safety
One of the best safety features built into this curling iron is the auto shutoff. Even if you leave the house and forget to turn the curling iron off, it will turn itself off after 90 minutes.
The automatic curl feature and the placement of the handle also add to the safety of the design. Because of these elements, your hands never have to go near the hot barrel of the curling iron.
Pros
Automated curling in two directions

Maximum temperature of 420° is suitable for thicker hair

Ceramic wand prevents frizz and damage
---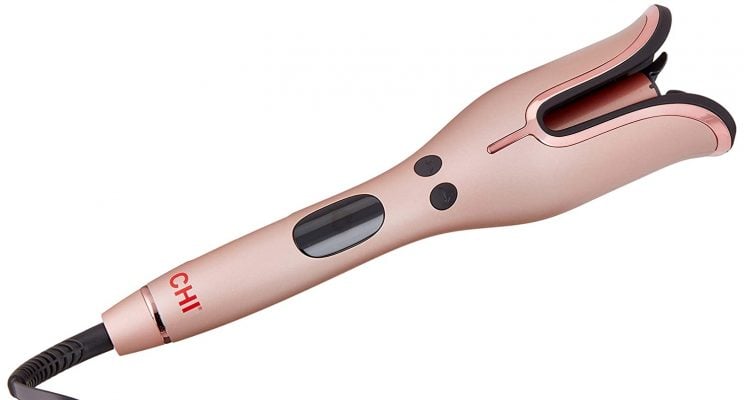 Why we like it:
This automatic ceramic curler is gentle yet effective for creating a frizz-free look with minimal effort.
Editor's Rating:
Quick Facts:
Barrel Material: Ceramic
Barrel Size: 1"
Max Temperature: 410°
Type: Automatic Curler
While it is one of the more expensive curling irons on the market, it offers a lot of great features to warrant the higher price. You get all the convenience you expect from an automatic curler along with a little more customizability than you usually see in this type of curling iron.
Barrel Size and Material
This model offers a 1" barrel size. This can serve a wide range of purposes, so it's a great mid-range size to have. The ceramic wand offers that negative ionization functionality that ceramic is famous for so you can prevent frizz and breakage as you style your hair.
Heat and Styling Options
This automated curler features a 1" wand inside a wide shell that protects your hands from the heat while keeping your hair securely wrapped around the wand. You simply insert a strand of hair, push the button, and allow the iron to wrap it around the wand. There are directional buttons so that you can wrap the hair either towards or away from your face.
Unlike other automatic curlers, however, you get to choose your temperature. The digital display shows you the exact temperature in Fahrenheit rather than vague settings like "high" or "low." You can adjust to a specific temperature of your choice or use one of the three preset temperature settings provided. This is far more control than you usually have with automatic curlers.
Safety
The most unique safety feature on this curler is the large case that houses the wand. This case stays cool enough to go right up against your head, allowing you to isolate a lock of hair and allow it to wrap around the wand without tangling your other hair or burning your scalp in the process.
There is also an automatic shut off feature that kicks in when the curling iron has been on for an hour. This happens regardless of whether you're using it or not. So, for most personal uses, that's fine as you probably won't spend more than an hour curling your hair. On the rare occasion that you do, you can easily turn the iron right back on again after the auto shut off without losing too much heat.
For professionals, however, this auto shut off feature can be an annoyance if you've got a long day of styling ahead of you and you need your curling iron to stay on and ready to go for a full work day. In that case, you might prefer something without auto-shutoff like this BaByliss curling iron.
Pros
Ceramic wand to reduce frizz and static

Precision temperature control

Versatile 1" wand

Dual-direction rotating barrel

Built-in heat guard

Convenient, automatic functionality
Cons
Auto shutoff safety feature may be inconvenient for professional stylists
---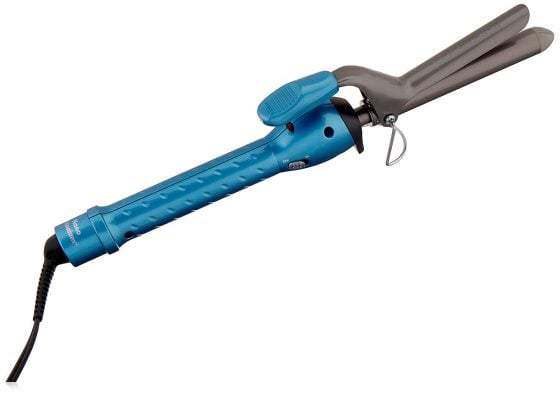 Why we like it:
For those who need unrestrained heat for maximum efficiency, this titanium curling iron is one of the best choices available.
Editor's Rating:
Quick Facts:
Barrel Material: Titanium
Barrel Size: 0.75"
Max Temperature: 450°
Type: Wand with Clip
With a high maximum temperature, a lightly textured titanium surface, and a clip to hold your ends in place, this is a salon-quality curling iron that will tame even the unruliest of hair. This is a great option for people who have had little luck with gentler or cooler curling irons.
Barrel Size and Material
This model features a 0.75" barrel, which is best suited for medium curl sizes on short hair. However, they also offer a variety of size options ranging from 0.75" to 1.5" all at a similar price point so you can get the same functionality at whatever size best suits your hair length.
The titanium wand is built to heat fast and reach extreme temperatures. There's no anti-frizz or static reducing functionality about it. It's all about the heat. This is what makes it such a great choice for thick or difficult to manage hair.
However, for finer or even average density hair, this curling iron may be a little too intense and lack the protective features you need to prevent breakage. For those who need something suitable for daily use or just generally gentler on your hair, consider this Remington curling iron with both pearl coating and a ceramic barrel for maximum protection.
Heat and Styling Options
With a maximum temperature of 450° and a turbo heat button, there's no head of hair too thick or unruly for this curling iron. If the highest temperature still isn't giving you the definition you want, use that turbo heat button to instantly blast an additional jolt of heat.
This impressive high heat and fast heating time comes with drawbacks, though. For those with fine or even average hair density, this might do some serious damage. Even those with thicker hair should avoid using this hot tool on a daily basis.
If you use it more than twice a week, make sure you follow our damage-prevention tips below for taking care of your hair and minimizing damage.
If your hair is already damaged or dry, you may prefer a gentler curling iron like the Infinitipro, which is made with a tourmaline ceramic blend and offers safer heat levels for your delicate locks.
Safety
There are no real safety features on this curling iron. The design does minimize the need to keep your hands near the heated wand, so there is a lower risk of burns. However, there's no auto-shutoff feature.
So, if you leave the house with that uneasy feeling that you left your iron on, it's just going to stay on all day unless you go back to turn it off. You'll have to be more proactive about remembering to do that.
If your morning routine is too hectic to consistently remember to turn off your curling iron, consider a model that does include an auto-shutoff feature like this curling iron from Kipozi.
Pros
Extra high 450° maximum temperature

Clip design for easy glamorous looks

Variety of barrel sizes available
---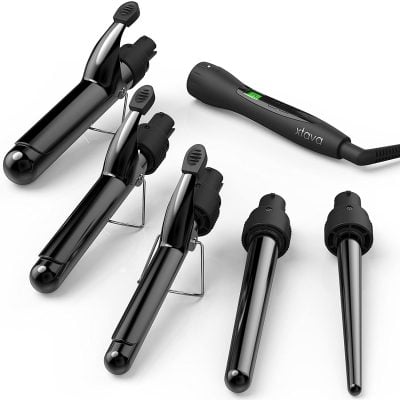 Why we like it:
With multiple barrel sizes, including a conical wand, you can style any length of hair to achieve any look you want.
Editor's Rating:
Quick Facts:
Barrel Material: Tourmaline Ceramic
Barrel Size: 0.3"-1.25"
Max Temperature: 410°
Type: Interchangeable
This curling iron set includes five interchangeable wands ranging from 0.3" to 1.25" and including a mix of conical wands and wands with clips. If you want to go full glam with perfect ringlets, you can do it with this. If you want loose, textured beach waves, you can do it with this, too.
Barrel Size and Material
The largest three barrels feature clips and a ceramic wand for frizz control and static-free curling.  These are great for loose wave styles or adding volume. The smaller two barrels are conical wands which means you get a range of widths along the length of the wand.
So, even though it features five attachments, it actually comes with approximately 13 different barrel size options when you include the range of widths on the two conical wands. This is about as versatile as you could hope to get with a single curling iron set.
This versatility makes it a great pick for professionals who will be styling a wide variety of hair lengths or for households where more than one person will be using the set.
Heat and Styling Options
The base provided for the interchangeable wands features nine different preset heat settings ranging from 250° to 410°. This range is perfect for customizing it to the exact needs of your hair.
With the five wand attachments, you have a full range of styling options. Anything you want to do for almost any length of hair is doable with this set.
Safety
The only built in safety feature is the auto-shutoff, which kicks in at 60 minutes. This is a good feature to have personal use. With the clip style wand attachments, that's really the only safety feature you need.
With the two smaller conical wands, however, it would have been nice to see a heat protective glove included. Without the clip, you have to manually hold your hair in place while it's wrapped around the wand. This leaves you vulnerable to accidentally slipping your hand and burning it.
Consider buying your own heat protective glove to go with this set, or check out a set like the Bestope 5-in-1, which includes a glove.
Pros
5 different attachments for a full range of styling options

9 heat settings for precision temperature control

A variety of clip wands and conical wands for maximum versatility

Frizz and static control ceramic barrels
Cons
No heat protective glove included
---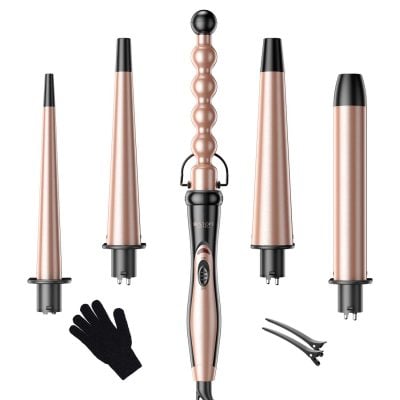 Why we like it:
The variety of wand types and extra accessories make this 5-in-1 set a great choice for anyone who wants a full range of styling possibilities.
Editor's Rating:
Quick Facts:
Barrel Material: Tourmaline Ceramic
Barrel Size: 0.35"-1.25"
Max Temperature: 410°
Type: Interchangeable
The gorgeous rose gold wands are a mixture of straight barrel, conical wands, and bubble wands to provide an extensive range of styling options for all hair types and lengths. It's a beautiful set to keep at home for creating salon-quality looks for those weekends or nights out.
Barrel Size and Material
The five barrel attachments range in diameter from 0.35" to 1.25" so it's a great selection for those with short to medium hair. You'll be able to achieve everything from glamorous ringlets to messy beach waves.
Each wand is a tourmaline coated ceramic to provide as much frizz control and static reduction as possible as you style your hair. This means you end up with shiny, soft, and well-defined curls.
Heat and Styling Options
The base for the interchangeable wands provides rapid 60-second heating up to 410°. The only downside is that there is no temperature control: it's just on or off, so you have no choice but to use 410° for all your styling.
That may be a dealbreaker for those with fine hair that shouldn't be exposed to temperatures above 400° and it does limit your ability to create a variety of loosely and tightly defined curls. For those who need something with lower temperature options, the Conair Instant Heat curling iron with precision temperature control may be a better choice.
However, those with thicker or coarser hair that doesn't respond to anything below 400° anyway won't have a problem with this curling iron set.
Safety
The safety features included are a convenient 60-minute auto shutoff and a heat-protective glove. Each wand also includes a larger than average cool tip so that you can hold the top of the curling iron comfortably without burning your fingers.
Pros
Multiple convenient safety features

Wide range of wand sizes

Tourmaline coated ceramic for frizz-free styling

Lots of accessories included
---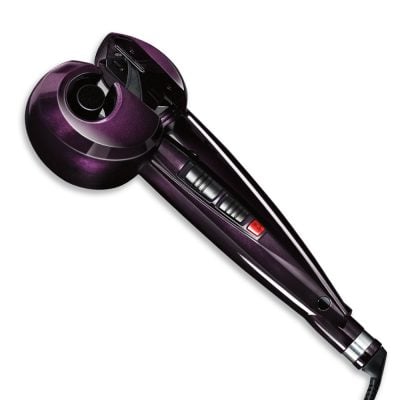 Why we like it:
This easy-to-use automatic curler is a great pick for those who are new to curling irons and hair styling in general.
Editor's Rating:
Quick Facts:
Barrel Material: Tourmaline Ceramic
Barrel Size: 0.75"
Max Temperature: 400°
Type: Automatic Curler
This automatic curler for short to medium hair is a great pick for those who want to take the effort and hassle out of styling their hair. It offers a moderate amount of customizability but otherwise the styling process is almost entirely automated.
Barrel Size and Material
The smaller barrel size is ideal for short to medium hair and you can adjust the tightness of the curl by adjusting the time setting. So, those with shorter hair can create everything from glamorous curls to loose waves.
The inner barrel is coated with tourmaline and ceramic that helps reduce frizz and prevent static. So, you end up with a glossy, salon-perfect look without all the effort or expense that entails.
Heat and Styling Options
The curl secret model features an automatic curler and a beep alert when the hair is ready to be released. This makes it the most beginner-friendly and convenient design on the market. All you have to do is separate a 1" lock from the rest of your hair and let the curling iron do the rest.
A key drawback to this model is the lack of precision heat controls. You have just two heat settings available: high and low. There's also no turbo or quick heat button for a fast blast of heat to add definition to your curls.
For those who need more precision control of the temperature, you might prefer the Hot Tools gold curling iron, which features a heating dial based on actual temperatures rather than vague "high" or "low" settings.
Safety
With the hot barrel safely tucked away inside the case of this automatic curler, your hands are kept away from the dangerous heating elements. There's no heat protective glove included but there also is no need to use one.
It does have an auto-shutoff feature, though. This feature kicks in after it's been on for 60 minutes or if it detects any tangling in your hair.
Pros
Automatic curling creates consistent curls across your head

Auto beep takes the guesswork out of when to move on to the next lock of hair

Ceramic tourmaline barrel for frizz and static control
---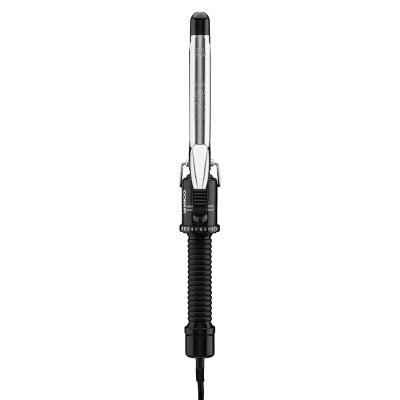 Why we like it:
The large barrel size and 25 heat settings make this a great choice for getting those wave styles.
Editor's Rating:
Quick Facts:
Barrel Material: Metal Alloy
Barrel Size: 0.75"
Max Temperature: 400°
Type: Wand with Clip
This is an affordable curling iron that has all the features you need and enough customizability to feel like a professional tool. Its large barrel size is the perfect choice for those looking to get perfect beachy waves.
Barrel Size and Material
The metal alloy is a blend of chromium, nickel, copper, and steel. While these don't get as hot as titanium, they do heat quickly. The brushed texture of the barrel also adds some grip so that your locks stay in place.
For those with really soft or recently-conditioned hair, trying to keep those slippery strands evenly wrapped around the barrel can be tough. That brushed metal texture makes it easier.
This barrel is 0.755" which is in the middle range of the spectrum you'll be looking at for short hair. It's best suited to creating gorgeous, multidimensional waves in above-the-shoulder hair. For tighter curls, Conair also offers this same curling iron with a 0.5".
Heat and Styling Options
What sets this iron apart from the rest are the 25 heat settings and the turbo heat button. The highest setting is 400°, but the turbo heat button adds an additional 36° blast for extra definition on your curls when you need it.
One feature that is missing, however, is a temperature lock option. The placement of the buttons on the handle makes them easy to accidentally press while you're styling. So, you need to be careful to avoid going too high or too low as you curl your hair.
If you'd prefer to skip that stress of worrying about accidental temperature changes, check out the Conair curling iron that has a temperature control feature.
Safety
There is a 60-minute auto-shutoff feature and a well-designed handle that keeps your hand far from the heat. However, this curling iron does not come with a glove, and the cool tip is a little on the short side. Fortunately, it's a clip-style wand, so you have less of a need to hold your hand near the hot wand.
Pros
25 heat settings for maximum temperature control

Fast-heating metal alloy barrel

Wide barrel size is great for loose waves
Cons
No temperature lock feature
---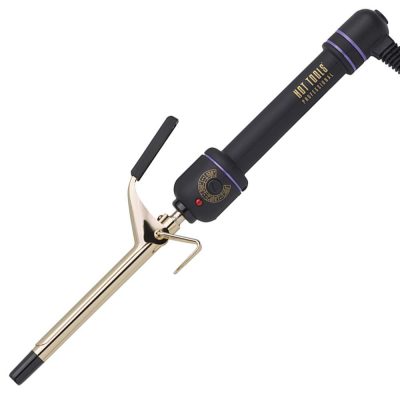 Why we like it:
The gold barrel looks elegant and offers rapid heating for glamorous, well-defined curls.
Editor's Rating:
Quick Facts:
Barrel Material: Gold
Barrel Size: 0.5"
Max Temperature: 430°
Type: Wand with Clip
The wide temperature range, gold barrel, and clip style design all contribute to a professional-grade curling iron that will help you create glamorous evening looks or textured beachy waves.
Barrel Size and Material
The 24k gold barrel is not just an unnecessary extravagance. Gold is a highly conductive metal that can withstand hot temperatures without melting. It's also better at retaining a consistent heat than other metals.
At the same time, it's a little gentler on your hair than, say, titanium. It's not as gentle as ceramic or tourmaline. But for someone with coarse hair that just can't be curled with anything less than the hottest curling iron, going for the gold barrel can help minimize some of the damage that comes with those higher temperatures.
Just be careful if this is your first gold curling iron. They get very hot very quickly so don't immediately go for the highest setting or even the setting you normally use. Start somewhere in the middle range and adjust from there to find your optimal temperature.
If the 0.5" is not the right size for the style you want, Hot Tools also makes this model in a range of other sizes as small as 0.375" and as large as 2" so you can get the perfect fit.
Heat and Styling Options
One of our favorite features on this curling iron is the temperature control dial. It shows you the actual temperature rather than an undefined setting level, and allows you to adjust the dial anywhere between 280° and 430°. You get precision control and an incredibly wide range of temperatures.
This gives you full control over the looks you create with this tool and makes it suitable for all hair types from the finest and most fragile all the way to the coarsest and most unruly.
Safety
The handle has a great design that keeps your hand far away from the hot part of the curling iron and away from the temperature control dial. The cool tip is extra long so that you have plenty of room to hold it without burning your fingers.
It doesn't have an auto-shutoff feature, though. This is likely because it's designed for professionals who need it to stay on for hours at a time. However, for personal use, the lack of this safety feature can be inconvenient.
If you'd prefer the peace of mind of a curling iron with auto-shutoff, check out the Remington curling iron which also offers great temperature control.
Pros
Unique gold-plated barrel

Wide range of temperature options

Precision temperature control

Quality design that minimizes the risk of burns
---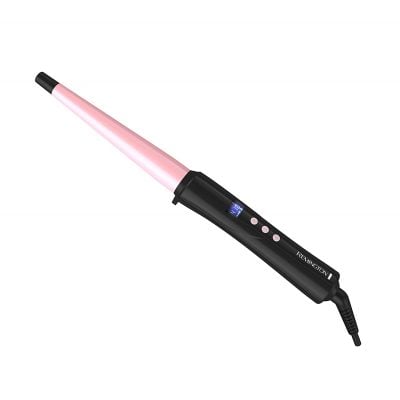 Why we like it:
This affordable conical wand offers versatility at a very beginner-friendly price, making it a great pick for the budget-conscious or the first-time users out there.
Editor's Rating:
Quick Facts:
Barrel Material: Ceramic and pearl
Barrel Size: 0.5"-1"
Max Temperature: 410°
Type: Conical clipless wand
With a conical wand and ten heat settings, this is a surprisingly feature-rich curling iron for this price point. It offers frizz control as well as a high enough maximum temperature for thicker hair.
Barrel Size and Material
At the base, the wand is 1" in diameter and narrows down to 0.5" at the top. This makes it a great option for those with short to medium hair. You can get looser waves at the bottom and tighter curls near the top.
The wand is a metal alloy coated in a blend of ceramic and crushed pearl. Crushed pearl is a variation on tourmaline, working with the ceramic to create a negative ionic environment that minimizes frizz and friction. It also has the added perk of creating a glossy, blush pink appearance that will look lovely in your bathroom.
Heat and Styling Options
The ten heat settings preprogrammed into this curling iron range up to 410°, providing the optimal range of temperatures for most hair types. An added unique feature is the temperature lock function.
Like most curling irons, the temperature control buttons are on the handle. So, it can be easy to accidentally push the buttons and change the temperature while styling. With the temperature lock, you can ensure that the temperature you want stays consistent, even if you accidentally push the control buttons.
Safety
This curling iron includes an auto-shutoff feature and comes with a heat-protective glove. These are great features for personal use, allowing you to style your hair and leave the house worry-free.
The only issue is the lack of adequate handle space. The upper part of the handle is close to the heating element so it can get hot after about 30 minutes of use. You may want to get a second heat protective glove for this hand if your styling takes more than 30 minutes to do.
For professionals or those whose hair takes a long time to style, you might prefer something with a better-positioned handle like this curling iron from Conair.
Pros
Conical design offers a variety of styling options all in one wand

Ceramic pearl coating prevents frizz and static

10 heat settings for optimal temperature control

Great safety features like auto-shutoff and a heat protective glove
Cons
Handle gets hot after about 30 minutes of use
---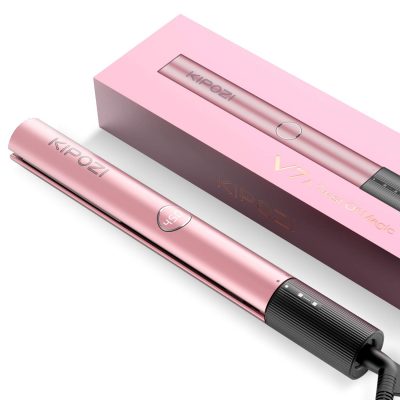 Why we like it:
This 2-in-1 hot tool works as both a straightener and a curler, making it ideal for styling your hair on the go.
Editor's Rating:
Quick Facts:
Barrel Material: Titanium
Barrel Size: 1"
Max Temperature: 450°
Type: Wand with Clip
This titanium curling iron offers high temperatures and precision heat control along with the functionality of a 2-in-1 design. It's lightweight, sleek, and surprisingly versatile. Frequent flyers and professional stylists alike will appreciate how little space it takes up and how many features it offers.
Barrel Size and Material
When you're looking for an all-purpose, on-the-go hot tool, the 1" barrel size is the best size you can pick. It's the most versatile size since it can achieve elegant styles on any length of hair, even if the exact style you get will differ based on hair length.
The advantage of titanium is that it heats up fast and it can heat to a high temperature without breaking down. This is why you can get those impressive 450° levels. However, the drawback is that titanium is not gentle on your hair and it can create some static. For hair that's already damaged or dry, your resulting style may have some frizz or fly away strands.
If you're using a titanium curling iron like this, you'll want to use a curl defining spray or other frizz control product. If you'd rather skip that extra step of frizz control, opt for a ceramic curling iron like the CHI Spin n Curl, which keeps frizz and fly away strands to a minimum.
Heat and Styling Options
The rounded shape of the outer pieces of the flat iron are what allow this to double as a curling iron. The flat iron plates can also serve the same function as the clip on the side of a traditional curling iron.
The 2-in-1 design also makes it a great choice for traveling. It gives you some versatility in styling options without requiring you to pack a bunch of extra attachments. So, you save space without overly limiting your options.
Safety Features
The kit comes with a heat-protective glove that will keep your hand safe from burns, whether you're using it as a curling iron or as a flat iron. It also has a 60-minute auto shutoff and quick cooling. It can heat up and cool down in 30 seconds. That means it's cool enough to safely touch soon after you're done styling.
Pros
Great balance of versatility and space-saving design

High maximum temperatures will style even the coarsest of hair

Kit includes heat protective glove and other accessories
Cons
No frizz or static control
---
Choosing the Perfect Curling Iron for Short Hair

Finding the right curling iron can be tricky and using it safely and properly once you get it can be even trickier. Here are some answers to the questions you might be asking as you shop for your new curling iron.

What Is the Best Material for Curling Irons?
Although there are a few other types of materials used in the barrels of curling irons, there are generally three that are the most popular. Although each has its own draws (and drawbacks), neither is a one-size-fits-all choice—rather, you should match your own hair type and needs to the perfect material.
Ceramic
Though ceramic barrels are great for consistent, gentle, safe heating, their biggest disadvantages are weight and fragility. This type of iron is usually heavier, and the ceramic is much more fragile than the other options.
However, if your hair is already heavily treated with dyes, chemicals, or it's just naturally fine and prone to frizz, the gentleness of a ceramic curling iron like the Kiss Instawave can be worth those disadvantages.
Titanium
Titanium curling irons like the BaBylissPRO Nano are also a popular choice among professional stylists because it's so lightweight and so highly effective, even on the most unruly of hair types.
However, that high heat comes with drawbacks. For finer hair, these curling irons tend to run too hot. The titanium is also not as gentle as ceramic tourmaline. It transfers heat very efficiently to the surface of your strands which means that repeat use on fine hair could lead to a coarse, brittle texture.
As your hair gets more brittle, it will become more prone to frizz and breakage. Even those with thick hair who plan to curl their hair on a near-daily basis might be better off with a gentler material. If ceramic or tourmaline just can't get the job done, however, you may need to get a heat-protective spray for your hair to help minimize the damage from daily use of a titanium curling iron.
Tourmaline
Tourmaline is fantastic for reducing frizz and flyaways, but the main issue you will encounter with tourmaline is durability. Because the gemstone is just a coating over the top of the wand, it's liable to chip away over time, leaving you with a curling iron that no longer offers the same protective benefits.
Even so, if you need high heats to get the look you want but you don't want the damage that comes with those temperatures, a tourmaline curling iron like this one is the way to go.

What's the Difference Between Different Types of Curling Irons?
Here's a quick breakdown of the differences between the types found in our list of curling iron recommendations.
Conical Wand
A conical wand features a long barrel that starts out wider at the base and gradually gets narrower as you reach the tip. The intention is to offer a variety of curl options all on one wand. If you want tighter curls, wrap your hair around the narrowest part only. If you want looser waves, use only the base. If you want to create an interesting, multidimensional look, wrap your hair along the entire length of the wand.
This offers a lot of different options without having to have an interchangeable kit. However, the lack of clip makes it difficult to get the ends of your hair curled without holding the hair in place. You will definitely want a model that comes with a heat protective glove like this one to make sure you don't burn yourself in the process.
Wands with Clips
Unlike the conical wand, the smooth round barrel is a consistent size from top to bottom. It also features a large clip or clamp that extends along one side of the wand. This clip is designed to hold the ends of your hair in place so that they also get curled. If you want glamorous, defined curls, this is the way to go.
The main drawback is that, if you don't wrap the hair just right or you hold the curling iron at the wrong angle, you could end up with an odd kink in the ends of your hair instead of the defined curl you were looking for. So, there's a bit of a learning curve to use this type.
Automatic Curler
As the name implies, an automatic curler automates much of the styling process. There are many different designs in this category but in general, the iron will feature some kind of automated curl that grabs your strand and pulls it around the barrel.
Then, it will usually include a beep or audible alert to let you know when that strand is finished. This automation makes it so much easier to get a curl that is not only perfect but also consistent throughout your hair.
The main drawbacks are in the price and the limited control. You will generally pay more for a good automatic curler. You will also sacrifice some level of control over the finished look whether that's because of the limited heat settings or the lack of variety in the way you wrap your hair around the barrel.
If convenience and consistency are more important than control, however, a great automatic curler like this one is certainly worth the price.

What Size of Curling Iron Should I Use?
The right size wand depends primarily on two factors: how long your hair is and how tight you want your curls to be. For beachy waves, you need a large size. For tighter ringlets, you need a smaller size.
However, the range of sizes you'll be working with depends entirely on your hair length. Someone with short hair needs a smaller wand to get those beachy waves than someone with long hair. If you go too large a size for short hair, you won't be able to wrap your shorter locks around the barrel enough times to get many waves in it at all.
So, short to medium hair should max out at 1" diameter barrels for the loosest of beach wave styles and then go down from there for tighter curls. Anything larger, and you'll really only be adding volume without any noticeable waves or curls.

How To Use a Curling Iron
Buying the best curling iron is the first step, but what do you do with it once you've got it? In section, we'll give you a few tips for using a curling iron and then answer some of the most common questions people ask about their new curling iron.

Beginner's Tips for Using a Curling Iron
If you don't have a lot of experience with a curling iron or you find that you aren't able to get the results you're looking for, you may be skipping an important step somewhere. Here are a few tips for ensuring you get the best results out of your new curling iron:
Use Hairspray at the Start and Finish
A lot of people make the mistake of saving the hairspray for the end to lock in the finished look. However, for better results, you should add hairspray in batches throughout the process. Spritz a light coat over each lock just before you wrap it around the iron.
Then, do a final spritz at the end to hold the complete look in place. Your curls will last much longer if you do this.
Don't Scorch Your Hair
Many people think that the higher you go in temperature, the more effective the curling iron will be. While some hair types do require that higher setting, most do not. For fine to medium hair or heavily damaged hair, lower settings are actually more effective.
Not only do they minimize damage and breakage, they also allow you to keep the curling iron in place longer without burning your hair. This way, you can make sure the curl sets before you release it. If you go high and fast, the curl might look good as you release it but it will quickly fall out.
So, for fine or thin hair, go for a "low and slow" technique to ensure longer lasting curls and less long-term damage to your hair.
If you do have thick, coarse hair, try dropping the setting down a little and holding the iron in place a little longer. Even though you'll likely need a higher temperature than your finer-haired friends, it's still worthwhile to prevent long-term damage by finding the lowest possible setting you can use while still getting the desired curls.
Use the Right Wrap Technique for Your Style
The way you wrap your hair around the wand will influence the way the look comes out. If you want those classic glamourous ringlets, wrap the entire lock from top to bottom around the iron.
You may even want a clamp-style curling iron like this one that allows you to place your ends in the clamp so that they curl along with the rest of your hair.
If you want looser, more casual waves, leave the bottom inch or so of your hair free. You might also alternate hold times so that some curls are looser and some are more rigid to create that messy, windblown look.
Maintain a Consistent Angle
There are two angles at which you can hold your curling iron: horizontal or vertical. For those with fine hair who are trying to add some volume, go for horizontal. This will curl your hair away from your head to create that volume you're looking for.
For those with thicker hair who want to avoid adding any more bulk to the style, hold the iron vertically. The vertical curl flows down the side of your head, adding as little volume as possible while still adding the curls you want.
Don't Keep the Iron in One Place Too Long
While "low and slow" is better than high and fast, you also don't want to overdo it. Keep your hair wrapped around the wand for 8-10 seconds. Any longer, and you're just frying it. Any shorter, and you aren't giving the hair time to curl.
Never Curl Wet Hair
If you've ever curled wet or damp hair and heard that sizzle, you know what we're talking about. You don't want to hear your hair sizzle. It's literally frying your hair. That's adding a lot of unnecessary damage and putting you at risk of a frizzy, fly-away look.  Always blow dry your hair thoroughly first before you start curling.
Is It Ok to Use a Curling Iron Every Day?
Unfortunately, using a curling iron on a daily basis can do a lot of damage. Most professionals recommend limiting your use of hot tools like flat irons or curling irons to 1-2 days a week to avoid excess damage.
If you do want to curl your hair more often than that, you'll need to take some extra steps to minimize that excess damage. The most important of those steps is getting the right curling iron for daily use.
Invest in a ceramic or tourmaline curling iron. You read about the benefits of these barrel materials earlier in this guide. Better yet, get a curling iron that uses both ceramic and tourmaline like this set from BESTOPE.
Once you have the right curling iron, you also want to start taking extra care of your hair. Include these steps:
Do a moisturizing hair mask once or twice a week
Limit shampoo and conditioner use to 1-2 days a week
Don't wet your hair except on days when you wash it
Use a heat protectant spray when styling
Avoid other damaging and drying treatments like dye or harsh hairsprays and shampoos
How Do I Keep My Curls in All Day?
It's one thing to get the perfect curly style in the morning, but how do you keep them from falling flat by the end of the day? If your hair struggles to hold a curl, it's most often a sign of excess dryness or damage. Here are some tips you can use to help your curls last longer:
Shampoo less often. Don't shampoo your hair daily and avoid shampooing your hair on the day you want to curl it.
Skip the conditioner on the day of. Conditioner tends to make your stands a little too soft and slippery to hold a curl. Regular conditioning is important to keep your locks moisturized but on the day of, skip it so your strands have a little more texture.
Go down a barrel size. If your curls loosen through the day, start with a slightly tighter curl than you want. As it loosens, it will look more like what you were going for.
Pin your curls. After you remove the iron, pin the loops of the curl to your head so that they keep their shape as they cool down. Remove the pins when you've finished curling every lock.
Use a blast of cool air. For even better results, use the "cool" setting on your blow dryer to blast your curls while they're still pinned to your scalp. Unpin them after this.
Avoid touching them. The more you rake your fingers through, the looser the curls will get. When you've unpinned the curls, just gently shake out the curls by shaking your head. Let them break apart and become more "natural" looking on their own as you go about the rest of your morning routine.
If these tips still aren't enough to get your hair to hold a curl, you may need to take some extra steps to get your locks hydrated without being slippery smooth.
Start doing weekly moisturizing hair masks instead of the conditioner and cut back your shampoo regimen to just two or three days a week. When you shower on days you don't wash your hair, use a bonnet so that your hair stays dry. Even plain water can rinse out natural hair oils, leaving your hair dry and brittle.
Final Words
To choose the best curling iron for you, you need to keep your hair length and density in mind. Shorter lengths need small barrel sizes. Thinner hair need cooler temperatures. You also need to decide what kind of styles you want to create. If you're not sure, choose an interchangeable set like this 5 in 1 Professional Curling Iron and Wand Set. Once you've got your curling iron, play around with the temperature settings and wrap techniques to find the perfect method for achieving the look you want!