Top Picks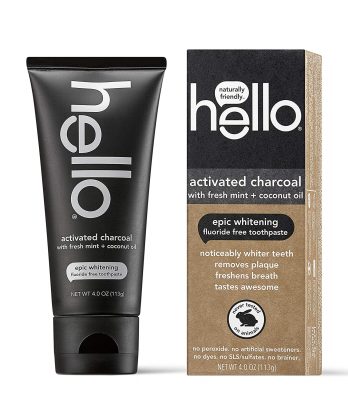 Hello Activated Charcoal Toothpaste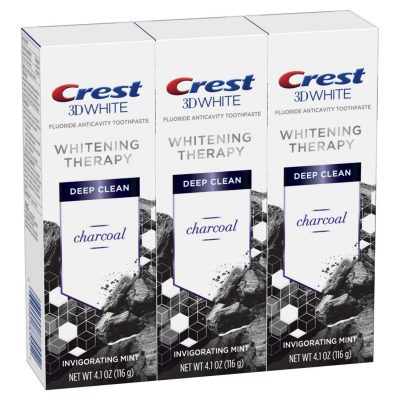 Crest 3D White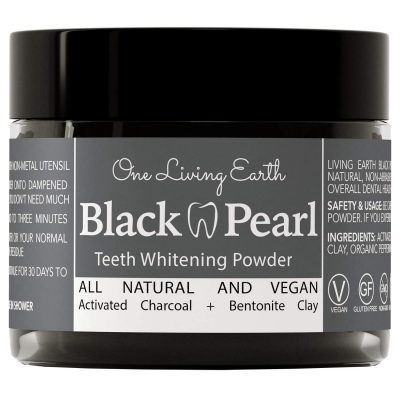 Black Pearl Activated Charcoal
Previous
Next
Charcoal toothpaste has really taken off in the last few years. But did you know that the use of charcoal in oral hygiene dates back to 27 BC when Romans used charcoal powder as a toothpaste ingredient? The Greek physician Hippocrates also recommended using charcoal to improve oral health.
Today, more and more people are now turning to activated charcoal to whiten their teeth, including celebrities like Drake and Nicole Scherzinger of The Pussycat Dolls.
With so many different brands and types to choose from, however, shopping for charcoal toothpaste can be a little overwhelming. But don't fret! We've put together the best charcoal toothpastes to help you find the perfect one for your pearly whites.
Important Factors to Consider in Charcoal Toothpastes
To help pick the right charcoal toothpaste for you, you'll want to keep these important elements in mind.
What Type of Charcoal Toothpaste Should You Buy?
When you think of toothpaste, you probably think of the standard paste that comes in a tube. While many charcoal toothpastes come in paste form, that's not the only type available on the market right now.
Powder: Brushing with a powdered version is definitely an unusual experience. It can also be a bit tricky since the ingredients aren't contained in a paste, which may create more mess than normal. However, the powder form tends to have fewer ingredients, so it can be a good option for those who are trying to avoid products that contain too many ingredients.
Paste: The idea of brushing with charcoal powder can be a little overwhelming, which is why the majority of charcoal toothpastes come in paste form. By making it look and work just like a regular toothpaste, some of the anxiety resulting from using an unfamiliar product is relieved.
Pill: This is ideal for those who want a more compact version, especially those who travel a lot since they can easily take out a couple of pills and store them safely in a pill organizer or a tiny container. They also tend to come in more sustainable packaging. In this list, we focus on powders and pastes, but if you're curious about trying a charcoal toothpaste pill, you may like these Crush and Brush Toothpaste Tablets.
Choosing the Right Charcoal Toothpaste for Your Teeth
Now that you know the different types of charcoal toothpaste, you can start narrowing your options by comparing the features, pros, and cons of the products you're interested in trying. Here are the main factors you should consider when comparing the best charcoal toothpastes:
Ingredients
Ingredients in charcoal toothpaste vary a lot depending on the product. Some products only have a few ingredients, while others have a long list of ingredients. You should always check the ingredients to make sure the product is safe for use.
Charcoal toothpastes, no matter the brand, will have some amount of activated charcoal. It's a good whitening agent, but its abrasiveness can cause tooth sensitivity. If you have sensitive teeth, it's better to pick a toothpaste with a small amount of activated charcoal.
Texture
In paste form, charcoal toothpaste has a grittier texture than your regular toothpaste, although products that only have a tiny amount of activated charcoal feel smoother. You'll have to decide whether you prefer a smoother product that is slower at whitening, or a grittier, more abrasive product that whitens teeth faster.
Powdered charcoal is also gritty, but some of the best charcoal toothpastes are ground so finely that you won't feel this gritty texture at all.
Flavor
Charcoal toothpaste comes in a variety of flavors, with mint being the most popular. If you don't like mint and can't find a flavor you like, Black Pearl Activated Charcoal might be a good option since it doesn't really taste like anything.
Results
The main purpose of charcoal toothpaste is to whiten teeth, so naturally, you should be looking for something that will give you that intended effect. However, this may come with an unwanted side effect, like raw gums or sensitive teeth, so it's good to find a good balance. If you often suffer from tooth sensitivity, it may be a great idea to pick something that's not as effective at teeth-whitening, but also isn't as rough or abrasive, like Colgate Essentials with Charcoal.
Safety Concerns
There are a few important things you should know before buying your first charcoal toothpaste. One is that there's not enough scientific evidence to prove that charcoal toothpaste whitens teeth. Many charcoal toothpastes also lack fluoride, the ingredient that protects your teeth from decay. And as mentioned before, charcoal toothpaste is abrasive, which can cause tooth erosion and other oral problems.
If you want to learn more about the possible negative effects of charcoal toothpaste, check out our detailed looked at its potential drawbacks here.
Amount
In many cases, it makes sense to try and get the bigger version of a product, or even a multi-pack. This usually translates to saving more money, after all.
But when you're trying a product out for the first time, it might make more sense not to get too much of it, just in case it doesn't work for you. Charcoal toothpaste normally isn't suitable for daily use, so depending on what you get, it may last a few months.
Where the Toothpaste Is Made
The country of origin of a product or its ingredients is probably not something you actively think about when buying toothpaste. And that's fine if you're just buying your regular toothpaste. With charcoal toothpaste, you have to be more careful since it's a relatively new industry.
If your oral health isn't in tip-top shape, try to stick to products that are made in the USA, Canada, Western Europe, or Australia, as these countries are generally stricter in regulating their products.
Now that you know what to look for in a charcoal toothpaste, let's jump into the best options on the market today.
Top 10 Best Charcoal Toothpastes 2021
Guide to Buying the Best Charcoal Toothpaste
Still have questions about charcoal toothpaste? In this full guide, we'll dive into everything you need to know to buy and use charcoal toothpaste with confidence.
What Is Activated Charcoal?
Activated charcoal is the result of heating fine carbon powder—which is typically obtained from coal, bone char, sawdust, and burnt coconut shells—in the presence of a gas. This shouldn't be confused with the charcoal used to light your barbecue. They're not the same thing, and you should definitely not grind regular charcoal and brush your teeth with it.
Apart from charcoal toothpaste, activated charcoal is also used in other wellness and beauty products, including face masks and scrubs, deodorant, shampoo, and facial cleanser.
Before activated charcoal became an ingredient in everyday use products, it was, and still is, often used as a poison antidote. It is also sometimes used to treat overdoses of prescription drugs and over-the-counter medications. Other uses for activated charcoal include improving kidney function, reducing cholesterol levels, and treating acne.
But activated charcoal's influence doesn't stop there. In the last few years, it has gained popularity as a food ingredient as well, which you've probably seen on your social media feed in the form of black ice cream, a black latte or black burger buns.
Benefits of Brushing With Charcoal Toothpaste
Activated charcoal is mainly sought-after for its whitening abilities, although the best charcoal toothpastes provide other benefits as well.
Removes Surface Stains
Activated charcoal doesn't whiten teeth the way a lot of people expect it. Instead of changing the overall color of your teeth, what it normally does is that it removes unwanted substances from the surface of your teeth. Think of teeth stains caused by smoking, berries, coffee, wine, soda, and other teeth-staining foods and drinks. If you're looking to whiten your teeth, Tom's of Maine Activated Charcoal Toothpaste may be a great option for you.
Once common charcoal becomes activated charcoal, it becomes more porous. These pores act like magnets that attract dirt and other substances. When you wash it off, all the substances that stuck to it are washed away along with it. This process, called adsorption, is explained in detail here.
Balances the pH of the Mouth
Saliva has an average pH of 6.7, with the normal range being 6.2-7.6. When it gets lower than that, the bacteria that are responsible for tooth decay and gum disease start to thrive. If you regularly drink acidic drinks like soda and fruit juices, expect to have a more acidic environment in your mouth. By brushing with charcoal toothpaste, you can raise the pH level of your mouth, which may help prevent cavities and gum disease.
Freshens Breath
There are many things that can cause bad breath, such as your diet, poor oral hygiene, dry mouth, smoking, digestive issues, and prescription medicine. If you have bad breath but can't seem to figure out what's causing it, it's most likely being caused by a buildup of bacteria in your mouth.
If you brush with activated charcoal, not only will it raise your mouth's pH and kill the bacteria in your mouth, but it will pull out bad odors from your teeth which may be causing bad breath. Some of the best charcoal toothpastes also have powerful ingredients that can give you fresh breath, so if you want that added benefit, make sure to take a look at the ingredients.
If fresh breath is a primary concern of yours, check out Black Pearl Activated Charcoal.

A Closer Look at the Effects of Charcoal Toothpaste
It can be hard to question the effectiveness of charcoal toothpaste, especially when so many people swear by it, and sales of charcoal toothpastes keep rising. But many experts have warned against using activated charcoal to brush your teeth. Some have expressed concerns about its effectiveness, while others have cautioned about its negative side effects.
Effectiveness
The answer to whether charcoal toothpaste is effective at whitening teeth can vary from dentist to dentist. There are dentists who actively promote it, but there are also dentists who only have bad things to say about it. Even the best charcoal toothpastes aren't exempt from criticism.
According to University of Maryland experts, there's not enough evidence to prove that charcoal toothpaste does whiten teeth, even as customer reviews continue to sing it praise. These experts reviewed 118 articles on the topic and published their findings in the Journal of American Dental Association in 2017.
The review found that 96% of the products studied claimed to whiten teeth, with 46% claiming to have the ability to detoxify teeth. The thing is, while you may be able to detoxify your internal organs, there's no such thing as detoxifying your mouth—at least not yet.
There is, however, a 2019 study that found activated charcoal to have whitening abilities. Published in the Journal of Applied Oral Sciences, the study involved staining 90 cow teeth with black tea and then using a variety of teeth-whitening agents to whiten the teeth.
While activated charcoal wasn't the top performer—nor was it in the top three—it did manage to do some whitening. But unlike what many brands of charcoal toothpaste claim, this didn't happen immediately. Activated charcoal had to be used continuously for four weeks for it to finally show some results.
This one small study may influence you to put your faith in charcoal toothpaste, but you should know that there may be negative consequences as well:
Tooth Erosion
It's no secret that charcoal toothpaste is abrasive. Apart from its ability to adsorb stains, its abrasiveness also plays a part in whitening teeth. By wearing away the stained enamel, the teeth start to appear whiter.
While this might be good at first—especially since it's the intended result—it can be a problem in the long run. Eventually, your enamel becomes so worn out that it will start to expose the yellowish dentin within your teeth, making your teeth appear more yellow instead of white. Once this happens, no whitening agent can reverse the effects, and you'll need veneers if you want whiter teeth.
Tooth Decay
Charcoal toothpaste can cause tooth decay in two ways. First is that once the enamel has thinned due to the abrasiveness and the dentin is exposed, your teeth become more susceptible to decay. Second is through the weakening of the teeth due to the lack of fluoride.
Regular toothpaste usually contains fluoride as a main ingredient. It strengthens your teeth, which in turn reduces cavities and helps repair the early stages of decay. Fluoride is also found in other sources like tap water and even the ocean, but the amount you get from these other sources isn't enough to strengthen your teeth.
Toothpaste needs to have 1350 to 1500 parts per million (ppm) of fluoride to be able to protect your teeth. Regular toothpaste has that amount, but a lot of charcoal toothpastes don't have fluoride, which means they won't protect you from cavities. Luckily, among the best charcoal toothpastes are a few products that contain some amount of fluoride.
Tooth Sensitivity and Other Concerns
Tooth erosion doesn't only lead to tooth decay, it also causes tooth sensitivity, or "dentin hypersensitivity." Once the dentin is exposed, the teeth will be more sensitive to hot and cold foods. In some cases, they will even be sensitive to air.
Other potential risks of charcoal toothpaste include accumulation of stains due to dentin loss, gum inflammation, trauma due to charcoal settling in between the gums, and gum recession.
How to Properly Use Charcoal Toothpaste
Learning how to use charcoal toothpaste properly will prove to be extremely advantageous. Not only will you get the intended results, but it will also help you avoid the unwanted effects of activated charcoal.
The rules of brushing with charcoal toothpaste are as follows:
Gently brush your teeth in a circular motion for two minutes or the time prescribed on the tube or box it came in. Don't brush too hard as this can damage the enamel of your teeth.
Don't forget to brush your tongue, and try to add flossing to this routine.
Rinse your mouth thoroughly when you're done. It may require a few rinses to completely get rid of the charcoal particles.
To avoid making a mess, empty the contents of your mouth into a cup instead of the sink.
Rinse your toothbrush and your sink.
For more specific instructions relating to the type of charcoal toothpaste you'll be using, see below:
Brushing With the Paste: Squeeze a pea-sized amount on the bristles of your toothbrush. You only need a little tiny bit of it, and a little really does go a long way with charcoal toothpaste.
Brushing With the Powder: Dampen the bristles of your toothbrush. You can run it under the water for a few seconds but make sure to tap out the excess water. Next, dip the head of your toothbrush into the tub. You want some of the powder to stick to it, but you don't want it covered all the way. The powder form can be even more abrasive than the paste form, so you have to be careful not to use too much.
Brushing With the Pill: Place a pill in your mouth and crunch it up between your teeth to create a paste. Wet your toothbrush and brush as usual.
How to Brush If You Have Problems With Tooth Erosion
If you're experiencing any tooth erosion, follow these steps to brush your teeth with charcoal toothpaste:
Rather than scrubbing your teeth with a brush, smear the paste or dampened powder on your teeth and let it sit for five to ten minutes.
Rinse your mouth thoroughly.
Frequency of Usage
The recommended frequency is no more than once every other week, but if you really have to use it once or twice a week, you can—just remember that it can come with unwanted consequences. Also, never do it for more than three days a week. Otherwise, you might end up endangering your oral health.
This doesn't apply to products with mild ingredients, or those with very little activated charcoal. If a product says it's safe for daily use, you're free to use it every day. But you should use it less frequently if your teeth start to feel sensitive.
If after using charcoal toothpaste you experience any unusual symptoms, like extreme tooth sensitivity or incredibly raw or bleeding gums, you should stop using charcoal toothpaste immediately. If these symptoms don't go away after a few days, make an appointment with your dentist.
Does Charcoal Toothpaste Stain?
Thanks to its unique, dark color, you may be curious if charcoal toothpaste can stain your mouth, teeth, or bathroom. Luckily, we have the answers!
Mouth: To avoid any unwanted surprises, we're just going to say it now: brushing with charcoal toothpaste can turn your entire mouth black. It can be quite startling but don't worry, it won't stain your tongue, teeth, lips, or the surrounding area, unlike red wine.
Clothing: Charcoal toothpaste can stain clothes, so you should be careful not to get any of it on your clothes. Be gentle when spitting the contents of your mouth out so it doesn't splash everywhere. Better yet, wear your older, more worn-out clothing before brushing, and just change into your work clothes or nicer clothes when you're done. If you somehow get it on your clothing, don't panic—there's a way to get the stain out. You can click here for more information.
Sink: The chances of charcoal toothpaste staining your sink are low, but it may still happen. There have been incidents of it staining grout and bathroom fixtures. If you want to prevent this from happening, just put down a bunch of washcloths or paper towels on the sink before you brush.
What If You Swallow Charcoal Toothpaste?
Even as we actively try to avoid swallowing toothpaste, accidents do happen, so there's a chance that you'll swallow charcoal toothpaste. But don't worry—charcoal toothpaste is safe to ingest. As mentioned before, activated charcoal is used to treat a variety of health problems, and is often ingested to treat these same problems.
If you swallow charcoal toothpaste, it'll most likely just work its way through your digestive tract, and perhaps bind to some toxins along the way.
How to Achieve Best Results
To get the most out of your charcoal toothpaste, keep these tips in mind:
Use the appropriate toothbrush. Whether you use a manual or electric toothbrush doesn't matter. What's important is that you use a toothbrush with soft bristles so you don't damage the enamel of your tooth.
Avoid teeth-staining food when possible. This can be quite challenging since old habits are difficult to break, but if you drink a lot of teeth-staining beverages like coffee, maybe it's time to cut back (it would be healthier for you, too).
Visit your dentist. You don't need to get your teeth cleaned twice a year if you don't want to, but you should at least visit your dentist once a year to ensure your oral health is optimal.
Final Thoughts
Everyone dreams of having whiter teeth, and you will be one step closer to achieving it by using charcoal toothpaste. Just make sure you take your time making the right choice. After all, just because the product you're considering is one of the best charcoal toothpastes on the market doesn't necessarily mean it's right for you.
And even if the first one you pick doesn't end up working for you, don't lose hope! You could always try a different product and see if that works.