Facial massagers have been used for centuries. They make your skin brighter and more radiant. Today, with so many choices, it's more than likely you can find the right facial massager to supplement your skincare routine with.
You can choose from fancy LED massagers, traditional jade massagers, customizable sonic massagers, and more! The benefits from a facial massager can be seen immediately after use, and the rosy glow stays for a while after the massage.
Whether it's getting ready for an upcoming party or showing up to work in the morning, these massagers are perfect for giving your skin the boost it needs. Let's get ready to roll!
How to Choose the Right Facial Massager
We can categorize facial massagers into three main types. Each has its own benefits, but understanding the difference between the three will help you pick out the right massager for you. Some massagers may even be a blend of several types. We cover this in our short guide, but to get a more in-depth look at massagers, check out the full guide! If you know what you're looking for, you can skip straight to products we have chosen.
Manual/Non-Electric
Unlike the other types, these usually don't need any sort of power at all. You manually move them over your face to achieve the desired effect. The movement helps improve blood circulation, which gives you an overall brighter complexion for your skin. Rollers, Gua Shas, and other non-electric massagers fit into this category. A Gua Sha is a flat jade or rose quartz stone that you scrape upwards on the face to relieve muscle tension.
For more tips on how to use some manual facial massagers, check out our tips section below.
Sonic
These electric massagers can vibrate or spin to improve circulation. The vibrations let you see immediate results: your skin looks plumper and glows more. The extra vibrations can help with fine lines and wrinkles as it stimulates skin health, and you can easily move it over your face to get the desired effect.
LED
LED facial massagers are a recent entrant into this category. They work because different light waves offer different benefits, from the 414nm waves tailored to sensitive skin, to 630nm waves that increase the production of collagen.
Some of these massagers are moved around the face, while others can be applied like a mask. With their wide range of wavelengths, which we go into detail about below, they're one of the most versatile masks out there. We also have a chart that explains the different wavelengths.
Further Considerations Before Purchasing
Even within the types of facial massagers, there are several factors that distinguish one from another. Everyone's skin is different, so you need to consider your own reasoning for a facial massager. By understanding the details of each facial massager, you'll find one that suits your specific needs. To get a better understanding of all the factors, take a peek at our full guide to facial massagers!
Material
Different massagers are made with different materials, and you'll want to find one that's right for you. While stones are cooler and help with calming the skin, silicone is more flexible and gentler on the skin, even when paired with a sonic facial massager. You can read more details about materials in our full guide.
Ease of Use
With some massagers, you'll need to focus on rolling. Others, you can simply move over your face to get the desired effect. Know yourself and how much time you're willing to dedicate to your facial massage so that it remains relaxing and doesn't become a chore.
Versatility
Some facial massagers can be customizable to your skin, making it so you can pick the perfect setting for the task that you have in mind. Some simply excel in giving a facial massage, while others could also help with cleansing and exfoliating. Knowing the versatility of the massager helps you get the most use out of it.
Facial Massagers and Skin Type
If you want to figure out which skin type you have, you can find out using this article! Keep in mind that the LED massagers are suitable for every skin type since it uses light waves rather than physical motion.
Sensitive Skin
Go for a manual roller or Gua Sha to stay on the safe side. Avoid nylon brushes, and if you're interested in sonic massagers, make sure you're sticking to silicone material. Lower vibrations in sonic massagers are key to making sure you enhance your skin.
Oily Skin
You may need something rougher to get rid of excess oil, so look into sonic brushes. Nylon brushes are good for oily skin, and make sure any silicone massagers you go for have higher intensities so that they will be effective.
Dry Skin
You can use any massager you want, but make sure that you don't overdo it. Unlike those with oily skin, you should aim to use a sonic massager a few times a week (about 3-5) instead of daily. With manual stone rollers, you can use it daily without worry.
Combination Skin
This one is tricky since all combination skins are a little different. Err on the side of caution and stick with lower intensities until you're more comfortable with trying a higher vibrational setting. Using a LED massager will be a safe bet since those massagers are suitable for all skin types.
You now have a great overview of what to look for in a facial massager, so without further ado, let's show you our top ten picks!
Top 10 Best Facial Massagers 2023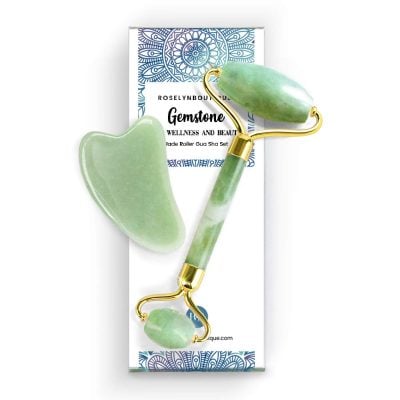 Why we like it:
This traditional facial massager comes with a roller and Gua Sha scraper so that you can effectively improve your glowing skin in two ways. It's handcrafted with real jade stone, making each of their facial massager kit slightly unique.
Editor's Rating:
Quick Facts
Type: Manual/Non-Electric
Material: Jade
This jade massager kit comes with a roller and a Gua Sha so that you can improve every area of your face. The smooth stone is cooling, and the roller has two different sizes on either end for use. The larger side is good for cheeks and foreheads, while the smaller side is good for areas under your eyes.
The Gua Sha helps plump any fine lines and wrinkles to make them less obvious. This handcrafted kit is good for those wanting a classic at-home facial massage. It can be a little tricky to use however, especially at first.
Ease of Use
Simply use the roller over all areas you want to improve or massage in any creams. Check out our tips for more information on how to use the kit. The Gua Sha is a little more difficult to use, but you can use it to target problem areas to help with overall contouring of the face and radiance.
Versatility
Not as versatile as other products, but this massager is good at its main job: massaging. The added Gua Sha helps with precise lymphatic draining for a particular area, while the roller is good to be used over the entire face. The roller also has two ends of different widths for use.
Extras: Comes with a Gua Sha and a decorative box.
Pros
Natural jade stone helps with soothing and cooling the skin

Includes both a roller and Gua Sha

Handcrafted roller is more resilient and will last a long time
Cons
May be difficult to use the Gua Sha at first
---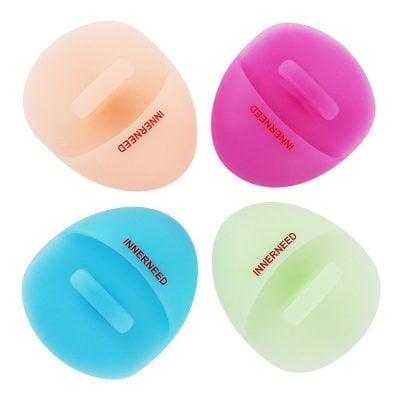 Why we like it:
It comes with four brushes so that you have extras for friends and family. You can also use this silicone brush for massaging or cleansing. The finger-handle is well suited for helping you keep control of the brush as you use it, and the bristle density varies across the face of the brush so you can get the optimal massage.
Editor's Rating:
Quick Facts
Type: Manual
Material: Silicone
This soft silicone brush comes in a set of four, with various bristle widths distributed on one side. You use the finger holds on the back side, and use either the top of the brush for cleansing or the bottom of the brush for massaging.
Through the gentle exfoliation, this brush is suitable for all skin types, even the most sensitive. The multiple nodules of soft silicone ensure a calming and relaxing massage. The bottom of the brush is good for massages, while the tip of the brush is good for exfoliation and cleansing. All the bristles are on one side, however, which is a little frustrating.
Ease of Use
It is easily useable with the finger-holds, and you move the brush along your face to clean and massage it. However, you will have to use more effort in scrubbing since it is not powered and there are no vibrations. Keep in mind it does take concentration to make sure you use the right part of the brush.
Versatility
You can use it for face and neck massages. In addition, the brush comes with two different diameters of bristles, with smaller, denser ones near the top and massage wave points at the bottom. Choosing which part of the brush to use helps with different sorts of circulation improvements. It's even gentle enough to be used as a baby brush.
Extras: No extras, but it does come with four brushes.
Pros
Four brushes and colors

Different bristle widths for targeted cleansing and massages

Natural silicone is soft enough for sensitive and dry skin

Small and portable for travels and vacations
Cons
Bristles are all on one side rather than being dual-sided

Not powered
---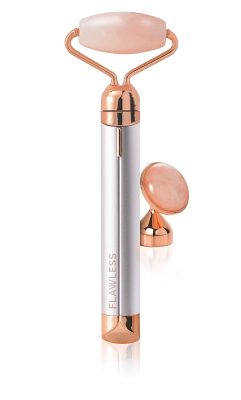 Why we like it:
You get both a roller head and a massage head to customize your massage for the night. You can turn the vibrations on or off depending on your skin sensitivity so that you can test out a traditional massage or a sonic-like massage.
Editor's Rating:
Quick Facts
Type: Manual/Non-electric, Sonic
Material: Rose Quartz
This massager incorporates the best of the non-electric massagers and the sonic massagers. With an on and off button, you're able to choose if you want a traditional facial massage through only rolling, or if you want vibrations as you roll. In addition, the special massage head allows you to feel increased vibrations from the massager.
With the addition of the roller and the head, this is the perfect way to test out both a sonic massager and a traditional, non-electric massager, all for the price of one! However, you cannot adjust the vibration intensity of this massager, which is a major drawback.
Ease of Use
Simply turn on or off the vibrations and roll it over your face. You do need to focus on using the massager in the right areas as with all roller massagers. Take extra care when using it at sensitive areas such as under your eyes.
Versatility
The massager is quite versatile, as you have the choice between wanting vibrations or not. Depending on how your skin feels that night, you can go with the gentler manual rolling massager, or opt for a more stimulating vibrational massage.
The choice of two different heads as well gives the user four separate massage possibilities with this roller. However, this kit does not come with a Gua Sha, which our top pick does.
Extras: It comes with a massage head in addition to the roller head. Batteries are included with purchase.
Pros
Massage head and roller head included

Made with genuine rose quartz

On and off vibrational switch for greater customizability

Gentle vibrations are safe for all skin types
Cons
Lack of separately sold replacement heads

No customization of vibration intensity
---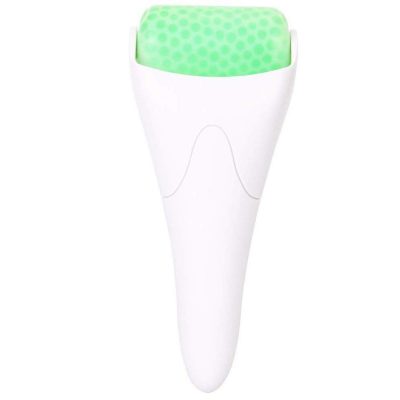 Why we like it:
This facial massager needs to be taken out of the freezer before usage, but the added coldness helps with puffiness of the face, dry skin, and fine lines. In addition, it can be used anywhere on the body for the added benefit of reducing soreness.
Editor's Rating:
Quick Facts
Type: Manual
Material: Plastic encased gel beads
After taking this facial massage out of the freezer, you're ready for your personal spa night. Simply move the cold roller over your skin, and the pressure of the roller with its low temperature takes care of the rest.
The coldness can revitalize your skin and shrink pores, and it feels refreshing to use. It can also help lighten acne scars and lessen wrinkles when used regularly enough. However, it cannot be heated up unlike stone rollers, which can be heated or cooled. On the other hand, it does retain its coldness longer than most stone rollers.
Ease of Use
Remember to pop the detachable head in the freezer before using so that it's suitably cold. Once it's frozen, you can easily take it out and slowly roll it over your face to improve your skin. As it is not powered, you need extra effort to roll this massager.
Versatility
The roller can be used over your face, on your neck, and even over sore parts of your body. Just make sure to clean the roller head after every use, and you'll find it a staple in your nightly routine before long. The plastic handles come in a variety of colors.
Extras: No extras
Pros
Cold, detachable head results in easy clean-up

Ergonomic grip

Can be used to apply cream and lotions while cooling face

Multiple color options
Cons
Must remember to put in the freezer before using

Cannot be heated up like traditional stone rollers
---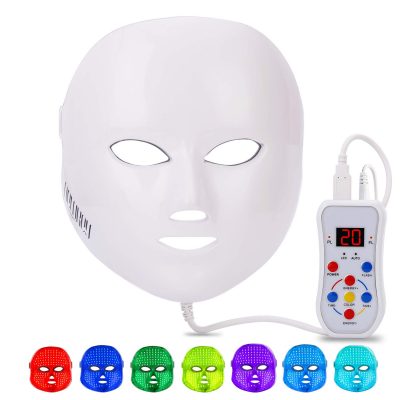 Why we like it:
While this is different from a traditional massager, the LED mask accomplishes many of the same feats that rollers and sonic massagers do. After applying it, just lay back and relax.
Editor's Rating:
Quick Facts
Type: LED
Material: Medical Grade LEDs, plastic outer covering
This facial massager only needs to be put over your face, and the lights take care of the rest. The seven different settings target all skin issues, such as wrinkles, inflammation, scarring, and even tissue metabolism. Specific wavelengths, such as 590 nm, may work better with sensitive skin types compared to the other types. Based on PDT cosmic technology, which we explain here, this mask is sure to help with any skin problem that you may have.
Ease of Use
The easiest facial massager to use. You simply have to put it on your face and wait, with no further work needed. Just make sure you research and choose the correct wavelength before use.
Versatility
With seven different LED colors, you'll be able to use this mask for any skin issue you may have. It's one of the most customizable masks, although you can only use it on your face. However, this LED mask does not include vibrations.
Extras: Comes with charging cord and plastic goggles to cover eyes
Pros
Seven options for LED wavelengths

Less effort needed – you can lay back and relax

Auto mode switches between multiple LED wavelengths
Cons
No manual motion from massager

On the pricier side
---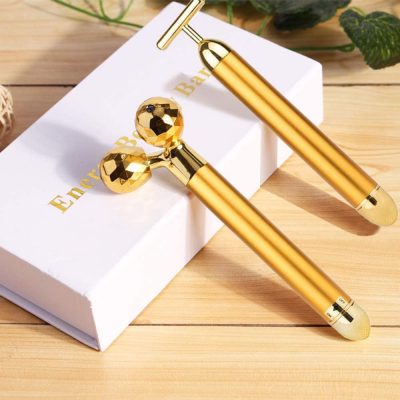 Why we like it:
This sonic facial massager comes with a 3D roller face massager and a T-shape beauty bar. The bar has 6,000 vibrations per minute, which results in a glowing skin appearance and a reduction of fine lines. The massager can also be used over the entire body for improved circulation everywhere.
Editor's Rating:
Quick Facts
Type: Sonic
Material: Metal/Plastic Blend
This massager can be used on your face or body, and comes with two interchangeable heads so that you can customize your experience. It vibrates 6,000 times a minute, leading to a deep and relaxing massage. The 3D roller ball can be used along the jawline while the T-bar is good for the cheeks.
Paired together, both of these heads can massage every inch of your face effectively. Using it on your neck and back can help with aches and using it on your legs and arms can smooth the skin. It does require batteries to operate, which is a pain.
Ease of Use
Simply turn it on and then move either the T-head or the 3D roller massager over your face. The sonic vibrations help greatly with massaging, so all you have to do is move the device slowly over the area a few times.
Versatility
The 3D roller head and the T-bar can be applied anywhere on the body, making the device versatile. In addition, the large number of vibrations lead to tightening the skin to get rid of fine lines and wrinkles over time. Using it on the neck can help with any neck aches you have, and using it on the arms and keep them smooth. Vibrations help with massaging, and you do not need to focus on any rolling motions.
Extras: Comes with two heads: the V-shaped roller balls and the T-shaped bar.
Pros
V-shaped roller balls have precise diamond-grade cut

T-bar shaped massager head easy to use over large areas

Optimal vibrational intensity chosen for wrinkles and fine lines
Cons
Metal blend contains nickel

Does not come with battery
---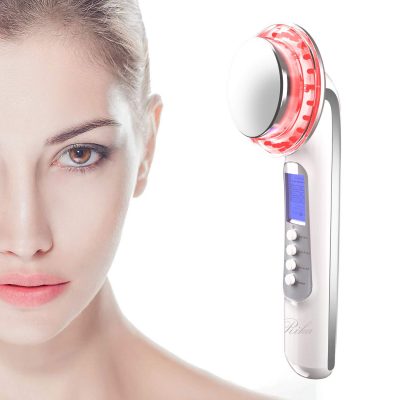 Why we like it:
This facial massager is less expensive than the LED skincare mask, but still gives your skin the benefit of LED light when you use it. It produces three different wavelengths that improve circulation, kill bacteria, and reduce fine lines. It also has two vibration intensities.
Editor's Rating:
Quick Facts
Type: LED, Sonic
Material: Metal (stainless steel and aluminum), LED lights, plastic
This facial massager uses LED light therapy to improve your skin's appearance and add to your radiant glow. While you shouldn't be using this massager every night, RIKA suggests using it two to three nights a week. It targets anti-aging, scarring, acne, and acts as a cleanser. It also helps reduce pore size and the overall puffiness of the face. This LED massager also has two modes of vibrations.
Ease of Use
There are three main settings that use one of the three lights. In addition, you can click the massage button to get two different massage patterns and intensities. Slowly move the massager over your skin, taking time to let the LED light do its work. You do have to move this LED massager, unlike the LED mask, which makes it super-easy to use.
Versatility
Red, green, and blue LED lights are available for various functions. They reduce scars and improve collagen production. In addition, the two modes of micro-vibrations help massage your skin to give you the plump look you want.
Extras: No extras
Pros
Micro-vibrations increase effects of LED lights

Three LED light settings

Metal disk helps soothe skin
Cons
Does not include lithium battery with purchase

On the pricier side
---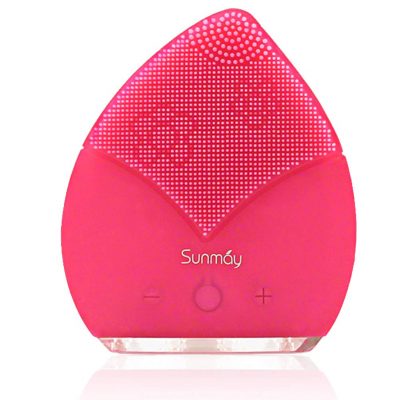 Why we like it:
This is a sonic facial massager and cleanser with soft silicone bristles. It comes with 15 different vibration speed modes and pauses every 20 seconds so you know how long you've been using it. Even with all its modes, it remains small and compact enough for travel.
Editor's Rating:
Quick Facts
Type: Sonic
Material: Silicone
This brush can have up to 7,000 vibrations per minute, which gives your skin a deep cleansing experience. The soft silicone nodes massage your face to improve blood circulation, and the 15 different modes let you choose the type of massage you would like. It comes with a built-in timer and a memory function that records your previously used session. The back side of the leaf is good for massaging your face while the front side is good for a cleansing routine.
Ease of Use
Put the brush on your other hand and press the "+" and "-" keys to find the setting you want. Gently move this leaf-shaped brush over your skin when you want to clean or massage it. However, there's no built-in grip, making it slightly awkward to use.
Versatility
This massager can both massage and cleanse at 15 different intensity levels, making it suitable for all skin types. It also comes in several colors, from purple to gray. The dual-sided function you to easily choose whether you want its cleansing mode or its massaging mode. Not sure the vibration intensities are needed? Check out the Solo Mio Sonic Brush.
Extras: This product comes with a USB charging cable and a carrying pouch so you can take it on any vacations or travels.
Pros
Easy to take on trips and vacations with carrying pouch

Charges, so you do not need batteries

15 different intensity levels for settings

Dual-sided brush lets you choose the desired function
---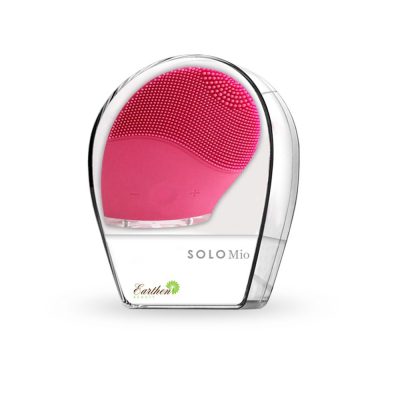 Why we like it:
This two-sided sonic facial massager can both exfoliate and massage your skin. The FDA grade silicone is safe for your skin, and the fast vibrations in the massager help both sides of it work deeper into your facial muscles for improved effects.
Editor's Rating:
Quick Facts
Type: Sonic
Material: FDA Silicone
This sonic brush is perfect for anyone who wants a multi-functional massager since it can clean and exfoliate. The sonic vibrations paired with the silicone brush gets all impurities and dirt off your face after a long day, and the gentler massager improves blood circulation and radiance of your face.
The rechargeable battery is good for over 1,000 uses and removes the need for batteries. However, unlike the Sunmay Leaf Brush, you cannot change the intensity of vibrations.
Ease of Use
Move the massager over your face gently when you're doing your nightly cleansing routine. Make sure you use the right side, since one side is for massaging and the other side is for exfoliating and cleansing. It's powered, meaning the vibrations will take care of most of the work.
Versatility
This massager can serve two purposes. It massages or exfoliates, depending on the side that you use. Its waterproof and sleek design lets you take it anywhere. It comes in either a pink or gray shade. Unfortunately, you can't change the intensity of the vibrations.
Extras: This product comes with a storage and display case along with a USB charging cable.
Pros
Does not need brush-head replacements

Charging cable means this does not need batteries

Dual-sided brush lets you choose the desired function

Silicone is gentler than typical nylon bristles
Cons
Exfoliating too many times a week may damage the skin

Does not have vibrational intensity settings
---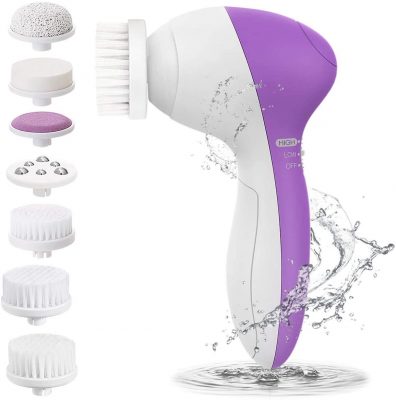 Why we like it:
This spin brush comes with seven different heads so that you can choose which mode is best for the task at hand. The high and low speed settings add an extra layer of versatility to this super customizable massager.
Editor's Rating:
Quick Facts
Type: Sonic/Spin
Material: Pumice stone, metal ball bearings, nylon bristles
This spin massager comes in seven different colors, and the various brush heads allow for different intensity massages and exfoliation. While the bristles are made of nylon rather than silicone, it comes in a set of three with varying densities and lengths to give you a full range of strengths to choose from.
The two-speed settings allow you to pick one that won't hurt your skin, but is still tough enough to get rid of dirt and dead skin cells. In addition to the nylon brushes, you have makeup remover heads and pumice heads for calluses. Both the nylon brushes and the pumice heads are quite rough, which means that this massager is for those who like to give their face a good workout and aren't so concerned about a gentle, relaxing massage.
Ease of Use
Choose the brush head that you need and you're good to go. Once you turn on this facial massager, simply move it slowly over your face to gently massage it or clean it. With seven heads, you'll need to do some research before finding the right one for yourself to use. The spin brush will take care of most of the hard work – you just need to move it over each area.
Versatility
With 7 heads and 2 speed settings, there are 14 different combinations that this brush gives. It can help with exfoliation, cleansing, massaging, and even smoothing out your skin. This is one of the most versatile brushes on our list. Using this one brush, you can facilitate several steps of your skincare routine.
Extras: Comes with seven brush heads to choose from and a user guide. Irritatingly, it doesn't come with batteries.
Pros
Seven brush heads make this massager very customizable

Three varying sizes of nylon brushes

Dense, metal balls are cool and soothing to the skin

Two different spin intensities
Cons
Batteries not included with purchase

Pumice pad can be rough on your face

Nylon bristles are not as soft as silicone brushes
---
Guide to Finding Your Perfect Facial Massager

There are dozens of different facial massagers, which makes finding the right one difficult. You have several different materials to consider, think about whether you want it to be electric or not, and if you'd like to splurge on a LED device.
Finding your perfect massage is a final step towards completing your skincare routine for the night, meaning it's important to make the right choice. First, let's look into why various facial massagers work.

The Science Behind Different Facial Massagers
All facial massagers have the same goal: to plump up your skin, reduce redness and fine lines, and give you a radiant glow. A lot of them use the movement of the device to try to stimulate skin blood flow, with lasting health benefits that extend to more than just beauty.
The main thing that facial massagers normally target is the lymphatic system fluid in your face. This fluid contains white blood cells, which move much slower through the body than your red blood cells. As a result, sometimes using massagers can help move it around your face to increase overall health. We'll take a look at what these massagers are accomplishing for your skin.
Roller Massagers
Roller massagers give short-term mechanical stimulation over the applied area. It works by moving lymph out of areas where it has gotten stuck. The constant rolling motion, when applied over weeks, can also encourage endothelial cells to create nitric oxide at a faster rate, which also increases the skin's response to heat stimulation. Beginner kits, like this one, often contain these massagers.
Gua Sha Massagers
Unlike roller massagers, Gua Sha tools focus more on releasing tightness rather than dealing with lymphatic drainage. It's similar to foam rolling, but for your face. While the lessened tension does improve circulation, the Gua Sha comes in different shapes to reach different areas of your face and requires more skill than a roller. Some kits, like this one, contain both a roller and a Gua Sha.
Sonic Massagers
Sonic massagers vibrate at a higher frequency, leading to a higher mechanical stimulation on your skin. These vibrations help amplify the result you might get with a traditional facial roller, and result in superior lymphatic drainage to help get rid of the toxins in your face.
They also produce negative ions, which have been correlated with lower depression rates. Unlike the manual massagers, you can just move this device over your face and let the vibrations take care of most of the work: there's no intensive rolling needed! The Sunmay Leaf Brush is our favorite sonic massager.

LED Massagers
LED (Light Emitting Diode) massagers send various wavelengths into your skin to start your skin's natural healing process. The wavelengths penetrate the skin to different depths, leading to different effects on your skin. While LED massagers are relatively new to the market, the Navy SEALS have used LED light therapy to heal wounds for years! Some LED massagers contain up to seven different wavelength choices.
To help you get the most out of your LED massager, and to see what they are capable of, below are how each wavelength could help your skin.
| | |
| --- | --- |
| Infrared (750-1000 nm) | Booster: Penetrates the deepest into the skin and amplifies effects of other LED wavelengths light therapy |
| Red (625-700 nm) | Anti-Aging: Helps collagen production and deals with fine lines |
| Orange (590-625 nm) | Revitalizing: Helps dull complexions glow brighter |
| Yellow (565-590 nm) | Redness: Reduces inflammation, sunburn, rosacea, and any other redness on your face |
| Green (520-565 nm) | Balances: Evens out your skin complexion and reduces some color and tone differences |
| Cyan (500-520 nm) | Soothes: Refreshes and soothes irritated skin by reducing the size of any swollen capillaries |
| Blue (440-500 nm) | Acne: Eliminates acne-causing bacteria, reduces acne and scarring |
| Purple (400-420 nm) | Rejuvenation: Increases renewed cell regeneration for healthier skin |
What Kind of Material Is Right for Me?
Facial massagers come in a large variety of materials, each with their own benefits and drawbacks. Here is an overview of the type of materials you can find in a facial massager.
Jade
Jade has been used in ancient China as a healing stone. The coolness of the stone is soothing against the face, and its ability to conduct far-infrared heat (FIR) allows you to warm up the stone to get extra benefits from the roller. This is our favorite jade roller.
Rose Quartz
Rose quartz is another stone used in facial rollers. It stays cool longer than jade stone does. In addition, unlike jade, rose quartz is not a soft stone and may last over a longer period of use. This is our top pick for a rose quartz roller.
Silicone
Silicone is resistant to bacteria build-up, and its flexible nature makes it gentle on any skin type, even with sensitive skin. When paired with a powerful vibration setting, this combination can help cleanse and massage the face. Many silicone massagers have options for vibrational intensities.
Nylon
Nylon massagers can be rougher than silicone ones, but this extra roughness may be suited for those with oily skin to get rid of the excess oil. Nylon is still durable, but these bristles may need to be replaced on occasion, unlike silicone bristles which last forever. Our favorite massager using nylon bristles would be the Pixnor brush.
Versatility of a Massager
Before buying a massager, think about what you would like it to do. Are you interested in one that only massages, or would you like one that helps with cleansing as well? Which issues with your skin do you want to tackle with your new facial massager? When it comes to picking out a perfect one, getting a more versatile massager could get you more bang for your buck, especially if you plan on using it a lot in your skincare routine.
With that in mind, what are some extra options that you might want a massager to have?
Cleansing/Exfoliating
Using a massager to clean and exfoliate will do a more thorough job than simply doing it by hand. These can come in the form of silicone massagers or spin massagers. Rollers and stone massagers often have a hard time implementing a cleansing and exfoliating function.
Address Multiple Skin Issues
Do you want the massager to only deal with lymphatic draining? Or would you like one that also addresses acne scarring? What about fine lines? The best ones for multiple skin issues are often LED massagers, like this one. However, different heads and vibrational intensities can also help.
Intensity
This ties in with the massaging vs exfoliating idea. If you have a massager that lets you adjust its intensity, you can use a lower intensity to improve circulation of the skin, or a higher intensity that gets rid of dead skin cells. The Sunmay Leaf Brush gives the most variety in intensity choice for vibrations.
Size/Shape
Some massagers come with different head sizes and shapes. Smaller sizes and unique shapes are good for getting into hard to reach areas which you don't want to neglect. They also help with under-eye areas and allow the user to have greater control. Larger sizes are good for massaging the overall face and larger areas such as the foreheads and cheeks. Some massagers offer multiple head sizes and shapes.
Colors
While this is less important than other factors, being able to choose the right colored massager to blend into your skincare collection could be important to some. Many massagers, especially silicone ones, come in multiple colors for you to choose from.

Tips for Using a Facial Massager
When you're using a massager, you always want to move it upwards and in one direction. You should avoid rolling or moving the massager up and down. Normally, you should start by moving it about 5 times in each area, and then roll outwards under the jawline. Remember to roll under the cheekbones and along the hairline and brows as well.
Pro Tip: If you don't have an electric massager, you can change the temperature of it. With a stone massager, you'll be able to heat it up in hot water to use it as a hot stone massager. You can also cool it down to tighten pores and wake up your skin.
Incorporating Massagers Into a Skincare Routine
Massagers are versatile enough to fit in any skincare routine. Below are some ideas for when and how you can use your facial massager.
Before your morning routine: Using a massager can get rid of any puffiness or redness from when you wake up, so that you can have a bright complexion. The soothing nature of the facial massages can get you ready to tackle the day ahead.
Applying serums: Putting a few drops of your beauty serum on the massager before you use it helps your skin absorb more of the serum. It evenly distributes it across your face and helps it penetrate the skin deeper.
Over a sheet mask: Similar to the last point, using the serum over a sheet mask helps your skin absorb more of that goodness in your hydrogel or cotton mask. It lets your skin retain more of that moisture, and it makes your masking even more relaxing!
At the end of your nightly routine: Let the massager give your face some glow after a long and tiring day. The massager keeps all of the essence and good products you just applied in your skin for the night before you sleep.
Facial Massager FAQ
What Are the Main Benefits of a Facial Massager?
Facial massagers are used to improve blood circulation and decrease the redness of the skin. It can also reduce puffiness, and the cooling benefit allows for a relaxing experience when you sue one. In addition, some massagers can target multiple problem areas with skin, and most can distribute skincare products more evenly than your finger.
Who Should Invest in a Facial Massager?
Anyone and everyone! With the benefits it provides for your skin, men and women can both see visible improvements after consistently using a facial massager. You can use it to perk up your skin before work, or cool down and relax before you sleep for the night.
Can Facial Massagers Improve My Mood?
Yes! A few recent studies have found that facial massages can increase sympathetic nervous system activity. As a result, this leads to a decrease in anxiety and negative moods in the short term. Using massagers over a long time can prolong the beneficial mental effects of using a massager.
I Can't Decide Which Type of Facial Massager Is Right for Me!
Technically not a question, but I hear you. If you find yourself struggling to decide, start with something less expensive to test out what you want. You could also try out kits, like this one that contain both sonic and manual massagers so you can see which you prefer.
Final Thoughts
There are dozens and dozens of massagers to choose from, each with its own set of benefits. Identifying your own skincare goals is key to finding the right one. Consider the customizability of the massager and the material that it's made out of. Make sure you find one that pairs well with your skin type, and you'll be set for a relaxing break at the end (or beginning) of every day. With a massager, you can finally experience a relaxing spa-day from the comforts of your own home.