Periods aren't something we look forward to. Every month, they drop in, and we tolerate and endure them. Sometimes they like to surprise us with an extra encore long after we thought they left the stage. If you're tired of uncomfortable, leaky pads and tampons, or you need a little extra protection to prevent leaks and unexpected spotting, period panties might just be your salvation.
Within the last decade, plenty of period underwear brands have arrived on the scene as a solution to these common problems. Over the past few years, they've been perfecting the period underwear experience and have more women ditching their disposables in favor of this washable garment.
What You Need to Know Before Buying Period Panties
To help you select the right period panties for you, we've gathered the must-know info for you so that you can be well-prepared.
What Are Period Panties?
Period underwear differs from other feminine hygiene products in several ways. They are a full self-contained pair of underwear much like you normally wear. In fact, from the outside, most look like any regular pair of underwear. However, unlike a normal pair of underwear, period panties will have several layers of absorbent material around the crotch and butt to serve as a sort of built-in pad.
Some women will wear them as an extra backup on heavy days along with a tampon or menstrual cup. They can also be worn on their own. Some brands will feature pairs with different levels of absorbency to see you through your entire cycle. But on light days (or when just spotting), you can wear most of these styles alone with no issues.
It's important to note that most period underwear are not designed for bladder incontinence, and while some people may use them as protection for that, they may not perform as well.
Criteria for Choosing Period Underwear
There are a few things that you should consider when choosing the period underwear that works best for you. Here are the criteria we considered when choosing our list:
Sizing
Comfort is key, especially if you suffer from cramps and bloating during your period. So, picking a pair of underwear that fits properly will be essential to your period panty experience. Our top-rated picks all offer a wide range of sizes to help you find one that's perfect for you. The range of tag sizes will be noted in each product's details.
Style
Underwear comes in a variety of cuts, and you probably have a favorite one. Fortunately, period panties also offer some variation on that front. Not all period underwear looks like granny-panties; you can find a pair that suits the way you dress and the way you feel the most comfortable. Our list has everything from high-waisted briefs to skimpy bikinis so you can pick your favorite cut.
Material
When you're wearing something so close to your body, you want it to be comfortable. For comfort, breathability is key. Most underwear includes some spandex to give it a flexible stretch, but the bulk of the material will either be cotton or bamboo fiber material. Cotton is one of the most common natural materials in our modern wardrobe and has many benefits.
Bamboo fiber material is a type of rayon that's made from the cellulose fibers of the bamboo plant. While this is a semi-synthetic material, it's much more sustainable and breathable than materials like polyester. It also gives a somewhat silky feel to garments.
Absorbency
If you're choosing a period product, you probably want to know how it stacks up when compared to your usual hygiene products. We'll be using the terms light, medium, and heavy to describe what each pair can handle. Of course, these are just shorthand. You know your body and your cycle best, so it's up to you to decide how much protection you need at various phases of your cycle.
Light means that a pair of underwear is more like a pantyliner as backup for a tampon or menstrual cup, or for protection for lighter days or spotting at the beginning or end of your period.
Medium means that the underwear can be worn by itself on days when your flow isn't too heavy. It can hold maybe 1-2 tampons worth of blood.
Heavy absorbency underwear can hold 3+ tampons worth of blood and can be worn by itself at almost any phase of your period.
Now that you know how we chose the items on our list, have a look at what we chose. These ten different options all have different strengths and weaknesses so you can find one that works for you.
Top 10 Best Period Panties 2023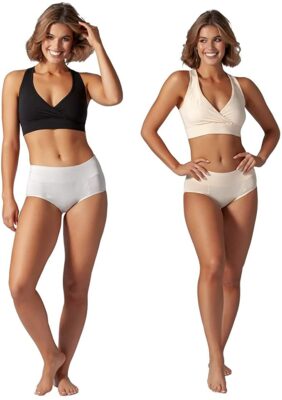 Why we like it:
This comfortable hipster panty will give adequate coverage for most people, while offering a good range of sizes.
Editor's Rating:
Quick Facts
Sizing: xxsmall-5xl
Style: full coverage hipster
Material: 95% bamboo, 5% spandex
Absorbency: medium
Product Overview
These period underwear are made out of a breathable bamboo material with a design that looks smooth and discreet under any clothing. They feature a higher, hip-hugging waist and full bottom coverage.
Four layers of material provide about two tampons' worth of absorption, meaning these panties can be worn on their own or used as added protection on extremely heavy days. They absorb fluid quickly and the protective material prevents odor. The full-back coverage makes them ideal for sleep so that no matter what position you like to lie in, you won't wake up to stained sheets.
The waistband is comfortable and won't dig in, making this style ideal for new mamas. The wide range of sizes means that almost anyone will be able to find a comfortable and secure fit and the neutral color palette keeps things simple and versatile.
The Downsides
Despite these being called "high-waisted," the front rise isn't as high as you would expect from a pair of briefs. It falls a few inches below the belly button, which many people prefer. But if you're looking for a true pair of high-waisted underwear, you might prefer our pick from Innersy.
The sizing is also a little inconsistent between pairs, with the underwear generally running 1-2 sizes smaller than you may expect. The leg openings in particular can be tight if you have thicker thighs.
Who It's For
If you struggle with overnight leakage, these are a great pick. You can toss and turn as much as you like with peace of mind. If your flow isn't super heavy, you could even use these in lieu of a standard pad or tampon during the day.
While they run a bit small, they have a wide range of larger sizes so you have the ability to scale up and find your ideal fit. For most people looking to work a little extra protection into their wardrobe, these are a great way to try out period underwear.
Pros
Wide range of sizes

Full bottom coverage

4 absorbent layers to keep you dry

Reduces risk of odors

Great for overnight use
Cons
Not a lot of front coverage

Tends to run small
---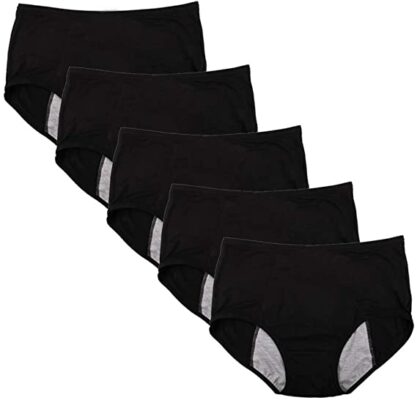 Why we like it:
This multipack will help you get through your period with extra comfort.
Editor's Rating:
Quick Facts
Sizing: xsmall-3xl
Style: hip hugger
Material: 95% bamboo, 5% spandex
Absorbency: light to medium
Product Overview
These menstrual briefs are available in a multipack that might actually get you through your entire period (depending on your flow). At one moderate price, you can get 5 pairs of leak-proof panties. This makes them affordable enough that you can invest in more pairs to wear throughout your period and on spotting days.
These panties offer full crotch coverage and full bottom coverage with an absorbent, leak-proof material that is suitable to protect against overnight leaks, postpartum bleeding, and pad or tampon overspill. On lighter days, they might offer adequate absorbency to be worn on their own all day.
The fuller crotch coverage these offer is greater in area than your average pad, making these perfect for catching overflow or protecting you as you move around in your sleep or during exercise. From the outside though, these look like normal underwear.
The Downsides
These won't be absorbent enough to wear on their own for most days of your cycle unless you have a consistently light flow. After absorbing their maximum, they won't wick moisture away as much and will feel a little damp, which can be uncomfortable.
One other issue with these panties is their sound. Due to the waterproof material in the crotch, they can sometimes make a slight rustling sound when you first put them on. This worsens if you machine dry them, so air-drying is a must for more discreet wear.
Who It's For
If you have a lot of spotting or lighter days that have you constantly reaching for panty liners as a backup, these are a great, affordable, and more environmentally friendly option. They also make a great companion to wear with menstrual cups or even with pads and tampons if you have a very heavy flow. The wider protective area prevents you from leaking over the edge of a pad and staining your clothes or seat.
Pros
Full crotch coverage

Good for exercise or sleep protection

Can wear alone on lighter days

Low cost, so you can have multiple pairs
Cons
Lower absorbency may create a damp feeling

Can have a crinkly sound
---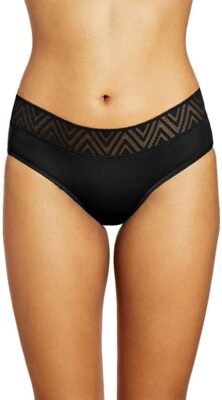 Why we like it:
One of the most absorbent pairs of period underwear on the market, these let you forgo the pads and tampons entirely.
Editor's Rating:
Quick Facts
Sizing: xxsmall-3xl
Style: hip hugger
Material: bamboo, spandex
Absorbency: heavy
Product Overview
Thinx has become a major player in the period underwear world thanks to their wide range of styles, body-positive message, and high absorbency levels. This pair of hip hugger underwear is rated to absorb about 4 tampons worth of fluid. For most women, that means you can wear these on their own during most stages of your period.
These have a stylish look with a lower rise front and some lace detail on the band which makes them look and feel more like normal underwear. No one would assume they are period panties just by looking at them, and their slim fit is discreet under almost any clothing.
Their range of underwear is versatile and reliable, even offering the unicorn find of thong period underwear. All of their underwear feature four layers of anti-microbial and moisture-wicking fabric with an absorbent core and leak-resistant outer layer. This helps prevent feelings of dampness and reduces odor-causing bacteria.
The Downsides
The first downside to buying Thinx is that they are quite expensive. Most people will find it cost-prohibitive to use Thinx for every day of their period. Unfortunately, these also take a long time to dry, so if you hand wash them and hang them to dry, they likely won't be ready to wear again the next day, so if you want to wear them throughout your period, you'll need at least two pairs to switch on and off.
The particular bamboo/spandex blend these use is a little more bathing suit-like than some of the other period panties. This can make them feel a little damper throughout the day, particularly if you get sweaty around the groin area. They aren't as breathable as a cotton pair would be, or even some other bamboo blends.
Who It's For
If you want to experience the freedom of going without any pad, tampon, or cup, at least some of the days you're on your period, this super absorbency rated pair from Thinx could give you that freedom. They give you some peace of mind and reliability that most of the other pairs on this list don't.
They are designed to be used on their own rather than as backup, making them much more absorbent than most. If you want to invest in a future with fewer disposables, this will help you take a leap in that direction.
Pros
Can be worn alone at times

Looks like normal, attractive underwear

Anti-microbial layer

Reliably leak-resistant
Cons
Very expensive

Long time to dry

Not as breathable
---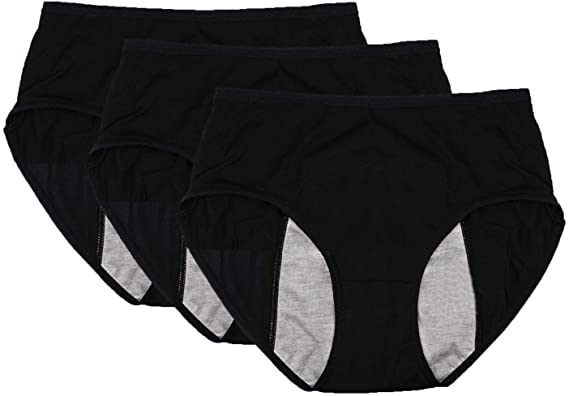 Why we like it:
High-waisted and smoothing, these underwear wick away moisture from unexpected leaks.
Editor's Rating:
Quick Facts
Sizing: small-3xl
Style: full brief
Material: bamboo, spandex
Absorbency: light
Product Overview
These protective panties are meant to be used along with your regular menstrual products or for days when you only have spotting. They don't feature an absorbent layer, but rather have a light mesh moisture-wicking layer around the crotch and bottom to catch leaks or spotting and keep it from bleeding through.
These have a high waist and are snug to keep the leak-proof material in place, but not uncomfortably so. The snug fit can give a mild smoothing effect, helping you to look less bloated under fitted clothing.
These can help save your sheets from overnight stains and prevent your clothing from getting stained as well. They are easy to hand wash and air dry pretty quickly.
The Downsides
Since these don't feature extra absorbent layers, once the moisture-wicking layer becomes saturated, they can feel quite damp. While the outer layer is leak-proof, it can be quite messy if you end up bleeding a lot into these overnight. Your sheets will be safe, but you'll need to wash up very thoroughly in the morning.
They also fall victim to the diaper-noise that many period underwear does. Despite the fewer layers, they can still sound a bit crinkly during physical activities.
They also tend to be a little warm. The leak-proof material lacks breathability. A pair with a cotton body, like our choice from Intimate Portal, might be a better choice if you live in a hot climate or tend to run warm,
Who It's For
If you like to have full coverage during your period, these are a high-waisted, full-back pair of briefs that make you feel tucked in and secure during your period. It gives you a smoother look that can help you feel confident.
You can also feel confident in the fact that this underwear does a great job at keeping any excess liquid contained. It really is resistant to leaks, though it's not absorbent. So to fully enjoy the benefits, pair it with another hygiene product.
Pros
Smoothing high waist

Keeps any liquid from bleeding through

Moisture-wicking layer

Full back coverage
Cons
Can feel damp and messy if you bleed into them too much

Crinkly noise

Lack breathability
---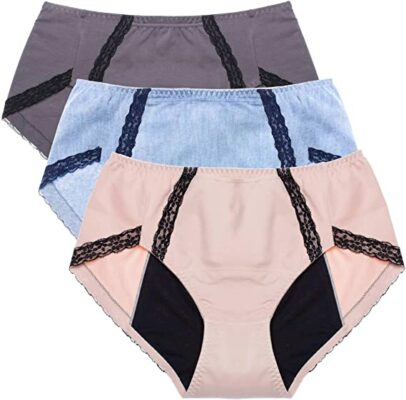 Why we like it:
For a discreet backup on heavy days, these light cotton panties offer a surprising feature.
Editor's Rating:
Quick Facts
Sizing: small-6xl
Style: brief
Material: 95% cotton, 5% spandex
Absorbency: light
Product Overview
These simple panties are not meant to be worn on their own. That's very clear. However, they do have a couple of features to recommend them to anyone who wants a little extra protection. The main body of the underwear is breathable, hypoallergenic cotton, making them light and comfortable even on hot days.
The crotch and back area is reinforced with three layers of moisture-wicking and leak-proof material to keep any overflow locked down and contained while keeping you from feeling unpleasantly damp.
Uniquely, these panties also feature a small pocket at the front where you can discreetly stash an extra pad or tampon or two. This is handy because women's clothing is notoriously bad at providing usable pockets. And you'll never be stuck in a public bathroom without a pad because you left your bag in the office or classroom.
The Downsides
The sizing for these panties seems to be a bit off. They tend to run small in the waist, but the plus sizes have very large leg openings which make them less effective at preventing leaks in that area. The top tends to roll down a bit as well, perhaps because the waist runs small.
These also have that distinct "period panty sound"– a rustling noise that can sometimes be heard while walking as the leak-proof layers rub together from the movement. This can make you feel like you're wearing a diaper.
And while these have full back coverage, the front coverage is a little lacking. If you want a pair of period underwear that gives more coverage in the crotch area, our pick from Yoyi may be a better choice.
Who It's For
If you always seem to leak, even if you double up with a pad and a tampon or cup, choosing a pair of underwear with a built-in leak barrier like these can help give you peace of mind. If you're wearing white on the bottom, these are a must.
And for young girls who may be just getting to know their menstrual cycle, the extra protection plus the discreet storage pocket could go a long way to making them feel more comfortable when they go to school on their period days.
Pros
Made from comfortable cotton

Full back coverage

Leak-proof layer for backup protection

Small pocket for hygiene products
Cons
Sizing is off in some areas

Make a rustling sound during movement

Lacking in front coverage
---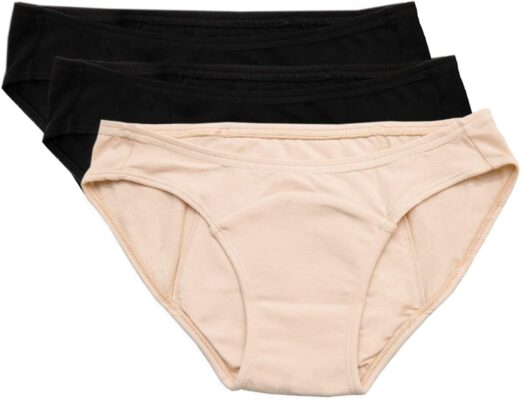 Why we like it:
Featuring gentle organic cotton and a low-rise style, these underwear are a little gift to yourself.
Editor's Rating:
Quick Facts
Sizing: xsmall-xl
Style: bikini
Material: 95% organic cotton, 5% spandex
Absorbency: light
Product Overview
These panties are made from organic cotton to protect your sensitive skin from any growing chemicals and provide a comfortable, breathable fit. The material is soft and thin.
The lining extends from the crotch front all the way to the back waistline to give a large coverage area to protect you from leaks. When combined with a pad, tampon, or cup, these will protect you on even your heaviest days. At the tail end of your period, these will give a bit of protection on their own for spotting.
Hesta ships their underwear in a small pink box, making them feel like a special little gift for you or for anyone you want to send them to.
The Downsides
Belly-sleepers may find that these don't give adequate front protection for overnight wear. The protection definitely skews more heavily to the back to add protection if you sit at a desk or sleep or your back when wearing them.
These also do look a little more like granny-panties than you might like. They are very basic and don't really offer anything in terms of color or detail. If you are a lingerie wearer, these may feel a little dull to you. They also tend to slouch down in the back, which can be particularly uncomfortable if you are wearing higher waisted pants or a skirt.
Who It's For
If you want a basic set of soft and breathable period underwear to give you peace of mind, these might be a good choice. If you tend to wear lower rise pants, these sit lower on the hips than many of the other pairs we looked at, so they will likely fit your wardrobe better.
They come in black and beige so you can also choose the color that best fits you, though the beige will show stains more readily.
Pros
Gentle organic cotton

Full back coverage

Lower rise fit

Gift wrapped
Cons
Not a lot of front coverage

Not very pretty or flattering

Tend to slouch in the back
---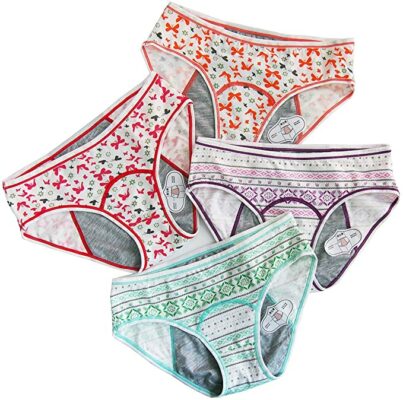 Why we like it:
With cute prints and a more petite fit, these can help younger girls get through school on their period days.
Editor's Rating:
Quick Facts
Sizing: xsmall-large
Style: hipster
Material: 95% cotton, 5% spandex
Absorbency: light
Product Overview
These cotton panties are designed with young women who are new to their periods in mind. The size of these skews a little smaller, making them a secure fit on adolescent bodies or more petite women.
While these won't be adequate on their own with a heavier flow, they provide excellent backup to wear all day at school with a pad or tampon, and overnight to prevent stained sheets. The comfortable and breathable cotton underwear look very similar to a standard pair and come in fun colorful patterns.
The leak-resistant material helps trap any blood in the lining. There is full coverage from the mid-front to the back waist to catch any spillage from around the edges of a pad or provide protection on a light day.
The Downsides
While these underwear do a good job of trapping leaks, they aren't moisture-wicking. So if you are wearing them on their own on a light day or with a tampon, you may feel a damp sensation from the scratchy fabric which isn't terribly pleasant.
As these are geared towards young girls, the sizing is pretty limited. If you have wider hips or a fuller bottom, these may be too skimpy to give you a comfortable fit and full coverage. Our pick from Bambody, while missing the cute prints, has a much better range of sizes from very petite to extra voluptuous.
This underwear is also labeled as hipster style but seems more like a bikini fit. That low fit may be perfect for your wardrobe, but if you like to be cozier and covered during your period, you may not feel comfortable with such a low-slung style.
Who It's For
If your period is a little unpredictable, or you or a young girl in your life is just starting out on her menstrual journey, these panties are a great way to ease some of the difficulties. Without looking or feeling too different from regular underwear, these provide a second layer of defense against embarrassing leaks and stains.
If you're unsure of whether your period will come on time or if it's really finished, these can be convenient to wear and will buy you some time if your flow starts (or restarts) suddenly. They are also quieter than some of our other underwear, making them extra discreet.
Pros
Looks and feels like normal underwear

Quiet and discreet

Full coverage leak-proof lining
Cons
May not fit curvier bodies

No moisture-wicking layer

More like a bikini than a hipster fit
---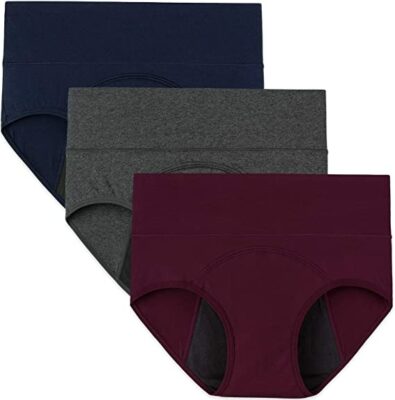 Why we like it:
These give comfortable support to bodies in recovery.
Editor's Rating:
Quick Facts
Sizing: xsmall-3xl
Style: brief
Material: 95% cotton, 5% spandex
Absorbency: medium
Product Overview
These high-waisted briefs offer smooth and comfortable coverage to your lower belly. This higher rise and a hint of support may be especially desirable to new mamas who are still recovering. While the brand says that these are meant to be worn with another period product for a full menstrual flow, these do absorb a decent amount of fluid on their own, making them great for sudden bleeds or overnight protection.
A triple layer lining protects you from mid front to mid-back (which is similar to the full coverage lining you'll find on lower rise pairs). The top layer is moisture-wicking, so if you soak them, you'll still be comfortable for quite a while.
The lining layer is a dark gray material that doesn't show stains as clearly, making them easier to launder. They are comfortable, pretty true to size, and flattering to most body types.
The Downsides
There seems like there might be a quality control issue with this brand. The stitching isn't always consistent, sometimes resulting in small holes in the underwear. After washing, holes and loose threads can crop up that weren't noticeable before can appear.
The seams are also quite thick which can result in a strong visible panty line. And since these underwear come up so high and have such a full coverage area, it can really reduce the clothing you may want to wear with them.
The bamboo viscose material also isn't a very breathable blend. This can trap sweat on hot days and result in some trapped odor as well. If you want a more breathable, lower rise pair, our pick from Hesta may be more ideal.
Who It's For
If you're a new mom who wants some extra support and protection while recovering, or you need overnight protection, these could suit you very well. They might not be the most skimpy and sexy underwear, but they offer a decent amount of protection, even though they probably won't be sufficient for your whole cycle without another feminine hygiene product.
Pros
Supportive higher coverage

Moisture wicking layer

Comfortable sizing
Cons
Stitching problems resulting in holes

Strong pantyline

Not very breathable
---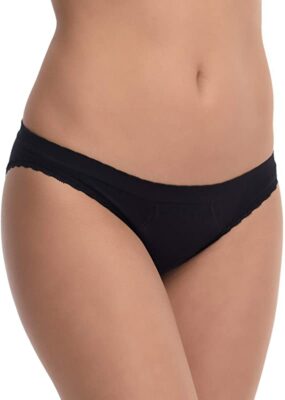 Why we like it:
For a smooth, seamless look in a modern cut, these are a fun choice with high levels of protection.
Editor's Rating:
Quick Facts
Sizing: xsmall-xl
Style: boyshort
Material: nylon/cotton/spandex blend
Absorbency: medium
Product Overview
Unlike many of the panties on our list, Anigan states that these can be worn on their own. The protective lining goes from mid-crotch to the back waistband and features four layers. The top layer is a moisture wicking barrier to help keep you comfortable, with absorbent and leak-proof core layers between you and the breathable outer material. The lining isn't crunchy and crinkly sounding either.
The underwear feel similar to leggings with their stretchy smooth material. Under clothing, they give a sleek, seamless look and fit close to the body.
This brand has one of the few boyshort styles we've found for period underwear (although they also offer the popular bikini and hipster cuts as well). This is ideal if you want more hip and butt coverage, but don't want a high waist.
The Downsides
These underwear are sized for a very snug, secure fit. However, that can be uncomfortable, especially if you have thicker thighs. The leg opening can feel tight and this cause some chafing around the elastic. They don't seem designed with curves in mind as the coverage and comfort is reduced if you have rounder butt or thick thighs.
These also aren't as breathable as the brand claims. In hot weather, they can make you feel quite sweaty and wet, which can add to the feeling of discomfort and chafing. It also won't help with odor prevention.
While these can be worn on their own at certain times during your cycle, they don't have quite the same level of quality or security as the pair from Thinx on our list, the only other pair we reviewed that is designed for solo usage.
Who It's For
If you enjoy a boyshort style underwear, this is one of the only period panty options in that cut. They also give you the option to wear them without a pad or tampon on days when your flow isn't heavy, which is convenient and hard to find at this price point.
While they may not quite measure up to Thinx in terms of absorption, they are less expensive. If you have a more straight up and down figure without a lot of curve, you will find a better fit in these underwear.
Pros
Can be worn solo

Boyshort cut for more leg coverage

Seamless fit

No crinkly sound
Cons
Not cut for curves

Not very breathable

Lacks comfortable security
---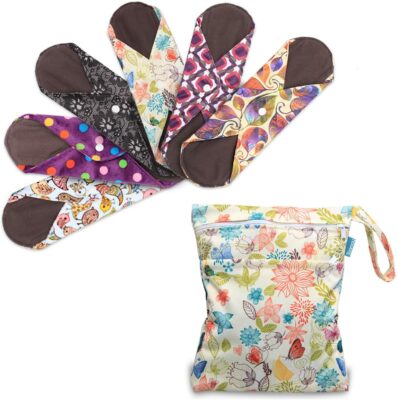 Why we like it:
These snap closure pads turn any underwear into period underwear.
Editor's Rating:
Quick Facts
Sizing: n/a
Style: removable pad
Material: bamboo charcoal microfiber, PUL
Absorbency: heavy
Product Overview
These reusable pads are made to fit into any pair of underwear, whether period panties or regular, to give you all-day protection. The waterproof outer layer keeps liquid locked into the absorbent microfiber core. The top layer is a bamboo charcoal velour that is soft against the skin.
This set of six pads come with a waterproof "wet bag" with two zipper pockets. So on days when you have a very heavy flow, or for travel, you can keep a stash of clean pads in one pocket and stowe dirty ones in the other.
Secure the pad to your underwear with the snap closure on the wings and be on your way. The wings provide extra coverage to prevent side leakage.
The Downsides
The PUL material on the wings and back of these pads are a little slippery. That means that they can slide forward or backward a bit while you're wearing them, so you will probably need to adjust them throughout the day.
Two of the pads in this set are entirely cloth, lacking the PUL backing. They do slide around less, but this means that if you have an extremely heavy flow, there is higher risk of leaking with these two pads.
The PUL material is also a bit plasticky, which isn't very breathable. This can make you feel warm and even sweaty in the groin area, which can lead to chafing where the wings come in contact with your skin.
Who It's For
If you want the eco-friendly option of reusable period wearables, but want something that's both affordable and highly absorbent, choosing a cloth pad might be the better choice for you. These turn any underwear into period underwear and absorb far more than most disposable pads.
They can also be worn along with any of the lighter period underwear on our list for even more protection and coverage. While they lack some of the convenience of standard period underwear, they are a great addition to any eco-friendly wardrobe.
Pros
Can be worn with nearly any underwear

Come with convenient wet bag

Very high absorbency
Cons
Can slide around in underwear

Cloth backed pads have higher risk of leaks

PUL backed pads aren't very breathable
---
Frequently Asked Questions About Period Panties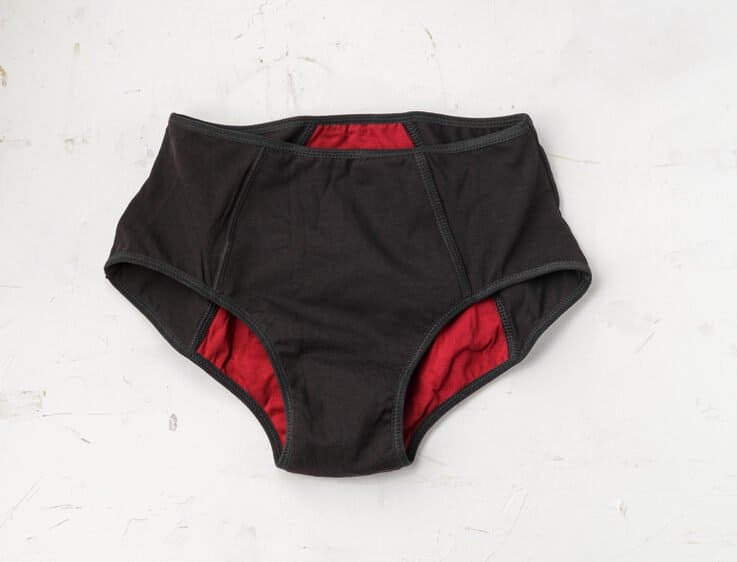 If you're new to the world of period underwear, then you might still wonder how exactly you can work them into your lifestyle. Here are a few tips and some additional info that will help you love the period underwear experience.
What Are the Benefits of Period Panties?
There are several personal and environmental benefits to using period underwear.
Personal
Instead of having to pack a variety of pads and tampons in your bag if your period doesn't always start or end at a consistent time, you can be prepared without any extra fuss. Simply wear a pair of period underwear to avoid unpleasant surprises. Reusable products also help you save money in the long run.
If you are a heavy bleeder and tend to leak, these also protect your outer clothing as well as furniture from any bloodstains. These can be used to replace the pantyliner or pad you might wear along with a tampon or menstrual cup. Or in extreme cases, you can combine all three for the ultimate protection.
Besides that, period underwear can be more healthful than disposable feminine hygiene products. There's no risk of toxic shock syndrome as there is with tampons.
Also, unlike disposable pads, you aren't wearing plastic against your body. Wearing this non-breathable material in such a sensitive area can cause chafing as well as increasing odor and risk of yeast infection. Even tampons can mildly increase your risk for yeast infection as well. And period underwear allows you to wear these things less or avoid them altogether, depending on your cycle.
Environmental
Pads and tampons are largely made up of plastic. That means that every time you throw one away, it ends up sitting in a landfill for centuries. The average woman will produce about 300 pounds of period waste throughout her fertile years.
By reducing your usage of non-recyclable plastic, you reduce both pollution and the demand for more plastics to be produced, the production of which also puts a strain on the environment.
Is Period Underwear Gross?
From a very early age, most people internalize the idea that a period is something disgusting and shameful. The idea of using reusable period products often strikes a mental barrier: you have to face your own blood far more than you're used to. This can feel quite wrong when you've been taught that a period is something that you have to hide or downplay for others' comfort. Even most pad and tampon commercials can't bear demonstrating their products with anything that looks even remotely like blood (hello blue liquid!).
A period is the sign of a healthy functioning body. Everyone is unique and learning about your body's quirks is an essential way to get to know yourself. That way, you know if something is going wrong. Besides that, a period is a sign that you have the potential to create life within yourself. And that's pretty astounding and powerful.
Once you get past any potential mental blocks about a natural bodily function being gross, you will probably still want to consider the hygiene aspect of using period panties. Much like a pad, they allow your blood to flow out. Unlike a pad, they tend to be more breathable and most will have moisture-wicking material that helps prevent the underwear from feeling damp. Some even include special anti-microbial material to prevent bacterial growth.
With proper care and cleaning, period underwear is just as hygienic as your average pad and will probably feel a lot more comfortable.

How to Clean Your Period Panties
In order to keep your period underwear from losing their shape or absorption properties, you do need to care for them a little differently. Unlike standard underwear you can just throw in the washer and dryer, you need to be a little more hands on with them. Here are a few things to keep in mind when caring for yours.
Hand Wash or Soak
Immediately after wearing your period underwear, you should use cold water to wash them. You can leave them in a cold water soak for a little while (some people like to add a small amount of vinegar to kill any bacteria) or you can rinse them out immediately. Run them under cold water and wring them out several times until the water coming out of them looks clear.
Machine Washing
After rinsing or soaking and wringing, you can throw your period underwear into your regular clothing wash. They won't get bloodstains on your other clothes, so no need to worry.
However, you shouldn't wash them on a hot cycle, and you shouldn't use fabric softener in that load because that can affect the absorbency layer inside. Bleach may seem like a great way to get stains out, but it can degrade the fabric over time, so avoid it and stick to dark colors if bloodstains bother you.
Drying
Period panties and reusable pads should never go in the dryer. This can mangle the inner layers and make them less absorbent. It can also increase the crinkly noise that some period underwear make. Instead, you should hang them to dry on a rack or even on your shower curtain rod. They will dry faster in a well-ventilated room, and you can rotate them every few hours to avoid damp spots.
How Often Should You Change Your Period Panties?
Really, how often you need to change depends on your cycle and the absorbency level of the underwear. If you're using them as backup along with other period products, unless you have a major leak that soaks the lining, you can just change them once every day like regular underwear.
Period panties that are more absorbent and can be worn on their own may be enough to keep you protected all day. However, if you tend to have a really heavy flow, it might be wise to carry some sort of hygiene product with you to add extra protection if you start feeling soaked. That tends to be easier than carrying extra underwear with you and finding a safe way to store dirty ones if you're at work or school, for example.
If you find yourself feeling damp or uncomfortable, go ahead and change. You know your body best, and in less breathable materials, that discomfort could be a warning that excess yeast and bacteria may be building up. That's why it's best to try period underwear for the first time on a day you'll be mainly at home. That way, you can see how they work for you and what you need to do to have the best experience.
Parting Words
Periods suck. But if you can find products that work to help you feel more comfortable and less anxious about leaks and stains, they can suck a little less. Period underwear are a great option to invest in no matter your cycle.
If you have a light flow, you'll find a few options that could completely replace pads and tampons for you. For heavier flows, you have fewer total replacement options, but there are a lot of leak-proof pairs that will give you extra protection and peace of mind.
Period panties can help you reduce the money you're spending and the landfill trash you're producing by reducing your need for disposables. This is particularly helpful if you sometimes feel like you're wasting pantyliners on those last few days where your cycle is tapering off, but you don't want to leave yourself unprotected and risk ruining your favorite underwear.
We hope that our list has given you a few options to try no matter your particular period needs. With a variety of cuts, sizes, and absorbency levels, we feel confident that there's something here for everyone.