Top Picks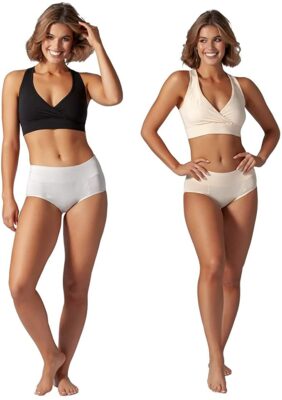 Bambody Overnight High Waist Panty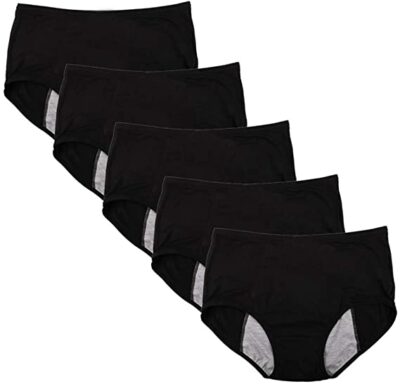 Yoyi Menstrual Leak Proof Panties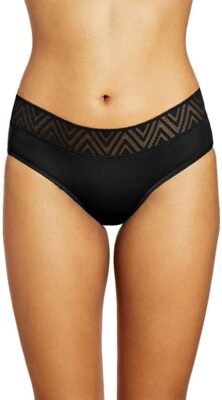 Thinx Hiphugger Period Underwear
Previous
Next
Periods aren't something we look forward to. Every month, they drop in, and we tolerate and endure them. Sometimes they like to surprise us with an extra encore long after we thought they left the stage. If you're tired of uncomfortable, leaky pads and tampons, or you need a little extra protection to prevent leaks and unexpected spotting, period panties might just be your salvation.
Within the last decade, plenty of period underwear brands have arrived on the scene as a solution to these common problems. Over the past few years, they've been perfecting the period underwear experience and have more women ditching their disposables in favor of this washable garment.
What You Need to Know Before Buying Period Panties
To help you select the right period panties for you, we've gathered the must-know info for you so that you can be well-prepared.
What Are Period Panties?
Period underwear differs from other feminine hygiene products in several ways. They are a full self-contained pair of underwear much like you normally wear. In fact, from the outside, most look like any regular pair of underwear. However, unlike a normal pair of underwear, period panties will have several layers of absorbent material around the crotch and butt to serve as a sort of built-in pad.
Some women will wear them as an extra backup on heavy days along with a tampon or menstrual cup. They can also be worn on their own. Some brands will feature pairs with different levels of absorbency to see you through your entire cycle. But on light days (or when just spotting), you can wear most of these styles alone with no issues.
It's important to note that most period underwear are not designed for bladder incontinence, and while some people may use them as protection for that, they may not perform as well.
Criteria for Choosing Period Underwear
There are a few things that you should consider when choosing the period underwear that works best for you. Here are the criteria we considered when choosing our list:
Sizing
Comfort is key, especially if you suffer from cramps and bloating during your period. So, picking a pair of underwear that fits properly will be essential to your period panty experience. Our top-rated picks all offer a wide range of sizes to help you find one that's perfect for you. The range of tag sizes will be noted in each product's details.
Style
Underwear comes in a variety of cuts, and you probably have a favorite one. Fortunately, period panties also offer some variation on that front. Not all period underwear looks like granny-panties; you can find a pair that suits the way you dress and the way you feel the most comfortable. Our list has everything from high-waisted briefs to skimpy bikinis so you can pick your favorite cut.
Material
When you're wearing something so close to your body, you want it to be comfortable. For comfort, breathability is key. Most underwear includes some spandex to give it a flexible stretch, but the bulk of the material will either be cotton or bamboo fiber material. Cotton is one of the most common natural materials in our modern wardrobe and has many benefits.
Bamboo fiber material is a type of rayon that's made from the cellulose fibers of the bamboo plant. While this is a semi-synthetic material, it's much more sustainable and breathable than materials like polyester. It also gives a somewhat silky feel to garments.
Absorbency
If you're choosing a period product, you probably want to know how it stacks up when compared to your usual hygiene products. We'll be using the terms light, medium, and heavy to describe what each pair can handle. Of course, these are just shorthand. You know your body and your cycle best, so it's up to you to decide how much protection you need at various phases of your cycle.
Light means that a pair of underwear is more like a pantyliner as backup for a tampon or menstrual cup, or for protection for lighter days or spotting at the beginning or end of your period.
Medium means that the underwear can be worn by itself on days when your flow isn't too heavy. It can hold maybe 1-2 tampons worth of blood.
Heavy absorbency underwear can hold 3+ tampons worth of blood and can be worn by itself at almost any phase of your period.
Now that you know how we chose the items on our list, have a look at what we chose. These ten different options all have different strengths and weaknesses so you can find one that works for you.
Top 10 Best Period Panties 2021
Frequently Asked Questions About Period Panties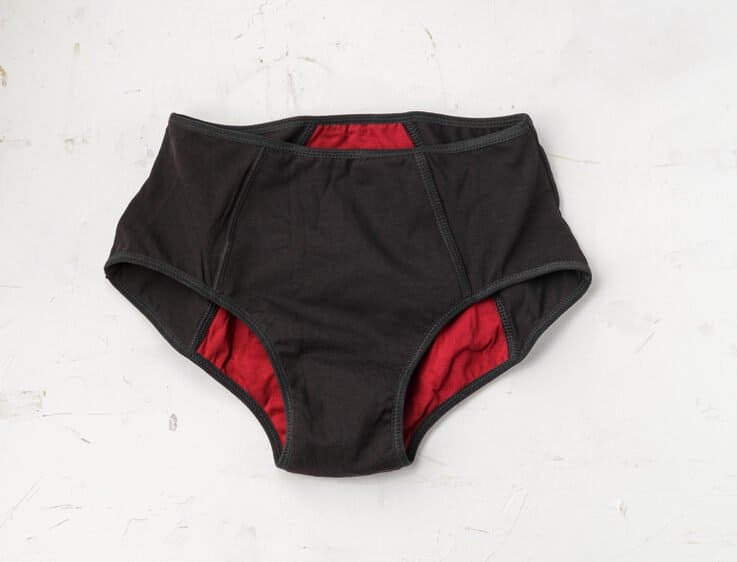 If you're new to the world of period underwear, then you might still wonder how exactly you can work them into your lifestyle. Here are a few tips and some additional info that will help you love the period underwear experience.
What Are the Benefits of Period Panties?
There are several personal and environmental benefits to using period underwear.
Personal
Instead of having to pack a variety of pads and tampons in your bag if your period doesn't always start or end at a consistent time, you can be prepared without any extra fuss. Simply wear a pair of period underwear to avoid unpleasant surprises. Reusable products also help you save money in the long run.
If you are a heavy bleeder and tend to leak, these also protect your outer clothing as well as furniture from any bloodstains. These can be used to replace the pantyliner or pad you might wear along with a tampon or menstrual cup. Or in extreme cases, you can combine all three for the ultimate protection.
Besides that, period underwear can be more healthful than disposable feminine hygiene products. There's no risk of toxic shock syndrome as there is with tampons.
Also, unlike disposable pads, you aren't wearing plastic against your body. Wearing this non-breathable material in such a sensitive area can cause chafing as well as increasing odor and risk of yeast infection. Even tampons can mildly increase your risk for yeast infection as well. And period underwear allows you to wear these things less or avoid them altogether, depending on your cycle.
Environmental
Pads and tampons are largely made up of plastic. That means that every time you throw one away, it ends up sitting in a landfill for centuries. The average woman will produce about 300 pounds of period waste throughout her fertile years.
By reducing your usage of non-recyclable plastic, you reduce both pollution and the demand for more plastics to be produced, the production of which also puts a strain on the environment.
Is Period Underwear Gross?
From a very early age, most people internalize the idea that a period is something disgusting and shameful. The idea of using reusable period products often strikes a mental barrier: you have to face your own blood far more than you're used to. This can feel quite wrong when you've been taught that a period is something that you have to hide or downplay for others' comfort. Even most pad and tampon commercials can't bear demonstrating their products with anything that looks even remotely like blood (hello blue liquid!).
A period is the sign of a healthy functioning body. Everyone is unique and learning about your body's quirks is an essential way to get to know yourself. That way, you know if something is going wrong. Besides that, a period is a sign that you have the potential to create life within yourself. And that's pretty astounding and powerful.
Once you get past any potential mental blocks about a natural bodily function being gross, you will probably still want to consider the hygiene aspect of using period panties. Much like a pad, they allow your blood to flow out. Unlike a pad, they tend to be more breathable and most will have moisture-wicking material that helps prevent the underwear from feeling damp. Some even include special anti-microbial material to prevent bacterial growth.
With proper care and cleaning, period underwear is just as hygienic as your average pad and will probably feel a lot more comfortable.

How to Clean Your Period Panties
In order to keep your period underwear from losing their shape or absorption properties, you do need to care for them a little differently. Unlike standard underwear you can just throw in the washer and dryer, you need to be a little more hands on with them. Here are a few things to keep in mind when caring for yours.
Hand Wash or Soak
Immediately after wearing your period underwear, you should use cold water to wash them. You can leave them in a cold water soak for a little while (some people like to add a small amount of vinegar to kill any bacteria) or you can rinse them out immediately. Run them under cold water and wring them out several times until the water coming out of them looks clear.
Machine Washing
After rinsing or soaking and wringing, you can throw your period underwear into your regular clothing wash. They won't get bloodstains on your other clothes, so no need to worry.
However, you shouldn't wash them on a hot cycle, and you shouldn't use fabric softener in that load because that can affect the absorbency layer inside. Bleach may seem like a great way to get stains out, but it can degrade the fabric over time, so avoid it and stick to dark colors if bloodstains bother you.
Drying
Period panties and reusable pads should never go in the dryer. This can mangle the inner layers and make them less absorbent. It can also increase the crinkly noise that some period underwear make. Instead, you should hang them to dry on a rack or even on your shower curtain rod. They will dry faster in a well-ventilated room, and you can rotate them every few hours to avoid damp spots.
How Often Should You Change Your Period Panties?
Really, how often you need to change depends on your cycle and the absorbency level of the underwear. If you're using them as backup along with other period products, unless you have a major leak that soaks the lining, you can just change them once every day like regular underwear.
Period panties that are more absorbent and can be worn on their own may be enough to keep you protected all day. However, if you tend to have a really heavy flow, it might be wise to carry some sort of hygiene product with you to add extra protection if you start feeling soaked. That tends to be easier than carrying extra underwear with you and finding a safe way to store dirty ones if you're at work or school, for example.
If you find yourself feeling damp or uncomfortable, go ahead and change. You know your body best, and in less breathable materials, that discomfort could be a warning that excess yeast and bacteria may be building up. That's why it's best to try period underwear for the first time on a day you'll be mainly at home. That way, you can see how they work for you and what you need to do to have the best experience.
Parting Words
Periods suck. But if you can find products that work to help you feel more comfortable and less anxious about leaks and stains, they can suck a little less. Period underwear are a great option to invest in no matter your cycle.
If you have a light flow, you'll find a few options that could completely replace pads and tampons for you. For heavier flows, you have fewer total replacement options, but there are a lot of leak-proof pairs that will give you extra protection and peace of mind.
Period panties can help you reduce the money you're spending and the landfill trash you're producing by reducing your need for disposables. This is particularly helpful if you sometimes feel like you're wasting pantyliners on those last few days where your cycle is tapering off, but you don't want to leave yourself unprotected and risk ruining your favorite underwear.
We hope that our list has given you a few options to try no matter your particular period needs. With a variety of cuts, sizes, and absorbency levels, we feel confident that there's something here for everyone.