Deodorant is one of those essentials in your daily routine. No one wants to finish a workout or reach the end of their day and realize that a whiff of funk is coming from them. So what do you do when most deodorants irritate your skin?
Typically, deodorants made for more sensitive skin are natural deodorants. Natural deodorants avoid most chemical additives that can cause rashes and breakouts. If you've had bad experiences with natural deodorants in the past, that doesn't mean you should give up. In recent years, more options have arrived on the scene with skin-soothing ingredients, a variety of active ingredients, and unscented or naturally scented options. Many of them avoid ingredients that are common irritants.
It's become easier than ever to find your own perfect match. In this guide, we'll walk you through our top choices for the best deodorants for sensitive skin. Maybe we'll even help you find your own happily ever after with a deodorant you can commit to even for sticky-hot summers.
Factors to Consider in Deodorant for Sensitive Skin
To help you find the deodorant that works best for your skin and sensitives, keep these important factors in mind.
Antiperspirant vs. Deodorant
You might be surprised to learn that from your teen years on, you likely haven't been using deodorant. You've probably been using an antiperspirant.
Deodorants work to mask or reduce the odors on your skin, while antiperspirants stop you from sweating. Most antiperspirants use aluminum as their main ingredient. Some people swear by antiperspirants to prevent embarrassing sweat patches on their clothes. Aluminum, however, has come into question in recent years.
Most of our top choices for the best deodorant for sensitive skin are aluminum-free. However, if you need an antiperspirant, there are a few options made for sensitive skin that made it on to our list.
Active Ingredients
To attack the problem of sweat mingling with bacteria on your skin, there are several active ingredients that different deodorants use. Here are the main active ingredients that the natural deodorants on our list use to protect you from odor.
Baking soda: Not just for keeping your fridge from smelling funky, baking soda (or sodium bicarbonate) absorbs odor on your skin as well. This compound may also kill bacteria on the skin. Some people with dry skin find that it can be an irritant, however, because it is alkaline (about a 9.0 on the pH scale). Most skin is somewhat acidic, about 5.0.
Minerals: A health food store staple, crystal deodorants made from potassium alum are the most common mineral options. Now, though, there are a few more options available. Many deodorants use forms of magnesium, and rely on its antimicrobial properties to kill bacteria on your skin.
Probiotics: It may seem counterintuitive to add bacteria to your skin if you're fighting body odor. Probiotic deodorant works on the idea that if you shower every day, you're stripping your skin of bad bacteria and good bacteria. It makes sense; bacterial imbalances can affect various bodily functions, like your digestion. Adding probiotics to the deodorant attempts to remedy that imbalance.
Scents
Having fragrance in your deodorant helps mask any possible body odor that may crop up. It can also add to your overall fragrance if you like to wear cologne or perfume. Some people like to choose a scent that matches their signature fragrance or just like a scent that makes them smell a bit fresher. Most deodorants for sensitive skin are made with essential oils for fragrance.
Essential oils are concentrated plant extracts and many people prefer them to synthetic perfumes. Some essential oils (such as lavender or tea tree oil) are also antimicrobial which can help reduce odor on the skin. Even so, some people find them irritating.
There are quite a few deodorants for sensitive skin that are fragrance-free. If you don't like scented deodorants or can't tolerate perfumes or essential oils, you still have options.
Style
The most common style of deodorant on our list is stick deodorant. However, there are a few other styles available. Here, we'll examine the differences between stick deodorants as well as other varieties.
Stick: a solid block of deodorant, stick comes in a tube that you crank up as you need more. They are rubbed under the arm and are the most likely candidates to cause chalky residue. Sticks are a versatile, on the go option that can be kept in your bag and discreetly reapplied during the day.
Gel Stick: These are similar to standard sticks, but their gel formula reduces the risk of chalky residue.
Spray: These deodorants are sold in liquid form. They can be found in pump bottles or aerosol cans and will require a brief wait for them to dry after you spray them on. Some people enjoy the even layer that a spray applies, and find that it feels refreshing after a workout.
Crystal: Crystal deodorants are chunks of mineral salts that have been carved smooth. You have to moisten them with water, then rub them under your arm like a stick. It's not terribly convenient, but many find that crystal deodorants work all day, so no need to reapply.
Roll-on: Like a spray/stick hybrid, roll-ons are a tube of liquid with a rollerball applicator that you use to apply them. Typically, they must be shaken before use. They combine the convenience of a stick with the coverage of a spray.
Now, let's jump into the best deodorants for sensitive skin and find the one that's perfect for you.
Top 10 Best Deodorants for Sensitive Skin 2023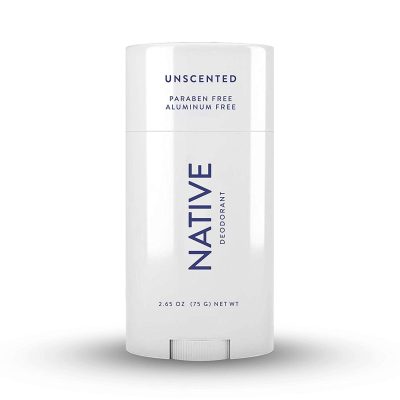 Why we like it:
Made with a cocktail of scent-destroying ingredients and moisturizing oils, this cruelty-free option provides long-lasting protection.
Editor's Rating:
Features:
Active Ingredients: Baking Soda, Magnesium, Probiotics
Scents: Plant Extracts or Unscented
Style: Stick
Review
Native Deodorant recently came on the natural deodorant scene and made a big impression. Potentially harmful and irritating ingredients like aluminum, parabens, and sulfates have no place on their ingredients list.
Packed with shea butter and coconut oil, this deodorant is moisturizing. This will come in handy if your pits are particularly sensitive or prone to razor burn. It also uses tapioca starch as part of its base. Tapioca starch is silky smooth and it will help absorb excess moisture. Since this isn't an antiperspirant, you will still sweat, so that's particularly useful. If you sweat excessively and need an antiperspirant, you should take a look at our budget pick.
It's available in a variety of scents, and in unscented formulas, even a charcoal-based formula. Activated charcoal is a well-known deodorizer used in filtration systems. Most of the scents are light and refreshing, but the Citrus Musk scent is very strong and the musk component smells a little like body odor, which is not ideal. For a gentler collection of fragrances, try Schmidt's deodorant. Because of the starch,
Native deodorants can leave some white marks on dark clothing if you change immediately after applying.
Overall, Native has created a solid product that works well for most people. By combining a variety of active ingredients, it helps cover nearly all your bases. However, it won't stop you from sweating, so you may want to reapply after a workout. Still, with its soothing ingredients and variety of scent options, you're likely to find something in their collection that works well for you.
Pros
Moisturizing coconut oil and shea butter

Soothing all-natural ingredients

A variety of scents and unscented options
Cons
May leave white marks on dark clothing

Some scents are too strong
---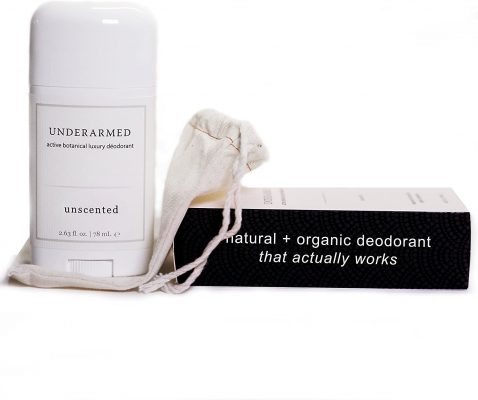 Why we like it:
This cruelty-free, all-natural deodorant combines a ton of skin-loving ingredients and comes with a 60-day money-back guarantee.
Editor's Rating:
Features:
Active Ingredients: Baking Soda, Magnesium Sulfate, Hydrogen Peroxide
Scents: Essential Oils, Unscented
Style: Stick
Review
Though more expensive than most of the options on our list, Underarmed is a luxury deodorant brand. This child-safe formula is perfect for the whole family and pH balanced so it won't irritate sensitive skin. You can enjoy the deodorizing benefits of baking soda without suffering from its alkaline effects in this deodorant.
Underarmed's formula has moisturizing ingredients like coconut oil, vitamin e, and avocado butter to take care of your underarm skin. Skin is skin, after all, and needs moisture. It also has a few unusual ingredients, not found in many other deodorants. Organic beeswax, raw honey, and hydrogen peroxide are three that stand out.
Beeswax gives it a stiffer, harder texture, like a lip balm. Raw honey is naturally antimicrobial and is famous for never expiring. Hydrogen peroxide, of course, is a well-known disinfectant. This makes Underarmed's blend unique. The beeswax makes it a little harder to apply when it's cold out. It does make it easier to apply just a thin layer, though, and helps you avoid white marks on your armpits and clothes.
It is possible to experience some sensitivity to this deodorant. It can cause some itchiness or discoloration to your underarms. Just because the product is natural, there is always a chance of allergies, so consider ingredients carefully if you've had any reaction before. For most, though, this will be an effective option.
Pros
PH balanced formula

Natural antimicrobial ingredients

Moisturizing oils
Cons
Beeswax makes it harder to apply

Possible allergic reaction or skin discoloration
---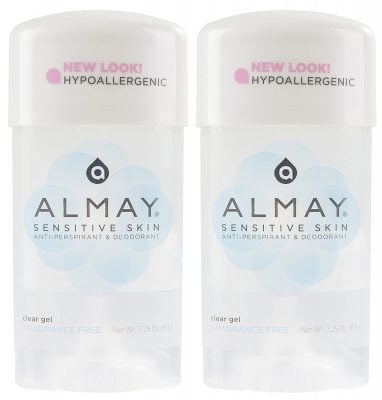 Why we like it:
This familiar drugstore brand, Almay, offers a budget-friendly option for a sensitive skin-friendly antiperspirant.
Editor's Rating:
Features:
Active Ingredients: Aluminum
Scents: Unscented
Style: Gel Stick
Review
Almay offers this hypoallergenic antiperspirant in a clear gel formula. Free from any fragrances and dyes, this deodorant is a good option if you need an antiperspirant, but have allergies to those common additives. If you also prefer unscented products due to conditions like asthma, this product offers an alternative to other antiperspirants.
This is one of the few non-natural options on our list due to its inclusion of aluminum. One of the most affordable and widely available options on our list, it's a no-frills option free from organic ingredients and plant extracts which can drive up the price. It reduces underarm wetness all day by using aluminum to reduce the function of your sweat glands. If you're sensitive to aluminum or uncomfortable with the potential health risks it poses, this isn't a good option.
The gel formula goes on smoothly, and once dry, isn't likely to leave any marks on your clothing. It can take a moment to dry, though, as it goes on wet. If you're already sweating when you apply it, it can feel sticky in your underarms.
Overall, it performs well, lasting all day. If you perspire a lot, this will save you from embarrassing wet marks on your clothing. Though Almay is often associated with women's cosmetics, this formula would work just as well for men too.
Pros
Affordable and widely available

Free from fragrance or dyes

Reduces sweating
Cons
Can feel wet and sticky when first applied

Contains aluminum, a common irritant

No additional moisturizers
---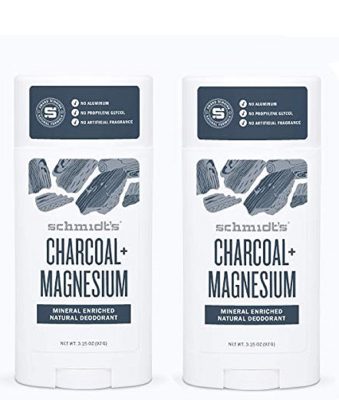 Why we like it:
This is an all-around great deodorant option for sensitive skin with a gentle, all-natural, cruelty-free formula and a variety of scent options.
Editor's Rating:
Features:
Active Ingredients: Baking Soda, Magnesium Hydroxide
Scents: Essential Oils or Unscented
Style: Stick
Review
Schmidt's natural deodorant is very similar to our top choice, though it is missing the addition of probiotics that Native offers. Even without probiotics, it offers solid performance for daily use. It's available in a variety of natural scents, a charcoal and magnesium option, and unscented options as well.
The formula offers up a potent blend of natural oils to moisturize your armpits. Shea butter, coconut oil, jojoba oil, and vitamin e are all soothing ingredients for sensitive skin. It also uses arrowroot powder as a sweat absorbing starch base. Candelilla wax is used to firm up the stick. If that recipe's not gentle enough, Schmidt's also offers a special sensitive skin formula in several scents and an unscented option.
Since this deodorant relies mainly on baking soda as its deodorizer, it is more alkaline than your skin. For some people, this can cause irritation due to the acidity of their skin. Schmidt's sensitive skin line removes the baking soda to eliminate that issue. You might also consider one of the mineral options on our list if baking soda is an issue for you.
Some sticks felt a little rough, which was also irritating to the skin, but that doesn't seem to be the norm. It may have been a manufacturing error with that particular batch.
The variety of Schmidt's deodorant options makes them a brand to consider, even if their signature formula doesn't work for you. They offer a high-quality formula at a moderate price point. It's long-lasting, and the scented options smell great.
Pros
Combines magnesium and baking soda for long-lasting protection

Full of moisturizing plant-based oils

Schmidt's offers a wide variety of formulas for sensitive skin
Cons
The wax can make it stiff to apply

Some batches have had a rough texture
---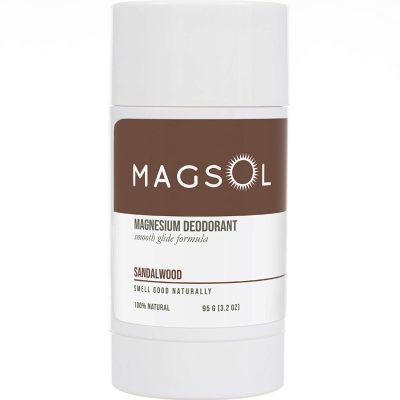 Why we like it:
This baking soda-free formula keeps it simple with only four ingredients, but still offers great performance.
Editor's Rating:
Features:
Active Ingredients: Magnesium Oxide
Scents: Essential Oils
Style: Stick
Review
Developed by Magsol in the heat of Houston, Texas, this deodorant strips things back to only four basic ingredients. Each stick contains almond oil, beeswax, magnesium oxide, and essential oils. That's it.
Sweet almond oil is a particularly gentle skin-friendly oil used in many lotions and cosmetics. Magnesium oxide works to deodorize your armpits, but it has the added benefit of providing your body with a little extra magnesium. Most people are magnesium deficient since it's a difficult nutrient to get through our diets. Your skin absorbs products you put on it, so it's nice to absorb a mineral boost through this deodorant.
The formula is available with several different essential oils, including sandalwood, which is a pleasantly masculine scent. Lemongrass and sweet orange are refreshing and gender-neutral options as well. The formula is long-lasting, and with so few ingredients, is less likely to irritate even the most sensitive skin.
If the acidity of your skin reacts poorly with the alkalinity of baking soda, this mineral option may be a good choice. Some do find that the texture is very different than they're used to, however. It can feel a little pasty if the formula gets hot, and the beeswax can leave a residue on your skin.
Since essential oils interact with your body's chemistry, some find the scents smell unpleasant combined with their sweat. Unfortunately, Magsol doesn't offer an unscented option currently.
Pros
Baking soda-free formula

Simple, all-natural ingredients

Provides an essential mineral
Cons
Unpleasant texture

No unscented options available
---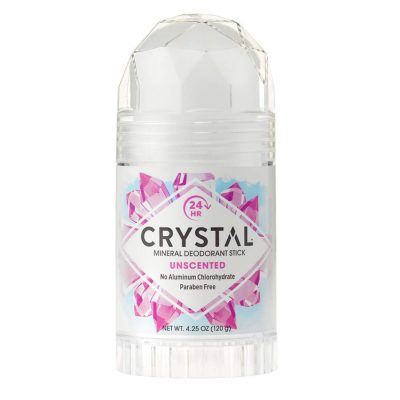 Why we like it:
With only one ingredient, this health food store staple seems too good to be true, but it can be very effective.
Editor's Rating:
Features:
Active Ingredients: Potassium Alum
Scents: Unscented
Style: Crystal, Liquid Roll-On
Review
For decades, crystal deodorant has been the main alternative deodorant option on the market. The deodorant is made of only one thing: potassium alum, a naturally occurring mineral salt. The salt crystal is cut and polished smooth, then put in a twist-up container.
To use, you have to lightly moisten the crystal. Then, you rub it under your armpits and wait for it to dry. One rock can easily last for six months if you keep it dry between uses.
It's also available in a liquid roll-on formula, though that isn't as pure. The liquid product contains several other compounds, such as sodium bicarbonate, or baking soda.
Since there is only one ingredient in this product, you'll very quickly be able to eliminate many common irritants. There are no fragrances, starches, waxes, or stabilizers. Potassium alum, however, is a form of aluminum sulfate. It's naturally occurring and considered safe in small amounts. Baking powder also contains small amounts of potassium alum.
Unlike aluminum antiperspirants, this won't stop you from sweating, but it does provide long-lasting odor protection. If you have a reaction to aluminum, however, it might not be the best option. It can still cause a reaction in those who are particularly sensitive.
Pros
One crystal can be used for months

A single, naturally occurring ingredient

Long-lasting odor protection
Cons
Inconvenient to use

Does still contain aluminum sulfates
---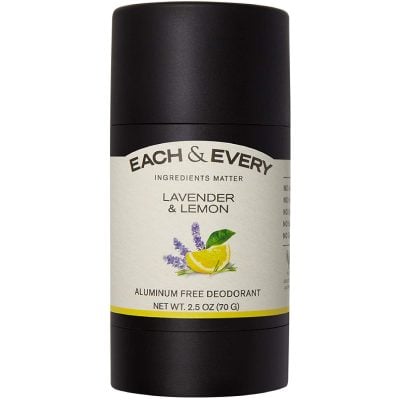 Why we like it:
This baking soda-free deodorant comes in a variety of fresh fragrances and uses magnesium to prevent body odor.
Editor's Rating:
Features:
Active Ingredients: Magnesium Carbonate Hydroxide
Scents: Essential Oils, Unscented
Style: Stick
Review
Using magnesium carbonate hydroxide from Dead Sea salt, this natural deodorant is EWG verified to be free from potentially harmful chemicals. The ingredients also include an oil derived from coconuts, antioxidant salts, and something called ozokerite, or earth wax. Earth wax is a naturally occurring mineral wax or paraffin found in veins underground. This ingredient helps thicken the formula and keep the oils from separating.
Each scent contains a blend of essential oils. The unscented formula contains no essential oils but has additional sea salts. Presumably, then, this formula does rely on its essential oils to assist with deodorizing, not just using them for a pleasant fragrance. Many plant extracts have antimicrobial properties, so that is a reasonable formulation. However, that does mean that certain scents work better than others.
The product has a soft creamy texture that is easily absorbed into the skin and moisturizes it. Some sticks though experienced some separation and leaked oil out of the dispenser. Whether it was a packaging failure or an issue with the emulsion is unclear. As one of the highest-priced deodorants we reviewed, losing a portion of the product is especially frustrating.
With a strong concentration of mineral salts, it can cause a reaction in those sensitive to salts. It's still a gentle and effective option to consider if you're avoiding baking soda and aluminum.
Pros
A wide variety of natural scents

Creamy and moisturizing

Verified to be free of potentially harmful chemicals
Cons
Some separation and leakage can occur

Higher price
---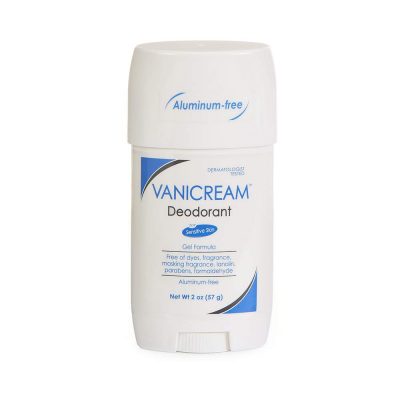 Why we like it:
If you're sensitive to plant extracts, this gel formula avoids all of them with a pared-down list of ingredients to prevent odor.
Editor's Rating:
Features:
Active Ingredients: Sodium Hydroxide
Scents: Unscented
Style: Gel Stick
Review
Often recommended by dermatologists, Vanicream avoids nearly every irritant found in other deodorants. Without fragrance, wax, botanical extracts, starches, or baking soda, it relies on a cocktail of simple chemical derivatives.
This gel formula won't stain your armpits or clothes, but it does tend to feel wet going on. It can continue to melt into your skin throughout the day, increasing the wet feeling. If you allow it to dry after putting it on, it performs better and can last all day if you don't sweat much. If you do, the melting effect can kick in and it's less effective at controlling odor then.
Vanicream has a full line of products that are a cult favorite for people who are extremely sensitive to additives and fragrances in most commercial body products. This deodorant seems to be just as gentle, but it's not a highlight of their product lineup. If you don't lead an especially active lifestyle or don't sweat much, it can work for you, but otherwise, you might find it a little lacking.
Pros
Avoids many common allergens

Easy to apply, non-staining gel formula

Cult favorite
Cons
Feels wet in underarms

Not great for strong body odor or a lot of sweat
---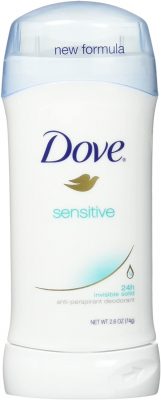 Why we like it:
For antiperspirant users, Dove's formula can be a good alternative to other popular options with its moisturizing ingredients.
Editor's Rating:
Features:
Active Ingredients: Aluminum
Scents: Fragrance
Style: Stick and Spray
Review
The health and beauty staple brand, Dove has created a gentler antiperspirant with their sensitive skin option. Dove boasts that they use a ¼ moisturizer formula that lasts for 24 hours. The product breakdown also says that this antiperspirant is unscented, but the ingredients list still has "fragrance" on it. So, be aware if synthetic fragrances bother you.
If you prefer a spray deodorant, Dove offers their sensitive formula in an aerosol option. The spray is rated for 48 hours of odor and wetness protection.
Unlike the other antiperspirant on our list, by Almay, Dove does include a plant-based oil as a moisturizer. In this case, sunflower seed oil. It also avoids ethanol alcohol in favor of stearyl alcohol. Stearyl is considered to be more skin-friendly. For eczema sufferers, this is a gentle and effective option compared to most antiperspirants.
In spite of the addition of sunflower seed oil, we can't recommend this as highly as Almay's antiperspirant. Its inclusion of added fragrance as well as potentially harmful ingredients like talc, along with aluminum, create more chances for it to cause irritation for sensitive skin. Talc can bother your skin and also leaves a chalky white residue that may stain skin and clothing.
Pros
Moisturizing sunflower oil formula

Long-lasting protection

Comes in both spray and stick options
Cons
Includes synthetic fragrance

May cause clothing stains due to talc
---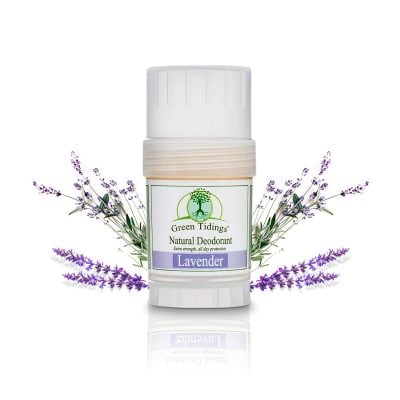 Why we like it:
Green Tidings' vegan formula avoids most common allergens while providing long lasting odor protection.
Editor's Rating:
Features:
Active Ingredients: Baking Soda, Magnesium Chloride
Scents: Essential Oils or Unscented
Style: Stick
Review
This deodorant strips it back to plant-based basics. All organic, Green Tidings avoids many common allergens, ensuring that its deodorant is corn, gluten, and soy-free. It's also free from salts, dyes, and artificial fragrances.
Their formula uses coconut oil and shea butter to soothe your skin. Tapioca starch helps absorb wetness, while baking soda and magnesium chloride deodorize any body odor. Their deodorants are scented with essential oil, but they offer an unscented option as well. Candelilla wax rounds out the ingredients list as a vegan alternative to beeswax.
For such a simple ingredients list, the performance is pretty impressive. Even after working out or wearing it all day, it keeps odor at bay. Though, the starch won't absorb much wetness if you're sweating heavily.
The texture of the stick is a little bit paste-like, which may be off-putting for some. It can be harder to apply only a thin layer and the starch does pose a risk to dark clothing. It's also a little pricier per ounce than most of the other options on our list. For people with severe sensitivities to allergens like gluten though, this brand ensures you won't absorb any even through your deodorant.
Pros
Long-lasting odor protection

Free of most common allergens

Simple, all-natural ingredients
Cons
Higher price per ounce

Paste-like texture may stain clothes
---
Everything You Need to Know About Deodorant for Sensitive Skin
Still have questions about deodorant and how to pick the right one for your sensitive skin? We have all the answers you need below.
What Causes Underarm Odor?

We all have bacteria on our skin and when we sweat from heat, stress, or physical activity the two combine. Sweat itself is odorless. Once it begins breaking down that skin bacteria, though, that's when body odor starts to form. Sweat or apocrine glands are located anywhere where there are hair follicles.
So why do underarms have a stronger odor, than, say, somewhere like your legs? Your underarms have a particularly high concentration of these glands. They also don't get a lot of airflow. Armpit hair can also trap odors in your pits. Even if you aren't a fan of shaving, keeping the hair trimmed will help reduce odor.
Regularly washing will also help to reduce the bacteria from building up on your skin. No time for a shower between the gym and work? Try using body wipes to clean up and then reapply your deodorant.
Ingredients to Look Out For
There are a few common irritants that most of the options in our guide avoid. Some are difficult to avoid altogether, like aluminum. If you really want or need an antiperspirant, there is no option available without aluminum on the market currently.
The Aluminum Debate

The first fears about aluminum affecting human health came up in the 1960s. At that time, scientists found that patients with Alzheimer's had elevated levels of aluminum present in their brains. Later studies ruled aluminum out as the cause. Concern rose again, years later, when doctors suggested antiperspirants might be linked to breast cancer.
Anything we apply to our skin gets absorbed by our bodies. Some chemicals found in antiperspirants were found in breast tissue, but no definitive link was ever found to antiperspirants increasing your risk for breast cancer. There is a good deal of information about the studies online. In spite of the inconclusive studies, some researchers still wonder if aluminum can disrupt your hormonal balance and pose risks to your health.
Long-term risks aside, many find that aluminum is a harsh ingredient that irritates their skin. It can be especially uncomfortable on broken skin. If you've nicked yourself shaving, it's probably best to skip it.
Other Common Irritants

There are several ingredients that most of the deodorants on our list avoid. Some even make sure to clearly state on their packages that they are free of certain additives. Not everyone will have a strong reaction to these, so they aren't necessarily a deal-breaker. However, it's important to understand what they are and how they can cause irritation or even possible health hazards.
Propylene glycol: This synthetic chemical is water-absorbing or a humectant. It can help lock moisture into your skin, so it's a common additive in body products to make them feel moisturizing. For some people, it can cause contact dermatitis. People with eczema can be especially susceptible to sensitivity to propylene glycol.
Parabens: Parabens are chemicals used as preservatives in many cosmetics. They increase the shelf life of products by discouraging mold and bacterial growth. In humans, however, they can mimic the hormone estrogen. Though they don't commonly cause an immediate allergic reaction like some ingredients, this can be a health concern for people suffering from certain conditions. Over time, there is some concern about parabens being stored in our bodies.
Alcohol: Alcohol, particularly ethanol alcohol, is found in a number of body products. While removing bacteria seems like a good idea when it comes to deodorant, for those with sensitive skin, alcohol does more harm than good. It's very drying to the skin which can cause itchiness, redness, and even the overproduction of oil. Your skin will try to compensate when alcohol strips away its moisture.
Phthalates: These chemical binding agents are found in many products we use. They are extremely common in synthetic fragrances, for example. The artificial fragrances they're bonded with can cause an allergic reaction on their own, but many possible health risks have been linked to the phthalates themselves. Those with asthma may be particularly irritated by them in body products.
Things to Keep in Mind
When changing body products, particularly if you're using a natural deodorant for the first time, there may be some unexpected issues you'll have to consider. Knowing what to expect ahead of time can help you prepare and avoid unpleasant surprises.
Antiperspirant Detox
If you're transitioning from aluminum antiperspirants to a natural deodorant routine, there may be a bit of a learning curve. Many natural deodorant users describe a "detox" period that may last a week or two depending on your body chemistry and lifestyle.
This detox is believed to be a release of built-up sweat and chemicals that weren't able to get out if you wore antiperspirants every day previously. Without any barrier between them and the outside world, for the first week or so, you may experience stronger than normal body odor. This doesn't mean that the natural deodorant isn't working for you. If you wait out the transition period, you'll be able to better judge the effectiveness of the deodorant and zero in on what works for you.
It is possible to speed up your detox by sweating it out a little harder than usual at the gym, taking regular showers, and changing your clothing regularly. If you're not used to sweating from your armpits during the day, a cotton undershirt can help you feel less anxious. It will absorb any excess moisture and protect your outer clothing.
Essential Oils
Many natural deodorants are scented with essential oils. While some of these can have benefits even beyond smelling nice, they can also have a downside. Because they are extra concentrated, they can pose an allergy risk as well. It also isn't recommended for women who are nursing or pregnant to use products with essential oils on their skin.
If you have a severe skin condition, you should consult your family doctor or dermatologist. They may recommend a product for you. If you ever experience a rash or skin discoloration after trying a new product, discontinue use immediately.
Find the Right Deodorant for Your Sensitive Skin
If you have very sensitive skin, it is possible that you still may be irritated by some of the products on our list. While they are composed of more natural ingredients than your average drug-store deodorant, that's not a guarantee. Peanuts are natural, and many people are allergic to them.
It may take some time to find the right deodorant for you. Body products are not one-size-fits-all. Especially when it comes to products like essential oils, they will interact differently with your body chemistry. What works for one person may irritate or be ineffective for another.
We hope this list gets you started on finding something that works for you. You shouldn't have to choose between itchy irritated armpits and being able to stand close to other people in hot weather. With a little testing, you can find your ideal combination of comfort and effectiveness.