Top Picks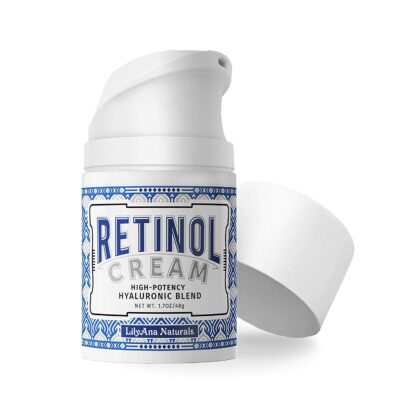 LilyAna Naturals Retinol Cream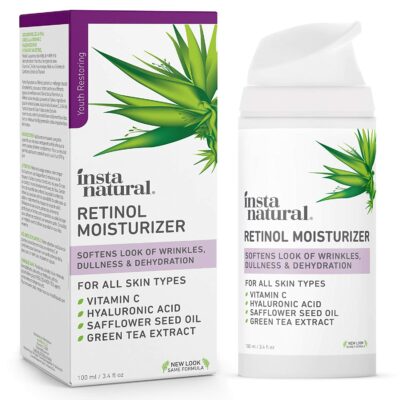 InstaNatural Retinol Moisturizer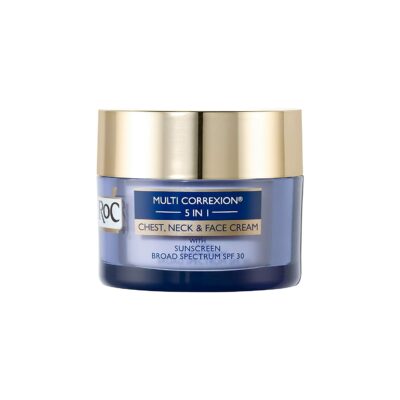 RoC Multi Correxion 5-in-1 Cream
Previous
Next
Are you afraid of developing a sagging and wrinkled "turkey neck" as you age? Or what about the dreaded "tech neck," which is characterized by permanent creases that form when straining to use digital devices?
Thankfully, just because aging is inevitable doesn't mean developing an unsightly neck is. While there are a number of things working against your neck—from its incredibly delicate skin to its lack of sebaceous glands to excessive sun exposure to mere gravity—there are creams that can combat them all.
Whether you want to prevent sagging and wrinkles as you age or reverse damage that's already occurred, there's a neck cream that will meet your needs. To help you find the perfect formula for your cosmetic goals, we've compiled the best neck creams available today. Read on to explore our top picks and find the one that's right for you!
What to Consider Before Buying a Neck Cream
If you've never used a neck cream before—or you've been using one for a while but you're not getting the results you want—it's wise to familiarize yourself with the different kinds of products on the market today. Understanding what makes each formula unique will ensure you buy the best one for your particular needs.
Skin Type
Because it's so thin—only slightly thicker than the eyelids, in fact—the skin on your neck is incredibly delicate. That means if your skin is sensitive in general, your neck will undoubtedly need a little extra TLC. Should this be the case, look for a cream that's formulated specifically for people with sensitive skin, like L'Oreal Paris Revitalift Anti-Wrinkle & Firming Cream.
If, on the other hand, your neck is already showing signs of age, you'll get the most dramatic results from a cream that's been formulated for mature skin, like Neutrogena Rapid Wrinkle Repair Moisturizer With Sunscreen. Other skin types include dry, oily, combination, and normal, and we've considered all of them when compiling our list. If you're unsure what your skin type is, review our handy guide.
Scent
For optimal results, it's typically advisable to apply neck cream twice a day: once in the morning and then again before bed. As such, you'll want to choose a product that smells nice. While the scent shouldn't linger until your next shower like that of perfume, it may be noticeable for some time after application, especially if you're sensitive to fragrances. Most of the products on our list are only lightly scented, but if you prefer a cream with no fragrance whatsoever, try InstaNatural Retinol Moisturizer.
Sun Protection
Limiting sun exposure is a must for preventing fine lines and wrinkles. If you want to keep your beauty routine simple, look for a neck cream that has a sun protection factor of at least 30, like RoC Multi Correxion 5-in-1 Cream. Keep in mind, however, that some of the most powerful tightening and lifting formulas cannot accommodate SPF. Therefore, their manufacturers recommend applying an SPF lotion in addition to the cream.
Primary Purpose
Are you hoping to prevent sagging, or do you want to reverse damage that's already occurred? Some neck creams, like Maryann Organics Collagen Day & Night Anti-Aging Cream, are ideal for younger people who hope to take a proactive approach to combatting aging. Others, like Desert Beauty's Neck & Décolleté Peptide Cream, are suitable for those who need to lift and tighten skin that's no longer firm and flawless.
Formula
The best formula for you will ultimately depend on your skin type and cosmetic goals. As such, it's wise to determine both before choosing a neck cream.
Different active ingredients serve different purposes. If you live in an especially dry climate, for example, you may want a neck cream that's deeply moisturizing, like LilyAna Naturals Retinol Cream. If, on the other hand, you have oily skin, you'll need a non-greasy, non-comedogenic product, like RoC Multi Correxion 5-in-1 Cream.
And if your primary concern is erasing wrinkles, you'll need a cream with filling and plumping features, like Neutrogena Rapid Wrinkle Repair Regenerating Cream. If, on the other hand, you need to address sagging, you'll want a product that lifts and tightens, like ACTIV Science Triple Firming Neck Cream.
Capacity
The only way to get results from applying neck cream is by doing so diligently day after day. Therefore, you'll want to buy a product that's going to last. Thankfully, lightweight formulas that spread easily demand no more than a small dab to cover the entire neck area. That means even the smallest jars can last for weeks.
When comparing neck creams, consider how big the jar is and how much you'll likely use. Ideally, you want a product that will last at least a month before you need to restock your medicine cabinet or bathroom vanity.
Efficacy
How soon are you hoping to see results? While some neck creams will yield a noticeable difference in a matter of weeks, others take a month or more of consistent use to restore a youthful glow.
If you have a special event right around the corner, you may want to opt for one of the more potent formulas, like Neutrogena Rapid Wrinkle Repair Regenerating Cream, which can prompt a dramatic reduction in fine lines and wrinkles in just one week. If you want something gentler, on the other hand, and you're not necessarily in a rush, Maryann Organics Collagen Day & Night Anti-Aging Cream is a great choice, especially for those who have sensitive skin that's prone to dryness and irritation.
Now that you know what to consider when evaluating neck creams, check out the best products available today!
A Comprehensive Guide to Neck Cream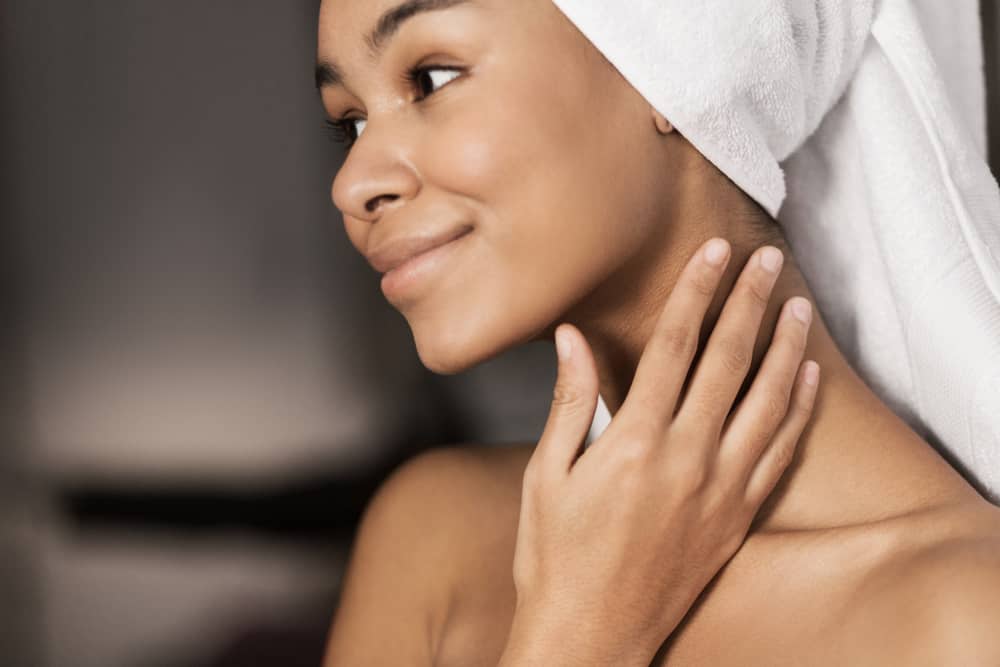 Neck cream is a must for your anti-aging arsenal. With so many products on the market, though, it can be hard to narrow down the options and find the right one for your particular needs. Read on to learn more about this beauty essential so you can choose the best formula for your delicate skin.

What Kinds of Ingredients Yield the Most Dramatic Results?
The efficacy of any given neck cream ultimately comes down to the ingredients it contains. Some of the most common ingredients found in these formulas have been clinically proven to combat the visible signs of aging, while others are backed by lots of anecdotal evidence. You can learn more about the most potent active ingredients below.
Retinol
Retinol is a chemical derivative of vitamin A. Often confused with retinoids, which are also derived from vitamin A, retinol is available in over-the-counter products. Retinoids, on the other hand, must typically be prescribed by dermatologists because of their potency (although a 0.1% gel recently became available without a prescription).
A popular ingredient in "cosmeceuticals" like neck cream, retinol encourages cells to divide more rapidly, stimulating the production of collagen and new elastic fibers in the process. The host of new cells join forces with the excess collagen and added elasticity to thicken the epidermis, leaving skin smoother, firmer, and plumper. Retinol also happens to hinder the inflammation that contributes to breakouts. That means if you have oily skin, you may notice a reduction in acne, too, when using retinol-based creams.
Be Mindful of Retinol's Strength
While you may be inclined to purchase the most powerful retinol-based cream you can find after reviewing these benefits, it's important to remember that too much of a good thing can be a bad thing. This is especially true for those with sensitive skin, who may develop dryness and irritation if they don't incorporate retinol into their beauty routine gradually.
If the cream recommends twice-daily applications, for example, but your skin is sensitive, you may want to start with a single application every other day. If you still experience irritation, switch to a retinol-free cream, instead, like Desert Beauty's Neck & Décolleté Peptide Cream.
Hyaluronic Acid
Hyaluronic acid is a naturally occurring lubricant. Found primarily in the joints and the eyes, it also has anti-aging properties. When applied to the skin, for example, it helps the cells in the epidermis retain their moisture, thereby lending to a softer, plumper complexion. This, in turn, reduces the appearance of fine lines, wrinkles, and creases.
Hyaluronic acid also happens to be safe on all skin types, including those that are oily or prone to acne. While many products that contain hyaluronic acid are fairly expensive, our Best Budget Pick won't break the bank.
Collagen
Found in the body's connective and conjunctive tissues, collagen is a fibrillar protein that has a host of cosmetic applications. When rubbed on the skin—in the form of a neck cream, for example—collagen can improve elasticity, leaving the skin plumper and tighter.

Why Do Some Neck Creams Recommend the Addition of Sunscreen?
Neck cream manufacturers recommend adding sunscreen to your daily beauty regimen for two reasons. First, no matter how powerful the cream is, it's no match for the sun's harmful rays. Exposure to UV radiation speeds up the aging process and contributes to fine lines, wrinkles, and discoloration. That means failing to apply an adequate sunscreen could essentially cancel out any restorative properties of your neck cream.
This is why many products actually contain SPF. If you want to apply both a neck cream and sunscreen in a single step, try RoC's Multi Correxion 5-in-1 Cream.
The second reason manufacturers encourage sunscreen application is the fact that retinol-based creams make the skin more vulnerable to sun damage. Retinol speeds up cell turnover, and new cells are not nearly as robust when it comes to withstanding UV radiation as old cells are.

How to Determine Your Skin Type
While some of the products on this list were formulated for all skin types, like our Best Overall Pick, you may notice better results if you use a neck cream that was specifically designed for you. If you're not entirely sure what your skin type is, this brief guide should help.
You Have Normal Skin If
You rarely have breakouts and your skin is relatively clear, smooth, and soft. People with normal skin can typically try new products without worrying about sensitivity or irritation. If you neither have to blot away excess oil nor moisturize excessively, your skin is normal.
You Have Oily Skin If
Your face and neck are virtually always glistening. If you rely heavily on blotting papers or mattifying powders, oily skin is likely to blame. Likewise, you may have a hard time finding makeup that stays put and moisturizers that your skin actually absorbs.
You Have Dry Skin If
Your skin feels tight and itchy shortly after you shower. Flakiness, cracking, and sensitivity are also symptoms of dry skin. If you're constantly applying lotions, serums, and creams, your skin is dry. Our research indicates the best neck cream for dry skin is RoC Multi Correxion 5-in-1 Cream.
You Have Combination Skin If
You have some dry patches and some oily patches. If your face often breaks out in just one or two areas, for example, but the rest remains itchy and tight, you likely have combination skin. Most people with this type of skin have an oily T-zone, which is comprised of the forehead and nose, and a dry chin with dry cheeks.
You Have Mature Skin If
Your skin is lined with wrinkles and tends to sag. Dullness, dark spots, and uneven coloration are also common on mature skin. A number of factors will ultimately influence just how quickly your skin ages, from environment to diet to sun exposure, but you can generally expect to start developing the earliest signs of mature skin in your thirties or forties.
Our recommendation for mature skin is Desert Beauty's Neck & Décolleté Peptide Cream.
You Have Sensitive Skin If
You often experience stinging, burning, or irritation when applying cosmetic products. You may also have sensitive skin if you flush easily or develop rashes frequently. Because of the negative reactions, people with sensitive skin are usually wary of exploring new products.
Thankfully, we've taken the guesswork out for you. If you have sensitive skin, try L'Oreal Paris Revitalift Anti-Wrinkle & Firming Cream.
How Long Should I Try a Neck Cream Before Deciding It's Not Working?
It can certainly be disheartening to invest in a high-quality product and then fail to see results. When it comes to neck creams, though, even the most potent formulas are unlikely to cause a dramatic improvement overnight. As such, it's important to be patient.
Generally speaking, you should try a neck cream for at least two weeks straight before evaluating its performance. Before getting started, take some detailed photographs of your neck in decent lighting, like at your bathroom vanity. Use the product as instructed for two weeks, and then compare the skin on your neck to the photographs. Make sure to stand in the same place under the same lighting for the comparison.
If you don't see any improvement whatsoever, you may want to try a more potent formula; however, if you're not experiencing any irritation, either, it's worth trying the cream for another two weeks before giving up on it entirely. While some of the products on this list can yield prompt results, most take a month or more to produce a truly noticeable difference.
Are Neck Creams Suitable for Men?
While neck creams are generally marketed toward women, they can be just as beneficial for men. All the products on this list can be used by both men and women to combat the visible signs of aging that tend to overtake the neck's delicate skin.
When it comes to finding the right product, men have most of the same considerations as women. As a general rule, though, they tend to prefer unscented products, like ACTIV Science Triple Firming Neck Cream. Additionally, they'll have to evaluate the other products they apply to their neck, like aftershave, to reduce the risk of a reaction.
At What Age Should I Start Using Neck Cream?
You're never too young—nor too old—to start using neck cream. Your age and the condition of your skin will simply determine whether you want a formula with preventive or restorative properties.
Generally speaking, younger people—those under about 40—will want creams that were designed to prevent fine lines, wrinkles, sagging and creases. Those over the age of 40, on the other hand, may want to use a product that has reversive properties. Certain formulas can actually tighten, lift, and plump the skin, thereby reversing the most telling signs of aging.
Find the Right Neck Cream for You
It's never too early—or too late—to combat the dreaded "turkey neck." While fine lines, wrinkles, and sagging naturally occur with age, they are preventable—and with the right cream and a diligent beauty regimen, they can even be reversible!
Choosing the right neck cream may seem like a daunting task, but once you grasp the basics, you'll have no problem finding a formula that helps you achieve radiant skin that doesn't betray your age.