For those of us with curly hair, the right styling products can mean the difference between a bad hair day and a good one. Frizz, dryness, and breakable hair are all factors that can ruin your curls and turn them into shapeless strands. Thankfully, with the help of curl cream, your curls can stay defined day after day.
Curl cream works with your hair to coat strands and prevent frizz from happening in the first place. It defines and shapes your curls, giving you softer, bouncier hair that moves naturally. Curl cream also provides the moisture that your hair needs, improving the overall health of your curls.
Selecting a curl cream can be a difficult process, especially if you aren't sure what to look for. To help you out, we've researched the best curl creams out there and created a list of today's top 10 best products.
How to Choose a Curl Cream
Before we get into our list, we first need to discuss the most important things to look out for when choosing a curl cream.
How Does Curl Cream Work?
A quality curl cream will coat your hair, clinging to each strand where it will prevent tangling and define curls. Curl creams can also tame frizz, fight humidity, and add volume to your hair. To read about the additional benefits of curl cream in more detail, check out our full guide below.
Curl Creams vs. Gels
Curl creams are often confused with curly gels. While both products aim to provide curl definition, curl creams are more hydrating and frizz-fighting. Gels work to create more hold on curls but form a less soft and moveable style.
Sometimes, elements of both products are combined, like in L'Oreal Paris EverCurl's Sculpt and Hold Cream-Gel. Products like these provide moisture and softness to curls while creating a firmer style.
Ingredients
Curl cream come in a variety of different formulas. Ingredients can be varied, but there are certain things that you can look for in a curl cream to determine its effectiveness.
Coconut Oil
The essential fatty acids and vitamins in coconut oil help to nourish curls and provide definition.
Shea Butter
Shea butter is highly moisturizing to the hair and is perfect for coily and coarse-textured curls.
Aloe Vera
Good for more than treating burns, aloe vera soothes your scalp and gently protects your hair from damage.
Olive Oil
Olive oil conditions hair, keeping it strong and shiny.
Alcohols
You may be surprised to learn that not all alcohols are bad for your hair – cetearyl alcohol and cetyl alcohol will moisturize, detangle, and soften your hair.
You may find just one of these ingredients or a combination of them in addition to plant extracts and vitamins. Keep in mind that products that feature excessive chemicals, fragrances, sulfates, or silicones could damage your hair; you may want to avoid curl creams with these ingredients.
Now that you know what to consider in a curl cream, let's head straight into our top 10 picks!
Top 10 Best Curl Creams 2023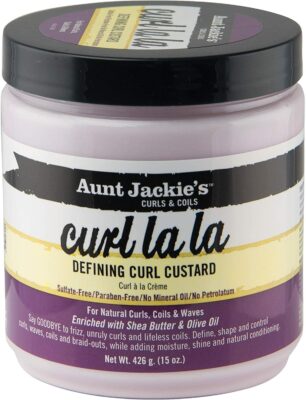 Why we like it:
Aunt Jackie's Curl La La can be used on all types of curls and works well on both wet and dry hair.
Editor's Rating:
Quick Facts:
Active Ingredients: Shea Butter, Olive Oil
It's hard to find more of a crowd-pleaser than Aunt Jackier's Curl La La Curl Defining Custard. This product can be used on all curl types, from wavy curls to tight coils, and leaves each one looking soft and defined. It can be applied to wet hair for air-dried styling or to dry hair as a refresher. It is a good choice if you are looking for a versatile curl cream.
The formula of this product has an easy-to-use consistency. It is not too thick or too hard to spread. Additionally, as it dries, it does not leave any greasy residue or stickiness in the hair. The only thing it leaves behind is a light fruity scent.
Because this product features shea butter and olive oil, it may be a little too heavy for use on thin or fine-textured hair. It also does not fight humidity well and may let hair frizz after prolonged exposure. For a humidity-proof curl cream, we suggest looking at Bed Head On The Rebound Curl Recall Cream.
Pros
Can be used on wet or dry hair

Works with all curl types

Does not leave residue or stickiness in hair

Easy to use consistency
Cons
May be too heavy for fine hair

Does not fight humidity well
---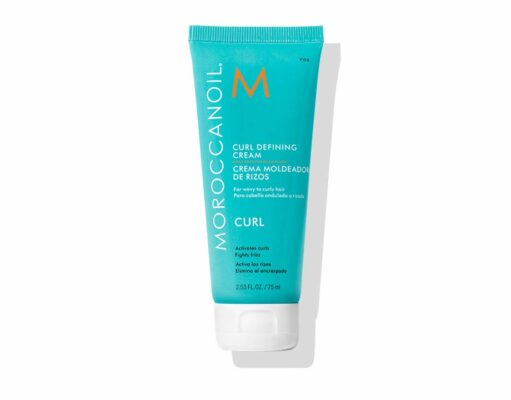 Why we like it:
This premium curl cream features Moroccan argan oil for conditioned hair and an irresistible scent.
Editor's Rating:
Quick Facts:
Active Ingredients: Argan Oil, Cetearyl Alcohol
Argan oil is full of fatty acids that help to moisturize the hair shaft and condition hair. This leaves your curls frizz-free and defined. Cetearyl alcohol works to keep hair detangled and soft, so your curls stay moveable all day long.
Moroccanoil Curl Defining Cream uses a unique scent – a blend of spicy amber, musk, and jasmine. It is light and not too overpowering, which means it would be tolerable for someone who dislikes strong fragrances. If you prefer your curl cream to be scented, this is a great choice.
Unfortunately, this cream can leave a sticky feeling at the roots of your hair once it dries. This can be counteracted by not using as much product near the top of your curls and washing the product out regularly. It is also a more expensive premium product, and might not be the best if you are shopping on a budget – our budget pick is a better fit in this case.
Pros
Argan oil conditions curls

Leaves curls soft and moveable

Pleasant scent
Cons
Leaves sticky feeling at roots

Expensive
---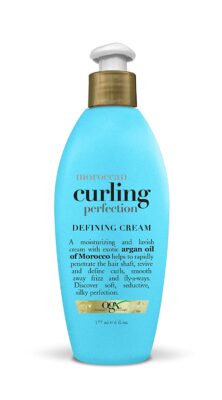 Why we like it:
OGX's Moroccan Curling Perfection fights frizz and defines curls all for one affordable price.
Editor's Rating:
Quick Facts:
Active Ingredients: Cetearyl Alcohol, Argan Oil
Similar to Moroccanoil's Curl Defining Cream, OGX's Defining Cream features cetearyl alcohol and argan oil. These ingredients work to soften and leave curls naturally bouncy and moveable. It tames frizz and fly-aways to make your curls look as sleek as possible. It is a good choice for anyone who struggles to get their frizz under control.
OGX's Defining Cream is affordable, coming in a 6-ounce bottle for less than 10 dollars. The formula is paraben and sulfate-free and will last a long time, making it a great option for someone who wants to purchase the most economical curl cream they can.
This product may dry your hair out, especially if you have naturally coarse or coily hair. If you leave the cream in too long or sleep on it, you may end up with hair that is dry or rough feeling. For a more hydrating cream that can even repair damaged hair, check out Marc Anthony Coconut Oil Curl Cream.
Pros
Creates bouncy curls

Tames frizz and fly-aways

Paraben and sulfate-free

Affordable
---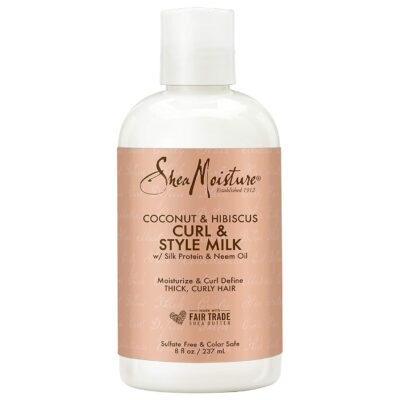 Why we like it:
SheaMoisture uses neem oil and silk proteins to prevent hair breakage and reduce frizz in your curls.
Editor's Rating:
Quick Facts:
Active Ingredients: Coconut Oil, Neem Oil, Silk Protein
Featuring a proprietary blend of curl-friendly ingredients, SheaMoisture's Curl and Style Milk is fantastic for styling thick curls. It helps smooth and control curls, adding shine and definition to create luscious locks. It is a good choice for anyone who has trouble creating curl definition in their thick hair.
Silk protein adds elasticity to the hair, preventing breakage. This, over time, adds more volume to the hair and makes curls appear bouncier. Neem oil reduces overall frizz and seals in moisture to create life-proof defined curls that last. If you have hair that is prone to excessive frizz, this product is a good option for you.
Unfortunately, the formula of this curl cream can be too thick for some. This consistency makes it hard to spread evenly and sometimes causes it to create clumps of curls. The product package is also a little flimsy and can make it hard to get any product out in the first place. For an easier to use curl cream, you may want to look at Aunt Jackie's Curl La La instead.
Pros
Silk protein prevents hair breakage

Adds shine to hair

Great for styling thick curls

Neem oil reduces frizz
Cons
Product consistency is too thick

Packaging is often faulty
---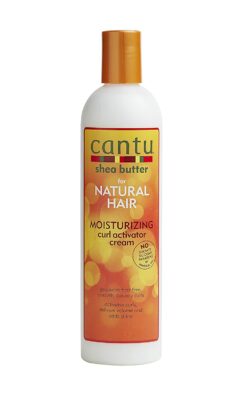 Why we like it:
Cantu Curl Activator Cream is perfect for styling and hydrating both coily and coarse hair types.
Editor's Rating:
Quick Facts:
Active Ingredients: Shea Butter, Olive Oil, Aloe Vera
This curl cream is perfect for using on coily and coarse hair types. It is moisturizing, but not too heavy, and it doesn't weigh down hair. It is a great choice for styling hair and for creating wash and go looks.
While the Cantu Shea Butter Curl Activator Cream has a thinner, more hydrating formula, it is also available in a thicker coconut curling cream, if you prefer a heavier consistency. If you're looking for a super lightweight curl cream, we suggest Aveda Be Curly Curl Enhancer instead.
This is not the best product for wavy curls or for finer hair. This cream can weigh down hair and make it feel heavy, potentially ruining curls that are naturally looser. If you still want to use this product despite this risk, apply it sparingly and do not apply too much to the ends of your hair.
Pros
Available in a thicker formula

Works great on coily and coarse hair

Great for wash and go's
---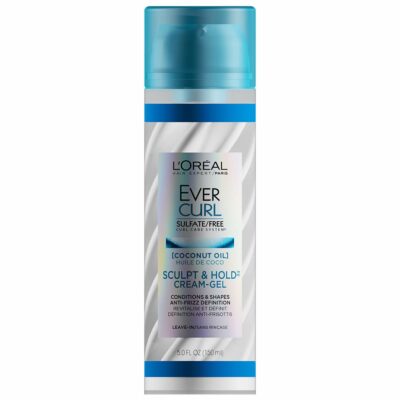 Why we like it:
For a curl cream that provides long-lasting curl definition and style hold, look no further than the L'Oreal Paris EverCurl Cream-Gel.
Editor's Rating:
Quick Facts:
Active Ingredients: Coconut Oil
A combination between a curl cream and a curl gel, L'Oreal Paris EverCurl will give your curls long-lasting definition and hold. The cream works for up to 48 hours fighting frizz, while coconut oil smooths out and adds shine to your hair. If you are looking for a low-maintenance way to define your curls, this product is a good choice.
The formula of L'Oreal's EverCurl is not too heavy or thick. It works especially well on shorter or wavy hair that needs moveable curl definition. If you have thinner hair or type 2 curls, this product may be perfect for taming your hair.
Because it is partly a gel, this product may leave your hair feeling slightly stiff. This could result in a slightly crunchy feeling on your curls. To get rid of this texture, use the cream sparingly as you apply it, and brush through or scrunch out your curls after the product has dried in your hair.
Pros
Long-lasting hold

48-hour curl definition

Works well on short hair
Cons
Can leave hair slightly stiff
---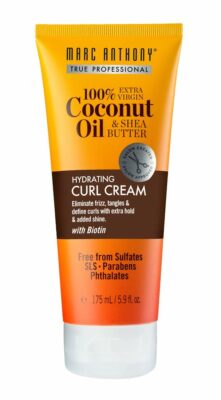 Why we like it:
Enriched with coconut oil and biotin, Marc Anthony's Curl Cream provides serious nourishment to dry, damaged curls.
Editor's Rating:
Quick Facts:
Active Ingredients: Shea Butter, Coconut Oil, Biotin
Marc Anthony's Coconut Oil Curl Cream is a salon-quality professional product that provides your hair with supreme nourishment and hydration. Coconut oil and shea butter work to smooth and moisturize hair, while biotin repairs and strengthens dry or brittle curls. If you regularly heat style or color your hair, this product is a great choice for you.
For anyone with wavy hair or loose curls, this curl cream can help transform your hair into ringlets as it works. It coats the hair without weighing it down and softly defines curls, bringing ringlets and large loose curls to life. It can also tame hair that is coarser or more coily.
This curl cream does have a very strong coconut fragrance that some may find off-putting. It lingers in your hair all day and may be overwhelming if you are sensitive to fragrances. The styling power of this product is also not as long-lasting as some, and you may find your curls losing their definition before the day is over. For a more intense hold we recommend L'Oreal Paris EverCurl Sculpt and Hold Cream-Gel.
Pros
Biotin repairs brittle curls

Salon quality product

Nourishes and hydrates damaged hair

Works well for styling ringlet curls
Cons
Very strong coconut fragrance

Not very long-lasting
---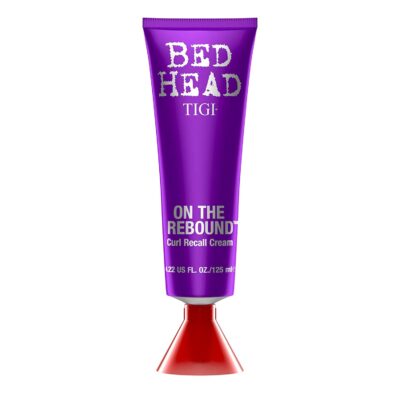 Why we like it:
Bed Head's On The Rebound Curl Recall Cream features a humidity-fighting formula enhanced with natural plant extracts.
Editor's Rating:
Quick Facts:
Active Ingredients: Pomegranate Extract, Baobab Seed Oil
For anyone who needs all day humidity protection, Bed Head's Curl Recall Cream is a great option. The formula of the curl cream easily covers and coats hair strands, bringing definition and shine to curls and preventing humidity damage. It also works to fight against frizz.
Plant extracts provide significant enhancement to this product; pomegranate extract strengthens hair, boosting elasticity and bounce, while baobab seed oil penetrates deep into the hair shaft to moisturize your curls and leave them feeling soft. It is a good option if you are looking for a simple nourishing product that isn't too heavy.
This product does utilize copolymers. Some users may want to avoid this petroleum-derived chemical smoothing ingredient as it has the potential to cause respiratory irritation or dryness in hair. The formula of this cream also sits in hair and flakes off when dry, which some people may not appreciate.
Pros
Lasting humidity protection

Pomegranate extract strengthens hair

Baobab seed oil moisturizes curls
Cons
Formula contains copolymers

Flakes when dry
---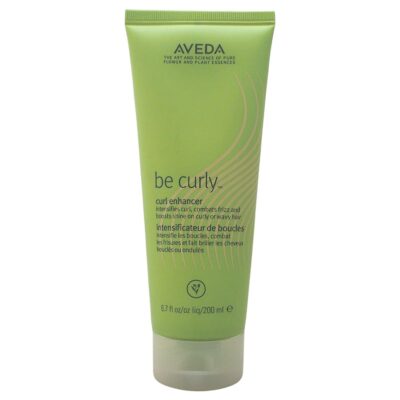 Why we like it:
Lightweight and non-greasy, the Aveda Be Curly Curl Enhancer is great for thin and fine hair textures.
Editor's Rating:
Quick Facts:
Active Ingredients: Aloe Vera, Vitamin B, Marshmallow Root Extract
Aveda's Be Curly Curl Enhancer features a lightweight formula that is both non-sticky and non-greasy. The cream lightly coats hair, providing frizz-fighting and curl-taming benefits without weighing down strands or clumping hair together. It is a great choice for thin or fine hair.
The marshmallow root extract in this formula detangles and conditions hair, which make it great for using on wet hair as part of an air-dry style. Vitamin B nourishes hair and adds shine to curls, making them appear well-hydrated and soft.
Because this product is more lightweight, it does not provide as strong definition as other creams on our list. The hold is light and results in soft, loose curls. If you want something that will give you provide significant definition while still be somewhat lightweight, we suggest OGX's Moroccan Curling Perfection.
Pros
Works well on thin or fine hair

Marshmallow root extract detangles

Vitamin B nourishes hair
Cons
Does not provide strong definition
---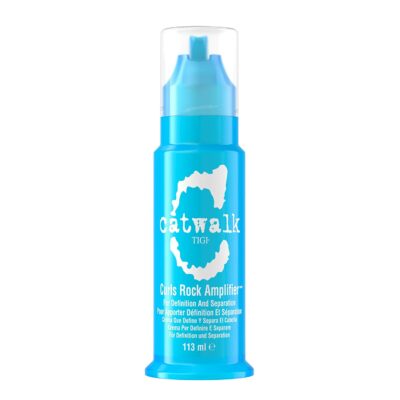 Why we like it:
Great for defining and separating wavy hair, TIGI Catwalk Curls provides volume while nourishing hair.
Editor's Rating:
Quick Facts:
Active Ingredients: Jojoba Seed Oil, Cetearyl Alcohol
Featuring jojoba seed oil which is rich in vitamins and minerals that nourish hair, TIGI Catwalk Curl Rock Amplifier nourishes hair and promotes hair thickness. As it smooths and controls curls, this curl cream works to bring volume back to the hair; it is a great choice for anyone who wants to rock a face-framing curl look with lots of root volume.
This product is great for type 2 wavy hair and wavy hair that is mixed with curls. It separates hair as it defines it, leaving your curls looking sleeker and more free-flowing. It makes a great product selection if you love a loose curly or wavy look.
Unfortunately, this formula can be hard to wash out of hair. It tends to stick on your roots and can cause significant product buildup throughout your hair – you may need to shampoo twice to remove it. The cream itself has a sticky consistency that will take a lot of handwashing to get rid of and can be very off-putting to some users.
Pros
Jojoba seed oil rich in vitamins

Promotes volume

Helps form wavy curls

Provides definition and separation
Cons
Hard to wash out of hair

Sticky consistency
---
Your Guide to Using Curl Cream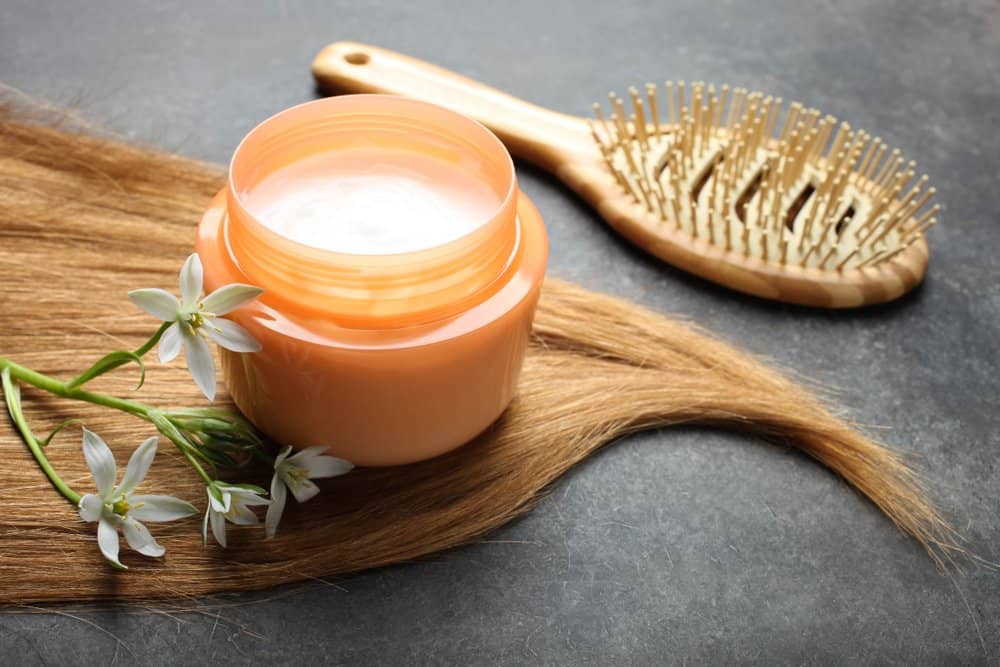 When used correctly, curl cream can be a fantastic hair enhancing product for every hair type. Read our full guide to understand all the benefits of curl cream and learn how to create a curl-friendly haircare routine.

The Benefits of Curl Cream
There are more benefits to curl cream than just curl definition. Keep reading to see what curl cream can do for your hair.
Frizz Prevention
Curl cream coats hair, sealing in hydration and protecting strands from damage. This will help prevent frizz from forming as your hair dries and can keep frizz at bay as you proceed through your day.
Moisturize Hair
Curly hair is prone to being dry, and if you have thick or especially coarse hair it can be even harder to fully hydrate your hair, so it is soft and shiny. Curl cream can help with this as it locks in moisture, boosting hair softness and improving its natural sheen.
Add Volume
By defining your curls, a curl cream helps to bring volume to your hair. The more defined and separated your curls are, the more depth and volume they bring to your whole head of hair. A product that is especially good at creating volume is TIGI Catwalk Curls Rock Curl Amplifier.
Helps With Styling
Perfect for use with naturally coily or zig-zag patterned hair, curl cream can help with styling this typically dry hair type into twist outs and wash and go styles. Curl cream provides enough slip to manipulate hair while delivering moisture into hair strands.
How to Use Curl Cream
For anyone who has never used curl cream before, the application process may be slightly confusing. Follow our simple step-by-step guide for help using your curl cream.
After washing your hair, leave it wet. You can wring excess water out of it, but do not towel or blow dry it.
Take a good-sized amount of curl cream on your fingertips and begin working it through your hair in sections.
Start at the root and work your way down, following your natural curl pattern. You can rake your fingers through your hair to ensure even distribution.
Once all of your hair has been coated with curl cream, scrunch your curls.
After scrunching, leave your hair down to air dry or blow dry with a diffuser. Do not touch your hair as it is drying, or you will create frizz.
Once your hair is dry, feel free to style it as you like or apply other products as necessary.
You may want to use a wide-toothed comb instead of your fingers during step 3 to ensure even product distribution. Finger-combing will create less hair damage, but if you have very thick or coarse hair, you may need to help of a comb to prevent tangles.
Can Curl Cream Be Used Every Day?
You can use curl cream every day, but you may not need to unless you have very dry or damaged hair. Curl cream is typically heavier and can last on hair for a day or two before needing to be reapplied.
If you do choose to use curl cream every day, make sure you are regularly washing your hair to prevent your curls from experiencing a buildup of product.
Is Curl Cream Bad for Hair?
Curl cream will not have any negative effects on your hair unless you are overusing it. If you are smothering your hair strands with the product every day and not washing the cream out, you could end up with product buildup and hair that is itchy or greasy looking. Fortunately, with responsible use, this is a very unlikely occurrence.
Should You Use Curl Cream on Wet or Dry Hair?
While most curl creams recommend that they be used on wet hair, curl cream can be used to refresh and style dry hair. You can apply the curl cream to completely dry hair or spritz your hair with a small amount of water first to increase the product's hold. If you want a product that's designed to be used for both wet or dry hair styling, check out Aunt Jackie's Curl La La Curl Defining Custard.
Will Curl Creams Work on Straight Hair?
Yes, curl creams can be used on straight hair. However, you should keep in mind that using a curl cream on straight hair will not make it curly; it will instead make it a little more textured or wavy and easier to curl with heat styling tools. If you have very thin or fine straight hair, a curl cream may be too heavy for your hair and can make it look greasy or dull.
Crafting a Curl Friendly Routine
As most of us with curly hair know, it can take a lot of effort to get curly hair under control. The first step in taming your wild locks is to create a curl-friendly routine. We've gathered some of the best curly hair styling tips for you to experiment with.
Diffuse
If you prefer to use a hair dryer on your curls instead of air drying, consider investing in a diffuser. A diffuser will evenly distribute air flow across your curls, further protecting them from heat damage and frizz and keeping the curl intact. When used in addition to your favorite curl cream, they can also provide a little bit of extra definition.
Protective Styles
Protective styles are an important part of caring for your curly hair. These styles include braids, pineapples, and loose buns, and can help stop your hair from frizzing or breaking throughout the day and night.
Braids and buns are better suited to windy days or when you need to keep your hair up and out of the way. Pineapples are a great choice for sleeping with curly hair as they pull all of your locks up and out of the way. You can also choose to sleep in braids, but this may make your hair wavier in the morning as opposed to curly.
Microfiber
Cotton towels can wreak havoc on curls – the fabric can catch hair and cause tangles, frizz, and breakage. For smoother towel drying, we recommend investing in a microfiber towel. Microfiber is softer and more absorbent than regular cotton; it will gently absorb more water out of your curls faster than a regular towel would. This will give you smoother, less frizz-prone hair.
Multiple Products
Most of the time, one curly styling product isn't going to cut it. If you want your hair to be irresistibly soft and defined on the regular, chances are you will need to invest in multiple styling products.
For example, any of the curl creams on our list can be combined with a leave-in conditioner or a hydrating and repairing serum for maximum curl control and definition.
Skip Wash Day
With curly hair, the last thing you want to do is use shampoo on it every day. This will only strip away your hair's natural oils and leave you with dry, easily breakable hair. Curly hair should be washed with shampoo once every few days depending on how dry it is and how much product you use. Trial and error will help you figure out the best wash routine for your curls.
Hair Hydration
Curly hair is naturally dry, and as such is prone to humidity damage and frizzing. Keeping your hair hydrated is essential in making sure your curls stay sleek and defined. Try conditioning on a regular basis or using a hydrating hair mask once a month. If your hair is excessively damaged, we recommend a curl cream like Marc Anthony's Coconut Oil Curl Cream which will hydrate and nourish your hair every time you use it.
Scrunch
Whether you're drying your hair or applying product to it, you should learn how to properly scrunch your curls. Even straight hair can benefit from scrunching as it defines curls and evenly distributes any styling product throughout the hair. Check out this guide for more information on scrunching.
Avoid Certain Ingredients
Often times, popular hair care products will feature ingredients that are a no-go for curls. These ingredients include sulfates, silicones, drying alcohols, parabens, and waxes. Each of these has a similar effect on curls – they weigh down or dry out hair, leaving your curls looking dull and lifeless.
For a more comprehensive list, check out this article that defines what ingredients should and shouldn't be avoided with curly hair.
Finding Your Curl Type
When shopping for products that suit your curly hair, it is important to know your general curl type. Curls are categorized in levels of 2 through 4, with 2 being wavy and 4 being coily, and intensities of A, B, or C, with A being looser curls and C being tight coils.
You may fit perfectly into one of these hair type designations, or your hair may be a combination of hair types – every person is unique. If you want to read more about how to find your hair type, check out this article, complete with pictures of what you should be looking for.
The Curls of Your Dreams
Though it may seem like well-defined, shiny curls are out of reach, with the help of a curl cream they can become a reality. Curl cream will help enhance your curls and tame frizz, leaving you with a head of perfectly styled, moveable curls. Simply make sure to keep in mind your curl type and ingredient preferences and you will be one step closer to obtaining the curls of your dreams.