Editor's Note: Under-eye beauty is a key factor in keeping your complexion looking bright and healthy, though if you struggle with dark undereye circles or tired eyes as many of us do, this might feel like an impossible task. In my experience, an eye cream with natural or organic ingredients is the best choice for this sensitive area, and a gentle eye cream applied every night or every morning is a great way to enhance your skincare routine.
Some say beauty is in the eye of the beholder–or is it the under-eye? If the latter is true, then beauty is probably hanging around with some top-shelf eye creams. However, a number of creams on the market contain synthetic ingredients that are hard on delicate eye skin, which thins even more as we age. For these reasons, it's never too late to switch up your eye cream to something all-natural or organic.
Factors to Consider When Buying Natural and Organic Eye Creams
Not all natural and organic eye creams are created equal, though. Let's talk about some of the things you should keep in mind while shopping around for a new all-natural eye cream.

Ingredients
This is the key thing to keep in mind when comparing eye creams. While some conventional skin-firming agents, like retinol, help restore your skin's collagen and elastin, they can be pretty rough on sensitive skin if they're too highly concentrated. Some prefer to test out different retinol products for themselves, but there's a few other ingredients to look for that aren't as likely to be so hard on your skin.
Hydrating Ingredients – A good eye cream should give your skin a dewy, radiant glow. Products containing ceramides, hyaluronic acid, squalane, jojoba oil, avocado oil, rosehip oil, shea butter, or mango butter have an instant plumping effect on the skin.
Antioxidants – Upping your produce intake isn't the only way to get your daily dose of antioxidants. Eye creams that contain caffeine, berry extracts, or green tea help detox your skin and fight off free radicals and pollution damage, thereby keeping your peepers bright and smooth.
Vitamins – Believe it or not, retinol is actually a derivative of vitamin A, but that doesn't necessarily make it any easier on sensitive skin. Other, gentler vitamins like vitamin B, C, and E fade dark circles by improving the appearance of broken capillaries, brightening, and calming the skin, respectively.
Aloe Vera – This miracle plant does more than soothe sunburns; it's packed with antioxidants and other anti-inflammatory properties that make it ideal for tender eye skin. The antioxidants fend off free radicals and encourage skin growth while the anti-inflammatory properties help scars and lines fade.
Peptides – If you're looking to smooth out some of those fine lines that have appeared over the years, you can't go wrong with a peptide-packed eye cream.
Skin Type
Certain skin types respond more strongly to some products than others. For example, oily or combination skin should steer clear of waxy balms or creams, while drier skin should look for products with nourishing essential oils or hyaluronic acid. Thankfully, most eye creams are geared towards all skin types, but those with sensitive skin need to be a little extra vigilant all around; the chances of your skin unexpectedly reacting to something are higher.
Skin Sensitivity
Eye skin is already the most delicate skin on your body, but if your skin is naturally sensitive on top of that, testing out eye creams can feel a bit like navigating a minefield. Some products are marketed specifically towards those with naturally sensitive skin, like the Body Merry Age Defense Eye Cream. However, you might want to steer clear of products containing high concentrations of vitamin A derivatives like retinol if your skin is prone to redness, flaking, and itching.
Simplicity
Ever read a beauty product's ingredient list and get tongue tied trying to pronounce the long, hard-to-read names of all the chemicals? We hear you. Some products on the market that tout themselves as natural and organic still contain a lot of ingredients you'll want to avoid. The general rule is the shorter and more recognizable the ingredient list is, the better it will be for your skin.
Now that you have a better idea of what to look for in an eye cream, let's dive into our favorite picks for the year. Let's introduce our top ten picks for natural and organic eye creams These products are dermatologist-tested, animal cruelty-free, and will deliver the results they promise without breaking the bank.
Top 10 Best Natural and Organic Eye Creams 2023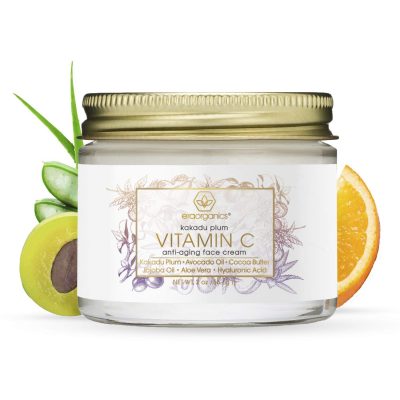 Why we like it:
This is a well-rounded eye cream that smooths and firms while moisturizing and replenishing the skin. It smells great, applies easily, and lasts for hours at a time without weighing the skin down.
Editor's Rating:
Quick Facts:
Key Ingredients: Kakadu plum, cocoa butter, coconut oil, jojoba oil, avocado oil, aloe vera, retinyl palmitate, and vitamin E
Good For: All skin types
If you have acne-prone skin, you most likely shy away from any skin products that contain too many oils. But this product's lightweight formula works well on all skin types, hydrating and rejuvenating the skin without creating too much buildup. The star of the show here is Kakadu plum, a plum species native to Australia that has more antioxidants than blueberries and the highest concentration of vitamin C of any known fruit.
This makes Kakadu plum a no-brainer for skin products. Both antioxidants and vitamin C tout age-defying benefits that simultaneously brighten and smooth skin. But Kakadu plum isn't the only interesting ingredient on the list.
Retinyl palmitate is a vitamin A derivative that converts to retinol when absorbed in the skin. It gets better, though: retinyl palmitate is less harsh on the skin than retinol, but still delivers the same rejuvenating results. Think of this product as a less intense version of the TruSkin Retinol Cream Moisturizer. The only caveat is it's not the best-smelling product in the world, but hey–your nostrils don't face your eyes anyway.
Pros
Contains retinyl palmitate which produces effects similar to retinol

Kakadu plum is loaded with antioxidants and vitamin C

Lightweight and absorbs easily
Cons
Some find the smell unpleasant
---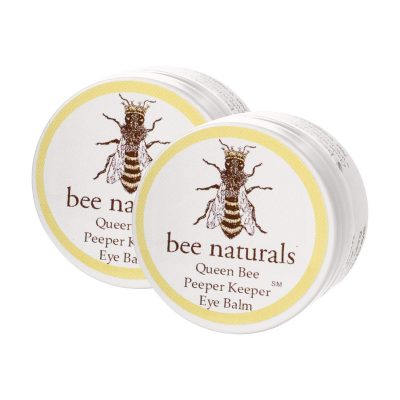 Why we like it:
You'll be hard-pressed to find another eye cream--or balm, in this case--whose all-natural formula delivers results in just 48 hours. Better yet, it's lightweight enough to wear under makeup without worrying about breaking out.
Editor's Rating:
Quick Facts:
Key Skin Ingredients: Vitamin E, avocado oil, rice bran oil, carrot seed oil, and meadowfoam seed oil
Best For: All skin types
You'd think an eye balm with as many oils as this one would be clogging pores left and right! Thankfully, that is not the case. All of these ingredients work together to leave your skin firmer, smoother, and brighter within just a day or two.
Between all of these oils you'll find vitamins A, B, C, and E, along with antioxidants and some circulation-stimulating properties (thanks, carrot seed oil!). While there's no SPF in this eye balm, the unbleached beeswax that gives it its consistency provides a protective barrier between your eyes and other environmental factors.
There's a whole lot to love about a rejuvenating formula that fixes dark circles and under-eye bags, treats crow's feet and wrinkles, and firms and hydrates the skin. Thankfully, a little goes a long way here, so one container will last you well over several months. If you use any more than a pea-sized dollop at once, though, your skin might end up feeling oily and greasy, so be careful.
Pros
Visibly improves skin texture in a day or two

Comprehensive blend of all-natural oils and unbleached beeswax

Lightweight and non-comedogenic

Can wear under makeup without breaking out
Cons
Some may not like the balm's consistency

May leave skin feeling oily or greasy if too much is applied
---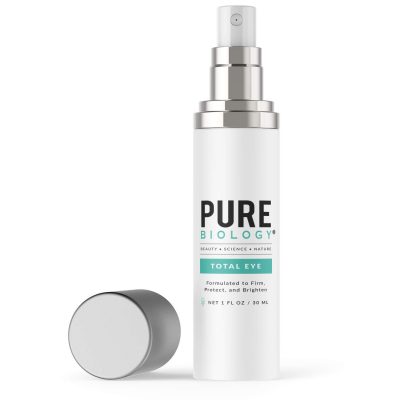 Why we like it:
This cream-serum hybrid has an army of amazing ingredients that starts firming, brightening, and smoothing skin in just a half hour. The sleek, pearly matte bottle uses an airless pump to conveniently dispense its Rx-grade formula.
Editor's Rating:
Quick Facts:
Key Ingredients: Caffeine, shea butter, primrose oil, argan oil, hyaluronic acid, aloe vera, and vitamins B, C ,and E
Best For: All skin types
They don't call this product a facelift in a bottle for nothing; between the all-star ingredient list and its ultra-moisturizing properties, this cream pampers the skin and leaves it feeling spa fresh. Its airless pump also helps the product keep and last longer, so you can be sure you'll get the most bang for your buck.
Let's talk a little more about its ingredients. Just like in the Leven Rose Coffee Eye Lift Cream, caffeine tightens and brightens the skin while vitamins B and E help repair sun-damaged skin. As for vitamin C? That helps repair sun-damaged skin as well, boosts collagen synthesis, and brightens the skin. There's also a funky herb called eyebright in there, whose plant compounds help soothe skin and fight off harmful free radicals.
Those with sensitive skin may want to think twice about giving this product a try, as the hyaluronic acid might be just a hair too harsh for them. Even so, there's still no denying the incredible moisturizing and rejuvenating properties of this luxurious eye cream.
Pros
Rx-grade formula

Airless pump helps the product last longer

Excellent moisturizer

Plant compounds soothe and revitalize skin
Cons
Hyaluronic acid may irritate sensitive skin
---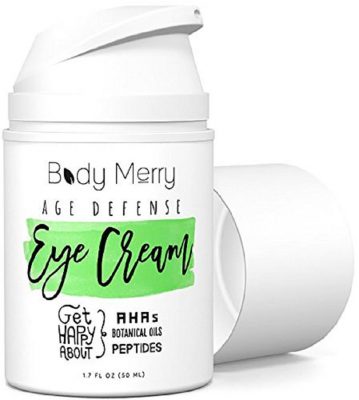 Why we like it:
This product's plant-based formula provides exactly the TLC more reactive skin types need. Its formula boasts an impressive array of organic compounds that work together to combat dark circles, puffiness, and sagging.
Editor's Rating:
Quick Facts:
Key Ingredients: Rosehip oil, sunflower oil, coconut oil, aloe vera, Matrixyl-3000 (a peptide), squalane, orange peel extract, cranberry extract, and vitamins B, C, and E
Best For: Sensitive, dry, or oily skin
The first thing you'll notice about this eye cream is its fresh, herbal scent, a byproduct of its botanical-packed formula. This freshness translates over to your skin, too, which will be left looking and feeling brighter, firmer, and dewier after just a single use. The cream absorbs easily and works on skin of all ages, making it one of the most versatile eye creams on the market. You can use it up to twice daily; we recommend once in the morning and one in the evening.
Don't be put off by the texture, either. Just because this cream is a bit thinner and lighter than other eye creams doesn't mean it'll skimp on results. Better yet, you still won't need much to get the results you're after, as a little dollop will go a long way. Just be careful with the dispenser, though, as it's likely to squirt out a lot if you're not careful. And if you're not happy with your experience, then you'll be happy to know that this product has a 90-day money-back guarantee.
Pros
Gentle, herbal formula is great for reactive skin types

Effective on both young and older skin

90-day money-back guarantee

Visibly reduces puffiness, dark circles, and wrinkles in a matter of days
Cons
Bottle dispenses a lot of cream at once

Herbal scent may be off-putting to some people
---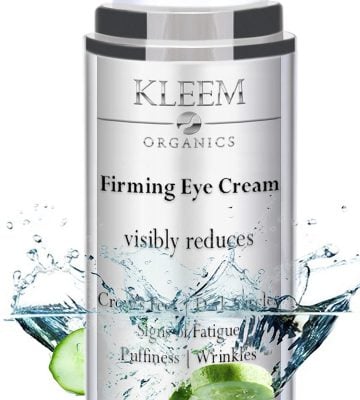 Why we like it:
This hydrating eye cream works wonder on eyes over 40. In just a few weeks, you'll see your fine lines and wrinkles fading. Green tea extract also depuffs and calms red, inflamed skin.
Editor's Rating:
Quick Facts:
Key Ingredients: Hyaluronic acid, caffeine, plant stem cells, vitamin E, green tea, and amino acids
Best For: Normal skin
Forty-somethings, rejoice! This is the eye cream for you—men and women alike. Just use this cream twice daily to see a considerable improvement in skin firmness and smoothness in a month or so. The lightweight formula is chock full of revitalizing ingredients that depuff, brighten, and hydrate eyes, like caffeine, vitamin E, and green tea. Your skin will absorb it easily and enjoy a satin-y touch afterwards. Since it's non-comedogenic and the skin absorbs it easily, you can wear it underneath makeup and sunscreen without having to worry about breaking out.
The hyaluronic acid may mildly irritate sensitive skin, but other ingredients, like green tea and plant stem cells, may help counteract this. The bottle is also a little funky-looking and hard to manipulate, which may not be so practical for some users. Nevertheless, you'll get a lot of mileage out of this cream for just a little under ten bucks.
Pros
Suitable for both men and women

Lightweight texture

Quickly absorbed by skin

Powerful blend of all-natural ingredients that smooths, brightens, and firms skin
Cons
Hyaluronic acid may irritate sensitive skin

Bottle is not designed very practically
---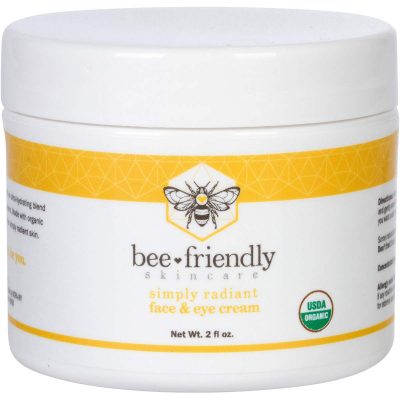 Why we like it:
This product is perfect for people who want to keep their beauty regimen simple, mainly because you can apply it to your eyes, face, neck, and chest. The raw honey and beeswax boost collagen production and increase skin elasticity, respectively.
Editor's Rating:
Quick Facts:
Key Ingredients: Raw honey, organic beeswax, propolis, bee pollen, organic olive oil, and vitamins A and E
Best For: Skin types on the drier side
A four-in-one moisturizer made from 100% organic ingredients? It can't "bee" true! But it is, dear reader. This versatile cream–handmade in Hawaii by beekeepers, no less–will not only soften, smooth, and firm your skin, but its antibiotic and antibacterial properties will help keep it clean and healthy, too. Moreover, propolis helps fight off free radicals, which are the root of premature aging. Bee pollen, on the other hand, nourishes your skin with a bevy of nutrients.
However, the raw honey and beeswax are a double-edged sword. For as great as their moisturizing and firming properties are, they can also leave skin feeling oily and greasy if used in too large of quantities, similar to the Queen Bee Peeper Keeper. That's why this product isn't recommended for people with combination or oily skin.
Pros
100% organic ingredients

Antibacterial and antibiotic properties keep skin clean and healthy

Four-in-one cream simplifies your beauty regimen

Smooths fine lines and wrinkles

Great moisturizer
Cons
Can make skin greasy or oily if used in too large of quantities
---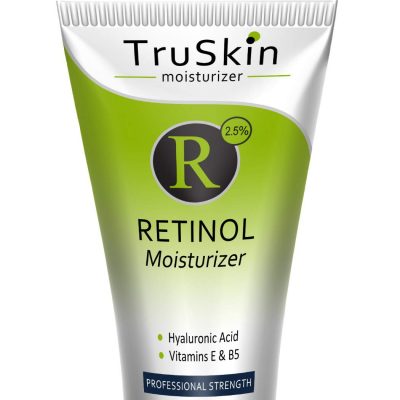 Why we like it:
This retinol eye cream delivers serious results—and it should. Its 2.5% retinol concentration makes it one of the strongest retinol creams anywhere on the market. It's so powerful that it fades liver spots and other blemishes on older folks.
Editor's Rating:
Quick Facts:
Key Ingredients: Retinol, hyaluronic acid, aloe vera, sunflower oil, jojoba oil, shea butter, green tea, propolis, and vitamins B5 and E
Best For: Normal, non-sensitive skin
Let's make one thing clear: this product is not for the sensitive of skin. The hyaluronic acid and retinol combo packs a skin-firming wallop, but only if your skin is built to handle it. The company itself even recommends that you do a patch test before trying it out on your eyes—that's how heavy duty it is. Interestingly enough, a lot of older users have found success with this product. If you're worried about how your skin will react to the retinol but still want comparable results, go with the EraOrganics Vitamin C Face Moisturizer & Eye Cream.
Its positive effects are more than enough to sell it, though; it's surprisingly gentle despite its high retinol concentration and noticeably reduces wrinkles, fine lines, and dark spots. This is definitely thanks to the nourishing ingredients like green tea, shea butter, propolis, and aloe vera, all of which reduce redness, puffiness, and dryness around the eyes.
Pros
Results appear relatively quickly

High retinol concentration and hyaluronic acid smooths and firms skin

Natural blend of ingredients with soothing, anti-inflammatory properties

Effective on older skin
Cons
Powerful formula will most likely irritate sensitive skin
---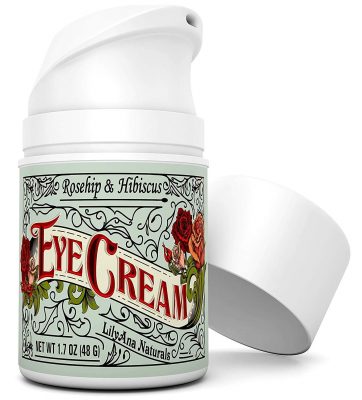 Why we like it:
This eye cream's blend of botanicals and antioxidants protects and restores a youthful sheen to
dry, tired skin.
Its fragrance-free formula also fades fine lines and wrinkles and leaves your skin feeling soft and smooth.
Editor's Rating:
Quick Facts:
Key Ingredients: Rosehip oil, hibiscus oil, Provitamin A and B5, vitamin C ester, and vitamin E
Best For: All skin types
Any dermatologist will tell you that it's best to start your skincare regimen in your twenties. However, this eye cream gives hope to those who haven't been as vigilant; this product fades lines and wrinkles on faces as old as 65. This is in large part because of its killer, all-natural formula, which includes rosehip and hibiscus oil.
The former has antioxidants that stimulate tissue and cell regeneration, while the latter moisturizes and gently exfoliates the skin. What's more, vitamin C ester brightens, smooths, and evens your skin tone, while Provitamins A and B5 penetrate deep into the skin to deliver some much-needed moisture.
One thing to keep in mind is that a little goes a long way; using too much could leave your skin feeling a little oily or greasy. Another word of advice is to keep this cream chilled. Not only will the cold boost the effectiveness of the cream (cold constricts blood vessels and helps fade dark circles), but the cream itself will last longer. Leaving the cream out unopened at room temperature may actually promote mold growth over a long enough period, so don't forget to stick this in the fridge when you're done.
Pros
Botanical formula is gentle on skin

Firms, smooths, and brightens skin

Reduces fine lines and wrinkles

Works on older skin
Cons
Leaves skin a little oily if too much is applied

Mold may grow inside if left unopened at room temperature
---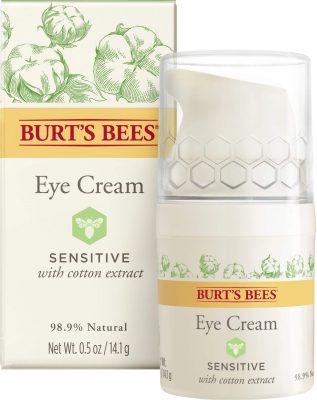 Why we like it:
Made with a vegan blend of nourishing ingredients, this fragrance-free eye cream is wonderful for sensitive skin. Its lightweight, hydrating formula absorbs quickly, making it ideal for a fast-paced morning routine.
Editor's Rating:
Quick Facts:
Key Ingredients: Rice extract, aloe vera, vitamin C
Best For: Sensitive skin
This non-comedogenic eye cream was awarded the National Eczema Association Seal of Acceptance for its soothing, hypoallergenic properties. That being said, you won't find any parabens or phthalates here, just an eye cream that will give your lids that hit of hydration they need. It's easy to apply and absorbs quickly, so you won't have to worry about tacking on any extra time to your beauty routine.
Don't forget the sunscreen, though; there's no SPF in this product, so you won't be protected from the sun. What's more, this product isn't as effective as other eye creams designed for sensitive skin, so it won't depuff under-eye bags or fade dark circles as well as the Body Merry Age Defense Eye Cream. Its real, and perhaps only, claim to fame is how gently and effectively it hydrates your skin.
Pros
Great for sensitive skin

Absorbs quickly

Lightweight, hydrating formula
Cons
No SPF

Not great at fading dark circles or depuffing under-eye bags
---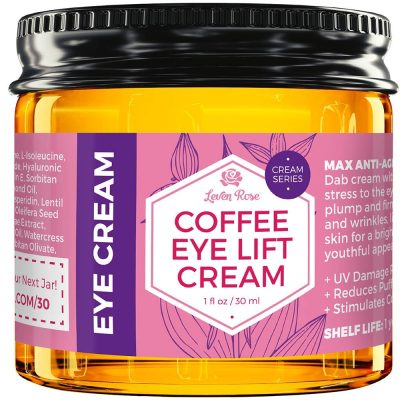 Why we like it:
This oil-cream hybrid is like an espresso shot for your eyes. Not only does its elastin boost collagen production and firming properties, but the caffeine tightens under-eye skin, thereby depuffing bags and lightening dark circles.
Editor's Rating:
Quick Facts:
Key Ingredients: Caffeine, elastin, prickly pear oil, and vitamins A, C, and E
Best For: All skin types
This product packs a powerful double punch; between its collagen-boosting elastin and intensely hydrating properties, your skin will be protected both inside and out. As for the prickly pear oil and vitamins, those have age-defying properties that smooth skin, reduce fine lines and wrinkles, and brighten any dark spots. If ever there was a way to wake up your eyes, this would be it.
The crown jewel of this oil-cream hybrid is definitely its speedy depuffing properties—in just 15 minutes you can see a difference, making it comparable to other fast-acting eye creams like the Queen Bee Peeper Keeper.
In contrast, one of the biggest downsides is the smell. Despite the name, this product is not coffee-scented, and may offend noses that are more on the delicate side. What's more, the consistency may also make it a bit messy to apply, so only use a little bit each time. Oily skin-types might want to opt for an eye cream that's a bit more lightweight, too.
Pros
Powerful, all-natural formula combats skin problems both inside and out

Great for lightening dark circles

You can see results almost instantly
Cons
Smell can be a bit off-putting

Consistency of the oil-cream hybrid can get messy
---
Guide to Buying the Best Natural and Organic Eye Creams for 2021
If you still have questions about natural and organic eye creams, don't worry — we've got you covered. In our detailed guide below, you'll find everything you need to know about eye creams.
Do I Even Need Eye Cream?
You don't need it, per se, but eye creams are designed with eye skin in mind. Eye skin is different compared to the rest of the skin on your face (i.e., it's exceptionally thinner), so it requires a little extra TLC. This means that eye creams are usually a bit thicker, contain more oil than other creams, and include ingredients that specifically treat eye skin problems.
Not only is eye skin more fragile, but we move it a lot more than other folds of skin on our bodies. All of this movement translates to a loss of elasticity over time, which doesn't help when it comes to keeping eyelids and the skin surrounding them puff-free. These are just a couple of the issues eye creams are designed to tackle.
How Do I Apply an Eye Cream?
Eyelid skin is the thinnest on the body–just a mere 0.2 mm thick! For this reason, you'll need to be extra gentle when applying anything near your eyes (itching and rubbing are no-nos). Believe it or not, how you apply the eye cream is just as crucial as the eye cream itself.
You'll want to use your ring finger to apply eye cream, as your ring finger has the lightest touch and therefore is the least prone to tugging on your skin. Instead of rubbing the cream in, gently pat it onto clean skin–try to avoid any rubbing or tugging if you can help it. Pat cream into the skin below your eyes, around the corners of the eyes (home of the dreaded crow's feet), and all over the top eyelid. Together these areas are known as the orbital area of the eye.
How Much Eye Cream Do I Need to Apply?
While you don't want too thin of a layer, you also don't want to slather it on really thick. A pea sized-dollop is enough to cover both eyes. Apply it to both your ring fingers, gently pat your eyelids, corners, and under-eyes, and voila!

Is Retinol the Real Deal When It Comes to Anti-Aging?
The good news: yes. However, not all retinol products will deliver incredible results, especially if your skin is more on the sensitive side. That's why you ought to stay away from retinol-heavy products, like the TruSkin Retinol Cream Moisturizer. Since retinol is a part of a larger group of powerful vitamin A ingredients known as retinoids, some might be too strong for your delicate eyelids. Instead, opt for a retinol product that's specifically designed for eye skin–your little lids will thank you.
The bad news: there's really no way to see if a retinol product is right for your skin without testing it first. It might take you a few tries (and a couple days of red, puffy eyelids) to land on something you love. Better yet, collagen and peptides also firm skin quite well, so consider them as alternatives if retinol products are too harsh on yours.

What Ingredients Should I Avoid in Eye Creams?
The answer to this question may vary slightly depending on how sensitive your skin is. However, just as there are certain ingredients you want to keep an eye out for, there are also several ingredients you should steer clear of altogether.
Any ingredients that irritate the skin or overwhelm the pores are off limits, like propylene glycol, formaldehyde, parabens, mineral oil, and MDMD hydantoin. Watch out for phthalates, too; studies have linked them to endocrine dysfunction and higher breast cancer rates.
Should I Use Eye Cream Before or After My Moisturizer?
This depends on how thick your moisturizer is. If your moisturizer is thicker than your eye cream, apply it first. If the reverse is true, then put it on after you apply the eye cream.

What Else Can I Do to Prevent Wrinkles, Dark Circles, and Hyperpigmentation?
Hello, sunscreen! Docs and beauty experts alike continue to hammer on the long-term benefits of wearing a high-SPF sunscreen on the daily. Not only will SPF help fight against all these unsightly eye droops and dots, but it fights against excess sun exposure, air pollution, and other environmental factors that could harm your tender lids.
However, those with sensitive skin should go with a mineral eye cream with SPF for the best experience. Chemical sunscreens are often chock full of, well, chemical ingredients like avobenzone and fragrances, which are both known to irritate sensitive skin.
Also, remember that your lifestyle choices play a pretty significant role in determining what your skin looks like. For starters, try to drink two liters of water every day and get eight hours of sleep every night to help your skin look smooth, bright, and dewy. Better yet, cut down on any drinking or smoking habits you might have, as these will wreak havoc on your skin in the long run.
If you're especially concerned about dark circles and puffiness, try to avoid excess alcohol and salt consumption as well. Ultimately, though, all of this is only preventative, and will do little to stop the influence of your genetics.
What If My Dark Circles Are Genetic?
Unfortunately, eye creams won't help you much here. Your best bet is to get eye fillers, which can cost up to $1000. The treatment is pretty risky, though, and when done wrong can result in eyesight damage or even blindness. Yikes! In that case, be sure to study up on board-certified dermatologists and plastic surgeons who can deliver the results you're after.
What Else Can Cause My Dark Circles?
There are several different causes for unsightly raccoon eyes (no disrespect to raccoons). The least fixable cause is genetics, which can only be rectified with expensive eye filler treatments, as mentioned above. Genetically-influenced dark circles can show up in the form of hyperpigmented under-eyes, deep-set, sunken eyes which cast a natural shadow under the eye, or too much melanin production. Whatever they look like, they won't be easy to fix.
Other causes are fixable since they're related to lifestyle choices: lack of sleep, excess alcohol consumption, poor diet, and even allergies. All of these factors dehydrate the skin and cause blood vessels to expand, giving your undereyes that dark, shaded appearance. The good news is dark circles that arise from these causes are precisely what eye creams are designed to alleviate.
What Causes My Wrinkles?
Ah, wrinkles–the evergreen reminder that youth is fleeting. No, your laugh lines aren't a result of watching too many Netflix standup specials (although they aren't completely innocent). They're more so in collaboration with some dehydration and good ol'-fashioned aging. As you age, your skin loses its elasticity, giving it a more creased, saggy appearance.
But other causes for wrinkles are no laughing matter, especially prolonged sun exposure and sun damage. Like we mentioned in our section about preventing unsightly skin blemishes, sunscreen is your best friend when it comes to preserving your youthful glow. Moreover, don't forget to drink two liters of water every day; flushing out the bad stuff inside will make you shine on the outside.
What Causes Under-Eye Puffiness and Redness?
If you suffer from chronic undereye puffiness, you know what it's like to wake up with your bags packed–and not in the carefree, jetsetting way, either. Under-eye bags can spring up from dehydration, allergies, or just a bad night's sleep, but understanding how this fluid retention happens in the first place is the key to solving the problem.
Thankfully, under-eye bags are a bit easier to remedy than dark circles, mainly because genetics don't play nearly as big of a role in their appearance. However, implementing a few crucial lifestyle changes to nix them might be more difficult than you think. For example, poor eating habits and smoking are both huge contributing factors to undereye puffiness. They're both within your control to stop, but they're also extremely hard habits to kick. This doesn't make it impossible, though.
Other more innocuous causes for undereye bags are allergies and aging. There's not much to be done here, but fortunately eye creams can help counteract the damage that arises from these causes.
One Last Thing to Catch Your Eye…
Let's face it: time does a number on all of our body parts, but perhaps none more noticeably than the eyes. Sometimes it feels like both changeable and unchangeable factors are all conspiring to quite literally bring eye skin down, and in a way, they are.
So why fight wrinkles and dark circles with harsh, chemical-laden ingredients when you can opt for a much more holistic route? Natural and organic eye creams are packed with some amazing, naturally-occurring ingredients that will keep your peepers tight, bright, and looking alright.