For many, the idea of breaking out your makeup brush collection and giving it a regular scrubbing is something that brings so much horror, it is often skipped altogether. However, cleaning your brushes is an important step in preserving them, and a makeup brush cleaner is just the thing to help you out.
A quality makeup brush cleaner can help you speed up your brush cleaning process and effectively remove any buildup of bacteria and old product. This will allow your brushes to be more long-lasting and help to prevent skin irritations, such as acne.
There are many choices of makeup brush cleaner available today, and it can be overwhelming to navigate the options. Thankfully, we've done our research and gathered a list of the best products out there to help make your decision easier.
What You Need to Know About Makeup Brush Cleaners
Before we get to our list of the top 10 products out there, let's discuss what's important to look for in a makeup brush cleaner.
Why Use a Makeup Brush Cleaner
A makeup brush cleaner can help you speed up the cleaning of your brushes and eliminate bacteria and product buildup. In turn, this can lead to healthier skin and brushes that last longer before they need to be replaced.
Types of Makeup Brush Cleaners
There are several different types of makeup brush cleaner that you can buy, all of which have their unique pros and cons.
Makeup Brush Cleaning Shampoos
The most traditional brush cleaning solution, makeup brush cleaning shampoos are cheap and easy to use. Shampoos don't take up much counter space, but, if used alone, they do require more of a time commitment than other cleaning methods since you will be washing your brushes by hand. Our best overall makeup brush cleaner is a shampoo.
Keep in mind that other products, like electric cleaners and brush cleaning mats, need to be used with a cleaning shampoo to be more effective.
Ingredients
The cleaning shampoo you select shouldn't have lots of alcohols, preservatives, or artificial colorings included in it. These ingredients can dry your brushes out and cause the bristles to start shedding.
Fragrance
Many makeup brush cleaning shampoos are lightly scented. If you don't mind a little bit of fragrance, these usually won't hurt you or your brushes. However, if you have sensitive skin or are sensitive to odors, you may want to select a product without fragrance to avoid causing any negative reactions.
Electric Makeup Brush Cleaners
This type of makeup brush cleaner consists of an electric wand and an attachable plastic bowl. To clean your brushes, you fill the plastic bowl with water and cleaning solution, then attach your makeup brush to the wand and insert it into the water. The electric wand spins your brush around, efficiently cleaning it.
Electric makeup brush cleaners clean and dry your brushes very quickly, but they do take up a lot of counter space. You will also have to buy a brush cleaning shampoo separately, unless you get a complete kit like Luxe's Makeup Brush Cleaner that includes one.
Color Change Sponges
Color change sponges, like TailaiMei Color Removal Cleaner Sponge, are small, super-absorbent sponges that clean eye shadow powders and excess product off of your brushes. They are a good option for cleaning your brushes while traveling, but are not great for deep cleaning.
Makeup Brush Cleaning Mats
Cleaning mats are typically made of silicone or another type of plastic. They feature grooves that help to safely deep clean and remove as much dirt as possible out of your brushes. They work with all types of brush cleaner, including alternative methods, but you will need to purchase any cleaning shampoos separately from the mat.
Portability
Portability is important to consider in a makeup brush cleaner. How portable a cleaner is determines how much counter space your makeup brush cleaner will need and if it is good choice for traveling or not. Something like an electric cleaner will need more room and is fairly stationary, while color change sponges and most shampoos are better for traveling.
Now that you know what's important to look for in a makeup brush cleaner, we can head straight into our list of today's top 10 products!
Top 10 Best Makeup Brush Cleaners 2023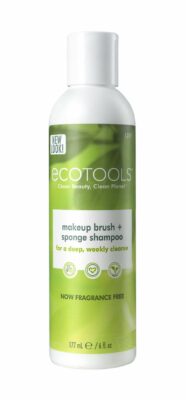 Why we like it:
This cleansing shampoo from Ecotools is hypoallergenic and works fantastically on all types of makeup brushes.
Editor's Rating:
Quick Facts:
Type of Cleaner: Shampoo
Portability: Good
This environmentally-friendly brush cleaning shampoo is completely free of parabens and petroleums. Its ingredients are limited, and there are no excess chemicals added into it. It is also dermatologist-tested and hypoallergenic, which makes it a great choice for anyone who has sensitive skin and wants to use skin-friendly products on their brushes.
This shampoo works well on all types of makeup brushes, including sponges and beauty blenders. It works to remove dirt quickly and doesn't leave any kind of residue on the brush. If you have never used a makeup brush cleaner before, this shampoo is a great product to start with.
Unfortunately, this product does not have as many conditioning ingredients as its competitors. It can leave your brushes feeling a little dry with continued use. We recommend looking at CINEMA SECRETS Professional Brush Cleaner if you want a makeup brush cleaner that is non-drying.
Pros
Hypoallergenic

Free of parabens and petroleums

Works on all types of brush

Environmentally friendly
---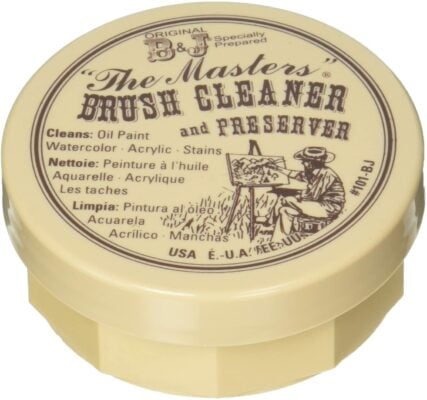 Why we like it:
While this premium cleaner is intended for paintbrushes, it does an amazing job of cleaning every last bit of product out of your makeup brushes.
Editor's Rating:
Quick Facts:
Type of Cleaner: Shampoo
Portability: Very Good
General Pencil Masters Brush Cleaner is originally intended to clean oil and acrylic paints out of paintbrushes. However, the product works just as well for makeup brushes, especially if you have a lot of heavy product buildup. It is especially good for cleaning out foundation and liquid makeup.
There is a light lemon scent to this cleaner that is not too overpowering for use on your brushes. Since this product is also intended to be a preserver, it does a very good job of conditioning and leaves brush bristles soft, returning them to a like-new state. It is a good choice if you want to revamp brushes you haven't cleaned in a while.
This cleaner does come in a fairly small container. If you have a large makeup brush collection and clean regularly, you may find yourself buying a lot of this product. You could buy it in a multipack, which is more expensive, or you could choose a larger bottle of cleaner like Ecotools Makeup Brush Cleansing Shampoo.
Pros
Cleans heavy product buildup

Great for foundation brushes

Light lemon scent

Leaves brushes soft and like-new
---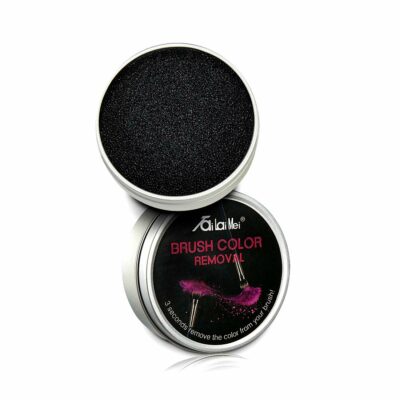 Why we like it:
The TailaiMei Cleaner Sponge is perfect for cleaning small brushes and removing excess product.
Editor's Rating:
Quick Facts:
Type of Cleaner: Color Change Sponge
Portability: Good
At under 5 dollars, this Color Removal Cleaner Sponge is very affordable. It arrives in a compact tin and is great for using on small brushes. It is especially helpful if you have lots of eye makeup brushes that need cleaning.
The sponge in this product is soft and absorbent and doesn't damage the bristles on your brush. It is a good choice if you need something to use for color changes while applying makeup or for removing any excess product on your brush.
Since it is a smaller sponge, this product is not the best choice if you have lots of larger brushes and foundation brushes. It is also not good for deep cleaning or if you have heavy product buildup on your brushes. If you are looking for a smaller cleaner that can remove larger amounts of makeup, we suggest Beauty Blender Blender Cleanser.
Pros
Very affordable

Works well on small brushes

Great for color changes

Good for cleaning excess product
Cons
Does not work well for deep cleaning

Not good for bigger brushes
---
Why we like it:
The alcohol-free formula in Real Techniques Brush Cleansing Gel is non-drying and gives you a great lather to clean with.
Editor's Rating:
Quick Facts:
Type of Cleaner: Gel Shampoo
Portability: Good
This shampoo cleaner has a more gel-like formula, meaning it is thicker than other shampoos. Because of this thickness, it lathers up very well and a little tends to go a long way. If you are looking for a long-lasting product, this may be a good option for you.
The alcohol-free formula in this cleaner is non-drying, ensuring the bristles of your brushes stay soft and smooth for as long as possible. The shampoo leaves behind a very light fresh scent on your brushes that is not overpowering at all. If you want a product with fragrance but dislike super strong scents, this product is a great choice.
Since it is a lot thicker than other shampoos, this cleaner can leave behind a little bit of a residue on your brushes. It may take multiple washes to get this off and it is much harder to get it off of foundation brushes and beauty blenders. For a product that works great for both of these, check out Beauty Blender Blender Cleanser instead.
Pros
Alcohol-free formula

Lathers well

Gives brushes a fresh scent

A little goes a long way
---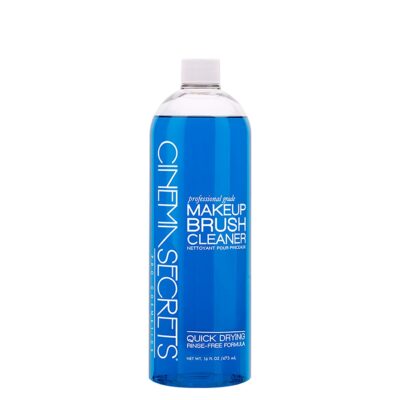 Why we like it:
Cinema Secrets is a professional branded cleaner that is great for cleaning old and tough stains out of your brushes.
Editor's Rating:
Quick Facts:
Type of Cleaner: Shampoo
Portability: Good
Originally created to be used by professional makeup artists and on movie sets, Cinema Secrets is a professionally branded makeup brush cleaner. It works instantly, and similar to MS.DEAR Makeup Brush Cleaner Spray, features a no-rinse, quick-dry formula.
This shampoo is great for cleaning off waterproof makeup or for using on exceptionally old and tough makeup stains. Once you have submerged your brushes in the product, it acts quickly to melt off any product buildup. All you have to do is wipe the brush off afterward and let it dry out – it will look like new.
This product has a very strong, somewhat unpleasant scent to it that may be a deal breaker. It smells very similar to chemical fumes and can be overpowering during the cleaning of your brushes. The smell can also dry on your makeup brushes, which is a drawback if you have sensitive skin or want to avoid any strong fragrances on your brushes.
Pros
Great for waterproof makeup

Cleans tough product buildup

Works instantly

Professional brand
---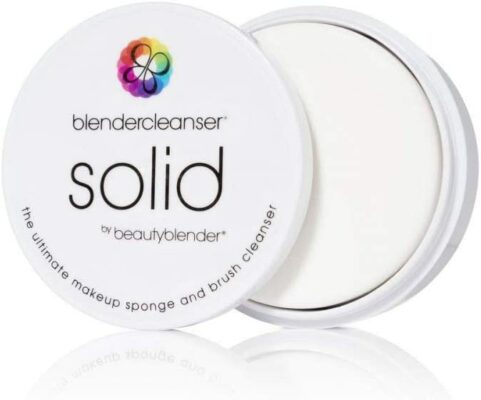 Why we like it:
This compact cleanser features conditioning coconut oil and is great for use on beauty blenders.
Editor's Rating:
Quick Facts:
Type of Cleaner: Shampoo
Portability: Very Good
This makeup brush cleaner features a solid bar of shampoo and a small cleaning mat, all packaged into one compact tin. It is great for doing a quick clean while you are traveling or spending the night somewhere. Even though the size is compact, you will still be able to clean most regular brushes and beauty blenders with it.
The formula of this shampoo features added coconut and palm oils to help condition your brushes. Lavender essential oil gives it a light calming scent. The included mat has a set of grooves that is perfect for scrubbing out foundations or liquid makeup buildup. If you like the idea of a cleaning mat, be sure to check out Ramphykx Silicon Makeup Brush Cleaning Mat as well.
You have to be careful when cleaning your beauty blender with this product because the included mat can rip your blender if you press too hard. It is also one of the more expensive products on our list, especially considering how small it is and how quickly it can be used up. If you have a larger brush collection, you may want to consider something like Selene Makeup Brush Cleaner and Dryer instead.
Pros
Added coconut and palm oil for conditioning

Great for use on beauty blenders

Included mat for cleaning brushes

Compact
Cons
Mat can rip beauty blender

Expensive
---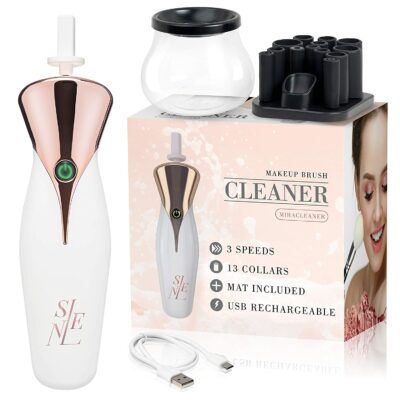 Why we like it:
Selene's Makeup Brush Cleaner and Dryer is perfect for cleaning large brush collections and drying out brushes quickly.
Editor's Rating:
Quick Facts:
Type of Cleaner: Electric
Portability: Poor
Similar to the Luxe Makeup Brush Cleaner, the Selene Makeup Brush Cleaner has an electric wand that features 3 different cleaning speeds. However, the Selene wand also has a setting for drying out your brushes once you are finished washing them. Your brushes can go from wet to dry in less than 30 seconds when using this cleaner.
This product is great if you are a professional or have a particularly large brush collection you need to clean. The cleaner comes with 13 different sized brush attachments so that it can accommodate every type of brush, from large to small. It also has a large brush stand where you can reshape and store your brushes.
This cleaner cannot be used to clean beauty blenders. It also may end up damaging the bristles on your brushes over time due to the spinning action it uses to clean. To prevent this, you should try to clean your brushes only on the lower settings. You could also reserve your more delicate brushes for a hand wash using Real Techniques Brush Cleansing Gel.
Pros
Great for large brush collections

Dries brushes fast

Included brush stand

13 different size attachments
Cons
May damage brushes over time

Cannot wash beauty blenders
---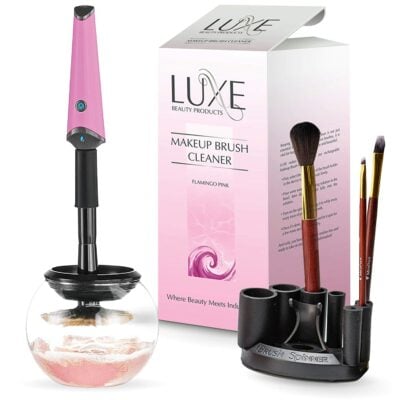 Why we like it:
This easy-to-use makeup brush cleaner kit has everything you need to achieve perfectly cleaned brushes.
Editor's Rating:
Quick Facts:
Type of Cleaner: Electric
Portability: Poor
This complete makeup brush cleaner kit from Luxe includes everything you need to get started cleaning your brushes. The electric cleaner comes with one bowl, a bottle of cleaning solution, and a drying rack. Instructions are included and it is very easy to use.
The process of using this product is a lot faster than hand cleaning your products. It has 3 spin speeds that you can customize to the type of brush you are cleaning. It is virtually hands-free and does not require any scrubbing like a silicone mat would. Simply stick your brushes into the bowl of cleaning solution, spin them, and you're done.
This product does take up a lot of space on your counter. It is not a good option if you don't have a lot of free areas to store it when not using it. It is also not the best for cleaning very large foundation brushes and for completely removing liquid makeups out of the bottom of brush bristles – that will still need to be done by hand.
Pros
Easy to use

Faster than hand cleaning

Complete makeup brush cleaning kit

3 spin speeds
Cons
Takes up a lot of space

Does not work as well on foundation brushes
---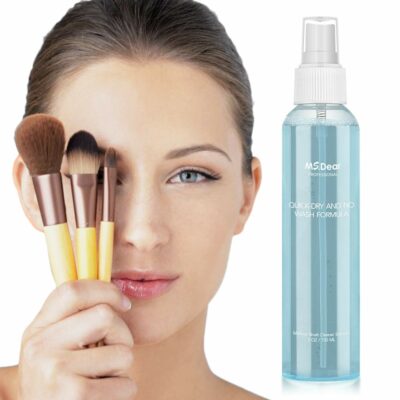 Why we like it:
MS.DEAR's Makeup Brush Cleaner Spray is compact and perfect for taking on the go.
Editor's Rating:
Quick Facts:
Type of Cleaner: Spray Shampoo
Portability: Good
This product is a great choice if you travel often with your makeup brushes or if you need something to toss into your purse and take on the go. The bottle has a sturdy spray that delivers just the right amount of cleaner to your brushes.
The formula of this cleaner needs no rinsing. You simply spray it on then wipe your brushes on a towel or cloth. It is also quick drying, meaning you can quickly clean your brushes and put them back in your travel bag without taking up too much time.
Since this is a rinse-free spray product, it does not have the ingredients needed to properly disinfect and fully deep clean your brushes. That is something that needs to be done with water and/or a cleaning shampoo. This is a great product for using during travel, but not the best if you need to intensely deep clean and disinfect your makeup brush collection.
Pros
Compact travel bottle

Sturdy spray

No-rinse formula

Quick-drying
Cons
Does not disinfect brushes well
---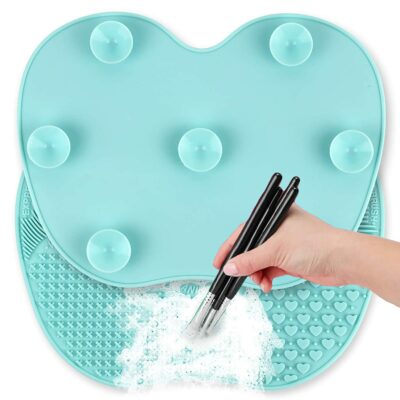 Why we like it:
The Ranphykx Cleaning Mat is easy to wash, bacteria-resistant, and makes cleaning your makeup brushes a breeze.
Editor's Rating:
Quick Facts:
Type of Cleaner: Mat
Portability: Poor
This cleaning mat is made out of a non-porous, quick-drying synthetic polymer. It is very easy to wash and resistant to most kinds of bacteria growth. There are suction cups on the bottom of the mat intended to hold it in place. It makes a great choice for a low-maintenance brush cleaning accessory.
There are multiple grooves on this product all suited to cleaning different types of brushes. The mat has a wide surface which makes it even easier to effectively clean your entire brush collection. It is a good option if you have many different types of brushes that you need to hand wash.
Because the mat is so wide, it does not travel very easily. Additionally, the suctions cups at the bottom tend to be a little weak and can lose their grip easily. In order to prevent your mat from moving or falling while using it, ensure it is stuck firmly to a flat surface before starting your cleaning.
Pros
Multiple grooves for different brushes

Easy to wash

Wide surface for easy cleaning
Cons
Too large for easy travel

Suction cups have poor hold
---
Your Guide to Makeup Brush Cleaners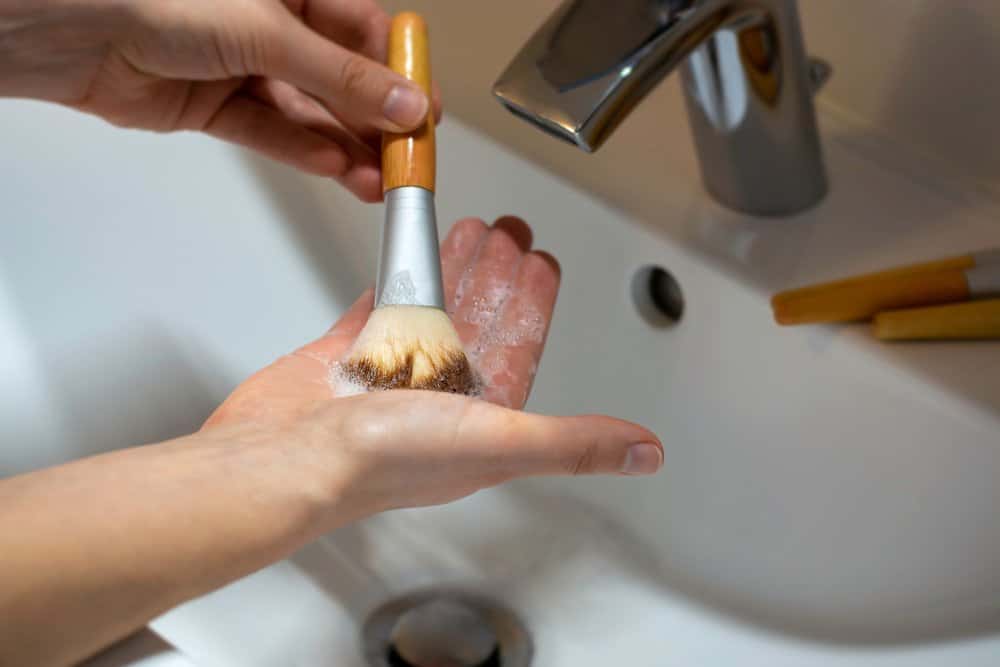 Cleaning your makeup brushes may sound like an awful, arduous process, but it is actually fairly simple. Read on to find out all you need to know on makeup brush cleaners.
Why You Should Use Makeup Brush Cleaner
There are so many positive benefits to using makeup brush cleaner that, once you start using it, you'll wonder what you ever did without it.
Bacteria Elimination
One of the main benefits of using a makeup brush cleaner versus just rinsing your brushes with water is that a makeup brush cleaner can help disinfect your brushes. Makeup brush cleaners contain soap and other cleansing ingredients that work to fight bacteria and make your brushes more hygienic.
Skin Benefits
Regular cleaning of your brushes reduces bacteria and any buildup of products that may be causing breakouts or other skin issues. Cleaning your makeup brushes helps to maintain your overall skin health and decreases incidences of acne and breakouts.
Smoother Application
If you have trouble getting a smooth application of your makeup, cleaning your brushes can be just the thing to help you out. Eliminating built-up product will let the bristles of your brush function better, helping you to apply makeup more smoothly and leaving you with a flawless look.
Longer Lasting Brushes
Bacteria and built-up product can ruin brushes and cause shedding, stiff bristles, and bad odors. If you want your makeup brushes to last as long as possible, clean them on a consistent basis to avoid premature deterioration.

How to Use Makeup Brush Cleaner
Clean brushes that look just as good as new are only a few easy steps away. You can follow these basic guidelines to clean off your brushes, but remember that how you use your individual cleaner may vary, especially if you select an electric makeup brush cleaner.
Use lukewarm water to wet the bristles of your brush.
Add a small drop of cleanser into the palm of your hand.
Massage the bristles of your brush into the cleanser using a circular motion.
Rinse your hand and the brush thoroughly until the water runs clear.
Use a clean towel to squeeze out extra moisture from the brush and re-form the bristles into their original shape.
Dry your brush by placing it on the edge of the counter, allowing the bristles to hang off the edge.
Keep in mind, you should never let your brushes dry on a paper towel or a cloth towel. This can trap water and cause the bristles to become mildewy.
While cleaning, make sure to avoid getting cleaner and water onto the base of the brush, where the bristles meet the handle. This can affect the glue holding the bristles and cause your brush to start shedding.
How Often Should You Clean Your Makeup Brushes?
Odds are, you're not cleaning your makeup brushes as often as you need to. You should be giving your brushes, especially ones used for foundations and concealer, a thorough wash at least once a week, if not more. Brushes that are used around the eyes can go without being cleaned for up to two weeks, but you should use a color removal sponge on them after every eye makeup application.
How to Tell Your Brushes Need Cleaning
If you don't remember the exact last time you cleaned our brushes, there are a few things you can look out for that indicate it is time for a cleaning.
Your brushes will not apply makeup as smoothly, or they may be filled with makeup to the point the bristles are stiff and/or discolored. You might also notice that your skin breaks out after using your brushes, a sure sign there is bacteria in the brush you need to wash off.
When Should Makeup Brushes Be Replaced?
Even if you do your best to wash your brushes routinely, there comes a time that your brushes will eventually need to be replaced. This is typically around the 3-month mark of consistently using your brushes.
If you choose to keeping using your brushes past 3 months (and you usually can, if you take good care of them and clean them often!), look out for signs you need to replace them, such as shedding bristles, discolorations, or an unusual smell – this usually indicates a bacteria growth. Fluffier powder brushes will begin to lose their shape and their bristles will stick together even after cleaning.
What About Beauty Blenders?
Reusable beauty blenders that are microbial-resistant should also be cleaned at least once a week. You should replace your beauty blender every 3 to 4 months, depending on your usage. Remember that this only applies to reusable beauty blenders and not regular makeup sponges, which should be thrown out after one use.

Alternative Brush Cleaning Methods
If you're not quite ready to splurge for a makeup brush cleaner, there are several items around your home you can use to clean your brushes.
Dish Soap
Dish soap is a great option for effectively cleaning your brushes. You can use any antibacterial soap or traditional dish soap like Dawn. For this method to work, simply clean your brushes with the soap the same way you would with a regular makeup brush cleaner. You can look back at our steps above for help with this.
Vinegar
If you are concerned about bacteria growth on your brushes, vinegar is a great option for disinfecting; vinegar can kill germs and inhibit the growth of bacteria. To use this method, add 2 tablespoons of white vinegar into 8oz of hot water and swirl your brushes in it. Rinse your brushes with lukewarm water and rub them against a slice of lemon to counteract the vinegar smell before drying.
Face Wash
Your trusty face wash can also double as a brush cleaner, especially since you know your skin already tolerates the ingredients. You can use it in the same way you would a regular cleaner.
Micellar Water
Micellar water is perfect for cleaning even the most dramatic makeup off of your face stress-free. This is what makes it great as an easy makeup brush cleaner. Add micellar water to a cotton pad and press it against the bristles of your brush, rubbing gently. Rinse with lukewarm water and allow your brushes to dry.
Like with regular makeup brush cleaner, you should avoid putting micellar water near the base of your brush as it could ruin the adhesive.
Baby Shampoo
Baby shampoo is gentle and often harsh chemical and fragrance-free, meaning it will clean your brushes without being too drying. You can use it to clean your brushes like you would a traditional makeup brush cleaner.
Tips for Caring for Your Makeup Brushes
The way you treat your makeup brushes on a day to day basis determines how long-lasting they are.
Conditioning
Sometimes, washing your brushes too much can become drying to the bristles. This happens often when you are using a product that has lots of alcohols or colorings (check out Real Techniques Brush Cleansing Gel for a product without these) or if you are washing your brushes too often.
Conditioning your brush can help the bristles stay soft, preventing shedding and allowing you to apply makeup smoothly.
You can do this by adding olive oil into your washing routine. After adding your choice of cleaner to the brush, swirl the brush in a small bowl of olive oil, coating the bristles, before washing everything off.
The oil will help smooth the bristles, preventing dryness and frizzing as your brushes dry.
Storage
Storing your brushes somewhere safe is an important step in preserving them and keeping bacteria at bay. You should try to keep your face brushes and eye brushes separate from each other to prevent any kind of bacteria from spreading between the two.
Your brushes should be stored standing up and preferably somewhere they won't be exposed to constant amounts of water or sunlight. A good solution is to invest in a makeup organizer to help you store all of your makeup correctly.
Clean Brushes and Happy Skin
Cleaning your makeup brushes may seem like the worst task in the world, but it is an important step in helping your skin stay healthy and your brushes long-lasting. Investing in a proper makeup brush cleaner can be just the thing to speed up your cleaning routine and leave you with brushes that look brand new every time.