There's one kind of stain you don't need to clean away, and that's a lip stain! In fact, the whole benefit of a lip stain is that it sticks around. Instead of covering the lips with a waxy, smudgeable layer like lipstick, lip stains are intentionally non-smudging for all-day wear.
They come in a few forms, and they're all quite magical, so we'll give you the complete low-down on what they are and how they work. Then, you can read our reviews of the top 10 lip stains, featuring options for every type of makeup wearer. Finally, we wrote a handy lip stain guide to help you choose the best one for you.

The Low-Down on Lip Stains
As much as we love lip stains, we're not above admitting that they're a little confusing. This section will clarify exactly what brands mean when they call a product a "lip stain," and we'll outline the important factors you should consider when buying one.
What Does a Lip Stain Do?
A lip stain adds color to the lips in a formula that's less likely to fade or smudge. Because the modern makeup industry isn't always consistent, there isn't just one type of formula that can be called a 'lip stain,' but there are actually three, as we explore next.
Types of Lip Stains
These are the three main types of lip stains:
Liquid lipsticks are super-pigmented and often matte.
Liquid tints are subtle, natural-looking, and ultra-popular in Korea.
Balm tints have lower pigmentation, but they moisturize and tint both lips and cheeks.
We explain them in detail later on, to help you decide which is best for you. We'll let you know which category each stain falls into, and we even included a few innovative hybrids and transitional formulas.
Finish, Pigmentation & Color
Factors like finish, pigmentation, and color are really important, so we mention them in every review, but which will be right for you is a question of personal aesthetic. Chances are you already know what you like, this guide will help if you're not sure.
Longevity
The draw of most (though not all) lip stains is that they stay put for a very long time. We'll let you know how long you can expect each lip stain to stay on your lips, as well as how it'll hold up against food or beverages.
Non-Transferring
Whether you're wearing a mask or kissing friends on the cheek, chances are you don't want to leave cosmetic evidence behind. Most of our lip stain picks are non-transferring, which means that they only stain your lips–not your clothes or anyone else's skin.
Easy to Use
In our reviews, we explain what the experience of using each lip stain is like and whether it's quick or easy to use. For more experienced makeup users, other factors might matter more, but for newcomers or busy makeup wearers, this is an important detail to consider.
Pleasant Lip Feel
Longevity and pigmentation often come at the price of comfort, so it's a bonus when a lip stain feels light and moisturizing. We'll let you know how each lip stain feels as you wear it throughout the day.
With the important details out of the way, we can get to the most exciting part of this article–our selection of the best lip stains of 2021!
Top 10 Best Lip Stains 2023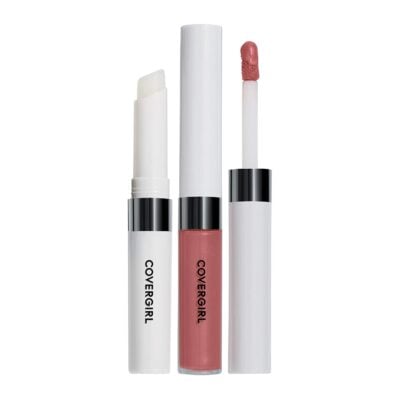 Why we like it:
This cruelty-free, two-in-one lip stain covers the lips with intense pigmentation, and doesn't move at all throughout the day. Use it with the included topcoat for a cream-gloss look or without for a chic matte lip.
Editor's Rating:
Quick Facts:
Type: Liquid Lipstick With Topcoat Balm
Finish: Cream or Matte
Pigmentation: High
Color Range: 34
Quantity: 0.07 Oz. Color/ 0.06 Oz. Topcoat
Cruelty-Free/Vegan: Yes/No
If you're looking for a cruelty-free lip stain with high-pigmentation and intense longevity, you can't do better than the Outlast Lip Color.
The stain itself has an opaque formula that covers the lips in one swipe for a pristine look. It comes in a ton of really pretty shades; they all dry down to a matte texture, but some contain a shimmer that adds a festive touch.
What makes this stain unique is that it comes with an additional balm. This balm acts as a topcoat and sealant. It relieves any dry feeling from that first layer of the stain and also adds a creamy sheen.
We like that it's effectively two products since you can skip the balm and use it like a matte lip stain. No matter how you use it, it's totally transfer-proof and it holds up beautifully for over 12 hours as well as after drinking or eating. The only product that beats this stain for longevity is the SuperStay Liquid Lipstick from Maybelline, but it has a less comfortable lip feel.
Despite the topcoat, we do find that this lip stain isn't very forgiving of texture. It can settle into creases in the lips, and since it takes a minute to dry, it can feather at the lip line, especially over mature skin. When you use it, make sure to keep the lips thoroughly moisturized, and use a lip primer if you're prone to feathering.
Pros
Two-in-one color and balm

Incredible longevity

Totally transfer-proof

Highly pigmented

Can be worn matte or shiny
Cons
Can settle in creases or feather at the lip line
---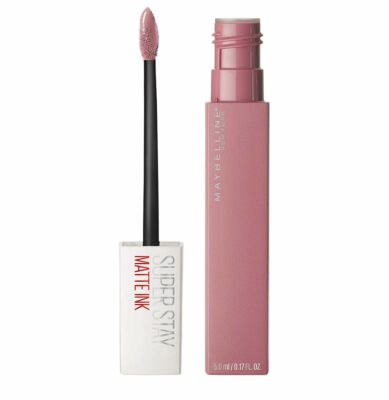 Why we like it:
This dramatic formula comes at a very reasonable price. It offers intense longevity and high pigmentation, so it's perfect for glamorous looks that'll hold up during busy days or intense activities.
Editor's Rating:
Quick Facts:
Type: Liquid Lipstick
Finish: Satin
Pigmentation: High
Color Range: 45
Quantity: 0.17 Fl. Oz.
Cruelty-Free/Vegan: No
From Maybelline, this is a pigmented liquid lipstick formula with a smudge-proof satin finish. It's budget-friendly, but it means business.
The main benefit of this formula is its intense longevity. It offers 16-hour wear, and it doesn't smudge, fade, or transfer even when confronted with greasy food. At the end of the day, you'll need an oil-based makeup remover and patience to get it off. The darker shades in the range can even leave a multi-day stain.
Since it's a pigmented, lipstick-like formula, the fact that it comes in a wide shade range is helpful. The Amazon listing even includes a gallery with examples of how each shade looks on a few different skin tones. There's a shade in there for every style and preference, and the presentation makes the selection process a little easier.
Despite what Maybelline advertises, this lip stain doesn't have a true matte finish, which can be very disappointing for shoppers who buy it specifically for the matte look. In reality, it has a satin sheen, which is still quite pretty. However, if you want a true matte-finish, we recommend the Cream Lip Stain from Sephora, instead.
After application, while it dries-down quickly, it can still feel a little sticky on the lips, which can be a little uncomfortable. The stickiness made us concerned that the color would transfer, but amazingly enough, it didn't at all.
Pros
Incredible longevity

Totally smudge and transfer-proof

Intense pigmentation

Excellent, well-documented color range
Cons
Not actually matte

Difficult to remove
---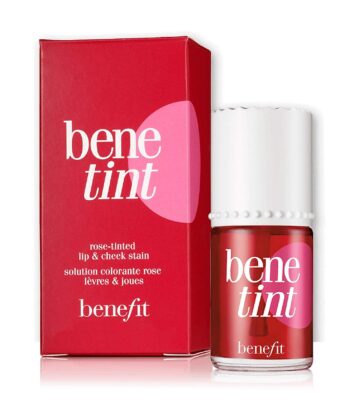 Why we like it:
The original liquid stain is still one of the best. A tiny amount is all it takes to give the lips a naturally flushed stain that doesn't fade or transfer too easily.
Editor's Rating:
Quick Facts:
Type: Liquid Tint
Finish: Natural
Pigmentation: Low
Quantity: 0.33 Fl. Oz. or 0.13 Fl. Oz.
Cruelty-Free/Vegan: No
It'd be impossible to talk about lip stains without mentioning the iconic Benetint. This was one of the original liquid tints, and it's still a favorite for many.
We think of lip stains as a new innovation, but Benetint was actually developed in 1976! It has undergone some changes over the years, but its core properties are the same: it's a thin, pigmented liquid that sinks into the lips. The original shade gives the lips a rosy stain, but a few more soft shades have been released over the years. It's best for a more natural look, and it also works over the cheeks.
It's a little tricky to use–you have to apply a small swipe over the lips, and then rub them together or use your finger to blend it in. Use too much at once or apply it to dry lips, and it'll settle unevenly, so it's best to start with a small amount over well-moisturized lips. While it can transfer a bit when you first apply it, it becomes transfer-proof once it sinks in and sets.
If you stick to a thin layer, the liquid will sink into the lips quickly, so you'll end up with a very natural finish. You can add more layers to get a more saturated color, in which case your lips will also look more lustrous for the first couple of hours. You can apply a lip balm on top as much as you like, and your lips will retain the color while also taking in the moisture.
Since the formula is thin and penetrative, it has very decent longevity. It can hold up for around 6-7 hours, although eating greasy food will make it fade.
K-beauty brands have happily adopted this lip stain formulation technique, so if you'd like something more affordable, you can try the Water Tints from Etude House. Just keep in mind that they're a little more pigmented.
Pros
Gives lips a natural-looking flush

Can be built up for more pigmentation

Decent longevity and transfer-resistance

Doubles as blush
Cons
Looks uneven over dry lips

A little tricky to use
---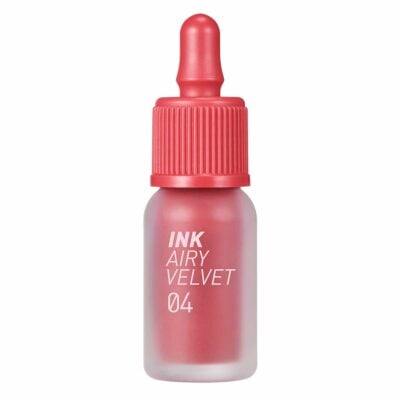 Why we like it:
This Korean lip stain is an unusual hybrid between a matte liquid lipstick and a liquid tint, with a velvet-smooth formula that's ideal for matte K-beauty looks.
Editor's Rating:
Quick Facts:
Type: Liquid Lipstick-Tint Hybrid
Finish: Matte
Pigmentation: Medium
Color Range: 11
Quantity: 0.14 Fl. Oz.
Cruelty-Free/Vegan: No
This Korean lip stain is a unique hybrid between a liquid lipstick and a liquid tint. The name "Airy Velvet" is incredibly apt, since the silicone-based formula has a very smooth texture and a plush velvet matte finish.
It comes in an adorable bottle with a dropper-like top that's secretly fitted with a doe-foot applicator. The applicator has a hole in the center, which is a useful gimmick that prevents too much product from getting on the lips.
It doesn't have the same intense level of pigmentation as a liquid lipstick like the Outlast Lip Color from Covergirl, but it's also not as sheer as a liquid tint. The formula is soft and creamy when first applied to the lips, but it dries down to a matte finish quickly.
You can apply a few layers to achieve full opacity, but that's not necessarily how K-beauty fans would use it. Instead, they would apply it lightly and then smudge out the edges to create a matte version of a blurred or gradient lip.
Applying lightly is also how you'll achieve the best "stain." If you pack the color on it's more likely to smudge or crack, but if you keep things light, the formula behaves like a liquid stain, without transferring or fading. Unlike other matte formulas, it's very forgiving over dry lips. It doesn't cling to dry patches at all, and even feels a little moisturizing.
The shade range is small and universally-flattering, but there are no dark or funky lip colors. Peripera occasionally releases seasonal shade collections, so you can check in periodically to see if there's something new.
It's important to note that Peripera's examples of the colors aren't very accurate, so we recommend looking at swatch videos when deciding on shades. The medium-pigmentation level means that shades will look slightly different depending on your natural coloring.
Pros
Smooth and comfortable

Perfect for matte K-beauty looks

Easy to apply

Matte yet appropriate for dry lips
Cons
Mundane shade range

Not ideal for heavier applications
---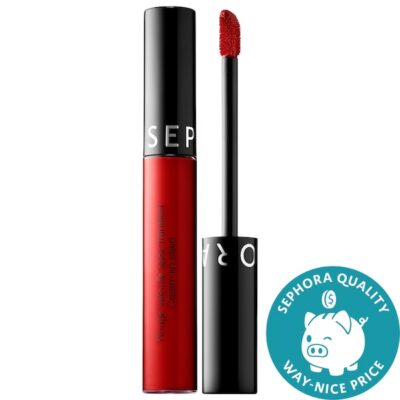 Why we like it:
These quintessential liquid lipstick-style stains from Sephora have phenomenal longevity, intense pigmentation, and a soft matte finish. They come in a massive range of shade options, and the price is totally reasonable.
Editor's Rating:
Quick Facts:
Type: Liquid Lipstick
Finish: Matte (Occasionally Others)
Pigmentation: High
Color Range: 90+
Quantity: 0.17 Fl. Oz.
Cruelty-Free/Vegan: No
It's not often that we find ourselves recommending Sephora's house brand, but these lip stains are a gem. By Sephora standards, they're very affordable, and their quality is absolutely comparable to the ultra-lux brands that the shop also carries.
They have a traditional liquid lipstick formula, so they go on like a gloss but dry down to a long-lasting but soft matte finish. The pigmentation and longevity are both immense, with one swipe coverage followed by hours and hours of wear, and no transfer. Surprisingly, they come off fairly easily with most makeup removers.
With over 90 shades to choose from, you'll also find some options here in uncommon colors like teal, black, and forest green. Sephora often changes things up with limited edition colors, as well.
They come with a typical doe-foot applicator, which doesn't make for the easiest application (especially if you choose a very vivid or dark color), and they dry down fairly quickly so you don't have a lot of playtime. It's the kind of stain we recommend to those who have a little more experience with makeup or who are ready to practice.
Within the realm of matte lip stains, they're certainly not the worst, but they can still be a little uncomfortable and drying. You need to make sure that your lips are exfoliated and moisturized before using them, but that comes with the territory.
If you want a lip stain with similarly-impressive longevity but without the matte finish, we recommend the SuperStay Liquid Lipstick from Maybelline, instead.
Pros
Fantastic longevity

Saturated full-coverage color

Incredible shade range

Affordable by Sephora standards
Cons
Not very beginner-friendly

A little drying
---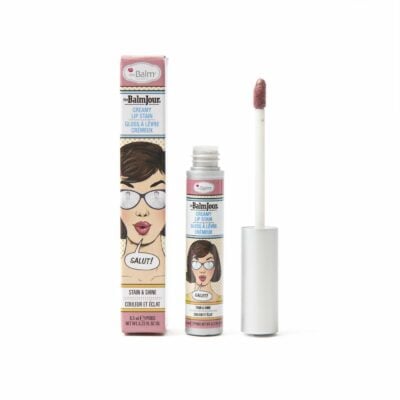 Why we like it:
We haven't seen a product like this before. This stain goes on pigmented and glossy, and over the course of the day, it fades down to a soft but long-lasting stain. The formula is comfortable and moisturizing.
Editor's Rating:
Quick Facts:
Type: Gloss-Stain
Finish: Glossy to Natural
Pigmentation: High to Medium
Color Range: 8
Quantity: 0.22 Fl. Oz.
Cruelty-Free/Vegan: Yes/Yes
From cruelty-free brand theBalm, this is a truly unusual take on the concept of lip stains with a totally vegan formula. We haven't seen anything like this from any other brand, so if all of the lip stains we've reviewed so far haven't been what you're looking for, this might be your "just right."
theBalmJour is a gloss-to-stain formula, which means that it goes on the lips like a pigmented gloss with a thin, non-sticky texture. It's incredibly comfortable on the lips and is even slightly moisturizing. The formula retains its sheen and coverage for a few hours and then it slowly mattifies throughout the day.
As it mattifies, the color fades away gently, while a stain remains on the lips. It's the kind of look you'd achieve right away with a liquid stain like the Benetint Stain from Benefit, but it comes after a few hours, instead.
If you're interested in a liquid tint that sinks in right off the bat, but you only shop vegan and cruelty-free, we recommend theBalm's Stainiac Tint, instead. Alternatively, you can speed things up by applying a very thin layer of theBalmjour, giving it a few to stain, and then blotting away the shine.
For as long as the formula looks glossy it's not very transfer-proof, but once it mattifies it'll also stop transferring. This interesting progression in intensity could work really well for those who don't enjoy the all-day drama of a typical lip stain like the Outlast Lip Color from Covergirl, but want something that's impressive at the start.
The stain comes in 8 wearable colors, and we recommend looking at swatches to figure out which ones are up your alley. We'd love to see theBalm expand the range in the future with deeper or less mainstream shades.
Pros
Shiny gloss fades to a natural-looking stain

Lightly moisturizing

Cruelty-free and vegan
Cons
Not transfer-proof

Small shade range
---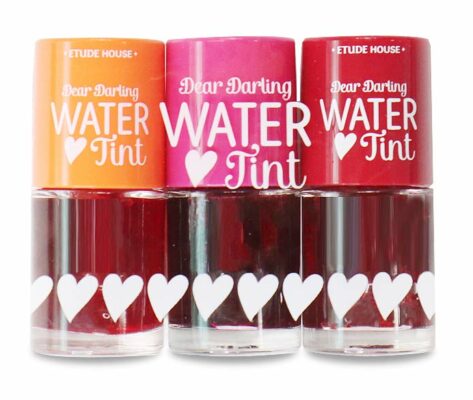 Why we like it:
Made for the Korean market, these liquid lip stains have become a hit all-over. They offer a long-lasting, natural-looking pout but can also be built up for more drama.
Editor's Rating:
Quick Facts:
Type: Liquid Tint
Finish: Natural
Pigmentation: Medium
Color Range: 3
Quantity: 0.32 Fl. Oz.
Cruelty-Free/Vegan: No
Lip-tint style lip stains are immensely popular in South Korea. They're just perfect for a pretty, K-beauty inspired makeup look. The liquids are simple and thin, so they penetrate into the lips nicely and don't look like obvious makeup. They're not drying to the lips, but they're also not particularly moisturizing.
In practice, they are very similar to the Benetint Stain from Benefit, with that same natural staining effect and incredible longevity. However, there are a few important differences. First of all, the Water Tint colors are a little more pigmented, so you can build them up to look quite vivid.
This works particularly well for a Korean style gradient lip, since you can apply a thin layer over the lips at first, and then concentrate a second layer in the center. If you're careful, you can build up the color all over the lips, but you'll need a good lip liner to keep the tint from feathering. Additionally, because of the high pigmentation, they can emphasize dryness even more than Benetint.
The shade range itself is also more in-line with K-beauty trends. There are three shades: Cherry is a soft neutral red, Orange is a warm orange-red, and Strawberry is a cool purple-pink. You can expect them to look a little different depending on your natural lip color.
The final difference is the cost. Buying all three together is a bargain, but even purchased individually, they are significantly less expensive than the premium Benetint.
In general, we think anyone who enjoys liquid lip tints should try these, but if your makeup style is more traditionally Western then you might not like them.
Pros
Sink into lips for great longevity

More pigmented than other liquid tints

Ideal for K-beauty style makeup

Very affordable
Cons
Can emphasize dry patches

Difficult for traditional makeup styles
---

Why we like it:
This super moisturizing, balm-like cheek and lip stain is quick and easy to use. The natural, oil-based formula isn't heavily pigmented, so it gives a gentle wash of color that's perfect for soft makeup styles.
Editor's Rating:
Quick Facts:
Type: Balm Tint
Finish: Creamy Gloss
Pigmentation: Low
Color Range: 3
Quantity: 0.1 Oz.
Cruelty-Free/Vegan: Yes/No
This two-in-one cheek and lip stain from the clean beauty brand Jane Iredale is lovely, especially for those who hate drying lip stains or tints. It's a tinted balm with a pretty staining effect.
The formula is based on a blend of oils including avocado, olive, and jojoba, so it melts over the lips with a creamy texture, and it's very moisturizing. The oils impart a glossy finish, although that tends to fade away after an hour or two of wear.
The colors themselves aren't very pigmented. They add a soft wash of color that enhances the lips without totally covering them. The formula also works really nicely as a cream blush.
It comes in three shades. A warm peach, a cool pink, and a neutral but dynamic red that has slightly stronger pigmentation. You can apply it as you would any lip balm or bullet lipstick, so it's easy and beginner-friendly. Because the pigmentation is so low, it's hard to make mistakes, so it's also a good choice for when you don't want to fuss too much with your makeup.
As for longevity, these are not part of our "bulletproof" lip stain category. The color begins to fade gently after 3-4 hours of wear (and even faster if you've eaten), but it may still leave a bit of a stain for a few hours after. Thankfully, the lips look fine once it fades, and reapplication is a breeze.
Compared to the other stains on our list, this one is pricy, primarily because of the expensive oils in the natural formula. If you'd like a similar balm stain at a lower price, the Color Quench Lip Tints from Pacifica are a nice choice, although they do have a slightly dated shimmer.
Pros
Moisturizing natural formula

Easy and quick to apply

Softly enhances the lips

Fades away elegantly
Cons
Pricey

A little gimmicky

Mediocre longevity
---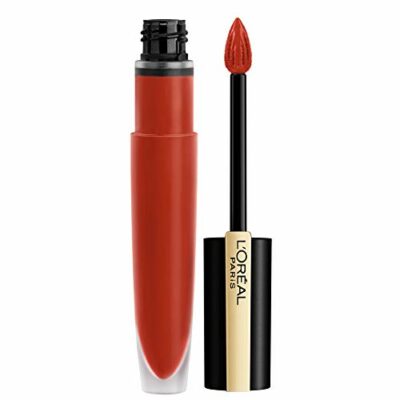 Why we like it:
These lip stains give the lips a stunning, vivid color with a matte finish, yet they somehow feel cooling and comfortable on the lips rather than dry.
Editor's Rating:
Quick Facts:
Type: Liquid Lipstick
Finish: Matte
Pigmentation: High
Color Range: 35
Quantity: 0.23 Oz.
Cruelty-Free/Vegan: No
L'Oreal set out to prove that a matte lip stain doesn't have to be uncomfortable, and by goodness, they did it! These lip stains have the most unusually light and liquidy texture, even by liquid lipstick standards.
It's odd to say, but they feel like water when they go on the lips which is very pleasant and soothing. The drawback is that they take a while to dry down and they're not ideal when you're in a rush. If you prioritize speed over intensity, you can always apply the stain, wait a few seconds, and then blot it. This will mattify it down a little while also reducing the shade's intensity.
They come in a large range of colors, which is useful because their pigmentation is intense. You can build up the layers on the lips without any issue, but one layer is enough. Throughout the day, they don't get dry and they feel quite comfortable.
Another detail that stands out about this lip stain is the applicator. We don't mind a doe-foot applicator, but the pointed teardrop applicator that's attached to the lid is certainly superior. It makes lining the lips precisely a much easier endeavor, while the fat bottom covers the rest of the lip quickly.
So what's the catch? These lip stains fail when it comes to longevity. They look great until about the 6th hour or until you have a snack–whichever comes first. They're also not totally transfer-proof, so you might leave behind a small mark if your lips come in contact with anything. Compared to the SuperStay Liquid Lipstick from Maybelline, that's not really amazing. For many shoppers, that's a small price to pay to have a comfortable lip stain.
If you like the idea of a vivid, matte lip stain that won't dry you out, and you don't mind reapplying throughout the day, we still recommend these.
Pros
Incredibly comfortable matte formula

Opacity in one swipe

Unique applicator makes application a breeze
Cons
Takes a while to dry

Some transfer

Mediocre longevity compared to similar stains
---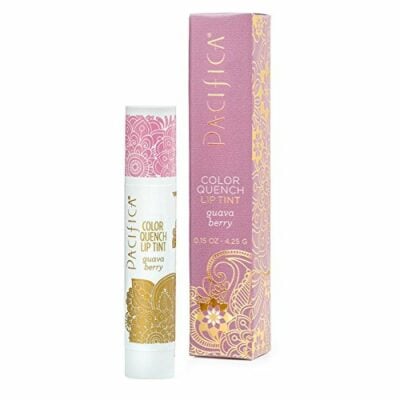 Why we like it:
These moisturizing tinted balms give the lips a subtle wash of color and a frosty sheen. They're not the most long-lasting, but they're vegan, all-natural, and easy to apply.
Editor's Rating:
Quick Facts:
Type: Balm Tint
Finish: Frosted
Pigmentation: Low
Color Range: 5
Quantity: 0.15 Oz.
Cruelty-Free/Vegan: Yes/Yes
It's hard to find a good vegan lip stain (especially on a budget), but Pacifica managed to make a lovely product. These sheer, moisturizing stains are very nourishing, with an all-natural formula that's free of beeswax, making it a truly animal-friendly option.
The formula is made with rich and moisturizing coconut oil, a vegan soy wax, as well as a few other botanical ingredients. The result is a deeply moisturizing formula that offers a nice change of pace from the typical drying (or simply not very moisturizing) lip stains.
Since they're part of the balm category they have very low pigmentation, so they offer a slight tint to the lips. Instead of a typical balm sheen, however, they have a frosted finish that can sadly look a little dated, especially with the lighter shades. The frost does have a benefit, though–if you use them as cheek stains, they'll add a bit of a highlight (especially Vanilla Hibiscus, a shimmery rose gold shade).
We think they could be lovely for subtle or casual makeup days, but we also think they can be really nice to carry around and layer over a more long-lasting liquid tint like the Benetint Stain from Benefit.
Pros
Easy to use

Thoroughly moisturizing

Vegan

Can double as blush or highlighter
Cons
Very poor longevity

Frosty finish is a little dated
---
The Total Guide to Lip Stains

If you're still feeling a little unsure, keep reading! We've added more explanations and tips that'll help you achieve that perfect pout.

Lip Stain Types in Detail
We've already touched on the fact that lip stains come in a few different types, but we have even more to say about their benefits and how they differ from one another.
Liquid Lipstick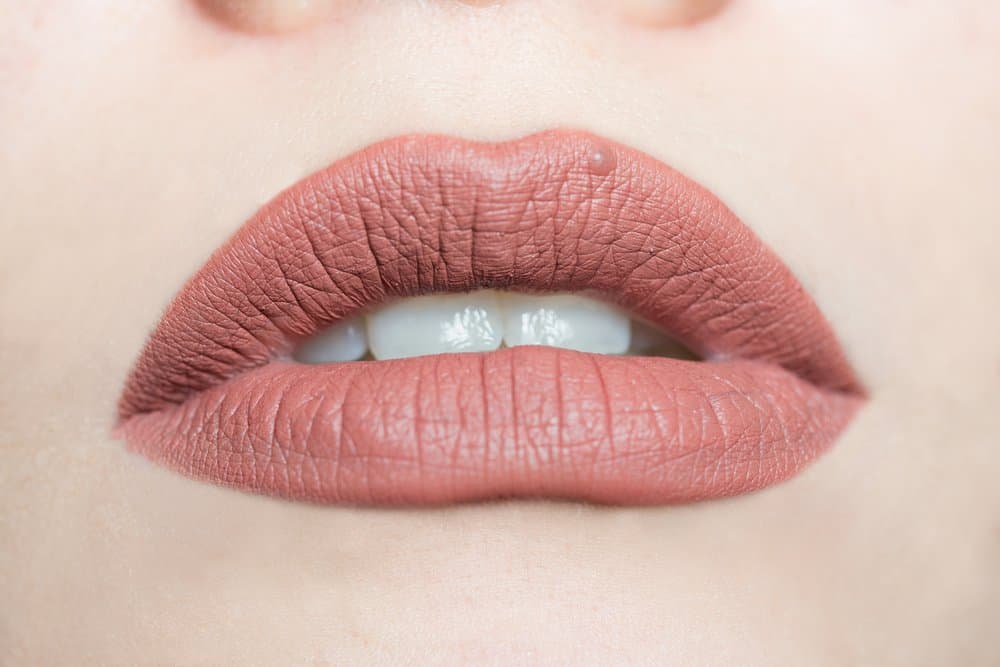 Liquid lipsticks are like liquid eyeliner for the lips. They come in a tube, like a gloss, but they're heavily pigmented, with a formula that goes on creamy and then dries down to an immovable layer of color over the lips.
They usually have the best longevity, but they also tend to be the heaviest and least comfortable of the bunch, especially if they have a more drying matte finish. They're also by far the most popular, which is why they dominate our list. The Outlast Lip Color from Covergirl is our favorite of the bunch.
Liquid Tints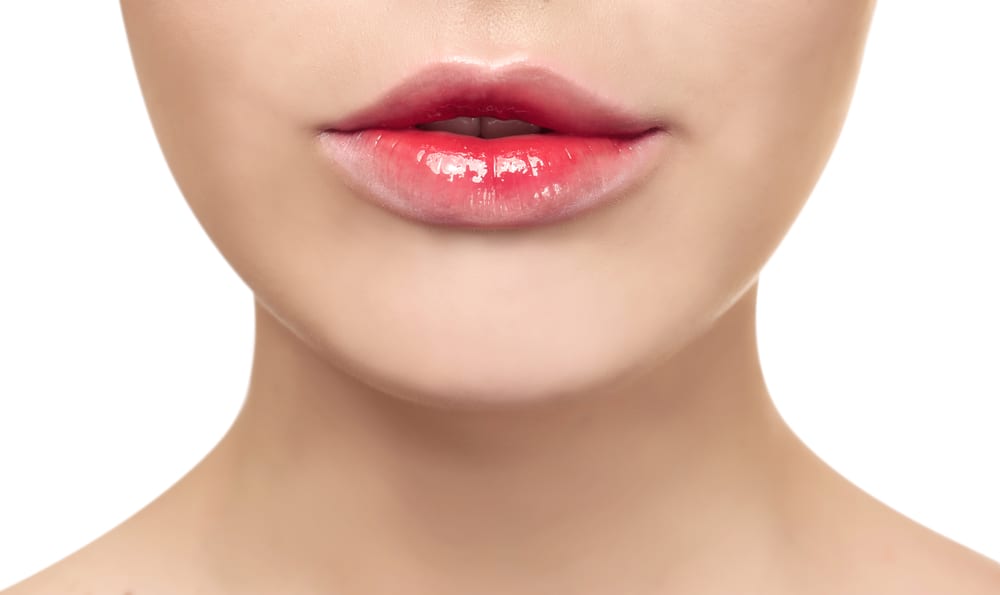 These tints create a literal stain. They're pigmented liquids that sink into the skin and impart a wash of color that looks like it's emanating from within. Instead of covering the lips, liquid tints enhance their color and make them look more saturated. It's almost a cliche, but "bitten" or "flushed" is probably the most accurate description.
They're especially popular in Korea these days, and they're great for K-beauty-inspired looks like the gradient lip in the photo. They can also double as cheek stains!
They can be a little tricky to apply at first, but once you get a handle on them, they're very quick and convenient. Because they sink in, they have great longevity and zero-transfer, although they're not as long-lasting as the average liquid lipstick.
They generally don't feel like anything on the lips, meaning that they are neither drying nor moisturizing. However, the pigment in them can still cling to dry areas or settle into lines, so it's important to exfoliate and moisturize the lips regularly.
The Benetint Stain from Benefit is the original liquid lip tint, but Korea has recently taken over the category with products like the Water Tints from Etude House.
Balm Tints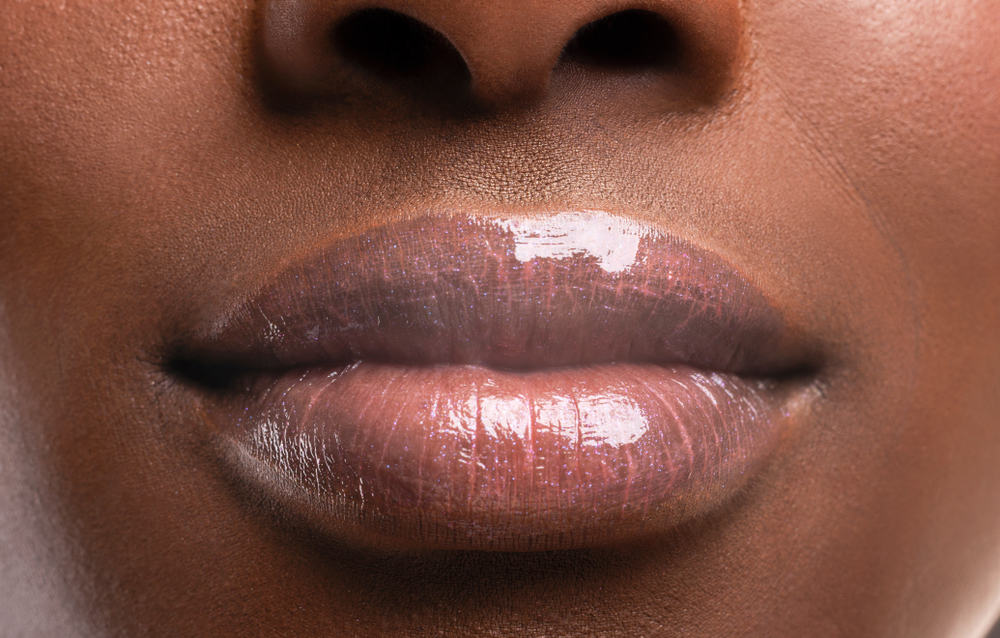 Finally, balm tints are the most moisturizing of the bunch. They're lip balms infused with a bit of pigment, so they stain the lips lightly while moisturizing them, and they also impart a creamy sheen. They don't have the same pigmentation or longevity as the other stains, but they're the most comfortable and easy to apply. They work well on the cheeks, as well.
They're fantastic for casual or low-makeup days when you want something quick and easy that will fade away nicely. They can also look nice in combination with a liquid lip tint since they help keep the lips nourished while slightly amping up their color throughout the day. The Just Kissed Lip Stains from jane iredale are our favorites from this category.
Tips for Using Lip Stains
No matter which lip stain you choose, we have some advice that'll keep your lips looking fierce.
Apply lip balm regularly to keep your lips soft and moisturized and to prevent visible texture.
Exfoliate your lips a few times a week with a lip scrub to prevent flakiness.
Always apply your lip stain in thin layers, since that always gives better longevity.
If you want to mattify a glossy or creamy lip stain, you can always take away the shine with a bit of translucent powder.
Balm and liquid lip stains make for awesome blushes, so dab them on your cheeks for a natural-looking flush that'll match your lips perfectly.
How to Remove a Persistent Lip Stain
The longevity of some lip stains is incredible, but it becomes a hassle once it's time to take your makeup off at the end of the day. Here are our tips for taking off persistent lip stains.
Oils do a better job of breaking down persistent makeup, so choose an oil-based cleanser or even a pure oil.
If you're removing all of your makeup, massage your entire face with the oil cleanser first, and then concentrate on the lips at the end.
Simply use your finger to gently wipe at the lips. This will break down the lip stain without irritating the lips, and since it's the final step, you won't cover your face in lip stain pigment.
Finally, remove the makeup and cleanser residue with a soft face cloth or rinse it all off if the cleanser is washable.
As an alternative, if you're only removing your lipstick while keeping the rest of your makeup intact, soak a cotton pad with your remover of choice, and gently wipe over the lips, going from the outside in to avoid smudging the rest of your face with the lip stain.
Kiss Touch-ups Goodbye
Smudging, fading, reapplications… These are the main downfalls of traditional lipsticks. You can kiss them goodbye with the help of your new, bulletproof lip stain! Whether your preferences run towards the intensely pigmented or the sheer and subtle, we know every lip stain on our list will serve you well.