Once thought of as a taboo styling product for those of us with curly hair, hairspray now is experiencing a surge in popularity as a secret weapon for taming curly hair. It is slowly becoming more accepted as a way to manage and style your curls that doesn't leave behind any hair damage.
Hairsprays can come in many specific formulas and levels of hold. For curly hair users, there are a specific set of ingredients and hold levels you want to look out for that determines if a hairspray is a good match for you.
It can be overwhelming to navigate through all these different options by yourself, which is why we've decided to help you out! We've done our research and gathered a list of the best hairsprays for curly hair available to help make your decision easier.
Why You Should Use Hairspray on Curly Hair
One of the biggest nuisances in having curly hair is the amount of frizz that emerges on a daily basis. Using a hairspray can help tame this frizz, making your locks appear sleeker and fighting off humidity. Hairspray can also define curls and add volume that makes your curls appear bigger and more full-bodied.
Plus, there are no negative side effects to using hairspray on a regular basis, as long as you are using it correctly. Check out our guide below for more information on this.
Things to Look Out for in a Hairspray for Curls
There are several factors you should be looking out for when selecting a hairspray that can help you decide if the product is a good match for your hair or not.
Finishing Spray vs. Hairspray
Occasionally, you might come across a product that looks similar to hairspray but markets itself as finishing spray. These two products are very similar, almost interchangeably so, but there are a couple of slight differences between the two.
Finishing sprays, like Nexxus Comb Thru Finishing Mist, usually provide stronger hold than a hairspray and can add a little bit of shine. You use a finishing spray at the very end of your routine to set your hairstyle in place. While effective, they can dry out curly hair and cause damage in the long run; they are not a good choice for daily use.
A traditional hairspray is more suited to daily use and won't damage hair over time (unless you are using a whole can per application!). The hold of a hairspray can be more flexible, but it may not necessarily add shine. They can also make your hair feel a little sticky, depending on which brand you use.
Ingredients
As we mentioned earlier, hairsprays are available in a variety of formulas that may or may not be good for curly hair. Look out for these ingredients in your product that indicate it is curl friendly.
Argan Oil: This oil is perfect for taming frizz and defining curls. It can be found in our top premium choice.
Vitamin B: Also referred to as panthenol on products, vitamin B enhances hair's natural shine and volume.
Hydrolyzed Proteins and Oils: Anything hydrolyzed helps add moisture and softness to your curls.
You may find just one of these ingredients or a combination of them in your hairspray in addition to plant botanicals and cetearyl alcohol – an alcohol that is actually beneficial for your hair.
Hold
The level of hold found in your hair product is a significant factor in how long your hair will stay styled and how defined your curls are. Soft holds are more flexible and leave room for your curls to bounce and move naturally, while stronger holding products hold your style firmly in place, but run the risk of making your curls look stiff.
Consider Avoiding
Certain components of hairsprays can have unintended consequences on curly hair. These ingredients include sulfates, silicones, chemical preservatives, and strong artificial fragrances. You may want to avoid a product with these ingredients in order to ensure the utmost health of your curls.
Now that we've discussed what to look for, let's head into our list of the top 10 best hairsprays for curly hair!
Top 10 Best Hairsprays for Curly Hair 2023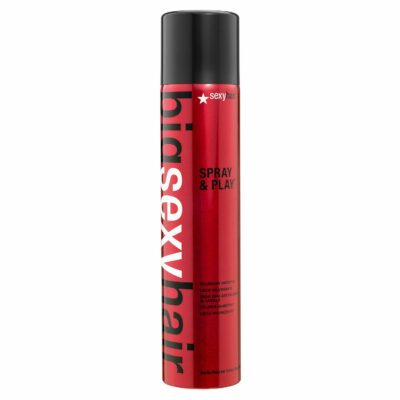 Why we like it:
This hairspray adds shine to hair while providing a medium to firm hold, making it perfect for all kinds of setting and styling.
Editor's Rating:
Quick Facts:
Notable Ingredients: Hydrolyzed Wheat Protein
Hold Strength: Medium to Firm
SexyHair's Big Spray and Play Hairspray is suitable for all kinds of curl types and textures. It has a medium hold which can be increased in strength by adding more product onto your hair. It is a great choice if you are new to using a hairspray on your curls and aren't sure which strength is best.
The formula of this product is designed to add shine. It is lightweight and doesn't leave hair feeling heavy, giving your curls with a natural look that stays all day. And if you are a fan of natural looking loosely styled curls, we also recommend looking into Cake Beauty's The Hold Out.
Unfortunately, this hairspray can leave hair feeling a little bit sticky, especially if you use more of it to obtain a stronger hold. To avoid this feeling, make sure to wash your hair in between uses and try to use the spray sparingly when styling.
Pros
Adds shine

Medium to firm hold

Suitable for all curl types and textures

Gives hair a natural look
Cons
Can leave hair feeling sticky
---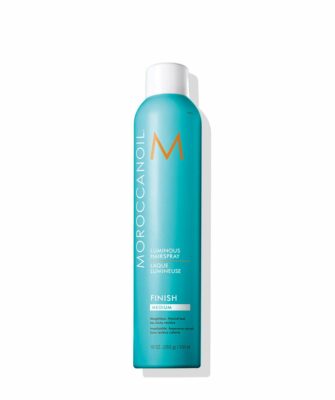 Why we like it:
Featuring argan oil and vitamin B, Moroccanoil Luminous Hairspray is a premium product that gives hair a premium feel.
Editor's Rating:
Quick Facts:
Notable Ingredients: Argan Oil, Vitamin B
Hold Strength: Firm
This premium product certainly treats your hair like it's a VIP. The unique blend of argan oil and vitamin B works to soften and smooth hair, leaving your curls looking soft and perfectly touchable. It is a great product for crafting longer curl styles or holding to together a head of coily curls.
Moroccanoil Luminous Hairspray has a firm hold, but it is quite flexible, so you don't have to worry about your hair getting stiff. There is a light fragrance to the spray, which is floral, but hardly noticeable. If you don't like super strong fragrances, this gently scented product is a good alternative.
The spray can on this product does break easily. The spray nozzle clogs up, making it hard or impossible to get any product out of the can. To try and counteract this, you can gently rinse the nozzle under warm water to remove any product after each use of the spray.
Pros
Flexible, firm hold

Light fragrance

Great for loose curl styles

Argan oil smooth hair
---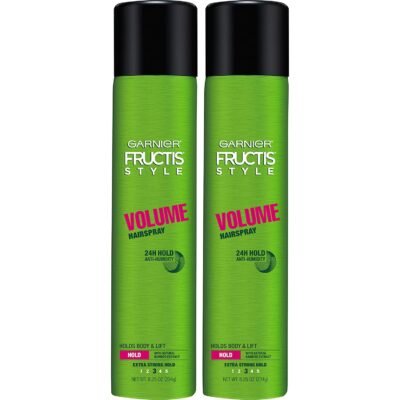 Why we like it:
This budget hair spray comes in a 2 pack with a medium hold that leaves curls pliable.
Editor's Rating:
Quick Facts:
Notable Ingredients: Vitamin B, Bamboo Extract
Hold Strength: Medium
Garnier Fructis Style's Volume Hairspray is a great item for anyone on a budget. It is very affordable and comes in a 2 pack, adding extra value. If you enjoy being able to get the most from your money, this product is a good option for you.
Because you are able to get so much product for one price, this hairspray makes a good option for anyone with longer or thicker curly hair. This type of hair requires more product to style, so it is worth investing in this economical option. Plus, the formula doesn't stick curls together or leave hair feeling stiff.
On the downside, the hold of this product does not last the full 24 hours as advertised. It will often wear off within several hours and may only be just enough to get you through the first half of your workday. For a longer-lasting curly hairspray, we suggest Aussie Sprunch Hairspray.
Pros
Very affordable

2 pack of hairsprays

Formula doesn't leave curls sticky

Great for long hair
Cons
Hold does not last a long time
---

Why we like it:
Perfect for locking in moisture and fighting frizz, John Frieda's hairspray has a firm hold and is great for taming coily hair.
Editor's Rating:
Quick Facts:
Notable Ingredients: Hydrolyzed Wheat Protein
Hold Strength: Firm
This frizz-fighting hairspray is a great option if you are styling tighter curls or coily hair. These hair types are more prone to frizz than others, and the unique moisture barrier formula of John Frieda's hairspray will help to seal moisture in hair and prevent frizz from forming.
A UV filter is included as part of the formula in this product. When applied to your hair, it stops any damage from sun exposure – like brittle hair – from occurring. The formula is quick-drying, meaning you are able to easily style your look and get moving without waiting for anything to dry. It's a good choice if you are looking to fix your style on the go.
Because it has a firm hold and is designed to coat hair, this product may actually end up drying your hair out if you use too much of it. Additionally, the spray nozzle is fairly powerful and shoots the product out in a stream rather than a mist, which makes it hard to apply the hairspray evenly.
Pros
Fights frizz

Great for coily hair types

UV filter for hair protection

Quick-drying formula
Cons
May dry out hair

Spray nozzle is too powerful
---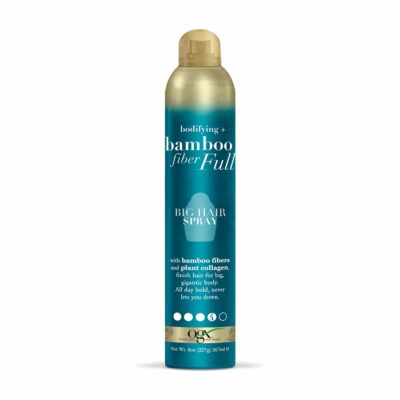 Why we like it:
OGX's Bodifying Hairspray is full of plant extracts to nourish your hair while giving you larger than life volume.
Editor's Rating:
Quick Facts:
Notable Ingredients: Hydrolyzed Wheat Protein, Bamboo Extract, Plant Collagen
Hold Strength: Firm
For anyone looking to add a boost of volume to their hair, OGX's hairspray is a great choice. The formula is specially blended with bamboo extracts, plant collagens, and hydrolyzed proteins to add volume and thickness to hair while still maintaining the natural movement and texture of your curls.
There are no sulfates in this product which makes it a great choice for curly hair; since sulfates tend to dry out curls and without them, your hair will feel hydrated after each use of this product. If you are following the curly girl method, this product is a safe choice.
Since this product has quite a firm hold, it can feel heavy on your hair, especially if you have fine or thin hair. To avoid this weighted feeling, try not to use as much of the product on the middle and ends of your hair, or invest in a lighter hairspray such as Paul Mitchell's Super Clean Light Hairspray.
Pros
Plant collagen boosts hair texture

Sulfate-free

Adds volume and thickness to hair
---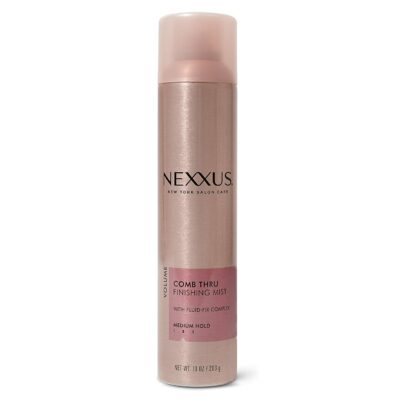 Why we like it:
This finishing mist features fluid-fix technology that provides your hair with a flexible hold and natural style.
Editor's Rating:
Quick Facts:
Notable Ingredients: Fluid-Fix Complex
Hold Strength: Medium
Nexxus's Comb Thru Finishing Mist does exactly as it says and provides a medium hold while leaving your hair brushable. This is great if you need a hairspray to help you set styles or if you want some versatility in the way you use your hairspray. The spray adds a little bit of shine to hair and doesn't leave it feeling sticky.
Whether you have short or long hair, this product will work well for you. It is great for use on textured, coarse, or layered hair and can help you achieve many different styles. If you are looking to experiment with hairspray or are trying to grow your hair out, this product is a good option to keep with you every step of the way.
There is a rather overpowering floral fragrance in this product that can be a drawback if you are sensitive to strong odors. This hairspray also features several chemicals which can irritate your scalp or cause your head to be itchy, especially if you already have sensitive skin. To avoid the risk of these reactions, consider a more plant-based product like OGX's Bodifying and Bamboo Fiber Hairspray.
Pros
Flexible medium hold

Leaves hair brushable

Great for all hair lengths

Works well on textured hair
Cons
Overpowering fragrance

May irritate scalp
---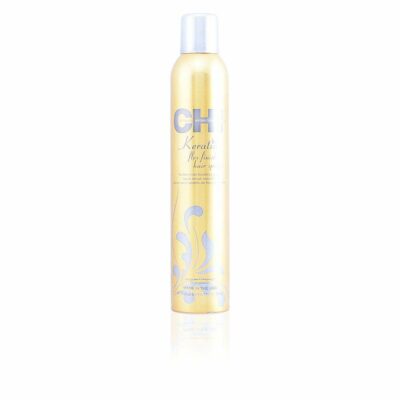 Why we like it:
CHI's Keratin Flex Finish Hairspray seals out humidity and fights frizz from appearing on all curl types.
Editor's Rating:
Quick Facts:
Notable Ingredients: Keratin, Hydrolyzed Silk, Argan Oil
Hold Strength: Medium
Similar to Moroccanoil's Luminous Hairspray, CHI's Keratin Flex Hairspray benefits from the addition of argan oil. This product also has keratin-infused into its formula to prevent hair breakage and repair damaged strands. It's a great choice if you are trying to style coarse or damaged hair.
This product works on your hair to seal out humidity, smoothing existing frizz and preventing future humidity-related frizz disasters. The spray nozzle is easy to use and delivers a fine mist that quickly coats hair evenly without any fuss. It's a good option if you have a lot of hair you need to cover.
Unfortunately, there is not a lot of actual product in this hairspray and the bottle is fairly small compared to other sprays on our list. If you are looking to get more product for your money, we suggest checking out our best budget pick Garnier Fructis Style Volume Hairspray.
Pros
Infused with keratin to prevent breakage

Seals out humidity

Easily maneuvered fine mist spray
---

Why we like it:
Paul Mitchell's Super Clean Light Hairspray is a fantastic option for those days you just need a light amount of styling to perfect your look.
Editor's Rating:
Quick Facts:
Notable Ingredients: Hydrolyzed Wheat Protein, White Ginger Extract
Hold Strength: Soft
This hairspray has a very lightweight formula that makes it great for use on fine or thinner hair. It won't weigh hair down or feel too heavy on your curls. It makes a good choice if you are looking to incorporate a light hairspray into your overall styling routine – consider pairing it with a curl-defining cream for smooth, sculpted curls.
The formula of this product is non-greasy and non-sticky. It won't leave your hair feeling too oily or stick strands of your hair together. It is great for creating moveable styles and for holding in place larger wavy curls. Another great product for this can be found in Cake Beauty's The Hold Out.
Because the hold of this hairspray is softer, it is not the best choice for very thick or heavy hair. It can also struggle to hold coily or coarse hair in place throughout a full day. If you have these types of hair, John Frieda's Frizz Ease Firm Hold Hairspray may be better suited to you.
Pros
Great for fine hair

Lightweight formula

Non-greasy

Great for styling wavy curls
Cons
Not the best for thick hair

Does not hold coils well
---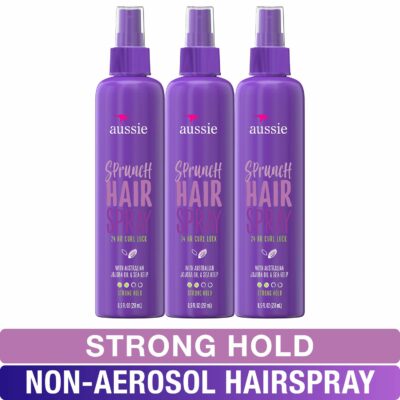 Why we like it:
Aussie's Sprunch Hairspray is great for when you need reliable, long-lasting hold on your curly style.
Editor's Rating:
Quick Facts:
Notable Ingredients: Vitamin B, Jojoba Oil, Sea Kelp
Hold Strength: Medium
Providing at least 24 hours of hold, Aussie Sprunch's Hairspray is super long-lasting. It makes a good choice if you need a hairspray to last you all day and into a night out. The hold is medium, meaning it won't leave your hair feeling stiff, but it will be a lot firmer and more set in place than it would be with a product like Paul Mitchell's Super Clean Light Hairspray.
This hairspray is certified cruelty-free by PETA and is free of harsh preservatives. It is infused with plant botanicals such as jojoba oil and sea kelp which leave your curls soft and smooth. It also has a pleasant berry-citrus scent which isn't too overpowering, so even if you are sensitive to fragrance you may be able to use this product.
Aussie Sprunch can be hard to wash out of hair. It tends to become firmer and a little stickier when water touches it, making it harder to scrub out of your hair and potentially damaging your curls in the long run. Try not to use the product on a daily basis and always condition after shampooing to prevent any hair breakage.
Pros
24 hours of hold

3 pack of product

Certified cruelty-free

Pleasant scent
---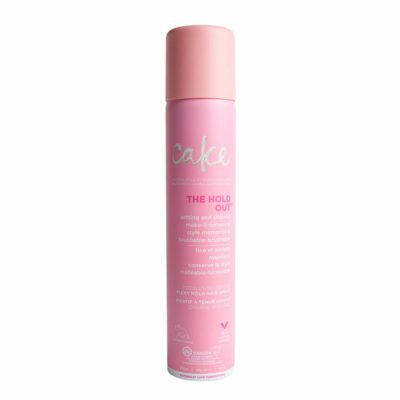 Why we like it:
With a scent that is exactly like cake, Cake Beauty's The Hold Out hairspray leaves hair soft and shiny.
Editor's Rating:
Quick Facts:
Notable Ingredients: Vitamin E, Vitamin B
Hold Strength: Soft
The soft hold of Cake Beauty's hairspray is guaranteed to leave hair touchable and soft. It is brushable and makes for a good choice if you want a product that provides a small amount of hold without you being able to tell it's there.
This hairspray is great for styling loose waves and curls. If you have longer hair and prefer a beachy curl look, this product can help you obtain that. Vitamin E is blended into the formula to add shine to hair and improve your hair's overall elasticity and strength.
Because this product has a softer hold, it is not the best for adding volume into hair. Additionally, it can leave behind a slightly greasy feeling on the roots of your hair if you use too much. To avoid this, try applying it lightly to your roots and a little heavier on the middle of your hair to hold your style in place.
Pros
Leaves hair touchable and soft

Great for long loose waves or curls

Vitamin E improves hair shine and integrity
Cons
Does not add volume well

Can leave behind greasy feel
---
Your Guide to Buying Hairspray for Curls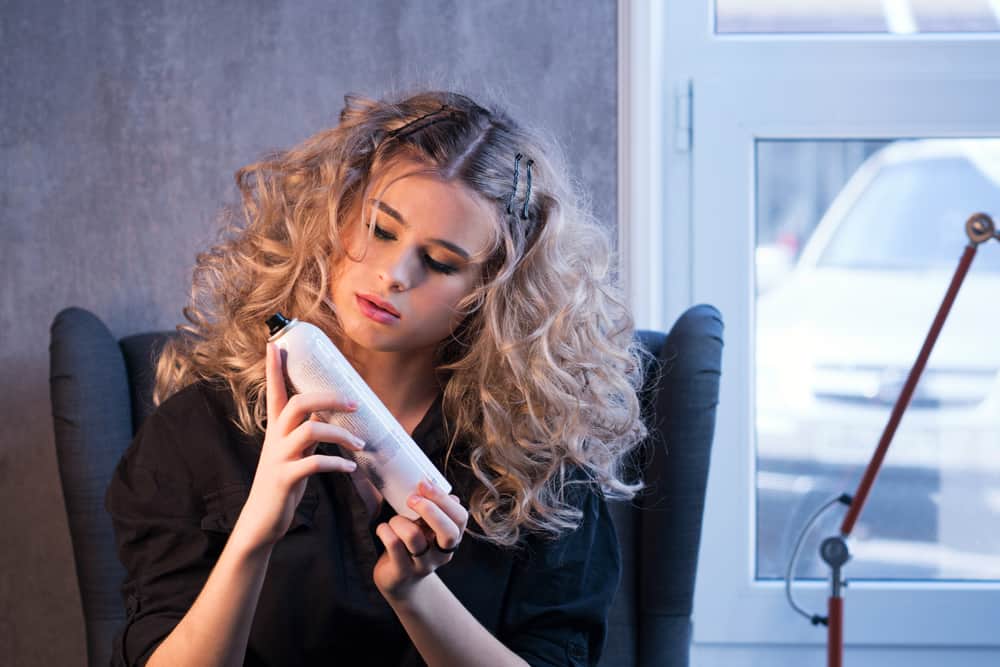 If you're still wondering what hairspray can do for your curly hair, read our full guide for all of the must-known information.
Benefits of Using Hairspray on Curly Hair
Styling your curls can be difficult, but with a hairspray specially designed for curly hair, you can achieve flawless style in a short amount of time.
Define Curls
Curl definition is the one thing curly-haired people strive to achieve day after day – there's nothing better than your curls looking soft and defined.
A hairspray designed for curly hair can help you to achieve this by locking your curls into place. A medium to firm holding hairspray like SexyHair Big Spray and Play Hairspray is perfect for creating definition.
Long-Lasting Style
If you're out all day and want your curls to be there with you until the end, hairspray can help you out. By providing hold to your curls, they'll keep their shape intact and leave them looking soft to the touch all day.
An extra long-lasting hairspray like Aussie Sprunch is a great choice for when you need a full day's worth of style.
Prevent Frizz
Hairsprays are designed to seal hair, settling onto it and protecting it from the effects of humidity or frizz. This means that your hair will stay sleek and perfectly styled even on days that are full of wind and record-breaking humidity.
If you are interested in an especially strong frizz-fighting hairspray, we suggest taking another look at John Frieda Frizz Ease Firm Hold Hairspray.
How Often Should You Use Hairspray?
Hairspray is fairly safe to use on a daily basis, as long as you aren't using an excessive amount. You can tell when you are using too much because residue will start appearing in your hair and your curls will feel heavy, sticky, or weighted down.
If you love using hairspray as part of your daily routine, make sure to wash your hair regularly to remove the product and avoid any building taking up residence in your hair.
How to Use Hairspray on Curls
Applying hairspray to curly hair can be a longer process than using it on straight hairstyles. Below, we have some tips for perfecting your application technique.
Before applying, make sure your curls are styled in the exact manner you wish them to stay in.
Separate your hair into workable sections. This step is especially important if you have very thick or coily hair.
Take your hairspray and hold it between 6 and 10 inches away from your hair.
Work your way through the hair sections, spraying individual curls gently to achieve the most definition.
If you want added volume, you can also spray between the layers of your hair, working from top to bottom. To tame flyaways and shorter front pieces of hair, you can spray a small amount of hairspray in your hand or on a toothbrush and then apply it to your hair. This gives you the control needed to tame these shorter pieces.
Remember to check your hairspray for specific application instructions before applying anything to your hair. Using hairspray on curly hair does require a bit of trial and error, so don't be discouraged if your hair doesn't look perfect the first time you use it.
Pro Tips for Avoiding Crunchy Curls
One of the biggest risks of using hair products is the risk of ending up with crunchy or stiff curls. Follow these pro tips to avoid this unfortunate occurrence and end up with softly styled hair every time.
Use Caution With Water-Based Formulas
With curly hair, it is always a good idea to avoid hairsprays that list water as one of their first ingredients. This is because water-based products tend to make curls stick together and can even break off curls, leaving you with more frizz than what you started with.
Apply Hairspray to Damp Hair
If you want to get the most out of your hairspray, try using it on damp air. Apply your hairspray as you normally would to hair that is damp – not wet – and allow it to air dry.
This will lock in both moisture and prevent frizz, giving you a sleeker look and more control over how your hair looks. For an added bonus, use a small curling iron once your hair is fully dry to add even more definition.
Use Hair Accessories
Utilizing hair accessories such as barrettes and bobby pins while you hairspray is a great way to add volume to your hair and perfectly sculpt your style.
To make this method work, simply add your pins in to your hair near the root, pulling your hair up and creating more volume. Apply hairspray to the styled hair and let it sit for a few minutes. Once it is dry, you can remove the pins and finish styling the rest of your hair.
Methods for Defining Your Curls
In addition to using a hairspray on your locks, you can try out one of these other hair styling methods for luxurious defined curls.
Invest in a diffuser attachment for your hair dryer. Diffusers help to reduce frizz and don't disturb your curl pattern like a regular hair dryer would.
Don't touch your hair when air drying it. Constantly fiddling with your drying hair can create excess frizz and unravel your curl pattern.
Consider switching to microfiber towels. Microfiber will slowly absorb moisture from your hair, leaving it healthier and more hydrated. These towels can also help cut down on frizz and hair damage.
Switch to a silk or satin pillowcase. Unlike cotton, silk and satin are soft enough to sleep on without tangling your curls and adding frizz as you sleep.
Understanding Your Curl Type
Knowing your exact curl pattern is an important part of selecting the right hairspray. For instance, wavy curls may benefit more from a flexible hairspray, while thicker or coily hair requires a hairspray with more strength.
Below, we have crafted a guide to let you find your curl type. Keep in mind that this is just a general idea of curl types and your hair may be a mix of multiple patterns.
Types of Curls
There are four designations of curly hair, with 1 being straight hair and 4 being coily, natural hair. Additionally, these designations are further categorized by the letters A, B, and C, which refer to how tight the curl is (A being loose curls and C being tight coils).
We'll be discussing the curly types of hair that start with type 2.
Type 2 Hair
Type 2 hair is on the wavier side. This type has a looser S-shaded pattern that lands it in the middle of straight and curly hair. Ringlets and loose curls may be mixed in with waves and straight hair pieces. Type 2 hair benefits most from anti-frizz products such as John Frieda's Frizz Ease Firm Hold Hairspray.
Type 3 Hair
If you have type 3 hair you will notice a tighter S-shaped curl or a loose coil pattern. There could be a mix of both. This type typically has more springy hair that bounces back into place if pulled on. A lightweight, flexible hairspray like Moroccanoil's Luminous Hairspray is a good option here.
Type 4 Hair
This is the curliest type of hair there is. Type 4 hair features tight curl patterns in either a coily S-shape or a Z-zigzag pattern. Additionally, this type of hair is typically very thick and is prone to breakage. A strong hairspray such as SexyHair Big Spray and Play Hairspray can work well for this hair type.
If you're interested in reading more about specific hair types and their categories, check out this article for everything you need to know!

Curly Hair Care Tips
These curly hair care tips can help push your daily style over the edge from good to great.
Comb Your Hair Wet
If you have curly hair, you may already know that brushing it is a hassle and can even lead to breakage and frizz in your hair. Try combing your hair out while it is wet, using a wide-toothed comb, to get rid of knots and tangles safely.
Consider Trying the Curly Girl Method
The curly girl method is a trending routine to care for your curls that leads to healthier hair and more defined curls over time. It involves eliminating products with certain ingredients, such as sulfates, and practicing curl-safe styling methods. This beginner's guide to the curly girl method can help you get started.
Don't Wash Your Hair Everyday
Curly hair is already very prone to being moisture-deprived. Washing it every day can increase this problem, as many shampoos will strip your hair of its natural oils. This, over time, can make your hair appear damaged, dull, and frizzy.
Wash your hair every few days and condition often to improve the look, feel, and hydration of your curls.
Use Multiple Products
While it would be fantastic to find one styling product that fixes all of our curly-hair problems, that is often not possible. Using multiple products on your hair is a great way to enhance and style your natural curls to look their best.
We recommend pairing one of the hairsprays from our list with a curl defining product like argan oil for maximum benefits.
It may be a frustrating process to find the right combination of products that works best for you, but once you pin down your routine, you'll be amazed at just how good your hair can look on a daily basis.
Achieving Easily Styled Curls
Styling curly hair can be a challenge, but it doesn't have to be. With the help of a hairspray, your curly hair can be perfectly sleek and styled in no time.
As long as you keep in mind your curl type and the specific benefits you want out of a hairspray, you'll easily be able to select a product that does wonders for your curls.