Top Picks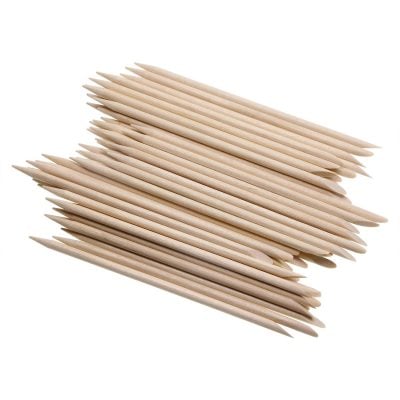 Mini Skater Orange Wood Nail Sticks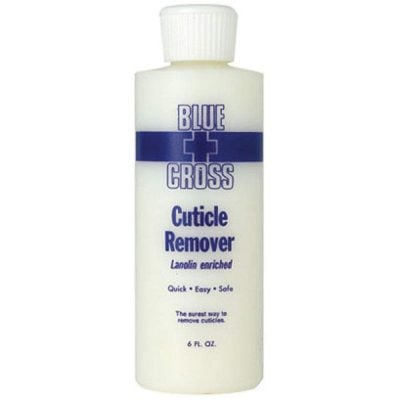 Blue Cross Cuticle Remover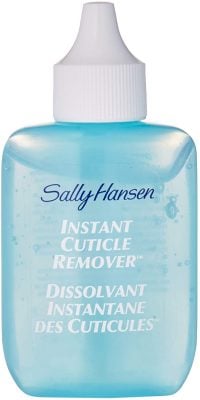 Sally Hansen Instant Cuticle Remover
Previous
Next
Not everyone will need a cuticle remover, as some people are blessed with minimal cuticles and will never experience the pain of hangnails and ugly manicures. If you're not one of those lucky people, getting your cuticles sorted properly will feel like a blessing. The best way to properly take care of your fingers? A high-quality cuticle remover.
Introduction to Your Cuticles
To remove or not remove, that is the question. And it's quite a polarizing question at that. Some will tell you to leave the cuticle alone, while almost any manicurist will want to give all the cuticles a trim. Our advice? A neat cuticle goes a long way in terms of a neatly manicured nail.
So what do you look for when purchasing a cuticle remover? How do cuticle removers vary and which one should you select? The most important features of a cuticle remover are laid out below.
Removal Method
There are three main ways in which you can control your cuticles, which range in the aggressiveness of the treatment: pushing, dissolving, and cutting. This is just a little overview, and the full guide to each of the methods is included later on.
Pushing
The mildest and recommended method of keeping the cuticles neat is to simply push them back towards the eponychium (the edge of the nail bed). This can be done regularly after showering when the cuticles are much softer. The most effective way of doing this is with a small cuticle pusher.
Dissolving
More stubborn cuticles may need a little more help to be easily pushed back. Using gels and liquids containing lye, you can soften and dissolve the tissue making them easier to push back or remove entirely.
Clipping
Clipping or cutting the cuticles is sometimes done, but is not the recommended method. Usually, people will cut the excess tissue after pushing the cuticles back to achieve a neat look. Other times people will try to shave off the cuticle directly without pushing it off the nail, which is something that should never be done due to risk of infection and pain.
Ease of Use
While some cuticle removers require some serious attention and time to get the job done, other cuticle removers are simple sticks that help clean up and push back the skin around your nails. Ease of use depends a lot on the price and the time you're willing to invest in your hand care routine. For this reason, make sure you're paying attention to use instructions before purchasing.
What's Included
Some cuticle removers come as a part of full nail and hand care kits, other cuticle removers are just simple scissors or even a wooden nail stick that can push back the cuticle. When purchasing a cuticle remover, carefully consider what tools are included as value varies depending on exactly what comes with your kit.
Top 10 Best Cuticle Removers 2021
Guide to Cuticle Removal
Both men and women can greatly benefit from maintaining nice cuticles and nails. The maintenance itself isn't difficult, and with a little bit of insight into the process, you will be managing your nails like a professional in no time.
What Are Cuticles?
There is a bit of misinformation regarding what the cuticle of the nail is, what it does, and how to treat it. The live bit of tissue covering the nail matrix is not the cuticle but the eponychium, and if you damage this part of your nail, it will hurt, and can even damage the matrix underneath.
As the nail grows, the attached tissue under the eponychium is pulled out – this thin layer that is attached to the nail is the cuticle and is not living tissue. Its job is to protect the matrix by forming a seal between the nail and the eponychium, but sometimes excessive amounts of the cuticle can bring problems of their own.
Often people refer to both the living and dead skin around the nail as the cuticle, which is where the misinformation comes from. In this article, we will refer to the living tissue as 'eponychium', and the dead skin that extends towards the top of the nail as 'cuticle.'

Nail Health
Taking care of your nails, which includes your cuticles, is important to maintain their health and looks. Leaving your fingers to do their thing and grow wild can result in painful hangnails and an unkempt appearance. On the other hand, obsessively trimming and messing with your delicate nail bed can lead to nail damage and infections.
Hangnails
When the nail grows out, pulling the cuticle along, sometimes the cuticle remains tightly attached both to the nail and the eponychium, resulting in the proximal fold of the eponychium stretching. As the skin gets stretched, it becomes thinner and thinner, becoming tight, painful, and unsightly. When stretched thin enough the skin will start to rip, forming painful and unsightly snags in your cuticles.
Infections
It's easy to tell the people who like to abuse their nails, as they sport a red and infected eponychium. In their obsession to keep the cuticles tidy, they remove too much of the cuticle and get under the eponychium. Breaking the seal between the nail and the eponychium will open the door to pathogens, manifesting as infected, red, and sometimes painful skin around the nails.
Being too aggressive around the nails in trying to remove cuticles and excess skin can also lead to cracked nails, nail bruising, and matrix damage. It's extremely important to be gentle around your nails to prevent these kinds of injuries.
Why Remove Cuticles?
The desire to remove cuticles is twofold, affecting both aesthetics and health. Regardless of whether you're male or female, taking care of the cuticles is an easy way to improve the appearance of your hands and keep your skin healthier.
Aesthetics
Excessive cuticles are not only unsightly, but they also prevent you from having a neat manicure (or pedicure). Nail polishes and treatments aren't designed to adhere to the skin but to the nail itself making applying products over the cuticle futile. If you decide to apply the products to the nail only, avoiding the overgrown cuticle, the nails will look more stubby and not very pleasing.
By pushing back and removing the cuticle you increase the surface area of the nail, greatly improving your mani and making your fingers look more slender.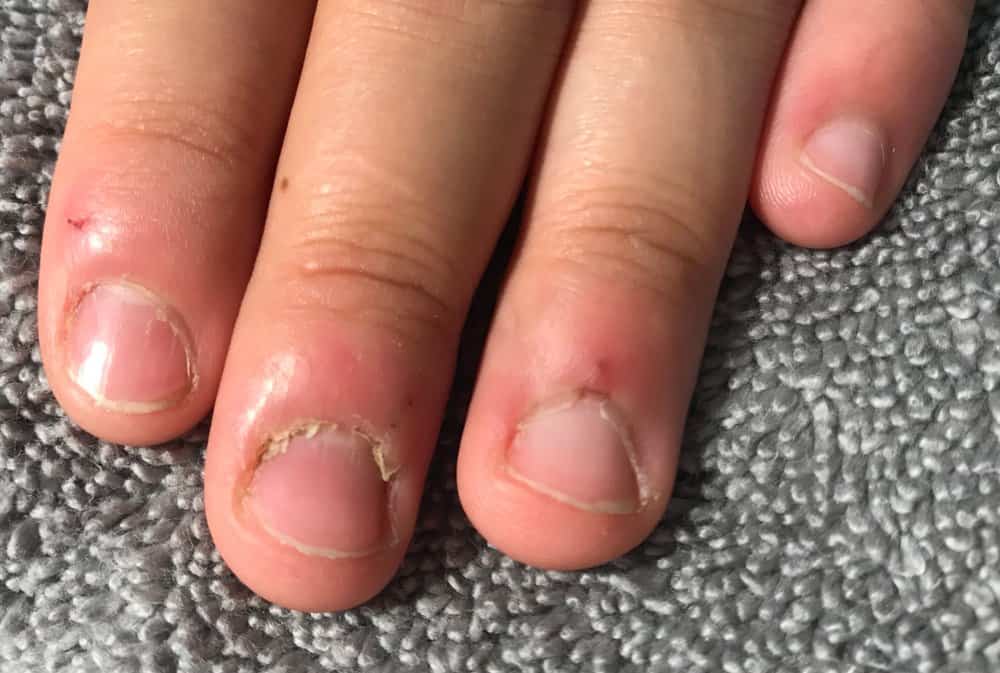 Health
The solution to issues with hangnails is to prevent the skin from stretching so thin in the first place. By making sure the cuticle is pushed back or removed, the eponychium won't thin out so much as to cause rips and hangnails. The removal of the dead skin isn't too difficult once you learn how to do it correctly, and it will improve your daily life as you minimize the open, painful wounds around your nails.
How to Take Care of Your Cuticles
As with all aspects of health and beauty, there's regular maintenance as well as extra treatments. If your regular maintenance is tip-top, the need for more drastic treatments will be greatly reduced.
Maintenance
Cuticle maintenance to keep them healthy includes regular, gentle pushing, moisturizing, and massage. No cutting involved. Cuticle oil is your best friend and it keeps the skin moisturized, strong, and protected. Along with the massage, the cuticle's grip on the nail can be loosened, preventing a tight eponychium. A full guide to cuticle maintenance is down below.
Removal
Sometimes there is just too much cuticle to deal with, especially if you're not on top of the maintenance, in which case removal of the excess may be desirable. If you do decide to cut away any excess tissue it is absolutely imperative that you do not cut into the proximal fold of the eponychium.
However, chemical removal can be incorporated into regular maintenance if you have problematic cuticles, eliminating the need to bring sharp tools into the picture. Dissolving the cuticle has the added benefit of not breaking the seal between the eponychium and the nail itself.
Dissolve or Scrape?
Whether to scrape away or to dissolve the excess cuticle is a very personal question. Some people prefer to push their cuticles back in the shower, while others want to dissolve the dead skin and wipe it off. Both methods work for maintaining nail health and appearance and in the end, it's up to you to decide which method you prefer.

Metal vs Wooden Tools
Both metal and wooden cuticle pushers are great, which one to use simply depends on your skill with the tools and the condition of your cuticles and nails.
Metal Scrapers
These are great if you have thick, stubborn cuticles, and you're willing to take the time to use the tool correctly. Generally, these pushers and scrapers are not recommended, as if you're in a hurry and not careful with the tool you can damage your nails and eponychium.
Many will be tempted to work on dry cuticles when using those sharp metal scrapers leading to damage. Even though these tools are efficient, you will still need to get the cuticle to be pliable before using these scrapers and pushers.
The trick is to be slow and let the tool do the hard work – this means not applying a lot of force as you use the tool. In a way, you need to learn to have a sculptor's touch, and really become skillful at using metal tools safely and efficiently.
Wooden Sticks
Orangewood sticks like these Mini Skater cuticle tools are the gold standard of cuticle maintenance. As this wood is soft, it's much easier to prevent nail or skin damage, but don't be fooled – it's still a super effective tool.
You can use them in the shower or a bath for quick cuticle maintenance, or use them in combination with chemical cuticle removers (our favorite is this product from Blue Cross. On the other hand, wooden sticks are disposable, so restocking will be necessary, which is not really an issue if you have a metal pusher. Our favorite metal cuticle pusher is part of this model from ECBASKET.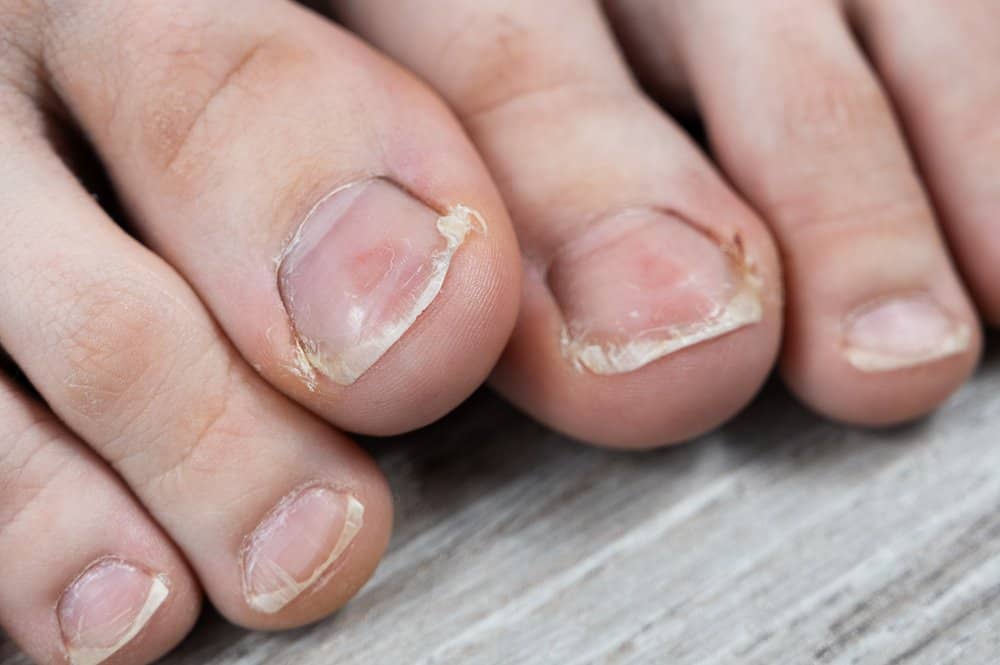 Don't Forget Your Feet
Generally, when people think of cuticles, they think of their hands and forget about their feet. Nevertheless, feet have nails, and that means they also have cuticles that may be excessive in some people.
Even though we don't interact with feet as much as we do with hands, they're just as important and require just as much attention to maintain nail health. If you decide that some cuticle pushing is required on your feet, be even more gentle than with your hands as your feet are probably not used to as much manipulation with cosmetic tools.

How to Maintain Nice Cuticles
To keep your cuticles in good shape, regular care and maintenance are mandatory. If you're not on top of it, the skin and cuticles can very quickly go back into being dry and overgrown.
Although the effort needs to be regular, it doesn't mean it needs to take up a long time or energy. Here is a little guide to stay on top and keep your cuticles beautiful.
Be Consistent
The recommendation is generally to push the cuticles back every week or so. Either you can dedicate 10 minutes or so on your chosen day of the week, or keep track daily.
After showering, give your hands a look and check how your cuticles are doing – either give them a little care then and there, or check again the next day. If you don't want to bother to check daily, just leave it till your dedicated, scheduled weekly checkup, and give your hands some love.
Keep the Cuticles in Check
As mentioned earlier, cuticles can easily get out of hand and cause painful hangnails. If you do get tight cuticles, regular maintenance can provide much needed relief.
Step 1
To remove excess cuticle softening the tissue is key. Whether it's warm water, lye, or moisturizers, making the cuticle pliable will make it a lot easier to remove.
Step 2
Once the cuticle is nice and soft, you can take your favorite cuticle pusher to push and scrape away the cuticle. The aim here is to push it gently back towards the eponychium and off the nail. Make sure to not push and scrape as far as getting under the proximal fold – you want to stop right before you reach the live tissue. It's better to remove not enough than too much in this case – you can always go back and push it a little more next time.
Step 3
Once the cuticles are pushed back you can clip the excess skin if required. This may not be necessary for everyone, so don't think that cutting excess skin is a must. Preferably you can keep on top of the cuticle care and you will never need to cut any skin around the nail.
Moisturize, Moisturize, Moisturize
This is the most important thing by far – moisturizing. Applying cuticle creams and oils is the best way to keep cuticles and hands looking amazing. You can avoid a lot of painful issues if you keep the skin pliable and nourished, as dry skin not only looks and feels rough, but it can also lead to cracking and wounds.
What Not to Do
You can have the best intention regarding your cuticles but still damage them. Going in with very harsh treatments and methods is a sure way to damage your nails and cause hand pain.
Do not cut into the living tissue and the proximal fold. Not only is it painful, but you're opening yourself to potential infections.
Do not push the cuticles too far. If you are too aggressive with the pushing you can break the seal between the nail and eponychium, potentially causing an infection. You can tell you went too far if you notice the skin around the nail becoming red and swollen.
Don't abuse metal tools. While they're very efficient at removing tissue, if you're not careful they can be a little too efficient. Using metal pushers and scrapers can be quite dangerous as you are able to dig into the nail taking off chunks of it. This will weaken the nail and lead to breakage as it grows out.
Don't push or scrape dry cuticles. Any time you try to sort out your cuticles, make sure they're soft and pliable. Trying to scrape and manipulate dry cuticles can cause wounds and damage, as you will end up putting in too much force to achieve the result you want – inevitably damaging yourself.
Don't bite your nails or skins. It's a bad habit as we all know and were always told, but still many people struggle with it. Chewing on your fingers can be a vicious cycle as you try to eat at the irregularities, making the skin and nails even more irregular. Really trying hard to break that habit will do wonders for your nails and cuticles.
Final Words
If all of this cuticle removal business seems completely unnecessary to you, then you probably don't have to do anything to your cuticles – if it ain't broke, don't fix it! However, if you do struggle to keep your hands neat and healthy, particularly if you get hangnails, then hopefully this guide can help you to improve your beauty regime and get those cuticles under control.