Top Picks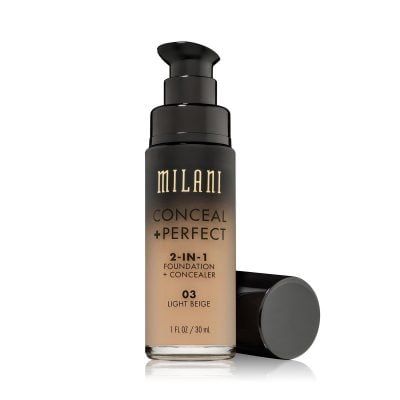 Milani Conceal + Perfect 2-in-1 Foundation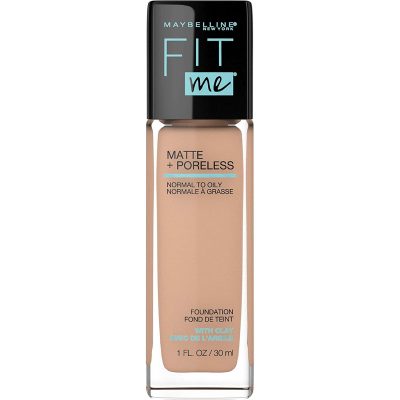 Maybelline Fit Me Matte + Poreless Liquid Foundation
Nyx Professional Can't Stop Won't Stop
Previous
Next
Having to jump through hoops to put a face on just isn't fair. One lapse in diligence, one minute change in a once-trusted formula, and a storm of itchy welts can run across your skin for weeks.
If it's any consolation, the third of the population that has skin allergies to cosmetic ingredients doesn't account for the millions of people who experience irritation due to general and acquired sensitivity. You are far from alone in your struggle.
Save your Sensitive Skin With The Right Foundation
There are a number of factors involved in selecting a foundation that determines if it's the right one for you. Before we get to our list, we've included a breakdown of what is most helpful to look out for in each foundation.
Foundation Type
There are several types of foundation that can be suitable for sensitive skin, but each has its own advantages and disadvantages that should be considered carefully.
Liquid Foundation: Liquid foundations come in tubes or bottles. They can be lightweight or heavy, and are often ideal for applying multiple layers for maximum coverage. They're also great for blending, ensuring that they match your skin tone perfectly.
Powder Foundation: Powder foundation typically comes in small, portable containers that make it great for touch-ups on the go. It's not great for dry skin, though, so be careful not to overapply if that's you.
Cream Foundation: Cream foundations are thick, but have the benefit of also serving as a moisturizer. They're great for full-coverage looks.
Mineral Foundation: Natural mineral foundations are a great choice for most types of sensitive skin. They're generally non-irritating and provide good coverage—but they are a bit harder to find, and they can look a bit powdery if you don't use the right brush, so be sure to read our guide to the best foundation brushes on the market today.
Skin Type
Your skin type does a lot to determine which foundations will work well for you, so be sure to match your needs to the perfect product in order to keep your skin looking and feeling its best.
Normal Skin: This type of skin isn't too oily or too dry. You rarely have sensitivity to products, and your complexion is all over pretty even.
Dry Skin: If you have dry skin you will usually have an all-over redness or roughness. This can also be accompanied by almost no visible pores and less elasticity of the skin.
Oily Skin: Oily skin tends to be shiny. You usually have larger pores with this skin type, and are more prone to both blackheads and breakouts.
Combination Skin: This is a combination of both oily and dry skin occurring in different areas of the face. You might also have a shiny complexion or overly dilated pores.
Sensitive Skin: Sensitive skin is easily irritated. It can feel like burning, itchiness, or look red or dry very quickly when it comes into contact with certain products like fragrances or synthetic compounds.
Suitability for Sensitive Skin
When choosing a foundation for your sensitive skin, be sure to look for ingredients that won't harm or irritate you. This is easier said then done, so as a quick primer look for things like aloe vera, allantoin, and glycerin, while trying to avoid harsh fragrances, alcohol, and parabens. There's more to it than that, though, so be sure to read our guide to all of the ingredients to seek out (and avoid) below.
Top 10 Best Foundations for Sensitive Skin 2021
Complete Guide to Foundations for Sensitive Skin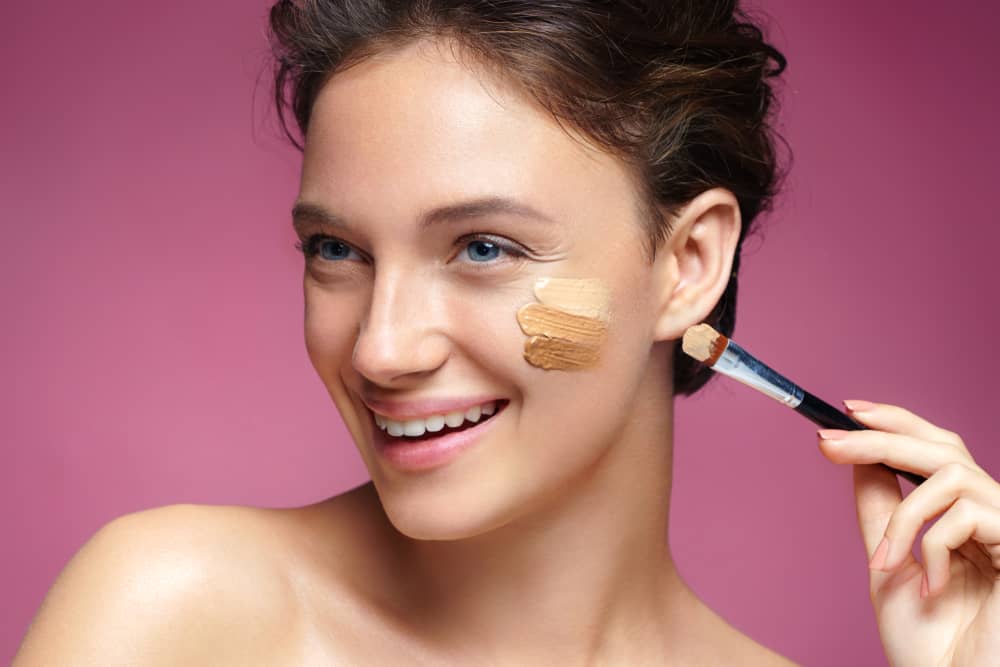 Proper research and an ounce of suspicion will be your best friend as you strive to manage your sensitive skin. You'll want to bat known irritants away with a stick while keeping an eye out for ingredients that'll soothe symptoms or prevent them from rearing their ugly heads in the first place.
What Causes Skin Sensitivity?
Sensitivity reactions, called contact dermatitis in the clinical world, comes in two primary forms: irritant contact dermatitis and allergic contact dermatitis. You can have one or both and differentiating between the two can be difficult without the aid of a dermatologist. Redness, swelling, and rashes are shared symptoms.
Irritant Contact Dermatitis
Irritant contact dermatitis is generally caused by a gap opening up in your natural defenses. Working in an industry that exposes you to excessive heat, sunlight, wind, or harsh chemicals weakens your skin barriers and inhibits the healing process. A formula may suddenly make you break out when you had no trouble before, but progression is more likely to be gradual until it becomes blatant.
You'll have better options to control the severity of your symptoms if allergies aren't the issue. When you give your skin time to recover from its ordeals, your condition is likely to improve. In the meantime all of the foundations on our list, including our top overall pick should prevent any reaggravation of the irritation.
Allergic Contact Dermatitis
Allergic contact dermatitis and the more persistent skin problems like eczema and rosacea are unfortunately the results of genetics. Changing your environment might be less effective at reigning things in.
You likely know all too well if you have the latter, but mild cases of the former tends to heal more slowly and may stay around for weeks after you cut the offending allergens out of your life.
Several skin conditions are associated with autoimmune disorders; if you have asthma or a food allergy, you're more likely to be afflicted.
A symptom-relief foundation like the Mineral Fusion Pressed Powder Foundation is a good place to start your search for a foundation that can solve your allergic sensitivity woes.

What's Hot
Allantoin: Borrowed from plants like comfrey and chamomile, this anti-inflammatory agent chills redness and coaxes out healthy skin cells to replace the old. It's praised as a moisturizer and effective treatment for diaper rash and light radiation burns.
Glycerin: Serves as a gentle moisturizer much like Allantoin while weighing slightly less, it fights irritation by clearing away harmful microbes. It's easy on the pores and can even help lessen the intensity of acne and scarring.
You may want to skip it if cruel sourcing rubs you the wrong way, however. Glycerin can be extracted from plants or animals and some companies don't like to be upfront about where they get theirs.
Zinc oxide: An astringent that also pulls barrier duty. It lends formulas active sun protection and can reign in oily skin. Zinc is a metal, but we absorb it as a regular part of our diet. It's unlikely to cause trouble, though it can feel thick.
Titanium dioxide: Another safe metal, it lacks the astringent properties of zinc oxide but offers stronger coverage while weighing slightly less. It's highly tolerated by sensitive skin types, doesn't react with other ingredients, blocks UV rays, and improves a foundation's blemish hiding capabilities. It's like armor!
The only major hang-up is that it doesn't do its best work in our lungs. Be cautious when using powdered formulas that list it.
What's Not
Fragrance: That's it. That's all companies have to list for scented parts of their formulas. The FDA can't legally require them to provide individual listings for ingredients under the term due to laws defending trade secrets, so the label can and often does hide chemical irritants in foundations and other cosmetics.
You wouldn't let a guy at the mall spritz a bottle of l'eau de mystique all over you, right? Don't put up with it in your beauty stash.
Parabens: Okay, we're on the fence about this one. Since they're dirt cheap and easy to synthesize, parabens are a common preservative with several variants used for food, cosmetics and, medicine. They're easy to identify as they'll follow naming conventions that stick "paraben" at the end ie: methylparaben. You're almost guaranteed to run across a cosmetic that lists one at your local drugstore or supermarket.
The main stink about them rises out of bioaccumulation, that is, the chemical's tendency to build up within the cells of an organism. Parabens sink rapidly into even unbroken skin, and because they potentially mimic estrogen, they may contribute to breast cancer after long term exposure by prompting irregular growth.
For users with sensitive skin, they don't do much on their own. They can, however, raise your sensitivity and exacerbate skin issues that already trouble you like eczema or psoriasis.
People who say that paraben's reputation is ill-earned often cite the fact that while it's quickly absorbed, it's also quickly excreted, meaning you'd have to take on a far greater load of the substance than is typically found in products to see major health issues besides the triggering of severely sensitive skin.
Our advice is to approach parabens with caution, replacing products that contain it with alternatives if you can. There's little cause to panic unless you have a specific allergy or major skin condition, but alternative preservatives are available, and you don't need to bear the potential risk parabens represent if you're down to do a little work to avoid it.
Retinoids: This includes retinol, ingredients that contain the word "retinyl" and adapalene/differin. They're all vitamin A products that signal for greater blood vessel and cell development, making them common in anti-aging formulas. It tends to be harsh on people with sensitive skin, especially if they haven't built up a resistance to it. Not the worst of the worst, but you should be cautious if you want to claim its benefits.
Toxic metals: Back when emperors were hip, foundation's precursor came packed full of ground-up vermilion, better known today as mercury, the stuff responsible for the "Mad" in Mad Hatter.
Arsenic, cadmium, and lead were also popular, particularly in their uses as skin whiteners. Never mind links to irritation, long-term and acute short-term exposure to these metals are known to cause headaches, lethargy, and brain damage.
Today, most toxic metals find their way into foundation as industrial contaminants, and in trace amounts even then, but old habits are the clingiest. You can still find formulas where their placement is intentional, especially in unregulated "exotic" products. If you can't read or translate the container, don't trust it.
You can use the Environmental Working Group's website to vet a good number of formulas as they sniff cosmetics for toxicity where the government doesn't look.
Triclosan: If you've kept your ears to the ground since 2017, you may have heard of triclosan being partially banned by the FDA, and for good reason. It's a synthetic substance sicced on fungus and bacteria. Like parabens, it isn't likely to make you break out on its own, but it reduces your skin's resistance to allergens and the very bugs it was designed to fight. Unfortunately, the red tape doesn't stretch far enough to reach foundation formulas.
In foundation, it settles on your skin far longer than the soaps it was banned from. It'll invite microbe infestations to your face, which means zits and rashes.
Limit Your Exposure
You can still take steps to lessen your symptoms If you can't remove yourself from every source of irritation. Wear sunscreen if you'll be outside for long, and try to stay in shady areas.
Limiting your contact with other environmental hazards can be as simple as taking a parasol along for the walk to work, or wearing a face shield. Your efforts will be more effective with a visit to the dermatologist so you can get a full profile of the nasties lurking around you, and how best to avoid them, but FamilyDoctor.org has a good guide to help you further along this route in the meantime.
Preventing Reactions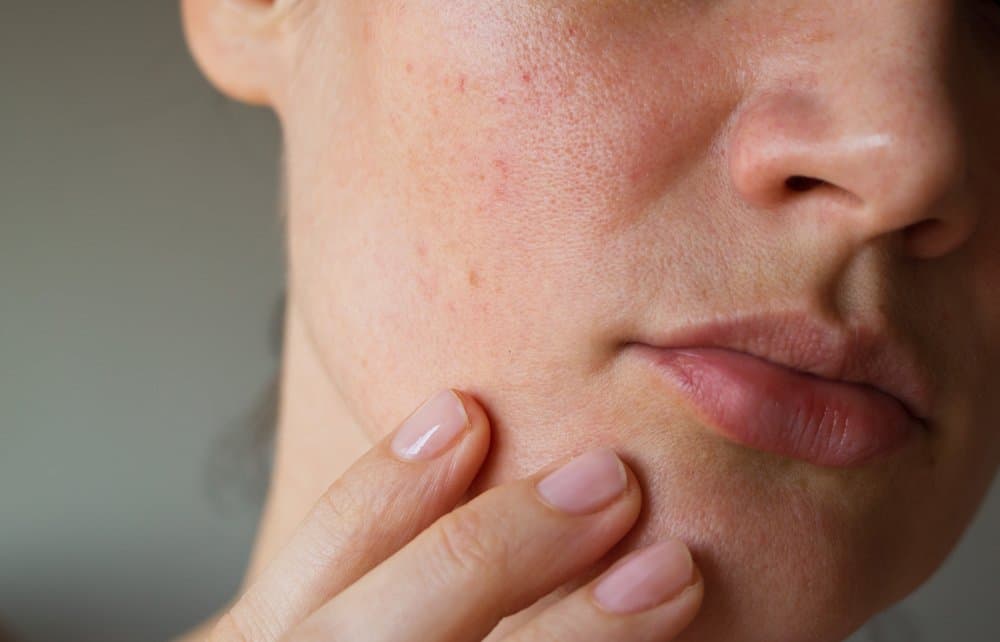 We've done some of the legwork for you, but everyone's unique. You might have no reaction to some of the ingredients on the no-fly list, or you may be allergic to something touted as the best balm against dry, fiery blemishes on the market.
In fact, more than one in three of us don't take well to some kind of beauty-related ingredient. A dermatologist can help you identify things your skin won't love, but you can also do a little science at home.
Apply a dash of every new formula you discover along a discrete part of your leg or arm for two to three days. If nothing happens, move on to a small part of your face for a few more days before running a full application.
Leave Nothing to Chance
Mise en place is a French culinary term that means something close to "put in place" and refers to maintaining a proper set up before and during the cooking process. You'll notice that professional cosmetologists follow the concept to a T. When they spread out all the tools of the trade on a cloth or tin like a surgeon, they aren't just being fancy.
If you have the time, set up everything you need before you start. Disinfect your brushes and beauty blenders with light soap before rinsing. At the end of the week, you should let them sit in steaming distilled water for at least three minutes. Some instruments will tolerate boiling if you feel like you absolutely must kill 99.9% of the bugs, but that's an expensive risk to take.
You'll also want to make sure that your face is cleansed of dust, soap residue, and any remnant of a previous application if it set more than a few hours ago. Follow up with clean water after using exfoliants or other products. The idea is to ensure that nothing sits between your routine and your skin, but you shouldn't go overboard. Scrubbing too roughly or too often can make your irritation worse. Gentle circles with a soft cloth are oftentimes enough to finish up.
It sounds like lab work because it is. Cross-contamination and improper maintenance sensitizes your skin, making the problem worse with every application. An emergency touch-up won't hurt too much, but when you have room to breathe, you should consider treating yourself to the best results possible.
Your face will thank you.
Final Thoughts
Compared to people with no skin problems, you'll have to work harder, smarter, and longer to achieve a fabulous canvas, but that's a fact you should acknowledge with pride.
Every bit of extra effort you put in improves your artistry. You may even find yourself pulling miles ahead of the crowd—we're rooting for you!