Anyone who has applied foundation before knows the struggle of getting clumped, streaky coverage as a result of a bad quality brush. Foundation brushes are essential to creating a flawless foundation application, so if yours has given up on you, it may be time to invest in a new one.
Quality foundation brushes can change the way your makeup is applied for the better. A well-made brush will enable you to apply your foundation with precision, create a smooth base, and blend your makeup flawlessly. Foundation brushes are an extremely important part of your makeup routine.
Finding the best foundation brush for your needs can be difficult when there are so many options out there. Fortunately, we've decided to help you out! We've created a list of the best foundation brushes available, so you can make your selection of which brush to use much more easily. Read on to find out about our top 10 picks!
What You Need to Know About Foundation Brushes
Before we get to our list, we first need to discuss some of the important selection factors that differentiate between foundation brushes.
Types of Brushes
There are many types of foundation brushes available, and each one can be used for a multitude of purposes.
Liquid Foundation Brush
Liquid foundation brushes are perfect for using with cream or liquid foundations. They have tightly packed bristles that look similar to a paintbrush. The end of this brush type can either be tapered or flat; tapered will give you better precision when applying foundation and flat will help you achieve fuller coverage.
From our list, we love ENERGY's Liquid Foundation Brush.
Powder Foundation Brush
Featuring a full head of fluffy bristles, a powder foundation brush works best when used with loose powders, though they can be used on pressed foundation powders too. This type of brush features a tapered bristle stem that attaches to the handle. You can also use a brush like this for blending.
Kabuki Brush
Similar to powder foundation brushes, kabuki brushes are best used for powders, though they can be used with liquid makeup, depending on the brand. They are a great option for loose foundations and have a flatter top than powder brushes. The bristles on this brush are also quite fluffy and are more tightly packed.
Beauty Blenders
While not technically a brush, beauty blenders are a fantastic tool for applying all kinds of liquid and cream foundations. They are the best at helping to blend out foundation for a smooth, natural-looking finish.
Stippling Brush
A stippling brush is a specialized type of foundation brush that features 2 different lengths of bristles; one set of bristles is shorter and more tightly packed, while the other is longer and more widely dispersed across the brush. This type of brush is perfect for creating an airbrushed, photo-finished foundation appearance, though the application technique might take a little skill to learn.
Oval Brush
A somewhat lesser-known foundation brush, the oval brush is perfect for building up foundation coverage and for blending liquid and cream foundations. The handles on these brushes make them especially helpful for this precision manipulating. However, they are not the best type of brush to be used with powder foundations.
From our list, our favorite oval brush is Yoseng Oval Foundation Brush.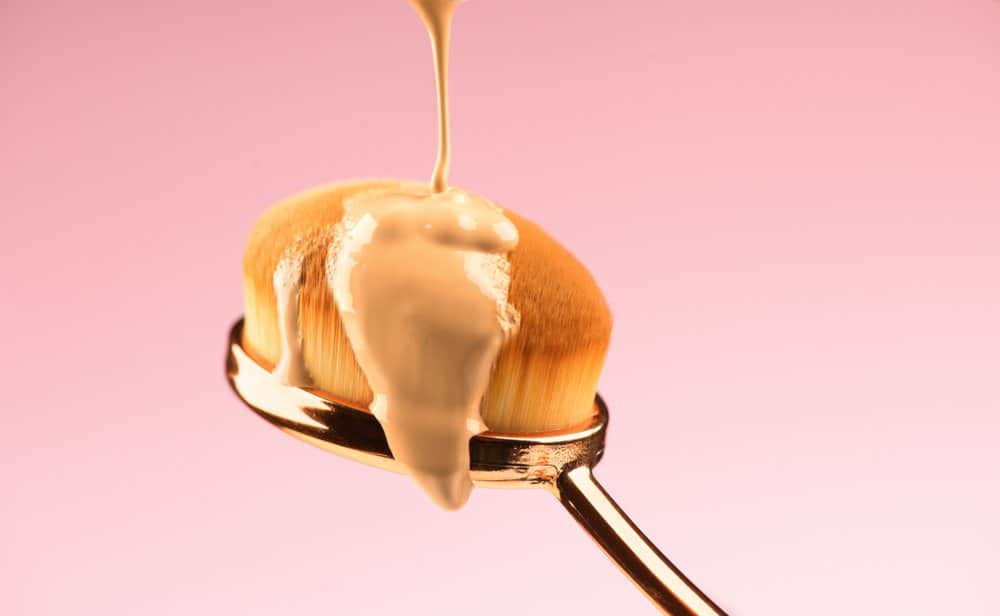 Bristle Type
There are two main types of bristles that you can expect to find on foundation brushes.
Synthetic
Synthetic bristles are made from nylons or polyesters. They are slightly less soft than natural bristles, but they are often significantly cheaper and do not absorb as much liquid product due to their man-made composition.
Natural
Natural bristles are created from animal hair, most commonly squirrel or goat hair. They are very soft and perfect as a powder foundation or blending brushes, but they do tend to be much more expensive than synthetic bristled brushes. Natural bristled brushes also carry a risk of not being completely cruelty-free.
Price
One of the more important factors in selecting a foundation brush is price. Many brushes stay in the affordable range, but there are some very high-quality brushes made with expensively sourced bristles that can come in at a more premium price range. However, you should keep in mind that you do not necessarily have to spend lots of money to find a quality product.
What's important with foundation brushes is knowing when to spend that extra money on a product that will last you, and when to save a little bit of money on a cheaper, but still efficient product. We talk more about this process later in our full guide.
Now that we've discussed what you need to know about foundation brushes, let's head straight into our list of the top 10 products available!
Top 10 Best Foundation Brushes 2023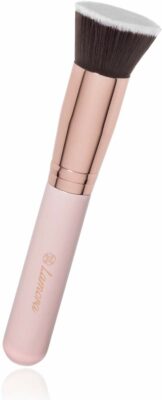 Why we like it:
Lamora's Flat Top Kabuki Brush is lightweight and easy to clean, earning it a place at the top of our list.
Editor's Rating:
Quick Facts:
Brush Type: Kabuki
Bristle Type: Synthetic
Lamora's Flat Top Kabuki Brush has a sturdy wooden handle that is available in 3 different colors, so you are sure to find one that matches your style. The handle is easy to use and simple to maneuver as you apply makeup. It features a durable copper ferrule that holds the bristles on tightly to the brush. This product is a good choice for anyone who prefers an extra sturdy foundation brush.
Despite being so sturdy, this brush is fairly lightweight. It helps speed up makeup application and does not leave foundation, either powder or liquid, looking too clumpy or streaky. The bristles themselves are very easy to clean, making this brush a good option for someone who loves simplicity.
The bristles on this brush are a little too soft for thicker foundation formulas such as creams and pressed powders. If that is the type of foundation you prefer, you may be better suited to a product like Daubigny Hexagon Kabuki Foundation Brush.
Pros
Sturdy wooden handle available in 3 colors

Durable copper ferrule

Durable copper ferrule

Easy to clean
Cons
Bristles too soft for cream foundation or pressed powders
---

Why we like it:
This premium foundation brush is crafted with renewable bamboo and has a full, fluffy head of bristles suited for even coverage.
Editor's Rating:
Quick Facts:
Brush Type: Powder
Bristle Type: Synthetic
EcoTools is a popular cosmetic brush creator brand that only uses the extremely sustainable and durable bamboo to craft their brush handles. This leaves the handles strong, very resistant to breakage, and completely recyclable. It makes this product a great choice for lovers of sustainable or ethically crafted products.
There are 70,000 bristles on this brush that are tightly packed in, giving a full, fluffy head. These bristles are also sustainably made and are super soft, making this product a great choice for using with loose powder or mineral foundations. It will provide an even, smooth coverage with any type of powder foundation.
Because this product has such a large head of bristles, it can be a little difficult to store. It should not be laid down flat in a makeup case to avoid deforming the bristles; the best way to store it is by leaving it upright somewhere out of the way of humidity and extreme temperatures.
Pros
Handle crafted with renewable bamboo

70,000 bristles for even coverage

Great for loose powder or mineral foundations
---

Why we like it:
This super affordable brush has an ergonomic handle and is great for beauty experts and beginners alike.
Editor's Rating:
Quick Facts:
Brush Type: Liquid, Powder
Bristle Type: Synthetic
Wet n Wild's Flat Top Brush comes in at under 5 dollars, making it extremely affordable. This price range is sure to fit most budgets and makes for a great buy if you need something in a pinch or are looking for quality at a lower cost.
This product is great for anyone who needs a foundation brush, but doesn't plan to use it religiously. It has an ergonomic handle, making foundation application and brush manipulation simple; the handle can withstand pressure for easy use during blending.
On the downside, the bristles on this brush are a little thin and it is not the best for use with thicker liquid foundations. The thin bristles cannot spread this type of makeup well and are unlikely to make foundation smooth enough to prevent streakiness. We recommend ENERGY's Liquid Foundation Brush if you are more of a liquid foundation user.
Pros
Super affordable

Great for occasional foundation users

Ergonomic handle
Cons
Bristles are thin

Not the best for thick liquid foundation
---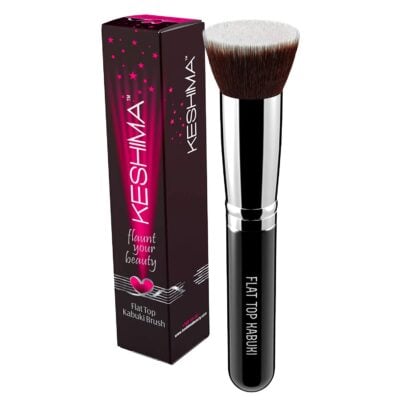 Why we like it:
The KENSHIMA foundation brush features super soft synthetic bristles perfect for even sensitive skin.
Editor's Rating:
Quick Facts:
Brush Type: Kabuki
Bristle Type: Synthetic
The bristles on this foundation brush are extremely soft and feel super smooth on skin. The brush works well to gently apply and blend any type of foundation. This product is a great choice for anyone with sensitive skin or skin that is easily irritated who needs a gentler brush.
There is a larger and a smaller size available of this brush. This gives you the option of selecting a brush more suited to full-face coverage, or one suited to more detailed application. Both brushes work very well to create full coverage of foundation and are perfect for building coverage.
Since the bristles on this brush are so soft, they do tend to absorb a lot of excess makeup. This can mean that you go through a lot of foundation with each application, and that the brush can be hard to clean or may get rough and clumpy between cleanings. The best you can do to combat this is try to use foundation as sparingly as possible when applying it.
Pros
Super soft synthetic bristles

Good for sensitive skin

Large or small size available

Works well for full coverage looks
---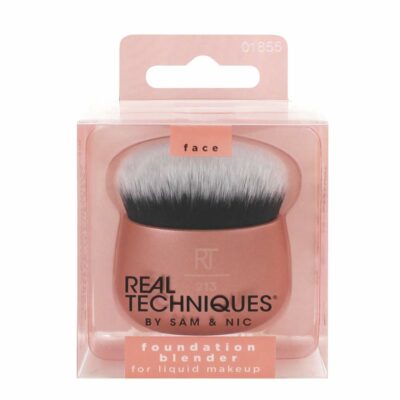 Why we like it:
Perfect for blending out even stubborn foundation, this blender brush has a short, precision-enabling handle.
Editor's Rating:
Quick Facts:
Brush Type: Liquid, Powder
Bristle Type: Synthetic
The Real Techniques Makeup Blender Brush is designed for ease of use and precision when blending. It has a shorter handle that makes the brush easier to control and gives it the ability to withstand a good amount of pressure. It is a great choice for anyone who needs a versatile product that can blend liquid or powder foundation.
This brush is very good at creating smooth, more airbrushed foundation looks. The bristles are tightly packed and are great for smoothing out makeup clumps and preventing any areas of streakiness. If you prefer a super flawless, photo-finish foundation look, this product may be the best choice for you.
Because the bristles are so tightly packed together and firm for blending, they can feel a little rough on skin. This makes this brush not the best choice for someone who has sensitive skin, or someone who prefers very soft bristles. We suggest the KESHIMA Flat Top Kabuki Foundation Brush if you are a fan of softness.
Pros
Perfect for blending liquid or powder

Shorter handle for more precision

Great for creating smooth, airbrushed looks
Cons
Bristles are a little rough
---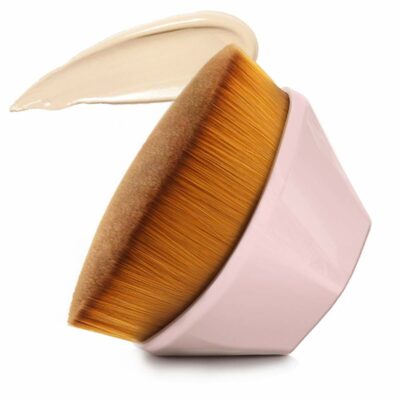 Why we like it:
This foundation brush includes a carrying case and is perfect for taking with you for touch ups on the go.
Editor's Rating:
Quick Facts:
Brush Type: Kabuki
Bristle Type: Synthetic
The Daubigny Hexagon Kabuki Foundation Brush includes a plastic carrying case. It is very strong and works well to protect the brush wherever you take it. It is a great option for bringing with you if you are traveling or plan to touch up your foundation on the go; the product is small enough to fit into most bags and purses.
Similar to the Real Techniques Makeup Blender Brush, this brush has very densely packed bristles. The Daubigny brush works very well for applying and blending out thicker foundations, including cream foundation.
The hexagon handle on this brush can be a little hard to hold, especially for beginners to using shorter brushes. It is also not the best option if you plan to do a lot of buffing and blending of powder foundations. We recommend the EcoTools Full Powder Brush for that.
Pros
Includes carrying case

Great for taking traveling

Very dense bristles good for cream foundations
Cons
Hexagon handle is hard to hold

Not the best at buffing or blending
---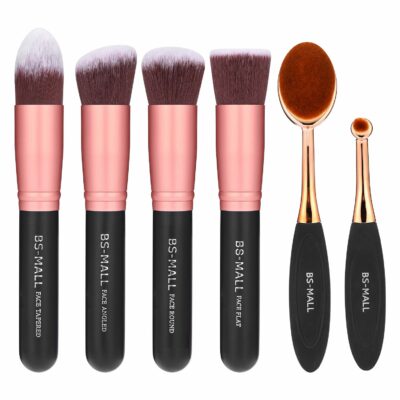 Why we like it:
This full foundation brush kit is great for lovers of foundation and anyone who wants to practice their technique.
Editor's Rating:
Quick Facts:
Brush Type: Powder, Liquid, Oval
Bristle Type: Synthetic
The BS-MALL Face Foundation Set includes powder, liquid, and oval-shaped foundation brushes of multiple sizes. It is a quality, complete foundation application kit and makes the perfect option if you are a foundation enthusiast or are looking for new brushes to "brush up" on your application techniques.
The brushes in this kit work with all kinds of foundation, so you are able to mix and match what you need. You are also able to try out new formulas of foundation with the assurance that you have the correct application tools. This set makes a great choice for anyone who appreciates versatility in their products.
Some of the brushes in this kit may take a little bit longer to learn how to use. Additionally, beginners may not need every brush that comes in this kit, especially if they are new to the foundation application world. We suggest DUcare Makeup Brushes Duo End as a better product for beginners.
Pros
Full kit of foundation brushes

Great for foundation enthusiasts

Work with all kinds of foundation
Cons
May take a little bit of skill to use

Beginners might not need every brush
---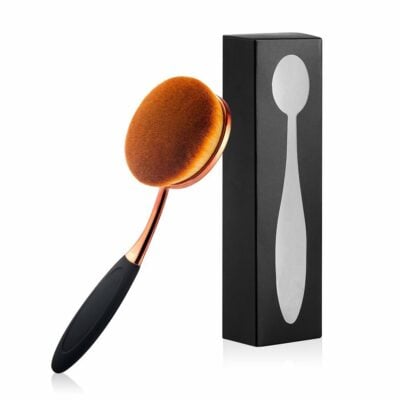 Why we like it:
This oval foundation brush has an angled handle for easy use and is great for speeding up foundation application.
Editor's Rating:
Quick Facts:
Brush Type: Oval
Bristle Type: Synthetic
Yoseng's Oval Foundation Brush comes with soft, tightly packed bristles that are a little shorter in length. This makes the product great for applying foundation and for blending it out while making it look natural. This brush is perfect if you are looking to create a lighter coverage look or a more flawless natural appearance.
This brush has an angled handle which makes the product easy to manipulate. This handle allows you to reach and effectively blend in foundation on all areas of your face. It also helps to speed up your foundation application process due to this ease of use. It is a great choice for someone who doesn't want to spend a long time applying and blending makeup.
The handle on this product can be a little flimsy and may not hold up to a lot of pressure. Additionally, the bristle head on this brush is a little bit larger and harder to use around the eyes; it does not blend as well in very small areas. You may want to try out the smaller oval brush included in the BS-MALL Face Foundation Set if you put foundation around your eyes a lot.
Pros
Angled handle for easy use

Speeds up foundation application

Great for light coverage
Cons
Hard to use around eye area

Handle is flimsy
---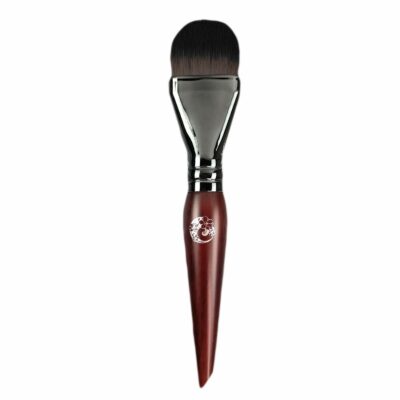 Why we like it:
The ENERGY Liquid Foundation Brush features firm, tightly packed bristles and is great for liquid foundation application.
Editor's Rating:
Quick Facts:
Brush Type: Liquid
Bristle Type: Synthetic
This foundation brush has firm, flat, paintbrush-like bristles which make it a great choice for liquid foundation application. It can effectively apply and blend even thick formulas of foundation and will leave behind a smooth, even coating. It can be used for building up coverage and does not leave streaks behind.
This brush is available either tapered or flat. Tapered brushes are better for precision, while flat brushes are a better choice for full coverage foundation looks. You can even use this brush as an applicator for face masks and other facial cosmetic products, making it a great choice for someone who loves to make the most out of their product.
The handle on the ENERGY Liquid Foundation Brush breaks easily, and you may find that the ferrule that holds the bristles to the handles easily snaps off. This can be fixed with glue, but if you would prefer a sturdier brush and handle, we recommend Lamora's Flat Top Kabuki Brush instead.
Pros
Great for smooth liquid foundation application

Available tapered or flat

Firm, paintbrush-like bristles

Can use for face mask application
---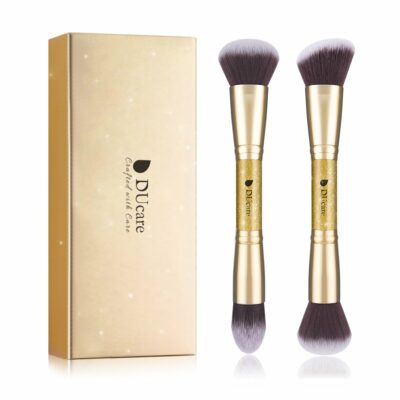 Why we like it:
This duo end foundation brush offers the best of both worlds and is great for any beginners to foundation application.
Editor's Rating:
Quick Facts:
Brush Type: Liquid, Powder
Bristle Type: Synthetic
These double-ended brushes from DUcare feature a liquid foundation brush, a powder brush, and angled versions of both. This means that the brushes work well with either liquid or powder foundation formulas, and can be a good choice for someone who is experimenting with their favorite foundation types.
This product is great for beginners, and can be perfect for someone who does not need a full set of foundation brushes. This product offers the basic essentials of foundation application and is versatile enough to be used with virtually every product.
Unfortunately, the bristles on these brushes are a little difficult to clean and tend to hold onto product even after being rinsed with soap and water. The bristles also have somewhat of a chemical smell that can be off-putting to anyone who has an aversion to strong odors. To combat this smell, you may need to wash your brushes several times before use.
Pros
Double-ended brushes

Works well with liquid or powder foundation

Good for beginners
Cons
Difficult to clean

Bristles have a chemical smell
---
Your Full Guide to Foundation Brushes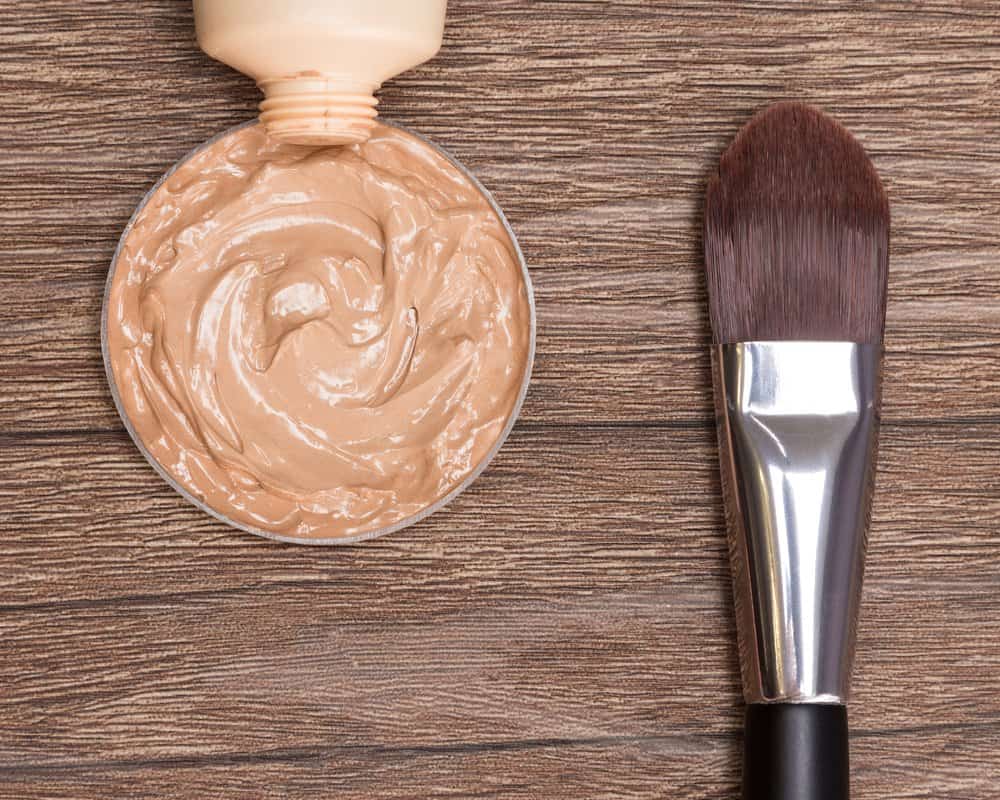 If you're still curious about all the ins and outs of foundation brushes, read our full guide to find out everything you need to know.
The Importance of Foundation Brushes
Though it may not seem like it, foundation brushes are an extremely important part of your makeup routine. There are many benefits that a quality foundation brush can impart on you.
Better for Skin
Using a quality brush with soft, smooth bristles is much better for your skin than using a brush with rough or uneven bristles. This kind of damaged brush can irritate your skin and may end up causing breakouts. Sensitive skin especially can benefit from a soft brush.
We recommend KESHIMA's Flat Top Kabuki Foundation Brush if you are looking for an ultra-soft foundation brush.
Saves Money
A well-built foundation brush will last you longer and save you more money in the long-term than if you were to repeatedly buy cheaper brushes that break within a few uses. A quality foundation brush will last many more uses and is a better choice economically.
Easier Makeup Application
When you have a foundation brush in good condition, it is much easier to apply your foundation and have it look natural. There will be no bristle shedding getting mixed in with your makeup and blending can go much more smoothly. It can speed up your makeup application and make your overall foundation appearance look much better.
If you are looking for a full foundation brush set to overhaul your entire foundation application process, we recommend BS-MALL's Face Foundation Set.
When to Save and When to Splurge
When shopping for a foundation brush, it can be hard to tell when you should splurge on an item and when you should go for the cheaper option. The answer for this lies in exactly how you will be using your foundation brushes and what type of foundation you will be using them with.
If you are a heavy makeup users and value consistent foundation application, a more premium brush with a higher bristle count like EcoTools Full Powder Brush might be worth springing for.
On the other hand, if you only use foundation occasionally and are not that dedicated to it, a cheaper option like Wet n Wild's Flat Top Brush can be a better option for those occasions that you do decide to wear foundation.
What to Look for in a Quality Foundation Brush
In order to determine a quality makeup brush, it can help to feel a brush in person. The handle on a quality brush should be sturdy; it may be helpful to invest in something with a more ergonomic or angled handle like the one on Yoseng's Oval Foundation Brush. This can help you achieve more precision with your application.
Additionally, you should run your hand over the bristles on any brush you wish to purchase. They should be soft and move over your skin smoothly without creating any itchiness or snagging. If you see bristles shedding, you should not buy the brush, because it is very likely the brush will continue shedding as you apply your foundation.
How to Apply Foundation
There are several ways to apply foundation based on the type of brush and product you are using. Read on to see our basic guidelines for each application process.
Liquid and Cream Foundation
You can apply liquid and cream foundations in a similar method. First, you should lightly wet your brush (we recommend a flat top kabuki brush, a liquid foundation brush, or a beauty blender) and place a small amount of foundation on the back of your hand.
Dab the brush into the makeup and apply it to your skin, starting the middle of your face close to the nose and drawing a long streak outward. Repeat this action on your forehead and opposite cheek. You can then blend your foundation out for even coverage. A blending brush is very helpful for this process.
Once your foundation is applied, you can use concealer or set the look with a powder. This video can help you understand the best way to apply liquid and cream foundations.
Powder Foundation
Powder foundation is typically quicker to apply than liquid foundations. To start this process, take your brush (we recommend a powder brush or a kabuki brush) and dip it in your loose or pressed powder. Tap the brush to get rid of any excess product on the bristles.
Start working from your T-Zone and move outwards, buffing the foundation in a circular motion. You can apply another layer if you want more coverage. Check out this video for extra help learning how to apply powder foundation.
Should You Use Your Fingers to Apply Foundation?
There are many foundation users out there who simply use their fingers to apply foundation (mostly liquid foundation, but it can be done to powder foundation too). While this is possible, it may not be the best course of action. Using your fingers can introduce extra oils and bacteria to your skin, causing your makeup to slide off before its time, or creating a potential source of breakouts.
A finger only application can also cause your foundation to look spotty or cakey. If you absolutely must apply it with your fingers, consider finishing up your foundation application with an oval brush or a blending brush to smooth out the final product.
Pro Tips for Flawless Makeup
Follow these pro tips to make your foundation application look flawless time after time.
Select a Brush for Your Needs
One of the best rules of flawless makeup application is to select a brush that is suited to your needs. For example, there's no need to purchase every foundation brush out there if you only use powder foundation. Similarly, if you know you primarily use liquid foundation, there is no point only buying a fluffy powder foundation brush and hoping for the best.
Select a brush that is suited to your exact needs in order to get a smooth, flawless application every time and to avoid wasting money.
Apply Foundation Last
Foundation should be one of the last steps in your beauty routine. This is to stop any kind of eye makeup from falling into your foundation and potentially ruining your look. Keep in mind that concealer should be applied over foundation as the true last step of your routine for best results.
Spend Time on Skincare
Investing time in a solid skincare routine can do wonders for your final makeup application. Smooth, soft, hydrated skin makes for a wonderful canvas for foundation and any other kind of makeup. Always apply your foundation to clean, dry, and moisturized skin to make it look as flawless as possible.
How to Clean Your Foundation Brushes
An important part of brush care, effectively cleaning your foundation brushes can help make them last longer and give you a smoother makeup application. When cleaning your brushes, you can use a plain dish soap or invest in a dedicated makeup brush cleaner.
Wet your brushes. Apply a small amount of dish soap or makeup brush cleaner in your non-dominant hand.
With your other hand (the one without the cleaner), take your foundation brush and gently swirl it in the soap, working up a lather.
Lay the brush off the side as you complete this process with the rest of your brushes.
Once all the brushes are soaped up, wash the cleaner off your hand. You can then rinse the brushes under cool, clean water. Keep rinsing them until the water runs clear.
Leave your brushes to dry. Once they are completely dry, you can reuse them.
It is important to note that you should not use hot water to wash your brushes. This can melt the glue that holds down the bristles and may cause shedding over time.
Additionally, never leave your brushes to dry on a towel. This can build up bacteria in the bristles. The best way to dry your brushes is to leave them hanging off the edge of a counter or the edge of your sink so they retain their shape as they dry.
Once your brushes are clean, you should store them in an upright position away from the rest of your makeup. This allows them to maintain their shape and stay bacteria-free.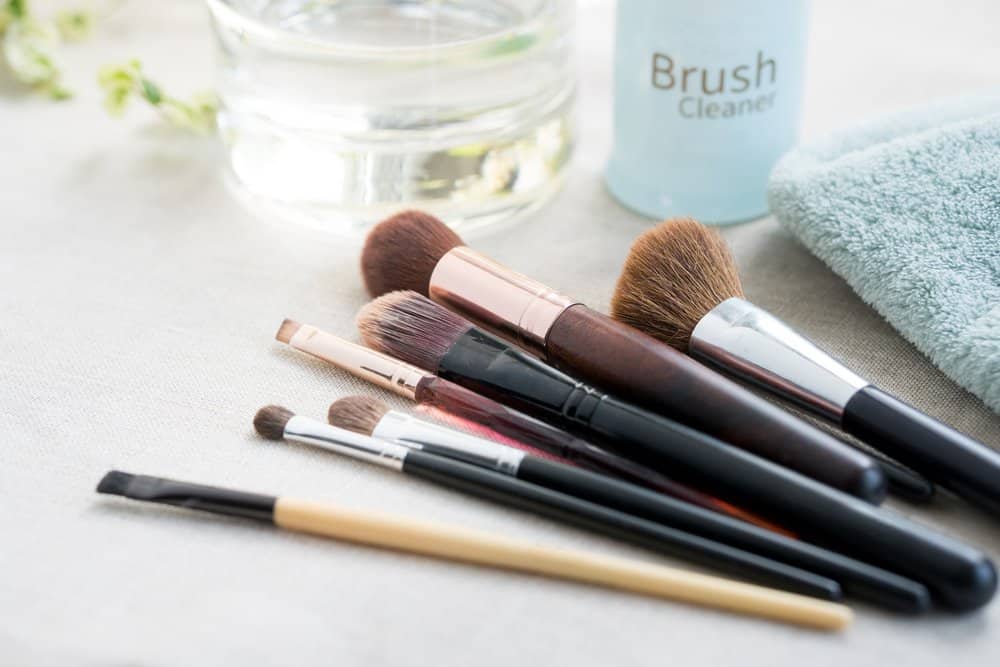 When to Replace Your Foundation Brushes
While many experts recommend tossing out your brushes after 3 months, the reality is that with proper upkeep and regular washing, your brushes can last much longer than that.
Signs that it truly is time to throw out your brushes include the bristles starting to shed or feel rough on your skin. They may also not return to their original shape, staying lopsided or deformed, and may have an unpleasant smell, indicating that bacteria have started growing in the bristles.
Beauty blenders will last several months with regular cleaning, but should be thrown out when they start to lose their shape, and the texture feels less soft. Any kind of disposable makeup sponge should be thrown out after one use.
Enhance Your Makeup Application
A quality foundation brush can be just the thing to truly enhance your makeup application process. If you need help selecting the perfect product, take your time and consider exactly what you will be using the brush for, how often you will be using it, and the type of foundation you prefer.
Once you have narrowed down your options using these criteria, you will be sure to find the perfect foundation brush in no time.