Tired of painting your nails every week to cover up cracks and chips? We are, too. Gel polish is a wonderful invention that has improved enough to make long-lasting manicures easily accessible to every DIY nail artist or casual painter.
But wait, isn't gel polish the stuff that requires lights? Yes, but no. We'll get into that more in a bit, as well as the 10 best gel nail polishes.
What to Look for When Choosing Gel Nail Polish
If you're new to gel nail polish, or at least the DIY kind, you probably have very little knowledge about what kinds there are and what you need to look for. Luckily, you've come to the right place because we did all the research for you. Let's take a look at the basics you need to know before you buy.
What Is Gel Nail Polish?
It isn't wise to buy something you don't understand, even if it's just nail polish, so let's make sure you know exactly what it is.
Gel polish functions a bit differently than regular nail polish. Regular nail polish forms a film when it dries. The film causes the polish to stick to the nail and have a glossy finish. It dries with air exposure and can dry faster when you blow on it or hold it up to a fan.
Gel polish, however, requires special light to "dry." We say "dry" because the teeny particles it's made of actually solidify and harden with the use of a light. Instead of creating a film, it creates a sturdy shell that will last much longer than regular polish.
Curing Lamp Required…
Traditional gel polish needs light to harden. But, it's not just any light – you need UV or LED. UV lights were the original way gel polish was cured, but LED lights are becoming more popular because they're faster and safer.
Curing lamps might sound like a hassle, but they're actually quite portable and easy to use. You typically have to buy them separately, but the Vishine Gel Nail Polish Starter Kit includes a lamp in it.
There Are Exceptions
Gel nail polish is a product of the 1980s, but you can thank the ingenuity of the 21st century for drugstore gel polish that doesn't require any kind of lamp. This type of polish is a hybrid between regular polish and gel polish.
What is this Frankenstein of a polish, and how does it work? Let's look at its qualities:
Regular nail polish qualities: Easy application, easy removal, no UV or LED lights needed
Gel polish qualities: Long-lasting, dries quickly, uses top coats that utilize natural light
So, it does use light to dry, but not in the same way as traditional gel polish. Indirect light or your bedroom light will suffice, and blowing on it will work, too.
Required Tools
Regular polish allows us to indulge in laziness. You know what we mean: quickly applying color, waiting ten minutes to let it dry, and then letting wear and tear and handwashing take care of the polish trapped in your cuticles.
Gel polish doesn't work that way. You'll need some tools to apply and remove this polish (except for our dear hybrid friend. They're more understanding of our lazy tendencies).
Base and Top Coats
Every gel and hybrid gel will have a top coat. The top coat is what gives the polish its strength.
Base coats are recommended, but not necessarily required. They help the polish stay on longer and protect your nails, but many hybrid gels don't include base coats in their 2-coat system. Traditional gel polish kits should come with base coats, and it's best if you use them if you want the manicure to last for as long as the bottle promises.
Curing Lamp
Gel polish won't dry without a curing lamp. It'll remain sticky and will never set, no matter how much you huff and puff on it. That's the downside of DIY gel manicures. Even if you just want to try out one color, you have to buy the lamp to go with it.
That's where hybrid polish comes in. You don't need a lamp for it, but it won't last as long, either.
Nail File and Acetone
Gel polish is difficult to get off. If you get a salon gel manicure, you'll have to go back to get it removed. It really stays on the nail. To get it off at home, you'll need to buff it with a nail file to break the shell and then soak it with acetone.
Another point goes to hybrid polish – it can come off with regular nail polish remover.
Just keep in mind that the harder it is for a polish to come off, the longer it will last. Isn't that what we're after, anyway?
Gel Polish Finishes
Gel polish doesn't have as many finishes as regular polish does, but there's still enough variety to make it worth collecting them all.
Gloss: This is the basic finish that every gel polish has. A glossy top coat will accentuate it and really make it shiny.
Matte: The matte finish comes from the matte top coat and not the colorful polish itself. Matte top goats are available for both regular and hybrid gels.
Glitter: Glitter is usually added to the polish, although you might find top coats that have glitter in them. Glossy top coats work best with glitter polishes because the shiny finish brings out the glitter.
Color changing: There are gel polishes that change colors based on temperature. Cold hands will result in one color, neutral hands another color, and warm hands a third color. Both matte and glossy top coats work great with these.
Duration
Gel polish has a reputation for lasting longer than regular polish, and it's true. The polishes that are cured with lights can last for up to four weeks. Hybrid gels should last about two weeks.
How long it lasts will vary from person to person based on how you applied it, how long you let it cure, and how often you use your hands. A dishwasher at a restaurant and a secretary in an office will have incredibly different results.
Now that you know what to look for let's jump into the ten best gel polishes we could find.
Top 10 Best Gel Nail Polishes 2023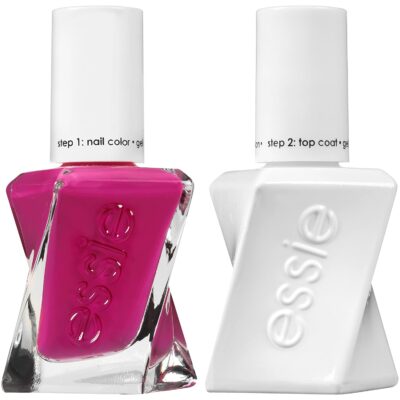 Why we like it:
A light isn't needed for this polish, so it's great for those who are new to gel nail polishes so they can try it out without spending a lot of money.
Editor's Rating:
This complete polish kit from Essie is perfect if you've never tried gel polish before. It includes a top coat so you don't have to worry about accidentally buying something that won't work. You don't need a curing lamp since it's a hybrid polish. If you'd rather use a lamp, the Vishine starter kit includes everything you need.
What You Need
This 2-pack kit includes a top coat, but you'll need to buy a base coat separately if you want to have one.
Finish
Both polishes have a glossy finish, so they'll look shiny in most lighting. Essie doesn't have a matte top coat available for their gel line, so gloss is the only option.
Duration
This polish promises up to 2 weeks of no chipping and continual shine, which is much longer than regular nail polish. It'll take about 10 minutes to dry, but this will depend on how many coats you used and how thick they were.
You can use any kind of nail polish remover when you want to take it off. While that is a plus, it's also the reason the polish can't last up to 4 weeks as traditional gel polish can.
Colors Available
Colors are a bit limited with this polish. They're mostly in the red family with plenty of pinks, but they do offer black, blue, and a couple of purple shades.
Pros
2-in-1 kit provides a top coat

Any kind of nail polish remover will take it off

Dries in about 10 minutes
Cons
Limited color selection

No base coat included
---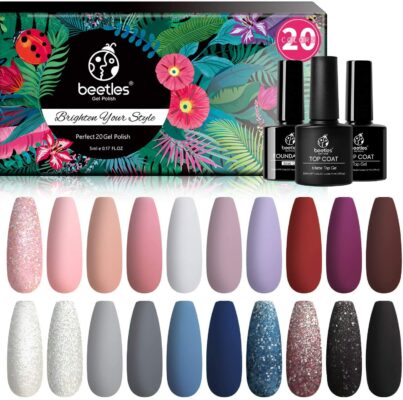 Why we like it:
This gel polish kit offers a huge variety of colors and finishes. Any nail polish enthusiast will love to have such a wide variety in just one package.
Editor's Rating:
This 20-piece pack has glossy and glitter polishes, a base coat, a glossy top coat, and a matte top coat. It has everything you need except for a curing lamp. This set is probably better suited for someone who's familiar with gel polish, but a confident beginner who doesn't mind spending a bit of money on supplies will enjoy this, too.
What You Need
Since this kit includes a base coat and two styles of top coats, you'll only need to get a curing lamp. These are traditional gel polishes and can't dry without the lamp.
Finish
The polishes are either glossy or glittery and you can choose between glossy or matte top coats. You're free to do as you please, but it's best only to use glossy top coats on glitter polishes since matte top coats will dull the shine.
Duration
These polishes need up to 2 minutes under an LED curing lamp, which is a bit long. However, the time will depend on the power of your curing lamp, so the exact curing time may require some trial and error.
You can expect the finished manicure to last between 2-4 weeks if you apply it correctly. It won't last a week if it wasn't allowed time to cure properly.
Colors Available
There are 4 different sets to choose from with different color schemes. Morden Muse ranges from pastel pinks to deep blues, Manhattan has neutral and dark colors, Kaleidoscope is appropriately named for its bright rainbow colors, and Cozy Campfire has oranges, reds, and greens. Each one includes at least a couple of glitter polishes.
Pros
Can last up to 4 weeks without chipping

A wide array of colors to choose from

Includes a base coat and 2 different top coats
Cons
Curing time varies greatly based on individual lamps
---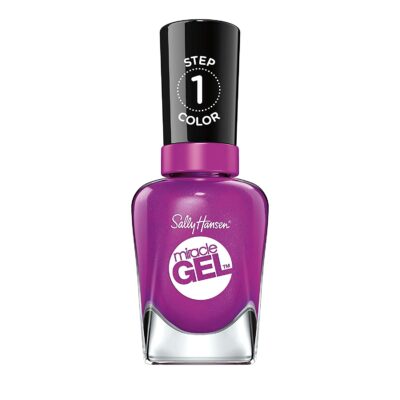 Why we like it:
This budget-friendly gel polish doesn't require a curing lamp and has a wide variety of colors to choose from. It's great for those who don't want a huge commitment to gel polish.
Editor's Rating:
If you're not sure about using gel polish or don't like to spend a lot on a single bottle, this is a good choice. It doesn't offer every color under the sun, but it has a decent range of colors to start with. You don't need a curing lamp but it can still last a pretty long time.
What You Need
Unfortunately, this polish is sold singularly so you'll need to buy the top coat separately. Just like Essie didn't include a base coat, Sally Hansen doesn't have one, either. It's up to you if you want to use one, but it's usually better to follow the directions of the polish.
Finish
The polish is a slightly glossy finish for most of them, although they do offer a few shades with chromatic or glitter finishes. There are two top coats that you can purchase separately, one of them being glossy and the other matte.
Duration
This isn't a quick-dry polish, so it will take about 10 minutes to dry, depending on how thick your coats are.
The polish is chip-resistant but will only last about a week without chipping, which is a major downside to this polish. But, it's budget-friendly and good if you're trying something new, so a shorter lifespan is to be expected with this type of product.
Colors Available
This collection has almost every color of the rainbow available, but they are missing oranges, yellows, and greens. Still, their color palette has some excellent choices to start out with.
Pros
Budget-friendly

Several colors and finishes to choose from

Matte top coat available
Cons
Top coats sold separately

Short lifespan compared to other gels
---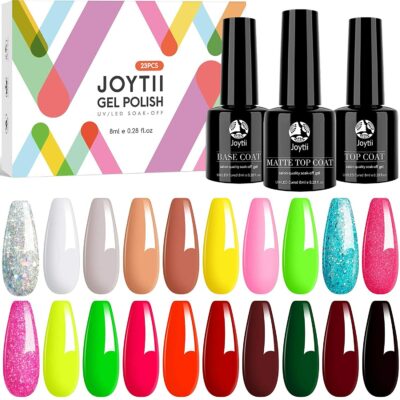 Why we like it:
This kit includes a vibrant choice of colors. If you prefer to draw attention with your nails, this kit will be sure to satisfy you.
Editor's Rating:
This kit includes 20 different colors along with a base coat and two types of top coats. Most of the colors are neon, but they do offer a few nudes and dark colors, too. It's a decent range of colors, so there's sure to be something you like. The lighter shades will probably need a white coat underneath it to be opaque, but this kit does include white.
What You Need
You'll need to buy a curing lamp separately since this only includes the polishes.
Finish
The polishes are glossy or glittery and it includes glossy and matte top coats.
Duration
You should only need to cure it for about a minute per coat. The light colors may need 2-3 coats, so it can be a lengthy process to get everything cured. But, it's worth the trouble because proper application will lead you to a 3-week wear before it ever chips.
Colors Available
The color palette includes white, black, a few nude colors, a few dark colors, and several neon colors, some of those being glittery. For such a vibrant pack, it makes you wonder why they included the dark colors, but it's a nice range that should cover all of your needs.
Pros
Long-lasting, for about 3 weeks

Glossy and matte top coats and a base coat included

Several color choices to choose from
Cons
Light colors will need a white base coat underneath

Each coat needs to cure for about a minute
---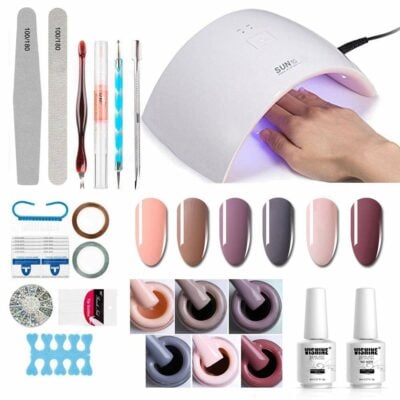 Why we like it:
This complete kit has everything – really, everything! – you need to start giving yourself a gel manicure.
Editor's Rating:
Enthusiastic beginners and nail artists in training will appreciate this complete kit. From the polish to the tools, there shouldn't be anything you're lacking. It even has nail rhinestones, so you're truly set up for success here. The only downside we see is the neutral polish colors it comes with. The price of this kit is about the price of a gel manicure at a salon. You'll beat the price of a salon with just your second use of this kit.
What You Need
You don't need to buy anything extra with this kit, unless you want polish colors that aren't included. This kit includes both base and top coats as well as nail files, cuticle tools, nail art supplies, and the LED curing lamp.
Finish
The polishes and top coat have glossy finishes. There aren't any glitter or matte polishes with this one, although there are rhinestones you can add yourself.
Duration
You should let each coat cure for at least a minute, so you're looking at 3 minutes minimum cure time for the entire manicure. It's not the fastest, but it's still quicker than regular polish.
You should be able to go 2 weeks without any chipping, but if you're careful, you can stretch it out to 3 or 4 weeks.
You'll have to soak your nails in acetone to get the polish off, so removing it will take some time out of your day, too.
Colors Available
This kit includes neutral-toned colors – muted pinks, brown, and a bluish-gray. They're pretty colors, but they may be a bit bland for some.
Pros
Includes all the tools, including a curing lamp

Less expensive than regular nail salon visits

Go at least 2 weeks without chipping
---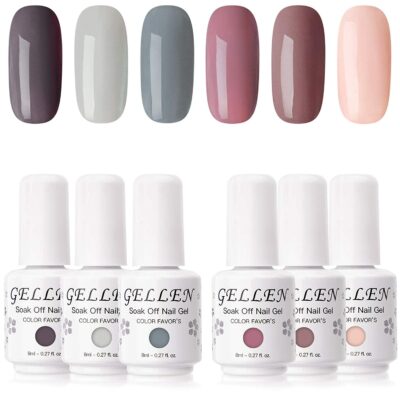 Why we like it:
If you don't want to spend a chunk of your day under the curing lamp or have antsy children, this is the polish for you. An LED lamp can cure it in a minute or less, and UV lamps take 2-4 minutes.
Editor's Rating:
We don't always have a lot of time on our hands (we apologize for that pun), which is why you need a quick-curing polish. Fortunately, Gellen has created some polishes that can take as little as 30 seconds! If you're giving your child their first gel manicure but they can't sit still, this should be the one you go to. The color palettes are muted or dark, but they're beautiful all the same.
What You Need
This set doesn't include a curing lamp or base and top coats, so you'll need to purchase those separately.
Finish
All of the polishes in this specific set are glossy and opaque, although other sets do have some glitter polishes.
Duration
Curing time can take as little as 30 seconds or as long as 4 minutes. If you have an LED curing lamp, you'll be on the shorter end of the scale. Of course, multiple thick coats will cause the curing time to be longer.
Colors Available
Each set has 6 colors. Nude Grays have pink and blue colors, Wine Nude Browns are very neutral, the Decent Luxury Set Series is mostly greyscale but includes a couple of pinks, Misty Rose & Midnight has a wide range of purples, Pink Nudes includes muted pinks, Wine and Reds have an array of red shades, and Winter Romance has shades of lavender.
Pros
Super quick curing time with LED lamp

7 different color sets to choose from

Glitter polishes available
Cons
Doesn't include base and top coats

UV lamps take longer to cure these polishes
---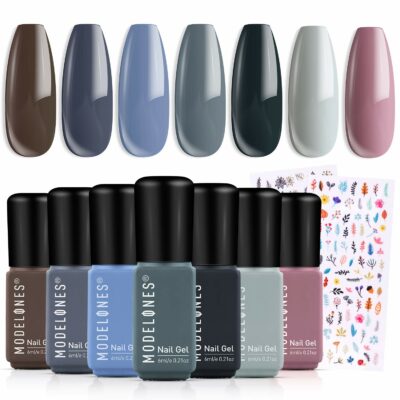 Why we like it:
Mini polishes are a good way to try out a new product without making a huge commitment, and you won't have so much left over if you want to finish off the bottles.
Editor's Rating:
Some people don't like to have mini polishes because there isn't much to them, but they allow you to try out something new and move on without leaving too much behind. If you end up liking them a lot, you're going to wish you had more. But, the price point isn't too ridiculous, so buying them again isn't so bad.
What You Need
You'll need to purchase a base coat, top coat, and curing lamp separately.
Finish
These polishes are glossy, although some sets have some glitter polishes.
Duration
Curing should only take about a minute with LED lights but will take 2 or 3 with a UV light.
If you apply it correctly, you can get about 3 weeks without chipping and even longer on your toenails if you keep them protected. You'll need a base and top coat to extend the lifespan of these polishes.
Colors Available
There are 6 different sets available, each with a different color scheme, including bright candy colors, pinks, muted pinks, muted blues, neutrals, and pastels. Some sets have glitter polishes or stickers with them.
Pros
Comes with 6 colors

Cures quickly

Mini bottles allow you to easily try gel polish for the first time
Cons
Only the polishes are included in this set
---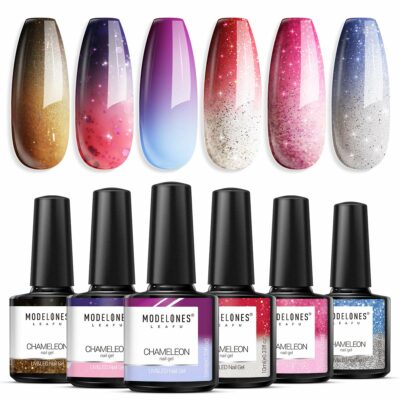 Why we like it:
If you want a truly eye-catching polish, this color-changing set will do it. They change based on the temperature of your hands and even have glitter in them.
Editor's Rating:
Gel polish allows for some truly great effects, and this color-changing polish is one of them. It changes with temperatures, so if you're cold, you'll get a darker color and if you're warm, you'll get a lighter color. Super long nails will get the best of both worlds since the edge will be colder than the nail on your skin. Short nails won't be able to have the two-toned effect.
What You Need
You'll need a curing lamp and top and base coats.
Finish
These are glossy glitter polishes that change colors when they're hot or cold. The colors will change when exposed to cold or heat, so it doesn't just rely on body temperature.
Duration
If you cure it correctly, this polish can last for about 2 weeks before it chips. It should take about a minute to cure with an LED light, but do note that this polish runs a bit thicker than others so it may be difficult to work with.
Colors Available
The colors that come in this set include black/brown, purple/pink, purple/blue, red/white, dark pink/light pink, and blue/white. You'll see some in-between colors as they shift, too.
Pros
Changes colors with temperature, not just your body

Cures quickly

Long nails will have a two-toned effect
Cons
Polish is a bit thicker than most gels
---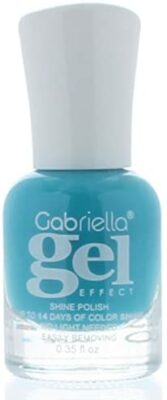 Why we like it:
It's easy to use like a regular polish but it's long-lasting like a gel. It's also inexpensive, so it's ideal for kids or those who don't want to spend a fortune.
Editor's Rating:
This isn't a gel, but it acts like one since it can last for almost as long as a regular gel polish. To get it to last that long, you'll need to buy the top coat separately, otherwise, it'll start chipping in a day or two. It dries quickly and doesn't need a curing lamp, but it takes 2-3 coats to achieve full opacity.
What You Need
You'll need to purchase their top coat which is sold separately. They don't have a base coat, so it's up to you if you want one.
Finish
These polishes have a glossy finish.
Duration
If you don't use the top coat, it'll only last for a few days, if even that. Unfortunately, this polish really relies on the top coat to function correctly.
If you prepare your nails and apply the polish correctly, it should be able to last for 2 weeks.
Colors Available
There are over 40 different colors to choose from and they cover every color group, so there's sure to be something for everyone.
Pros
Budget-friendly

No curing lamp required

Large color selection
Cons
Relies on the top coat to work well
---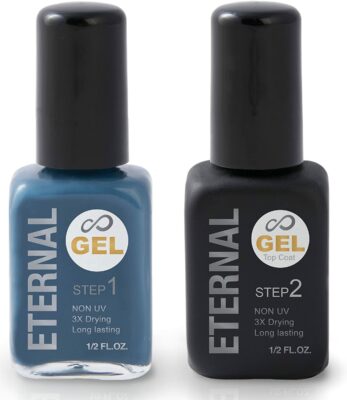 Why we like it:
This polish will stay on your nails for a decent amount of time, but it's super easy to take off with regular nail polish remover. It's great for kids who can't wear polish to school or for adults who don't want one color for too long.
Editor's Rating:
This is a 2-pack polish that comes with the color and top coat. There's a limited selection of colors, which is a downside. But, we like this polish because you don't need to buff your nails to remove the polish or use acetone. It comes off easily with nail polish remover, so it's gentle on your hands.
What You Need
All you need is the polishes this set comes with. A base coat may cause the polish to not last as long.
Finish
The polish and top coat both have glossy finishes.
Duration
This polish should be able to last up to 2 weeks. The top coat helps it last longer, so if you don't apply it, it'll only last for a few days.  It's a quick-drying nail polish that doesn't need a curing lamp, so applying it shouldn't take too long.
Colors Available
There aren't many colors available and most of their options are pinks and blues.
Pros
2-pack comes with a top coat

Easily comes of with nail polish remover, which is safer for skin

Lasts for about 2 weeks
Cons
Limited color options

Doesn't last as long as other polishes
---
The Complete Guide to Gel Nail Polish
Gel nail polish was once a special treat only available in nail salons, but it's now easily accessible to the public and you don't even have to be a professional to apply it correctly. It's come a long way since its beginning, but there's still a few things you should know about to make sure you give yourself a DIY manicure that could be mistaken as something from a salon.
UV and LED Curing Lamps
As you shop around for gel nail polish, you'll see that there are kits that come with curing lamps, lamps you have to buy separately, and polishes that say they don't need one.
Some of these lights are UV and others are LED. You may notice that LED is more common. What's the reason for this?
What's the Difference?
The differences between UV and LED curing lamps are stark. UV light takes about two minutes to cure nail polish. LED, on the other hand (no pun intended), takes 45 seconds or less. UV light is a type of light source that's invisible. It comes from the sun and is used in tanning beds. LED contains UV light among other different types of light.
That's the big difference: gel polish hardens when it's exposed to several types of light. So, a UV lamp takes longer because it's just one type of light, but LED can do it all, and quicker, too.
Another difference is that LED lights aren't as harmful. UV light can cause skin cancer and early aging. If you frequently use gel polish with UV lamps, you increase your risk of damaging your skin. It's still a risk with LED lights, but it's minimal compared to UV lamps.
Do I Need a Light at Home?
Whether you need a curing lamp at home or not will depend on the type of polish you get. If you get the traditional gel polish, then yes, you'll need a curing lamp. You can use either UV or LED, but you'll probably end up with LED just because they're more common these days.
Hybrid gel polish like Sally Hansen Miracle Gel Polish doesn't require a curing lamp because it's part gel polish and part regular nail polish. It's tough like gel but simple to use like regular polish.

How to Safely Use UV Lights
To safely use UV lights at home or in salons, take a few preventive measures:
Wear Sunscreen: Apply sunscreen on your hands as you would with lotion. Use acetone or nail polish remover to clean up your nail beds so the sunscreen residue won't ruin your manicure.
Wear Special Gloves: Use gloves that cover everything but your nail bed. It may be cumbersome if you're painting your own nails, but they're especially helpful if you end up going to a salon. You may feel silly, but it might save you from skin cancer later in life.
Use LED When Possible: It's better to buy an LED lamp up front rather than make the switch later. There are fewer UV rays which lowers your exposure, and you don't have to stay under them as long. If you go to a salon, ask if they have LED lamps available.
Turn it off Between Coats: You'll have to cure the base coat, polish coat, and top coat. Turn the lamp off between each curing session to prevent prolonged exposure.
How to Make Gel Polish Last Longer
Gel nail polish is known for being the reliable, long-lasting polish. But, as with regular nail polish, you need to take a few steps to make sure it really stays on. Poor application will only lead to disappointment.
Prep Your Hands
Nail polish lasts much longer when you take the time to prepare your nails. This means removing dead skin and cleaning the nail.
Apply cuticle oil to your cuticles to soften them up.
Use a cuticle pusher and cuticle clipper to remove dead skin from your nails.
If you applied sunscreen because you're going to us a UV lamp, clean the nails with nail polish remover or acetone.
Buff the top of your nails so they aren't shiny anymore. This improves the polish's ability to stick to your nails.
Use a Base Coat
You don't have to use a base coat, but if you want your manicure to last as long as possible, you're going to want to use one. Make sure it's a gel base coat or it won't be effective. After you apply the base coat, cure it under the lamp.
Cure Correctly
Your gel nail polish should include directions for how long to cure. UV lights usually take about two minutes and LED lights usually take up to 45 seconds. But, depending on the polish formula, it could take shorter or longer than the average to fully cure.
Remember, hybrid gel polish doesn't need a lamp, so you can apply the base coat, let it air-dry, and then apply the polish.
Use a Top Coat
Top coats also extend the lifespan of your manicure. It prevents chipping and protects the polish from everything your hands come in contact with. Use a gel top coat and let it cure just as you did with the other two layers.
Top coats work best when they extend beyond the gel polish layer. Many nail artists leave a little space at the bottom and sides of the nail when they apply the color, but will fill in every space with the top coat. You can even wrap the top coat around the edge of your nail to fully seal in the color.
What to Do Once Your Nails Grow
So, you successfully applied the gel polish and it's been two weeks. There aren't any chips or dents and all is well…except for the growing gap underneath the color.
Your nails will continue to grow and create a naked spot underneath the color. It's really the only downside of long-lasting polish. The gap can be a bit unappealing to look at and throw off the entire look of the manicure, but don't worry: there are a few solutions.
Apply More Paint
You could simply paint over the bare spot on your nails. It's not the easiest solution since you'll have to blend it into the previous paint job, work in a small area, and potentially have to push back new cuticle growth.
You can take advantage of the situation by adding a new color. Color blocking is a popular design choice and will probably earn you a few extra "oohs" and "ahhs." Plus, you won't have to try so hard to make it blend in. Use tape to block off the rest of the nail to create a stark contrast between the two colors.
Decorate New Growth
If you want something more exciting than color blocking, try getting creative. Use nail glue and glitter or rhinestones to cover up the area. Use white to draw a border between the polish and the bare nail and call it a reverse French manicure (that's actually a fairly popular design choice).
Start Over
If you lack creativity or a steady hand, you can always start over. It's not really an easy solution, but you might be tired of your manicure after a couple of weeks, anyway. If you're waiting for it to chip off, it could take up to four weeks for it to begin, so you're waiting for up to six weeks for it to chip completely off. Once the bare spots are too noticeable, it's probably best to just start fresh.
Final Thoughts
Gel polish was once only used by salons, but now that anyone can use it, we encourage you to grab up the tools and turn your desk into your own salon. It's quicker and will save you money, so you can feel free to change up your look as soon as you're bored with it. We hope this list proved helpful so you can start your gel polish collection soon.