Top 9 Best Eyeshadows for Sensitive Eyes 2021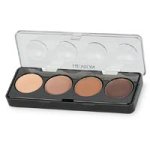 General Information
Revlon Illuminance is available in nine different color palettes: Twilight, Black Magic, Copper Crayon, Electric Pop, Khaki Suede, Not Just Nudes, Precious Metals, Skin Lights and Wild Orchids. It glides on easily, blends smoothly and is ophthalmologist tested.
The colors blend well and can be used together and separately for a wide variety of looks. If you have especially oily eyelids, the shadow will crease on your lid without using a primer or powder. Using setting powders and/or primers will also help the eyeshadow last longer throughout the day.
Ingredients Used
Though this shadow has been used by those with sensitive eyes with limited negative results, it is important to note that it does contain talc. So if you have specific reactions to talc, this product may not be the right choice for you.
---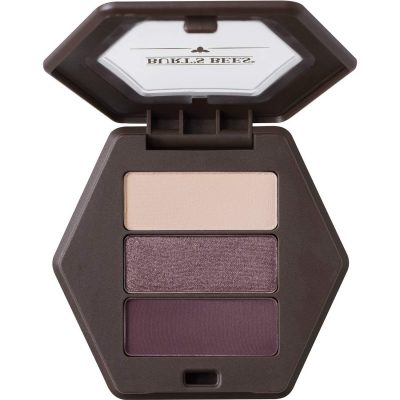 General Information
This eyeshadow is all-natural and long-lasting. There are three color palette options: Countryside Lavender, Dusky Woods and Blooming Desert. Each palette has colors that are lightly pigmented with a subtle shimmer. The colors are easy to blend and resist creasing, smudging and fading over time.
However, because they are lightly pigmented, they do not create a very dark or dramatic look. You may also need to use a primer or setting powder to ensure that it lasts throughout the day. Burt's Bees eyeshadow is ophthalmologist tested and is never tested on animals.
Ingredients Used
Burt's Bees eyeshadow is safe for contact lens wearers and for people with sensitive eyes and skin because it is free of talc, parabens, phthalates, SLS, petrolatum, silicones or synthetic fragrances. It is made with safe minerals, vitamin E and natural extracts from honey and bamboo.
---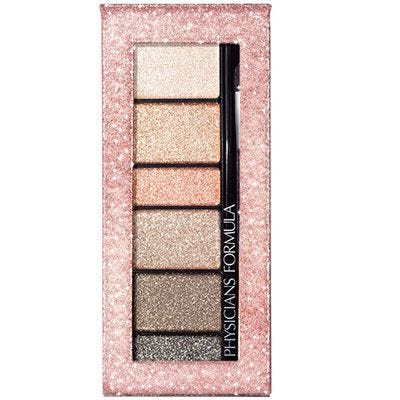 General Information
Physicians Formula is known for being hypoallergenic and dermatologist-approved, making it safe for people to use who have sensitive eyes or who are contact lens wearers. There are two palette options, depending on the look you want to create. The Nude Eye palette is great for everyday wear and the Smokey Eye palette is great for creating an evening look. However, it is important to note that this shadow is more sparkly than matte in finish, so if you want to create a look that is more subtle, this eyeshadow won't be the best choice for you.
You will also need to use a primer or setting powder to keep glitter particles from transferring into your eyes and causing irritation. The eyeshadow will stay put for up to 24 hours, and is a highly pigmented liquid powder that is creaseless and blends easily.
Ingredients Used
Physicians Formula cosmetics are recommended by allergists, dermatologists and ophthalmologists, which means that a lot of thought goes into creating a product that is safe for people with skin and eye sensitivities. All products in this brand are hypoallergenic and created without using any harsh ingredients known to cause irritations.
---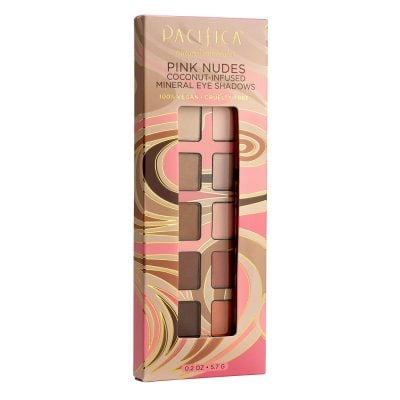 General Information
Pacifica Beauty 10 is vegan, gluten-free and cruelty-free. It is a great eyeshadow for everyday wear that lasts all day and comes with ten different colors on its palette. Just be sure to buy your own brushes as this palette does not come with application tools. You may also need to use a primer or powder to further guarantee long-lasting wear.
The colors are highly pigmented and have a creamy, velvet-like finish. The shadows come in versatile shades that can create different looks from subtle highlights to bold pops of color. Though it is made for people with eye sensitivities, it may still cause some irritation for people with extremely sensitive eyes or with sensitivities to specific kinds of ingredients. Please be sure to read the label to make sure that this shadow is safe for you to use and that it suits your specific needs.
Ingredients Used
This eyeshadow is paraben-free and made from natural ingredients like coconut water and rich minerals. Pacifica 10 is formulated without carmine, phthalates, petroleum and silicone.
---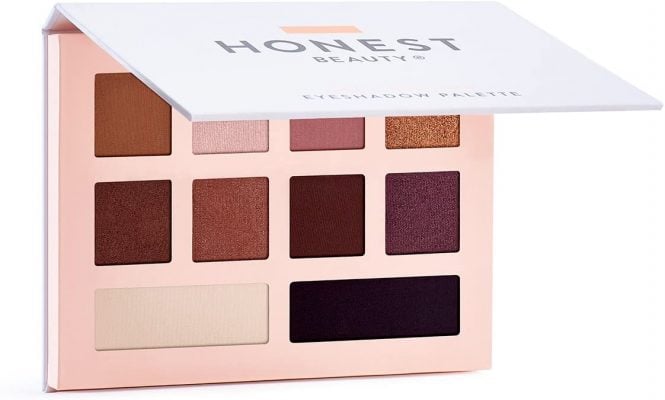 General Information
With ten highly-pigmented colors from reds to pinks to bronze, you'll be able to create both daytime and evening looks with ease. Each color blends easily and has different finishes that are velvety in texture. Some are matte while others are more shimmery or shiny. When applied wet, the matte colors can be used as liners and the shimmer shades create a high-shine finish.
It also has great staying power, so if you sweat or accidentally rub your eyes while wearing this product, it is not likely to come off. Applying the shadow can be messy at times, so just be prepared to do a little clean up around your eyes when you're finished creating the look you want.
Ingredients Used
Honest Beauty is hypoallergenic, dermatologist tested and cruelty free. It is made without the use of parabens, paraffins, talc, mineral oil, silicones or petrolatum.
---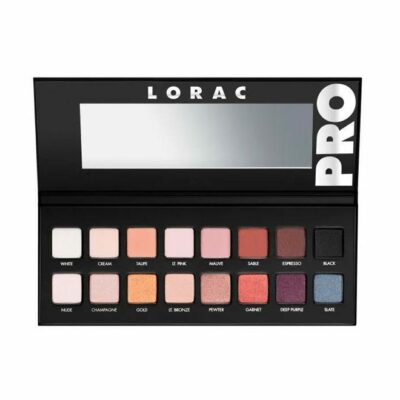 General Information
Lorac was created by a professional makeup artist who was fed up with seeing clients suffer from skin and eye irritations caused by the ingredients in the makeup she used. Lorac Pro has sixteen shadows in wearable nudes, pinks, and cool blues and purples. There are both matte and shimmery finishes, which is great for creating makeup looks for all occasions. 
With so many shades, it's a great choice for real eyeshadow lovers who struggle with irritation. Though the colors are powder-based, it feels creamy in texture when applied to the eyelids. Each color has incredible pigmentation and is easy to blend with little to no fallout.
Ingredients Used
The formula for these eyeshadows is infused with botanicals and extracts from natural ingredients like cucumber, lemon, and parsley. However, it is important to note that it is made with a type of paraben, which helps increase the shelf life but may not work for everyone.
---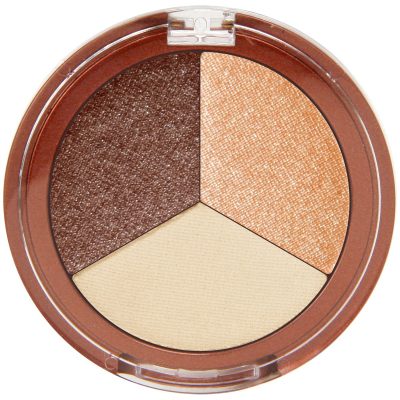 General Information
Mineral Fusion has nine different palettes to choose from: Density, Diversity, Espresso Gold, Fragile, Jaded, Riviera, Rose Gold, Stormy, Stunning and Sultry. The colors in each palette are richly pigmented, expertly coordinated and can be applied wet or dry. The darker shades can even be used to fill in your brows or as a light eyeliner. The colors last throughout the day without much fading or smudging.
Ingredients Used
This eyeshadow is gluten-free and never tested on animals. Mineral Fusion palettes are hypoallergenic, fragrance-free and do not use harmful ingredients like parabens, talcs artificial colors, SLS or phthalates. Mineral Fusion Eyeshadow Trio eyeshadows are made with chamomile, meadowfoam and vitamin E.
---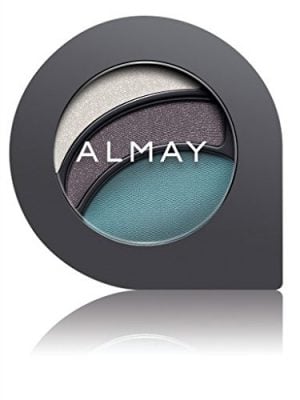 General Information
The Intense i-Color comes in four different palettes specifically designed to enhance the color of your eyes (i.e. hazel, blue, green or brown). The pigment in this shadow is on the lighter side, which means you'll need to apply several layers to make the colors really pop. However, it does have a crease-resistant, all-day wear after application. The brush that comes with the eyeshadow is a little odd because it's curved. You may want to buy your own brushes if you prefer ones with a straight handle.
Ingredients Used
This product was made with sensitive eyes in mind. The formula used to make this eyeshadow is hypoallergenic and thoroughly tested by dermatologists and ophthalmologists.
---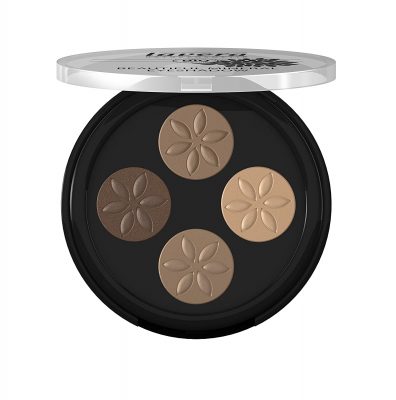 General Information
Lavera is made with natural mineral color pigments and has a silky-soft and smooth finish that glides on easily and lasts all day. It has two palettes for you to choose from to create a day or evening look: Smoky Grey and Cappuccino Cream. If you're trying to create a look with a bold, contrasting color in the blend, these palettes may not be the best choice for you. The colors are slightly shimmery when set. However, they are safe for contact lens wearers to use.
Ingredients Used
The formula for Lavera Beautiful Eyeshadow is made with 100% certified natural cosmetics that contain ingredients like organic argan oil, shea butter and coconut oil to help hydrate and condition the skin. The powders are gluten-free and tested by dermatologists and ophthalmologists.
---