Editor's Note: For those of us who love a full-glam makeup look, or even those of us who prefer a simple makeup style, eyeliner is an essential. Eyeliner helps to complete your makeup look and enhance your eyes, making for great pictures and alluring glances across whatever room you're in. If you're like me, you might have more sensitive skin and need a product that's a little gentler for use around your eyes. Fortunately, there are plenty of hypoallergenic eyeliners out there today as brands become more aware of the challenges that individuals face when it comes to selecting hypoallergenic products. Plus, thanks to continued product developments, you can choose from a range of shades and formulas these days to find your perfect hypoallergenic eyeliner fit.
Tonight, is the night! Whether it is a hot date with the hubby or a work function where you are determined to dominate, your eyes play a big role in helping you get what you want. The look, your look, is not complete without eyeliner. But, in your case, you need hypoallergenic eyeliner.
Features to Consider When Buying Hypoallergenic Eyeliners
The first step in any search is to know what to look for. When you are looking for hypoallergenic eyeliners, it is important to know the features that make it hypoallergenic. Plus, you want to have ease of use, and you want your hypoallergenic eyeliner to remain stunning all day long. So, here are the three features that we used to rank these hypoallergenic eyeliners:
Is It Truly Hypoallergenic?
No eyeliner is truly hypoallergenic. People can be allergic to all and anything. However, some eyeliners are a lot more gentle and neutral than others. The key to eyeliner being truly hypoallergenic is the ratio of natural to artificial ingredients. Generally, the more natural ingredients, the more confident you can be that this is the eyeliner for you. Ultimately, people can always be allergic to something, so you should check the ingredients list, but these eyeliners contain no chemical nasties that increase the chances of them causing a reaction. In general you want an eyeliner that isn't too oily and isn't waterproof (as it contains a solvent that irritates the skin).
Ease of Use
Ladies, we are busy people. We have places to go and people to see. We can't be stuck in front of the mirror wrestling with our eyeliner when we need to be making an appearance. Therefore, the ease-of-use is extremely important. We don't want any timewasters here!
All Day Glam
If your hypoallergenic eyeliner can't keep up with you, you need to kick it to the curb. That is why the final feature we are using to rank each product is All Day Glam. Can it keep up with anything you put it through? We put it to the test!
What Is a Girl to Do?
Fortunately, there is a wide selection of brands, colors and application options for hypoallergenic eyeliners that will help you get the look and style-longevity you deserve.
Sadly, you can't always trust whether a brand's hypoallergenic claims are true. The truth is left to you to decipher for yourself. So, to make this process easier, and prevent a possible disaster, we have compiled a list of the best hypoallergenic eyeliners on the market today:
Top 12 Best Hypoallergenic Eyeliners 2023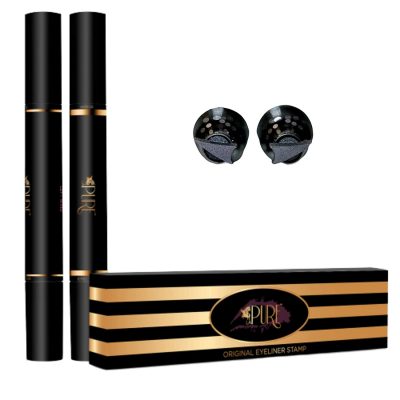 Why we like it:
LA PURE Waterproof Eyeliner Stamp is a girl's best friend! This hypoallergenic eyeliner is great for creating the perfect cat eyes, every time.
Editor's Rating:
Is It Truly Hypoallergenic?
Yes, the LA PURE Waterproof Eyeliner Stamp is genuinely hypoallergenic. Using a blend of Shea Butter, Jojoba oil Canola oil and other all-natural ingredients, this eyeliner is suitable for most people with allergies. Bear in mind though you may be allergic to something on the ingredients list – but it's unlikely.
Ease of Use
The main draw of this specific eyeliner is that it is so easy to apply. The product comes with two different pens (one for each eye). Plus, the stamp works like a charm, creating identical wings every time. This eyeliner is great, especially if you have trouble with shaky hands, or you find it difficult to see what you are doing when you put on your eyeliner.
All Day Glam
LA PURE Waterproof Eyeliner is waterproof, smudge-proof, and lasts all day. Regardless of where your day takes you, you can maintain your glamourous style. So, go ahead and live life to the fullest! LA PURE Waterproof Eyeliner has got you covered.
Pros
Easy to apply

Smudge-proof and water-resistant

Long-lasting, both for throughout the day and repeated use
---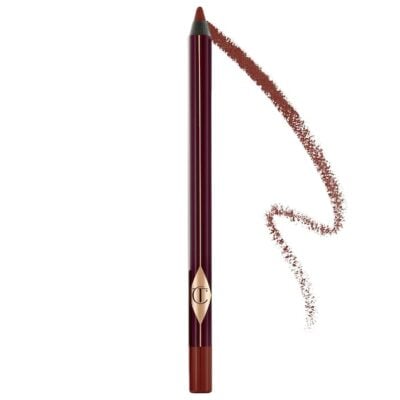 Why we like it:
This Charlotte Tilbury eyeliner is free from several irritating ingredients and features natural oils and waxes to create a smooth, creamy formula.
Editor's Rating:
Is It Truly Hypoallergenic?
While the Charlotte Tilbury Eye Liner may not be a dedicated hypoallergenic product, it is crafted without many of the most irritating and allergic reaction-causing ingredients, such as sulfates, SLS, SLES, parabens, formaldehyde, and mineral oil. It is also a gluten-free and cruelty-free product and contains natural oils and waxes that give it a signature, creamy, matte, and smudge-proof formula.
Ease of Use
This product is very easy to use and will glide on your eyes, thanks to the natural waxes and oils in the formula. It feels very creamy and can also be used on the waterline without a high risk of irritation. The eyeliner is very pigmented, so it won't take long to define your eye with this product.
All Day Glam
The formula of the Charlotte Tilbury Eye Liner is waterproof and can last you through up to 16 hours of wear. Once applied, it won't budge, so you can use it as part of an all-day look or to add longevity to a night-out style. It is important to note, however, that this eyeliner does not come in black – only a deep russet color.
Pros
Creamy, matte, smudge-proof formula

Gluten-free and cruelty-free

Highly pigmented russet color

Safe for use on the waterline
---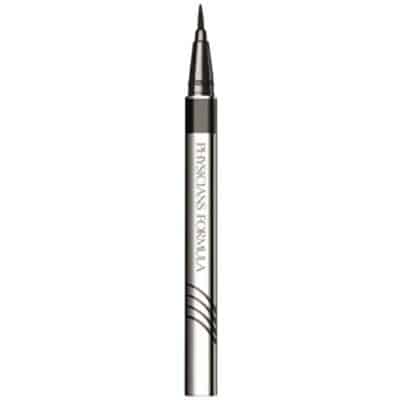 Why we like it:
Physicians Formula Eye Booster is a powerful, lash-boosting eyeliner that promotes healthy and accentuation of your natural beauty.
Editor's Rating:
Physicians Formula Eye Booster does seem to be the exception to the natural ingredients rule, as this particular eyeliner seems completely lab formulated. However, the results of this eyeliner are still beautiful, brilliant, and hypoallergenic.
Here is a sample of the ingredients from the Physicians Formula Eye Booster: Water, Ethylhexyl Acrylate, Butylene Glycol, Beheneth-30 and Glyercin. The rest of the ingredient list looks like it was yanked right off a chemistry lab fulfillment order.
Nevertheless, it is specifically (even if artificially) created to offer a positive solution for people seeking hypoallergenic eyeliner. Although in general natural ingredients result in less negative reactions, it's also true that well formulated chemistry is just as safe for your eyes and skin.
Ease of Use
This eyeliner is extremely easy to use. It goes on smoothly every time and allows you to control the amount of product on the tip with a simple shake. Therefore, you can apply your eyeliner skinny or thick with just a flick of your wrist.
All Day Glam
Unfortunately, with this eyeliner, you might want to keep this in your purse or on your person, because it does tend to fade throughout the day. Also, it is not waterproof. The good news is, though, is it is easy to apply, so you can do a quick touchup whenever necessary.
Pros
Easy to use and customize to style

Helps boost the visibility of lashes

Affordable
Cons
Not waterproof

Does not always last all-day
---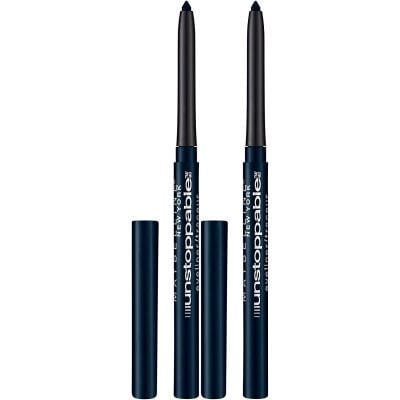 Why we like it:
Maybelline is a trusted makeup brand that offers quality products at an affordable price. Plus, this hypoallergenic eyeliner comes in a range of shades to match your mood, outfit, or your intended look.
Editor's Rating:
Is It Truly Hypoallergenic?
Maybelline is a well-known brand that is hypoallergenic but its ingredients are not impressively natural. For instance, Maybelline has a few natural ingredients that look promising, including Beeswax, Carnauba Wax and Aloe Barbadensis extract. However, it does include Isopropyl Palmitate (Esther of Alcohol), Isoeicosane and Dimethicone (Silicone-Based Organic Polymer).
So, while this is a hypoallergenic eyeliner, always read the ingredients and make sure you will not have a reaction to any of the ingredients, natural or otherwise.
Ease of Use
The good news about this specific eyeliner is that it is easy to use, and it is versatile enough to help you create the look you want.
All Day Glam
This probably isn't the best for an every-day, all-day eyeliner, as it tends to smudge. However, if you want to make a statement and try something different, this eyeliner will help you have a fun night out.
Pros
Easy to apply

Waterproof

Affordable
Cons
It tends to smudge easily

Not as natural as other products
---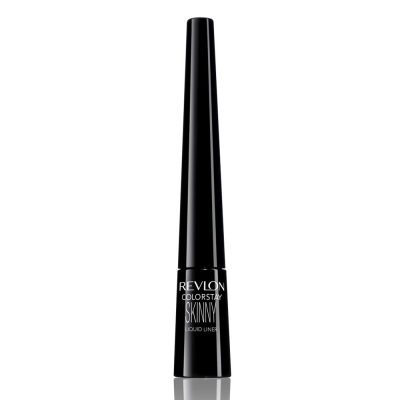 Why we like it:
Revlon Colorstay Skinny Liquid Eye Liner comes in a host of bold, beautiful colors to help you get that perfect look you have always wanted! To make this long-lasting, hypoallergenic eyeliner even better, it is tested by ophthalmologists to ensure it is safe for use near your eye.
Editor's Rating:
Is It Truly Hypoallergenic?
The Revlon Colorstay Skinny Liquid Eye Liner is hypoallergenic but it does have a lot of different ingredients. Many of these ingredients are not natural and a lot of them are some type of alcohol. Stearic Acid, Olely Alcohol and Propylene Glycol are in this eyeliner, which means it can be an irritant for a few people. Read the label before you apply this eyeliner because there are a lot of laboratory-made words in this mixture that could make it more prone to giving you a reaction.
Ease of Use
The 0.1mm skinny tip applicator eyeliner easy to apply. Many people have used this eyeliner specifically for years because of how well it works for them.
All Day Glam
The Revlon Colorstay Skinny Liquid Eye Liner is built to last all day long with a specialized color stay formula that won't smudge, smear or fade. However, this eyeliner is not waterproof, so keep that in mind when planning to wear it for activities.
Pros
Powerful colors that define your look

Long-lasting formula

Skinny tip applicator makes it easy to apply

Stays on all-day
Cons
Not as natural as other options

Not waterproof
---

Why we like it:
The L'Oréal Paris Infallible Never Fail Eyeliner is one of the best hypoallergenic eyeliners because its application is smooth and can produce a range of different styles. Whether you want smoking eyes or just a little accent, this never-fail eyeliner has got what it takes to get the job done!
Editor's Rating:
Is It Truly Hypoallergenic?
This hypoallergenic eyeliner puts an interesting twist on some of their natural ingredients. With this eyeliner, some of the natural ingredients are mixed with non-natural ingredients to make the process work properly. The best example of this is Hydrogenated Olive Oil Stearyl Esters, which is essentially Alcohol and Olive Oil Esters. There are also a good number of natural ingredients, including Theobroma Grandiflorum Seed Butter, Sodium Ascorbyl Phosphate and Candelilla Cera.
Ease of Use
This eyeliner is called "never-fail" for a reason. This eyeliner is easy to apply, with a smooth, glide-like application that makes creating your desired look a success every time.
All Day Glam
The L'Oréal Paris Infallible Never Fail Eyeliner is created to be glamorous all day long, with a wear-time of at least sixteen hours. The bold color and smudge-proof design will hold up all day long.
Pros
16-Hour Wear

Smudge-Proof

Great shine

Good level of protection
---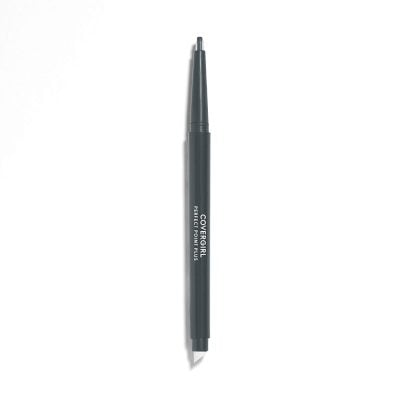 Why we like it:
This majestic perfect point plus eyeliner is a simple pencil, with a soft-smudge tip at the other end, which makes achieving smokey eyes a breeze. However, don't let its simplicity fool you; this is a diverse eyeliner that is easy to apply and is long-lasting!
Editor's Rating:
Is It Truly Hypoallergenic?
The Covergirl Perfect Point Plus Eyeliner is considered one of the best hypoallergenic eyeliners because it adheres nicely to the need for natural ingredients. While not all the ingredients are natural, most of them are. Here are the ingredients found in this eyeliner: Ceresin, Beeswax, Ricinus Communis (Castor) Seed Oil, Citric Acid and Iron Oxide. Interestingly, there is not a never-ending list of ingredients, trailing off into obscurity, as is the case with other eyeliners.
Ease of Use
The tip of this pencil is designed to self-sharpen so you get the perfect point every time. The pen always goes on smooth and is easy to apply. Plus, this self-sharpen design helps give you only what you need each time, reserving the rest for future uses. Such a feature helps you get your money's worth out of the product because it won't run out quickly.
All Day Glam
The Covergirl Perfect Point Plus Eyeliner is a trooper and is designed to last all day. However, it is possible that minor touch-ups will be needed, if your day is especially grueling. Fortunately, if you are using it for a fancy look on a night out, you will not be disappointed!
Pros
Available in multiple colors

Versatile enough to create your perfect look

Only minimal touchups needed for it to last all-day

Affordable
Cons
Not Waterproof

Pencil can be a little hard and does not properly apply to skin
---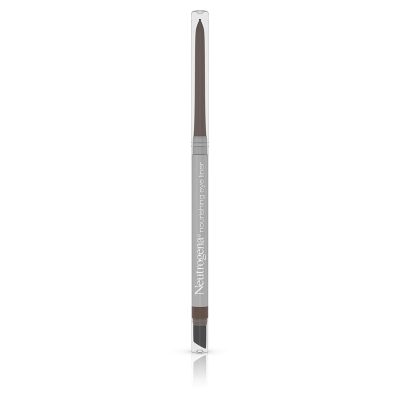 Why we like it:
The Neutrogena Nourishing Eyeliner a great hypoallergenic eyeliner because it goes on easily but stays put throughout the day. Plus, the color of this eyeliner, matched with the contoured smudge-tip, works to brighten eyes while providing a perfectly styled application.
Editor's Rating:
Is It Truly Hypoallergenic?
This eyeliner is easy on the eyes and skin due to the natural additives – but there are a lot of non-natural ingredients. Here are a few of the natural components: Hydrogenated olive oil stearyl esters, Candelilla wax, Cyclopentasiloxane and Theobroma grandiflorum seed butter. Non natural ingredients include Polyethylene, Polybutene and Silica Silylate. These two types of ingredients work together to make a quality hypoallergenic eyeliner that is unlikely to cause reactions.
Ease of Use
With the Neutrogena Nourishing Eyeliner, you can easily and effortlessly create the look you desire. The built-in eyeliner sharpener ensures consistent and precise definition, while the contoured smudge-tip softens and blends to fit your desired look. This consistency also works in your favor, helping you to not only find your best style but maintain it, day after day, with a reliable tool.
All Day Glam
This is an eyeliner that stays put! The Neutrogena Nourishing Eyeliner is both precise in the application and durable, for an all-day look that will have you constantly turning heads.
Pros
Dermatologist- and ophthalmologist-tested

Simple, easy application

Affordable

Fragrance-free

Long-lasting
---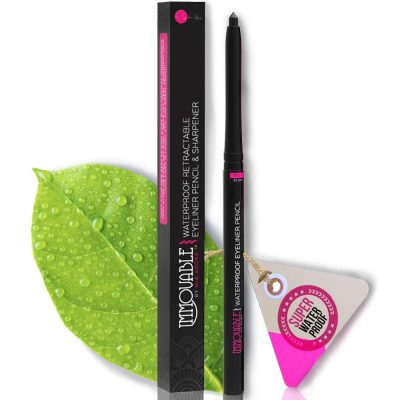 Why we like it:
The Immovable eyeliner is great for your waterlines (areas where your eyelids meet to close your eye) and it can be applied with ease. While this is a product that is still fairly new, this is already one of the best hypoallergenic eyeliners on the market today.
Editor's Rating:
Is It Truly Hypoallergenic?
This eyeliner is a hypoallergenic, quality product. However, the only available ingredient explanation is that all Mia Adora Makeup is non-toxic and paraben-free. It is waterproof, and waterproof eyeliners can sometimes cause reactions. Very few people report problems with this eyeliner, but the lack of ingredient list can make it hard to be sure.
Ease of Use
The Immovable eyeliner is made specifically to offer versatility to users. Whether you are looking for cat-eyes, classic eyes, dramatic eyes, or Arabic eyes, the smooth glide precision tip easily draws exactly what you are looking for, without any skipping, dripping, or drying out.
All Day Glam
In addition to being easy to apply, this eyeliner is also great for all-day wear. The color and style stay all day, but the eyeliner itself is gentle on eyes, so that long-term wear does not irritate them.
Pros
Gentle on eyes

Waterproof

Easy to apply

Long-lasting
Cons
A little more expensive than other brands

No ingredients list available
---

Why we like it:
Lavish Liner is so much more than just a quality hypoallergenic eyeliner, as it also helps eyelash growth. Therefore, you can achieve a winning eyeliner look and have the added benefit of encouraging the growth of your eyelashes.
Editor's Rating:
Is It Truly Hypoallergenic?
Yes, this is a quality hypoallergenic product. Unfortunately, the actual list of ingredients is not listed. Instead, the company ensures that all their products are hypoallergenic, non-irritating, clinically tested, allergy tested, and dermatologist tested. The eyelash 'serum' claims that you will notice longer lashes in as little as sixty-days, which means that this product is intended for daily, long-term use.
Ease of Use
This liquid eyeliner is created to glide on easily, to create any range of looks you desire. The ultra-precise liquid brush tip eyeliner pen dispenses the right amount of liquid liner and is precise enough to only apply it where you want it.
All Day Glam
The Lavish Liner is water-resistant and smudge-proof. It is designed to make it through the day and only come off when you wash it off with soap and water.
Pros
Very easy to apply

Water-resistant

2 in 1 formula for longer lashes
Cons
No ingredients list

Expensive
---

Why we like it:
The Clinique Pretty Easy Liquid Eyelining Pen is tested by ophthalmologists and is tested for allergens.
Editor's Rating:
Is It Truly Hypoallergenic?
This is a heavily tested product that is just getting its bearings in the market. The good news is it is hypoallergenic. The ingredients are not all natural, but it has been extensively tested. This product is completely free of parabens, fragrance, and phthalates. That means you can enjoy your beautiful style without having to worry about the main reasons for allergic reactions bothering your eyes or skin.
Many of the ingredients in this eyeliner are found throughout the cosmetic market and it is water-soluble. Water-soluble compounds are better for your body because they are dissolved in water. That means your body can get rid of any remnants of the compound on or in your body with relative ease.
Ease of Use
This product is made to go on smooth and react exactly the way you want it to. The mistake-proof pen creates clean lines with only one sweep, while the tapered, precision brush paints on pure, deep color. Whether you are looking for a sharp look, or a thicker, more serious application this eyeliner can get the job done.
All Day Glam
This eyeliner boasts achieving a 24-hour smudge and budge resistant wear. That means that no matter where your travels take you, this eyeliner is going to remain as bold and beautiful as ever.
Pros
Brilliant color

The mistake-proof pen makes it easy to apply the way you want it

Stays on all day without fail

Waterproof
Cons
Expensive

Does not use natural ingredients

It is new to the market
---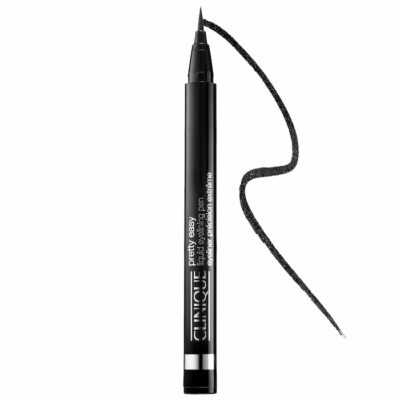 Why we like it:
The Pretty Easy Pen Eyeliner features a precision tip for easy application and is ophthalmologist-tested to be safe on sensitive eyes.
Editor's Rating:
Is It Truly Hypoallergenic?
The Clinique Pretty Easy Liquid Eyelining Pen Eyeliner is free of synthetic fragrances and parabens and is ophthalmologist-tested. This makes it safe for use on the most sensitive eyes, though you should be aware that some of the ingredients in this product are less natural than other options on our list.
We recommend checking out LA PURE's Waterproof Eyeliner Stamp for a more truly hypoallergenic product.
Ease of Use
This product is incredibly easy to use, thanks to the liner's precision tip. This allows you to create versatile looks that you can rock during the day or out at night. It also allows you to craft an easy winged tip, making this product great for beginners to wearing eyeliner.
All Day Glam
The formula of Pretty Easy Liquid Eyeliner Pen claims to last 24 hours, but it is unfortunately prone to smudging before then. It can be a long-lasting eyeliner, but you will likely need to apply several layers to get the pigment you need, and instances of sweat or water may easily derail your look.
Pros
Ophthalmologist-tested and safe for sensitive eyes

Precision tip creates versatile looks

Long-lasting, 24-hour wear

Free of synthetic fragrances and parabens
Cons
Smudges easily

May need several layers
---
Guide to Buying the Best Hypoallergenic Eyeliners
In this section, we will discuss the most common factors that cause an allergic reaction to conventional eyeliners. We will discuss the early signs of allergic reactions and what to do if you do have a reaction.
Plus, we will debunk common misconceptions about hypoallergenic eyeliners and their role in the cosmetic industry.
What Are the Most Common Factors That Cause an Allergic Reaction?
Different people have different allergies. Therefore, it is impossible to name every reason why some people need hypoallergenic eyeliners. However, there are a few common factors through which most people find will attribute to their allergic reaction to eyeliner.
Alcohol
Anything with alcohol in it shouldn't go near your eye. Alcohol is a great antiseptic, but it is not a necessary ingredient for eyeliner. Plus, alcohol dries out any skin it touches, which can cause irritation. Therefore, if possible, try to phase out any cosmetic products that use alcohol.
Herbal Extracts
This is important because when you think of natural, you are comforted by a plant-based ingredient. Although, it is important to know which plant makes up the herbal extract. If you have ever had a reaction to that plant, you need to stay away from it.
Fragrances
This seems like a strange factor to include on a list about eyeliner; after all, have you ever smelt eyeliner? Some eyeliners are fragranced however, and it's that fragrance-causing agent that can cause allergic reactions.
Even if there is no scent, the item could contain what is called a masking agent. This covers up the smell of chemicals used in the production process. These can also give you an allergic reaction.
Latex
According to the FDA, between one and six percent of the general population is allergic to natural rubber latex. This can be dangerous because most people do not associate latex with being in cosmetic products, but it is a common ingredient in many streamline eyeliners. It is important to check the label for anything with the word "latex" in it if you believe you might have a sensitivity.
Lanolin
Lanolin is used in eyeliner as a moisturizer and lubricant. However, this ingredient is extracted from sheep wool and is a common cause of skin irritation.
Nickel
Nickel is found in many pigments that are used in eyeliner and eyeshadow.
What Are the Early Signs of Cosmetic Allergic Reactions?
The quicker cosmetic allergic reactions are recognized, the sooner they can be dealt with. That is why you need to know if you are experiencing an allergic reaction to even your hypoallergenic eyeliner. As was previously stated in this guide, there is no way to know absolutely whether a person is going to be allergic to a product or not.
It is even a possibility that the amount of exposure can cause someone to develop an allergic reaction. This means that you could be completely asymptomatic to an eyeliner one day and allergic to it the next.
Therefore, you should know these early signs of cosmetic allergic reactions, in case it ever becomes an issue:
Reddening or Irritation
Dry or Flaky Skin
Itchy or Swollen Eyes or Skin
Unusual Rash
What Should You Do if You Have a Reaction to Your Eyeliner?
Unfortunately, allergic reactions can seem spontaneous. If the product is new, it might take a few weeks or even months for the reaction to happen. Yet, to stop the reaction from getting worse, regardless of when you notice the reaction, follow these steps:
Wash Off All Products Immediately
Once you have an allergic reaction, it is easy to aggravate. So, you should wash off not only the offending cosmetic but everything that you are wearing. Also, do not use any soap or product with a fragrance, as this could make the reaction worse.
Use a Cold Compress
A cold compress can help relieve irritation and lessen inflammation. This is an immediate response that has little threat of worsening the reaction.
Antihistamines
If the reaction is bad or does not seem to be getting any better when the product is washed off, take an Antihistamine to help stop the reaction.
Go to a Doctor
If the reaction is not getting better within a few hours, or it gets worse, go to see a doctor immediately.   
Most Common Misconceptions About Hypoallergenic Eyeliners
When people think of hypoallergenic, they often have the idea that it is somehow inferior to conventional cosmetics. Fortunately for everyone who needs hypoallergenic eyeliners (or for those who want to protect their skin, even if you don't have allergies), this is not true.
Here are the most common misconceptions about hypoallergenic eyeliners:
Color
Many people think that the colors of even the best hypoallergenic eyeliners are not as vibrant as conventional eyeliners. Just because it is more natural does not make it any less vibrant. Often, when hypoallergenic eyeliners do not live up to their conventional counterpart, it is the fault of the company, not the pigments. That is why it is important to find quality companies from which to buy your hypoallergenic eyeliner.
Longevity
Another misconception is that the best hypoallergenic eyeliners cannot compete with mainstream conventional eyeliners when it comes to how long they last. This misconception is why, in this guide, a main factor in the ranking of each product was longevity. If the eyeliner is not going to last the day, it isn't going to be worth your time and money. However, those that do not last the day, or are easily wiped or smudged away, are a result of poor quality production, not specifically because it is a hypoallergenic eyeliner.
FAQ
It is understandable to not have all the answers when it comes to purchasing hypoallergenic eyeliners. After all, there is a lot to take in and there are many different companies out there claiming to have hypoallergenic products. Therefore, we have compiled a list of frequently asked questions to help you navigate the ins and outs of buying the best hypoallergenic eyeliners:
What Are Hypoallergenic Products?
Hypoallergenic products are described by the FDA as, "hypoallergenic cosmetics are products that manufacturers claim produce fewer allergic reactions than other cosmetic products." This means that they are not allergen-proof and sometimes it's a marketing play by the company.
That is why it is so important to know what the labels are saying and understand the ingredients in each product.
Why Are There So Many Different Types of Eyeliners?
The world of cosmetics is filled with specific applications for specific purposes. Eyeliner, specifically the best hypoallergenic eyeliner is no different. There are four main types of eyeliner:
Pencils are good for making your lash-line tighter. This makes your eyes appear bigger and bolder.
Liquid, pen, and gels are used to add definition and more decorative distinctions to your eyelashes. The type of look you are going for will inform how you use liquids, pens, and gels.
Although, ultimately, it comes down to preference and what you are comfortable with. Some people do not handle liquid eyeliner well, while others think that pencil eyeliner doesn't do enough to accentuate their eyes. Therefore, it is a good idea to stick with what you know, or what you think you might be comfortable with, when choosing the right eyeliner for you.
What Are Waterlines?
Waterlines are the areas where your eyelids meet your eyes. They are called waterlines because they are closest to your eyeball and your tear ducts. Therefore, if your eye waters, these are the first portions of the eyelids to get wet.
Years ago, it was recommended not to put any makeup on your waterlines, but recent advancements have made this safe. Plus, putting eyeliner on your waterlines can tighten up your eyelashes and help add definition to your eyes.
How Long Should I Keep My Eyeliner?
A lot of care should be taken with anything close to your eye. This is especially true for eyeliner. Experts recommend replacing eyeliner every three months.
However, if you have any issues with your eyes, such as infection or sickness, you should replace your eyeliner right away and only use it after the issue has cleared up completely.
Most makeup does not have such a small shelf-life but considering how close eyeliner is to your eye and the moist nature of eyeliner, it is important to stay vigilant. This way, there is not a large chance for bacteria to grow inside the eyeliner.
Why Do All the Eyeliners Have at Least One Non-Natural Ingredient?
When it comes to natural ingredients, many cosmetic products are caught in a catch-twenty-two. Many companies wish to offer natural products, but the longevity of the product's shelf-life gets in the way. Most (if not all) eyeliners and many cosmetic products require water. If water is used in a product, there needs to be some preservative added to make the product last. Otherwise, you would be buying eyeliner as often as milk and nobody wants that. Unfortunately, most preservatives are non-natural.
That is why it is important to know ingredients and try to find the product with the most natural ingredients. There is no perfect product. However, there is a perfect product for you.
How Do I Know if the Company That Makes the Eyeliner Is Cruelty-Free?
Generally, if a product is cruelty-free – meaning that it is not tested on animals – it will say so. Since this is such a big deal to so many people companies are forthcoming when they are cruelty-free.
Fortunately, most companies now are cruelty-free and they say so within their product description or their commonly asked questions section.
What Are the Specific Things to Look for When Buying Hypoallergenic Eyeliners?
No two hypoallergenic eyeliners are alike. Whether the specific ingredients are different, or the style is different, there is something that stands out within each of the best hypoallergenic eyeliners on this list.
Since there is not one supreme hypoallergenic eyeliner, you must know what you want and apply it to the specific brands. Here are the more personal considerations that can help choose the best hypoallergenic eyeliners for you:
Match Your Eyes
If you are buying an eyeliner that you want to wear every day, you are going to want to find a product that complements your eyes. There is a wide range of colors available throughout the best hypoallergenic eyeliners. You must find a color that makes your eye stand out. After all, you are buying eyeliner to accent your eyes, not to show off the eyeliner. You don't want to hide behind makeup, that is not the point. You want to find a color, thickness, and style that enhances your natural beauty.
Consider Your Specific Sensitivities
Everyone is different. Do not make the mistake of assuming that a hypoallergenic product does not have the potential to irritate your sensitivities. While hypoallergenic products have a higher degree of success for the general population, it doesn't mean that every product is guaranteed to work for you.
To close, it is extremely important to take care in what you put on your body, especially near your eyes. That is why you must pay close attention, even to hypoallergenic eyeliners. Fortunately, with the help of a little information and names of the best hypoallergenic eyeliners, you can protect your skin and eyes while still looking your absolute best!