Editor's Note: Seasonal changes mean assessing and adjusting your beauty routine accordingly. With spring allergies and summer bringing the heat, my eyes always get a little more sensitive than they do in fall and winter.
If you have sensitive eyes, it can be hard to know which brands will be good replacements for a staple like eyeliner, but we've got your back. We've also covered what to consider when you're shopping for your new sensitive-lid-approved eyeliner, which can help make the choices feel less overwhelming!
All of the eyeliners we've suggested have just as much staying power as their counterparts for eyes that aren't as sensitive–which is necessary for the summer heat. We also offer options for liquid, pencil, and gel formulas. If you find that one of these formulas consistently doesn't feel as good as you like, spring cleaning is a great excuse to give something else a try!
Eyeliner is essential for any woman who wants to make her eyes look bigger, bolder, and more dramatic. They're also great for those who want to make their eyes stand out.
There's a wide selection of eyeliners on the market today, but some of them can irritate or dry out your eyes. You might have previously used an eyeliner that caused you to blink continuously throughout the day, or otherwise bothered your eyes.
To help you avoid such an awful experience, we're going to explore some of the top-rated eyeliners that are ideal for contact wearers and people with sensitive eyelids.
How Eyeliner Affects Sensitive Eyelids
When you have an allergic reaction to a substance, your body responds by generating antibodies to fight it. Special cells, known as mast cells, start working to formulate the body's response to the offending allergen. These cells are present in the stomach, intestines, lungs, nose, and eyes.
However, the nose and eyes account for the highest number of mast cells. Moreover, the skin around the eyes is thin, delicate, and highly sensitive. If you have issues such as eczema, seasonal allergies, or eczema, your body is already prepared to react to a substance it doesn't like. For people with these conditions, any additional allergic reaction—to eyeliner, for example—will be even more annoying.
Experts advise that you try out new makeup products on the back of your hand before you apply it on your face. Wait at least an hour for a reaction. If there's no adverse reaction, then the product is safe to use on your face.
Most would rather deal with an itchy or inflamed hand than itchy or swollen eyes. It's worth noting that people with dry eyes are more vulnerable to allergens than others, because they don't generate enough tears to get rid of allergens.
Likewise, eyes with contact lenses have various vulnerabilities. It is also not a good idea to use eyeliner on your waterline if your eyes are sensitive. This process is known as tight-lining. Tight-lined eyeliner is applied to a highly sensitive part of the eyelid, which raises its chance of causing a reaction.
5 Things to Keep in Mind When Choosing the Best Eyeliner
Whenever you go shopping for eyeliner, here are five essential things to keep in mind to ensure you get the best product.
Color – The first thing to consider is what color of eyeliner you prefer. Maybe you want a neutral color that you can wear any day. If you want something for special occasions, then eyeliner that makes your eyes stand out is an ideal choice. If you are not sure about the color you want, then it's a good idea to go for something that matches your natural eye color.
Thickness – There are different types of eyeliners. Each type delivers lines of varying thickness. Liquid eyeliner delivers thin and sharp lines. Felt-tip eyeliner, on the other hand, creates thick yet soft lines. Pencil eyeliner can create soft or sharp lines and thick or thin lines, depending on the type of pencil. So, you should consider the type of eyeliner that would deliver your desired results.
Water-resistance – Waterproof eyeliners don't smudge or flake. However, you can only remove them using a waterproof makeup remover. These eyeliners are an ideal choice if you live in a humid or rainy area. They are also a great choice if you have contact lenses or if your eyes have a tendency of watering.
Return policy – Sometimes, you may purchase a product and later realize it doesn't work for you. Some stores will allow you to return the product, regardless of whether you've opened and used it or not. Other products can't be returned so easily. Get to understand the return policy before you purchase your preferred eyeliner.
Hand steadiness – It's essential to determine if you have steady hands before you go shopping for the best eyeliner. If you're a beginner in using eyeliner or you have unsteady hands, consider choosing a pencil eyeliner. Pencil eyeliners are easiest to apply. Liquid eyeliners are ideal for those with steady hands and experience in applying eyeliner.
Top 10 Best Eyeliner for Sensitive Eyes 2023

Why we like it:
This high-tech Japanese formula enhances the appearance of lashes while nourishing and conditioning them. The eyeliner is innovative and easy to use, delivering just the right amount directly to the lash base.
Editor's Rating:
If you are looking to make your small, thin eyelashes stand out, then Physicians Formula 2-in-1 Lash Boosting Eyeliner is the right product for you. This easy-to-apply eyeliner contains serum, which helps to boost the growth and development of eyelashes.
According to the manufacturer, at least 90 percent of women who tried the product in a clinical study achieved noticeably fuller and longer lashes in only one month. This eyeliner boasts a high-tech formula developed in Japan.
It is hypoallergenic, paraben-free, and recommended for use by people who have sensitive eyes. It is also ideal for contact lens wearers. What's more, this lash booster is smudge-proof and waterproof, so it will stay in place until you wet your face or try to rub it off. Once it dries out, it won't come off no matter how hard you rub it. However, it will come off easily if you rub your face while washing.
Another remarkable thing about this lash-boosting serum is that it comes with a brush-tip applicator. The applicator is easy to maneuver and delivers a thin line.
The Physicians Formula eyeliner is one of the most affordable eyeliners for sensitive eyes. It is available in three different shades – black, ultra-black, and deep brown.
Pros
Easy to apply

Smudge-proof

Waterproof

Has lash-boosting effects

Long felt tip

Great for everyday use as it's hypoallergenic and safe for sensitive eyes

Affordable compared to competitors
Cons
You often have to shake the bottle to get more liquid eyeliner to come out. It might come out in globs if you fail to do so, requiring you to redo your eyeliner
---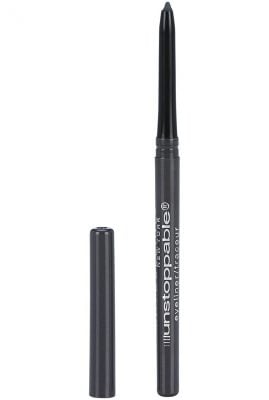 Why we like it:
This smudge-resistant, waterproof eyeliner delivers an easy to control product, allowing you to give yourself anything from super-thin discreet eyeliner to super-thick definition. It is ophthalmologist tested and approved for sensitive eyes and contact lens wearers.
Editor's Rating:
If you're looking for the best waterproof eyeliner for sensitive eyelids, you can't go wrong with Maybelline Unstoppable Eyeliner. This eyeliner is smudge-proof, and you can expect it to last the entire day.
Surprisingly for a waterproof eyeliner, it is easy to remove. All you need to take it off is water, mild cleanser, and a cotton ball. You don't have to worry about skin irritation or inflammation after taking the eyeliner off.
The Unstoppable eyeliner comes in five different shades. These are espresso, pewter, onyx, sapphire, and cinnabar. Cinnabar is the most popular shade: this deep, sparkly maroon hue can brighten up even the dullest eyes.
What's more, it works best with neutral eyeshadow palettes. If you want something for everyday use, you might want to try the espresso. The espresso is a darker brown shade that is somewhat more subtle compared to black or typical brown eyeliner.
This doesn't mean that the other shades are not worth it. Each one is great, so you can choose what works for you the best. The only notable shortcoming of Maybelline Unstoppable Eyeliner is that it comes in a very small size—far smaller than most options. The product might not last you more than a month, depending on how frequently you're using it.  Nonetheless, it is one of the best waterproof eyeliners to buy in 2020.
Pros
Variety of shades available

Composed of smudge-resistant formula

True to color

Easy to apply and remove
Cons
Only available in a small 0.01-ounce package.
---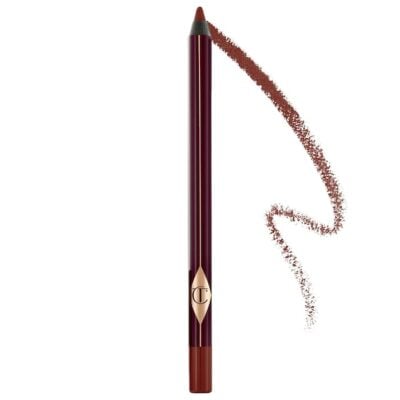 Why we like it:
The Charlotte Tilbury Eye Liner features a rich russet color and is gentle enough to be used all over your eyes, even the waterline.
Editor's Rating:
The formula of this product is very creamy, matte, and smudge-proof. It is long-lasting enough to be worn up to 16 hours, so if you need an eyeliner that will stay put all day or all night long, then this is a great product to invest in. The rich russet color of this eyeliner is highly pigmented and works well on all skin tones, making it a unique and versatile addition to your makeup collection.
Charlotte Tilbury's Eye Liner is formulated without sulfates, SLS, SLES, parabens, or formaldehyde. It is also gluten-free and cruelty-free, meaning that there is a much lower risk for any type of irritation or allergic reaction with this product. It is safe for sensitive eyes and even for use on the waterline.
On the downside, this product does not come in black, so if you are looking for a reliable black eyeliner that is safe for your sensitive eyes, you may want to check out Physicians Formula 2-in-1 Lash Boosting Eyeliner instead.
Pros
Creamy, matte, smudge-proof formula

Gluten-free and cruelty-free

Highly pigmented russet color

Safe for use on the waterline
---

Why we like it:
This product brings the simplicity of a pencil eyeliner in a liquid form. One can create meticulously smooth lines without worrying about feathering or smearing. The quick-drying formula glides effortlessly, delivering a refined look that lasts for hours.
Editor's Rating:
If you are looking for the best liquid eyeliner for beginners, L'Oreal Paris Makeup Infallible Liquid Eyeliner is an ideal choice. It is quite easy to figure out how to use this eyeliner. That makes it an excellent product for those who are just getting started with liquid eyeliners.
This liquid eyeliner features an ultra-fine felt tip that will help you create incredibly precise lines. It is made of a formula that dries up fast and can last up to 12 hours. The formula is impressively silky, making it ideal for subtle looks.
This eyeliner is drag-proof, skip-proof, and smudge-proof. However, some individuals may experience smudging. If you have oily eyelids, you'll realize the eyeliner smears without some primer.
This eyeliner is available in three different shades—black, gray, and brown. Despite its great attributes, it is not without some setbacks. First off, it is not waterproof.  It is not one of the best choices if you expect to be sweating or if you live in a rainy or humid place. It also dries out quickly. Be sure to keep the cap tightly closed when not in use.
Pros
Easy to use

Ideal for beginners

Smooth application

Comes off easily with water

Super-fine felt tip helps to create thin lines

Available in three different shades
Cons
Non-waterproof

Dries out quickly

Smudges on oily eyelids
---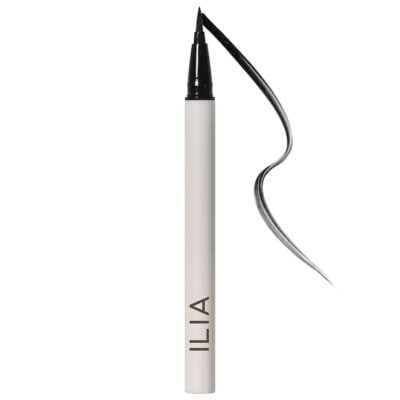 Why we like it:
The Ilia Clean Line Liquid Eyeliner is an easily applied clean beauty option that works for even the most sensitive eyes.
Editor's Rating:
The ultra-fine application tip on Ilia's Clean Line Liquid Eyeliner makes this product easy to apply. You can create versatile looks simply, making this product a great choice for someone who wants to be able to perfectly tailor their eyeliner to their style. The application tip is also very smooth, which prevents any clumps of pigment or rough application.
The formula in this product is alcohol-free, vegan, and gluten-free, in addition to being formulated according to Sephora's Clean beauty seal. There are no hazardous ingredients in this eyeliner, such as parabens, SLS, or phthalates, which means that this eyeliner can easily be used on even very sensitive eyes without an issue.
On the downside, the pigment of the Clean Line Liquid Eyeliner is not as dark as expected and appears on the greyer side in real life. You may also need several layers of this eyeliner to achieve a pigment that is long-lasting and stays dark all day long.
Pros
Ultra-fine application tip

Alcohol-free, vegan, and gluten-free

Clean beauty formula

Creates versatile looks
Cons
Pigment is not very dark

May need multiple layers
---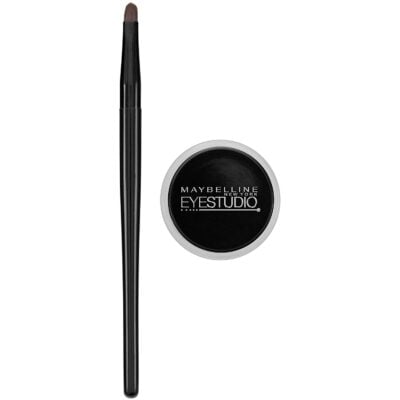 Why we like it:
This gel eyeliner is made of special oil-free formula, which holds highly concentrated pigments in a clear gel base and enhances your makeup for a lasting impression. The creamy formula creates a smudge-proof, intense look that lasts up to 24 hours.
Editor's Rating:
If you're looking for a long-lasting gel eyeliner that will make your eyes look dramatic, Maybelline Eyestudio Lasting Drama Gel Eyeliner is an ideal choice. This waterproof eyeliner delivers an instant impact with only one stroke. It is also waterproof and oil-free.
You can expect the super-concentrated gel liner to stay intact for up to 24 hours. Most gel eyeliners can't go beyond 12 hours before they start to fade away. This Maybelline gel eyeliner boasts an exceptionally smooth and creamy texture.
It glides on effortlessly. The eyeliner comes in four different shades to suit different skin tones, eye colors, and hair colors. These are charcoal, brown, eggplant, and blackest black.
It comes in a triangular cardboard box. The box contains a small 2.5-gram pot of gel eyeliner. It also includes a slim flat brush that features densely packed bristles.
You can use the brush to groom your lashes for a more defined look. Ophthalmologists and dermatologists have tested this product and proved it safe for use on human skin and eyes. It has also been allergy-tested. It's worth noting, however, that this product may not be a great choice if you're shopping on a budget. It's also less than perfect for fine lines—it's perfect for big and bold designs, but if you need a precision eyeliner you might want to look elsewhere.
Pros
The eyeliner applies smoothly, thanks to the velvety texture

Dries up very fast

Doesn't smudge or spread all through the day

Ideal for creating a thick, smokey eye look

Comes with a quality soft-bristled brush
Cons
Expensive compared to competitors

Not ideal for drawing sharp lines or wings
---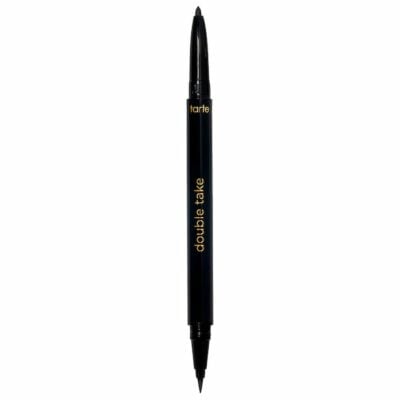 Why we like it:
This two-in-one liquid and gel eyeliner is formulated to be free of harsh ingredients and can help you achieve any eye look you desire.
Editor's Rating:
Tarte's Tarteist Double Take Eyeliner is a two-in-one option, meaning that one end of the liner is a liquid eyeliner and the other a gel pencil. This can be perfect for anyone who wants to make their eye application as simple as possible; it's also great for someone who needs to take their makeup on the go and wants to reduce how much they carry.
The formula of this product is created with parabens, phthalates, and mineral oils, and it is both vegan and gluten-free. The Double Take eyeliner is available in black or brown colors, and it is waterproof and long-lasting, making it a great choice for an all-day look or a dramatic night-out eye style.
Unfortunately, the application tips on this eyeliner are not the smoothest and may result in patchy spots that you need to blend out or go back over with the liner. The liquid formula may also irritate very sensitive eyes despite the clean beauty formula, which can be a serious drawback for those with makeup allergies.
Pros
Two-in-one liquid and gel eyeliner

Available in black or brown colors

Free of parabens, phthalates, mineral oil, and triclosan

Waterproof and long-lasting
Cons
Application can be patchy

Liquid formula may irritate eyes
---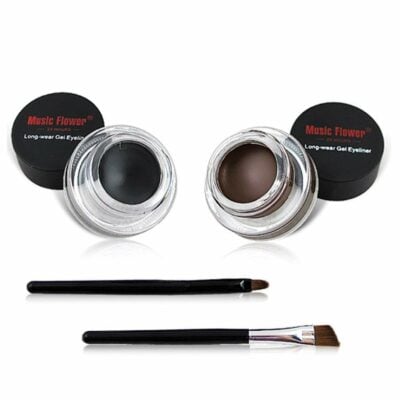 Why we like it:
This gel eyeliner set comes with two colors—black and brown—each of which provide an intense look. It glides on smoothly and won't smudge once it settles. The product comes with an applicator for easy application.
Editor's Rating:
This is another one of the best gel eyeliners for sensitive eyes. The Music Flower 2-in-1 Black and Brown Gel Eyeliner Set offers you both black and brown eyeliner, so you don't have to choose between the two shades.
Whenever you want a bolder look, the black eyeliner would come in handy. For a more natural look, you'll be using the brown eyeliner. You also have the opportunity to match your eyeliner with your outfit every day.
You need a makeup brush to apply this type of eyeliner. Hence, the set comes with two applicators, saving you the stress of looking for a suitable makeup brush in the stores. This gel eyeliner is waterproof.
You can expect it to stay intact for up to 24 hours. In case you sweat or find yourself in the rain, it will not smudge or run down your face. This gel eyeliner boasts intense colors, which won't fade all day.
Another remarkable attribute of this eyeliner is that it is very easy to remove. All you need to take it off is a cotton ball and a little makeup remover. You don't need any elbow grease.
The major drawback of this product is that it is not easy to get those sharp, defined lines needed for specific looks. That's because you use a brush to apply it. You may need to combine it with a liquid eyeliner to achieve a winged look. Nonetheless, this is one of the best waterproof gel eyeliners for sensitive eyes to buy in 2020.
Pros
Non-blooming effect

Supple texture

Comes with two makeup brushes for easy application
Cons
Challenging to create sharp, defined lines with a makeup brush

May dry out quickly if not stored properly
---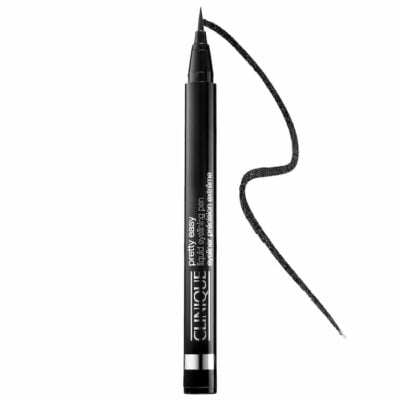 Why we like it:
The Pretty Easy Pen Eyeliner features a precision tip for easy application and is ophthalmologist-tested to be safe on sensitive eyes.
Editor's Rating:
The Clinique Pretty Easy Liquid Eyelining Pen Eyeliner is free of synthetic fragrances and parabens and is ophthalmologist-tested. This makes it safe for use on the most sensitive eyes and can be a great choice if you are looking for an accessible product that is unlikely to irritate your eyes.
This product is also incredibly easy to use, thanks to the liner's precision tip. The thin point allows you to create versatile looks that you can rock during the day or out at night. It also allows you to craft an easy winged tip, making this product great for beginners to wearing eyeliner.
It is important to note that the formula of Pretty Easy Liquid Eyeliner Pen claims to last 24 hours, but it is unfortunately prone to smudging much before then. It can be a long-lasting eyeliner, but you will likely need to apply several layers to get the pigment you need, and any instances of sweat or water may easily derail your look.
Pros
Ophthalmologist-tested and safe for sensitive eyes

Precision tip creates versatile looks

Long-lasting, 24-hour wear

Free of synthetic fragrances and parabens
Cons
Smudges easily

May need several layers
---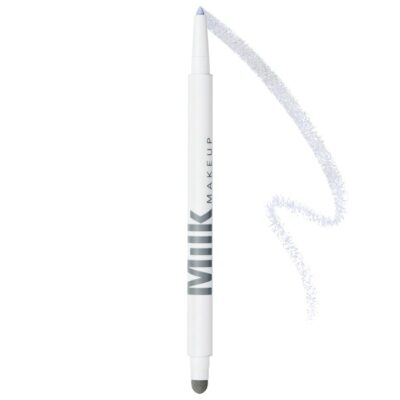 Why we like it:
Milk Makeup's Long Wear Gel Eyeliner features clean ingredients and hydrating hyaluronic acid to keep your sensitive eyes moisturized and free of irritation.
Editor's Rating:
Milk Makeup's Long Wear Gel Eyeliner has the Sephora Clean beauty seal, meaning that it is formulated without parabens, sulfates, phthalates, formaldehyde, coal tar, or other ingredients that may be potentially hazardous to human health. The formula is also cruelty-free, vegan, and gluten-free, further reducing the chances of irritation or an allergic reaction in even the most sensitive eyes.
To add to its smooth and creamy formula, the Milk Makeup eyeliner contains hydrating avocado oil and hyaluronic acid. These ingredients help to keep your eye moisturized every time you wear this eyeliner, so there is no chance of itchiness or the formula drying out your eyes. The liner also has a shaping and a smudging end for easy application.
This product can, unfortunately, be a little bit itchy when applied to the waterline. This mostly occurs if you have very sensitive eyes, but it is something to be aware of. And even though the formula claims to be long-lasting, this product may transfer and smudge throughout the day, resulting in the need for occasional reapplications.
Pros
Has the Sephora Clean beauty seal

Cruelty-free, vegan, and gluten-free

Contains hydrating avocado oil and hyaluronic acid

Liner has a shaping and smudging end
Cons
May be itchy when used on the waterline

Transfers throughout the day
---
Guide to Buying the Best Eyeliners for Sensitive Eyes
Makeup should accentuate your features and uplift your self-confidence. It should not cause an unpleasant reaction. When you wear eyeliner, you want to look stunning. But choosing the correct eyeliner is difficult. General purchase guides can be helpful, but there are even more considerations that must be taken into account by those who have sensitive eyelids.
However, sensitive eyelids can cause your makeup application to backfire. We explore some of the essential things to look for when shopping to ensure you get the best eyeliner for your sensitive eyelids.
Eyeliner Type
You can choose between two main types of eyeliner depending on your preference—classic pencil eyeliner or liquid eyeliner. Let's take a deeper look at each of the types:
Pencil Eyeliner
Pencil liner is the traditional form of eyeliner. It has been in use for years. You can choose either a traditional pencil or a self-sharpening mechanical model. The best thing about pencil eyeliners is that they usually contain fewer chemicals compared to their liquid counterparts.
That normally makes them a better bet for sensitive eyelids. Furthermore, they usually stay in shape longer. However, they can be messy when you are sharpening them. They also tend to crumble easily.
Liquid Eyeliner
Liquid eyeliners tend to be more bold and vibrant, and are also usually available in a wider selection of shades than pencils. Some liquid eyeliners include serum, which further helps to enhance the health and appearance of your eyes. They also save you from the mess associated with sharpening pencil liners.
While these types of eyeliners have a wide variety of colors and mixtures, they are more prone to affecting sensitive eyes. That's because they normally contain more allergen-containing substances. They also tend to go bad faster, so you'll need to keep a closer eye on keeping liquid eyeliner fresh.
Eyeliner Ingredients
When you have sensitive eyes, you have to think about the ingredient of the eyeliner you plan to buy.  Many chemicals go into giving eyeliner its pigmentation and staying power. Liquid eyeliner may contain even more chemicals to help maintain its gel-like nature. Choose eyeliners that have the fewest ingredients. Avoid anything that uses carbon black or any other chemical that can result in toxicity.
Staying Power
Eyeliners have different levels of staying power. Eyeliner can stay on your eyes for a given duration of time, depending on the formula. If you want all-day wear, go for a formula designed to stay for 8 to 12 hours. If the eyeliner requires a makeup remover to take off at the end of the day, then it should typically hold strong throughout the day.
Eyeliner Color
The standard choice of eyeliner color is black. However, it is not always an appropriate choice. If you have a very fair skin tone, true black may be too harsh for you. If you're a beginner in the world of eyeliners and want something that is not as harsh, you may want to choose light gray or brown.
These shades are quite forgiving when you make mistakes. If you're looking to achieve a soft look with a touch of drama, chocolate brown or dark palm can be a great choice. For daily wear, at the office or in other casual settings, consider going for neutral colors.
If you want something perfect for nights out, you might want to try violet or blue shades. For an innocent look, you can't go wrong with white liners applied on the inner edge of the lower eyelids, which can make your eyes look wider.
If you want to create the doe-eyed effect, simply apply nude eyeliner on your waterline. This works great if you want to hide your red-rimmed eyes after a night of drinking or crying. It also helps you appear alert and awake.
The color of your eyes is another important consideration when choosing the best eyeliner. Certain eyeliners have various effects on the eye color, depending on the shade of eyeliner used. Brown eyeliner, for example, will enrich blue eyes.
Dark blue, green, or plum eyeliner shades, on the other hand, will make light or amber eyes to really stand out. Dark eyeliner shades are effective in enriching dark brown eyes. You can also match the eyeliner shade with the color of your eyes for a stunning look.
If you're looking to make your eyes stand out or look more vibrant, consider going for a complementary shade. Lining your eyes with complementary eyeliner is an excellent way to make your eyes pop. If you're not sure what shade would complement your eyes, follow this simple guide:
Light brown eyes – colors such as dark blue, plum, and green set off light brown and amber eyes to make them really stand out.
Dark brown eyes – Darks colors such as black, dark blue, and black-brown make dark brown eyes to appear to be a richer and deeper shade.
Green eyes – Purple and violet shades make green eyes look more vivid and vibrant.
Blue eyes – Colors such as bronze and brown tones are effective in enhancing and enriching the color of blue eyes. Copper shade also makes blue-colored eyes look brighter.
Waterproof or Non-Waterproof
If you're looking for something that won't budge the entire day, you should go for waterproof eyeliner. This also applies to people who are often in humid or moist places. You don't want to end up with raccoon eyes at some point during the day. It's important to make sure the product you choose is easy to remove despite being waterproof.  Eyeliners that include oils and waxes are naturally waterproof.
Smudge-Proof or Not
Generally, cream, gel, and liquid eyeliners are more resistant to smudging compared to other types of eyeliners. Keep that in mind if you're looking for a smudge-proof eyeliner. However, if you want to smudge and blend your liner to create a softer or sultry look, it's a good idea to choose eyeliner specifically made for smudging. Pencil eyeliners are the best options when it comes to smudging.
Eyeliner Finish
Most eyeliners come with a matte finish. However, some have a glossy or shimmery finish. For those who prefer something subtle, a matte finish is certainly the best choice. This helps to ensure your makeup doesn't look overpowering.  If you want something more vibrant, however, consider choosing a more dramatic glossy finish.
Some eyeliners provide some level of shimmer to add a touch of radiance to your daytime look. Other eyeliners, on the other hand, utilize big flecks designed to make your eyes stand out. These eyeliners are great for use at night when lighting is dimmer.
Skin Tone
You should also consider your skin tone when shopping for eyeliner. The wrong color of eyeliner can bring out the worst in your skin tone. If you have a fair skin tone, you should normally avoid true black eyeliner, especially the liquid type. Black eyeliner will make your skin appear harsh. To be on the safe side, choose a brown powder or gel eyeliner, which will deliver a softer look.
However, if you have a medium-to-dark skin tone, black eyeliner will work best for you. This is especially a great choice if you want your eyes to stand out.
Final Thoughts
Eyeliner can give a person several different looks. Whether you want a natural and understated look or dramatic and completely unique look, you can achieve that through a variety of eyeliner types, shades, and finishes available on the market. However, finding your perfect eyeliner can be a challenge, especially if you have sensitive eyelids.
Most eyeliner ingredients include chemicals and toxins that will irritate the eyes and skin. Even the most expensive eyeliners can leave your eyes itchy and swollen. With this article, however, you'll have an easy time choosing the best eyeliner for sensitive eyelids. Don't forget to consider factors such as ingredients, eyeliner color, staying power, eye color, and skin tone to ensure you get the best product for your needs.