Top Picks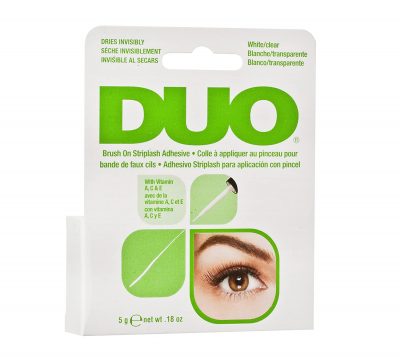 DUO Brush-On Lash Adhesive

KISS Strip Lash Adhesive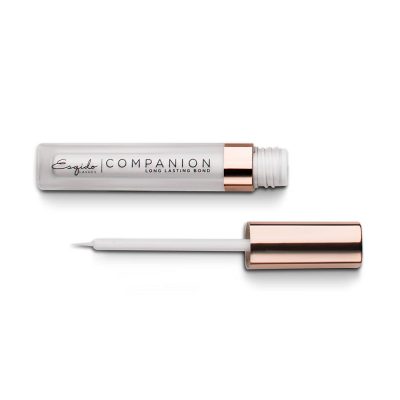 ESQIDO Companion Eyelash Glue
Previous
Next
Do you want to have those fluttery eyelashes that Disney princesses have? Are you looking to add a splash of glamor to your makeup look? You'd be surprised at just how easily fake eyelashes can transform your entire face. To make sure that your look lasts the entire day, choose your eyelash glue carefully. After all, the right glue can be the difference between a red carpet look and a mess.
There are many different types of eyelash glue out there. Some of these adhesives are designed for strip lashes while others are designed for individual lashes that need to be applied one by one. The type of glue that you choose will depend on the kind of lashes that you want.
How to Choose the Best Eyelash Glue for Your Lashes
Most people pick up a bottle or tube of eyelash glue without a second thought. They don't realize that eyelash glue comes in many different variations. Each glue possesses unique properties and features that make it stand out from other brands. The right glue should withstand the elements, last for days (or weeks if it's for individual lashes) and be easy to use. Let's take a look at some of the main things you need to look at when purchasing eyelash glue.
Formula
The type of ingredients that make up the eyelash glue will make a world of difference. Although you're not expected to understand what all of the chemical ingredients are, you should take a look at the packaging to see whether the formula contains any essential oils or vitamins that can help soothe your eyelids.
You should also consider whether the formula is deemed safe for sensitive eyes and whether it's free of chemicals like formaldehyde and latex. Those with sensitive eyes need to be extra careful when choosing an eyelash glue for themselves, as the wrong glue can lead to skin irritation and other issues. Note that eyelash glues designed for sensitive eyes tend to have a slower drying time, as these eyelash glues have fewer bonding agents in them.
When looking for eyelash glue for individual lashes, look for a formula that produces as few fumes as possible. Fumes can cause irritation and discomfort. They can also negatively affect the retention rate of lash extensions.
We go more in-depth on the different types of ingredients found in eyelash glue in our comprehensive guide below. We'll walk you through which ones tend to be better for sensitive eyes and the different ingredients to look for.
Strength and Hold
Regardless of whether you're applying strip or individual lashes, you'll want to find an eyelash glue that's strong and has a long retention time. You definitely don't want your eyelashes to come loose and fall off during a date or a job interview. Lash glue for strip lashes can generally last for a full day to several days; however, most people will take their strip lashes off as part of their nightly routine. Lash glue for individual lashes, however, is expected to last for several weeks, especially those that are used professionally.
The hold that the eyelash glue can provide is also particularly important. You definitely want to look for something that can withstand high winds and rainy days.
Ease of Application
Fake eyelashes are not easy to put on. Individual and cluster lashes are a lot harder to apply than strip lashes. This is why it's important to find an adhesive that is easy to apply. This might mean different things depending on whether you're working with strip lashes or individual lashes, and depending on how experienced you are at applying fake eyelashes.
If you're looking for eyelash glue for strip lashes, you'll want to look for a product that comes with a brush. The brush will help you apply an even and thin coat on the lash band. On the other hand, if you're looking for eyelash glue for individual lashes, you'll want to look for a package with a small nozzle. It will be easier to dispense this product onto a plate.
If you're working with strip lashes, you'll want to look for an adhesive that dries rather quickly, as these adhesives can take anywhere from 30 seconds to a minute to set. On the other hand, lash glue for individual lashes dries significantly faster. We're talking about 0.5 to 3 seconds.
If you're an expert, you might want to work with a glue that dries quickly, as you'll be able to apply all of the lashes more quickly since you're applying one lash at a time. If you're a beginner, you may want to work with something that takes a few extra seconds to dry, so you have more time to correct the lash placement before the glue dries.
Now that we've covered what to look for, let's jump into the best eyelash glue options available today.
Top 10 Best Eyelash Glues 2021
A Complete Guide to Buying Eyelash Glue

Although eyelash glue may seem like a simple product, it actually comes in many different variations. Many people don't realize that eyelash glue can contain a multitude of different ingredients and can have unique properties. If you're looking for an eyelash glue, this comprehensive guide will give you all of the information that you need to know what to look for.
Types of Eyelash Glue
In general, eyelash glue can be separated into two different types: ones for strip lashes and ones for individual and cluster lashes. These two types of glue are different in their composition. Eyelash glue for strip lashes is meant to last only for a full day while eyelash glue for individual lashes can last for several weeks.
Individual lashes tend to look a lot more natural, and you can arrange how you'd like the lashes to go. You can also customize the length of the lashes and choose between different materials. It can take around an hour to apply individual and cluster lashes.
Strip lashes, on the other hand, come pre-assembled. These lashes tend to be easier to work with. You can easily put these lashes on your lash line all at once.
Due to the differences between the two different types, the  ingredients found in each will differ significantly. We'll look at what's inside each type of eyelash glue below.

Ingredients in Strip Lash Glue
The most common ingredient found in strip lash glue is rubber latex. Rubber latex is able to provide an adequate amount of bonding and strength for a full day of adhesion. The issue with this type of ingredient is that it is not hypoallergenic. In fact, many people are allergic to rubber latex. If you're not sure whether or not you're allergic to rubber latex, do a spot test first on an inconspicuous area.
Some strip lashes are advertised as being medical grade. These are typically made from acrylates and other types of adhesives that are often used in medical settings.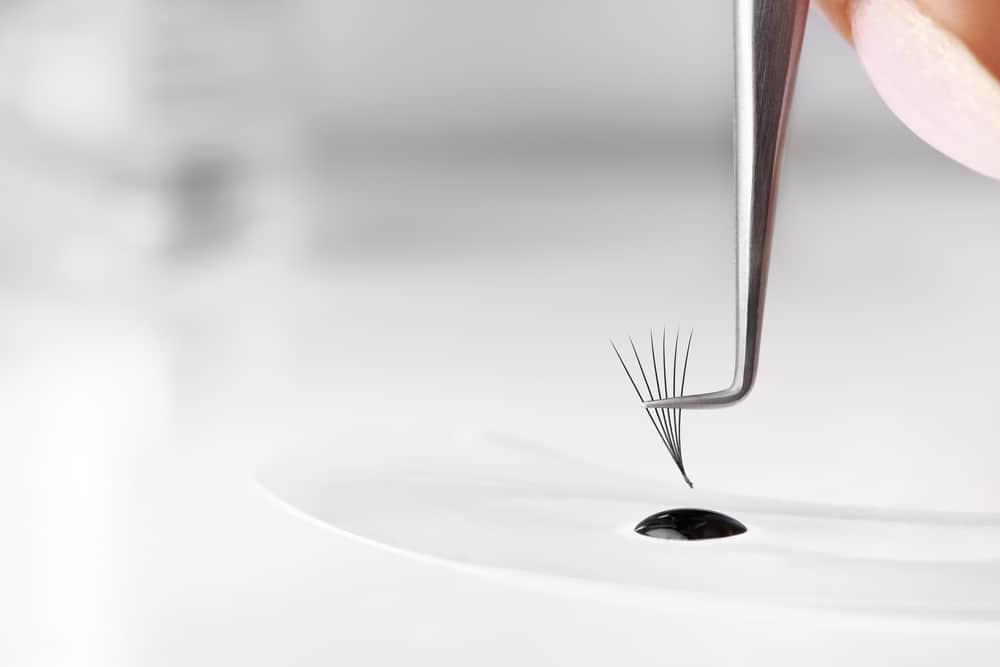 Ingredients in Individual Lash Glue
Eyelash Glue for individual lashes or for eyelash extensions is typically made of 90 to 95% of some type of cyanoacrylate and 5 to 10% of some other types of complex compounds, like colorants, thickeners, stabilizers and hardening accelerators. As the bulk of the glue is made of cyanoacrylate, it's a good idea to get a better understanding of this ingredient. There are different types of cyanoacrylate. They include:
Ethyl-cyanoacrylate. This type of cyanoacrylate produces an average amount of fumes, but it offers one of the strongest adhesive strengths out there. It has a quick drying time, but it does come with an odor and can irritate sensitive eyes. This type of cyanoacrylate is by far the most popular type used in eyelash glue for individual or cluster lashes.
Butyl-cyanoacrylate. This adhesive is hypoallergenic and produces a low amount of fumes and odor. It is often used for medical purposes as well. Compared to ethyl-cyanoacrylate, it has a slower drying time and a weaker adhesion. With that said, those with sensitive eyes should look for an eyelash glue that mainly uses this ingredient.
Alkoxy-cyanoacrylate. Eyelash glue made with alkoxy-cyanoacrylate tends to be rather expensive. This ingredient is eight times more expensive than ethyl-cyanoacrylate, but it is also suitable for sensitive eyes as it is hypoallergenic. This ingredient also produces minimal fumes and odor.
Methoxy-cyanoacrylate. You likely won't find any eyelash glue that uses methoxy-cyanoacrylate, but this is the least irritating type of cyanoacrylate out there. It is also odorless and considered to be a medical-grade adhesive. Compared to ethyl-cyanoacrylate and butyl-cyanoacrylate, this type of cyanoacrylate is the least likely to cause any irritation. It does, however, have the slowest drying time and the weakest adhesion.
In short, the take-home message is that you'll need to trade adhesive strength for more gentle ingredients for those with sensitive eyes. Beginners may also prefer a product with a slower drying time, as it is easier to reposition the fake eyelashes.
Other Factors to Consider
There are many other things that you should consider when purchasing eyelash glue.
The Color of the Eyelash Glue
While most glues will dry clear, the consistency of the glue may give it a gleam that can make it easier to spot. Some manufacturers have made eyelash glue that dries black. This type of glue will blend seamlessly with black eyeliner. If you're using brown eyeliner or some other color, you'll want to go with a clear eyelash glue.
Viscosity or Consistency
Some people find thicker eyelash glue to be easier to work with. It's less likely to spill over and will give you a slight band or area to work with. However, a thicker eyelash glue will be more likely to stand out. A thinner eyelash glue will be more difficult to notice; however, it may be trickier to work with. You'll have to make sure that you apply only a little bit at a time, so that it doesn't spread.
The Climate You Live In
This is an interesting point to consider as most people don't realize that the humidity of their environment can affect how the eyelash glue sets. This will depend entirely on the formula of the glue, and will affect eyelash glue for individual and cluster lashes more than eyelash glue for strip lashes. You'll get a shorter drying time with a higher humidity. For example, let's say that a product has a drying time between 2 and 3 seconds. If the humidity in your environment is 45%, the eyelash glue will take 3 seconds to dry. If the humidity is closer to 60%, the eyelash glue will take 2 seconds to dry.
Quantity or Volume of Product
A little tube of eyelash glue can last months. When purchasing a product, consider the volume that you'll receive and compare this with the price. A product that may appear pricier may actually be cheaper when you look at the volume.
Packaging
It's always a good idea to keep some eyelash glue in your purse with you. However, if you do that, the worst thing that can happen is a spill. If you spill eyelash glue in your purse, it can create a sticky mess that's difficult to clean. Consider the packaging of each product and how secure it may be. Eyelash glue that comes in tubes is usually more durable and less likely to spill.
Shelf Life
One of the last things that you need to consider is the shelf life of the product. In general, eyelash glue for strip lashes can sit for several years while eyelash glue for individual and cluster lashes can last for several months after the bottle is opened. When it comes to eyelash glue for strip lashes, the one thing that you have to worry about is whether the glue will jellify. This can happen when the glue sits for too long.
All of these factors combined will determine whether an eyelash glue may become a reliable tool in your makeup bag.
How to Store Eyelash Glue
Both eyelash glue for strip lashes and individual lashes are a reactive type of adhesive, which means that it will react with air. It's important that you store both types of adhesive properly in order to maintain its overall efficacy and shelf life.
Most experts recommend storing lash glue in a cool and dark place. Your makeup bag is a great place to keep it!
Make sure to avoid keeping the glue in a place with direct sunlight and high humidity.
Unlike other cosmetics and skincare products, don't store eyelash glue in the refrigerator because the ingredients in the adhesive may react with the moisture in the air. The cool temperature in the fridge may also cause dew condensation on both the inside and outside of the bottle or packaging. This can affect the performance of the glue and cause it to become less effective.
You should also consider writing down the purchase date and the opening date. This will give you a better idea of when to throw the glue out. You can also store the glue with a desiccant, which will draw in moisture from the surrounding air, to lengthen the shelf life of the glue.
Eyelash Glue and Clogging
The nozzle or tip where the eyelash glue is dispensed may clog sometimes. The clogging is usually caused by gas or bubbles that are generated in the container when you dispense the product. The bubbles and gas will react with the glue at the tip and form a layer there.
This doesn't necessarily mean that you have to throw the entire tube away and it's not always a bad thing. This outer layer will protect the inside contents. You can remove this layer using a toothpick. You can also use a pin to pierce the hole.
To prevent clogging, keep the bottle or tube upright whenever possible. You can also avoid clogs by closing the lid tightly and sealing the glue properly. The key is to prevent the glue from coming in contact with moisture in the air.
7 Tips and Tricks for Applying Glue Perfectly Onto Fake Eyelashes
Fake eyelashes can completely transform your eyes. They can make them look more sultry and glamorous, and they're an easy way of giving your eyelashes that extra lift that it needs to pop. Applying false eyelashes can be difficult for those who have never tried it before. However, with some experience and practice, putting fake eyelashes on will become second nature. If you've never applied fake eyelashes before, take a look at the video below!
There are some additional tips and tricks that you can follow to make it even easier to apply fake eyelashes:
#1. Only Apply a Thin Layer of Glue
In this case, less is more. You want to apply as little of the glue as possible onto the entire band of strip lashes and only at the ends of individual lashes. To get a thin layer onto the lashes, look for an eyelash glue that comes with a brush. Look for a brush that has a fine tip and doesn't fan out.
If you're using an eyelash glue that doesn't come with a brush, you can apply some of the glue to a toothpick or some other type of applicator first. Then, slowly dab the glue onto the band.
If you make sure that you don't get too much of the glue onto the fake eyelashes, you'll also have an easier time maintaining the lashes. If you apply too much glue, you'll not only have to wait a long time for the glue to get sticky, but the glue may also spread onto the lashes and get stuck within the lash fibers. This will make your fake eyelashes look less natural, and you'll also have a harder time removing them at the end of the day.
#2. Apply the Glue on the Entire Band
Make sure that you get some glue on the corners of the fake eyelashes if you're using a strip lash. This part of the band is where most fake eyelashes will start to lift after a long day or if your eyes start to tear up after watching a sad movie.
#3.  Wait for the Glue to Dry a Bit and Become Tacky First
Many people make the mistake of trying to apply the fake eyelashes onto their lash line immediately after putting the glue on. This can become a sticky situation where the glue may end up leaking into your eyes. Patience is very important when it comes to applying fake eyelashes.
Wait anywhere from 2 to 15 seconds for eyelash glue for strip lashes and 1 to 2 seconds for eyelash glue for individual lashes. This will allow the glue to dry a little and become tacky. The glue should already be a bit sticky when you apply the fake eyelashes onto your lash line.
#4.  Try the 'Double Adhesive' Technique
Some makeup artists recommend the 'double adhesive' technique for super long-lasting applications. To do this, you'll need to apply some glue onto the lash line as well as on the lashes. This is supposed to help the lashes stick onto your lash line for a longer period of time. It's also a good technique for those who have difficulties finding their lash line. The 'double adhesive' technique will give you an idea of where you need to apply the lashes.
#5. Apply the Lashes as Close to the Lash Line or on Top of Natural Eyelashes
Your eyelids crease every time you open and close your eyes. If you don't get your fake eyelashes as close to your lash line as possible, it will not only look unnatural, but the eyelash glue will be less effective from the constant movement. Place the strips as close to the natural bulk of your eyelashes as possible and press down. You also want to make sure that you get a good fit around the outer edges and inner corners.
#6. Use Tweezers Instead of Your Fingers
If you're a bit more clumsy with your fingers, try using tweezers instead. This will prevent you from getting the glue on your fingers and then on your eyelids. You may also get a more precise application with tweezers.
#7. Apply Eyeliner Over the Glue After It Hardens and Dries Completely
Blending your fake eyelashes into your lash line can be difficult. To get a seamless blend, you can try using black eyelash glue instead of clear ones. Once the eyelash glue has hardened and completely dried, apply your eyeliner overtop. Some makeup artists recommend applying your eyeliner before and after putting on fake eyelashes. By doing this, you'll be able to hide where the eyelash glue is located.
Make Your Eyes Pop
They say that your eyes are the windows into your soul, which is why most people will look at your eyes first. You can make your eyes pop and really change their shape and overall appeal by adding fake eyelashes. Depending on the shape of your eyes, you can go for strip lashes that flare out at the corner or have different patterns to get a different look. Many makeup artists will also use colored lashes to make a statement. Individual lashes are great for those who want to have more control over the final look, but they are a bit trickier to apply, as there are more components involved.
Regardless of which eyelashes you choose, you're going to need a dependable eyelash glue to ensure that your look lasts for the entire day. There are many different types of eyelash glue on the market. Finding the right one is not an easy task, which is why we've come up with the comprehensive list above.
Once you've found an eyelash glue that works for you, it's also always a good idea to keep a tube of it in your purse. Reapply the eyelash glue as necessary to prevent lifting throughout the day. With a tube of eyelash glue and some fake eyelashes, you can transform your eyes and get a dramatic or even natural and innocent makeup look.