Top Picks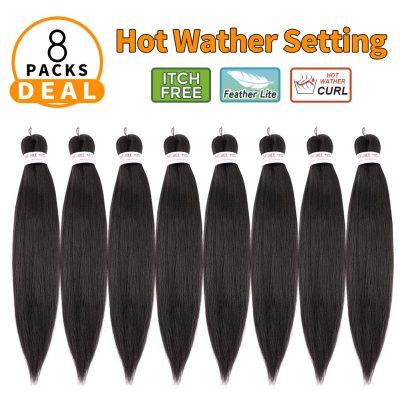 Difunee Pre-Stretched Braiding Hair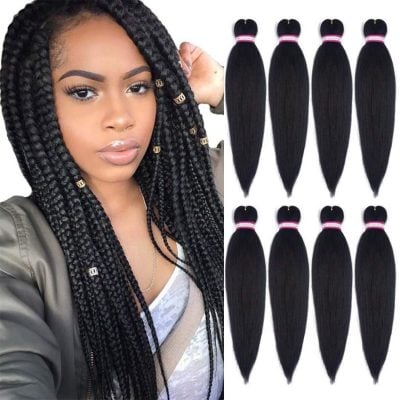 Dorsanee Pre-Stretched Professional Braiding Hair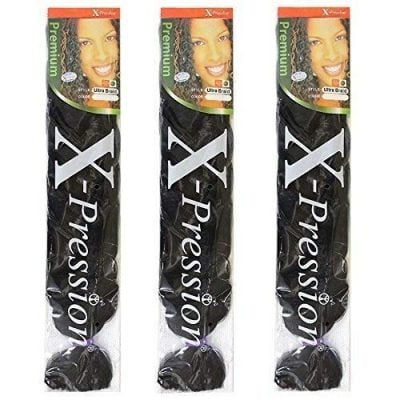 X-pression Premium Original Ultra Box Braid Extensions
Previous
Next
Hair extensions and hair weaves are insanely popular amongst Africans and African Americans. From Beyonce's iconic blond box braids in Lemonade to Brandy's controversial micro braids to Rihanna's jumbo red box braids, every popular diva has sported them at some point in time.
Box braiding is a style of braiding hair that protects the natural hair and scalp even as it incorporates the synthetic/natural hair extensions to extend the braids. The hairdo is known as boxy because the root hair partings look like boxes or squares. The appearance of the roots is akin to neatly laid rows of bricks.
Once a square inch or two of hair is parted, the procedure of braiding begins. Depending on the length of one's hair, extensions start getting added into this 3 stranded braid to give it volume, thickness, firmness, and length.
Unlike other hairstyles like cornrows, Box braids do not begin at the scalp or root and hence can be manipulated easily. Box braids can be finished in various styles with loose ends, burnt ends, sealed ends, tied up in buns, and so on. Box braids work well with many different hairstyles without damaging the users' original hair.
What to Consider When Choosing Hair for Box Braids
Whether you are a pro at braiding your hair or just starting out with incorporating hair extensions in your hairdos, choosing the right hair that goes well with box braids is important.  Follow this simple check-list to pick the best hair extensions for your box braids.
Standard Synthetic vs. Kanekalon Fibers
All synthetic hair is good for box braiding, but kanekalon is usually the choice of most haircare professionals. Kanekalon fibers are also synthetic but employ a polymer that very closely relates to the natural protein in hair. Kanekalon hair looks more natural, has the same kind of kink as naturally curly African hair, and is the least damaging to your real hair.
Odors and Scalp Sensitivity
Most synthetic hair has a plastic-like odor which can be washed away, but the cheaper your hair is, the more difficult it is to get this smell out. How agreeable are the chemicals used in the hair? Is the hair designed to work with sensitive skin and scalp without causing breakouts?
Frizzing, Tangling, Fluffing, Unravelling, and Tapering
All these are problems that you may face with the texture, the ends, the sealing techniques, brushing, burnt ends, pre-set ends, dipping techniques, and so on. Read up about these things in detail before you make your choice.
Texture and Thickness
How close to natural hair is the texture? If it's glossy or silky, does it look well conditioned or has an excessive sheen that makes it look fake. Is the hair soft to touch and feels like real hair? How thick are the bundles/braids in the pack? How many packs will you need? There are many different options available, from natural yaki to straightened hair, so take a look at our style guide if you get confused.
Restyling/Reusing and Longevity
Can you restyle the hair extensions? Are you looking for box braids specifically or would you like to have more mileage out of your extensions? Can you wash and reuse them? How much wear and tear can they stand before you have to take them off?
These are some basic questions you need to ask yourself before you make your purchase. We've made your job easier for you by listing the best hair for box braids that you can buy online. There's a wide variety of fibers, textures, colors, and styles to choose from.
Top 9 Best Hair for Box Braids 2021
Guide to Choosing the Best Hair for Box Braids
With so many options available, it can be difficult to choose the perfect hair for your box braids. In order to make your purchasing decision a bit easier, keep the following in mind. If you can, go for 100% kanekalon hair that's flame retardant. It might be a little heavy on the pockets but you'll notice a stark difference in the look, feel, and texture of the hair and your box braids.
Once you've purchased the perfect hair, keep the following tips in mind.
The longer the hair length, the easier it is to work with. You can cut and style your hair according to your needs. Shorter hair will limit your flexibility.
It's better to get your hair braided by a professional at a salon if you've never had box braids before.
Always brush the hair extensions and fluff them out until the hair are uneven before you start braiding them. You can also use some product here to make them more pliant and add a touch of healthy sheen to your braids. Ensure that the hair isn't tangled before you start braiding.
If you want uniform and even-sized braids, you can part them into equal-sized bunches beforehand, unless you are a professional and can judge the thickness of the bunch by experience. Handle the hair from the top where it loops so it stays manageable and tangle-free.
Box braids are a protective hairstyle that's meant to protect your natural locks so go easy on the heat treatments, trimming the flyaways, burning the ends, and dipping lest you end up harming your natural hair. Do not braid the hair too tightly, especially at the base, as this could damage your roots. Using the half-moon technique, instead of square boxes resembling bricks laying on top of one another, to part the roots is the upgraded version of creating more polished looking box braids.
Divide the hair extensions strands into three equal parts to get evenly braided hair without lumps and bumps. Let the first braid be a trial to determine the thickness of the braid, how many strands you need to use, and how small or big your hair partings should be.
Use a hair gel, jam, or similar product to keep the flyaways in place and keep the hair together.If you are cutting off the strands that stick out, or melting or burning the ends, make sure that you start below the point where your natural hair ends so as not to cause any permanent damage. Keep a towel or two handy when you're dipping and sealing the ends.
Frequently Asked Questions About Hair Extensions
What Are Hair Extensions?
Hair extensions allow users to create a wide variety of hairstyles, braid and blend their natural hair with these extensions, and maintain hairstyles that are easily manageable from a few weeks to a month or two. There are as many different types of hair extensions that vary in colors, textures, looping styles, stretching styles, fibers used, and so on, as there are techniques of installing and incorporating them with natural hair. Box braids are one of many such popular techniques.
What Is Kanekalon?
Collagen protein is used as raw material to make kanekalon hair fibers, also known as synthetic polyethylene-terephthalate fibers. Since collagen is the base material used to make these fibers, they closely resemble the texture, feel, and look of natural hair. Kanekalon hair extensions like the XCHSLB Crochet Box Braids Hair blend thoroughly with natural hair giving the impression of wearing long healthy natural braids. They are easier to maintain, and once braided in, they can be worn for a month or two.
If we break them down to their basics, both are plastic hair. But through complex chemical and heat-based treatments, they're modified to be lightweight, have bounce and shine like natural hair, and be soft and pliable so they can lend themselves to various hairstyles. Synthetic hair extensions are artificial fibers that are glossier than natural hair and look less authentic than kanekalon hair. Kanekalon hair is also synthetic, but, as explained above, use a naturally occurring collagen protein as their base. As far as the quality of synthetic fibers goes, kanekalon comes on top of other synthetic fiber hair extensions. Another advantage of kanekalon hair is that the braids do not unravel as easily as they do with synthetic hair fibers, so you can wear them for longer periods.
What Is Flame Retardant Hair?
Since hair extensions are made of synthetic polymers, they're at high risk of easily burning through when exposed to excessive heat. This is why most hair extensions these days incorporate flame retardants like Nofia to reduce the chances of them getting crisped.
Fibers used in kanekalon hair are inherently flame retardant owing to the flame retardant resin used in its manufacture. Note that flame retardant isn't the same as heat resistant. Flame retardant implies that when exposed to excessive heat, this hair will reduce the instant dissipation of heat thereby lessening any potential damage.
What's the Advantage of Using High Temperature Resistant Fibers in Hair Extensions?
Using high-temperature resistant hair extensions will give you the flexibility of changing your hairstyle, giving your hair the heat treatment to set in curls, loosen curls, crinkling hair, and so on. You can reset them to any natural hairstyle as long as they're properly moisturized and conditioned, aren't subjected to excessive heat that can damage their structure, and are generally well maintained.
What Is Meant by 'Dipping', 'Sealing', and 'Burnt Ends'?
Unlike natural hair, synthetic hair cannot hold braids as well due to their silky texture and plastic base. In order to prevent the braids from unraveling, you have to seal the ends. This is done by dipping them in extremely hot water. The high temperature of the water melts the braids' ends and fuses the hair so the braids do not come apart. This is called 'Dipping'. The melting and fusing of the ends is called 'Sealing'. When you're sealing the braid ends, ensure that the braids are straight so the different braid ends do not melt together and get tangled.
You can also use a slip knot to seal the ends, but the knots look unprofessional and stand out. The dipping method can also be used to create casual quick box braids with long loose ends. If the water used for dipping isn't hot enough – up to the temperature mentioned on the box, the hair won't fuse and seal properly. Always be careful with this step as it's important to seal the braids in yet also a safety hazard if proper precautions aren't taken—and be sure to use a product that tolerates dipping well, like the Difunee Pre-stretched Braiding Hair.
Some synthetic hair extensions come with the instructions to burn the ends to seal them. In such cases, you braid the hair till the end, burn them slightly to fuse the ends, and then chop off the ends to make them uniform in length.

What Are the Different Kinds of Textures That Are Available for Box Braid Hair?
Synthetic hair is available in several different finishes, all of which are variations of either yaki hair or straight hair. Kinky, curly yaki hair like that in the XCHSLB Crochet Box Braids Hair resembles untreated Black hair, while the straightened hair that products like the X-pression Premium Original Ultra Box Braid Extensions use, as the name suggests, looks like hair that has been run through a hair straightener.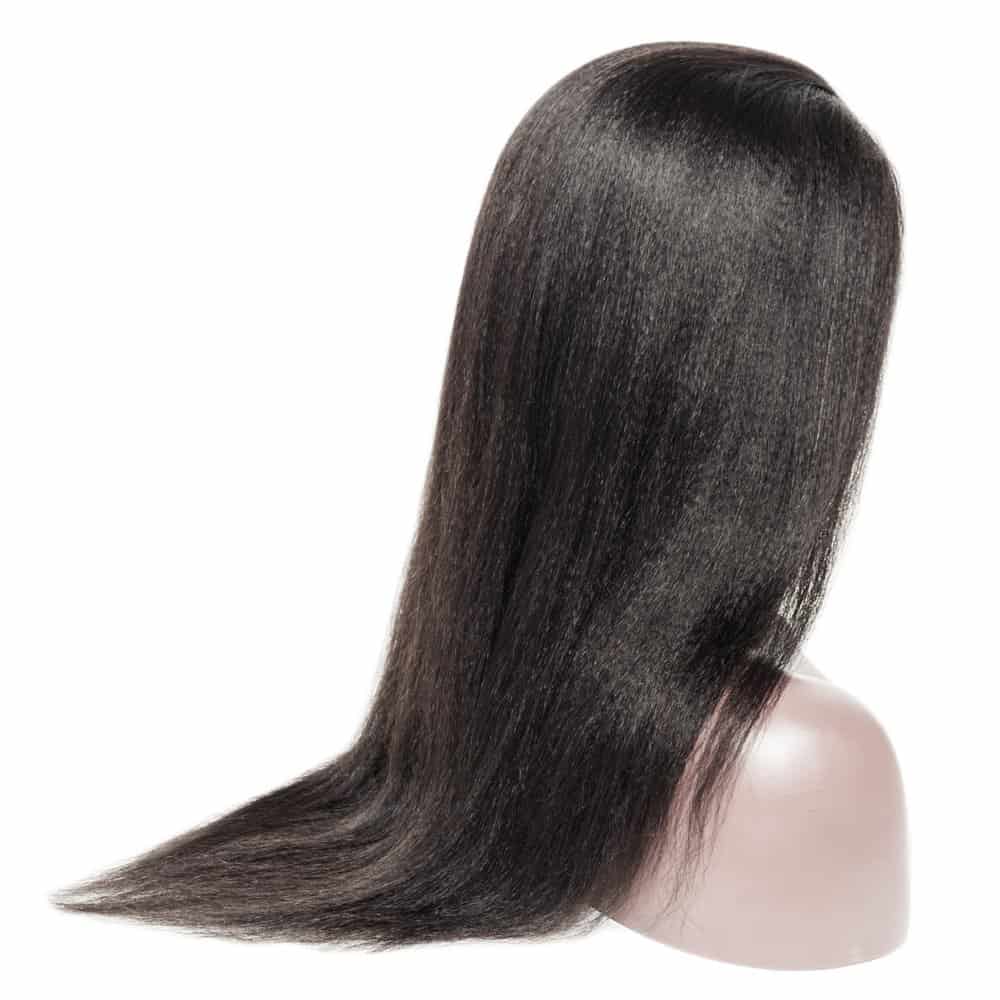 How Long Does the Braiding Process Last?
This depends on the type of natural hair you have, the kind of hair extensions you're using, the thickness of the braids, and their length. While a head full of micro braids may take hours and hours of patient sitting, jumbo braids would take less time than average. Regular box braids take anywhere from 6 to 8 hours if you are using regular hair extensions. Pre-stretched and pre-looped hair will cut out the braiding time further whilst pre-braided box braids that need to be crocheted take the least number of hours. You'll definitely have to set aside a minimum of 4 hours if you want box braids.
Where Can I Learn to Create Box Braids?
You can watch this easy tutorial to learn the right technique to create box braids from regular hair extensions.
If you're going for crochet hair, you might want to watch this video to learn how to use the rubberbands method to crochet box braids.
And here's a video tutorial for those who are using pre-braided hair with cornrows.
What Else Can I Do With My Box Braids Besides Letting Them Down or Tying Them up in a Bun?
You can find a wealth of inspiration online when it comes to the things you can do with box braids. From creating different box patterns to hairstyles beyond counting, there's no dearth of possibilities when it comes to making your box braids work for you. Here are just a few different hairstyles for you to get inspired and begin your box braids adventures.
Wrapping Up
Box braids are so popular as they do not require a lot of maintenance even if the initial process takes hours. Once you have the braids in place, you don't have to worry much about your hair for a good month or two. They are easy to maintain with proper care and can be worn all year round. They also lend themselves to such varied and versatile hairdos that you can have a new hairstyle every month. Use the list and reviews above to choose the right kind of hair extensions and get your salon appointment for installing your box braids now!