Editor's Note: One of my favorite things to do this time of year is try out a new hairstyle. An updated look always helps me take on the new season and all of its ambitions with an extra spring in my step. If you're looking for a hair revamp and you're thinking about trying box braids, there's no time like the present!
Box braids are a great option for winter because of the way they protect natural hair from the elements. Things like dry air and extensive time in front of heating elements tend to be prevalent during the winter months and these things can cause damage. Box braids give your natural hair protection, all while looking stylish, flirty, and cute.
Something incredible about box braids is the range of styles you can incorporate–you can go very long and dramatic, you can keep it short, and you can even incorporate new colors into your fall hair revamp! Got questions about box braids before you dive into what product works the best for your style, budget, and head? We've got answers! Check out the FAQ section at the end so you know what to look for!
Hair extensions and hair weaves are insanely popular amongst Africans and African Americans. From Beyonce's iconic blond box braids in Lemonade to Brandy's controversial micro braids to Rihanna's jumbo red box braids, every popular diva has sported them at some point in time.
Box braiding is a style of braiding hair that protects the natural hair and scalp even as it incorporates the synthetic/natural hair extensions to extend the braids. The hairdo is known as boxy because the root hair partings look like boxes or squares. The appearance of the roots is akin to neatly laid rows of bricks.
Once a square inch or two of hair is parted, the procedure of braiding begins. Depending on the length of one's hair, extensions start getting added into this 3 stranded braid to give it volume, thickness, firmness, and length.
Unlike other hairstyles like cornrows, Box braids do not begin at the scalp or root and hence can be manipulated easily. Box braids can be finished in various styles with loose ends, burnt ends, sealed ends, tied up in buns, and so on. Box braids work well with many different hairstyles without damaging the users' original hair.
What to Consider When Choosing Hair for Box Braids
Whether you are a pro at braiding your hair or just starting out with incorporating hair extensions in your hairdos, choosing the right hair that goes well with box braids is important.  Follow this simple check-list to pick the best hair extensions for your box braids.
Standard Synthetic vs. Kanekalon Fibers
All synthetic hair is good for box braiding, but kanekalon is usually the choice of most haircare professionals. Kanekalon fibers are also synthetic but employ a polymer that very closely relates to the natural protein in hair. Kanekalon hair looks more natural, has the same kind of kink as naturally curly African hair, and is the least damaging to your real hair.
Odors and Scalp Sensitivity
Most synthetic hair has a plastic-like odor which can be washed away, but the cheaper your hair is, the more difficult it is to get this smell out. How agreeable are the chemicals used in the hair? Is the hair designed to work with sensitive skin and scalp without causing breakouts?
Frizzing, Tangling, Fluffing, Unravelling, and Tapering
All these are problems that you may face with the texture, the ends, the sealing techniques, brushing, burnt ends, pre-set ends, dipping techniques, and so on. Read up about these things in detail before you make your choice.
Texture and Thickness
How close to natural hair is the texture? If it's glossy or silky, does it look well conditioned or has an excessive sheen that makes it look fake. Is the hair soft to touch and feels like real hair? How thick are the bundles/braids in the pack? How many packs will you need? There are many different options available, from natural yaki to straightened hair, so take a look at our style guide if you get confused.
Restyling/Reusing and Longevity
Can you restyle the hair extensions? Are you looking for box braids specifically or would you like to have more mileage out of your extensions? Can you wash and reuse them? How much wear and tear can they stand before you have to take them off?
These are some basic questions you need to ask yourself before you make your purchase. We've made your job easier for you by listing the best hair for box braids that you can buy online. There's a wide variety of fibers, textures, colors, and styles to choose from.
Top 9 Best Hair for Box Braids 2023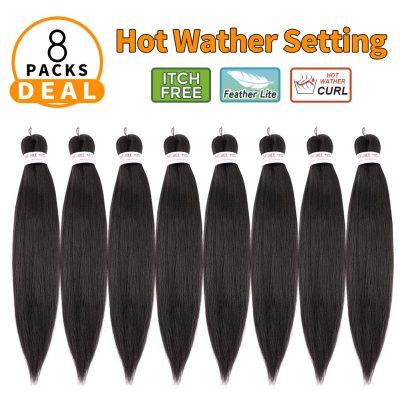 Why we like it:
It's the best overall natural yaki texture pre-stretched hair for box braids that looks and feels natural.
Editor's Rating:
Quick Facts
Length: 20 inches
Colors: Black with choice of plain, blonde, brown, gold, blue, red, and pink highlights
Texture: Yaki
Amount: 8
When it comes to box braids, most professional hairdressers go for this brand as this pre-stretched hair can be installed easily and used for creating the perfect box braids with a natural look, feel, and texture. Since the finish is yaki, it doesn't look shiny and fake but has a healthy glow like deeply conditioned natural hair.
You don't need much product or time to maintain them and keep them looking healthy. What's more, you can install them quite easily, saving time on braiding. This hair is made to last long and hence sheds very little, does not tangle easily, and remain itch-free even weeks after installation. And you can reset the hairstyle by dipping the hair in hot water.
This hair is made with synthetic fibers that are sweat-resistant, lightweight, soft to the touch, do not have any unpleasant odors, and are fuzz-free. It's highly recommended for beginners who are looking to learn self-braiding as well as those with fine hair as this product offers ease of installation and blends well with natural hair.
Although a single bundle might look like it contains a very thin bunch of hair, just brush and fluff it out before use to create volume. Four bundles are usually enough to cover an adult head, five if you want thicker braids and you'll still have a few bundles left over.
On the flip side, if you're not going to braid this hair till the ends and leave them undone, they end up showing their synthetic origins and look quite fake, so it's better that you don't go for this hair if you aren't going to cut and burn the ends to seal the braids.
The other disadvantage is that unlike kanekalon hair, this hair does not dip well. Obviously, burning is an option and the package does advertise it as easy to restyle with a hot water setting, but it doesn't take as well to dipping.
Pros
Easy to install and work with

Professional look and feel

Wide range of colors and styles

Long-lasting
Cons
Not kanekalon as recommended by most professionals

Do not dip well

Braids can't be left undone limiting the styles you can opt for
---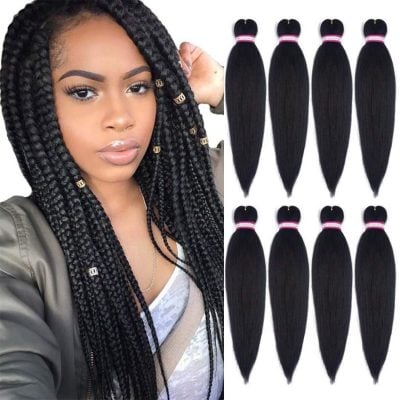 Why we like it:
Not only is this hair pre-stretched, but its also pre-cut and layered, saving time in braiding.
Editor's Rating:
Quick Facts
Length: 16, 20, 22, and 24 inches
Colors: Eight options, black with various highlights
Texture: Yaki
Amount: 8
These synthetic hair extensions for box braids are super soft to touch, just like natural hair, are slightly lower priced than the Difunee hair, yet have the same Yaki texture for that all-natural look. These pre-stretched, pre-feathered, pre-cut, and layered hair are ready to be used straight out of the pack and save a lot of braiding time.
As with all good synthetic hair extensions, they are flame-retardant, sweat-resistant, long-lasting, and can be set with hot water. You can restyle these hair extensions by dipping in hot water. There are 12 different colors and styles to choose from – single colored to ombre hair, to multicolored hair extensions. You get 8 packs per order and these are more than sufficient for box braids covering a full head.
If you're thinking of leaving the ends loose, these are the hair extensions to go for. They have a silkier finish than regular Yaki hair extensions but the Braids look fresh and stay on for a long time.
As with any product, these hair extensions aren't without their drawbacks. For one, they have a very unpleasant smell and you'll need to wash them thoroughly in water and vinegar to drive the smell out. Also, if you want to leave the ends undone, follow the dipping instructions properly otherwise you'll end up with frizzy ends. They're also a little heavier than average, but not uncomfortably so.
Pros
Pre-stretched, pre-feathered, pre-cut, pre-layered facilitating faster braiding

Soft to touch and easy to manage

As good as beauty store hair

Nice and smooth ends when left undone

Good volume of hair per order

Wide range of colors and ombre color combinations
Cons
A distinct and unpleasant smell

Requires thorough washing to get rid of the stink

Fairly heavy
---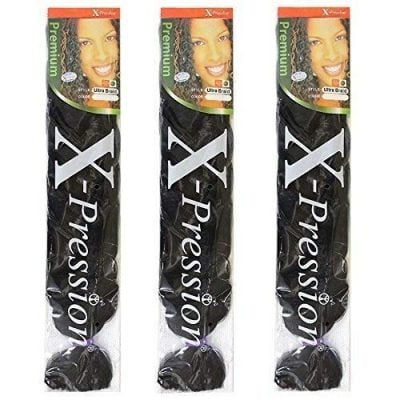 Why we like it:
It's the go-to hair extensions brand for box braiding recommended by most professional hairdressers, and it happens to be very affordable.
Editor's Rating:
Quick Facts
Length: 27 inches
Colors: Five shades of black, strawberry blonde, blonde, chestnut, and copper
Texture: Straight
Amount: 1 to 6
X-pressions is a hair extensions brand that a lot of professionals like Susan Oludele of Hair by Susy fame swear by. Not only is this a much recommended hair extension brand, but it also has one of the most affordable hair extensions available in the market. For the girl on a budget who doesn't want to compromise on quality, this is what we recommend.
You can do your box braids by yourself with these super light and brushable hair. Dipping them doesn't result in any burnt plastic or other unsavory smells. They come in bundles of three per pack and you can order a single pack, packs of 3, 4, or 6. A pack and a half are usually sufficient for box braids. You can choose from a variety of textures and colors that lean towards naturally occurring hair colors. The end results are usually comparable to natural braids.
Check the texture and finish carefully before ordering as not all of these products are well suited to braiding. Some might be designed for specific hairstyles and do not lend themselves well to box braiding. These aren't pre-stretched either, so it takes much longer to fluff them out and stretch them before braiding, adding hours to your styling time and running frequently into issues like tangled hair.
Pros
Recommended by professionals

Blends well with natural hair

Best value for money hair extensions

Dips well

Hold styles really well
Cons
Tangles easily

Not pre-stretched

Takes longer to braid
---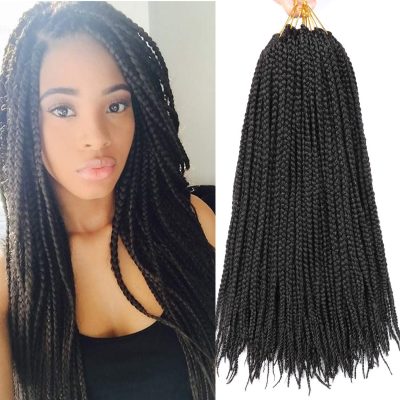 Why we like it:
Though a bit pricey, these are the best synthetic kanekalon fiber crochet braids for box braids.
Editor's Rating:
Quick Facts
Length: 14, 18, 22, and 26 inches
Colors: Black or black with blonde highlights
Texture: Yaki
Amount: 20 braids
These aren't regular hair extensions but pre-braided crochet hair for box braids. XCHSLB is a well-known brand with more than a decade of experience in manufacturing hair extensions. These braids come pre-looped making them easier to crochet. They have nice and soft ends, so you don't need to dip them once they're installed.
Each pack consists of 20 lightweight braids, but you might need more than one pack for a full head of box braids. The advantage of using crochet braids to create the box braids hairdo is that they last much longer – about 4 to 8 weeks easily as opposed to the 6 weeks limit with other hair extensions. They do not require much maintenance, although your natural hair underneath definitely requires its routine maintenance.
Since these are pre-styled, you cannot dip them in hot water to change the hairstyle. If you're ordering these for box braids then that's the only style you can use them for. They do not afford you the flexibility of regular hair extensions that can be repurposed to create other hairstyles like Senegalese twists, micro twists, and so on. For this reason alone, the price tag equivalent to regular hair extensions might be a little steep.
If you have an itchy or sensitive scalp, wash the hair thoroughly in water and vinegar and let them dry completely to avoid unnecessary scalp irritation.
You can watch these informative YouTube videos to learn how to use crochet braids for creating box braids with salon-like results.
Pros
Pre-braided

Easy and quick to install

No dipping required - come with sealed ends

Professional looking uniformly braided hair

Lasts 4 to 8 weeks
Cons
Can't be reset or restyled - limited to one hairstyle

Expensive

Inconsistent looping
---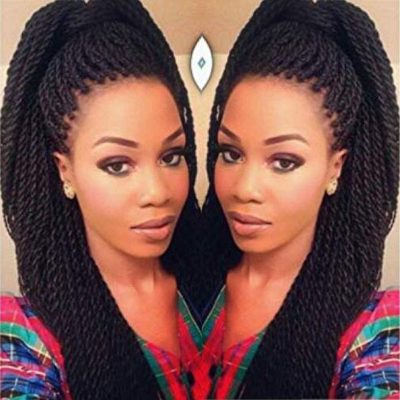 Why we like it:
These are the most affordable and most versatile premium quality crochet hair extensions for box braids.
Editor's Rating:
Quick Facts
Length: 18 or 22 inches
Colors: Black, honey blonde, burgundy, and grey
Texture: Yaki
Amount: 30 braids per pack, 1 to 6 packs per order
These crochet hair extensions by Geyashi are designed for various hairstyles including the Senegalese twist, box braids, Havana twist, and more. They come pre-looped in 3 color styles, 2 lengths – 18" and 22", and packs of 1(30 strands) and 6 (180 strands).
These are possibly the cheapest crochet hair extensions available online that are made with good quality synthetic fibers. These aren't pre-braided, so the hairstyle isn't set. You can reuse them for other styles later besides box braids. They have a low temperature setting of ~158°F and can be reset and reused. The twists are uniform and the braids look professionally done.
Washing them as per the instructions on the box and letting them dry before installation is highly recommended in order to avoid unpleasant smells and an itchy scalp. For a fuller head of box braids, you can opt for the single pack while the 6 packs are recommended for those who're aiming for a more natural look. A crochet needle is included in the pack along with some free beads. In addition to the lovely silver and gold beads, the customer service provided by the brand is also exceptional.
Pros
Affordable

Can be reused for other hairstyles

Uniform loops

Professional finish

Easy and quick to install

Excellent customer service
Cons
Unpleasant odors when unwashed

Itchy scalp if not treated with water and vinegar properly
---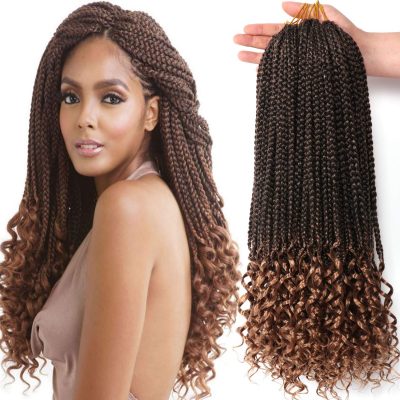 Why we like it:
These are the best quality braided crochet box braids extensions with wavy ends.
Editor's Rating:
Quick Facts
Length: 18 inches
Colors: Black, black with highlights, brown, burgundy, and grey
Texture: Yaki with wavy ends
Amount: 7 packs of 20 braids
URNice has the best quality pre-braided crochet box braid extensions with some lovely curls at the end. It is a set hairstyle that you can't dip and change or undo. The price tag is also a little steep, as they're charging more for just one type of hairstyle.
But, the quality of the braids is excellent, the curled ends have a glossy, real hair look about them, giving you top class box braids with uniform loops, even braids, no tangles, and perfect ends.
Each order contains 7 packs of braids that are sufficient for sparse coverage. You might need to order more than one for a full head of braids as a minimum of 9 to 10 packs are required for complete coverage. There are 3 colors to choose from and no issues with odors, tangling, or maintenance.
You can use the hot water setting to stretch out the curls at the ends and turn these Braids into Zoe Kravitz-inspired 'Goddess Box Braids.'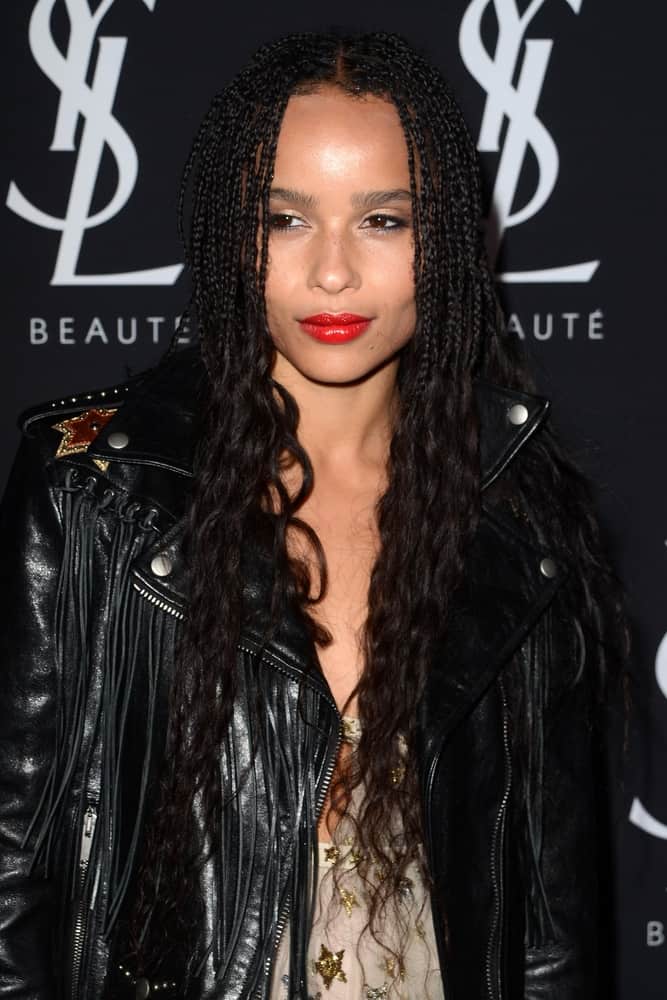 Pros
Premium quality braids

Professional looking curled ends

Easy and quick to install and maintain

Uniform loops and braids
Cons
Very expensive

No flexibility in hairstyles

Single order might be insufficient for full coverage
---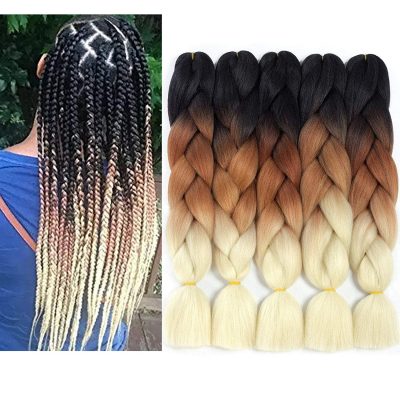 Why we like it:
These box braid extensions come in a massive variety of colors, both natural and neon.
Editor's Rating:
Quick Facts
Length: 24 inches
Colors: 13 ombre patterns, from black and pink to blue
Texture: Straight
Amount: 5 packs of 8 braids
There's something to be said about making hair extensions available for all budgets, and Sunhour does just that. Although these aren't the best box braids hair extensions you'll find online, they do happen to cost only half as much as the other brands and for the price paid, serve their purpose.
Besides the natural black, the other 9 color variants offered are all ombre patterns in various shades. If you're looking for fancy colors and frequent changes, these are the hair extensions you should go for.
Although the colors are beautiful and the length decent, the lower halves of the Braids aren't perfect. The finishing isn't up to the mark, and even after the ends are dipped, they look like synthetic thread braids. Otherwise, they sit lightly and blend well with natural hair, can be installed easily though they require a little more than regular maintenance. You will need at least a 6 pack order for full head coverage.
There's also the problem with the peculiar odor – plastic like, but following the washing instructions carefully can help you eliminate most of it. You'll need to use a lot of products to keep them looking nice and fresh else they'll tangle and unravel easily. These aren't pre-stretched so you will have to do that before use to get maximum coverage.
Pros
Affordable

Lovely colors and ombre combinations

Soft to touch

Lightweight
Cons
Braids look synthetic

Plasticky odor

Tangle easily

Require extra maintenance

Not pre-stretched - time consuming to braid
---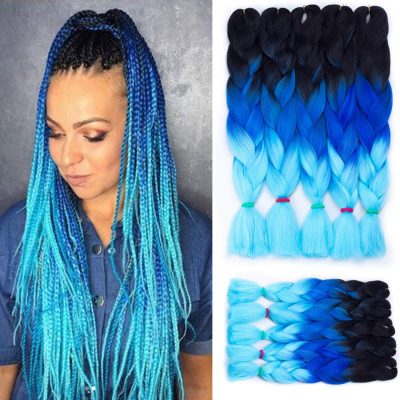 Why we like it:
These hair extensions offer a wide range of colors, many in attractive ombre patterns.
Editor's Rating:
Quick Facts
Length: 24 inches
Colors: 10 bold, dyed colors
Texture: Straight
Amount: 5 packs of 8 braids
Liyate offers ten different hair colors and ombre color combinations for your box braids. Once braided, the end result is fantastic with standout colors and lovely looking braids. The hair is soft to touch, comes pre-stretched, and once they're ready to be braided, you'll find them very easy to work with. Each order contains packs of 5, but this quantity is insufficient for a full head of braids, and you'll need to order more than one pack at a time.
However, the hair themselves pose a lot of problems with a sharp odor, frequent tangles, difficulty in separating them, and causing irritation to the scalp and skin for those with sensitivity issues. There's no problem with shedding or staying power even though the braids might sometimes come undone. These issues could also be the result of inconsistent manufacturing/supply and it depends on your luck whether you get a good product or a faulty pack.
Pros
Wide variety of colors to choose from

Beautiful braids with a polished look

No shedding

Long-lasting

Facilitates fast braiding once it's ready to be used
Cons
Not enough hair included in these packs, need to order multiples

Scalp gets a little itchy

Might cause breakouts if you have sensitive skin

Works out more expensive than other hair extensions
---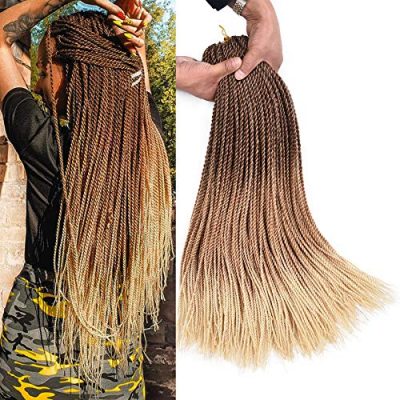 Why we like it:
These pre-braided box braids are quick and easy to install and totally frizz-free.
Editor's Rating:
Quick Facts
Length: 24 inches
Colors: Black and grey, brown, blonde, and pink with highlights
Texture: Yaki
Amount: 6 packs of 30 braids
These box braids do not require any actual braiding, and can be crocheted on with ease straight out of the pack. Since they're pre-braided, there's no issue with tangling, loose ends, unraveling braids, and so on. Not only are these long-lasting, but you can also take them out, wash them thoroughly, and wear them again. You can swim, play in the water for extended periods, and the hair still won't become frizzy… the best hair extensions for those who indulge in underwater activities regularly.
Each order includes 6 packs of hair with 22 strands per pack. One order is quite sufficient to provide decent full head coverage. Order two packs if you're looking to create fancier hairdos. Sometimes, the lower halves of the braids start unraveling leading to itchy shoulders.
Unfortunately, they're a bit smaller than advertised, and they're just not as well made as they should be. They tend to unravel, and once that's happened the loose strands will be a nuisance.
Pros
Quick and easy to install

Evenly braided hair extensions

Can be washed and reused

No frizz and no tangles

Smooth, silky finish
Cons
Braids are smaller than advertised

Problems with unraveling braids

Unraveled stray strands lead to itchy shoulders
---
Guide to Choosing the Best Hair for Box Braids
With so many options available, it can be difficult to choose the perfect hair for your box braids. In order to make your purchasing decision a bit easier, keep the following in mind. If you can, go for 100% kanekalon hair that's flame retardant. It might be a little heavy on the pockets but you'll notice a stark difference in the look, feel, and texture of the hair and your box braids.
Once you've purchased the perfect hair, keep the following tips in mind.
The longer the hair length, the easier it is to work with. You can cut and style your hair according to your needs. Shorter hair will limit your flexibility.
It's better to get your hair braided by a professional at a salon if you've never had box braids before.
Always brush the hair extensions and fluff them out until the hair are uneven before you start braiding them. You can also use some product here to make them more pliant and add a touch of healthy sheen to your braids. Ensure that the hair isn't tangled before you start braiding.
If you want uniform and even-sized braids, you can part them into equal-sized bunches beforehand, unless you are a professional and can judge the thickness of the bunch by experience. Handle the hair from the top where it loops so it stays manageable and tangle-free.
Box braids are a protective hairstyle that's meant to protect your natural locks so go easy on the heat treatments, trimming the flyaways, burning the ends, and dipping lest you end up harming your natural hair. Do not braid the hair too tightly, especially at the base, as this could damage your roots. Using the half-moon technique, instead of square boxes resembling bricks laying on top of one another, to part the roots is the upgraded version of creating more polished looking box braids.
Divide the hair extensions strands into three equal parts to get evenly braided hair without lumps and bumps. Let the first braid be a trial to determine the thickness of the braid, how many strands you need to use, and how small or big your hair partings should be.
Use a hair gel, jam, or similar product to keep the flyaways in place and keep the hair together.If you are cutting off the strands that stick out, or melting or burning the ends, make sure that you start below the point where your natural hair ends so as not to cause any permanent damage. Keep a towel or two handy when you're dipping and sealing the ends.
Frequently Asked Questions About Hair Extensions
What Are Hair Extensions?
Hair extensions allow users to create a wide variety of hairstyles, braid and blend their natural hair with these extensions, and maintain hairstyles that are easily manageable from a few weeks to a month or two. There are as many different types of hair extensions that vary in colors, textures, looping styles, stretching styles, fibers used, and so on, as there are techniques of installing and incorporating them with natural hair. Box braids are one of many such popular techniques.
What Is Kanekalon?
Collagen protein is used as raw material to make kanekalon hair fibers, also known as synthetic polyethylene-terephthalate fibers. Since collagen is the base material used to make these fibers, they closely resemble the texture, feel, and look of natural hair. Kanekalon hair extensions like the XCHSLB Crochet Box Braids Hair blend thoroughly with natural hair giving the impression of wearing long healthy natural braids. They are easier to maintain, and once braided in, they can be worn for a month or two.
If we break them down to their basics, both are plastic hair. But through complex chemical and heat-based treatments, they're modified to be lightweight, have bounce and shine like natural hair, and be soft and pliable so they can lend themselves to various hairstyles. Synthetic hair extensions are artificial fibers that are glossier than natural hair and look less authentic than kanekalon hair. Kanekalon hair is also synthetic, but, as explained above, use a naturally occurring collagen protein as their base. As far as the quality of synthetic fibers goes, kanekalon comes on top of other synthetic fiber hair extensions. Another advantage of kanekalon hair is that the braids do not unravel as easily as they do with synthetic hair fibers, so you can wear them for longer periods.
What Is Flame Retardant Hair?
Since hair extensions are made of synthetic polymers, they're at high risk of easily burning through when exposed to excessive heat. This is why most hair extensions these days incorporate flame retardants like Nofia to reduce the chances of them getting crisped.
Fibers used in kanekalon hair are inherently flame retardant owing to the flame retardant resin used in its manufacture. Note that flame retardant isn't the same as heat resistant. Flame retardant implies that when exposed to excessive heat, this hair will reduce the instant dissipation of heat thereby lessening any potential damage.
What's the Advantage of Using High Temperature Resistant Fibers in Hair Extensions?
Using high-temperature resistant hair extensions will give you the flexibility of changing your hairstyle, giving your hair the heat treatment to set in curls, loosen curls, crinkling hair, and so on. You can reset them to any natural hairstyle as long as they're properly moisturized and conditioned, aren't subjected to excessive heat that can damage their structure, and are generally well maintained.
What Is Meant by 'Dipping', 'Sealing', and 'Burnt Ends'?
Unlike natural hair, synthetic hair cannot hold braids as well due to their silky texture and plastic base. In order to prevent the braids from unraveling, you have to seal the ends. This is done by dipping them in extremely hot water. The high temperature of the water melts the braids' ends and fuses the hair so the braids do not come apart. This is called 'Dipping'. The melting and fusing of the ends is called 'Sealing'. When you're sealing the braid ends, ensure that the braids are straight so the different braid ends do not melt together and get tangled.
You can also use a slip knot to seal the ends, but the knots look unprofessional and stand out. The dipping method can also be used to create casual quick box braids with long loose ends. If the water used for dipping isn't hot enough – up to the temperature mentioned on the box, the hair won't fuse and seal properly. Always be careful with this step as it's important to seal the braids in yet also a safety hazard if proper precautions aren't taken—and be sure to use a product that tolerates dipping well, like the Difunee Pre-stretched Braiding Hair.
Some synthetic hair extensions come with the instructions to burn the ends to seal them. In such cases, you braid the hair till the end, burn them slightly to fuse the ends, and then chop off the ends to make them uniform in length.

What Are the Different Kinds of Textures That Are Available for Box Braid Hair?
Synthetic hair is available in several different finishes, all of which are variations of either yaki hair or straight hair. Kinky, curly yaki hair like that in the XCHSLB Crochet Box Braids Hair resembles untreated Black hair, while the straightened hair that products like the X-pression Premium Original Ultra Box Braid Extensions use, as the name suggests, looks like hair that has been run through a hair straightener.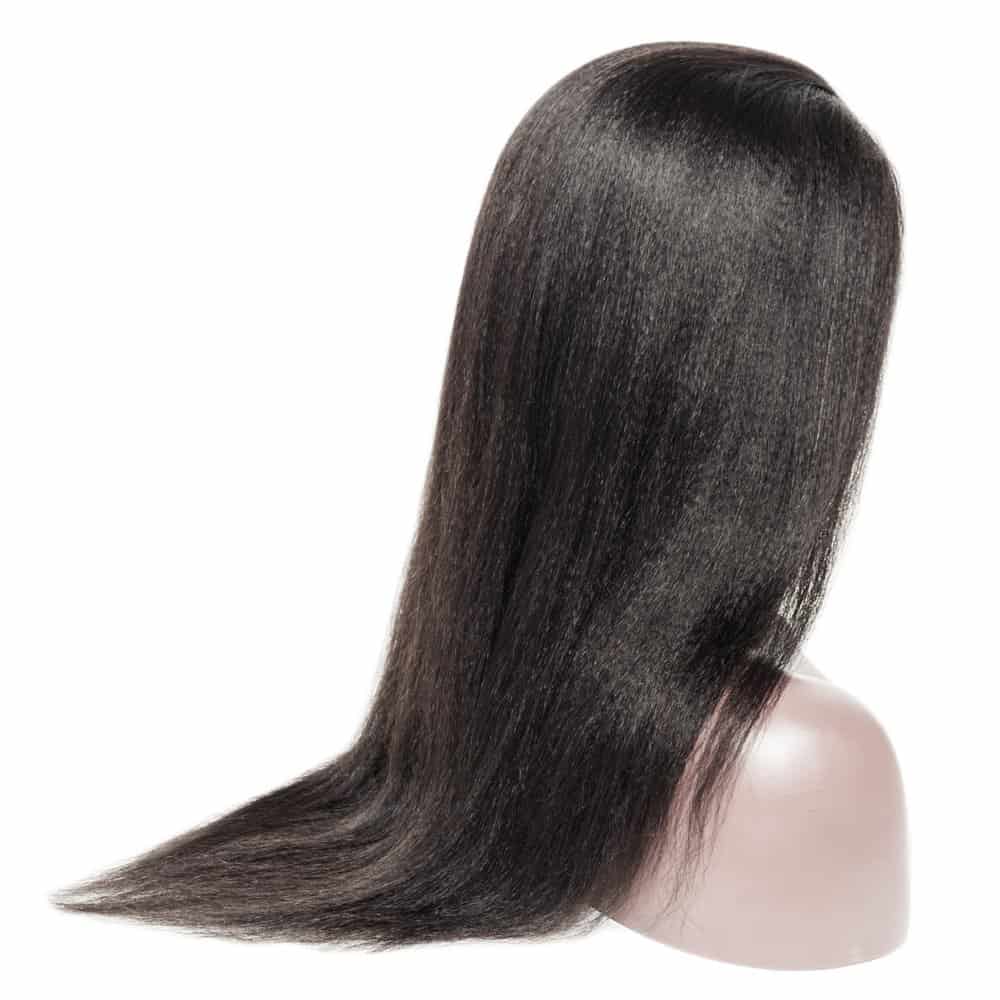 How Long Does the Braiding Process Last?
This depends on the type of natural hair you have, the kind of hair extensions you're using, the thickness of the braids, and their length. While a head full of micro braids may take hours and hours of patient sitting, jumbo braids would take less time than average. Regular box braids take anywhere from 6 to 8 hours if you are using regular hair extensions. Pre-stretched and pre-looped hair will cut out the braiding time further whilst pre-braided box braids that need to be crocheted take the least number of hours. You'll definitely have to set aside a minimum of 4 hours if you want box braids.
Where Can I Learn to Create Box Braids?
You can watch this easy tutorial to learn the right technique to create box braids from regular hair extensions.
If you're going for crochet hair, you might want to watch this video to learn how to use the rubberbands method to crochet box braids.
And here's a video tutorial for those who are using pre-braided hair with cornrows.
What Else Can I Do With My Box Braids Besides Letting Them Down or Tying Them up in a Bun?
You can find a wealth of inspiration online when it comes to the things you can do with box braids. From creating different box patterns to hairstyles beyond counting, there's no dearth of possibilities when it comes to making your box braids work for you. Here are just a few different hairstyles for you to get inspired and begin your box braids adventures.
Wrapping Up
Box braids are so popular as they do not require a lot of maintenance even if the initial process takes hours. Once you have the braids in place, you don't have to worry much about your hair for a good month or two. They are easy to maintain with proper care and can be worn all year round. They also lend themselves to such varied and versatile hairdos that you can have a new hairstyle every month. Use the list and reviews above to choose the right kind of hair extensions and get your salon appointment for installing your box braids now!