Top 10 Best High Waisted Leggings 2023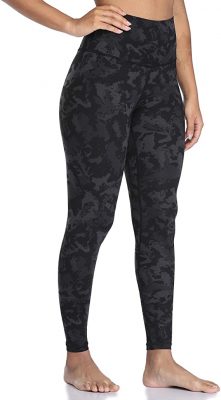 Quick Facts
Fit: True to Size
Fabric: 75% Polyester, 25% Spandex
Cut: Full-Length
Review
Colorfulkoala Leggings are super comfortable and very soft. Their light compression and seamless waistband attract new moms who are still shedding their baby weight, as they help flatten and support the tummy during vigorous work-outs or day-to-day activities. They're super flattering thanks to their butt-contouring seam, which basically shines a spotlight on your derriere. Better yet, if you're someone who enjoys hefty work-outs but hates sporting leggings that show everything from sweat stains to cellulite, Colorfulkoala Leggings are your new best friend. They're sweat-proof and non-see-through so hide anything you don't want people to see.
Since they're made with a blend of polyester and Spandex, these leggings are somewhat prone to lint and pilling issues. This is especially true for those of you who have pets. However, a quick swipe from a lint brush is an effective solution. To find out more about pilling and how to prevent it, check out our guide.
Extras
On top of being available in an array of different colors, Colorfulkoala Leggings are also known for offering a light compression. Better yet, they have a secret waistband pocket — perfect for storing your keys during work-outs.
---
2.

Best Medium Compression High Waisted Leggings

PHISOCKAT Leggings

Quick Facts
Fit: True to Size
Fabric: 77% Polyester, 23% Spandex
Cut: Full-Length
Review
PHISOCKAT Leggings are quickly becoming one of the most beloved legging brands. It doesn't matter if you're fifty-five or eighteen years old — these leggings will make you feel supported and slim. They're made with a super soft fabric that is comfortably thin without being see-through. However, it's important to note that some of the lighter colors available may be a little sheer, especially if the size runs small.
These leggings offer a medium compression along the tummy section, making them ideal for anyone who has gone through a weight loss journey, or anyone who wants to suppress their stomach area while giving their booty a nice lift (who doesn't, right?).
These leggings will keep you dry whether you're jogging through the streets or lifting weights at the gym. One thing to note is that if you plan on using leg bands during your work-outs, we recommend going with Colorfulkoala Leggings instead. This is because PHISOCKAT Leggings don't have the strongest leg seams and leg bands can cause them to tear.
Extras
PHISOCKAT Leggings are available in dozens of fun colors. They're decked out with pockets, making them stand out from the rest. They have a pocket on each leg — big enough to fit the average smartphone. On top of that, they also offer medium compression while harboring a small and secretive pocket, ideal for keys, on the inside of the waistband.
---
3.

Best High Waisted Leggings For Yoga

Ewedoos Leggings

Quick Facts
Fit: True to Size
Fabric: 75% Polyester, 25% Spandex
Cut: Ankle-Length
Review
How can a pair of leggings be both flexible and roomy at the same time? We don't know, ask Ewedoos! If you consider yourself a yogi or a work-out enthusiast, you're probably on the prowl for a pair of leggings that are thick enough not to be see-through but thin enough to stretch in all directions — without them bunching up and rolling down at the waist. Well, look no further, because Ewedoos Leggings do just that. They also offer light compression around the tummy. Who doesn't love a flattering pair of leggings?
Despite all of their pros, we have to keep in mind that these high waisted leggings are more like medium-high waisted leggings. And, since they are ankle-length, they might come off as a little short to you tall ladies out there. Lastly, since they are cut from a thicker cloth, they don't do much to suppress sweating.
Extras
If you thought the PHISOCKAT Leggings had a stellar pocket-situation, wait until you hear about the Ewedoos Leggings. They have two pockets on each leg — and deep ones, too! While the side pockets are perfect for storing earbuds, smartphones and more, the secret waistband pocket is ideal for spare change, credit cards, and keys!
---
4.

Best Versatile High Waisted Leggings

Dragon Fit Leggings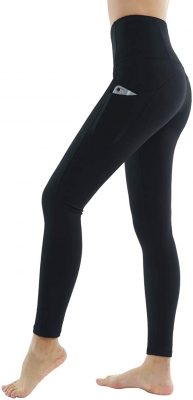 Quick Facts
Fit: Sizes Run Small
Fabric: 88% Polyamide, 12% Spandex
Cut: Ankle-Length
Review
Slipping on a pair of Dragon Fit Leggings is comparable to wearing a cloud — that's how soft they are. In fact, they're so comfortable they can be worn as regular pants. That's partially because they lack compression. Instead of compression, Dragon Fit Leggings have a waist-shaping band that does a lot to slim down and elongate the figure. Although most people enjoy using these leggings as everyday pants, you can wear them to the gym no problem. They're breathable, and they don't roll down at the waist. But beware, if you do wear them out, you're sure to receive a compliment or two.
However, keep in mind that these leggings aren't the best for work-out enthusiasts who enjoy squatting like there's no tomorrow. They will become a little see-through, especially in natural light. But that con fades into the background once you pair them up with tunics or long T-shirts. You can sidestep this issue altogether by ordering a darker color or wearing neutral undergarments.
Extras
Unlike Lingswallow Leggings, Dragon Fit Leggings offer extremely deep pockets that can fit large smartphones. They also have a secret waistband pocket.
---
5.

Best High Waisted Leggings For Low-Impact Work-outs

Lingswallow Leggings

Quick Facts
Fit: True to Size
Fabric: 77% Polyester, 23% Polyurethane
Cut: Ankle-Length
Review
Lingswallow Leggings were designed for people who enjoy intense gym work-outs. They're made with breathable fabrics that keep you feeling fresh and dry no matter how many hours you put in at the gym. If you've been betrayed by see-through leggings before, you'll be happy to know that Lingswallows are the furthest thing away from sheer. These leggings will keep you feeling tucked in and supported despite their low amounts of compression.
That said, they aren't exactly ideal for runners. This is because they're known to slip down at the waist during high-impact activities. If you're a jogger, we would highly recommend checking out Ewedoos Leggings instead. Their waistband doesn't roll down and their pockets are a lot roomier.
Extras
The Lingswallow Leggings have medium-sized pockets on each leg (5 inches deep), and a small pocket on the waistband which fits a debit card or other small items.
---
6.

Best Budget High Waisted Leggings

Leggings Depot

Quick Facts
Fit: True to Size
Fabric: 92% Polyester, 8% Spandex
Cut: Full-Length
Review
If you dream of owning a collection of high waisted leggings that mimic the colors of the rainbow, Leggings Depot is your pot of gold. These leggings are seriously comfortable and they work with your environment, not against it. They're thin enough to keep you cool but thick enough to fight off chills. Yet they won't betray you by going see-through, or revealing panty lines, the second you bend over.
If you're looking for a basic pair of high waisted leggings that you can wear to school, to work or to a friend's house, look no further. However, if you're also thinking of hitting the gym, we would suggest that you look into Colorfulkoala Leggings and Dragon Fit Leggings, they're a lot more versatile!
Despite these positives, they have a tendency to lose their shape. In other words, they don't have the longest lifespan. But hey, you get what you pay for, right? Another thing to note is that these leggings are prone to dye transfers. So, before wearing them, be sure to soak them in water and then give them a good wash to prevent staining — this is especially true for dark colors.
Extras
We chose to feature the Active Flex Yoga leggings option, which does not come with any extras. However, for a few extra bucks, you can select the Side & Inner Pocket Yoga option and get a pair of Leggings Depots with a side-pocket on each leg and a secret pocket situated on the waistband.
---
7.

Best High Impact High Waisted Leggings

ODODOS Leggings

Quick Facts
Fit: True to Size
Fabric: 87% Polyester, 13% Spandex
Cut: 3/4 Length
Review
ODODOS Leggings can easily be mistaken for a high-end brand. They're made with high-quality materials that are designed to fight off sweat. They don't bulk around the waist while running and they don't gap at the waist while performing squats either. Their elastic enclosure helps shape the body while their low compression does a lot to tuck everything in. They're super flexible and comfortable, making them a top contender for everyday activities like hanging out, walking and jogging.
Despite being advertised as non-see-through, that isn't exactly the case, which is why they aren't the best for yoga. If you want a chic pair of leggings that will make you stand out in any yoga setting, we would point you towards Ewedoos Leggings. ODODOS Leggings can also be a little loose around the ankles, and they tend to be less high waisted than the other leggings on this list. The fact that their seams sometimes miss the mark of perfection is also an issue.
Extras
ODODOS Leggings are known for their huge pockets, which can hold a large smartphone and more. If capri leggings aren't your thing, ODODOS also offers these leggings in the full-length style.
---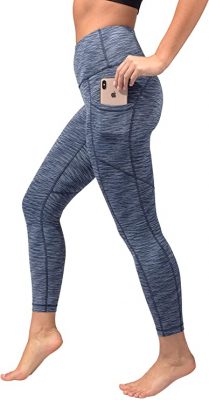 Quick Facts
Fit: True to Size
Fabric: 76% Polyester, 24% Spandex
Cut: Ankle-Length
Review
It's easy to feel like a celebrity when you're in a pair of 90 Degree Leggings by Reflex. One of the best things about these leggings is their super high waisted tummy control. This is made possible by their unique 4-inch waistband that helps keep everything where you want it to be. It's definitely a confidence booster. If you're someone who puts in extra work at the gym and constantly works up a sweat, 90 Degree Leggings will help with moisture control. Better yet, they're stretchy but non-see-through!
If you're thinking that these leggings sound too good to be true, you're not wrong. When ordering darker colors, you need to soak and wash them separately before wearing them to prevent them from staining your skin or surrounding materials. These leggings also have the tendency to bear loose threads, especially around the buttock area which can pose problems down the line, quite literally.
Extras
On top of offering two medium-sized smartphone pockets and a hidden key pocket, 90 Degree Leggings also come with a high waist tummy control waistband.
---
9.

Best Everyday High Waisted Leggings

SYRINX Leggings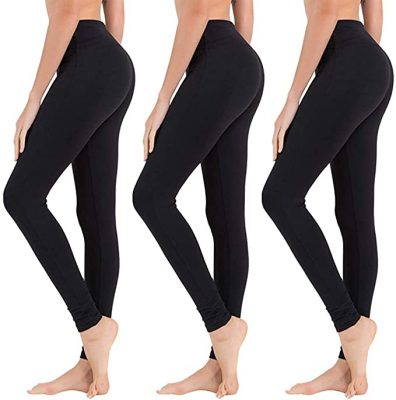 Quick Facts
Fit: True to Size
Fabric: 92% Polyester, 8% Spandex
Cut: Ankle-Length
Review
Although you wouldn't call SYRINX Leggings work-out leggings, that's not to say that you can't go for long walks or play a match of badminton in them. In truth, these are the type of leggings you would wear on the daily. They're super comfortable and are made with a cotton-blend fabric that doesn't do much for sweat control. What sets these apart from typical leggings is their full elastic wide waistband, which helps tighten the waist and shape your curves.
Like most everyday leggings, SYRINX Leggings tend to pile and can become quite sheer the more you wear them. Furthermore, they can't be used during high impact sports, and they have a tendency to cling to the body, which can be a nuisance if you have larger thighs. For anyone looking for everyday leggings that also happen to be gym-friendly, we suggest setting your sights on Dragon Fit Leggings instead.
Extras
SYRINX Leggings are built-in with wide elastic waistbands that promote tummy control.
---
10.

Best High Waisted Leggings For Cycling

SATINA Leggings

Quick Facts
Fit: Sizes Run Small
Fabric: 92% Polyester, 8% Spandex
Cut: 3/4 Length
Review
SATINA Leggings are so soft and comfortable you might feel the need to sleep in them. They can easily be worn in numerous social settings, like school or work. They have a large waistband that offers extra support but doesn't roll down. SATINA Leggings are also known for their incredible stretching abilities. It's easy to see why these leggings are loved by the cycling and hiking communities.
The issue with these is sizing. Only two sizes are available: one-size-fits-all and plus-size. If the wrong size is selected, these leggings can come off as sheer, which is why measuring yourself before placing your order is a must. It's also worth mentioning that some seams may be loose. However, this isn't the case for every pair you order.
Extras
SATINA Leggings come with a thick waistband that helps with tummy control. These leggings do not come equipped with pockets, which is also the case for the full-length option.
---