Level up your makeup game with the perfect bronzer brush! Bronzer is a magical makeup product that offers a surprising amount of versatility, but only as long as you use the right brush. It can give you a hint of sunkissed glow, sculpt your features, or make you look like a bronzed goddess. The secret is in the application! Whether you're a lover of glowy creams or matte powders, this article is all about finding you the bronzer brush that'll work with your favorite makeup and bring your features to life.
Things to Consider When Buying a Bronzer Brush
The best bronzer brushes are not always explicitly marketed as such – you are actually looking at a wide range of complexion brushes as an option! Here are a few things to consider when choosing a bronzer brush, although we get into it in even more detail later on.

The Right Level of Firmness
Some brushes are soft and pliant, while others are a little more firm and sturdy (though the bristles themselves still need to be soft on the skin, as we explain below). Keep in mind the benefits of each firmness level as you read our reviews:
Low firmness is best for diffused applications of powder bronzer.
Medium-firm brushes give a heavier application of powder, can work with creams, and are great for blending.
Very firm brushes are ideal for heavier applications of cream bronzer.
In each review, we'll mention the firmness level as well as what kind of bronzer each brush applies best. Not sure where or how to apply bronzer? We discuss technique after the reviews.
Size Matters
It's not always easy to tell how big items are in photos, which is why we mention brush size in each review. You should choose a brush size that will correspond with the size of the features you would like to enhance. If you use bronzer all over the face, a larger brush will be more convenient, while if you use it on small areas, a smaller brush will be more suitable. We get into this in more detail below.
What Makes a Good Bronzer Brush?
While some brush features depend on your personal approach to applying bronzer, the following features are very important in every bronzer brush.
Gentle Bristles
Applying bronzer with a scratchy brush is one of the most unpleasant experiences we can imagine. That's why we only selected uber-soft brushes that'll feel like a gentle caress upon your skin. Though they vary in firmness levels, they are each made with carefully-crafted bristles that feel velvety to the touch.
Durability
A durable and well-made bronzer brush can last in your makeup bag for a good few years (as long as you take good care of it). With poorly made brushes, the connection between the base and the ferrule (the metal piece that attaches the bristles to the handle) often feels a little wobbly, and it can break off easily. It will need replacing after just a few months, so while it might be cheap in the short term, it'll cost you more in the long term. That's why we discuss construction in each one of our reviews.
Non-Shedding
Another important feature we look for is a bronzer brush with bristles that stay intact, even after months or years of use. Low-quality bristles can break off and shed on the face, sometimes only after one wash! This is a problem for two reasons: first, removing bristles from your face after you've finished your makeup is a hassle, and second, after enough bristles break off, the brush will become rough and scratchy.
Style
Doing makeup with pretty brushes makes the whole process a lot more fun, so we took style into account when reviewing brushes. Style is subjective: you might prefer a more playful and bright design, or you might prefer brushes with a sleek, professional look. If you're looking to complete your existing brush collection, you might want a bronzer brush with a similar design to the ones you already own.
Vegan
A few decades ago, there were no good alternatives to animal hair brushes. They were considered the best and the softest. However, the industry has come a long way in producing vegan and cruelty-free brushes. Synthetic bristles are nearly indistinguishable from animal hair ones but they're more durable and hygienic, and they work with both creams and powders. That's why our list only includes vegan brushes.
Now that you know what to look out for, here are our reviews of the best bronzer brushes for every kind of bronzer and makeup style.
Top 10 Best Bronzer Brushes 2023

Why we like it:
This brush is perfect for applying a diffused wash of powder bronzer all over the skin. It's gentle yet it allows for a speedy makeup application. The construction is impeccable, so it'll last for a long time.
Editor's Rating:
Quick Facts
Works Best With: Powder Bronzers
Size: Very Large
Firmness Level: Low
Style: Peach Handle and Ombre Bristles
Application
It's a known fact that it's impossible to go wrong with a Real Techniques brush. The brand was started by two amazing makeup artists who wanted to make affordable but high-quality brushes at a time when that was a very rare thing.
The brand offers a few different brushes appropriate for bronzer, but we decided to start with this one because it's a good fit for a simple, all-over application of bronzer. It's large and soft with a domed head, and using it is like brushing your face with a cloud!
The bristles have a lot of give, so as a result it picks up and deposits a small amount of product over a wide space. This is perfect for applying a sheer layer of bronzer over larger areas of the face or even the collarbone and chest. It's very convenient if you're in a rush since you don't have to blend after using it.
If you're a fan of a more precise or sculpted look, this is not the brush to choose since it doesn't give a lot of control. If you'd prefer something equally soft but smaller, the Wet n Wild Blush Brush should do the trick.
Construction
This brush is exceptionally well-made, with durable construction that can hold up even against rough treatment. The bristles themselves, despite being so soft, are sturdy so they don't shed, even after multiple washes. Many users report that this brush still performs like new, even after years of use.
We also like how sturdy and weighty it feels in the hand. All-in-all, it's an amazingly well-made brush, especially considering the price.
Pros
Very soft

Great for a diffused application

Durable and non-shedding

Affordable
Cons
Not suitable for targeted applications
---

Why we like it:
This brush is soft and pliant, for a light yet targeted bronzer application. It's especially suitable for beginners. It looks pretty, has pretty effects, and it is ridiculously affordable.
Editor's Rating:
Quick Facts
Works Best With: Powder Bronzers
Size: Medium
Firmness Level: Soft
Style: White Handle and Pink-Tipped Bristles
Application
Wet n Wild used to be seen as a cheap makeup brand for younger girls, but they've had a significant overhaul in quality over the last few years (without a price increase!). The result? They've made one of our favorite bronzer brushes, and it costs less than a fancy latte!
This brush has a unique shape that isn't apparent in photos. Though it may look like it fans out evenly on all sides, it's actually a little flat, like a mix between a fan brush and a traditional round blush brush. This makes it awesome for bronzer especially along the cheekbones, bridge of the nose, or temples.
It's extremely fluffy, so even though it gives a more targeted application, the result is still going to be sheer and natural-looking. This is great for newcomers to makeup who are more at risk of overdoing the bronzer. We could see this brush being a lovely gift for a teenager. It'll work nicely with both matte bronzers for light contouring as well as with shimmery ones for a glowy look. It's the kind of brush you can easily own multiples of, to also use with blush and highlighter.
Construction
This brush is durable and long-lasting, for the most part, although it doesn't feel quite as hefty as Real Techniques Powder & Bronzer Brush. We don't expect it to break if dropped once or twice, for example, but it might not stand up to regular stress from being jostled in a makeup bag.
The bristles themselves are fantastic – they keep their shape and softness after repeated washings and they never shed. If you take good care of it, you'll be able to use it for a very long time.
Because both the handle and most of the bristles are white, they are more likely to get stained (especially with a dark product like bronzer). We don't expect it to stay looking pristine for long, although that doesn't hurt its longevity at all.
Pros
Very affordable

Fluffy and soft

Perfect for a natural-looking bronzer application

Fantastic for beginners
Cons
White color can get stained easily
---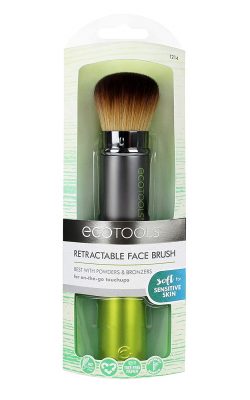 Why we like it:
This versatile and convenient brush is also eco-friendly! It works with both creams and powders in a few different ways and comes in a retractable package that keeps the bristles protected during travel.
Editor's Rating:
Quick Facts
Works Best With: Powder and Cream Bronzers
Size: Large
Firmness Level: Medium
Style: Silver Base, Metallic Green Lid, and Brown Bristles
Application
This is a relatively large, round brush with a medium-firm, flat top, which makes it very versatile. It can be used with both creams and powders for all kinds of application styles. You can hold it on a slight angle to get a more sculpted look or buff it all over to warm up your face with a cream bronzer. It's also awesome for blending out harsh lines!
The only use for which we don't recommend it is if you'd like to apply a powder bronzer all-over. In that case, the Real Techniques Bronzer Brush will be a better fit since this brush may dispense too much powder on the skin.
Beyond bronzer, it could even work for applying foundation or setting powder (though you'd have to clean it between steps). Even though the brush itself is a little firm, the bristles are soft and gentle on the skin.
If you are looking for this versatile level of firmness, but would prefer a smaller brush, EcoTools also has a Precision Brush that might be better for you.
Construction
EcoTools is owned by the same company as Real Techniques, and the quality is comparable. The construction is durable so it holds up well for a long time without breakage or shedding.
The retractable design, in combination with the cap, makes for a truly convenient brush. It takes up very little space and the bristles are always protected, so it's the ideal travel brush, especially if you use it for a few different steps.
The base of the brush is very short and light which keeps things compact, but it isn't comfortable for everyone. Combined with the design, which we find unattractive, it doesn't feel "luxurious." It seems to us that EcoTools prioritized function over form with this brush, although we really appreciate that the packaging and some of the brush elements are made of recycled materials.
Pros
Extremely versatile

Compact and convenient for travel

Durable and long-lasting

Made with recycled materials
Cons
Design isn't aesthetically pleasing or luxurious

May not be comfortable to hold
---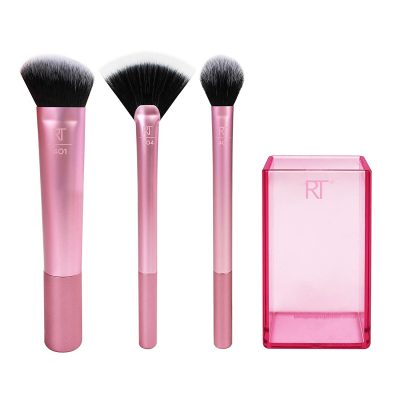 Why we like it:
You don't have to do your bronzer the same way every day, but especially not if you get this versatile set of 3 affordable, high-quality bronzer brushes.
Editor's Rating:
Quick Facts
Works Best With: Powder and Cream Bronzers
Size: Various
Firmness Level: Various
Style: Pink Handle with White-Tipped Black Bristles
Application
Real Techniques continues to impress with a brush set that gives you application options while also saving you money per brush.
We've introduced a few different styles of bronzer brushes, but if you find it difficult to choose just one, consider buying this set. The firm angle brush is ideal for face-sculpting applications of either cream or powder bronzer. It's tightly packed, so it deposits a lot of product to a specific part of the skin.
Next is a small "setting brush" with medium firmness. It's awesome for applying a medium amount of bronzer to smaller areas of the face, like around the nose or under the cheekbones. If you have a shimmery bronzer, it's also lovely on the highpoints of the face.
Lastly is the super-pliant and delicate fan brush, which gives a diffused yet targeted bronzer application. It also works well for highlighter or blush, and it's a must on those days when you want an extremely natural makeup look.
Since each brush is so different, it's awesome for beginners who are starting to build their brush collection and are still figuring out their technique and style. It also includes a cup to hold your brushes! However, for some, this set might be too bloated and they may find that they don't use one or two of the brushes at all.
Construction
Real Techniques is the kind of brand that offers very consistent quality. Like their Powder & Bronzer Brush, each brush in this set is durable and non-shedding, although the fan brush might feel flimsy. In fact, many users note that these brushes continue to perform beautifully even after a few years of regular use and washing.
Pros
Three brushes for three bronzer application styles

Much more affordable than buying brushes individually

Very durable and long-lasting

Comes with a brush-holder
Cons
Set seems bloated if you don't like all brushes

Fan brush can feel flimsy
---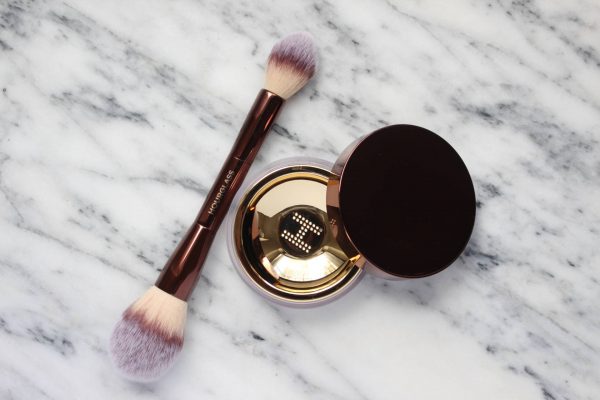 Why we like it:
This is a two-in-one brush for both all-over and targeted powder bronzer application techniques. It's extremely soft so it gives a natural, diffused finish. It might be expensive but you'll feel like a queen every time you use it.
Editor's Rating:
Quick Facts
Works Best With: Powder Bronzers
Size: Large and Small
Firmness Level: Low
Style: Copper Handle with Tricolor Bristles
Application
Hourglass is one of those brands that instantly brings luxury to mind. Their dual-ended brush is normally recommended for setting powder, but we think it's a great fit for bronzer (and beauty guru Jackie Aina agrees with us).
This brush has two ends: a large one for all-over powder application and a small one for precision work. It's a little like having both the Real Techniques Powder & Bronzer Brush and the E.L.F. Small Tapered Brush on the same base, but with a much more luxurious feel.
Both are dome-shaped with ultra-soft and pliant bristles, which makes it fitting for very soft and diffused applications of powder bronzer. Even the small end will give you a soft, shadow-like contour rather than a super pigmented line of bronzer. If you have a taste for luxury but like your bronzer to look a little more opaque on the skin, you might prefer the IT Cosmetics Flawless Blush Brush.
Construction
The construction on this brush is impeccable. It's extremely sturdy but lightweight, and the bristles stay intact after multiple washes. This brush was released in 2018, so it's too early to say if it's a "buy-it-for-decades" brush, but we expect it to stay soft for years of use. The only drawback to the dual-ended construction is that you can't store it upright in a brush cup without possibly hurting one of the brush ends. Instead, it'd be better to store it in a brush bag with elastic holders.
Pros
Ultra-soft for powder application

Small end is great for targeted bronzer application

The large end is great for all-over

Luxurious and well-made
Cons
Dual-ended design makes storage difficult
---

Why we like it:
This small bronzer brush is a crowd-pleaser. It's great for targeted bronzer applications that still look natural, and it's very affordable as a bonus! Because of its black-on-black design, it'll blend in with your high-end brushes.
Editor's Rating:
Quick Facts
Works Best With: Powder Bronzers
Size: Small
Firmness Level: Medium
Style: Black Handle with Black Bristles
Application
This little brush has a big impact, and it's a favorite for contouring with bronzer. It's one of those brushes that, despite being affordable, is considered a favorite even by those who only use luxury products.
Because of its size and medium firmness level it is able to pick up just the right amount of powder for impactfully contouring the area under the cheekbones (especially for a day-to-day beauty look), but without overdoing it.
The color shows up on the skin but without looking too dark or concentrated, so you won't have to blend too much. It feels soft and pleasant on the skin, and it can also work for a slightly more intense application of highlighter or shimmer bronzer.
If you prefer your bronzer to look more soft and sheer, but still want a small brush that'll give you precision and control, you can splurge on the uber-soft dual-ended Hourglass Brush (which also has a larger side for blending) or save with the slightly larger and also soft Wet n Wild Blush Brush.
Construction
This is a solidly made brush, especially when you consider how affordable it is! All of its parts come together tightly, so it's resistant to wear and tear or breakage. It doesn't shed hairs even after it's been washed dozens of times, although the bristles do lose some of their softness.
It's the kind of brush you will want to replace after a couple of years, but considering how little it costs, that's perfectly acceptable. It's also worth noting that even though this brush is very affordable, the black on black design looks totally professional.
Pros
Affordable

Ideal for targeted but natural-looking applications

Looks professional
Cons
Loses its softness over time
---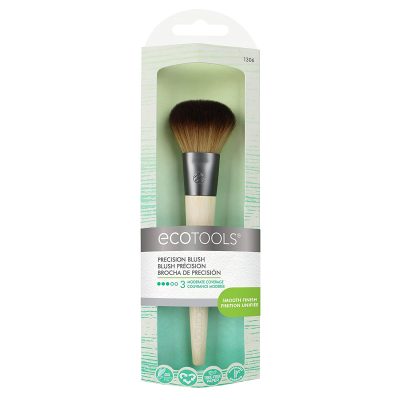 Why we like it:
Elegant and eco-friendly, this brush gives a precise application of bronzer. It works with both creams and powders.
Editor's Rating:
Quick Facts
Works Best With: Cream and Powder Bronzers
Size: Medium
Firmness Level: Medium
Style: Bamboo Handle with Brown Ombre Bristles
Application
This medium-sized domed brush is another EcoTools success. It is a pleasure to use with both cream and powder bronzers. Because the bristles have a medium firmness, it deposits a slightly more concentrated amount of bronzer than softer brushes like the Wet n Wild Blush Brush.
With powder bronzers, it can give a nice pigmented look, while with cream bronzers it is great for an all-over glow. If you have a cheaper bronzer that's not particularly pigmented, applying it with this brush might solve the issue and help it show up! It also works well for blending out bronzer that's been applied with a smaller or firmer brush.
If you find that the EcoTools Travel Kabuki is too big for you, this one is a great alternative, although it's not as travel-friendly.
You can even make this brush work for a more sculpted look by playing with the angle of your application or by pinching the bristles down, although generally, it's better to opt for a small, medium-firm brush like E.L.F.'s Small Tapered Brush.
Construction
This brush is well-built but it doesn't wow us the way other brushes on this list do. In that sense, it's perfectly utilitarian – it does the job, but you don't feel special when you use it the way you might with a heftier or more luxurious brush. It doesn't break easily, but it can lose some of its softness after repeated washings.
We do find this design to be more elegant than the Travel Kabuki, but that's not saying much. We do appreciate that the bamboo handle is made from renewable materials, and we think that if you already have a natural aesthetic then you will really love the design.
Pros
Works with both creams and powders

Increases the intensity of poorly pigmented bronzers

Awesome for blending

Made with renewable materials
Cons
Not as durable as other brushes

Can be too large for sculpting
---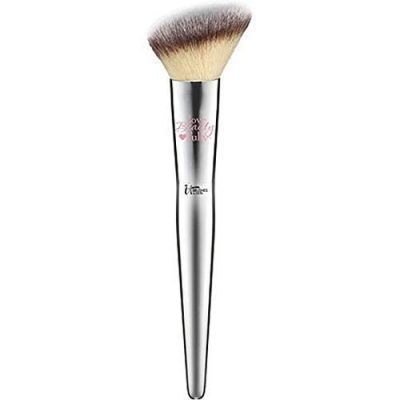 Why we like it:
This classy brush is angled to make contouring with bronzer a breeze. It's hefty and luxurious (albeit with a price to match), and with each brush you buy a second one is donated to women in need.
Editor's Rating:
Quick Facts
Works Best With: Powder and Cream Bronzers
Size: Medium
Firmness Level: Medium
Style: Silver Handle with Ombre Bristles
Application
IT Cosmetics is a brand with incredible complexion products that are well served by their high-quality brushes.
This is their angle brush, and though it's technically recommended for blush, we love it for contouring. Its shape hugs the contours of the face beautifully and makes it easier to get the right angle on your bronzer. It's like a luxury version of the angle brush in the Real Techniques Sculpting Set.
It has medium firmness, which is ideal for most powder bronzer applications, but it's tightly packed so it deposits a touch more color than other medium-firm brushes like the E.L.F. Small Tapered Brush or even the EcoTools Precision Brush. This gives a very intense (potentially even too intense) pigmentation with powders.
The level of density that this brush has is also nice for blending out both powders and creams, and in a pinch, it could easily be your only complexion brush.
Construction
This brush is not only sturdy, but it feels luxurious. No detail was missed in its construction: the ferrule is a little weighted, so it feels solid in your hand, with a rounded edge that gently hugs the bristles and adds confidence that shedding or fall-out will never be an issue. The silvery color of the handle is very pretty and contributes to the luxurious feel.
Admittedly, you could get similar results from some of the more affordable brushes on this list, but there is something magical about using such a beautifully crafted brush. We also want to mention that even though this brush is expensive, you can feel good about it because for each one that you purchase, another will be donated to women undergoing cancer treatment.
Pros
Perfect for contouring and blending with cream or powder

Looks beautiful and feels luxurious

For each brush purchased another brush is donated
Cons
Expensive

Slight risk of overapplying powders
---

Why we like it:
This iconic brush is usually meant for foundation, but this means that it's also great for cream bronzer. It gives a seamless application and allows for a lot of versatility.
Editor's Rating:
Quick Facts
Works Best With: Cream Bronzers
Size: Medium
Firmness Level: High
Style: Black Handle, Silver Ferrule, and White-Tipped Brown Bristles
Application
This is the perfect brush for the liquid bronzer fanatic. It's technically a foundation brush, but we firmly believe that rules are meant to be broken! It's medium-sized, so it can work for both precise and all-over applications.
When used with cream bronzers, this brush can initially deposit a lot of product but it also blends it out well. This gives you a lot of control over the finish of your bronzer. It'll take practice to work with it quickly, but if you like to take your time with your makeup it'll be nice right from the start.
Even though the shape is so different, it's comparable to the Beauty Junkees Angled Kabuki Brush, since both have a flat top. Because the F80 is rounded it does a better job of buffing and blending cream products all over the skin while the angle brush is slightly better for contouring.
Construction
This brush is nice and durable, with a design that looks totally professional. A lot of makeup artists keep it in their kit for that exact reason! It holds up very well for a very long time, although it's not the weightiest brush.
However, the price is just a touch higher than it needs to be in relation to the build quality. Brands like Keshima have released cheaper dupes of this brush, but their quality isn't consistent so we prefer to stay true to the original.
Pros
The best brush for cream bronzer

Durable, professional design

Great for both contour and all-over bronzer

Gives the user a lot of control
Cons
A touch pricy for what it is

Only works with creams
---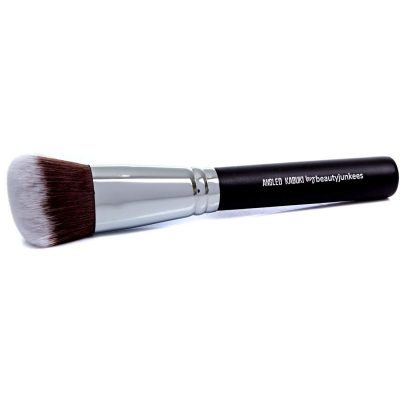 Why we like it:
Though not always consistent in quality, this kabuki brush generally does a good job of applying cream bronzers, especially when you're aiming for a sculpted look.
Editor's Rating:
Quick Facts
Works Best With: Cream Bronzers
Firmness Level: High
Style: Black Handle, Silver Ferrule, and Ombre Bristles
Application
Beauty Junkees is an extremely popular brush brand with thousands of loyal fans, although it hasn't gotten a lot of attention from traditional beauty gurus.
It's a firm angle brush that is slightly similar in shape to the IT Cosmetics Blush Brush. However, it has a flatter top and firmer feel, which makes it a little more convenient if you work primarily with creams. You can use it to buff in a creamy bronzer around the perimeter of your face for a diffused bronzed look or to create a sharp cheek contour!
The size and firmness are similar to Sigma Kabuki, although the angle of this brush makes it a better fit for contouring. When it comes to powder products, it will still work in a pinch, but you will have to be very careful not to pick up too much product on the brush.
Construction
There isn't a lot of information about how or where Beauty Junkee brushes are made, and the design is quite generic. This brings us to the conclusion that it's a white label operation. Because of that, the brush quality isn't always consistent.
Most of the time, the angle brush is extremely well-constructed with a durable build, but it's not unusual for buyers to get a dud that falls apart or sheds after the first wash. Thankfully, Beauty Junkees is great with exchanges and returns, so it's not a big risk to buyers. You may also notice an odd smell when you first open it, although it'll go away once you wash the brush.
Pros
Great brush for cream bronzer

Angle makes contouring easy

Great customer service and easy exchanges
Cons
Inconsistent build quality

Odd smell when first taken out of package

Too firm for powder products
---
How to Choose the Bronzer Brush of Your Dreams

There are so many amazing bronzer brushes for you to choose from, and each one is so different! In this section, we'll help you determine which brush will be best for your individual needs.

The Best Size for You
As far as we're concerned, any complexion brush can work beautifully as a bronzer brush, as long as it's the right size for your particular bronzer technique. We broke the sizes down into small, medium, and large within the context of complexion brushes (eye makeup brushes are obviously going to be much smaller).
Small
If your bronzer application is really focused on precise contouring then a small brush is a must! With a small brush, you can get into the smallest hollows of your face, so they're especially convenient for applying bronzer to the sides of the nose. They also give a very thin line under the cheekbone, which can look very soft and pristine.
If you like a very precise look or you have tiny features, the smallest brush on our list is the E.L.F. Small Tapered Brush.
Medium Brushes
Medium-sized brushes are ideal for applications of bronzer over the high points of the face or around its perimeter. They also work well for faster contouring under the cheekbones, under the jaw, or at the temples, though they're too large for contouring the nose. Because of this versatility, most of the brushes on our list are medium sized!
Our favorite medium-sized bronzer brush is from Wet n Wild, followed by the EcoTools Precision Brush.
Large Brushes
Large brushes are normally used for setting powder, but they can work well if you like to use bronzer all over the face. They can also work for a traditional bronzer application, although they offer less control than a medium brush. Depending on how tapered or flat their shape is, you might be able to use them on an angle for more precise applications. Finally, they're great for dusting bronzer along the collarbone or décolletage for a more tanned look.
The biggest brushes on our list are the Real Techniques Powder & Bronzer Brush and the large end of the Hourglass Powder Brush.

Choosing the Right Brush for Your Technique
Bronzer is really versatile, so there are a few different ways to apply it! Choose the brush that will work best with the methods you like for applying bronzer.
All-Over Glow
Applying bronzer all over the face is generally not recommended, but there are exceptions: for instance, if your complexion is looking a little pallid or if you've picked up a tan but haven't switched up your foundation yet.
Applying bronzer all over with a large, soft brush will help warm up your face and slightly darken your foundation, which might be exactly what's in order! If that's the look you're going for, choose a large brush like the Real Techniques Powder & Bronzer Brush for a powder bronzer or the EcoTools Travel Kabuki  if you use a cream bronzer.
Traditional Bronzed Touch
The traditional method of applying bronzer gives a delicate bronzed glow to the face and makes you look softly sunkissed. In this method, the bronzer is applied to the high points of the face, like the forehead, cheeks, bridge of the nose, and chin.
It works especially well with very warm or shimmery bronzer. For this method, choose a medium-sized brush like the Wet n Wild Blush Brush if you use powder or the EcoTools Precision Brush if you use cream.
Sculpted & Contoured
If you use your bronzer for a sculpted or contoured look, you need a medium or small brush that'll make it easier for you to get that bronzer laid just right! When contouring, you apply the bronzer to the hollows of the face in order to make your features appear more three-dimensional. As we mentioned earlier, the firmness of the brush will influence how dark the contour comes out.
The best bronzers for this would be matte with a neutral undertone rather than the typical warm ones, while the best brushes for this would be the E.L.F. Small Tapered Brush or the IT Cosmetics Flawless Blush Brush.
Bronzed & Contoured
One of the best ways to apply bronzer is in a hybrid of contouring and bronzing. It makes you look both sunkissed and sculpted! The key is to apply the bronzer along the perimeter of the face, especially along the forehead and temples, as well as over the bridge of the nose and in an angle under the cheekbones, slightly lower than you'd apply your blush but not quite where contour would go.
This kind of look is best achieved with a slightly firm, medium-sized brush that can pack on a bit more color while also blending things out well, like the EcoTools Precision Brush or the Sigma Kabuki F80.
Do-It-All
If you change up your makeup a lot from day-to-day then you might need multiple bronzer brushes or one bronzer brush that can apply bronzer in a versatile way. The easiest solution is to pick up a set like the Real Techniques Sculpting Set, which includes 3 brushes for every kind of bronzer application, or to pick up a double-ended brush like Hourglass Powder Brush.
If you only want one bronzer brush, a medium-sized, medium-firm brush like EcoTools Precision Brush also allows for a wide range of applications.
Bronzer Brush Q&A
Have a few more questions about bronzer brushes? Well, no worries, we've got answers!
Do You Have to Use a Bronzer Brush for Bronzer?
We hinted at this earlier, but the reality is that most brands don't have a product labeled as "bronzer brush" in their portfolio. This is why our list includes blush brushes, foundation brushes, and brushes without a connection to any specific product.
This makes a ton of sense since bronzer can be applied in so many different ways. One person might prefer a foundation brush to apply cream bronzer, while another might prefer a soft blush brush for a powder bronzer! The only thing that matters is that you choose a brush that'll work for you, like we explain above.
Can You Use the Same Brush for Bronzer and Blush?
There are two ways to interpret this question. You can certainly have two of the same brush in your kit to use one for blush and another for bronzer – there is nothing wrong with that! However, if you want to only have one brush for both products, you might run into trouble, especially if you forget to wipe your brush when moving from bronzer to blush.
Having to clean in between will make your application take longer, while forgetting to clean will cause your makeup to look muddy. You might run into the same problem trying to use your bronzer brush for other products like foundation or highlighter.
How Do You Clean a Bronzer Brush?
Cleaning your makeup brushes regularly is extremely important! Otherwise, even synthetic bristles can trap bacteria and cause all kinds of issues. On a daily basis, make sure to spray your bronzer brush with a disinfectant brush cleaner like Cinema Secrets after every use, and then wipe it over a tissue.
Depending on how often you wear makeup, you should give your bronzer brush a thorough wash with water and a gentle shampoo on a weekly or monthly basis. You can even use makeup brush shampoo – like the one EcoTools makes! When washing your brush with shampoo and water, make sure to hold it downwards so the water doesn't penetrate through the bristles into the ferrule, as that can compromise the integrity of the brush. Once you're done cleaning, pat the brush gently with a towel to remove excess water, squeeze the bristles together so they maintain their shape, and lay it flat on a clean surface to dry.
Bronzed Blessings
Bronzer brushes come in so many shapes and sizes, so we know choosing can be tough. However, each person has their own unique way of applying bronzer, so the diverse range of brush options is actually a blessing! By figuring out which techniques work best for you, you can choose the best bronzer brush for your style. We hope we've made this process easy, so you can feel confident and creative every time you apply that bronzer to your skin.