Top Picks

Real Techniques Powder & Bronzer Brush

Wet n Wild Blush Brush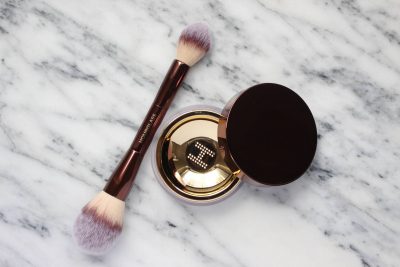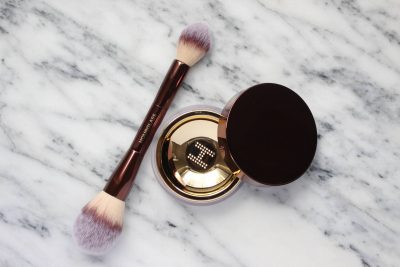 Hourglass Veil™ Powder Brush
Previous
Next
Level up your makeup game with the perfect bronzer brush! Bronzer is a magical makeup product that offers a surprising amount of versatility, but only as long as you use the right brush. It can give you a hint of sunkissed glow, sculpt your features, or make you look like a bronzed goddess. The secret is in the application! Whether you're a lover of glowy creams or matte powders, this article is all about finding you the bronzer brush that'll work with your favorite makeup and bring your features to life.
Things to Consider When Buying a Bronzer Brush
The best bronzer brushes are not always explicitly marketed as such – you are actually looking at a wide range of complexion brushes as an option! Here are a few things to consider when choosing a bronzer brush, although we get into it in even more detail later on.

The Right Level of Firmness
Some brushes are soft and pliant, while others are a little more firm and sturdy (though the bristles themselves still need to be soft on the skin, as we explain below). Keep in mind the benefits of each firmness level as you read our reviews:
Low firmness is best for diffused applications of powder bronzer.
Medium-firm brushes give a heavier application of powder, can work with creams, and are great for blending.
Very firm brushes are ideal for heavier applications of cream bronzer.
In each review, we'll mention the firmness level as well as what kind of bronzer each brush applies best. Not sure where or how to apply bronzer? We discuss technique after the reviews.
Size Matters
It's not always easy to tell how big items are in photos, which is why we mention brush size in each review. You should choose a brush size that will correspond with the size of the features you would like to enhance. If you use bronzer all over the face, a larger brush will be more convenient, while if you use it on small areas, a smaller brush will be more suitable. We get into this in more detail below.
What Makes a Good Bronzer Brush?
While some brush features depend on your personal approach to applying bronzer, the following features are very important in every bronzer brush.
Gentle Bristles
Applying bronzer with a scratchy brush is one of the most unpleasant experiences we can imagine. That's why we only selected uber-soft brushes that'll feel like a gentle caress upon your skin. Though they vary in firmness levels, they are each made with carefully-crafted bristles that feel velvety to the touch.
Durability
A durable and well-made bronzer brush can last in your makeup bag for a good few years (as long as you take good care of it). With poorly made brushes, the connection between the base and the ferrule (the metal piece that attaches the bristles to the handle) often feels a little wobbly, and it can break off easily. It will need replacing after just a few months, so while it might be cheap in the short term, it'll cost you more in the long term. That's why we discuss construction in each one of our reviews.
Non-Shedding
Another important feature we look for is a bronzer brush with bristles that stay intact, even after months or years of use. Low-quality bristles can break off and shed on the face, sometimes only after one wash! This is a problem for two reasons: first, removing bristles from your face after you've finished your makeup is a hassle, and second, after enough bristles break off, the brush will become rough and scratchy.
Style
Doing makeup with pretty brushes makes the whole process a lot more fun, so we took style into account when reviewing brushes. Style is subjective: you might prefer a more playful and bright design, or you might prefer brushes with a sleek, professional look. If you're looking to complete your existing brush collection, you might want a bronzer brush with a similar design to the ones you already own.
Vegan
A few decades ago, there were no good alternatives to animal hair brushes. They were considered the best and the softest. However, the industry has come a long way in producing vegan and cruelty-free brushes. Synthetic bristles are nearly indistinguishable from animal hair ones but they're more durable and hygienic, and they work with both creams and powders. That's why our list only includes vegan brushes.
Now that you know what to look out for, here are our reviews of the best bronzer brushes for every kind of bronzer and makeup style.
Top 10 Best Bronzer Brush 2021
How to Choose the Bronzer Brush of Your Dreams

There are so many amazing bronzer brushes for you to choose from, and each one is so different! In this section, we'll help you determine which brush will be best for your individual needs.

The Best Size for You
As far as we're concerned, any complexion brush can work beautifully as a bronzer brush, as long as it's the right size for your particular bronzer technique. We broke the sizes down into small, medium, and large within the context of complexion brushes (eye makeup brushes are obviously going to be much smaller).
Small
If your bronzer application is really focused on precise contouring then a small brush is a must! With a small brush, you can get into the smallest hollows of your face, so they're especially convenient for applying bronzer to the sides of the nose. They also give a very thin line under the cheekbone, which can look very soft and pristine.
If you like a very precise look or you have tiny features, the smallest brush on our list is the E.L.F. Small Tapered Brush.
Medium Brushes
Medium-sized brushes are ideal for applications of bronzer over the high points of the face or around its perimeter. They also work well for faster contouring under the cheekbones, under the jaw, or at the temples, though they're too large for contouring the nose. Because of this versatility, most of the brushes on our list are medium sized!
Our favorite medium-sized bronzer brush is from Wet n Wild, followed by the EcoTools Precision Brush.
Large Brushes
Large brushes are normally used for setting powder, but they can work well if you like to use bronzer all over the face. They can also work for a traditional bronzer application, although they offer less control than a medium brush. Depending on how tapered or flat their shape is, you might be able to use them on an angle for more precise applications. Finally, they're great for dusting bronzer along the collarbone or décolletage for a more tanned look.
The biggest brushes on our list are the Real Techniques Powder & Bronzer Brush and the large end of the Hourglass Powder Brush.

Choosing the Right Brush for Your Technique
Bronzer is really versatile, so there are a few different ways to apply it! Choose the brush that will work best with the methods you like for applying bronzer.
All-Over Glow
Applying bronzer all over the face is generally not recommended, but there are exceptions: for instance, if your complexion is looking a little pallid or if you've picked up a tan but haven't switched up your foundation yet.
Applying bronzer all over with a large, soft brush will help warm up your face and slightly darken your foundation, which might be exactly what's in order! If that's the look you're going for, choose a large brush like the Real Techniques Powder & Bronzer Brush for a powder bronzer or the EcoTools Travel Kabuki  if you use a cream bronzer.
Traditional Bronzed Touch
The traditional method of applying bronzer gives a delicate bronzed glow to the face and makes you look softly sunkissed. In this method, the bronzer is applied to the high points of the face, like the forehead, cheeks, bridge of the nose, and chin.
It works especially well with very warm or shimmery bronzer. For this method, choose a medium-sized brush like the Wet n Wild Blush Brush if you use powder or the EcoTools Precision Brush if you use cream.
Sculpted & Contoured
If you use your bronzer for a sculpted or contoured look, you need a medium or small brush that'll make it easier for you to get that bronzer laid just right! When contouring, you apply the bronzer to the hollows of the face in order to make your features appear more three-dimensional. As we mentioned earlier, the firmness of the brush will influence how dark the contour comes out.
The best bronzers for this would be matte with a neutral undertone rather than the typical warm ones, while the best brushes for this would be the E.L.F. Small Tapered Brush or the IT Cosmetics Flawless Blush Brush.
Bronzed & Contoured
One of the best ways to apply bronzer is in a hybrid of contouring and bronzing. It makes you look both sunkissed and sculpted! The key is to apply the bronzer along the perimeter of the face, especially along the forehead and temples, as well as over the bridge of the nose and in an angle under the cheekbones, slightly lower than you'd apply your blush but not quite where contour would go.
This kind of look is best achieved with a slightly firm, medium-sized brush that can pack on a bit more color while also blending things out well, like the EcoTools Precision Brush or the Sigma Kabuki F80.
Do-It-All
If you change up your makeup a lot from day-to-day then you might need multiple bronzer brushes or one bronzer brush that can apply bronzer in a versatile way. The easiest solution is to pick up a set like the Real Techniques Sculpting Set, which includes 3 brushes for every kind of bronzer application, or to pick up a double-ended brush like Hourglass Powder Brush.
If you only want one bronzer brush, a medium-sized, medium-firm brush like EcoTools Precision Brush also allows for a wide range of applications.
Bronzer Brush Q&A
Have a few more questions about bronzer brushes? Well, no worries, we've got answers!
Do You Have to Use a Bronzer Brush for Bronzer?
We hinted at this earlier, but the reality is that most brands don't have a product labeled as "bronzer brush" in their portfolio. This is why our list includes blush brushes, foundation brushes, and brushes without a connection to any specific product.
This makes a ton of sense since bronzer can be applied in so many different ways. One person might prefer a foundation brush to apply cream bronzer, while another might prefer a soft blush brush for a powder bronzer! The only thing that matters is that you choose a brush that'll work for you, like we explain above.
Can You Use the Same Brush for Bronzer and Blush?
There are two ways to interpret this question. You can certainly have two of the same brush in your kit to use one for blush and another for bronzer – there is nothing wrong with that! However, if you want to only have one brush for both products, you might run into trouble, especially if you forget to wipe your brush when moving from bronzer to blush.
Having to clean in between will make your application take longer, while forgetting to clean will cause your makeup to look muddy. You might run into the same problem trying to use your bronzer brush for other products like foundation or highlighter.
How Do You Clean a Bronzer Brush?
Cleaning your makeup brushes regularly is extremely important! Otherwise, even synthetic bristles can trap bacteria and cause all kinds of issues. On a daily basis, make sure to spray your bronzer brush with a disinfectant brush cleaner like Cinema Secrets after every use, and then wipe it over a tissue.
Depending on how often you wear makeup, you should give your bronzer brush a thorough wash with water and a gentle shampoo on a weekly or monthly basis. You can even use makeup brush shampoo – like the one EcoTools makes! When washing your brush with shampoo and water, make sure to hold it downwards so the water doesn't penetrate through the bristles into the ferrule, as that can compromise the integrity of the brush. Once you're done cleaning, pat the brush gently with a towel to remove excess water, squeeze the bristles together so they maintain their shape, and lay it flat on a clean surface to dry.
Bronzed Blessings
Bronzer brushes come in so many shapes and sizes, so we know choosing can be tough. However, each person has their own unique way of applying bronzer, so the diverse range of brush options is actually a blessing! By figuring out which techniques work best for you, you can choose the best bronzer brush for your style. We hope we've made this process easy, so you can feel confident and creative every time you apply that bronzer to your skin.