The color white conveys positivity, freshness, simplicity, and new beginnings, making it the perfect choice for outfits. White outfits are ideal for all times of the year – whether it's the warm spring and summer months or the cozy, fire-lit winter or fall months.
White is ideal for fresh, fun, summer looks or perhaps warm, cozy, winter looks. When it comes to creating a long-lasting fashion statement, an all-white or semi-white ensemble is your best bet. It's great for formal and casual events, whether you choose to don a head-to-toe white look or one that features white in a significant way.
When you pick a white outfit, you have umpteen ways to express yourself in terms of mixing and matching to find that perfect balance of colors.
How to Determine Which White Outfit to Wear
It is vital to plan your white outfit keeping the occasion and season in mind before you set out to take the world by storm. Accessories, makeup, and footwear also need to be considered in terms of how well they complement your outfit.
Here are a few looks you can try out according to the season and occasion.
1. Casual White Outfits
All white ensembles are perfect for casual events, such as meetups with friends, everyday wear, or shopping sprees. While opting for this look, it is essential to keep makeup and accessories to a minimum to avoid looking overdressed.
Relaxed, loose garments, such as casual T-shirts, sweaters, hoodies, and dress shirts, are suited to this look. You can never go wrong with white sneakers – be sure to have a pair in handy to match your clothes.
2. Formal White Outfits
Formal outfits need not necessarily have to be office wear – you can sport them at dinner parties, cocktail parties, and ballroom events. The key here is to pick out outfits that compliment your body shape.
A pair of well-fitted trousers with a matching blouse and blazer or perhaps a bodycon dress ensures you look sophisticated. Accessorize with jewelry, clutches, and peep-toe white stilettos.
3. Summer White Outfits
White is synonymous with bright sunny days since it is light and bright. White summer outfits are ideal for lunch dates, family get-togethers, or evening meetups with friends.
The simplest way to pull off this look is to opt for a flowy white dress with a bright pop of lipstick and perhaps a brown wide-brimmed hat for contrast. You could also opt for the classic white T-shirt with blue denim shorts look.
4. White Winter Outfits
Winter is the perfect time to bring out your sweaters and beanies. Since layering is the key in winter, opting for a white sweater or hoodie leaves you with plenty of room to choose bright contrasting colors of scarves, overcoats, and jackets. Knee-length boots with minimal jewelry work great with winter outfits.
Once set on a particular style, consider these white outfit ideas.
1. Sheath White Dress With Knee-High Tube Boots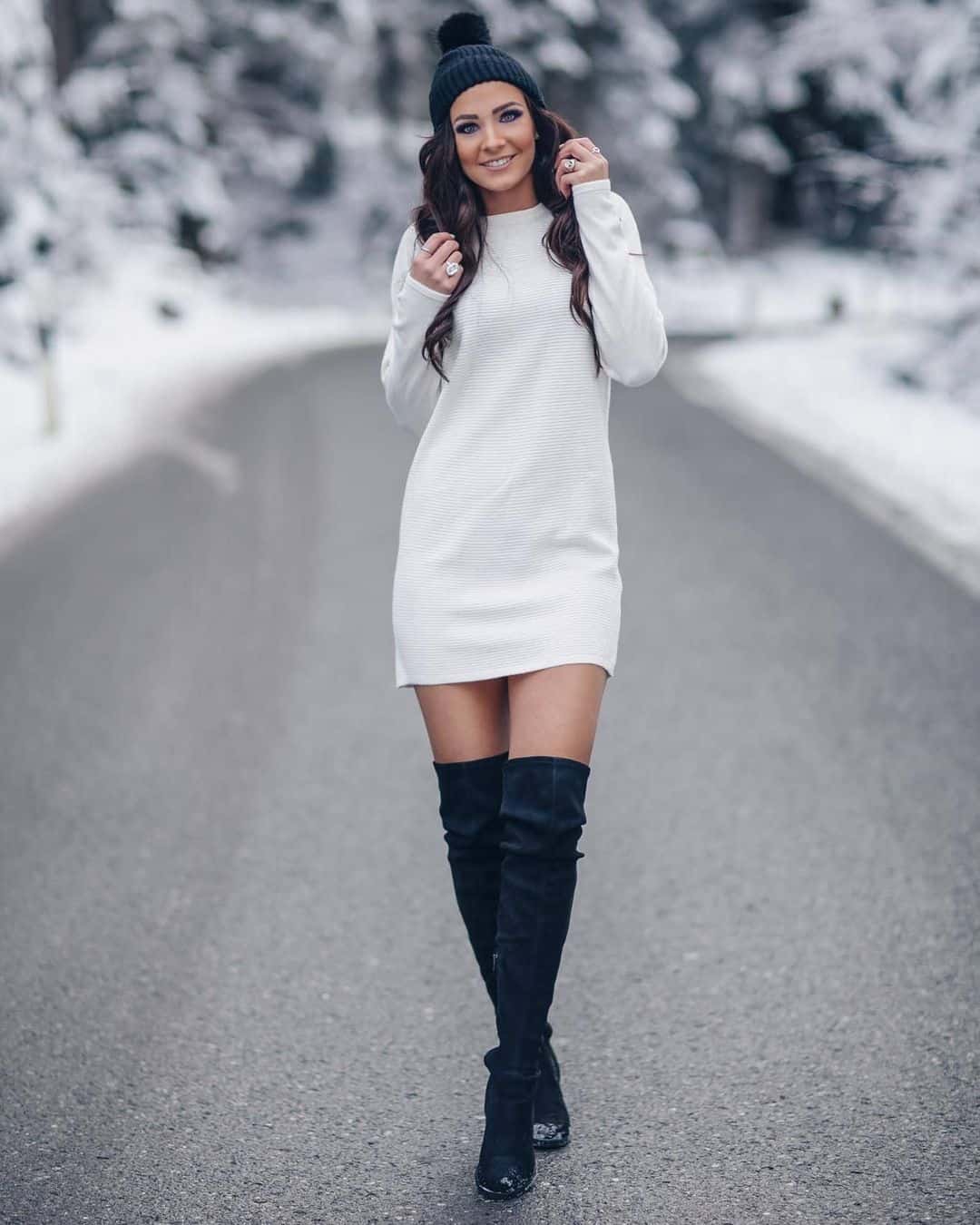 Image source
This short, round-necked, full-sleeved, white sheath dress has a relaxed fit, complementing any body type. Horizontal ribbing running across the dress adds texture to the off-white outfit. A cute black woolen beanie and black high-tube knee-length boots add the right amount of contrast.
This simple, classy, and casual winter attire is ideal for informal settings such as girls' nights or a casual meetup with friends. Accessorize with a few silver rings and finish off by sporting smokey eye makeup and nude lips.
2. V-Neck White Wrap Bodycon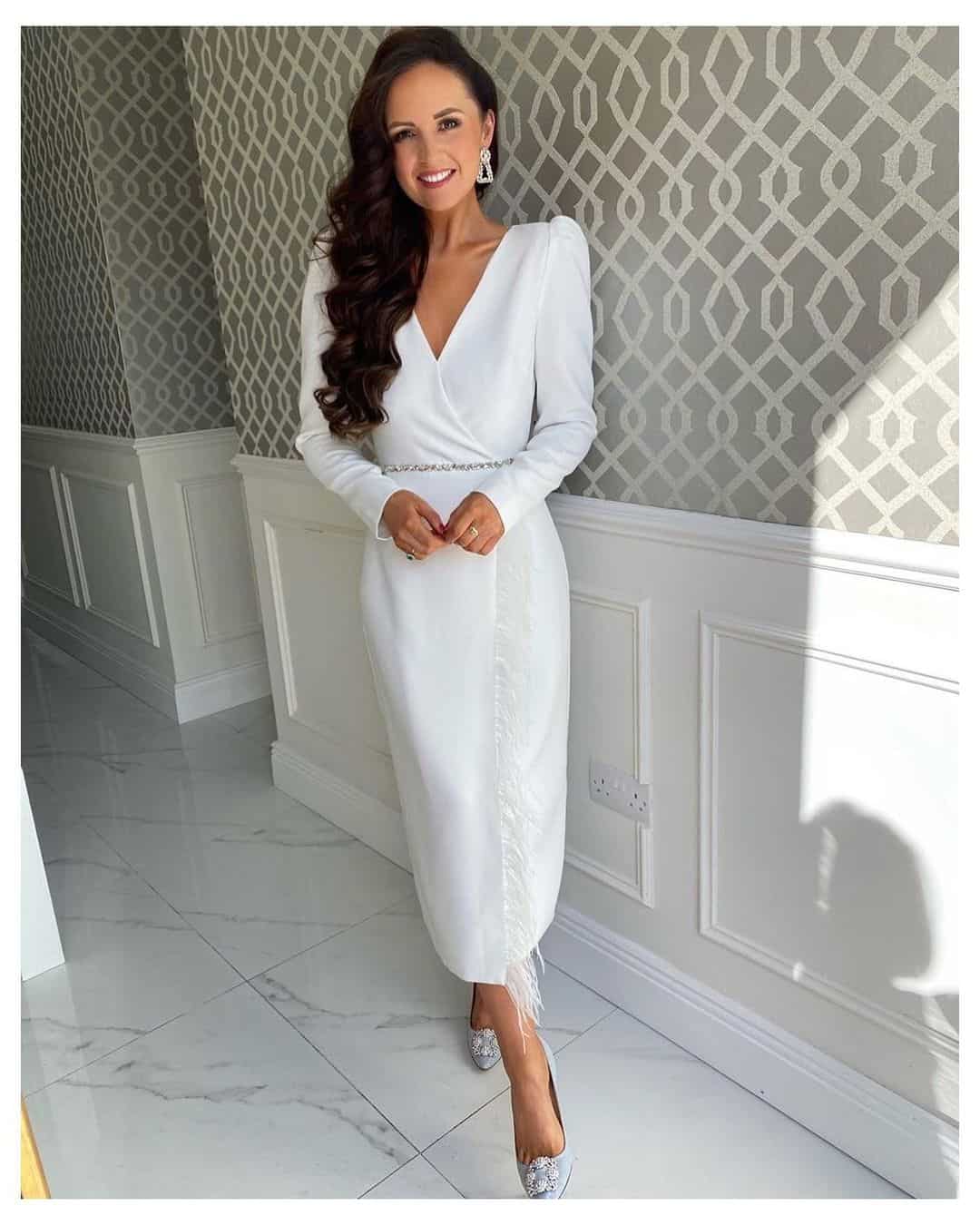 Image source
The sleeves of this V-neck white wrap bodycon dress begin with a puff, gradually leading to a full sleeve, loose-fit. A crystal-studded gold plated chain around the waist gives the dress a column fit.
Sport this outfit with a pair of grey designer heel mules, crystal earrings, and a few silver-plated finger rings. A side-parted hair bump keeps up with the puffy-sleeved dress, while simple makeup finishes off the look. This outfit is perfect for formal events such as dinner parties.
3. White Crop Top and White Denim Jeans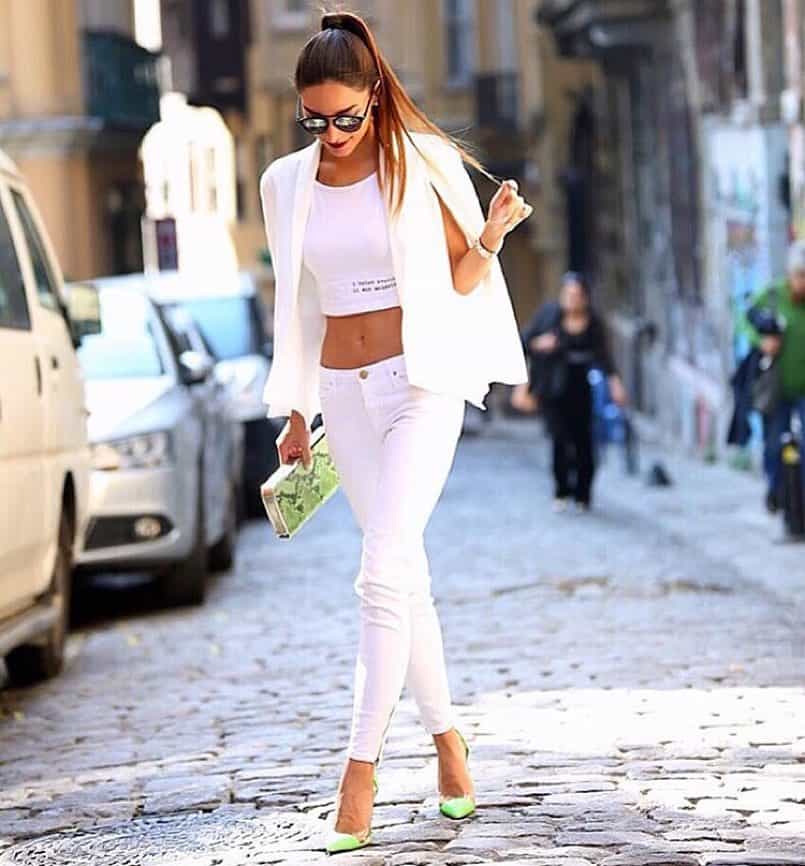 Image source
This bright white, round-neck, sleeveless crop top with an elastic band at the bottom makes for a sleek and comfortable look. Pair this top with skinny fit ankle-length, white jeans, and a white jacket.
Team this outfit with a pair of light green, cone-heel sandals and a silver-plated bracelet with a light green, printed purse. A clean ponytail finishes the look, while eyewear helps to keep the sun at bay.
4. White Bodycon With Woolen Jacket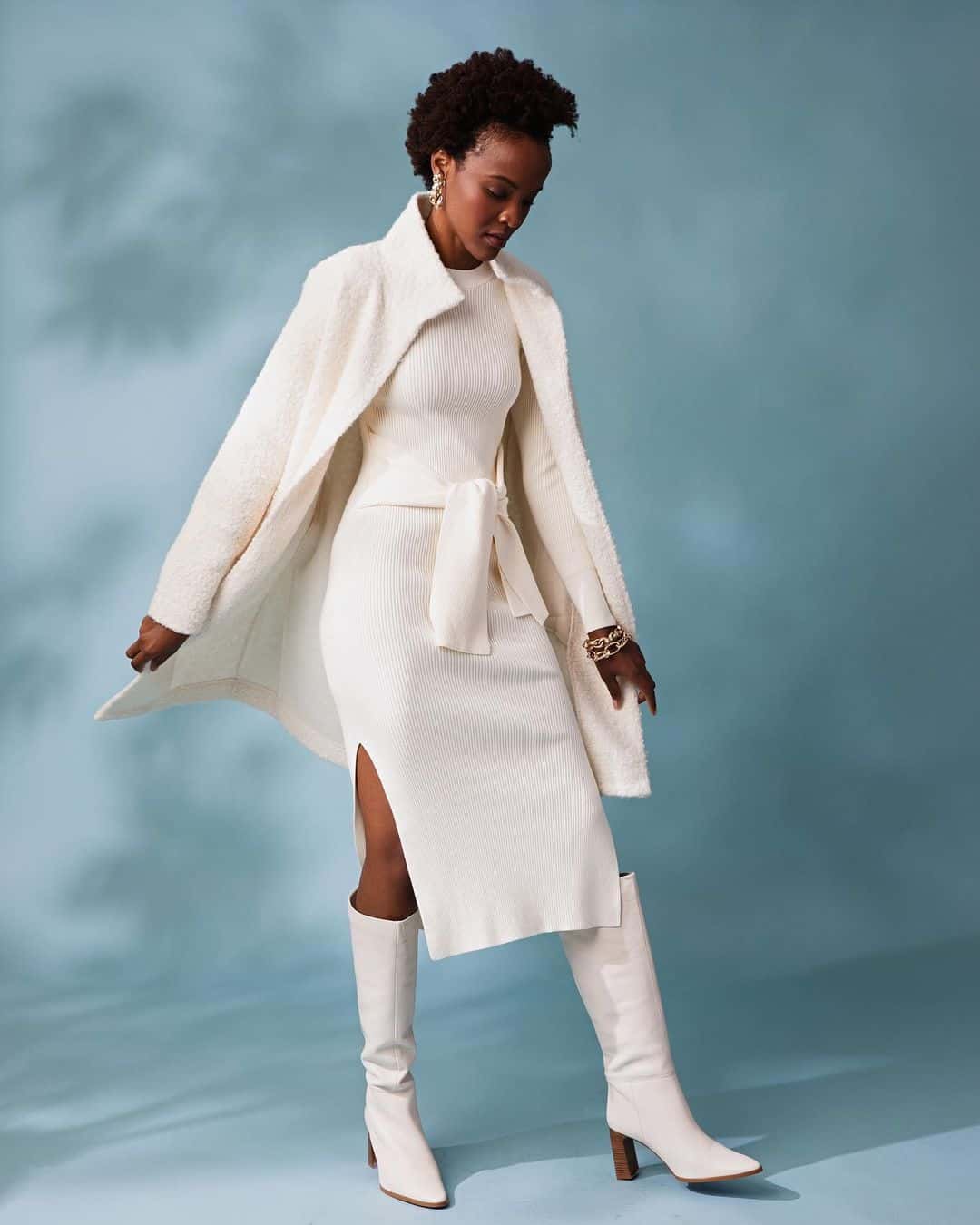 Image source
This stretchable, white, knee-length bodycon dress has thigh-high slits at the sides with vertical ribbing running from top to bottom. Extensions at the side are tied into an aesthetic knot at the center while providing the option to tighten or loosen up the fit. A woolen jacket and a pair of white block heel high tube boots layer the look further.
Flaunt this elegant attire at executive retreats or a private dinner party in conjunction with gold earrings and a chunky gold bracelet.
5. White Halterneck Jumpsuit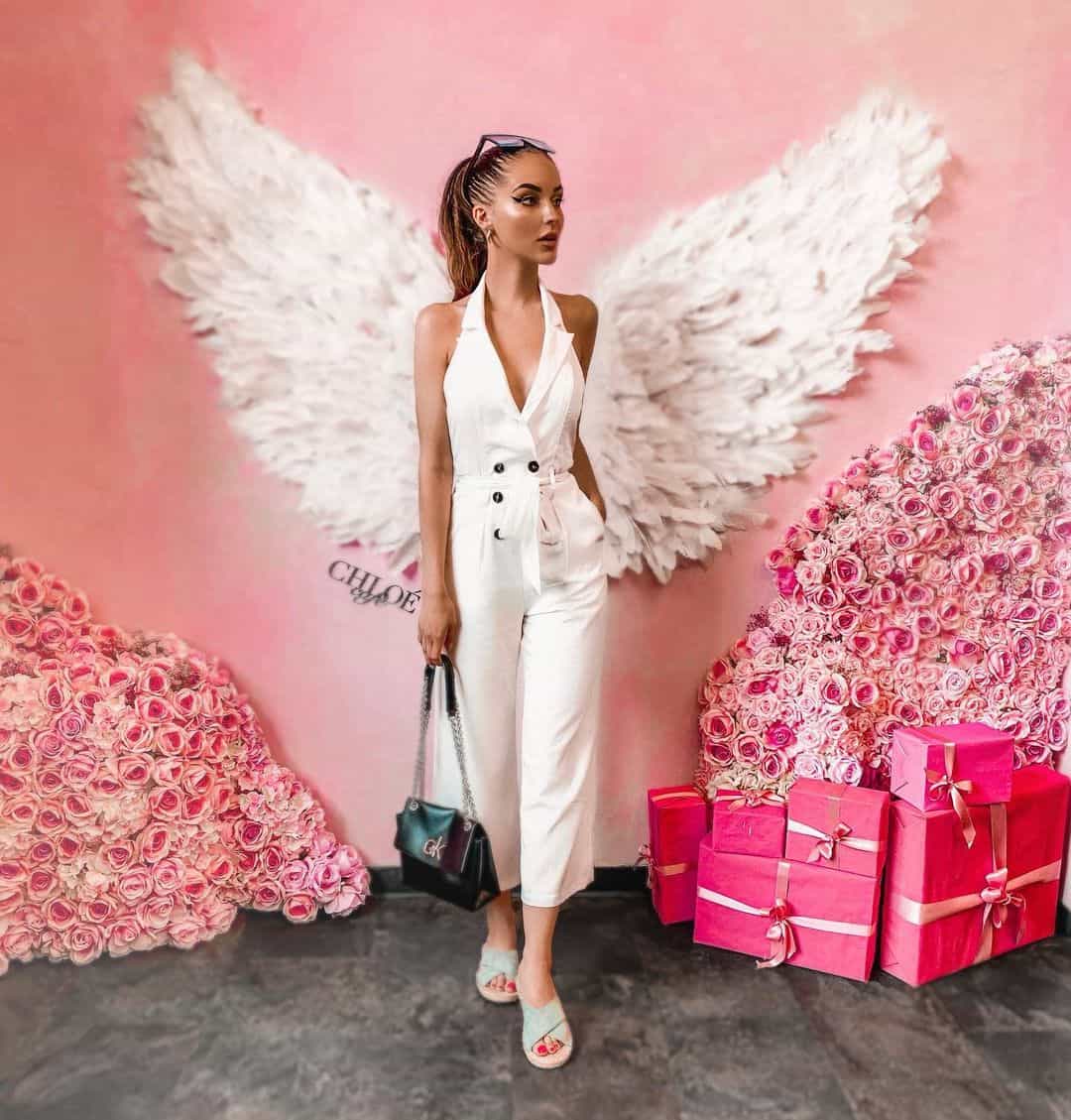 Image source
This white, high-waist halterneck jumpsuit with black buttons is effortless to pull off. A white tie-up belt gives the jumpsuit a streamlined look that can be adjusted to suit your body type.
Light blue-toned, casual sandals and a black sling bag add color and contrast to the outfit. Dewy makeup with bold eye makeup is ideal for a classy, bold look. Sport this look at a summer day cruise or a golf tournament.
6. White A-Line Knee-Length Dress With Floral Laces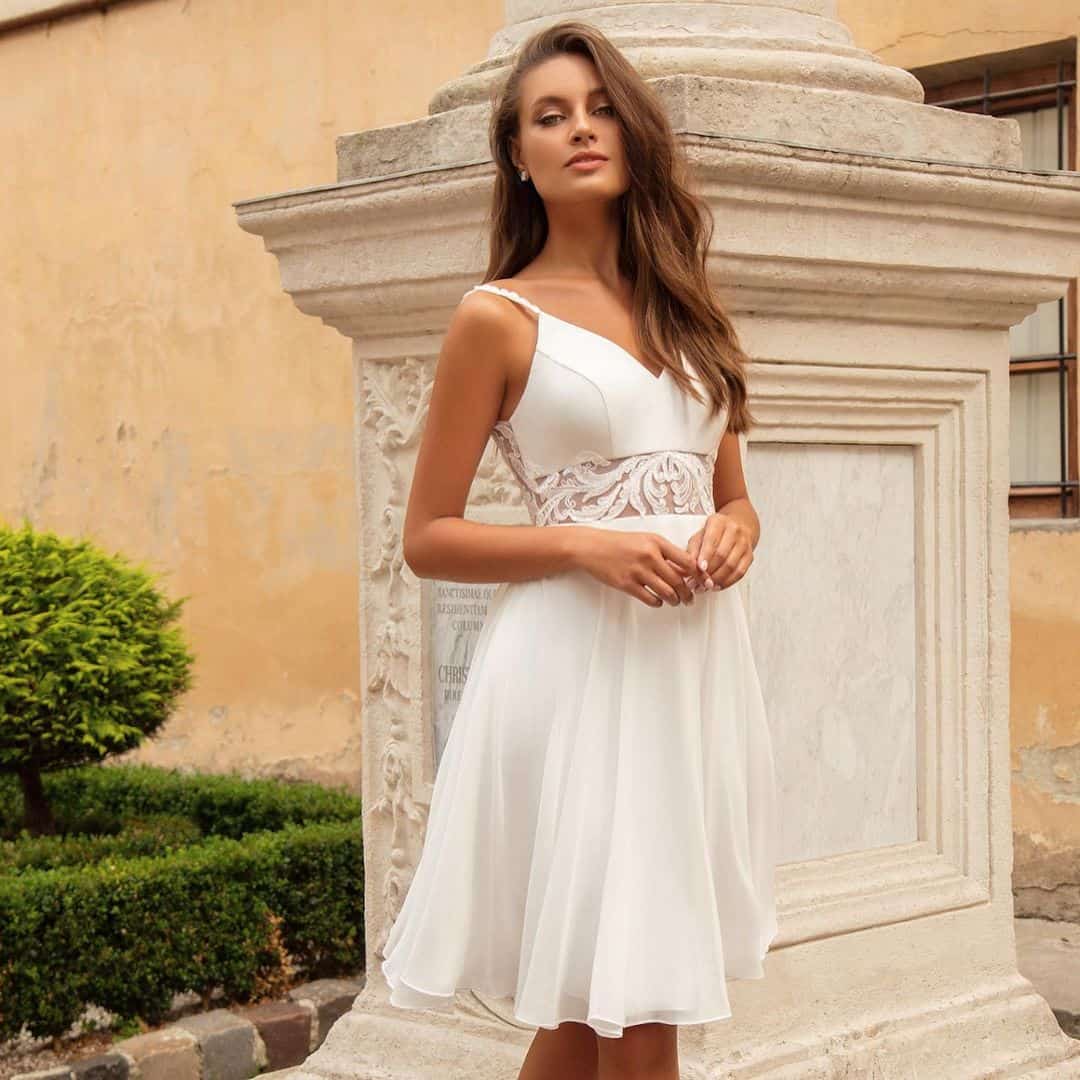 Image source
This pretty, V-neck, knee-length with spaghetti straps, has a lacey, floral band giving the dress an empire waistline. The flowy, uneven, flimsy, lined skirt adds layers to the dress.
Nude makeup with simple white earrings and a pair of kitten or stiletto heels suffice as accessories for this backless dress. The simplicity of the design, finished off by the floral pattern over the lace, completes the look all too well.
7. White A-Line Midi Dress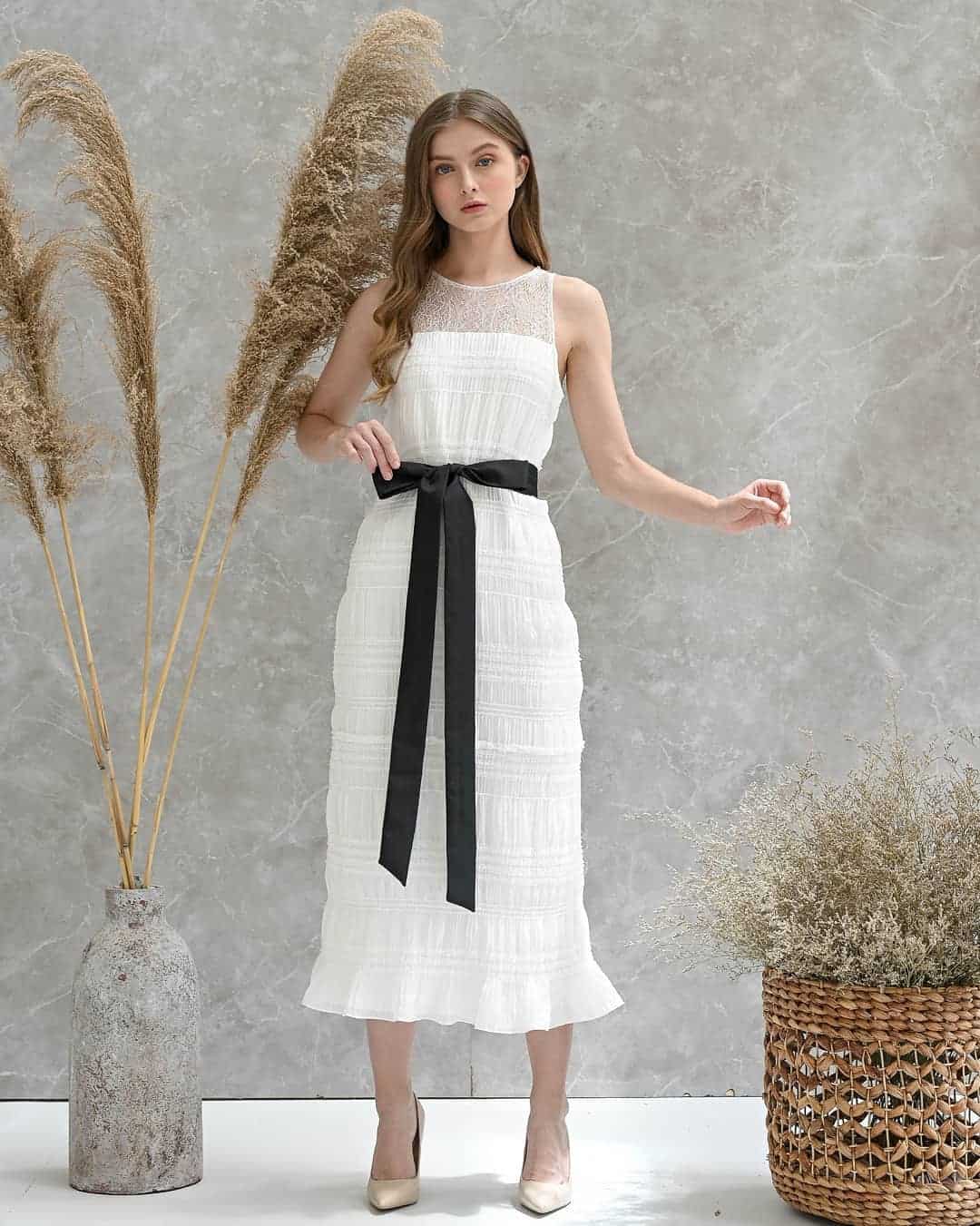 Image source
This sleeveless, stretchable, pleated, Chantilly lace, A-Line midi dress has a sheer lace, boat neck design. The dress has horizontal elastic lines running across, making for a detailed, flowy design.
A bow at the center in black lace gives the dress a column fit, adding the right amount of contrast. Soft peach makeup and a pair of shimmery gold stilettos are the ideal pairings for the dress.
8. White Cotton A-Line Dress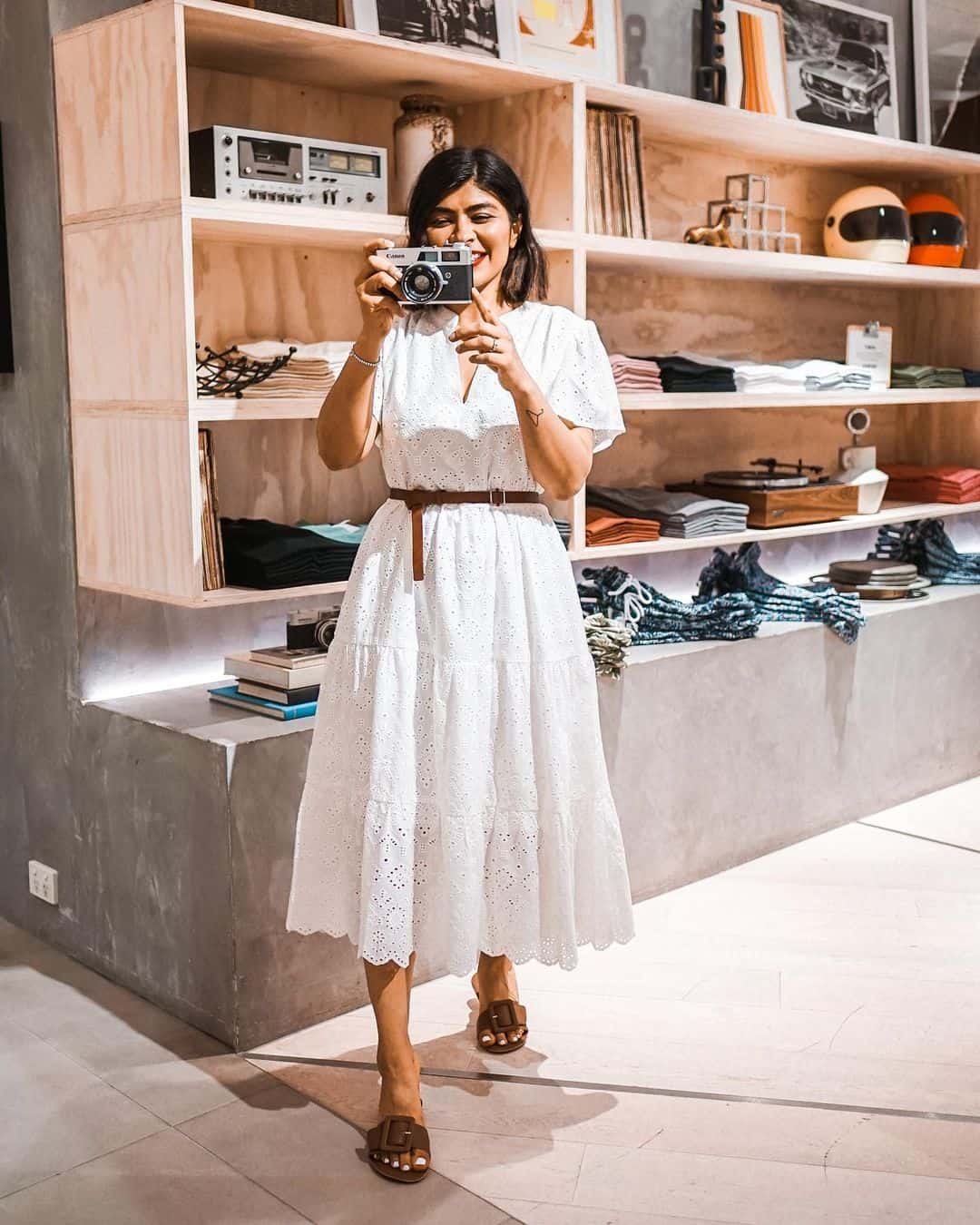 Image source
This white, V-neck, hollowed-out, loose cotton dress with eyelet embroidered edge holes makes it a stylish summer choice. A brown leather belt around the waist gives the dress an hourglass-fit.
Cape sleeves that flare up right above the elbow keep up with the overall flowy design. Red lipstick, dewy makeup, brown casual slippers, and a simple silver bracelet work well with the look.
9. White Polyester Slim-Fit Bodycon Dress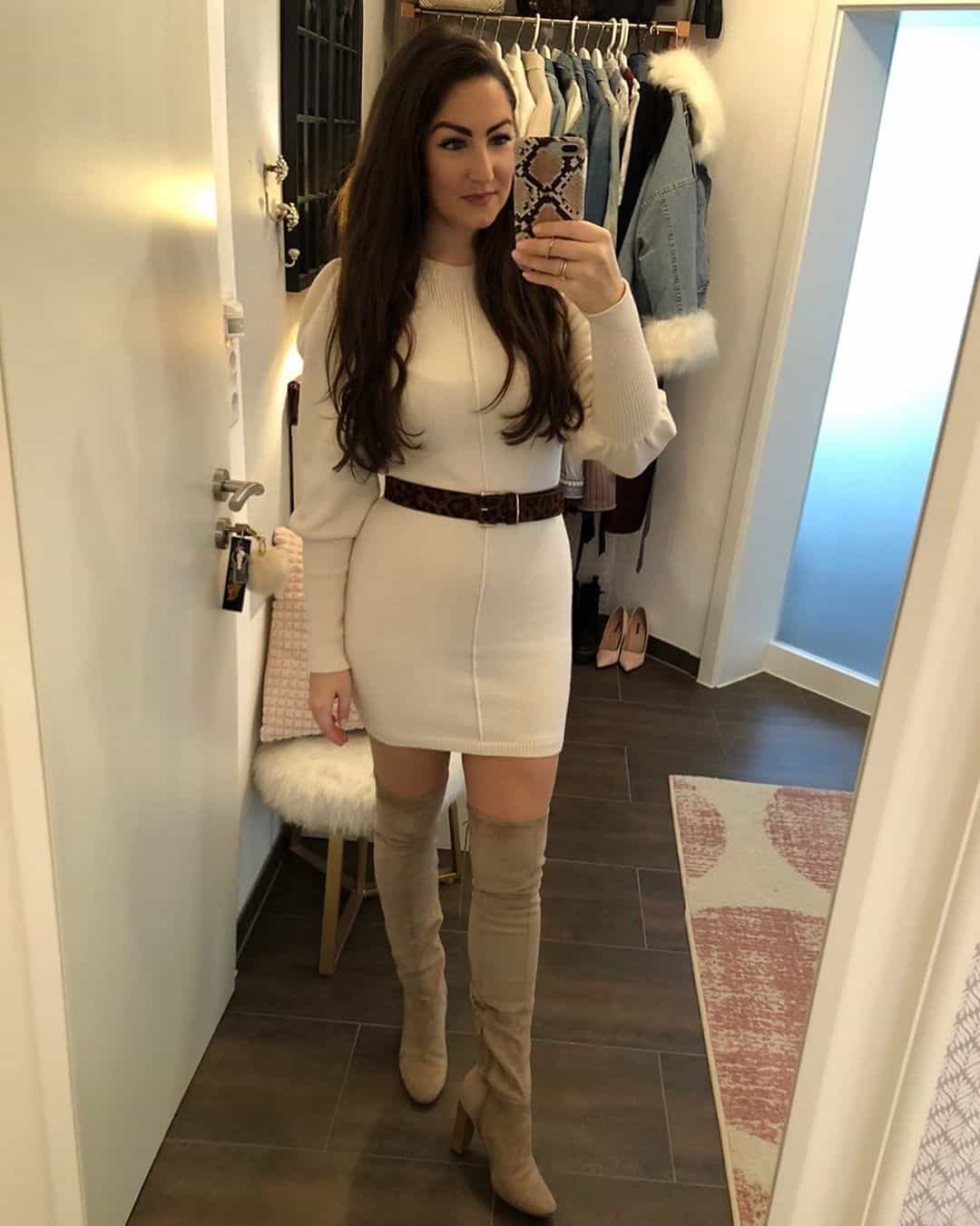 Image source
A white, slim-fit upper knee-length polyester bodycon with lantern sleeves is an ideal outfit for an evening meetup or a date. You can detail your look by wearing a brown animal printed leather belt around your waist.
The pattern, color, and accessories make this look a stunner. Pair this beautiful dress with a pair of grey block-heel high-tube boots – finish off with bold eyes and nude lips.
10. White Crop-Top With High-Waist Flare Pants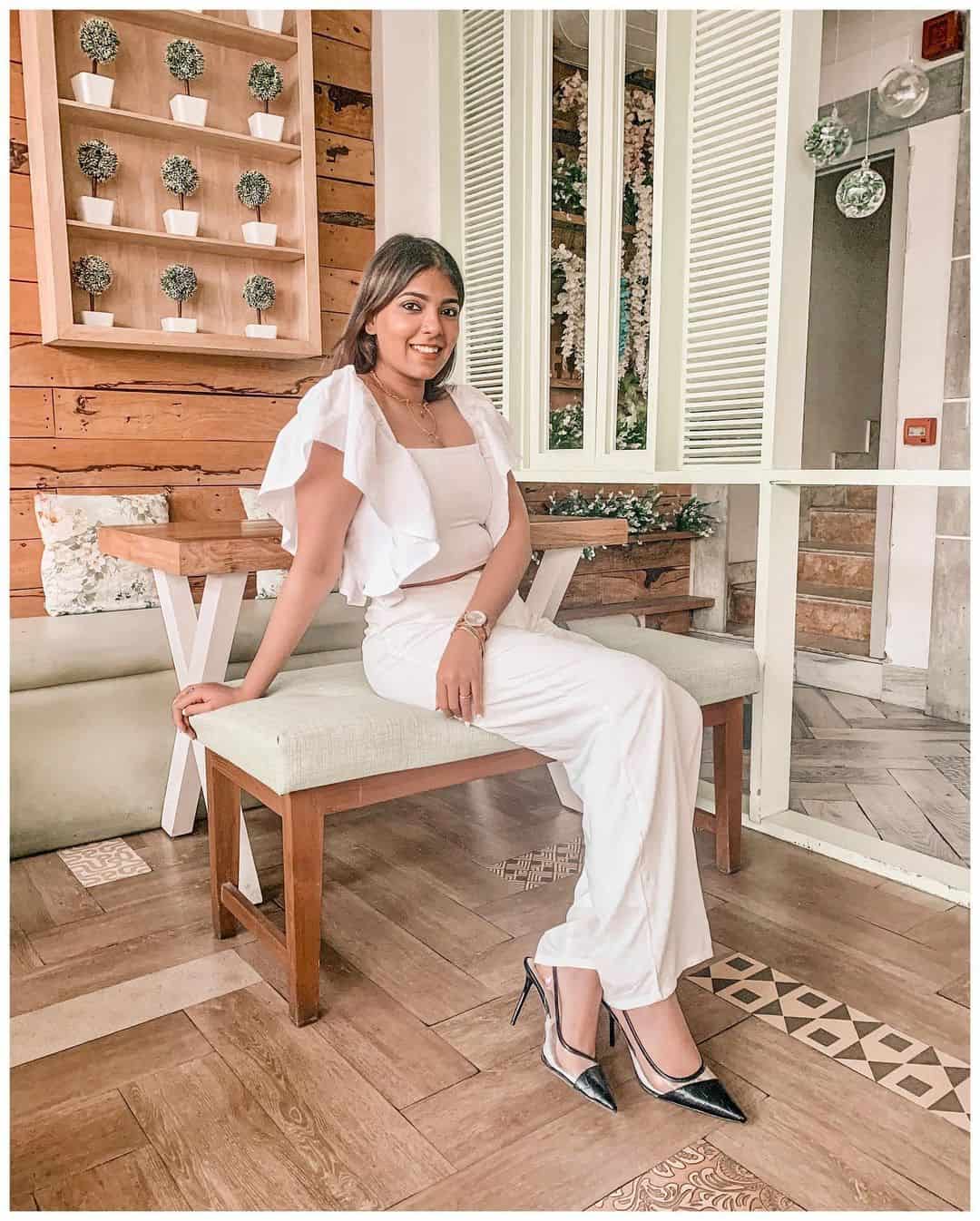 Image source
This white, square-neck crop top with high-waisted, white, flare trousers makes for an attractive, retro look. The ruffled frill sleeves add layers and volume to the shoulder area of the garment.
The straight fit trousers balance the flowy design of the top. A pair of black, clear stiletto heels with pointy toes, a thin gold necklace, and gold-plated bracelets with a watch elevates the look.
11. White off-Shoulder Jumpsuit With Blue Denim Jacket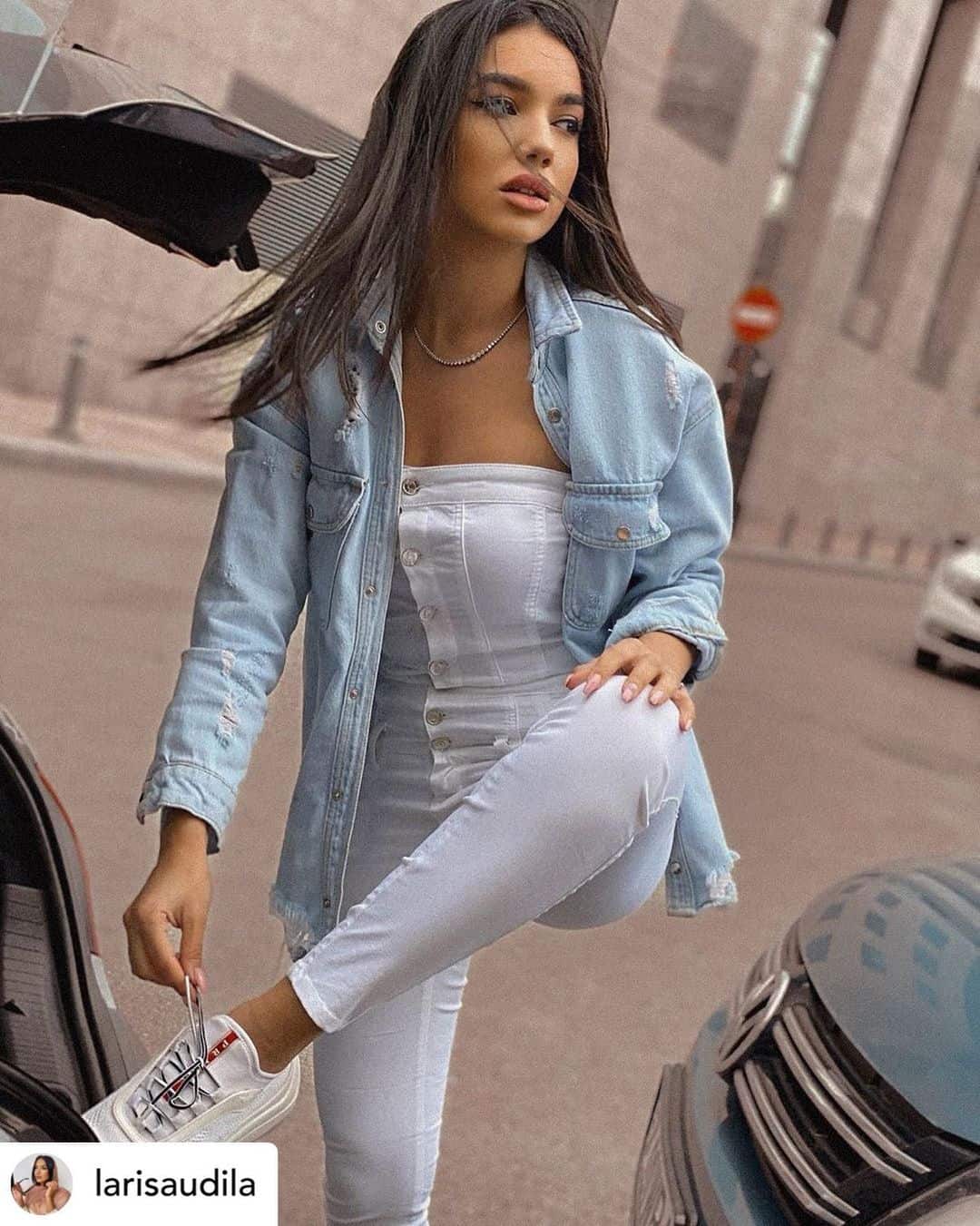 Image source
This white off-shoulder, slim-fit, high-waisted jumpsuit has silver buttons running across the length of the top. An oversized, blue denim ripped jacket with metallic buttons contrast the white hue of the jumpsuit.
White sneakers, a silver-plated chain, and simple wing eye makeup with nude lips make for a contemporary look. You can sport this bold, stylish look with middle-parted straightened hair at your next casual meetup.
12. White Polo Top With Pleated Mini Skirt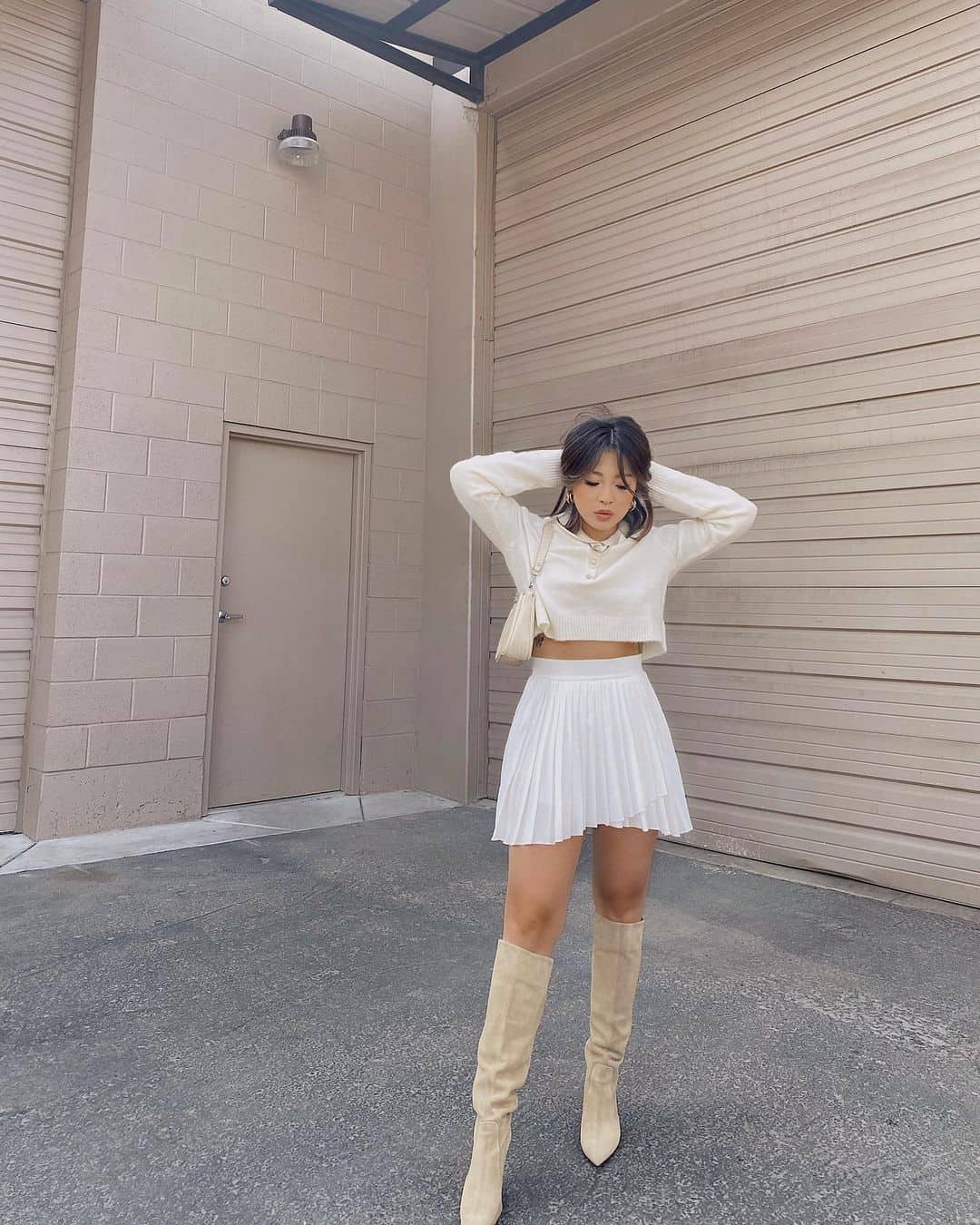 Image source
This off-white polo crop top has ivory buttons and a striped pattern at the end of the top and sleeves. The bright white, pleated, asymmetric, layered mini skirt is the ideal pairing with the crop top.
To add to the look, you can team it up with a pair of light brown occur-toned, high-tube, knee-length boots and an off-white pochette with a leather strap. For the finishing touch, wear shimmery earrings along with a dewy makeup look.
13. White One Shoulder Bodycon Dress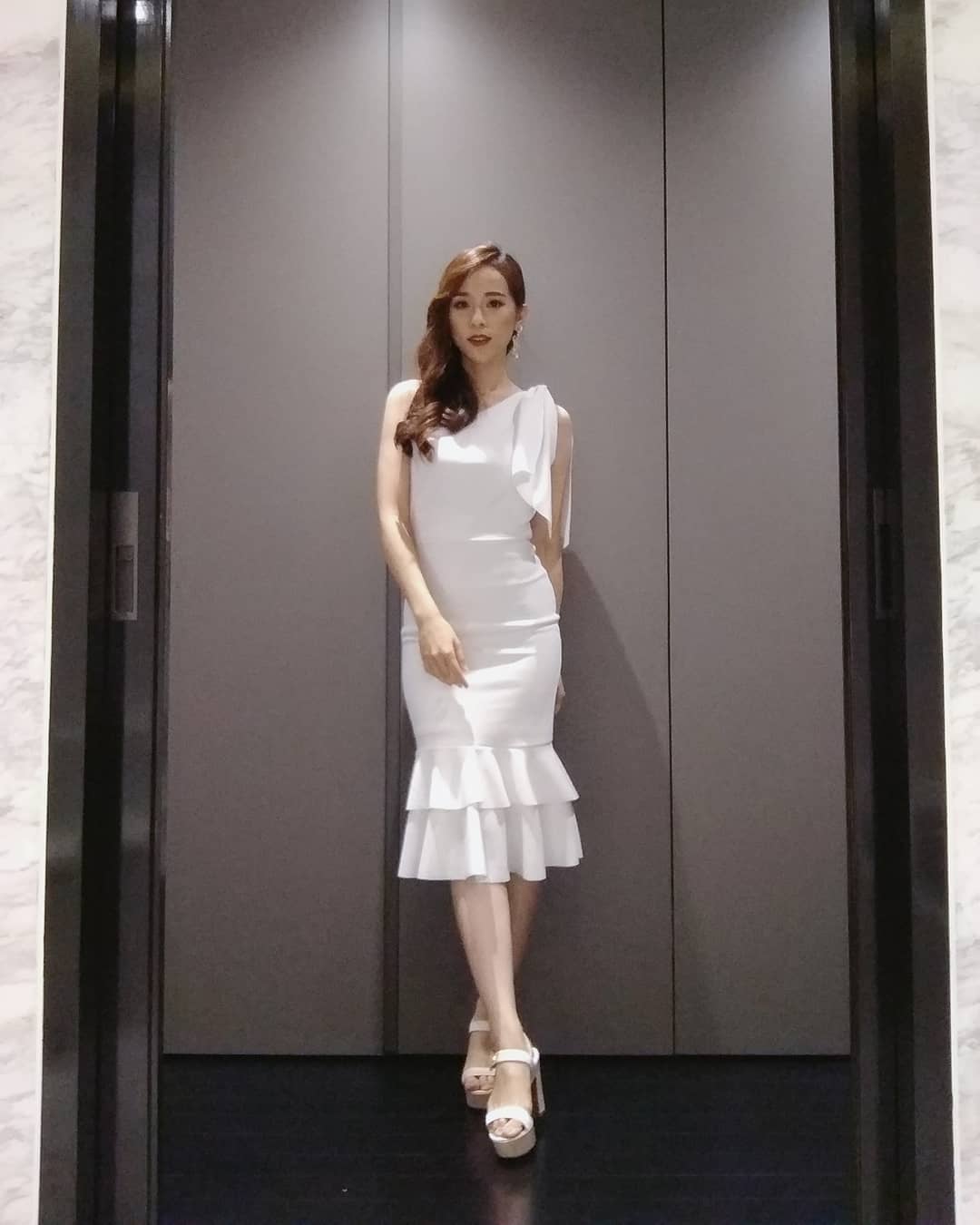 Image source
This white, one-shoulder, peplum midi dress is tight-fitting around the waist and flares up at the bottom in the form of pleated ruffles. The single shoulder sleeve has uneven ends that flow gracefully, adding texture to the outfit.
Gold plated jewelry, along with side-parted styled hair, can be teamed up with dark red or maroon lipstick to highlight the contrast between your makeup and outfit. A formal event, such as a ball or work outing, is the best place to show off this stunning ensemble.
14. Mauve Round-Neck Top and White Denim Shorts With White Blazer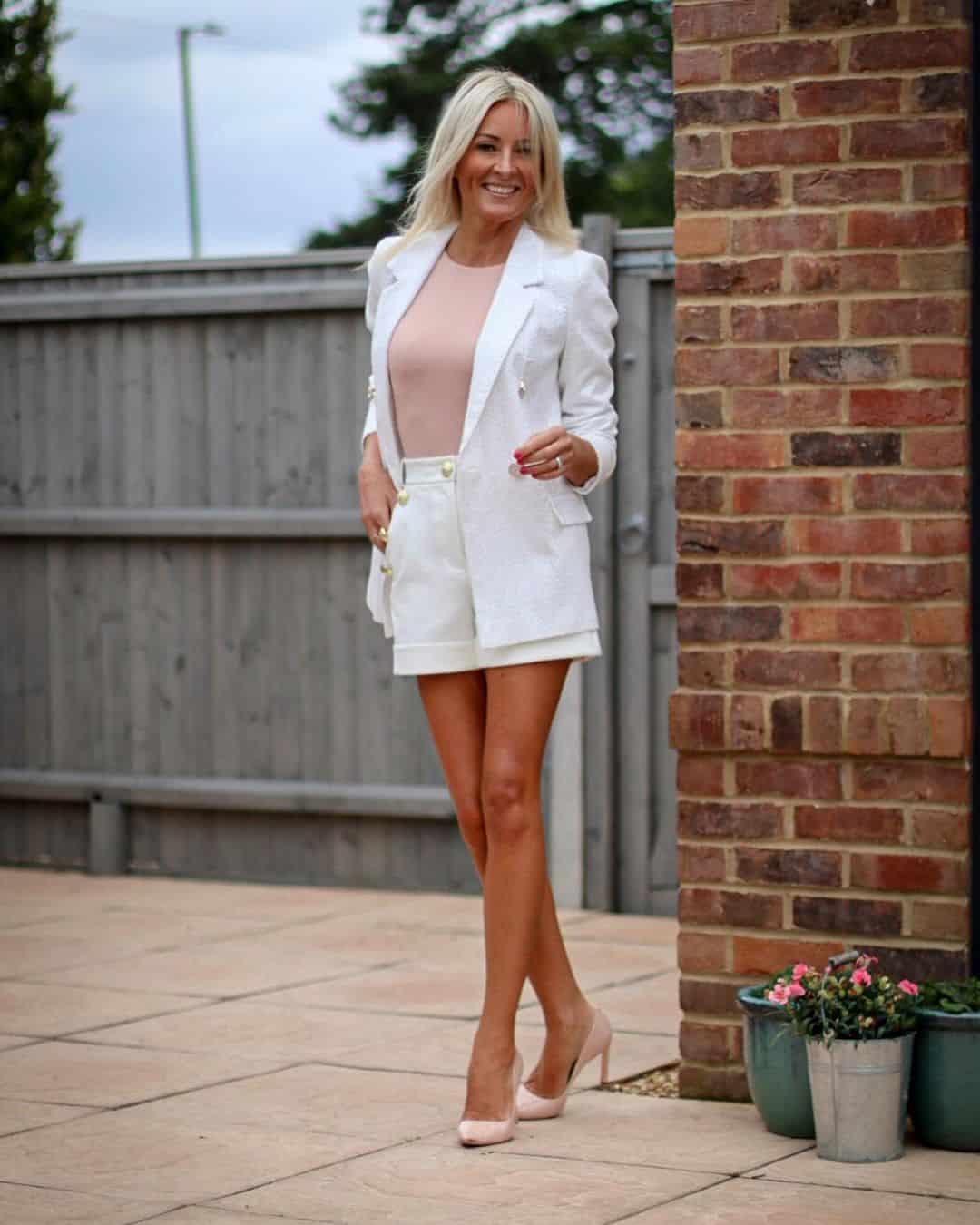 Image source
This puffy full-sleeved woolen sequined blazer with large gold buttons is ideal for a semi-formal event. White double-hemmed shorts in conjunction with a mauve round neck top adds a pop of color to the look.
Gold buttons meticulously placed across the shorts strike the right balance. Pull off this look with a pair of pink blush high heel stiletto pumps, vibrant cherry nail color, and a silver ring on your finger.
15. White Ruffle Strapless Knee-Length Dress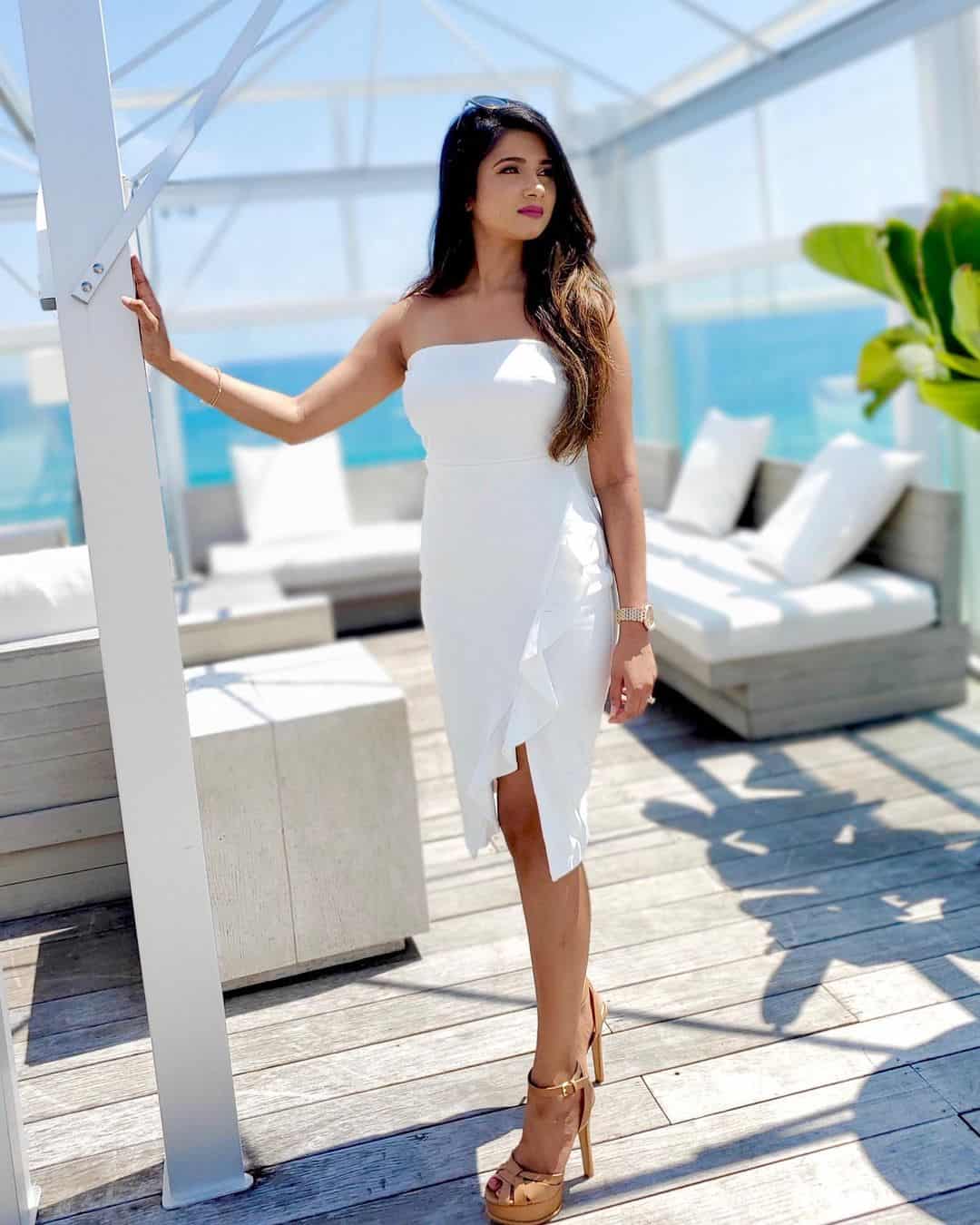 Image source
A white ruffle strapless knee-length dress is the ideal choice for a beach vacation or lunch date. This asymmetric dress has a wavy strip running from the waist to the hem in a slant giving rise to a slit at the knee. The allure of the outfit is bound to captivate passers-by making you the center of attraction!
Accessorize with a pair of anklets, a bracelet, and a stone-studded designer watch. Team the dress up with yellow-toned, micro-high platform heels, minimal makeup, bright red lipstick, and shades to snub the sun in style.
16. White Square-Neck Crop Top With Panel Skirt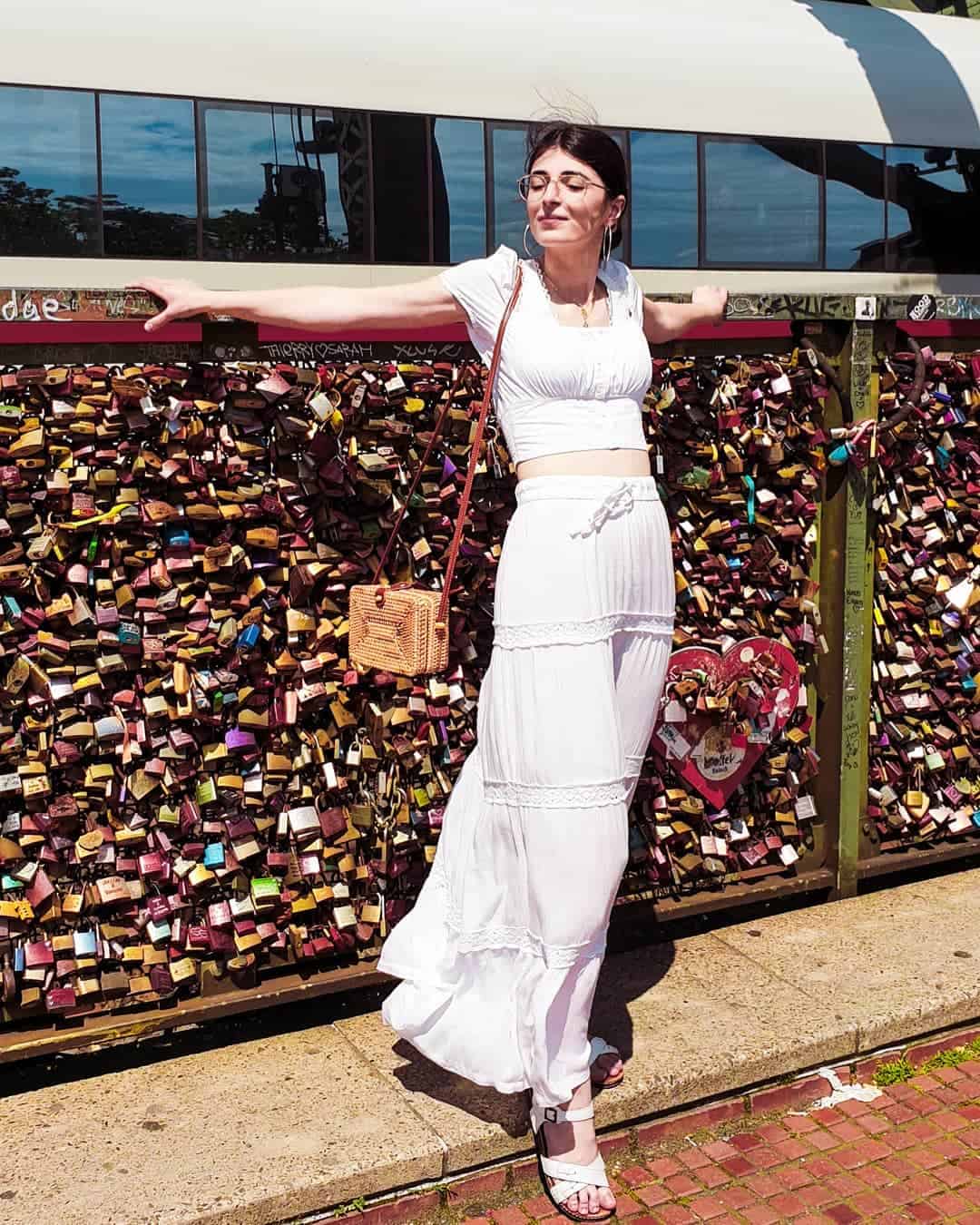 Image source
A white square-neck short sleeve crop top with a white high-waist lace tiered panel skirt is an effortless look to pull off. The blouse has lace lining the neckline and cap sleeves with white buttons, while the panel skirt begins with pleats, gradually flaring up at the bottom.
Casual, white, flat sandals, a brown sling bag, round-framed spectacles, circular metallic earrings, and a pendant on a thin chain pair well with this funky outfit. This ensemble is convenient for summer outings and get-togethers.
17. White Full-Sleeve Feathered Mini Dress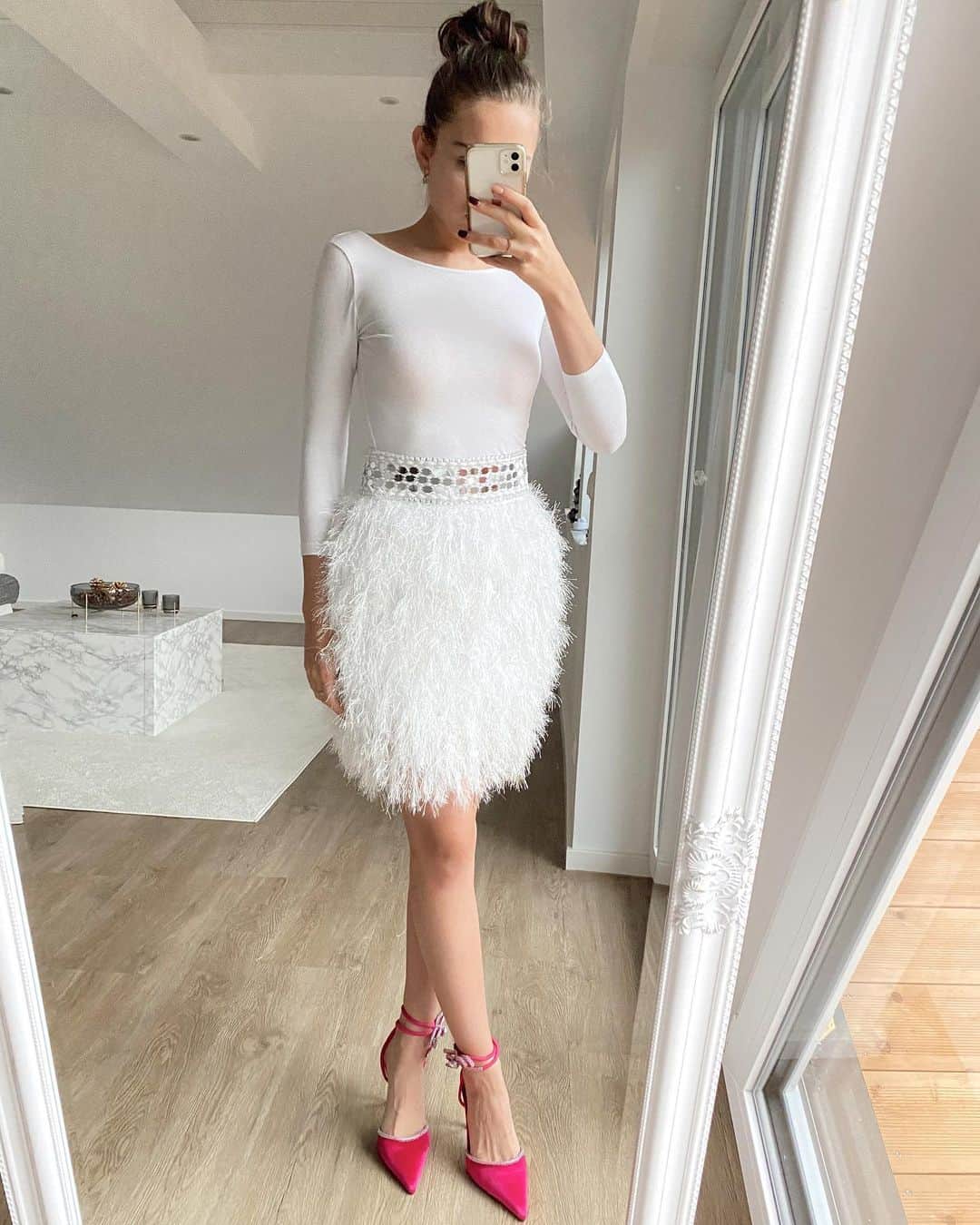 Image source
This white boat neck three-fourth sleeve top pairs well with the feathered A-line skirt. A white sequined belt makes the transition between the multiple textures seamless without looking too over the top.
Bright pink high-heel ankle strap stiletto pumps would add the right amount of contrast – you could very well go with white pumps if you are looking for an all-white ensemble. Tie your hair into a bun, opt for nude nail polish, and wear minimal makeup for a ballerina look.
18. White Round Neck Sweater With Ankle-Length White Jeans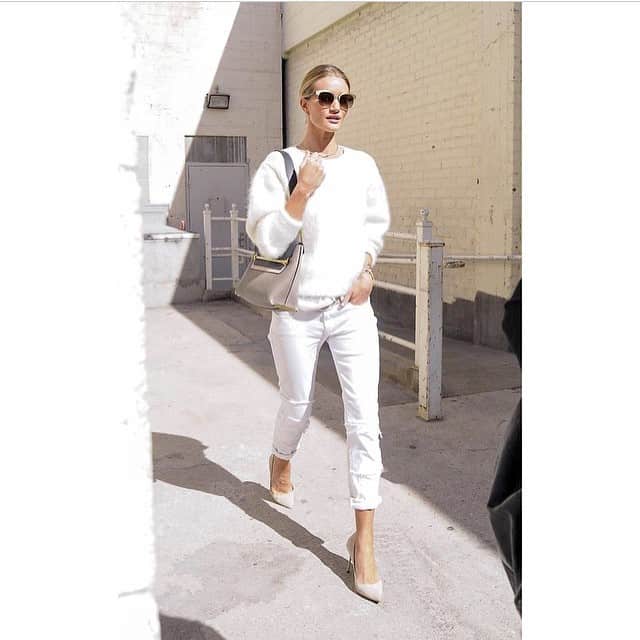 Image source
A white woolen sweater with long fluffy sleeves is the perfect companion for a pair of ankle-length slim-fit jeans. Carry a grey-toned multicolor mini leather shoulder bag to contrast the neutral color and a thin gold chain as an add-on accessory.
You can sport this casual winter wear with a pair of white high-heel stiletto pumps and stylish sunglasses for a classy all-white look.
19. White Mini Shirt Dress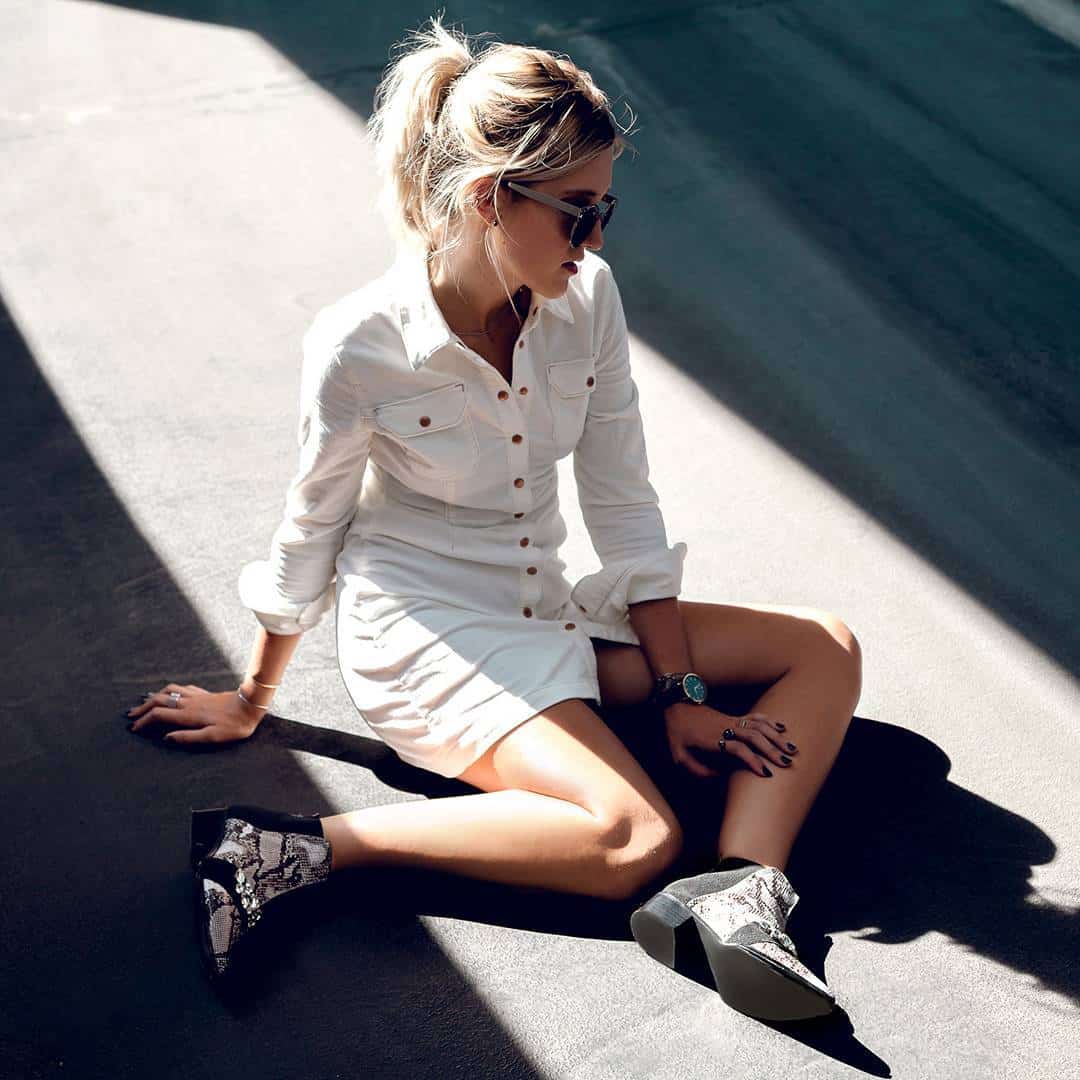 Image source
You cannot go wrong with a dress shirt – it simply cannot go out of style! This long sleeve dress shirt has metallic bronze buttons that run from the collar to the hem, giving rise to a V-shape slit.
You can roll up the sleeves, paint your nails black, and wear a silver bracelet and a leather wristwatch for a contemporary look. Opt for a messy ponytail, teaming it up with a pair of black and white printed block heel boots.
20. White V-Neck Boiler Suit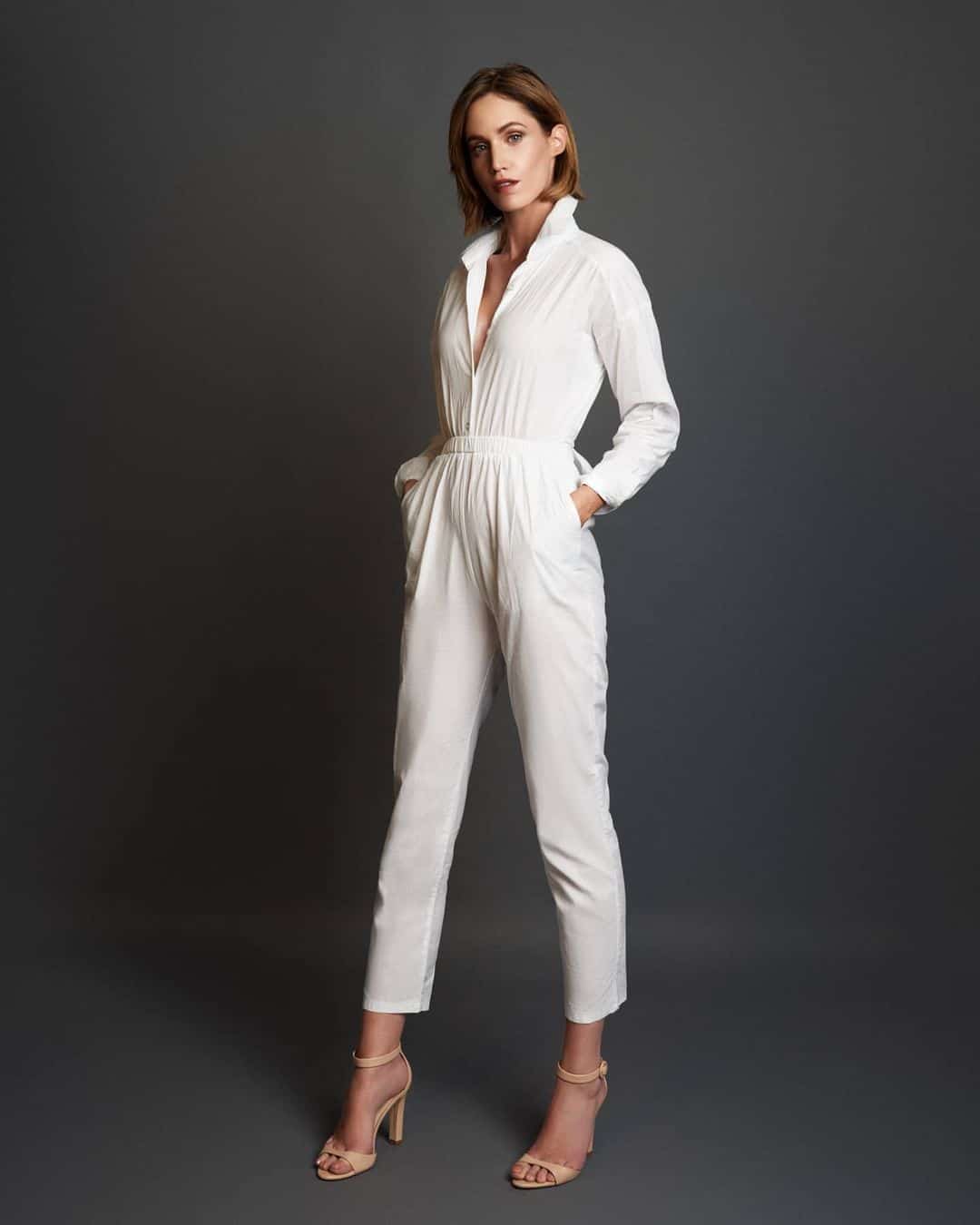 Image source
This neutral deep V- neck, full-sleeve, elegant white jumpsuit has buttoned cuffs that can help you make an irresistible fashion statement. The elastic band around the waist gives rise to frills that straighten out towards the trousers, adding texture to the outfit.
Put on some light makeup with a bright, glossy lip color and a pair of nude pink leather ankle-strap stilettos for a bold look.
21. White High-Low off-the-Shoulder Peasant Dress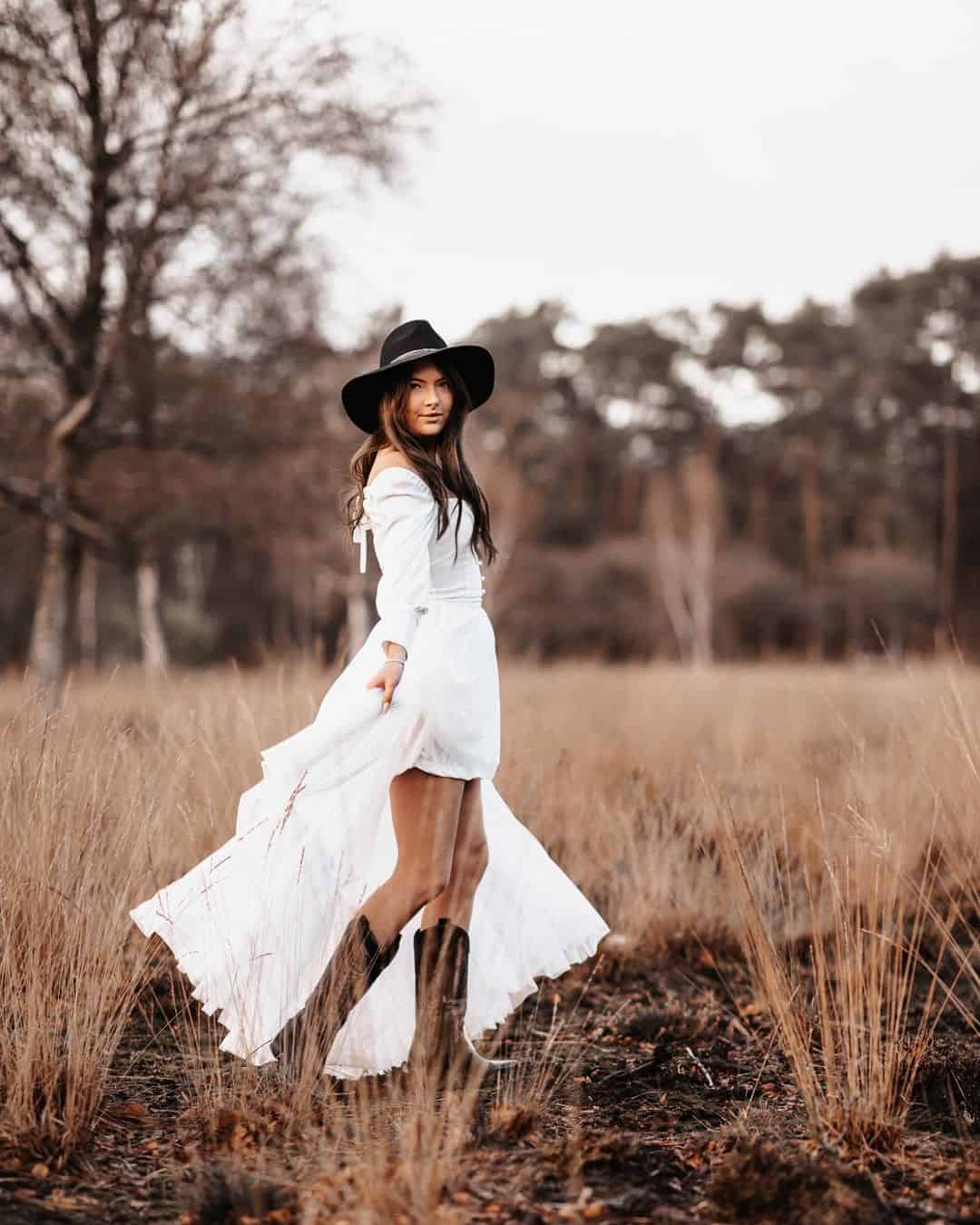 Image source
This white, off-the-shoulder, high-low dress exudes a bohemian charm, making it ideal for a summer getaway. The layered skirt has a frilly hem at the back, while buttons on the bodice and a simple tie-up bow add detail to the dress.
Flaunt this dress with a black cowboy hat, simple nude makeup, a simple silver bracelet, and a pair of modish black high-tube boots for a vintage cowgirl look.
22. White Blazer With White Trousers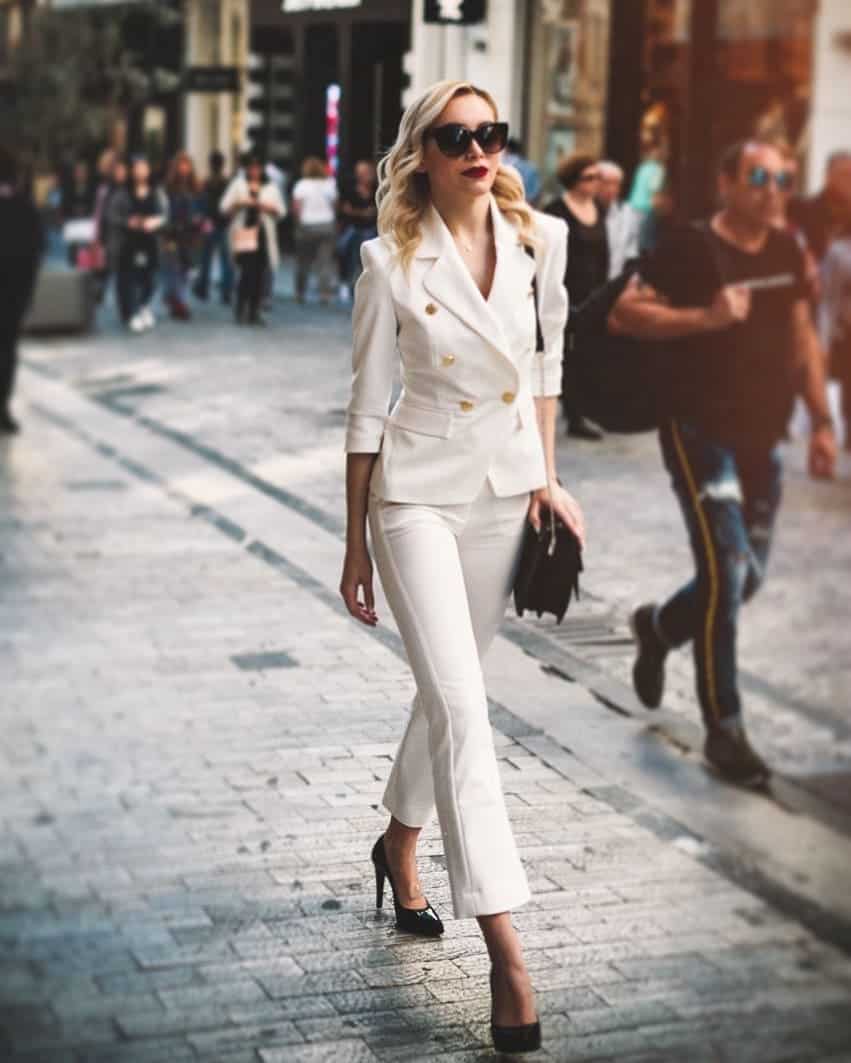 Image source
If you thought workwear is boring and plain, think again! A 3/4th sleeve white blazer with golden buttons and a pair of straight-fit white trousers make for a chic combination. Add this outfit to your closet to reignite your collection and sport it at formal work events.
Give your lips a maroon or deep red hue, carry a black sling bag with a chain strap, and finish off with black stiletto pumps and dark sunglasses.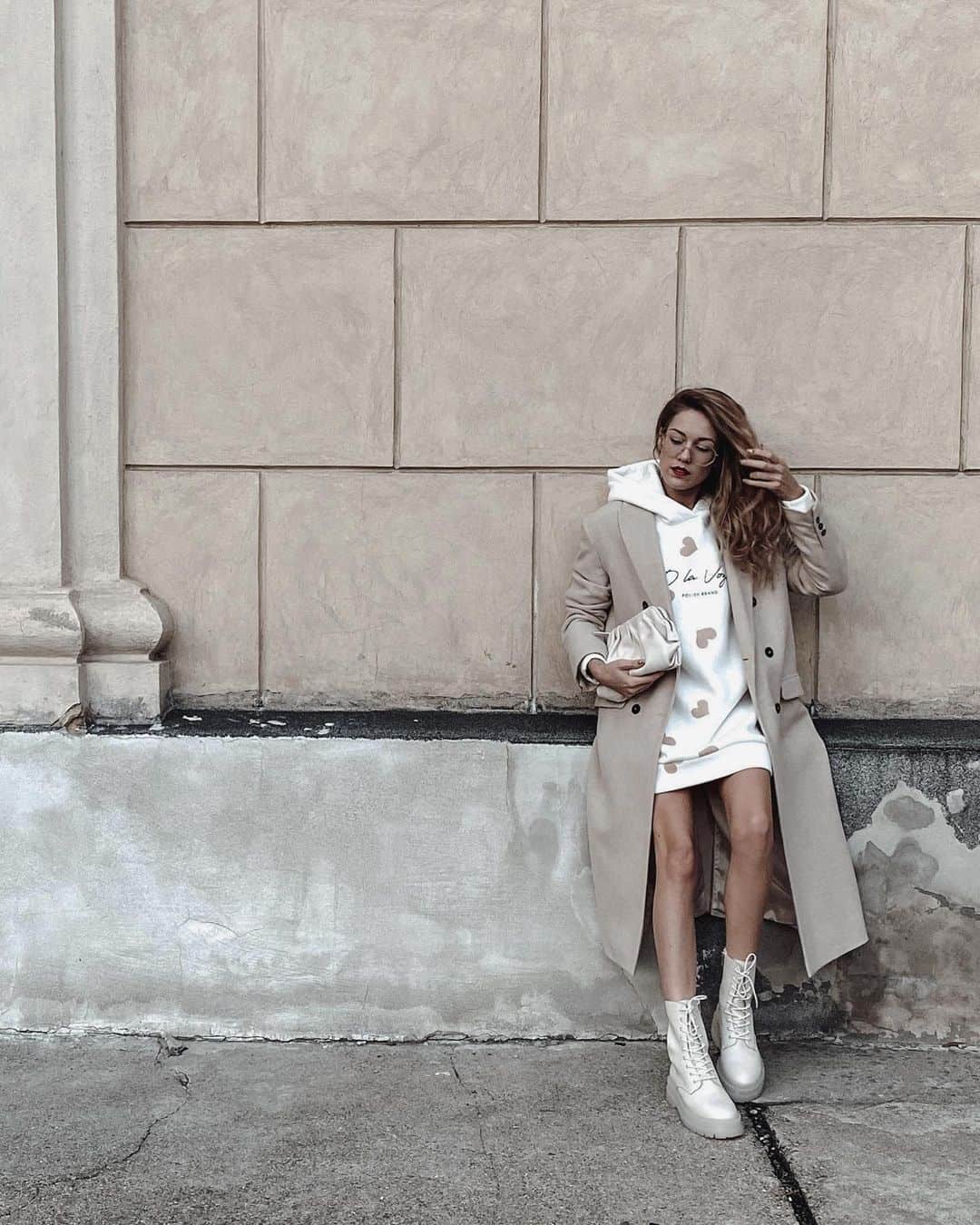 Image source
This adorable white hoodie dress with beige printed hearts is a winter must-have. A beige overcoat complements the white of the hoodie, giving way to a layered look. The black buttons along the center and sleeves of the coat add contrast to the outfit.
Accessorize with a metallic, off-white clutch and a pair of round-framed, full-rim spectacles. You can wear white lace-up boots with a golden shimmer to look your best.
24. White A-Line V-Neck Embroidered Dress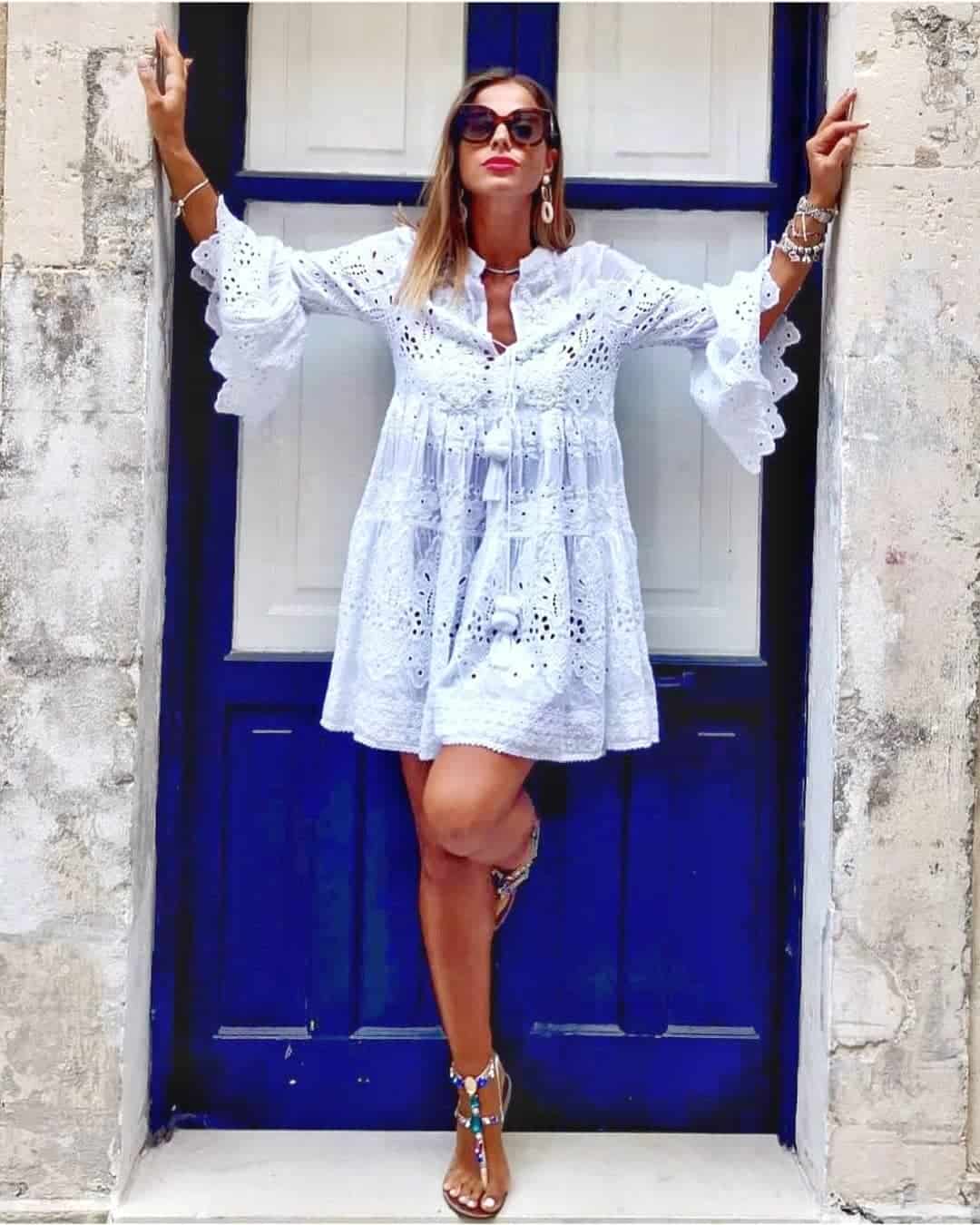 Image source
If you are looking for summer-ready beachwear, then this one is for you. This short, white, A-line, V-neck, flowy, see-through cotton dress with embroidered eyelets and intricate detailing is simple yet striking.
The bell sleeves and the tie-up tasseled string contribute towards the overall floral theme of the dress. Accessorize with customized bead jewelry – earrings, bracelets, chains, flat rhinestone sandals, and finish off with light makeup and brown shades.
25. White off-the-Shoulder A-Line Knee-Length Lace Dress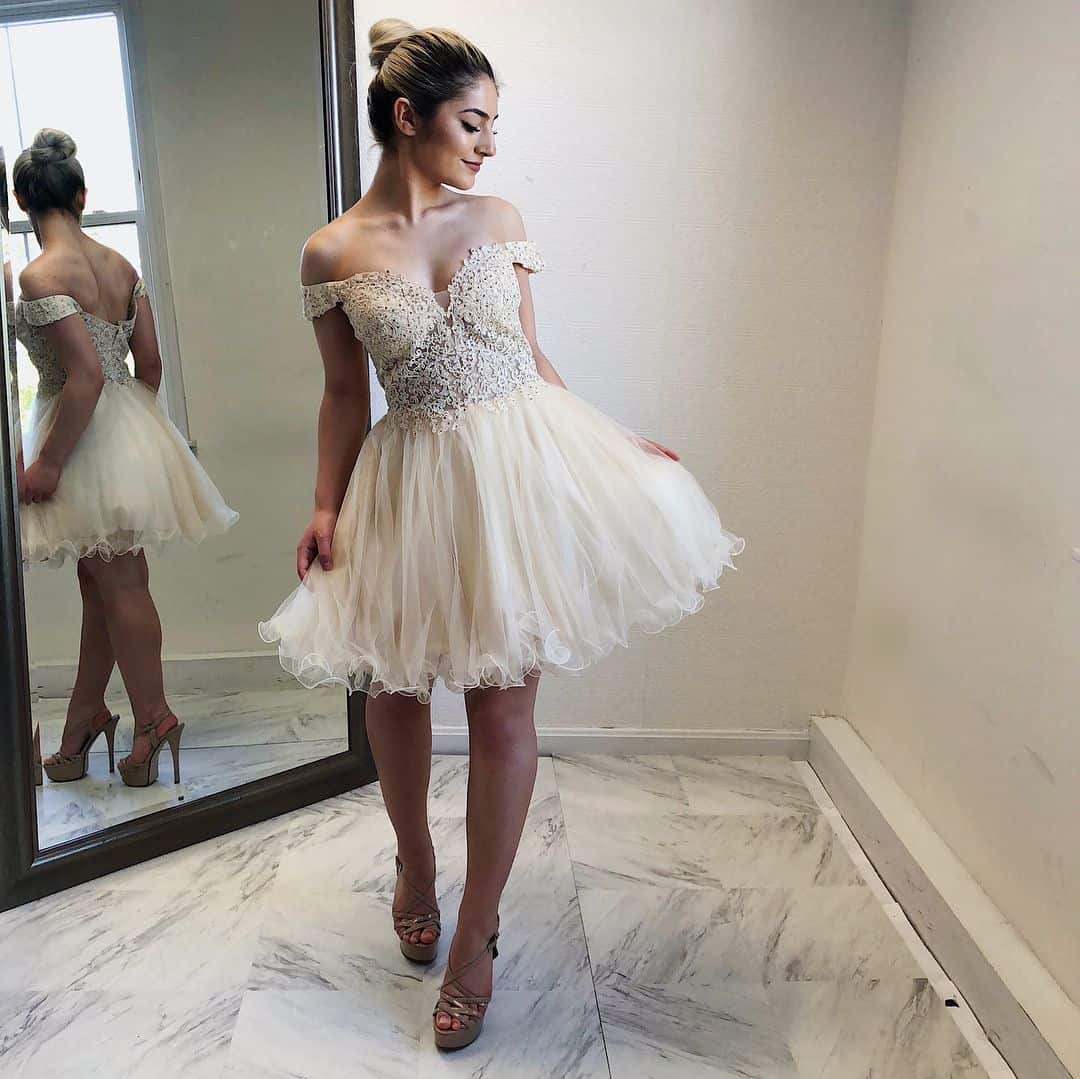 Image source
An off-shoulder knee-length mini dress is a cute and chic way to dress up for a semi-formal event. The lace bodice leads to a layered, puffy frock that is accentuated by the sweetheart neckline.
A tight hair bun gives you a ballerina-like appearance – keep makeup to a minimum by sporting eyeliner and a light lip color. Wear a pair of micro-high platform heels in a darker shade for the right amount of contrast.
26. White Pajamas With Blue Dots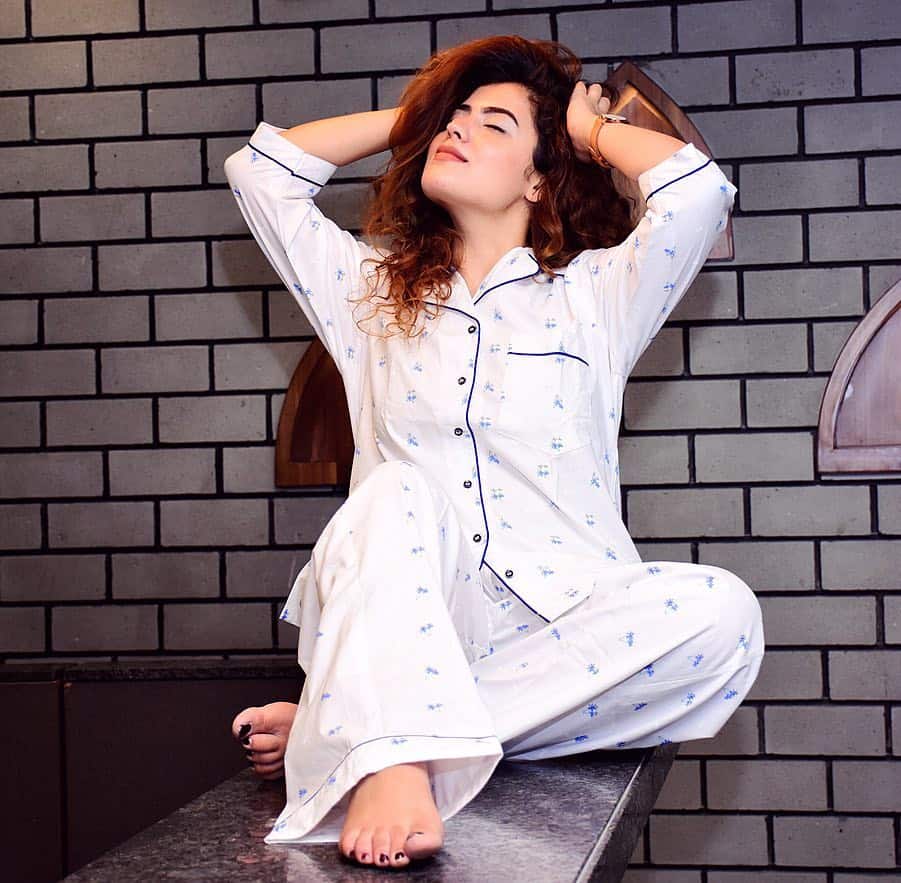 Image source
A comfortable pair of pajamas is the best way to unwind after the hustle and bustle of everyday life. This white pajama suit is light, airy, and soft.
Light blue dots across the entire piece breathe life into the outfit that would otherwise be left looking plain. Hop into this suit to brace those hot summer nights without the discomfort of it sticking to your skin.
27. White Strapless High-Low Gown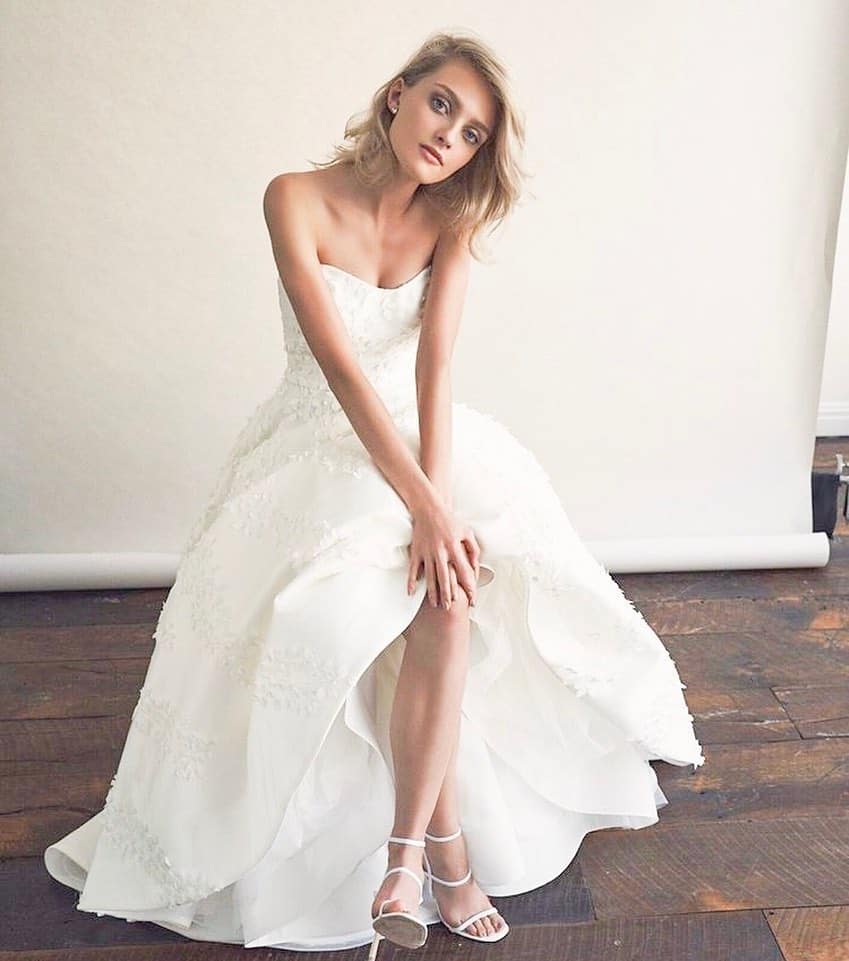 Image source
This strapless, white, high-low, A-line, layered gown has intricate embroidery along the length that adds a soft charm to the dress. The sweetheart neckline complements any body shape creating a graceful appeal.
Simple pearl earrings can add a subtle touch, while white ankle strap micro-high stiletto heels elevate the look further. Smokey eyes and neutral lip color should suffice when it comes to makeup.
28. White Casual Short Frock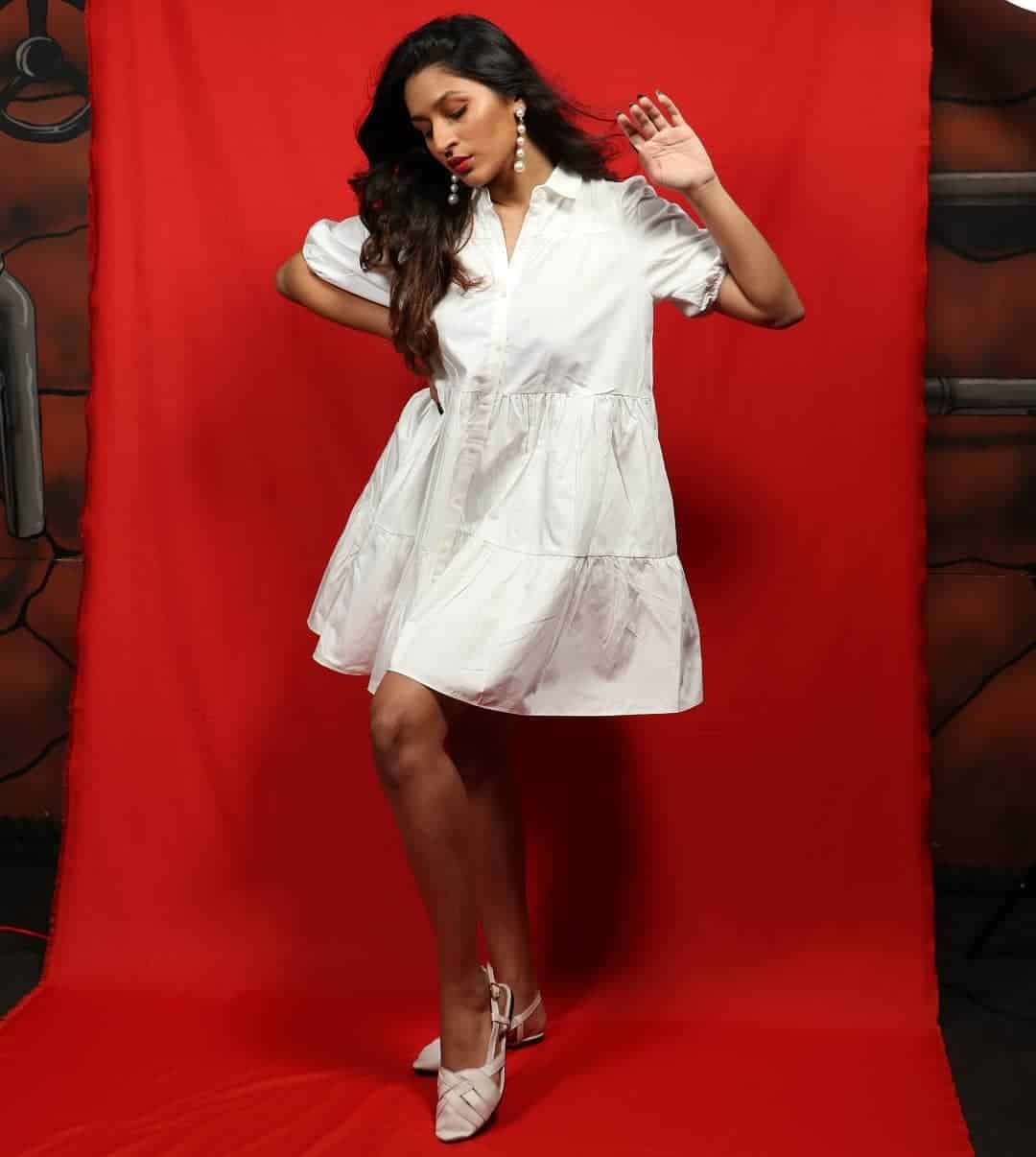 Image source
This white casual A-line loose-fit dress can be your go-to summer outfit as it is comfortable to have on. The poly-cotton blended dress has buttons lining it flaring up at the bottom, but only just!
Makeup can be as bold or subtle as you like – contrasting hues would have the best effect. To make this casual look standout, sport long pearl earrings and finish off with white strappy flat sandals.
29. Woolen Sweatshirt With White Joggers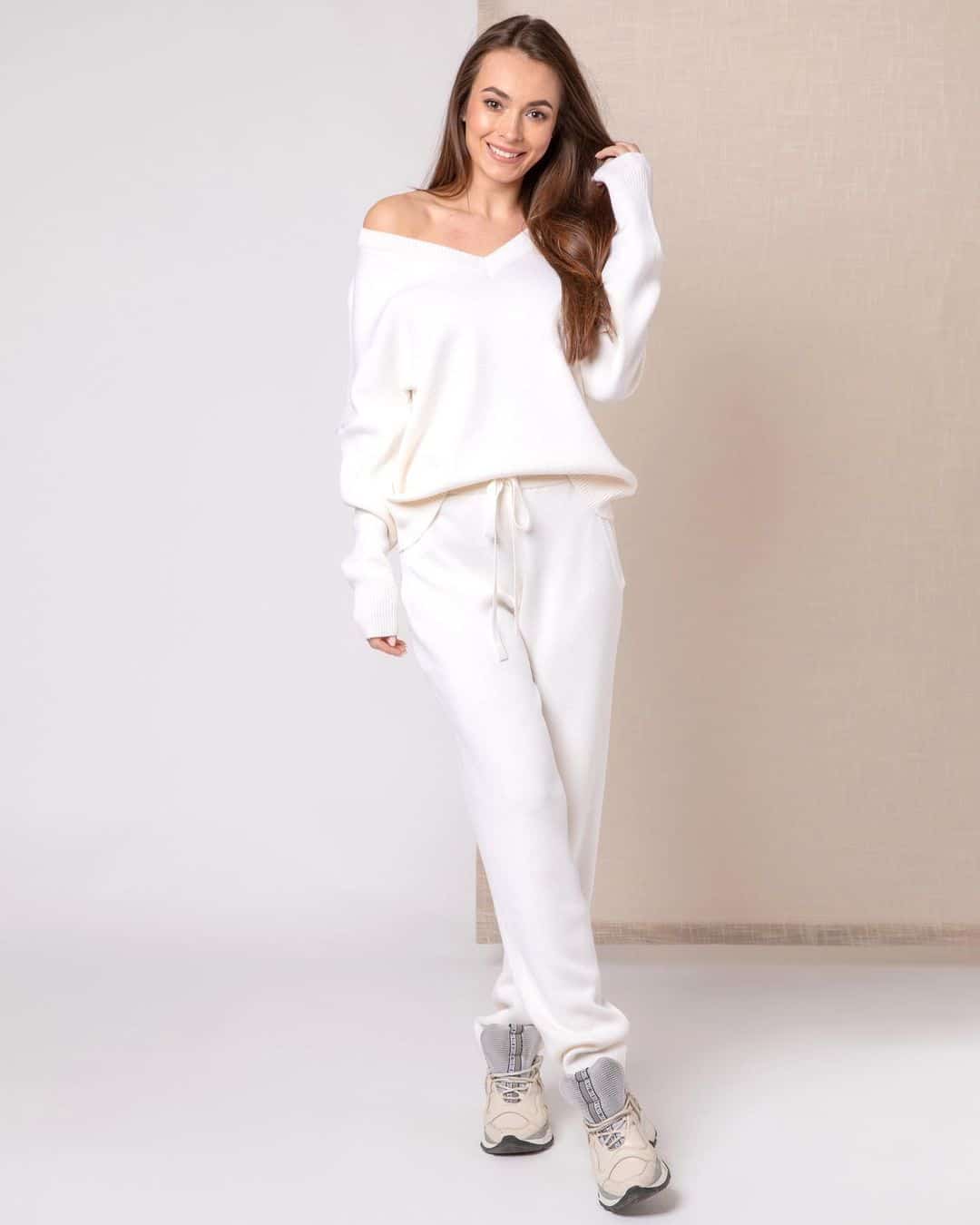 Image source
A pairing of this white V-neck soft woolen sweatshirt with white joggers makes for a sporty look. The outfit is ideal for casual meetups or daily wear in winter.
Style the neckline off your shoulder for a casual yet chic look. Finish it off with a pair of off-white or brown running sneakers for the best effect.
30. Off-White Lace Pleated Midi Dress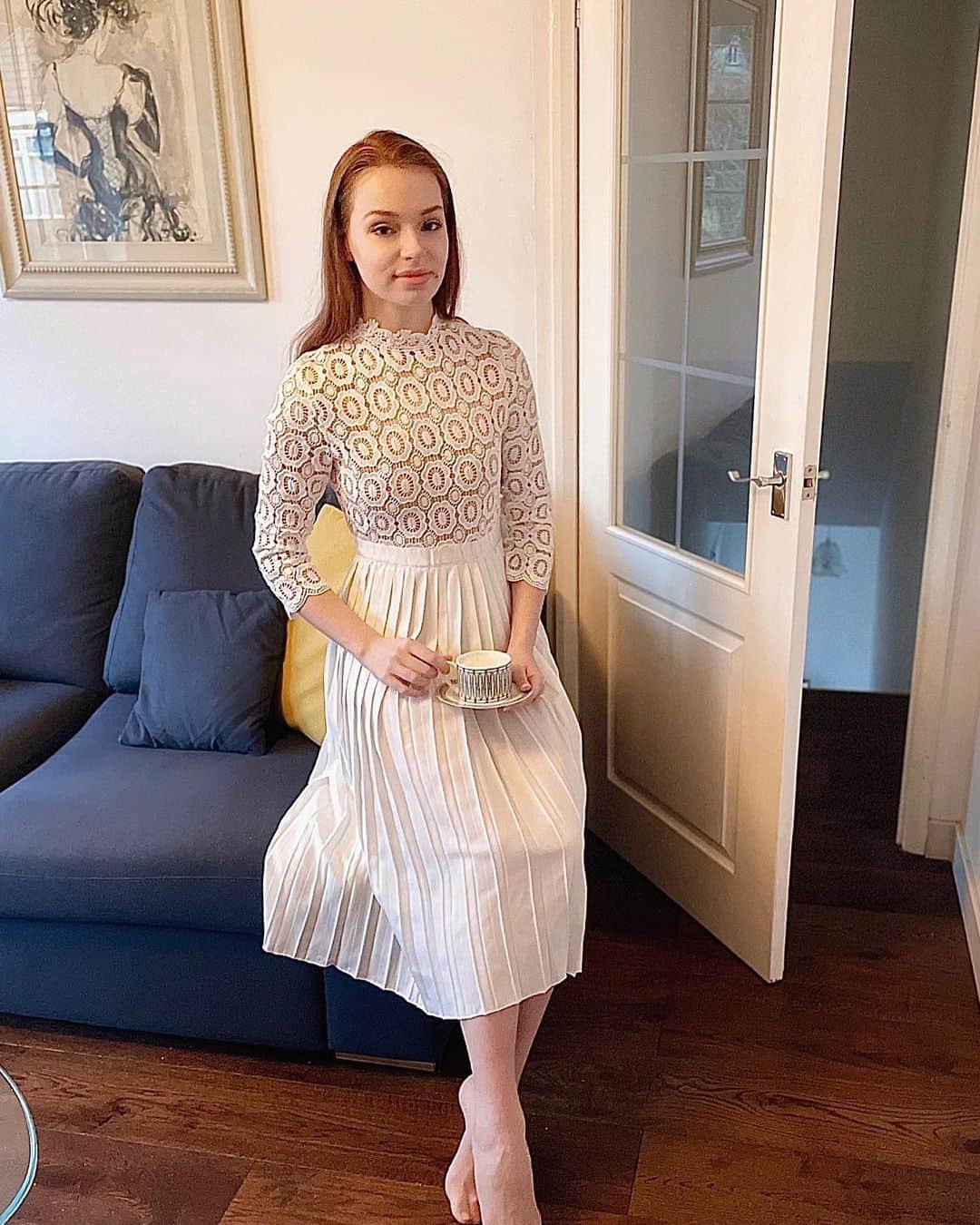 Image source
This white 3/4th sleeve lace pleated midi dress portrays elegance and style at the same time. The heavily embroidered bodice has a jewel neckline bordered by lace, making the outfit ideal for formal events and get-togethers.
Opt for an accessory-free retro look by pairing the outfit with white sandals, stilettos, or nude kitten heels. Highlighting your hair in a shade of red further contributes to the overall theme of the look.
31. White Ribbed Full-Sleeve Crop Top With Pencil Skirt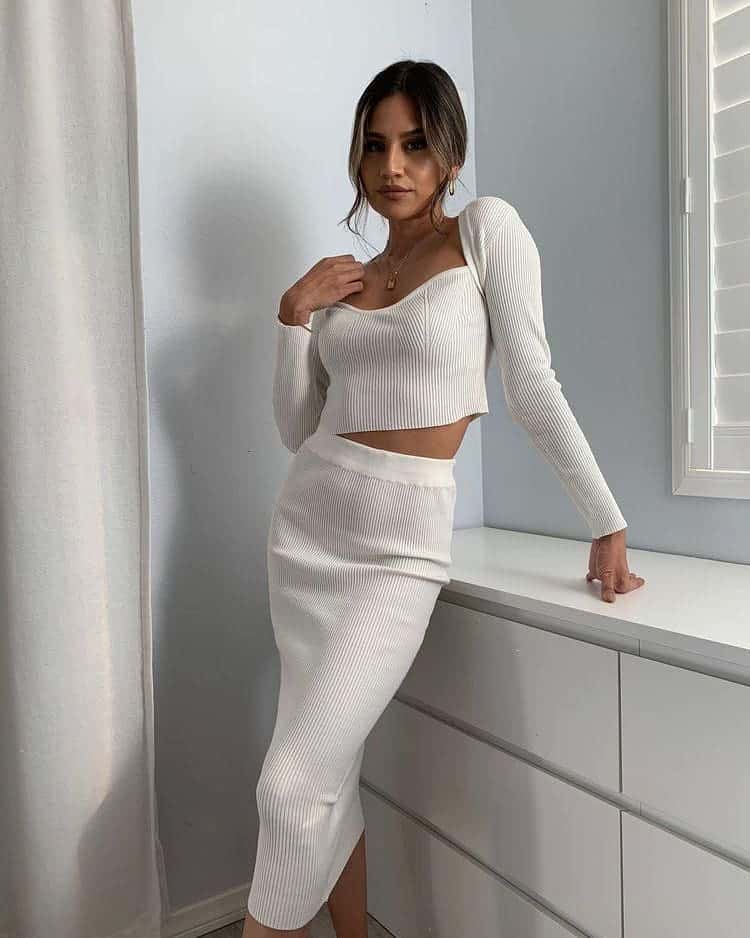 Image source
A white, ribbed, full-sleeve crop top paired with a white, long pencil skirt creates a sophisticated look. The sweetheart neckline, in conjunction with the high waist elastic skirt, works well with neutral makeup.
Accessorize with a gold chain, gold metallic earrings, and finish off with nude platform heels or ankle strap high stiletto heels.
32. White Square Neck Sheath Knee-Length Dress With Black Straps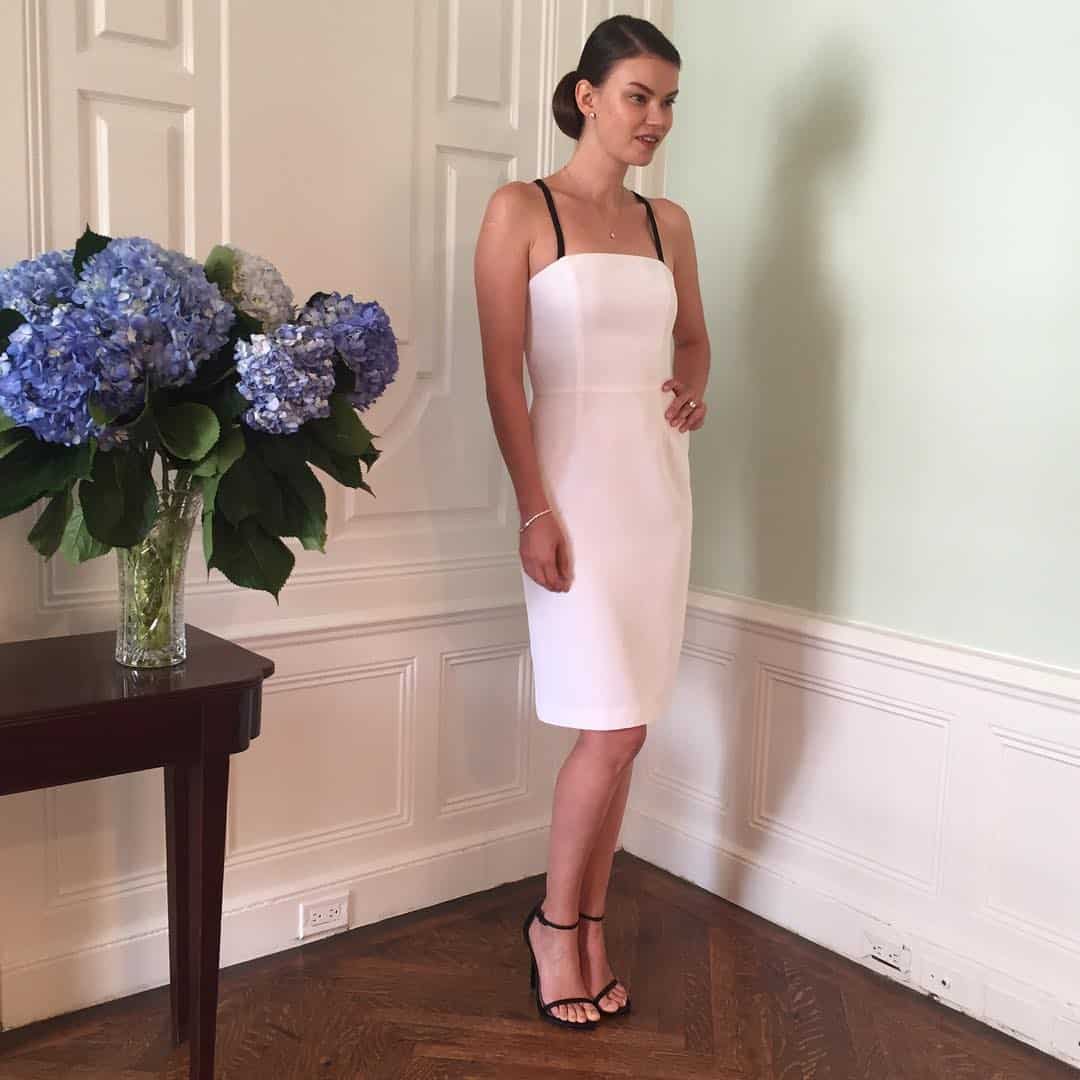 Image source
This fully lined knee-length white sheath dress with a subtle square neckline brought about by a pair of black straps makes transitioning from workwear to evening-wear seamless.
Subtle makeup and a classic neat low bun is the best combination to complement the little white dress. A thin chain, bracelet, and a pair of small earrings should serve as the perfect accessories, while black, peep-toe, stiletto high heels finish off the look.
33. White V-Neck Backless Boho High-Low Dress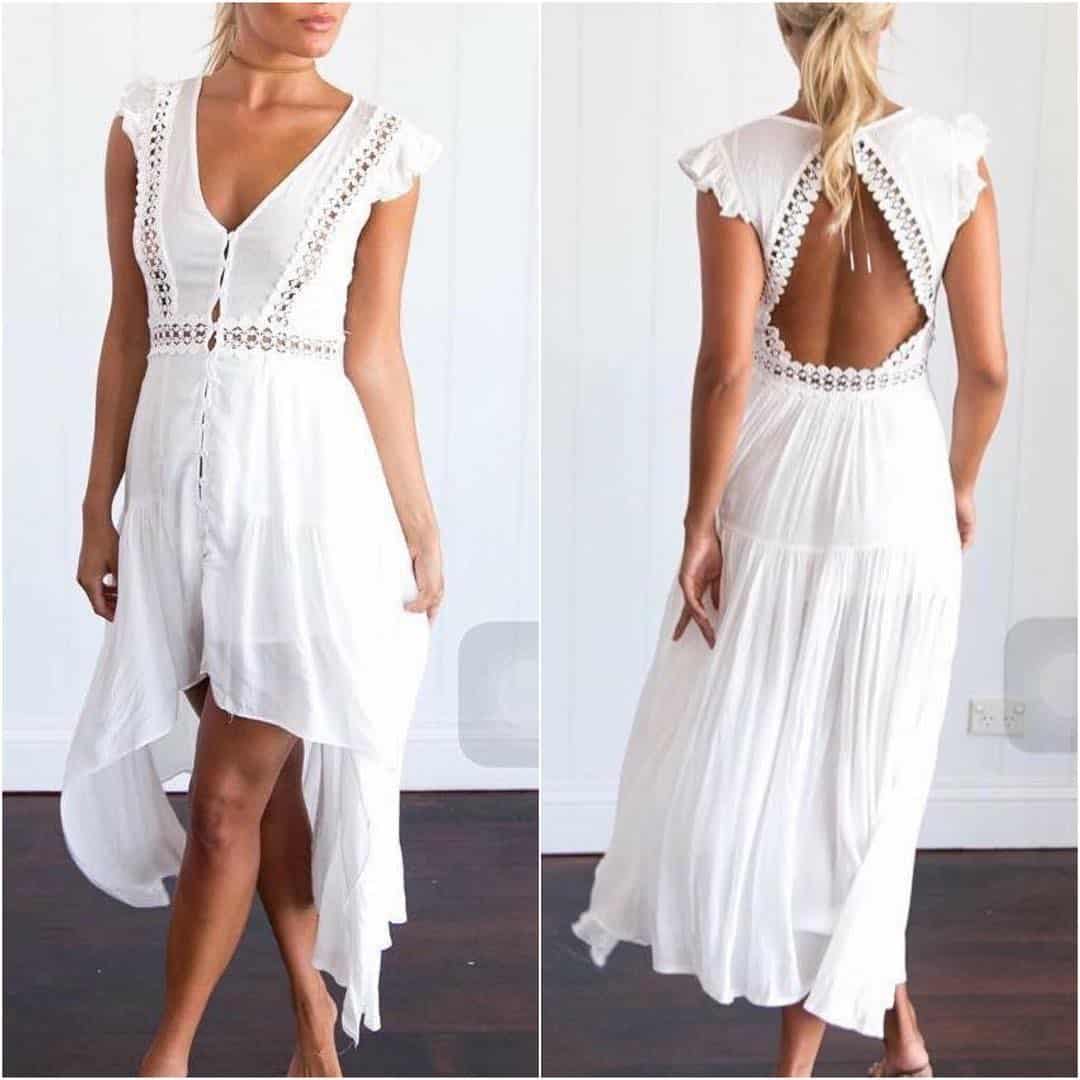 Image source
A white V-neck, backless, boho high-low dress is ideal for the summers. The hollow-out embroidery along the bodice continues to the back, giving rise to a backless design.
The plunging neckline is balanced perfectly by the length of the ruffled, layered skirt. Buttons running along the center of the dress add a unique touch. A messy low chic ponytail and a light brown choker work well with the look.
34. White Hoodie With White Waist Loose Lace-Up Pant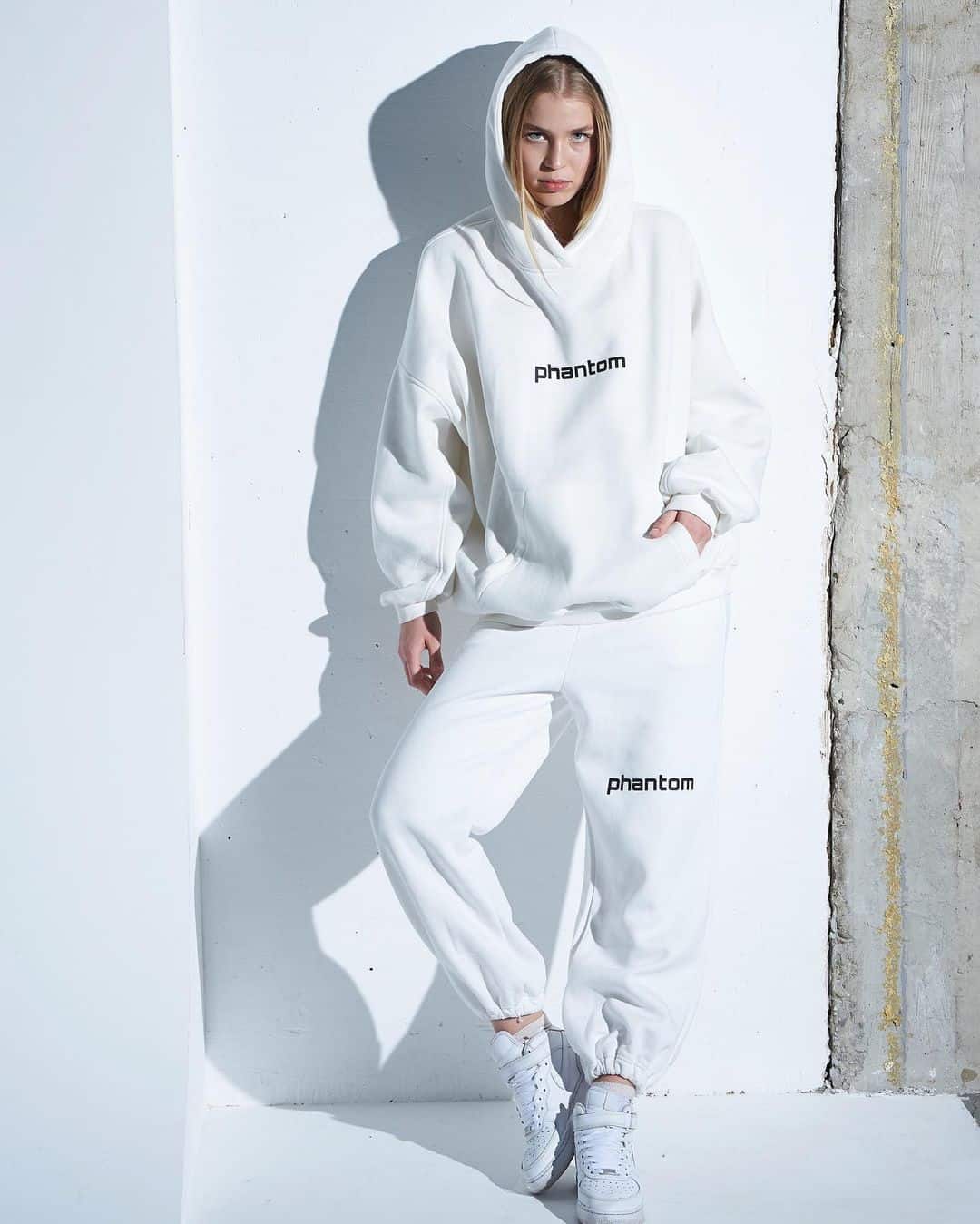 Image source
If you are looking for an on-the-go look or a workout look, this is the way to do it. This pairing of a simple white hoodie and loose waist lace-up pants speak for itself – you can sport a no-makeup look or opt for minimal makeup.
Accessories can be left out of the picture, though you can add a few if you want. Pair this outfit with white running sneakers for an all-white outfit look.
35. White Halter-Neck Dress With Flamingo Print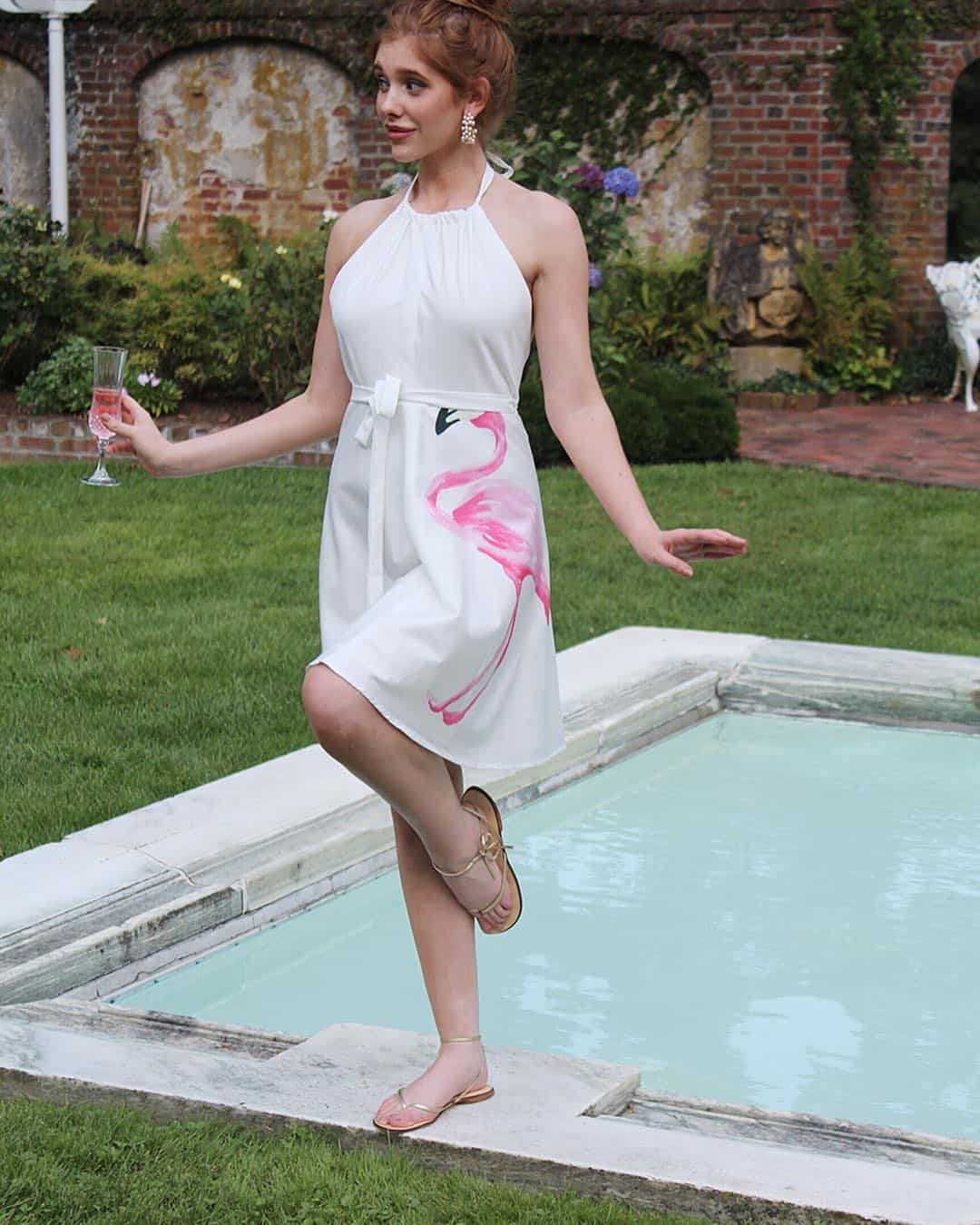 Image source
This halter neck, short, white dress with a light pink flamingo print on the side makes for a chic look. A white tie-up belt separates the bodice from the skirt giving rise to a high waist empire fit.
Shimmery pendant earrings coupled with an uptight bun brightens up the look. This dress is the perfect apparel for parties and events when teamed up with strappy golden flat sandals.
36. White V-Neckline Sequin Cocktail Knee Length Dress With Spaghetti Straps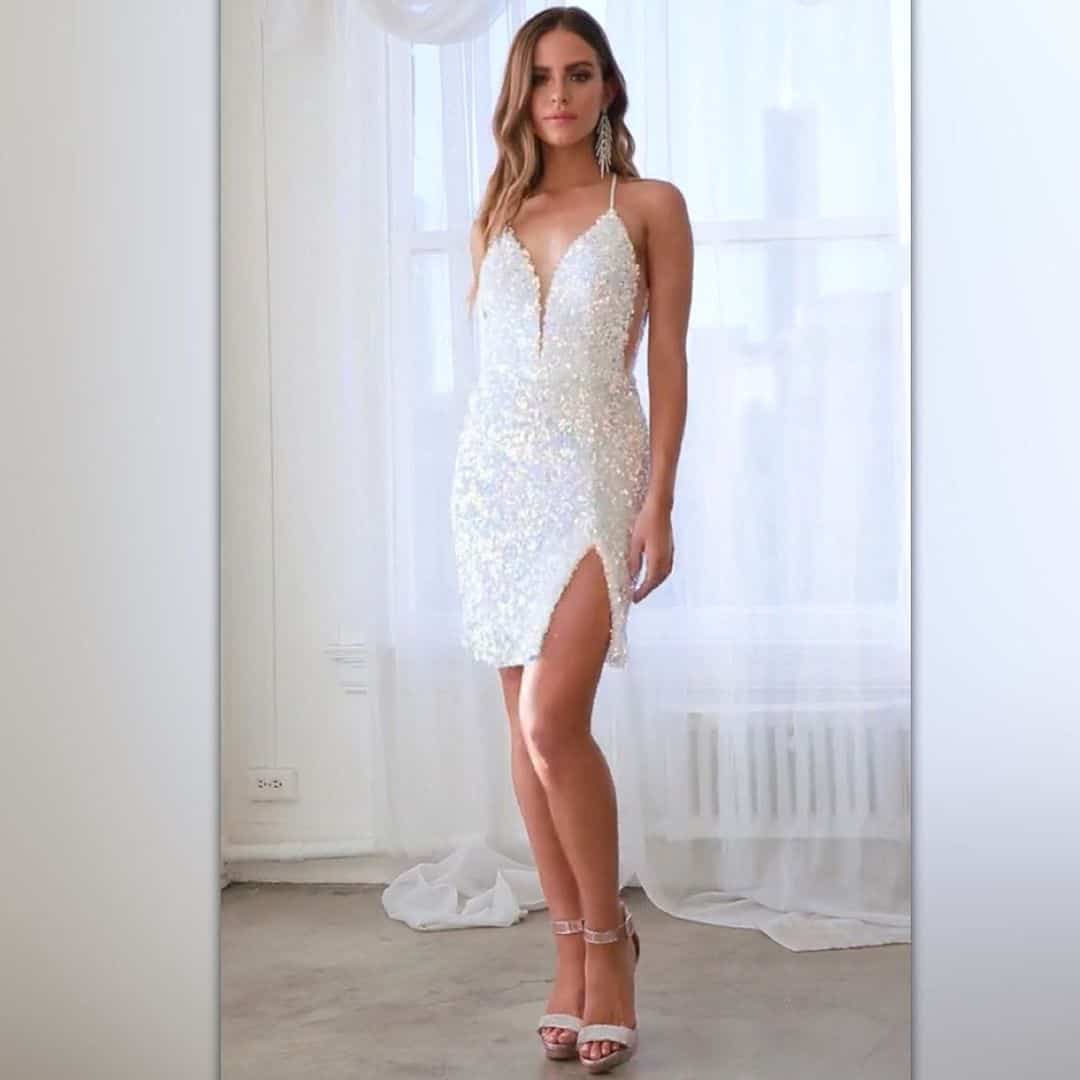 Image source
This knee-length ensemble with spaghetti straps is ideal for homecoming, prom, or any ballroom event. The plunging neckline with a sheer insert and side cut-outs is balanced perfectly by the thigh-high side slit.
The heavily sequined cocktail dress goes well with a pair of stone-studded long earrings and shiny peep-toe stiletto heels.
37. High Neckline White Midi Dress With Floral Lace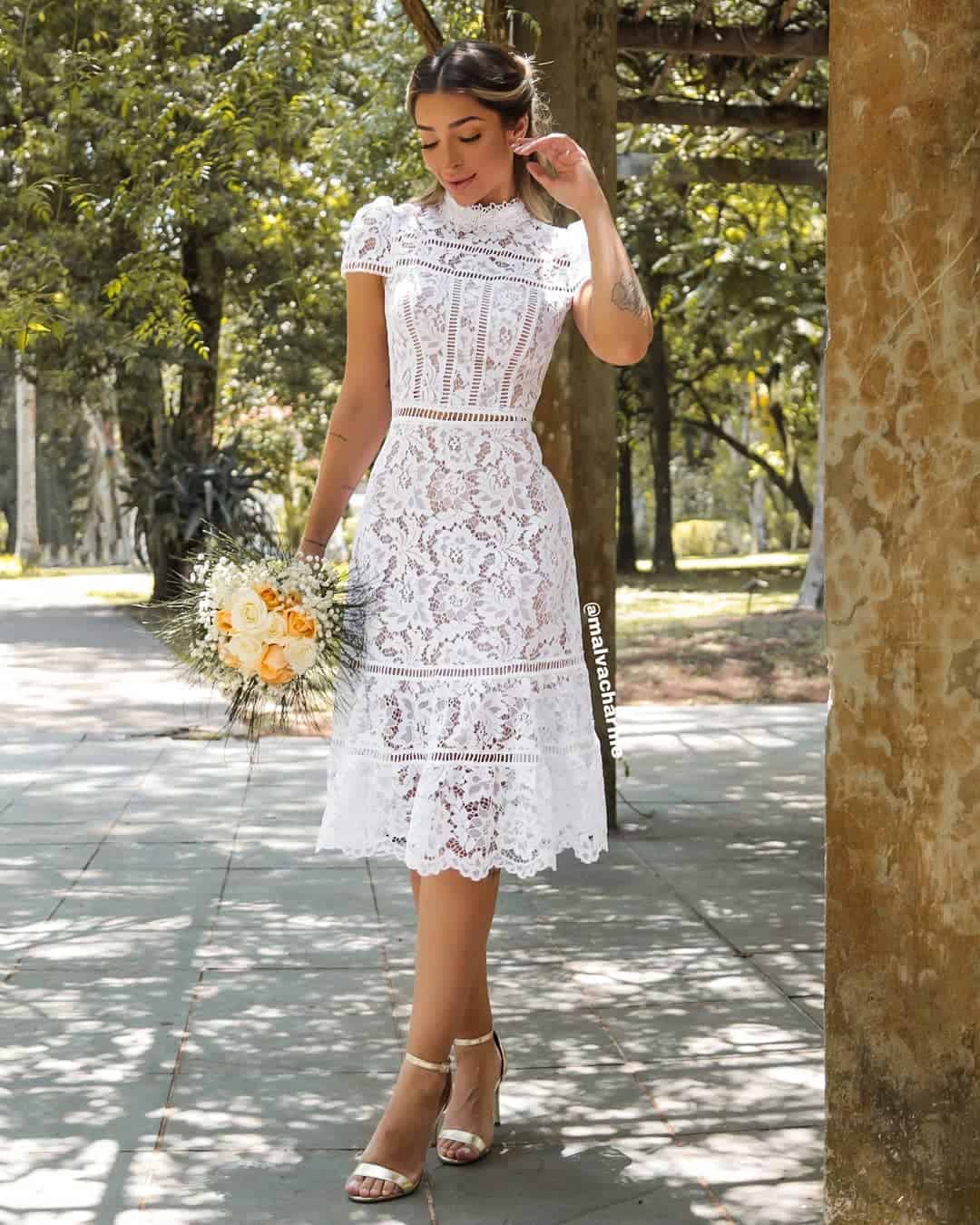 Image source
This partially lined white midi dress designed with floral lace makes an exquisite outfit, ideal for formal events. The Broderie Anglaise pattern along the length of the sheath fit dress is intricate and delicate at the same time.
The jewel neckline, accompanied by the cap sleeves, has floral detailing adding to the charm. Style your hair in a low bun or ponytail for a subtle and soft look. Nude or light pink lipstick adds the right amount of color without drawing attention away from the dress.
38. White Pencil-Fit Dress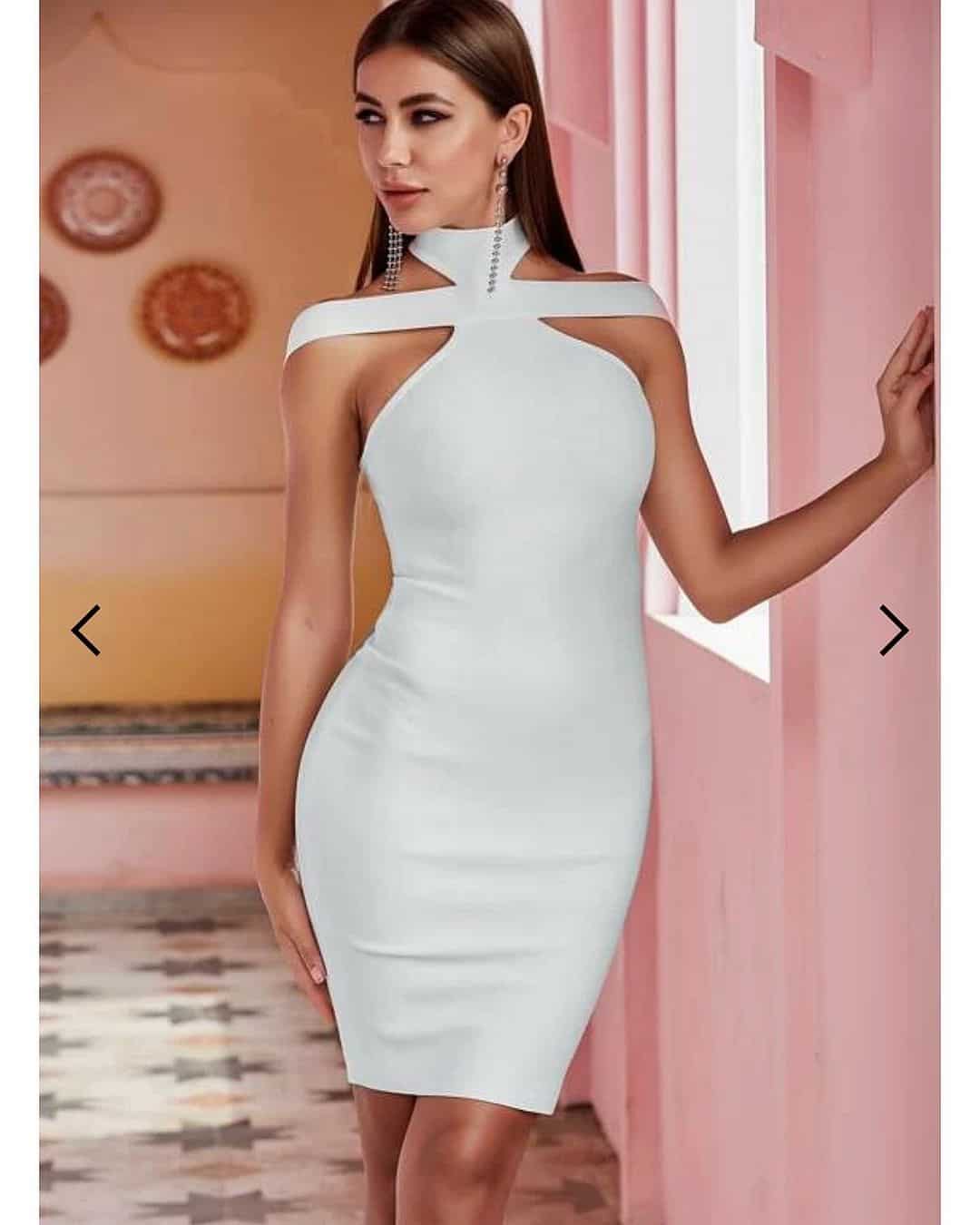 Image source
Halter neck dresses are always trending, especially ones that take on a slight twist. A horizontal white strap starts at the halter neck and makes its way over the shoulder and across the back, serving as straps for the dress.
This pencil-fit white with a square back has an hour-glass body-fit that compliments any body shape. Sport metallic bead studded long earrings and neutral platform block heels or black stiletto pumps to complete this look.
39. White Puffy Sleeve Crop Top With High Waist Blue Jeans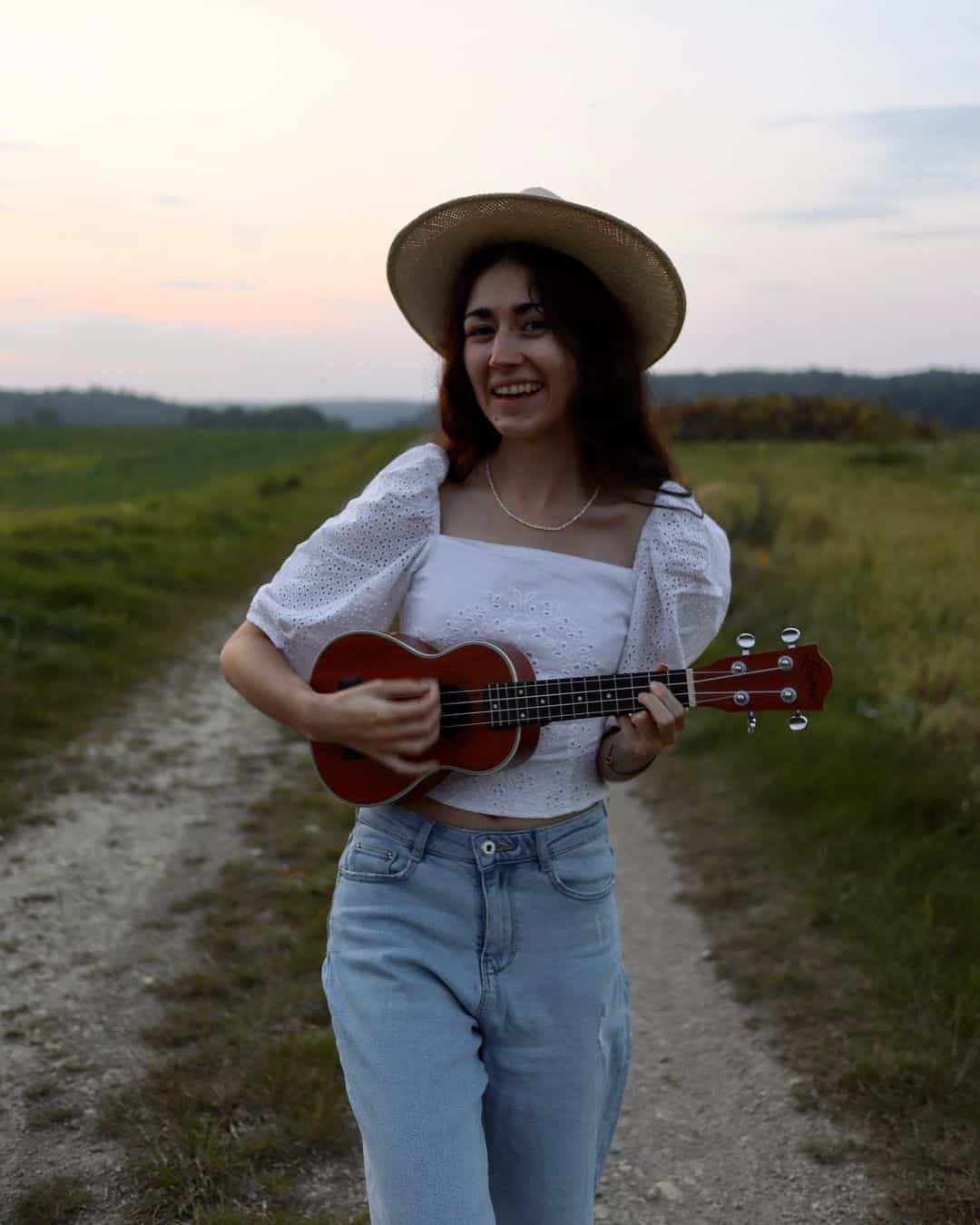 Image source
This white, square-neck, puff sleeve crop top with high-waist blue jeans is perfect for everyday wear or a fun day out in the sun. Light floral embroidery on the top and cut-outs in the sleeve makes the top ideal for the summer months as they will not stick to your skin, allowing you to move freely.
Wear a light-toned fedora hat and a pair of nude sneakers to complete this casual yet fun look.
40. White off-the-Shoulder Crop Top With White Denim shorts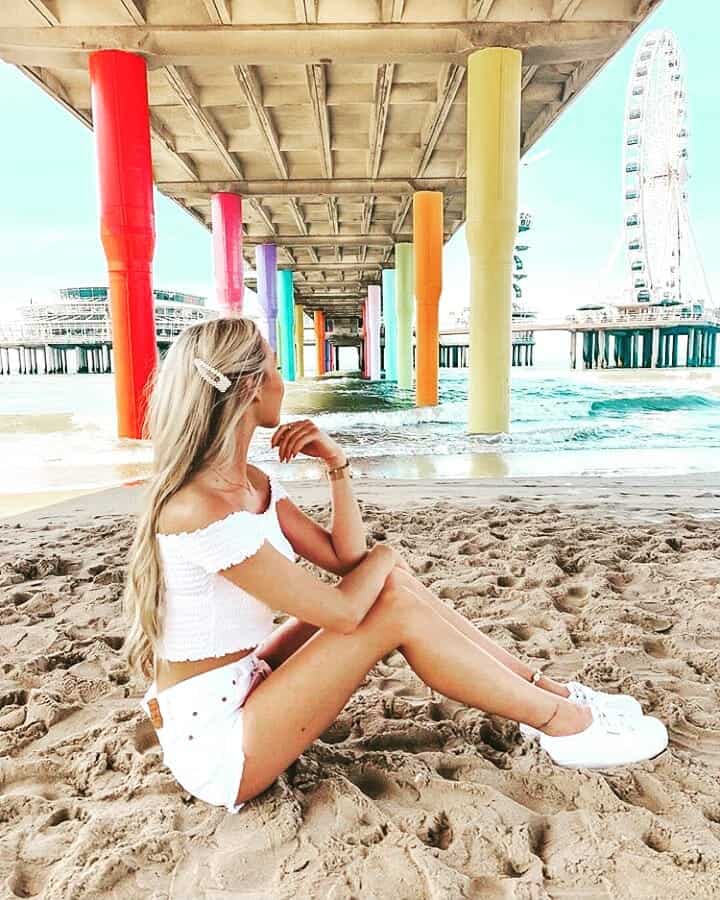 Image source
This white, short, off-the-shoulder crop top with white denim shorts is perfect for a casual beach outing. Wear an anklet and a light brown leather watch paired with a simple gold chain around your neck.
Style your hair with a white snap clip sideways and let the rest of it play with the breeze. A pair of cute white sneakers match the outfit well.
41. White Lantern Sleeve Hollow-Out Cotton Lace Dress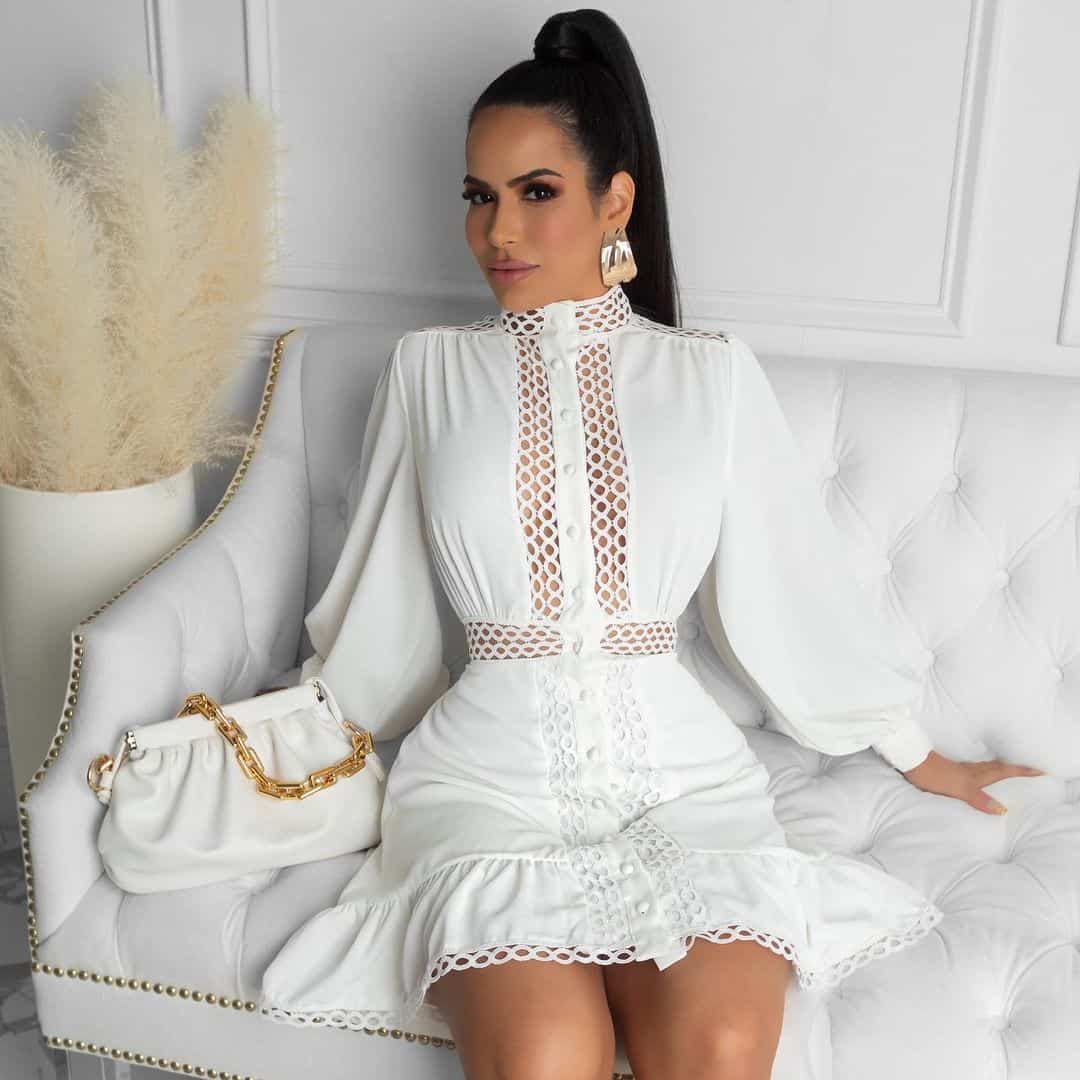 Image source
This white lantern sleeve, hollow-out, cotton, knee-length dress is something you can flaunt anywhere. While the A-line pattern makes it comfortable to wear, the hollow-out high neck and mid-waist design create a unique look.
Sport this outfit with bold eye makeup and mauve lips with a tight neat ponytail. Wear a pair of metallic earrings and carry a white pochette to enhance the look.
42. White One Shoulder Pearl Draped Party Wear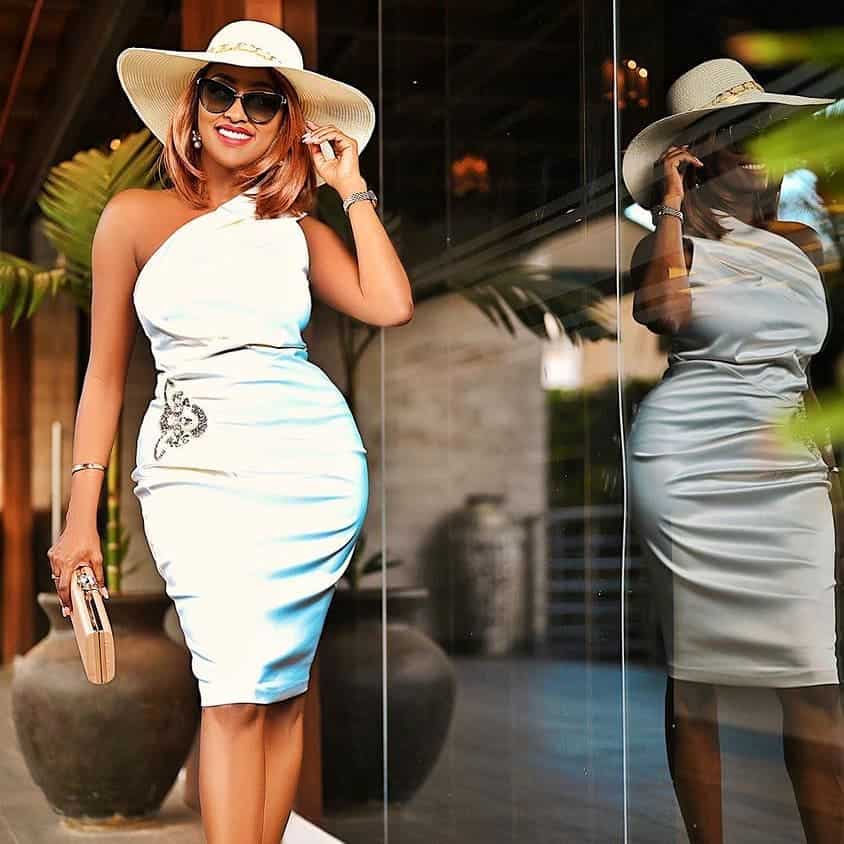 Image source
This pearl draped, one-shoulder, lined short dress can make you look like an absolute stunner. The body-hugging cut compliments any body shape, giving you a bold, bright look.
If you are stepping out on a sunny day, be sure to wear dark brown shades along with a light-toned hat. You can sport bright makeup with a silver bracelet, pearl earrings, and a wristwatch.
43. White Lantern Sleeve Collar Neck Maxi Dress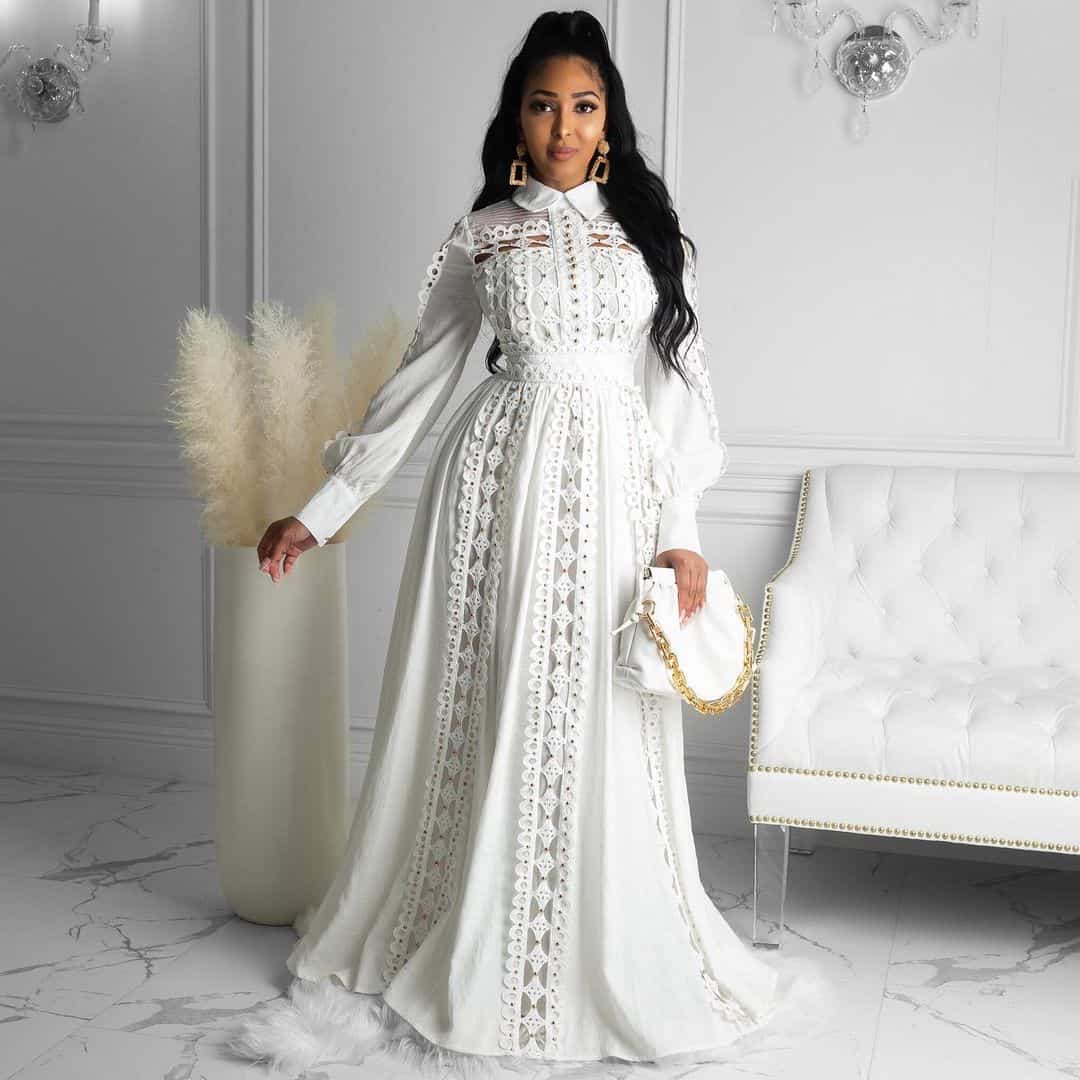 Image source
Create a vintage look with this buttoned cuff lantern sleeve, hollow-out maxi dress with cotton lace accents. You can sport this collar neck gown at a formal or semi-formal event.
Highlight your cheeks and eyes with loud makeup while keeping your lips neutral with mauve lipstick. Carry a pochette with golden chains and wear a shimmery pair of earrings.
44. White Cold-Shoulder Top and Crepe Printed Skirt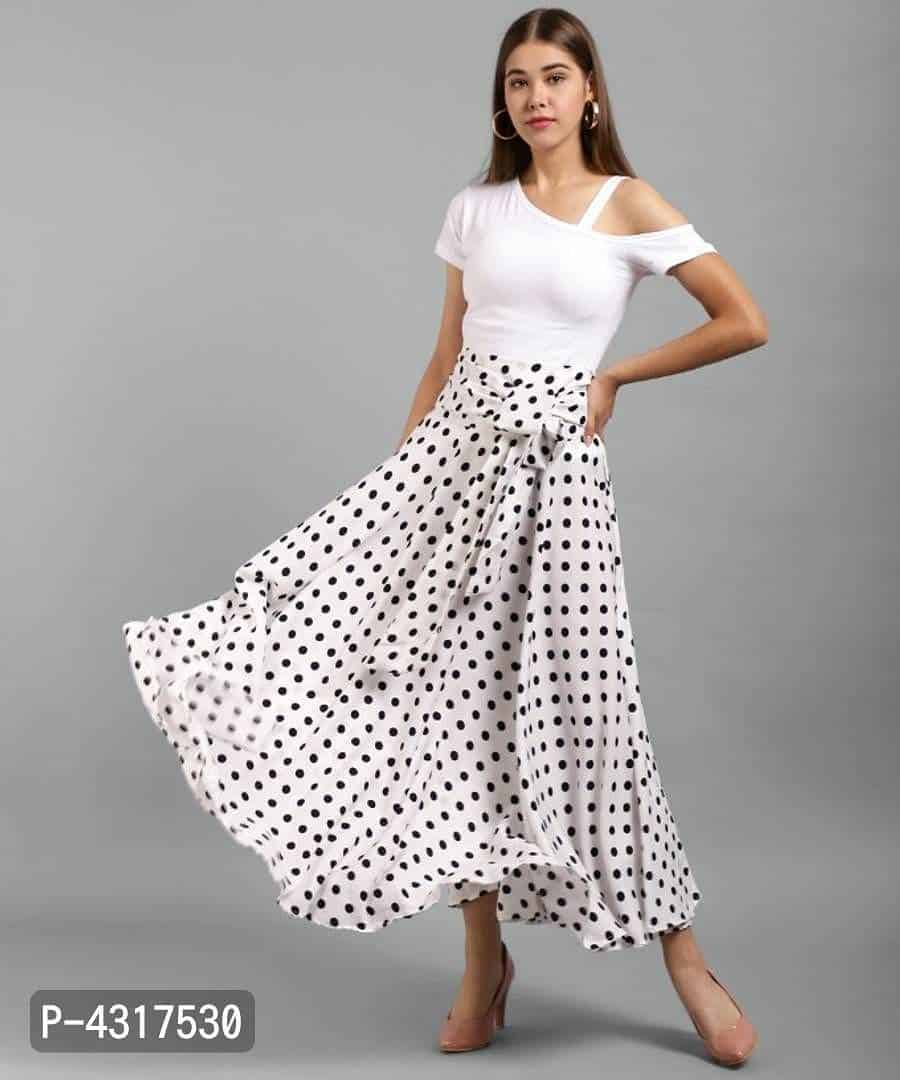 Image source
This white one-sided cold shoulder cotton top paired with a long crepe polka-dotted skirt comes with a lovely bow made out of ribbon. The polka dots create a playful look that is accentuated by the flowy, ruffled skirt.
The outfit is ideal for hot summer days and casual meetups. Give your lips a bright pop of color, and go bold with a pair of golden hoop earrings. Dusty pink court stiletto heels finish off the look.
45. White Lantern Sleeve Midi Dress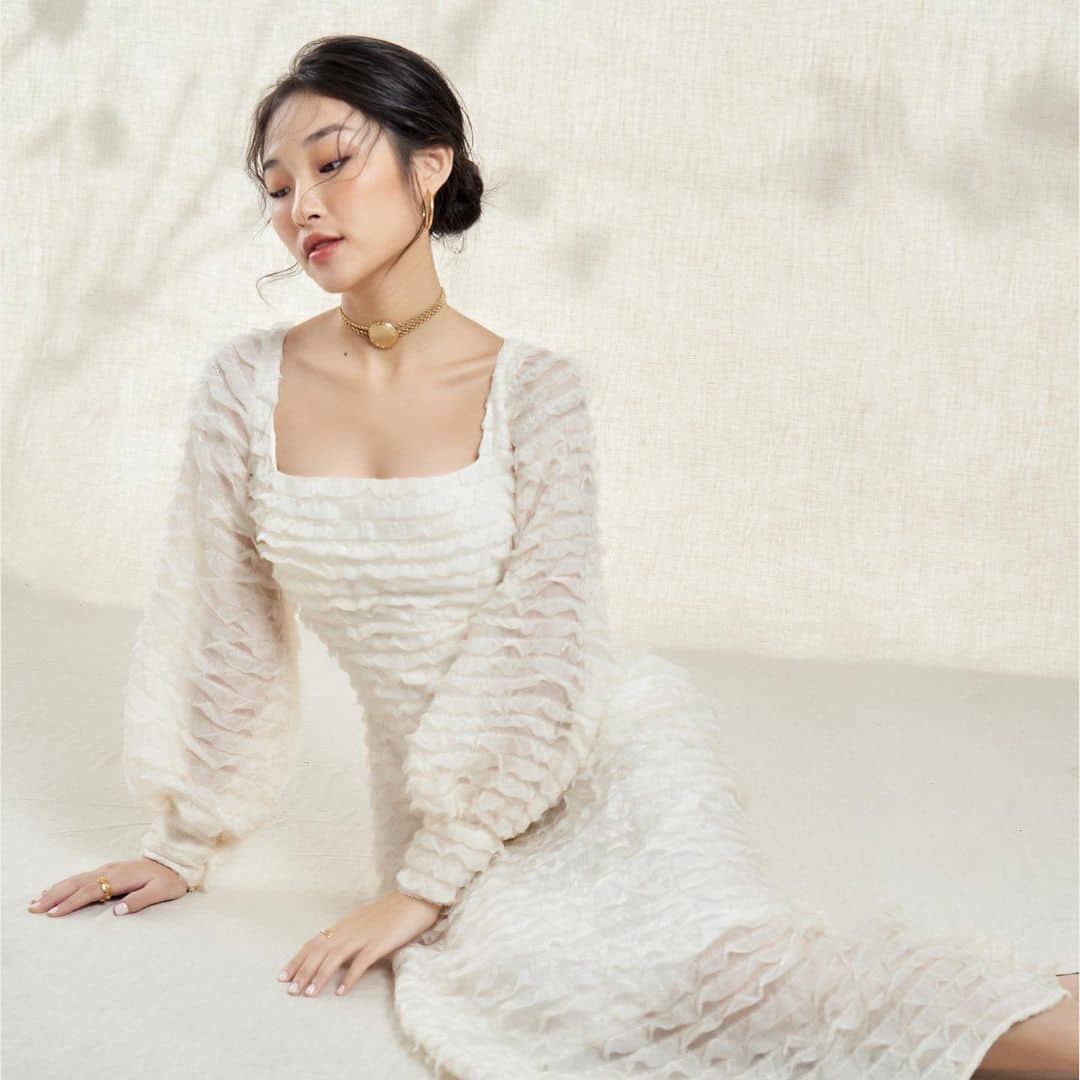 Image source
The puffy, sheer lantern sleeves of this off-white midi dress give way to a square neck that frames your face flawlessly. A layer of lace runs along the lined body, adding texture to an otherwise simple dress.
The square neckline goes perfectly well with a gold choker. Paint your nails nude, wear a gold ring on your finger, and give your lips an orange-toned tint. You can opt for hoop earrings that match your finger ring and style your hair in a messy, low, chic bun.
46. White Feather Dress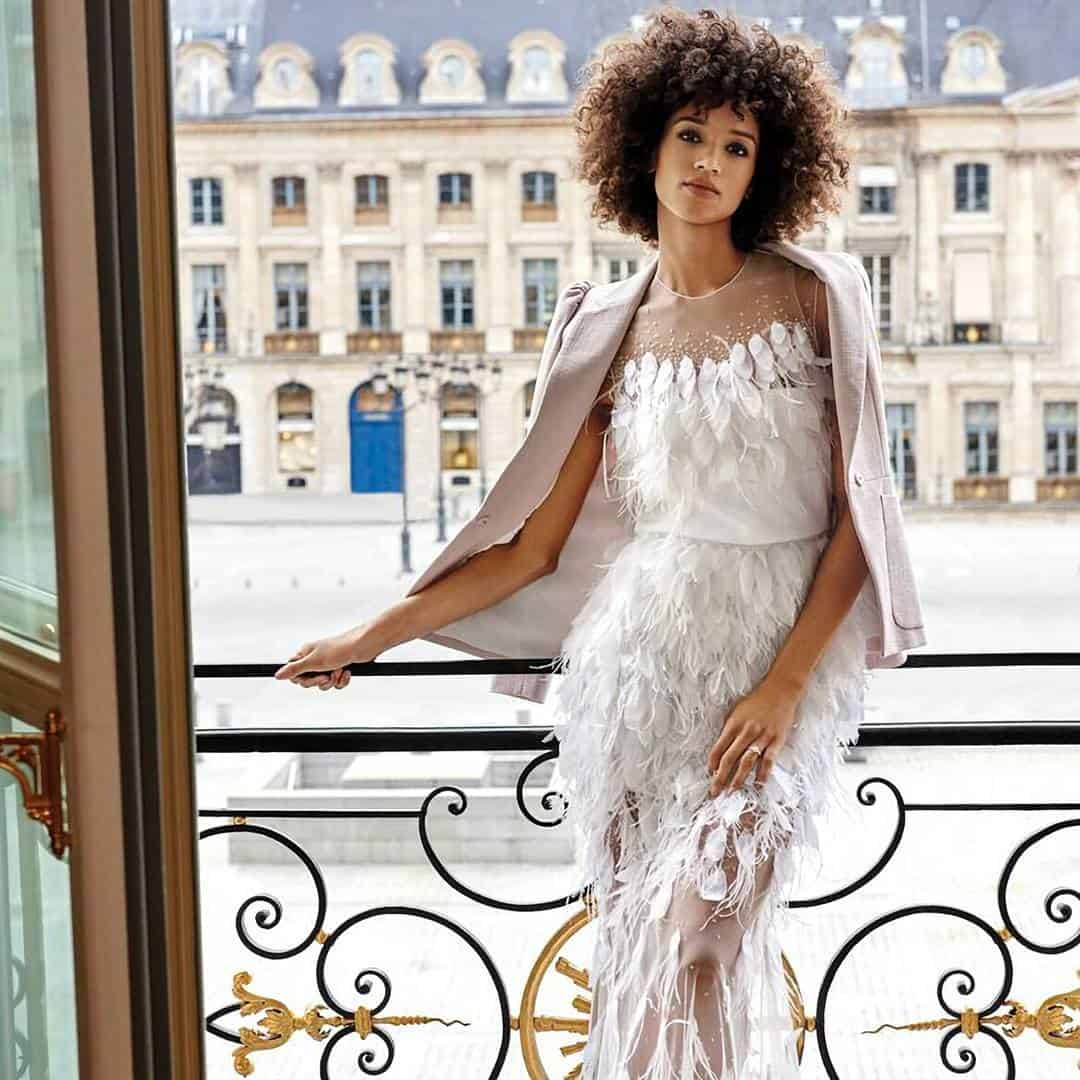 Image source
This white gown begins and ends in a sheer material that has a soft and delicate effect. The delicacy, balanced by white beads that add texture along the neckline, continues with feathers stitched into the bodice.
A belt at the center of the dress creates volume in the corset, separating the top half of the dress from the ruffled skirt. Bold, smokey eye makeup adds the right amount of contrast, while a caramel coat finishes off the look.
47. White Ruffle Knit Sweater With Torn Denim Shorts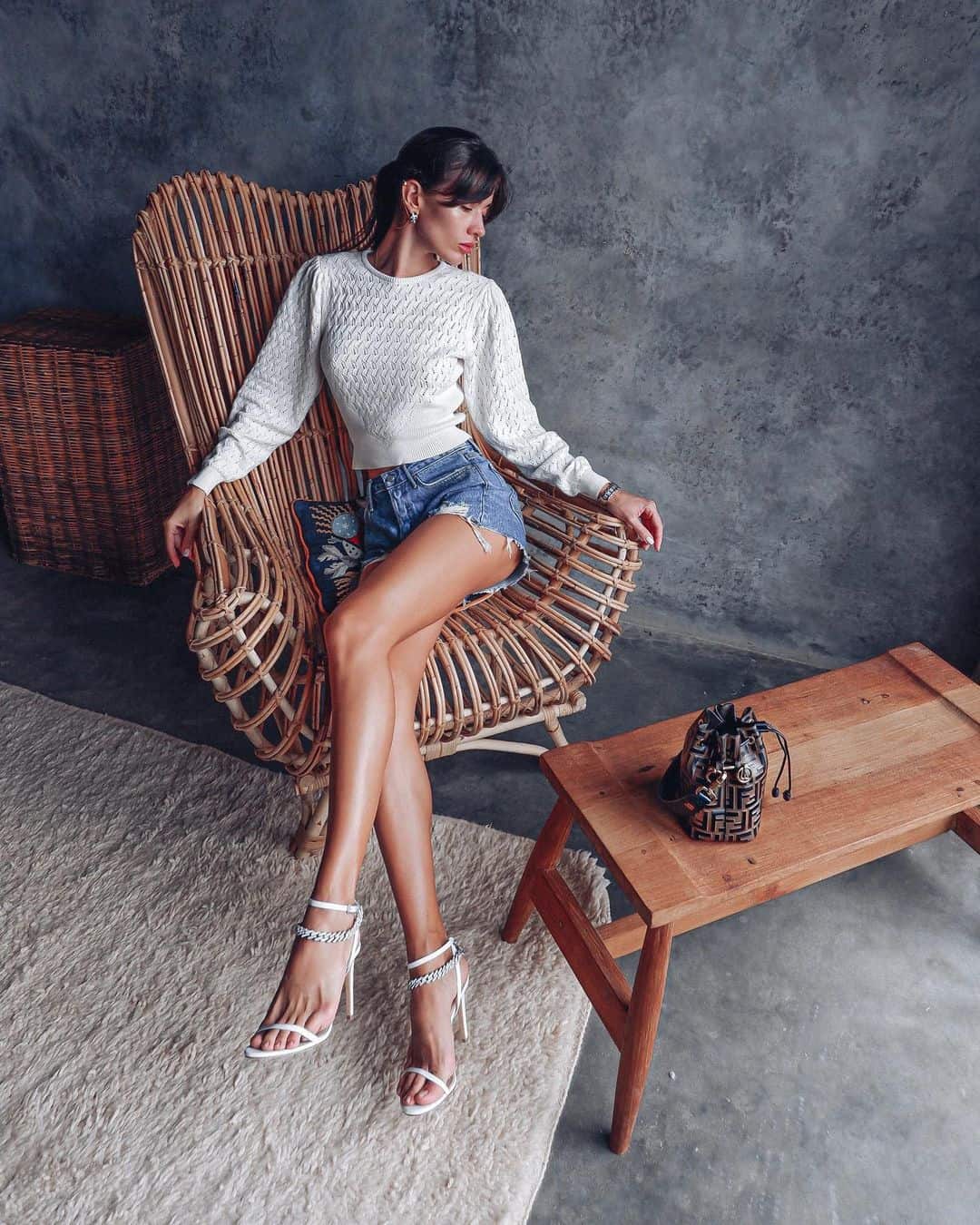 Image source
This round-neck white knit sweater with embroidered cut-outs that converge at the center makes a unique V-shaped pattern. Striped lines fill the space left by the cut-outs adding multiple textures to the design. The sleeves begin with a frill and end in an elastic band with white stripes.
You can wear this sweater with light blue, torn denim shorts, along with a bracelet, a pair of similar earrings, and silver anklets. Pair this outfit with white peep-toe ankle-strap micro stiletto heels and a dark multicolor leather knot bag.
48. White Backless Pearl and Satin Mermaid Gown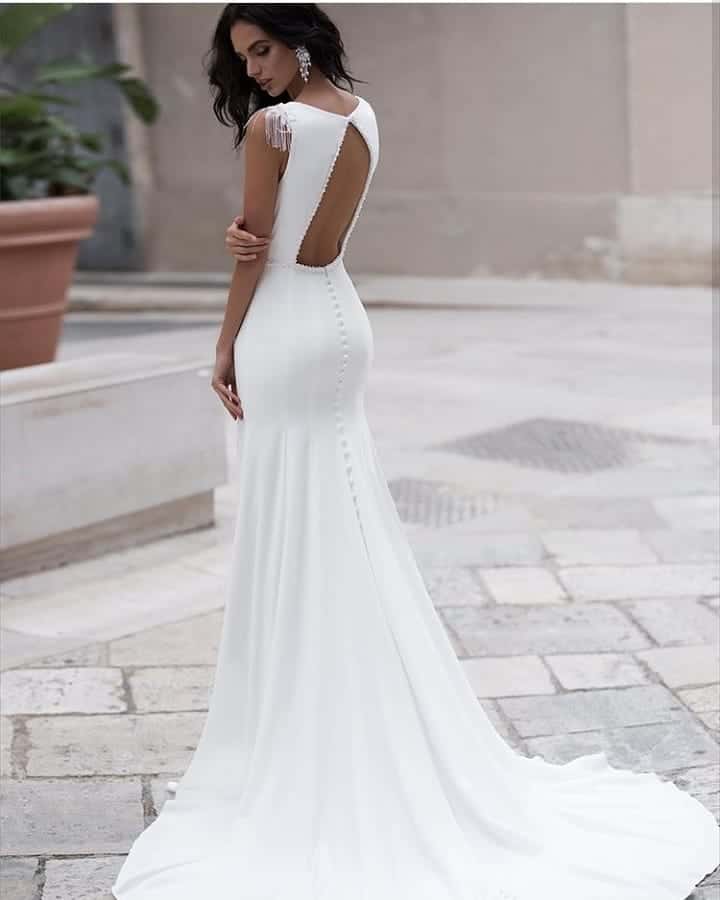 Image source
This satin mermaid gown has a triangle back cut-out lined with flower-shaped beads that continue knee-length, fusing into the train. White stringy lace is stitched into the sleeves adding to the dynamic of the otherwise sleeveless design.
A pearl-studded girdle around the center distinguishes the corset from the train of the dress seamlessly. A pair of dangling long pearl earrings is the ideal pairing for the dress.
49. White Shirt Wrap Short Dress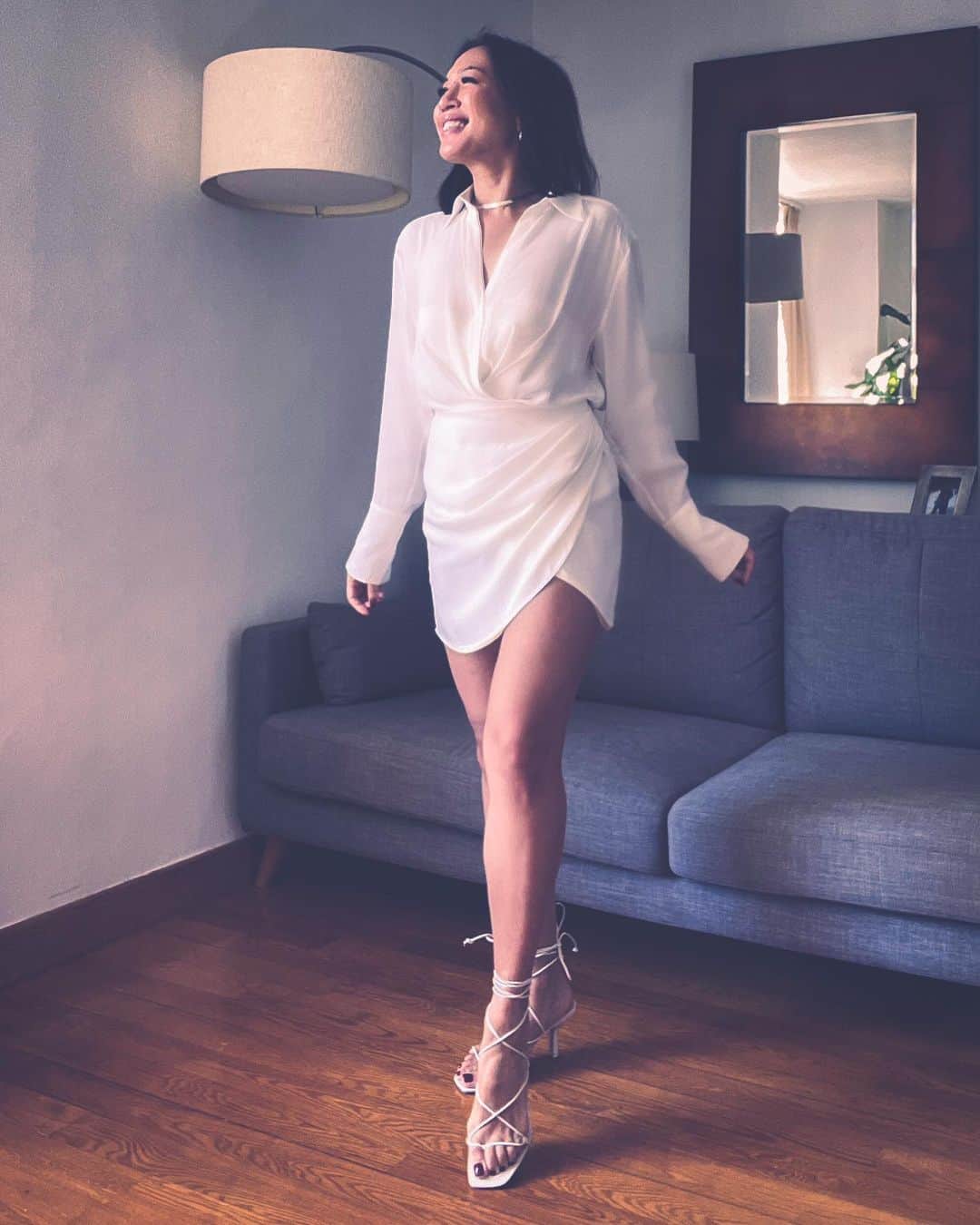 Image source
The classic shirtdress has many inflections that range from conservative to sexy. This one tips over to the sexy side with the mini skirt balanced by the relaxed fit on the top and long sleeves. The asymmetry in the design is flattering to the legs, making for a bold, sophisticated look.
Crystal buttons on the cuffs and sleeves, in conjunction with classy silver metallic round earrings and a matching choker, adds to the overall look, while maroon nail paint contrasts it. A pair of white cross-over lace-up ankle-strap kitten heels finish off the look.
50. White Kaftan Top With Blue Straight-Leg Jeans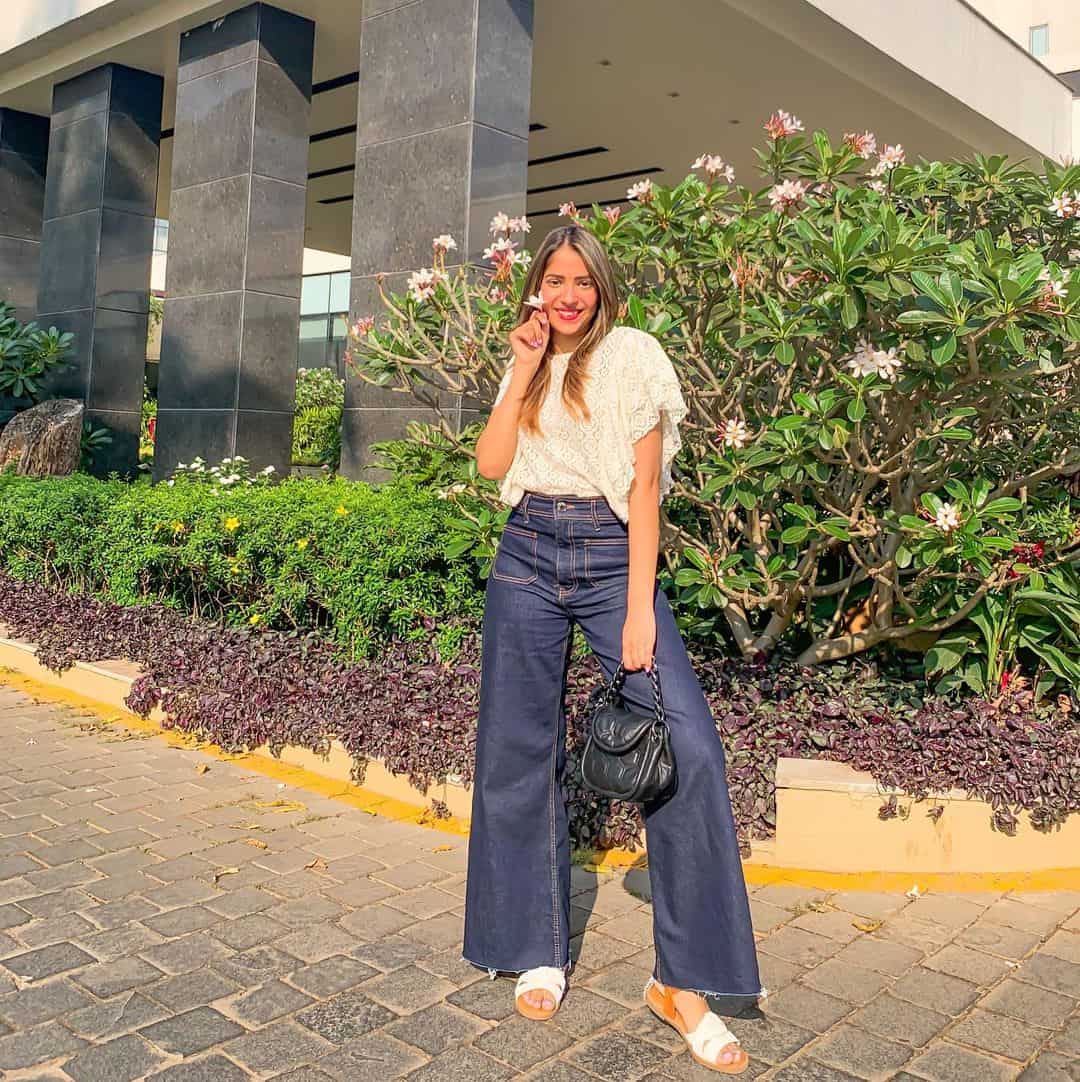 Image source
This white kaftan-style top in lace with floral intricacies embroidered into it is ideal for a warm sunny day. The open-sleeved design flows gracefully, adding a certain charm.
A pairing with bell-bottomed navy blue jeans creates a retro look, balanced perfectly with pink lip color and nude makeup. Carry a black leather shoulder bag with a quilted flap and chain strap team it up with a pair of white and yellow sandals for the best effect.
Choosing the Best White Outfit
Your outfit is an essential part of your attire – it is what helps you make a statement and what helps you look and feel good. When you choose an outfit without keeping the event and season in mind, you end up looking like the odd one out.
Ensure that your white ensemble blends well with the overall theme of the event you plan to attend. You must also pay due attention to accessories and footwear because outfits are not limited to just your ensemble.
Once set on the type of outfit you would like to opt for, you can look up the suggestions mentioned here to see which one is the most feasible and suitable. Keep in mind that white outfits strike the right chord only when properly executed.
You can mix and match the various ideas mentioned here, but keep in mind that the key is to not go over the top. Before actually stepping out for an event, run your outfit by close friends and family for constructive feedback. Be sure to be creative and have fun when it comes to styling white outfits!